How to Plan a Trip to Germany (Your Step by Step Germany Trip Planner for Traveling to Germany for the First Time!)
This post may contain affiliate links. Read my disclaimer policy.
You've decided to visit Germany. Hooray! Whether you're looking for bustling cities, sandy beaches, alpine hiking, intriguing history, fairytale castles, delicious food, fun festivals or friendly people, Germany is the perfect European vacation destination.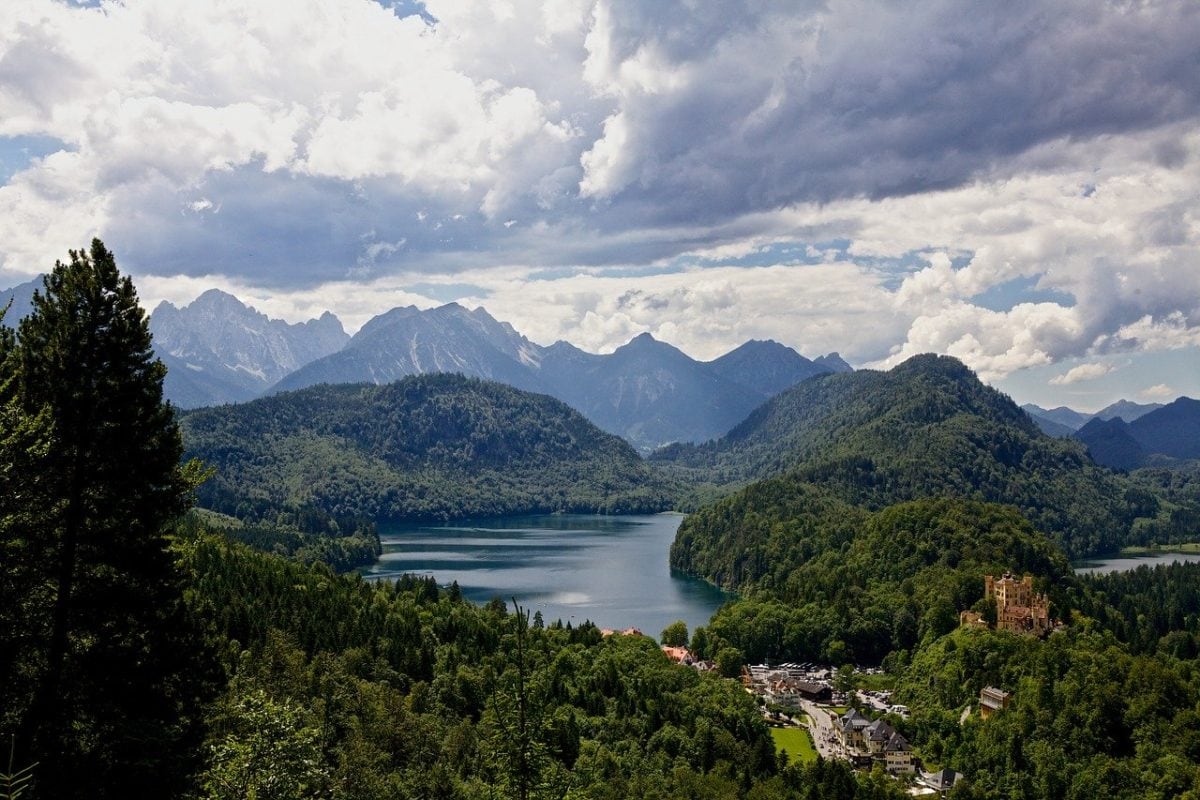 Not only is there a tremendous amount to do, see, eat, and experience in Germany, you can easily combine a visit to Germany with other European destinations. Germany is easy to get around in by train, bus, car or bike, and many people speak English.
You're probably wondering…where do I even begin with planning my dream-come-true vacation to beautiful Deutschland?
Where should I go? Is it better to take the train or rent a car? What are the must-see cities and attractions? Which ones should I skip? Where's the best place to stay? What should I eat and drink?
Don't worry! We're here to help you narrow down your travel options, plan your itinerary, and book your trip with ease. It's actually quite easy to plan a trip to Germany by yourself with the information in this article, on this site and with some help of some online booking engines.
To reduce overwhelm and help you plan your ideal vacation, we cover everything you need to know to get started planning your trip to Germany. And if you have any questions, you're welcome to ask us in our free Germany travel Facebook community or send us an email.
Ok, let's begin!
Meet Your Germany Travel Guides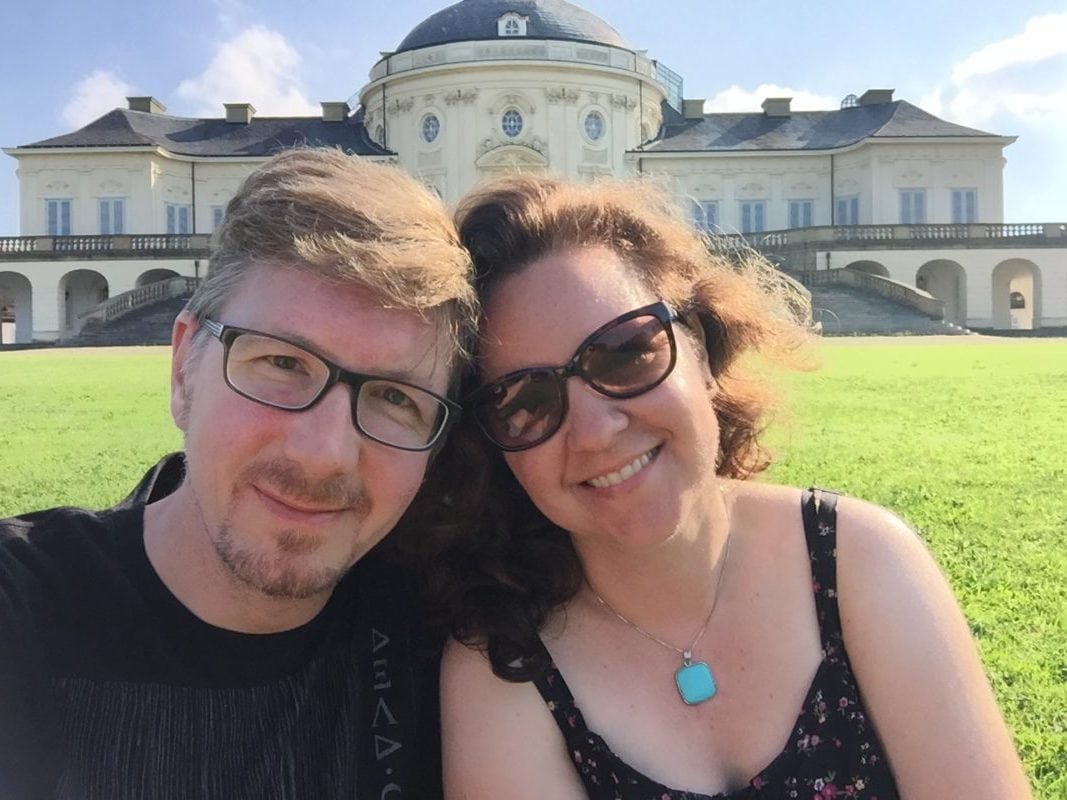 Hi, we're Cate and Aaron, and we love helping people plan amazing trips to Germany. While Aaron has visited Germany several times (and is our chief rental car driver!), I lived there for 4+ years, have spent nearly 30 years of my life going back and forth between the US and Germany, and have traveled to all corners of the country.
I also taught German for several years and have a PhD in German Applied Linguistics, which means I've gotten to know Germany from several different angles. We're so excited to help you plan your dream trip to Deutschland!
Overview of Regions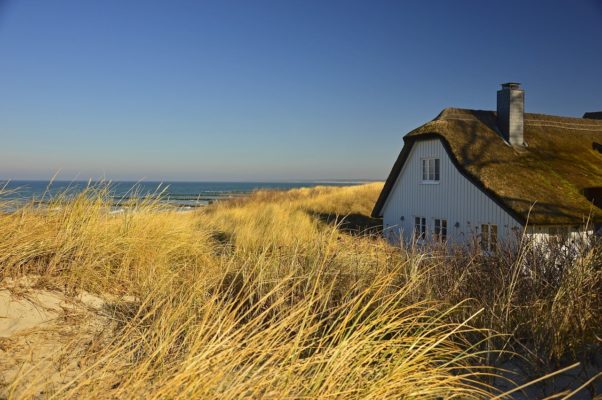 Northern Germany – Hamburg is the largest city in this region but there are other must-visit smaller cities like Lübeck, Stade, Bremen, and Lüneburg. Northern Germany also has the beautiful beaches of the North Sea and the Baltic Sea, the Wadden Sea national park, and the islands of Sylt, Flör, and Heligoland. Northern Germany is flat and great for biking. It looks so different from Bavaria! Combine a trip to Denmark with a visit to northern Germany.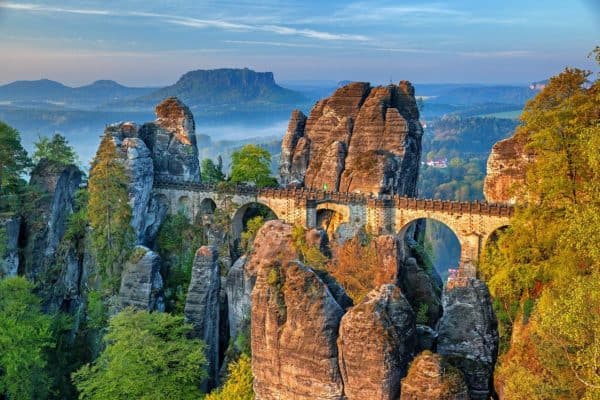 Eastern Germany – Berlin is of course the feature city in this region, but Dresden, Leipzig, Magdeburg, Quedlinburg, Bautzen, Erfurt, and Weimar are smaller must-see cities. There's also the Harz mountains, Swiss Saxony national park, Saalfeld Fairy Grottoes in Thuringia, Wernigerode castle, the Schwerin Palace, and Sansouci in Potsdam. Combine a trip to eastern Germany with a visit to Poland or the Czech Republic.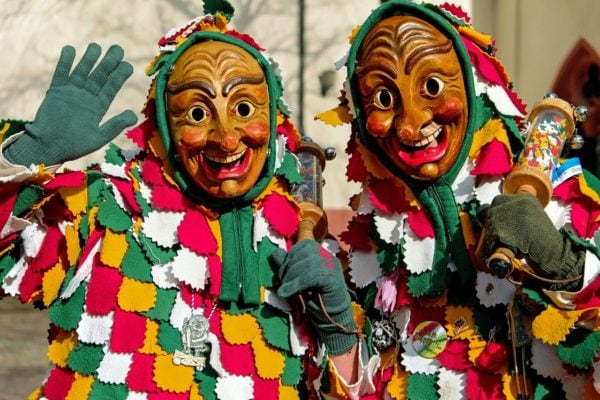 Central Germany – This region offers bustling cities like Cologne, Düsseldorf, and Frankfurt, smaller cities like Aachen, Wiesbaden, Koblenz, and plenty of cute villages. There's also the Rhine and Mosel river areas, vineyards, the Eifel national park, castles, and beautiful rolling hills. Combine a visit to central Germany with a trip to the Netherlands, Belgium, Luxembourg, or France.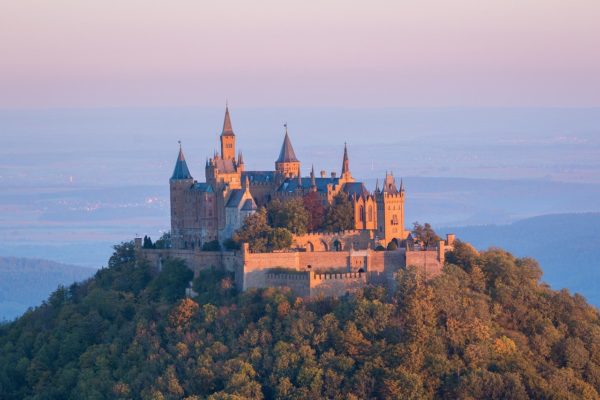 Black Forest/Baden-Württemberg – Stuttgart is the largest city in this region, and smaller cities like Baden-Baden, Heidelberg, Freiburg, Tübingen, and Ulm also warrant a visit. Vineyards and wineries, spa towns, castles (such as Hohenzollern or Lichtenstein), waterfalls, Lake Constance, cute villages, and hiking are also features of the Black Forest/Baden-Württemberg region. Combine a trip to France or Switzerland with a visit to southwestern Germany.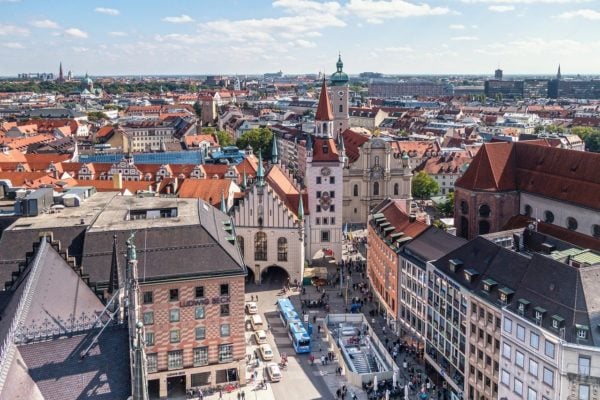 Bavaria/Alps – Munich is the feature city of Bavaria (Oktoberfest!), along with smaller cities like Regensburg, Nuremberg, Würtzburg, Bamberg, and Passau. There's also the famous Zugspitze, Eagle's Nest, Neuschwanstein castle, and Chiemsee lake, as well as lovely alpine towns like Garmisch-Partenkirchen and Berchtesgaden. Combine a trip to Bavaria with a visit to Austria, Czech Republic or Switzerland.
Click here for what to do in Munich!
---
Where to Go in Germany: Itineraries and Planning
There's so much to see and do in Germany! Here's some info to get you started on your itinerary (you can also check out this article with 10-14 day itinerary ideas).
If you have just a few days, I recommend focusing on one city and a day trip (e.g., Hamburg with a day trip to Lübeck or Munich with a day trip to Neuschwanstein).
If you have a week, you could visit 2 cities (plus 2 day trips) in different parts of Germany and allot one day for travel between cities (e.g., a few days in Munich with a day trip to Chiemsee, travel day to Berlin, then a few days in Berlin with a day trip to Potsdam). Or you could spend a week touring one region of Germany (e.g. the Black Forest or the Rhine and Mosel areas).
If you have two weeks, you can see a lot of Germany! You could, for example, start in Berlin, then visit Hamburg, take a day trip to Lübeck, then visit the Rhein river area, stop in the Black Forest, and end your trip in Munich. You could easily do this trip via train or car. Take a look at a couple 10-14 day itineraries we've outlined to give you a sense of how much you can do in that amount of time.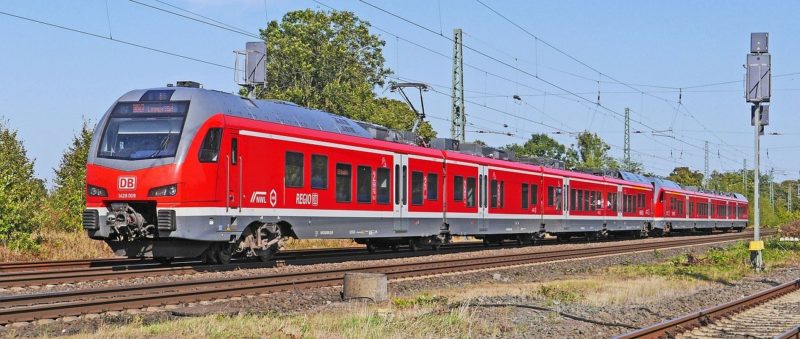 How long does it take to travel around Germany by train?
It's quick and easy to travel around Germany by train. Here are some sample travel times to give you an idea:
Berlin to Hamburg – 1 hour 45 minutes
Berlin to Munich – 4 – 4 1/2 hours
Hamburg to Lübeck – 1 hour
Hamburg to Cologne – 4 hours
Hamburg to Munich – 5 hours 40 minutes
Frankfurt to Nuremberg – 2 hours
Stuttgart to Munich – 2 1/4 hours
Munich to Berchtesgaden – 2 hours
I use and recommend the official German rail system website to check travel times and book train tickets (point-to-point, saver tickets, and discounted regional tickets). I book all of our train tickets here!
Want more itinerary ideas? Are you a big city person? Check out…
Prefer smaller historic, picturesque cities? Check out…
What about cute little villages with "Fachwerk" (half-timber) architecture? There are so many! Here are a few ideas…
Wernigerode
Quedlinburg
Goslar
Meissen
Dinkelsbühl
Bacherach
Rothenburg Ob der Tauber
Looking forward to visiting fairytale castles?
Like islands and water? Take a look at…
Sylt
Föhr
Husum (North Sea)
Timmendorferstrand (Baltic Sea)
Heligoland
Rügen
Lake Constance (Bodensee)
Chiemsee
Titisee
What about nature, hiking, and national parks? Consider…
Schleswig-Holstein Wadden Sea National Park
Hamburg Wadden Sea National Park
Lower Saxon Wadden Sea National Park
Jasmund National Park
Western Pomerania Lagoon Area National Park
Müritz National Park
Lower Oder Valley National Park
Harz National Park
Kellerwald-Edersee National Park
Hainich National Park
Eifel National Park
Hunsrück-Hochwald National Park
Bavarian Forest National Park
Black Forest National Park
How about a road trip? Why not drive the…
German Timber-frame Road (northern to southern Germany)
Romantic Road (Bavaria and Baden-Württemberg, north/south)
Castle Road (Bavaria to Baden-Württemberg, east/west)
Wine Road (Palatinate wine region, north/south)
Fairytale Route (from Hanau to Bremen, south/north)
Black Forest High Road (Baden-Württemberg, north/south)
Alpine Route (Baden-Württemberg to Bavaria, east/west)
Volcanic Route (Rhein River and Eifel mountains, north/south)
---
Passports & Visas
If you're from the US, Canada, Australia, New Zealand and many other countries, you do not need a visa to enter Germany (at the time of publishing this article). You do, however, need a valid passport with at least 3 months validity AFTER your planned departure date.
Play it safe and have MORE than 6 months validity on entrance to Germany! You also need at least 2 blank passport pages at the time of your arrival. Check your passport NOW so you have plenty of time to renew it if needed. Do not wait until the last minute to do this (been there, done that – it's expensive and stressful)!
Germany is part of the Schengen zone, which means you can stay in Germany for up to 90 days without a visa. If you visit other countries in the Schengen zone before or after Germany, that counts towards your 90 days and reduces the amount of time you can spend in Germany. While on the automatic 90-day tourist visa you may not work but you can engage in business.
---
What's the Best Time to Go to Germany?
The best time to visit Germany is whenever you can get there! No, seriously! There's no best time of year for your Deutschland tour because there's no bad time of year to visit. I've traveled all over Germany in spring, summer, fall, and winter and enjoyed every single season (Cate here, writing this article, by the way).
When should you travel to Germany? Well, it just depends on what you're looking for…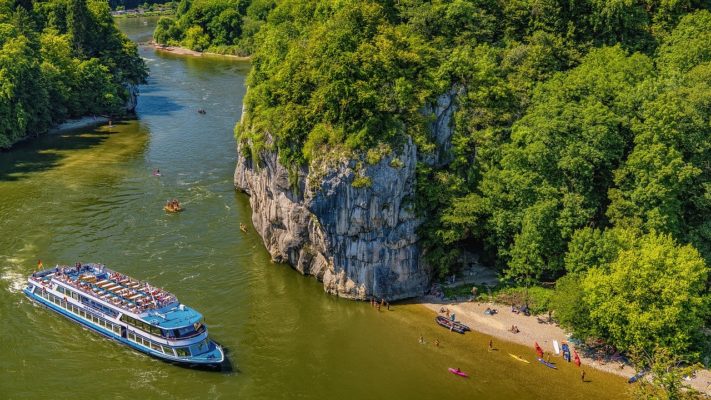 Summer is when you're most likely to have warm (even hot) sunny weather. But it's not guaranteed. I've had hot steamy summers in Germany (like last summer when we traveled during a heat wave), cold rainy summers, and everything in-between.
Fortunately, even if you encounter rain in the summer it likely won't last more than a few hours or at most a couple days before you'll see the sun again. The benefit of summer travel is that you'll have nice long days for sight-seeing because the sun doesn't fully set until about 10pm. If you're interested in beaches or mountains, summer is a great time of year to visit.
Note, however, that not all hotels, cars, and restaurants use A/C. If you really hate hot weather, play it safe and avoid Germany in the middle of the summer. (Although, to be honest, in all of the summers I've spent in Germany, there have only been a few days in the summer that I've found truly unbearable without A/C.) If you must have A/C, be sure to confirm that your room or rental car has it.
Summer can also be a more crowded time to travel, since so many families make use of summer break. Book accommodation early for the most options and best prices!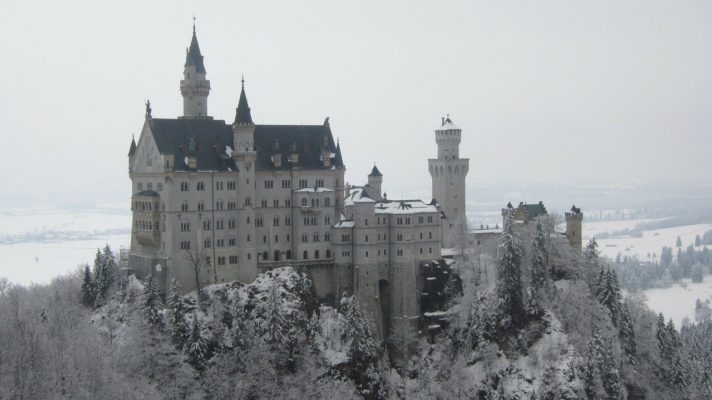 Winter travel in Germany can be cold but beautiful. One of my favorite times of year to travel in Germany is during the four weeks of advent at Christmas.
Yes, it gets dark early (by 5pm or a bit earlier) but the lights, decorations, and Christmas markets more than make up for it. Plus, you can go skiing and enjoy other winter activities.
I was just in Germany for a couple weeks in December and the weather was perfectly fine 90% of the time. There was only one day where the weather was truly miserable and even on that day there were enough breaks in the weather to enjoy my day trip exploring a new town and a new Christmas market.
Germans don't let winter keep them from enjoying outdoor activities, hiking to strolling through a Christmas market or enjoying a coffee at an outdoor cafe. Don't let it stop you, either! Just bundle up, grab a mug of Glühwein, and you'll be fine!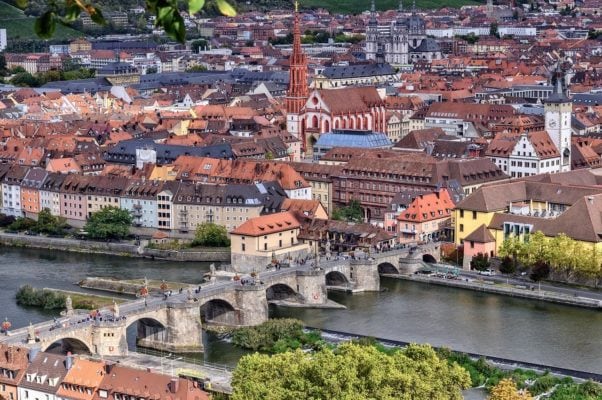 Fall and spring are also great times to visit Germany. In the fall you'll enjoy crisp mornings and cool evenings and seeing the leaves change color.
In the spring you'll experience the joy everyone feels when they can once again sit outside at cafes and restaurants. The weather can vary quite a bit day to day but if you travel late in the fall or early in the spring you can score great deals and will find smaller crowds.
---
Germany Booking Timeline
I've booked flights, accommodations, and tours and tickets a few weeks before my arrival, and I've booked them several months in advance. Book early if you:
Are traveling during peak summer, Christmas market or ski season
Have very specific travel dates or lodging, transportation, sight-seeing needs
Are visiting big cities
Are on a tight budget
Are visiting during a special event, such as Oktoberfest
I usually start looking at my options as early as possible so I can figure out what a good deal looks like for my travel dates. I then set up flight alerts and start earmarking AirBnB's and hotels. I begin booking whenever I find something that meets my needs and fits my budget.
Here's a general booking timeline to get you started:
6-12 months in advance:
Research and book your international flights
Research travel insurance
Plan your travel itinerary and dates
Research and book flights within Germany or Europe
Research travel options within Germany (rental car, train bus, etc)
Research accommodation options (book if you find great deals or if availability is limited)
Make sure your passport is up-to-date (you need at least 6 months left on it when you enter Germany) and apply for a new one if it isn't
3 – 6 months in advance:
Book trains or busses (usually 90 before your travel dates is the earliest you can book but always check if you can book earlier – the best deals go fast)
Book rental car
Book tours, events, and tickets
Book travel insurance
Review your travel wardrobe and gear and purchase the items you need
1 month in advance:
Book any remaining attractions and tours
Book airport transfers or plan how you will get to your lodging
Purchase a sim card for phone or check how you can use your current phone service in Germany (e.g., I can use my Verizon phone service for a $10/ a day fee)
1 week in advance:
Print out or ensure that you can easily access all bookings, tickets, and travel info on your phone (make sure you can access everything without data or wifi!)
1 day in advance:
---
What's the Weather in Germany Like?
What will the weather be like when you visit Germany? Well, it depends on the time of year and where you are. Weather in Germany can be somewhat unpredictable no matter the time of year.
I recommend being prepared by wearing layers, packing an umbrella or rain jacket, and remembering that the weather will likely change soon. And, as I said earlier, don't let any kind of weather stop you from enjoying Germany!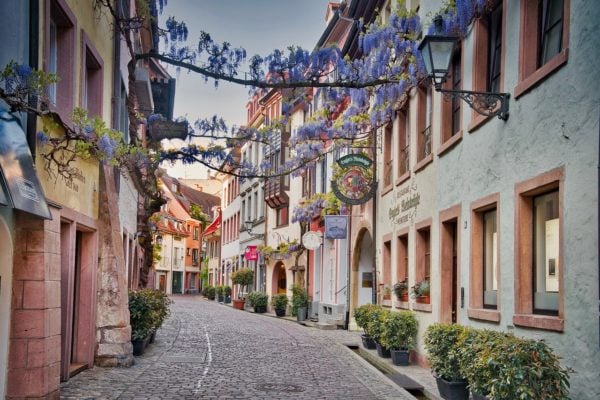 Summer. Germany comes alive in the summer with everyone and their dog (literally, there are dogs everywhere) outside enjoying the nice weather. Average high in the summer is 80F.
Be warned…it can rain in the summer but it doesn't usually last that long. It can also be super hot in the summer…but again, scorching temperatures doesn't usually last that long.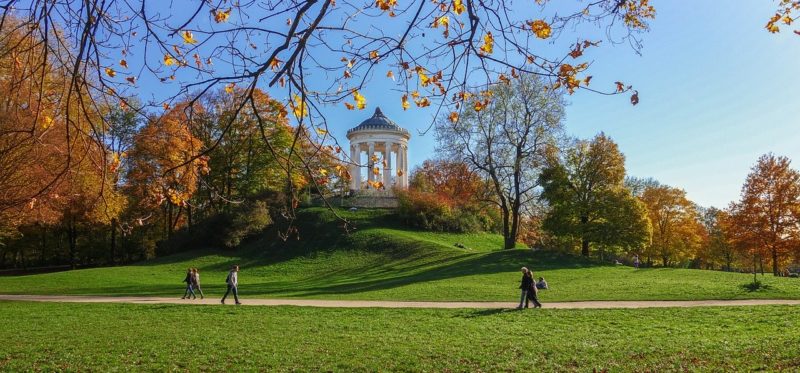 Fall. Such a beautiful time of year in Germany with the leaves changing colors and cool, crips mornings and evenings and warm days. One of my favorite times of year in Germany! In September, the average high is 67F and by November it's around 47F.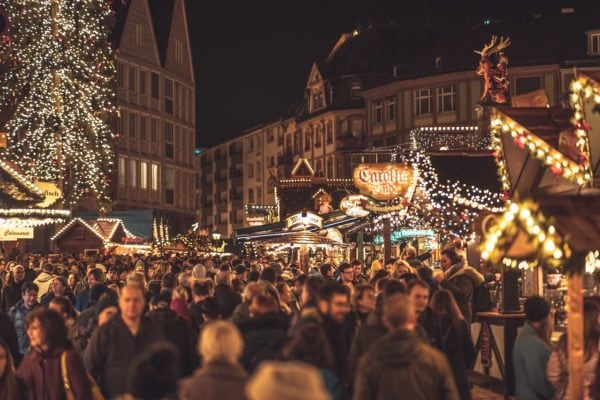 Winter. Bring your scarf, hat, and mittens because German winters can get cold! Average temps hover around freezing with warmer days in the 40s/50sF. While it can snow anywhere in Germany, you'll find the most snow in southern Germany. Winter weather doesn't mean everyone hides inside, though. On the contrary! Do what the Germans do – bundle up and enjoy the outdoors.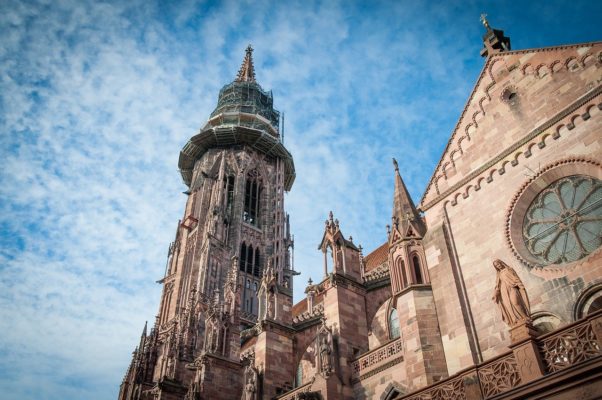 Spring. I love being in Germany on the first spring day because everyone heads outside to enjoy the sun and everyone is in such a good mood! Early spring will see a high around 47F but by late spring it's more like 67F.
---
What Time is it in Germany Right Now?
Germany is in the Central European Time zone (CET) or UTC+2. It's 6 hours ahead of the US EST, 7 hours ahead of CST, 8 hours ahead of MST, and 9 hours ahead of PST.
Daylight savings in Germany in 2020: time "falls back" on October 25 and "springs forward" on March 29. Write these dates in your calendar so you don't accidentally miss any flights or trains (been there, done that)!
---
What's the Best Way to Get to Germany?
It depends on where you're coming from and where you're going. When flying from outside Europe, many people fly into Frankfurt (FRA), the largest airport in Germany and one of the largest and busiest airports in Europe.
The benefit of flying into Frankfurt is that it has a ton of direct flights, and once you reach Germany you can easily take a commuter flight, train, bus or rental car to your final destination.
The downside? The airport is huge, busy, and I've noticed prices into Frankfurt have been higher than regional airports in Germany.
I used to always fly into Frankfurt, and then take a train, bus or rental car to my final destination. But recently? I've found that it's easier (and sometimes cheaper) to bypass FRA and fly into other German cities, such as Munich, Hamburg, Berlin, Düsseldorf (Cologne) or Stuttgart.
You might even be able to find a direct flight from the US (I've flown direct Atlanta – Stuttgart and Washington DC – Munich, for example). Otherwise, you'll change planes somewhere in Europe and take an easy 1-3 hour flight to Germany. We've changed planes in London, Amsterdam, Stockholm, Paris, and Vienna, for example. You could also fly into another European city and then take a train, bus or rental car into Germany.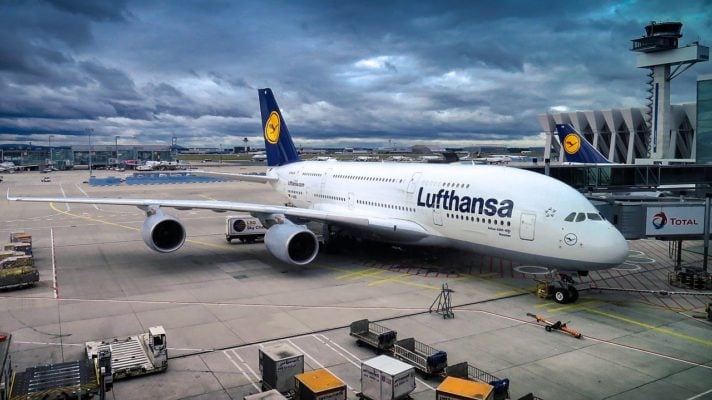 A Few Notes About Flying Into FRA (Frankfurt Airport) and Traveling Onwards
If you take a commuter flight from Frankfurt (FRA) to your final destination in Germany, you'll go through passport control in FRA and then to your connecting gate. Super easy. Most flights from FRA to elsewhere in Germany are an hour or less in duration.
If you're traveling onward by train from Frankfurt, you can transfer to the train right at the airport below Terminal 1. If your train leaves from the main station in Frankfurt, you can either take the S-bahn or a regional train from the airport to the Hauptbahnhof (main station) in about 10-15 minutes.
Important: you'll find cheap "savings fare" train ticket prices if you book your ticket online well ahead of your arrival. Be sure to book your ticket for at least a few hours after your flight's arrival time into FRA.
Be warned: getting through passport control, customs, picking up your checked luggage, and making your way to the train station can take longer than you think. And if your plane from the US (or elsewhere) is delayed…well, it's easy to miss your train and have to buy a new, much more expensive ticket on the spot. Personally, I would book a saver fare train ticket for a train that leaves 3-5 hours after my international flight's arrival time – at the minimum. And that's still cutting it close if there's any kind of delay!
Tip: If you want maximum flexibility and peace of mind, buy a "flex ticket." You'll pay more but these tickets aren't tied to a specific train. So if your flight is five hours late, you can take a train later in the day without changing your ticket or losing money.
These tickets also you to stop somewhere en route to your final destination for a couple hours, and then get back on a different train (e.g., stop in Stuttgart for a couple hours on your way to Munich). So if you arrive on time, you can work in a short excursion on the way to your final destination (store your luggage at a locker in the train station). If your flight is late, just go directly to your destination. These tickets are also refundable before the first day of travel.
For ultimate flexibility and peace of mind, spend the night in or around Frankfurt and book a saver fare train for early the next morning.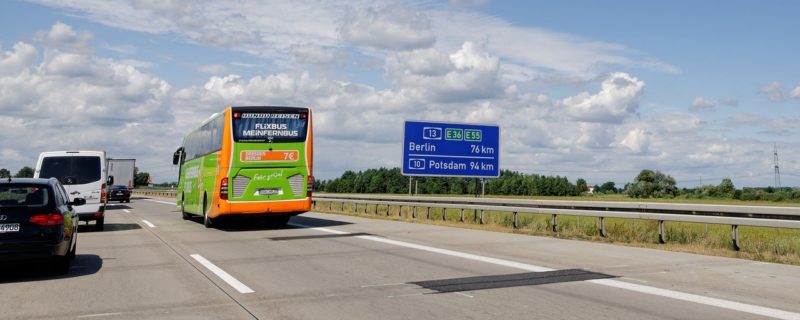 You can also easily pick up a rental car at FRA and drive to your final destination. Aaron and I have done this a few times and never had any problems.
The one problem we do have? Staying awake long enough to drive to our destination! We usually keep the driving distance to an hour or two on the day of our arrival and drink a lot of coffee. Sometimes we pull over at rest area and take a nap.
If you want to rent a car at the airport and are concerned about driving while jet lagged, consider picking up the car and then spending the night in nearby town, such as Wiesbaden (I spent an enjoyable few days there before catching my flight home a few years ago).
If you're catching a bus from the city center to travel onwards, S-bahn 8 or 9 will zip you into town quickly and cheaply in about 10-15 minutes. Buy tickets at any of the ticket machines before you board the S-bahn.
You can also catch busses into Frankfurt and elsewhere in front of Terminal 1 (arrivals level) and Terminal 2 (level 2).
You'll find taxis in the same general area. It takes about 20 minutes to get into downtown Frankfurt by taxi.
Flying to Germany from Elsewhere in Europe
These days it's super easy and generally inexpensive to fly to Germany from all over Europe. Here are a couple tips:
When booking your international flight, you might be able to include a stop-over in the city where you'll transfer to your Germany flight. I used to do stopovers in London, and a couple years ago I did an awesome stopover in Iceland. TAP also offers free stopovers in Lisbon or Porto.
I highly recommend looking into both flying and taking a train (or bus) into Germany, especially if you're arriving from a neighboring country and not on a stopover. Of course, if you're flying from cities like London, Barcelona, Rome or Oslo, flying is the best option. But if you're traveling from Paris, Vienna, Copenhagen or Prague, for example, a train might be the better way to go.
Even if the actual flight is only an hour, you have to factor in the time it takes to travel to the airport, go through security, potential flight delays, and then traveling to your lodging once you land. A 5- or 6-hour train ride might actually take less time than a 1-hour flight when you total it all up!
Traveling to Germany By Train, Bus or Car
Traveling to Germany from other European countries by train, bus or car is easy. Train travel is generally simple, comfortable, and quick. Most train stations in Germany are located in the city center, so it's easy to get to your lodging via taxi or public transportation.
If renting a car in another country, just double check that you're authorized to take the car out of the rental country. If you are, you'll have no problems crossing the boarder and driving around Germany.
Busses tend to cost less than trains, and you can find some amazing deals, but to be honest, I still prefer taking trains over busses. Trains are more comfortable, you can get up and walk around, and they're almost always faster than busses. Plus, they don't get stuck in traffic.
Tips for Booking the Best Flights with Cash or Miles:
Start looking for flights early, especially if you're traveling during peak season. I booked our mid-June flights in late January. While we found low mileage flights for very specific weekend travel dates, we could have found better flight times had we booked even earlier.
Track flights through google or look at options in Hopper so you'll know a good deal when you see one.
Look for last-minute deals. When I decided to go to Germany in December I didn't start looking for flights until early November (the trip was a last-minute decision). Because I was flexible on travel dates and went early in the month, I found excellent tickets using miles. This doesn't always happen, but it never hurts to look for deals, even if your travel dates are right around the corner.
Fly in or out of smaller regional airports (e.g., Berlin, Hamburg, Stuttgart, Munich, Düsseldorf). When I booked our flights for mid-June I couldn't find anything into Frankfurt using miles. But I did find flights into Berlin and out of Stuttgart, and that actually worked even better for that trip! For my recent December trip, I found that flying in and out of Stuttgart used the lowest amount of miles and had the best schedule. I've also flown into Hamburg and Munich airports.
---
Where to Stay in Germany
Germany has so many options for lodging:
Vacation rentals (e.g., VBRO, AirBnB)
Hip boutique hotels
Quirky hostels
More traditional HI hostels
Large hotel chains
American-styles hotels (Hilton, Marriott, etc)
Family-run Pensionen (bed and breakfast)
Camping (RV and tent)
When we're in Germany we typically opt for AirBnB (I like having a kitchen to make breakfast) or a smaller family-run Pension or boutique hotel. We used to stay in hostels when we was younger (they're pretty nice in Germany) but even then I found Pensionen to be very affordable – sometimes more affordable than hostels – especially when traveling with one or two other people. If we're spending the night near an airport or train station and want convenience and ease we'll stay at a larger chain hotel.
Whether you're looking for luxury or budget accommodations, you're sure to find what you're looking for in Germany! To help you get started, check out our Germany hotel guides.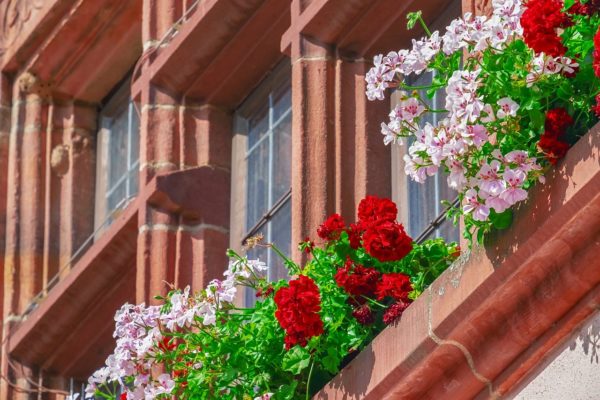 Breakfast is often included with lodging in Germany (but not always). Sometimes breakfast will feature fresh bread or Brötchen (delicious German rolls), cold cuts and cheese, butter and jam, and tea and coffee. Other times there will be an extensive breakfast buffet that includes things like yogurt, museli, a variety of breads, meats, cheeses, and even hard-boiled eggs. You're unlikely to find things like omelets, bacon, pancakes, waffles, and hot oatmeal.
If you're looking to save money on lodging, book rooms with a shared bathroom. (This is typically only an option in smaller or older hotels and not an option I come across as often anymore.) Sometimes that will mean sharing a full bathroom with other guests on your floor, and other times you'll have a sink and/or shower in your room and will share a toilet located in the hallway. Shared bathrooms are more common in smaller Pensionen than in hotels.
These days I prefer the convenience of having a full bathroom in my room but I'm not averse to sharing a hall bathroom when needed (takes me back to my younger backpacking days – ha!). I've never had to wait to use a shared bathroom or had any trouble with them. Sometimes there are two or more bathrooms per floor. If you do opt for a shared bathroom, bring flip-flops!
Hostels can be a great option for families, as many offer family rooms. Hostels typically offer a simple breakfast and sometimes dinner. While accommodations are simple, some hostels can be in spectacular locations. The hostel in Bacharach, for example, is in an old castle on a hill and offers a gorgeous view of the town below and the Rhine river!
---
Getting Around Germany
One of the benefits of traveling in Germany is that it's super easy to get around the entire country. You have so many transportation options.
You can rent a car and drive from place to place. Or you can stick to trains and busses. Or ride a bike – there are tons of bike paths throughout Germany.
If I'm primarily visiting big cities I prefer taking the train or a bus to get from one city to another. When I spend more time in smaller cities or want to take day trips to harder to reach places, I prefer having a car.
For our recent summer trip to Germany, we rented a car at the Berlin airport and returned it to the Stuttgart airport. We didn't take trains or busses at all. We got a car so we could go to places that aren't as easily (or quickly) accessible by train. We didn't use the car every day, though. We walked and used public transportation when exploring cities.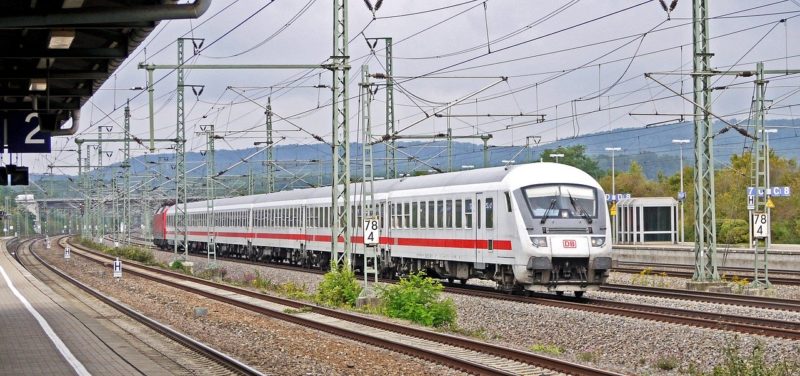 Speaking of public transportation, Germany's is one of the best! It's super easy to get everywhere you want to go via the S-bahn (above ground metro), U-bahn (underground metro), Strassenbahn (street car), and city bus. Taxis (and Uber/Lyft, where available) are also convenient options, though more expensive than public transport.
There are also car-share programs that you can look into. I haven't used any of them and don't know how convenient they are for travelers but it doesn't hurt to check them out.
German cities are very walkable, so it's easy to get around by foot. And, if you'd like to bike around like a local, there are lots of places to rent bikes (or scooters!) around town or maybe even at your hotel or AirBnB. If you're more interested in just one afternoon of biking, try a city bike tour!
A few transportation tips:
For the best train ticket prices book your ticket via the official German rail system website in well in advance. I book all of our tickets there. Note: if you pre-purchase your ticket at the lowest price you have to take the specific train you booked. If you miss that train, you have to buy another ticket.
If you don't mind taking slower regional trains you can get some really cheap tickets and regional day tickets. You may not want to use these tickets to go from Munich to Hamburg, but they're great for day trips, whether traveling solo or with others.
Busses are often less expensive than the train (though not quite as comfortable and often slower).
There are Eurail options for Germany, and they're a great choice if you value flexibility and ease or if you want to make stops while traveling (eg., stop in Cologne for a couple hours while traveling from Hamburg to Munich).
If you plan to rely on public transportation in the cities you visit, buy a day pass (or perhaps a multi-day or week pass) rather than individual tickets. Also check to see if there are group day tickets or if young kids can ride free. Note: there's often a small additional fee to bring a bike or a large amount of luggage on public transportation. There are often less expensive day passes for travel starting after 9am.
---
What to Wear in Germany
Check out my packing list for Germany!
Layer, layer, layer! The weather in Germany is often unpredictable so your best bet is to bring layers so you can customize your wardrobe on the fly. Since rain is a possibility any time of year, you may want to bring a light rain jacket or an umbrella.
Bring comfortable shoes. You'll no doubt walk all day long (often on cobblestone), so bring your most comfortable, supportive shoes. Be sure to break in your shoes before you travel. There's nothing worse than realizing a day into your trip that your shoes pinch your toes or give you huge blisters. (Bring along moleskin, just in case. I always have this kind in my day bag!) I typically bring a good pair of walking shoes appropriate for the season (e.g., boots in the winter) and a nicer pair of flats (sandals in the summer).
You can wear jeans. Some people say never travel with jeans but I'm not one of those people. I love traveling with jeans! They're comfortable, I can wear them a few times without having to wash them, and I feel less like a tourist wearing them because everyone wears them. If you like jeans, wear jeans.
Scarf, hat, gloves. If you're traveling in the winter or even late fall or early spring, definitely bring a warm scarf, hat, and gloves or mittens. Or buy them in Germany and take them home as a souvenir! Almost all of my winter accessories are from Germany. Even if you're not traveling in colder weather, I recommend a travel scarf with a hidden pocket for ease and security.
You can wear shorts in the summer. Shorts are more popular in Germany than they used to be, so if you like them and are comfortable in them, wear them. That said, do also bring summer dresses or skirts and or lightweight pants to wear when shorts are too informal.
Bring a comfortable day bag or purse. When you're out and about all day you want a comfortable bag or purse to hold your travel essentials – wallet, phone, camera, ipad/kindle/book, umbrella, journal, etc. For peace of mind, you may even want one with special security features. Click here to read my guide for buying the best travel purse.
---
My Absolute Favorite Travel Clothing Items
Merino wool camisole/tank – These camisoles are the BEST for travel! They're soft, comfortable, easy to hand wash, and they never stink. This might be TMI but a few years ago, when I was traveling solo around Europe, I wore the same merino wool tank each day for 14 days in warm spring weather. It never smelled bad! Since that experiment I don't typically go that long without washing my tanks, but I like knowing that I could! Click here to read more reviews and buy a merino wool camisole/tank.
Foldable flats – I splurged on a pair of foldable leather flats a few years ago, and after I broke them in I started really liking them. I wouldn't recommend them for a full day of walking (especially on cobblestones) but I like to bring my foldable flats along for a change of pace or when I want the option of wearing a cute pair of shoes but don't want them to take up much space in my suitcase.
Merino wool shoes – I bought a pair of dark grey merino wool walking/tennis shoes a couple years ago and I LOVE them! I can wear them barefoot in the summer, and not only do my feet stay relatively cool, my shoes don't stink when I take them off at the end of the day. I can throw them in the wash if they get dirty (though mine still look great 2 years later), they pack flat and don't take up much space in my suitcase or travel backpack, and the heel is thick and cushioned. You can also buy replacement merino wool insoles without having to buy a new pair of shoes.
What I don't like: the pair I have doesn't have enough arch support for me and there's not enough padding under the ball of my foot. The first few times I wore them they were uncomfortable after walking all day and I was super disappointed! But after adding an arch support and a gel insert under the ball of my foot (I like this one) I loved them and now wear them all the time while traveling and at home. Many people love them from the start! Click here to to read reviews and check out merino wool shoes.
---
What to Eat in Germany
You'll never go hungry while traveling in Germany! While you can always find traditional items like Schnitzel, Spätzle, Rouladen, and Bratwurst, there are plenty of healthier options, including those that are vegetarian, vegan, and gluten-free.
Many restaurants now cater to special diets and accommodate allergies, as do some specialty grocery stores. Aaron has a meat allergy and frequently eats gluten-free and has never had a problem finding delicious food in Germany.
These days Germany has a wide variety of restaurants to ft all budgets featuring cuisine from all over the world (except Mexican…I've yet to find good tacos in Germany). So you won't be stuck eating Schnitzel every day – unless you want to!
We usually eat breakfast at our AirBnB or hotel, enjoy a nice lunch at a restaurant we've stumbled upon, and then grab a Döner, salad or pizza for dinner. We also often picnic using ingredients from the bakery and grocery store or farmer's market.
Traditional German dishes to try: Schnitzel, Spätzle, Rouladen, Bratwurst, Sauerbraten, Schweinehaxen, Maultaschen, Currywurst, Leberkäse, Flammkuchen, Sauerkruat, Kartoffelsalat (potato salad), Quark, all kinds of German breads.
Quick lunches and snacks on the go: Döner, Falafel, Bratkartoffeln (fried potatoes), Kartoffelpuffer (potato pancakes), Bratwurst, Currywurst, salads, Brötchen filled with meat and/or cheese, fresh pretzels, pastries, cakes. Click here to see the best German street food!
Desserts & sweet treats: Schwarzwälderkirchtorte (Black Forest Cake), Bienenstich (Bee Sting Cake), cheesecake, Stollen, Frankfurter Kranz, cake, Donauwellen cake, Berliner, Lebkuchen, Pflaumenkuchen (plum cake), all kinds of pastries and chocolate – just to name a few! Click here to see the 10 must-try German desserts and sweets.
Beer: every kind you could ever imagine! I usually just ask for the local beer unless there's a specific one I know I want to try.
Christmas: This is the best time of year to be in Germany, partly because of the many delicious holiday treats like Lebkuchen, Stollen, Glühwein, and so much more. Click here to read more about what to eat in Germany during the Christmas season.
Want to try German food now? Click here to see where to buy delicious German food online!
Got a question about traveling in Germany? Join our free Germany trip planning community or send us an email!