23 Best Christmas Markets to Visit In Germany
This post may contain affiliate links. Read my disclaimer policy.
Planning to visit Germany at Christmas time but aren't sure which magical Christmas market to visit? In this guide we introduce you to 23 of the best Christmas markets in Germany so you know which ones to add to your itinerary.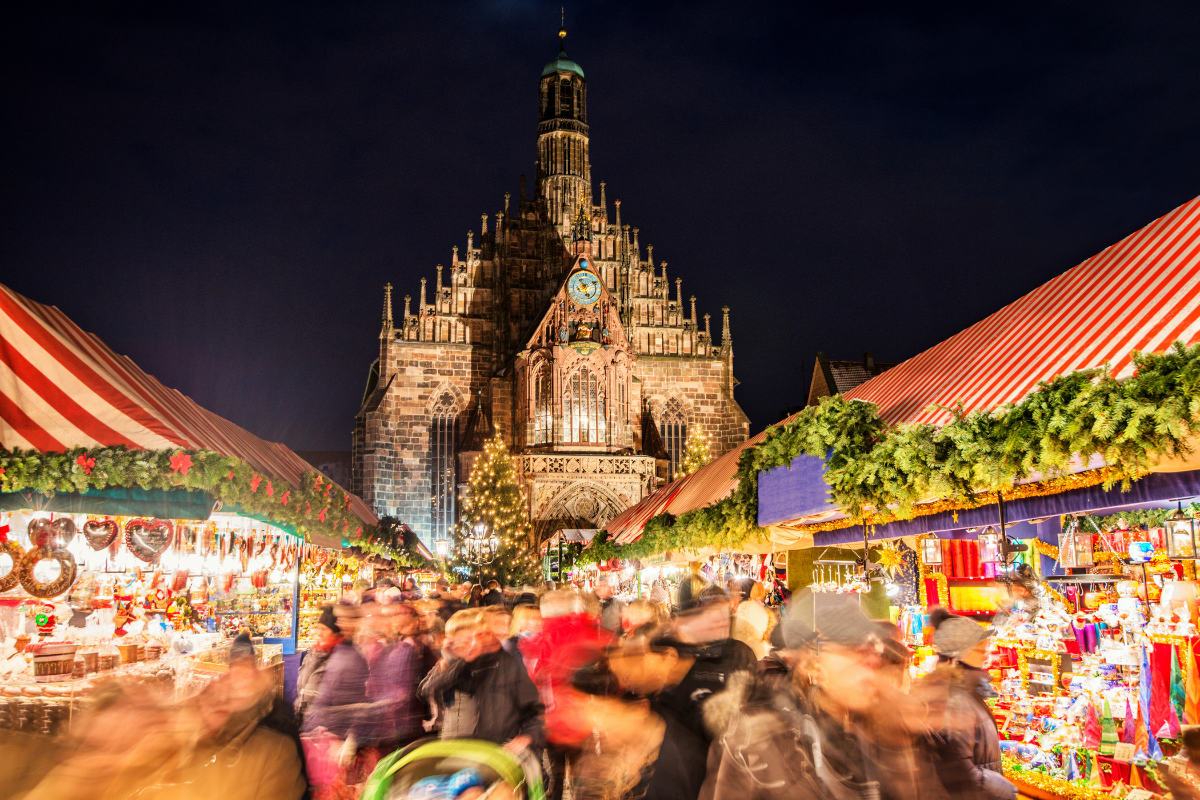 Christmas markets are a holiday staple in Germany and one of the best reasons to visit in December! Christmas (Weihnachten in German) is indeed one of my favorite times of year to visit Germany.
The Christmas lights decorating town squares, the delicious sweet and savory food and drinks, the traditions…it all adds up to a festive season that must be experienced like a local at least once.
I've celebrated Christmas in Germany (and Switzerland) several times, and one of my favorite ways to get into a festive mood is to visit local Christmas markets.
There are no entrance fees, so you can come and go as many times as you'd like, and they're the best place for sampling traditional German Christmas food and participating in German Christmas traditions.
Germany's beautiful Christmas markets abound in Germany. Nearly every town has one and large cities often have a main market in the city center and several smaller ones scattered throughout the city.
If you visit Germany during the month of Advent (the 4 weeks before Christmas Eve) you shouldn't have any problems finding a Christmas market.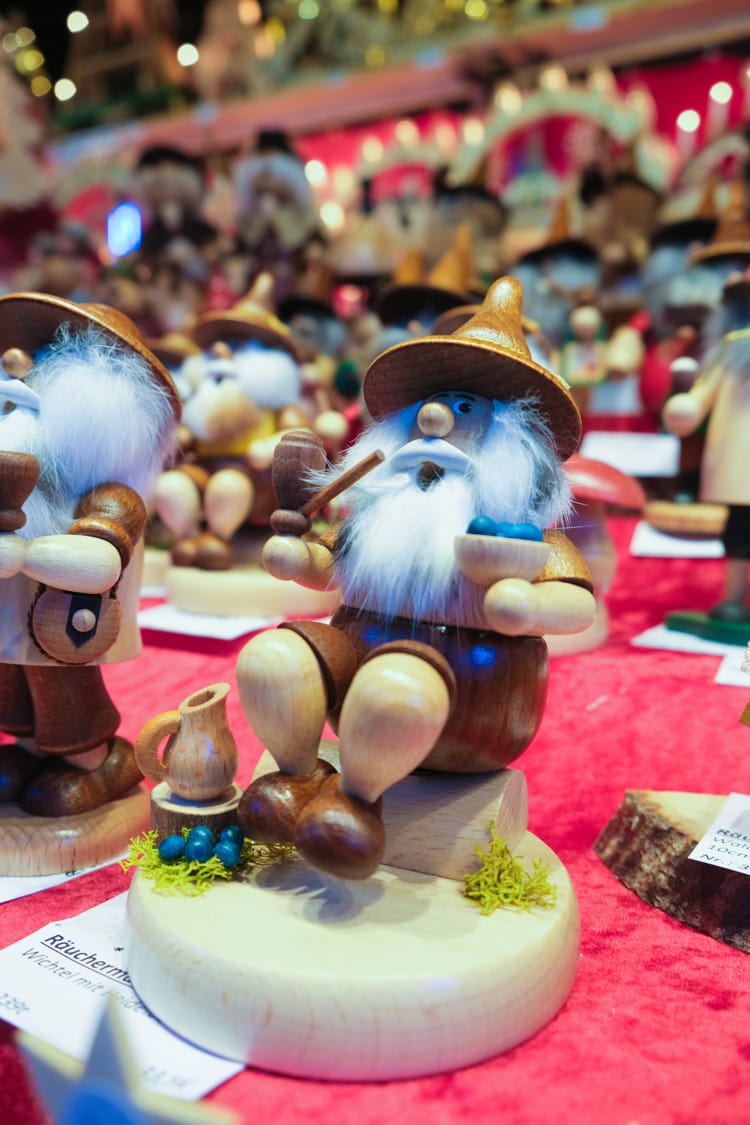 When Do German Christmas Markets Start and End?
Traditional Christmas market dates vary a bit year to year because they're only open during the month of Advent. Markets typically begin on the first weekend of Advent, which starts four weeks before Christmas Eve.
Depending on the year, Christmas markets will open in late November or early December. In smaller towns, Christmas markets may have slightly different start dates and may only be open on the weekends or specific days during the holiday season.
Most markets end by December 23 and are not open on or after December 24 (Christmas Eve). That said, in large cities or very touristy locations, you might find a Christmas market open through New Years or even into January (but not on the three days of Christmas). If there's a market you really want to visit, confirm its opening dates and times ahead of time.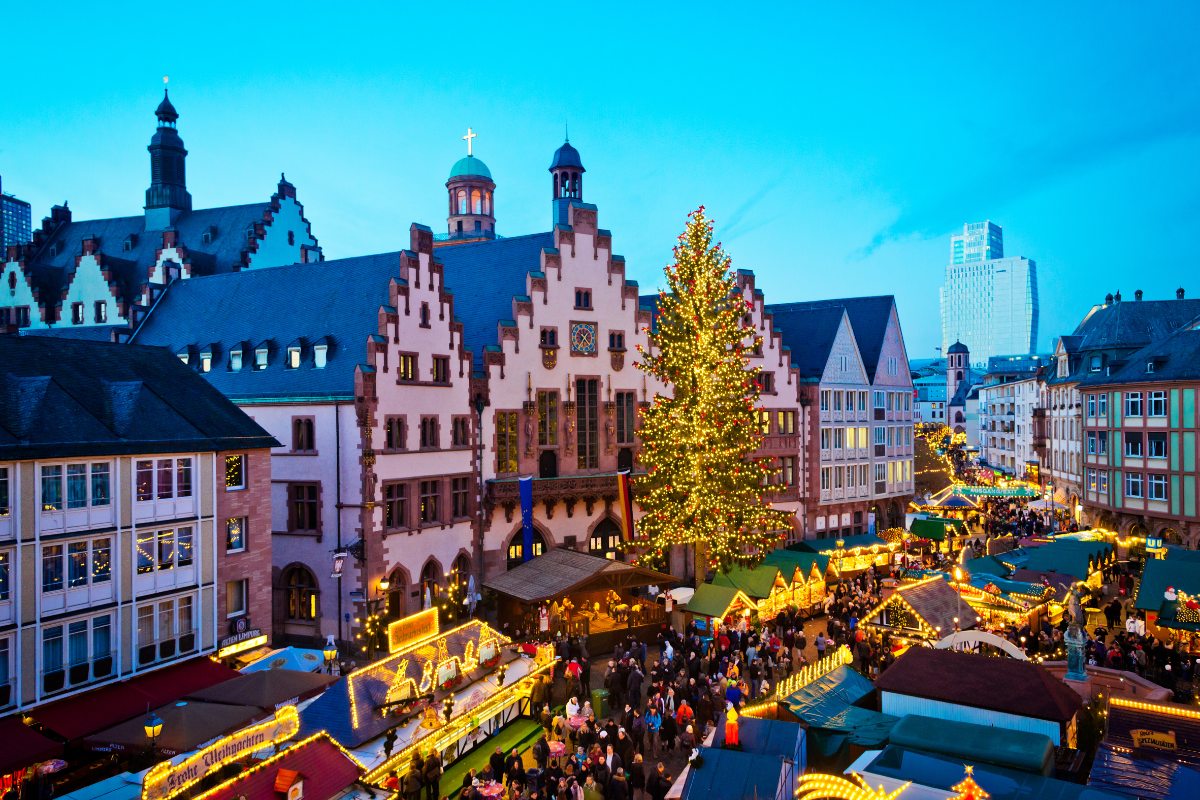 Are Christmas Markets Held Outdoors? Isn't It Cold?!
Yes. And, yes! I have so many memories of freezing my butt off with my friends at the local Christmas market when I lived in Germany. Ha! But that's part of the charm. It just wouldn't be the same if it were held indoors. My advice? Bundle up, wear warm socks, and drink a mug of Glühwein or three if you start to shiver.
Here's what I recommend for your Christmas market visit:
Merino wool everything – definitely a travel staple for me because it it's lightweight, doesn't wrinkle, keeps you warm, and doesn't retain odors . My must-haves: wool hat, gloves, sweater, and if it's really cold, a base layer shirt and leggings. (Yep, I've worn all of that to the Christmas market in Germany…some years it gets COLD!)
Secret pocket scarf – a scarf is must in cold, wintery Germany, and the secret pocket keeps important items safe! Check out my guide here so you can find the best scarf for your trip.
Hand warmers – either disposable or reusable (for when you're not holding a mug of Glühwein).
Merino wool knee socks – because you won't enjoy the Christmas market if your feet are freezing (been there, done that).
Click here to see our packing list for Germany!
What's The German Word for Christmas Market?
That depends…Weihnachtsmarkt is the standard word for Christmas market but you may also see Christkindlemarkt, Streizelmarkt, Reiterlesmarkt or other regional variations.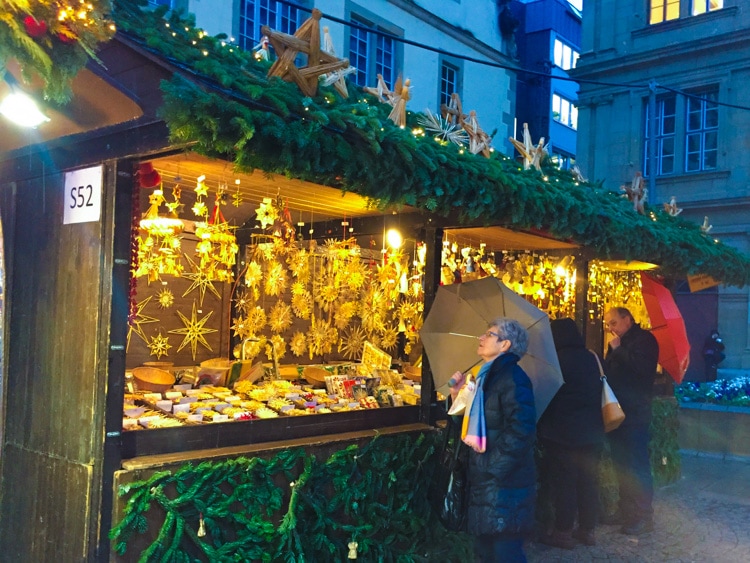 What's The Best Time to Visit a Christmas Market?
It depends on what you're looking for. For entertainment and kids programs go on the weekends. That's also usually the busiest time to visit. I once went to the Nürnberg Christmas market on a Saturday afternoon and it was so crowded we could hardly walk!
Afternoons during the work week are typically the least crowded (just check to make sure smaller markets are open). If you want to avoid crowds or shop, go earlier in the day. If you want a festive mood, go in the evening when all the lights are twinkling.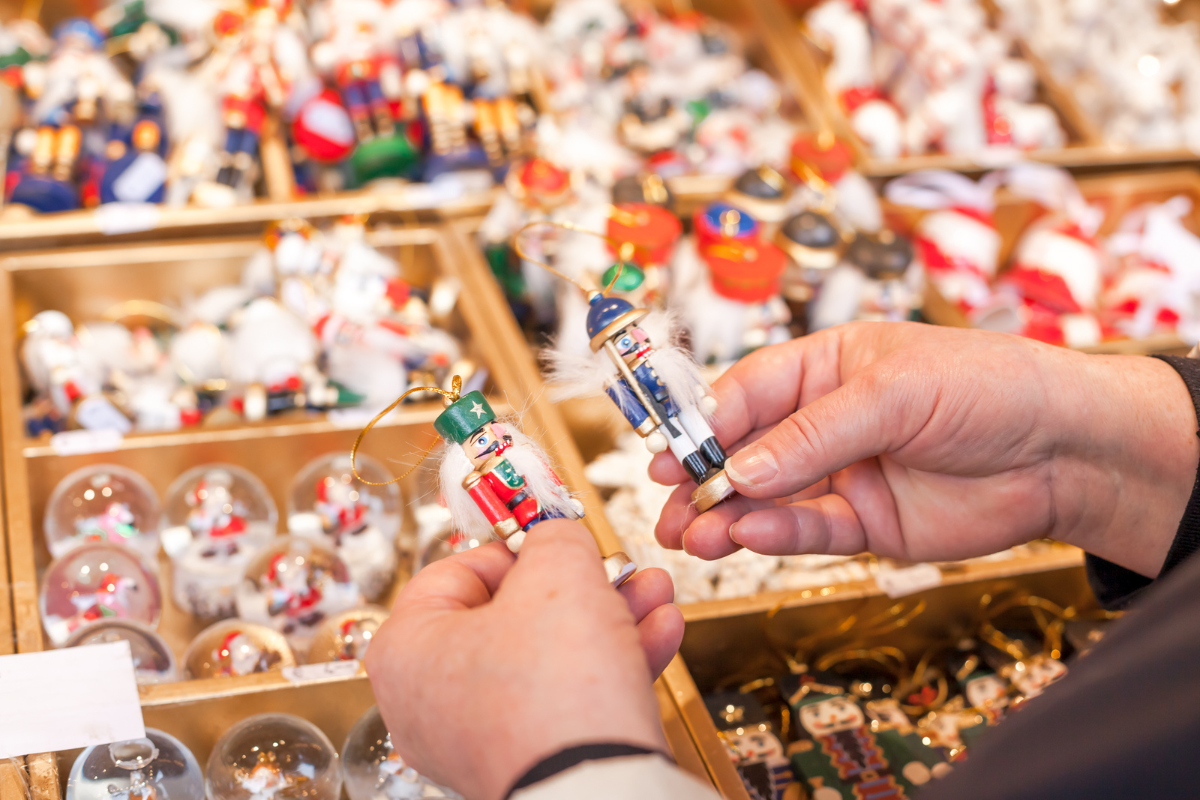 Are All Markets the Same?
Most have the same staples: they're held outdoors, have rows of decorated stalls selling crafts, wooden toys and traditional German Christmas decorations, and offer a variety of typical German street food, drinks, and desserts and sweets.
But each market has its own personality, traditions, and local flavor. That's why it's so fun to visit lots of different markets all over Germany!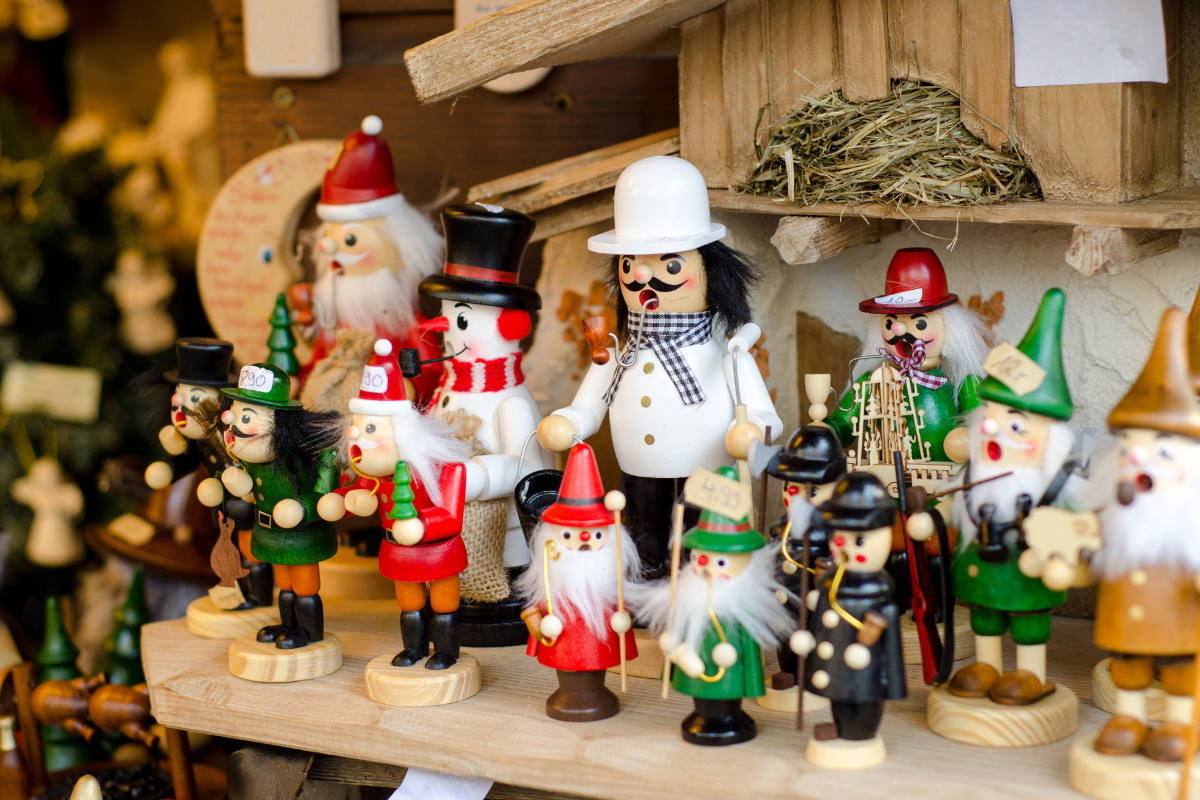 Where Are Christmas Markets Held?
Typically, you'll find the holiday food stalls and traditional wooden huts in the city center main square where the old town hall and other historic buildings are concentrated. It's easy to visit these popular markets via public transportation because these town squares are in the heart of each city, town or village. Some big cities (like Berlin) will have multiple markets throughout the metro area.
What Can You Do at the Local Christmas Market?
Eat German Christmas market food. Bratwurst, grilled potatoes, potato pancakes, and grilled mushrooms are a few of my favorites. There are lots of other things to eat, as well!

Drink Glühwein (hot mulled wine) in a special Christmas market mug. (Note – you'll be required to pay a Pfand, which is a deposit on the mug. You'll get the deposit back when you return the mug. Or forfeit your deposit and keep the mug as a souvenir!). You can also get other drinks like hot chocolate, tea, beer, water, etc.

Enjoy German Christmas desserts, nuts, and sweets. Gebrannte Mandeln (cinnamon roasted almonds), Lebkuchen (German gingerbread), Stollen (German Christmas bread), Marzipan, cookies, candy, waffles, cakes, crepes, pastries, hot roasted chestnuts…and much more.

Shop for traditional German Christmas ornaments and decorations. Wander the many wooden stalls and you'll find a variety of traditional handicrafts, cute wooden and straw ornaments, (sometimes handmade, but not always!), wooden "smokers", wooden Christmas pyramids, candles, and a variety of other market- or region-specific traditional crafts. It's a great place to do some Christmas shopping!

Find German Christmas gifts. Christmas markets are full of fun items that make great gifts for friends and family of all ages. Christmas market mugs, ornaments and decorations, wooden toys, and more.

Enjoy the festive Christmas season! Some markets offer music, entertainment, programs for kids, and carnival rides. It's just fun to get a drink and a snack and hang out.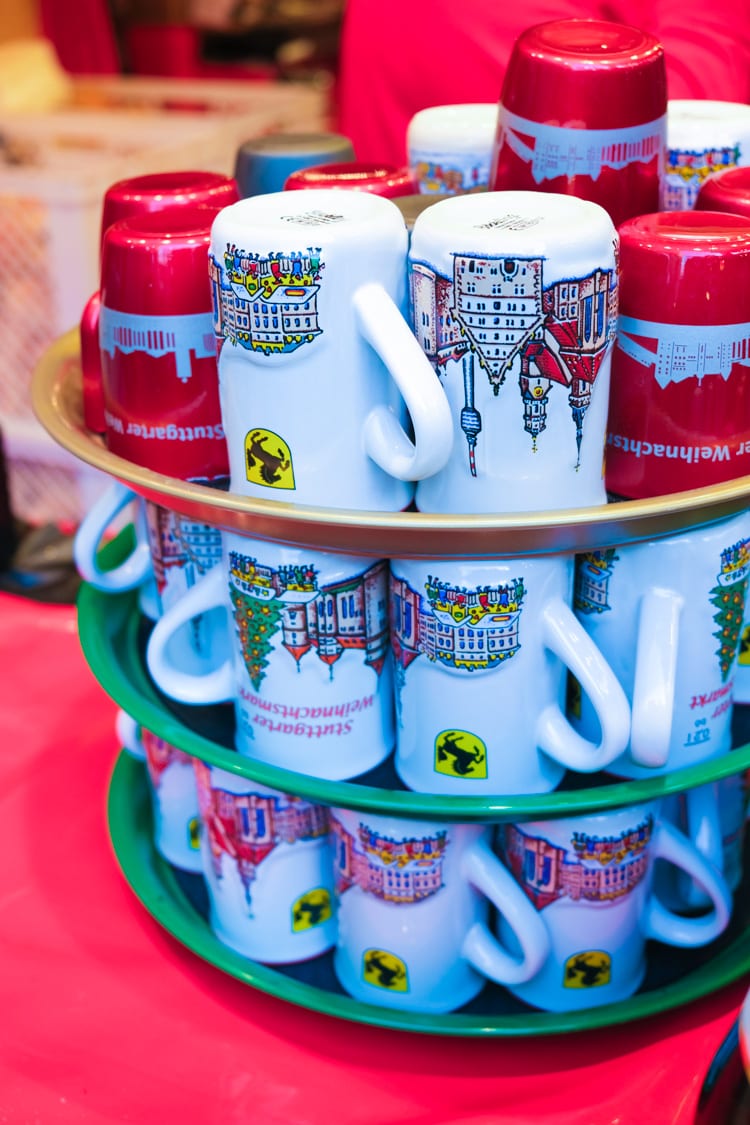 What are the Best German Christmas Markets to Visit?
There are so many different Christmas markets all over Germany, so you have a wide variety to choose from. Whether you're looking for big city markets, more intimate village markets, quirky markets, medieval markets, or something else, you'll find it in Germany!
Here are first-hand tips for visiting 23 of the best Christmas markets in Germany.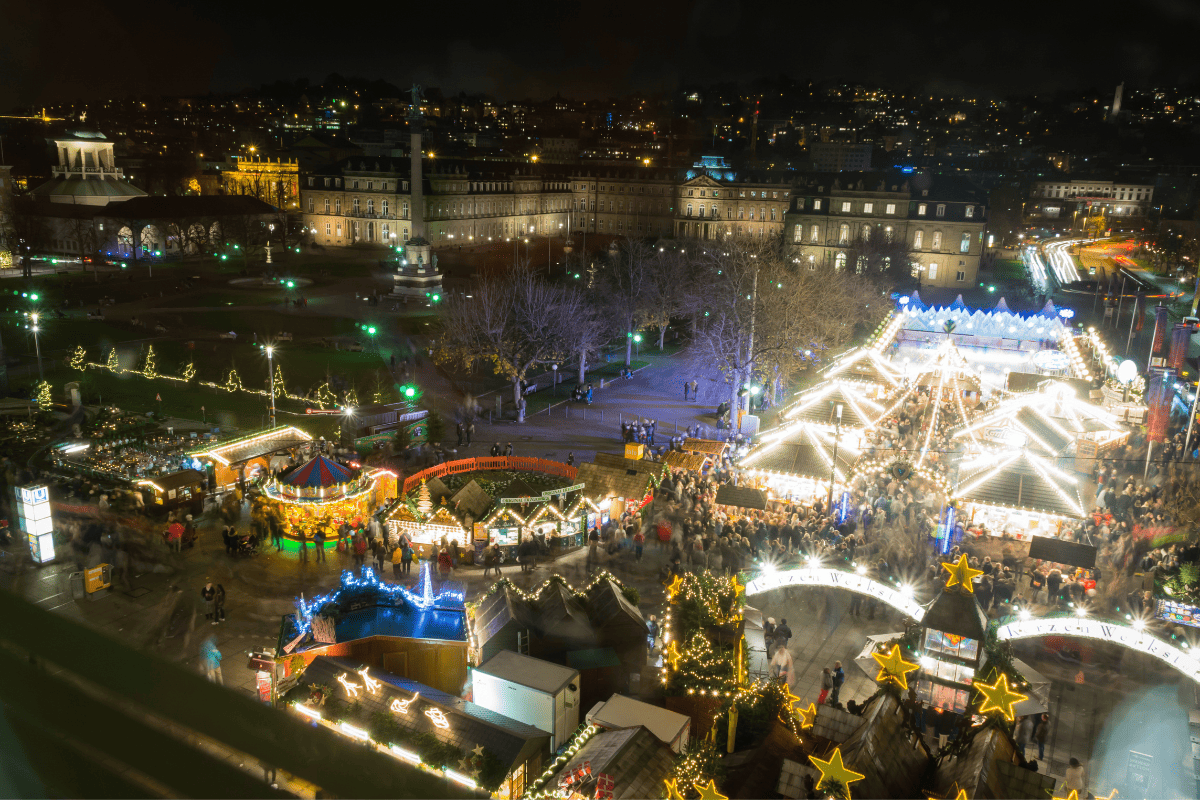 1. Stuttgart Christmas Market
Stuttgart has one of the largest Christmas markets in Germany and is one of the oldest Christmas markets in Europe! Located in the city center, this quintessential market is only a short walk from the train station, so it makes for an easy day trip if you're staying outside the Stuttgart area.
Whether you visit during the day or evening, on a weekday or weekend, you're sure to have an enjoyable, not to mention delicious time enjoying the advent season at the Stuttgart Weihnachtsmarkt. When I lived in Stuttgart I'd walk through this famous Christmas market nearly every day, as it was on my way home!
While Stuttgart has all of the German Christmas market favorites – food, drinks, craft stalls, and festive decorations, it also offers several holiday concerts given by choirs and music groups from around the Stuttgart area. This market also has several fun activities that make it the perfect place for the whole family: a Christmas fairyland, a mini train, ice skating rink, kids' ferris wheel, and opportunities to bake your own gingerbread hearts or make your own candles. There's also a live nativity scene. If you're in Stuttgart on the market's opening day, you can watch the live tree lighting!
There are several hotels near the Stuttgart Christmas market. I've recently stayed at and enjoyed both Motel One and Hotel Unger. Both offer breakfast, comfortable rooms, and are only a short walk from both the train station and the Christmas market.
Click here for our ultimate Stuttgart Christmas Guide!
Stuttgart Christmas Market Dates: generally around Nov 27 to December 23 (10 or 11am – 9 or 10pm)
2. Munich Tollwood Winterfestival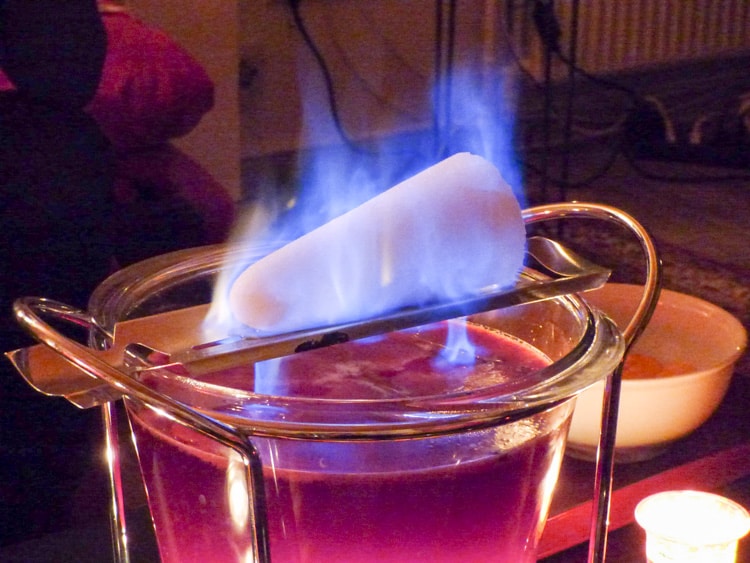 If you are looking for a unique Christmas market experience, definitely check out the Tollwood Winterfestival in Munich. It is an alternative Christmas Market/Festival that concentrates on raising awareness on environmental issues.
Whether you want to enjoy some free live music, have a nice cup of mulled wine or enjoy delicious food from all over the world, Tollwood Winterfestival is the place to be. Especially for food, you'll have endless choices. My favourites are savoury crepes and cheese fondue.
For drinks, I do love mulled wine but if you are looking for something more exciting, try a Feuerzangenbowle. It literally translates to "fire-tong punch" and it is exactly that. A rum-soaked flaming cone of sugar drips into the mulled wine to give it that extra twist.
For a nice hostel close to Tollwood Winterfestival, try the Wombats at the Munich central station. You can walk to Tollwood from there and are generally in a great location to explore the rest of Munich.
via Valerie at Valerie's Adventure Time
Munich Christmas Market (Tollwood Winterfestival) Dates: generally around Nov 26 to December 23 (Mon – Fri 2pm – 12:30am / Sat & Sun 11am – 12:30am)
3. Dresden Striezelmarkt (Dresden Weihnachtsmarkt)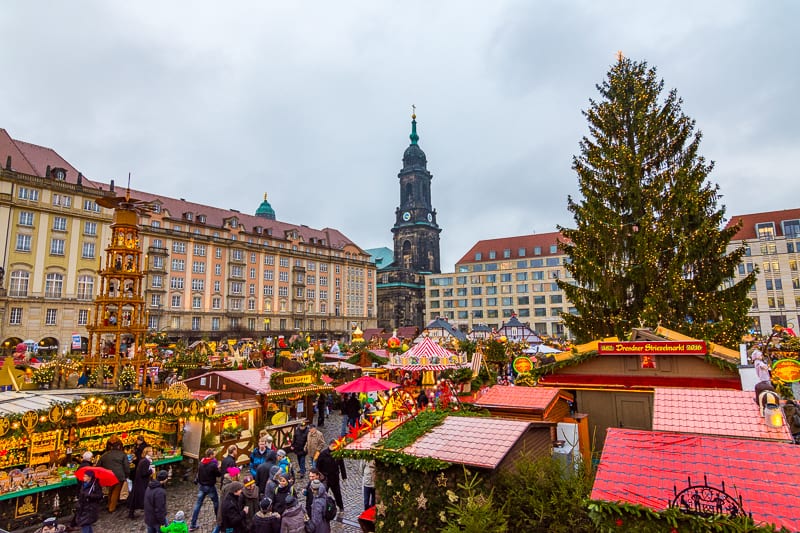 The main Christmas market in Dresden is called the Striezelmarkt and it's the oldest German Christmas market. It's located in the old town square in Dresden and it's popular both among locals and tourists from all over the world. The Christmas market ticks off every criterion as the perfect place to get the holiday spirit going.
The Dresden Christmas market offers plenty of food and drink stalls serving all kinds of Bratwurst, and variations of the famous Glühwein along with other hot beverages to keep you warm. As for something sweet to eat, I recommend that you get some handmade marzipan, it's the best!
There is also a wide range of vendors in Striezelmarkt which are selling decorations, ornaments, and other Christmasy handicrafts. The old town in Dresden is full of hotels and apartments that you can rent via Airbnb. It's recommended to book your accommodation some months before as it's a popular destination.
via Alex at The Swedish Nomad
Dresden's Striezelmarkt Market Dates: generally around Nov 27 to December 24 (10am – 9pm)
4. Berlin Weihnachtsmarkt at the Roten Rathaus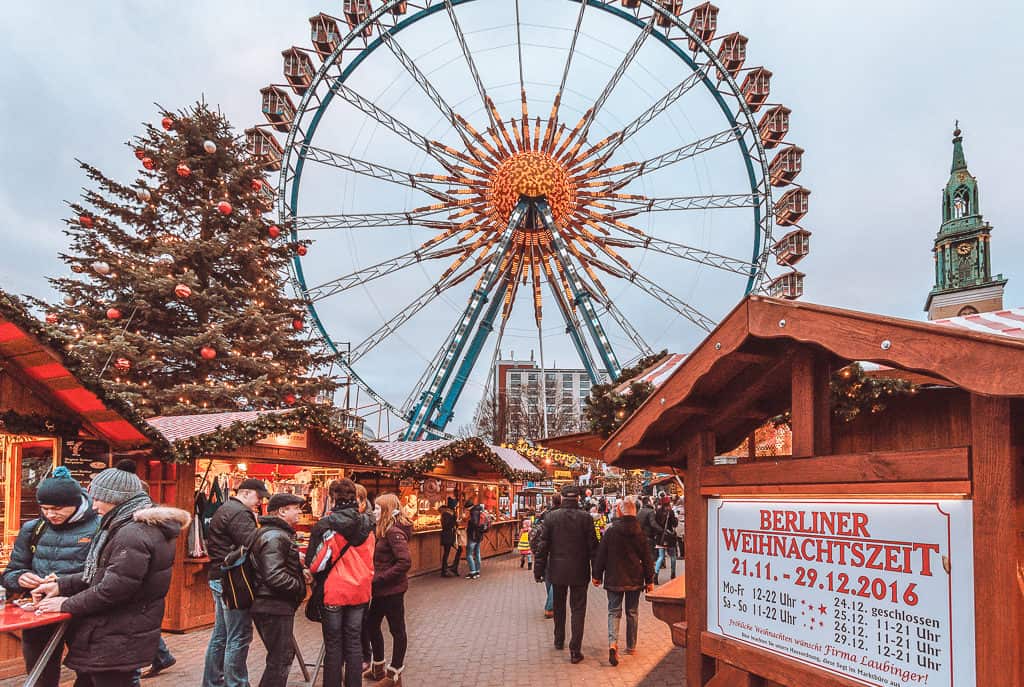 The Weihnachtsmarkt at the Roten Rathaus is the largest and one of the most classic Christmas markets in Berlin (the German capital). It's especially famed for its iconic ferris wheel where you can go for a ride.
In addition to that, there are many food stalls serving everything from Currywurst to local Bratwursts and various sweets that are baked with Christmasy spices. And of course, you'll also find many stalls that sells Glühwein and other hot beverages. Hot apple cider is another favorite that you can find at the Roten Rathaus.
There is no entrance fee to this Christmas market in Berlin, so you can come and go as you please. The children can enjoy daily visits from the Santa Claus, and there is also a big ice skating rink where you can go for a spin on the ice.
Due to the central location of this Christmas market, you can easily access it from anywhere in Berlin, and there are plenty of hotels nearby.
via Christine at Christine Abroad
Berlin Christmas Market at Roten Rathaus Dates: generally around Nov 25, 2019 to Jan 6(11am – 10pm)Trier
5. Rhein Villages Weihnachtsmarkt
My favorite German Christmas markets can be found in the cute villages situated along the Rhine river. Indeed, as they are nestled along the Rhine river bank, often with towering rocks in the back, they have a particularly enchanting atmosphere.
The most famous Rhine villages are Bacharach, Boppard, and Oberwesel. All of them have very picturesque Christmas markets that are set in the narrow streets of the Rhine villages. The most typical thing to drink at the Christmas Markets located in the Rhine villages is hot wine made in the Rhine Valley.
If you are looking for an extraordinary way to explore the best castles and towns on the Rhine, I highly recommend hopping from one village to another by boat. Distances are not very large and it's the perfect way to enjoy more than only one German Christmas Market.
via Paulina at Paulina On The Road
6. Ludwigsburg Weihnachtsmarkt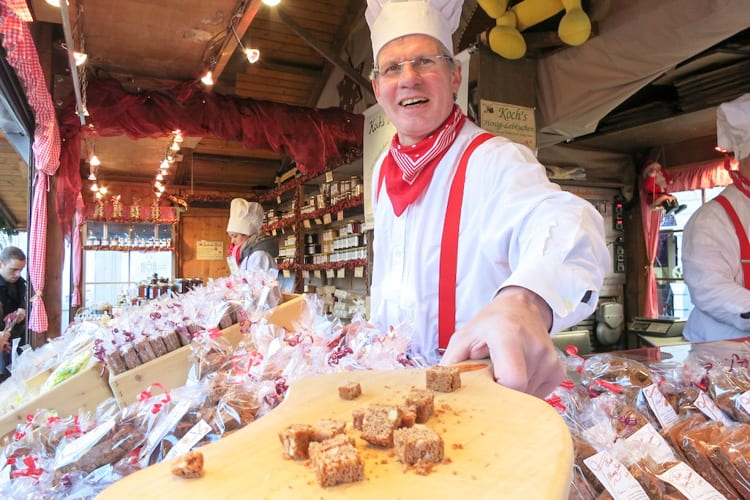 Ludwigsburg is located in southwest Germany about 20 minutes north of Stuttgart. Upon entering the Ludwigsburg Christmas market you will notice giant angels that spread their wings over the entire market. It's quite a spectacle at night. Nestled between two beautiful baroque churches you will find a market with over 175 stalls of local foods, handcrafted goods and lots of Glühwein or hot mulled wine.
The real taste treat is the Ludwigsburg Lebkuchen. It's the gingerbread snack that put Ludwigsburg on the map when they were registered in the Guinness Book of Records with the World's Largest Gingerbread.
Try the Dinnede or local Swabian flatbread loaded with cheese and your choice of toppings. There is even a veggie version that will have you remembering it for a long time to come.While in town don't miss another baroque masterpiece the Ludwigsburg Residential Palace. Even in the winter it's a magnificent showpiece that highlights this memorable city.
via Sue at Food Travelist
Ludwigsburg Christmas Market Dates: generally around Nov 28 to December 23 (11am to 8:30 or 9 pm)
7. Nürnberg Weihnachtsmarkt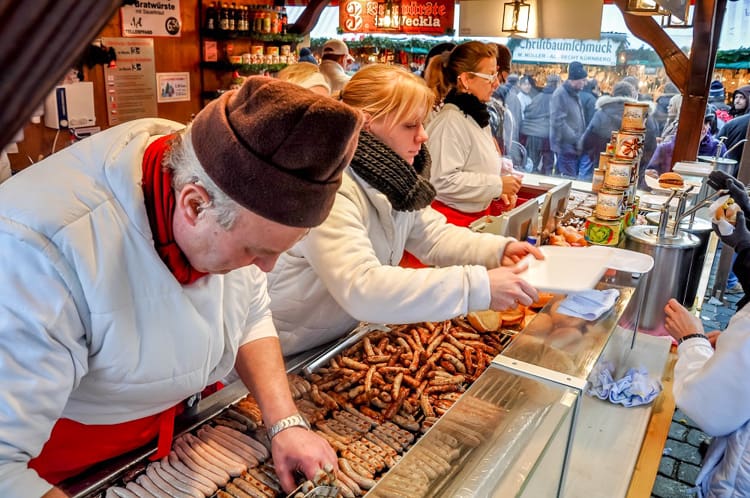 The Christkindlesmarkt in Nürnberg (Nuremberg, in English) is known for being one of the best Christmas markets in Europe. Centered in the city's Hauptmarkt, the festivities in Nuremberg have the beautiful 14th-century Frauenkirche church as a backdrop, with choirs and bands singing and playing seasonal songs for the shoppers.
In the lines of vendors that stretch out from the church, you'll find handmade glass ornaments, nutcrackers, and smokers alongside Nuremberg's traditional "prune people" (Zwetcshgenmännle) decorations. If you're lucky, you might just catch a glimpse of the Christkind—the Nuremberg Christmas Angel who is a symbol of the market and of Christmas itself.
As with other Christmas markets in Germany, food is a star in Nuremberg. One of the most popular items are Nurembergers, small marjoram-flavored pork sausages that have been staples in Nuremberg for centuries. They're most often sold as three in a bun with a bit of strong mustard.
If you prefer something sweet, try the Lebkuchen—or gingerbread—that's been part of Nuremberg culinary tradition since the 14th century. But skip the shapes that are highly embellished with bright icing—those are more for decoration than eating.
via Laura at TravelAddicts.net
Nuremberg Christmas Market Dates: generally around Nov 29 to December 24 (10am – 9pm, on 12/24 10am – 2pm)
8. Aachen Weihnachtsmarkt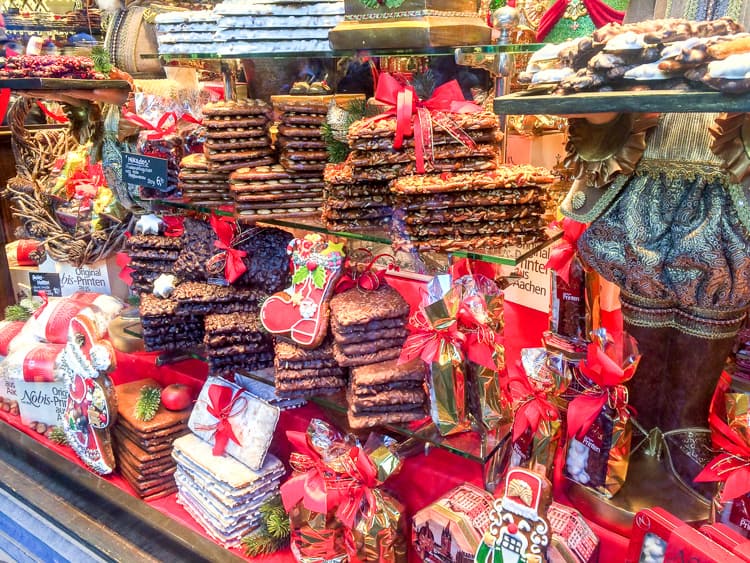 If you are looking for another example of a quintessential German Christmas Market, look no further than the old town of Aachen. What makes this market so beautiful is the location – the market weaves through the old town and around landmarks like the historic Aachener Dom (Cathedral) and the stunning Aachen Rathaus (Town Hall).
While you're visiting the Aachen Christmas Market, you have to sample Printen – a Christmas cookie (similar to gingerbread) specific to the region. If you want something savoury, grab yourself a Reibekuchen (a potato pancake).
As fans of historic architecture, we really enjoyed walking around the old town and exploring the market while indulging in the sights and sounds. The lights strewn across the cobblestone alleyways make for a very festive atmosphere. Oh, and don't forget to have a mug or two of Glühwein!
via at Eric Penguin and Pia
Aachen Christmas Market Dates: generally around Nov 22 to December 23 (11am – 9pm / Nov 22 & Dec 23 11am – 8pm)
9. Heidelberg Weihnachtsmarkt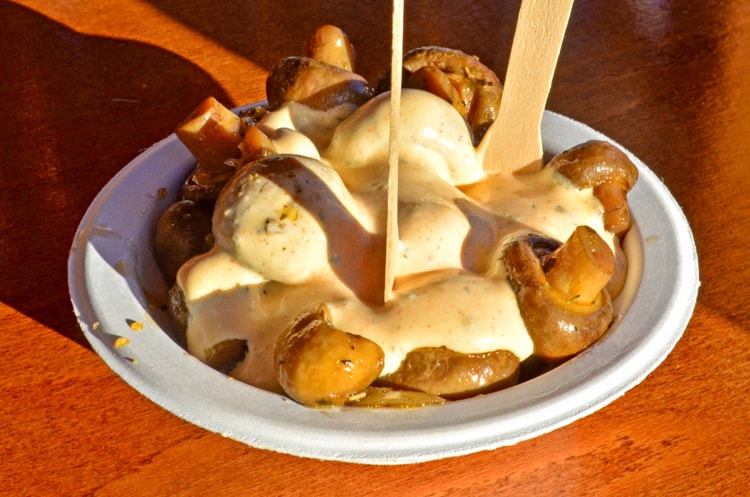 Heidelberg does not have a huge Christmas market, but it's definitely one to visit if you want to celebrate the season with the locals instead of other tourists.
The city has several holiday markets, but the majority of them are along the main pedestrian street, Haupstrasse, and the squares that border it. One of the most unique places to celebrate is the market at Karlsplatz, where people can ice skate in the shadow of Heidelberg Castle, perched high on the mountain behind the square.Afterwards, enjoy a cup of Glühwein and Flammkuchen (a thin crust pizza with caramelized onions, bacon, and cheese), a local specialty.
My kids thought this was one of the best things to eat at the market.Skip the Schneeball, a ball of shortcrust pastry covered in different toppings. It looks tempting, but it's not worth the money. Stay at Hotel Goldener Falke which offers the perfect location for exploring the Old Town.
via Kirsten at Kids Are a Trip
Heidelberg Christmas Market Dates: generally around Nov 25 – Dec 22 (Sun-Fri 11am – 9pm / Sat 11am-10pm )
10. Weihnachsmarkt am See, Konstanz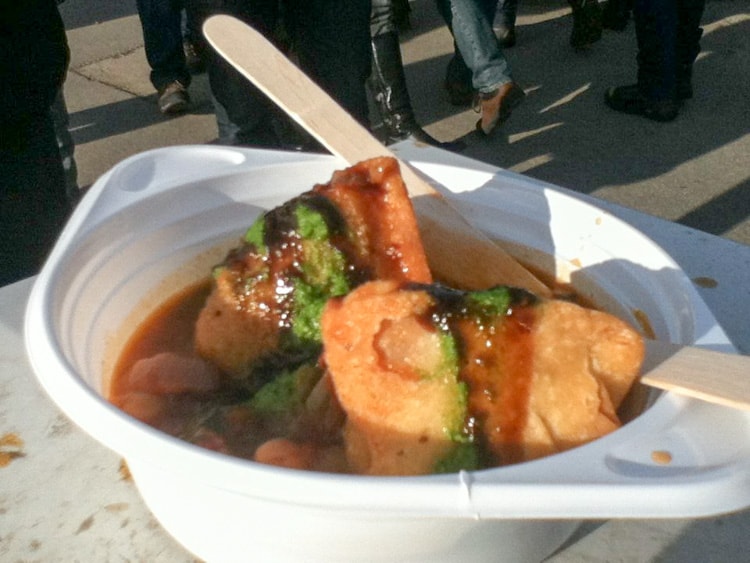 The name of this market means "Christmas market on the lake." As you would expect, it takes place all around the shores of Lake Constance, and even on the lake itself! In addition to the many stalls around the lake selling local handicrafts and refreshments, there are even more stalls on the "Christmas Ship" moored in the harbor. You'll also find an ice bar on board with a 360° panoramic view.
One of the most popular dishes among omnivores and vegetarians at Weihnachsmarkt am See is Käsespätzle, a southern German dish of fresh egg pasta and cheese. Vegans are best off heading to one of the Indian or Moroccan stalls instead. My personal favorite is the samosa chaat at Bombay Hut. This Indian street food snack consists of two vegetable samosas covered in a chickpea curry and various chutneys.
If you're looking for something sweet, look for heart-shaped, chocolate-covered gingerbread cookies. I believe we found them at a shop in Konstanz rather than at a market stall, but some stalls may have them too. It's not uncommon for gingerbread to be accidentally vegan, you just have to check.
via Wendy at The Nomadic Vegan
Konstanz Christmas Market Dates: generally around Nov 28 – Dec 22, 2019 (11am – 8pm)
11. Bremen Weihnachsmarkt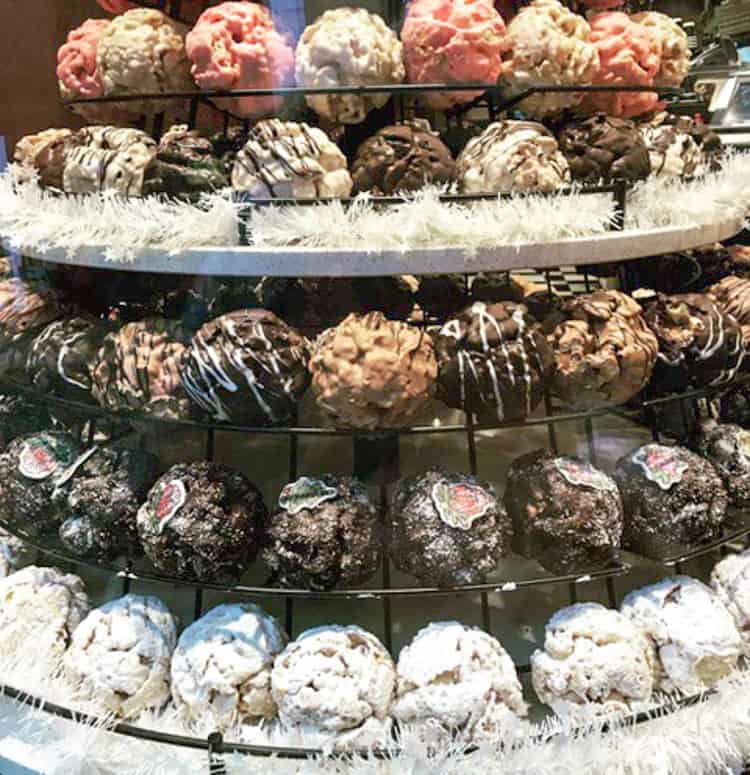 In the old town square, under the watchful eyes of the town musicians immortalized by the Brothers Grimm, is the largest of Bremen's Christmas markets.
Whether you wander around the square or stroll along the Schlachte promenade on the banks of the River Weser, you'll be tempted by the enticing festive aromas coming from the market stalls – roast chestnuts and almonds, gingerbread, and, of course, Glühwein.
This being Germany, no visit is complete without trying a sausage or two or, if you're feeling particularly adventurous, how about a smoked eel? They may look like overripe bananas but don't be fooled!
If you have more of a sweet tooth you really won't be disappointed – take your pick from Schaumkuss (chocolate covered marshmallows), Paradiesapfel (decorated candied apples), marzipan in many forms, and poffertjes (small fluffy pancakes sprinkled with icing sugar and, in my case, generously doused in Baileys). Food heaven for any visitor!
Alison at Alison in Andalucia
Bremen Christmas Market Dates: generally around Nov 25 – Dec 23, 2019 (10 or 11am – 8:30 or 9pm)
12. Kassel Weihnachsmarkt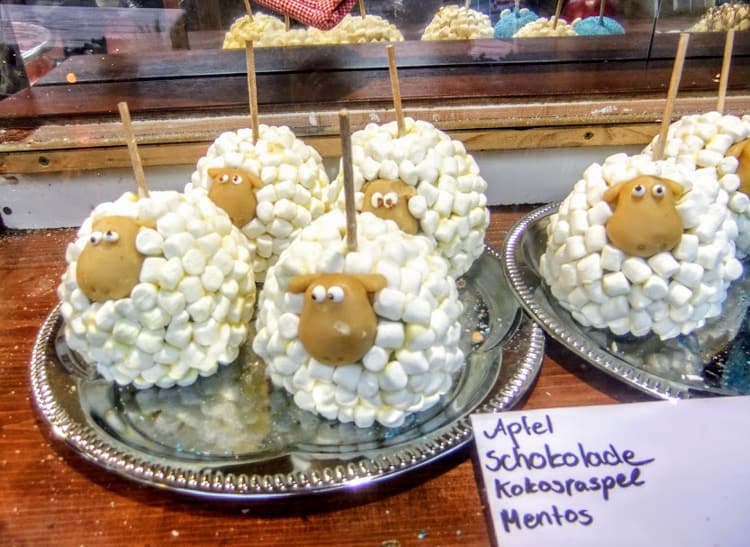 As a fan of small towns and lesser-known destinations, I absolutely fell in love with Kassel and its Christmas market. Known as the Kassel Märchenweihnachtsmarkt (fairy tale Christmas market in English), the town falls along the country's fairy tale route which pays tribute to the iconic Brothers Grimm fables.
Each year one of the tales is chosen as the theme for the market, adding an extra splash of magic to the overall experience. Since it changes each year, you'll always find something new and exciting about the market!
One thing that's always consistent is the food – and it's downright delicious. I highly recommend their Champignons mit Knoblauchsoße (mushrooms with garlic sauce) which pairs nicely with their Glühwein (mulled wine). It's the perfect combination of savoury and sweet… unless you get the sour cherry Glühwein! As if this wasn't enough to persuade you to visit, it's one of the few markets across Germany that's open past Christmas Day!
Lindsay from I've Been Bit
Kassel Christmas Market Dates: generally around Nov 25 – Dec 30, 2019 (11am – 8pm)
13. Regensburg Weihnachsmarkt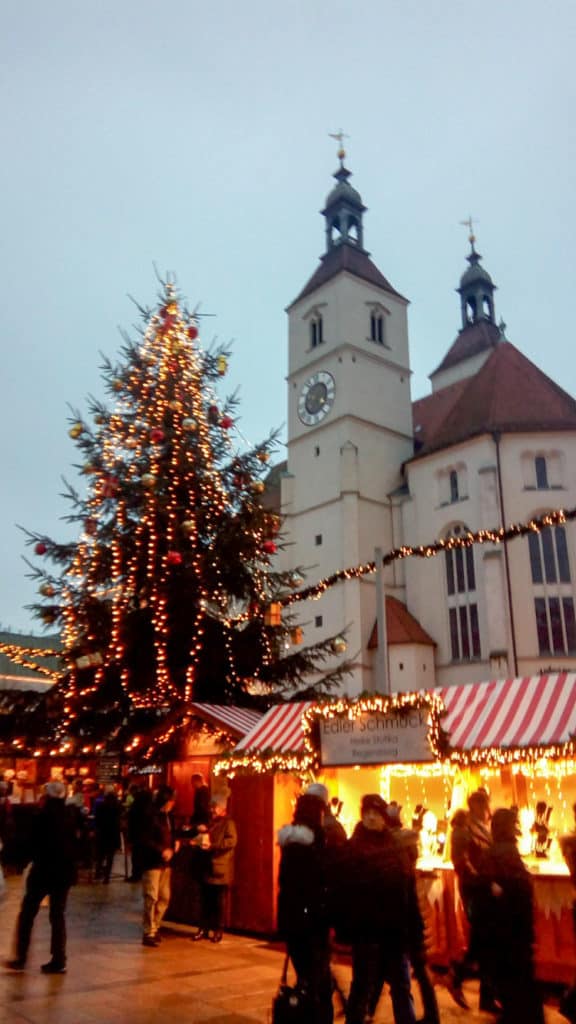 While you can find amazing German fests in Regensburg almost any time of year, it's the Christmas Markets in this cobblestoned German Bavarian town that steals people's hearts.
While many popular Christmas Markets get their notoriety because of their size, what is unique about Regensburg is that it isn't just one. Instead, you can find upwards of 6 markets sprinkled across the picturesque town. And since Regensburg is so easy to walk, you can be to the next market within minutes, all while sipping a Glühwein or window shopping along the way.
And instead of finding the same trinkets you might find anywhere, each market has a nice little unique flair of its one. For example, at one, you'll find all the "usuals" such as ornaments, nativity scenes, etc. But at another, there may be local artisans selling their handmade goods, or you might even see sheep at another.
Of course, don't forget the endless delicious food options. Drink a Feuerzangenbowle (mulled wine with a rum soaked sugar cube lit on fire!), savor a crepe, try some Schupfnudeln (German "noodles" with sauerkraut and bacon). Regardless of what you eat, drink or which markets you make it to, you'll find yourself holly and jolly for sure!
via LeAnna at Economical Excursionists
Regensburg Christmas Market Dates: generally around Nov 25 to December 23, 2019 (10am to 8 or 9pm)
14. Frankfurt Weihnachsmarkt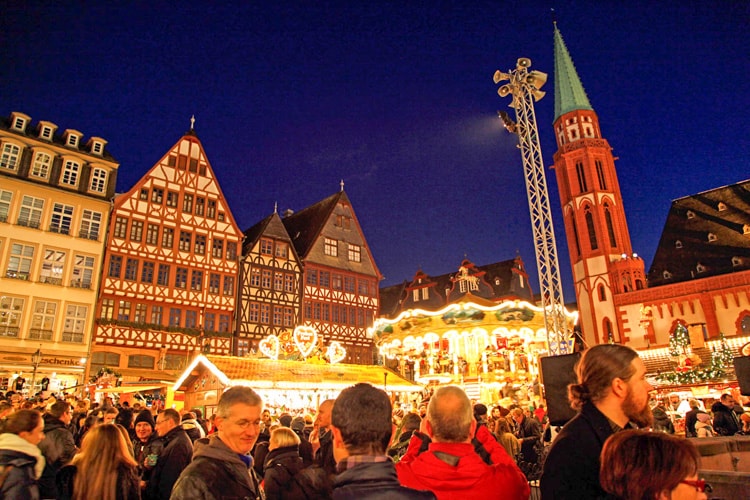 Frankfurt is known as a very modern city with an important financial district, but they do have an amazing charming Christmas market every year. Although the Christmas market in Frankfurt is not the most popular or well-known market in Germany, it is the oldest in the world!
The history of the market goes back to 1393 and across the old half-timbered houses in Altstadt, you will find the tallest Christmas tree in Germany. While the music fills the streets, you can try different kinds of sweets and snacks at over more than 240 stalls. Try one of the chocolate glazed pretzels with a hot cup of Glühwein and soak in the Christmas spirit!
Book your stay at the Lindley Lindenberg hotel, one of the coolest design hotels in town.
via Denise at inhetvliegtuig
Frankfurt Christmas Market Dates: generally Nov 25 to December 22 (10 or 11am – 9pm)
15. Düsseldorf Weihnachsmarkt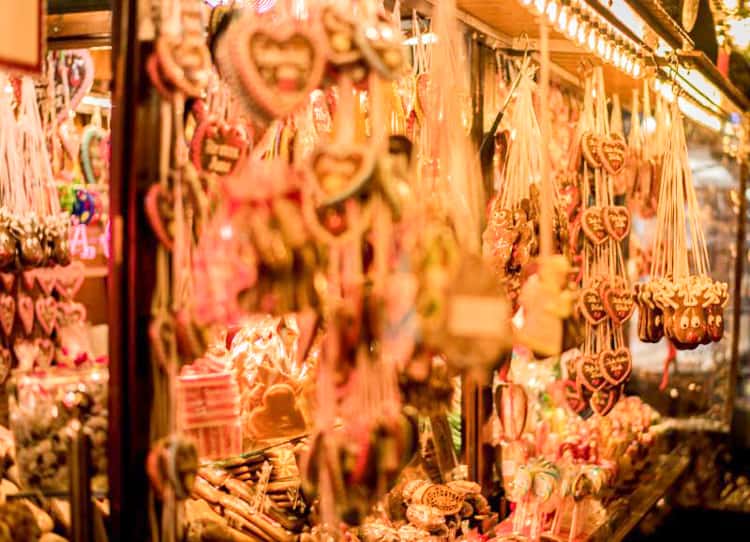 Düsseldorf's Christmas markets bring a festive atmosphere to the city just when the winter chill sets in over the Rhine.
The city's squares and streets are lit up and there's no better way to get into the festive spirit than a visit to one of the seven markets scattered across the city, all within easy walking distance. Here you will find all kinds of Christmas delights at over 200 Swiss-style wooden chalets featuring local arts and crafts, handcrafted jewelry, and other gifts all while sipping on hot spiced wine or hot chocolate well into the night.
A stroll on the promenade or along the world-famous Königsallee is a must at this time of the year featuring giant chestnut trees and decorated with thousands of lights and garlands.
via Rai at A Rai of Light
Düsseldorf Christmas Market Dates: generally around Nov 22 to December 30 (generally 11am- 8pm)
16. Bonn/ Siegburg Weihnachsmarkt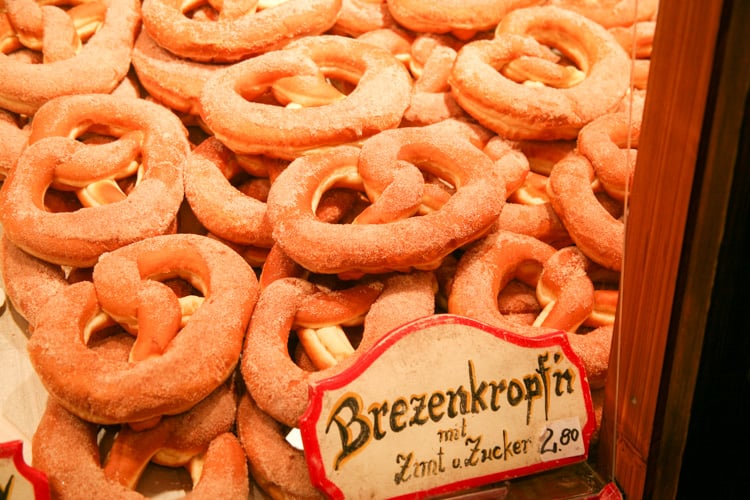 Germany is jam-packed with Christmas markets, all geared to get you into the festive spirit. But we believe that the cosy little market in the small hamlet of Siegburg, near Bonn in the North Rhine Westphalia district of Germany provides more than just yuletide fare.
This gorgeous gem of a market transports you back into time to a more traditional, medieval Germany. The market aims to give you an authentic look at what the country was like in medieval times: it operates without electricity (using lanterns and candles instead), focusses on using language and dress or attire from those times, and the goods and entertainment on offer definitely channel the Middle Ages: think blacksmiths, jugglers and minstrels!
The food matches the scene. You must eat the bread – Germans are known for their thick, crusty bread but these are baked in a traditional outdoor oven. If you're a fan of pork, indulge in the suckling roasted pig and for the sweet lovers, head to the Zimtbrezeln stand, which offers German pretzels doused in cinnamon and sugar.
via Lee at The Travel Scribes
Siegburg Christmas Market Dates: generally around Nov 23 to December 22 (generally 11am – 8 or 9pm)
17. Berlin Gendarmenmarkt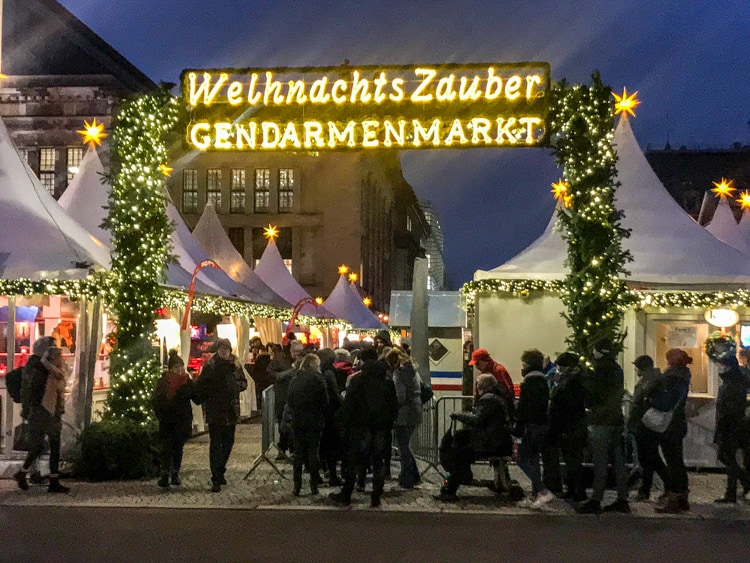 If you really want to experience WeihnachtsZauber (Christmas Magic) in Berlin then you need to visit the Gendarmenmarkt Christmas Market located centrally near Friedrichstrasse, Unter den Linden, and Leipziger Strasse. You can even stay near it at the Hilton Berlin Hotel located across the street.
This market is arguably one of the most beautiful in Berlin surrounded by French and German cathedrals and a concert hall. It's lit up with glowing stars on every tent and you'll find plenty of Christmas ornaments, tasty food, and Glühwein (mulled wine). All of this makes the Gendarmenmarkt Christmas Market very popular and one of my favorites.
Be sure to grab yourself a German sausage and candied nuts as you walk around and take in the sights. The ambiance of this market will certainly win you over!
via Jose from My Normal Gay Life
Berlin Gendarmenmarkt Christmas Market Dates: generally Nov 25 to December 31 (11am – 10pm / Dec 24 11am – 6pm / New Year's Eve 11am – 1am)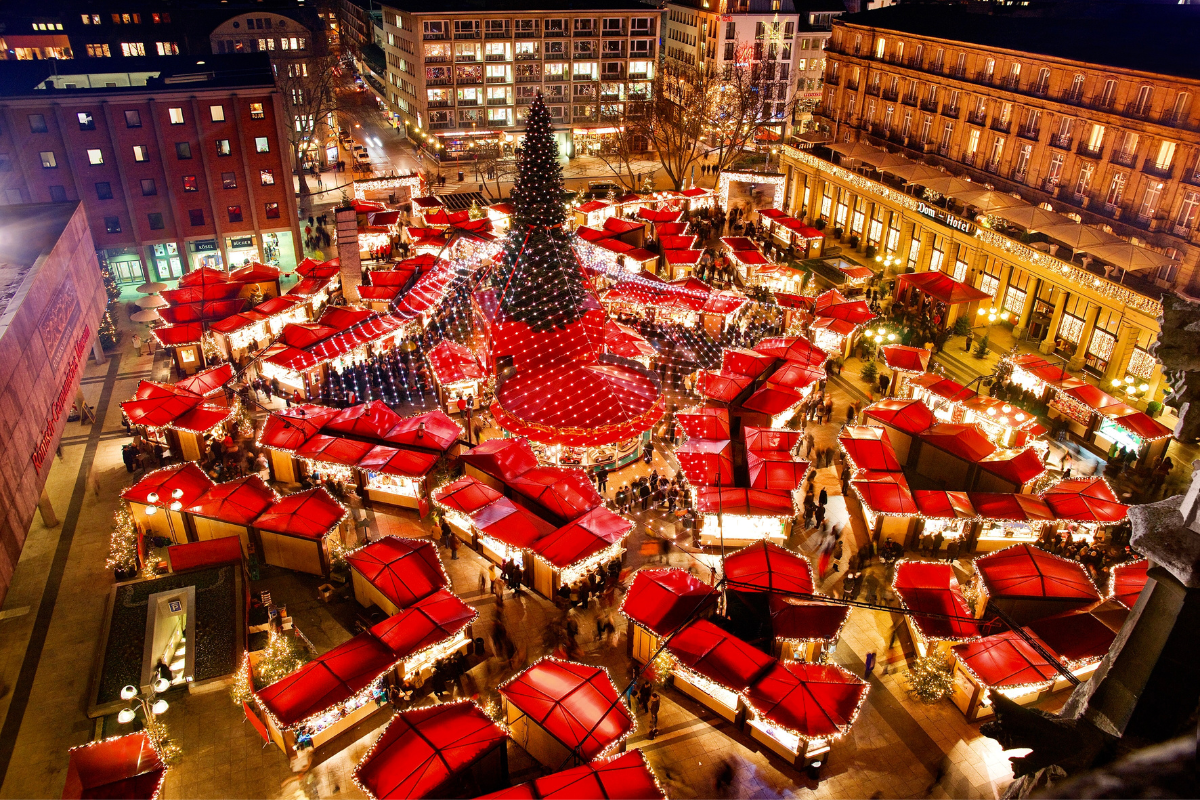 18. Cologne Cathedral Christmas Market
The most famous of Cologne Christmas markets is the Cologne Cathedral Christmas Market. People from all over the world visit this market because of its impressive location – right at the base of the iconic Cologne Cathedral in the city center.
At night, everything is illuminated by the Christmas tree, giving the historic buildings surrounding the market an extra festive look. Take in the sights as you walk around the stalls offering a delicious assortment of Christmas German sweets and traditional ornaments.
Cologne Cathedral Christmas Market Dates: November 21 to December 23, 2022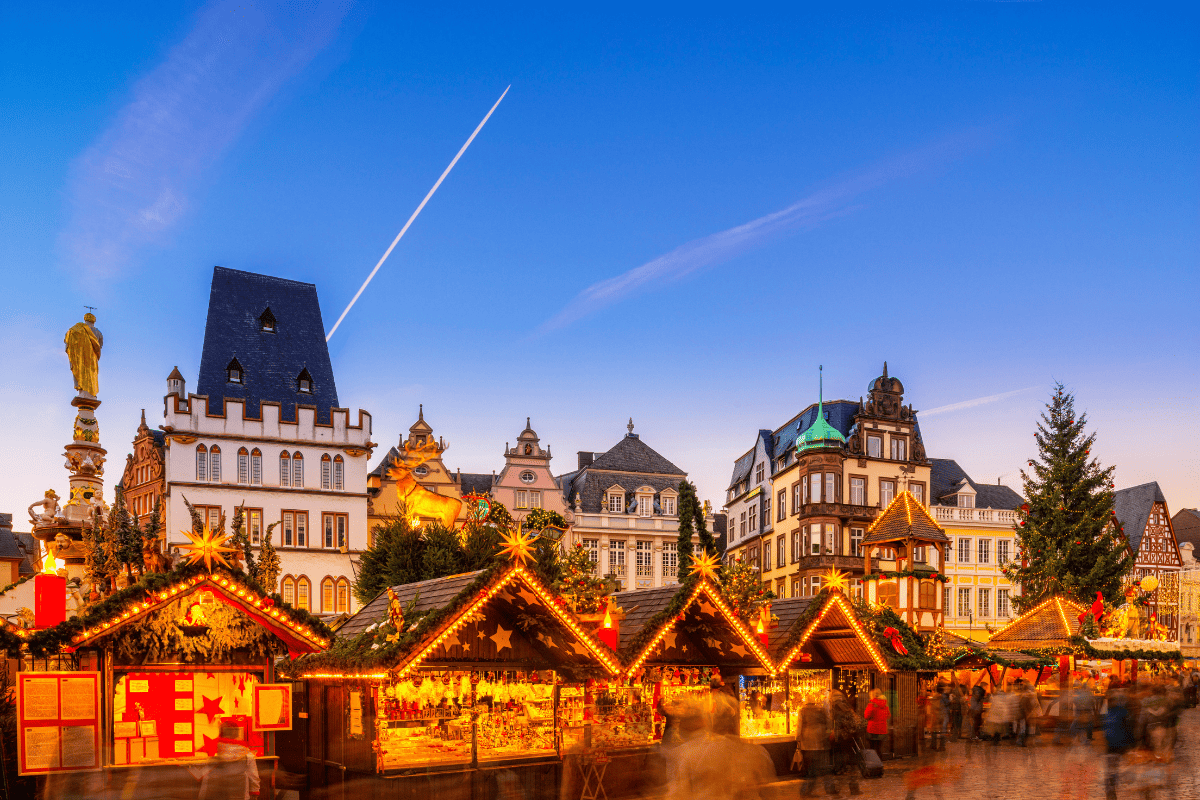 19. Trier Christmas Market
The Trier Christmas Market is a small but charming market located in Trier, an old town on the banks of the Moselle valley. The city is surrounded by Roman ruins, which gives the Christmas market its unique atmosphere. In the main square, you'll find the Trier Cathedral which has a beautiful castle-like exterior.
There are fewer stalls compared to the bigger markets, but you'll still be able to find all the Christmas market staples like Glühwein and Marzipanstollen. There are also programs you can watch such as historic puppet theater or performances to regional music.
Trier Christmas Market Dates: November 18 to December 22, 2022 (Closed on Sunday, November 20) (Monday through Thursday 10:30am – 8:30pm, Friday and Saturday 10:30am – 9:30pm, Sunday 11:00am – 8:30pm)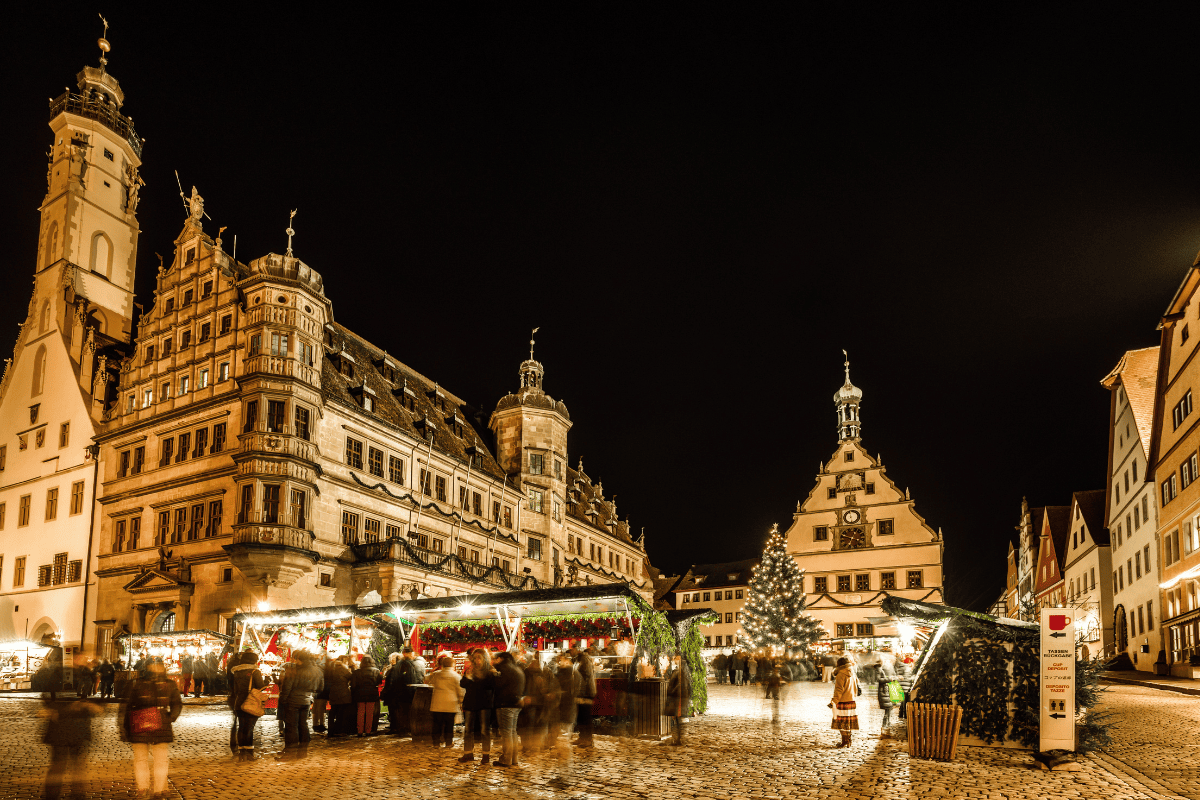 20. Rothenburg ob der Tauber Christmas Market
The Rothenburg ob der Tauber is a medieval walled city high above the Tauber River. During Advent season, the old city transforms into a beautiful Christmas winter wonderland.
The picturesque winding streets and square are lined with booths, making everything look like a storybook Christmas village. Delight in traditional Franconian specialties like Schneeball, finely-seasoned gingerbread Lebkuchen, and of course, Glühwein.
Rothenburg ob der Tauber Christmas Market Dates: November 25 to December 23, 2022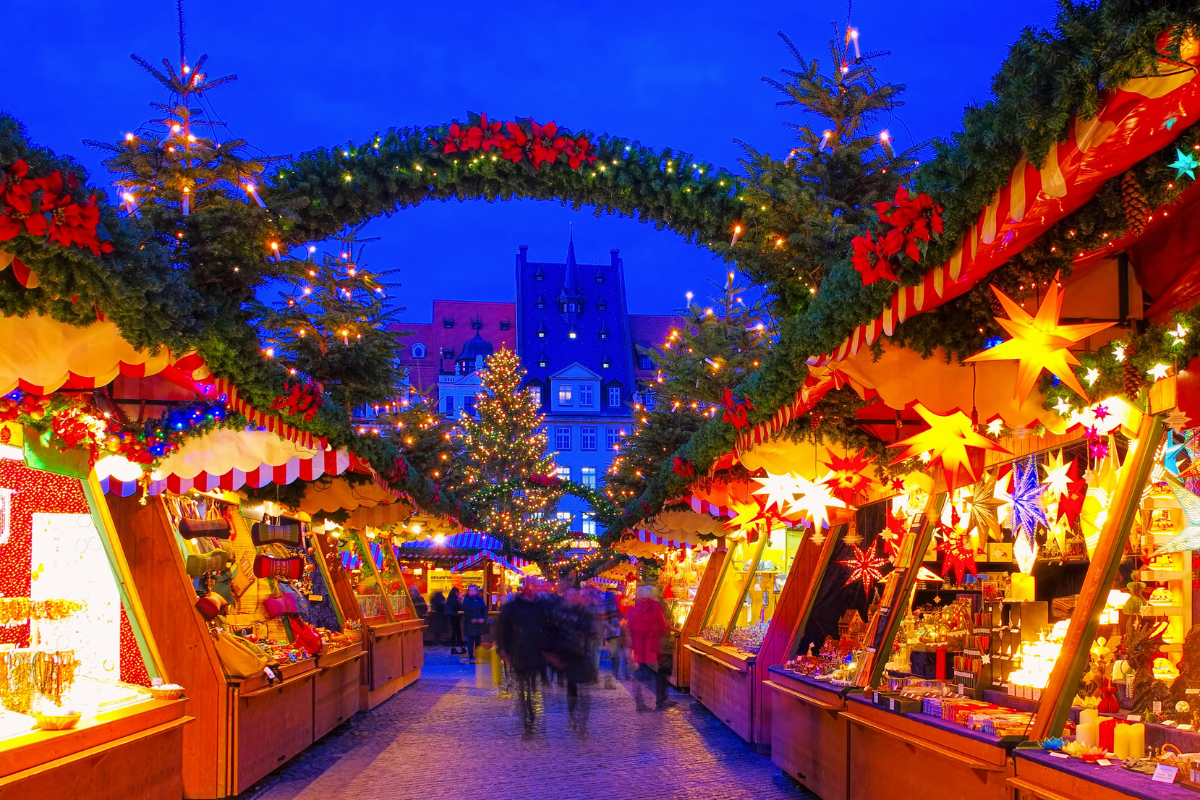 21. Leipzig Christmas Market
The Leipzig Christmas market is one of the oldest and largest in Germany. There are over 250 stalls decorated with twinkling lights and ornaments located in the historic city center. You'll find everything from classic German Christmas goodies to a traditional medieval market.
You'll also find a wide variety of attractions like Santa Claus' office hours for children, the giant Christmas tree towering over the plaza, and a daily traditional trombone concert at the balcony of Old Town.
Leipzig Christmas Market dates: November 22 to December 23, 2022 (Sunday to Thursday 10am – 9pm, Friday and Saturday 10am to 10pm)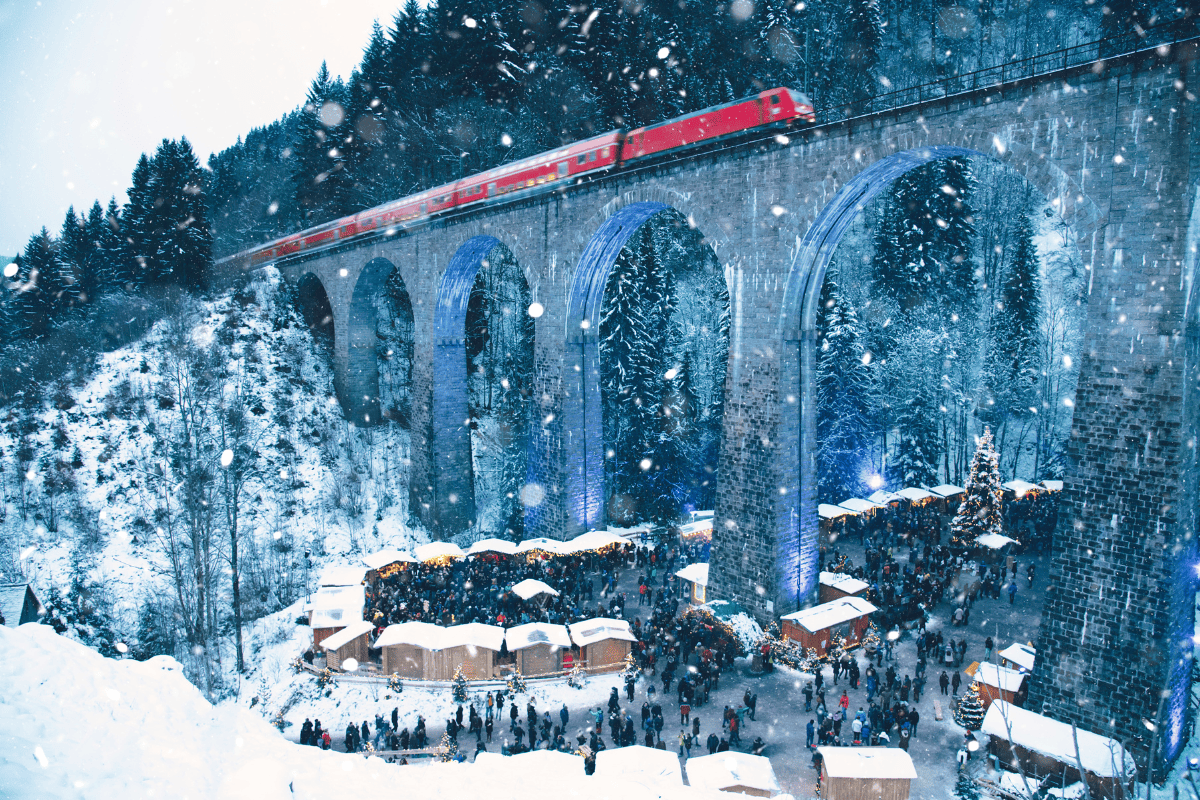 22. Ravenna Gorge Christmas Market
The Ravenna Gorge Christmas market boasts of one of the most breathtaking and surreal locations: it's located beneath the historic railway viaduct of Devil's Valley Railway and surrounded by the Black Forest. It's even more beautiful and fairytale-like when it snows, covering all the wooden stalls in white.
The market stalls highlight local artisans from the Black Forest region where you can buy handmade wooden carved sculptures, glass-blown decorations, woolen socks and more! After Christmas shopping make sure to enjoy local delicacies like Black Forest cake.
Ravenna Gorge Christmas Market dates: The market is only open Friday to Sunday starting November 25 to December 18, 2022. (Nov 25 – 27, Dec 2 – 4, Dec 9 – 11, Dec 16- 18)
23. Bad Wimpfen Christmas Market
This town is magical during Christmas market season! Traditional stalls and booths line the cobblestone streets of this super cute small town overlooking a beautiful valley. After a short walk from the train station, you can spend a very enjoyable afternoon or evening here wandering through not only the Christmas market but the narrow streets and pathways throughout this delightful town.
Don't miss the surprisingly narrow half-timber house on Badgasse. Even better? Spend the night in a castle (Burg Homburg)!
Bad Wimpfen Christmas Market dates: This market is open Friday – Sunday from late November to mid-December.