Munich in Winter: 15 Best Things To Do (Plus Travel Tips)
This post may contain affiliate links. Read my disclaimer policy.
Thinking about visiting Munich in the winter? Wondering if it's a good time of year to explore the city and what you can do and see during the colder months?
In this guide we share the pros and cons of visiting Munich during the winter, the best things to do in and around Munich, and our winter travel tips and experiences so you can make your time there unforgettable.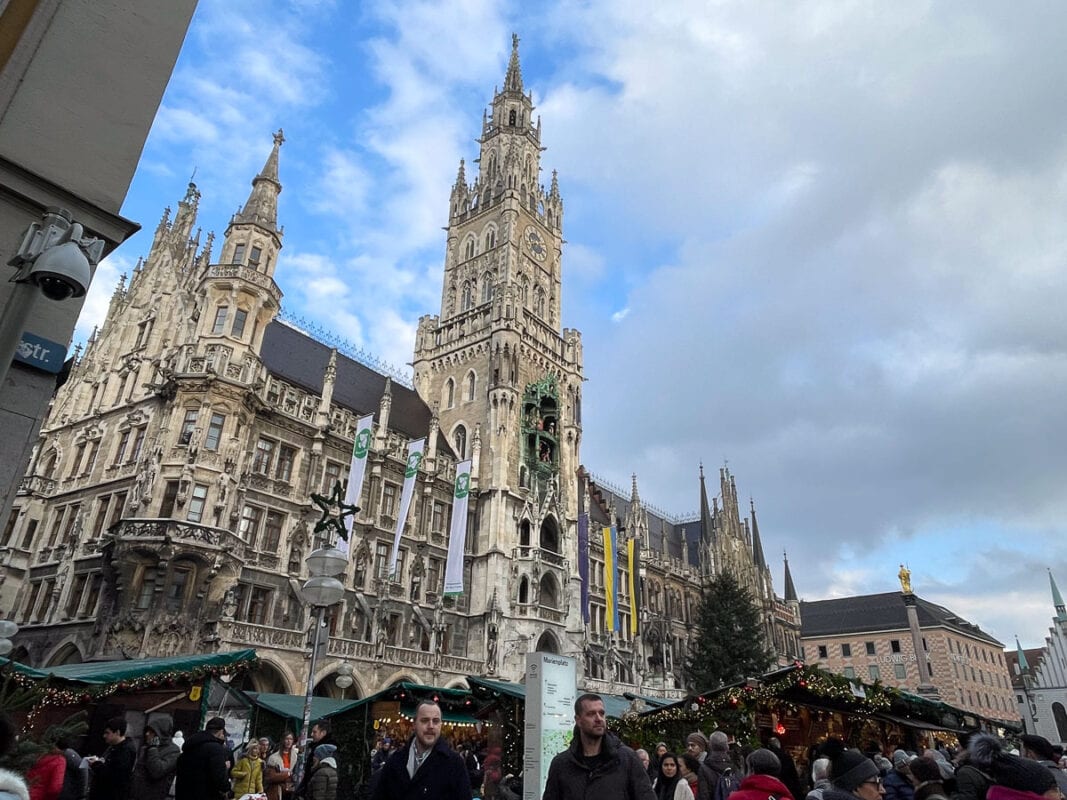 After visiting Munich several times in spring, summer, and fall, we recently spent all of December in Munich so we could get to know the city in winter. We loved being there at that time of year.
While summer and Oktoberfest may draw the crowds, there's still so much to see and do during winter in Munich.
And while sunny days in beer gardens might be what come to mind when thinking of Munich, the Bavarian city of Munich has a unique cozy and festive charm when the temperatures drop. The city transforms into a fun winter wonderland that blends history, culture, and seasonal festivities.
From lively beer halls, bustling Christmas markets, and world-renowned museums to snow-covered landscapes and adventurous day trips, Munich offers a unique and memorable experience for those willing to explore beyond the summer rush.
Is Munich Worth Visiting In The Winter?
Yes! Visiting Munich in the winter season lets you see a completely different side of the city as compared to summer. And if you're not a fan of hot weather, winter is a great time of year to visit.
What's Munich like in the winter? From late November through December the city is filled with a fun, festive, and cozy atmosphere as celebrations for Christmas and New Year are in full bloom.
One of the highlights during this time of year are the festive Christmas markets happening all around the city. Yes, there's more than 1 market in Munich! We visited nearly all of them during our winter in Munich and they each had their own unique vibe.
From classic world-renowned Christkindlmarkt in Marienplatz to more alternative ones like the Tollwood Winter Festival, you're guaranteed to have a great time getting into the holiday spirit in Munich.
A perk of visiting Munich during the winter months is that it's not peak season. While the city is bustling with holiday festivities and events in December, the number of tourists is generally lower compared to the summer months. In January and February, there are even fewer visitors so it's almost like having the city to yourself.
During this time of year flights and accommodation prices are typically more affordable than during the summer (except right around Christmas and New Years). Popular tourist attractions and landmarks will also be less crowded, allowing you to have a more relaxed vacation and experience.
The downside of visiting Munich in the winter? It gets dark early (usually around 4:30pm), it can be cold, rainy or even snowy, some sights have reduced hours or be closed altogether, fountains will be turned off, and many statues covered up for the winter.
Is Munich Very Cold In The Winter?
In my experience, Germany's winters are far milder than they used to be. So while Munich's weather in winter can indeed bring cold temperatures, occasional snowfall, and rainy days, there are also many times when you'll experience sunny days and warmer weather, especially in the afternoons.
Munich's winter weather will also depend on what month you visit. The colder season usually starts in mid or even early October, and by the end of November, the temperature will have significantly dropped. The coldest month is typically January. It only starts to get much warmer during spring, typically from late April onwards.
Average temperature for November: High 45°F (7°C) / Low 33°F (1°C)
Average temperature for December: High 38°F (3°C) / Low 28°F (-2°C)
Average temperature for January: High 37°F (2°C) / Low 25°F (-4°C)
Average temperature for February. High 39°F (4°C) / Low 25°F (0°C)
When we spent December in Munich we experienced all kinds of weather from freezing cold temperatures and snow to afternoons so warm and sunny we walked around in t-shirts to cool rainy days. So it's a good idea to be prepared for all kinds of weather and to not let any of it keep you from exploring and enjoying Munich.
Another thing to keep in mind is that it starts to get dark early in the day, especially after the time change in late October. By November it's dark by 4:30 or 5pm, so make sure you plan your day accordingly, especially if you're thinking of taking pictures.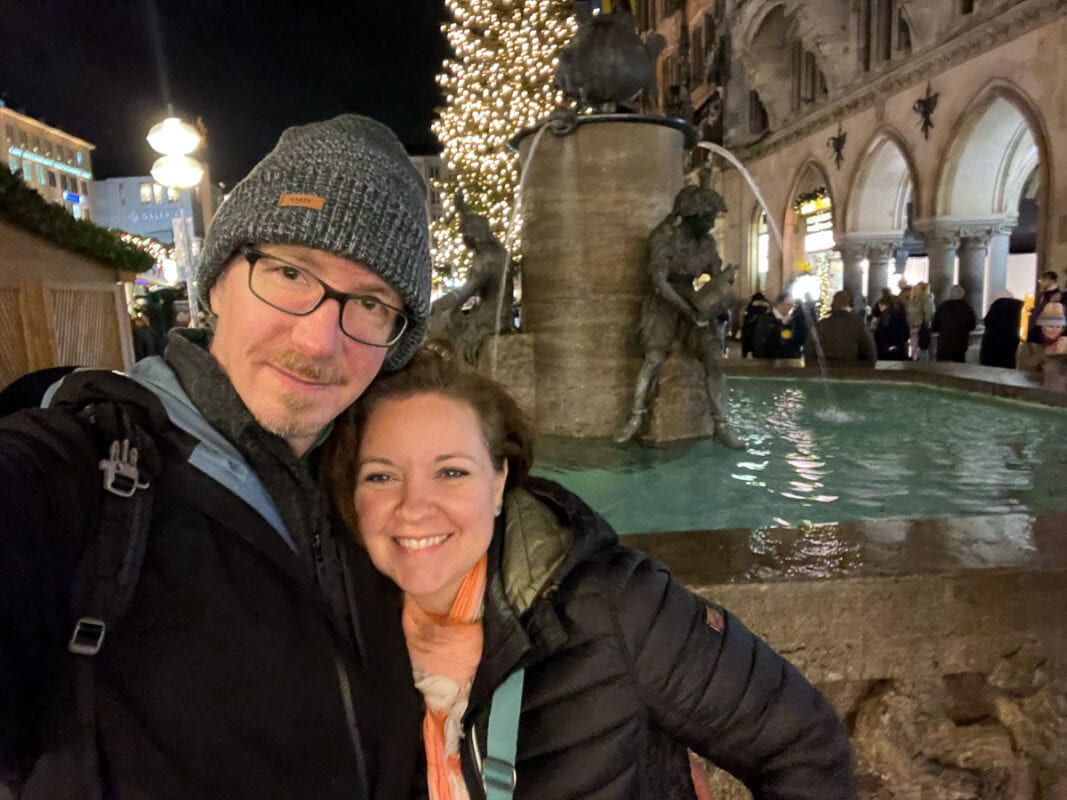 What To Wear In Munich In Winter
The key to preparing yourself for the potentially cold winters of Munich is knowing what to pack and have available to wear while visiting the city. It's all about having a good winter coat, warm clothes, and layers so you can adjust to changing temperatures. Here's a list of things to pack:
Winter coat: An insulated winter coat is essential for staying warm when it's cold in Munich. A wool coat or a waterproof winter jacket are good options. I initially wore my favorite short Kühl puffer coat that keeps me toasty when we're in much warmer North Carolina. Once the snow and freezing temps arrived I picked up a thigh-length puffer. On the really cold days I wore both coats!
Thermals: Thermal underwear provide an extra layer of insulation and warmth without adding bulk to your outfit. If you don't have thermals, bring tights or leggings to wear under pants and skirts. When it got really cold Aaron and I kept warm by wearing a layer under our jeans.
Sweaters, cardigans and long-sleeve shirts: Materials like merino wool, fleece or cashmere are ideal for keeping warm, especially if you layer them over thermals. Aaron and I each pack merino wool t-shirts and merino wool long-sleeved base layers and combine them with sweaters and shirts to keep warm.
Comfortable shoes or boots: Sturdy boots or shoes with good traction will make navigating snowy and icy streets and sidewalks easier. Waterproof – or at least water resistant – shoes or boots are nice to have.
Warm accessories: Gloves, mittens, wool socks (we bring both thick wool socks and wool knee socks), cozy travel scarves or wraps, and beanies or hats will keep you bundled up and warm. Since we use our phones all day when traveling, we each have a pair of convertable mittens that allow us to use our phones (and get out keys, wallets, etc) without our fingers freezing.
Umbrella: We love this umbrella because it's small and lightweight but large enough to keep us dry.
Sturdy & comfortable day bag or purse: Bring one that is super comfortable and will hold the essentials (wallet, keys, make-up, phone, hat and gloves, umbrella, etc) securely. Check out our guide to the best crossbody travel purses and bags here.
Phone must-haves: We never travel without this phone power bank for charging our phones on the go, a phone wrist strap to prevent dropping and breaking your phone, and a pop-socket to make holding your phone and taking photos/videos easier.
These are just a few essentials to get you started. For more tips, read our ultimate Germany packing list and the 15 things we take on every trip to Germany.
Where To Stay In Munich During Winter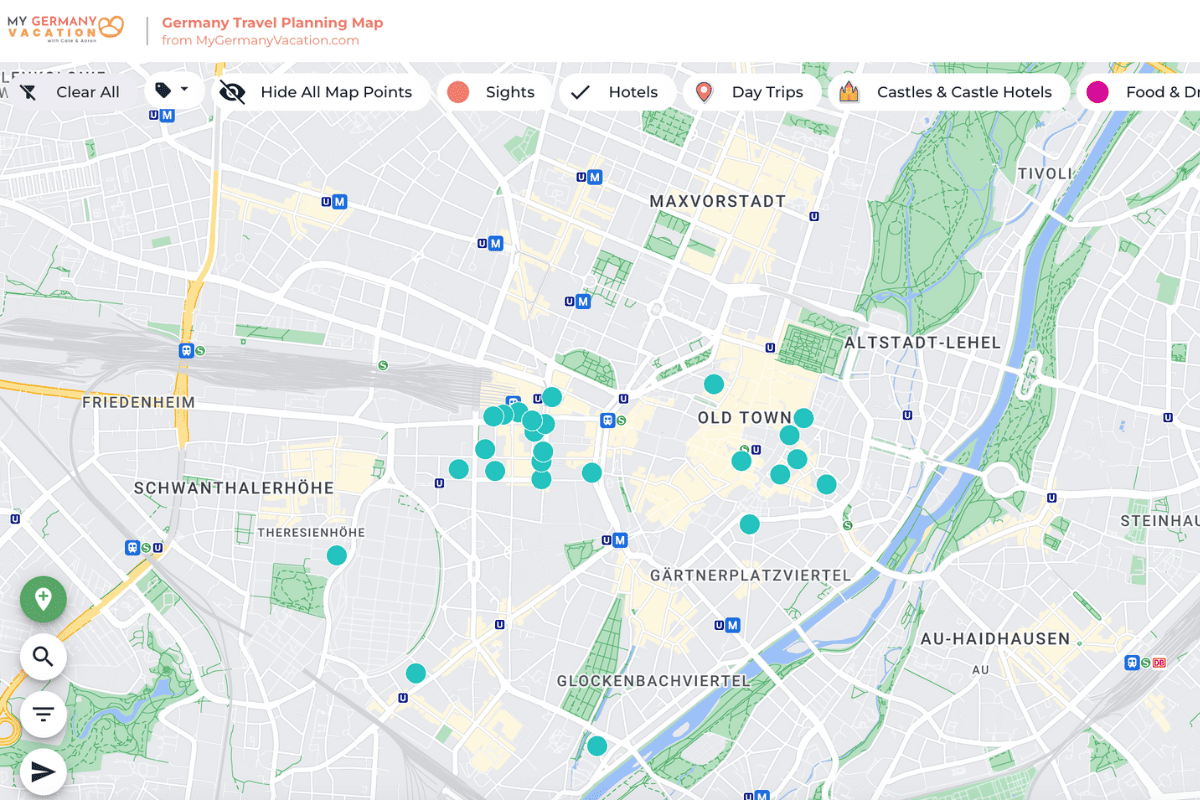 Tip: if you have our Germany Travel Planner you'll find recommended hotels on our interactive planning map. Seeing where these hotels are in relation to the top sights makes it a lot easier to find the perfect place to stay. If you don't yet have it, click here to get access.
Munich offers a variety of accommodation options for any kind of budget and preference. We recommend staying in or near the city center so you'll be close to most of the major landmarks and tourist attractions, many restaurants, as well as easy access to public transportation.
If you visit in December prices are likely to be higher due to the holiday season and Christmas markets. In January, February, and March, you're likely to find good deals since it's off-season, especially if you plan ahead and book in advance. Here are some of our recommendations:
For more information and other excellent options, read our full guide on the best hotels in Munich.
15 Best Winter Activities in Munich
Tip: if you have our Germany Travel Planner, be sure to use the Trip Planning Spreadsheet, City Cheatsheets, and Germany Planning Map to help you plan your itinerary.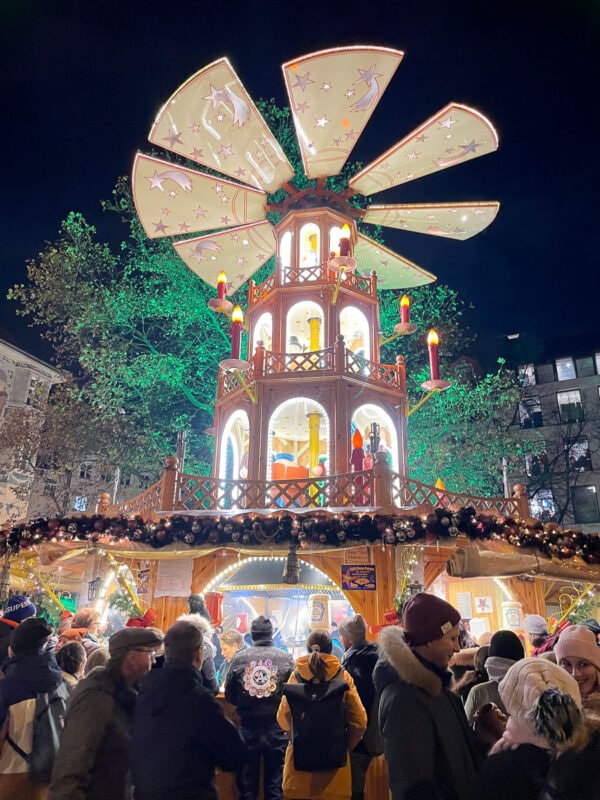 1. Experience the Magic of Munich Christmas Markets
Experiencing Christmas time is easily one of the best things about visiting Munich during winter. The city comes alive with several festive Christmas markets that are typically open towards the end of November through Christmas eve.
One of the best Christmas markets is the famous Munich Christkindlmarkt. Set in Marienplatz in front of the town hall, this market is brimming with sparkling Christmas decorations, live Bavarian traditional folk music (sometimes), and tons of food stalls selling traditional seasonal treats like Glühwein (hot wine or mulled wine), Lebkuchen (gingerbread), Stollen (Christmas bread) and so much more!
There's also the Christmas Village at the Munich Residenz, a small market set in the courtyard of the palace. If you're looking for a Christmas market with a twist, the Medieval Christmas Market tries to recreate the atmosphere of a real German market from the Middle Ages. Another popular one is the Christkindlmarkt at Sendlinger Tor, one of the remaining city gates of Munich's former fortifications.
For a more alternative option, check out Munich Tollwood Winter Festival. This festival is dedicated to raising awareness on social issues and features organic gourmet street food, sustainable crafts from all over the world, and fun concerts. We also enjoyed the creative Christmas market at Münchener Freiheit.
Curious about other Christmas markets around the country? Read our guide to the best Christmas markets to visit in Germany!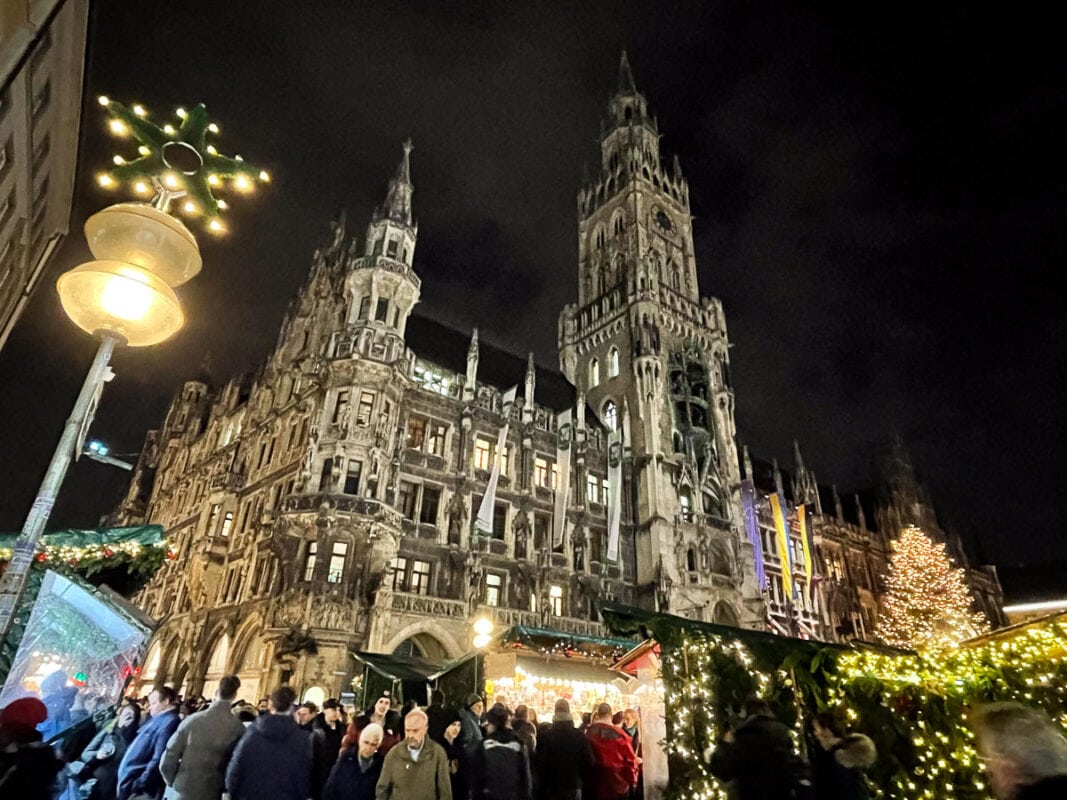 2. Explore the Altstadt (Old Town)
It's always a good time to visit Munich's historic and beautiful Altstadt. Start in Marienplatz and admire the Neues Rathaus (new town hall) with it's famous Glockenspiel, the Altes Rathaus (old town hall), and the beautiful churches (St. Peter, St. Michael, St. Paul, Frauenkirche, and Asamkirche). Then wander the pedestrian zone to the city gates (Karlstor, Isator and Sendlinger Tor).
If the weather is nice, climb the St. Peter's tower for a stunning view of the city. On a clear day you can see the Alps. If you'd rather not walk up a couple hundred stairs, you can take the elevator up to the top of the Rathaus.
If you need to do any shopping, this is a great place to do it. You'll find all kinds of stores from specialty boutique stores to large department stores. When you get hungry, stop at a food truck for a piping hot Bratwurst.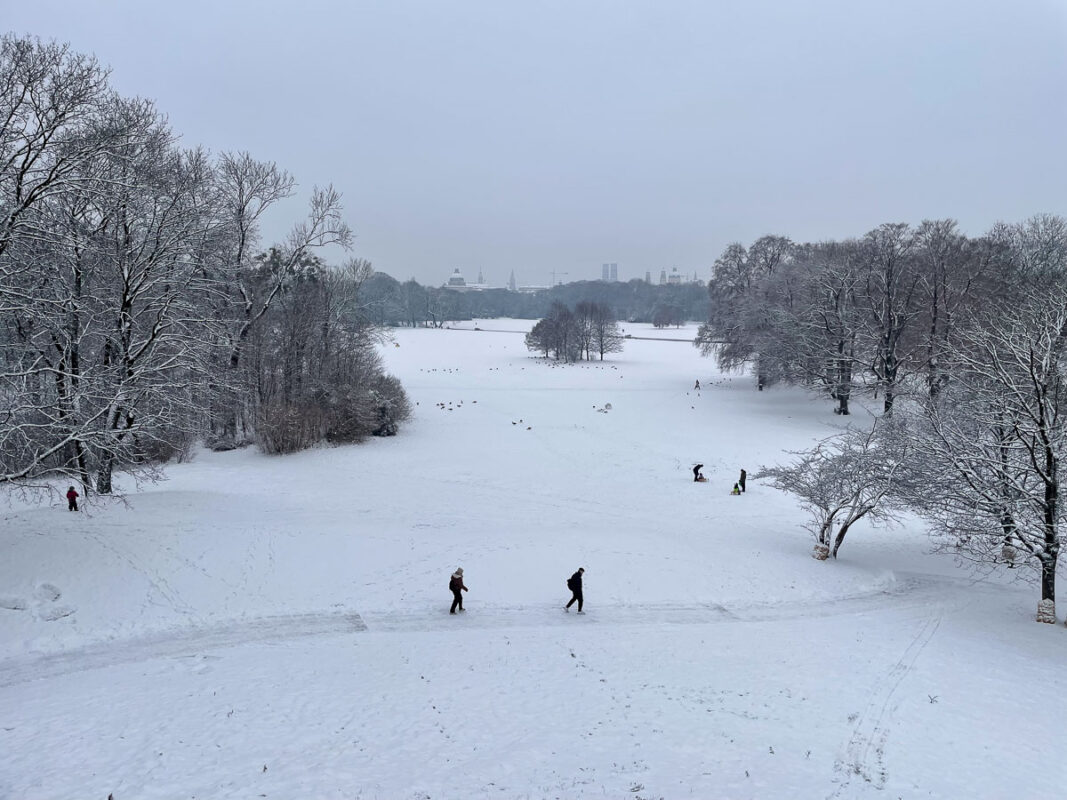 3. Stroll Through The English Garden
The English Garden (Englischer Garten) is the largest park in Munich, measuring over 375 hectares and running through the center of Munich. It's a favorite for locals and tourists alike during all seasons. A visit to Munich isn't complete without a walk through the English Garden.
During the colder months, the atmosphere is serene and the winter scenery is especially beautiful when fresh snow blankets the entire park. It makes it a perfect spot for taking pictures and exploring the network of walking paths.
There's also various recognizable landmarks in the park like the Chinese Tower, where you will find one of the city's largest beer gardens in the summer and a small Christmas market in December, the Japanese Tea House situated on an artificial island at the end of the park, Monopteros, a Greek temple offering great views, and the Eisbachwelle, where you'll find people wearing winter wetsuits surfing in the middle of the city!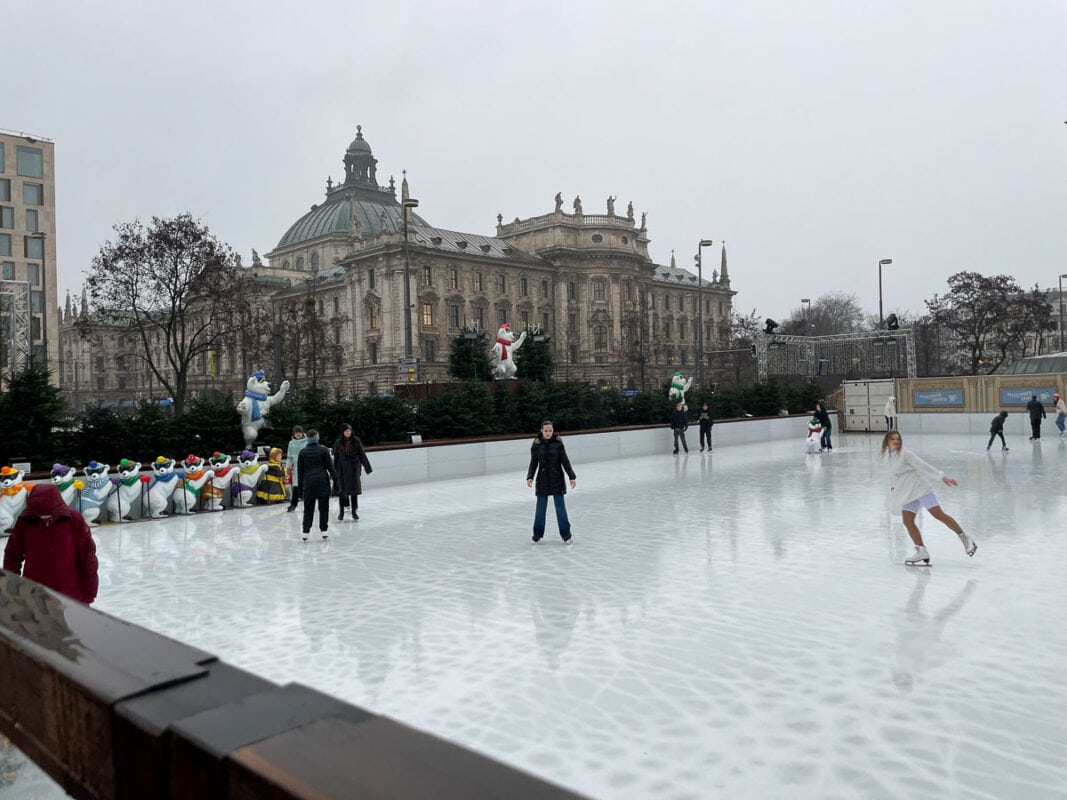 4. Go Ice Skating
Eiszauber is a popular ice skating rink located in the city center, specifically in Karlsplatz-Stachus. It's the largest mobile ice arena in the city and is typically open from mid-November until the beginning of January. There's a daily program with fun themes and activities as well as a series of parties nearly every night.
Another must-see in the English Garden is the Kleinhesseloher Lake. When it gets cold enough, this beautiful lake in the middle of the park freezes over, making it suitable for ice skating while being surrounded by nature.
5. Admire The Beauty Of The Munich Residenz
The Munich Residenz is the biggest city palace in Germany. On cold or rainy days where you want to stay indoors, this is one of the best places to visit just because of how much there is to see.
This magnificent palace complex is made up of lush gardens, lavish halls, and courtyards that are open to the public. There are over 100 opulent rooms to explore featuring a variety of architectural styles.
Some main highlights include the Antiquarium, with its vaulted ceilings covered with Renaissance frescoes, and the Treasury which holds an impressive collection of jewelry, ceremonial objects, and treasures that span centuries. We especially enjoyed visiting the beautiful Cuvilliés Theater (the old Residenz theater).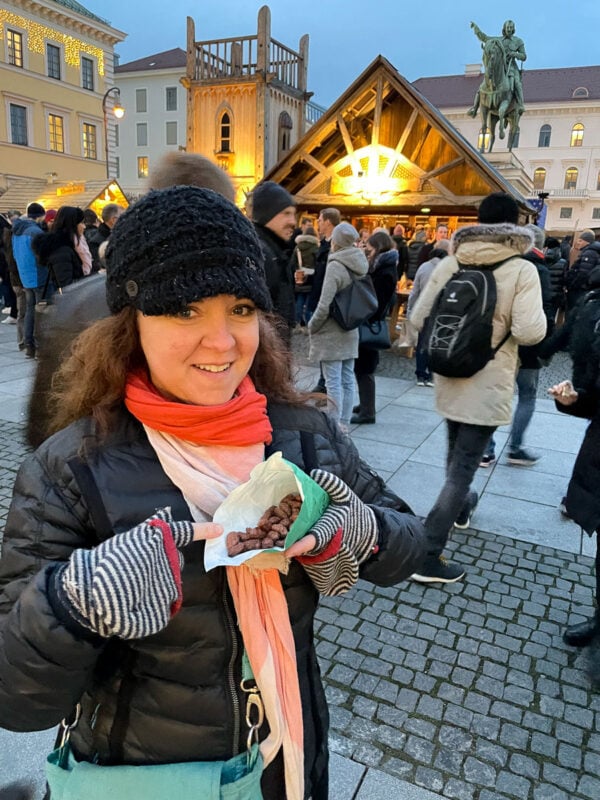 6. Take A Guided Tour
There are several tours to choose from that will help you dig into Munich's history and culture and leave you feeling like you've experienced something unique.
Aaron did this small group Third Reich & WWII history tour and said it was outstanding. After the tour he took me around Munich's Altstadt and gave me a mini tour and I was surprised that so many things I'd simply walked by for so many years had such a fascinating story attached to it.
Another tour Aaron enjoyed is this small group food tour through Viktualienmarkt. He not only sampled several local excellent sweet and savory treats from the market, he got to know local Munich food and culture in more depth.
Other Munich tours to check out are this beer hall and brewery tour, this evening of German food and beer tour, this 3-hour bike tour, and this Old Town walking tour.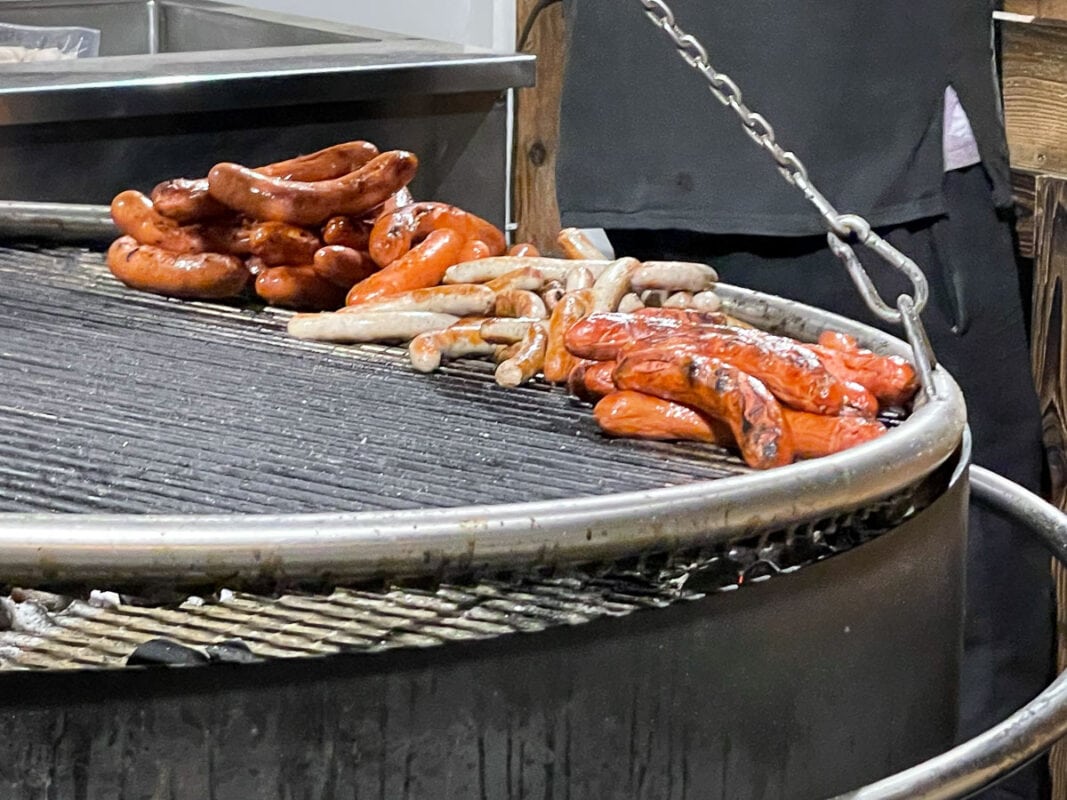 7. Enjoy Hearty Bavarian Food
What better way to keep warm than to enjoy a hearty Bavarian meal in a cozy restaurant? Traditional Bavarian food tends to be quite heavy but it can also be the perfect comfort food during cold winter days.
The cuisine features a lot of savory meats and dumplings, potatoes or Spätzle. Some classic dishes include Schweinebraten (roast pork), Schweinshaxe (pork knuckle), Bratwurst (pork sausages), and Käsespätzle (kinda like the German version of mac and cheese). For something sweet, try a Dampfnudel (steamed sweet dumplings) with vanilla sauce, Apfelstrudel with ice cream or a slice of delicious German cake.
If you want to sample a bit of everything, then book a gourmet food tour of Munich's biggest food market Viktuellenmarkt! If you also love beer, you can opt for an evening at a traditional beer hall and enjoy Bavarian beer and delicacies.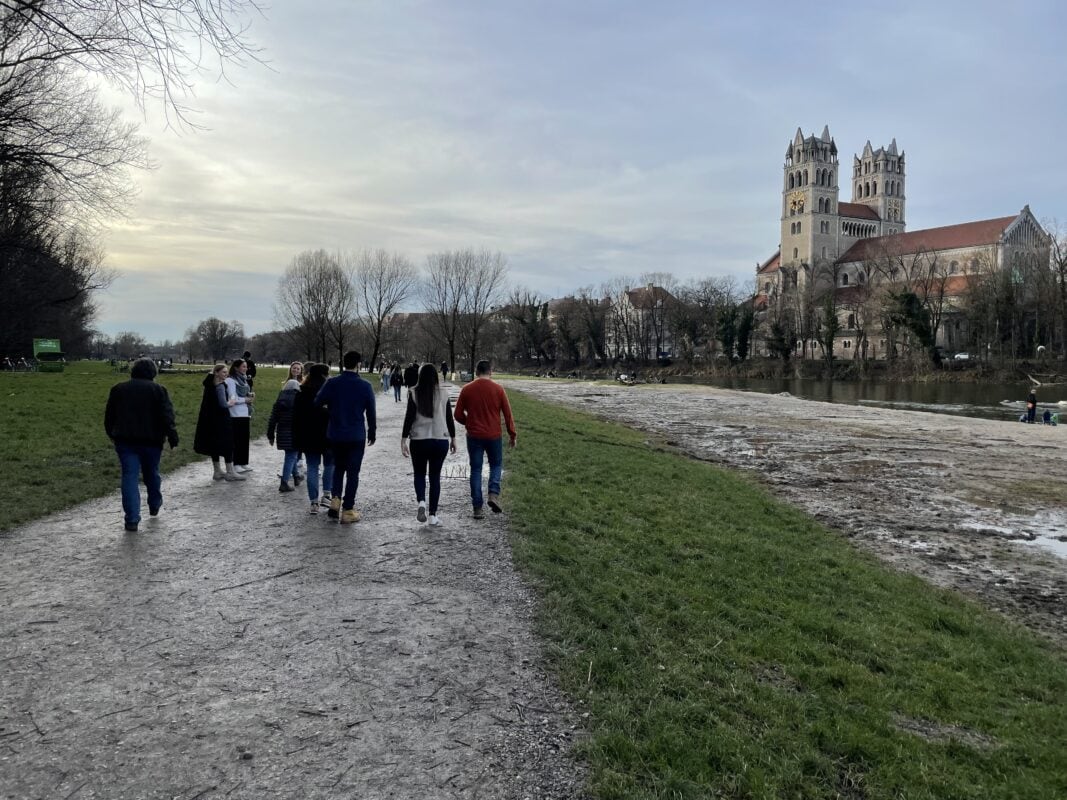 8. Take a Winter Walk Along The Isar River
If you're looking to do a leisurely stroll then we can't recommend a better place, especially during those lucky sunny days. As you walk along the riverbank, you'll have the opportunity to soak in the quiet charm of the city while enjoying the crisp winter air.
On New Year's Eve, the riverbanks are also a popular gathering place for people to drink wine or beer and celebrate with friends and family. We enjoyed our walks along the river here.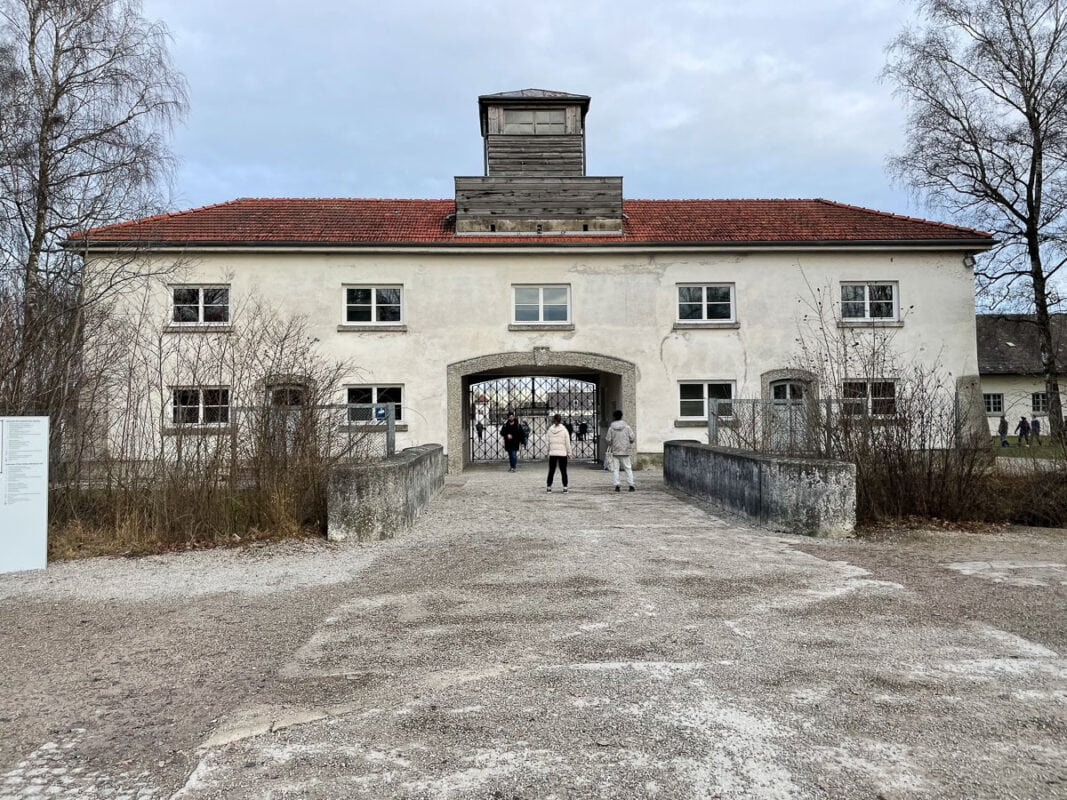 9. Pay Your Respects at Dachau Concentration Camp Memorial
A visit to Dachau is a moving and highly worthwhile educational experience. It takes under an hour to travel there via Munich's public transit and 2-3 hours to tour the site. You can easily visit on your own or you can book a guided tour of Dachau from Munich. Dachau is free and open all year long except on December 24th.
10. Explore The Olympic Park
The Olympic Park is an iconic city landmark, originally constructed for the 1972 Summer Olympics. During winter, the expansive park grounds look beautiful when covered in snow. You can go for a short walk by the lake, explore the sports facilities, and even go sledding if it snows. Sledding is a popular activity here because of the many slopes and hills.
It's also just as nice when there's no snow. After taking a walk around the area, you can go up the Olympia Tower, where you'll get amazing views from the observation deck. There's also a revolving restaurant at the top. Olympiapark is also a great place to go for New Year's Eve if you want to see fireworks.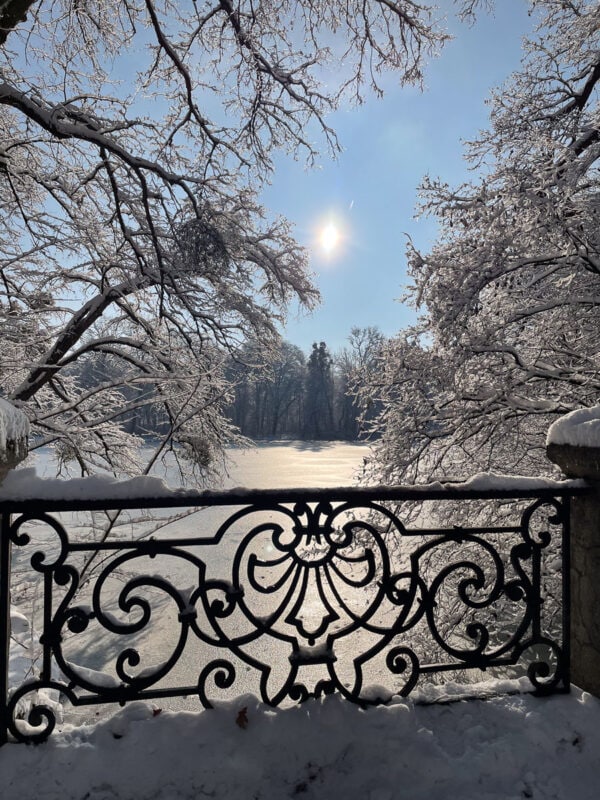 11. See Schloss Nymphenburg And The Palace Grounds
Another great place to check out is Schloss Nymphenburg, the former summer residence for Bavarian rulers built during the 17th century. You can spend time indoors learning about Bavaria's history while admiring the opulent Baroque architecture and lavish interiors and furnishings.
But the best part is walking through the sprawling gardens and palace grounds. The intricate and symmetrical gardens are filled with pavilions and even small palaces and hunting lodges. There are also several fountains, water features, and a lake on the palace grounds. We loved wandering around these gardens and was especially stunning after it snowed.
12. Warm Up In A Beer Hall or Cafe
Some might argue that the best way to beat the cold is by drinking beer, especially while you're in Munich! While most beer gardens are closed during winter, you can still find some people in beer gardens when it's not raining. The Viktualienmarkt beer garden, for example, is open year round.
There are also traditional beer halls and taverns that offer all the best local beers. Beer halls typically have rustic decor, long wooden tables and can get quite packed but there's always a nice, warm, and lively ambiance. Try renowned Bavarian brews (we like Augustiner) and also experience the local beer culture all while staying cozy and warm.
You can also learn more about Munich's brew-making history and go on a tour of one of the oldest beer houses, Hofbräuhaus.
If Kaffee und Kuchen is more your style, you're in luck. Munich is full of delightful cafes, coffee shops, and bakeries. You'll find all kinds of tasty coffee, espresso drinks, and teas, as well as scrumptious cakes, tortes, strudels, pastries, and other baked items.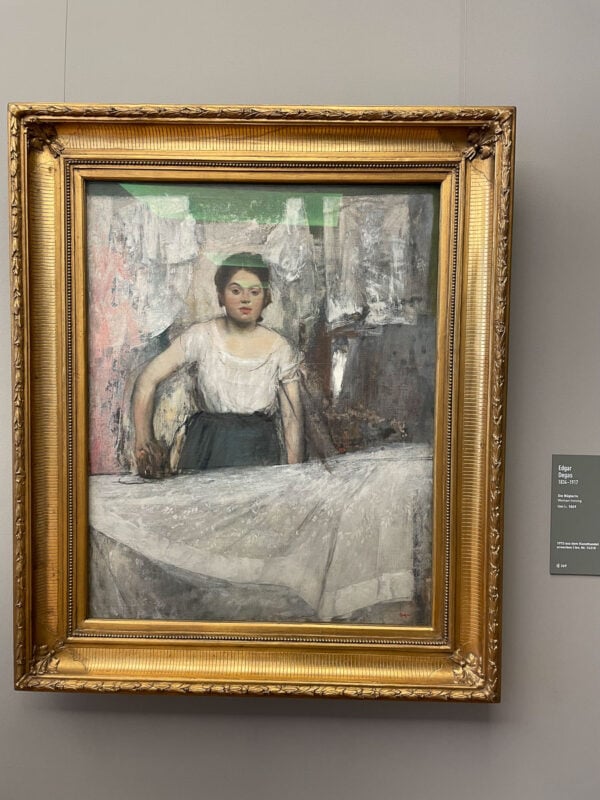 13. Spend A Day Visiting Art Galleries And Museums
Munich is home to several renowned museums and art galleries. Many are located in Kunstareal, the museum quarter in the city center. Choose two or three museums that you're interested in and spend a day museum hopping.
If you're interested in Bavaria's history and culture, then you can begin at the Bavarian National Museum, where you'll find a diverse collection of art and artifacts spanning different time periods. For another side of history, you can also visit the Egyptian museum (Staatliches Museum Ägyptischer Kunst) which showcases both archaeological artifacts and art from Ancient Egypt.
For a unique experience, visit the Deutsches Museum, the world's largest science and technology museum. It features an impressive array of exhibits ranging from aerospace, physics, scientific instruments, chemistry, transportation, and more.
For art lovers, the Alte Pinakothek is one of the oldest galleries in the world and is a treasure trove of world-renowned European masterpieces of various artistic movements. There's also the Lenbachhaus, a gallery with a large collection of art from "Der Blaue Reiter" (The Blue Rider), one of the most important groups of avant-garde artists in Germany.
If you're a car enthusiast, a visit to the BMW museum or the BMW-Welt is a must. Both are located just outside the city center near the Olympia Park.
If you'll be in the city during a Sunday, you can plan this as your museum day! Many places offer a discounted entrance fee on Sundays so make sure to check all the museums' official websites.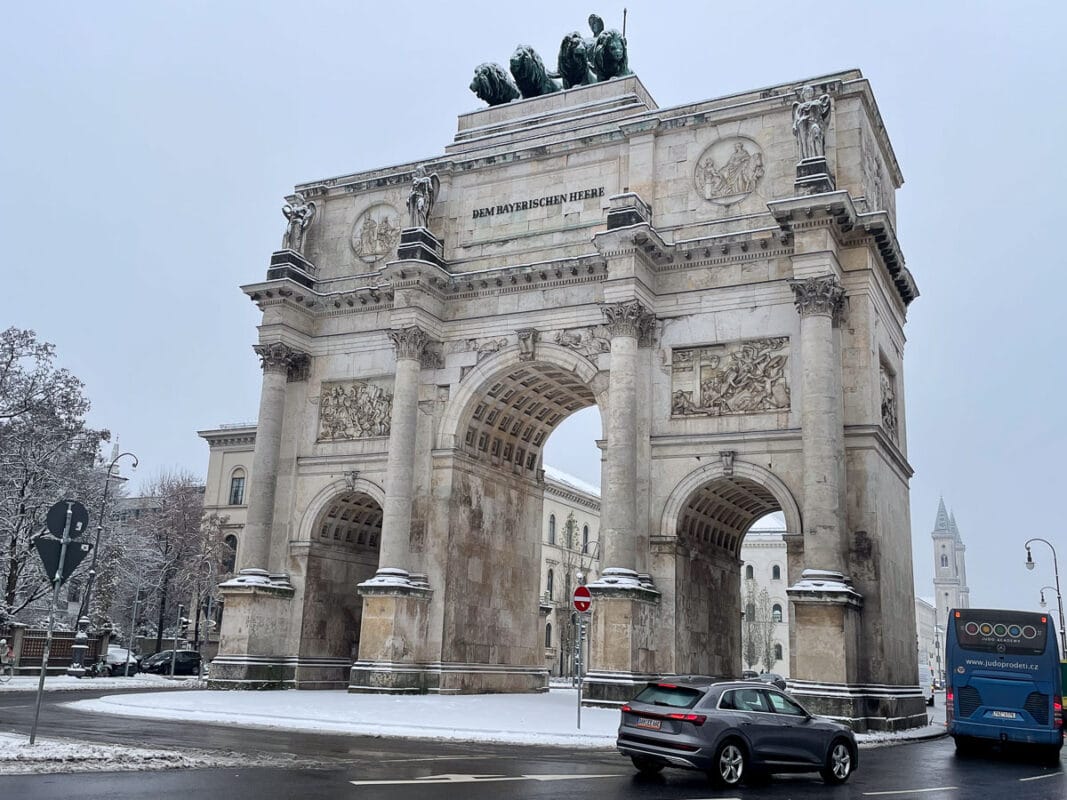 14. Catch A Performance At The Nationaltheater
If museums aren't your thing but you still want to do a cultural activity, then go to the opera or theater instead! The Nationaltheater is one of the best spots for this because of its varied programs. It's home to the Bavarian State Opera, Bavarian State Orchestra and the Bavarian State Ballet.
Whether you watch operas or ballets, each performance is under the direction of top-class conductors, features talented musicians and dancers, as well as timeless classical pieces.
The main building of the Nationaltheater itself is also beautiful. If you don't have time to watch an entire performance, you can book a tour of the historic building. The tour includes a visit to the Königssaal, the Ionic Halls, the auditorium and the stage area when possible.
15. Relax At Indoor Pools Or Saunas
One of the best winter activities after a long day of sightseeing is relaxing in a sauna or indoor swimming pool. There are various public baths and spa centers in Munich but one of the best options is Therme Erding. Located outside the city center and around 20 minutes from the Munich Airport, Therme Erding is the largest thermal bath complex in Europe.
The tropical-themed resort has a water park, pool bars, thermal baths, multiple sauna and steam rooms, jacuzzis, beauty treatment parlors, massage areas, and more. It's the perfect retreat for those looking to escape the city and the cold weather.
Another popular option that's located within the city is Müllersches Volksbad. This is a public bath with an Art nouveau-style interior with large and small swimming pools, a Roman bath and sauna, and an in-house cafe and restaurant.
Best Winter Day Trips From Munich
Neuschwanstein
Visiting Neuschwanstein is one of the top things to do in Germany, no matter the season. This world-famous castle attracts millions of visitors each year and is said to be the inspiration for the iconic Disney castles. Because it's a very touristy destination, summer is usually when it's the most packed. So visiting during winter has its advantages!
For one, if you're lucky enough you'll get to see the castle glistening amidst snow capped mountains and trees. It's absolutely breathtaking, a once in a lifetime view that's worth the freezing cold temperatures (seriously, we were so cold).
But the weather can be unpredictable in winter and there are days where it's rainy and foggy and some of the paths and trails might be closed (note that the Marienbrücke closes when there's snow or ice). So it's always a good idea to prepare beforehand and manage your expectations as best as you can.
Also, keep in mind that if you plan to visit during the holidays, they're closed on Christmas Eve, Christmas day, New Year's Eve, and New Year. Winter hours are also shorter. From mid-October to the end of March, guided tours start daily at 10:00 AM to 4:00 PM.
For more information, read our full guide on how to visit Neuschwanstein Castle during the winter.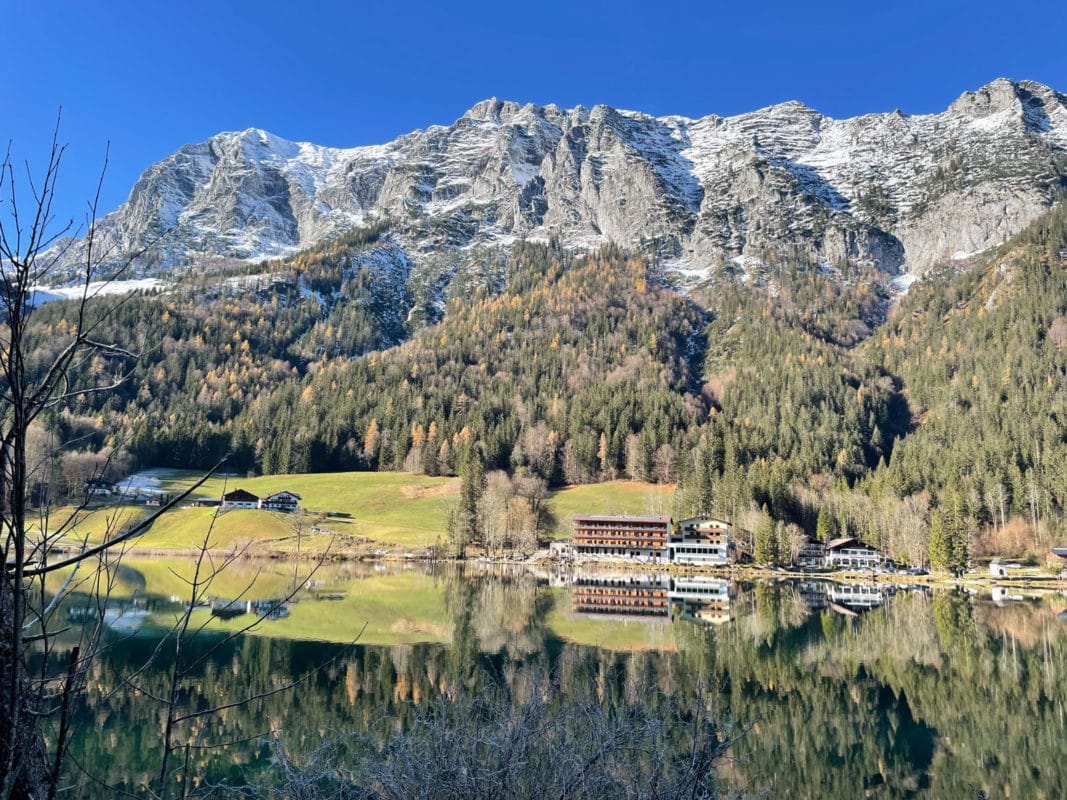 Berchtesgaden, Ramsau And Hintersee
Exploring the Berchtesgaden area during winter offers a unique day trip experience that combines the stunning landscapes of the Bavarian Alps with the rich historical significance of the region.
Berchtesgaden is usually associated with WWII so there are lots of educational sites to visit like the Obersalzberg Documentation Center and the Eagle's Nest, though it's closed during winter. But there are so many other things to discover in the region.
The charming Old Town of Berchtesgaden is quite picturesque especially during the winter since there's are Christmas market stalls all through the Altstadt.
For outdoor enthusiasts, the natural beauty and landscapes are definitely a highlight. You can visit the Berchtesgaden National Park which is still open during winter and go on a Lake Königsee boat tour, which is quite magical with the mist and snow-covered mountains in the backdrop. In the winter months the boats don't sail all the way to Salet but it's still fun to explore the St. Bartholomä area.
When we spent a week in Berchtesgaden in the winter we also enjoyed the easy hike from Ramsau to Hintersee lake via the Zauberwald (Enchanted Forest). It was cold but we had blue sky and gorgeous views.
For more Berchtesgaden sights and tips, read our full guide on the best things to do and see in the Berchtesgaden region!
Salzburg Or Innsbruck, Austria
While you're in Munich, why not cross over the border into Austria? This is a great way to maximize your time and explore other top winter destinations in Europe. Salzburg is only a 2-hour train ride away from Munich but you can also book a full-day guided trip here.
Salzburg is known for being the setting of the beloved film "The Sound of Music" as well as the hometown of famous classical composer Wolfgang Amadeus Mozart. It has a charming Old Town with well-preserved landmarks like the Hohensalzburg Fortress and the Mirabell Palace. And, of course, there's a lovely Christmas market.
Another Austrian city near Munich is Innsbruck, which is also around an hour and 45 minutes by train. Innsbruck is great for those looking for more active day trips since it's known for being a paradise for skiing, snowboarding, and other winter activities. The Old Town also offers opportunities for sightseeing with famous landmarks like the Golden Roof and the Imperial Palace.
Garmisch-Partenkirchen And Zugspitze
Garmisch-Partenkirchen is an alpine town located in the Bavarian Alps, around an hour away from Munich by car or train. It's known for hosting the Winter Olympics in the past so it's perfect for those looking to go to a world-class ski resort to hit the slopes.
Zugspitze, Germany's highest mountain, is also situated nearby, offering breathtaking panoramic views and all the winter sports from skiing, snowboarding, snowshoeing and winter hiking.
We took a day trip to Garmisch while in Munich in the winter, and while it was cold, we had a fun day wandering around both towns, enjoying the Christmas market, having Kaffee und Kuchen, and we even stopped in nearby Mittenwald on our way back to Munich.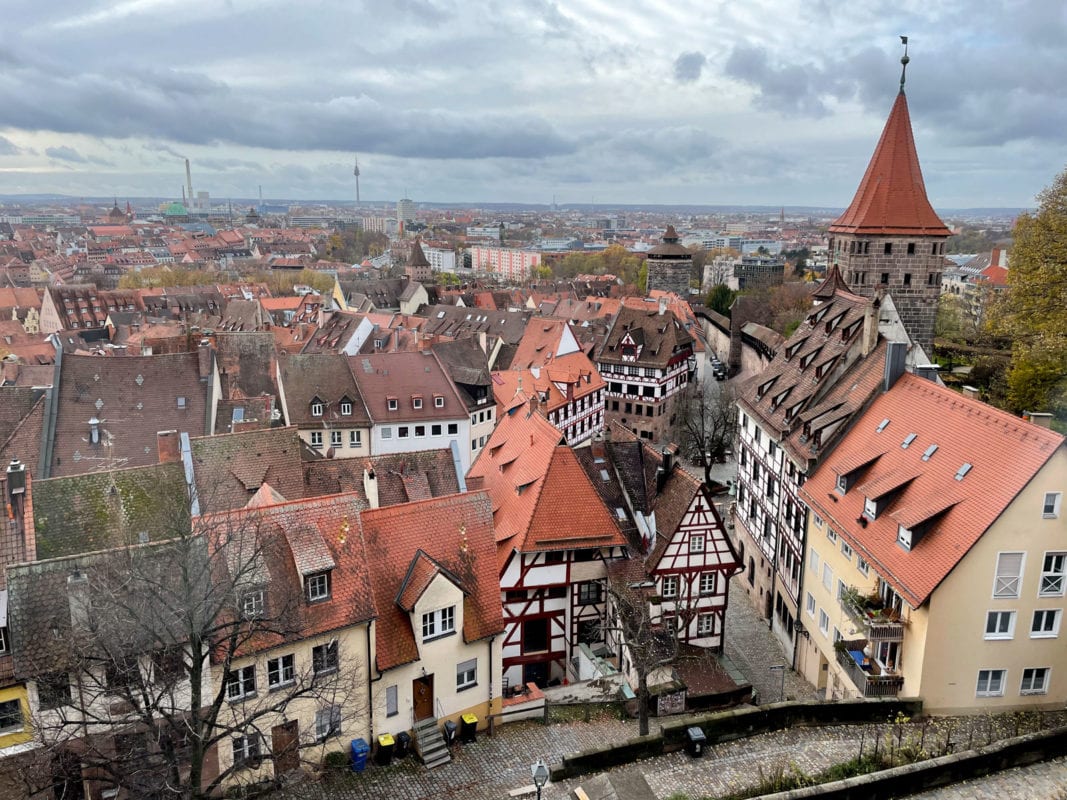 Nuremberg (Nürnberg)
Nuremberg is the ultimate Christmas destination, especially if you're a big fan of Christmas markets! It's only an hour away by train from Munich, making it a quick and easy day trip to get into the holiday spirit.
This German city is home to one of the largest Christmas markets in the country, the Nürnberger Christkindlesmarkt. There are over hundreds of wooden stalls selling classic Christmas decorations and seasonal delicacies like Nürnberger Rostbratwurst (small grilled sausages flavored with marjoram) and Lebkuchen (similar to gingerbread cookies).