Popular German Snacks to Try While Traveling in Germany
This post may contain affiliate links. Read my disclaimer policy.
Looking forward to exploring Germany through food? This guide shows you some of the best popular German snacks you must try when traveling in Germany.
We've included a variety of hearty favorites, sweet treats, and inexpensive grocery store bites. At one time or another we've enjoyed every item on this list. Since many are admittedly indulgent, we've also included some healthier options to keep in mind.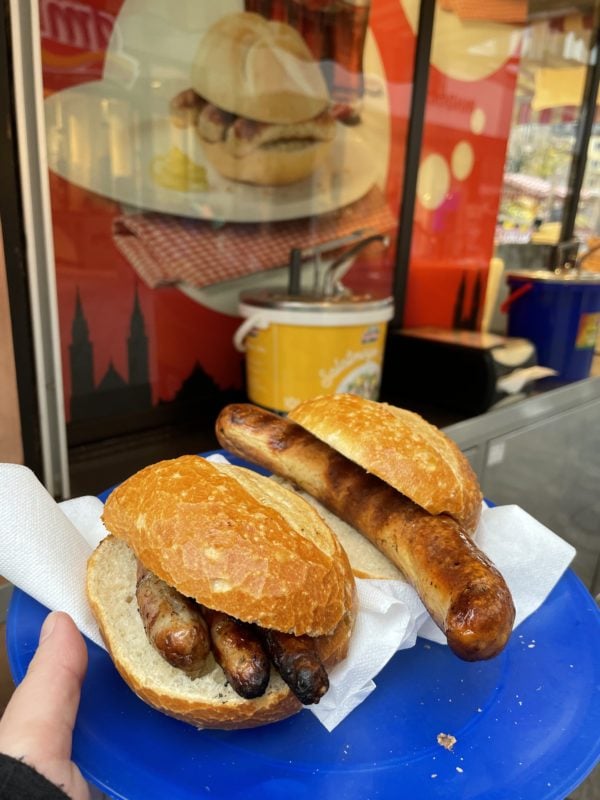 Grilled German Sausages
Sausages are a traditional staple of German cuisine. Sure, they can be main meals especially if accompanied by sides, but they also make for delicious, filling, and expensive snacks as well.
You can easily find to-go sausages in food trucks all over Germany. Here are some of the most popular varieties:
Bratwurst: grilled pork sausage often enjoyed in a roll with mustard or even sauerkraut
Currywurst: sliced pork sausage topped with a curry spiced ketchup sauce that's especially popular in Berlin
Weisswurst: a white sausage originating from Bavaria and made of minced veal with a blend of bacon (you're not likely to find this at many food trucks, though)
Bockwurst: savory, smoked sausage typically made from veal and pork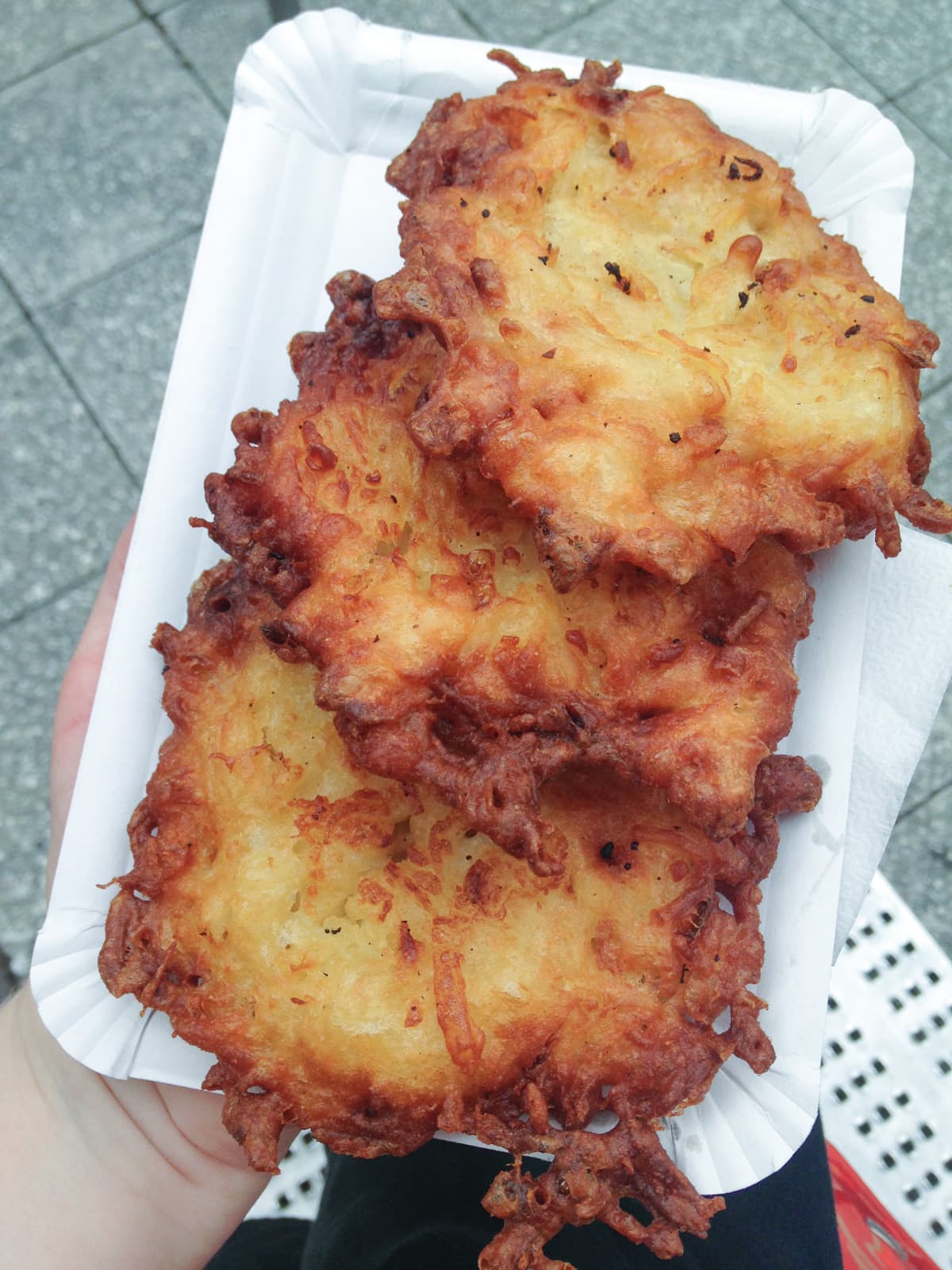 Kartoffelpuffer (German Potato Pancakes)
Kartoffelpuffer or German potato pancakes make for a great snack, side or appetizer. These pancakes made from grated potatoes, onions, and eggs and are fried till crispy and golden. They're typically served with apple sauce, sour cream or herbed crème fraîche.
Depending on where you are in Germany you'll also see them called Reibekuchen and Reiberdatschi. You'll find Kartoffelpuffer at festivals, Christmas markets, food trucks, and sometimes as side dish at restaurants.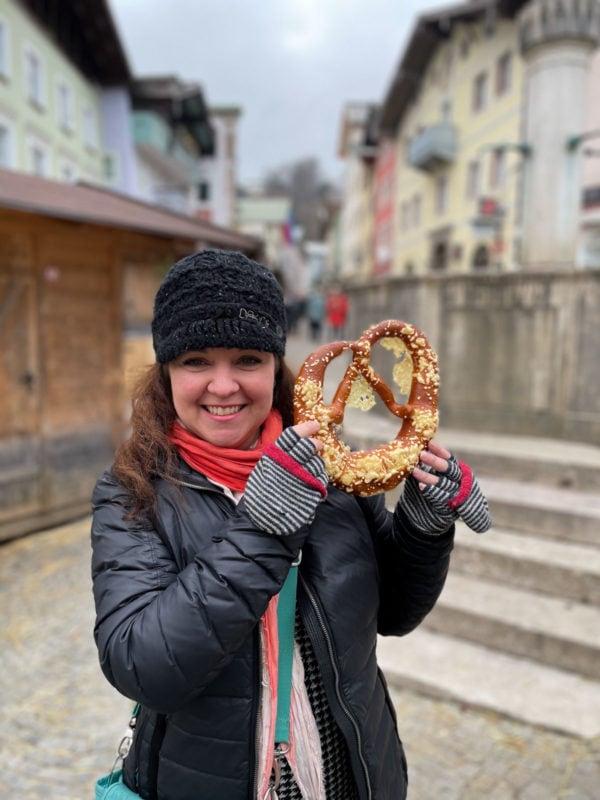 Brezeln (Soft Pretzels)
German pretzels are the best snacks for on the go! These doughy treats are usually sprinkled with coarse salt and sometimes you'll find them covered in cheese or sliced, filled with butter or other spreads or enjoyed with a side of mustard. You can also find pretzels with sweet toppings. Some pretzels are on the small size, while others are quite large and are more like a meal than a snack.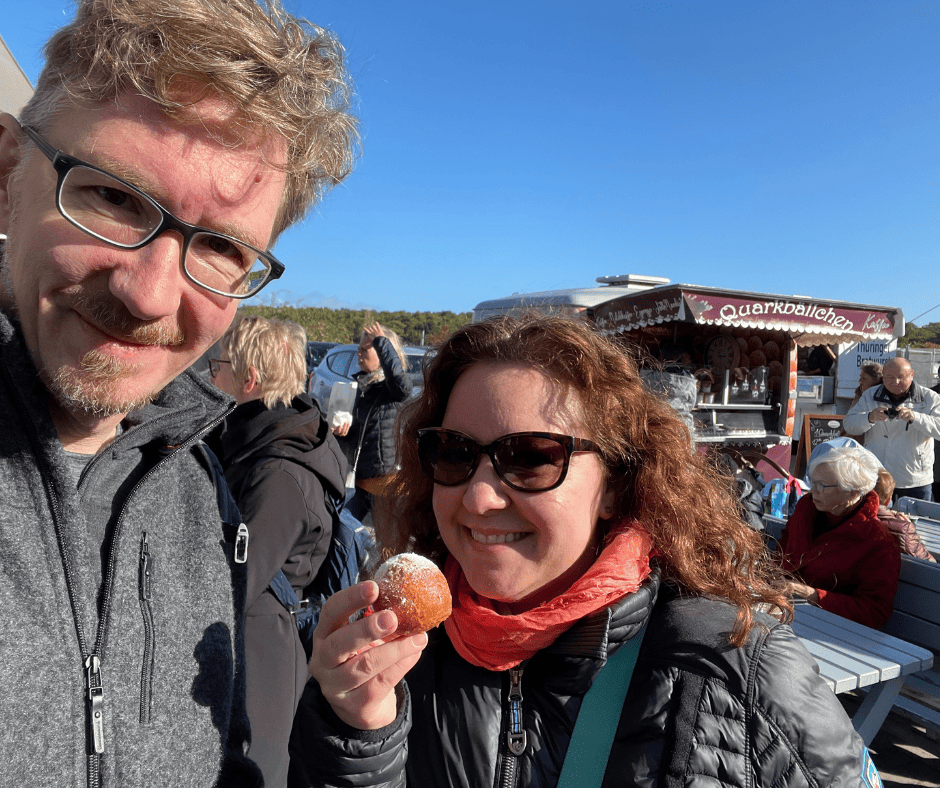 Quarkbällchen (German Quark Balls)
Quarkbällchen, or German quark balls, are fried pastry balls made with quark cheese. They have a fluffy interior and are typically dusted with powdered sugar and cinnamon.
You won't find these as easily all over Germany, so when you do find them at a fair or bakery, make sure to try them. The may look like a simple doughnut hole but they're so much better, especially when freshly made.
You can also try making them at home following our recipe here!
Zwiebelkuchen (Savory Onion Cake)
If you're looking for a filling savory snack, try Zwiebelkuchen. It features a rich, quiche-like filling of caramelized onions, bacon, cream, and spices, and is baked in a savory pastry crust.
There are other variations as well that are less like a pie and more like a German version of a pizza (my favorite kind). If you're interested in learning how to make this version at home, check out our recipe here.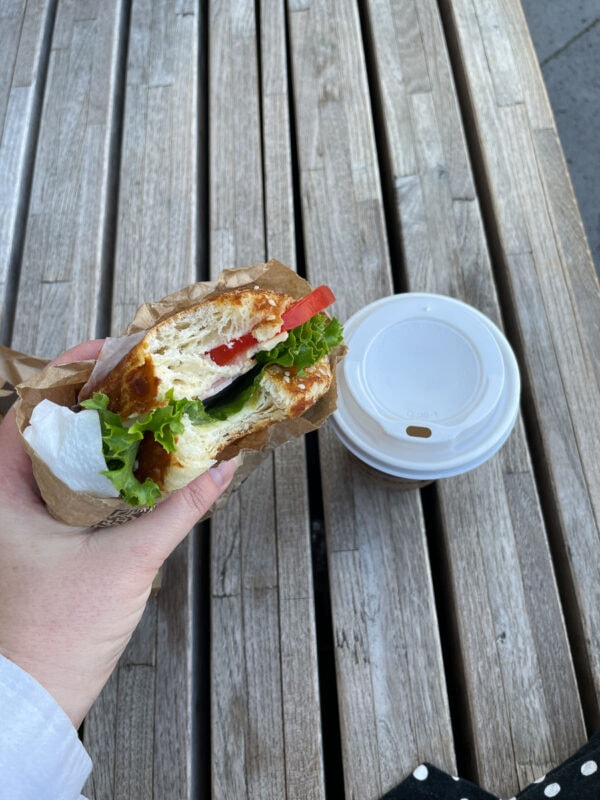 Belegtes Brötchen (Sandwiches)
These delicious sandwiches are made with a variety of Brötchen (rolls), pretzels or croissants, and are filled with sliced cold cuts, cheese, butter or spreads, and veggies. You'll find an assortment at nearly every bakery and often in grocery stores. They make for a tasty snack or lunch.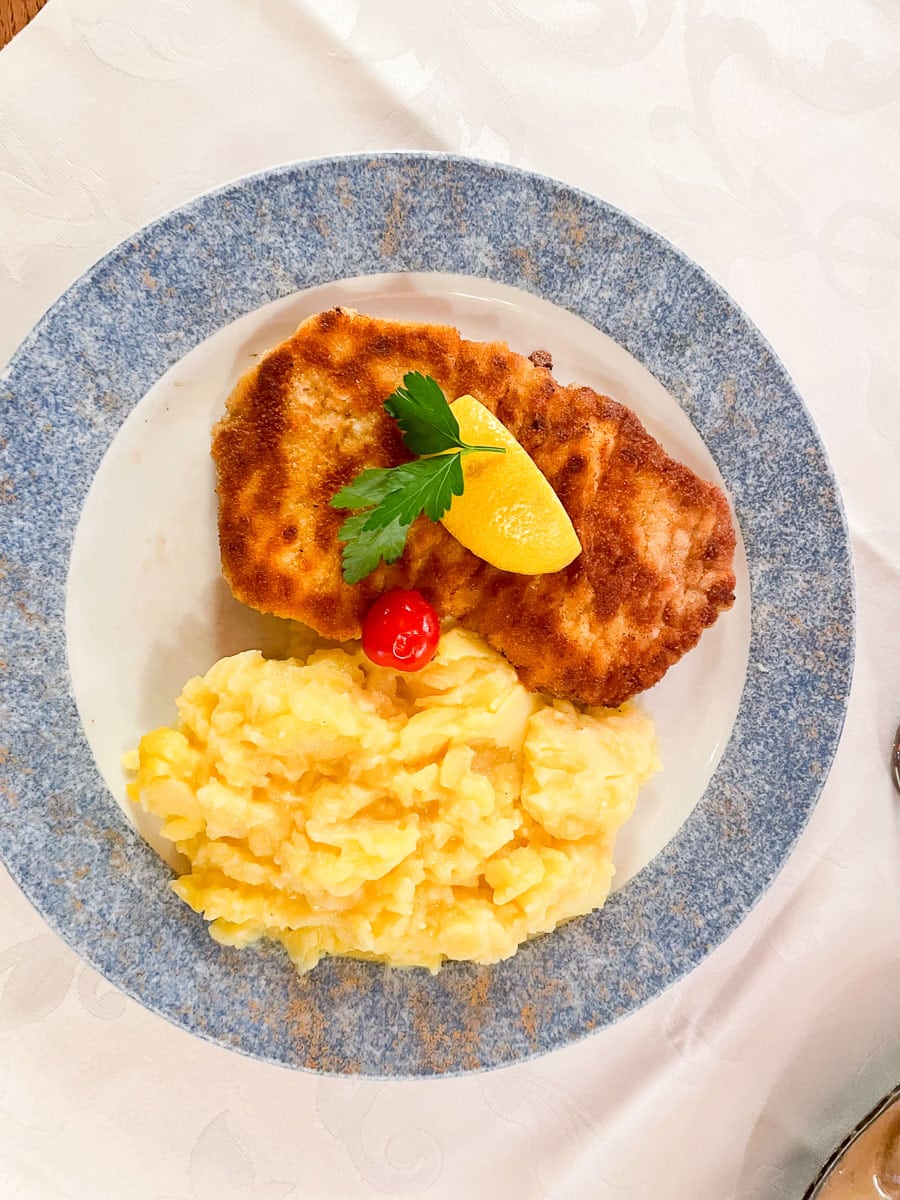 Kartoffelsalat (Potato Salad)
Kartoffelsalat is a classic side dish. It's typically made with boiled potatoes, onions, and a tangy dressing. Though the main ingredients are usually the same, there are two main variations: the Northern and the Southern versions.
In Northern Germany, Kartoffelsalat is served chilled and the sliced waxy potatoes are dressed with mayonnaise and herbs. In Southern Germany, on the other hand, it's served warm (or at least room temperature) and the potatoes are dressed with whole-grain sweet mustard and vinegar-based dressing. This is the one you'll find served in Oktoberfest-style German restaurants.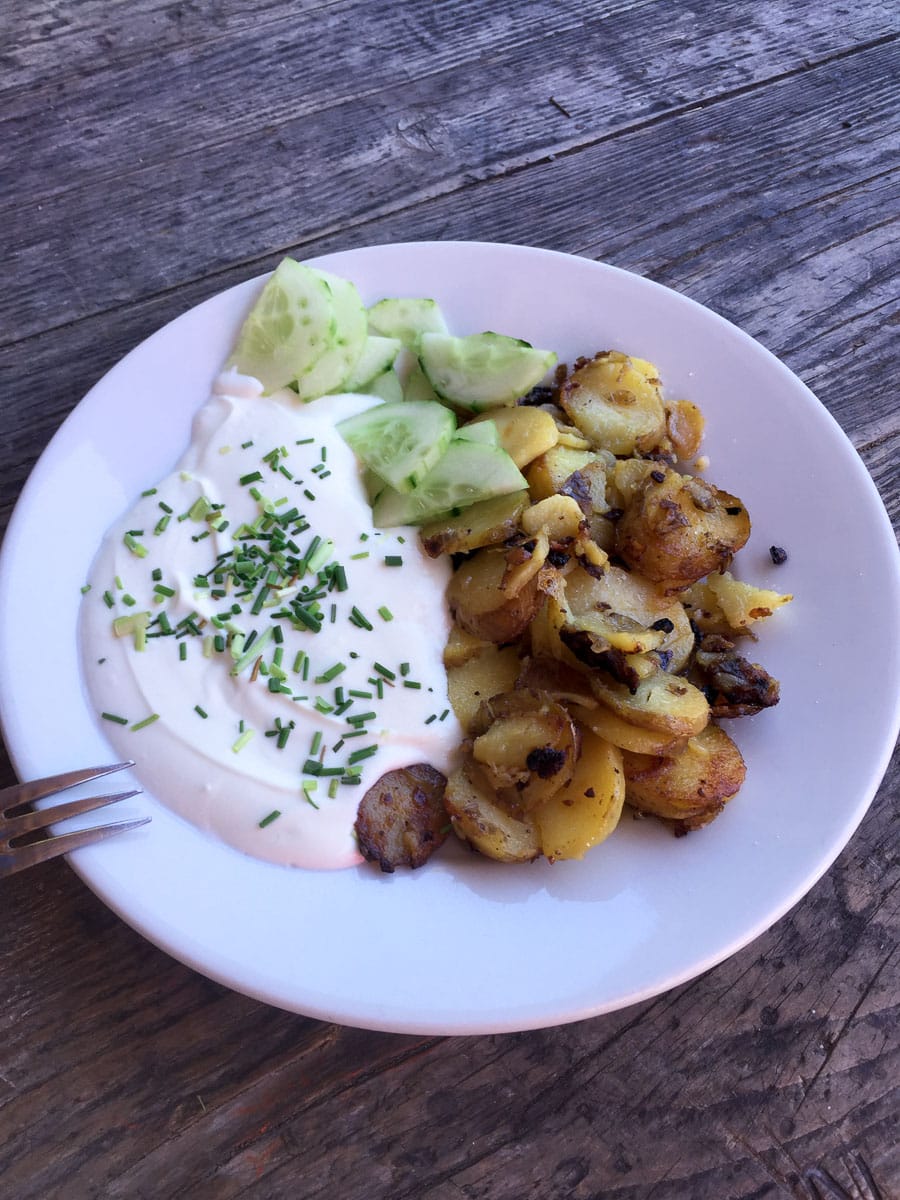 Bratkartoffeln (German Fried Potatoes)
Another hearty comfort food is Bratkartoffeln. This twist on fries is made by pan-frying thinly sliced or cubed potatoes with onions, peppers, bacon, and various seasonings until crispy. It's also sometimes served with an herbed garlic sauce.
Bratkartoffeln is a popular food truck and festival staple, and sometimes a side dish at traditional German restaurants. But don't worry, if you'd rather go for traditional French fries to get your potato fix, you won't have any trouble finding that ubiquitous snack.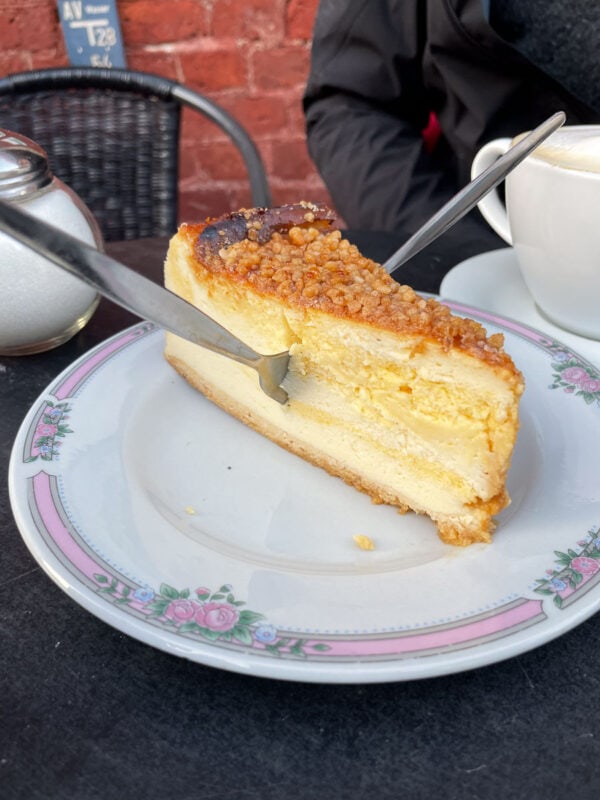 Käsekuchen (German Cheesecake)
Cheesecake is a popular German dessert but it's a bit different from the American-style cheesecake. That's because Käsekuchen (or German Cheesecake) is not made with cream cheese but instead with quark, a fresh, creamy, unaged cheese with a texture similar to thick Greek yogurt.
German cheesecake is a beloved Kaffee und Kuchen treat found in cafes and bakeries all over Germany. You'll find plain and flavored cheesecake. It's often served with a side of fresh whipped cream.
It's quite easy to make authentic German cheesecake at home, even if you can't find quark at your local grocery store. Learn how to make Käsekuchen from scratch following our recipe here.
If cheesecake isn't your thing, there are plenty of other cakes you can find in bakeries and cafes that make for delicious snacks like Zwetschgenkuchen (German plum cake), Mohnkuchen (German poppyseed cake), Schwarzwälder Kirschtorte (Black Forest chocolate cherry cake), Bienenstich (Bee sting cake) – and many more varieties of cream cakes, nut cakes, marzipan cakes, fruit-flavored cakes, chocolate cakes, and more.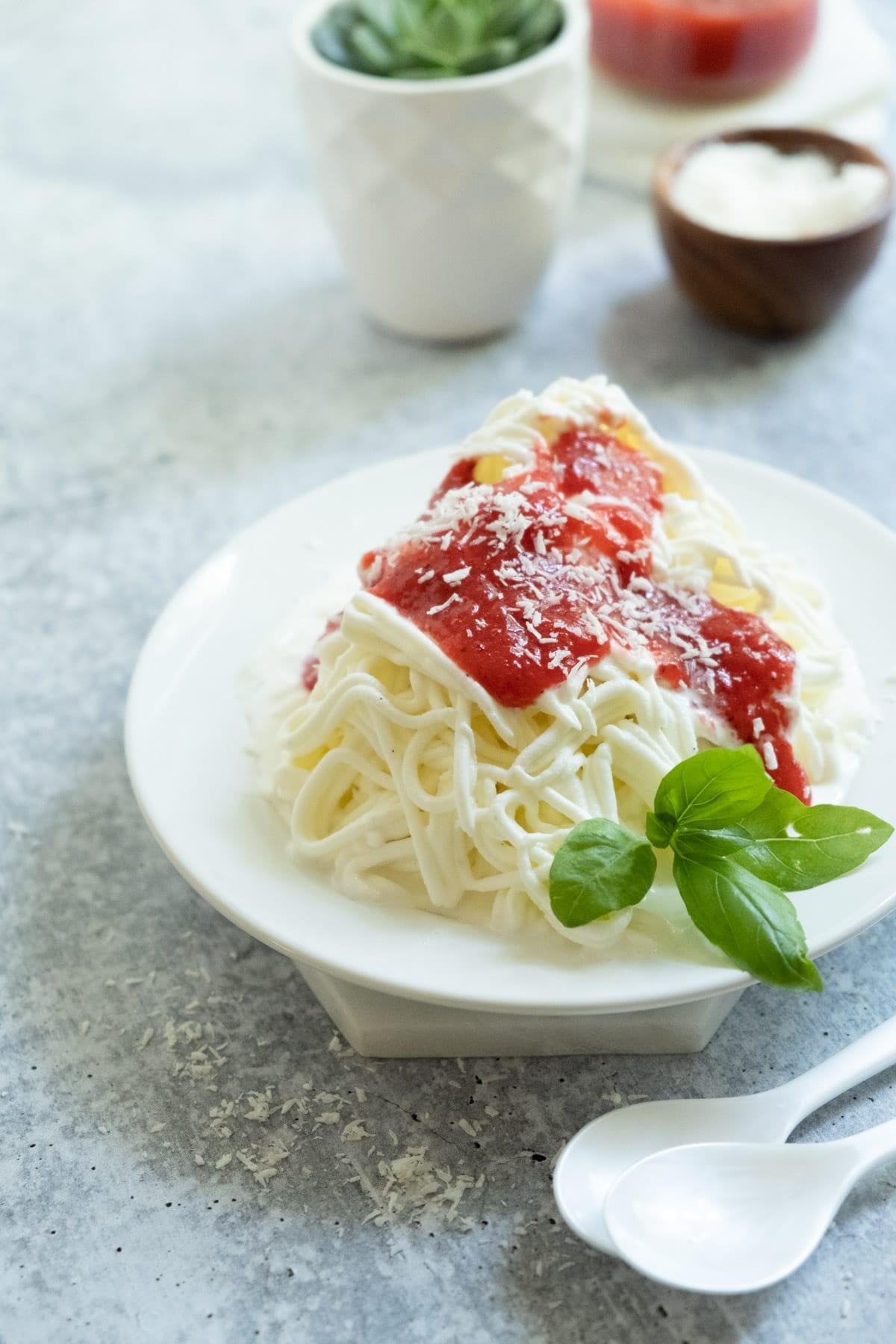 Spaghettieis
German Spaghettieis ("spaghetti" ice cream) is a popular ice cream dessert that resembles a plate of spaghetti. The spaghetti is made by pressing vanilla ice cream through a special press to create thin, spaghetti-like strands that cover a mound of whipped cream. It's then topped with strawberry sauce to mimic tomato sauce and white chocolate shavings, which resemble parmesan cheese. It's delicious!
Ritter Sport Chocolate
Ritter Sport is one of Germany's most beloved chocolate brands. Known for their distinct square-shaped bars, the brand has a ton of different flavors and fillings, all made with high-quality cocoa.
We recommend getting a box of their mini chocolates with assorted flavors to try them all! They have everything from classics like milk and dark chocolate, to more special fillings like cornflakes, yogurt, and marzipan. You'll also find vegan bars and special holiday flavors.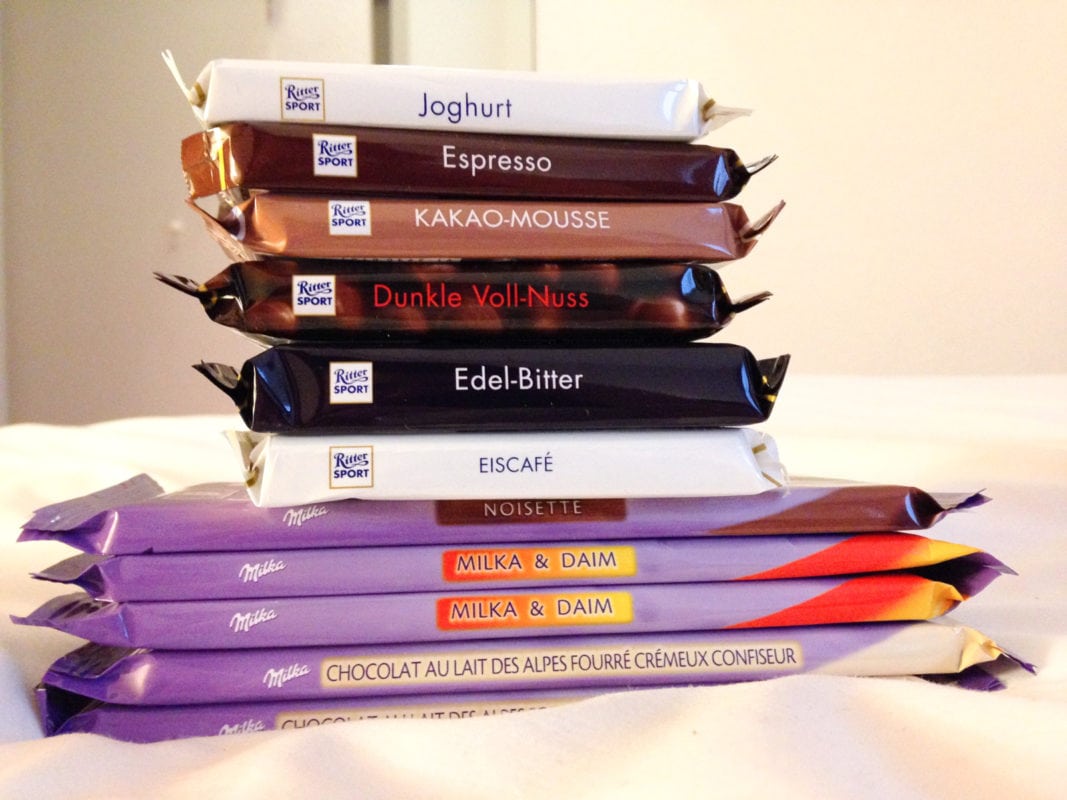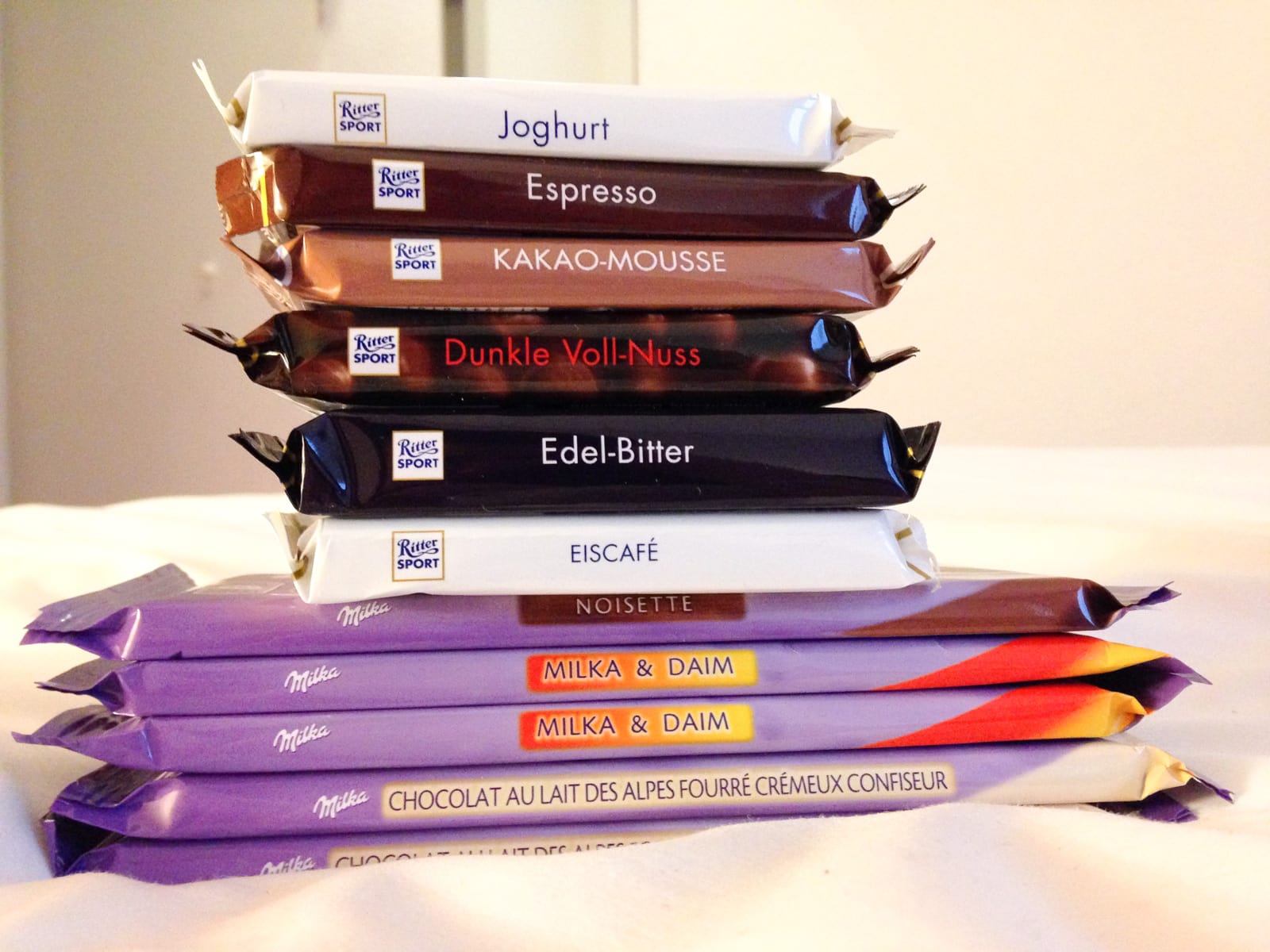 Milka Chocolate
Speaking of delicious German chocolates, Milka is another must-try brand. These popular chocolate bars are known for their extra creamy and milky texture. Just like Ritter Sport, they have a ton of classic and fun flavors. This variety pack comes with fillings like strawberry, Oreo, caramel, yogurt, cherry, and more.
Milka also offers other chocolate-related treats like cookies, cupcakes, biscuits, and mini cakes that are a bit harder to find in the United States.
While Ritter Sport and Milka are popular brands, there are many others worth trying. Find the chocolate aisle in any grocery store and you'll find a wide selection to choose from!
Haribo Gummy Bears
Haribo Gummy Bears are a beloved sweet treat worldwide and there's no better place to get them than Germany, where it famously originated from. These iconic, cute bears are known for their chewy texture and fruity flavors. You can find them in all German grocery stores, making them an easy and convenient snack for any time of the day.
Ferrero Hanuta Wafers
If you're a fan of hazelnuts, then you have to try this one! Ferrero Hanuta wafers are a German biscuit that features a delicious combination of creamy hazelnut filling sandwiched between two crispy, golden-brown wafers. Packaged in convenient individual portions, they're perfect for an indulgent snack that's just the right amount of sweet. You'll find them at nearly any grocery store in Germany.
Knoppers
Knoppers is another great sweet treat for hazelnut and chocolate lovers. This popular German chocolate snack combines layers of creamy milk hazelnut filling with crispy wafers and a topping of milk chocolate. You'll find these at grocery stores all over Germany.
Fritt Chewy Candy
Fritt Chewy Candy is a popular German candy known for its sweet and fruity flavors, wrapped in colorful, chewy pieces. These bite-sized candies come in a variety of flavors, offering a delightful burst of sweetness with every chew. Some popular flavors include strawberry, raspberry, and cherry.
Leibniz Butter Biscuit Cookies
Bahlsen Leibniz Butter Biscuit Cookies are a classic snack known for their rich and buttery flavor. These golden-brown, rectangular biscuits have a subtle sweetness and a satisfying crunch, making them an ideal snack pairing with your cup of tea or coffee. Or splash out and try the milk or dark chocolate covered variety. My favorites are the mini cookies – so good!
Paprika Potato Chips
When it comes to potato chips, paprika is one of the most popular flavors in Germany. The zesty and smoky paprika seasoning offers a fun twist on the classic potato chip. They're crunchy, satisfying, and addicting. We enjoy this brand when craving paprika chips.
Pretzels & Pretzel Sticks
Pretzels and pretzel sticks are a classic snack option. These crispy, golden-brown sticks are usually seasoned with sea salt and pair really well with any dips or spreads of your choosing.
Erdnussflips (Peanut Puffs)
Erdnussflips are a well-liked German snack known for their light and airy texture. These puffed corn snacks are shaped like peanuts and have a slight peanut and salty flavor. Of course, if you're craving the peanut flavor but don't want puffs, you can always grab a bag of peanuts at any grocery store. Peanut butter has become more common, too.
Where to Buy German Snacks?
The best places to look for quick, easy, and delicious snacks to go while traveling in Germany are the grocery store, bakeries, and food trucks.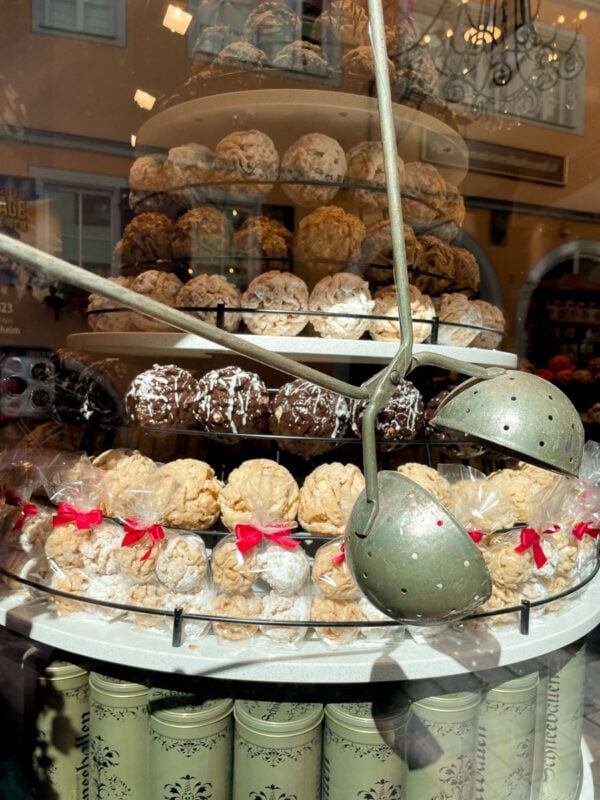 What About Regional Specialties?
Yes! There are so many sweet and savory regional treats to enjoy all over Germany, such as a Schneeball in Rothenburg or a Fischbrötchen or Franzbrötchen in Hamburg. If you're wondering what the must-try local snack is for where you find yourself in Germany, ask at your hotel, the Tourist Information office, cafe or restaurant.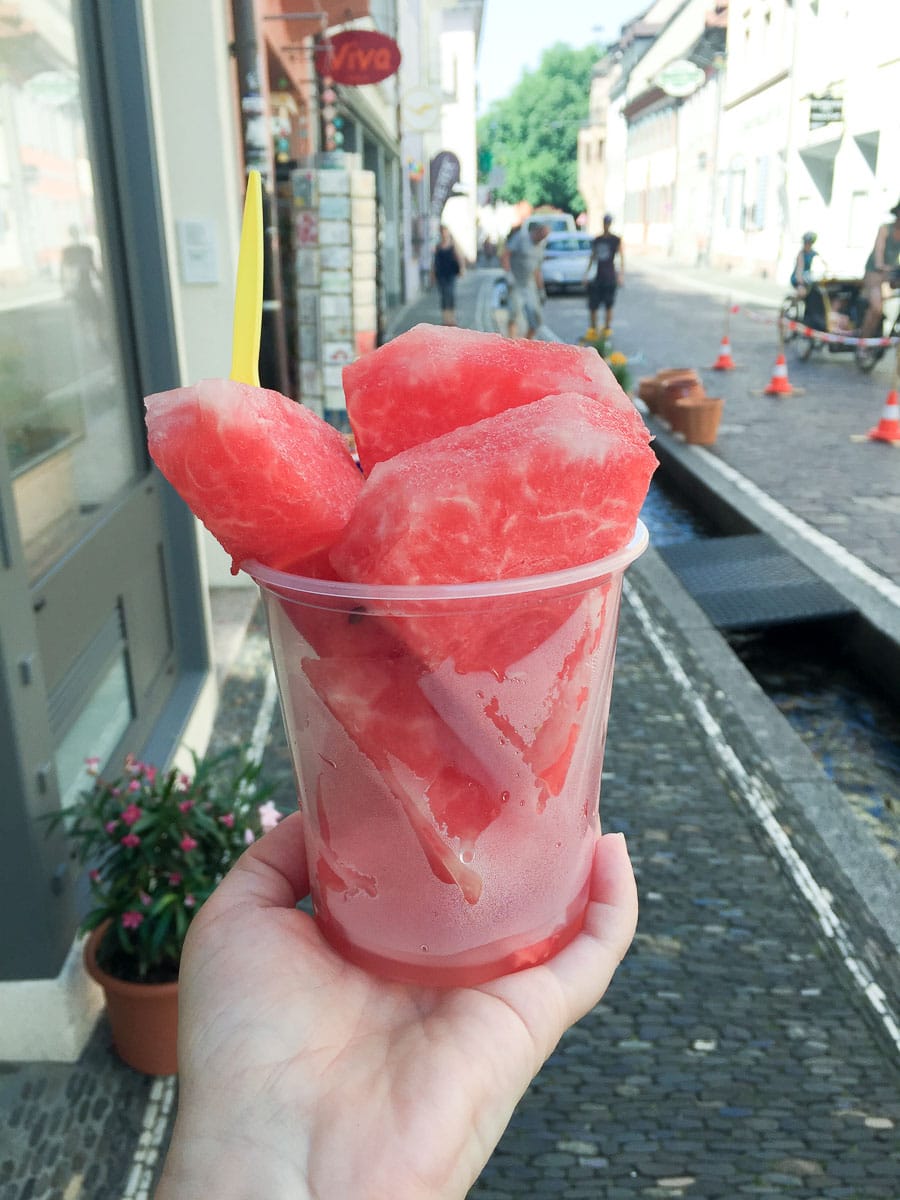 What About Healthier Snacks?
When you don't want to splurge on a mid-day snack – financially or calorically – there are many healthier options to choose from.
We often pop into a Rewe or Edeka grocery store for fruit (whole or cut up in to-go containers), yogurt, nuts, protein bars, veggies, prepared salads, sandwiches or sushi, sliced cold cuts and cheese, bottled juice or smoothies.