Going to Germany? We've got you covered!
Our mission is to help you plan your dream trip to Germany without the stress, overwhelm or post-trip FOMO (fear of having missed out).
We're Cate and Aaron, two passionate travelers who have been exploring Germany for the past 30+ years (together for 25 of them).
Cate also used to live in Germany, has a PhD in German Applied Linguistics, and used to teach college German. We're not influencers. We're real travelers who spend our own hard-earned money on our trips. And we know a lot about Germany and travel!
Whether you're planning your first or your 20th trip, our Germany travel expertise will help you make the most of your visit to this amazing country.
Here you'll find everything you need to craft a memorable journey through Deutschland, including our Ultimate Germany Travel Bundle, personalized trip planning services, detailed travel guides, and a helpful Facebook group where you can ask trip planning questions and get feedback.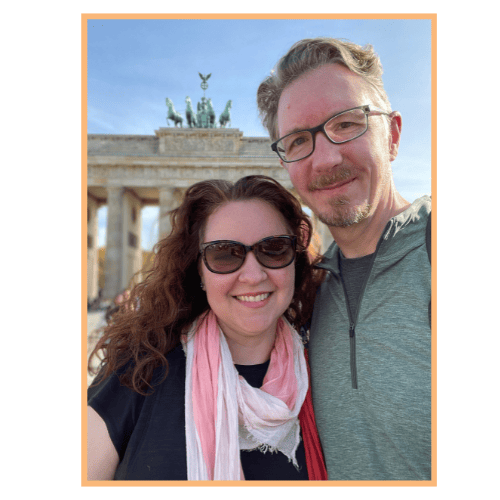 Start Your Trip Planning Here
What People Are Saying
⭐️⭐️⭐️⭐️ Helped So Much
I couldn't have planned my first trip to Germany without Cate! She answered my questions quickly and thoroughly, providing details and links that were both helpful and informative. I am better prepared now and ready for my first international trip thanks to Cate! ❤️ – Jenny
⭐️⭐️⭐️⭐️ Amazing
"Omgggg you are amazing!!! Thank you so much for the itinerary – it helped a lot. A few of my daughters friends who she was in college with and live in Germany, said your itinerary is very very good!" 👏👏 👏 – Monica
⭐️⭐️⭐️⭐️ Much Less Stressful
"Thanks again for all of your help, both early on in our planning, all the way up to today. It's made the experience much less stressful and much more fun!" – Austin & Maggie
⭐️⭐️⭐️⭐️ Invaluable
"Hey y'all. If you are planning a trip to Germany, I highly recommend scheduling a one on one consult with Cate. I had that consult recently and it was invaluable! We got great tips and fabulous advice — all of which we are incorporating into our final planning. I'm leaving soon for a six-week trip in Germany and was so nervous about managing g everything. I feel much more confident with my plans now since taking with Cate. Plus, she's a lot of fun to talk with!!!" – Jen
⭐️⭐️⭐️⭐️ Terrific Suggestions
"I am so grateful to have found Cate from My Germany Vacation! I received such helpful guidance during our planning session as my husband, and I began trying to figure out our travel itinerary in Germany. Cate offered terrific suggestions, researched with us in real time, and helped us develop a plan we are super excited about. Thank you, Cate!" – Michelle
⭐️⭐️⭐️⭐️ So Much Insight
"Thank you for your planning guide! It asked questions we didn't know
we should be thinking about and provided so much insight into our planning process." – Bre
Featured Hotel Guides
Featured Travel Guides