Traveling to Germany or elsewhere in Europe soon? If you're taking any tech with you like a phone, camera battery charger or an iPad, you'll likely need a voltage converter or at least an adapter in order to charge and use your devices.
The good news is that both are very easy to obtain before your trip. You just have to know what you need for each device.
This article explains the difference between converters and adaptors and shows you exactly what you need in order to use your electrical devices in Germany and the rest of Europe.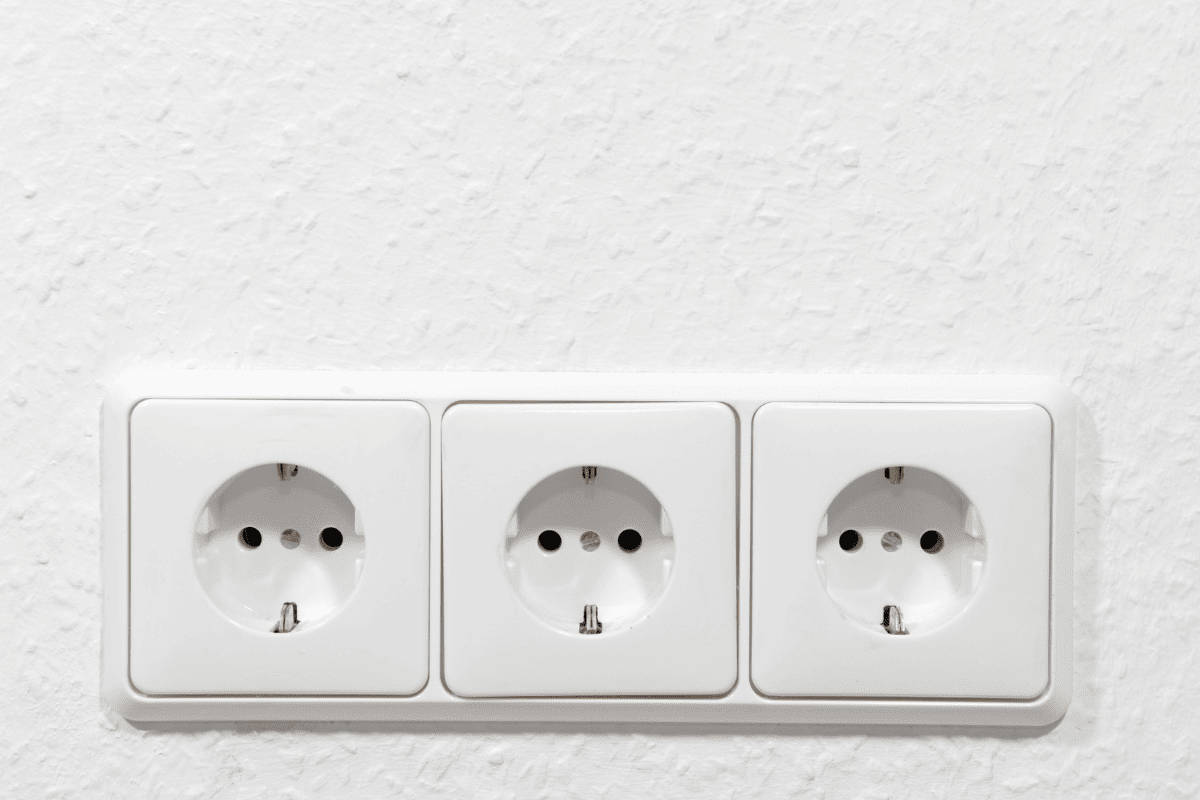 Is Voltage in Germany Different Than In The US?
Yes. The operating standard voltage in Germany is 230V supply voltage and 50Hz. On the other hand, the voltage in the United States (and in North America) is lower. The standard is 120V supply voltage and 60Hz.
Many American-made appliances or electronic devices are designed to run off of 110-120V, which means you cannot automatically use them in Germany (or elsewhere in Europe).
If your device is a single voltage appliance you'll need a converter in order to have the correct voltage go to your device when in Germany. If it's a dual voltage appliance, you just need an adapter so you can use a German outlet.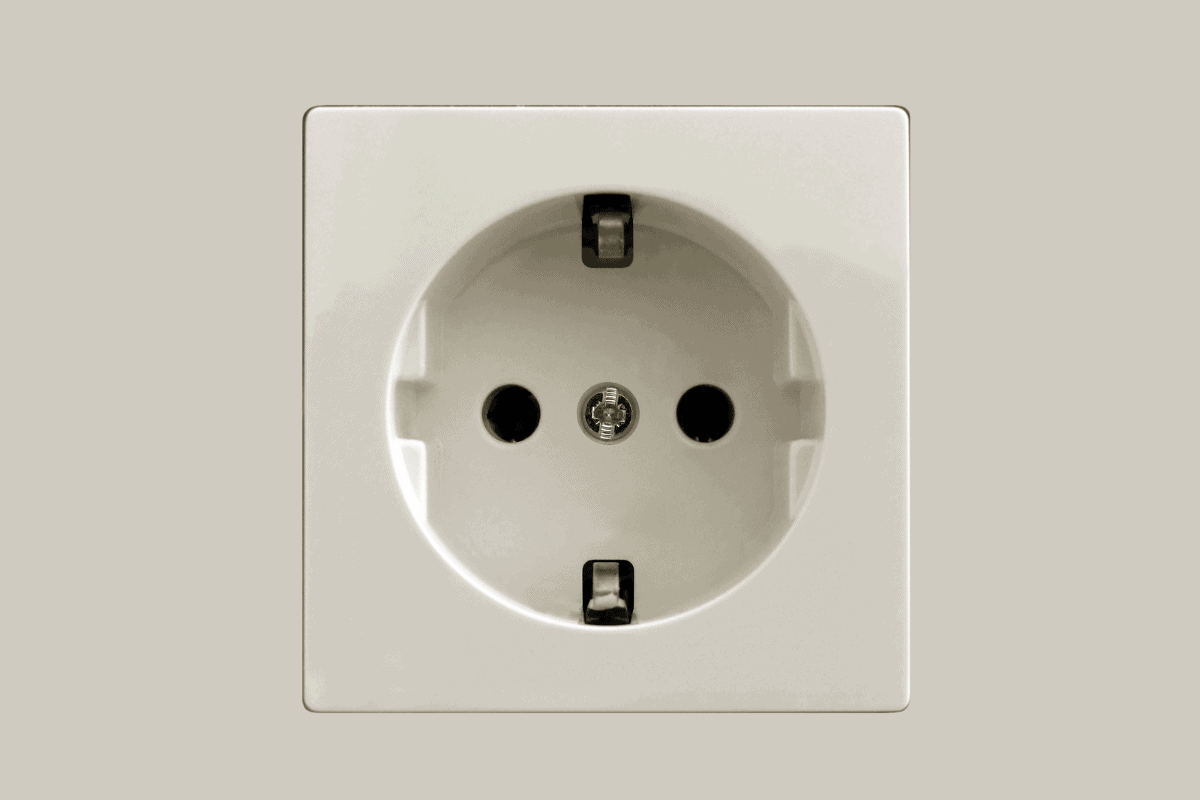 Are German Electrical Outlets Different From Those In The US?
Yes, in addition to a voltage difference, German power outlets are shaped differently from those in the United States (see photo above). There are two main plug types in Germany: plug type F and plug type C.
Plug type F has two round pins with two ground clips on the side. Plug type C also has two round pins but without clips.
Most German power sockets are set inside a circular indentation in the wall so the shape of the plug is important. The power plug must have a head that is either round or small enough to fit into the circle.
The United States has different types of power outlets: plug type A and plug type B. Plug type A has two flat parallel pins while plug type B also has two flat parallel pins with a grounding pin at the bottom.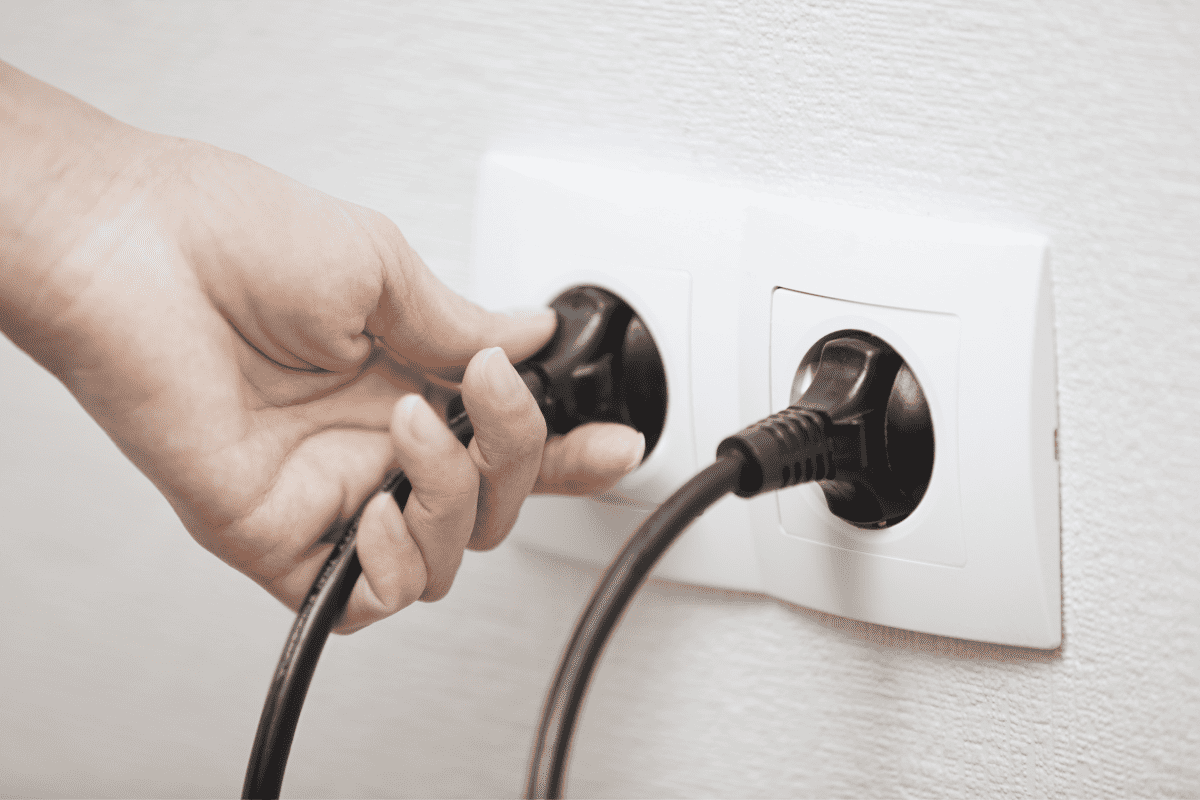 How Can I Safely Use My US Electronics In Germany?
The first thing you should figure out is if your device needs a converter or just an adaptor in order to get the correct power supply.
People usually confuse the two but they're not the same!
Different countries have different voltages. This is where voltage converters come in. Converters basically change the outlet's voltage to match your device's electrical voltage.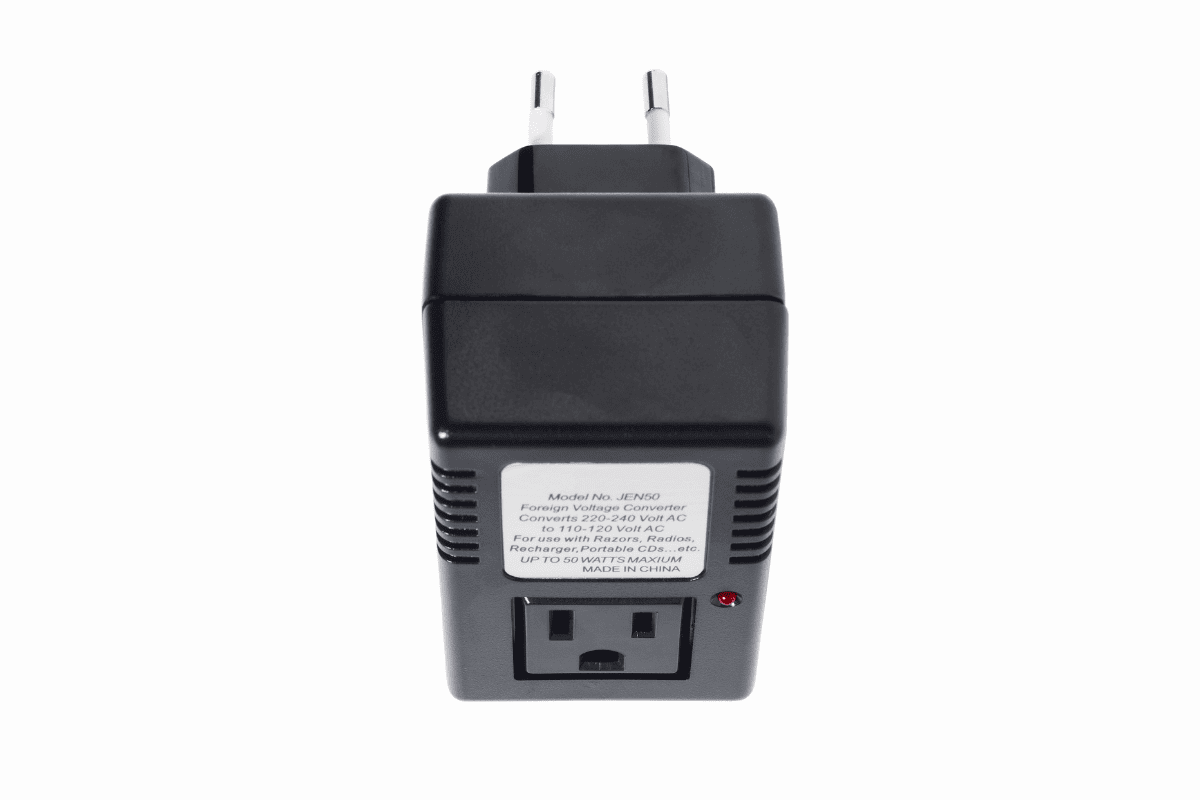 If your device is single voltage, you'll need a voltage converter (see photo above left) to safely use them in Germany, since US electronics use 110V and not 240V.
Things like personal electrical appliances that use more power like hair tools and portable kitchen appliances typically need a separate converter in order to use them in Germany because they're often single voltage devices.
These days, however, most electronics powered by rechargeable batteries (cell phones, laptops, tablets, etc.) are dual voltage and can run on a wide range of voltages. If it says "100-240V, 50/60Hz" it will work with electrical power input from 100V to 240V.
If your device is dual voltage, you just need a travel adaptor (see photo above right). You won't need a converter. Adaptors simply help your plugs fit into the outlets used in different countries.
For Germany, you need to buy adapters for plug type C – the kind with 2 pins. You can get the skinny kind like in the photo above right or the round kind that fit perfectly in round German outlets (see photo below right). But you can also buy an international travel adapter that'll work for different countries.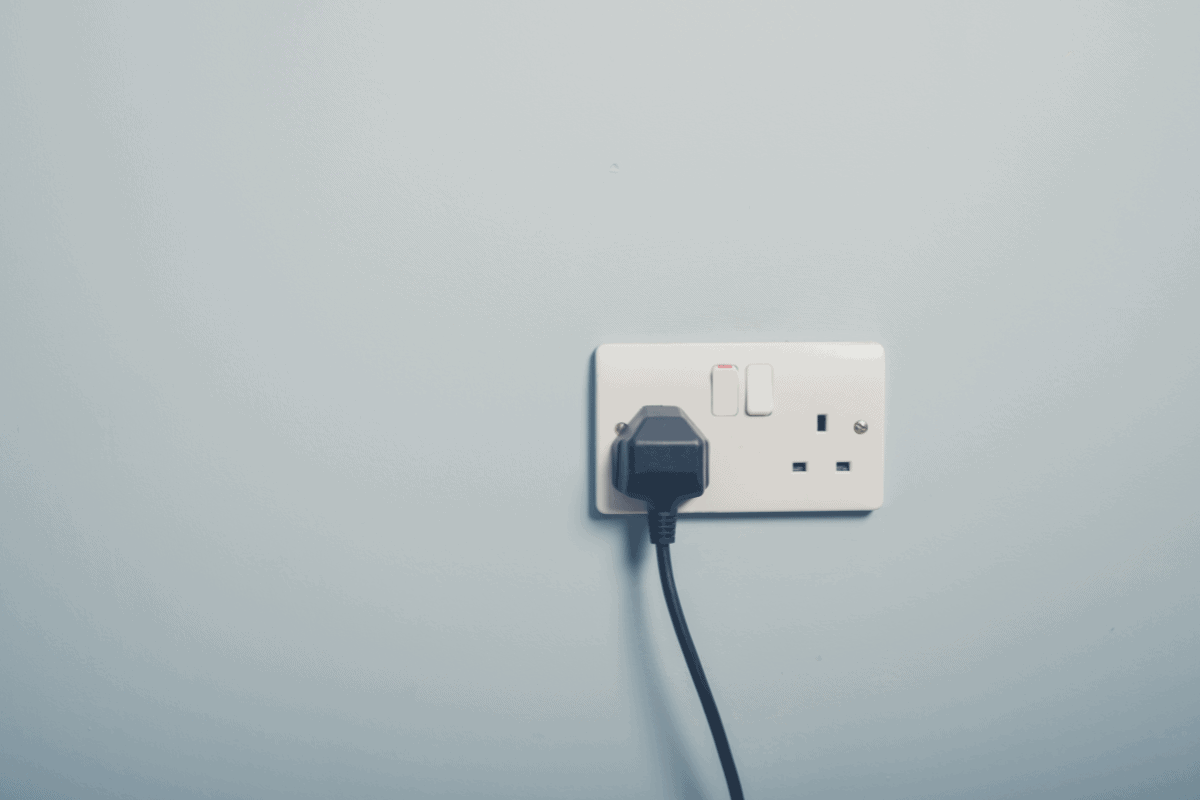 What About In Other European Countries?
Other European countries have the same voltage (220V) and two-pronged outlets (type C) as Germany (see photo above right). Except for the United Kingdom and Ireland, which use plug type G with a 3-pronged outlet (see photo above left).
What Happens If I Don't Use A Converter or Adapter?
It's super important to check each device you're bringing to Germany so you're sure to bring the correct converter or adapter!
If you don't, at best you won't be able to charge your devices. At worst you could blow out the electricity or even create fire hazards!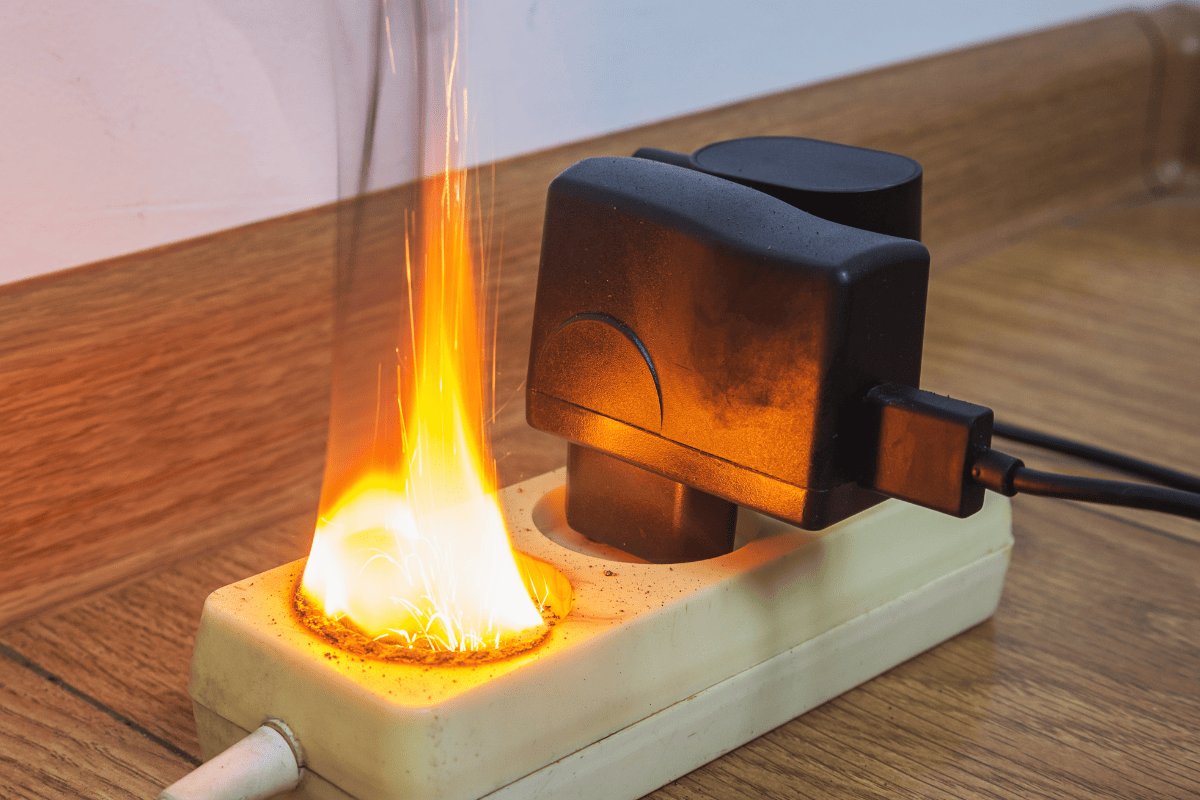 Should I Buy A Converter Or Adapter BEFORE My Trip?
Yes! While you can probably find something that will work in Germany, it's much easier to buy what you need before you leave.
That way you're not only assured you have what will work, you'll be able to use your devices the minute you arrive. And you won't have to spend precious hours of your vacation tracking down something you can easily bring with you or risk not finding what you need.
Where To Buy A Travel Voltage Converter
You can order everything online from Amazon! Here are two voltage converters to check out: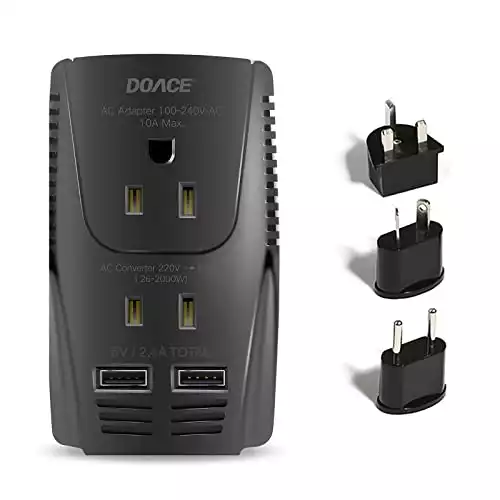 We earn a commission if you make a purchase, at no additional cost to you.
Upgraded DoAce Travel Voltage Converter – This is a multi-functional converter that works great with hair tools. It also has a 3-prong adapter socket for your dual voltage devices, 2 USB ports, safety features like auto shut-off protection.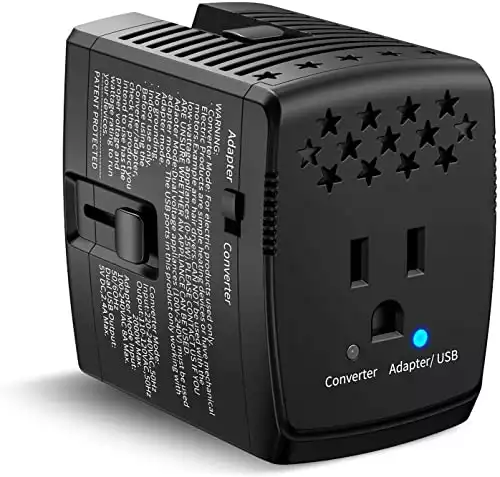 We earn a commission if you make a purchase, at no additional cost to you.
ElecLead 2000Watts Electric Converter Adapter – This is a compact travel size converter with an all-in-one plug that works in outlets of over 150 countries. It also has an adapter mode and dual USB ports.
Where To Buy Travel Adaptors
We buy all of ours online from Amazon. We have a variety of single plug adapters for charging one device and multi-plug adapters for charging multiple devices at the same time using only 1 outlet.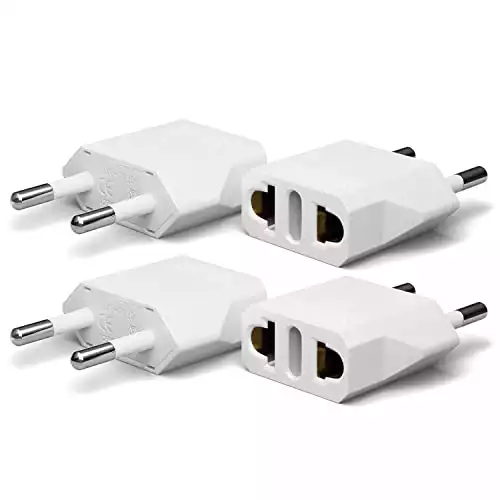 We earn a commission if you make a purchase, at no additional cost to you.
Unidapt European Plug Adapter (4 Piece) – This is a 4-piece set of European type C plug adaptors. With this set you can charge 4 different devices. If you only need to charge 1 or 2 devices, this is a great option. You can't go wrong with this option since it's fully certified and has thousands of reviews!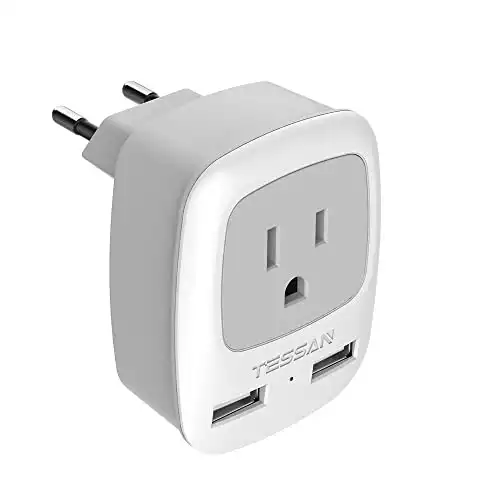 We earn a commission if you make a purchase, at no additional cost to you.
TESSAN European Travel Plug Adapter – This is a 3 in 1 plug adaptor. It supports the standard American plugs (both 2-pronged and 3-pronged) plus has 2 USB ports. Its compact size is perfect for traveling and charging multiple devices at once. This can be handy in Germany (or Europe in general) because in older buildings there often aren't a lot of outlets and that can make it challenging to charge several devices at once.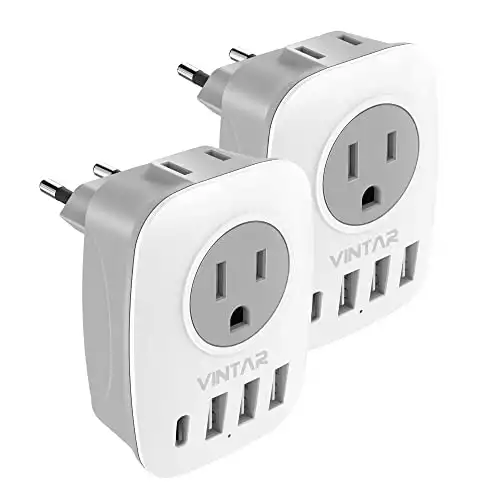 We earn a commission if you make a purchase, at no additional cost to you.
VINTAR European Travel Plug Adapter (2 pack) – If you have several devices to charge, need to charge devices with a 3-prong plug or have devices that can charge using USB, this is a great set.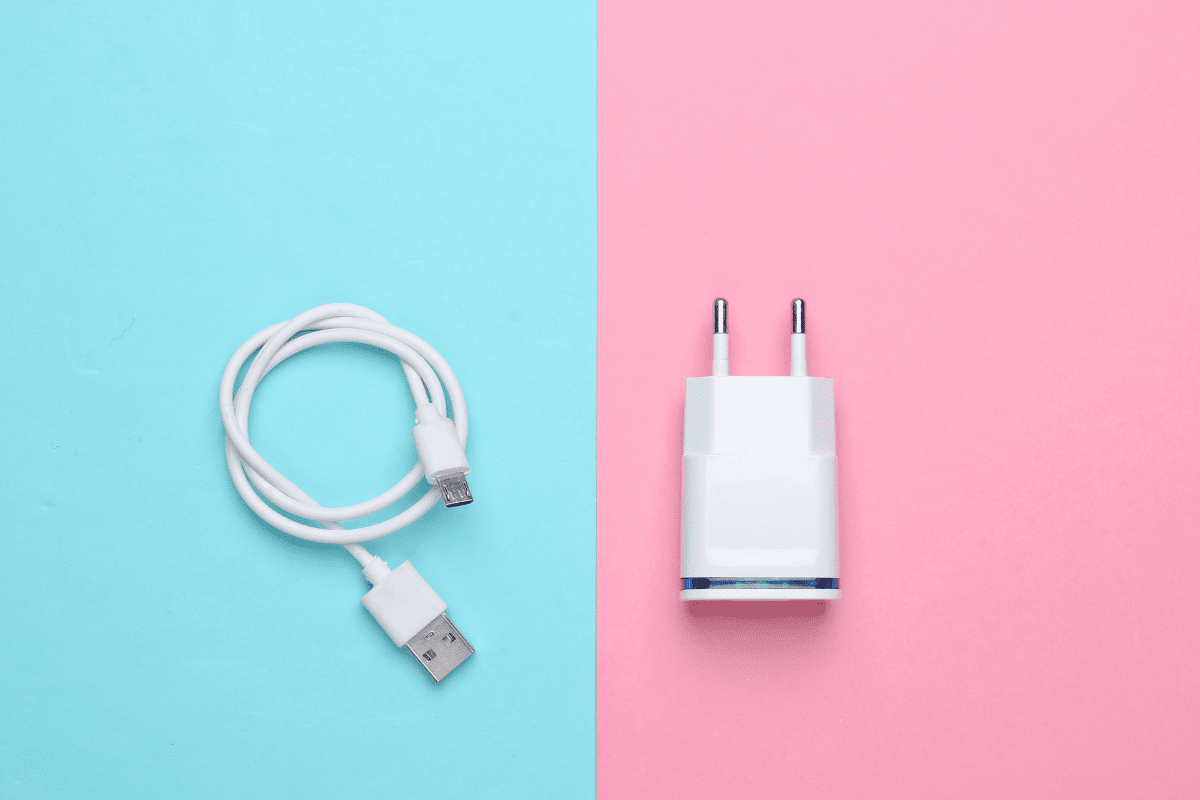 What Else Do I Need For My Tech?
We bring the following items with us whenever we travel. We highly recommend them!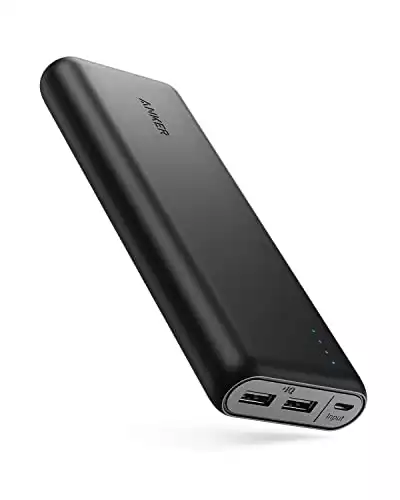 Portable phone charger – The last thing you want is for your phone to die in the middle of sightseeing. With this high speed portable charger, you can charge your phone on the go!
I use my phone a lot for taking photos and videos, using Google maps or offline maps, and listening to podcasts — all of which drains my battery before the end of the day. So I always have a portable charger in my day bag, and I use it every single day while traveling.
I also often use it to charge my phone overnight because there isn't always a convenient outlet near my bed and I like to have my phone near me at night.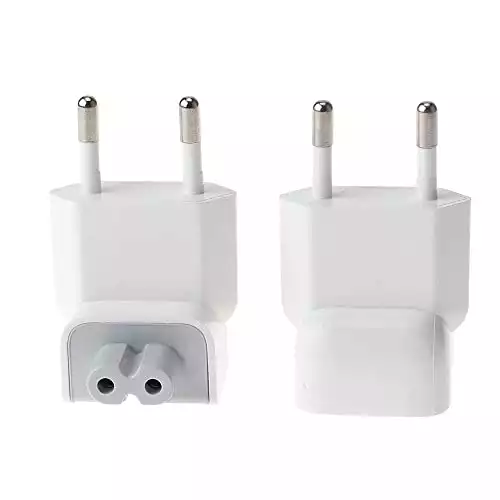 European plug for MacBook – If you have a MacBook laptop, you can easily switch out the plug in your charger with this type C plug instead of plugging it into a separate adaptor. I bought a set from the Apple store several years ago and love it. It's super convenient to use a plug that's so well integrated into the power cord!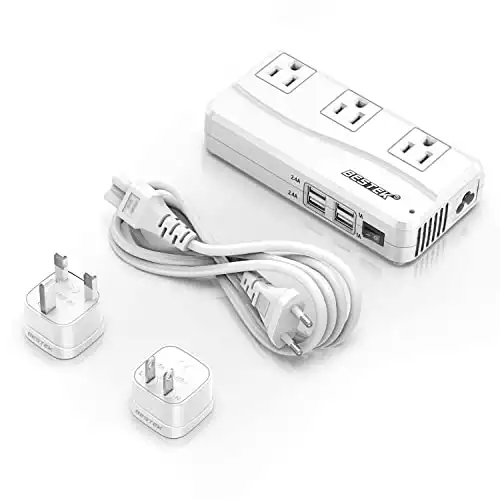 Power strip – Power strips are great for when you're traveling in a group and there are limited outlets in your hotel or AirBnB. With this one, you can charge 7 devices simultaneously. The nice thing about this one is that it won't fall out of the wall when you have several devices charging at the same time!

Travel Converter or Adaptor?
You might be wondering which of your tech needs a converter and which just need an adaptor? Here's a reference list for both.
Most of the following have dual voltage built in so you only need an adaptor. Be sure to check each item before you leave for Germany, though, just to be sure:
Laptop computers
Cell phone
iPad/tablets
Kindles/e-readers
Apple watch
Travel alarm clock
Regular alarm clocks
Camera batteries (rechargeable)
Apple air pods
Gimbal for camera or phone
Go Pro
Most of the following are single voltage. So unless yours is dual voltage, you'll need a converter. Be sure to check each item before you leave for Germany, though, just to be sure:
Hair dryer
Curling iron
Electric shaver
Electric toothbrush
Travel tea kettle
Coffee maker
Power strip
Portable phone charger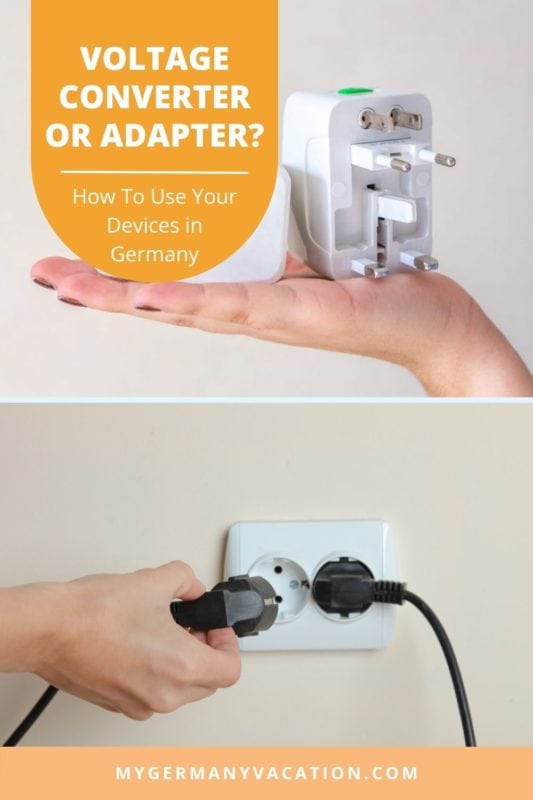 ---
ULTIMATE GERMANY TRAVEL RESOURCES
We've gathered some of our essential travel guides, websites, and other information to help you plan the best vacation! We use these resources ourselves and share them to save you money, time, and stress so you can focus on enjoying and making the most out of your time in Germany.

GERMANY TRAVEL BUNDLE: Our Ultimate Germany Travel Bundle gives you the best tools, up-to-date tips, and expert insights to easily and efficiently tackle the travel planning process. You'll get our custom Trip Planning Map, which shows you the best sights, hotels, castles, and more – because seeing where things are in relation to each other makes trip planning SO much easier! You also get our Trip Planning Spreadsheet, City Cheatsheets, How-to Videos, Germany Trip Planning Guide, and Trip Planning Spreadsheet!

BOOKING FLIGHTS: To find the the best flights deals, we recommend checking Kayak, Skyscanner, Expedia, Travelocity. These websites are also great for getting rental cars.

ACCOMMODATIONS: We recommend using Booking.com since they have widest range of accommodations available from hostels, boutique hotels, luxury chains, aparthotels, at the best prices. For vacation homes, we suggest checking VRBO. We also have accommodation guides on different destinations (Hamburg, Cologne, Munich, Stuttgart, and more to come!) in our website.

TRAINS & BUSES: For point-to-point or regional train tickets (great for day trips or groups) within Germany, or tickets originating in Germany to other European destinations, we recommend buying them on the Deutsche Bahn (German Rail System) website. If you want to buy a rail pass for Germany (or elsewhere in Europe), buy them on Rail Europe. For buses, FlixBus offers tickets for routes within Germany and to other European countries. FlixBus is often cheaper than trains but can take longer.

TRAVEL CREDIT CARD: One of the best ways to make travel to Germany more affordable is by booking free flights. Using the points accrued with our Chase Ink credit card (and a few others), we haven't had to pay for flights to Europe in the past 10 years!

TICKETS AND TOURS: We always recommend exploring a new city for the first time with a Hop On Hop Off Bus tour (ride it all the way around for the entire 1.5-2 hour tour). Here is our guide on the best Hop On Hop Off Bus tours for different German cities. For guided walking tours, day trips, private tours, and skip-the-line tickets, Get Your Guide is our go to!

WHAT TO PACK: Not sure what to bring to Germany? Check out our 2-week minimalist packing guide for tips on traveling light, and our Germany packing list for our must-pack items. Bonus: check out our guides on finding the best travel purse and best travel scarf with a hidden security pocket.

TRAVEL CONSULT: If you feel like you need more help and guidance beyond these resources, book a travel consult with us! We offer personal live sessions where we'll help you with things like planning your itinerary, showing you how to book train or skip-the-line tickets, and answer any other questions you have about traveling to Germany.