What to Wear to Oktoberfest in Munich in 2023
This post may contain affiliate links. Read my disclaimer policy.
Planning to visit Oktoberfest? In this guide we share everything you need to know about what to wear so you can plan your perfect outfit and enjoy your time there to the fullest!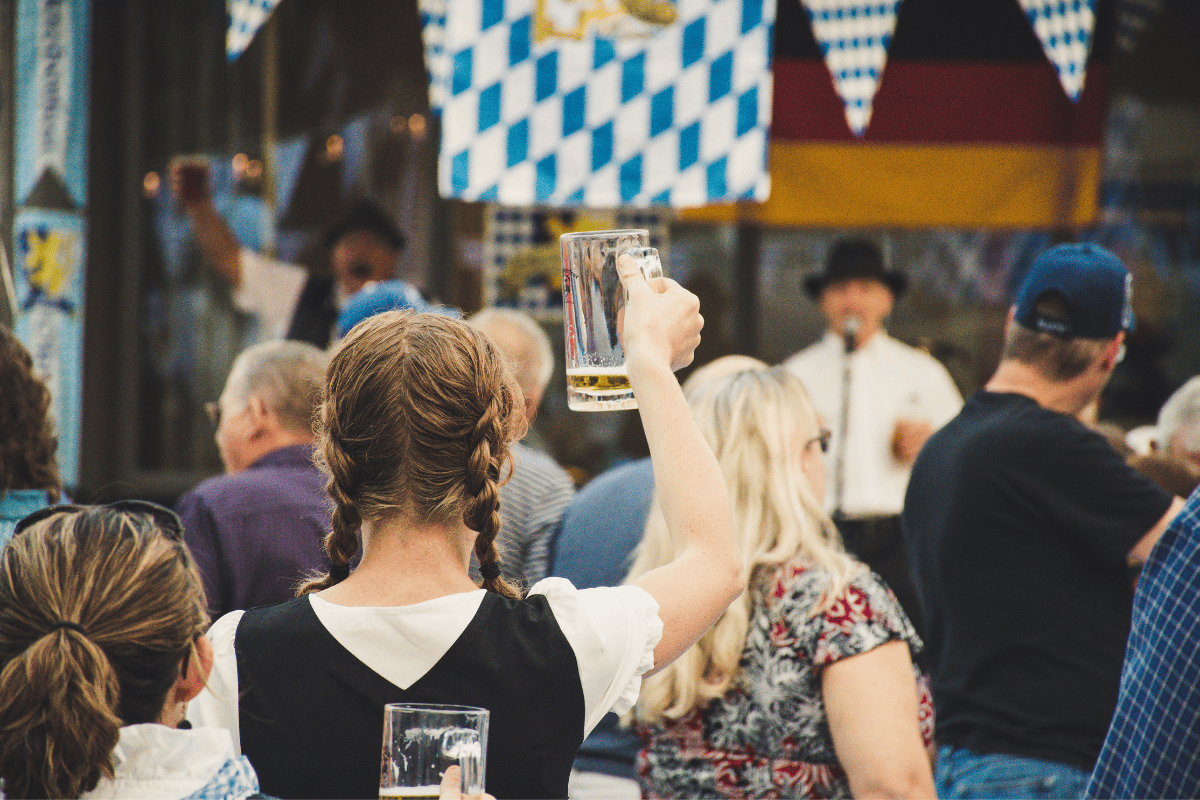 If you're heading to your first Oktoberfest, you're probably thinking – what should I wear? Don't worry, planning your Oktoberfest wear can be one of the most exciting parts about this famous celebration!
After all, wearing a traditional Oktoberfest outfit adds to the whole experience. That's because the clothing worn are not just "Oktoberfest costumes" but traditional Bavarian clothing, with a history as interesting as its garments.
Keep reading to learn about the celebration's traditional attire, tips on proper etiquette, and packing lists to help you put together the best Oktoberfest outfit.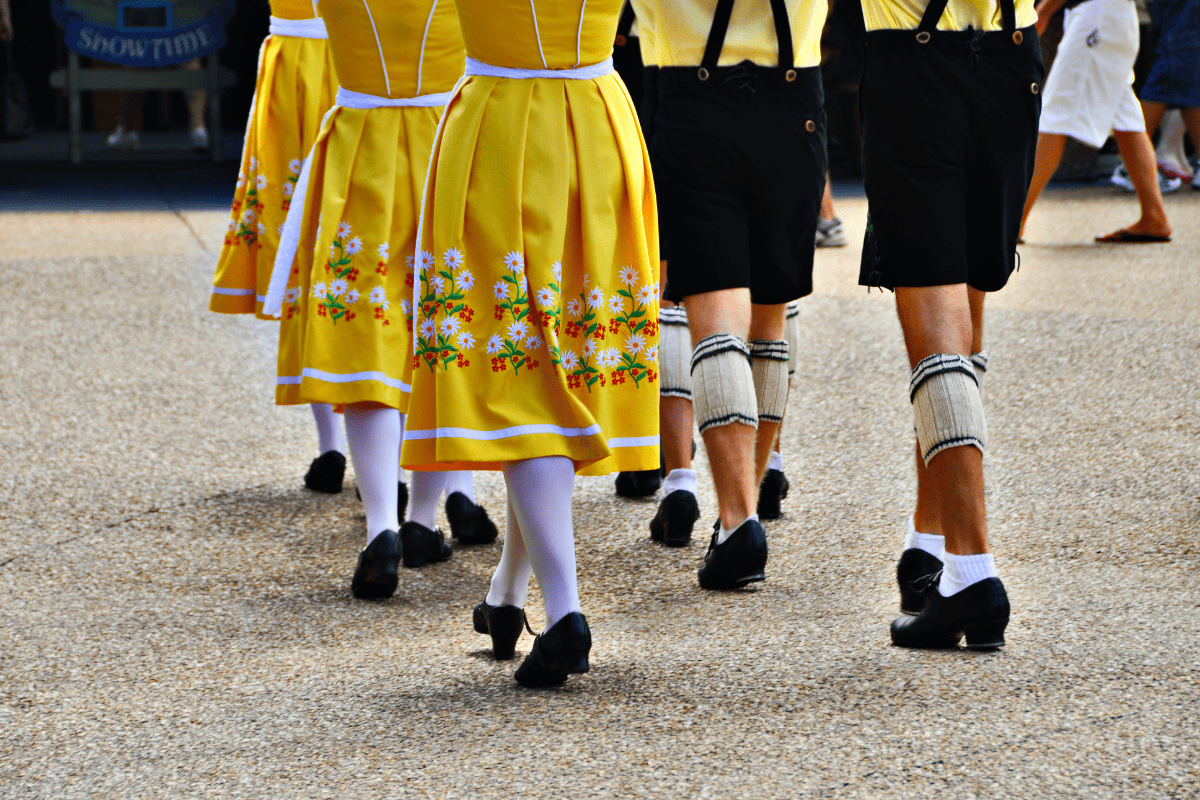 What is Oktoberfest?
Oktoberfest is the world's largest beer festival. It dates back to 1810 when the first Oktoberfest was held to celebrate the marriage of King Ludwig I and Princess Therese of Saxe-Hildburghausen. People from Munich gathered for the wedding celebrations to watch horse races and performances with traditional music.
From year to year, the German festival grew to include carnival booths, rides, agricultural shows, and parades with people dressed in traditional Bavarian attire. To this day, the parade remains a big part of Oktoberfest!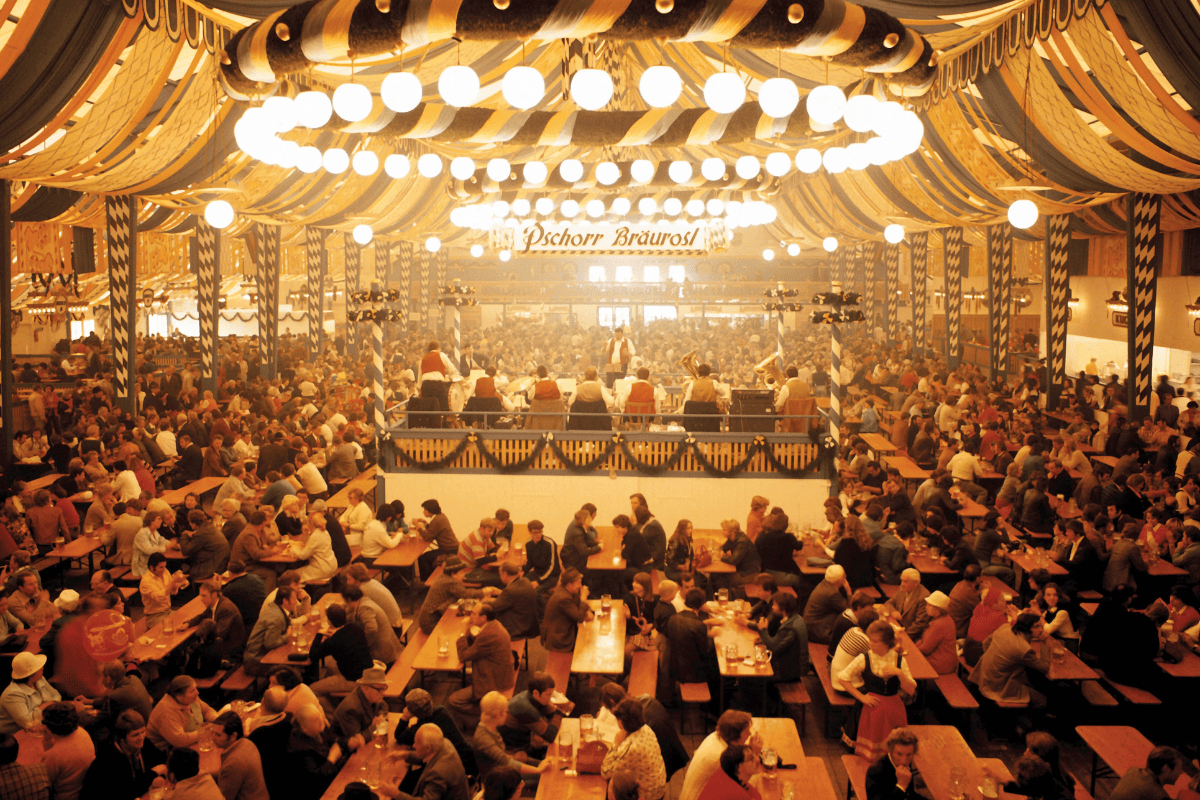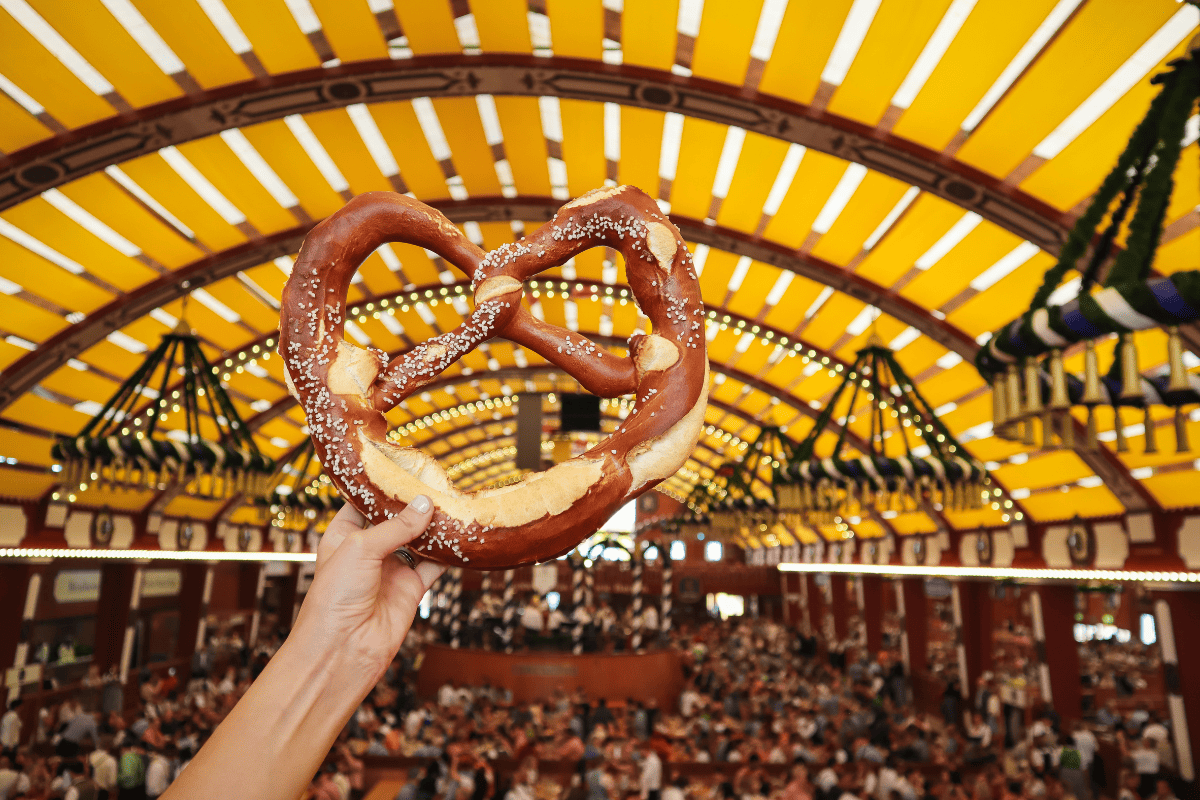 During the end of the 19th century, breweries started participating in the parade with grand floats showcasing beer mugs and kegs. Booths started selling traditional food and German beer. Eventually these booths expanded into the beer halls that are still used to this day.
In recent years, around six million people from all over the world visit Munich for Oktoberfest every year. Not only is it one of Germany's biggest attractions, but it's also an important part of Bavaria's local culture and traditions.
Oktoberfest is a lot of fun to attend! Even if you're not a fan of beer, don't want to hang out in the beer tents (or can't find a place to sit), you can still have a lot of fun exploring the "Wiesn".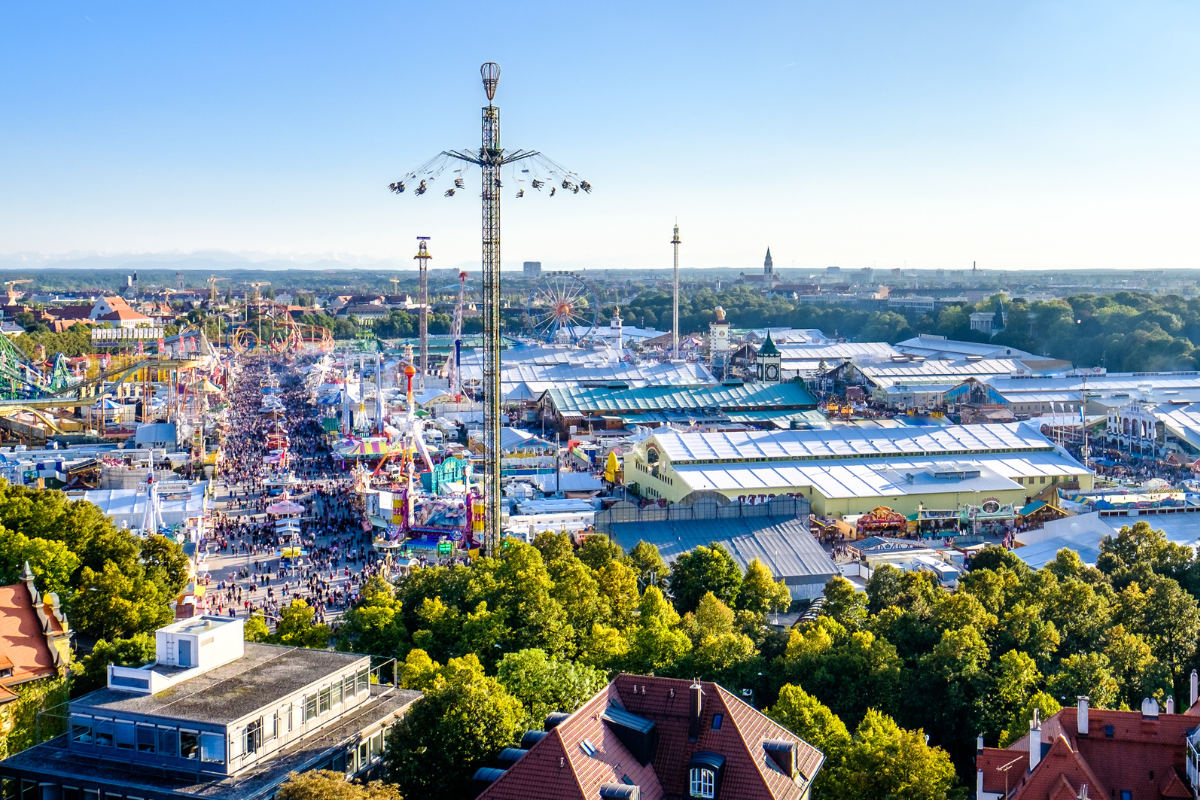 Where is Oktoberfest?
Oktoberfest is held annually in Theresienwiese, one of Munich's largest festival grounds. Its central location is near Old Town and easily reached by public transportation (the nearest underground train stations are Theresienwiese or Goetheplatz).
The festival is made up of 17 large tents and 21 small tents. From big beer tents serving local brew, to tents with traditional dance floors and brass music, to smaller tents serving delicious food, there is something for everyone!
Because of its popularity, Oktoberfest is well-known worldwide. Countries like the United States carry out their own version of Oktoberfest celebrations. Bars and breweries from all over the world commonly celebrate it too though it's not as authentic as Munich's Oktoberfest.
While there's only one Oktoberfest, there are other festivals in Germany that are similar, albeit smaller. The Cannstatter Volksfest in Stuttgart, for example, is held around the same time, has beer tents, music, rides, etc. If you want to go to Oktoberfest but can't make it to Munich, you can probably find another festival to attend.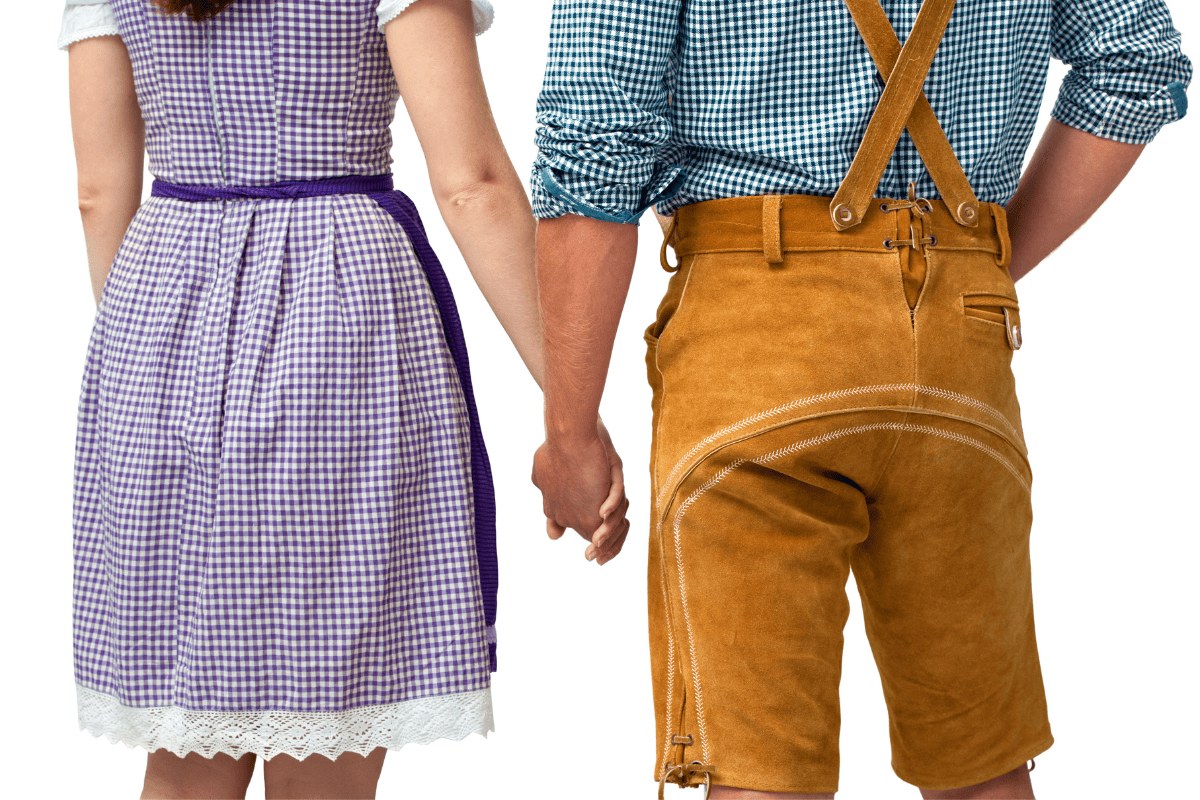 When is Oktoberfest Held?
Oktoberfest usually starts mid-September and runs until the first Sunday of October, lasting 16 to 18 days. This year, the 187th Oktoberfest, will be held from September 17 to October 3, 2022.
The traditional beer tapping of the first beer barrel in the Schottenhamel tent will mark the start of Oktoberfest on September 17 at exactly 12 noon.
General Tips For Visiting Oktoberfest
As soon as you decide to visit Oktoberfest, book your accommodations. As you can imagine, this is a popular time to visit Munich, and hotels fill up quickly. Prices are also typically higher than normal. Unless you book far in advance or are ok with paying a premium, you might need to look for a place outside of walking distance. You can still easily get there via public transportation.

If you can, make a tent reservation. Reservations are often made months in advance and there are typically minimum food and drink purchase requirements. Some tents are only for regulars and some seats are for locals only. If you can't make a reservation months in advance, you can try to book a seat 24-hours in advance.

To skip the line at Oktoberfest and have a guaranteed seat at a table in a beer tent, book this all-day guided tour that comes with a reservation in the Hofbräu-Festzelt tent, 2 beers, a chicken lunch, and a ride on the famous ferris wheel. Not only will you have a guide who can give you the inside scoop on all things Oktoberfest throughout the day, you'll enjoy it with other beer lovers!

It's free to enter beer tents and you can go in even without a reservation. In most tents a certain amount of seats are kept for walk-ins. But if tents are crowded it could be difficult to find a place to sit and order a beer. This is something I wish I'd known before I went! If you go on a busy day without a reservation and can't find a place to sit, simply pop into a few tents to enjoy the atmosphere. Then enjoy a beer in a Biergarten later.

Be prepared to sit at a table with others. Unless you've reserved a table with a group, you could be seated at a table with people you don't know. Don't worry, though, because everyone becomes friends at Oktoberfest!

Don't like beer? No problem! There are other alcoholic and non-alcoholic drinks you can enjoy. While beer is a big part of Oktoberfest, it's not the only part.

You can visit Oktoberfest on a day trip to Munich. That's what I did. My friends and I took the train to Munich early in the morning and left late in the evening. It was a long day but we were happy to visit Oktoberfest. We spent half of the day at Oktoberfest and then visited other sites in Munich. If you're wondering what else to do and see in Munich, click here for our Munich guide!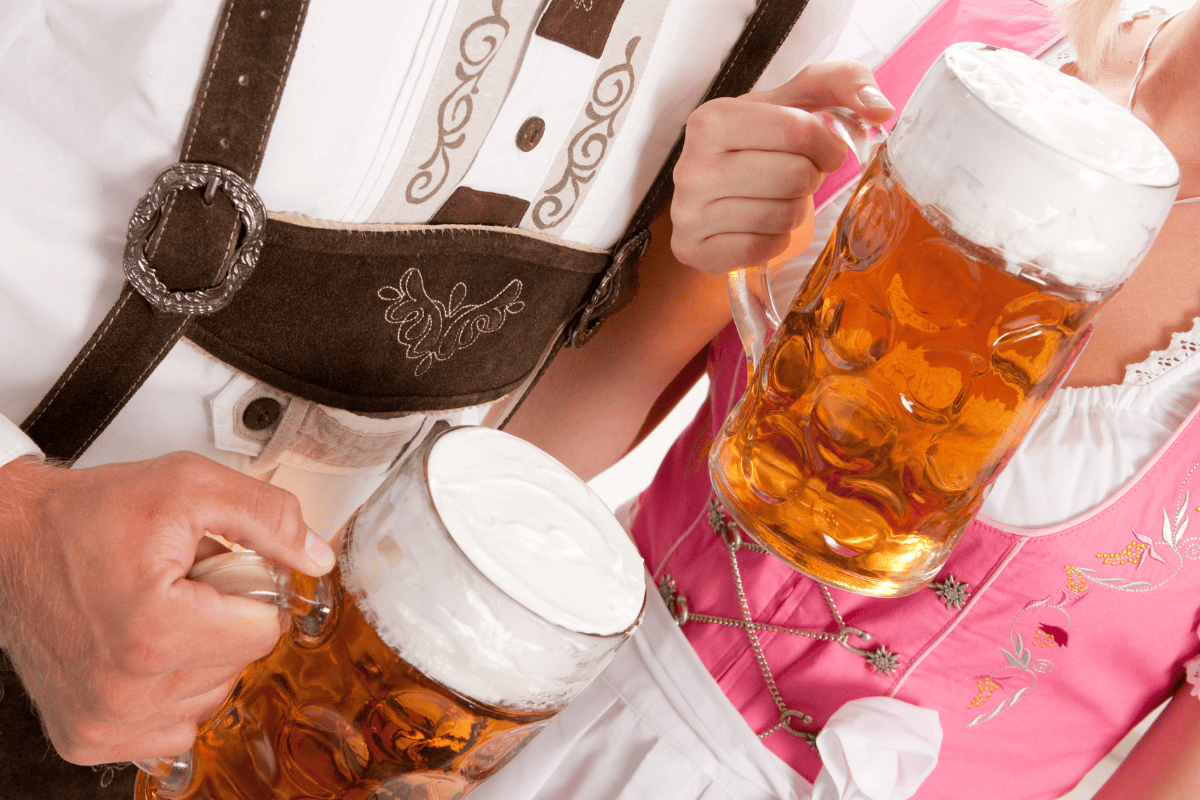 Is There a Dress Code for Oktoberfest?
One of the most frequently asked questions about Oktoberfest is the dress code. Technically, there isn't one. Plenty of people forego dressing up in a traditional outfit and it isn't a problem at all. Nobody will think it's odd if you're not wearing a traditional outfit. When I went to Oktoberfest I didn't wear traditional clothes and I still had a great time.
That said, dressing up is a great way to make the most out of your experience! The Oktoberfest clothes we are all familiar with are more than just costumes, they're actually authentic Bavarian attire. Because of this, it's important to be respectful and aware of the customs that go into wearing them.
If you'd like to wear traditional clothes to Oktoberfest, keep reading for what to wear and how to source the most important items.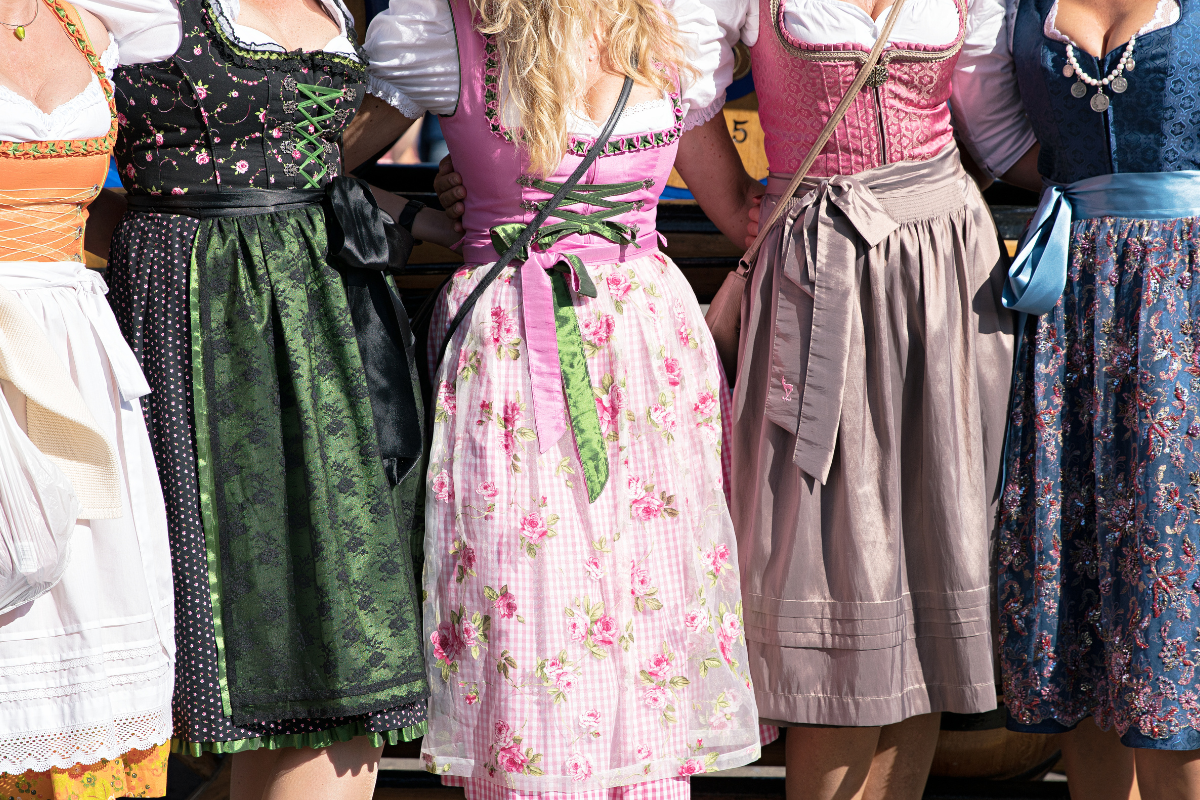 What Do Women Wear to Oktoberfest?
The traditional Bavarian dress for women is called a Dirndl. A traditional Dirndl is commonly made up of the following garments: a white blouse, a skirt or dress, and an apron. They can be easily bought in complete sets but you can also buy them separately if you want something more personalized.
There is a fun urban legend that says how a woman ties her Dirndl bow signifies her marital status. If your apron knot is on the right side, it means you're taken. If you tie on the left side, it means you're single.
Women's Oktoberfest outfits should follow the norms of traditional Dirndls. This means that the dress should be at least knee-length. Anything too short or skimpy is considered disrespectful.
If you're looking for an alternative to a traditional dress, "Ladyhosen" or Lederhosen for women is a fun option that has been growing in popularity in the past years.
To complete your Oktoberfest outfit, add comfortable shoes, simple jewelry, a small purse, and maybe even a flower crown.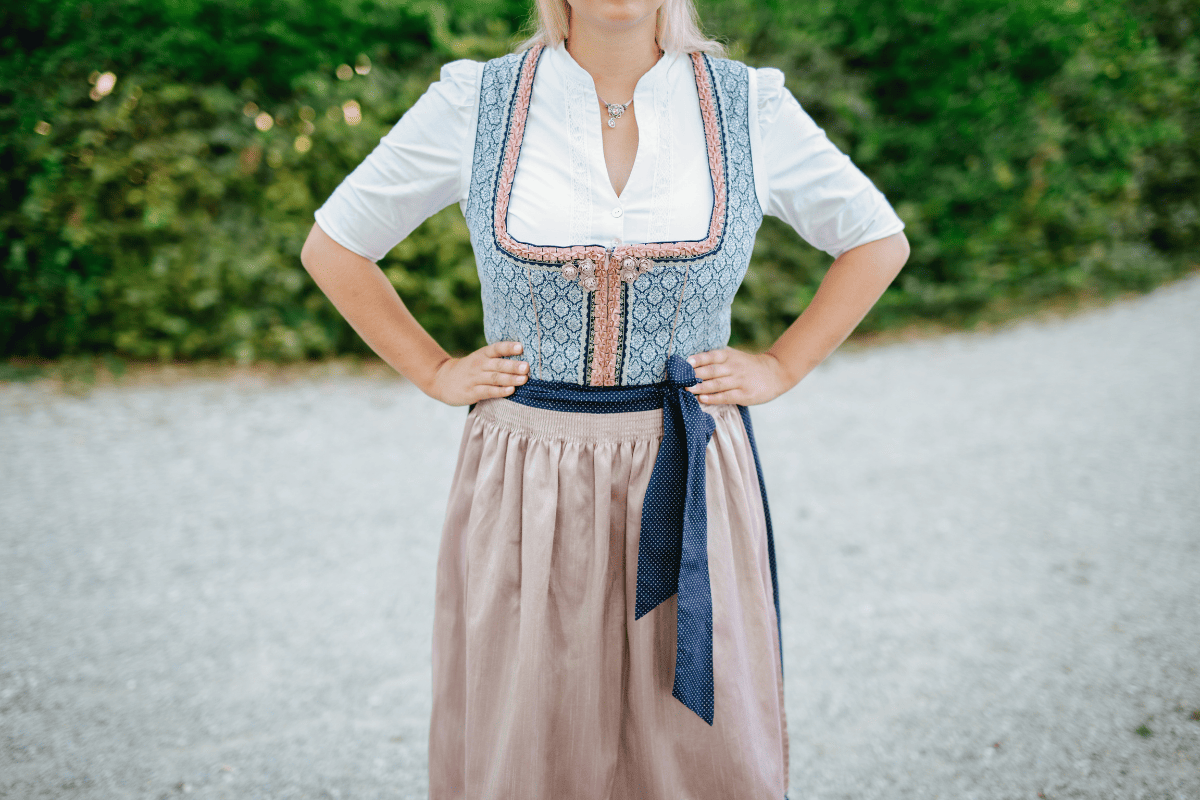 Where to Buy or Rent a Dirndl?
Both modern Dirndls and traditional Dirndl dresses are fairly easy to find.
Amazon offers several options in all kinds of colors, with prices ranging from around $50 to $80 US (though the price can fluctuate).
Take a look at this affordable blue Dirndl, this pretty flowered Dirndl and this bold red Dirndl.
(Do watch out on Amazon, though, because there are a lot of Halloween-type Oktoberfest clothes.)
If you want more intricate, higher quality pieces that will last for years (and you're willing to pay more money for better quality), Etsy is a great place to find unique dresses for Oktoberfest. Take a look at this Dirndl shop, as well as this Dirndl shop to see their selection of beautiful Dirndl.
You can even buy authentic Dirndl patterns and make one yourself! If you'd like to make both women's and men's Oktoberfest clothing, check out these patterns.
You can also buy or even rent authentic Dirndl and Lederhosen in Munich through online shops or in department stores (like this one, this one, this one or this one). You can also find traditional clothing at many stores in Munich. Keep in mind that prices are higher, ranging from €150 to €300+.
Here's an option for renting Dirndl – it's a great option if you're looking for something authentic, a lower price, and if you don't want to take the whole outfit home with you.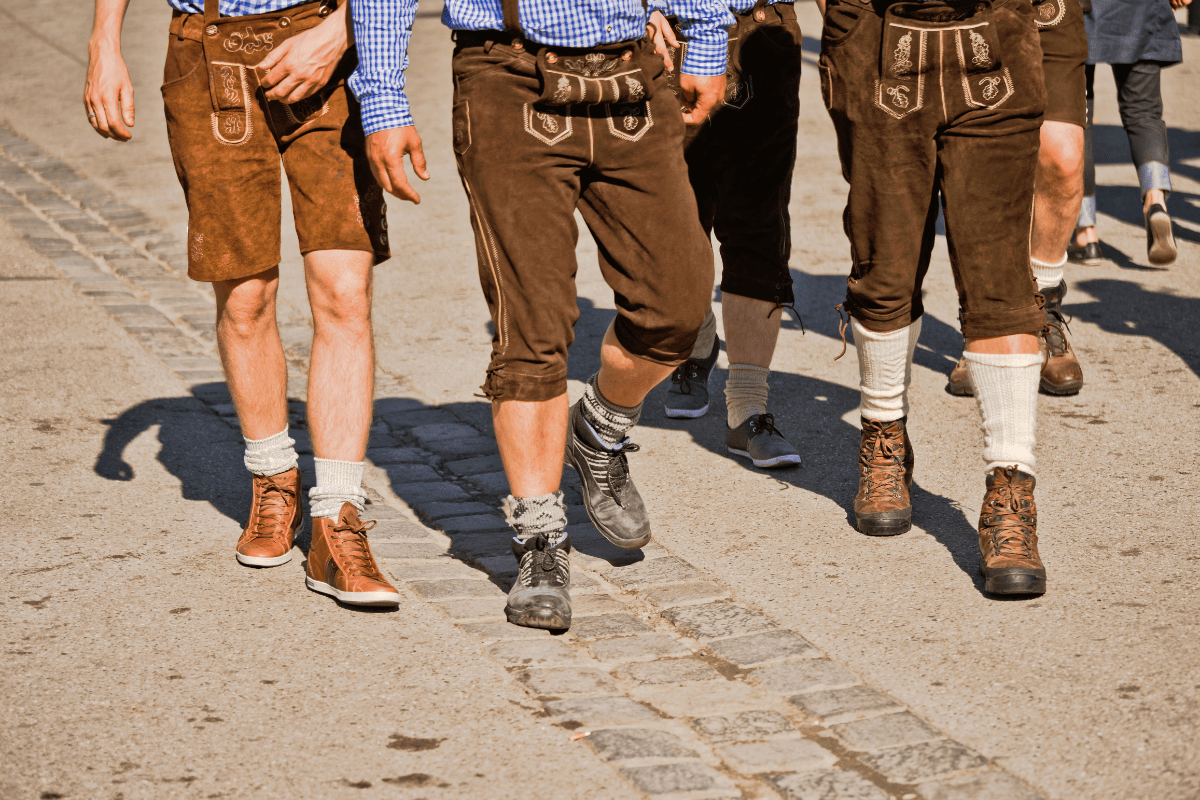 What Do Men Wear to Oktoberfest?
At Oktoberfest, men mainly wear traditional Lederhosen, which is a pair of knee-length leather shorts with suspenders. The length can be either your typical shorts length or ¾ leg length. Lederhosen often have beautiful designs on the front and on the suspenders.
The undershirt is usually sold separately from the shorts. Men can choose between classic white button-downs or checkered shirts, commonly in blue or red.
The lederhosen is the bare minimum. You can also wear some additional accessories like alpine hats, and knee-high lederhosen socks with traditional shoes or boots.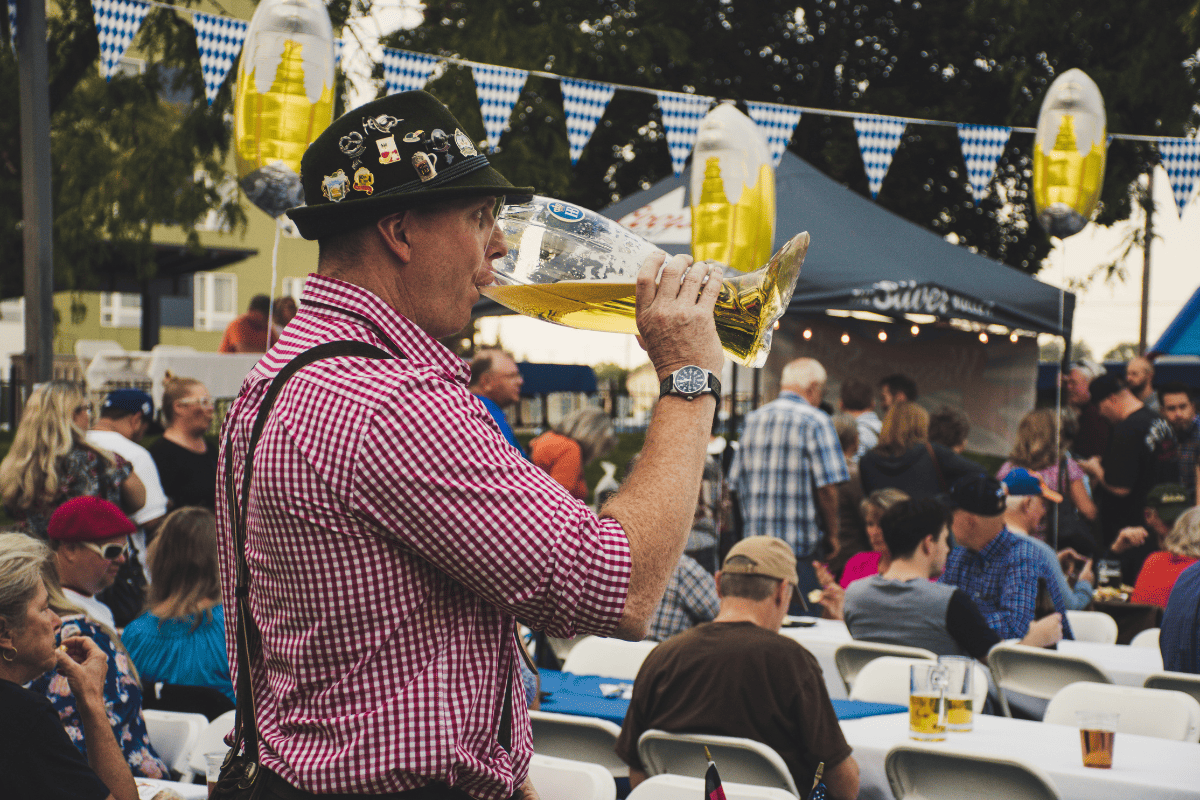 Where to Buy (or Rent) Lederhosen?
Lederhosen are also quite easy to find on Amazon or Etsy. But keep in mind that the price point for Lederhosen tends to be a bit higher, especially if it's made of authentic leather.
These Lederhosen from Amazon are around $80 to $100 (though the price can fluctuate). Check out this pair of Lederhosen, this pair of Lederhosen, and this pair of Lederhosen.
In Etsy, you'll find some other great options starting from $65 to $90. Take a look at the selection at this store and this store to find your favorite pair.
If you'd prefer to rent a men's outfit, check out this option for renting Lederhosen.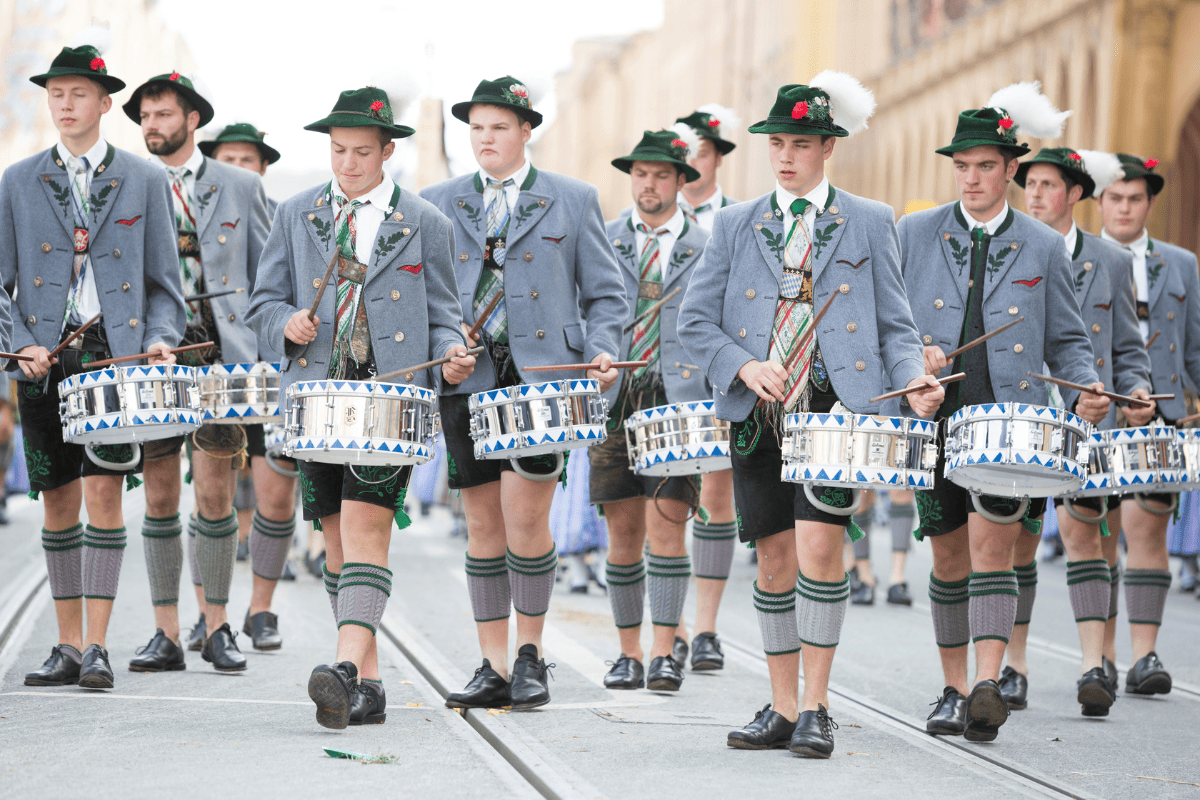 Is There Anything You Should NOT Wear to Oktoberfest?
An important thing to remember is that the outfits worn during Oktoberfest are NOT costumes, they are traditional clothing worn in Bavaria. You have to treat it with respect and be aware of certain norms when it comes to wearing it.
Because of this, you should not buy or wear Halloween costumes marketed as traditional clothes for Oktoberfest. Most of the time, these outfits look cheap and are not close to authentic clothing.
For example, some costumes for women come with very short skirts. Short Dirndls are a big no-no since traditionally they should be at least knee-length. For men, avoid wearing crazy hats and instead stick with the traditional felt hats.
For footwear, comfortable shoes are a must! Don't wear flip flops or heels since you'll be doing a lot of walking and dancing. Not to mention that the ground will probably be sticky or wet due to inevitable beer spills.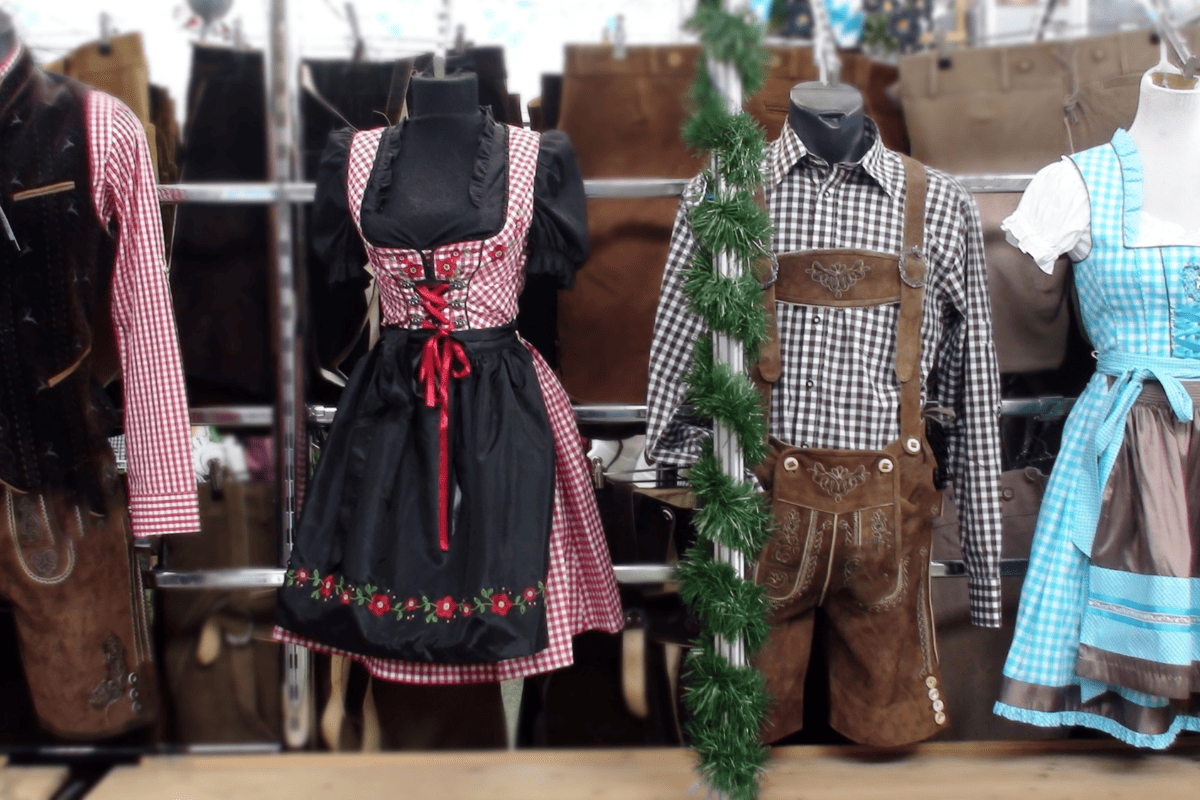 What if I Don't Want to Wear Traditional Clothes?
No problem! As mentioned, there isn't really a strict dress code to follow. If you don't want to wear traditional clothing, you can wear normal clothes like everyday t-shirts, jeans, shorts, and dresses.
Dressing up can definitely add to your Oktoberfest experience, but at the end of the day, you can have just as much fun wearing regular clothes too!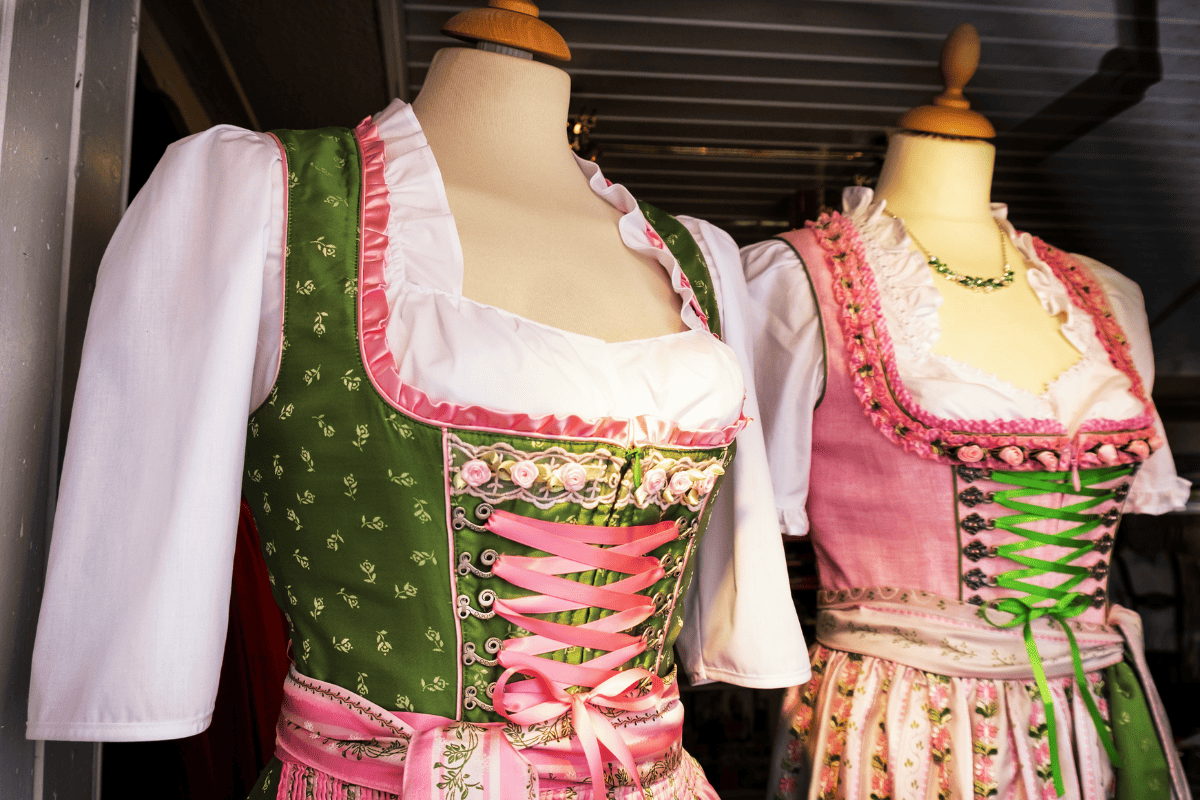 Oktoberfest Packing List for Women
Dirndl – Your dirndl should include a white blouse, the Dirndl skirt, and a matching pinafore or apron.
Accessories – To spice up your outfit, you can wear a traditional flower crown in your hair and simple jewelry like ribbons, chokers, and festive earrings.
Comfortable shoes – Whether it be flats, sneakers or short boots, go with close-toed comfy shoes instead of heels or sandals.
Small purse – Nothing too big or bulky. A small cross-body to store essentials like your phone and wallet is enough. Be sure to bring cash.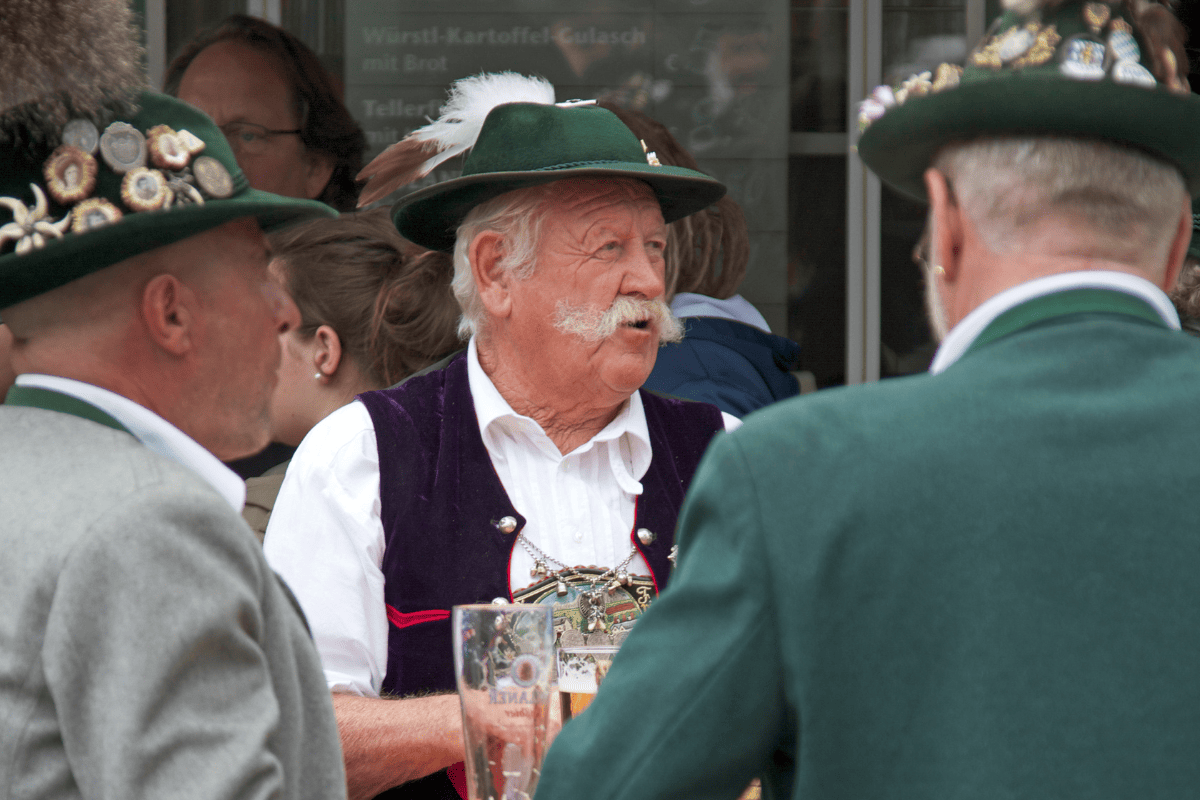 Oktoberfest Packing List for Men
Lederhosen – For men, all you need is your Lederhosen! These leather shorts with suspenders come in many different colors and lengths.
Undershirt – Don't forget to pack a white shirt or a checkered button-down to go with your Lederhosen shorts.
Haferl Shoes – These are the traditional leather shoes that men wear with Lederhosen. If you don't want to invest in these fancy shoes just make sure to wear something comfortable!
Accessories – There's fun ways to accessorize the Lederhosen. Men can wear traditional alpine hats, leather belts, vests or waistcoats.