The Best Beer To Try in Germany for 2023
This post may contain affiliate links. Read my disclaimer policy.
Is sampling one of Germany's many beers on your travel bucket list? This guide gives you a crash course on what you kinds you'll find and where to sample the best beers in Germany.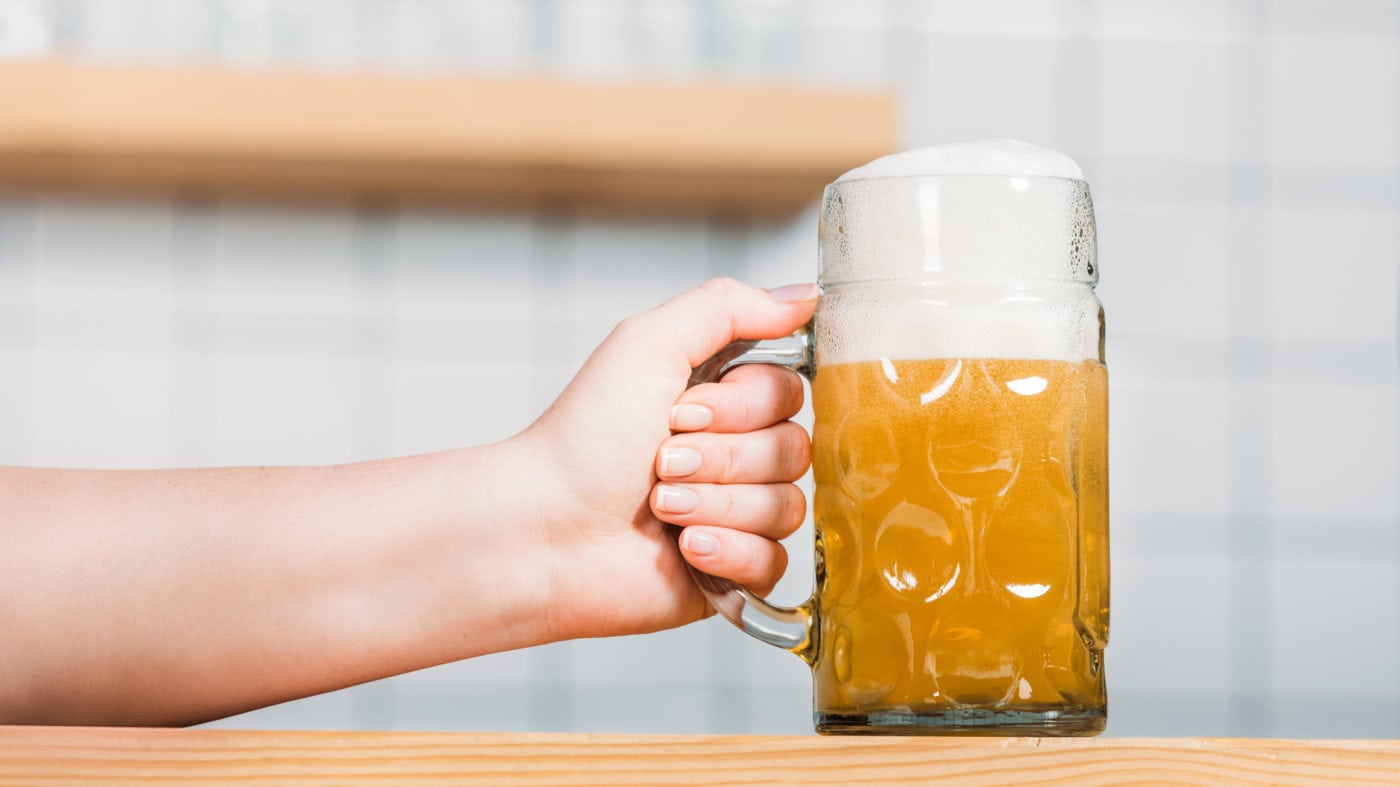 When people think of Germany, the first thing that comes to mind is beer. And it's easy to see why! Germany is responsible for some of the best beers in the world.
With the wide range of brands, styles, and variations, you might be wondering which are the best German beers?
There are a lot of German beers, so this guide will walk you through the different types of beers to help you find your favorite one. We'll also share some of the best places you can enjoy beer for your next trip to Germany!
Beer History in Germany
Beer is a significant part of Germany's history and culture. Though they're not credited with inventing beer, the history of beer in Germany goes all the way back to earlier centuries when monks were the main producers of beer for the public.
Many of them were located in the south of Germany and some of them are still even open to this day. One of them is believed to be the world's oldest brewery, Weihenstephan brewery dating back to 1040.
In the Middle Ages, the German Beer Purity Law (Deutsches Reinheitsgebot in German) was enacted in Bavaria. This law stated that the only ingredients that could be used in the beer making process were water, barley, and hops. This was done to ensure that the quality of the beer was the highest it could possibly be. The law also set the price of beer at that time.
The Purity Law continues to influence the German beer industry, though there have been modern changes to include other ingredients like yeast, malted grains, and wheat. Throughout the years, Germany has been able to create different styles of beer while still maintaining the clear and pure taste that it's known for.
Types of Beer in Germany
Pale Lager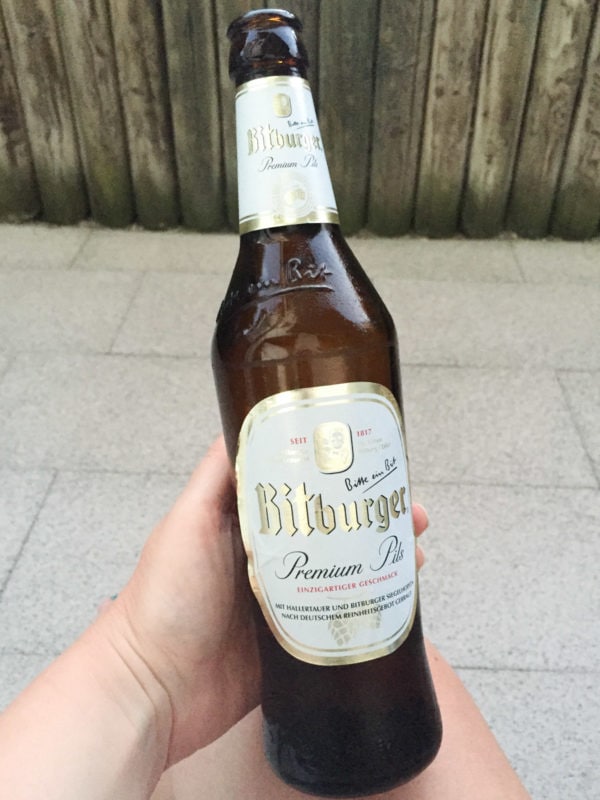 1. Pilsner/Helles
Pilsner is the most popular type of beer and by far the one most people would be the most familiar with. It actually gets its name from the original brewing location where it was first made, Pilsner Urquell in the Czech Republic. Since then, many different variations have emerged in places like Germany, Belgium, and the United States.
German pilsner is characterized by its pale, yellowish golden color. It's light, crisp, dry, and more bitter or earthy compared to the Czech pilsner. It's refreshing and easy to drink which makes it easy to see why it's one of the most popular styles of beer not only in Germany but also worldwide. The alcohol content ranges from 4% to 5%.
Helles lager is an older take on German pilsner originating from Munich, Bavaria. Compared to the traditional pilsner, it's maltier, slightly sweeter, and not as hoppy but the ABV is around the same.
2. Maibock
Bock is a strong German beer with different variations, though it's usually a dark lager.
Maibock is a pale lager, lighter in color than the traditional Bock. The color ranges from a pale gold to a medium amber. It's less malty than a traditional Bock. This light-golden beer tastes closer to a pilsner but a bit hoppier with a floral bitterness.
Maibocks are actually a seasonal beer – Mai is the German word for May. They're popular during the warmer months, especially springtime. The ABV averages between 6.5 to 7%.
3. Märzen/Oktoberfest
Märzen has a fascinating history, originating from Bavaria around the 16th century when brewing beer was forbidden during the summer months because of the high temperature. As a result, Märzen (from März, which means March in German) was brewed with more malt and a higher alcohol content to last through the ban during autumn.
Märzen is also known as Oktoberfest beer since it is the beer traditionally served in the festival. It's a medium body beer that's a couple of shades darker than a typical pale lager. The beer taste has notes of caramel, nut, with a crisp finish. This Bavarian light beer has an ABV ranging from 5% to 6%.
4. Kölsch
Kölsch is a popular type of beer originating from Cologne. It's known for its peculiar fermentation process where it's initially fermented warm like an ale but then stored in colder temperatures like a lager. This yields a light, full fruity flavor that's easy to drink with an ABV of around 5%. It's also traditionally served in a tall, thin, cylindrical glass called a Stange.
Another unique thing about Kölsch is that it has a protected geographical indication (PGI) within the European Union. This means that only breweries within 30 miles of Cologne and following the right brewing process can classify their beer as a Kölsch.
Dark Lager
5. Altbier
Altbier, originating from Düsseldorf, is usually grouped together with Kölsch because they have similar fermentation processes. But they both yield different flavors. Altbier is also a dark lager, so its color ranges from light copper to dark brown. It tends to have a much richer, nuttier and maltier flavor profile than Kölsch. The alcohol content is usually 4.5% to 6% at most.
6. Traditional Bock
Unlike Maibock, traditional bock is more full-bodied, rich, and almost toasty, though still mildly sweet. It has a darker color, anywhere between a light copper to a dark auburn. It has a relatively high alcohol content weighing in at around 6.3% to 7.5%. It's a great beer for late-winter months and early spring time.
7. Doppelbock and Eisbock
Doppelbock (double Bock in German) is the maltier and stronger version of the traditional Bock. Its dark brown color is due to the use of dark colored malts in the brewing process. It has quite a distinctive flavor. Some people describe it as being reminiscent of caramel or caramelized sugar. Darker versions also have chocolatey and fruity notes. It's one of the stronger German beer styles with an ABV of 8% to 12%.
If you want something even stronger, then Eisbock is for you. Eisbock basically removes 10% of the water content of doppelbock leaving a very strong, boozy flavor. Expect an ABV of around 9% to 14%.
8. Schwarzbier
Schwarzbier is the darkest of the German lagers (in German it literally translates to black beer). Its opaque, black color comes from the dark barley malt used during fermentation and roasting.
But despite its appearance, Schwarzbier actually has a much lighter flavor profile than you might think. It does have a slightly bitter roasty taste but without any overwhelming or harsh burnt aftertaste. It's also an easy drink, with its alcohol content usually at around 4.5% to 5%.
Wheat Beer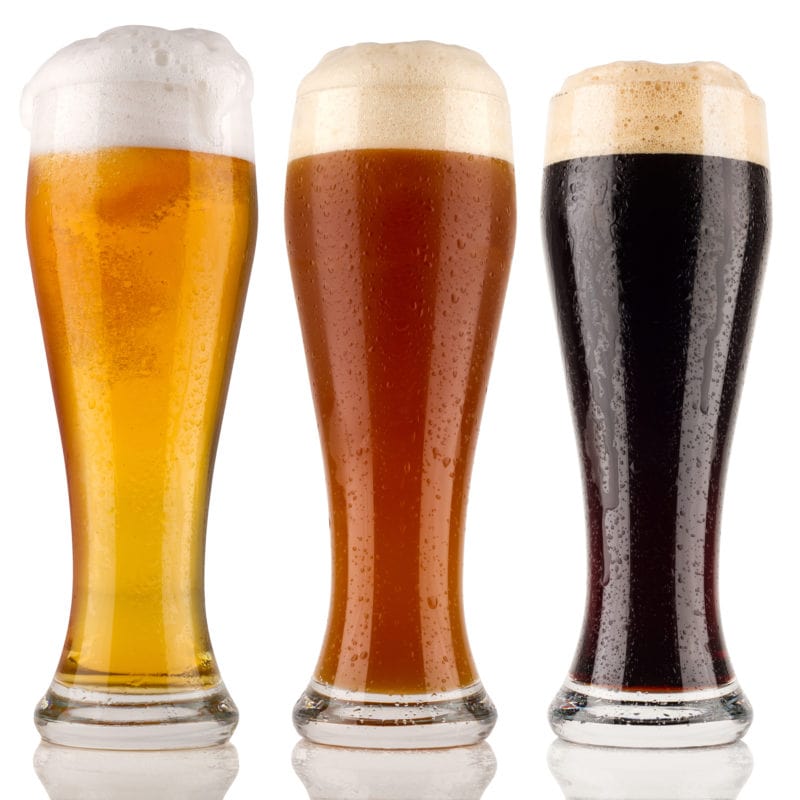 9. Hefeweizen
Hefeweizen is a popular drink, familiar to many avid beer drinkers since Germany is most known for its wheat beers. Hefeweizen is traditionally from Bavaria and is probably the most common wheat beer. It's typically poured into towering vase-like glasses and has a pale-yellow, cloudy appearance. Its distinctive notes are banana and clove, with a yeasty, tart, and fruity flavor. ABV usually falls between 5% to 6%.
10. Dunkelweizen
Dunkelweizen (translating to "dark wheat") is a darker variation of Hefeweizen. Traditionally, they have similar notes of banana and clover while the darker, more robust types have more of a dark fruit, chocolate taste and color. They're low in acidity and have a moderate alcohol content of around 4% to 5%.
11. Weizenbock
Weizenbock is the strongest variation of the Hefeweizen style of beer. As you can guess by the name, it's quite similar to a traditional bock but is made of wheat ale instead. They generally have a much higher alcohol content than its other variations, coming in at around 6.5% to 8%.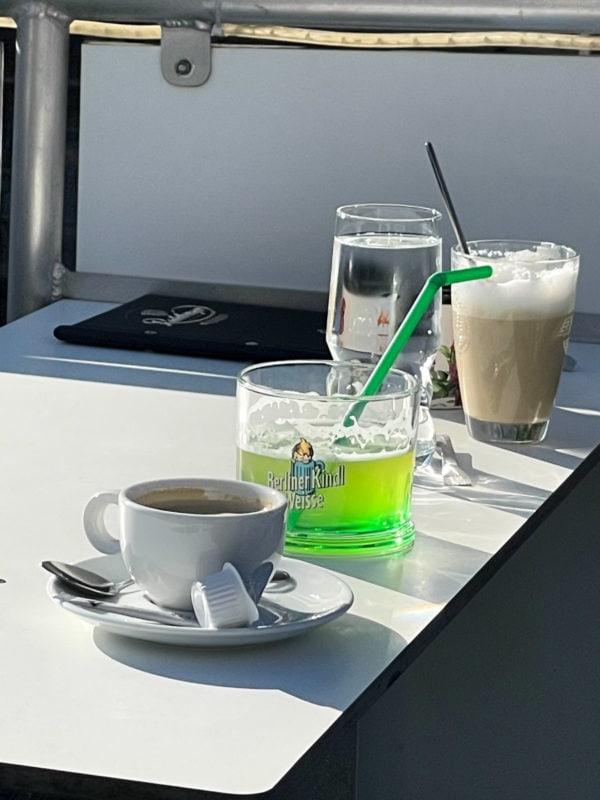 12. Berliner Weisse
Berliner Weisse is a regional variation on white beer originating from the north of Germany. It reached its peak in popularity during the late 19th century, when up to 50 German breweries were producing it in Berlin. In recent years, sour beer has become popular again in the craft beer world. American breweries especially have been quick to adapt it, adding interesting twists like lemon or peach infusions.
The classic Berliner Weisse has a very sour, tart, acidic taste, which comes from the lactic acid used in the fermentation process. It's typically served in a bowl-shaped glass with flavored syrups like raspberry or artificial woodruff syrup and served with a straw. It has a relatively low ABV at 2.5% to 5%.
13. Radler
Radler technically isn't a type of beer but it's a popular alcoholic beverage made with beer in Germany. Many say it's similar to a shandy. It's a mix of beer and a carbonated drink, typically German lemon soda. But it can be mixed with all sorts of drinks like orange or grapefruit soda. The fruity and citrusy flavor makes it a great refreshing drink for warm days. They're also pretty simple to make at home. Check out our recipe on our sister website here!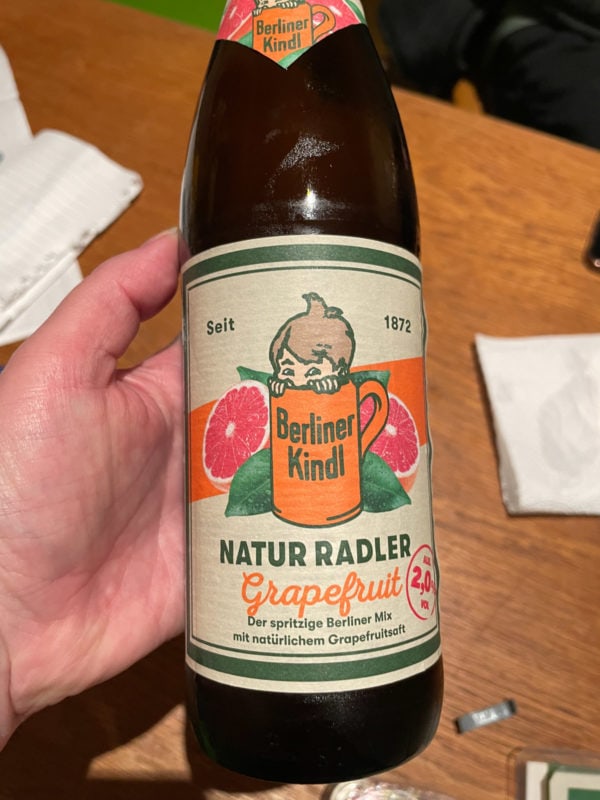 Where to Enjoy German Beer
Kneipen & Bars
Kneipen and bars are the most common places to enjoy a glass of beer. You'll be sure to find one just walking around any neighborhood in Germany. They're typically very welcoming so if you're feeling adventurous, you can try whatever beer they have on tap. Usually they'll have something local to try.
Otherwise, these places have a wide selection of beer to choose from. If you're traveling to different cities, you'll notice that different types of glasses go with different types of beer!
Beer Gardens (Biergärten)
Beer gardens are a great place to chill out, have some food, and enjoy a cold beer. Since they're outdoors, they're a popular choice during spring and summer, when the weather is warm and sunny. Beer gardens are most popular in Bavaria and Baden-Württemberg but you can still find them in other regions.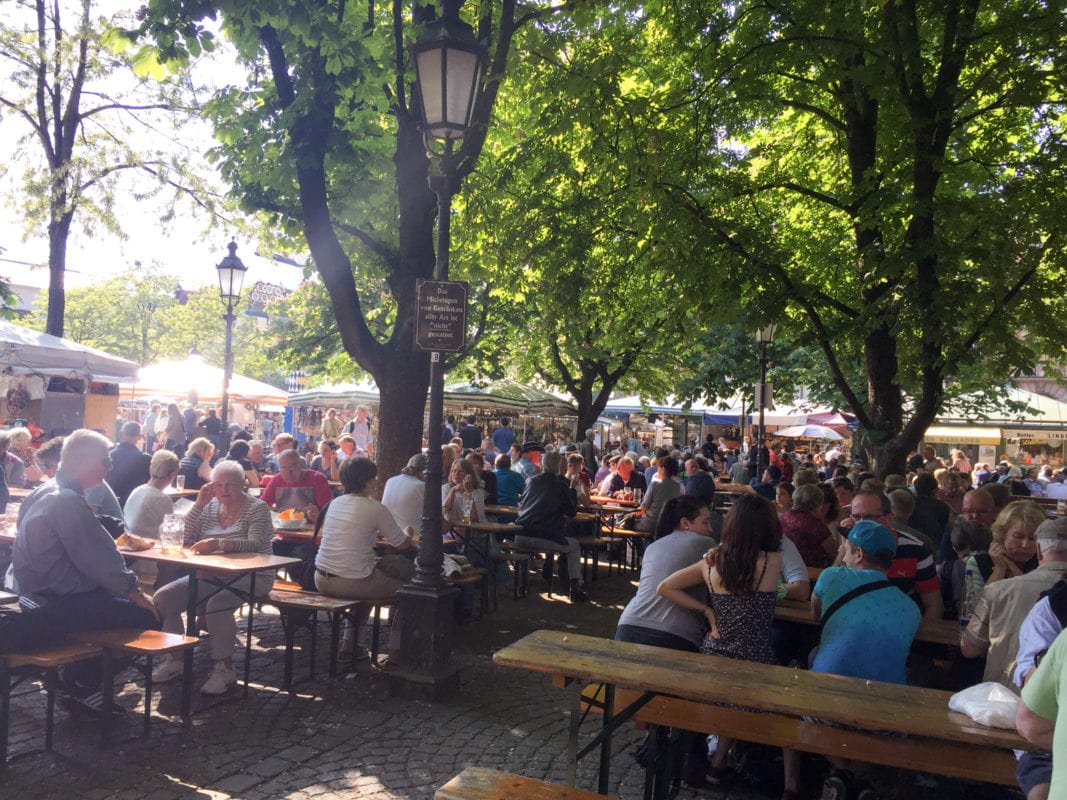 Beer Festivals
Beer festivals are a unique experience to get to explore German beer. Even if you're not a big beer drinker, they're still worth attending to learn about the culture. And it's totally ok to drink something other than beer.
Of course, you can't talk about festivals without talking about Oktoberfest, the world's largest beer festival. Here you'll get to try the Oktoberfest style beer mentioned before but other beers from Munich as well. If you're planning to go to Oktoberfest and don't know what to wear, check out our guide!
Another major beer festival is Cannstatter Volksfest, also known as the Stuttgart Beer Festival. It takes place from late September to early October. Every year, there's huge beer tents serving all kinds of beer and food from the region.
I've been to both Oktoberfest and Stuttgart's Cannstatter Volksfest and I actually preferred Stuttgart's festival. But no matter which one you go to, it's a fun cultural experience.
Breweries and Beer Halls
If you're interested in learning more about the history behind the brewing process, then there are several breweries that are open to the public for tours and beer tastings.
The oldest brewery Weihenstephan is in Freising, Bavaria. You can get a look behind the scenes in their brewery tours which includes a visit to the museum, and a step-by-step guide through the brewing process. At the end, you'll get a beer tasting of their best beer specialties!
In the heart of Munich, you'll find Hofbräuhaus am Platzl, a grand beer hall and extension of the original Staatliches Hofbräuhaus brewery. Their brews include helles, dunkel (dark lager), weizenbier, and many more. Make sure to pair them with traditional Bavarian food like Brezn (soft pretzel) and Bratwurst! For more information, check out this guided tour of Munich's beer halls and breweries.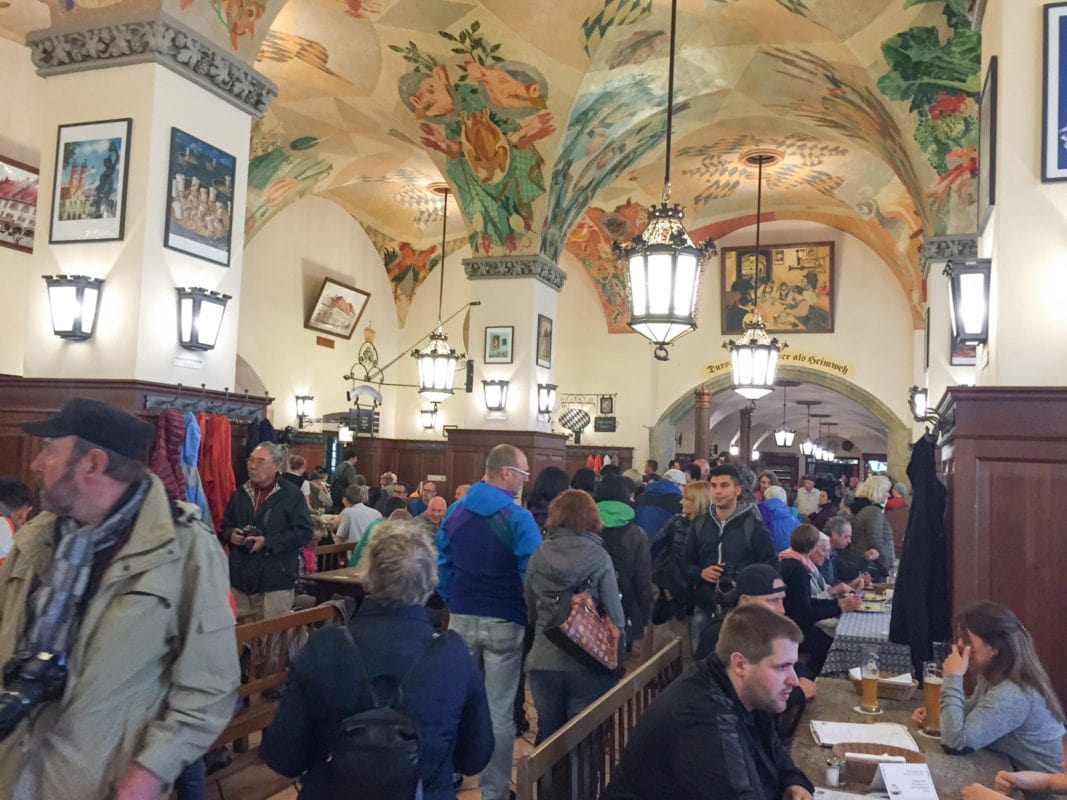 Grocery Stores
Don't forget to check grocery stores and even corner stores all over Germany! Pop into any store and you'll be surrounded by tons of choices, especially at larger grocery stores. Buy a couple that stand out to you and enjoy them in your hotel room or apartment!