Is this you?
You like travel planning and are excited about your trip to Germany. But you're feeling stressed trying to decide things like…
Stick to Bavaria or can we fit in Berlin, too?
Drive a rental car or book Super Saver train tickets?
Is buying a rail pass a waste of money?
Is our itinerary setting us up for exhaustion or will we regret not seeing more sights?
How can we get off the beaten path?
Should we book tickets and tours before we leave or after we arrive?
Are guided tours and day trips worth the money? Or can we DIY them?
How do I know if we're overpacking?
What do we need to know about German culture to enjoy our trip?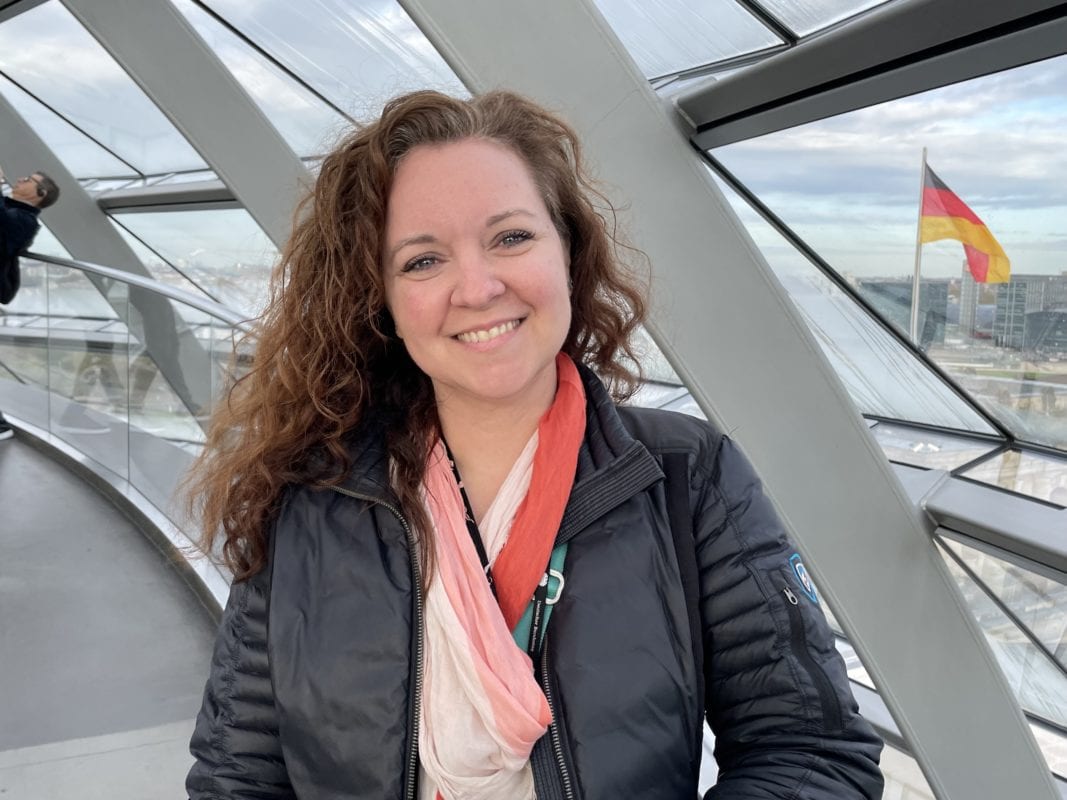 It can be overwhelming and time-consuming to plan a trip to a country or city you're unfamiliar with – even if you're an experienced traveler!
There are SO many questions to answer and finding answers that actually help you plan an amazing trip can be like searching for a needle in a haystack.
That's where my 30+ years of Germany travel, culture, and language expertise come in.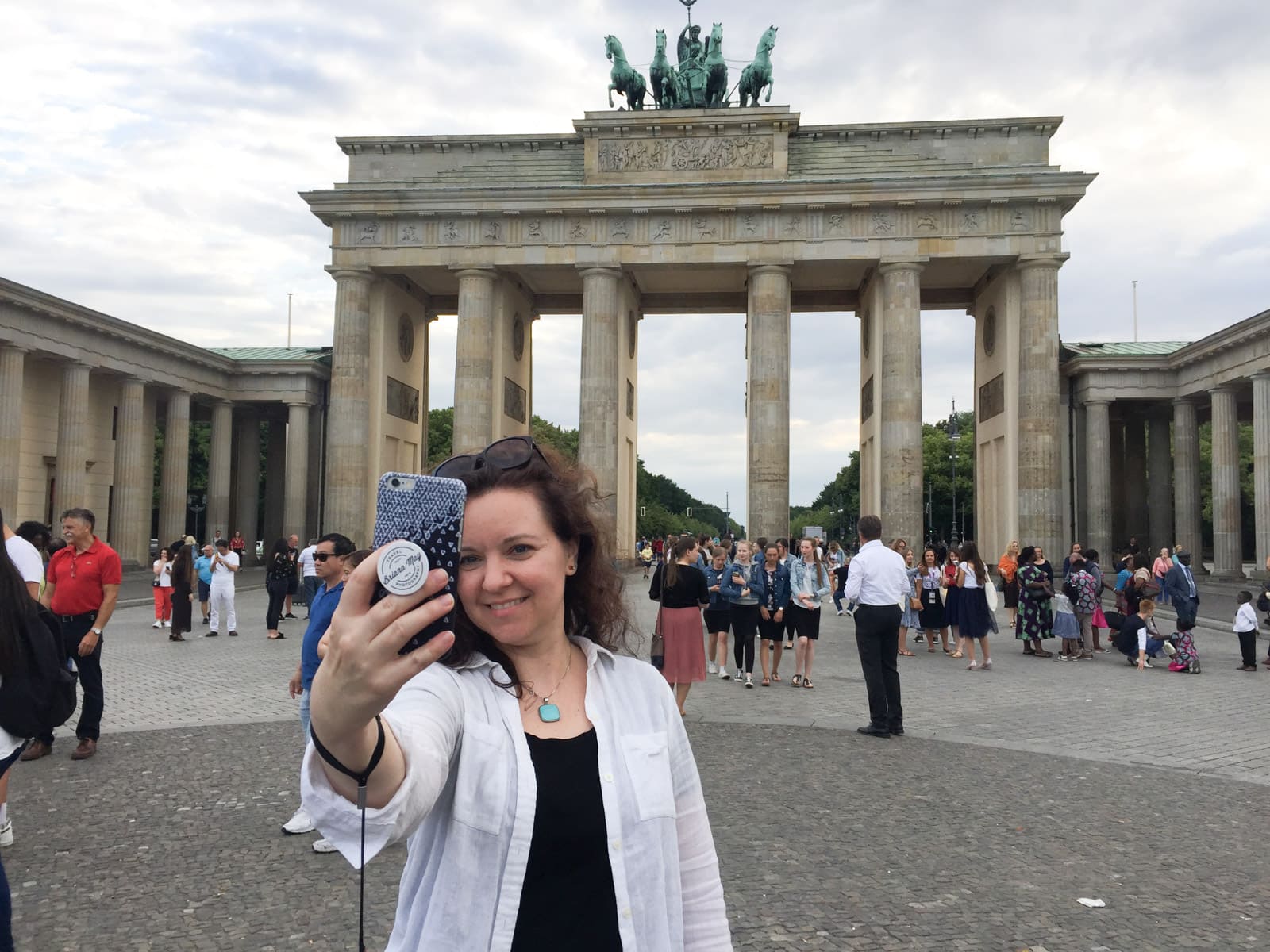 Hello, I'm Cate. I not only have over 3 decades experience traveling aaaaaaall over Germany, I've lived in several German cities, taught German in the US, used to coach people preparing to live and work in Germany, and even have a PhD in German Applied Linguistics. I know a lot about Germany!
Over the years I've helped loads of people plan trips to beautiful Deutschland – everything from a few days to several weeks. Solo trips to family vacations. Focusing on the best castles and cobblestoned villages to off the beaten path.
Helping travelers craft a personalized itinerary they're excited about and answering Germany travel questions so they feel confident once the plane lands is one of the best parts of running a travel business. I'd love to help you, too!
What People Are Saying After Working With Me
⭐️ ⭐️ ⭐️ ⭐️ Amazing
"Omgggg you are amazing!!!
Thank you so much for the itinerary – it helped a lot.

A few of my daughters friends who she was in college with and live in Germany, said your itinerary is very very good!"
– Monica
⭐️ ⭐️ ⭐️ ⭐️ Terrific Suggestions
"I am so grateful to have found Cate from My Germany Vacation! I received such helpful guidance during our planning session as my husband, and I began trying to figure out our travel itinerary in Germany. Cate offered terrific suggestions, researched with us in real time, and helped us develop a plan we are super excited about. Thank you, Cate!" -Michelle
⭐️ ⭐️ ⭐️ ⭐️ Exactly the Way We Wanted It
We assumed a trip to Germany would involve working with a high-cost travel agent or being stuck with an inflexible group tour itinerary. But Cate at mygermanyvacation.com gave us the advice, resources and confidence to plan our trip to Germany customized exactly the way we wanted it! – Mark and Sendie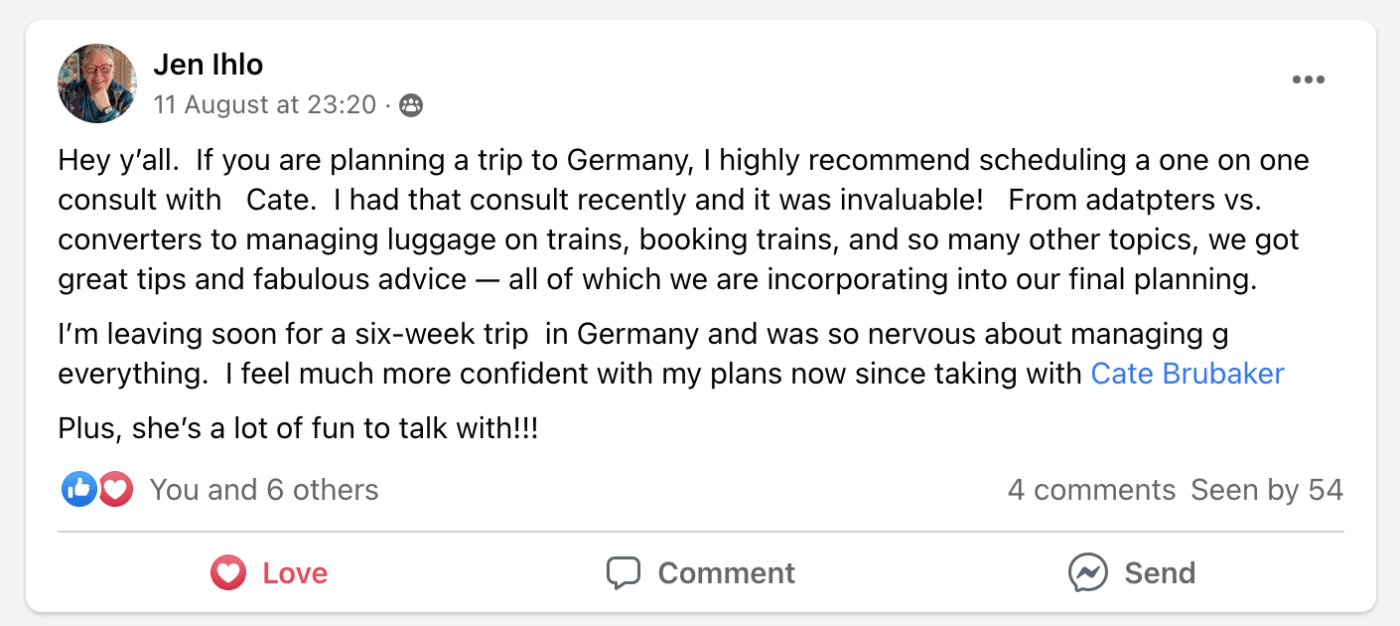 Here's How It Works:
1. As soon as you book your 60 or 90 minute session below, you'll get a link to fill out a short intake form about your upcoming trip and choose your preferred meeting date and time.
2. During our live session we'll meet in Zoom or over the phone (your choice). I'll help you create or fine-tune your itinerary and I'll answer all of your Germany travel questions.
3. If you book the 90-minute itinerary planning session, I'll also send you a detailed, personalized itinerary with links and resources in our 5-tab Germany Trip Planning Spreadsheet ($37 value).
Please note that I do not book anything on your behalf. But I can help you figure out the best booking sites for your trip, show you how to buy German train tickets, make seat reservations, etc.
I offer a 60-minute Germany Q & A session and a 90-minute Germany Itinerary Planning Session:
1. Itinerary Planning Session
90 minutes
Live, one-on-one meeting
Zoom video or phone (your choice)
I can help you plan or fine-tune your trip itinerary and answer your Germany travel questions
You'll get a custom follow-up document with personalized itinerary, links, resources, etc.
BONUS: our 5-tab Germany Trip Planning Spreadsheet
Optional: you can add our Germany Travel Bundle at a significant discount
Click here to book your 90-minute Germany itinerary planning session!
2. Germany Q & A Session
60 minutes
Live, one-on-one meeting
Zoom video or phone (your choice)
I can help you tweak and finalize your itinerary and answer your destination, logistics, and travel questions
Optional: you can add our Germany Travel Bundle at a significant discount