Bavaria (Bayern) And The German Alps Travel Guide
This post may contain affiliate links. Read my disclaimer policy.
The southern German state of Bavaria (Bayern in German) is one of the most popular parts of Germany for travelers to visit. Not only can you visit Munich, the largest city in Bavaria and home of Oktoberfest, you can spend time in the German Alps, drive the Romantic Road and visit picturesque towns and villages along the way, and tour the famous fairytale Neuschwanstein castle – and more! To get you started, click on of our guides below:
TIP: if you have our Germany Travel Planner/Bundle be sure to check out the interactive planning map so you can see where the best sights are located. Seeing where these sights are on the map, along with our up-to-date photos and tips, makes planning your trip SO much easier. If you don't yet have it, click here to get access.
Where To Stay in Bavaria
You can find all kinds of hotels, B&Bs, guest houses, apartments, and vacation houses throughout Bavaria and in the Alps.
We recommend using Booking because you can easily search for hotels and apartments (and we've actually found apartments we've found on Airbnb are actually cheaper on Booking!), you can book places without having to pre-pay, and they have a price guarantee.
Plus, it's SO convenient to have most or all of your reservations in one place, rather than scattered around various website and email inboxes.
Click here for our Munich hotel guide and our Oktoberfest hotel guide!
If you're looking for an apartment in Bavaria or the Alps, do a search on Booking. We've found several great apartments there (less than what we saw on Airbnb for the same apartment) and it's SO nice to have all hotel and apartment reservations in one place.
TIPS:
If you have our Germany Travel Planner/Bundle you'll find recommended hotels on our interactive planning map. Seeing where these hotels are in relation to the top sights makes it a lot easier to find the perfect place to stay. If you don't yet have it, click here to get access.
Book your Bavaria or the Alps accommodations in advance! They tend to fill quickly during peak travel times (summer, Christmas, etc) so I recommend seeing what's open for your travel dates.
Tickets, Tours and Day Trips in Bavaria
One of the best things about visiting Bavaria is that no matter where you go you have endless things to do and countless day trip options. You can plan your own day trips for maximum flexibility or book a guided tour for maximum relaxation and convenience. Here are some ideas to get your planning started.
TIP: If you have our Germany Travel Planner/Bundle look at our interactive planning map to see do-able day trips. Seeing the castles, towns, and other must-see sights on the map (along with our photos and up-to-date tips) makes it much easier to decide what to add to your itinerary. If you don't yet have it, click here to get access.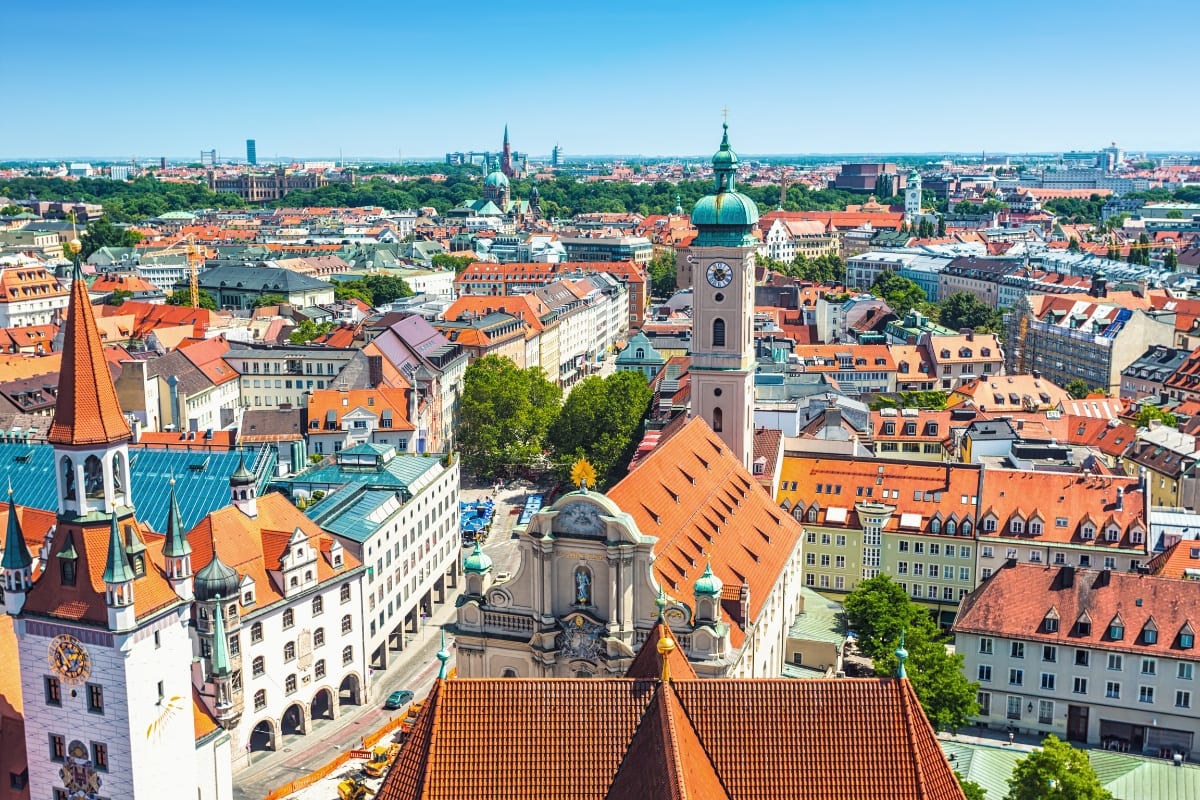 Know Before You Go
Main Airport: Munich International Airport (MUC)
Currency: euro
Language: the official language of Germany is German (Deutsch)
Time zone: Centra European Time (CET / GMT+ 2 / 6 hours ahead of US EST)
Germany Visa: tourists from the US, Canada, and several other countries do not need a visa to visit Germany for under 90 days
Germany Electricity Socket: Germany uses different voltage and sockets than in North America, the UK, and other parts of the world. Read our guide to adapters and converters so you can safely use your tech in Germany.
Germany SIM card: Read our guide here to SIM cards and other ways to use your phone in Germany.
Germany Car Rentals: We find great deals on rental cars here. You can also check out our scenic Germany road trips article here.
Bavaria & German Alps FAQs
Where Is Bavaria Located?
Bavaria is in southeastern Germany and borders the countries of Czechia, Austria, Switzerland (barely) – see the map below.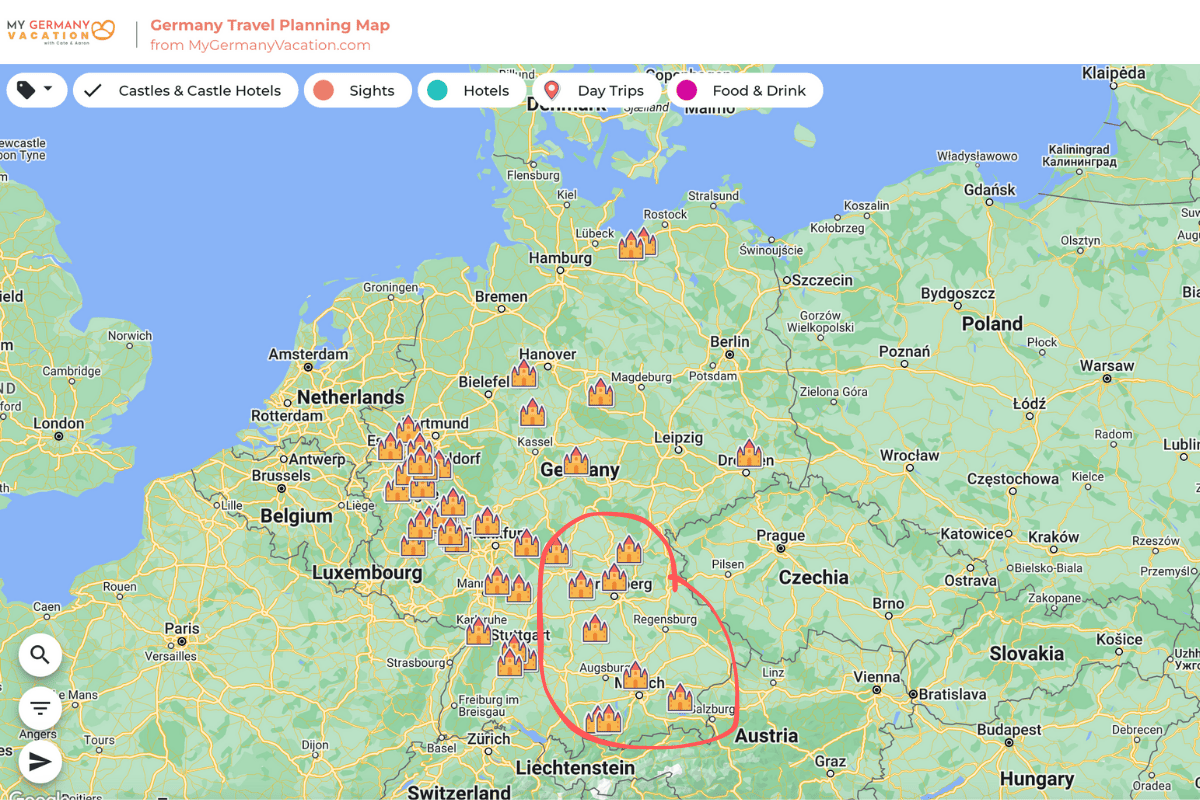 Where Are the German Alps Located?
The German Alps are in the southernmost part of Germany in the state of Bavaria along the border with Austria – see the map below.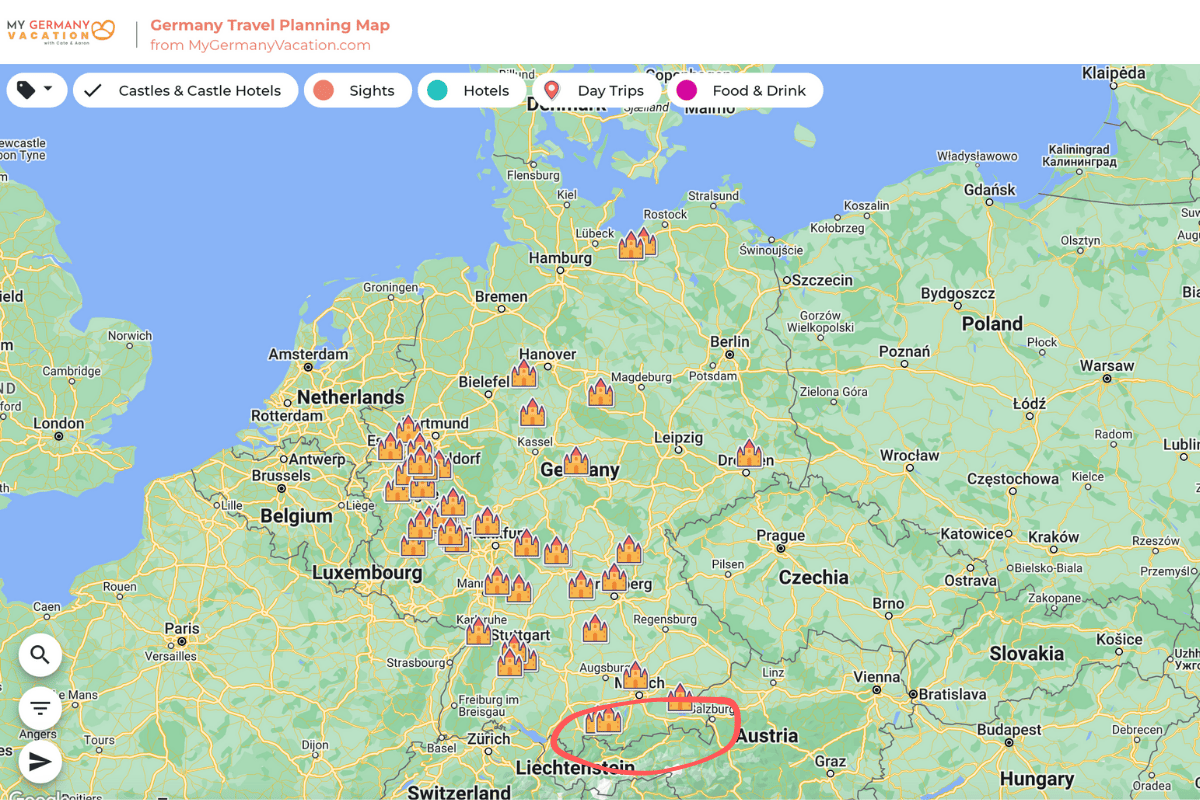 What's the Best Time to Visit Bavaria?
Bavaria and the Alps are a popular destination to visit year-round. The best time of year to visit depends on what you're looking for.

For the best weather: If you're looking for lots of daylight, sunny skies, and hot weather, summer is the best season. The summer months are, however, a popular time to travel to this area, so expect crowds and higher prices. Book hotels, rental cars, train tickets, and guided tours well in advance!

Winter is another popular time of year to visit Bavaria and the Alps due to the many beautiful December Christmas markets and winter sport opportunities in the mountains. It can get cold, rainy, and even snowy so pack accordingly. It also gets dark by around 4:30pm in December, and some exhibits and sights have reduced hours or close altogether.

The spring and fall seasons are lovely times to visit Bavaria and the Alps because you have more daylight than in the winter but it's not as hot as in the summer. You'll likely encounter days with beautiful weather…and probably a few overcast or rainy days as well. Do note that prices rise during Oktoberfest (September to early October) and Munich becomes much more crowded.

For the best prices and value: Rest assured, even though prices do go up during the popular summer travel season and Oktoberfest, you can find great deals any time of year if you start planning and booking early enough! If your priority is getting the lowest prices, January, February, and March are your best bets.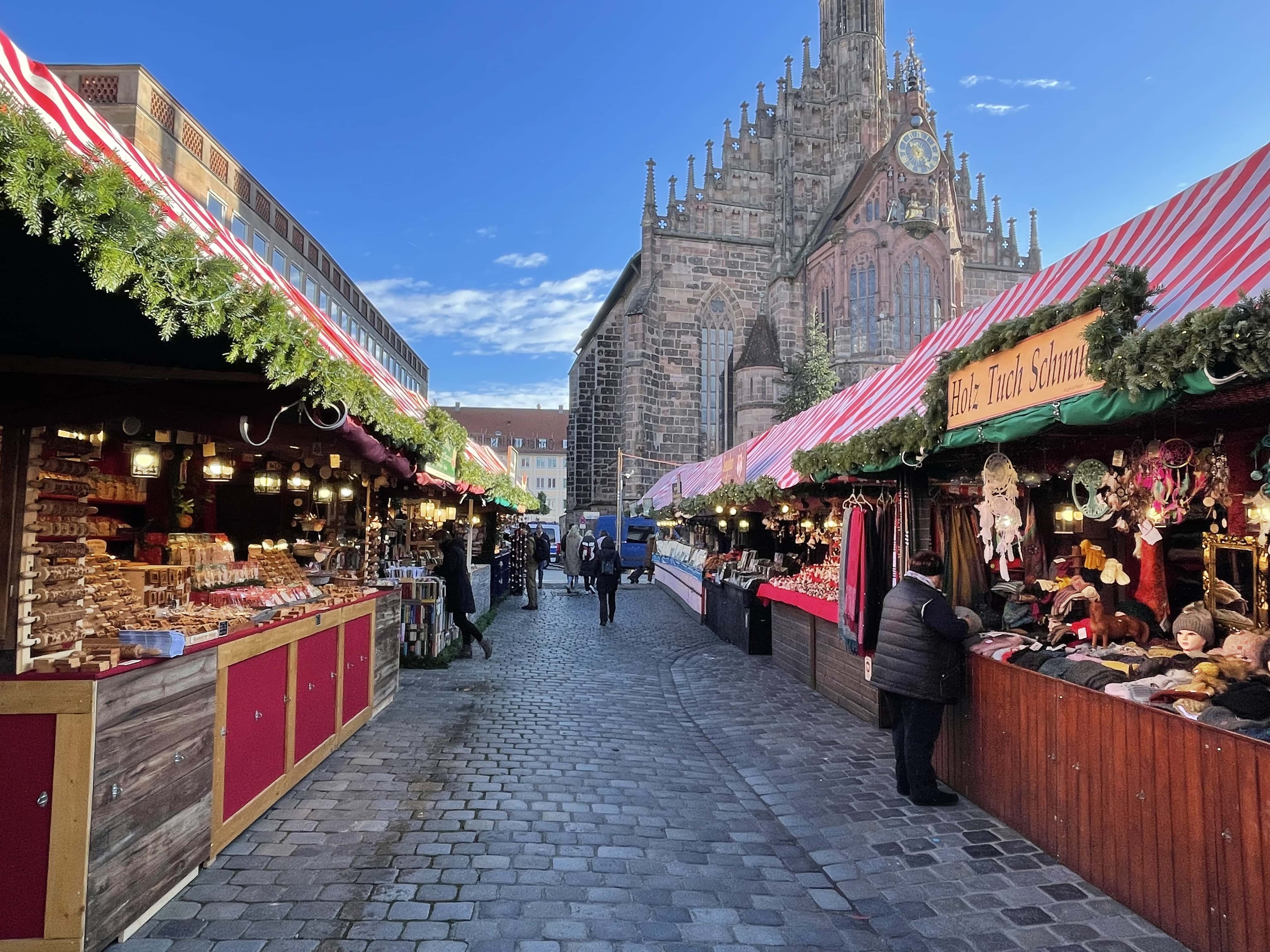 How Many Days to Spend in Bavaria and the Alps?
You could spend just a couple days in one city or area as part of your overall Germany trip — or your entire 1-2 week trip.
If you're aiming for just a taste of Bavaria or the Alps, choose 1 location and add a day trip. For example, Nürnberg with a day trip to Rothernburg ob der Tauber. Or Munich with a day trip to Neuschwanstein castle.
If you'd like to get to know Bavaria in more detail, you could, for example, do a road or train trip around the entire state and include the Romantic Road area, Munich, Neuschwanstein castle, Zugspitze, Berchtesgaden, as well as visits to lakes, hikes, and other fun outdoor activities (or Christmas markets in December).
Is It Safe to Travel in Bavaria and the Alps?
Yes. Traveling in Germany is safe overall. Use everyday common sense and take the usual precautions.
Are Bavaria And The Alps Worth Visiting?
Yes! The Alps are stunning and the state of Bavaria has so much to do and see including vibrant cities, picturesque towns and villages, festivals, local beer, festivals, castles and palaces, lakes, and outdoor activities.
Are Bavaria And The Alps Expensive?
While some parts of this area are popular vacation destinations and prices rise during the peak season or big events (like Oktoberfest), prices are fairly similar to the rest of Germany.
What's The Closest Airport?
If you plan to visit Bavaria or the German Alps, Munich is the best airport to fly into. From there you can easily and quickly reach all destinations by train or car.
You could , however, also fly in to Frankfurt International Airport, Stuttgart International Airport or Airport Nürnberg.
What's The Best Way To Get To Your Hotel?
If you're going from the airport into the nearest city, you can take public transportation, grab a taxi or book a private driver before you leave. We've taken all 3 at one time or another. If you want to save money, take public transport.
We do, however, highly recommend booking a private driver who will pick you up at the airport and drive you right to your hotel or apartment. The peace of mind you get with a pre-booked private driver is priceless! Click here to book a private driver.

More Germany Travel Guides