How to Visit King Ludwig's Fairytale Castles in Bavaria, Germany
This post may contain affiliate links. Read my disclaimer policy.
Germany is home to thousands of popular castles. From castle ruins and medieval castles to royal palaces and fairytale castles, you'll find all different kinds of these historical wonders scattered throughout the country.
Nothing feels more like stepping back in time and into royal setting than going on day trips to visit the magnificent palaces of the state of Bavaria in southern Germany.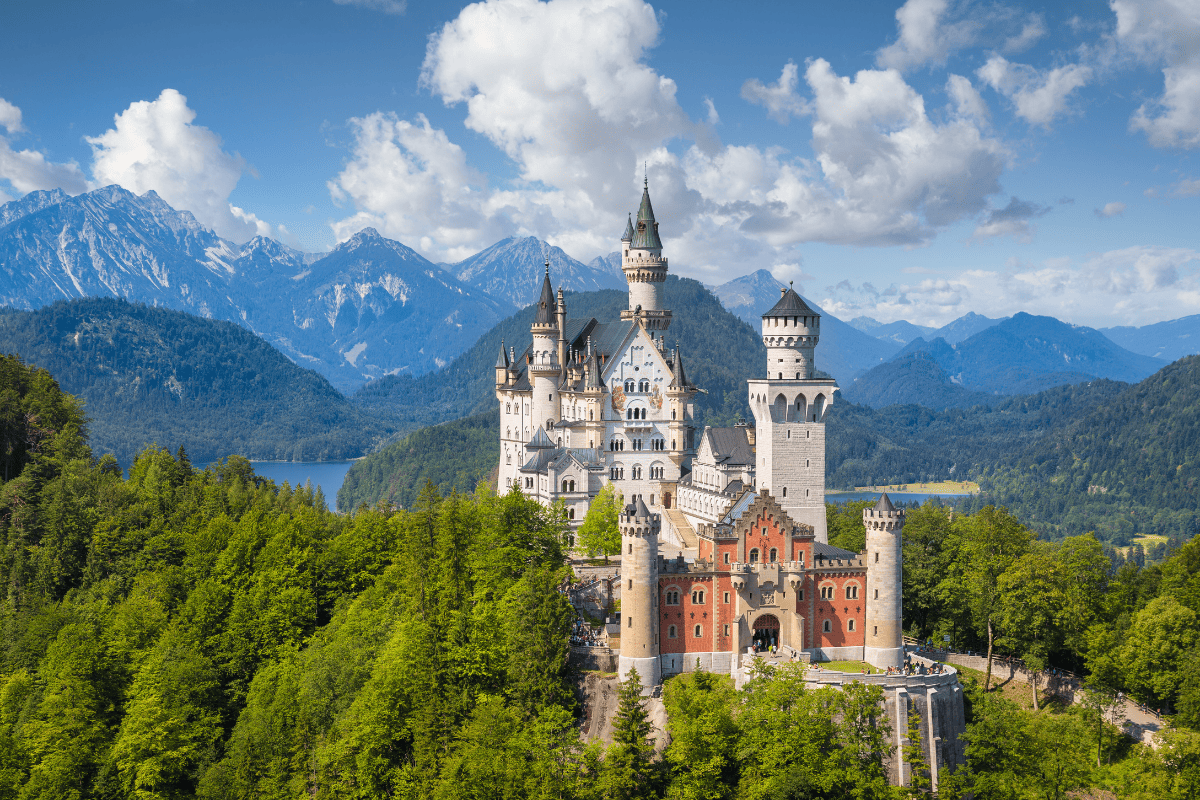 King Ludwig's castles especially make up some of the most popular tourist destinations in the region. Combined with the stunning backdrop of the Bavarian Alps and the villages below, these magical landscapes are definitely worth visiting.
Fun fact: when I was in grad school studying German, I gave presentations to K-12 students at schools all over North Carolina about Neuschwanstein and King Ludwig II's Bavarian homes!
This guide will help you plan your ultimate dream escape to König Ludwig II's fairy tale castles in Bavaria!
About Mad King Ludwig
King Ludwig II of Bavaria (Ludwig Otto Friedrich Wilhelm) ruled over Bavaria from 1864 to 1886. His reign began at the young age of 18 upon the sudden death of Ludwig's father. Passionate about the arts and music, King Ludwig felt unprepared to be the head of state.
He was only occasionally involved in the state affairs, preferring to lead a more secluded life where he could dedicate himself to creative architectural projects.
He grew more eccentric two years after he ascended to the throne, when his kingdom suffered a big loss in the Austro-Prussian War. This war effectively stripped him of any real power as King of Bavaria.
This caused him to withdraw further into his own fantasy world to live out an alternate reality where he was still king. He devoted himself building magnificent palaces and fantasy castles, earning him the famous nickname "Fairy Tale King."
All of this was beyond his means as a constitutional monarch. His extravagant spending and neglect of his duties led the government to declare him as insane and forced him to resign. He was exiled to Berg Palace with his psychiatrist. The next day they were both found dead in Lake Starnberg under mysterious circumstances.
His mysterious death remains unsolved to this day. Some believe it was murder while others think it was suicide. Either way, Ludwig's death only adds to his cult-like status as a historical figure and makes his castles even more intriguing.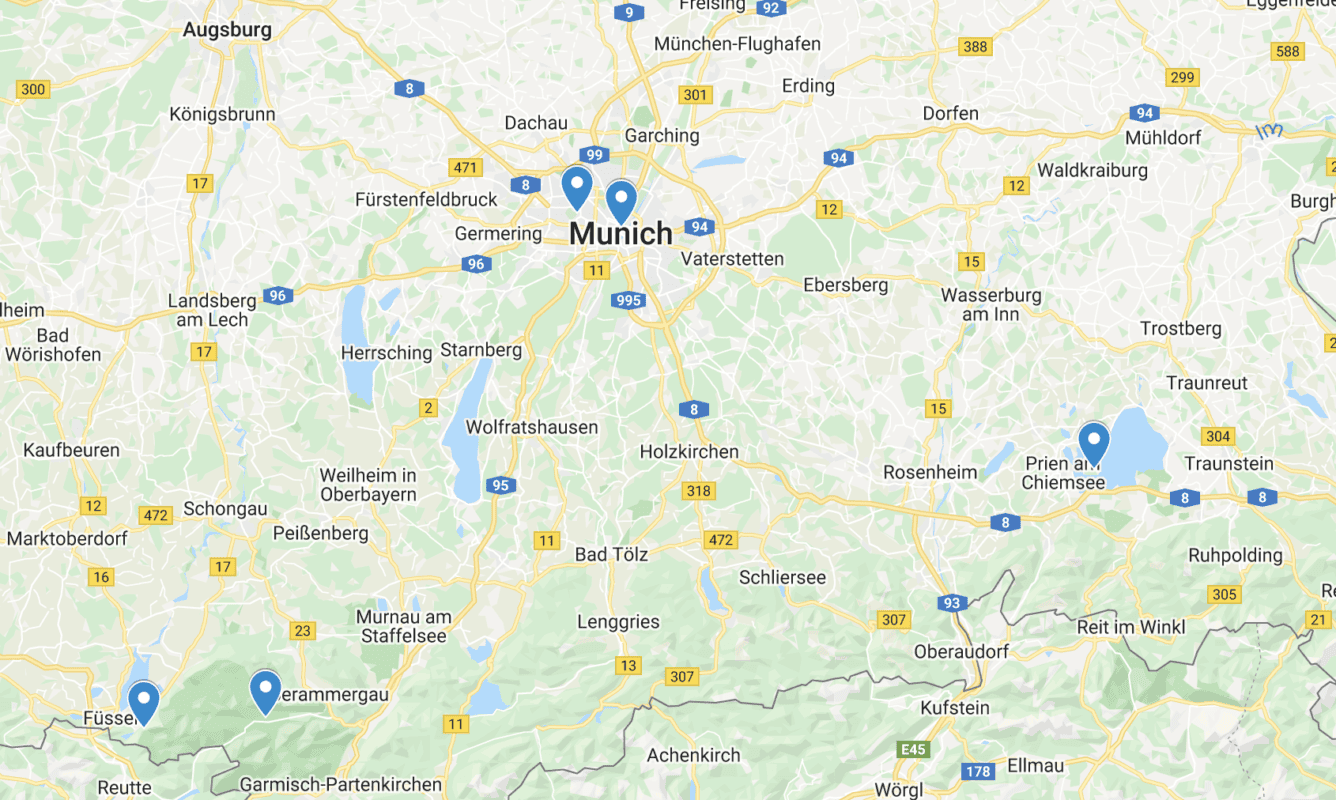 Why Visit King Ludwig's Palaces?
If you're visiting Bavaria and are into magnificent castles and grand palaces, his are some of the best to experience. If you visit Munich, you can easily reach 2 palaces without even leaving the city. The other 3 make fun day trips. Here's how to visit each one!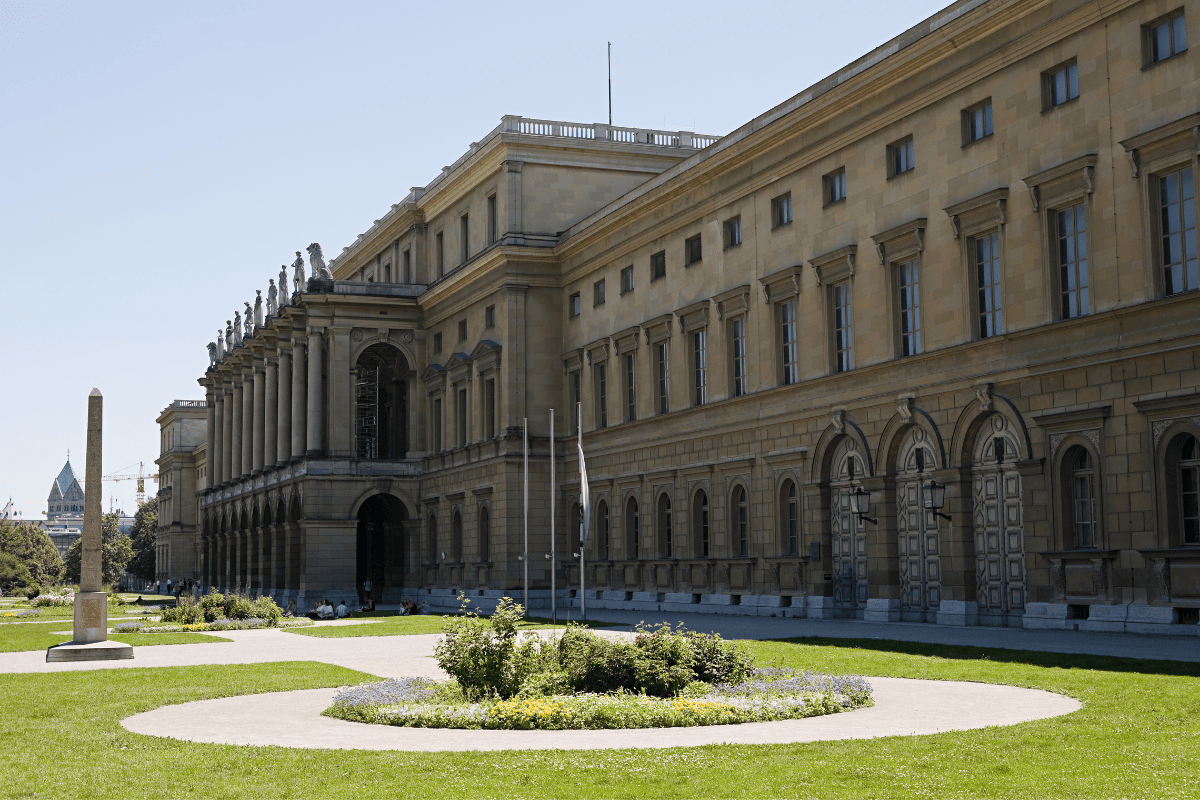 Munich Residenz (Residenz München)
Located near Munich's central plaza Marienplatz, the Munich Residenz is the largest city palace in Germany. Its central location in old town Munich makes it an easily accessible stop in your Munich itinerary.
Old town Munich is filled with tourist sites within close distance of each other. To making the most out of your trip, book a walking tour that takes you to Munich Residenz and other historic sites.
First built in the Middle Ages as a medieval fortress, it eventually became the official residence and government seat of Bavarian royals for 400 years.
Over the years, it was transformed by monarchs to expand into grand guest rooms, courtyards, a concert hall, and even stables. One of Ludwig's first projects was actually to redesign rooms in the residence.
Now the Residenz is open as a museum with guided tours to different areas of the palace complex. Inside you can admire ceiling frescoes, antique collections, and luxurious interiors.
If you don't have time to visit all rooms, it's still worth your time to stroll through Court Garden to admire the fountain and beautiful sculptures.
Here are the regular admission prices for each different area (current when this article was published). Currently, there are no combination tickets available.
Residence Museum: €9,00
Treasury: €9,00
Cuvilliés Theater: €5,00
Court Garden + Fountain Machinery: Free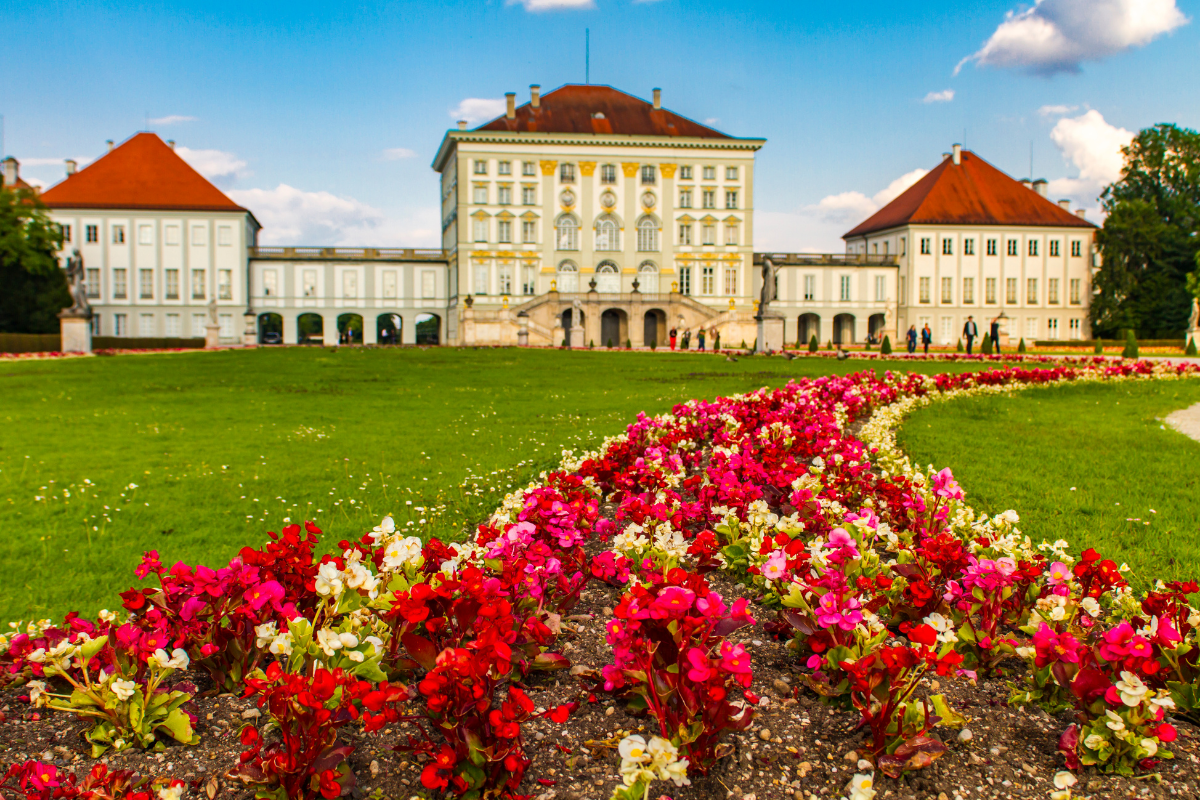 Nymphenburg Palace (Schloss Nymphenburg)
Nymphenburg Palace is another popular castle close to Munich's city center. It's located in the western part of the city and can easily be reached by public transportation (take a bus or tram to "Schloss Nymphenburg" station). Then walk about 15 minutes to the palace entrance.
If you don't want to deal with commuting, a great option is to take the Munich Hop On Hop Off Bus, which stops at Nymphenburg Palace.
Known as the birthplace of King Ludwig, Nymphenburg can easily fit a whole day of activities! Even in the winter months this palace and grounds are fun to visit.
The interior of the palace is good for visiting the unique museums dedicated to different niches like carriages and porcelain. At night, you can even watch a classical music concert by the Munich Philharmonic.
The palace grounds are filled with cascades, streams, a lake, and even smaller castle buildings. You'll also find interesting pavilions like Amalienburg and Badenburg, a sauna and bathing hall. I visited in the winter and spent more time wandering around the grounds than I did inside the palace!
If you need a break in between the sightseeing, you can grab a bite at either of the two restaurants: Schlosscafé im Palmenhaus (in the park) or Schlosswirtschaft Schwaige (in the south wing of the palace). I had a good Schnitzle with potato salad here.
Here are the regular admission prices (current when this article was published):
Nymphenburg Palace: €8,00
Marstallmuseum with Museum of Nymphenburg Porcelain: €6,00
Combination ticket "Parkburgen" (park palaces): €5,00
Linderhof Palace (Schloss Linderhof)
Linderhof Palace is the smallest of King Ludwig's palaces but interestingly, it's the only palace he lived to see finished.
Located in Graswang Valley near the Ettal village, Linderhof Palace is around an hour and a half away from Munich.
You can easily get here by taking a train to Oberammergau and then a connecting bus to Linderhof. I've visited both on a day trip. But if you're checking off multiple castles from your bucket list, you can book this day tour that brings you directly to both Linderhof and Neuschwanstein by bus.
This palace is known for its symmetrical architecture and spacious landscape. The interiors are decorated with Rococo motifs and ornate dining rooms and bedrooms.
The free castle park alone is worth seeing for the fountain shows in summer. There is also a nearby castle hotel and a small bistro in a souvenir store.
Here are the regular admission prices(current when this article was published):
Palace and park buildings: €10,00
Park buildings only: €5,00
Royal Lodge only: €2,00
Palace (only one open during winter): €9,00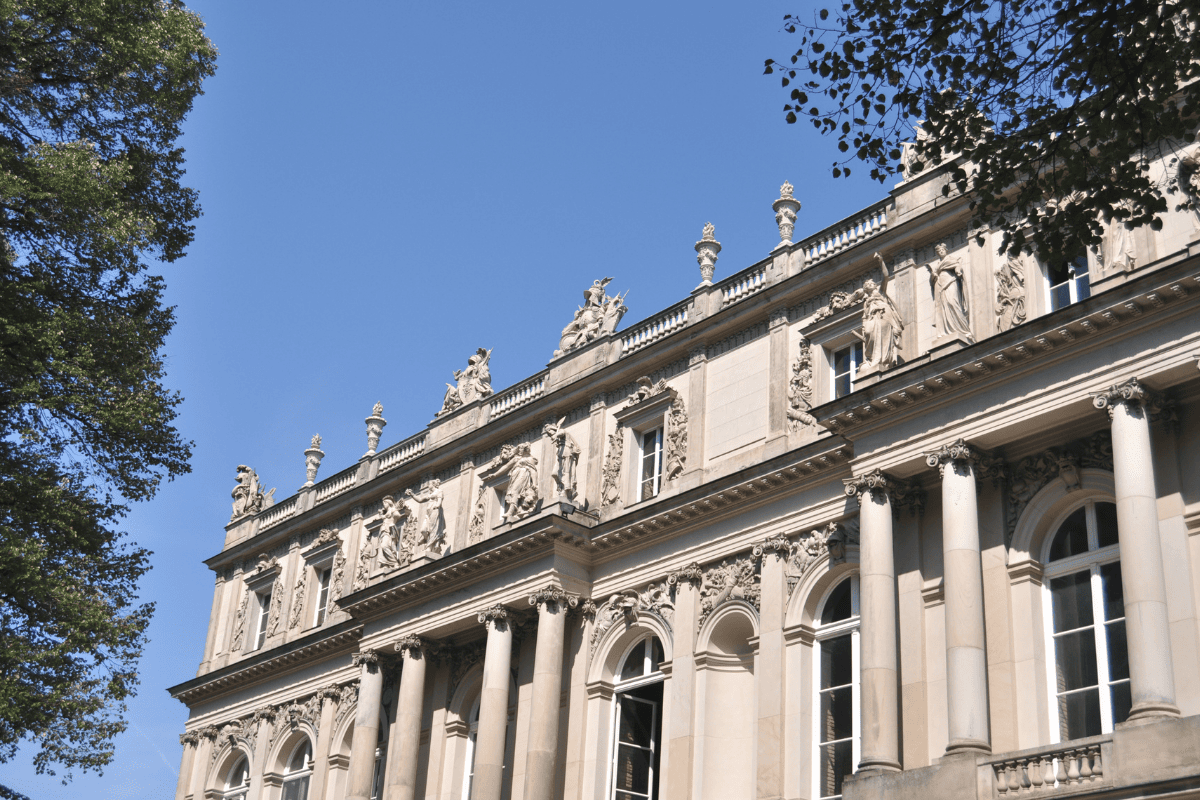 Herrenchiemsee Palace (Schloss Herrenchiemsee)
Herrenchiemsee Palace was born out of Ludwig's desire to pay homage to Louis XIV, the French Sun King. Inspired by the Palace of Versailles, he based this palace on French architecture. There's even a reproduction of the iconic Hall of Mirrors inside!
But what makes the palace is its unusual location. It's located in the middle of an island in Lake Chiemsee and can only be reached via boat. Book this day tour with skip-the-line tickets and enjoy a trip across the water to Herrenchiemsee Island.
If you're fascinated by King Ludwig, there's also a museum inside showcasing his valuable possessions like his stage models of the operas of Richard Wagner and sketches of his building projects.
Here are the regular admission prices (current when this article was published). Keep in mind that the boat trip is not included.
Augustinian Monastery: €5,00
King Ludwig II Museum: €5,00
Combination ticket (includes guided palace tour): €10,00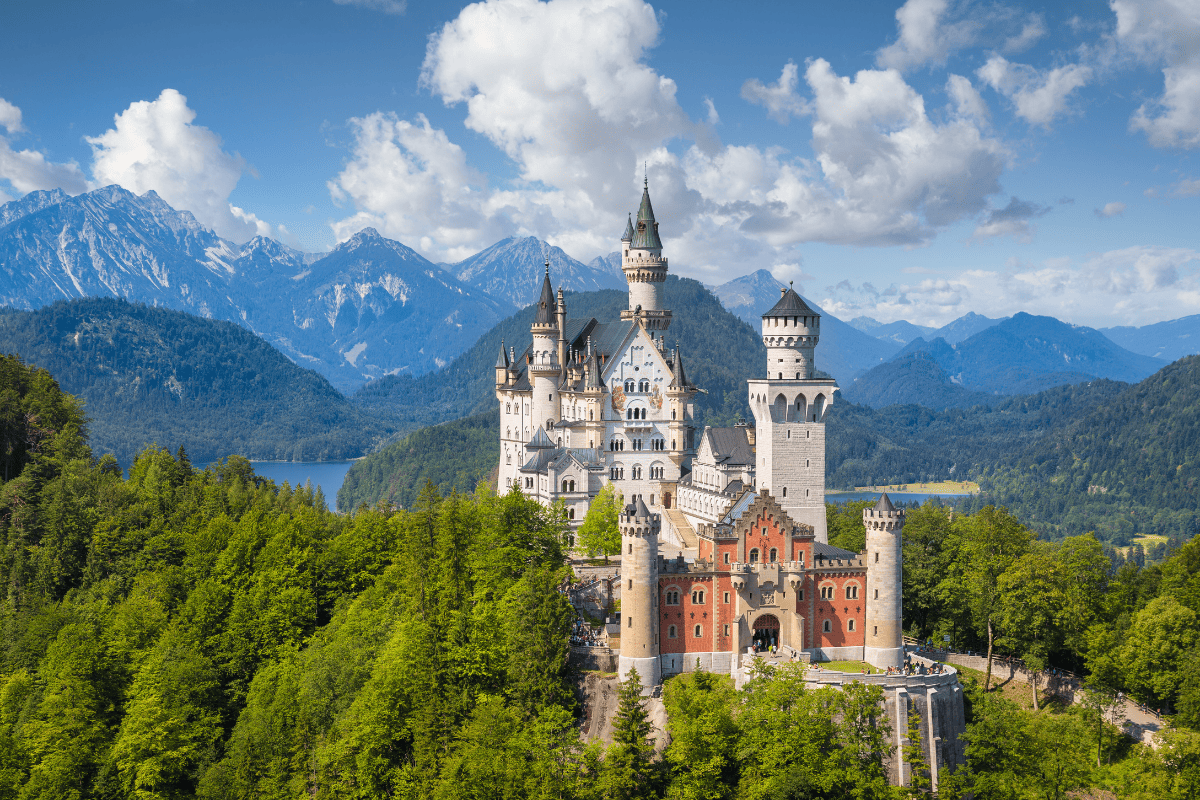 Neuschwanstein Castle (Schloss Neuschwanstein)
No discussion about King Ludwig's castles is complete without Germany's Neuschwanstein Castle. This famous castle is located around 2 hours away from Munich near the town of Füssen and makes for a popular day trip from Munich.
It's a popular day trip from Munich via train and bus to Hohenschwangau village or by car. You can also book a day trip that brings you to the castle in just one convenient bus ride.
King Ludwig never got to complete the castle, but the inside is still full of highlights. In your guided tour, you'll get to see his opulent Gold throne room with no throne, the luxurious chandeliers in Singer's Hall, the famous dining room, and the paintings of medieval legends.
But what attracts millions of visitors per year is its iconic exterior. Sitting at the foothills of the Bavarian Alps and towering over the Alpine lakes and valleys, Neuschwanstein is straight out of a storybook.
It's no wonder that Walt Disney himself was rumored to have modeled the Sleeping Beauty castle after it. Seeing the inspiration of these Disney castles in real life is one of the best experiences!
While here you can also visit Hohenschwangau Castle, Ludwig's childhood home, and the Museum for Bavarian Kings. During summer you can do nature activities like hiking through Pöllat Gorge or take a boat through Alpsee Lake.
Here are the regular admission prices. You can visit the official website for combination tickets.
Neuschwanstein Castle guided tour: €15,00
HohenschwangauCastle guided tour: €21,00
Museum for Bavarian Kings: €14,00
For further information on any of these castles, make sure to visit official Bavarian Palace Administration website!