Rothenburg ob der Tauber: Best Things to Do and See
This post may contain affiliate links. Read my disclaimer policy.
Thinking about visiting Rothenburg ob der Tauber? From the top attractions, best tours, day trip ideas, and accommodation options, here's everything you need to know for when you visit Rothenburg ob der Tauber!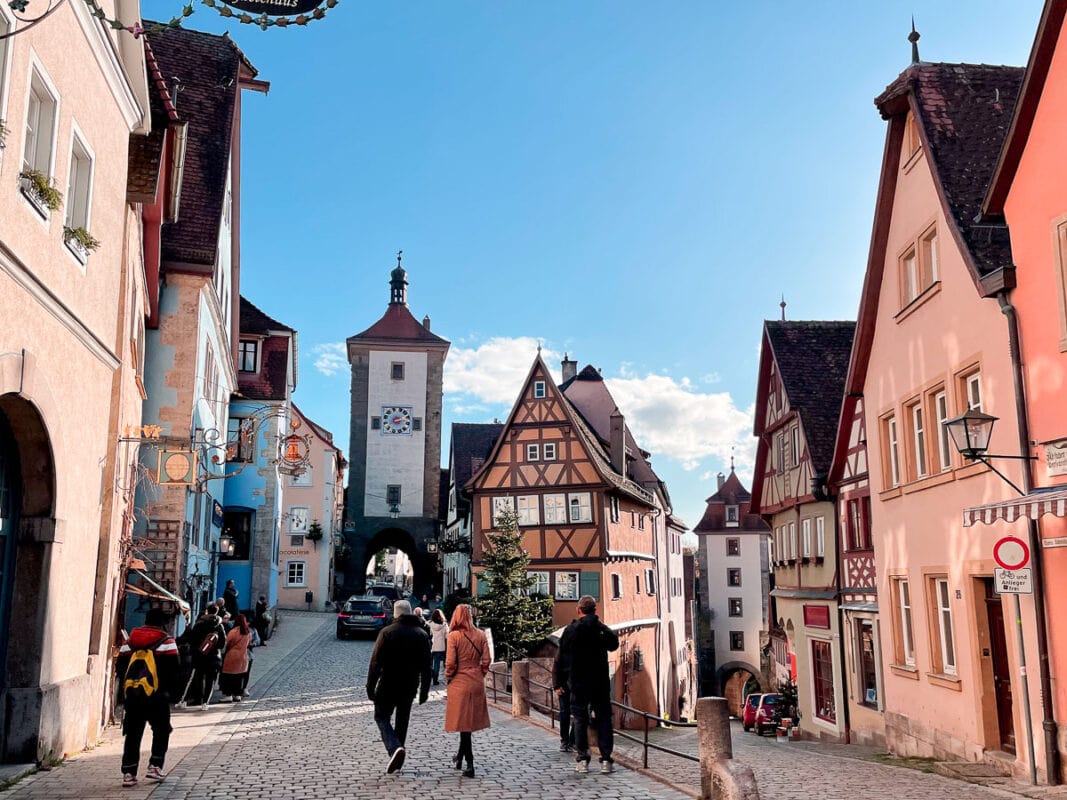 About Rothenburg ob der Tauber
Rothenburg ob der Tauber is a charming medieval town nestled in northern Bavaria. It's known for its well-preserved medieval old town, rich history, colorful half-timbered houses, cobblestone streets, and enchanting atmosphere.
It's one of the most popular tourist destinations in Germany, attracting visitors from all over the world, especially to the city walls. Rothenburg is what many picture when they think of quaint, fairy tale-like medieval towns.
But aside from its beautiful architecture, it's also home to important landmarks like the St. James Church and interesting museums like the Medieval Crime Museum and the German Christmas Museum. Rothenburg is also renowned for its vibrant Christmas market and fun events like music festivals are held in the area.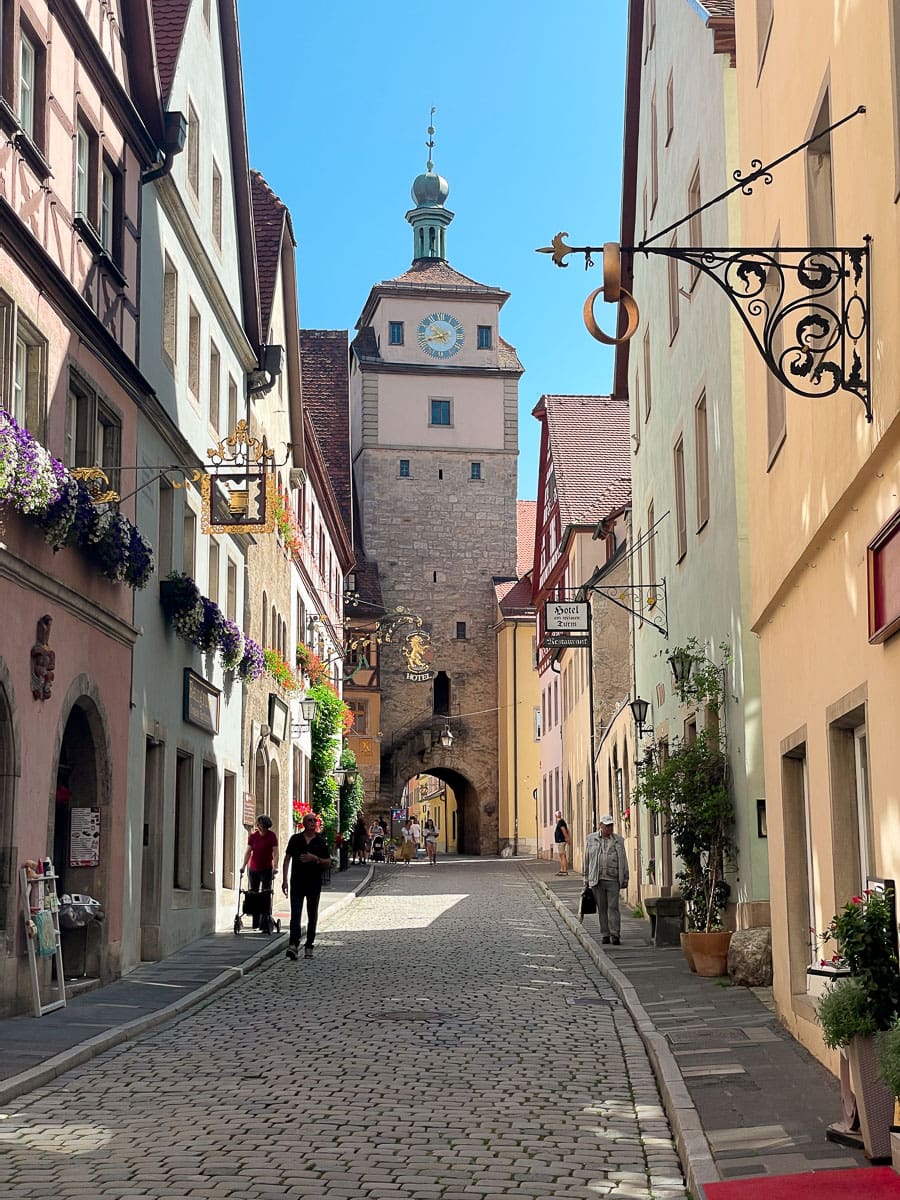 Is Rothenburg Worth A Visit?
Yes, absolutely! Rothenburg is one of the most beautiful places in Germany. It's known for being one of the most well-preserved medieval cities in Europe and for having a unique fairy tale atmosphere with its colorful half-timbered houses, cobblestone streets, and an in-tact wall around the Altstadt (Old Town).
Rothenburg has a rich history beginning in the Middle Ages when it was a free imperial city. This meant that it was an independent city directly under the authority of the Holy Roman Emperor. As the second largest city in the Holy Roman Empire during medieval times, people from all over the world are drawn to this small town's fascinating history and one-of-a-kind charm.
We've visited the medieval town of Rothenburg many times over the past 3 decades in all seasons. We've done day trips by train and car and have stayed in hotels in the Altstadt (Old Town). We always enjoy visiting.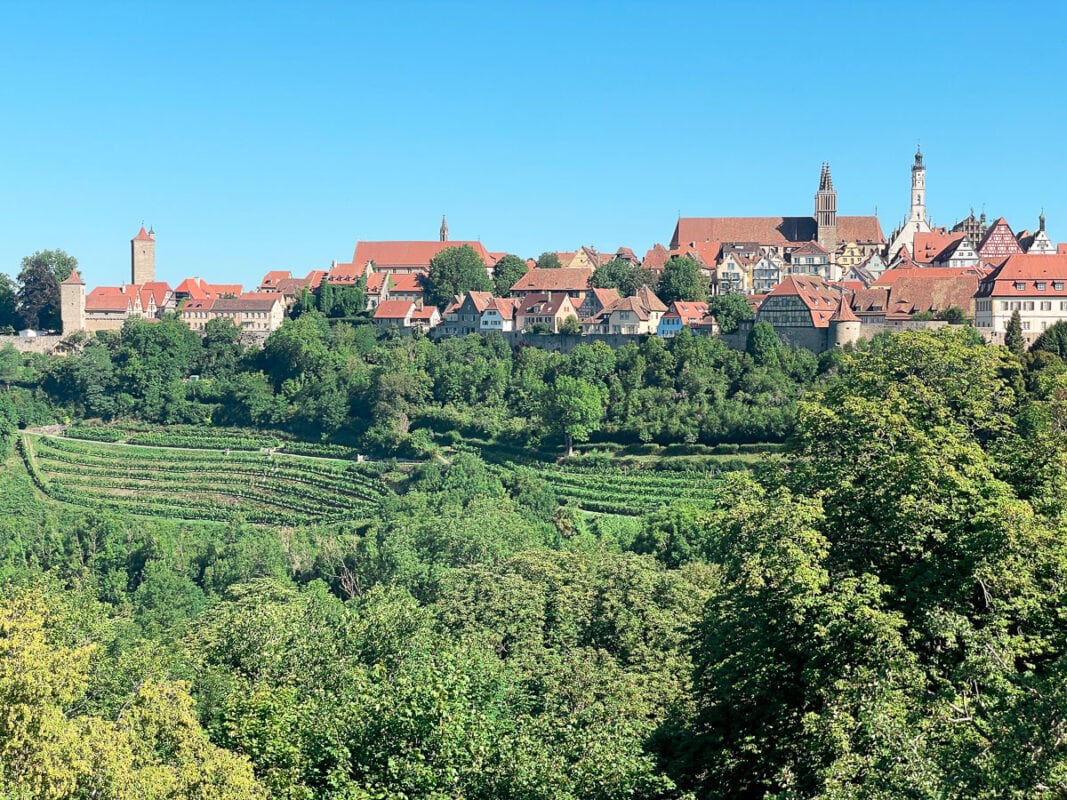 It is, however, a popular stop along the famous Romantic Road (Romantische Strasse) and many tour busses stop here for several hours. Because of this, it can get quite crowded, especially during the country's peak travel season (around June to September) and during Christmas market season.
If you want to avoid the biggest crowds, we highly recommend staying overnight. That way you can experience the town when it's much less crowded in the late afternoon and evening after the huge tour busses have left. And if you get up early in the morning, you can explore the town before the busses start arriving (around 10am).
Even better, the money you spend on hotels and restaurants by spending a night or two helps the town afford to maintain the beautiful old (and expensive to maintain) buildings!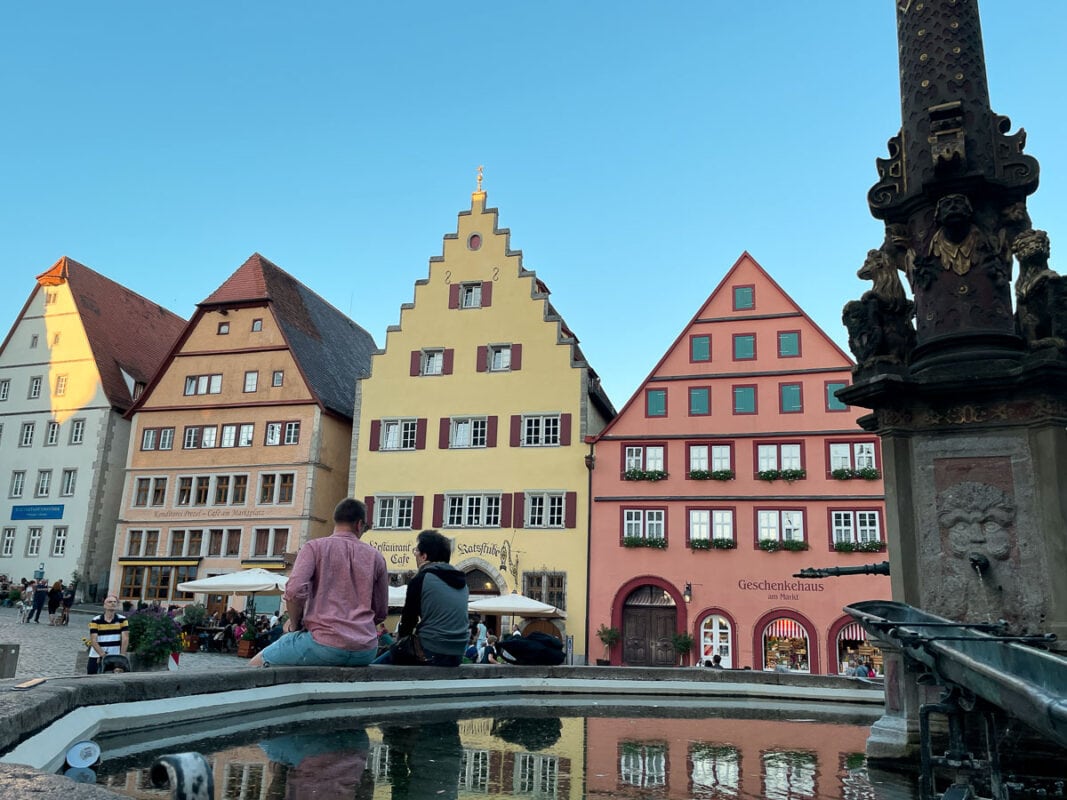 Where Is Rothenburg On Map Of Germany?
Rothenburg is located in the state of Bavaria in Southern Germany. It's located in the Tauber Valley, specifically along the northern stretch of the Tauber River.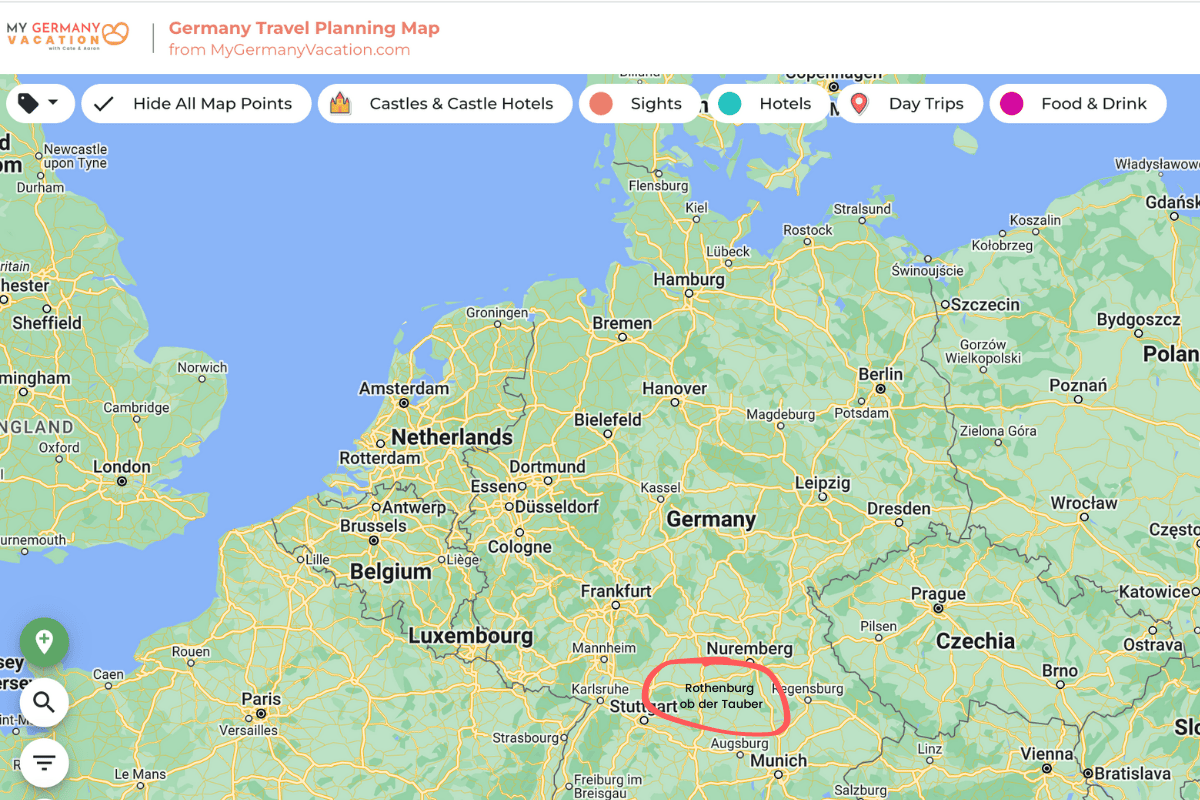 Where Can I Find The Above Map?
It's part of our Germany Travel Planner/Bundle, and it's your Germany travel planning BFF! Using our custom interactive planning map you'll be able to quickly see the best sights, castles, hotels, day trips and more – along with our photos and up-to-date tips. Seeing where these things are in relation to each other makes it much easier to plan your overall itinerary, as well as each day of your trip. If you don't yet have it, click here to get access.
What To Do And See In Rothenburg ob der Tauber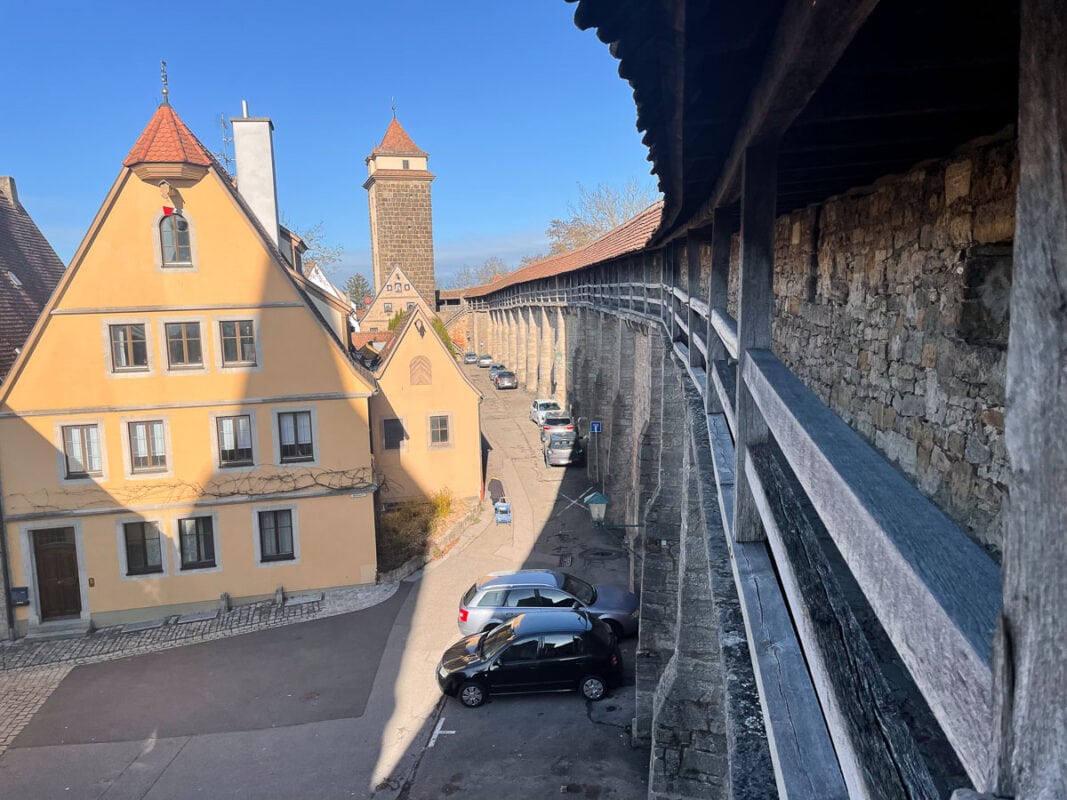 Tower Trail (City Wall)
Rothenburg is one of only 3 towns in Germany that still has completely intact city walls. One of the best things to do is walk the Tower Trail along the town wall. It's called Tower Trail because Rothenburg is home to 42 towers, many of which are found along the wall. Some parts of the trail take you along the top of the wall, so you can get good views of the Altstadt (Old Town).
The trail is around 2.5 miles (4 kilometers) and takes approximately 2.5 to 3 hours to complete. But you can choose how much to do since it's divided into different stages. It's also open 24/7 and is completely free!
We usually walk parts of the wall while also exploring the side streets (there are stairs down to the street in various sections) but at some point we're going to walk the whole wall in one go.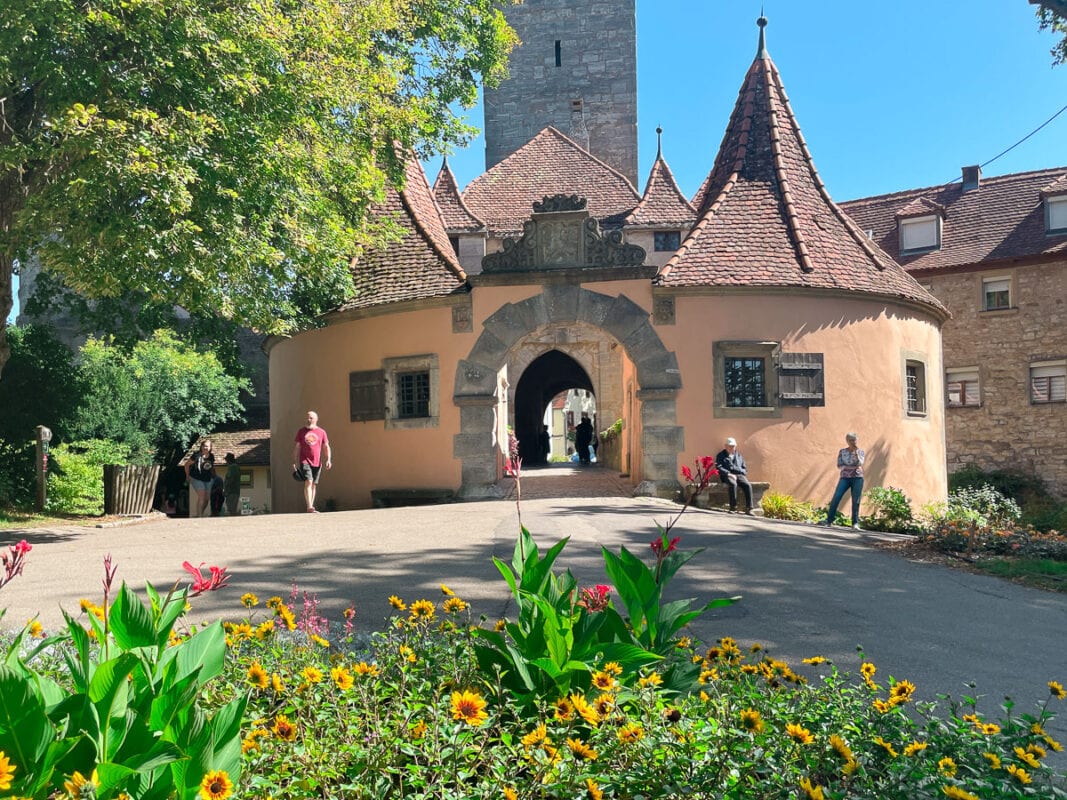 Castle Garden (Burggarten)
The Castle Garden (Burggarten) is a nice, tranquil green park near Burgtor (Castle Gate) just right outside the medieval walls. It's one of the best places to visit if you want to relax for a while and enjoy stunning views of the Tauber Valley. Aside from the lookout points, there's also a formal garden with sandstone sculptures and flowerbeds. Walk all the way to end of the park for amazing views!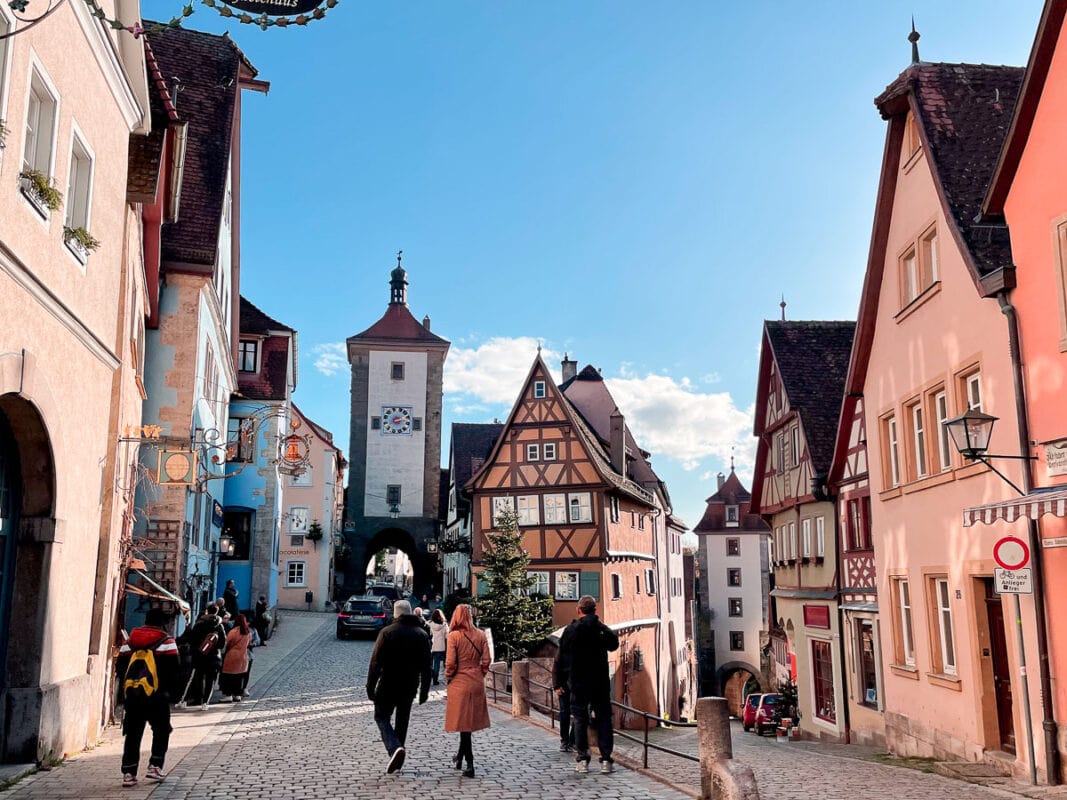 Plönlein
Plönlein is one of the main attractions of the town. This small square located at the intersection of two streets is one of the most photographed and iconic spots in Rothenburg. It is a picture perfect square with medieval architecture, a yellow timber-framed house positioned in the center, two historic gates, and a water fountain. It's said to have been the inspiration for the setting of Pinocchio! Since it's one of the town's most popular places, it's usually bustling with people so we recommend going early if you want to take a lot of pictures.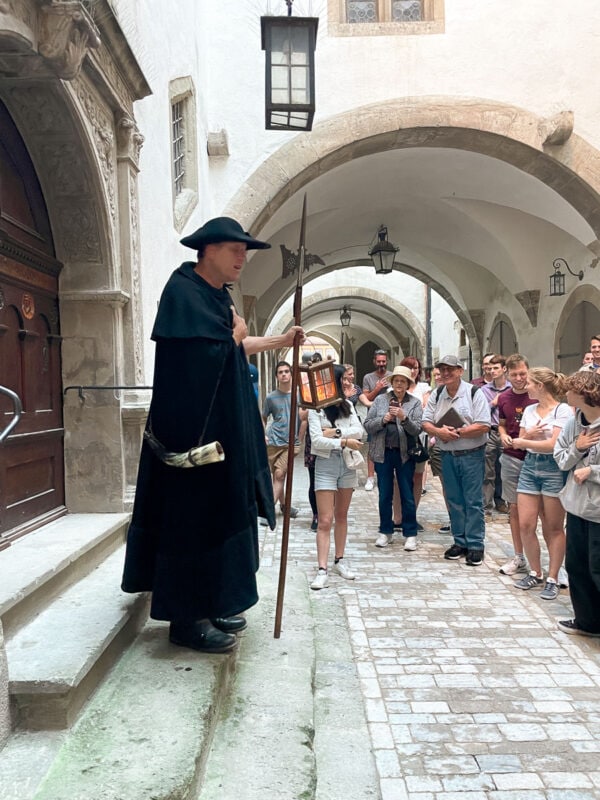 Rothenburg Night Watchman Tour
If you're looking for unique and fun things to do in Rothenburg, then this guided tour is for you! The Night Watchman Tour is an immersive experience that takes you on a comical yet historic journey through the town's medieval streets after dark. In this walking tour, you'll be led by a guide dressed historically like a night watchman who shares entertaining and informative stories about the town's history. Aside from learning about Rothenburg's past, you'll get to experience the enchanting and special atmosphere of the streets illuminated by the soft glow of lanterns. We finally did this tour on our most recent visit and it was a lot of fun.
Click here to book a memorable private Night Watchman walking tour!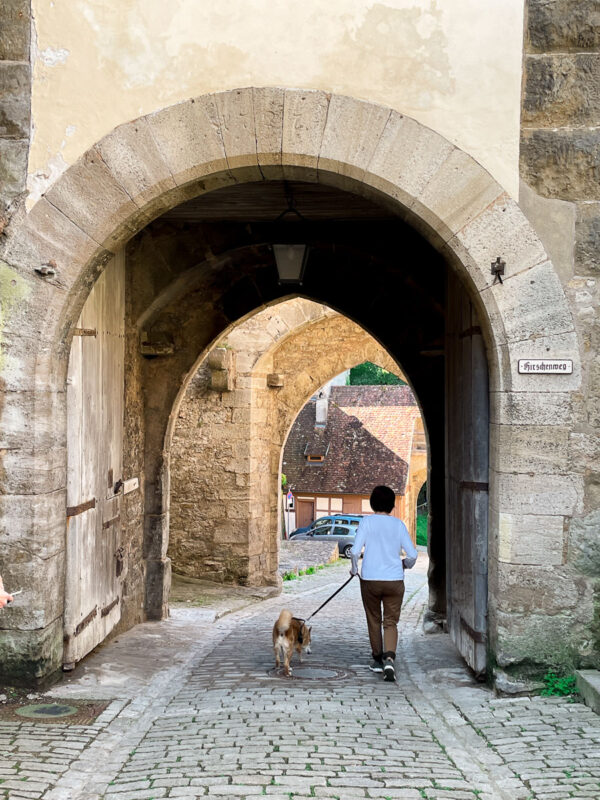 Altstadt (Old Town)
Wandering the streets of the Altstadt (Old Town) and getting lost in its charming cobblestone streets and alleyways is one of the top things to do in Rothenburg. The beautiful buildings, colorful half-timbered homes, ancient walls, and traditional German taverns are really something straight out of fairy tales.
Old Town is also where you'll find many of the town's most important landmarks like the Town Hall (Rathaus), St. Jacob's Church, Plönlein, Marktplatz, and many more. It's a very walkable area so you'll be able to see and do a lot in just a few hours.
To make it even more special, book a private and personalized walking tour of Old Town with a professional local guide here!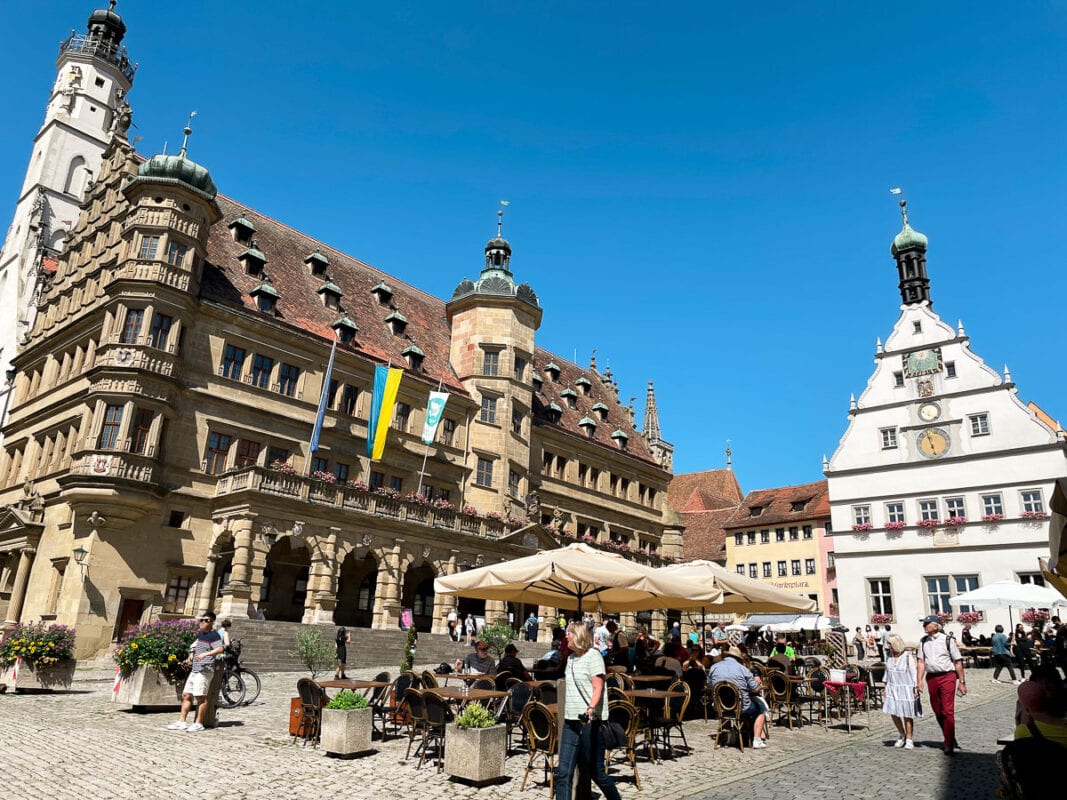 Market Square (Marktplatz)
Market Square is the vibrant heart of Old Town. In here you'll find the impressive Town Hall (Rathaus) which features a mix of 16th century Renaissance and Gothic style architecture in its facade. Visitors can climb up to the Town Hall Tower to get panoramic views of Tauber Valley and the medieval rooftops. The Market Square is also the perfect place to grab a bite since there's a lot of coffee shops and restaurants in the area.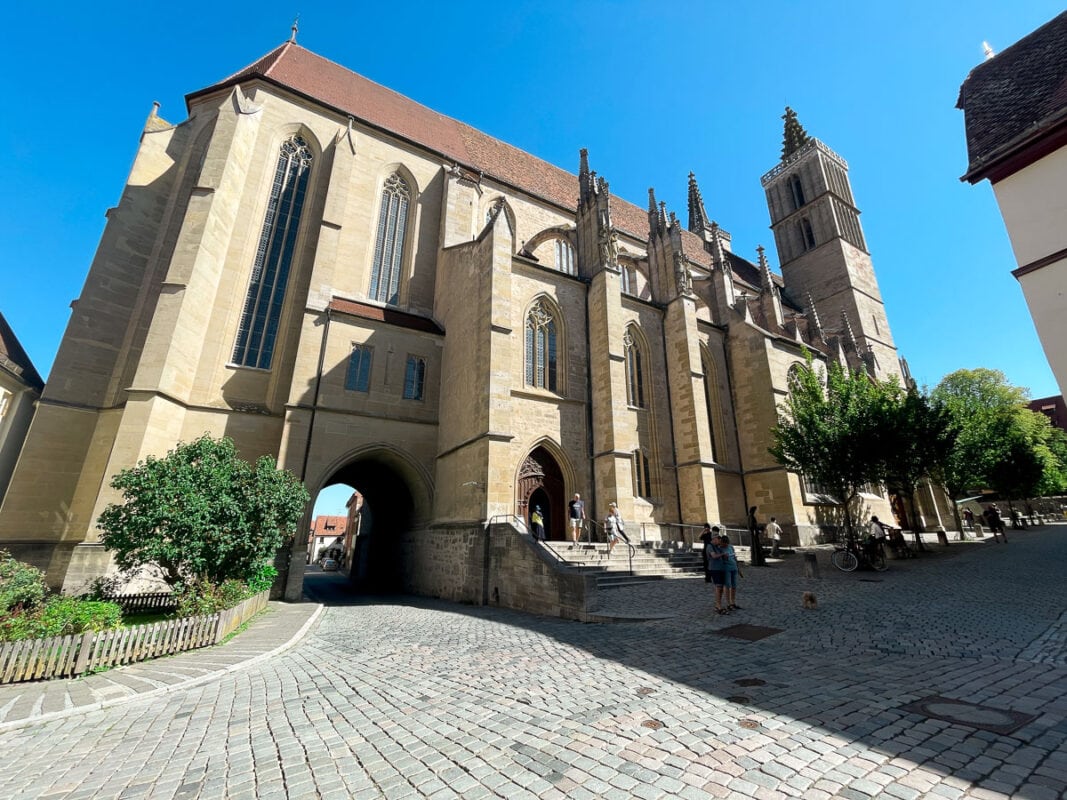 St. James Church (St. Jakob's Church)
St. James Church is another must-visit important landmark. It's a historic Lutheran church dating back to the 15th century. It's also along the way of the famous the Way of St. James or Camino de Santiago, a pilgrimage that spans across Europe and leads to northwestern Spain.
Highlights of the St. James Church includes the ornate stained glass windows and the Holy Blood Altar by Tilman Riemenschneider, a historic wooden altar featuring scenes from The Last Supper. You can also drive right through the church!
Tauber Bridge or Double Bridge
The Tauber Bridge, also known as the Double Bridge, is a road bridge spanning the west of the Tauber Valley, just ten minutes outside of Old Town. The stone bridge is made up of two rows of arches, one on top of the other and was first built in the 14th century. It offers a really nice landscape view with the town of Rothenburg in the backdrop. It's easy to get to this bridge if you have a car so you can easily see it on your way into or out of town. Unfortunately, when we stopped by on our recent visit there was a music festival going on and the bridge was closed to non-festival goers!
Medieval Crime Museum
The Medieval Crime and Justice Museum is an unique museum offering a glimpse into the dark past of crime, punishment, and even torture back during the medieval times. It houses an unusual collection of exhibits of historical crime scenes and torture devices and instruments. The subject matter is not exactly light but it's an interesting must-visit for those who are interested in seeing a different side of medieval history.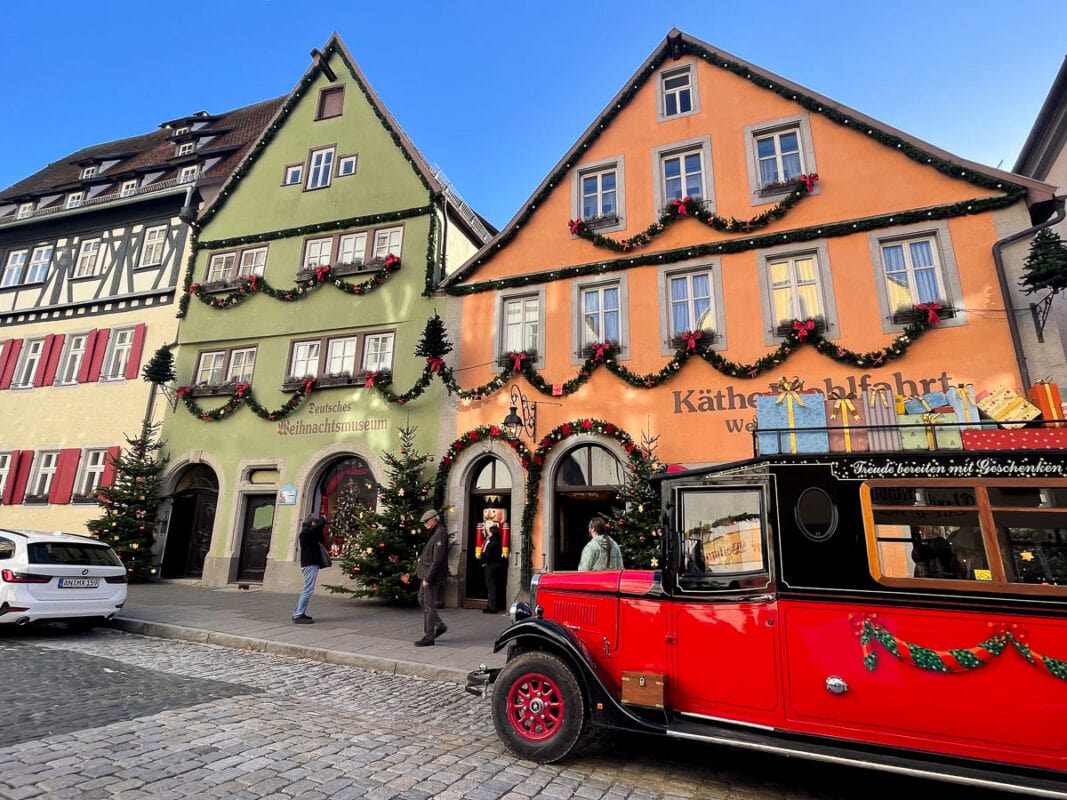 German Christmas Museum
If you're not visiting Rothenburg during the Christmas season, you can still experience some of the festivities in the German Christmas Museum. The museum highlights everything related to Christmas traditions from how certain customs started to how different regions around the country celebrate it. The museum features an ornate Christmas village, traditional Christmas decorations like nutcrackers and Christmas pyramids, and lots of other festive ornaments. You can also walk through any of the many Käthe Wohlfahrt stores to feel immersed in the Christmas season.
If you want to learn more about Christmas in Germany, read our guide on all the traditions and food that make German Christmas so unique and special!
We also have a guide on how to celebrate Saint Nicholas Day like a German!
Old Rothenburg Craftsmen House (Alt-Rothenburger Handwerkerhaus)
The Old Rothenburg Craftsmen House is a small medieval home preserved from the 1300s that showcases traditional crafts and trades that were once practiced in the town. The museum features artifacts and tools from all sorts of crafts like woodcarving, glassblowing, pottery, weaving, breadmaking, metalwork, and farming. It's a great testament to the rich history and cultural heritage of Rothenburg.
Master Draught Festival (Meistertrunk)
The Master Draught Festival (Meistertrunk) is a major annual event that commemorates the historic event of the Thirty Years' War. Every year, the festival retells the legend that took place during the war when the town's mayor, Georg Nusch, impressed the enemy forces by drinking 3 1/4 liters in one go which saved the city from destruction. The legend is retold through theatrical performances and reenactments all throughout the city. Performers wear traditional costumes and there's a parade with music through the historic streets of the Old Town.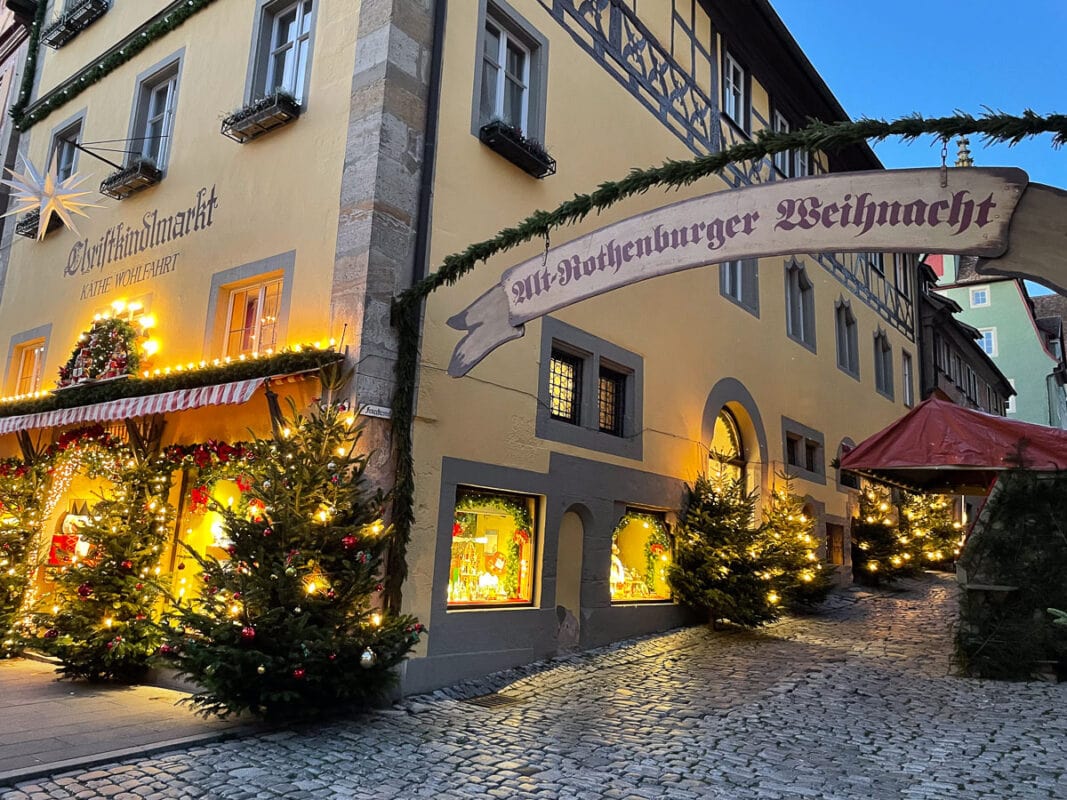 Rothenburg Christmas Market (Reiterlesmarkt)
The Rothenburg Christmas Market is one of the most famous Christmas markets in Germany. During Christmas time, the Market Square transforms into a magical and festive atmosphere with a huge Christmas tree and over 70 stalls. They sell everything from mulled wine (Glühwein) and delicious Franconian treats like gingerbread (Lebkuchen), Bratwürste, and Flammkuchen. Aside from snacks, you'll find Christmas ornaments, souvenirs and handmade crafts.
For more information on the Christmas markets in Germany, read our guide to the best Christmas markets to visit!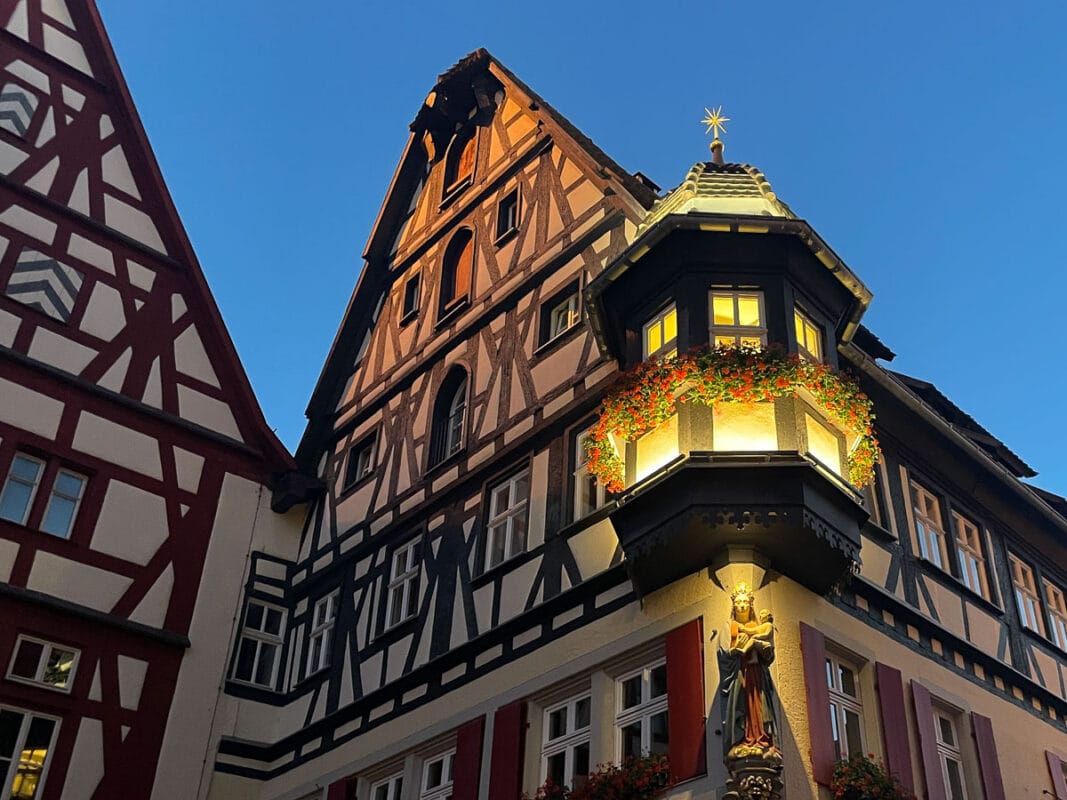 Explore After Dark
Even if you've walked all over Rothenburg during the day, be sure to go out again after dark. It's just so pretty when the sun sets and the lights go on! Go for walk or enjoy a beer at a table outside on the Marktplatz and revel in the romantic vibe of this fairytale town.
Where To Stay In Rothenburg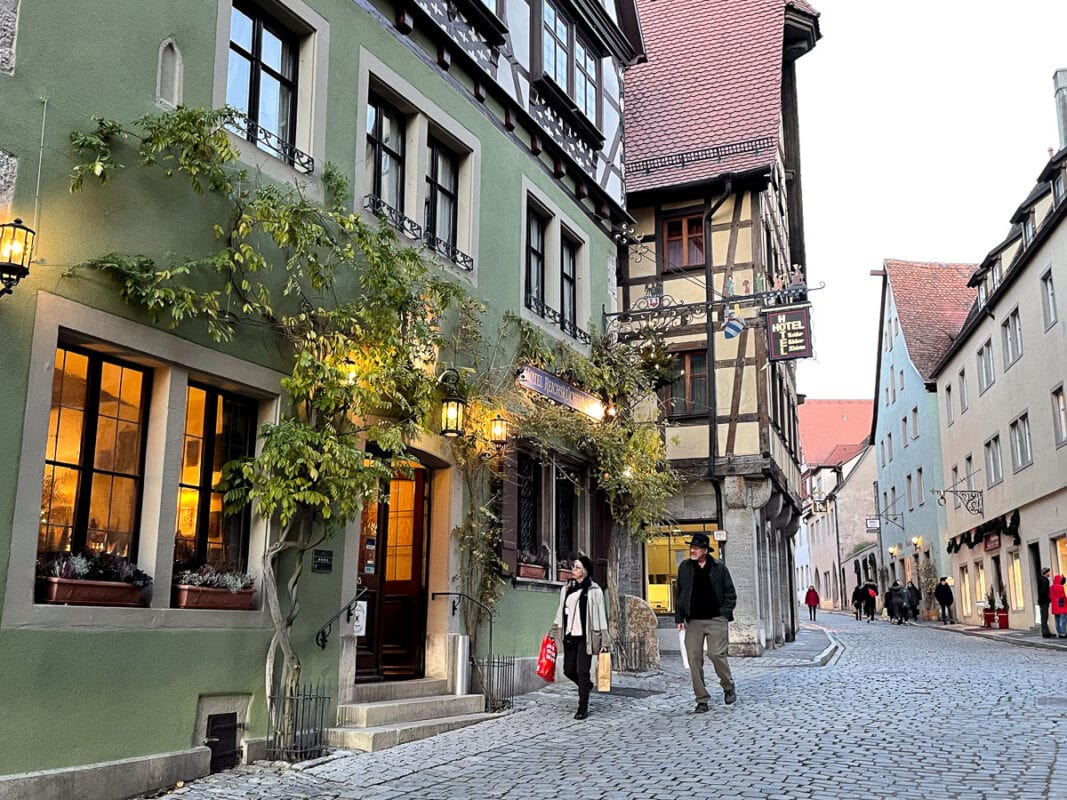 While you can visit Rothenburg on a day trip, we highly recommend spending a night or two in this charming town. You'll be able to explore more of the town, enjoy delicious meals without feeling rushed, and you'll get to experience the popular parts of the Altstadt without the crowds.
Hotel Reichs-Küchenmeister – This beautiful 4-star hotel is located in the heart of the Old Town, just step away from important landmarks like St. James's Church. The hotel features a mix of both modern and traditional individually-decorated rooms. They have a delicious restaurant serving Franconian cuisine and wines on sight and an outdoor beer garden. We had a wonderful dinner here on a winter trip and plan to stay here on our next visit.

Romantik Hotel Markusturm – This historic, family-run hotel is located at the Markusturm tower beside the Old Town walls. The rooms are tastefully decorated with antique and vintage touches. There's also a delicious traditional restaurant on-site that serves very good breakfast.

Pension Elke – This small family run hotel is locatd in a charming half-timbered building and is a short walk from the main square. We stayed here on a summer visit and loved it! It's not a luxury stay but it was very comfortable, had everything we needed, and a hearty breakfast buffet was included in the price of the room. We loved the historic building and personality of the hotel. The family run a grocery store below the Pension and invite guests to go running through the Altstadt with them every evening!
If you have our Germany Travel Planner/Bundle you'll find recommended hotels on our interactive planning map. Seeing where these hotels are in relation to the top sights makes it a lot easier to find the perfect place to stay. If you don't yet have it, click here to get access.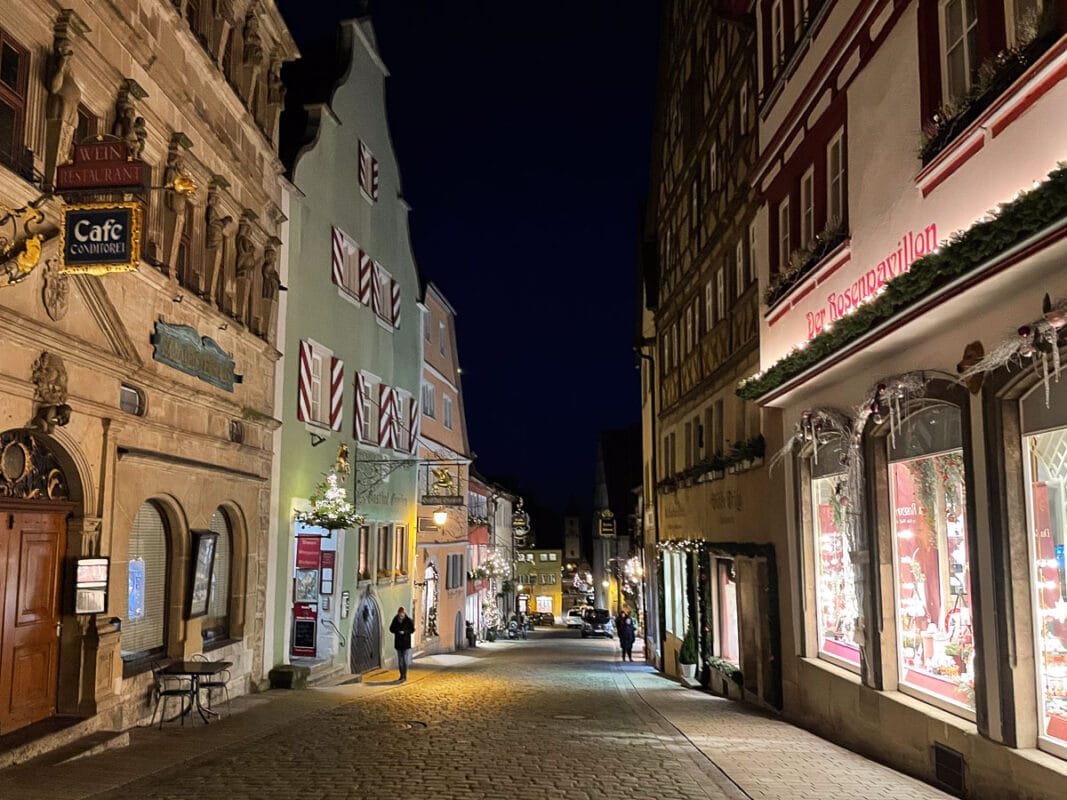 How To Get To Rothenburg
Rothenburg is within 2-3 hours of a few major German cities including Munich, Frankfurt, Nuremberg (Nürnberg), and Stuttgart. You can reach Rothenburg by car or train.
The easiest and often quickest way to get to Rothenburg is by driving. From Munich it takes about 2.5 hours and is a little over 2 hours from Frankfurt. From Nuremberg it's only 1.5 hours, while Stuttgart is a bit further, taking around 3 hours.
Renting a car gives you more flexibility to make stops along the way. If you want to explore the Romantic Road area or just taking a day trip from any of the other cities, driving is a great option. Keep in mind that there isn't much parking space in the town but there are several parking lots just outside the city walls. The one we parked at had restrooms and an option for inexpensive all day parking.
If you prefer to take the train, we recommend checking the Deutsche Bahn official website to find the best routes, times, and tickets. The travel time from Munich, for example, is about 3.5 hours and there are no direct trains. From Rothenburg's main train station you can reach the Old Town in about 15 minutes by foot or you can take a taxi.
An easy way to visit Rothenburg is to take a guided day trip. That way you don't have to worry about transportation or logistics since everything will be taken care of for you! If you are coming from Frankfurt, you can book this full day tour to Heidelberg and Rothenburg. If you're coming from Munich, we recommend booking this guided day trip that takes you to Rothenburg and Nördlinger Ries.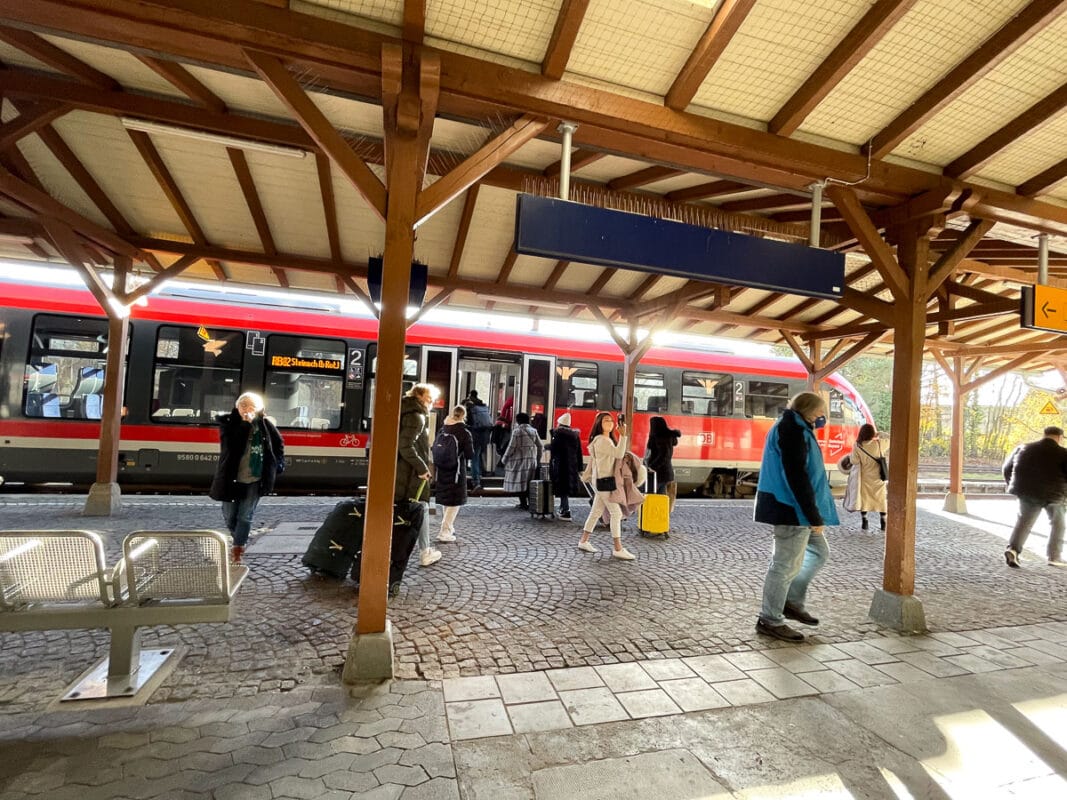 Day Trips From Rothenburg ob der Tauber
Why not make Rothenburg your home base for a few days so you can explore more of the area? Here are some great day trip options.
TIP: If you have our Germany Travel Planner/Bundle look at our interactive planning map to see do-able day trips. Seeing the castles, towns, and other must-see sights on the map (along with our photos and up-to-date tips) makes it much easier to decide what to add to your itinerary. If you don't yet have it, click here to get access.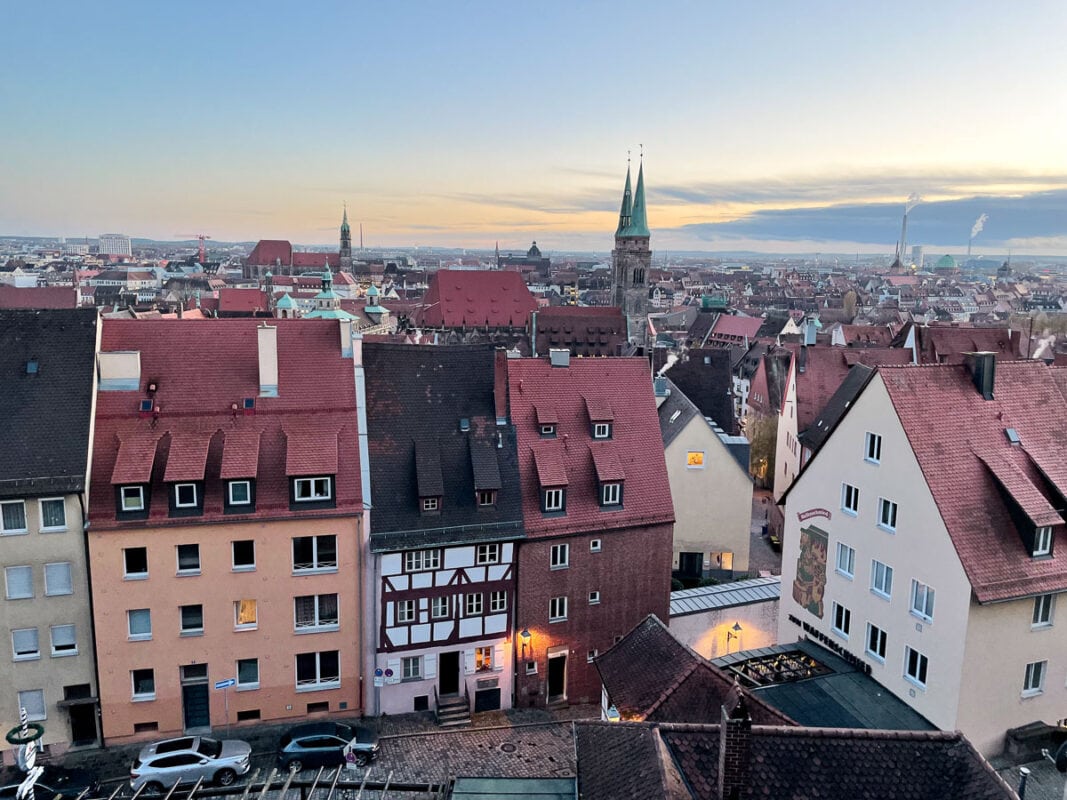 Nuremberg (Nürnberg)
Many people day trip from Nuremberg to Rothenburg but you can do it the other way around, too. If you're looking for another charming medieval town with colorful buildings and a city wall, head on to Nuremberg.
This historic city is also known for its well-preserved medieval architecture, including the stunning Nuremberg Castle on a hill and the picturesque Old Town with its lovely half-timbered houses, bridges over the river, and churches.
Nuremberg is also hosts the Nuremberg Christmas Market, one of the oldest and most traditional in Germany, which attracts visitors from around the world. So if you're visiting during the holiday season, Nuremberg would make a great day trip!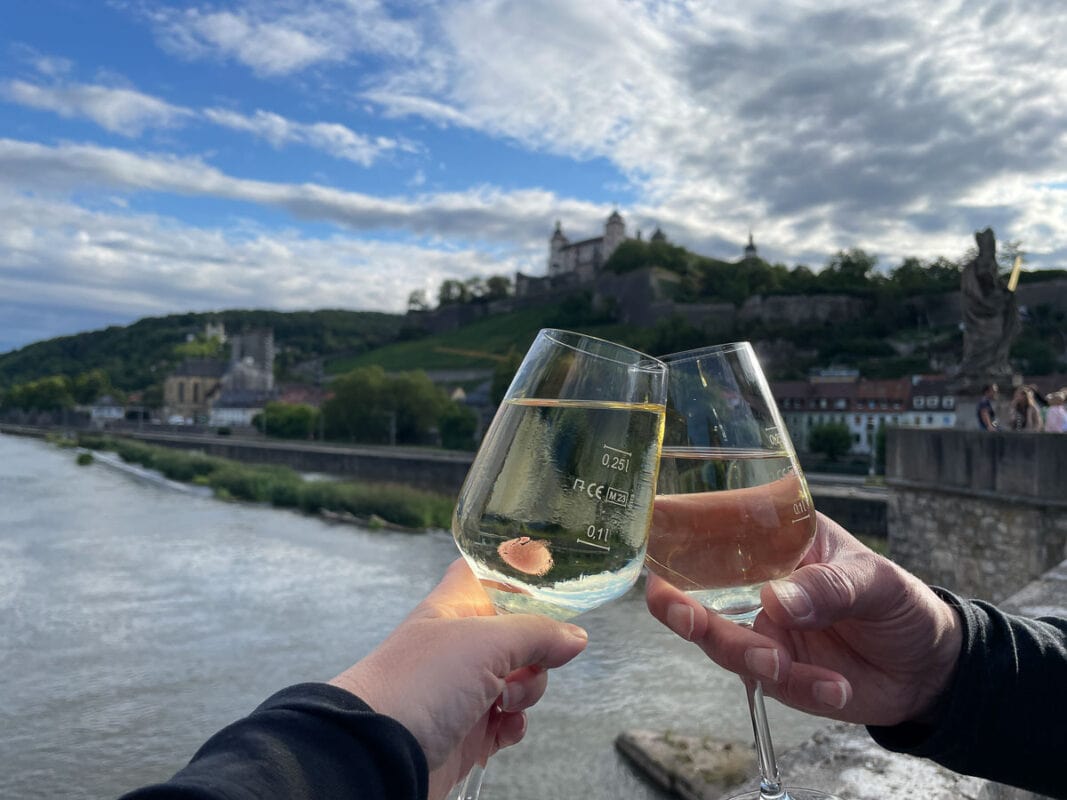 Würzburg
Würzburg is another nearby city that's only about 45 minutes away by car. It's known for stunning Baroque architecture, particularly the Würzburg Residence. A UNESCO World Heritage Site with opulent interiors, ornate rooms, and an impressive large fresco by Venetian artist Tiepolo, the Residence is a must-see (take the free English tour – we really enjoyed that)!
Würzburg is also known as the center of the Franconian wine country so it's home to amazing local vineyards, fun wine festivals, and lots of wine bars and cellars where you can taste Franconian wines. Tip: go to the old bridge, order a glass of local wine from one of the stands (they're easy to find), and enjoy the view while sipping delicious wine. It's a popular place to hang out for visitors and locals alike.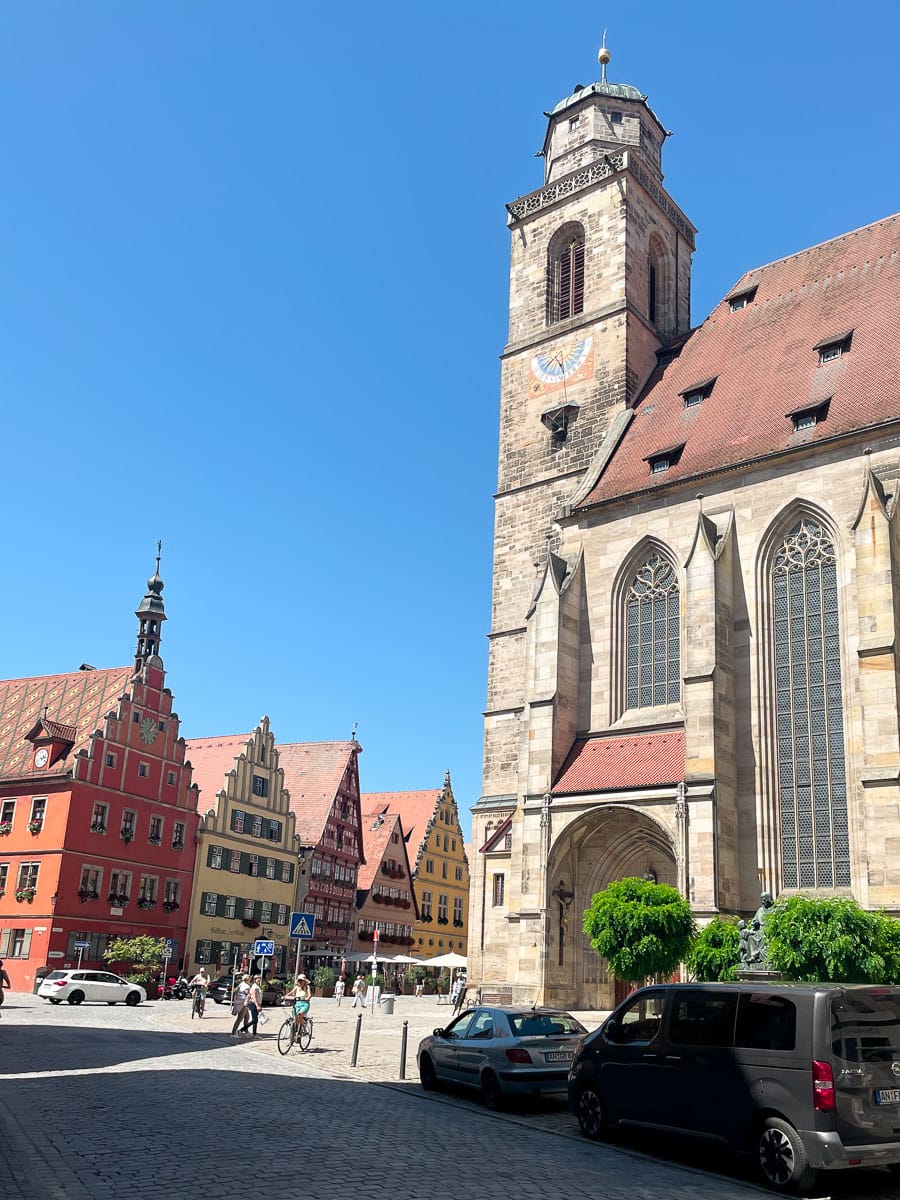 Dinkelsbühl
Dinkelsbühl is another picturesque town in the Romantic Road area. Like Rothenburg, this town was a former free imperial city of the Holy Roman Empire. It shares a lot of similarities in terms of architecture with Rothenburg like its well-preserved city walls with various towers and gates, cobblestone streets, half-timbered houses, and vibrant squares. It's a great alternative to Rothenburg if you want more of that medieval charm without as many crowds or tourists.
Bamberg
Bamberg is a UNESCO World Heritage Site, celebrated for being one of Germany's most beautiful towns and for having Europe's largest intact old city wall. The Old Town preserves structures from the 11th to 19th centuries and showcases a variety of Romanesque, Gothic, and Baroque styles. One of the main attractions is the Altes Rathaus (Old Town Hall) which is situated on an island on the Regnitz river and is accessible by arched pedestrian bridges.
Other highlights include the Romanesque Bamberg Cathedral and the Michelsberg Monastery. Bamberg is also known for its unique beer culture. There's a vibrant beer scene with traditional breweries, beer gardens, and a wide range of distinctive local beer styles.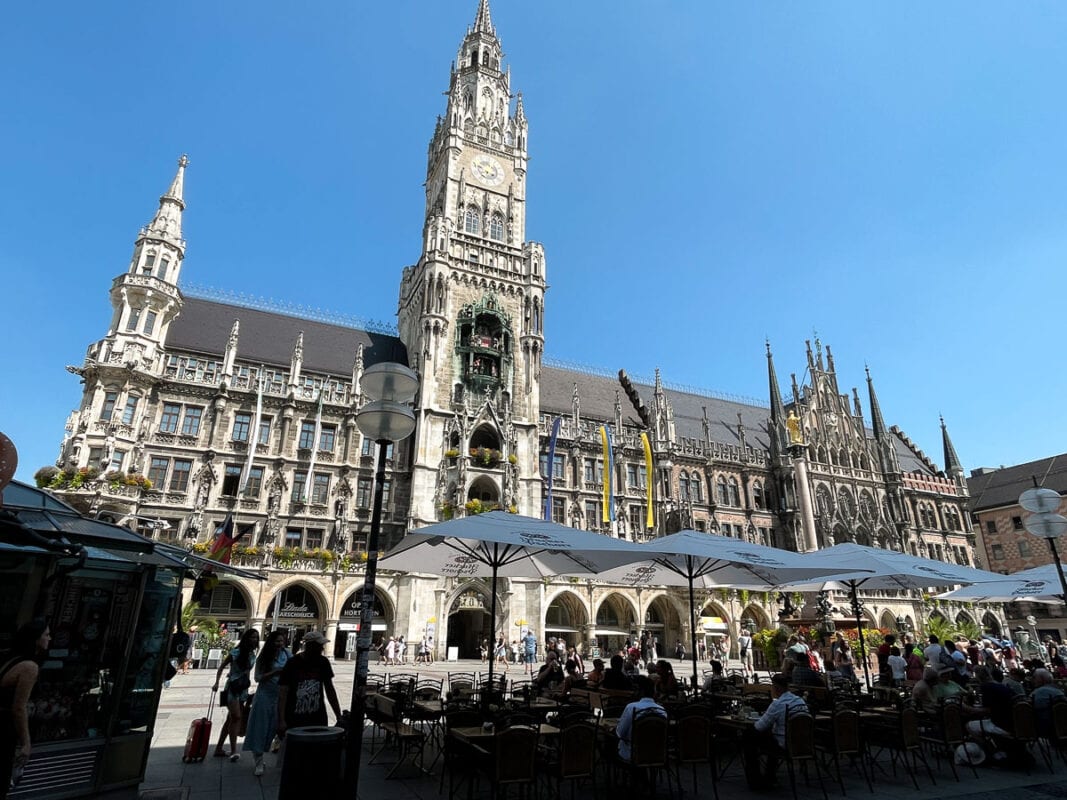 Munich
One of the nearest major cities from Rothenburg is Munich, the capital of Bavaria. It's a great starting point to explore southern Germany but it also makes a great day trip. There's a lot to do and enjoy in Munich from beer gardens, world-class museums, beautiful architecture, hearty Bavarian cuisine, and of course, Oktoberfest. If you want to visit Munich on a day trip from Rothenburg (or vice-versa), driving is the best way to go because it takes over 3 hours one way to from one city to the other by train.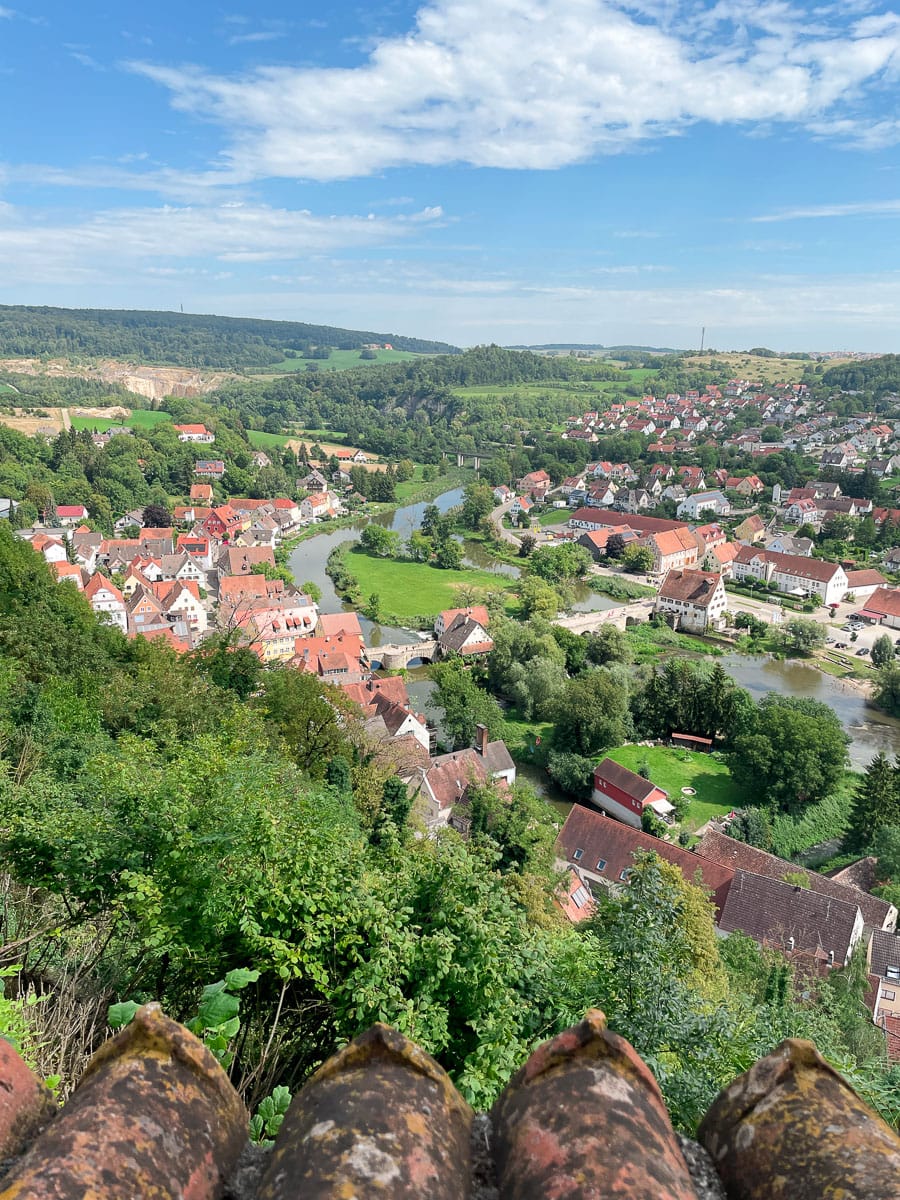 The Romantic Road
Rothenburg is in the Romantic Road area so it's easy to explore more of it on a day trip.
The Romantic Road is one of Germany's most popular tourist areas and it's important to note that "road" is a bit of a misnomer because it's not really just one road that you can easily follow. It's actually more of an area that you can explore by taking the slower scenic roads.

The Romantic Road technically starts in the city of Würzburg and ends in the small Bavarian town of Füssen near the famous Neuschwanstein Castle. The Romantic Road stretches over 400 kilometers or almost 250 miles and passes through almost 30 official stops, including charming small towns, medieval castles, and beautiful scenery. You can spend anywhere from a couple hours to several days in the area, depending on how much of the route you choose to see and how many stops you'd like to make along the way.
If you've got a day to explore the Romantic Road by car, you can easily visit the neighboring towns of Dinkelsbühl and Nördlingen, which are just as beautiful and oftentimes less crowded than Rothenburg. Along the way you'll pass through beautiful villages. Stop at the ones that catch your interest!
If you Munich is your homebase and you want to visit Rothenburg and the Romantic Road area but you don't want to worry about renting a car or figuring out transportation logistics, we recommend booking this guided day trip of the Romantic Road from Munich that goes through Harburg Castle, Dinkelsbühl, and Rothenburg.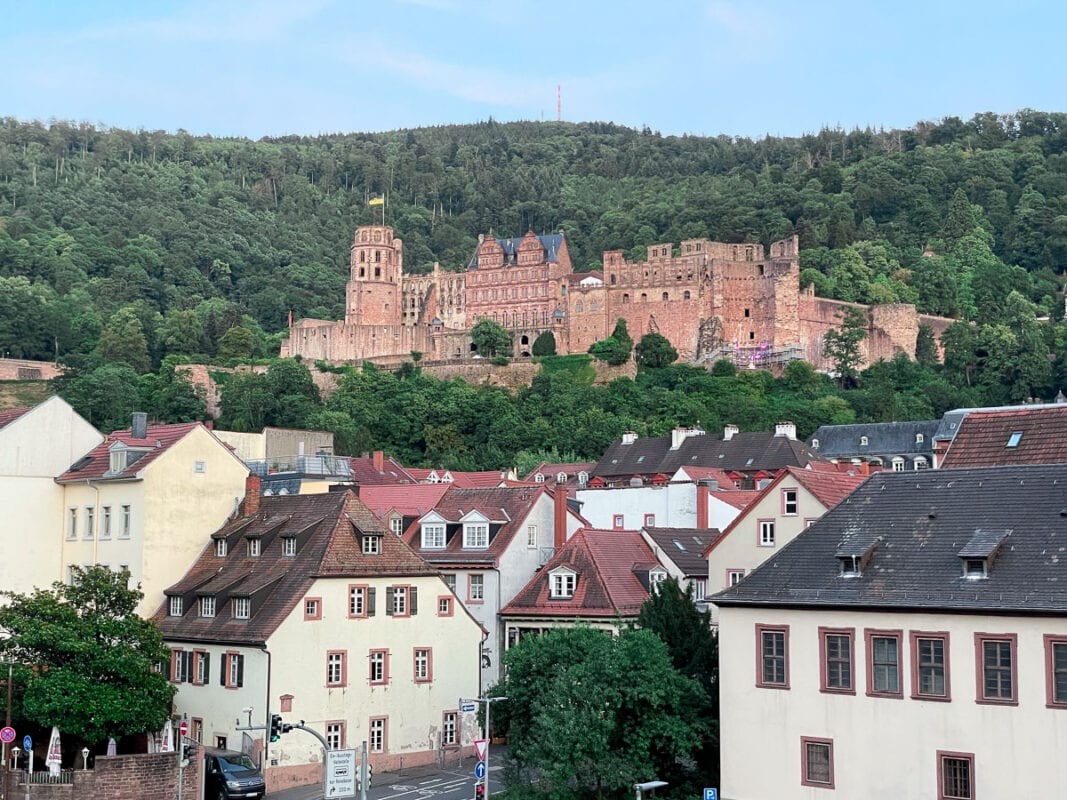 Heidelberg
Heidelberg is a beautiful city known for being home to Germany's oldest university, its rich cultural heritage, and historic sites like Heidelberg Castle, Old Town, and Alte Brücke. It's also surrounded by amazing natural landscapes like the Neckar river and Odenwald mountain range in the distance. It's best to do a day trip to Heidelberg from Rothenburg by car.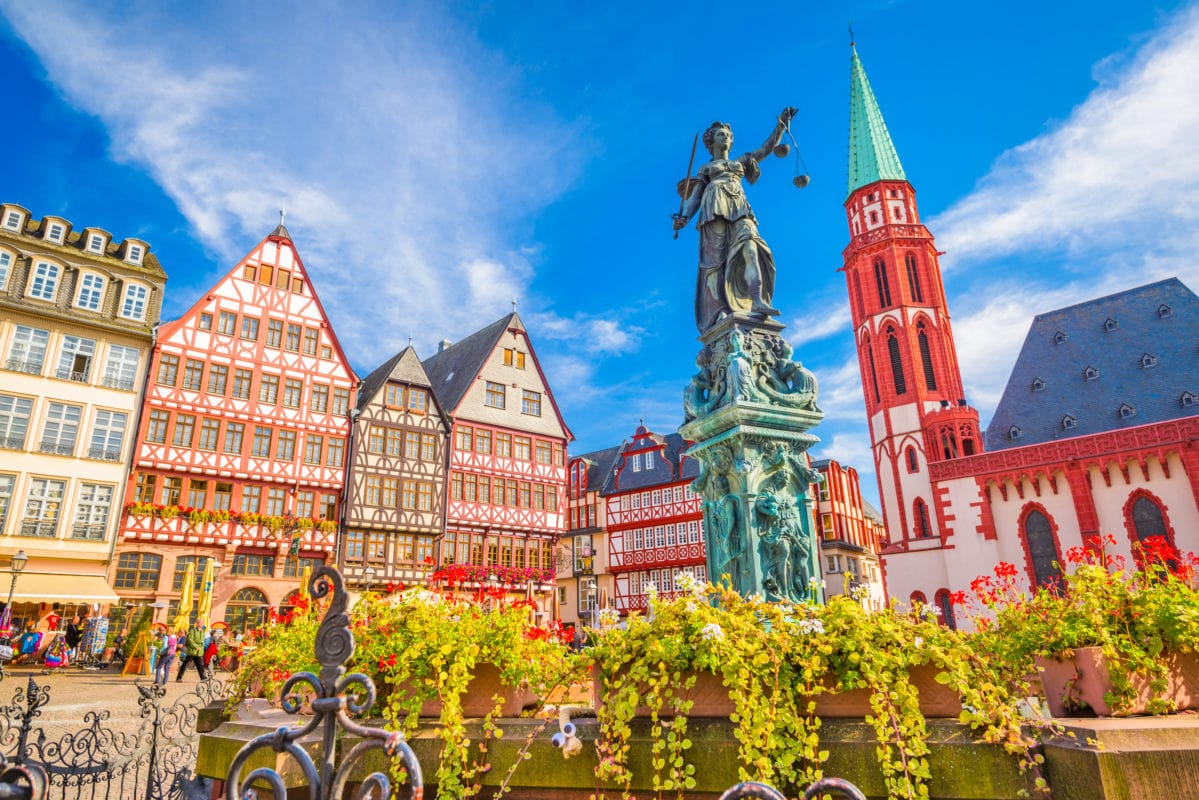 Frankfurt
If you want to visit a big city on a day trip from Rothenburg, one option is to head to Frankfurt. It's a nice contrast from Rothenburg since Frankfurt is known to be a bustling metropolis with a cosmopolitan atmosphere since it's an important financial center in Europe.
Frankfurt is a mix of modern with its futuristic skyline and skyscrapers with some charming historic landmarks found in Old Town. You can also discover the city's art and cultural side in the Museum Embankment, with famous museums like the Städel Museum and the Museum für Moderne Kunst. Overall, Frankfurt is a good city to explore in just a day or two. If visiting on a day trip from Rothenburg, it's best to go by car.
If your home base is Frankfurt and you'd like a stress-free day trip to Rothenburg, book this guided day trip from Frankfurt to Heidelberg and Rothenburg!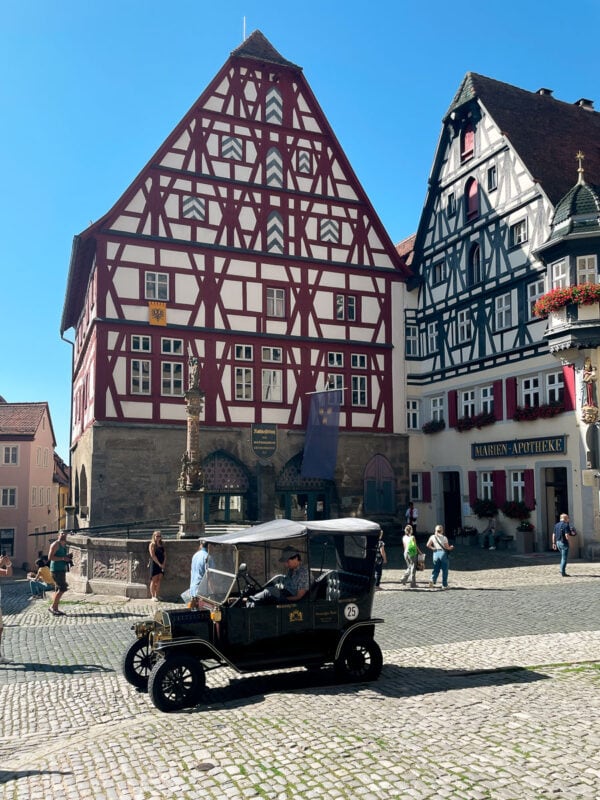 Rothenburg ob der Tauber FAQ
What is Rothenburg, Germany known for?
Rothenburg, Germany is known for its incredibly well-preserved medieval old town and its intact city walls that provide panoramic views of the town and its surroundings. It's celebrated for its charming fairy tale-like atmosphere and charm.
How much time do I need in Rothenburg, Germany?
Rothenburg is a popular day trip destination, so it's very manageable to do it as a day trip spending 5-8 or so hours in the town. That said, if you want to fully experience and explore the town, then we recommend staying for 1 or 2 nights so you have at least one full day. This allows you to do more activities like the famous Night Watchman Tour (it's a lot of fun). Staying for 2-3 days is also a great idea so you can do day trips to other nearby towns like Dinkelsbühl and Würzburg and explore more of the Romantic Road area (best by car).
How long does it take to walk the Rothenburg wall?
The Tower Trail, which is the path that goes all along the Rothenburg walls, is around 2.5 miles (4 kilometers). It takes approximately 2.5 to 3 hours to complete, depending on the crowds and your pace. You can explore some of it and then choose to leave the trail since it leads into different parts of the Old Town or complete the entire trail. Ultimately, you can choose how much of it to do since it's divided into different sections and there are stairs down to the town at regular intervals.
How old is Rothenburg Germany?
Rothenburg is one of the oldest towns in Germany. Settlements in Rothenburg's area date back to around 970 AD but the city was founded around the 11th century, making it approximately 750 years old.
Is Rothenburg in Bavaria?
Yes, Rothenburg is in Bavaria (Bayern in German). More specifically, it's located in northern Bavaria in the Middle Franconia region.
What river is Rothenburg on?
Rothenburg is not directly located on a river. It is situated on a plateau overlooking the Tauber River valley. This explains the full name of the city "Rothenburg ob der Tauber" which is German for "Rothenburg (red castle) above the Tauber."
How far is Rothenburg from Munich?
Rothenburg is located approximately 250 kilometers (155 miles) north of Munich. The driving distance between the two cities is around 2.5 to 3 hours, depending on the route and traffic conditions. By train, it takes around 3 hours depending on the route and transfers you take.
Next Steps For Planning Your Trip: