Perfect Berlin in 2 Days Itinerary: What to Do & See
This post may contain affiliate links. Read my disclaimer policy.
Planning a trip to Berlin? Here's everything you need to know to plan your perfect stay in the German capital.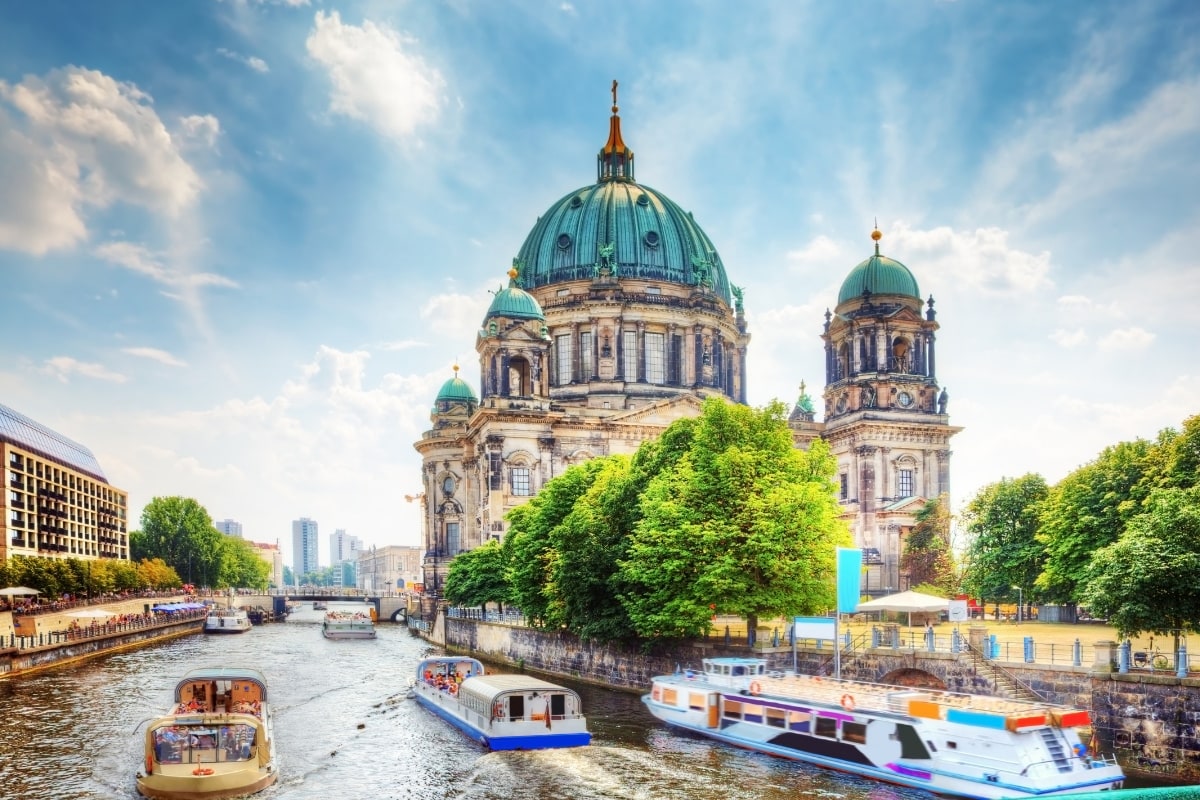 Berlin, the capital of Germany, is one of Europe's most interesting destinations. From its dark past to its rapid rebuilding and development as a modern city, Berlin's famous landmarks reflect the city's complex history.
Each visitor is attracted to different parts of the Berlin experience. Some are interested in the historical sites tracing back to when the capital was divided into East Berlin and West Berlin. Others are drawn to the city's unique culture, whether it be through museums, food or art or nightlife.
I used to live near Berlin and through countless visits over the past 30 years, I've seen the city grow, change, and develop. It's a must-see destination for many Germany visitors for good reason!
If you're planning a short stay and are worried about not having enough time to see everything the city has to offer, this guide will help you prepare the best 2-day Berlin itinerary. I also share ideas for if you have 3 days or more.
If you're creating your overall Germany vacation itinerary, this guide will help. And this guide is packed with helpful trip planning info and tips.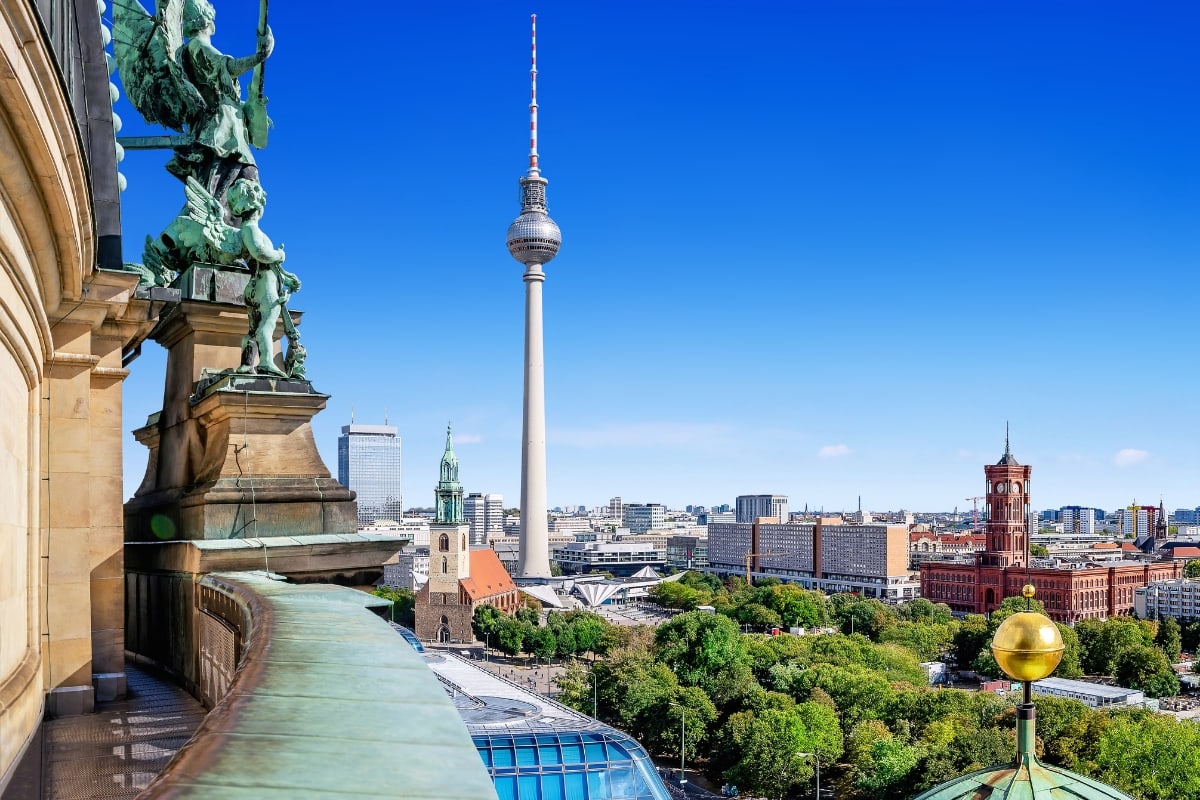 Best Time to Visit Berlin
If it's your first time traveling to Berlin, you're likely wondering when is the perfect time to visit. There are several factors you should take into account when deciding, such as the weather, travel costs, and events.
Luckily, there is plenty to do and see no matter what season!
Starting with winter, this season is a great time for anyone who loves festive celebrations. Aside from Christmas markets, Berlin also celebrates New Year's Eve like no other city — we celebrated New Year's there one year and had a BLAST!
The catch is you'll be faced with cold, rainy weather, and dark evenings. But if you stick it out you can find great deals during off-season in late January and February. And there's plenty you can do indoors. Tip: get up early to make the most of the short days and plan for cozy evenings in restaurants, bars, cafes, theaters, etc.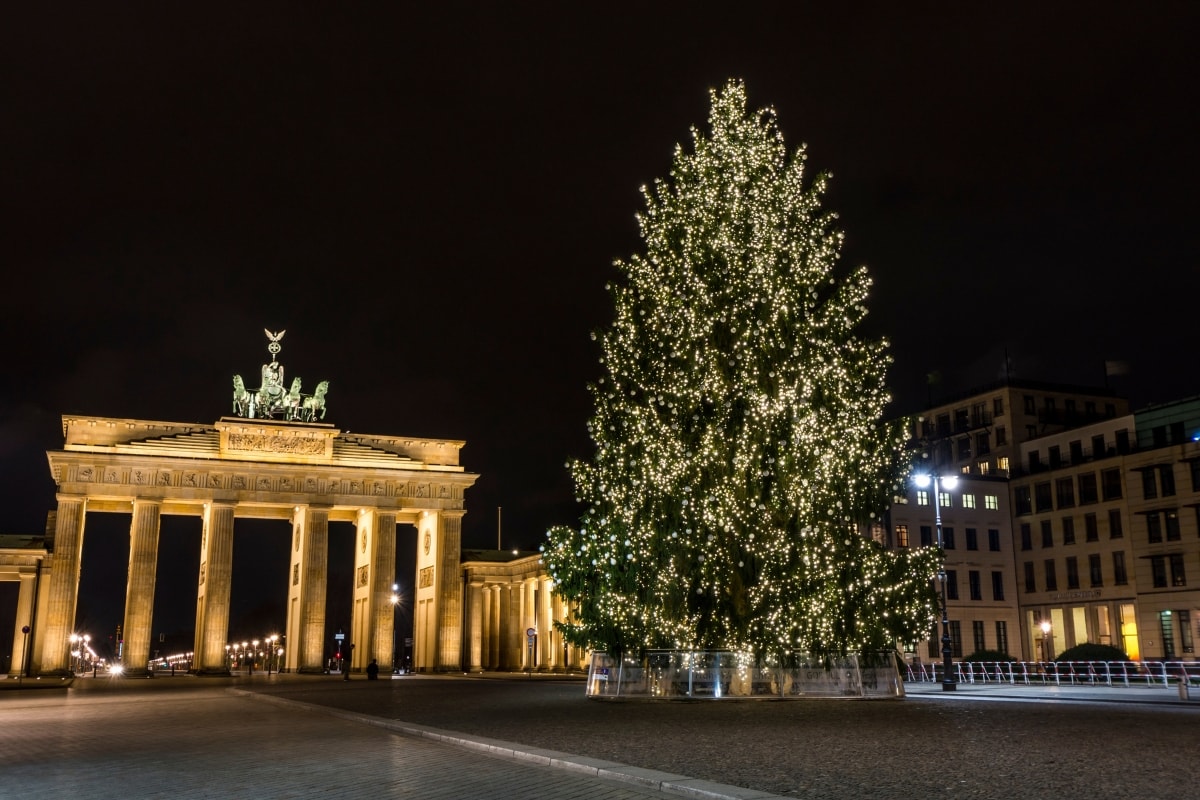 After winter, Berlin slowly comes back to life during spring. But the weather can be unpredictable. Spring can be a good option if you'll be spending more time indoors, like going to museums and exhibits. You'll also avoid crowds but expect more people to arrive as it gets warmer and dryer leading up to June.
Tip: wear layers so you can easily adjust to changing weather.
Summer is one of the busiest and most expensive times to visit. Hotels and flights will be at their highest and tourist attractions will be crowded. But if you plan ahead, you get to enjoy the city in warm weather and attend open-air events. Take note that although the weather might be pleasant, it can also get very humid and hot and air-conditioning is not as common in Germany.
Tip: make sure your hotel has air conditioning.
In many ways, fall can be an ideal time to visit. The weather is still warm during early September and sometimes even October before turning rainier and colder in November. Crowds begin to thin out which can lead to lower prices.
Tip: check the date of the fall time change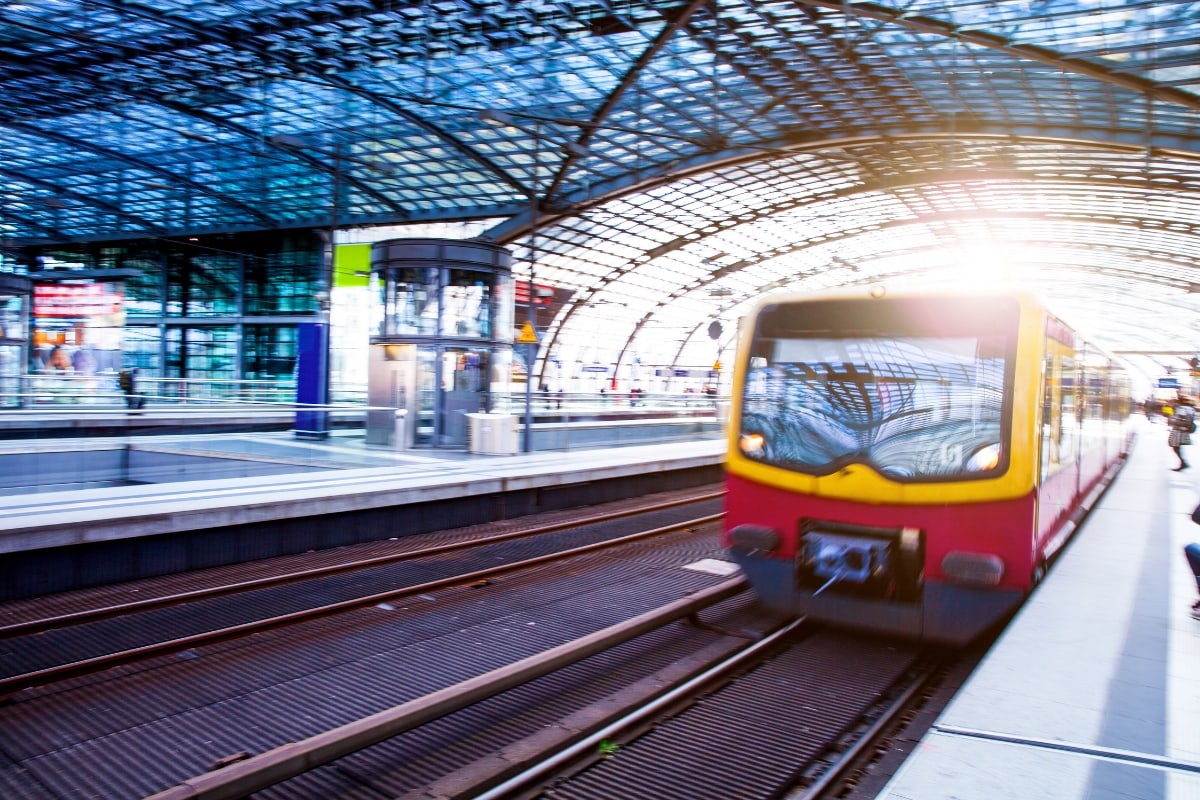 Getting to Berlin
Getting to Berlin is easier than ever with the opening of the Berlin Brandenburg Airport. It has replaced the old Tegel and Schönefeld airports, which means you can fly in now via a larger central airport. On our most recent trip to Berlin we flew directly into Berlin from Newark (before we had to fly via Stockholm).
If you're coming from another German city or another surrounding country, arriving via train to the central train station (Hauptbahnhof) is likely the best way to get to Berlin.
And, of course, you can drive. The last time we were in Berlin we rented a car at the airport at the beginning of our roadtrip (and returned it at the Stuttgart Airport).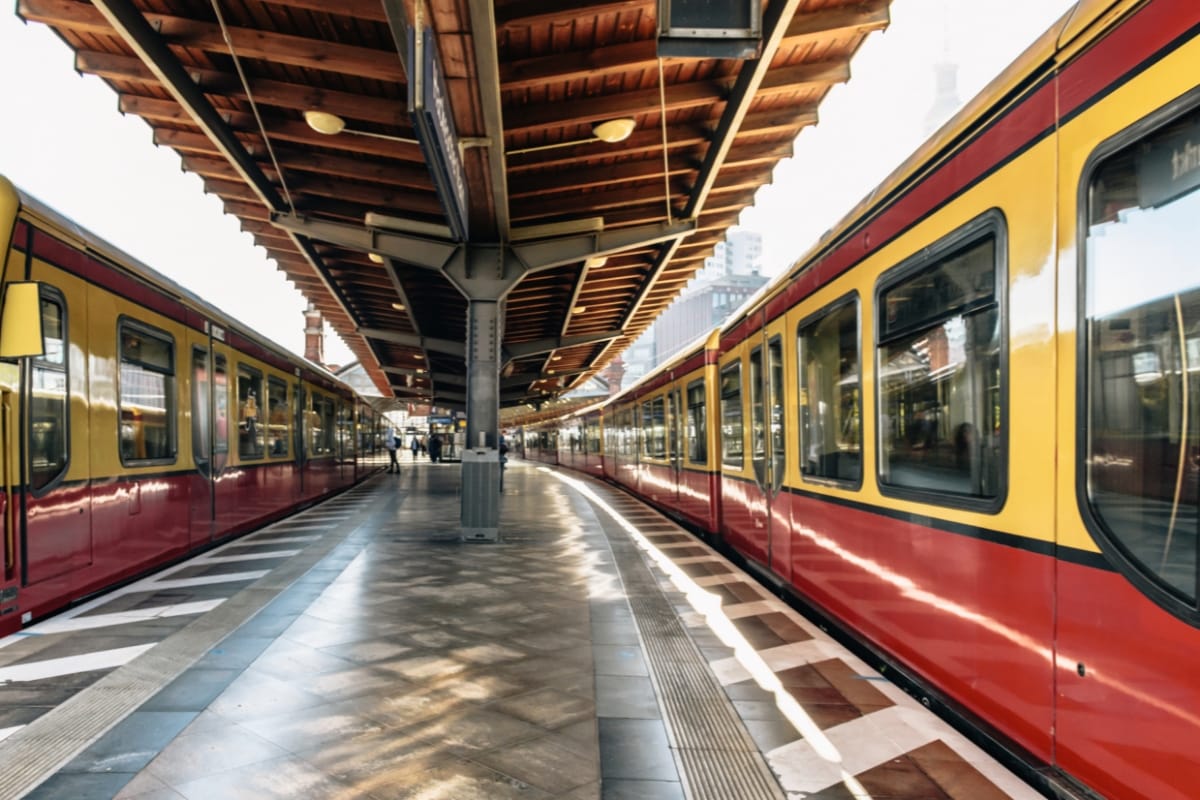 Best Way to Get Around Berlin
Berlin's public transportation network is expansive, covering pretty much all areas of the city. Buying a single ticket gives you access to the U-bahn (subway), S-bahn (city train), trams, and buses.
If you're in Berlin for 1-3 days you'll likely want to take public transit more than once, and so it's likely worth getting the Berlin Welcome Card, which gives you unlimited public transportation and discounts on museums, sights, performances, and more.
You can also easy navigate the city center by foot since many popular destinations are just a short walk from one another. If you stay near Unter den Linden and visit sights between the Reichstag and Alexanderplatz you might not even need to use public transit.
Other modes of transport include taxis, electric scooters, bikes, and car rentals (for day trips or getting to your next destination). Lots of people get around town on rented scooters and bikes!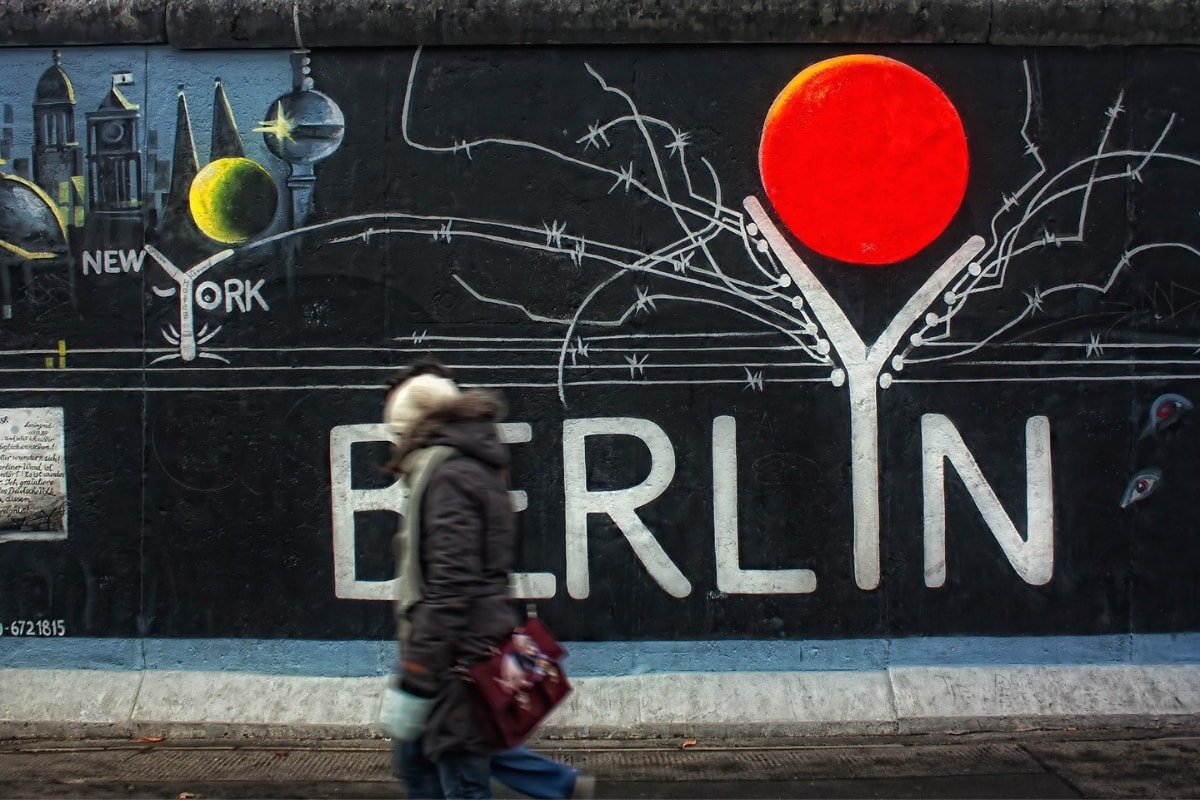 A Little History of Berlin
Berlin is inextricable from its history, to the point where you'll appreciate your visit even more if you have a good understanding of the city's origins.
The early history of the city begins in the late 15th century when Berlin was made the capital city of Brandenburg. In the subsequent centuries, the city underwent significant losses brought by wars and plagues.
But after becoming the capital of the Kingdom of Prussia, Berlin flourished.
As other European countries also grew, alliances formed and political tensions eventually pushed Berlin into world war that led the way to Hitler's rise in power. One of the aftermaths was the country splitting into East Germany and West Germany.
Separating the two was the Berlin Wall, a symbol of the Cold War that stood from 1961 to its collapse in 1989. Think about that for a moment…there was a WALL around West Berlin, which was in the middle of East Germany. Seems crazy to think about it nowadays but that wall made its mark on Berlin.

The fall of the Berlin Wall paved the way for the reunification of Germany and the complete transformation of the German capital. Berlin remembers its history as it continues to grow into one of the most influential cities in Europe.
There's no better way of learning than by seeing where all these historical events took place. Step into Berlin's history and book a 2-hour walking tour led by an expert with commentary on the Third Reich and the Cold War.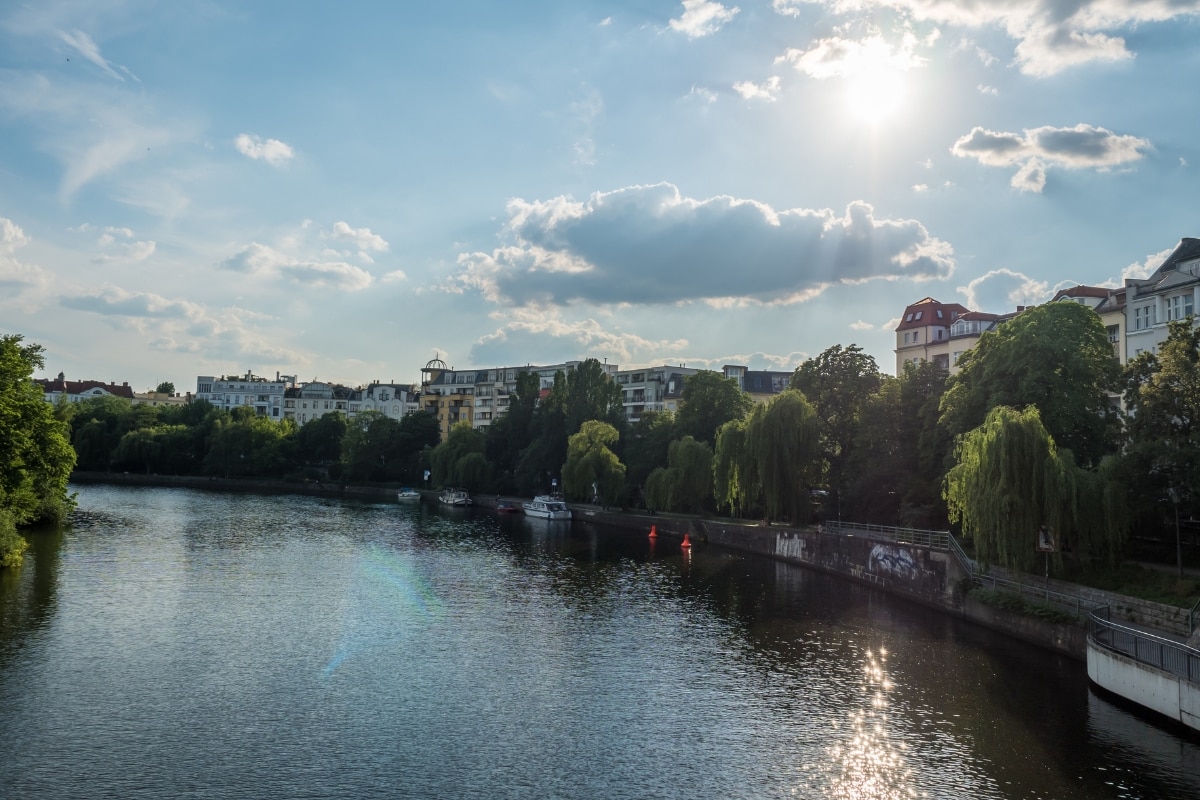 Berlin Welcome Card
One of the top tips that will make your Berlin trip as easy as possible is buying the Berlin Welcome Card.
This card gives you access to any of the public transportation modes at no extra cost, meaning you won't have to buy single tickets for every ride.
You'll also get exclusive discounts and reduced fees to lots of tourist attractions like museums, exhibits, tours, performances, and more!
Depending on how long you're staying, you can choose a card that covers 2 to 6 days in the city. You'll find more detailed information on how to get the Berlin Welcome Card here.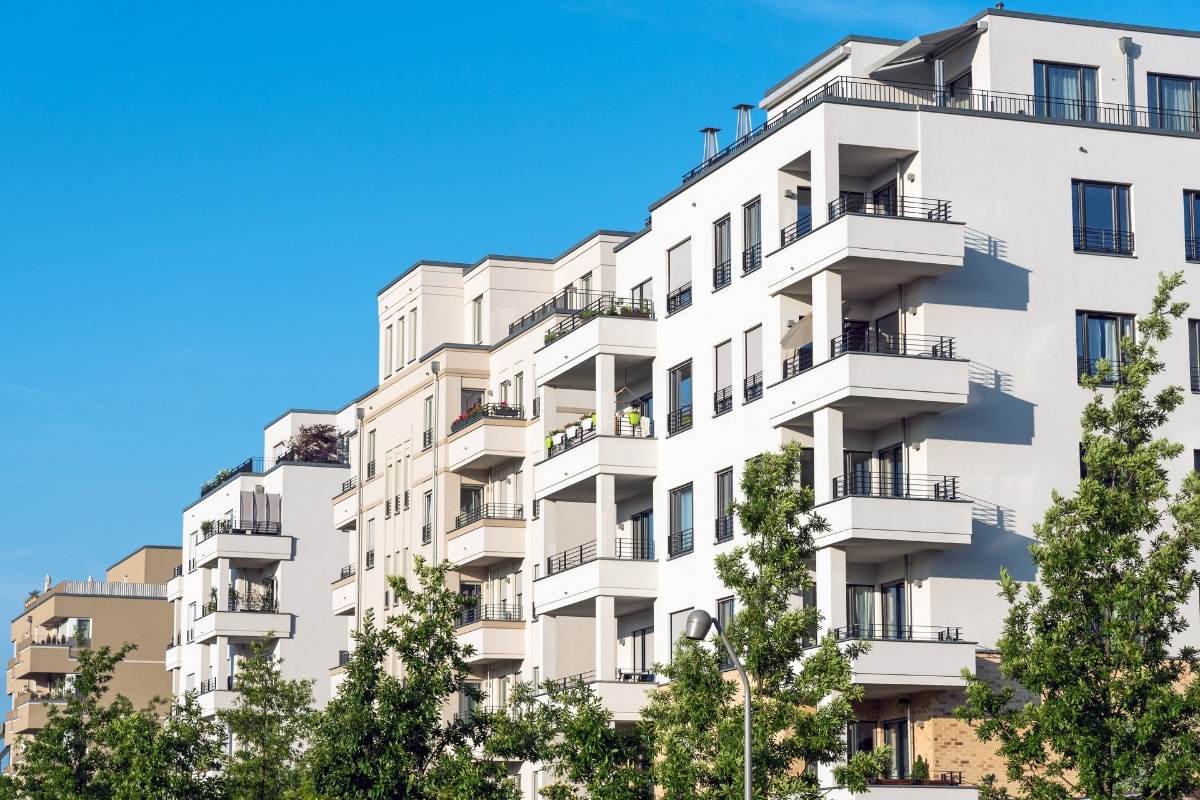 Guided Tours of Berlin
If you don't have much time in the city, then guided tours are an excellent resource. Tour guides know the most time effective routes to see as many of the best places in the city. Consider adding one of these tours to the morning of your first day in Berlin.
Hop On Hop Off Bus. The most popular tour of this kind is the Hop On Hop Off Bus. Book your ticket here to explore the city with live commentary and the freedom of getting on and off at any stop. This is a great tour to do when you first arrive in Berlin so you can get an overview of the city and see a bunch of sights right off the bat. Then you can zero in on what you find most interesting.
Trabi Limo Tour. If you want to travel in style and luxury, then book this tour that drives you around Berlin in a Trabant (affectionately called a Trabi) – the famous old East German car! This unique experience includes a personalized route through the city in a Trabi-XXL stretch limousine, complete with a bottle of sparkling wine or other drinks of your choice!
Drive a Trabi Tour. Another Trabi tour option is this small group Trabi city tour where you not only see the city sites, you can even drive the Trabi!
Segway City Tour. If you want something more lowkey but just as exciting, then book a Segway Tour and experience the streets of Berlin at a different speed.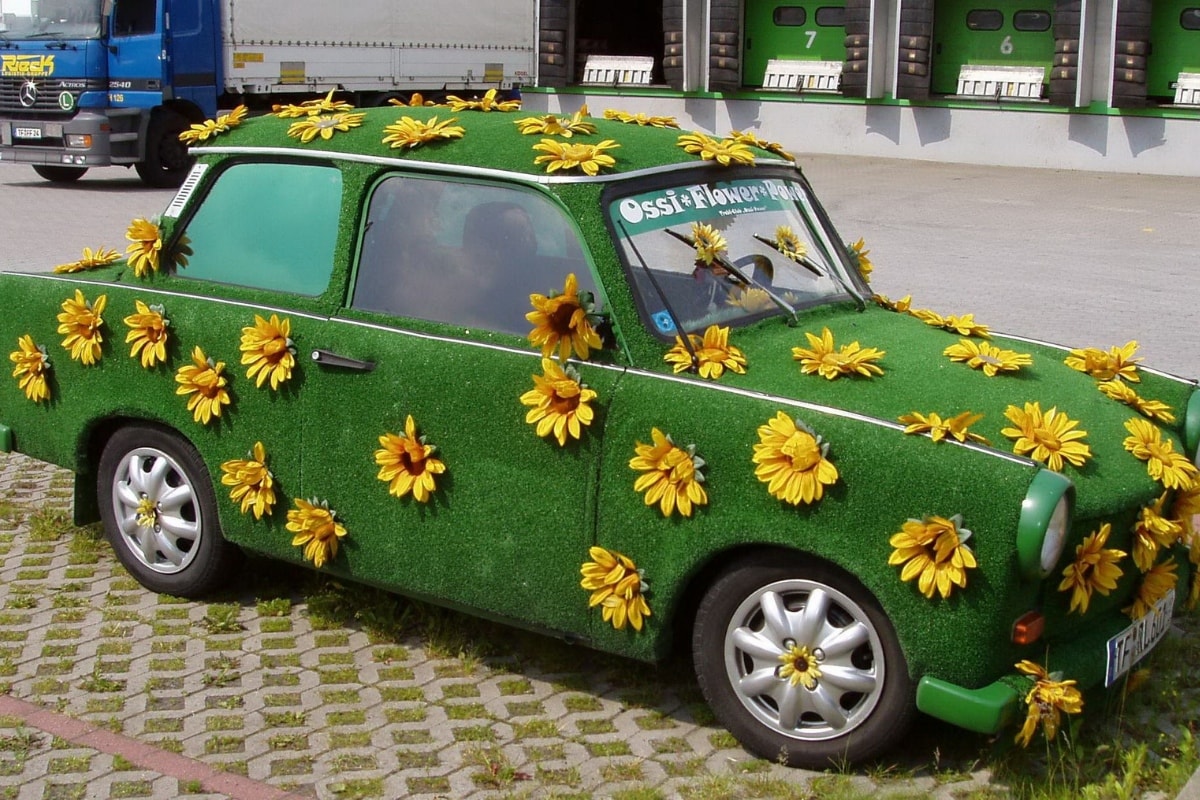 What to Do And See in Berlin in 2 Days
You can see a lot of Berlin in 2 days, especially if you plan ahead, get up early, and make use of the evenings.
If you're following a 2-day itinerary, taking any of the above tours in the morning of your first day would be a great way to make sure you see all of the most famous sites.

Then spend the afternoon and evening and all of your second day doing any of the top things to do from the list below.
Many important sites are right downtown and easy to walk to and see in one day. Other sites are spread out around the city, and a few are outside of the city. I've grouped the sites accordingly, to make your planning easier.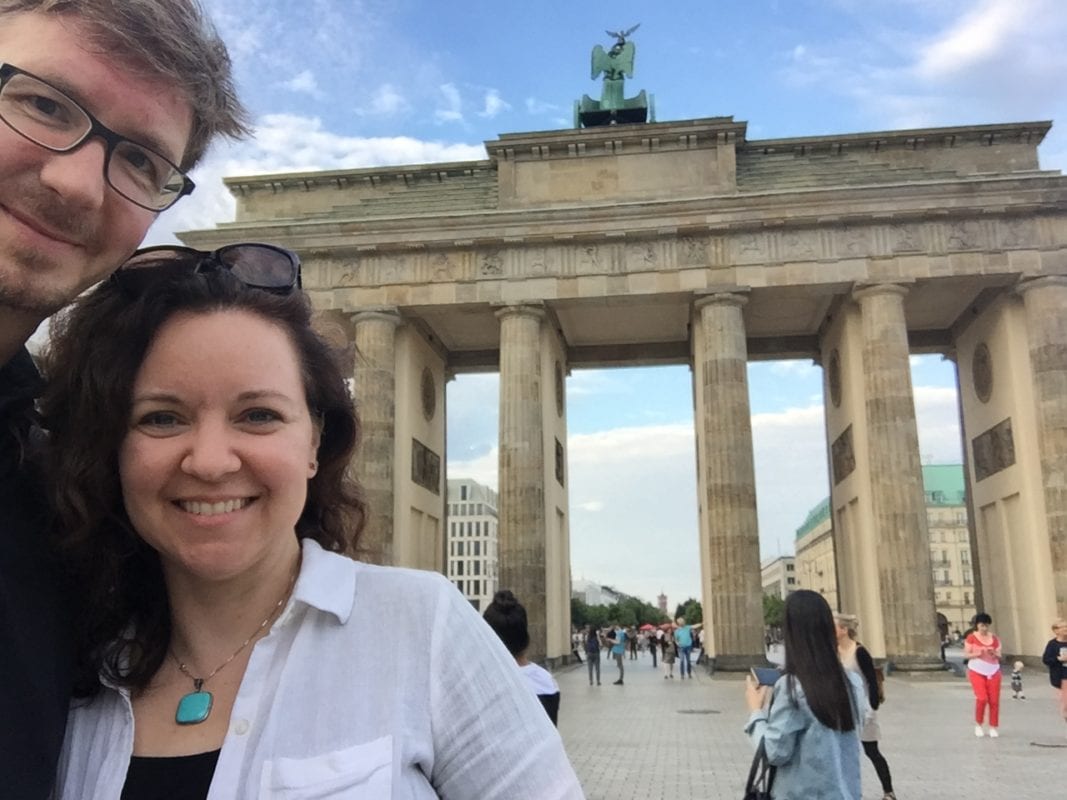 Brandenburg Gate (Brandenburger Tor)
The Brandenburg Gate is one of Berlin's most important landmarks, both historically and symbolically. Over 30 years ago, it was a symbol of the divided city, formerly East Berlin and West Berlin.
Following the reunification of Germany, Brandenburg Gate quickly turned into an emblem of unity. Major historical events have taken place here. Now it is an iconic sight that attracts thousands of people all over the world and typically the first stop for visitors to Berlin.
Fun fact: on our last summer trip to Germany we flew into Berlin Tegel airport (just before it shut down!), picked up our rental car, drove to the Brandenburg Gate, and actually found a parking spot right across the street from where we're standing in the photo above! We only had about 30 minutes to enjoy Berlin because our plane arrived several hours late and were were SO jet lagged but I can't not visit the Brandenburg Gate when I'm in Berlin!
Tip: if you want to take photos when there are few other around, go early in the morning or late at night.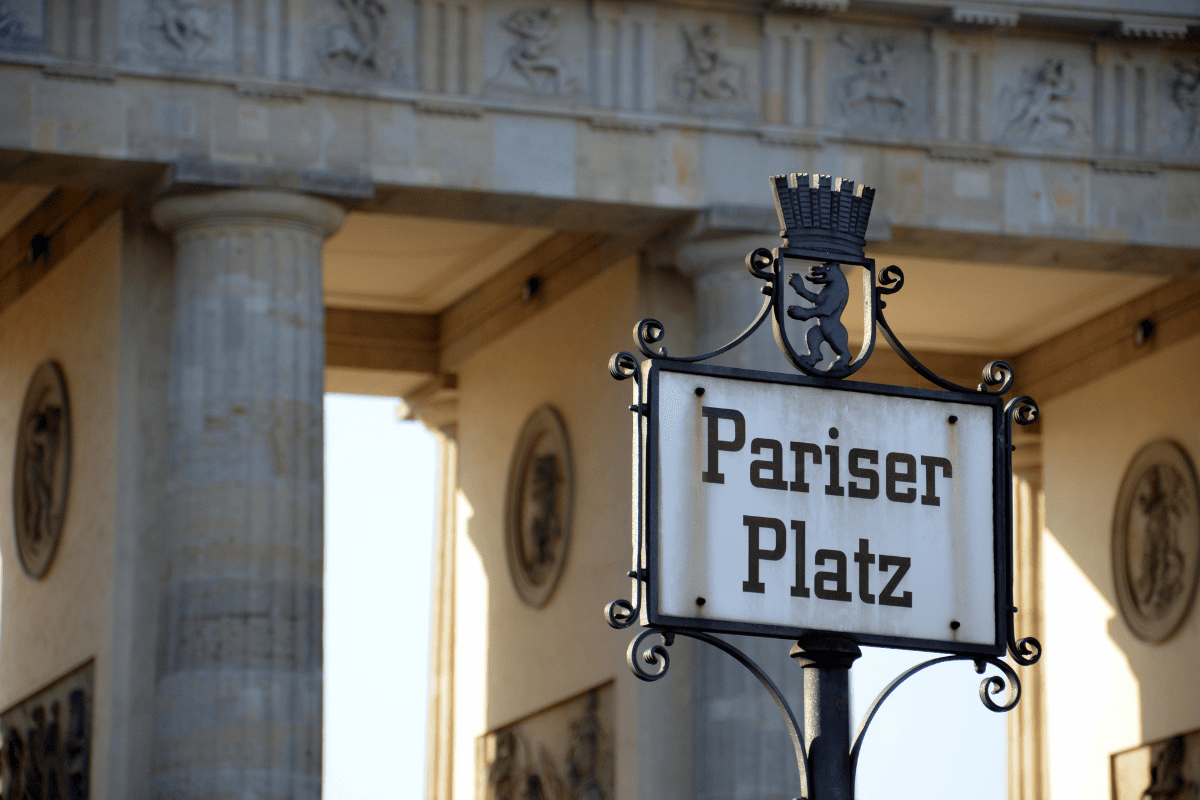 Pariser Platz
Before World War II, this plaza was home to embassies, the Academy of the Arts, and a grand hotel called Hotel Adlon. After the destruction of the war, it was restored to its previous glory. Nowadays, the square is widely visited by tourists looking to capture the perfect photo of the Brandenburg Gate.
Tip: there's a tourist information office on Pariser Platz.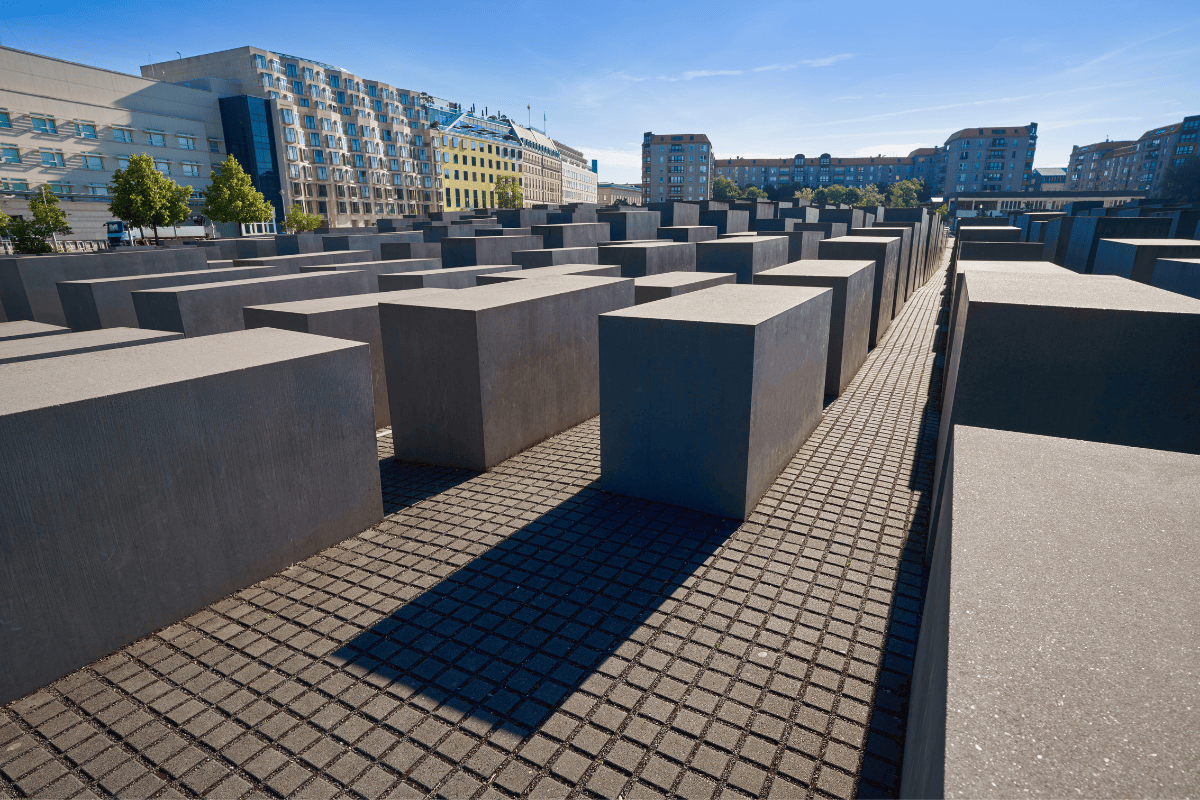 Holocaust Memorial
Also known as the Memorial to the Murdered Jews of Europe, the Holocaust Memorial is located in the heart of Berlin, right near Brandenburg Gate. The monument is made up of 2,711 concrete slabs that create intricate passageways in an open area accessible from all four sides. To learn more, you can also visit the information center and the exhibits filled with letters and diary entries of the victims.
I highly recommend taking a slow solo walk through the exhibit. How do you feel as you walk through different parts of the exhibit? What do you (not) hear? See? Don't rush through this important memorial -let yourself experience it.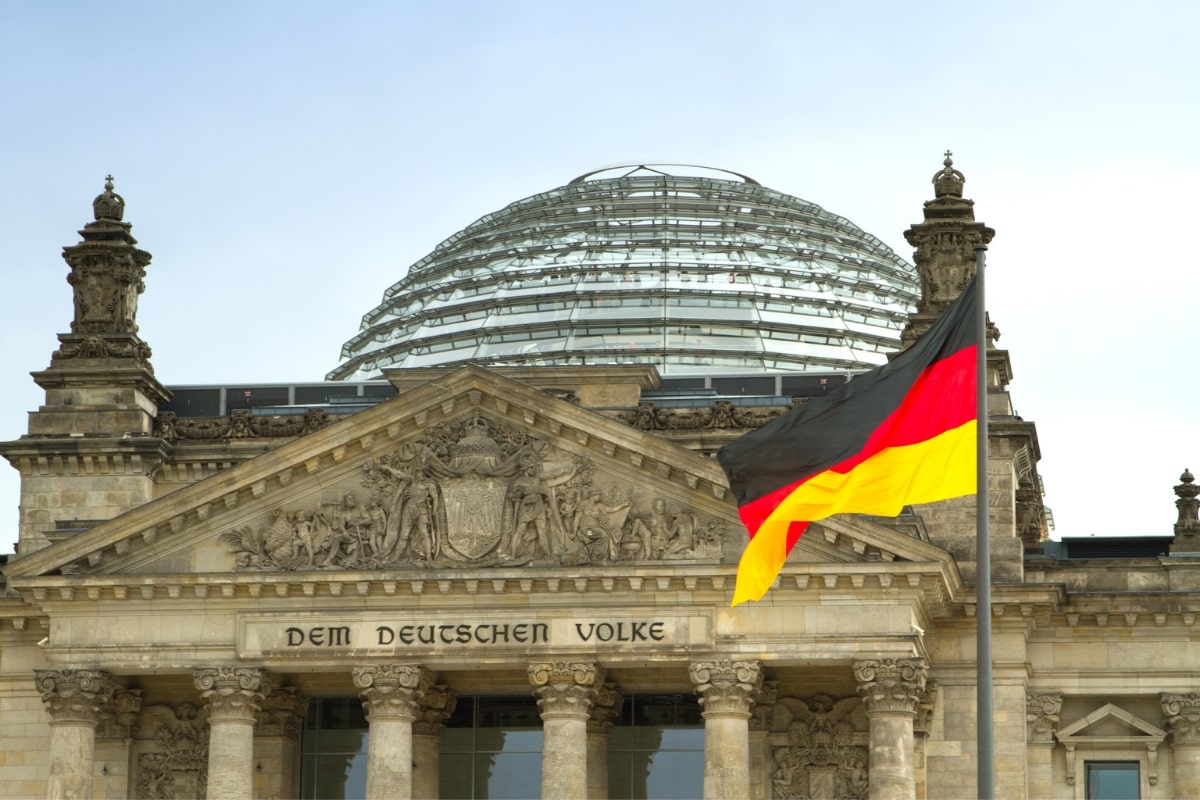 German Parliament Building (Reichstag)
The Reichstag Building has a roof terrace and glass dome (see photos above and below) that's open to the public and provides amazing views of the parliamentary district and meeting rooms inside the building. Visitors can even listen to a plenary session in German. It's worth visiting the Reichstag for both the views inside and outside of the building!
The Reichstag is a short walk from the Brandenburg Gate. The sprawling lawn in front is the perfect place to rest your feet and enjoy the city vibe. To see first-hand how history is made, book an in-depth guided tour here of the government district.
Tip: reserve your entry date and time before your trip. If everything is booked, head to the building across the street from the Reichstag. There you can request tickets for the next day.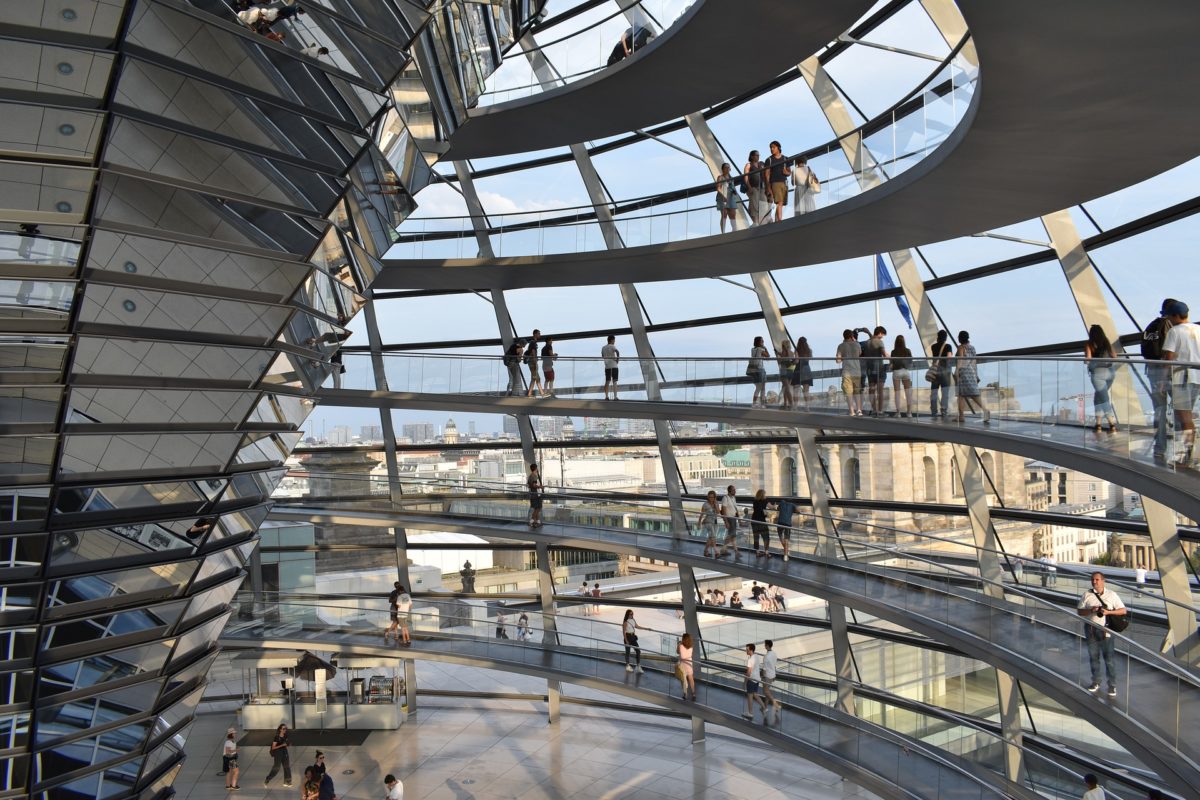 Unter den Linden
Unter den Linden is a major boulevard running through the heart of the city. Close to Brandenburg Gate and Pariser Platz, it's the perfect place to begin your journey because of all the landmarks located close by.
From Brandenburg Gate to the Berlin Cathedral, the Museum Island, and everything in between, Unter den Linden is also home to some of city's most beautiful buildings, many of which were restored after reunification. There are also many restaurants, cafes, and bars.
Tip: this street has become a tourist magnet so there are also the typical souvenir shops, too. So be sure to take some time to explore neighborhoods beyond this area so you can experience more of Berlin.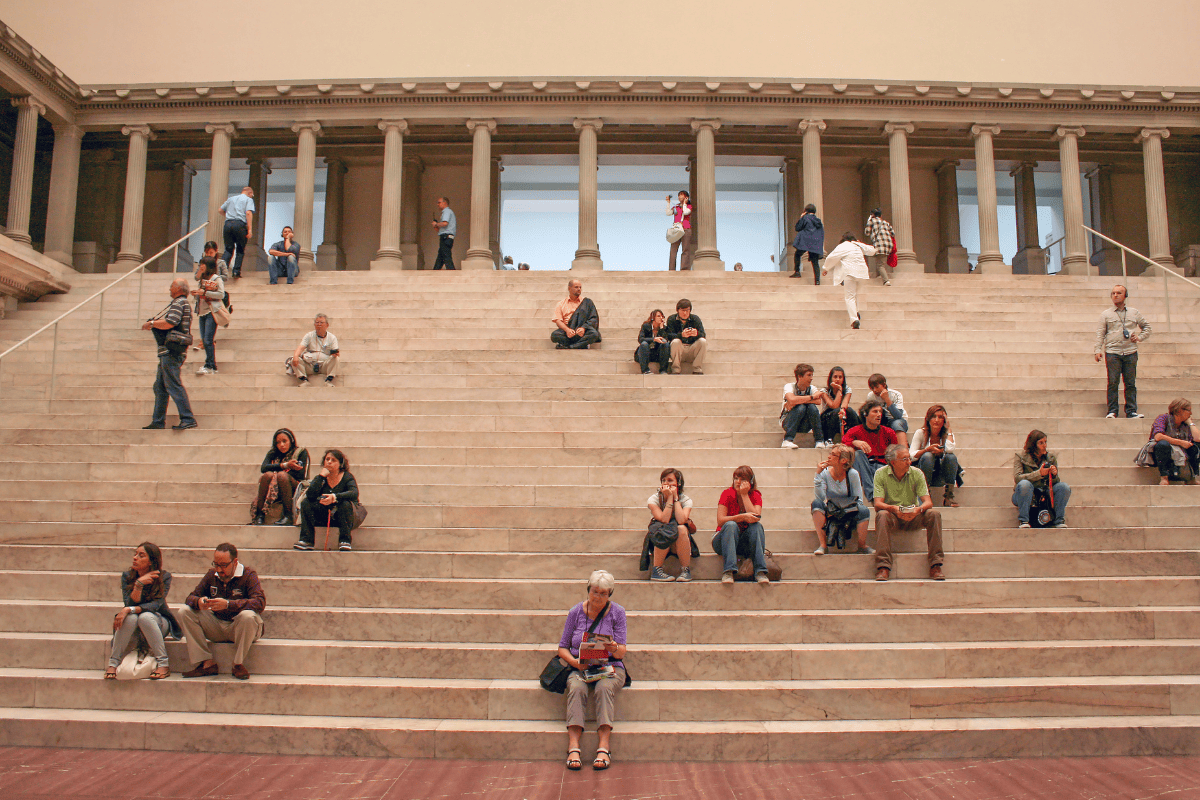 Museum Island
Museum Island is a complex of five museums located along the Spree River near Unter den Linden. It was awarded status as UNESCO world heritage site because its collections showcase thousands of years of artistic achievement.
The Pergamon Museum is home to some of the most significant archeological findings in the world. Discover Ancient Greek and Roman architectural installations, a reconstruction of the Ishtar Gate, and artifacts from Muslim groups from the 8th century. Don't miss out on the most visited museum of the five and buy your entrance ticket here.
The Alte Nationalgalerie showcases artworks of a variety of mediums. In here you can admire art from the 19th to 21st century, realist sculptures, and statues from famous German masters.
Lastly, Neue Nationalgalerie is known for its impressive collection of Egyptian artifacts such as mummies, figures for burial rituals, and the famous Nefertiti Bust from 1351 B.C.
Berlin TV Tower (Fernsehturm)
The Berlin TV Tower is an impressive structure located near the Museum Island. Standing at over 1,200 feet tall, it served as a symbol of technological advancement of East Germany. You can see it from all over the city.
Nowadays, visitors go up to the viewing platform at the top of the tower to enjoy stunning views of the city. You can also enjoy a meal by the window of the tower's restaurant that slowly rotates so you can see all of Berlin while you eat. Reserve your table here!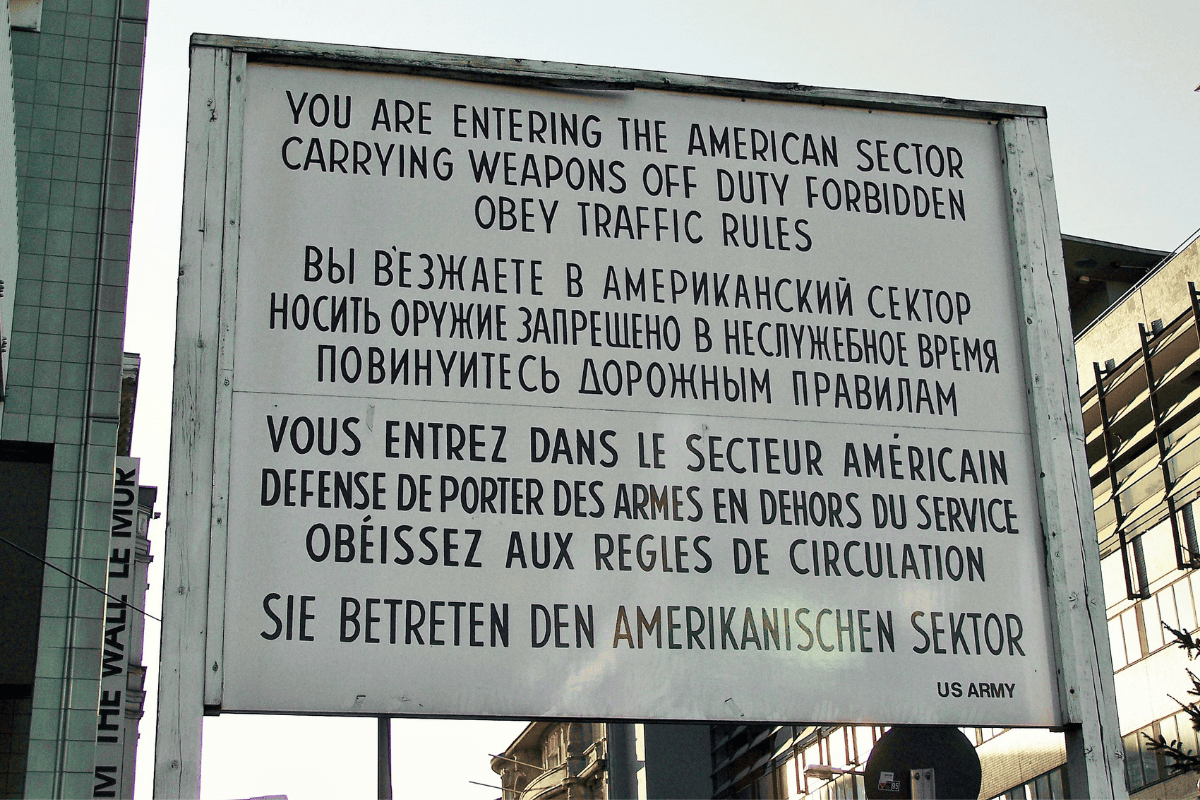 Checkpoint Charlie / Museum
The Checkpoint Charlie Museum commemorates those who tried to flee East Germany. The museum is an interesting place because besides documents or photographs showing how people crossed the border, you can actually see items (such as surf boards or speakers) that people used to hide in in order to escape. Located half way between the Brandenburg Gate and the Museum Island, it's easy to walk to this museum.
While the Checkpoint Charlie area can be seen as cheesy, the museum is interesting, especially if you can't get out to the other Berlin Wall sights around the city.
Panoramapunkt
Want to see all the landmarks of Berlin's skyline from up high? Then book your ticket to Panoramapunkt here. Located in Potsdamer Platz, Panoramapunkt has some of the best views of the city. You'll be up in the 24th floor observation deck in 20 seconds (the fastest elevator in Europe!). While you're here you can also relax in the café or visit the open-air exhibition.
Jewish Museum
The Jewish Museum is an important museum dedicated to German-Jewish history and culture. The contemporary architecture of the building itself is full of meaning. One of the most noteworthy areas is The Memory Void. Here you can see the Holocaust Tower, a small tower plunged in darkness, and Shalekhet (Fallen Leaves), an installation made up of thousands of face-shaped iron masks that represent the murdered Jews of Europe. It's located within walking distance of the Checkpoint Charlie Museum.
DDR Museum
Located opposite the Berlin Cathedral is the DDR Museum, an experimental museum that give you a glimpse into life in East Germany.
Visitors can climb in an old Trabant, try on clothes, and look through replica furniture to get an immersive experience.
To learn about German history in an interactive way, purchase your ticket to the DDR Museum here.
Hackescher Market (Hackescher Markt)
Looking to treat yourself? Hackescher Markt is a vibrant shopping area where you can find trendy up-and-coming Berlin brands and designers and artisanal studios selling traditional handicrafts.
You can also grab a bite at the gourmet restaurants which serve both local and international cuisines. We had pizza here while waiting for our Spree river cruise and enjoyed relaxing for a bit at an outdoor table at an Italian restaurant.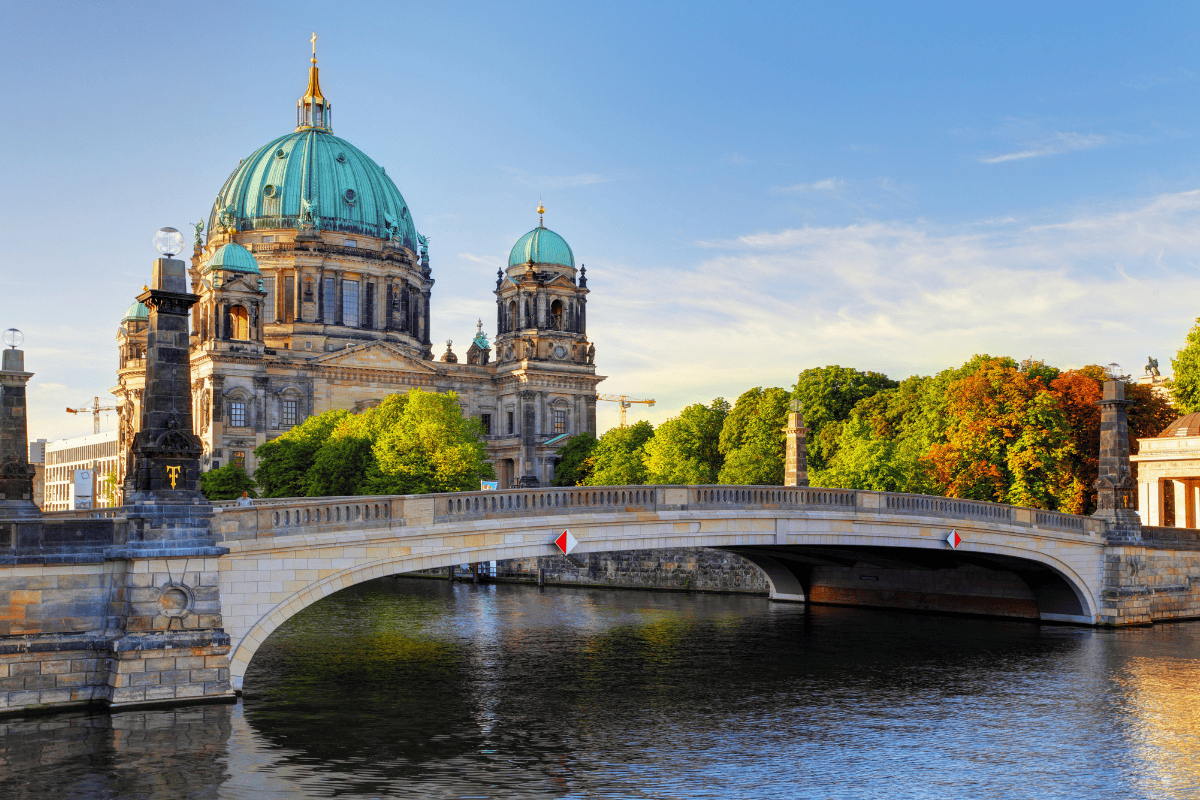 Berlin Cathedral (Berliner Dom)
A 5-minute walk away from Hackescher Markt and near the DDR Museum and the Museum Island, the Berlin Cathedral is hard to miss with its striking green dome. Inside you can admire the Imperial staircase and the Hohenzollern Crypt. Climbing up the dome also gives you a wonderful view of Museum Island and the Spree River.
Potsdamer Platz
Potsdamer Platz is a must-visit for shopping, dining, and entertainment. A short walk away from Brandenburg Gate and Tiergarten park, this plaza is one of Berlin's most modern areas. Some noteworthy buildings include the mall Potsdamer Platz Arkaden and the Sony Center, a bright glass dome filled with restaurants and terraces.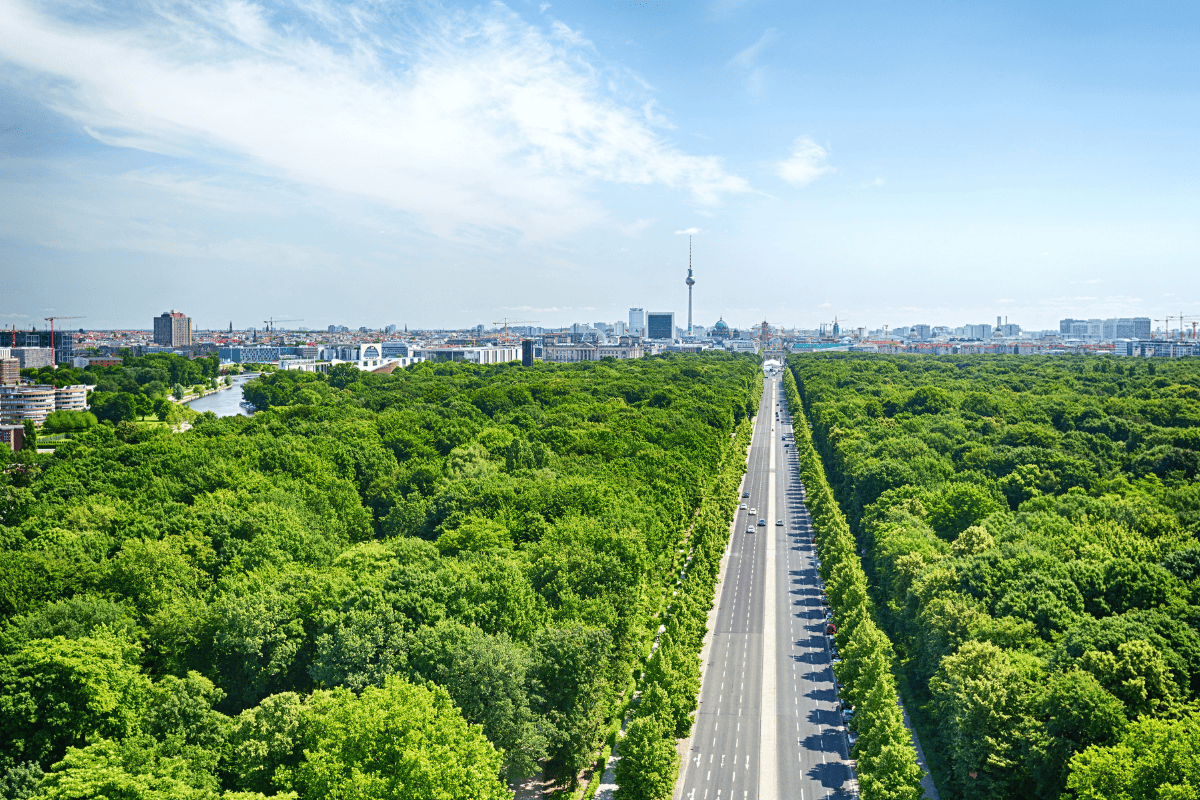 Tiergarten Park
Tiergarten Park brings locals and tourists together. Located close to the city center and across from the Brandenburg Gate, it's a great location to take a break from sightseeing and relax under the trees.
On Sundays, you can join locals grilling or simply relaxing in the outdoors. It's a huge park, so you can visit from several locations around the city (such as the zoo on the other side of the park from the Brandenburg Gate).
Berlin Zoo
The oldest Zoo in Germany, Berlin Zoo is known for being home to a large variety of species. This is a great spot for kids to spend hours admiring the Aquarium Berlin, running around the playgrounds, or playing in the petting zoo. It's right in Tiergarten park so you can see both at the same time.
We visited the zoo after walking the length of Tiergarten park and enjoyed spending a couple hours there. The cute pandas and entertaining primates kept us from thinking about our sore feet!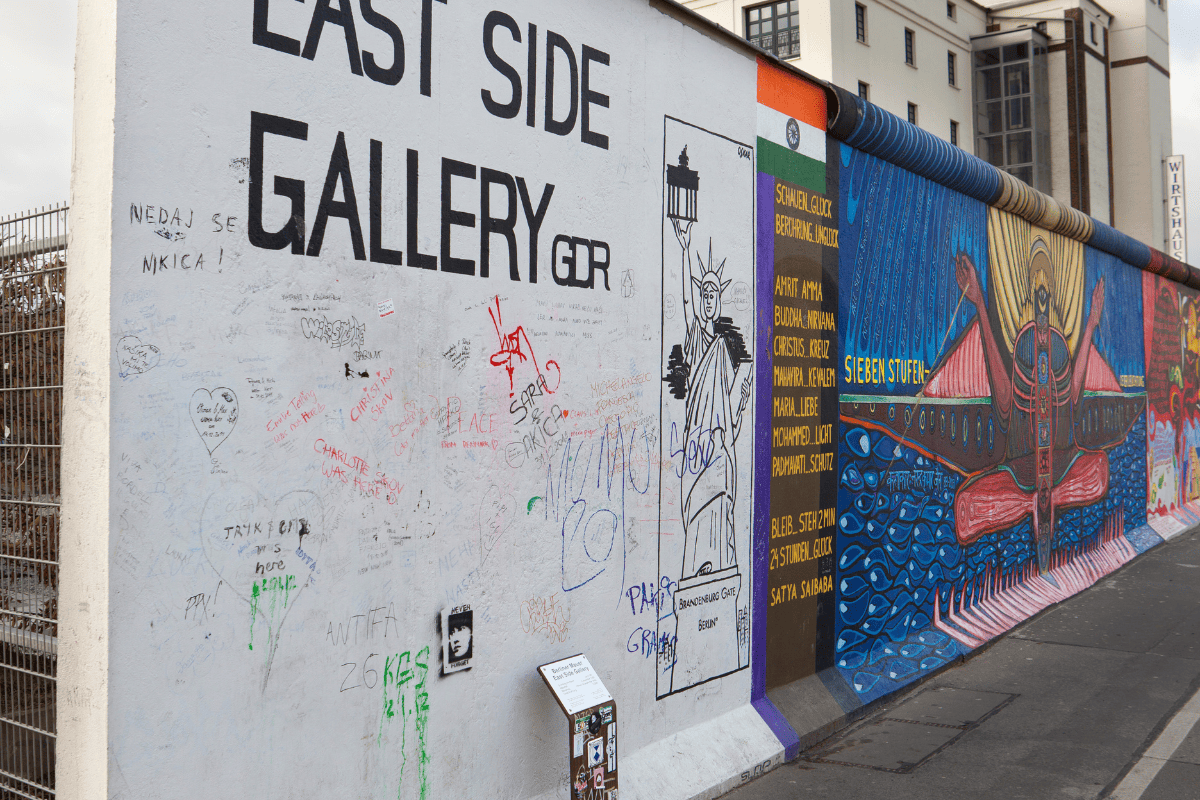 Berlin Wall & East Side Gallery
The East Side Gallery is undoubtedly one of the most popular sites in Berlin. Formerly a section of the Berlin Wall, it's now the longest open-air gallery in the world. It's made up of over a hundred original mural paintings that represent freedom and capture the historical changes brought by the fall of the wall.

The East Side Gallery is outside of the city center so you'll want to take public transportation and then walk the length of the wall. Definitely a must-see in Berlin!
Prenzlauer Berg
Prenzlauer Berg is one of Berlin's most popular neighborhoods, known for undergoing rapid changes over the years. Before it was associated with 80s counterculture, but now it has transformed into a trendy area with cafés, high-end shops, and restaurants that attracts tourists and urban families.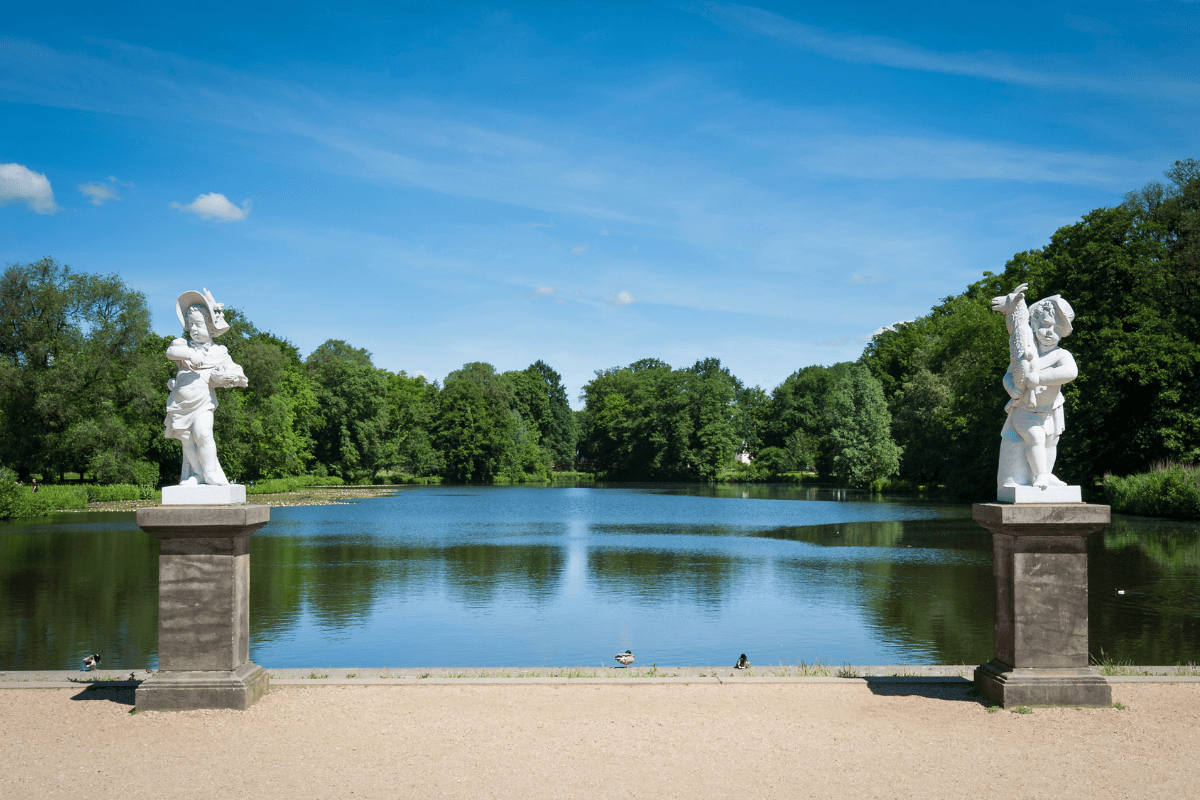 Charlottenburg Palace
Charlottenburg Palace is the largest palace in Berlin. This 17th century baroque palace served as a royal residence, seen by the ornate interiors and fine art. It's a great place to escape the bustling streets of the city and spend time outdoors strolling through the gardens. If you don't want to go in for a tour, take the bus to the palace and enjoy a walk around the grounds and surrounding neighborhood.
Open-Air Gallery
The Open-Air Gallery is an event that takes place in Oberbaumbrücke, turning the bridge into an art festival. Professionals and new artists get the chance to feature their work, whether it be visual art or sculptures. What makes this event unique is that it encourages visitors to contribute and make their own art too.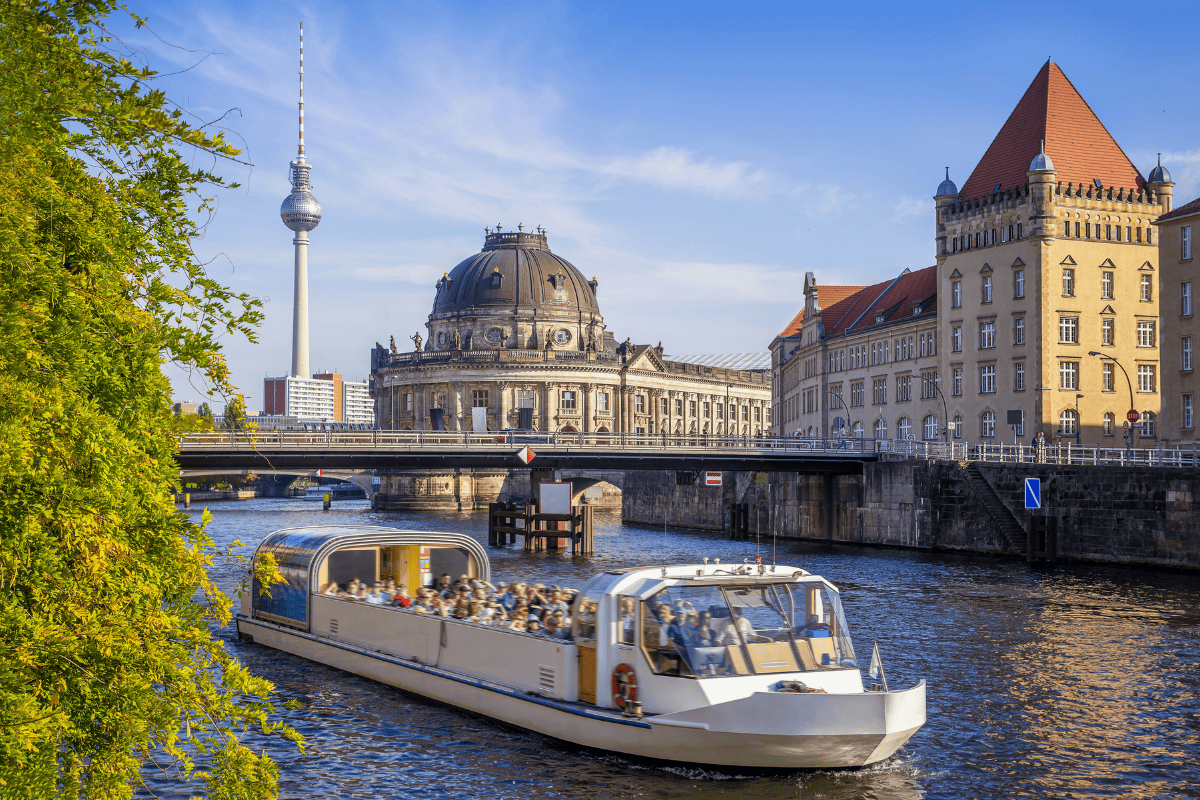 Spree River Boat Cruise
The Spree River has already been mentioned a couple of times and rightly so as it is runs alongside some of Berlin's most popular sites including Museum Island, the Berlin Cathedral, and the government district.
Did you know you can actually take a boat cruise on the Spree? We did this and had so much fun seeing downtown Berlin from a different perspective (it was also a great way to rest our feet a bit). We were able to order coffee (and beer and other drinks) on our boat, which was also nice. Highly recommended!
You can book a 1-hour tour with guaranteed seating here, or a longer 2.5 hour tour here, take an evening cruise, or even a 3.5-hour relaxing boat cruise tour from Berlin to Müggelsee to the city from a different perspective.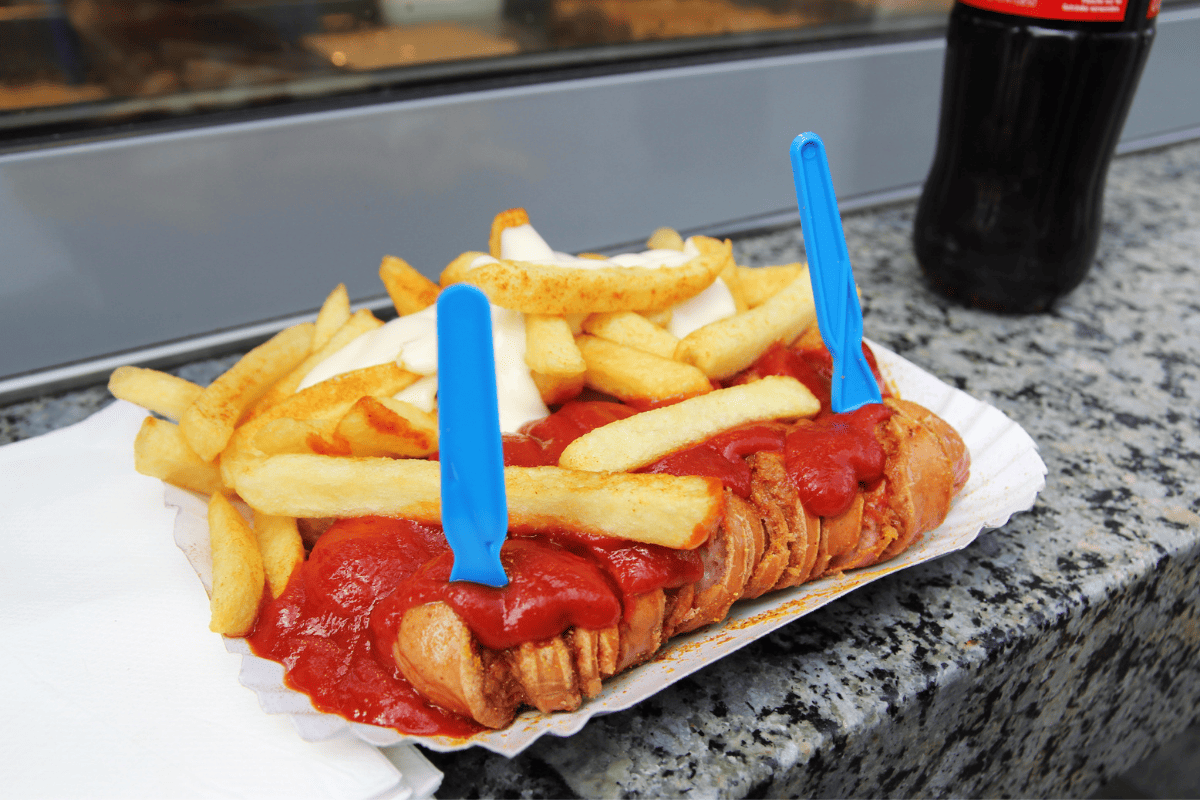 Enjoy Berlin Street Food
Hungry and tired in between all the sightseeing? Then what better way to reenergize than by trying out Berlin's delicious street food! No matter where you are in the city, you'll find perfect for on-the-go, street food in the many food carts, takeaway shops, and market halls scattered throughout the city.
You finally have the chance to the most authentic versions of popular German food like Bratwurst, Döner Kebab, Currywurst, and Bretzeln (pretzels)! But it's also a great opportunity to explore other lesser known but equally tasty delicacies like Leberkäse and Fischbrötchen. Or a burger – they've gotten popular in Berlin!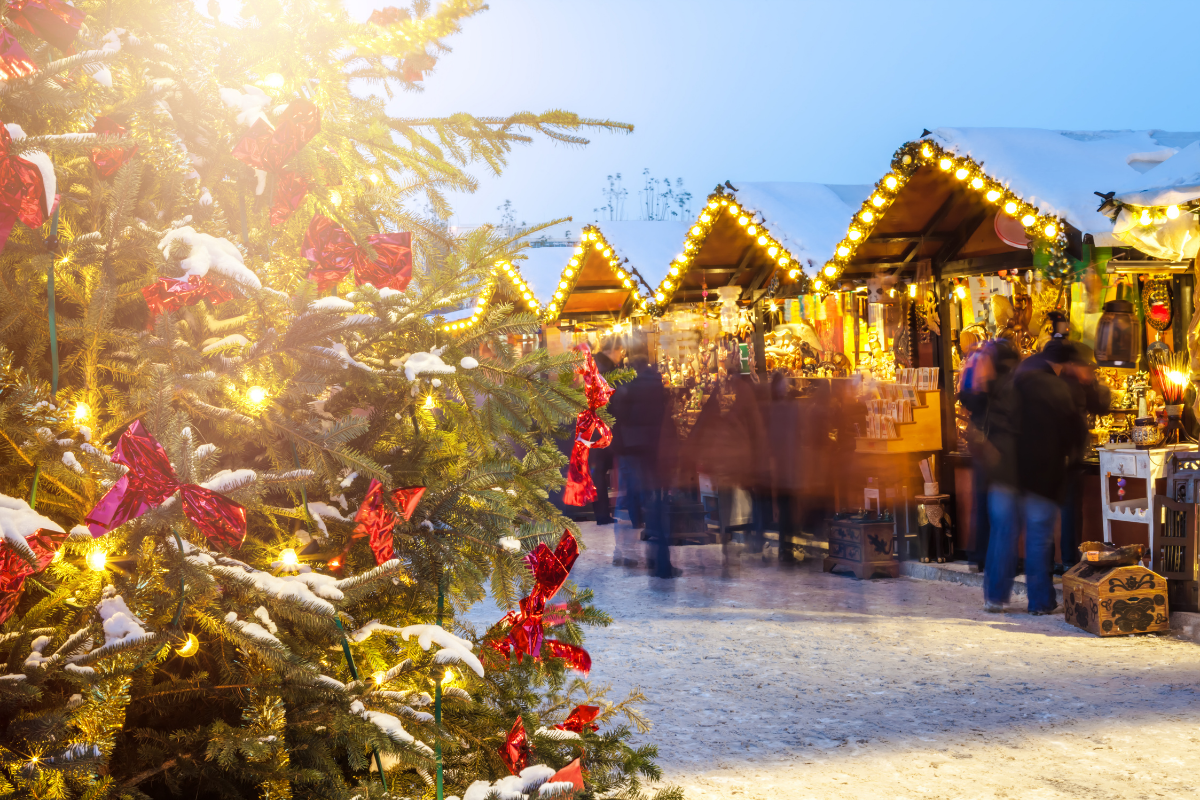 Christmas Market(s) in Berlin
If you're visiting during the holiday season, then you're in for a treat with Berlin's Christmas markets. Gift shopping in artisan stalls, walking under festive lights, drinking mulled wine – these are some things you can do in the Christmas markets.
The most famous Christmas market is Gendarmenmarkt. There are performances until New Year's Eve, which ends with a big party and fireworks show. Others worth looking into are: Christmas Winter Village on Alexanderplatz, Christmas Garden Berlin, and the Christmas Market at Charlottenburg Palace. There are tons more each of varying sizes and with different themes – there's really a Christmas market for everyone!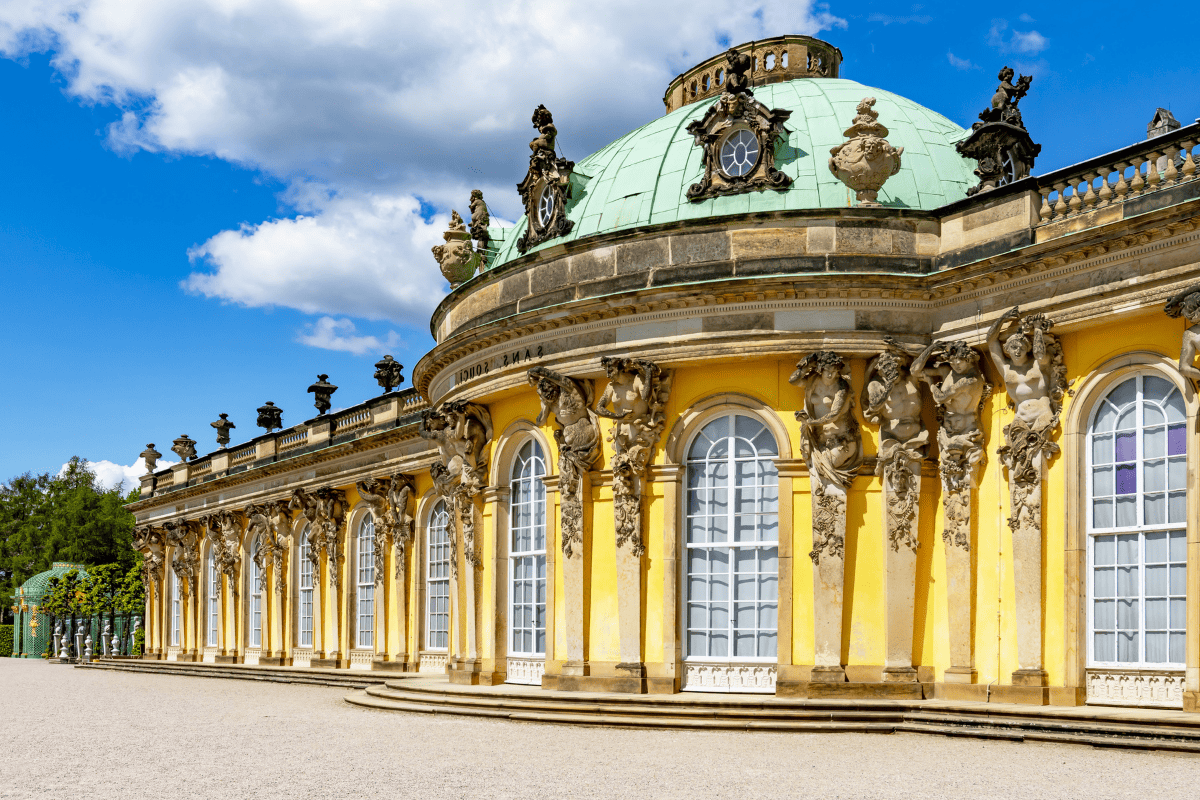 Sanssouci Palace
Sanssouci Palace is one of the highlights of Potsdam, a city just outside of Berlin. The preserved 18th century interior transport you to the days when the palace was used as a royal summer residence. The vineyard terraces and classical statues in the park are a must-see.
If you're looking to venture out of the city, Potsdam is a 40-minute S-bahn ride away from Berlin. Potsdam has a Baroque-style old town that is home to charming landscapes and castles like Sanssouci Palace, Cecilienhof Castle, and the New Palace. Explore Potsdam and Sansouci without worrying about any of the planning by booking a guided bus tour from Berlin to Potsdam here.
If You Have 3+ Days in Berlin
If you find yourself with more than 2 days in Berlin, you can see more of the sites listed above, add on a trip to Potsdam, or take a day trip. Unique guided tours are also good way to take in more of the city. Here are a few ideas:
Hidden Gems. Have you already visited most of the city's famous spots and want to discover some hidden gems? Then go on this walking tour through Berlin's hidden backyards in Scheunenviertel, a lively neighborhood that used to be a center of Jewish culture.
Food Tour. If you're a food-loving traveler, book this 3-hour Kreuzberg food tour so you can sample delicious local and international food in this vibrant and popular neighborhood.
Art Scene. If you're looking for something more artsy besides visiting museums, explore the district of Charlottenburg, a cultural hotspot that's home to art galleries and trendy bars. Discover Berlin's art scene by booking guided art galleries tour.
Experience History. If you're interested in another educational excursion outside the city, book this half-day tour to Sachsenhausen Memorial Center. Located 25 minutes away from Berlin in Oranienburg, the former concentration camp tells the dark history of Jewish prisoners imprisoned during the Nazi regime.