Best Day Trips from Hamburg in 2024
This post may contain affiliate links. Read my disclaimer policy.
If you're visiting Hamburg be sure to save a day or two for day trips! Whether you travel by bus, train or rental car, there are several easy trips you can make to see more of beautiful northern Germany. Here are 4 of the best and easiest day trips from Hamburg!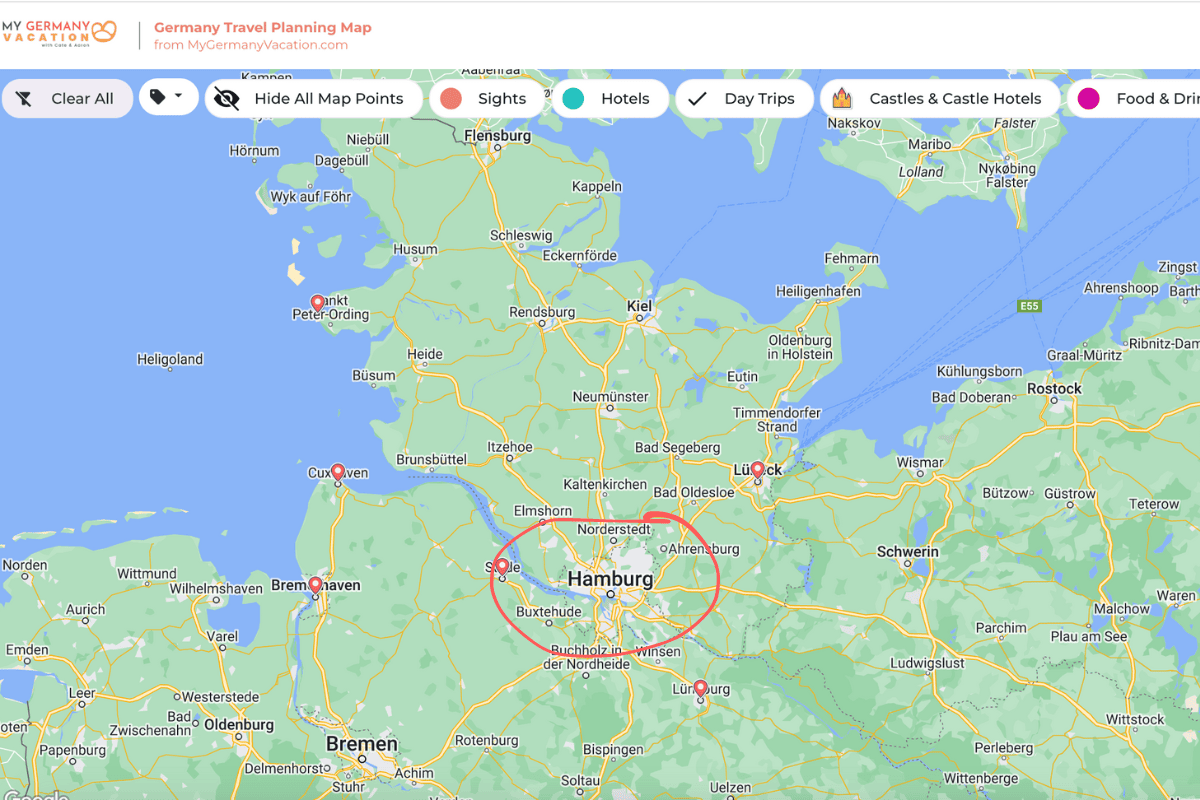 1. Lübeck (to the north)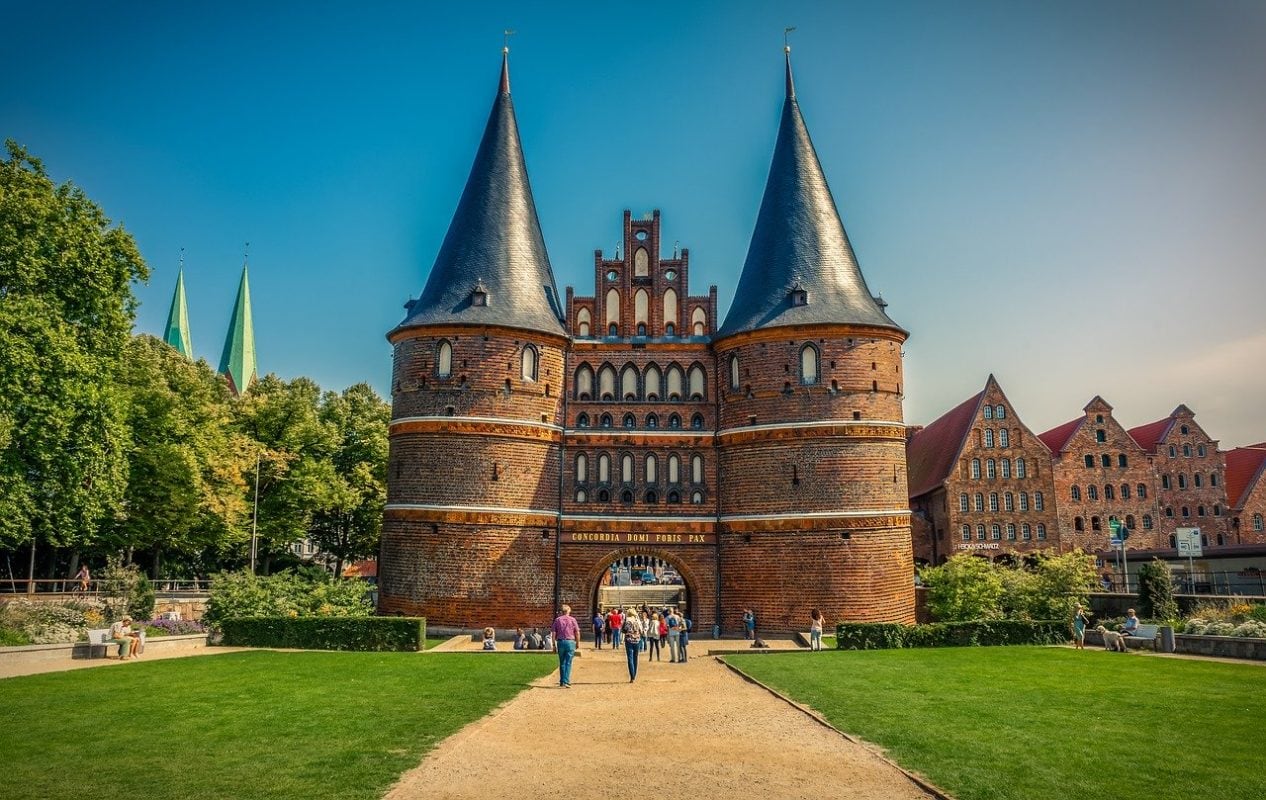 Known as both the "marzipan city" and the City of Seven Spires for its many Gothic churches, the city of Lübeck has remained a hub for maritime trade over the centuries.
Despite the damage that the Old Town section of Lübeck sustained during World War II, the basic footprint of Old Town Lübeck, with its 15th and 16th century churches, salt storehouses, and public monuments remains unchanged.
Distance from Hamburg to Lübeck:
45 miles/ 72 kilometers
Hamburg to Lübeck by train takes about an hour. A regional train ticket costs about 28€ for one person and 33-45€ for a group of 2-5 with a Schleswig Holstein regional day ticket.
By car it will take about an hour (depending on traffic). You can easily combine a trip to Lübeck with a visit to Schwerin. See the Schwerin info below.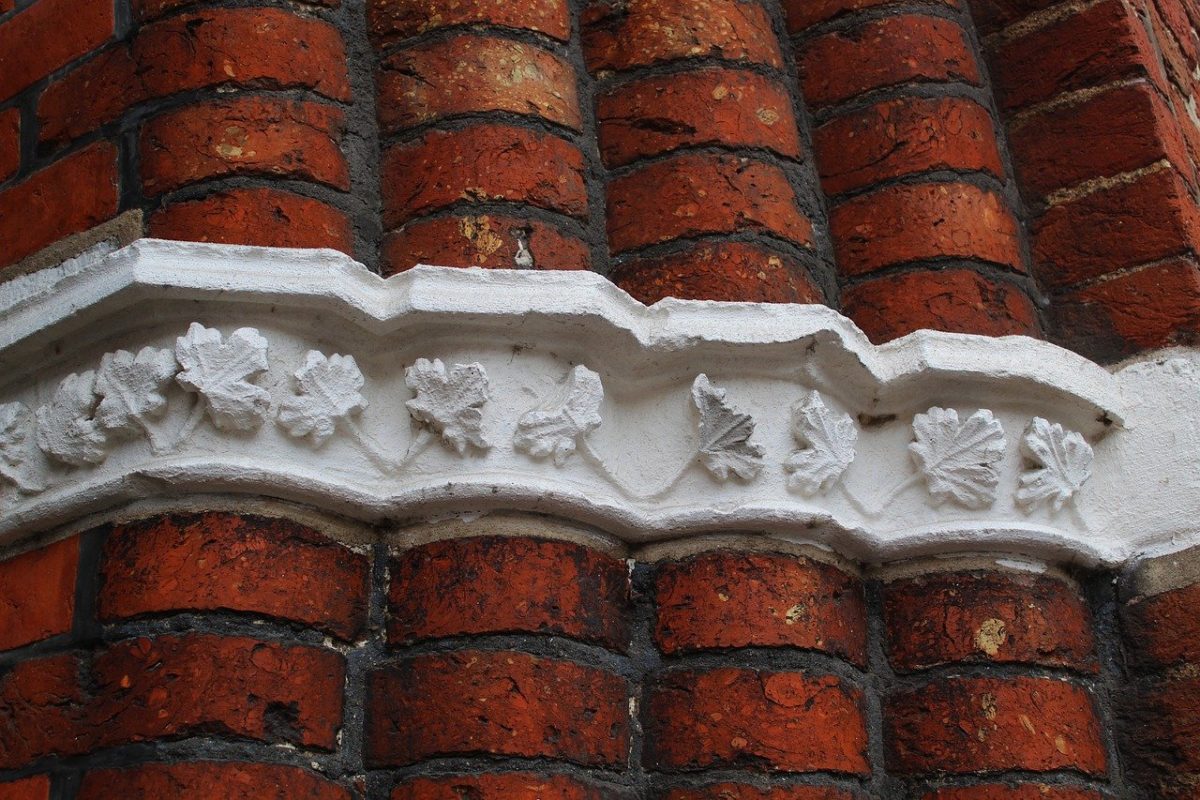 What to See in Lübeck:
The Altstadt
While there is no shortage of attractions to visit in Lübeck. Some of the best sights can be found by chance, just by strolling the alleys and streets.
The courtyards are mostly found in the well-preserved Kober area in the north along Engeslwisch, Glockengießerstraße and Engelsgrube, and in the south around the cathedral.
Holsten Gate
Created in the 15th century, this gate straddles the Trave River and is a symbol of the city. Take a walk up one of its spiral staircase to get a view of the city and ships below.
Museum Opening Hours: Jan – March: Tues – Sun 11 am – 5 pm /
April – Dec: Mon – Sun 10 am – 6 pm
Tip: Lübeck's tourism website mentions that the best time to photograph the gate is in the afternoon.
Church of St. Mary's
The Church of St. Mary's is Germany's third largest church and sits on the highest part of the old town in Lübeck. It is a model for countless other brick Gothic churches in the country.
Inside, two bells lie broken on the ground. Remaining where they fell after an Allied attack during World War II.
Don't miss the Danse Macabre stain glass window that pays tribute to a medieval mural that was destroyed during WWII.
Opening Times:
Oct 4th – Jan 10th: Daily 10am – 5pm
Jan 11th – March 31st: Daily 10am – 4pm
April 1st – Oct 3rd: Daily 10am – 6pm
Admissions:
Adults – 2€
Visitors on a guided tour of ten plus – 1.50€
Guided tours:
May 2nd to Oct 31st: weekdays at 12.15 pm
May 2nd to Sept 30th: additionally at 3 pm weekdays
Nov 26th to Dec 23rd: weekdays at 12.15 pm
Duration approx. 1 hour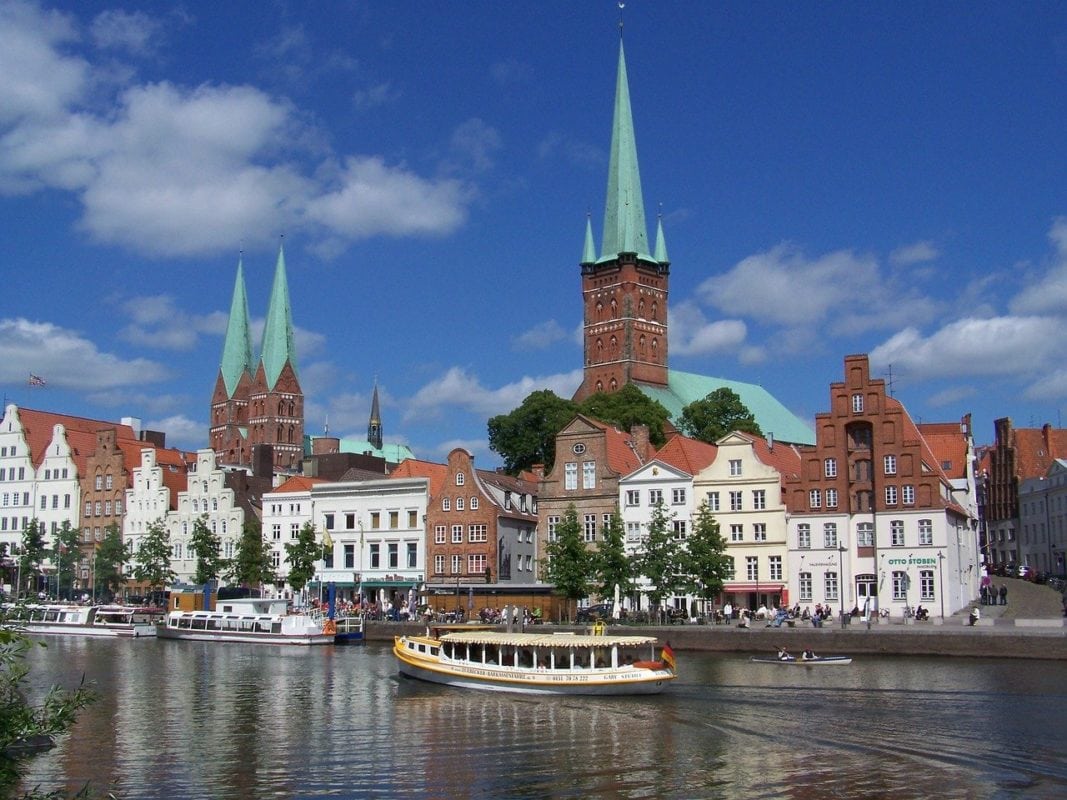 Hospital of the Holy Spirit
Located at Koberg square in the Jakobi Quarter, the Hospital of the Holy Spirit is one of the oldest social institutions in the world. It was founded in 1286 and continued in operation until the 1960s. At Christmastime, the hospital welcomes an international arts & crafts market.
Opening Times:
April – Sept.: 10 am – 5 pm / Oct – March: 10 am – 4 pm (closed Mondays)
St Peter's Church
Go to St Peter's for an excellent view of Lübeck from its 50 m. high viewing platform. St Peter's was initially built between 1227 and 1250 and then expanded in the 15th and 16th centuries. Nowadays, the church is no longer used for religious services and is now a center for events and exhibitions. A large arts and crafts market occurs in St Peter's during Christmastime.
Opening Times: Church
Monday-Sunday – 11am – 4pm (longer opening times during exhibitions)
during the arts and crafts market 10am – 7pm
Opening Times: Lookout Platform
Oct-March: Daily 10am – 7pm
April to Sept: Daily 9am – 8pm
An der Obertrave
Take a stroll along this promenade, which follows the Trave River along the southwest curve of Old Town Lübeck. Along the An der Obertrave, you will see homes decorated in Medieval and Renaissance architecture.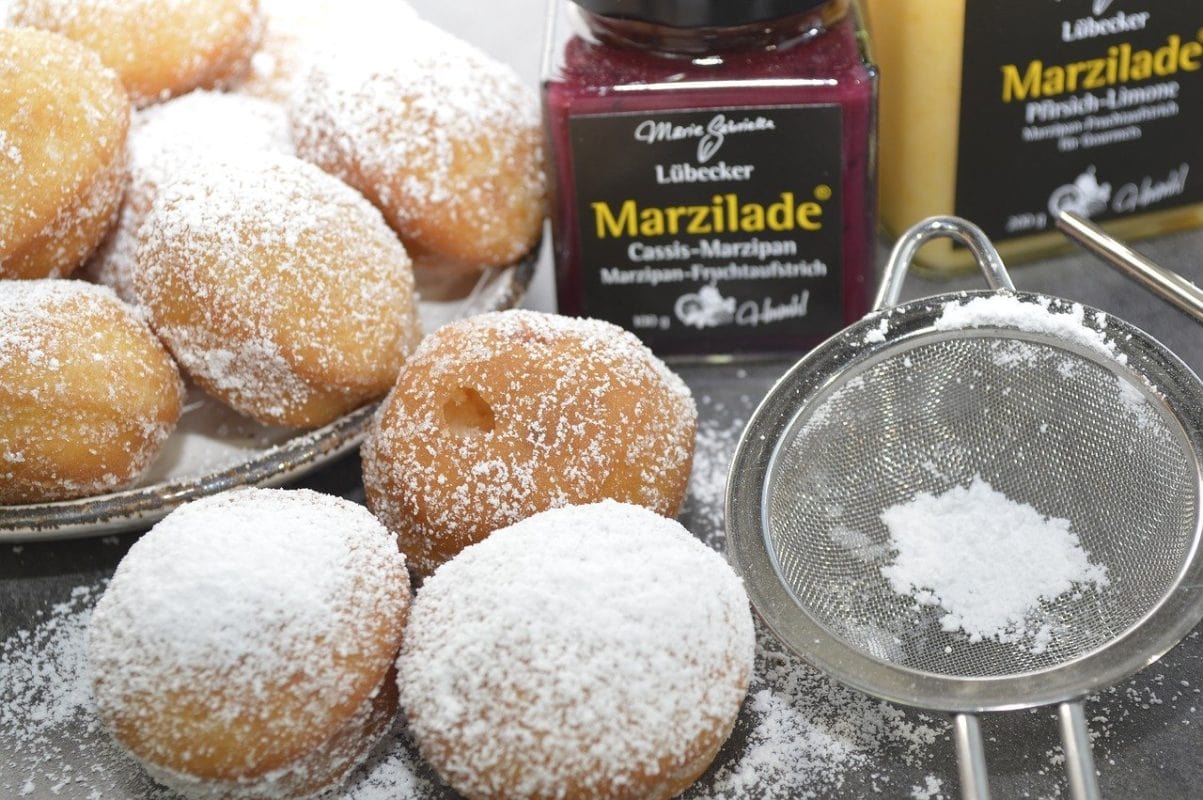 Where to Eat!
Lübeck is famed for its marzipan! Stop by Café Niederegger (breitestrasse 89) across from the Rathaus. This is the flagship store of this famed producer of marzipan.
Opening Hours:
Monday to Friday: 9am – 7pm
Saturday: 9am – 6pm
Sunday: 10am – 6pm
This location is a shop, café, and has a museum. There are two other locations in Lübeck. One is a marzipan factory and the other is a shop.
You'll find marzipan everywhere, e.g., marzipan covered in chocolate, marzipan shaped like fruit, marzipan covered cake, and even Marzilade – a marzipan fruit jam!
Lübeck Tours & Tickets
2. Schwerin Castle & City (to the east)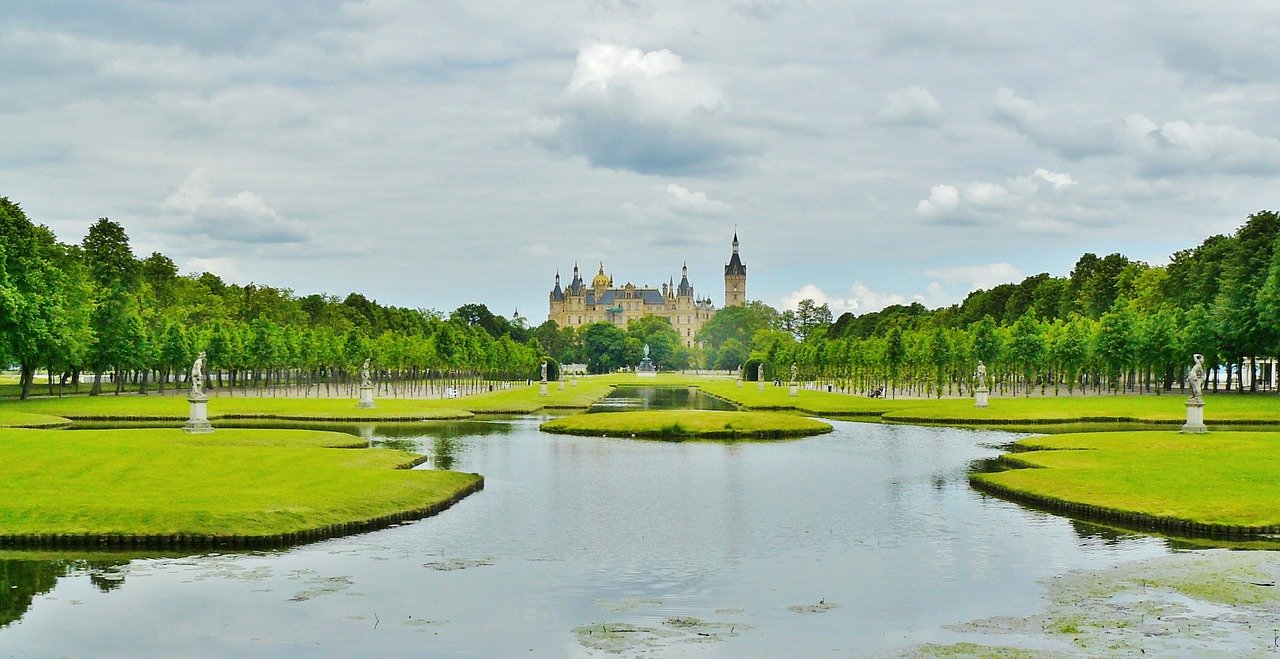 Walking through the gardens and rooms of Schwerin Castle, it would be an understandable mistake to think you'd become lost in a fairy tale! The oldest parts of the castle date back to the 16th century. Make sure to take some extra time to explore the lakes and gardens nearby!
Fun Fact: Schwerin is sometimes called "Neuschwanstein of Northern Germany" relating it to the neomedieval castle in the Bavarian mountains, that became world famous. Both castles share the style of Historism. They were built to remind and imitate ancient and medieval castles. Neuschwanstein was constructed about 20 years after Schwerin Castle.
Distance from Hamburg to Schwerin:
68 miles / 111 km
By regional train it takes between 50 minutes and 1 hr 25 min to travel from Hamburg to Schwerin, depending on the type of train you take (ICE vs regional train). You can purchase individual tickets (which you will need to do if you travel via ICE train) or a day card, which is only valid on regional trains. It looks like you can use the Mecklenburg-Vorpommern-Ticket to travel from Hamburg to Schwerin, even though Hamburg is in the state of Schleswig-Holstein. The cost for that ticket is between 23€-39€ for 1-5 people. You could also purchase the Quer-durchs-Land-Ticket (Germany Day Ticket) for 44-76€ for 1-5 people. You can easily purchase your ticket once in Germany, and even on the day of travel at the train station. That way you can confirm which ticket is the best option before getting on the train.
You can also drive from Hamburg to Schwerin in about 1 1/2 hours. You could also combine your trip to Schwerin with a trip to Lübeck! Drive to Schwerin (1 1/2 hours) then drive to Lübeck (1 hour) and then back to Hamburg (1 hour).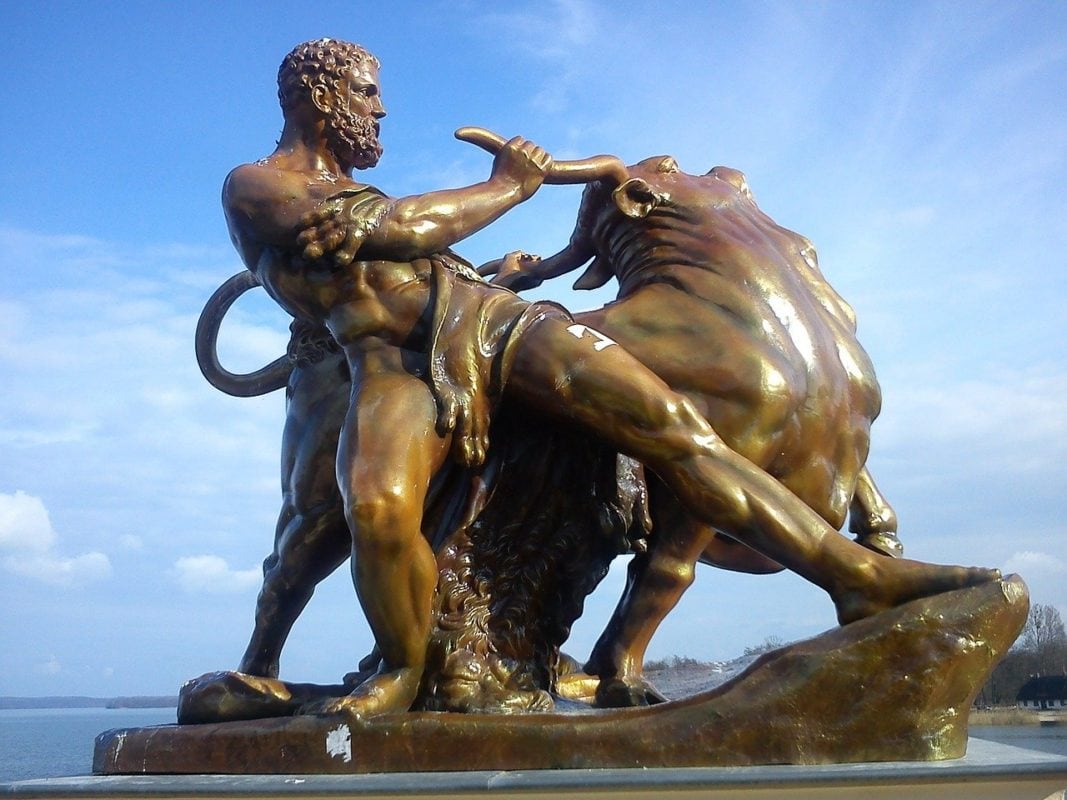 Castle Hours & Ticket Information:
Tickets for sale at the museum office:
April 14th – Oct 13th — Tuesday – Sunday 10am -6pm
Oct 14th – April 13th— Tuesday – Sunday 10am – 5pm,
**Closed on Mondays**
8,50€ including photography permission
6,50€ for students, pupils and groups from 10 persons
Guided tours cost €60,00 per person (up to 25 people)
**For guided tours, it is recommended to contact the museum in advance so that a tour in the visitor's language can be arranged**
Dining Options at the Castle
Schloss café (November – March) – Tue – Sunday von 10:00 to 17:00
Orangerie café (April – October) – Tue – Sunday von 11:00 to 18:00
**Credit cards accepted*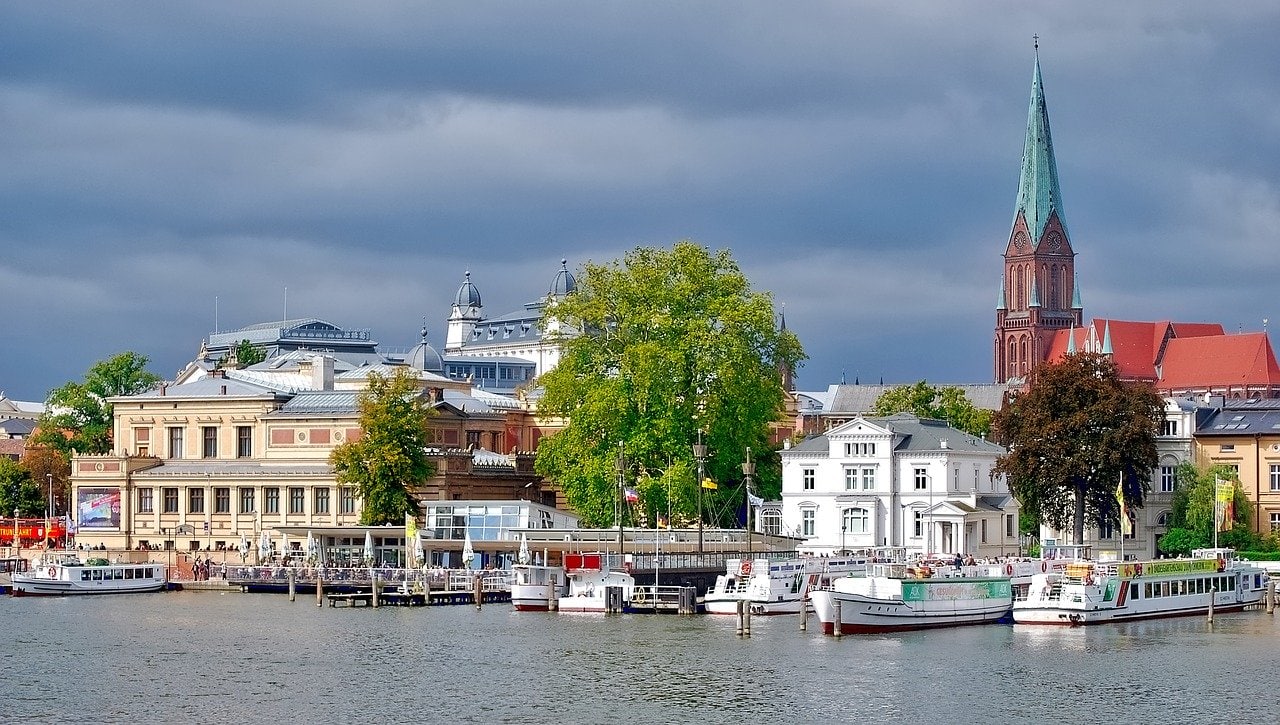 Schwerin Tours & Tickets
3. Stade (to the southwest)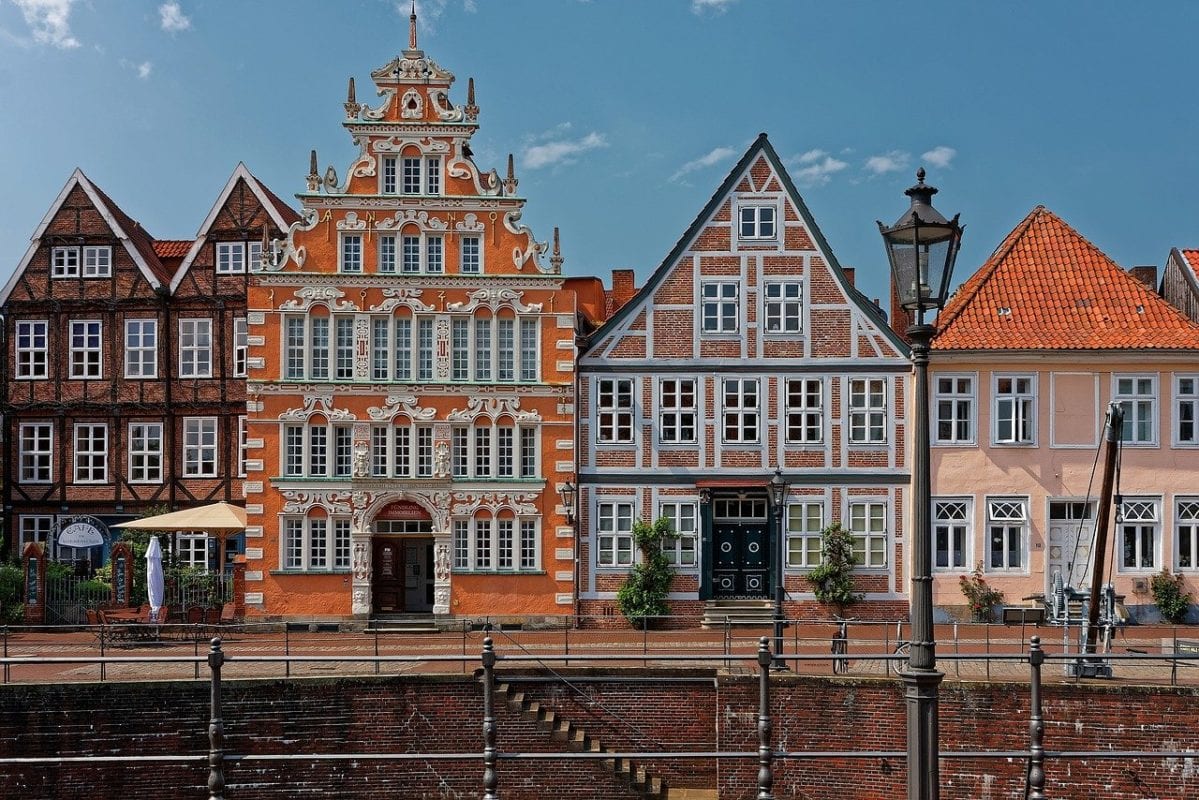 From the 13th to 17th centuries, Stade was a prominent member of the Hanseatic League, a commercial and defensive confederation of merchant guilds and market towns in northwestern Europe. It has previously been a part of Sweden and Denmark.
Distance from Hamburg to Stade
34 miles/56 km
Stade is part of the Hamburg transit area so you can reach Stade using a Hamburg transit tickets in about 50 minutes. The cost is 9€ each way or buy a day pass for about €20. There are also group day passes for 2+ people.
You can also drive to Stade in about 1 hour. If you drive, you may want to also stop in the Altes Land area or Buxtehude.
Things to See in Stade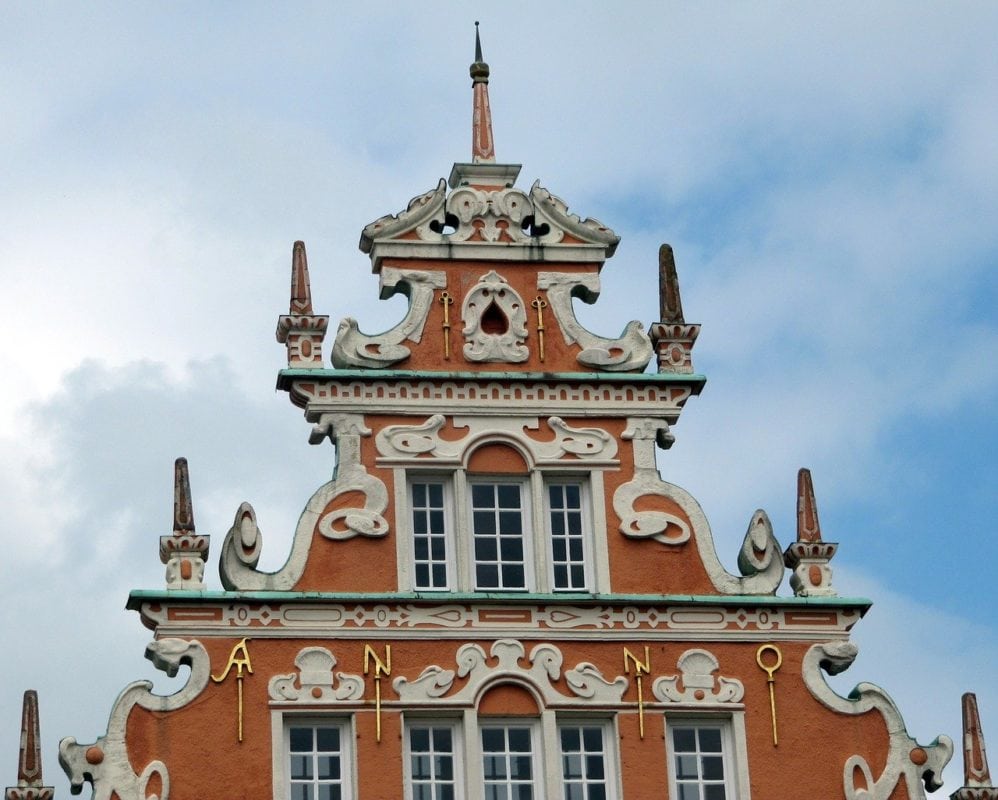 Old Town & Harbor
On May 26th, 1659 a great fire destroyed two thirds of the homes in Stade. The historic old town was reconstructed and retains its old world charm to this day.
Schwedenspeicher Museum (Swedish Warehouse)
Shortly after the end of the Thirty Years' War, the Swedish conquered Stade and began constructing a supply house from 1692 to 1705. Today, the former warehouse contains exhibits on the history of Stade as well as the Hanseatic period.
Address:
Wasser West 39, D-21682 Stade
T +49 (0) 4141 79 773 0 / info (at) museen-stade.de
Hours of Operation:
Tues-Fri (10am-5pm) / Sat & Sun (10am-6pm)
Ticket Info: one price, three museums
Daily ticket € 8 | Social tariff 4 €
3-day ticket 12 € | Social tariff 6 €
Children and adolescents up to 18 years free
Kunsthaus (Art Gallery)
The Kunsthaus is an exciting art gallery constructed within a merchant's house from the Hanseatic period.
Address:
Water West 7, D-21682 Stade
T +49 (0) 4141 79 773 20
Hours of Operation:
Tue, Thu, Fri (10am-5pm) / Wed 10am – 7pm
Sat & Sun (10am-6pm)
**The Kunsthaus is closed when the exhibition is being changed**
Ticket Info: Museums Stade Ticket
Day Ticket € 8 | Social tariff 4 €
3 day ticket 12 € | Social tariff 6 €
Children and adolescents up to 18 years free
St. Wilhadi Kirche
For centuries, this church has overlooked the city of Stade. Interestingly, its history includes multiple lightning strikes to the tower! St. Wilhadi also contains an organ by the master by the master organ builder Erasmuc Bielfeldt from 1731 to 1736.
Hours of Operation:
April – October (Mondays to Saturdays) 10:30am-12:30pm, 2:00pm-4:30pm / November to March (Mondays to Saturdays) 2:00pm-4:00pm
Ticket info:
Entrance to the church is free of charge. A small donation is appreciated.
The Schwedenspeicher, Kunsthaus, and Open Air Museum seem to be included in the same ticket. The website lists the Local History Museum as closed for renovations.
4. Lüneburg (to the southeast)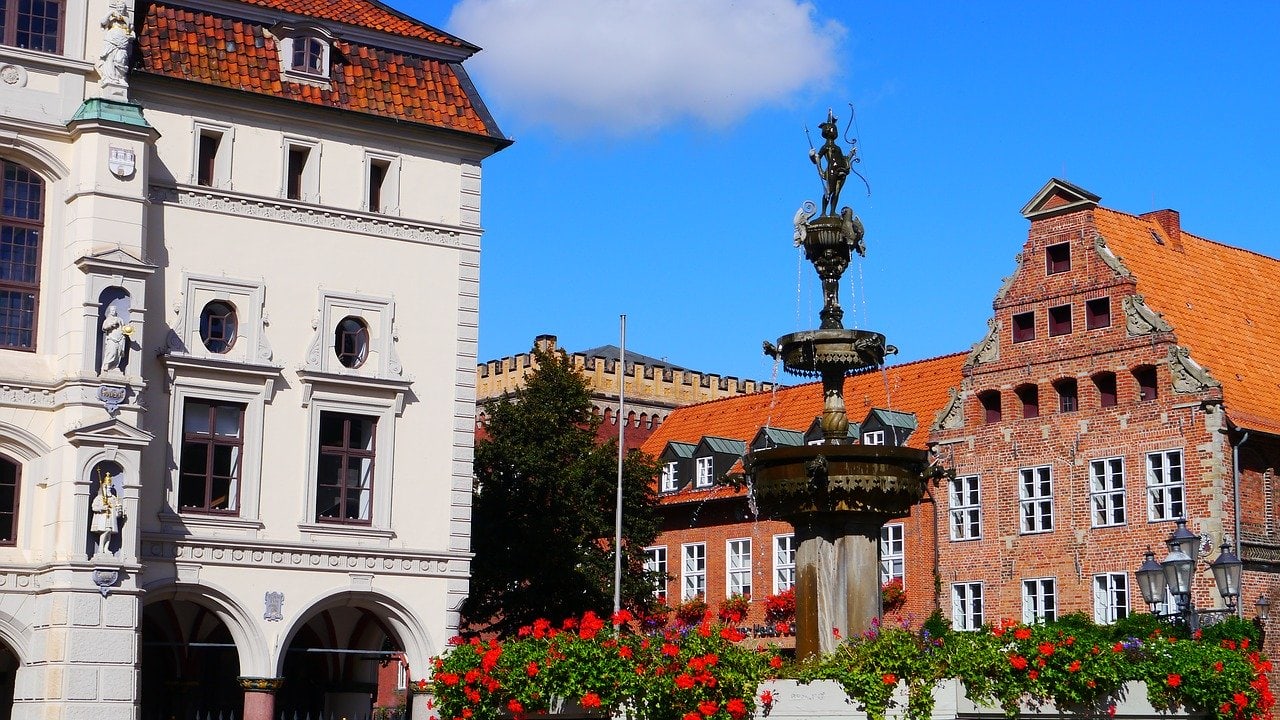 Having survived World War II relatively untouched, Lüneburg has a medieval charm that draws visitors from around the world. This city was a bustling trading hub in the Middle Ages and owes its long and prosperous history in part to the production of salt, known as "white gold."
Distance
34 miles/56km
Lüneburg is part of the Hamburg transit area and you can reach it via regional train in 30-50 minutes. (approx. 17.40 euros with Hamburg public transit). The cost is 9€ each way or buy a day pass for about €20. There are also group day passes for 2+ people.
By car it takes about 40 minutes to drive from Hamburg to Lüneburg (depending on traffic).
Things to See in Lüneburg
Am Sande Market Square
To best experience Luneburg's medieval charm, go directly to the Am Sande market square. The square is surrounded by the beautiful architecture of St John's Church. Fun Fact: in the Middle Ages, the plaza was covered in sand rather than cobbles to help merchants maneuver their horse and ox carts within the market.
Historic Harbor, Stintmarkt
Now a vibrant waterside district filled with a high concentration of bars and pubs, the historic harbor of Luneburg was previously a shipping center and fish market. Try out one of the pubs for a great view of the historic harbor and cityscape of Luneburg.
Highlight: At the harbor stands the Old Crane (Alte Kran) which previously loaded ships. You can see the inside of the crane on a guided city tour.
Address: Am Stintmarkt 21335 Lüneburg
Old Town Hall (Rathaus)
Construction of the town hall begun in 1230 but took centuries to complete. The baroque façade of the town hall is something special to behold but the true beauty lies within with murals, frescoes, and intricate wood carvings.
Address: Am Ochsenmarkt 21335 Lüneburg
Lüneburg Abbey & Textile Museum
Approximately a 15-minute walk from the city center, the Monastery Lüne (Kloster Lüne) was founded in 1172 by Benedictine monks as a nunnery and is inhabited to this day!
Address: Kloster Lüne, Am Domänenhof 21337 Lüneburg
Textile Museum
The Textile Museum explores the art of weaving and exhibits the textile works of art made by nuns over the centuries.
St John's Church (St. Johannis)
Luneburg's oldest church dates to 927 and is known for the crooked steeple. Whoops! While your exploring St John's, keep a look out for the elegant high altar and ornate Baroque organ inside. The composer, Johann Sebastian Bach himself learned to write and compose here while his uncle worked as the choirmaster.
Address: Bei der St.Johanniskirche 2, 21335 Lüneburg, Germany, Phone: +49 4131 44542
Salu Saltztherme
Luneburg's saltwater thermal spa! Relax in a eucalyptus sauna or a steam bath. There's even a water park for children called "Kinderbadeland."
Tickets: Adult 8€ / Child 3€
Hours of Operation: 10am – 11pm (Mon – Sat), 8am – 9pm (Sun)
Location & Contact Info: Uelzener Strasse 1-5, 21335, +49 (0) 4131 / 7230
Lüneburg City Tours
The city of Luneburg offers guided tours with varying themes, lengths, and prices.