Best Day Trips & Weekend Trips from Stuttgart, Germany in 2023
This post may contain affiliate links. Read my disclaimer policy.
If you're planning to spend time in or around Stuttgart, you've got so many options for easy day and weekend trips! There are many cute little towns, castles, hiking, waterfalls, and much more for you to explore.
Stuttgart Day Trip Transportation Options
The trips listed here are accessible by car or public transportation (S-bahn, bus or regional train from Stuttgart). All are within about 30-90 minutes from Stuttgart. 
Looking for a place to stay in Stuttgart? Check out our best Stuttgart hotels guide!
1. Esslingen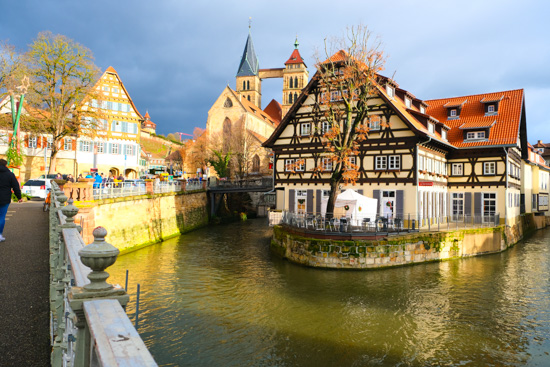 Just a 15 minute S-bahn ride from Stuttgart, Esslingen is a delightful town with some of the oldest half-timbered houses in Germany. Having more than 200 of these beautiful homes definitely adds a sense of history and wonder to your time here. Esslingen is one of my favorite Stuttgart area towns to visit!
I recommend allotting a minimum of a half day in your itinerary for Esslingen. That will give you enough time to travel there and back, leisurely explore the city, and get a bite to eat.
How to Get to Esslingen from Stuttgart
From the Stuttgart Hauptbahnhof (main train station) you can take S-bahn 1 towards Kirchheim(Teck) or a regional train. The S-bahn will stop at several stations before arriving in Esslingen. Regional trains typically don't stop between the Hauptbahnhof and the Esslingen station so they're a little faster.
Esslingen is in transit zone 2 (assuming you're starting in the city center). You can buy a single ticket, a day pass or a group day pass for 2 zones at any ticket machine. If you have a StuttCard with the transit option, you can travel to any of the transit zones!
What to Do and See in Esslingen
1. Stadtkirche St. Dionys
This beautiful church, built in the style of High Gothic architecture, is a memorable part of the skyline in Esslingen. One of its most notable features is footbridge that connects the two towers.
2. Frauenkirche
Construction for this church was completed in 1515 and took almost 200 years to complete!
3. Esslingen Castle
More of a defensive post than a residence for noble families, make sure to check out this castle! Take a walk along the covered wall linking the Powder Tower and the Big Tower (Dicke Turm) to see a nice view of Esslingen itself.
4. Klein-Venedig
Wander through this picturesque quarter of Esslingen to pass by half-timbered homes and windmills dating back to the 15th century. This area is known as "Little Venice" due to its location near the confluence of three rivers, the Neckar, Rossneckar, and Wehrneckar.
5. Medieval Christmas Market
For almost four weeks leading up to Christmas, merchants dressed in medieval garments sell their crafts to customers at one of the largest Christmas markets in Germany. There's a nice sized traditional Christmas market but it's the medieval market that charms visitors.
2. Ludwigsburg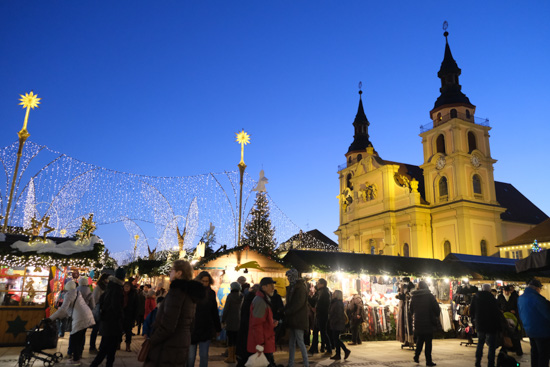 North of Stuttgart, Ludwigsburg is a quick 15 minute S-bahn ride from the city center. A short walk from the train station is the delightful downtown, market square with baroque churches, and then the grand palace.
I recommend allotting a minimum of 3 hours to half a day in your itinerary for Ludwigsburg. A half day will give you enough time to travel there and back, leisurely explore the downtown, palace, and gardens, and get a bite to eat.
If you have a full day available, you can also combine your trip to Ludwigsburg with a stop in the cute town of Bietigheim-Bissingen (that's what I did).
To get there, take the S4 towards Marbach, the S5 towards Bietigheim-Bissingen or a regional train. The S-bahn will make more stops than the regional train so it will take a bit longer.
What to Do and See in Ludwigsburg
1. Ludwigsburg Residential Palace (Residenzschloss Ludwigsburg)
This Baroque palace was constructed from 1704 to 1733 during the rule of Eberhard Ludwig, Duke of Wurttemburg.
Admission: Adult 8€ / Reduced 4€ / Family 20€ / Groups of 20+ 7.20€ Admission to the residential palace includes a guided tour.
2. Schloss Favorite
A Baroque hunting lodge and summer residence built by Ebehard Ludwig for his mistress Wilhelmine von Graevenitz. This structure is surrounded by a wildlife park and is decorated inside by murals. It's located just a short walk from the Residential Palace.
Open Monday to Sunday from 10 am to 12 noon and 1.30 pm to 5 pm.
Admission: Adults 3,50€ / Children 6+ 1,80€.
Guided tour is about 20 minutes.
3. Fairy Tale Gardens
Let your imagination go in this fairy tale-themed garden! The garden is filled with statues and shrubbery depicting famous stories from fairy tales. This garden is located right next to the palace.
4. Baroque Christmas Market
Imagine drinking mulled wine and snacking on roasted chestnuts while strolling through a town square decorated in glittering lights. Located between two baroque churches, the Christmas market in Ludwigsburg contains more than 170 vendors selling traditional Germany arts and crafts.
The Ludwigsburg Christmas market is open ever day (generally 11am – 9pm) during the 4 weeks leading up to Christmas Eve. This market is gorgeous at night, so definitely plan to stay until after sunset!
3. Bad Urach Waterfall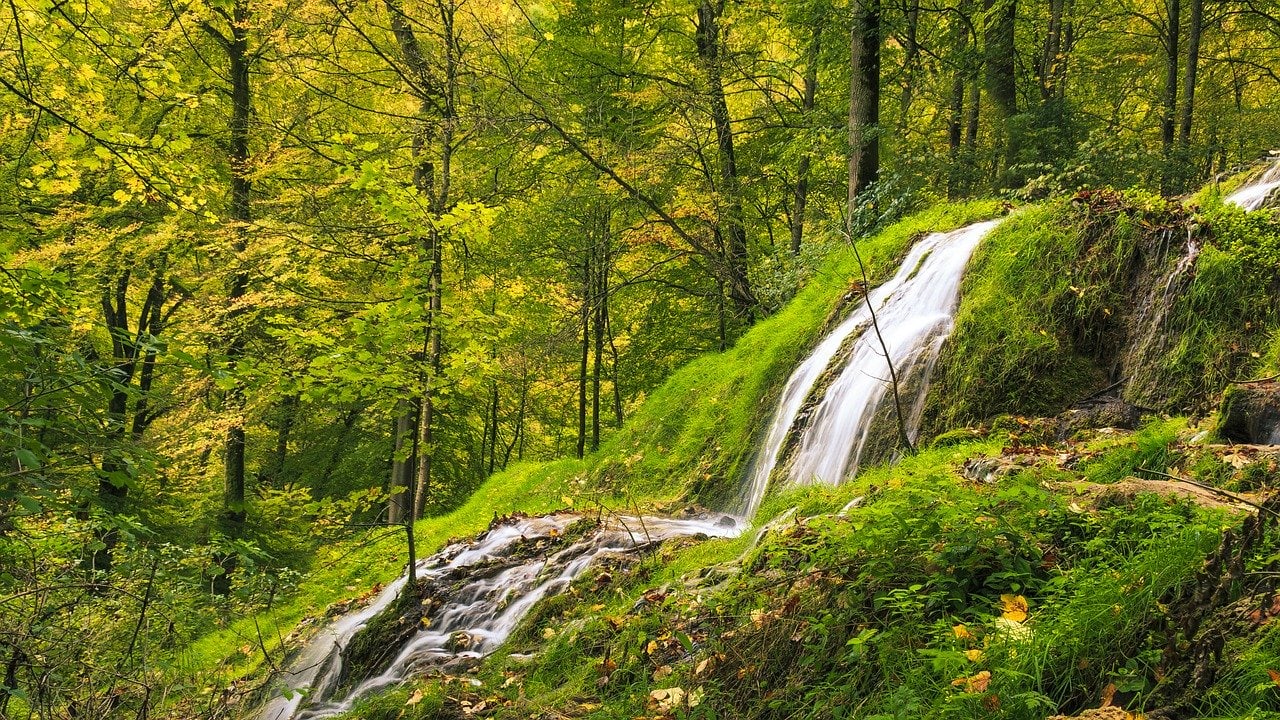 Bad Urach is considered the most beautiful waterfall in the Schwabian Alb!
Walk to the waterfall, then continue hiking to enjoy the views, and then head to the town of Bad Urach to explore its historic half-timber houses and enjoy a meal.

Bad Urach is a 45 minute drive from Stuttgart. To get there by public transportation, you can take a regional train. The fastest connection will get you to the waterfall in just over an hour. To get from the waterfall to the town, you can hop on the train (3 minutes) or walk (30 minutes).

The waterfall is open year round.
4. Hohenzollern Castle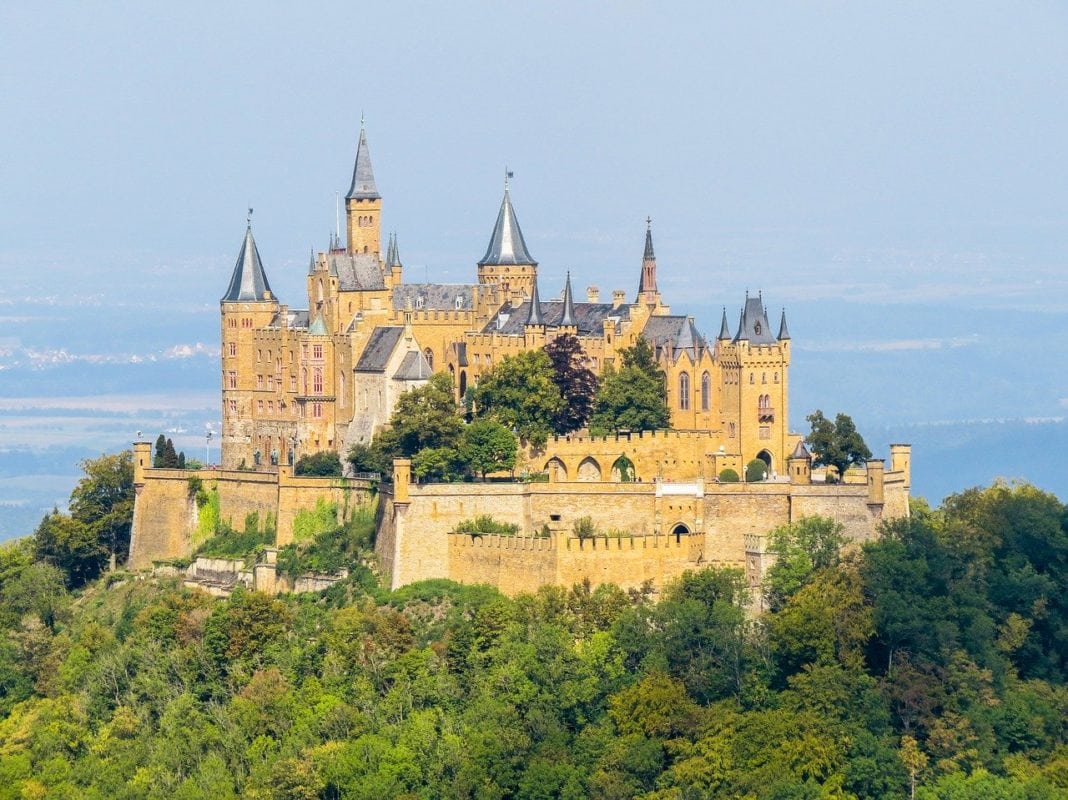 Located approximately 50 km south of Stuttgart and constructed upon a hilltop, Hohenzollern Castle is a fun day trip any time of year. It's one of the most visited castles in Germany, receiving approximately 300,000 visitors per year!
What to Do & See at Hohenzollern Castle
In addition to an extensive art collection, numerous events are held at Hohenzollern Castle, including concerts, an open-air cinema, exhibitions, and a royal Christmas market.
There are two dining options while at the castle: Café Restaurant Burg Hohenzollern and a summer-time Beer Garden. The Beer Garden offers a small selection of cakes, ice cream, and drinks.
How to Get to Hohenzollern Castle
You can reach the castle in about an hour by car. If traveling by train from Stuttgart's main train station, you'll ride to Hechingen Station, then catch a bus to the parking lot, and then either walk up to the castle or take the shuttle. It takes about 1.5 hours to get to the castle via public transportation.
5. Lichtenstein Castle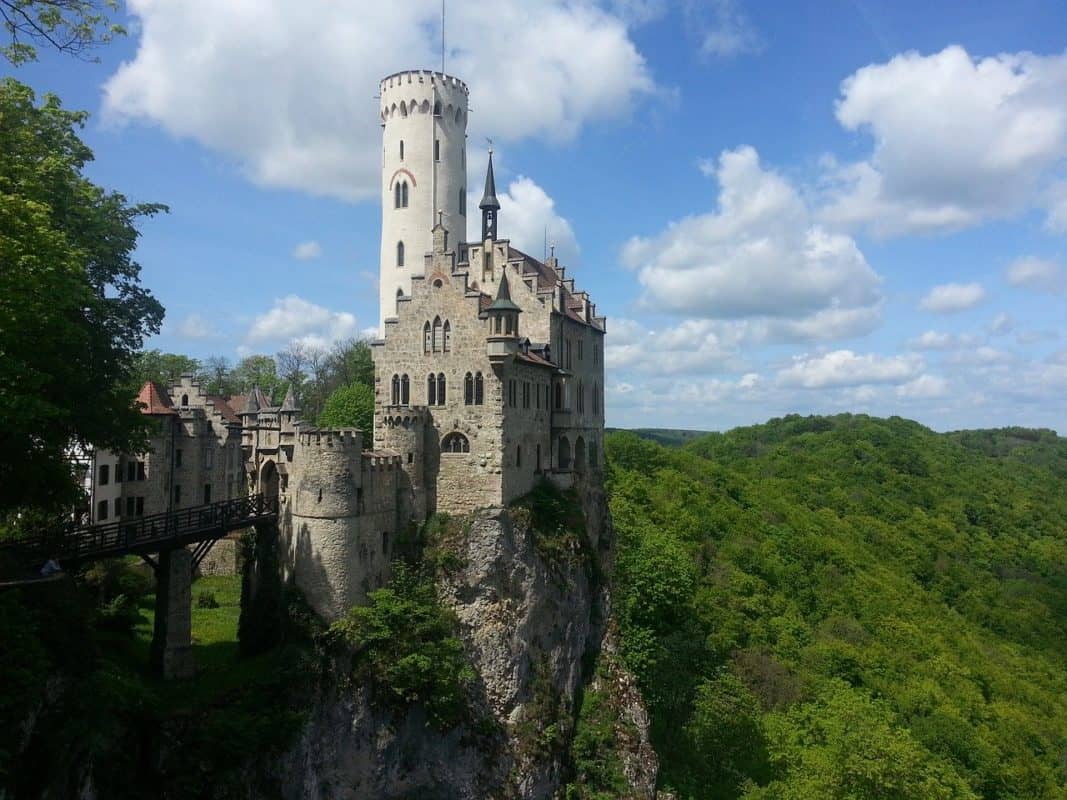 Inspired by a novel, this small castle is actually a hunting lodge built near the ruins of a knight's castle. The castle is surrounded by parklands, making it a great place to hike! Try hiking one of the trails in order to get a different view of the castle. Enjoy the beautiful views!
Guided tours (30 minutes) are in German but an English-language brochure is available to help you follow along with the tour. Children are allowed on the tour. Pictures are not allowed.
Hours of Operation:
January – February: Closed
March: Mon – Sun (10:00am – 4:00pm)
April – October: Mon – Sun (9:00am – 5:30pm)
November – December: Mon – Sun (10:00am – 4:00pm)
Food: Near the car park, The Castle Tavern is available for you to grab a quick beer, coffee, or snack.
Located 50 minutes from Stuttgart, you can reach Lichtenstein Castle in just under an hour by car. The castle is best reached by car.
6. Tübingen 
Tübingen is a delightful university town 45 minutes from Stuttgart. I lived there for a month before moving to Stuttgart and loved every minute of it. It's cobblestone streets are such a contrast to busy city Stuttgart! You can easily spend a full day in Tübingen. If you have a car, you could combine a morning in Tübingen with an afternoon at the Hohenzollern Castle, Lichtenstein Castle, Bad Urach or Esslingen.
What to Do and See in Tübingen
1. If you arrive in Tübingen by train, you can walk along the Neckar river on your way to the Altstadt (historic old town). Stop to see Holderlin's Tower (Holderlinturm), and during the warmer months, you can also go for a punting boat ride on the Neckar.
2. Then walk to the Altstadt (historic old town). Here you'll find the Rathaus (town hall), some university buildings, the market square (Marktplatz), and St. George's Collegiate Church (Stiftskirche), and many delightful half-timber buildings and cobblestone alleyways.
3. After that, walk up to the Hohentübingen Castle for great views of the city.
4. If you're in Tübingen in early December, be sure to check out the chocoLART Festival! It's like a Christmas market except that it's all chocolate.
How to Get to Tübingen
A regional train from the main Stuttgart train station (Hauptbahnhof) will get you to Tübingen in 45-60 minutes. There is a bus that goes to Tübingen but the train is faster, and in my opinion, easier. If you have a car, driving is quick and easy 45 minutes.
7. Black Forest Open Air Museum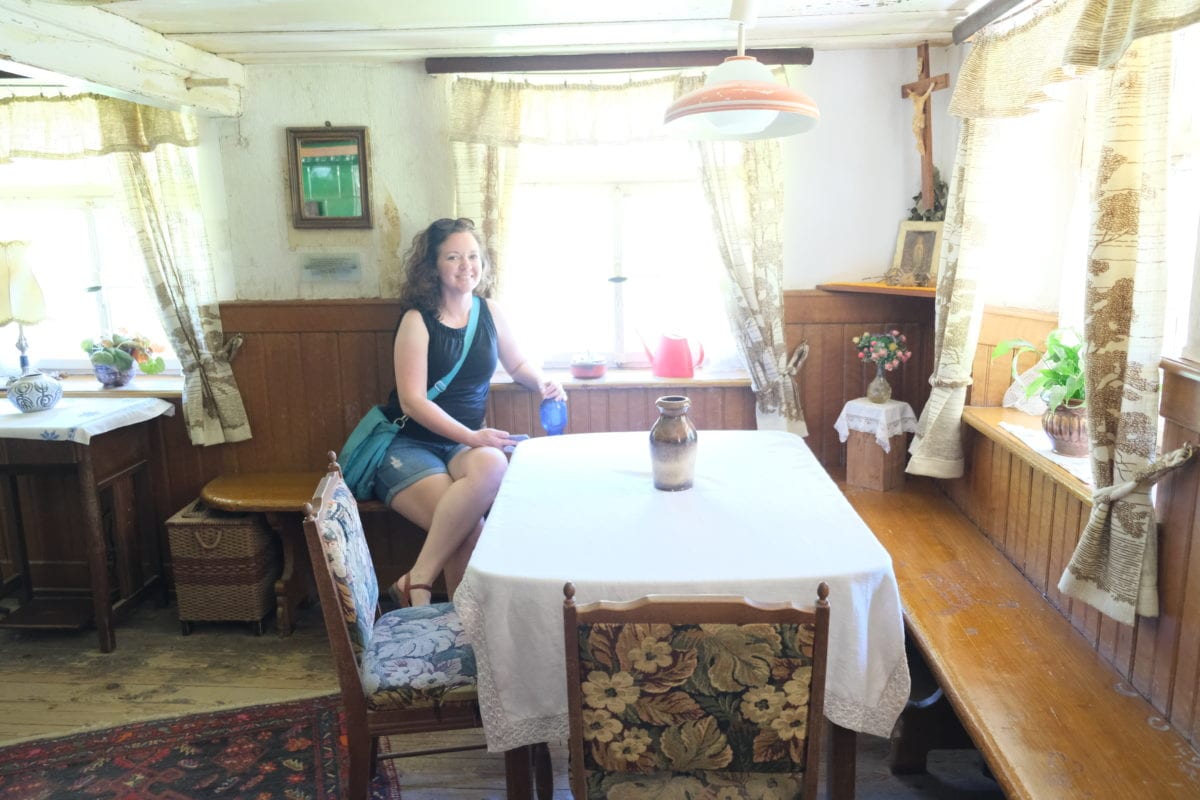 Wonder what life was like in the Black Forest 100 years ago? If so, you've got to visit the Black Forest Open Air Museum! This museum was recommended to us on our last trip to Stuttgart, and so we visited on our last day in Germany.

We love historical museums like this and spent a good 3-4 hours there touring each of the Black Forest houses and learning all about Black Forest farm life. We also enjoyed a slice of Black Forest Cake and German iced coffee in the restaurant before heading back to Stuttgart.
How to Get to the Black Forest Museum
Driving there from Stuttgart took about 2 hours each way so leave by 8am and plan a full day for this trip. Part of the drive was a beautiful 2-lane road through the Black Forest. The fastest train connection will get you there in just over 2 hours. You'll arrive at the train stop Gutach Freilichtmuseum, which is right outside the museum entrance.
This museum is open daily from 9:00 am – 6:00 pm.
*last admission at 5:00pm
Admission: 10€ adults / 9€ reduced / €5.50 children 6-17 years / children under 6 are free
Stuttgart Day Trip and Weekend Trip Combonations
You could do the following day trip/weekend trip combonations in one full day if you leave early and arrive home in the evening.
Ludwigsburg and Bietigheim-Bissingen
Ludwigsburg and Esslingen
Tübingen and Hohenzollern Castle
Tübingen and Lichtenstein Castle
Tübingen and Bad Urach
Hohenzollern Castle and Lichtenstein Castle
Bad Urach and Hohenzollern Castle
Bad Urach and Lichtenstein Castle