15+ Things We Take On Every Germany Trip
This post may contain affiliate links. Read my disclaimer policy.
We recently took stock of the most useful items we always bring on our trips to Germany (and beyond) and compiled them in the list below. We highly recommend each and every item on this list!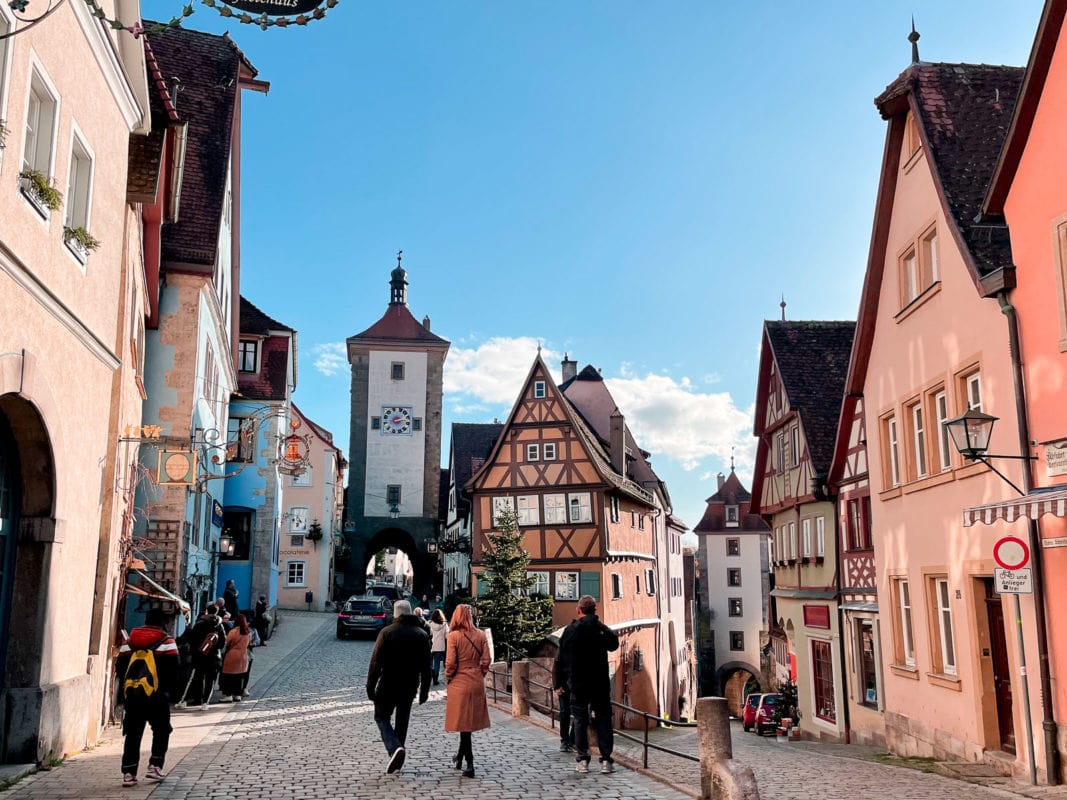 Phone Must-Haves
Portable Power Bank
If you take photos or videos with your phone, this power bank is a must because your phone WILL run out of battery half way through the day. We have this one and use it every single day to keep both of our phones (and my Air Pods) charged on the go. It's powerful enough to charge both of our phones yet it's small and light enough that we don't mind carrying it with us each day. And it takes both USB-C and USB-A.

Click here to get the phone power bank we use every day.
European Plug Adapter
Germany uses different voltage and outlet plugs, so if you're taking any electronic items with you, you'll need an outlet adapter. We use this European plug adapter because it's compact and lightweight, comes with adapters for multiple countries that you can slide on and off the base, and we can charge all of our tech with just this one adapter.

Check out our favorite European plug adapter here.
Pop Socket
If you take photos or videos with your phone, get a Pop Socket! It'll make it easier to grip your phone, keep it steady when shooting video, and you'll be less likely to drop it. Aaron and I both have them on our phones.

Check the price on Pop Sockets here.
Phone Wrist Strap
Do you ever worry about dropping your phone, setting it down and forgetting it somewhere or having it snatched out of your hand – and then losing everything on your phone forever? We started using wrist straps to keep our phones more secure and now won't travel without one! Aaron uses this wrist strap that attaches to this phone case, and I use this one that attaches to my existing phone case.

Check out the phone wrist strap and this phone case and wrist strap we use every day.
Portable Hard Drive
We back up our photos and videos to this lightweight portable solid state hard drive while we're traveling. We found backing up our photos and videos to the cloud while we were on hotel and Airbnb wifi too slow but it's quick and easy with this portable hard drive. We have a 2 TB hard drive and a 4 TB hard drive, as well as this carrying case to keep it safe.
Check out the 2 TB hard drive, 4 TB hard drive, and carrying case we use to back up travel photos and videos.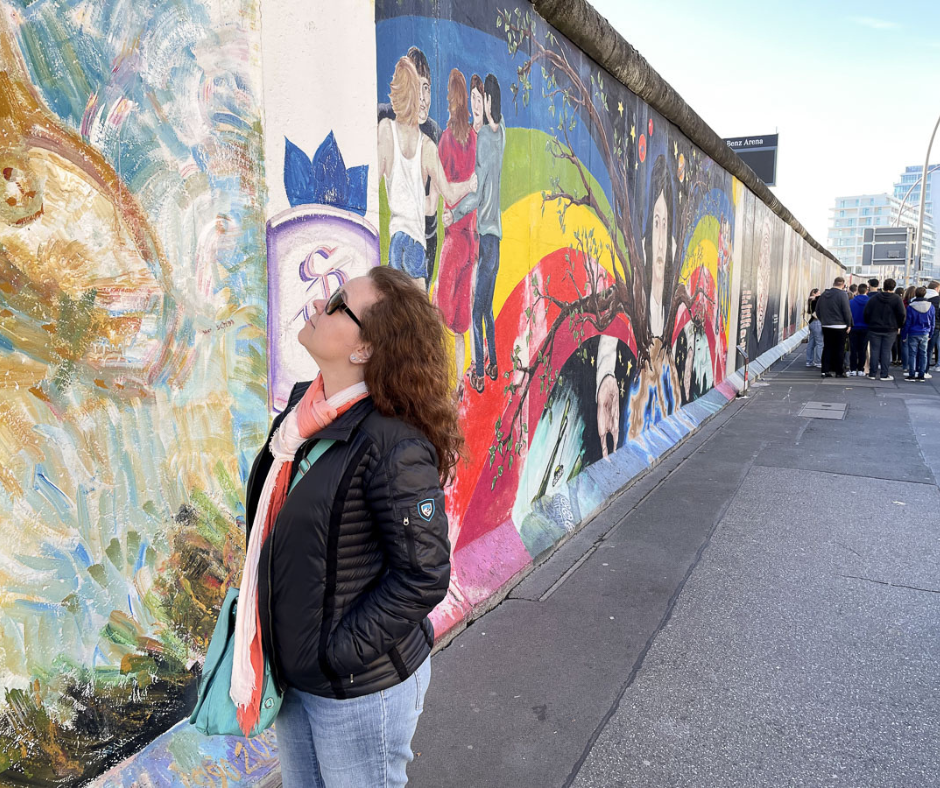 Toiletries & Packing Liquids
TSA Bag For Toiletries
I've been using this carry-on liquids bag for several years and got Aaron one before our current Germany trip. It's perfect for any 3oz liquids you need to take on the plane because it's TSA approved (and durable). You actually get a set of 3 bags and the other 2 are handy for organizing smaller items. We use one bag for our travel first aid kit, for example. These pouches come in several designs and colors.
Click here to check out our favorite TSA approved liquids bag.
Refillable Pouches for Shampoo and More
I was a loyal GoToob user for years until I stumbled across these refillable pouches a year ago. They are easy to (re)fill, you can write on each pouch so there's no mixing up your shampoo and conditioner, and because they're flat, it's easy to pack in our TSA-approved liquids bag. We've been using these pouches every single day for about a year now and they've never leaked. Both Aaron and I use these pouches now and are very happy with them.
Click here to check out our favorite refillable shampoo pouches.
Mesh Toiletry Bags
I bought a set of these inexpensive, multicolored mesh toiletry bags last summer and use them to keep my make-up, personal products, and lots of other little things organized. They're lightweight, have held up well, and I love that it's easy to see exactly what's in each of them.
Check out this set of mesh toiletry and organization bags.
Sunscreen
Aaron did a lot of research to find the best sunscreen. We use this one and this one.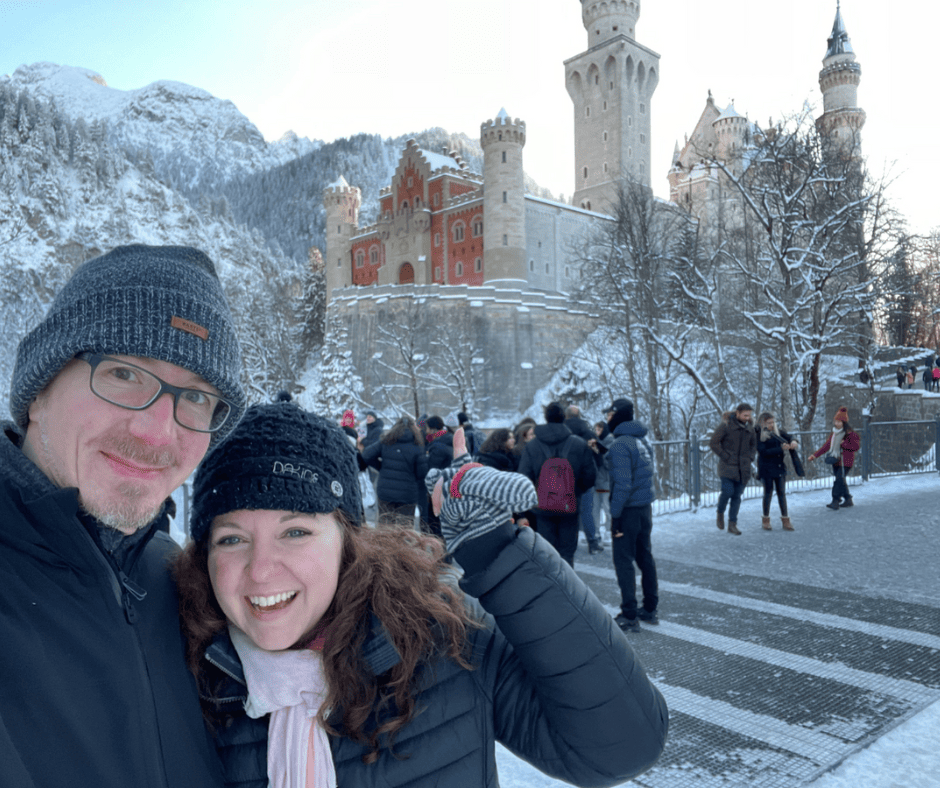 Shoes & Socks
Insoles
We typically walk 20,000+ steps a day when we travel and our feel were much happier when we started adding high quality insoles to our walking shoes! Aaron uses these insoles and I use these insoles.
On Waterproof Shoes
I love these shoes! I wore them nearly every single day for over 3 months of travel and my feet were much happier than on previous trips. I was worried the waterproof version would make my feet sweat on hot days but they didn't, and it was so nice to not have soaking wet feet when it rained (they're more water resistant than fully waterproof so while they did keep my feet dry in light rain, they did get wet when we had to walk through a downpour). I add these insoles to make them even more comfortable. Tip: the waterproof version runs a little small so size up.
Click here for my favorite super comfortable women's travel walking shoes.
Merino Wool Socks
Aaron has started using these no show socks and these no show compression socks and he's been very happy with them. They're for men and women, so I'm going to try them out, too, since I've been disappointed with the no show Smartwool socks I bought a few months ago (one pair didn't even last 3 months). I have, however, been happy with these Smartwool knee socks – my secret weapon for staying warm in the winter.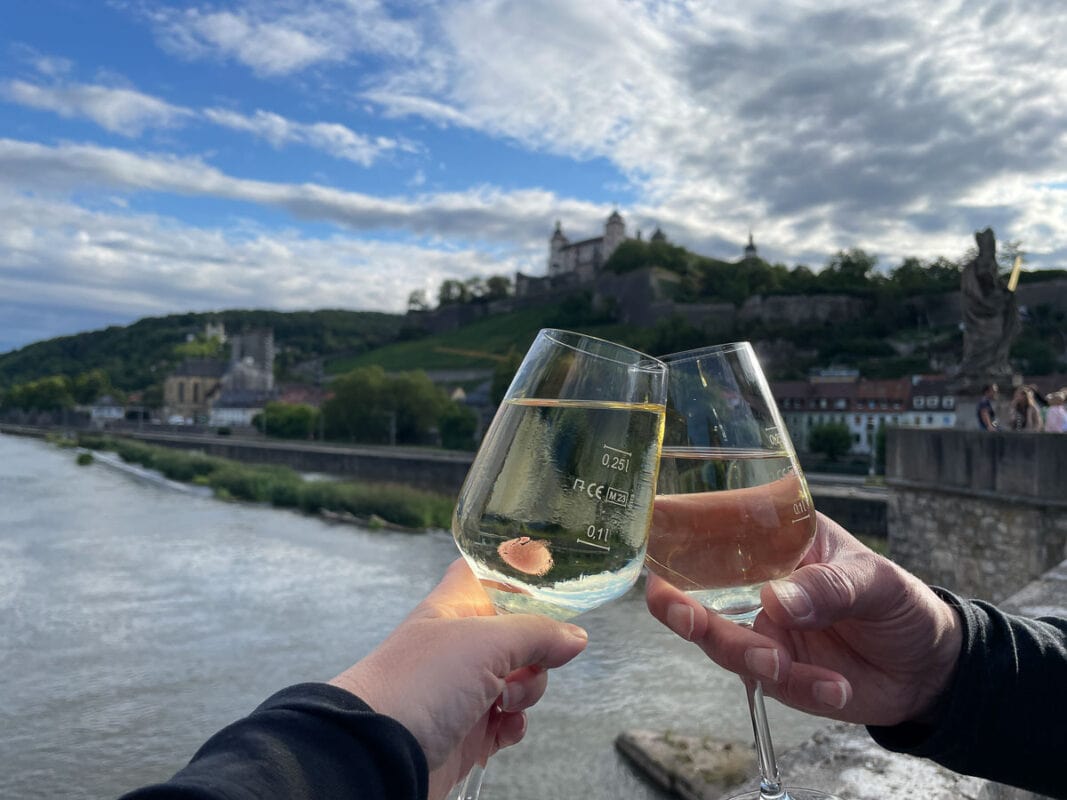 Clothes & Accessories
Merino Wool Cami
I wear this cami nearly every day when I'm traveling. It's merino wool so it'll keep you cool in the summer and warm in the winter — and it doesn't absorb oder like other fabrics. I've found the quality to be quite good and often wear this type of merino wool camis for a couple years before needing to replace them. I usually bring 2 when I travel.

Click here to check out this merino wool cami.
Merino Wool Shirts
Aaron ordered a couple new merino wool shirts before we left for Germany and he's been super happy with them. He got this short-sleeved t-shirt from Smartwool, this short-sleved t-shirt from Meriwool, this polo shirt from Meriwool, and this long-sleeved 1/4 zip pullover from Smartwool.
Multipurpose Scarf
I've used this lightweight scarf in the spring/summer as a light wrap, and in the fall/winter as a cozy scarf with my jacket or coat. It packs very small so it's easy to carry (I keep mine in a small Ziplock bag so it doesn't get snagged on anything) and it works well as an accessory and to stay warm in cooler weather. It comes in several colors.
Click here to find the best scarves and wraps for travel!
Travel Umbrella
You never know when it's going to rain in Germany so we've gotten a lot of use out of this travel umbrella. It's lightweight enough that I don't mind carrying it with me and it dries quickly.
Day Bags
23 Liter Backpack
Aaron started out using this day bag and while he loved it, after using it for 3 months he discovered that it didn't quite fit his tall frame. Now he uses this small backpack as his day bag and he's been very happy with it.
Click here for the best cross-body purses and bags for travel!
Reusable Shopping Bags
We bring 2 reusable shopping bags every time we travel and use them for groceries, laundry, and much more. They pack down small and come in handy all the time. We use an older version of this brand.
Other Useful Items
Collapsible coffee dripper – we often use a collapsible coffee dripper to make coffee in hotels and Airbnbs (we buy fresh coffee to use with the dripper in Germany).
Aaron always carries packets of this instant coffee for those times when he can't make or buy morning coffee.
Small, light-weight cutting board – this has come in handy so many times to cut up fruit and veggies in our hotel room or Airbnb (some don't come with a cutting board!).