Recreating 25 Old Photos From Living And Traveling In Germany
This post may contain affiliate links. Read my disclaimer policy.
I love looking at photo recreations that show people and places years apart, side-by-side.
So, when Aaron and I were in Germany in summer 2019, roadtripping around the country visiting several places I lived in the '90s and early '00s (you can see our 2-week itinerary from that trip at the bottom of this article), we decided to recreate 25 photos from those early days in Germany.
It wasn't as easy as I'd expected to recreate the pictures below but it was a lot of fun to try! And it was fascinating to see how each place has changed over the years (not to mention the, um, aging process).
Have you ever recreated a photo from the past? I'd love to see it!
Braunschweig & Eickhorst: 1990/1991 (1995) & 2019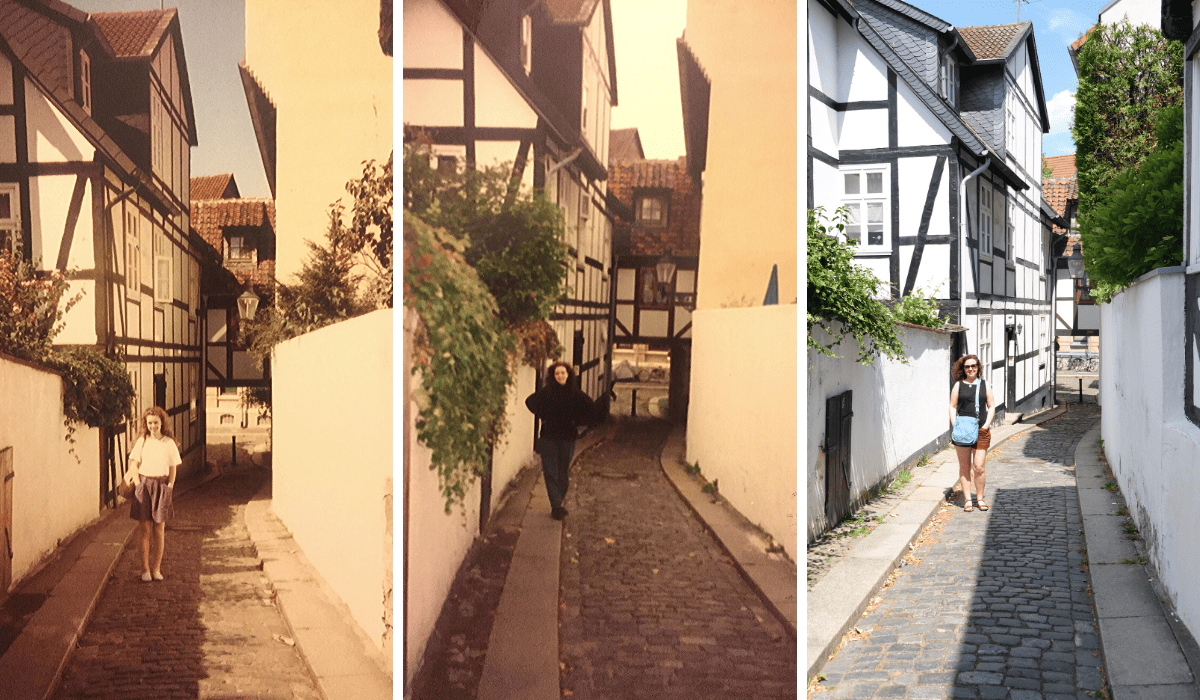 1. Braunschweig was my very first German home when I was a young teen! The photo on the far left was taken my first week in Germany, the middle was on a brief visit when I was teaching not too far away in Magdeburg, and the one on the right was in 2019.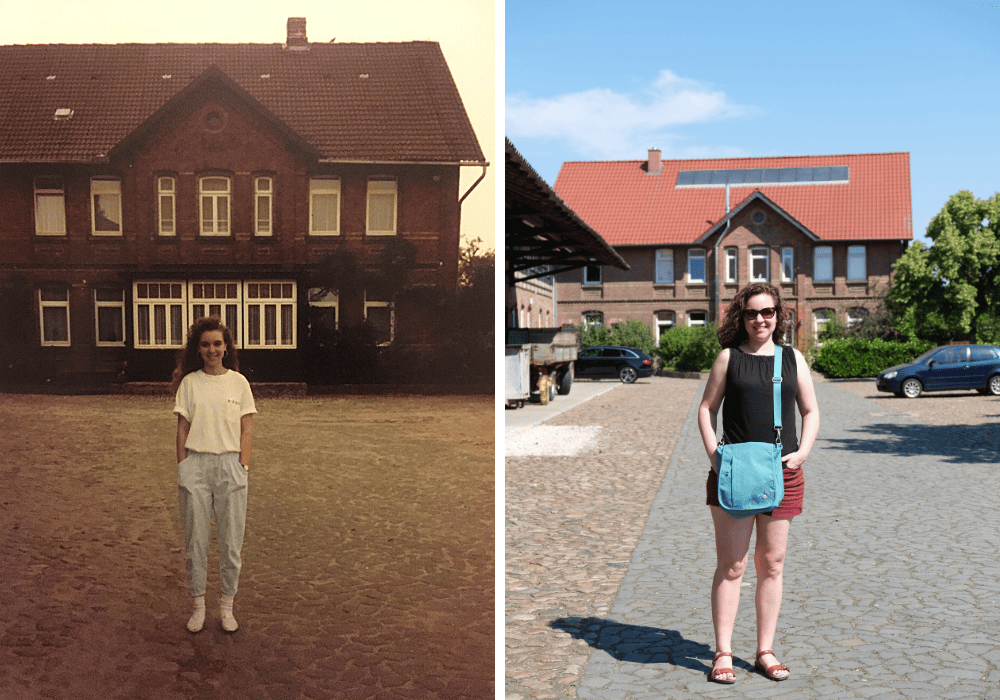 2. My very first German home! I lived on a working farm in a tiny village just outside Braunschweig. I can still remember how excited and nervous I felt about moving to Germany as a teen and being on my own and away from my family for the first time! It was more emotional than I'd expected to see the farm and village again and to show Aaron a place that had meant so much to me. The house has changed a bit over the years!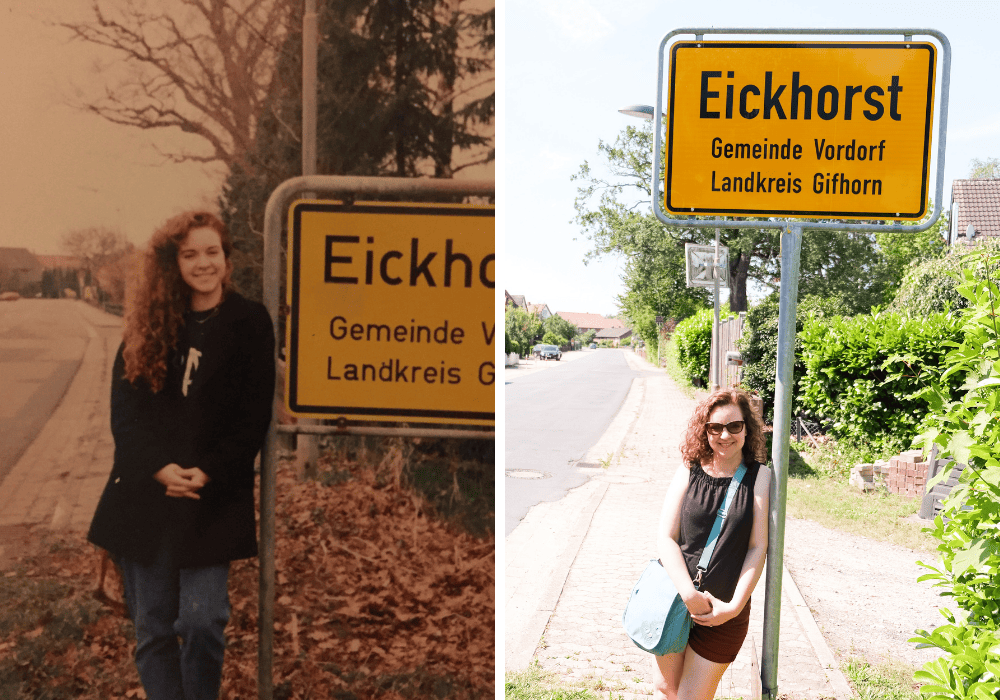 3. The village sign was still there…but they made it taller!
Berlin: 1996 & 2019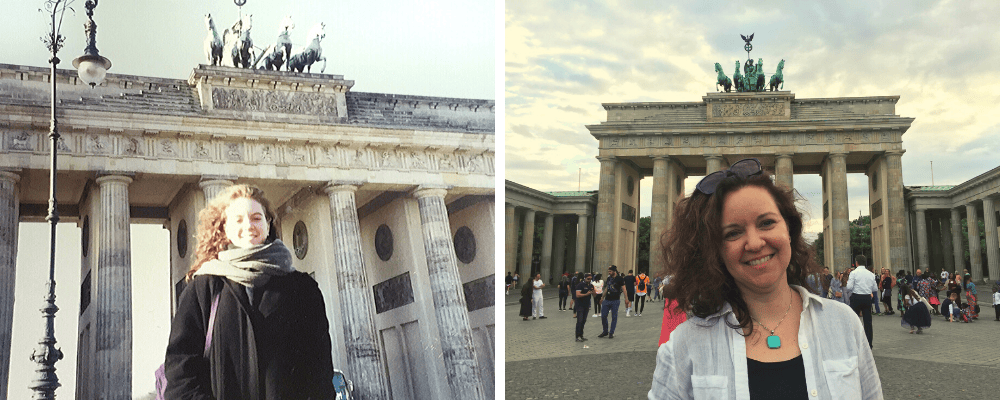 4. I'm always happy to visit the Brandenburg Gate in Berlin, no matter the season (or how jet-lagged I am…I hadn't slept in about 40 hours in the photo on the right)! After our plane landed and we picked up our rental car, we decided to stop at the Brandenburg Gate to recreate this photo and just enjoy being back in Germany.
Magdeburg: 1995/1996 & 2019
I lived in Magdeburg for a year as an English teacher and wow, this city has changed since the mid-90s! Magdeburg was part of the former East, and so it underwent numerous changes while I lived there.
But when we went back in 2019…I hardly recognized parts of the city! It was like a whole new city had been placed on the Magdeburg I knew! Magdeburg definitely changed the most out of all of the places we revisited.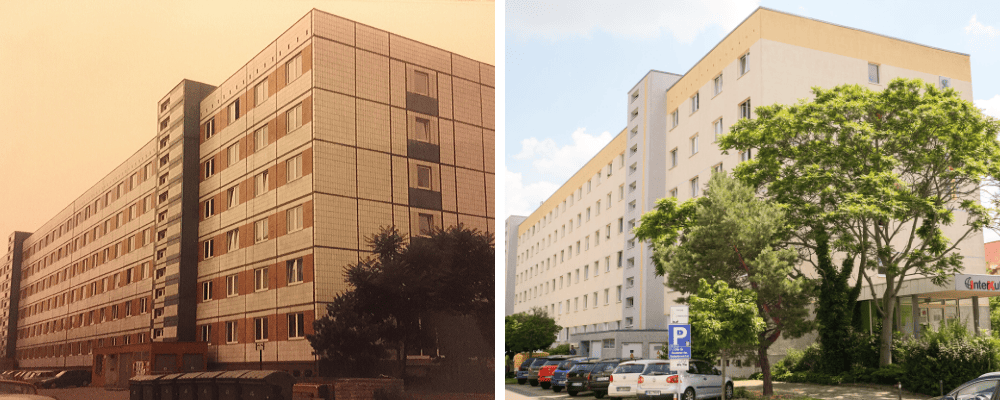 5. This is the building I lived in…it was student housing. I shared a room with my boyfriend at the time (and, for a few months, a friend of ours – I have no idea how the three of us managed to live in such a small space in the middle of winter!).
We did laundry in the bathtub because there were no laundry facilities in the building (all of the students went home every weekend)! We had no phone (not uncommon in the former East) but we did have a private bathroom with unlimited scalding hot water, and that was good enough for us.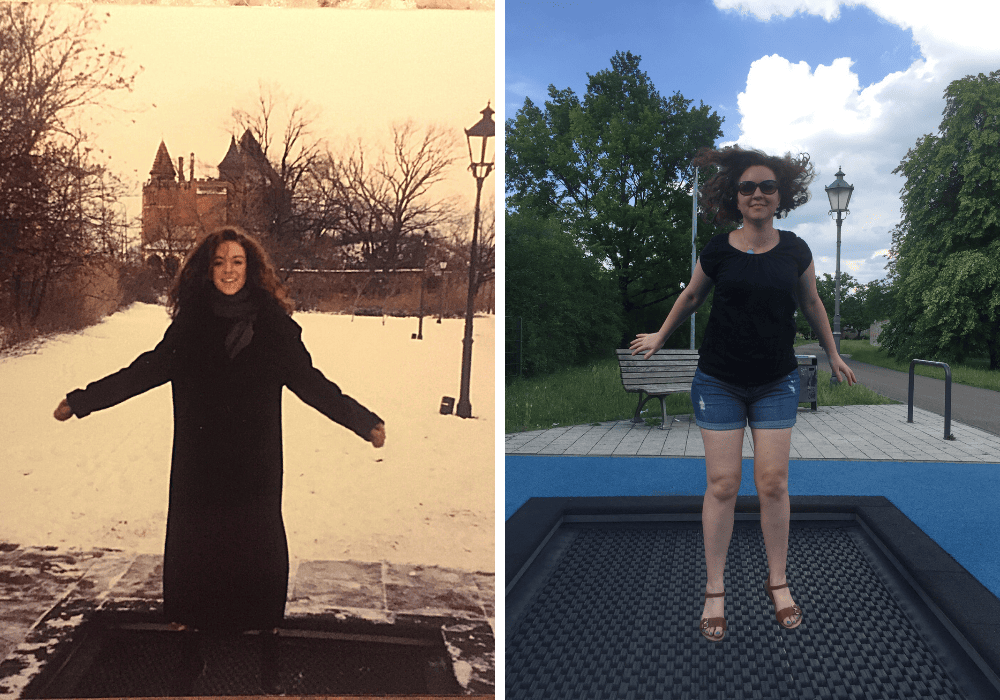 6. I was so surprised that this trampoline next to a walking path along the Elbe River was still there!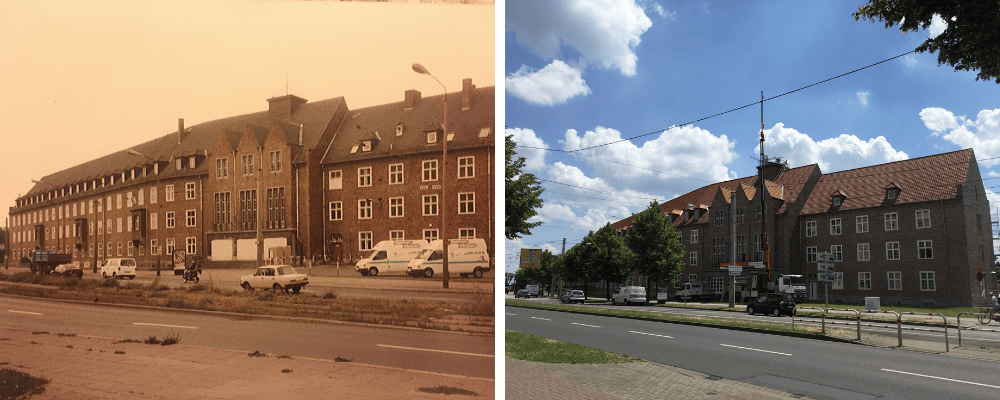 7. This is the building we could see from our window. Supposedly it had been a Stasi building…not sure if that was true or just rumor.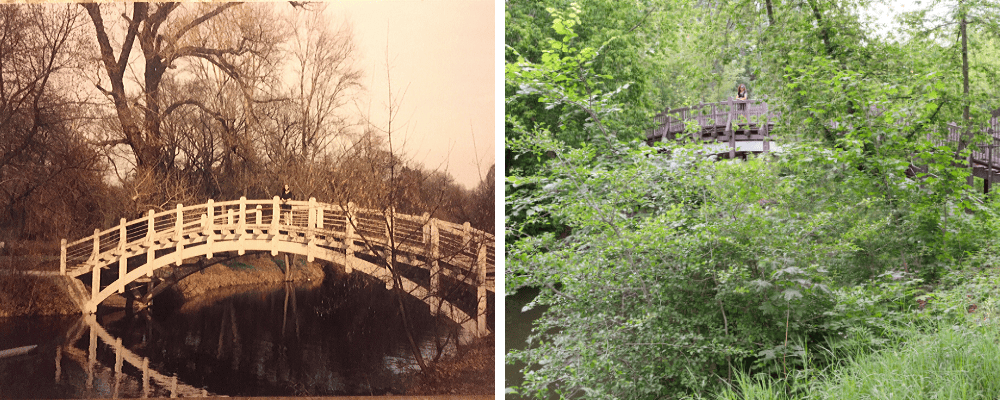 8. This bridge is in a big park on an island in the middle of the Elbe River, just a short walk from downtown. I had a hard time finding that bridge because so the trees had grown so much since the last time I was there!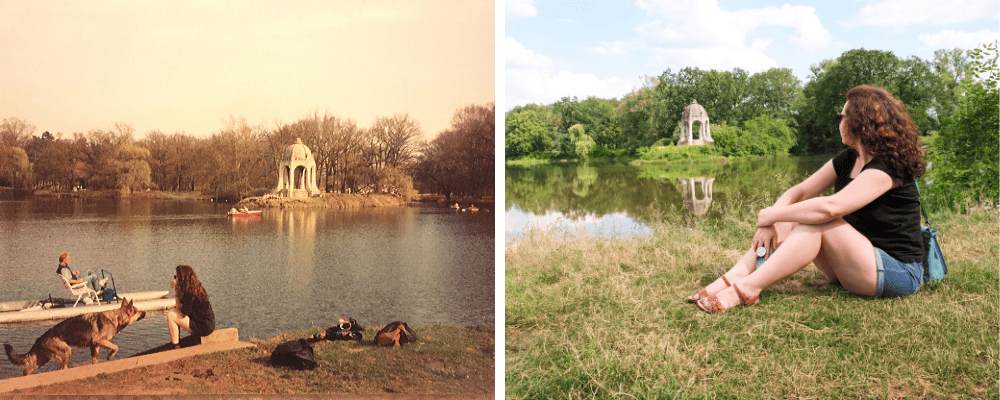 9. Same park! That landing area was closed for construction so I'm not in the exact same spot, and nobody was able to go out onto the lake, but the area still looked very much like it had. It felt like I'd never left!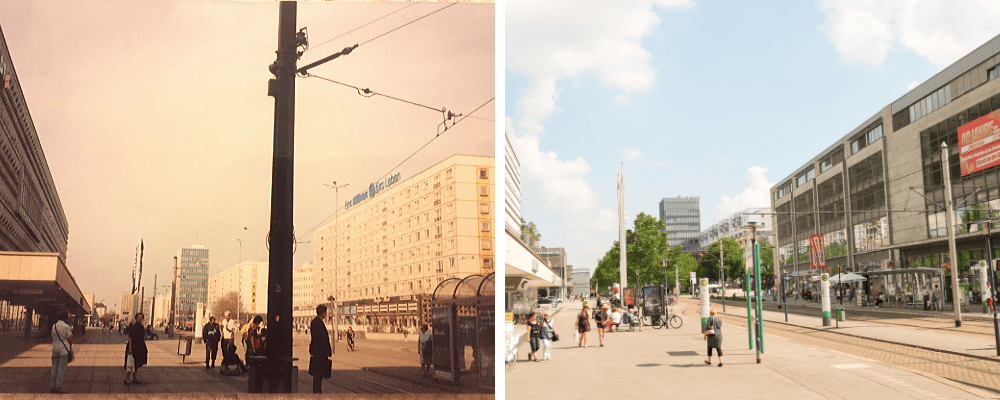 10. I was stunned to see how much the downtown pedestrian street had changed! When I lived there, it was all concrete, apartment buildings, and few stores. I lived at the other end of this main drag, so I walked it several times a week – or caught the tram if I could. With basically no trees, it got super cold and windy in the winter. Now? The buildings have been renovated, lush trees line the street, and there are stores and restaurants galore!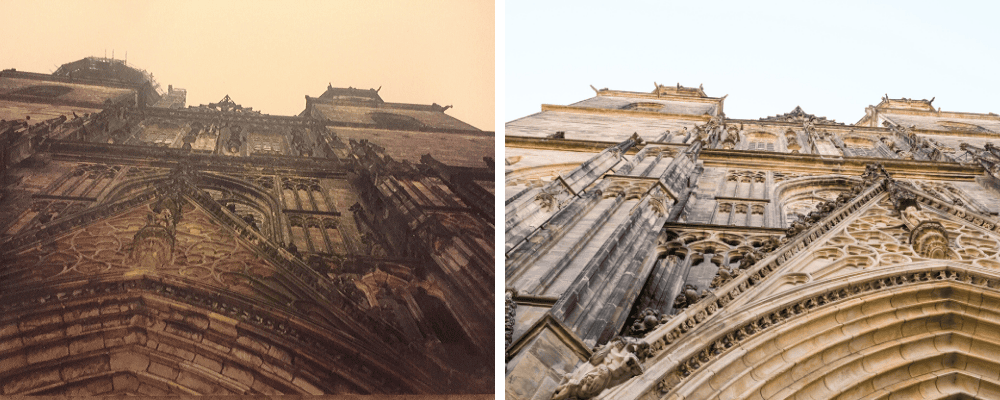 11. The beautiful Magdeburg cathedral in 1996…and 2019.
Hamburg: 1990/1991 & 2019
I lived in Hamburg for my senior year of high school and completely fell in love with this city! I finally got to show Aaron around in 2019 and it was so fun to show him all of my old haunts.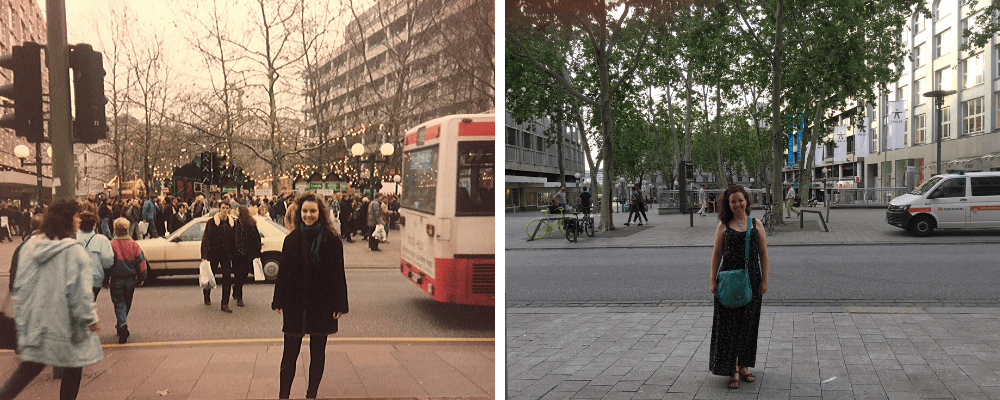 12. This is in downtown Hamburg, across the street from a Christmas market (on the left). It's not as exciting in the summer (on the right)!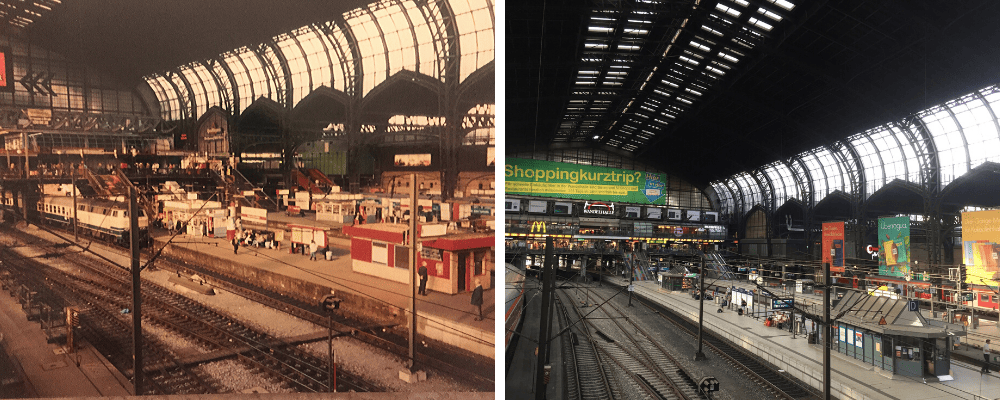 13. The bustling Hauptbahnhof (main train station) in 1990 and 2019. Many parts looked the same but with so many new shops, bakeries, and restaurants.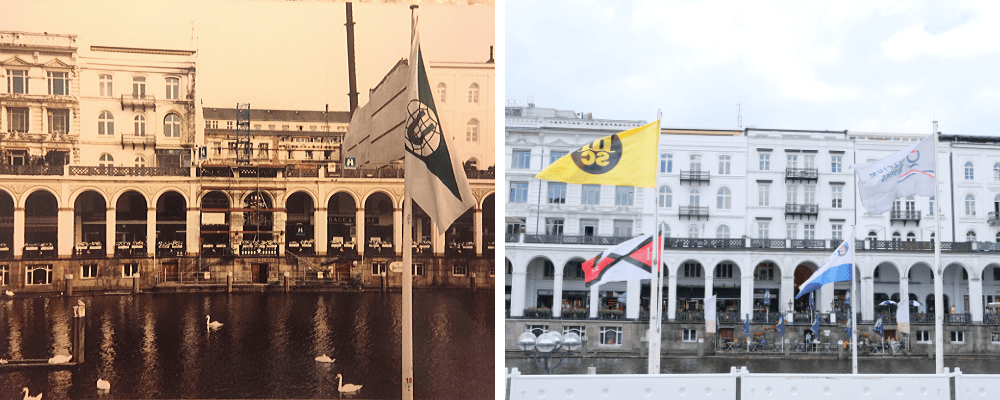 14. Downtown Hamburg. A few differences!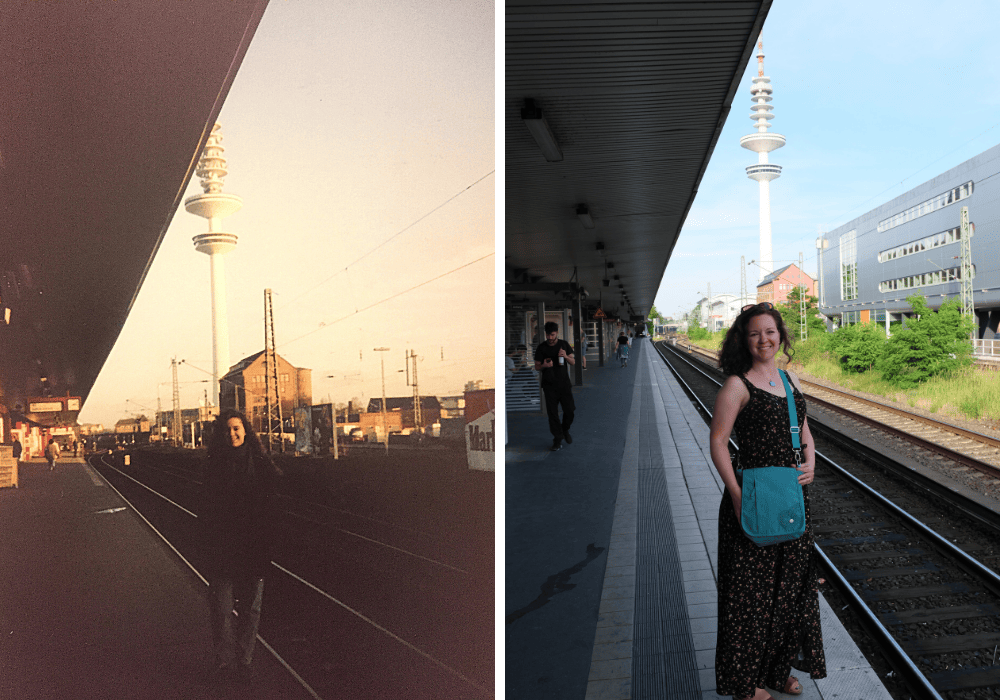 15. Not exactly sure why I wanted a photo of me posing in front of the Hamburg TV tower from an S-bahn stop back in 1991…but it was fun to get an updated snap.
Stuttgart: 1993/1994 & 2019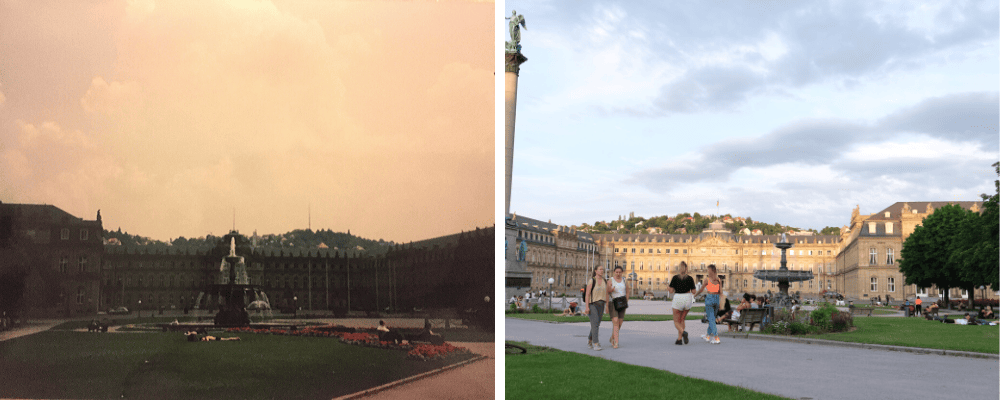 16. Downtown Stuttgart…a few changes but it looked in 2019 as I'd remembered it. Still a great place to hang out and people-watch.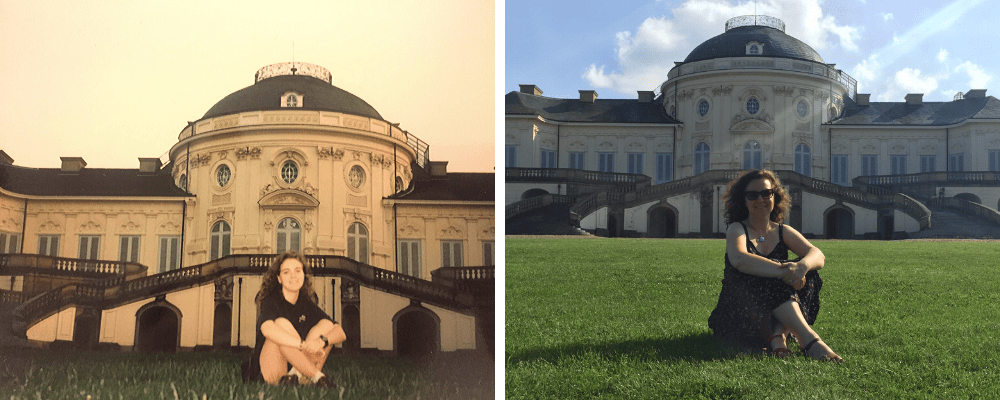 17. I used to walk to Schloss Solitude with friends. When I went back in 2019 we drove!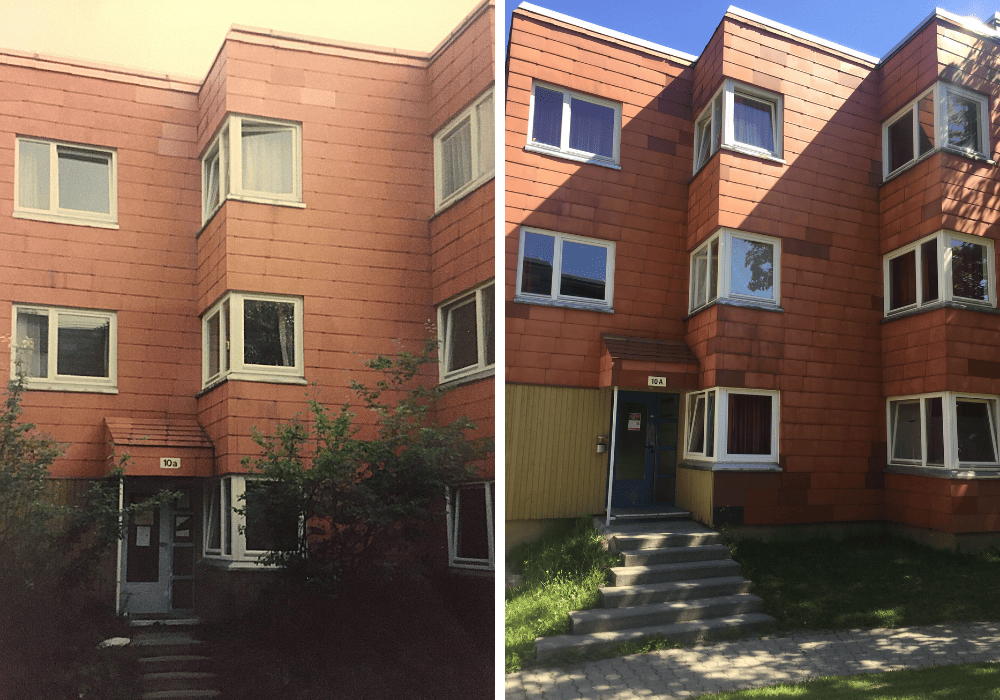 18. The building I lived in that year…looks largely the same.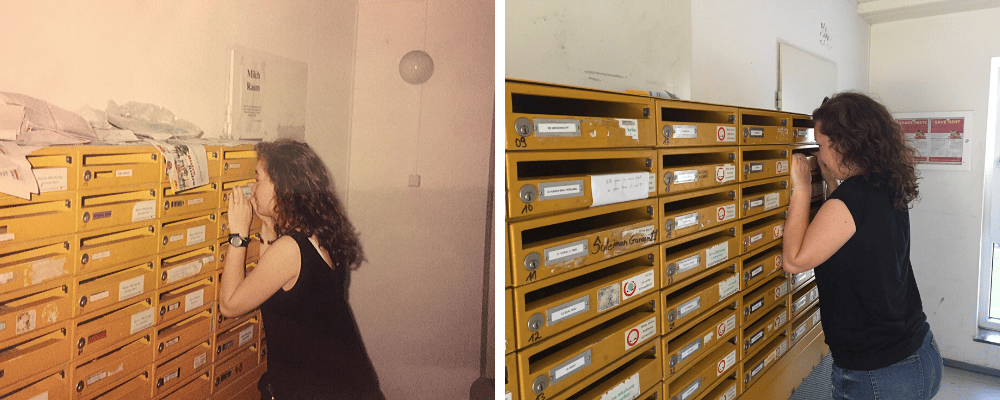 19. I was always checking my mailbox for snail mail from home!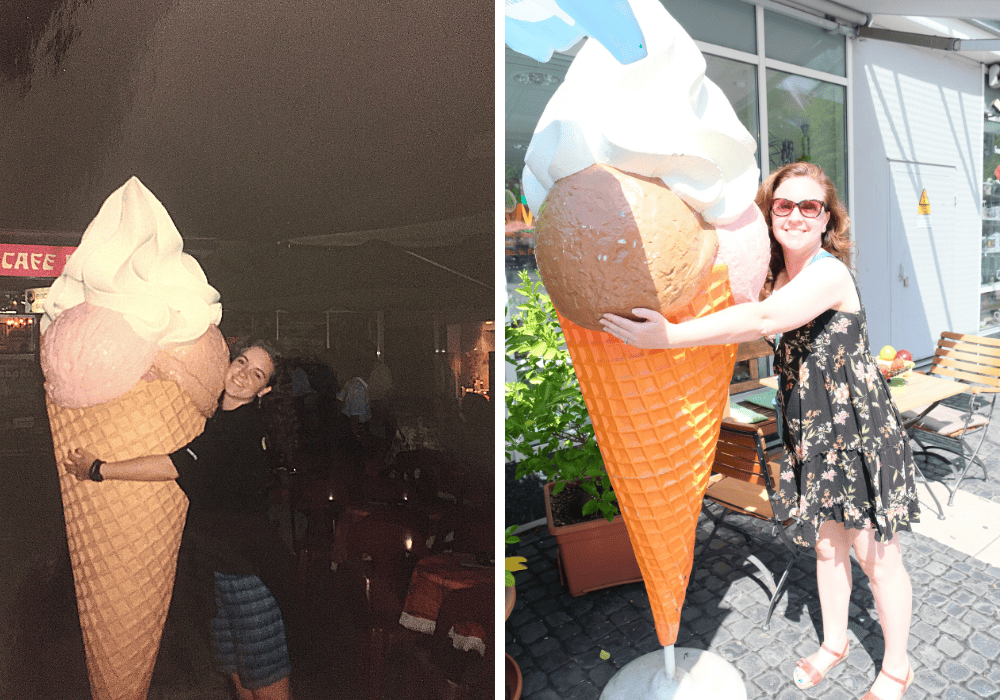 20. I liked ice cream back then…and still do today. This photo wasn't taken the same location but look at the ice cream cone – it hasn't changed since 1994!
21. Enjoying Spaghettieis at a cafe in two different centuries. (I wish I still had that sweater. It was so warm and cozy.) I know it looks like my hair hasn't changed in the past 25+ years but it has! Maybe it actually makes the phots better being similar again?
Freiburg: 1994, 2001 & 2019
I often visited friends in Freiburg in 1993/1994 and then went back to live there when I was a grad student in 2001. It's one of my favorite cities in Germany.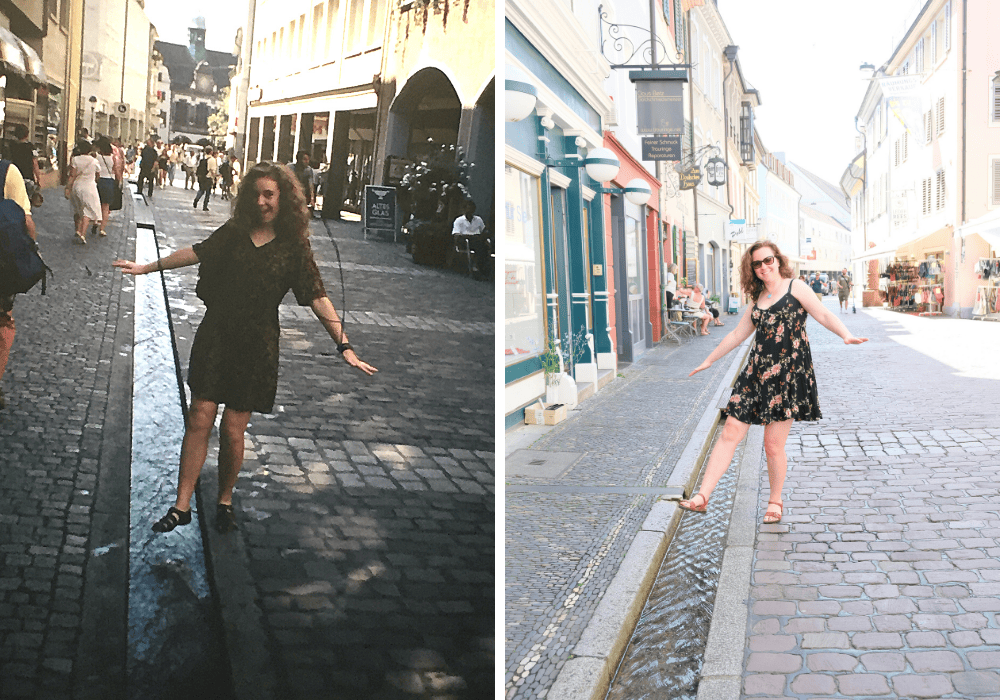 22. Freiburg is famous for the "Bächele" that run throughout the city. Legend has it, if you fall into one, you'll marry a Freiburger. The day Aaron and I visited Freiburg in 2019 was one of the hottest days of the summer (omg it was so hot) AND I'd forgotten my phone at our AirBnB in Stuttgart, so I couldn't remember where I'd taken the original photo.
After wandering around in the ungodly heat, trying to find the street I was picturing in my head (couldn't find it), all I wanted to do was immerse as much of myself as possible in the Bächele (but I resisted). Haha!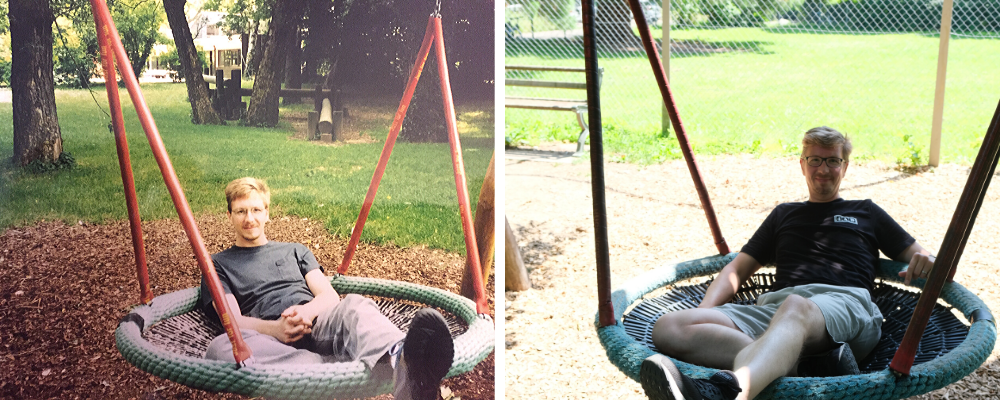 23. Finally one of Aaron! When I was teaching in Freiburg in 2001, Aaron came to visit a couple times. We found this swing at a park…and it was still there in 2019!
Europe With Aaron: 1999 & 2019
In 1999, Aaron and I went to Europe for a couple months. It was our first international trip together, and where we decided to get married (while sitting on a bench overlooking the Mediterranean at sunset in Italy).
24. Aaron quit his first "real job" to go traveling with me and then move to Michigan, where I started a PhD in German Applied Linguistics. It was such a relief once we were finally on the plane because we hardly sleep in the weeks before we left with everything we had to do before our departure!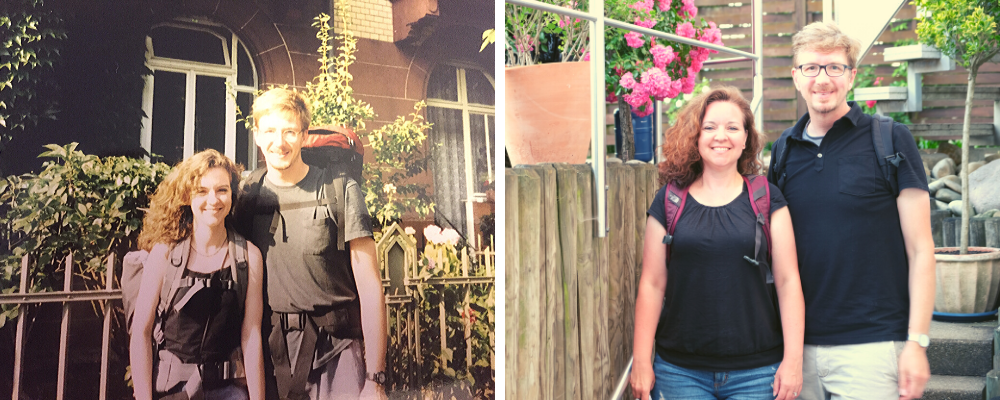 25. Look at those kids! That summer we spent time with a good friend in Mannheim at the beginning and end of our trip and traveled to eight countries in-between. On our way to the Mannheim train station, our friend snapped this photo of us. We decided to recreate it on the steps of our Stuttgart AirBnB.
And like I said, I know it doesn't look like it, but I really have changed my hair several times in the past 30 years! Haha!