Hamburg Area Travel Guide
This post may contain affiliate links. Read my disclaimer policy.
Located on the Elbe river in northern Germany, there are countless attractions in and around Hamburg and so much to love about this beautiful and bustling hanseatic city.
Keep reading this guide for an overview of what to do and see in the Hamburg area. Or check out one of our more in-depth guides:
In addition to the usual museums and shopping, Hamburg has a huge lake in the middle of its city center (the Alster), a TV tower for excellent views, lush parks and botanical gardens, a famous fish market with delicious food, an historic harbor, and so much more.
Northern Germany looks and feels different than southern Germany, and I highly recommend visiting. I used to live in Hamburg and it's one of my favorite cities in Germany.
---
What to Do and See in Hamburg
Whether you're into food, history, architecture, nature, art, or spontaneous adventures, you'll find plenty to see and experience in and around Hamburg! Here are a few ideas to get you started:
READ our guide on what to do in Hamburg.
Hamburg Rathaus
Rathausmarkt
St. Michael's Church
Reeperbahn & St. Pauli
Canoe the Canals
Uni Hamburg
Schanzeviertel
TV Tower
Port of Hamburg
Fischmarkt
U-boat Museum
Planten un Blomen
Ride the U-3 from Rathaus to Kellinghusenstrasse
Elbphilharmonie
Hamburg Zoo
Maritime Museum
Knusthalle Hamburg (art gallery)
Hamburger Dom (festival)
Blankenese Treppenviertel
Ohlsdorf Cemetery
Harvestehude Neighborhood
Alster Arkaden
Eat a Franzbrötchen
Stadtpark
TIP: if you have our Germany Travel Planner/Bundle be sure to check out the interactive planning map so you can see where the best sights are located. Seeing where these sights are on the map, along with our up-to-date photos and tips, makes planning your trip SO much easier. If you don't yet have it, click here to get access.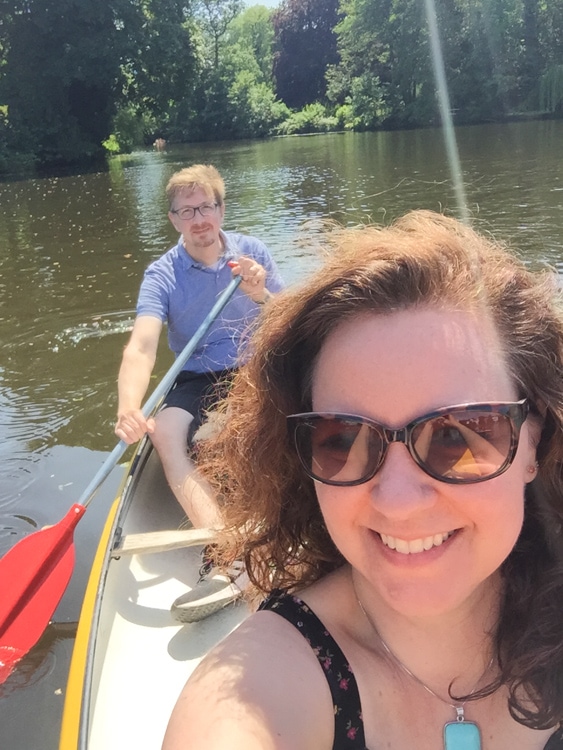 ---
Hamburg Accommodations
You'll find a wide variety of accommodation options in Hamburg, including hotels and apartments, from budget to luxury, city center to beautiful neighborhoods to on the Elbe river.
If you're looking for an apartment in Hamburg, do a search on Booking.com. We've found several great apartments there (less than what we saw on Airbnb for the same apartment) and it's SO nice to have all hotel and apartment reservations in one place.
TIPS:
If you have our Germany Travel Planner/Bundle you'll find recommended hotels on our interactive planning map. Seeing where these hotels are in relation to the top sights makes it a lot easier to find the perfect place to stay. If you don't yet have it, click here to get access.
Book your Hamburg accommodations in advance! They tend to fill quickly during peak travel times (summer, Christmas, etc) so I recommend seeing what's open for your travel dates.
---
Hamburg Tours & Tickets
Hamburg has many guided tours and special tickets to make your visit extra fun. Book in advance so you don't have to scramble once you're in town and potentially miss out on an activity or tour you're looking forward to.
Find the best deals on Hamburg tours & tickets here!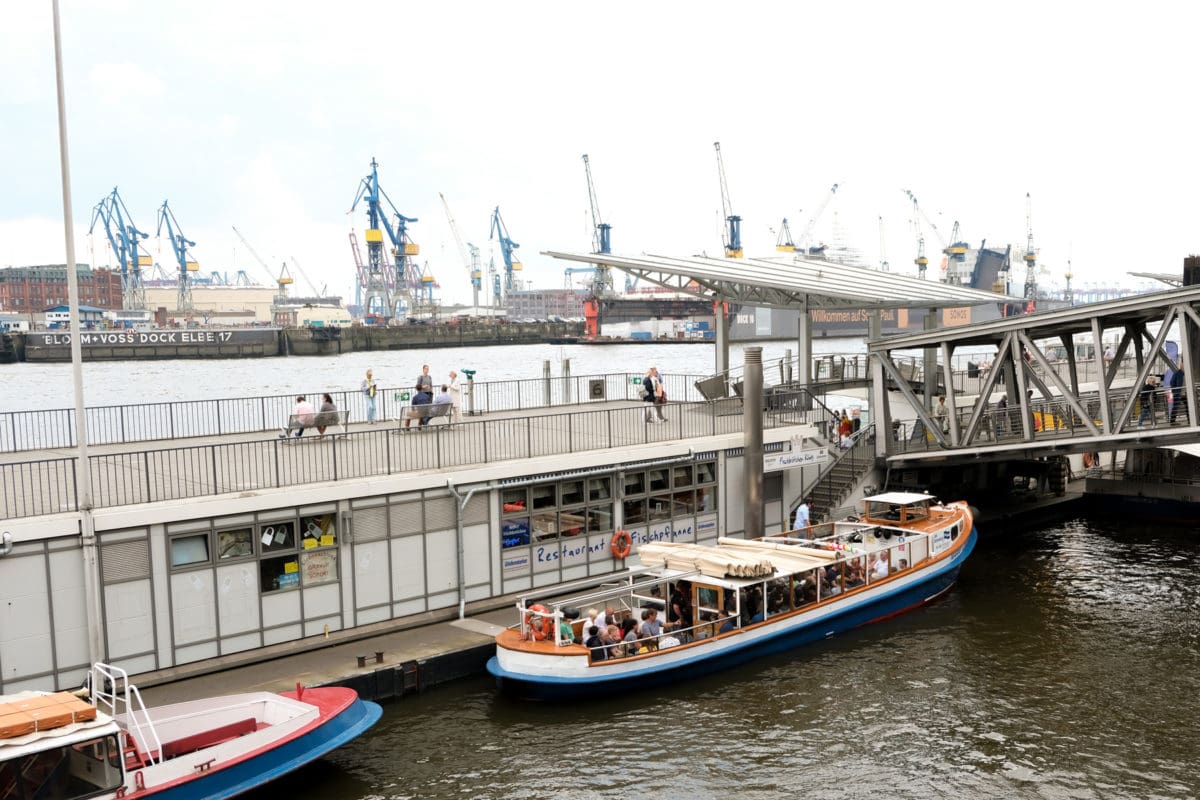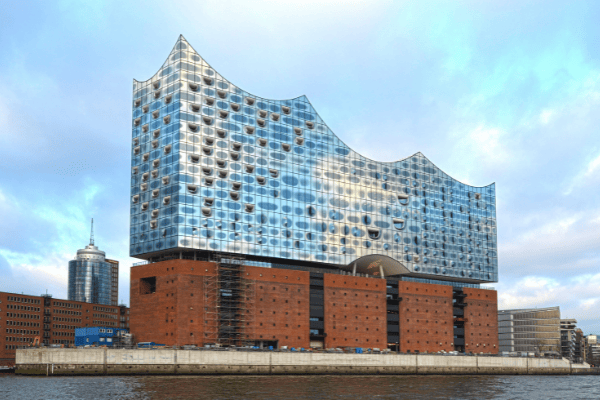 ---
Hamburg Day Trips
One of the best things about making Hamburg your home base while visiting northern Germany is that you have countless day trip options. You can plan your own day trips for maximum flexibility or book a guided tour for maximum relaxation and convenience. Here are some ideas to get your planning started.
READ our Hamburg Day Trips Guide!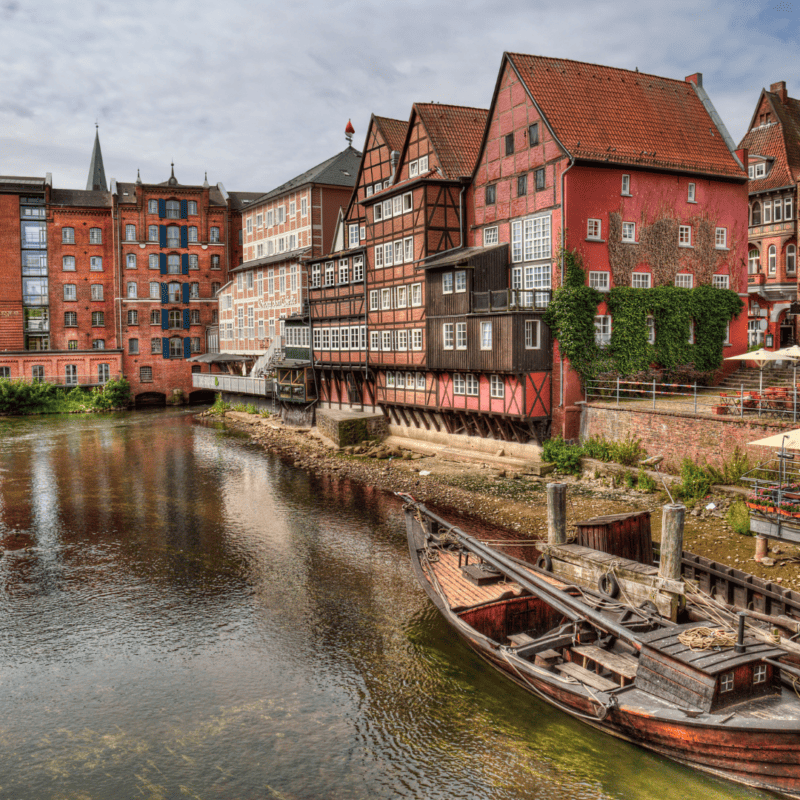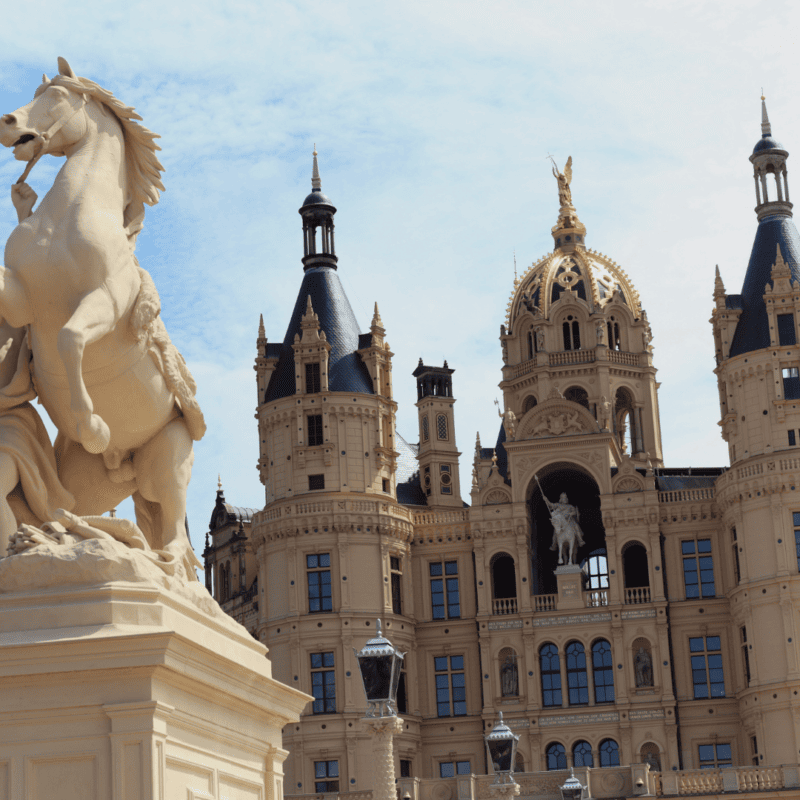 TIP: If you have our Germany Travel Planner/Bundle look at our interactive planning map to see do-able day trips. Seeing the castles, towns, and other must-see sights on the map (along with our photos and up-to-date tips) makes it much easier to decide what to add to your itinerary. If you don't yet have it, click here to get access.
---
Know Before You Go
Airport: Hamburg International Airport (HAM)
Currency: euro
Language: the official language of Germany is German (Deutsch)
Time zone: Centra European Time (CET / GMT+ 2 / 6 hours ahead of US EST)
Germany Visa: tourists from the US, Canada, and several other countries do not need a visa to visit Germany for under 90 days
Germany Electricity Socket: Germany uses different voltage and sockets than in North America, the UK, and other parts of the world. Read our guide to adapters and converters so you can safely use your tech in Germany.
Germany SIM card: Read our guide here to SIM cards and other ways to use your phone in Germany.
Germany Car Rentals: We find great deals on rental cars here. You can also check out our scenic Germany road trips article here.
---
More Hamburg Guides
Hamburg Travel FAQ
Where is Hamburg Located?
Hamburg is located on the Elbe river in northern Germany, north of Bremen, south of Lübeck, and west of Berlin.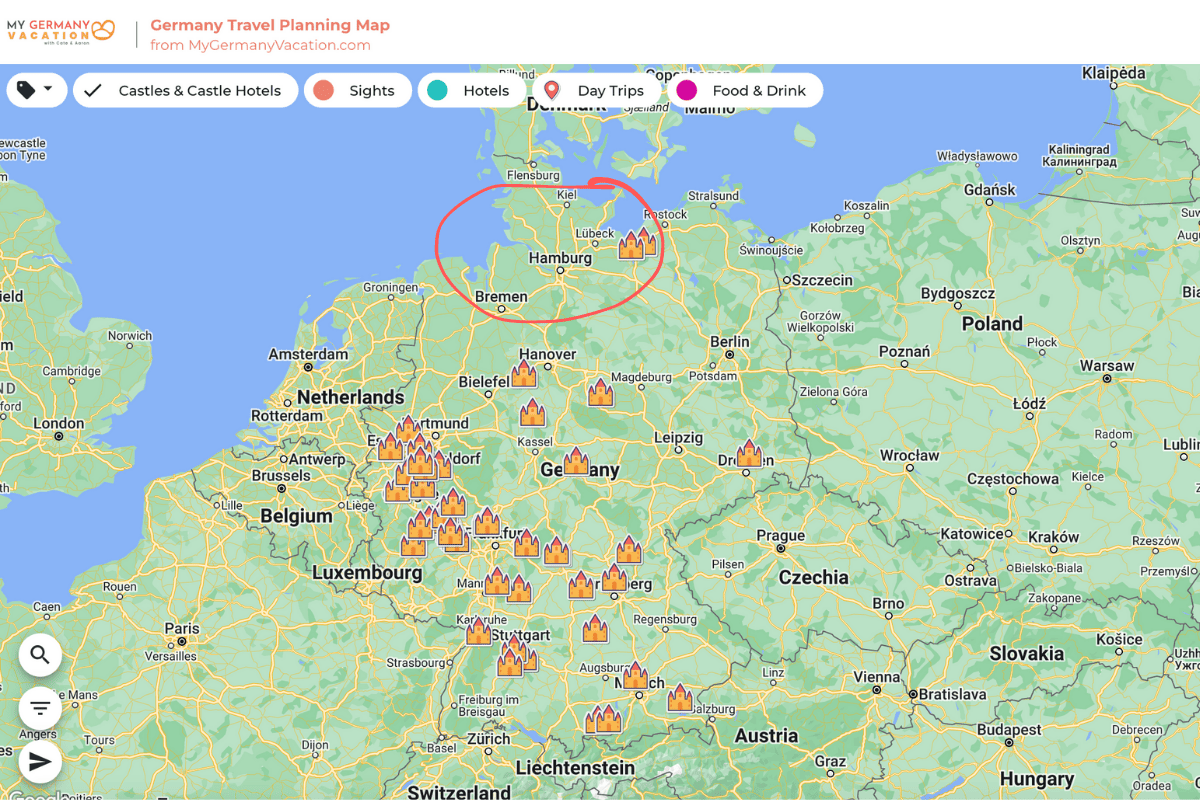 Where Can I Find The Above Map?
It's part of our Germany Travel Planner/Bundle, and it's your Germany travel planning BFF! Using our custom interactive planning map you'll be able to quickly see the best sights, castles, hotels, day trips and more – along with our photos and up-to-date tips. Seeing where these things are in relation to each other makes it much easier to plan your overall itinerary, as well as each day of your trip. If you don't yet have it, click here to get access.
Does Hamburg Have an Airport?
Yes! Hamburg has a good sized international airport that you can easily reach from the city with flights all over Germany, Europe, and beyond. I've flown in and out of this airport several times.
How to Get to Hamburg?
Hamburg is easy to reach via train, bus, car or plane. If arriving from the US, consider flying directly into Hamburg's international airport. We've started doing this and usually transfer in London or Frankfurt after an international flight from the US. You can take an U-bahn (metro) from the airport into the city in about 40 minutes, hop in a taxi or book an easy airport transfer here.
How to Get Around Hamburg?
Hamburg has an excellent public transport system that you can use to go all over the city. If you're flying into Hamburg you can easily take the U-bahn into the city center from the airport or arrange an easy airport transfer to your lodging.
If arriving via the main train station or bus station, you can walk to many hotels, catch a bus, U-bahn or S-bahn or grab a taxi. Hamburg's public transportation is excellent and will easily get you where you want to go. If you use public transportation during your visit, I highly recommend getting a day pass over continually buying individual tickets.
Another way to get around Hamburg, at least for part of your visit, is the Hop On Hop Off bus! We did this one day and actually had a lot of fun seeing a lot of the city in a short amount of time.
You don't need a car to explore Hamburg. It's better to take the S-bahn, U-bahn, bus, and ferry to get everywhere you want to go in Hamburg. There are also taxis, Uber, and the HOHO bus.
If you drive to Hamburg make sure your lodging has parking. It's often possible to find on street parking but it's not always easy, especially in some parts of the city. The last time we were in Hamburg we spent about 40 minutes looking for a place to park our car and then another 20 minutes walking to our Airbnb. It wasn't a big deal for us on that trip but it's something to be aware of.
Does Hamburg Have Uber?
Yes, you can use Uber in Hamburg.
Is Hamburg Worth Going To?
Yes! Hamburg is the largest city in northern Germany and is unique because it's a city-state, meaning that Hamburg is both a city and Bundesland (state). There's a lot to do and see in this beautiful maritime city, plus there are several options for day trips to cute town full of gothic brick, as well as beaches on the North and Baltic seas. You can even visit the islands of Sylt and Heligoland from Hamburg.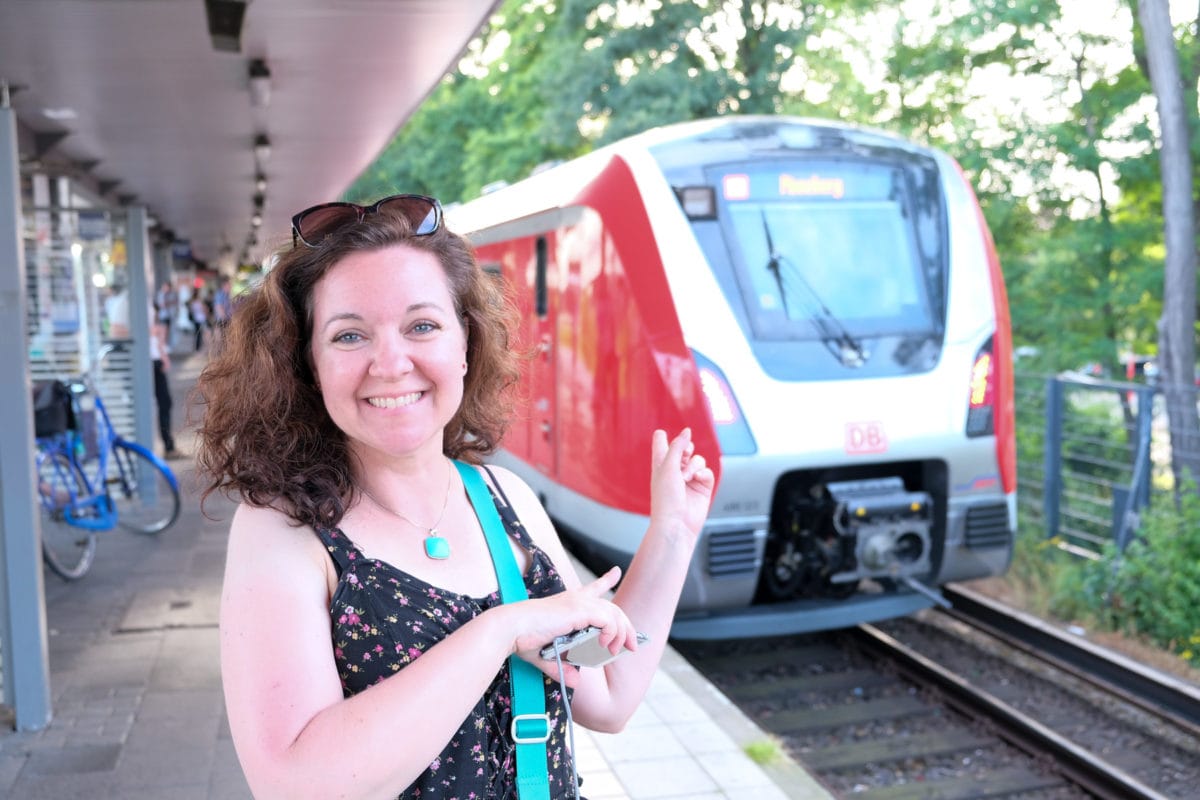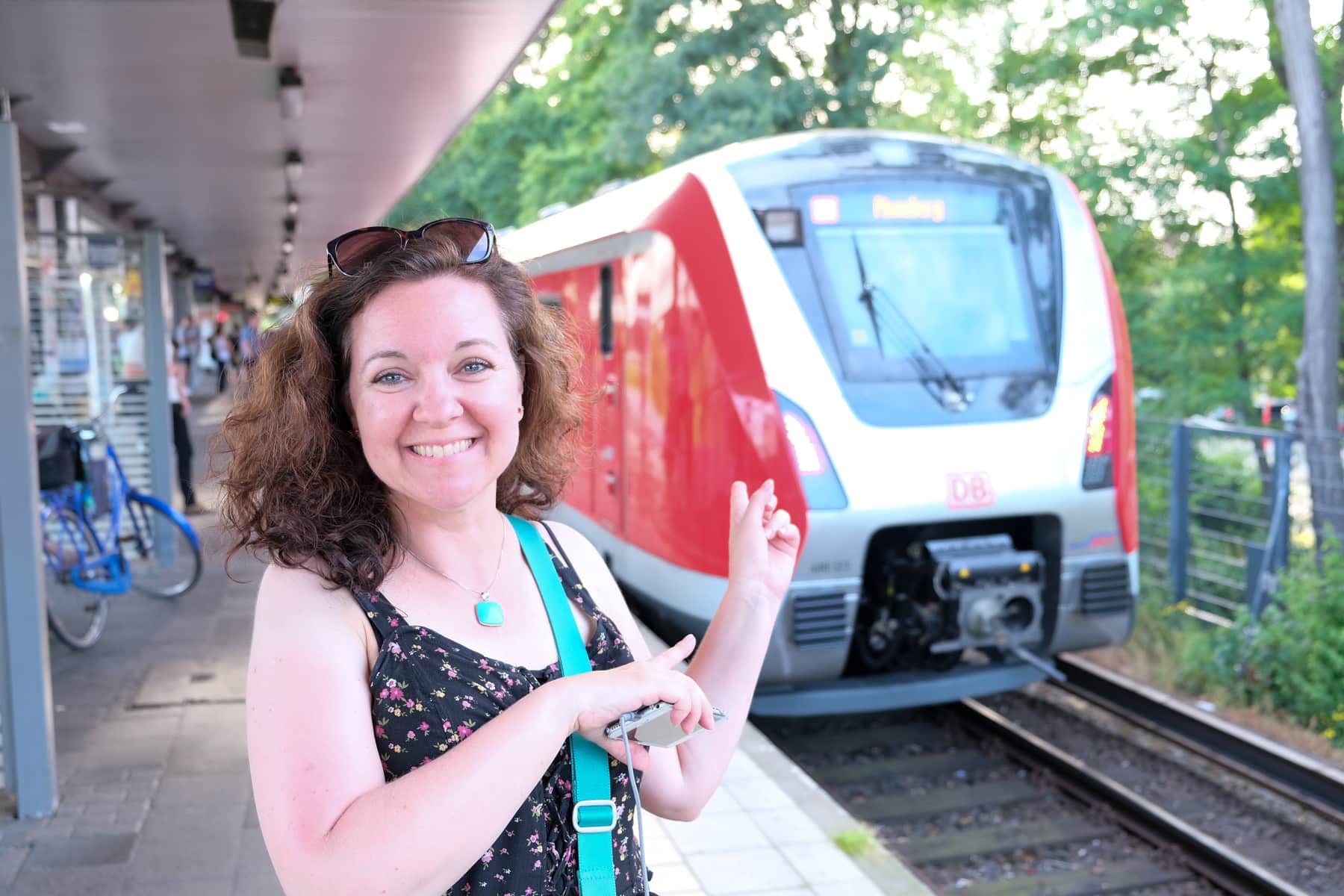 ---
Hamburg Basics
Population
1.8 million (city)
5.1 million (metro)
Airport
International Hamburg Airport Helmut Schmidt
Bundesland
Hamburg (it's one of 3 "city-states" in Germany)
Schleswig-Holstein is the state north of city
Lower-Saxony is the state south of city
Train Travel Times to Hamburg
Berlin ➔ Hamburg = 2 hrs
Frankfurt ➔ Hamburg = 4 hrs
Munich ➔ Hamburg = 5.5 hrs
Salzburg ➔ Hamburg = 8 hrs
Paris ➔ Hamburg = 8 hrs
Rome ➔ Hamburg = 20 hrs
Prague ➔ Hamburg = 7 hrs

Fun Facts
The greater Hamburg area has as many inhabitants as Norway!
Hamburg has more bridges in its city limits than any other in the world and more canals than Amsterdam and Venice combined!
Hamburg is often shortened to HH, which is what you'll see on Hamburg license plates