Best Germany Destinations
Looking for Germany travel inspiration? You've come to the right place. Here we share the best places to visit in Germany that will leave you with unforgettable memories and experiences. Get ready for an adventure through one of Europe's most fascinating countries!
5 Top Germany Destinations
Berlin, Munich, the Alps, the Rhine, and the Black Forest are must-see places to visit in Germany for many travelers, especially first-time visitors. Click below to learn more about each destination: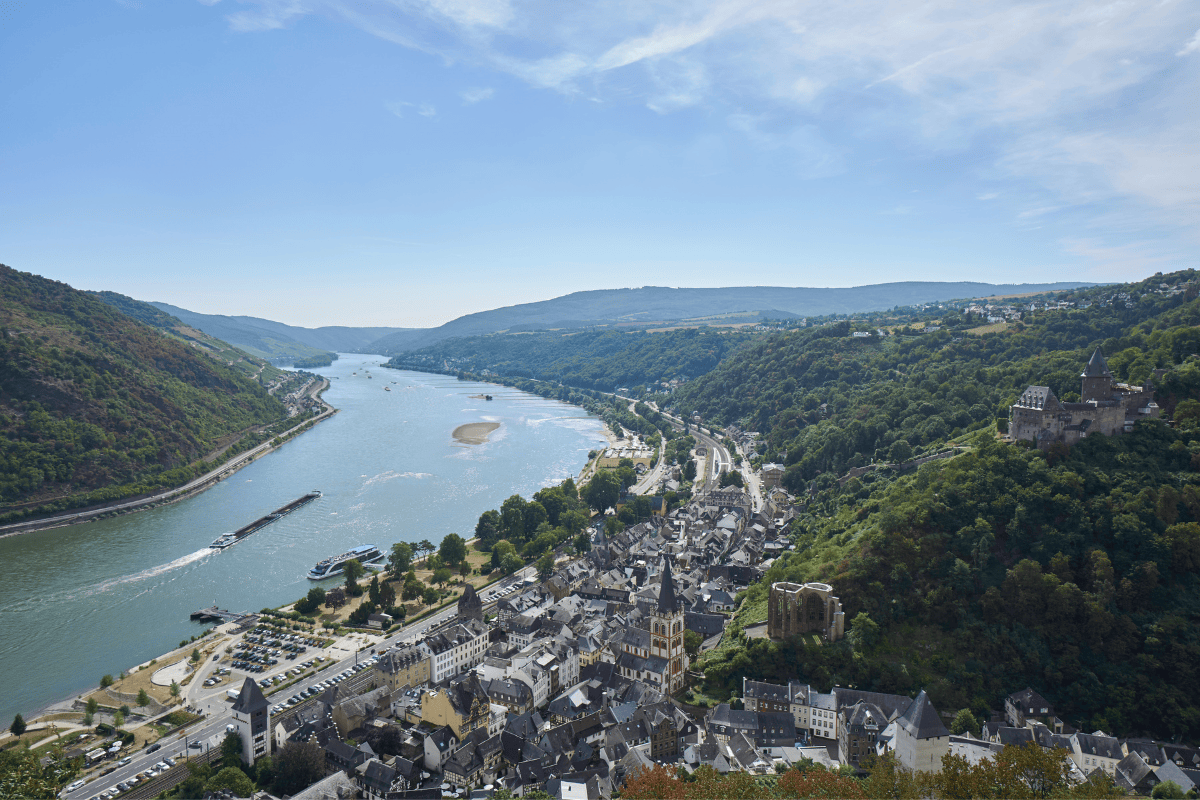 More Beautiful Places to Visit in Germany
Interested in castles or Christmas markets? Want to visit lesser known beautiful places in Germany? Check out these guides that will help you discover the best of Germany:
Where is Germany Located?
Germany is located in the heart of western Europe and borders France, Luxembourg, Belgium, Netherlands, Denmakr, Poland, Czechia, Austria, and Switzerland.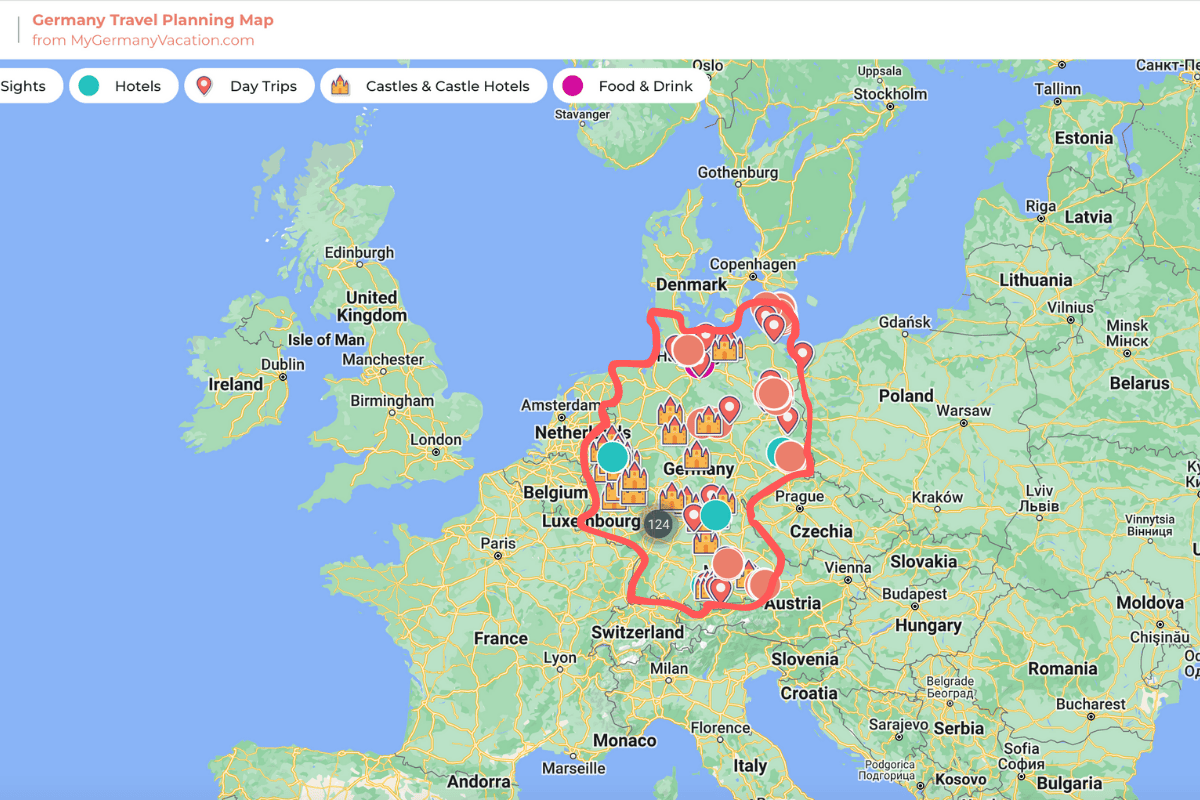 Where Can I Find The Above Map?
It's part of our Germany Travel Planner/Bundle, and it's your Germany travel planning BFF! Using our custom interactive planning map you'll be able to quickly see the best sights, castles, hotels, day trips and more – along with our photos and up-to-date tips. Seeing where these things are in relation to each other makes it much easier to plan your overall itinerary, as well as each day of your trip. If you don't yet have it, click here to get access.
How Many German States Are There?
There are 16 German states (called Bundesländer in German): Baden-Württemberg, Bavaria (Bayern), Berlin, Brandenburg, Bremen, Hamburg, Hesse (Hessen), Lower Saxony (Niedersachsen), Mecklenburg-Vorpommern, North Rhine-Westphalia (Nordrhein-Westfalen), Rhineland-Palatinate (Rheinland-Pfalz), Saarland, Saxony (Sachsen), Saxony-Anhalt (Sachsen-Anhalt), Schleswig-Holstein and Thuringia (Thüringen). Hamburg, Berlin, and Bremen are unique in that they are both cities and states.
Germany Travel: What to Know Before You Go
Currency: euro
Language: the official language of Germany is German (Deutsch)
Time zone: Centra European Time (CET / GMT+ 2 / 6 hours ahead of US EST)
Germany Visa: tourists from the US, Canada, and several other countries do not need a visa to visit Germany for under 90 days
Germany Electricity Socket: Germany uses different voltage and sockets than in North America, the UK, and other parts of the world. Read our guide to adapters and converters so you can safely use your tech in Germany.
Germany SIM card: Read our guide here to SIM cards and other ways to use your phone in Germany.
Germany Car Rentals: We find great deals on rental cars here. You can also check out our scenic Germany road trips article here.
Is Travel in Germany Safe?
Yes, we've always felt safe traveling in Germany. Cate has been traveling around Germany since she was a teen and has always felt comfortable, even when traveling solo.
As with any travel destination, it's always important to exercise caution and take common-sense safety measures. Be aware of your surroundings, make sure your phone is charged, have the name and address of your accommodations before you leave for the day, withdraw money from ATMs during daylight, and text your plans for the day to a friend or family member if traveling alone.
Getting pick-pocketed can be a concern in touristy or crowded areas (a friend once had her wallet taken out of her backpack while we were showing students around a university city) so don't carry important items in easy to reach pockets in pants, jackets, bags or purses. If you don't have anti-theft zippers, you can use these to help deter theft.
Is Germany Tourist Friendly?
Yes! Not only does Germany have an abundance of fairytale castles, lively cities, historical sights, and beautiful natural areas that draw visitors from around the world, Germany is a country that's easy to travel in, even for first-time visitors and non-German speakers.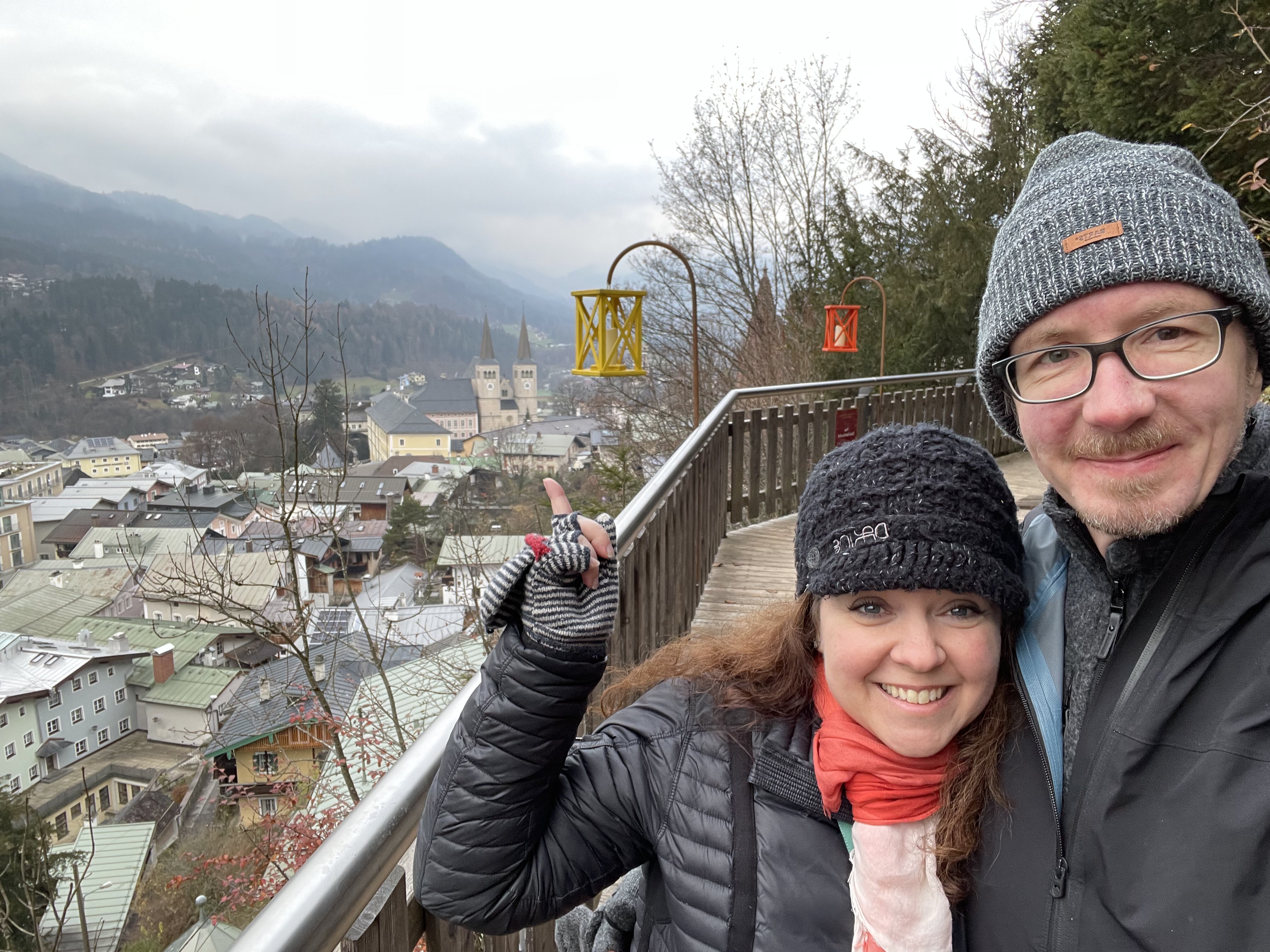 Does Travel To Germany Require a Visa?
Whether travel to Germany requires a visa depends on your nationality and the purpose and duration of your visit. Visitors with US or Canadian passports, for example, do not need a visa for a short visit to Germany (under 90 days).
It's always a good idea to check visa requirements for your specific citizenship by contacting the German embassy or consulate in your country or visiting their official website well in advance of your travels. They will provide you with accurate and up-to-date information regarding visa requirements and the application process.
What to Wear Traveling in Germany?
Whatever you feel most comfortable wearing that fits the time of year! Germany has 4 distinct seasons and the temperature can vary throughout the year so in the summer you'll want to wear clothes that keep you cool, and in the winter be prepared for cold, rain, and even snow.
We always recommend packing clothes that can be layered so you're prepared for shifts in temperature. Comfortable shoes are a must, since you'll likely be walking all day. You can read our packing guide here that highlights some of the specific items we always bring when traveling in Germany.
Do I Need To Speak German If I'm Visiting For The First Time?
Don't worry if you don't speak German. In airports, train stations, car rental offices, hotels, and tourist sights you'll easily find information in English, as well as English speakers who can help you out. In restaurants, cafes, bars, stores, etc, you can use translator apps.
Many people do speak or understand at least some English. It's always a good idea to learn at least a few words in German like hallo (hello) and danke (thank you).
How Do You Get Around Germany Without A Car?
Pretty easily! Germany has an extensive public transit system, which means you can easily travel all over Germany using high speed and regional trains, busses, and local public transit (S-bahn, U-bahn, bus, tram). There are taxis everywhere and you can also hire private drivers and tour guides. While we have rented cars in Germany, we've also traveled (and Cate lived) all over Germany using only public transit.