Best Things to Do in Stuttgart, Germany in 2023
This post may contain affiliate links. Read my disclaimer policy.
In the scenic state of Baden-Württemberg in southwest Germany lies Stuttgart – a bustling capital city rapidly appealing to visitors all over the world. I used to live in Stuttgart and am excited to share this wonderful city with you!
Though it's well known as an automotive hub, the birthplace of Mercedes-Benz and Porsche, and home to a major university, the greater Stuttgart area has even more to offer visitors in the arts, history, and cuisine.
From museums to castles, scenic parks to hiking trails, vineyards to super fun beer festivals, and a world-famous Christmas market, there's so much that draws tourists to Stuttgart!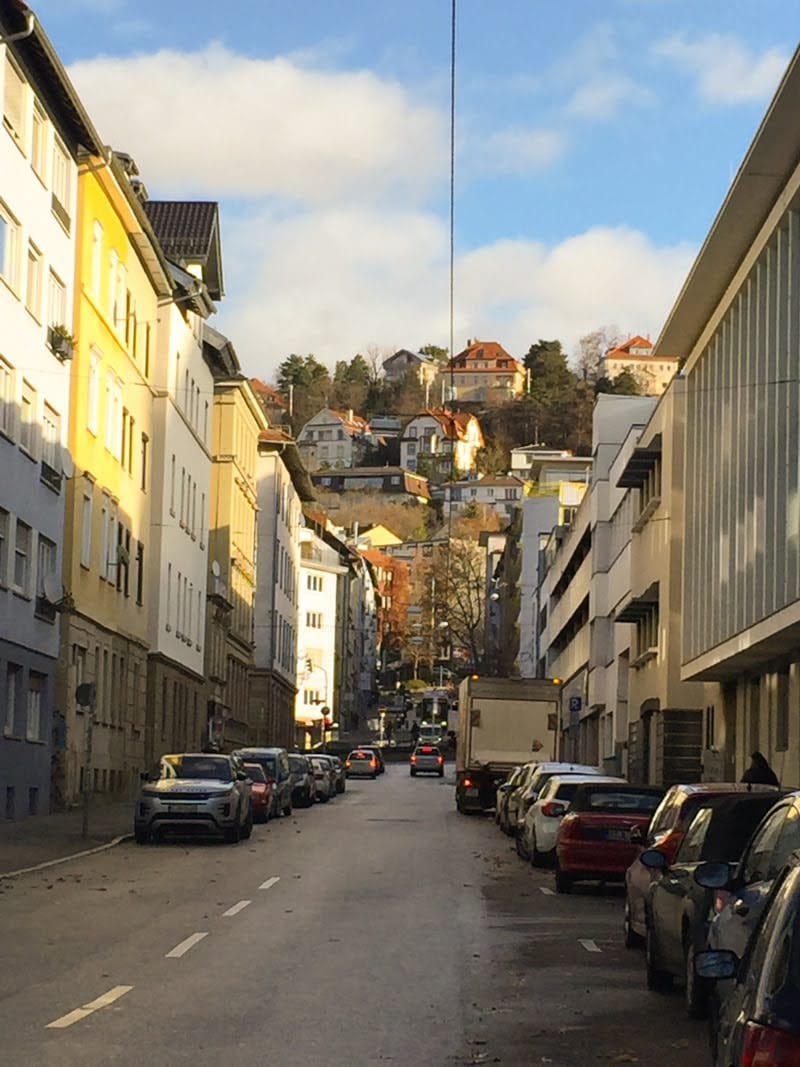 There are 2 things in particular that I loved about living in Stuttgart: 1) the beautiful hills surrounding the city and 2) that it's not super touristy.
If you've been to Germany before or if you simply want to balance visiting super popular cities like Munich or Berlin with a less touristy destination, add the Stuttgart area to your itinerary. Flying in/out of the Stuttgart airport makes a visit super easy.
If you're planning a trip to the Stuttgart area aren't sure what to add to your itinerary, this guide lists popular destinations and top things to do in and around Germany's 6th largest city. Be sure to check out our Stuttgart Travel Guide to start planning your visit, our Stuttgart Hotel Guide for where to stay, and our Germany trip planning guide for beginners for lots of helpful vacation planning tips!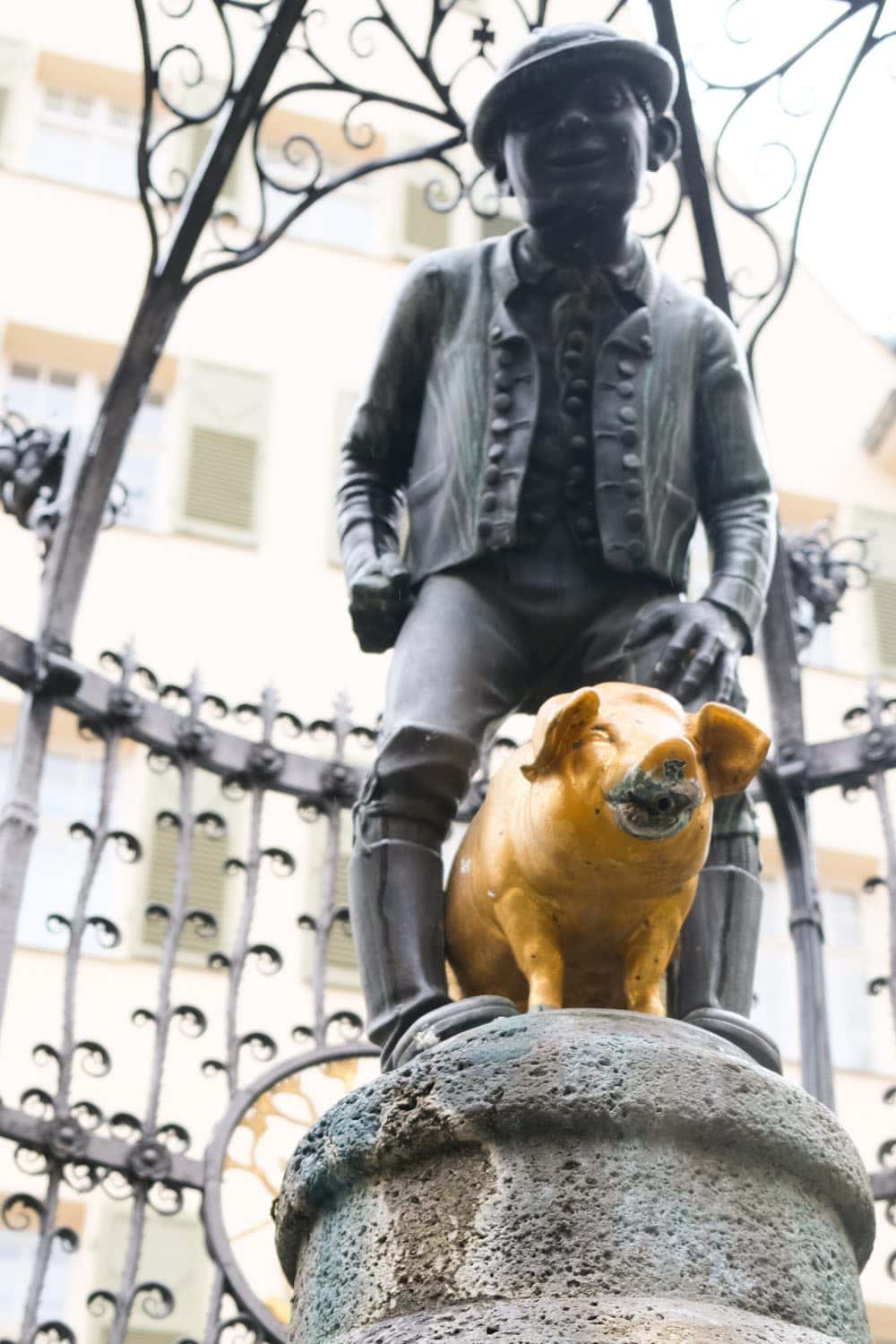 Getting To & Around Stuttgart
If you arrive via the Stuttgart International Airport (Flughafen) you can easily get into the city via S-bahn (about 45 minutes), bus or taxi (about 25 minutes). I fly into Stuttgart from the US whenever I can! I've gotten direct flights in/out of Stuttgart from Atlanta, and I've flown to Stuttgart via Paris.
If you travel to Stuttgart by train or bus you'll arrive at the main train station (Hauptbahnhof). From there you can walk down Königstrasse to reach several of the city center sites listed below. For others you'll need to take public transportation (S-bahn, U-bahn, tram, bus), which you can catch at the train station, along Königstrasse, and all over the city. You can also easily find taxis everywhere.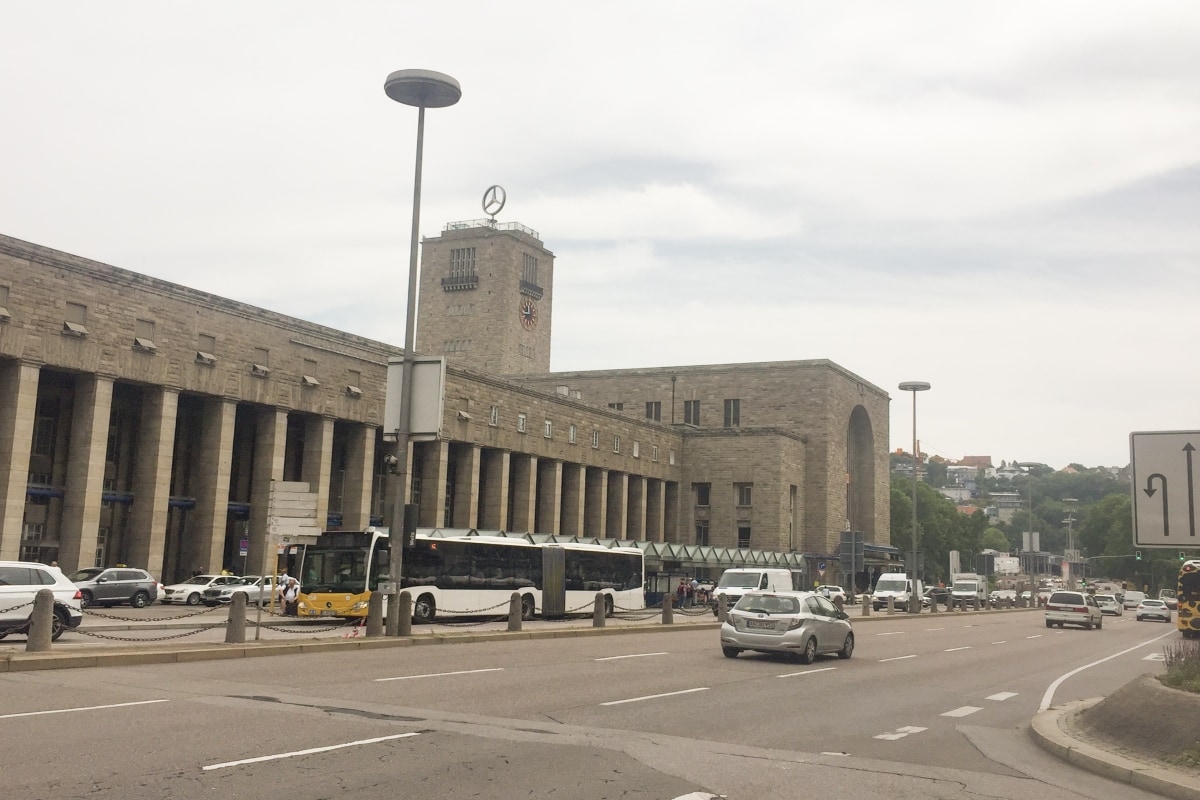 If you're only in Stuttgart for a day or two, take the Hop On Hop Off Bus tour! It'll give you a great overview of the entire city, even outside the city center, and you'll be able to see most of the sights listed below in a short period of time.
I've taken the HOHO tour and was surprised that it showed me parts of Stuttgart I hadn't explored when I lived there! It's such a great way to see a lot in just a couple hours, and the guided narration is actually fun to listen to.
Depending on the time of year you're in Stuttgart, you'll have 1 or more tour options. In the winter there's usually one option (the green tour) and possibly a Christmas tour (I did that one, along with the green tour, last time I was in Stuttgart but I'm not sure if the Christmas tour is available every year). In the spring/summer/fall you can choose between the green and blue tours, and there might even be a wine tour option!
Wondering where to stay in Stuttgart? Check out our hotel guide here!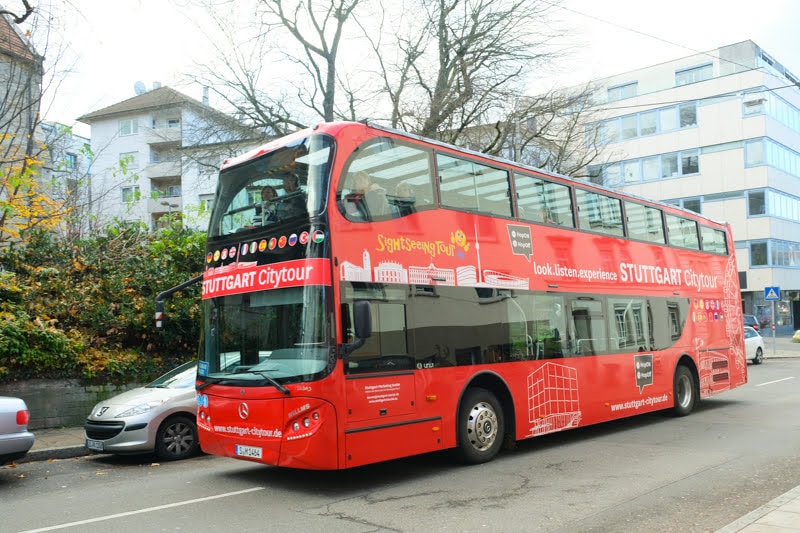 31 Must-See Sites In & Around Stuttgart
Sights 1-13 below are in the city center and easy to get to on foot. If you only have a couple hours or a half-day in Stuttgart, you can easily walk to most or all of these sights. To see #14-28 you'll want to take public transportation or the HOHO bus. To visit #29-31, take the S-bahn or regional train.
Stuttgart Map
Here's a map of the city center and other sights to give you a general idea where they're located.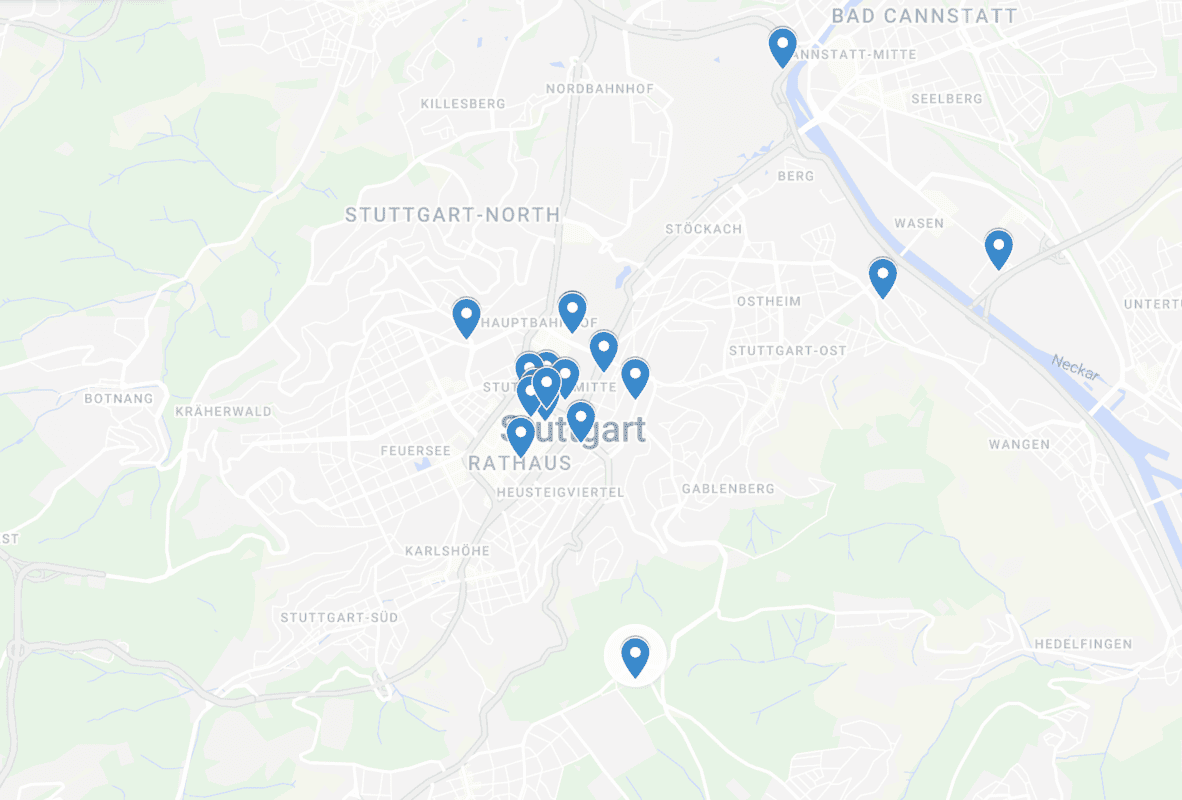 1. Königstrasse Shopping Street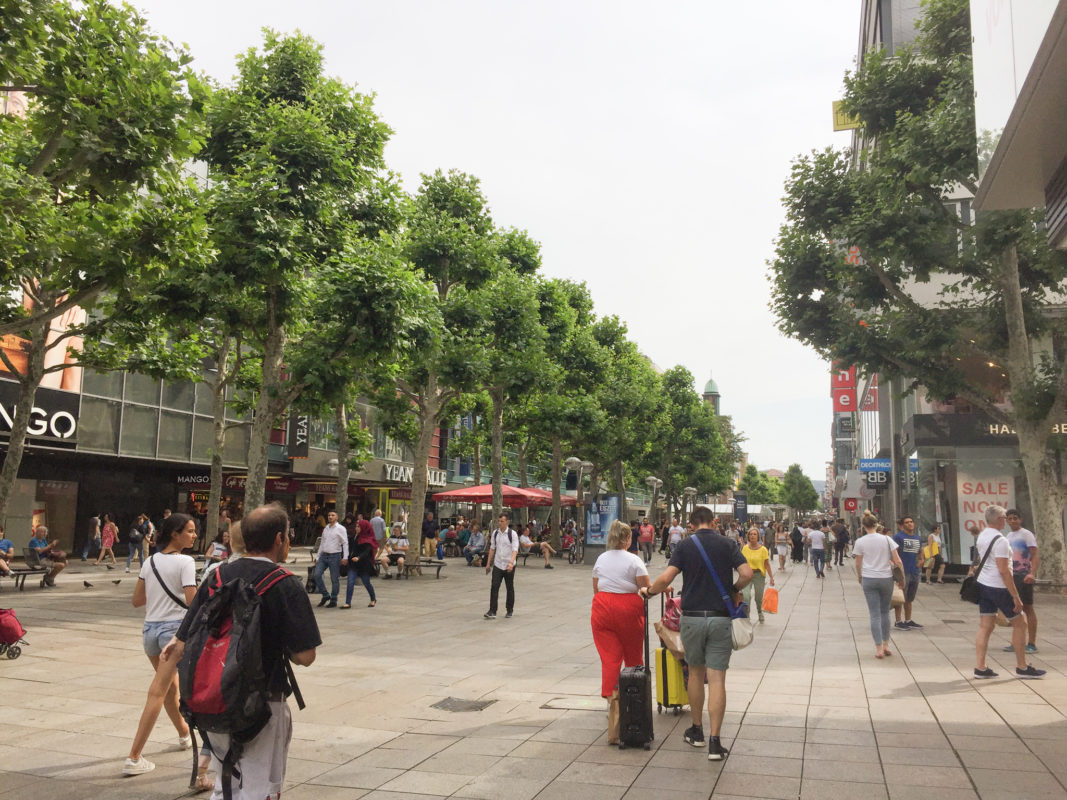 A must-visit and perfect for all your (window) shopping needs! Running through the heart of Stuttgart and ending at the city's central train station, this 1.2-kilometer boulevard is filled with popular brands such as Primark, Zara, and Uniqlo and various restaurants and cafés. If you only have an hour or two in Stuttgart, take a walk through this popular pedestrian zone. If you exit the train station and walk down Königstrasse, you'll walk right to Schlossplatz.
2. Schlossplatz Square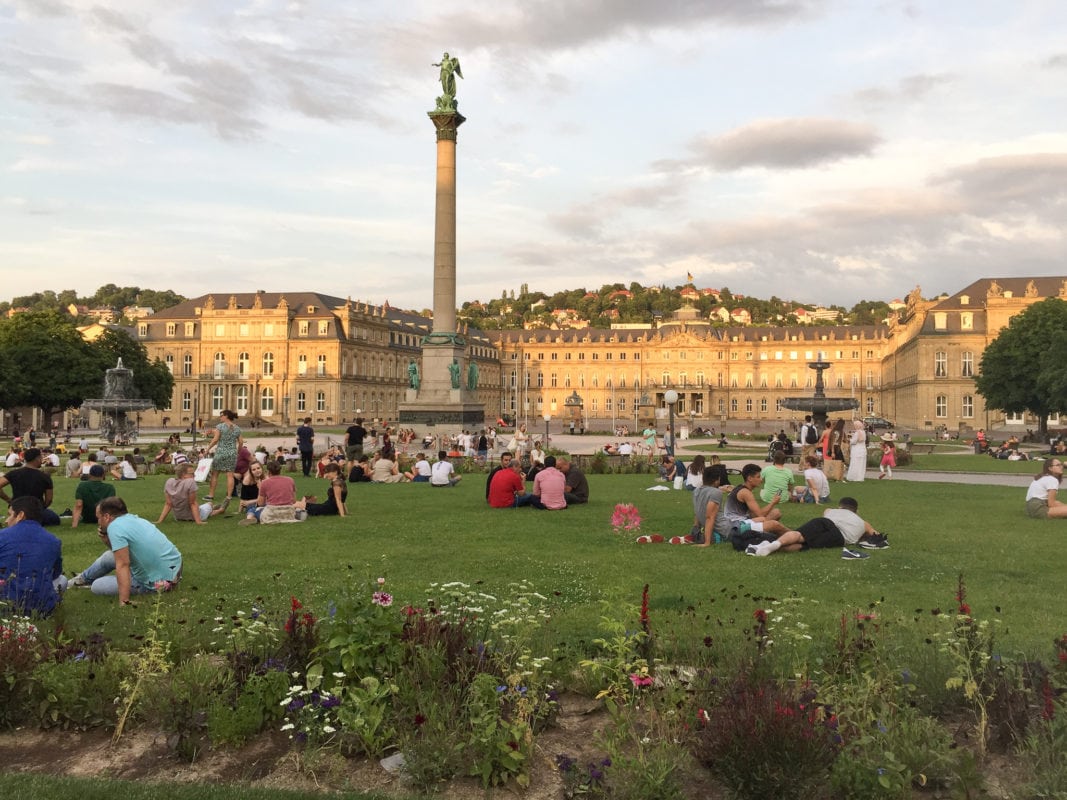 Schlossplatz is a pedestrian zone square in the heart of the city and a vibrant and popular tourist attraction that has something for everyone passing through. Schlossplatz was originally a private garden that was opened to the public as a beautiful park and grounds for open-air concerts, events, and just hanging out. Just a few steps from the square, you'll also find Kunstgebäude (contemporary art gallery), the Landtag (state parliament), and the Königstrasse shopping street. Schlossplatz is the perfect place to take a break and people-watch.
3. Neues Schloss (New Castle)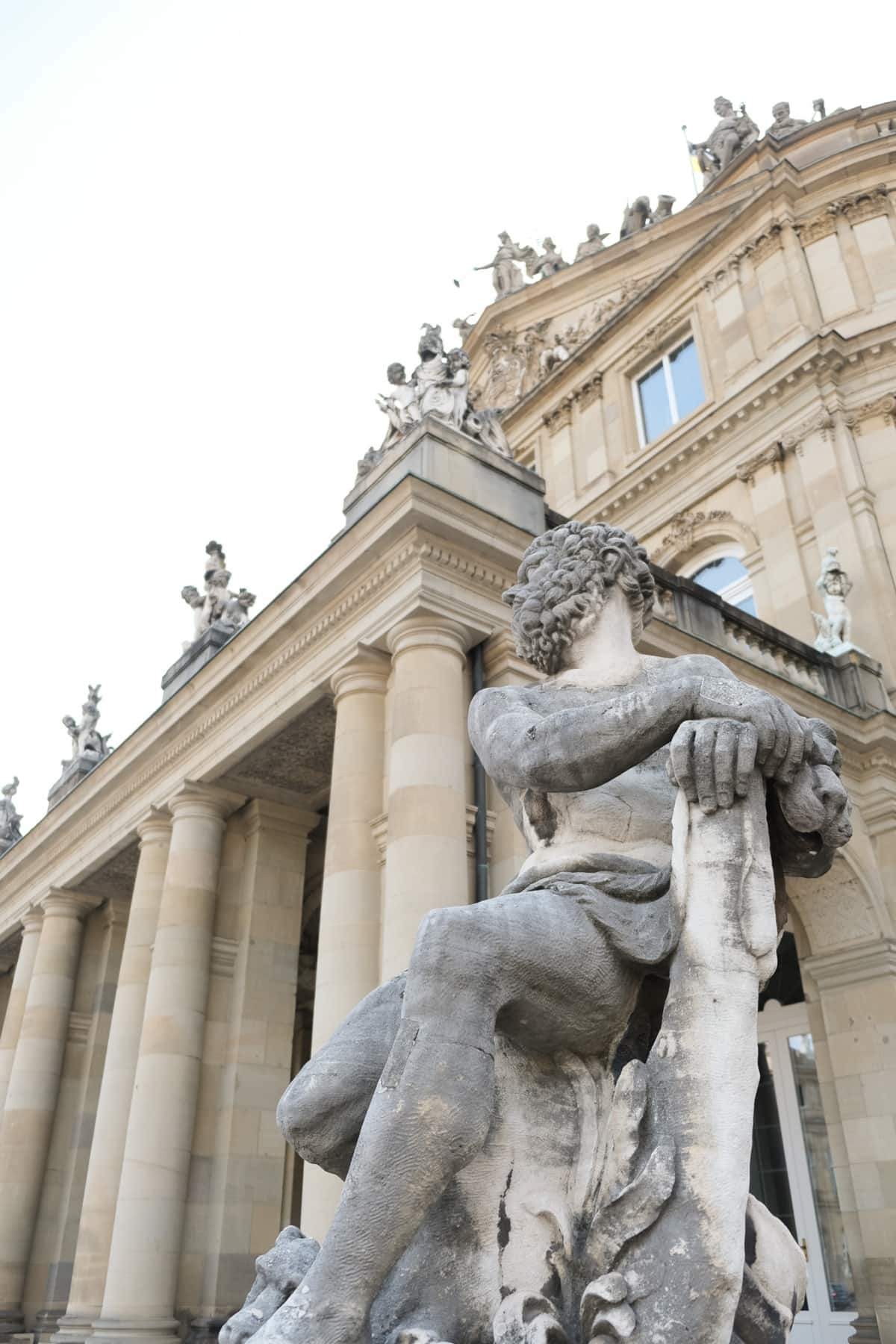 The Neues Schloss (New Castle) is a Baroque building from the 18th century. Its facade provides Schlossplatz with a beautiful regal backdrop, since it served as the royal seat for kings of Württemberg for decades. Nowadays, to go inside you must book a special public tour because it's used for government offices but you're welcome to wander around admiring the beautiful building.
4. Stuttgart Kunstmuseum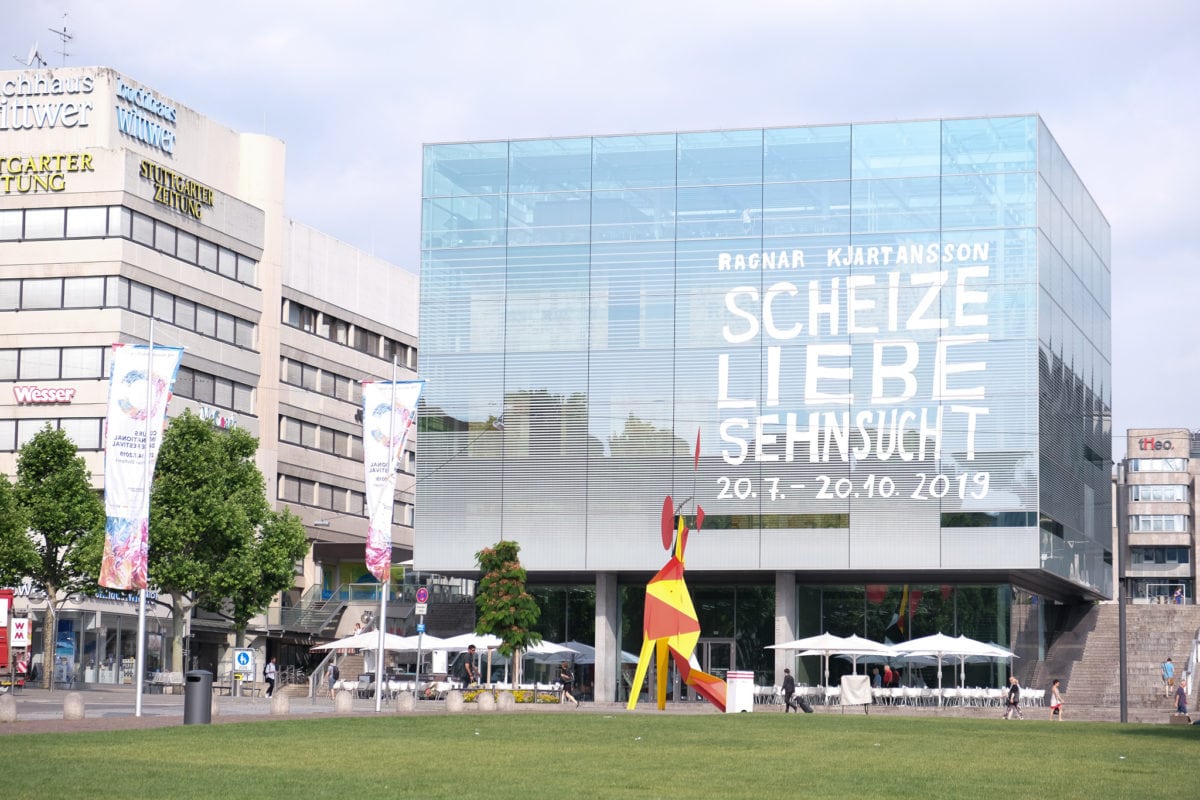 Located in the city center by Königstrasse, Stuttgart Kunstmuseum is a popular destination that's hard to miss. During the daytime, the reflective glass cube structure offers amazing views. At night, the interior limestone walls light up and illuminate the street. Inside you can visit their modern and contemporary art exhibits or dine at the museum restaurant.
5. Markthalle (Market Hall)
If you're a foodie looking for a culinary experience beyond restaurants, the Markthalle is the perfect place for you. Explore over 30 stalls offering everything from fresh produce, premium meats, and exotic spices. Housed in an Art Nouveau building, the Markthalle also boasts gourmet restaurants from international cuisines. To taste delicacies from all over the world, book your guided tour here (with a glass of prosecco!) here.
6. Schillerplatz & Stiftskirche (Collegiate Church)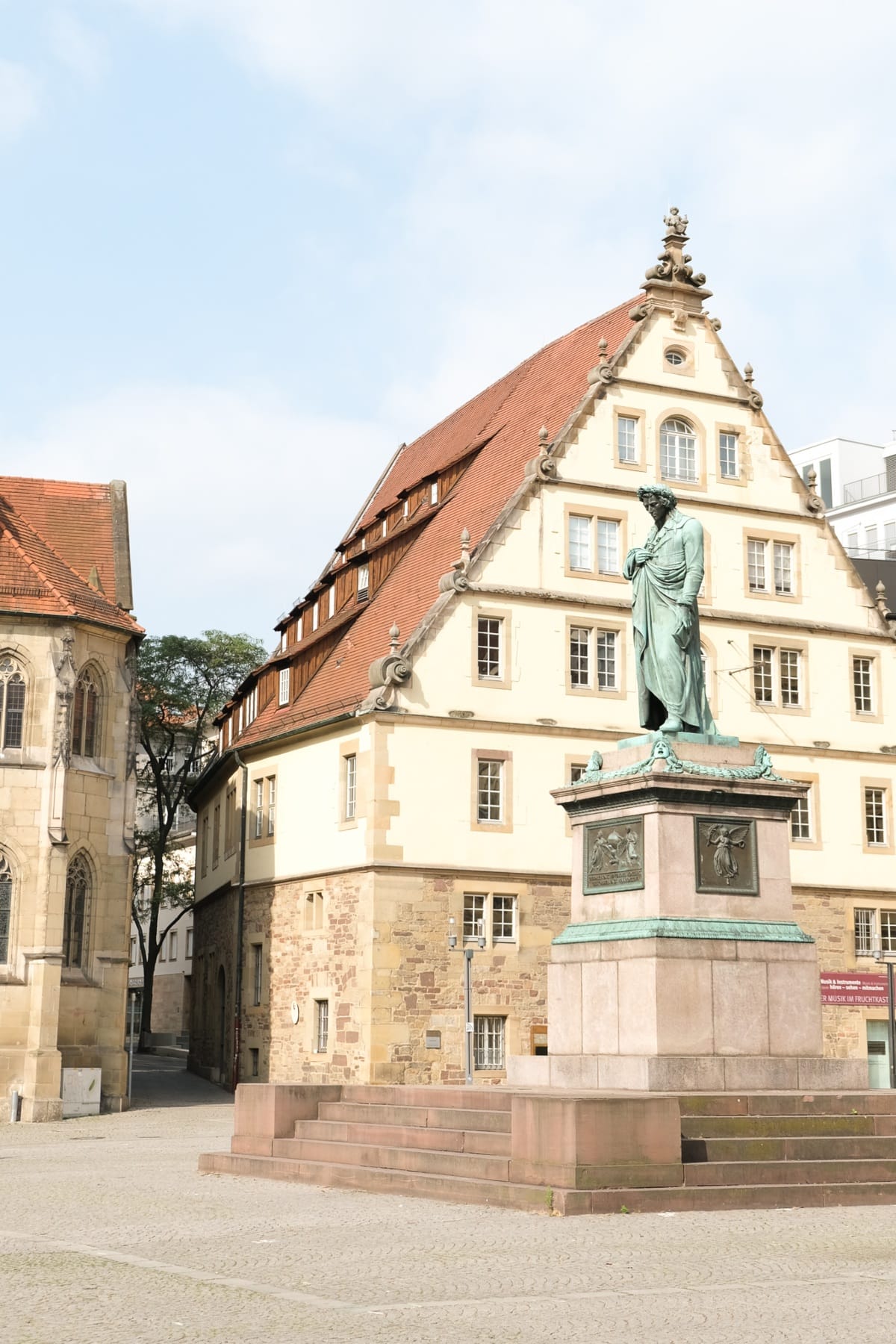 Schillerplatz is an historic old town square a 10 minute walk from the central train station and just a few minutes from Schlossplatz. It's named after poet Friedrich Schiller, who is commemorated with a statue in the center. While you're here, visit the Stiftskirche, an important Evangelical-Lutheran church damaged during WWII but then modernly reconstructed in the 1950s.
7. Altes Schloss (Old Castle) & Landesmuseum Württemberg
The Altes Schloss (Old Castle) in Schillerplatz, was a water fortress in the 10th century before turning into a royal palace. After withstanding wars, the Altes Schloss became home to the Landesmuseum Württemberg, which is now the state museum established by King Wilhelm in 1862. Its vast collection of archeology and cultural artifacts makes it one of the best places to learn about the city's history.
8. Rathaus (Town Hall)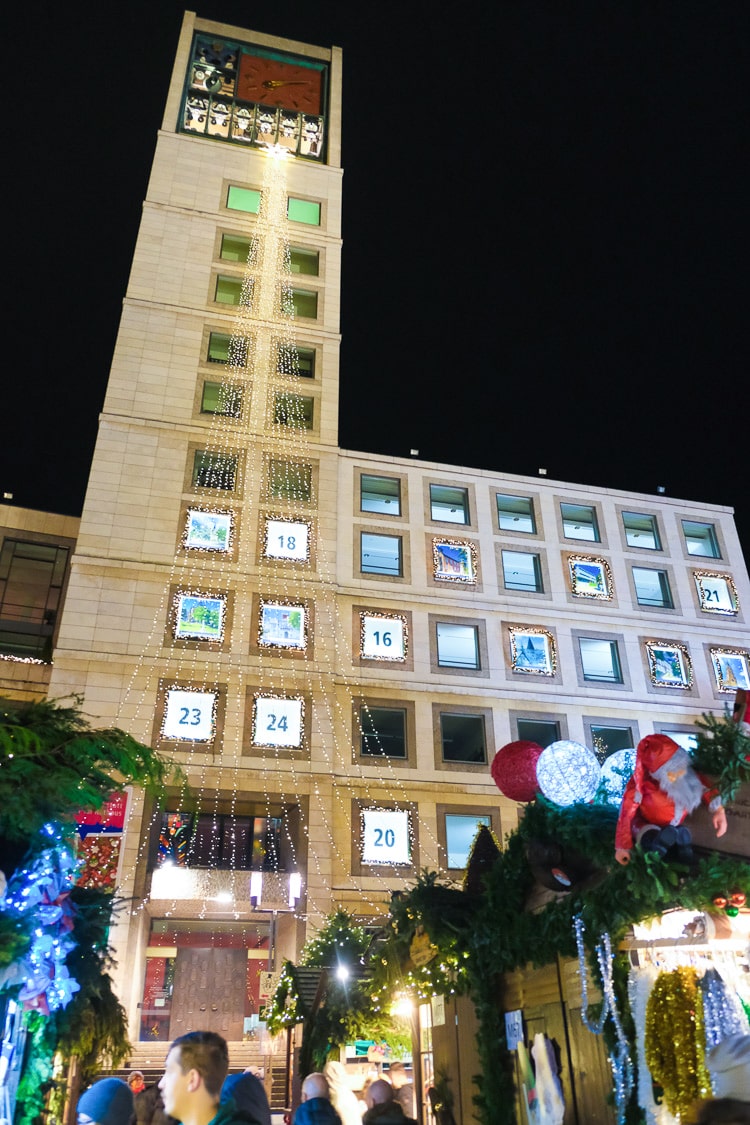 A short distance from Schillerplatz you'll find the Rathaus (town hall – not a house of rats haha!) is a post-modern building characterized by its asymmetrical design, large windows, clock tower, and a Glockenspiel. You can visit the inside and even take a ride in one of the last remaining paternoster lifts. During the Christmas market season the Rathaus turns into a huge Advent Calendar and there are evening concerts on the Rathaus steps featuring choirs from the Stuttgart area.
9. Stuttgart Christmas Market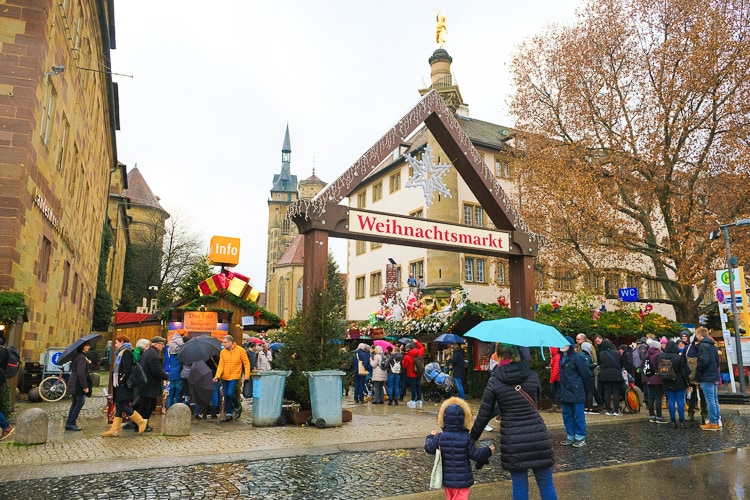 The Stuttgart Christmas Market is one of the oldest and most beautiful Christmas markets in Europe, dating back 300 years (click here for my full guide and review). For a month leading up to Christmas, the market welcomes over 3 million visitors who stroll under sparkling lights, buy toys and crafts, and enjoy all kinds of delicious food and drinks (like Glühwein and Gebrannte Mandeln!). If you're lucky enough to visit Stuttgart in December, be sure to book a 2-hour Stuttgart City Walk with a personal guide so you can enjoy the Christmas Market and all of the city's must-see sites.
10. Staatsgalerie Stuttgart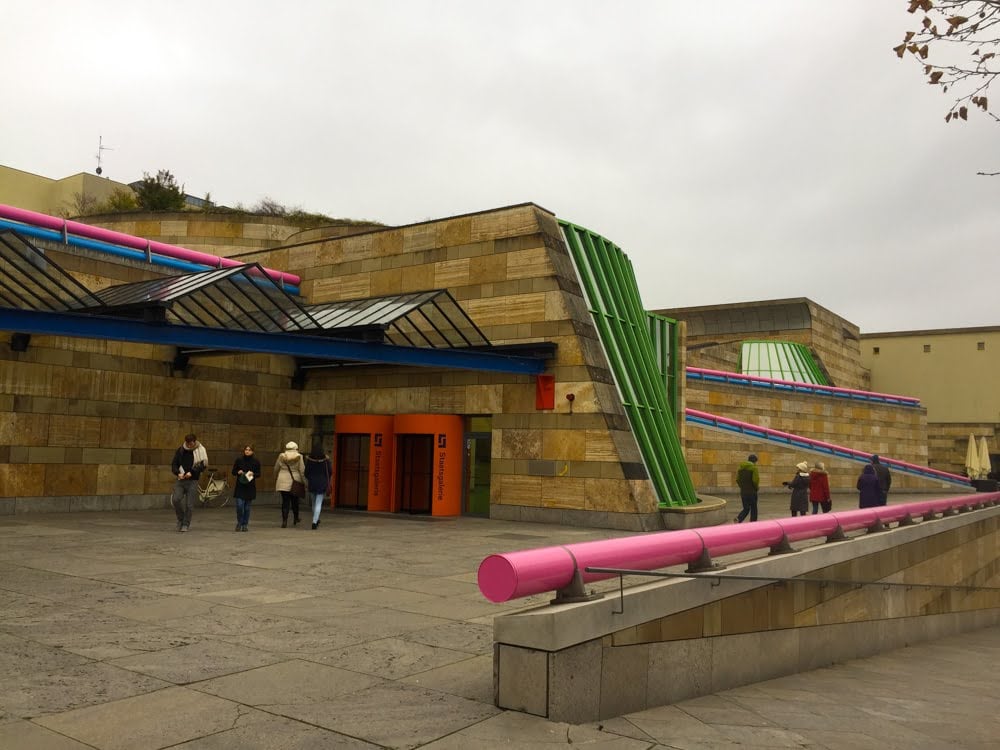 The Staatsgalerie is one of the best museums in the city. Established in the 19th century, this art museum has an impressive collection from the middle ages to the present. The old annex highlights impressionist artists like Monet and Renoir while the new building features 20th-century art with works from Picasso and Matisse. I always enjoy visiting this art museum. It's big enough to have plenty to see but not so big that you'll feel overwhelmed. And it's the perfect place to go when it's raining!
11. Eugensplatz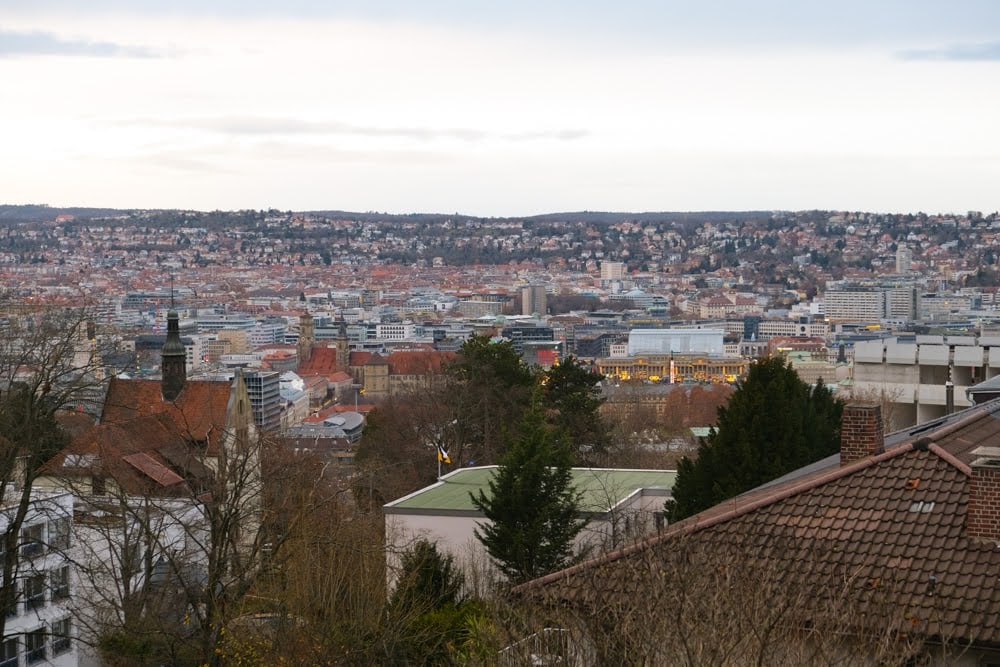 Get ready for beautiful city views! The stunning statue and the Galatea-Brunnen fountain are the main attractions of Eugensplatz in Stuttgart. It was designed and constructed in 1980 by architect Otto Rieth and sculptor Paul Stotz. Many tourists visit the site for its panoramic view that highlights the beauty of the city. You can walk up to Eugensplatz or take the tram. There's also a youth hostel near Eugensplatz.
12. Bean District
The Bean District was built as the first residential quarter outside of the city's walls, and originally housed the city's poorer residents. This quaint district offers visitors unique shops, and alleys full of bars, cafés, and restaurants. Want a taste of the local cuisine? Book a 2-hour walking tour here and discover this historic area with an expert.
13. Lindenmuseum
The Linden Museum is dubbed as one of Europe's best ethnological museums. With an aim to promote non-European culture, the museum offers guided tours to showcase its collection of artifacts from around the world. It's easily accessible by public transportation or a 10-minute walk from Stuttgart's main station.
14. Schweinemuseum (Pig Museum)
If classic museums aren't your thing, consider checking out the Schweinemuseum! Quirky, amusing, and just a little bizarre, this museum dedicated to pigs has more than 50,000 pieces spread over 25 thematic rooms. It's also easily accessible from Schlachthof U-Bahn station, or you may opt to ride on the U9 from Hauptbahnhof (central station). This is also one of the stops on the HOHO bus tour.
15. Mercedes-Benz Museum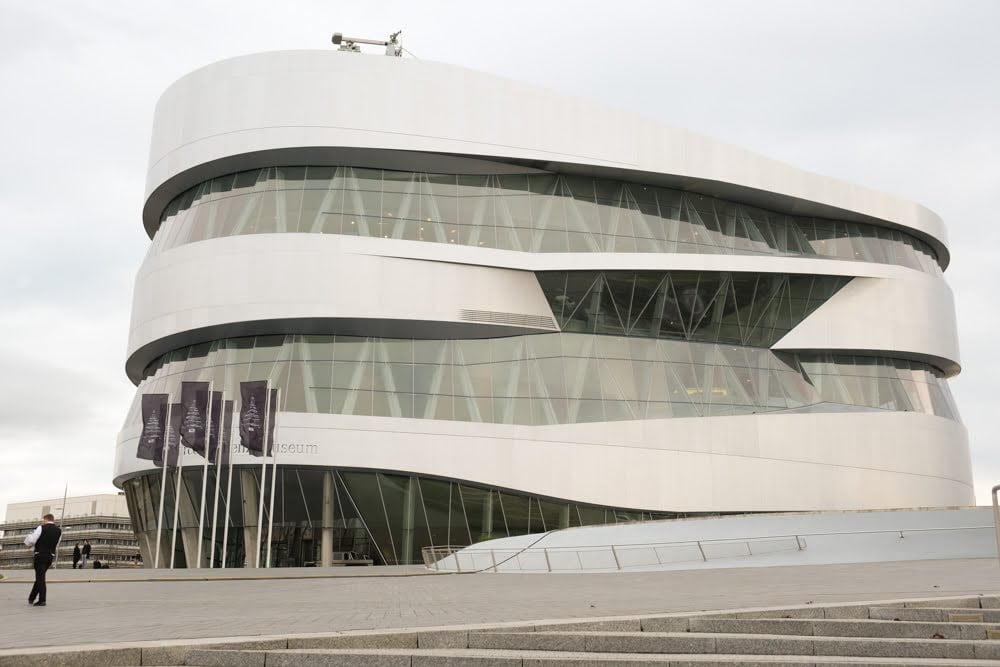 This museum is a must-visit for car enthusiasts! It displays over 1,500 exhibits and more than 160 cars – from vintage models to modern race cars. The museum also provides free audio guides in a variety of languages.
Just two minutes away from the museum is the Mercedes-Benz Arena, home of the German sports club, VfB Stuttgart. Want to go behind-the-scenes? Book a 1.5-hour stadium tour here and enjoy a full panoramic view of the arena.
16. Porsche Museum
Another one for the car lovers out there! Located right next to the S-Bahn (Neuwirtshaus/Porscheplatz), the Porsche Museum boasts nearly 100 cars, more than 200 small exhibits, and offers guided tours so visitors can enjoy the entire collection with an expert. If you're tired from walking, their indoor coffee bar is the perfect place to recharge before continuing the tour.
17. Wilhelma Zoo & Maurischer Botanical Garden
Built in the mid-19th century as a private garden for King Wilhelm I, this popular tourist attraction is now home to a wide variety of plants and animals. The zoological-botanical garden spans nearly 70 acres of land, so plan ahead to maximize your visit. If you're in Stuttgart in December, be sure to visit their magical Winter Garden full of amazing light displays (I loved it). To get there by public transport, take the U 14 to Wilhelma Station.
18. Fernsehenturm (TV Tower)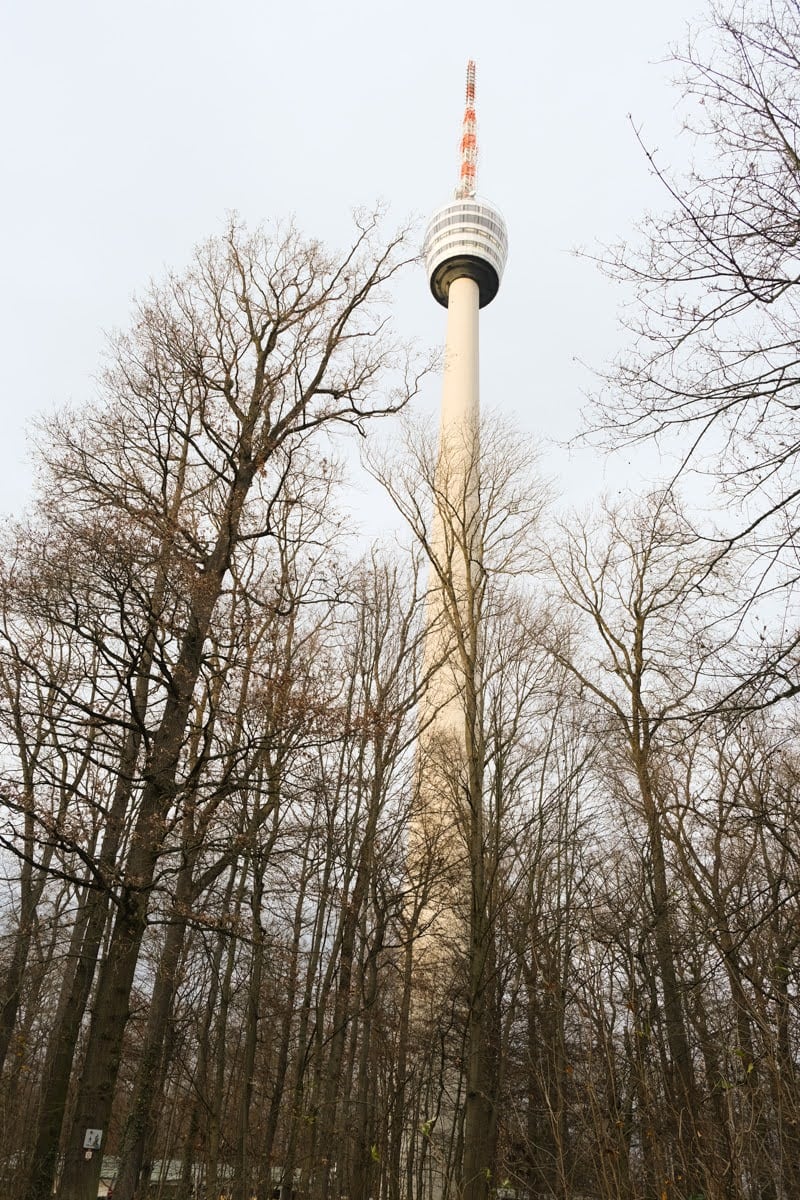 The Fernsehturm Stuttgart is the world's first television tower. Standing at 217 meters high, it's considered the prototype for many TV towers around the world. At the top you'll find a restaurant, a café, and a two-tiered observation deck that offers a panoramic (and windy!) view of the city. On a clear day you'll have the most amazing views of the city and surrounding area!
19. Neckar River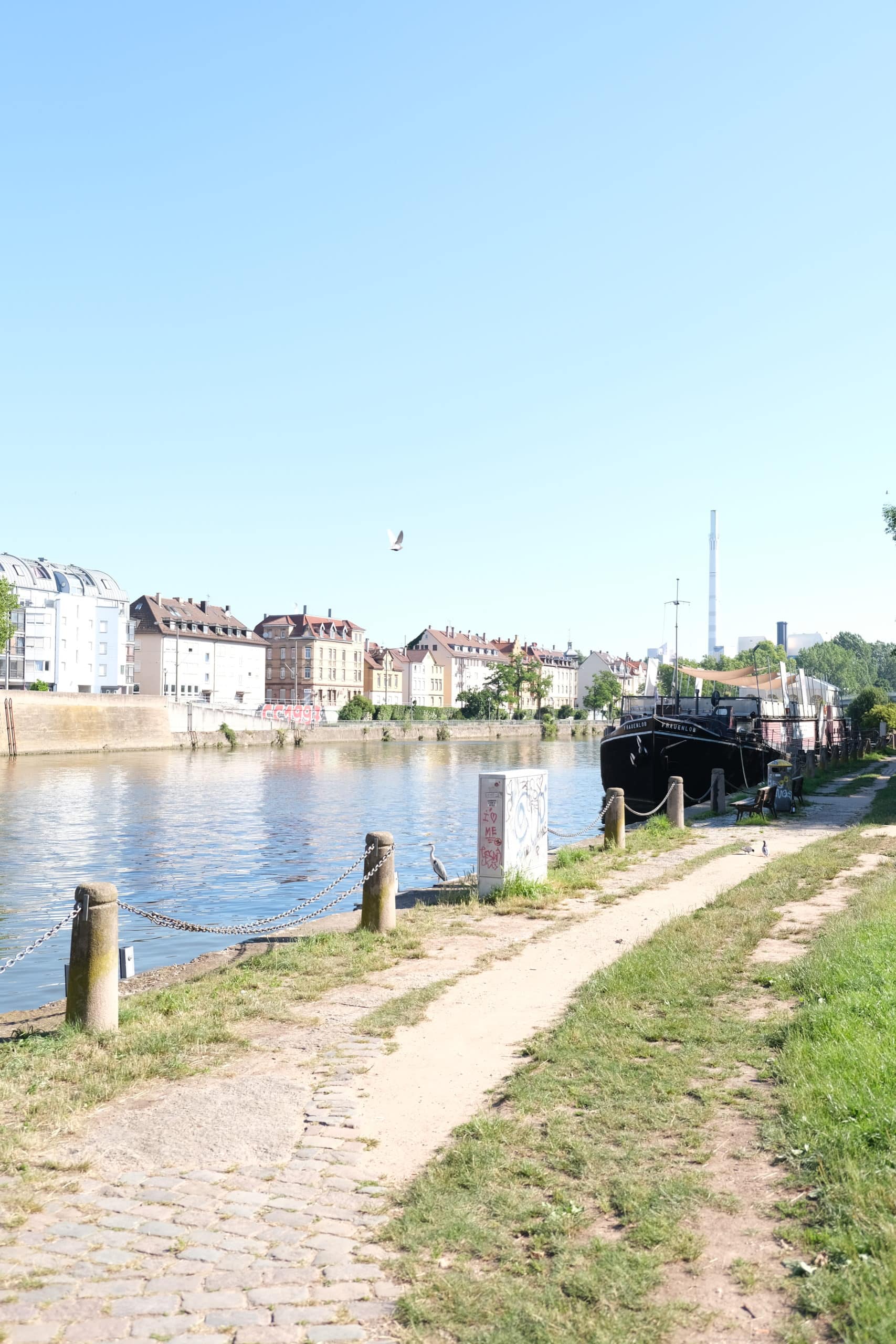 Enjoy what nature has to offer and spend some time by the riverbanks of the 362-kilometer-long Neckar river. You can take a stroll along the river or if you're up for a little adventure rent a canoe or a stand-up paddleboard and explore different corners of the beautiful and relaxing Neckar river.
20. Cannstatter Volksfest
The Cannstatter Volksfest is an annual three-week long event in Stuttgart that takes place from late September to mid-October. There's almost 200 years of history behind this event! A 10-minute walk from the Bad Cannstatt station, this super fun festival offers beer tents with live music, market stalls, and numerous amusement rides, such as roller coasters, carousels, and a Ferris wheel. I went to the Volksfest after visiting Oktoberfest in Munich and actually had more fun at the Stuttgarter Volksfest! A smaller version of the festival is held in the spring.
21. Killesberg Park & Tower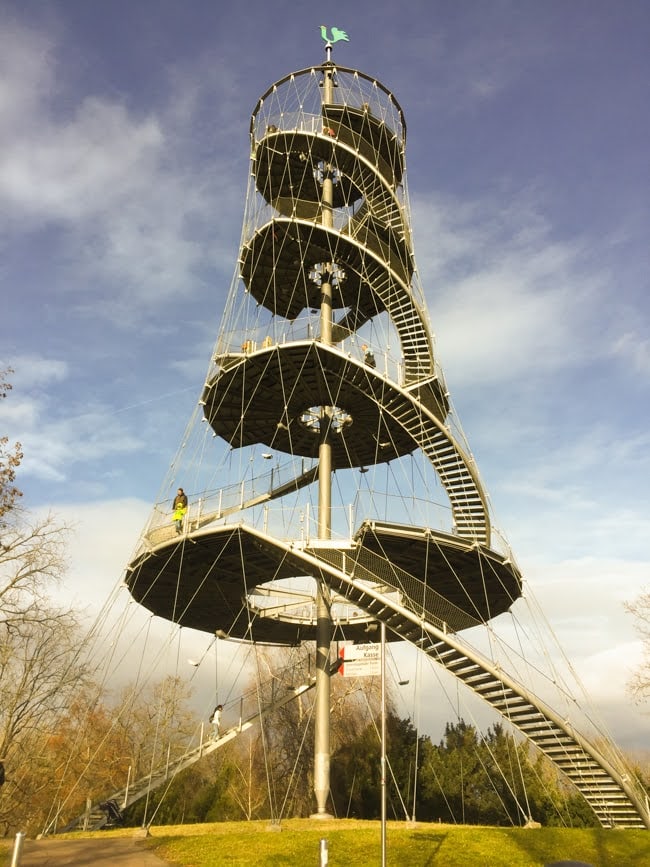 Easily accessible by car or public transportation, this beautiful park is a breath of fresh air located in the heart of Stuttgart. Walk through the park and you'll find a train ride, artistic mustang statues, a petting zoo, a swimming pool, and Killesberg tower, a 40-meter-high observation tower. If you're not scared of heights, climb to the top viewing platform to enjoy a full view of the city. Even if you're not a fan of heights (like me) the views are worth a quick climb!
22. Grabkapelle on Württemberg Hill
The Grabkapelle is a burial chapel where the late Queen Katharina was buried. It's located on Württemberg Hill overlooking the Neckar Valley and Stuttgart. This popular destination was built in 18th century by King Wilhelm, consisting of a Neoclassical domed rotunda. The place is known to be the most romantic site in Stuttgart because of the "Love never ceases" inscription on the entrance.
23. Universität Stuttgart (Downton & Vahingen Campus)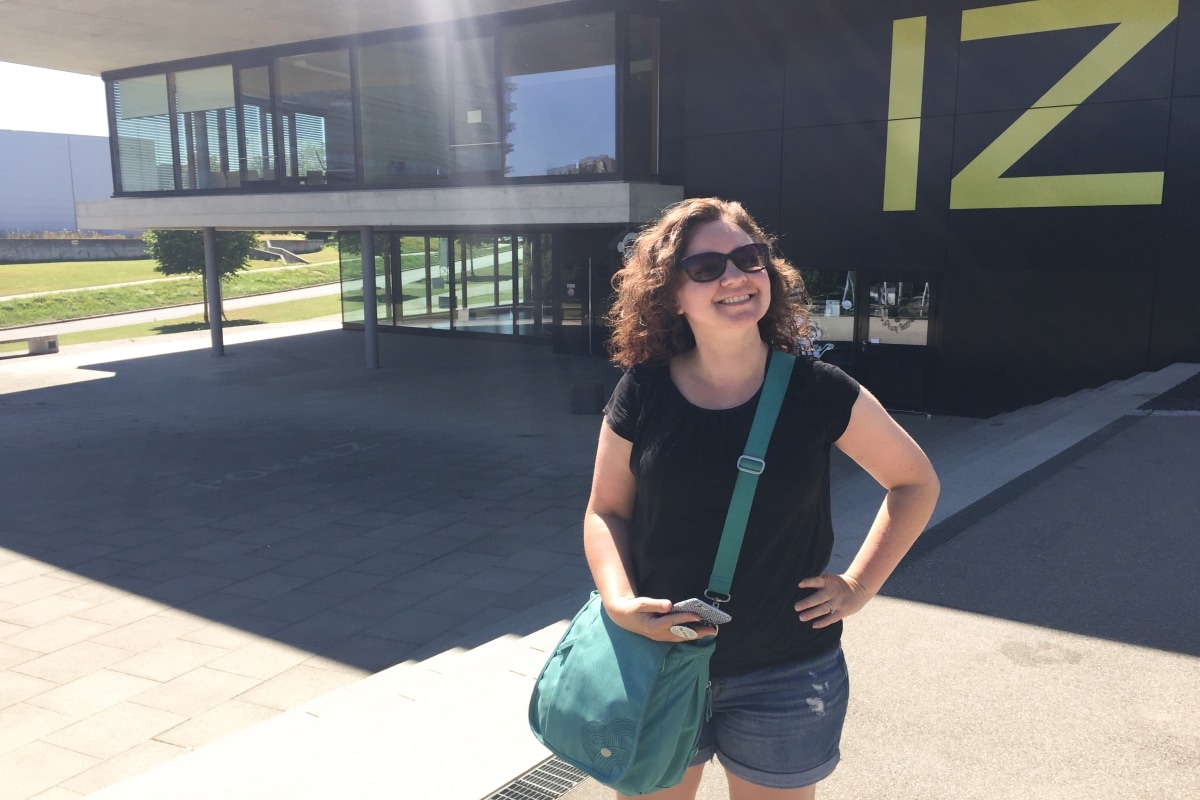 Wonder what a German university is like? The Universität Stuttgart is the perfect place to find out! It's divided into two campuses – the downtown campus (a few blocks away from the train station) and the Vaihingen campus (10 minutes from the main train station on the S1, S2 or S3, get off at the Universität stop). The university is globally known for first-class education and exceptional research in Europe. Take a stroll around either campus and you'll see modern university buildings, campus housing, and more.
24. Bärenschlössle im Rotwildpark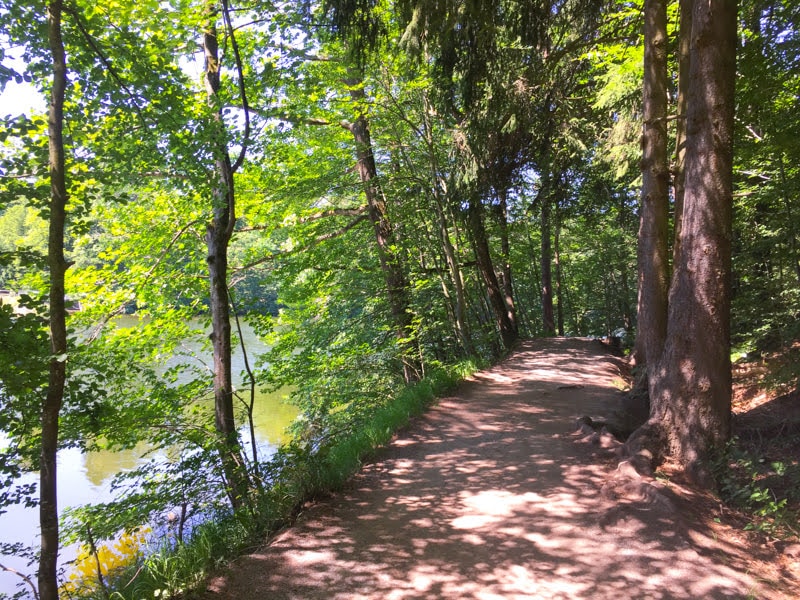 The Bärenschlössle im Rotwildpark can either be reached by walking through the woods from the Vaihingen University campus (that's how we like to get there there), taking the S-bahn and a bus from the main train station, or driving and parking in a designated area in the Rotwildpark. This beautiful park is home to fascinating wildlife species, and you can hike or ride a bike to explore the area. There are various drinks and foods to try at the Bärenschlössle for a leisurely break.
25. Vineyard Visit & Hike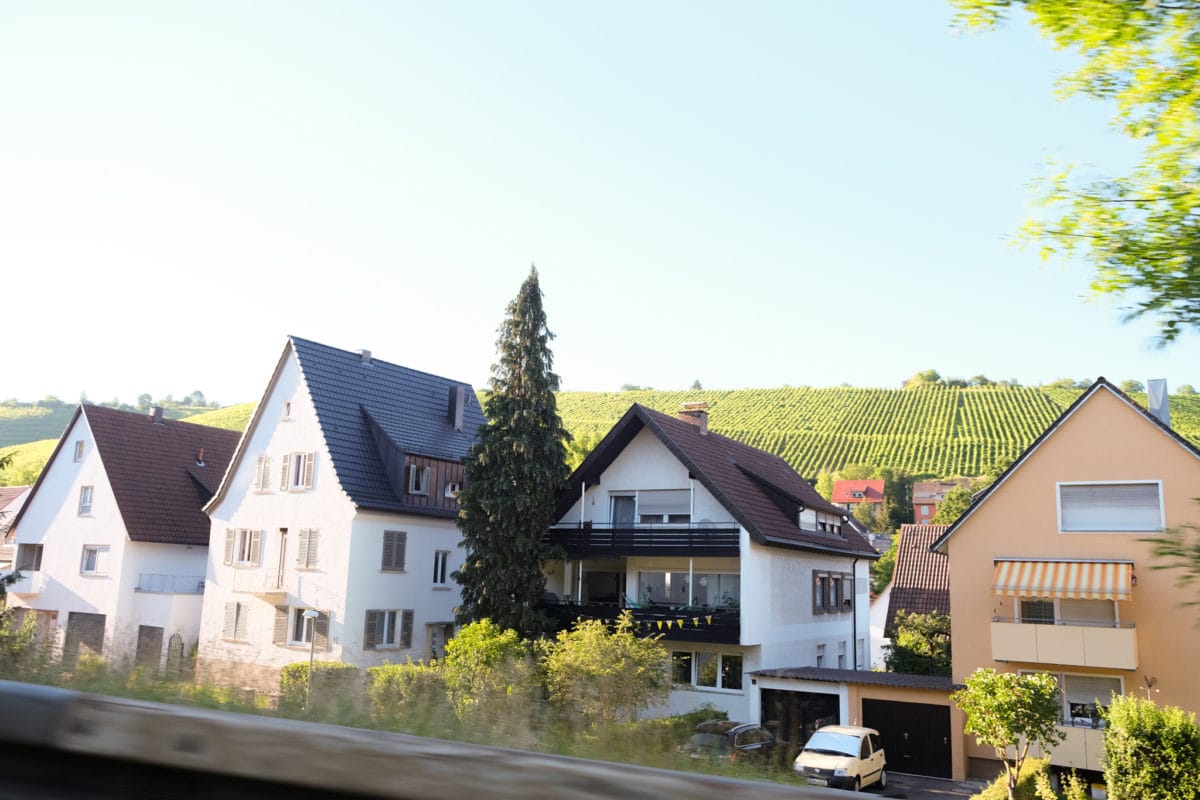 If you like wine, you should visit the vineyards in and around Stuttgart. Yes, Stuttgart has vineyards in the city! The vineyard hiking trails are one of the top things to check out in Stuttgart as they offer views of the marvelous wine landscapes, as well as city or valley views. One place you can go is the Uhlbach district (get off at the Obertürkehim station). You can hike the Stuttgart Wine Hiking Trail that goes from Uhlbach to Rotenberg, stopping to try local wine along the way. The optimal time for a vineyard visit is spring or fall but I still enjoyed my December vineyard hike!
26. Birkenkopf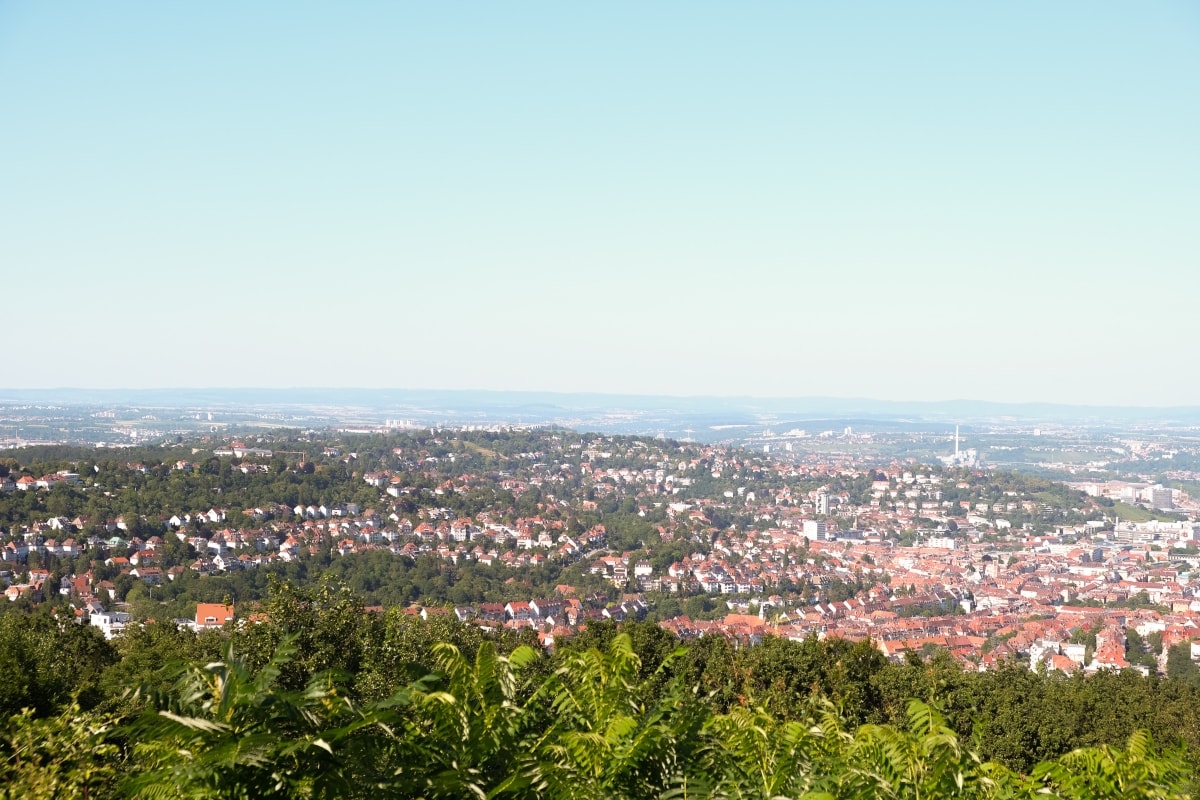 During World War II, Allied bombing ruined a good half of the city and left a mountain of debris. It was cleared and turned into what is now known as the highest, partly man-made hill in Stuttgart: Birkenkopf. At 511 meters above sea level, the view from the top is breathtaking! You can take public transportation to the Birkenkopf stop or park your car in the designated parking lot and then walk up to the top (the hike isn't too far or strenuous). On a clear day you can see the city, the Swabian Alb, and even into the Black Forest.
27. Standseilbahn Stuttgart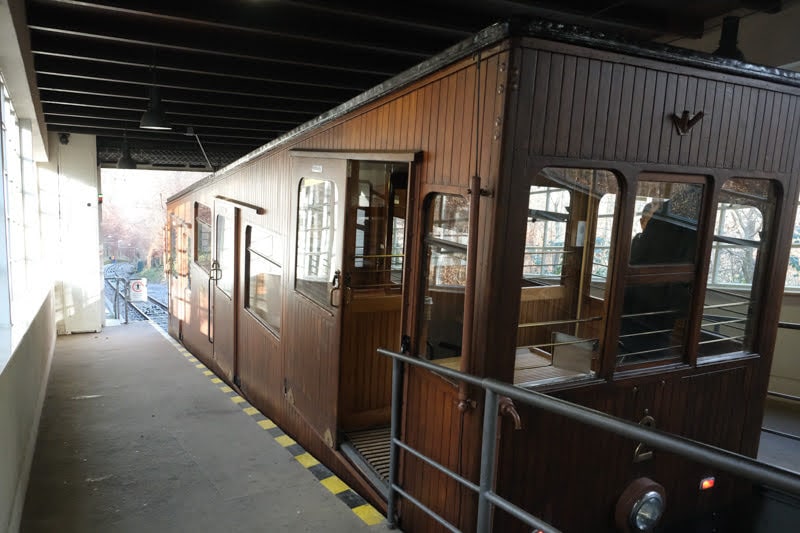 From the Sudheimer Platz U-Bahn station, you can ride a wooden car that traverses the elegant cable railway to Stuttgart Degerloch cemetery. The Standseilbahn is the first semi-automatic railway line that was completed in 1929. Shuttling up takes around four minutes, but you can book a guided tour here to explore the woods and enjoy the area.
28. Bad Cannstatt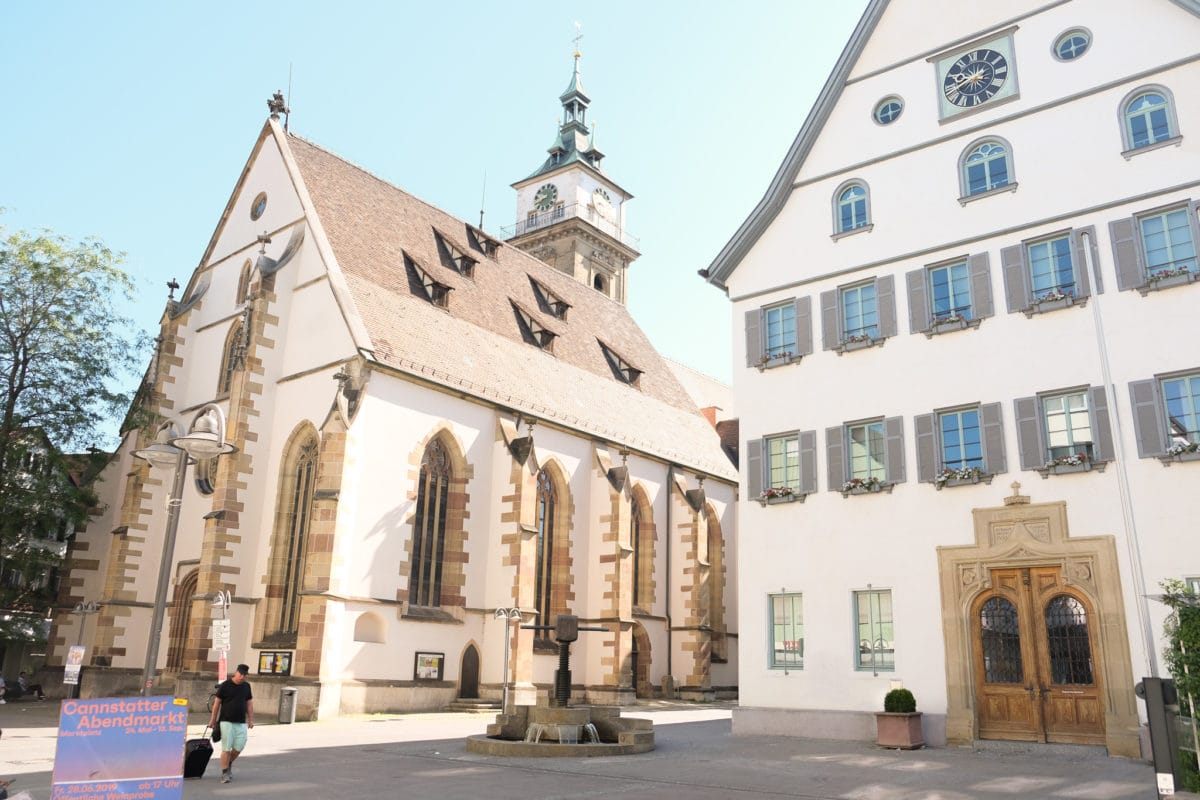 A humble city borough, Bad Cannstatt is known as the oldest district of Stuttgart. You can walk around the Altstadt and enjoy half-timber houses, cobblestone streets and cafes, visit the Mineralbad (natural mineral spa), or do as I did and grab a pastry and a coffee to enjoy on the bank of the Neckar river. To see these famous sites with an expert, book this culinary tour with a local guide here.
Day Trips from Stuttgart
One of the great things about Stuttgart is that there are SO many day trip options (click here for several more, including castles)! Three popular options are described below. The map below shows you where they are in relation to the Stuttgart sights described above.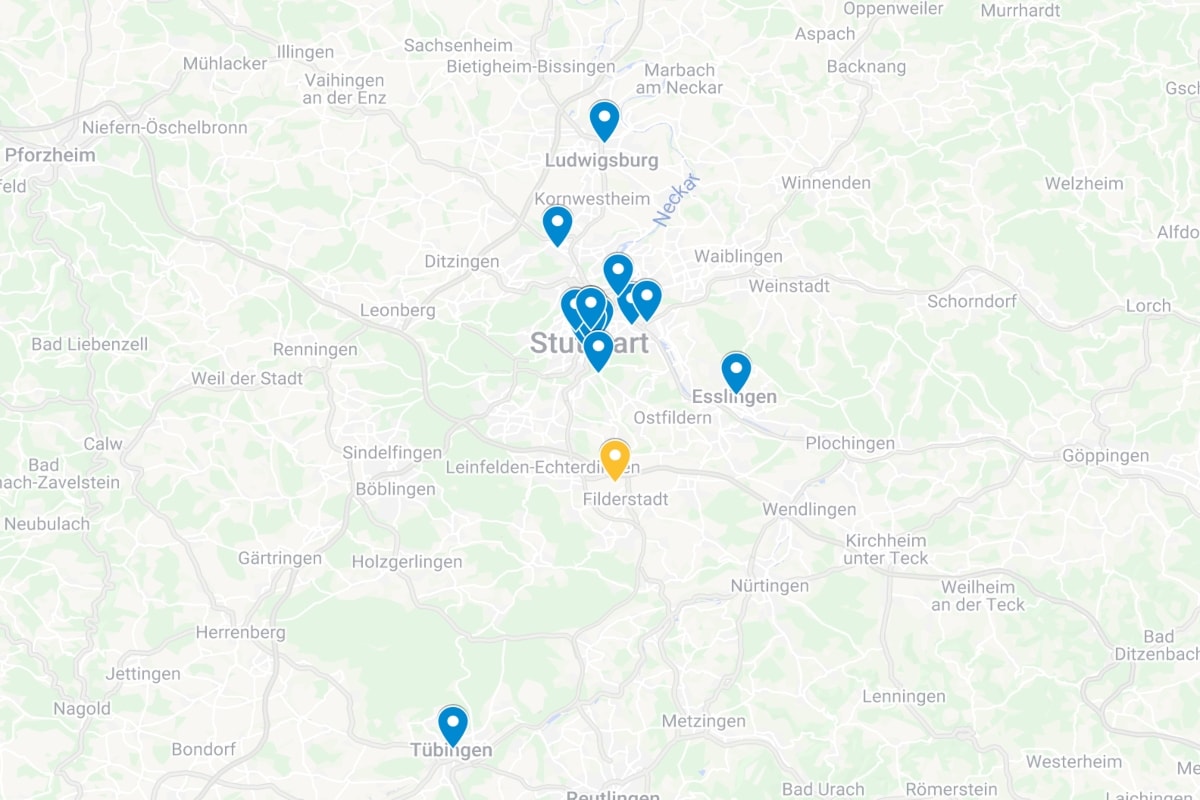 29. Ludwigsburg Palace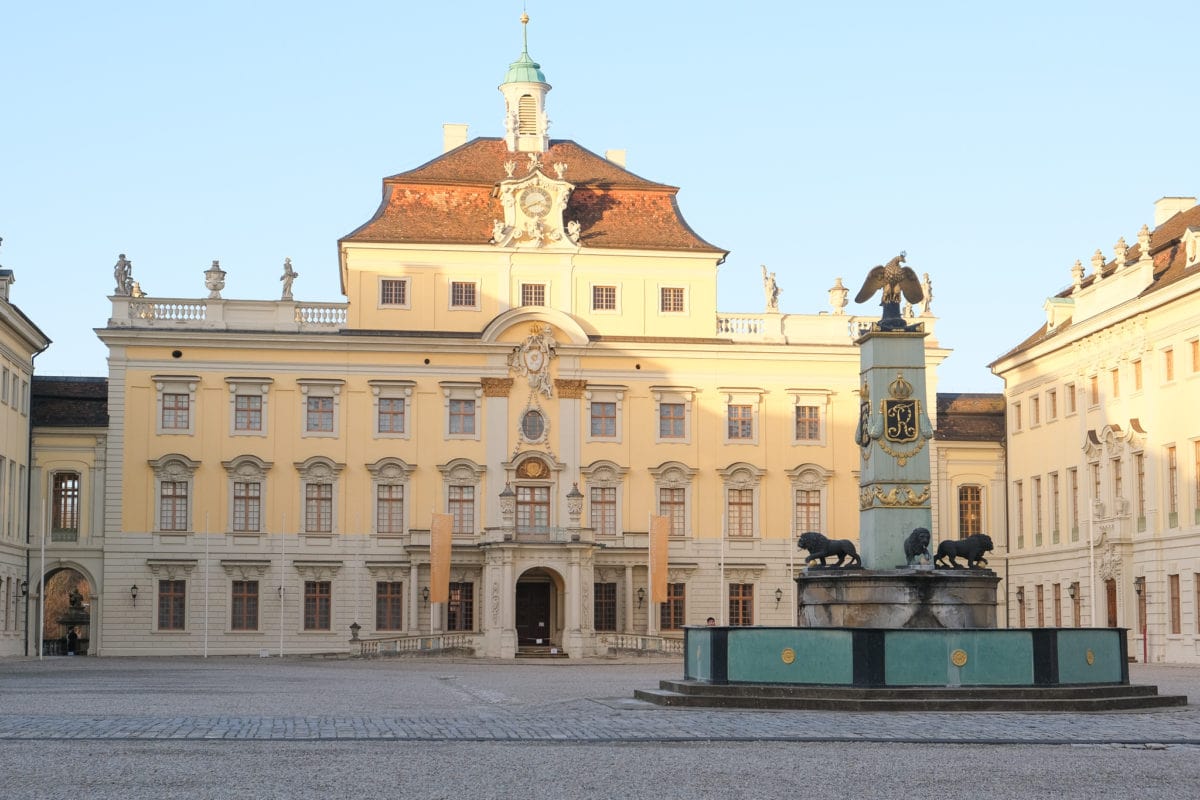 Despite being a small city in the north of Stuttgart, the Ludwigsburg Palace is one of the grandest Baroque palaces in Germany. The Marble Hall is the most notable feature in this lavish place with ceiling that resembles an open sky. Built in the middle ages, this is Europe's oldest heritage-protected palace theater. In December, Ludwigsburg hosts a Christmas market that's a must-see after dark. You can easily reach Ludwigsburg via S-bahn from the main train station in about 20 minutes. I suggest planning to spend 3-6 hours here, depending on whether you just want to walk around the city or visit the Palace, have a meal, etc.
30. Esslingen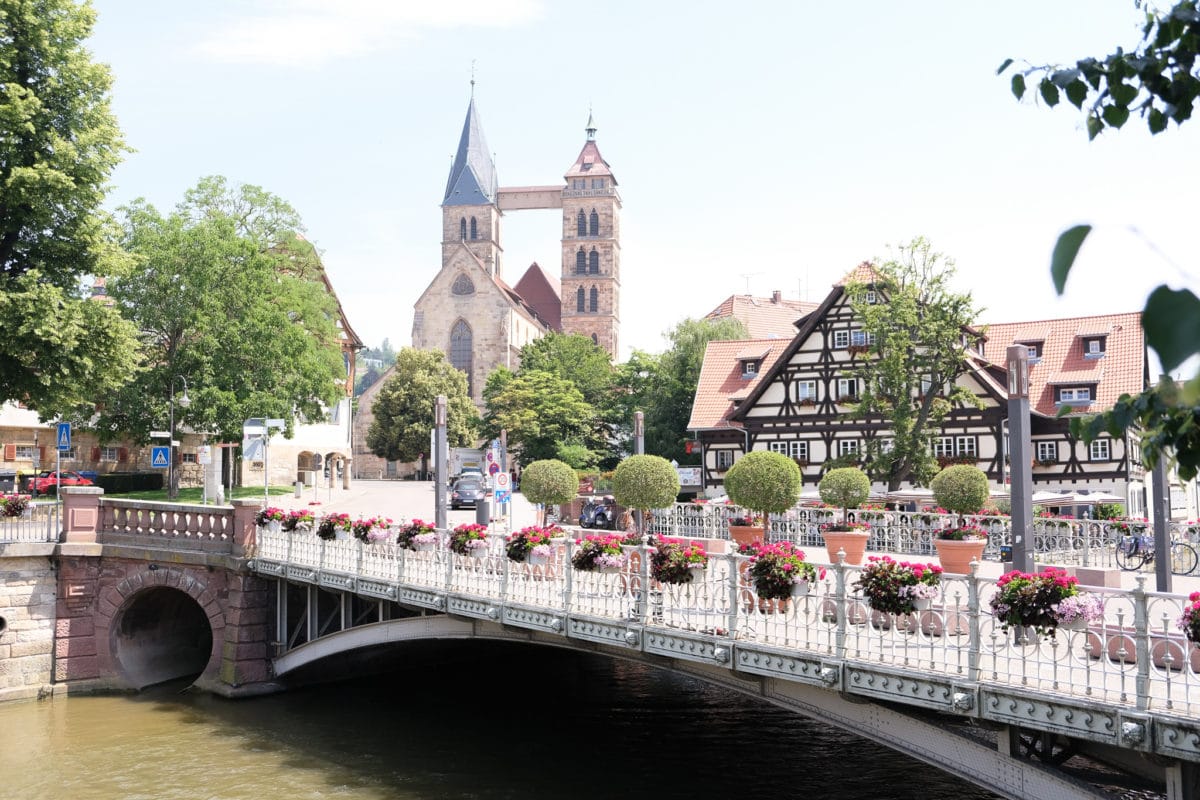 Located 17 kilometers east of Stuttgart is the town of Esslingen, where half-timbered buildings line the streets. There's also a beautiful castle on the hill with towers and bulwarks that offer viewing platform for a captivating scenery of the Neckar River and the ancient town below. At Christmastime Esslingen hosts a Medieval Christmas Market that's a must-see! You can reach Esslingen via S-bahn from the main train station in about 20 minutes. I suggest planning to spend 3-6 hours here, depending on whether you just want to walk around the city or visit the castle, have a meal, etc.
31. Tübingen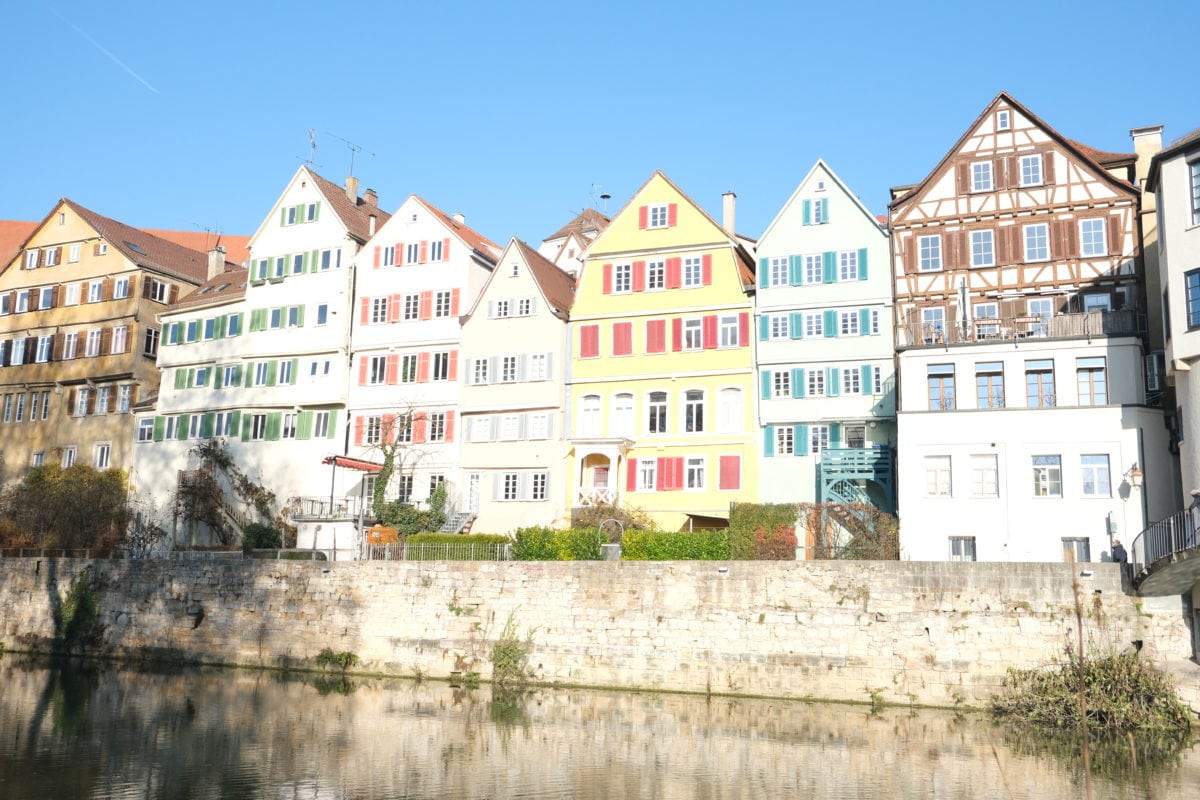 A charming university town south of Stuttgart, Tübingen is the perfect day trip from Stuttgart. You could even visit after first stopping in Esslingen. Explore Tübingen's Altstat (old town), ride in a famous punt boat, and enjoy the views from the old castle. In December you can even visit their famous ChocolArt Festival! You can reach Tübingen in about 50 minutes via regional train from Stuttgart's main train station. I recommend spending a full day in Tübignen, unless you have a car and only want to stop for a couple hours to walk around before visiting another near-by town or sight.
Click here for more day trip ideas from Stuttgart!