Best Castles To Visit Near Frankfurt, Germany
This post may contain affiliate links. Read my disclaimer policy.
If you're looking for the best German castles to visit in the Frankfurt area (and beyond!), this guide gives you everything you need to know to plan the perfect castle visit.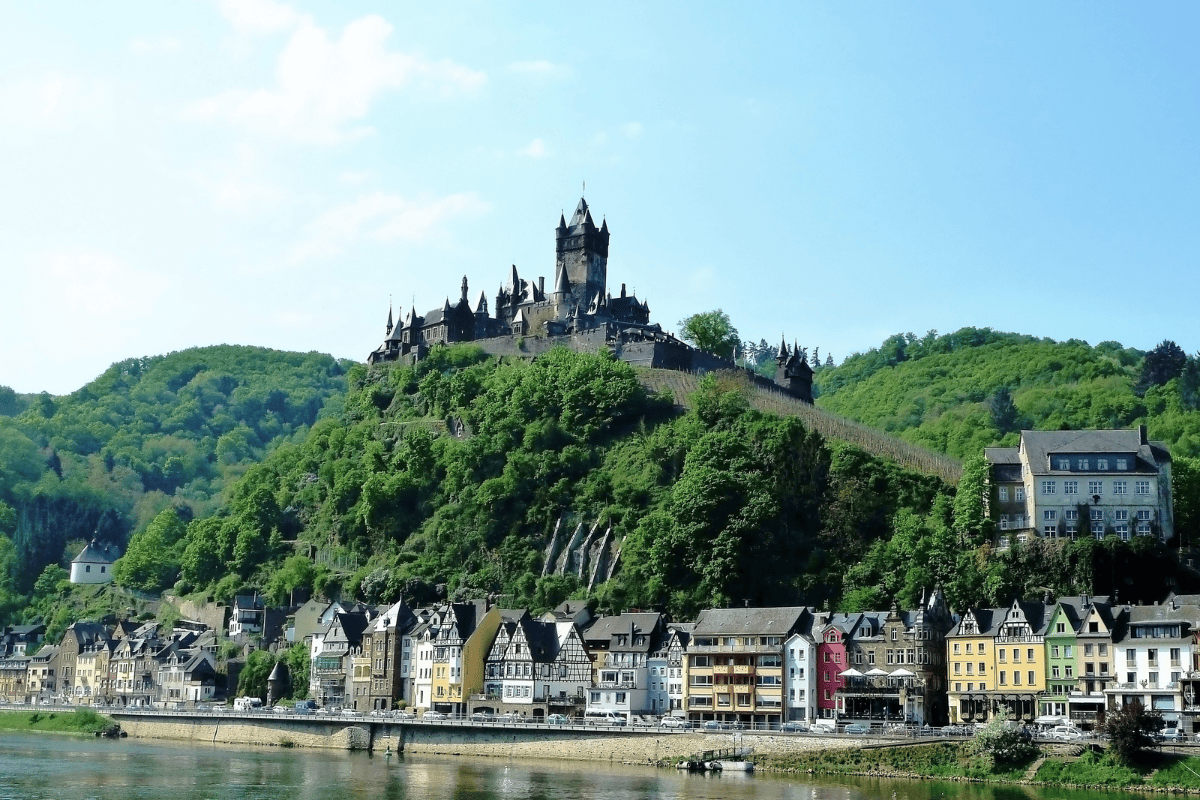 Known as Germany's bustling financial capital, Frankfurt isn't exactly the first city that comes to mind when you think of the best German castles. The city conjures up images of tall skyscrapers, busy streets, and urban architecture.
But you'll be surprised to find out that just on the outskirts of this modern city, fascinating castles await you. From Gothic castles, medieval forts, private residences and even a castle turned youth hostel, there's no shortage of interesting castles waiting to be discovered outside of Frankfurt.
In this guide, we share a list of the best castles near Frankfurt (perfect for day trips!) and practical information on what to do and how to get to each castle. It's a great starting point to explore not only Frankfurt but all the other castles that Germany has to offer! At the end of the guide we share tips for visiting Frankfurt.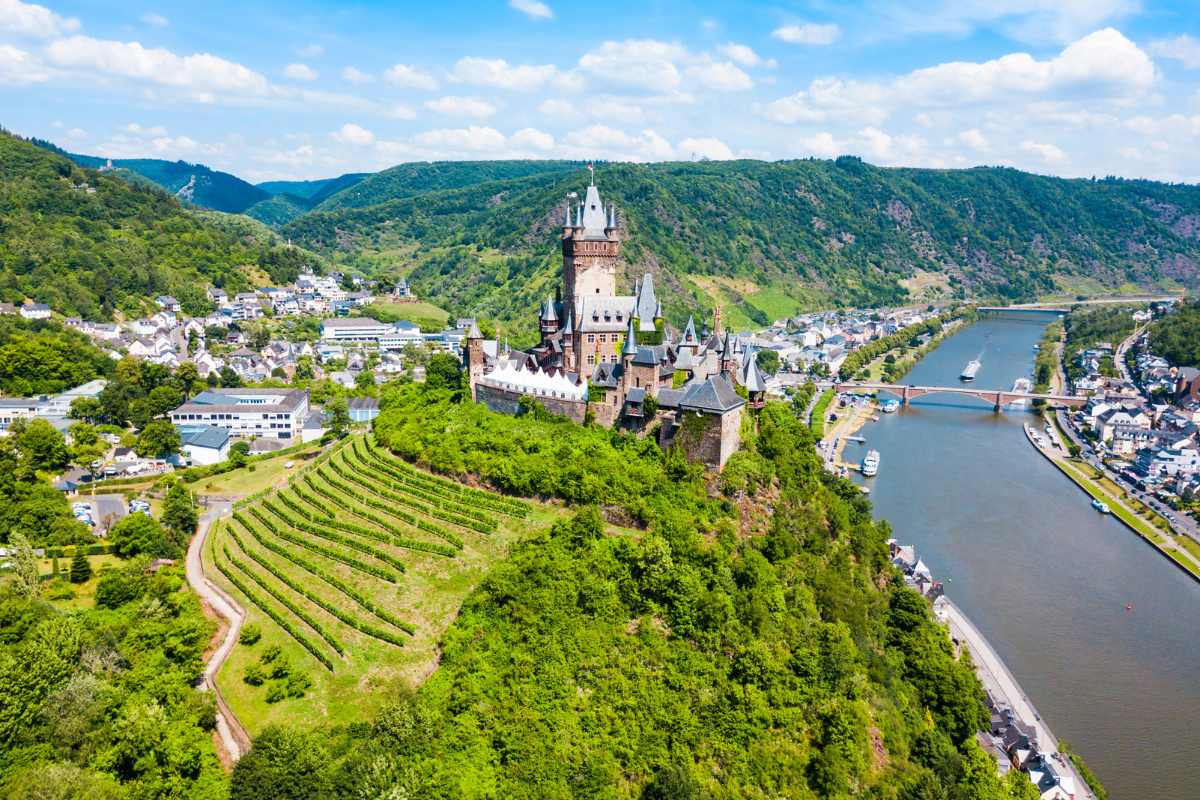 Can I Take a Day Trip To These Castles from Frankfurt?
Yes! In fact, these castles make for the perfect day trip from Frankfurt because of their proximity to the city. So you can easily add day one or more day trips to your itinerary. The best castle for a quick and easy day trip would be Saalburg Roman Fort since it's just a 30-minute drive away from Frankfurt.
Most of the other castles are over an hour drive away which are great if you have more free time in your itinerary. You can also look into guided tours that take care of transportation and logistics to make your day trip hassle-free, like this guided day trip from Frankfurt to Eltz Castle.
Can I Sleep in a Castle Near Frankfurt?
Though many of us would love to experience sleeping like royals in a castle, it's not as common of an option as you may imagine. Many of these castles serve as museums or exhibits that showcase the castles' rich history and background. Some of them are also still under the ownership of the founding families so they're used as summer residences or private estates.
Because of this, sleeping in a castle is not really an option that's easily available — with some rare exceptions. For example, the castle in Bacharach has been turned into a youth hostel! If you book well in advance, you can have the unique experience of sleeping in a German castle. Yes, it's a youth hostel but hostels in Germany tend to be pretty nice (albeit basic) and family oriented.
The castle in Bacharach is on a hill overlooking the village of Bacharach below and has AMAZING views of the river Rhine below. You can drive up the hill to hostel entrance or hike up from the town (and train station) below. Even if you don't stay there I highly recommend hiking up to the castle for the view (it is a hike up a hill but it's pretty short).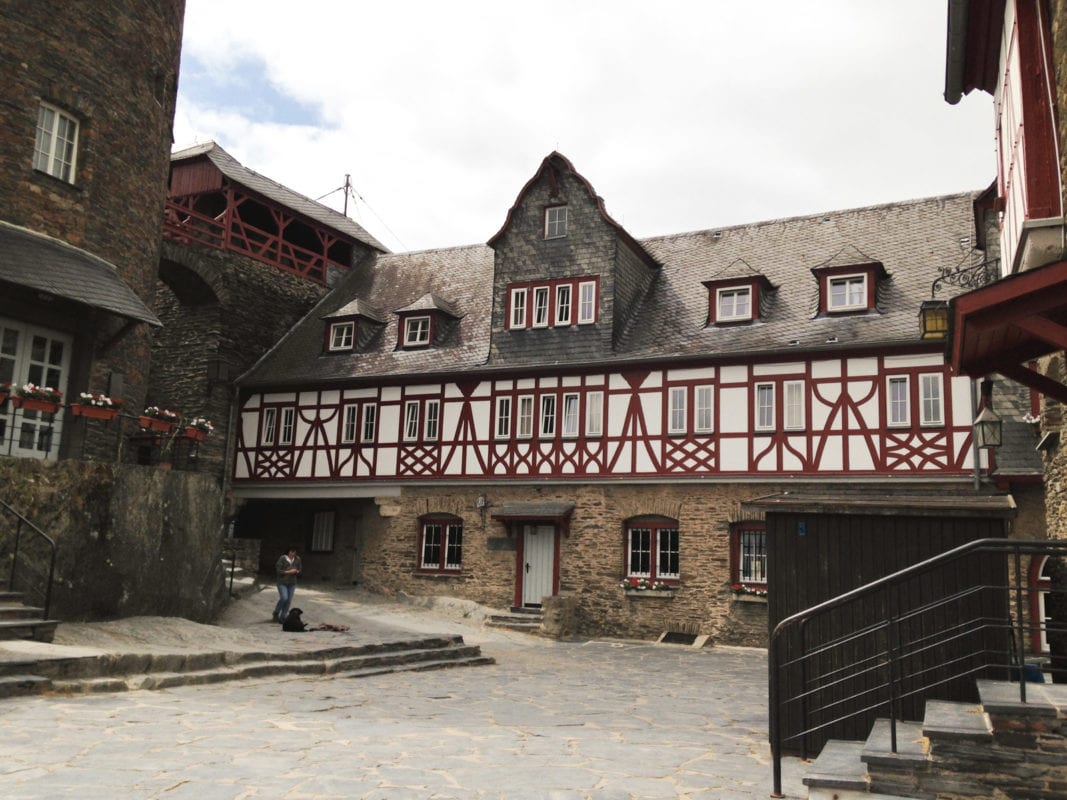 Other castles in the area have hotels not inside the castle itself, but very close by. For example, Wartburg Castle has a 5-star hotel located at the foot of the castle. You can stay in one of their tastefully designed rooms and get spectacular views of the castle and surrounding landscape.
If you're really seeking unique, fun experiences in castles besides guided tours, then we suggest looking into special tours or events that each castle hosts. Many host medieval dinners and feasts or festive markets during Christmas season.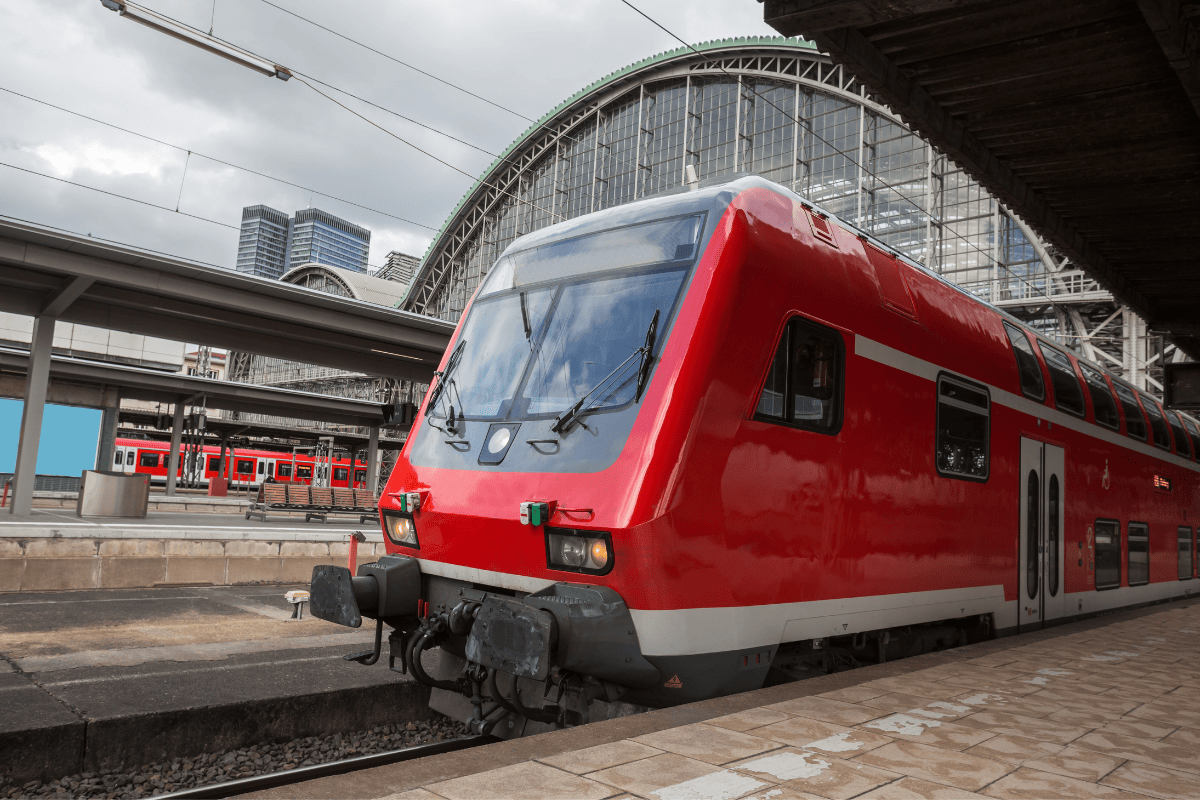 How to Get to the Castles Near Frankfurt
If you'll be in the Frankfurt area and want to venture out beyond the city, you can take your pick from several castles!
The best and fastest way to get to these castles near Frankfurt is by car. The drives to most of these castles are just a little over an hour. Many official websites have helpful directions on what routes to take. So if you're picking up or dropping off a rental car in Frankfurt, why not include one or more of the castles below on your itinerary?
That said, you can get pretty much anywhere in Germany via public transportation. Some of the castles give directions for public transportation though you might have to transfer from train to bus.
Beautiful Castles to Visit Near Frankfurt
Here are 8 of the best castles to visit near Frankfurt and 10 beautiful castles that are a little further away from Frankfurt but deserve a spot on your Germany itinerary!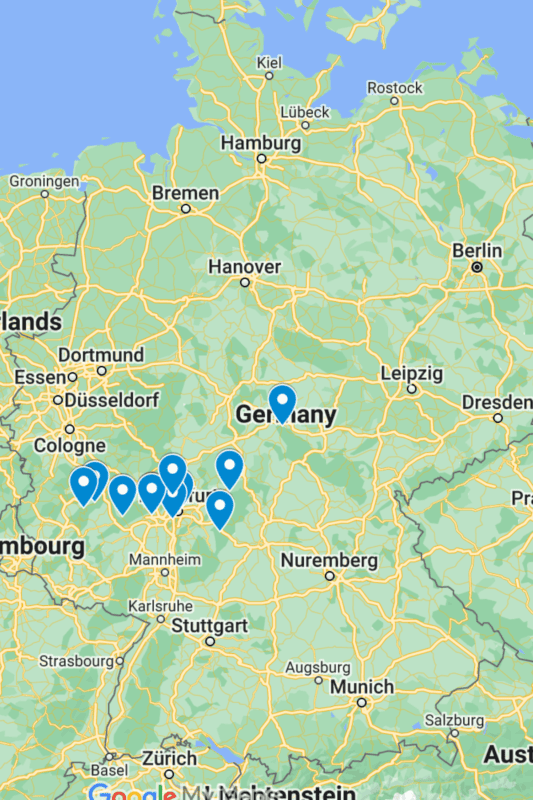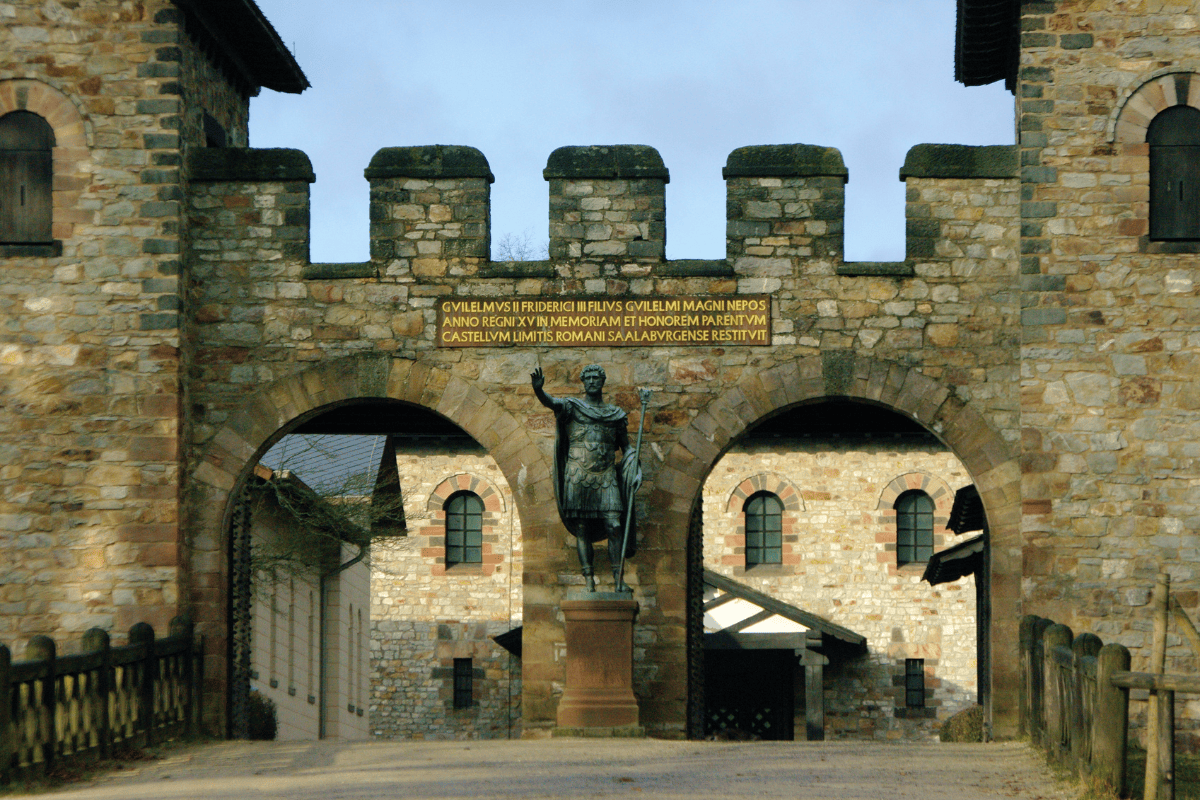 1. Saalburg Roman Fort
Saalburg Roman Fort is located on the Saalburg Pass in the Taunus Mountains, just 30 minutes away from the city center of Frankfurt. It was built all the way back in the 2nd century, serving as a fort for Roman troops.
Although it was recently reconstructed 100 years ago in the 19th century, the archaeological structures transports you back in time to the Roman Empire. The surrounding area is also filled with ruins of Roman villages and shrines under old trees.
The Saalburg Roman Fort now serves as an open-air museum. Inside you can admire excavation finds and replicas of artifacts used by soldiers who lived in the fort. There are even special events where you can participate in themed tours, complete with presentations of Roman clothing, tools, and activities. It's a great place to visit with children!
If you get hungry after exploring the fort, you can dine in Taberna, the museum restaurant and cafe serving modern Roman cuisine.
Entrance Fee: 7 € for adults
Directions: By train: from Frankfurt take the S-Bahn (S5/Direction Bad Homburg/Friedrichsdorf) to the Bad Homburg Bahnhof. From there, a city bus (Line 5) travels several times daily to Saalburg. By car: read more here.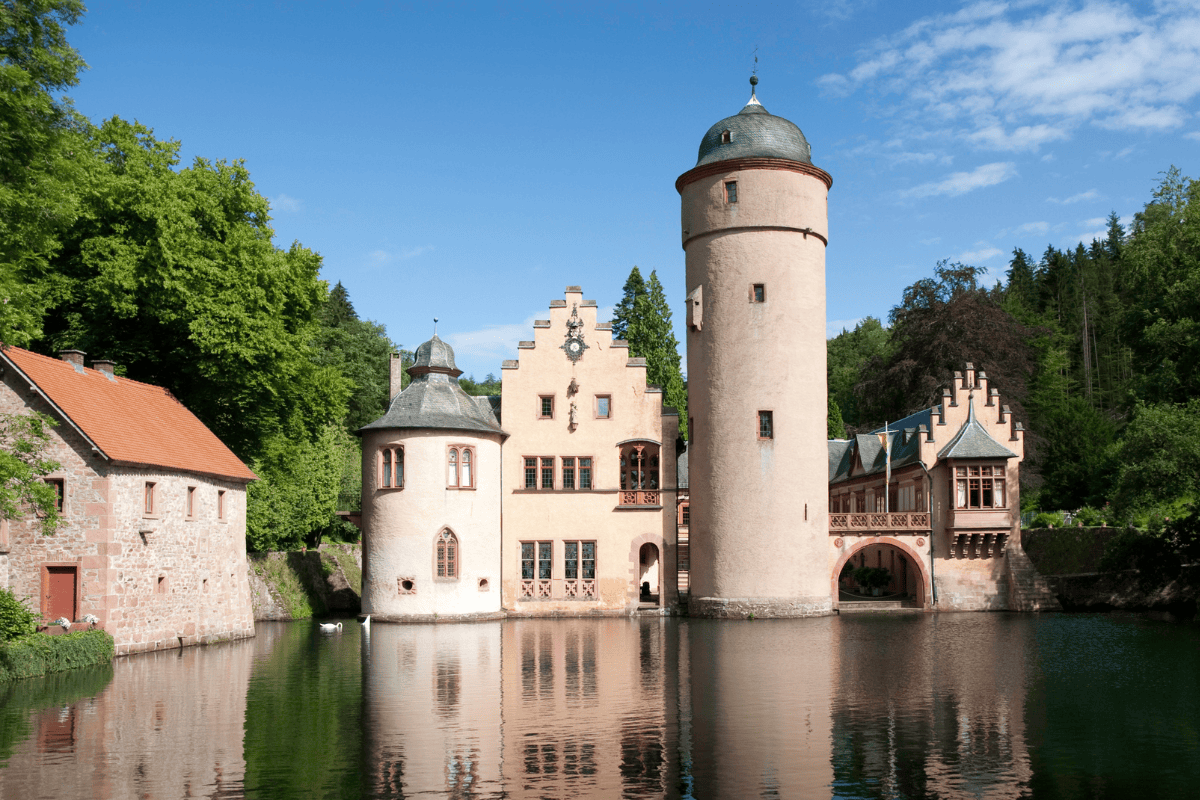 2. Mespelbrunn Castle
Mespelbrunn Castle is situated in the town of Mespelbrunn, between Frankfurt and Würzburg. It's around an hour away from Frankfurt by car. This moated castle dates back to the late medieval times to the early Renaissance period.
Its fairly secluded location in the forest surrounded by the lake and against the backdrop of the town's rolling hills makes for a picturesque landscape. Up to the present day, the castle is a family home of the founding royal family, the Counts of Ingelheim. Because of this, there is a privacy policy to follow, meaning entrance is only allowed by going on the castle's guided tour.
Entrance Fee: 6 €
Directions: By car: take the Autobahn A3 and exit at Weibersbrunn then cross the roundabout following directions to Mespelbrunn. In Mespelbrunn, take a right and after a few meters a left into the village following the directions Schloss Mespelbrunn. Stay on the main road (Hauptstrasse) for about 3km. At Hotel Engel, take a left onto Schlossallee. By train: this castle is best reached by car.
3. Castle Steinau
Castle Steinau is one of the best preserved and largest castle complexes of the 16th century in Hesse. It's around an hour drive away from Frankfurt. The original castle had an interesting structure. The buildings formed a pentagon, guarded by a five-sided outer ward, four corner bastions, and a 18- to 25-meter moat.
The castle is also known for the Brothers Grimm museum. The Brothers Grimm, known for writing the world's most famous fairy tales, spent their childhood in Steinau. Since 2015, there has been a permanent exhibition on the castle's top floor dedicated to their work. In here you can find everything from writings, to portraits, and everyday objects like an inkwell owned by Jacob Grimm.
Entrance Fee: 3,50 € (without guided tour); 4,50 € (with guided tour)
Directions: By car: take the Autobahn A66 towards Frankfurt/Hanau and exit at 48 – Schlüchtern-Süd. Stay there towards Steinau-Ost and from there simply follow the instructions to the Castle Steinau. By train: take a regional train to Steinau (about 1 hour) and then walk to the castle (about 20 minutes).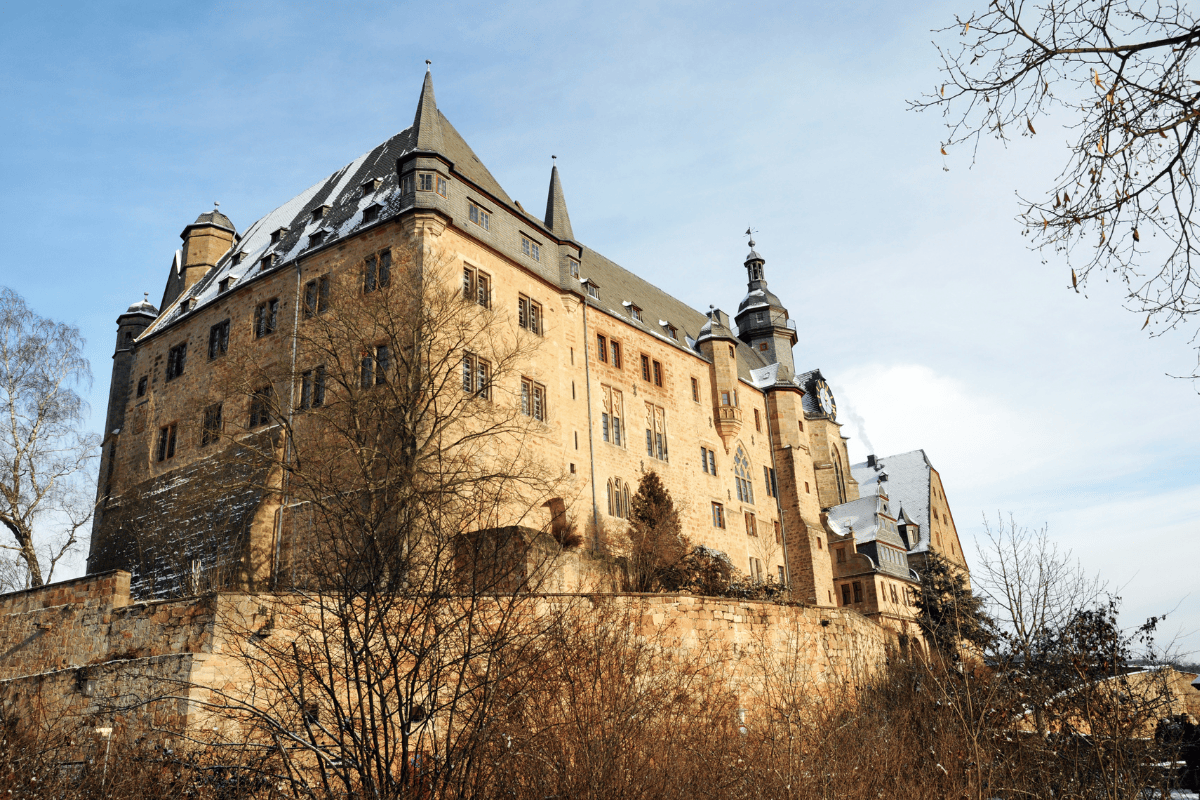 4. Marburg Castle
Marburg Castle (also known as Marburger Schloss or Landgrafenschloss) is another castle located in Hesse, a little over an hour drive away from Frankfurt. It was first built in the 11th century as a fort but now serves as a Museum of Cultural History at the Philipps University of Marburg. It's home to many historic rooms, including one of the most beautiful secular Gothic halls in Germany. The castle is high up on a hill overlooking the city so after visiting the castle museum, get ready for impressive views!
Entrance Fee: about 5€
Directions: By train: take a regional train from Frankfurt Hauptbahnhof (main train station) to Marburg Hauptbahnhof (about 2 hours), take bus #2 5 stops to Marburg Rudolphsplatz, then walk up to the castle (or take the shuttle if its being offered). By car: take the A5, then A485 and B3 to Südspange in Marburg. Take the exit toward Marburg-Süd/Cappel/Uni. Klinikum/Uni. Lahnberge from B3 and continue to the castle.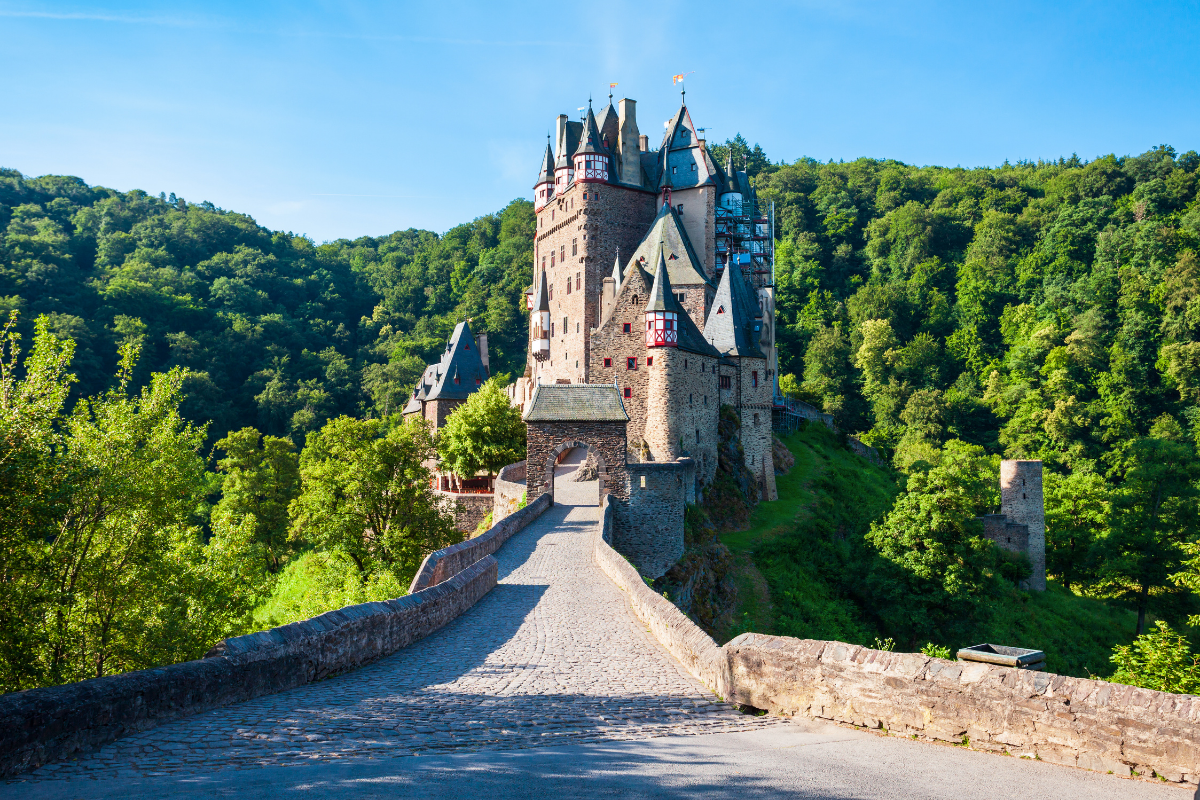 5. Burg Eltz (Eltz Castle)
Burg Eltz is a medieval castle that's known for being one of the few castles in the Eifel region that has never been destroyed by world war. You can still find the original furnishings from centuries ago inside. It is still owned by the same family who has resided there since the 12th century.
Its eight towers stand tall on a large rock by the Moselle valley and surrounded by the rich flora and fauna of the Eltz Forest. The region is actually one of the best places to go for hikes. Even the short hike to the top of the castle is well worth a visit!
The tour of the castle showcases its inner courtyard and many historic buildings including the armory hall, the knight's hall, and the hunting room. There's even two restaurants nearby where you can experience you can dine in a medieval setting.
Entrance Fee: 12 €
Directions: By train: take the train to Hatzenport and then the bus 365 to the Burg Eltz parking lot (about 3 hours). By car: click here for more.

An easy way to enjoy Burg Etlz without the stress of driving or taking a long train trip is with this full-day tour from Frankfurt!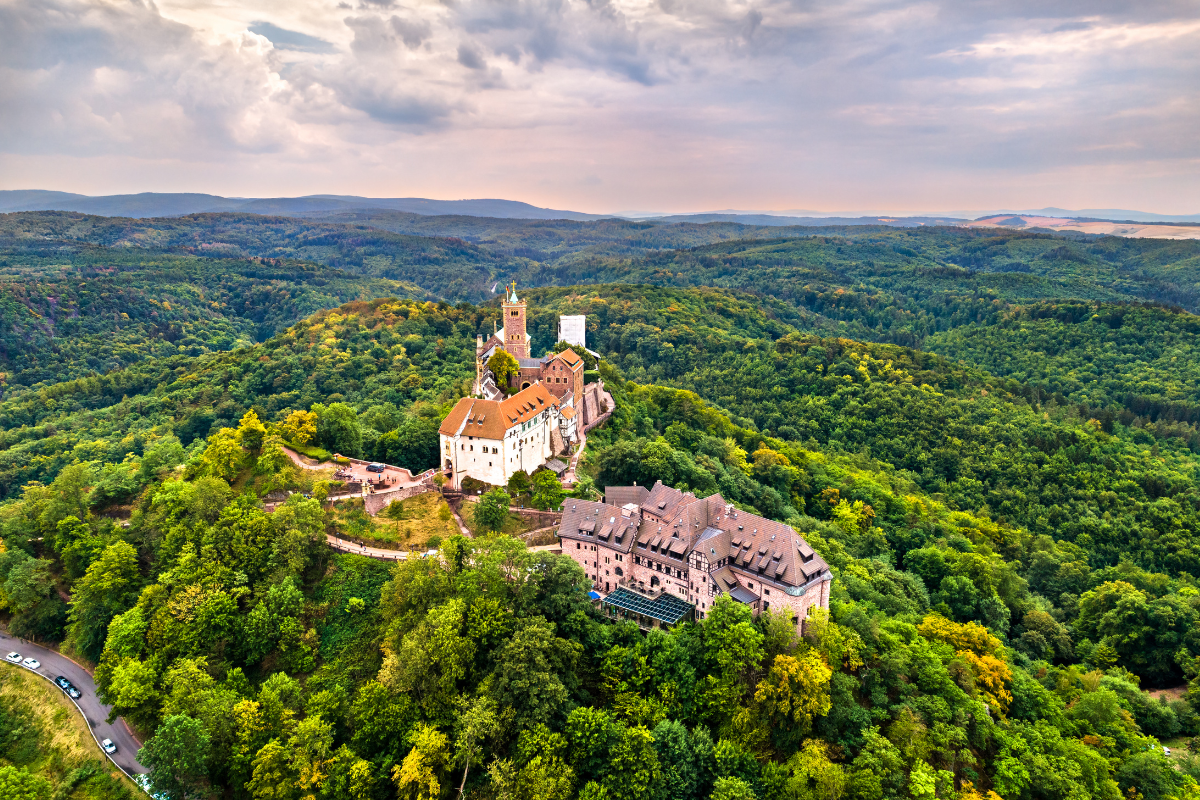 6. Wartburg Castle
Wartburg Castle is a famous castle originally built in the Middle Ages. It's located in the state of Thuringia (Thuringen), on a cliff overlooking the small town of Eisnach, around 2 and half hours away from Frankfurt by car.
It holds great significance in German history. First of all, it's the place where Martin Luther translated the New Testament of the Holy Bible into German. It's also said to be one of the key inspirations for King Ludwig II for building Neuschwanstein Castle. And last but not least, it's also one of the first of many German castles to be designated a UNESCO World Heritage site.
For a one of a kind castle hotel experience, look into staying at the Romantik Hotel. This 5-star hotel is located at the foot of the Wartburg and has over 30 individually designed rooms. You can also opt to visit any of the cultural events they host during the year or dine in the Thuringian restaurants: Inn For Cheerful Folk and Landgraves' Room.
Entrance Fee: 12 €
Directions: By car: you can reach Eisenach and Wartburg Castle via the A4 autobahn and the B7, B19 and B84. (about 2 hours) The access road to the castle and parking lot is located in the southern part of town, off the B19. By train: take the train to Eisenach (2 hours), then bus #3 to the castle.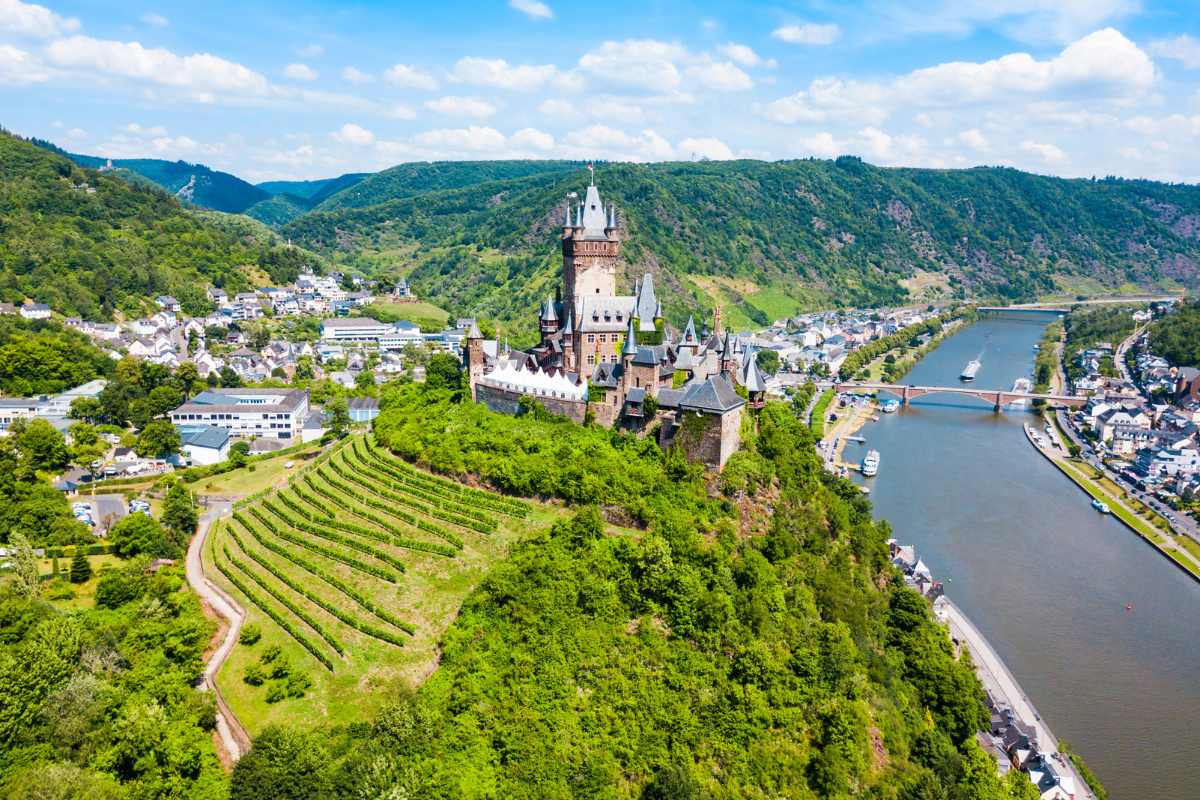 7. Cochem Castle (Reichsburg Castle)
Cochem Castle (also known as Reichsburg Castle) is a neo-Gothic style castle overlooking the Moselle River in the town of Cochem which is about 2 hours by car from Frankfurt.
In addition to the usual guided tours in different languages, guests can participate in various fun events hosted at the castle. On Fridays and Saturdays, the "Knights Feast" takes place, a medieval-style dinner with costumes, entertaining performances, and a knighting ceremony.
During the holiday season, you can catch Christmas performances presented by live costumed actors, accompanied by animals, as they take you through the castle's wonderful gardens.
If you don't have much time, you can dine in at the castle tavern. Enjoy wine tasting and light food while taking in panoramic views of the Moselle River. Cochem is a delightful town to visit anytime during the year!
Entrance Fee: 7 €
Directions: By car: take A3 and A48 to L98 in Kaisersesch. Take exit 4-Kaisersesch from A48 to Cochem (about 2 hours). There's no parking at the castle so park in a city lot in town. You can then walk or take the shuttle (May-October) to the castle. By train: take train to Cochem Hauptbahnhof, then walk to take the shuttle to the castle.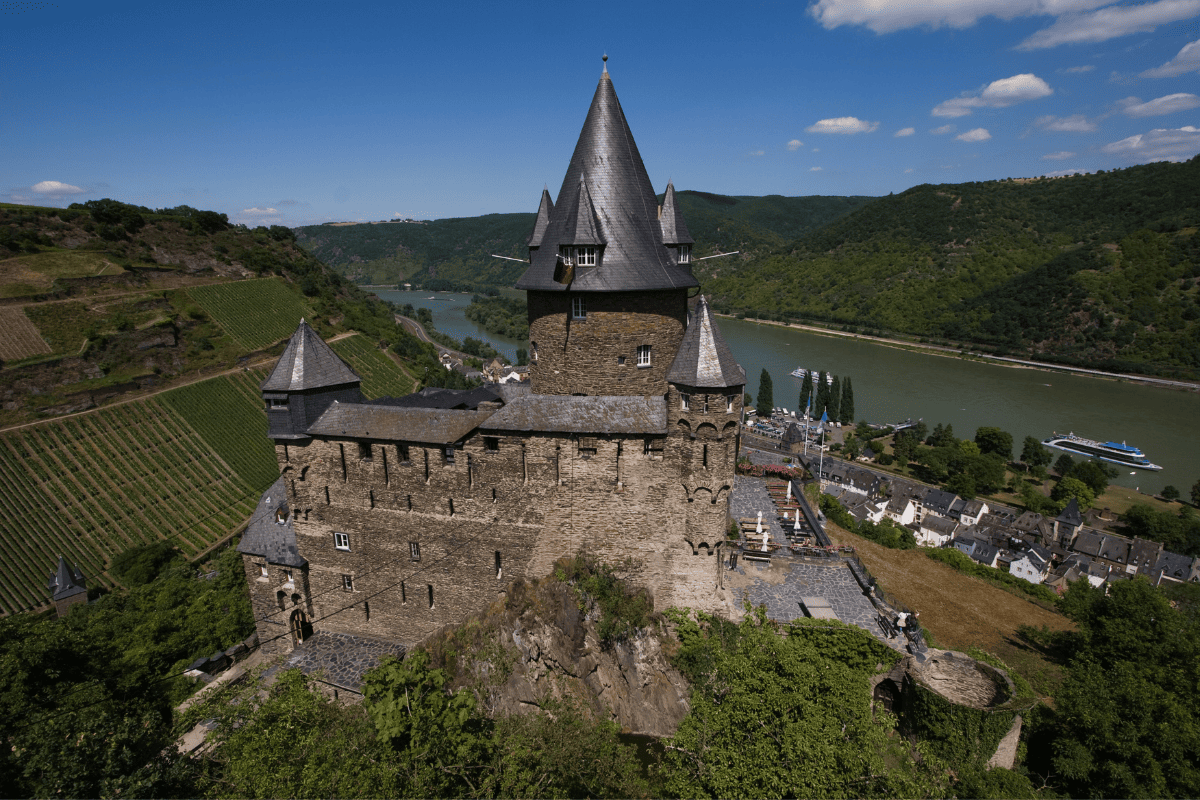 8. Castle Stahleck in Bacharach
Castle Stahleck is located in the Upper Middle Rhine Valley, around an hour drive away from Frankfurt. This beautiful castle stands on a crag above sea level with a view of the Lorelei valley. It's also surrounded by a water-filled partial moat, which is a unique architectural feature for castles in Germany.
It has a rich history, dating back to the 12th century though the exact year remains unknown. In the 17th century, it was destroyed during the Thirty Years War. It was only in the early 20th century when it was rebuilt to be a youth hostel.
Currently, the Bacharach Youth Hostel is a world-famous accommodation that's almost always fully booked. There are over 160 rooms accommodating different numbers of beds. There's a dining room, bistro, cafe/bar, multiple common rooms, and even a Knights' Hall that can be used for events for over 100 people.
Because the castle is used as a hostel, it's not available for tours. But, the public can enjoy free entry to the courtyard where they can enjoy views of the Rhine River.
Even if you don't stay at the castle youth hostel, you can hike up the hill for the amazing views! It's worth hike, both to see the castle (last time I was there you could go inside the common areas, even if you're not staying there) and the views.
Entrance Fee: no fee
Directions: By train: take a regional train (or S8 + regional train) to Bacharach (about 1 hour). Hike up the hill to the castle. By car: take B43, then A60 to L400 in Bingen am Rhein. Take exit 49-Bingen-Mitte from A61. You can drive up to the castle but may not be able to park if you're not staying there. You can park in the public lots in the town below.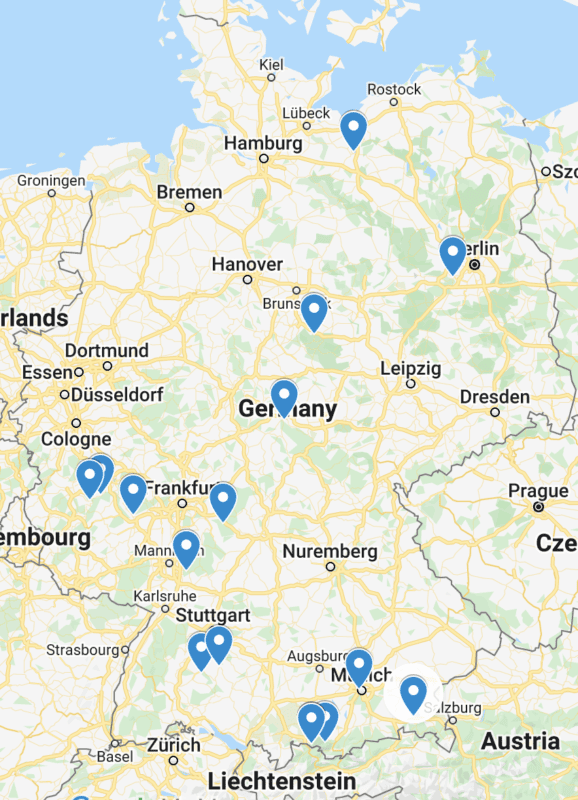 What Are Some Other Castles To Visit In Germany?
If you can't get enough of castles, then good news for you, there are so many more to explore around Germany! According to some sources, there are over 25,000 castles throughout the country! Here are some of the other top castles in Germany to visit:
Neuschwanstein Castle in Bavaria (the famous fairytale castle Walt Disney modeled his Disneyland castle after)
Hohenschwangau Castle in Bavaria
Heidelberg Castle in Heidelberg
Hohenzollern Castle near Stuttgart
Lichtenstein Castle near Stuttgart
Linderhof Palace in Bavaria
Schwerin Castle in Schwerin in Northern Germany
Nymphenburg Palace in Munich
Herrenchiemsee Palace in Bavaria
Sanssouci Palace near Berlin
If you are venturing farther away from Frankfurt, Bavaria is one of the best places to start in your quest to visit more castles. The region is especially known for King Ludwig's fairytale castles.
You can't miss out on Neuschwanstein castle, the iconic source of inspiration for Walt Dinsey. Since it's just a few hours from Munich, you can easily reach the castle by car or public transportation. For tips on how to plan the perfect day trip from Munich, read our guide here. While you're there, you can also visit Hohenschwangau castle since it's right next to Neuschwanstein.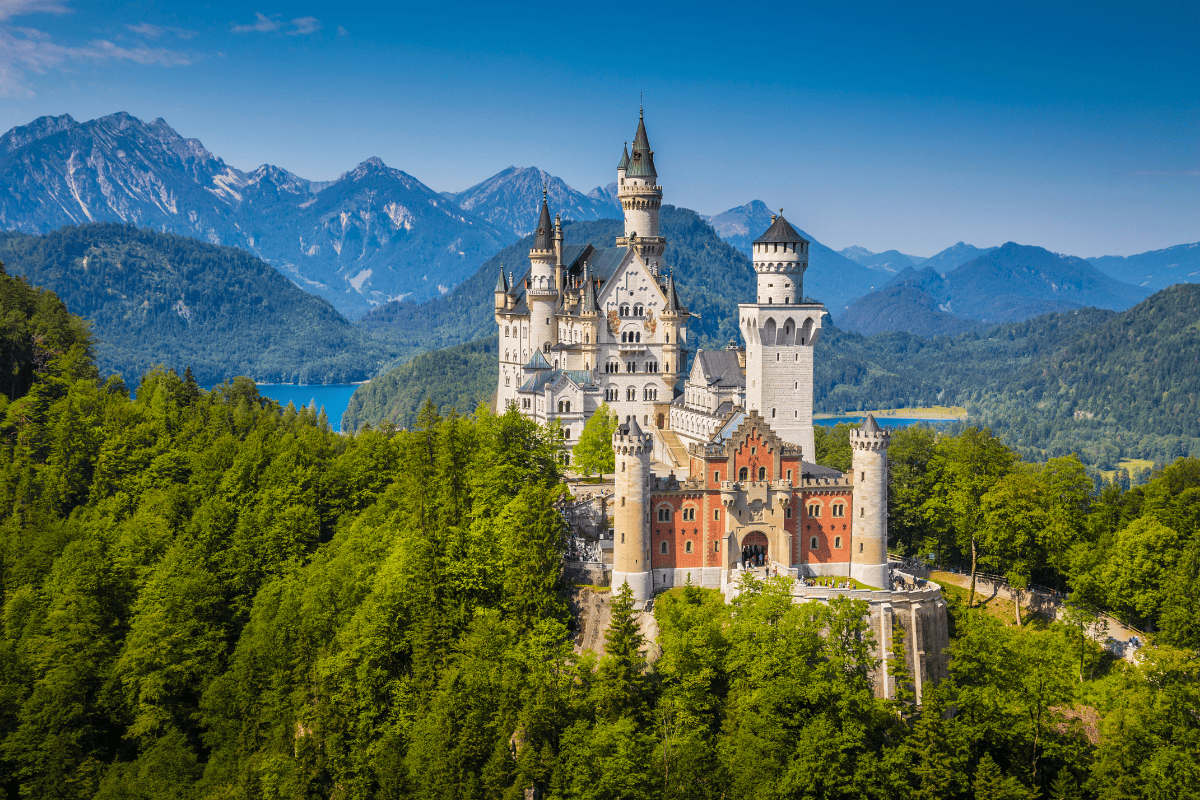 Aside from Neuschwanstein, the other King Ludwig castles like Linderhof Palace, Nymphenburg Palace, and Herrenchiemsee Palace are all worth visiting. To learn more about King Ludwig's castles in Bavaria and how to visit them, check out our complete guide here.
If you're heading to Berlin, then Schwerin Castle and Sanssouci Palace are all within easy access by public transportation.
In southwest Germany, you'll find Heidelberg Castle, one of the most important castle ruins in the north of the Alps. If you're traveling to Stuttgart, you can also plan day trips to Hohenzollern Castle and Lichtenstein Castle.If you want to add more castles to your Germany itinerary, read our guide for more tips on how to tour the best castles in Germany!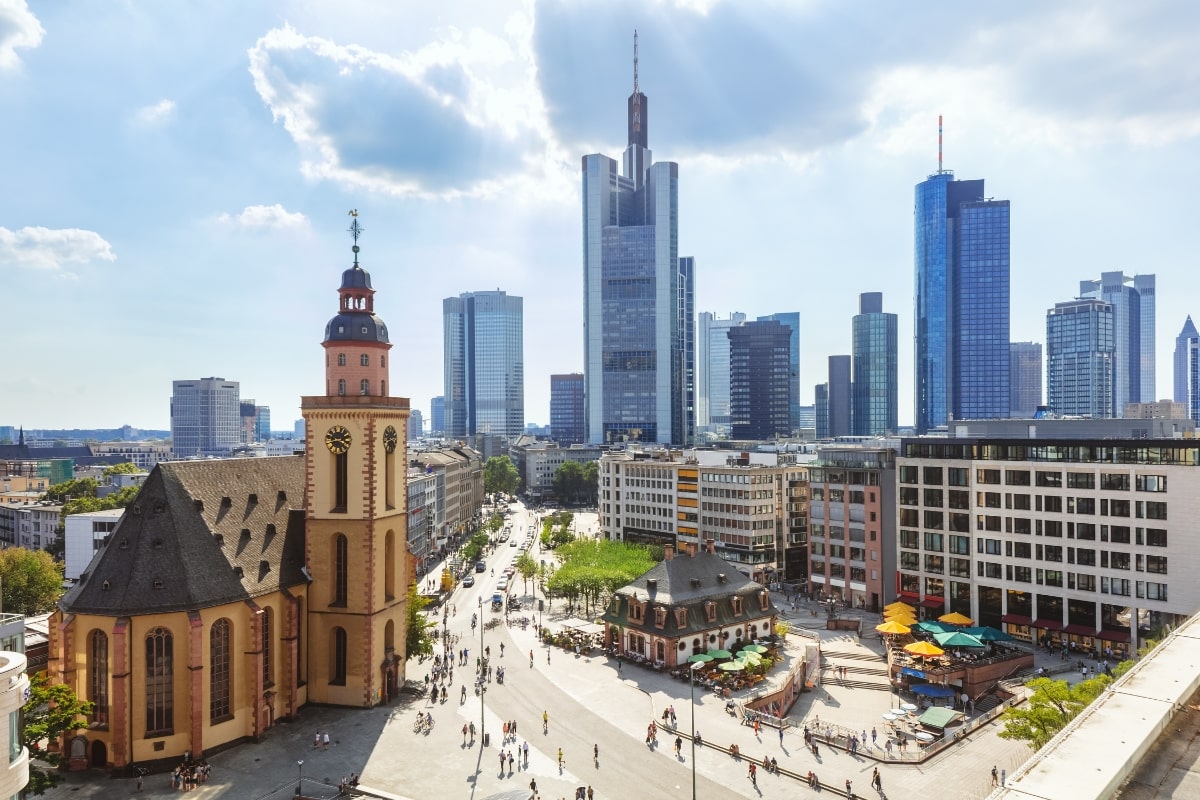 Where is Frankfurt?
Located in the German state of Hesse (Hessen in German), in the western part of the country on the banks of the River Main, Frankfurt am Main is one of the most dynamic and cosmopolitan cities in Germany. The city is also the heart of the larger Rhine-Main metropolitan region.
Frankfurt is a global city and one of the major financial centers of Europe. Because of this, this city is a hub for many worldwide and European corporate headquarters. It's also home to some of the most renowned cultural institutions like the Alte Oper and the Museum Embankment (Museumsufer).
For many travelers, Frankfurt is widely known as the gateway to Germany or even continental Europe. This is in large part due to the Frankfurt Airport, the busiest airport in the country and one of the busiest in the world. It is the airport with the most direct routes in the world and is also the main hub for Lufthansa, the national airline of Germany.
If you're flying in or out of Frankfurt, why not take a day or two to see the city and a castle or two?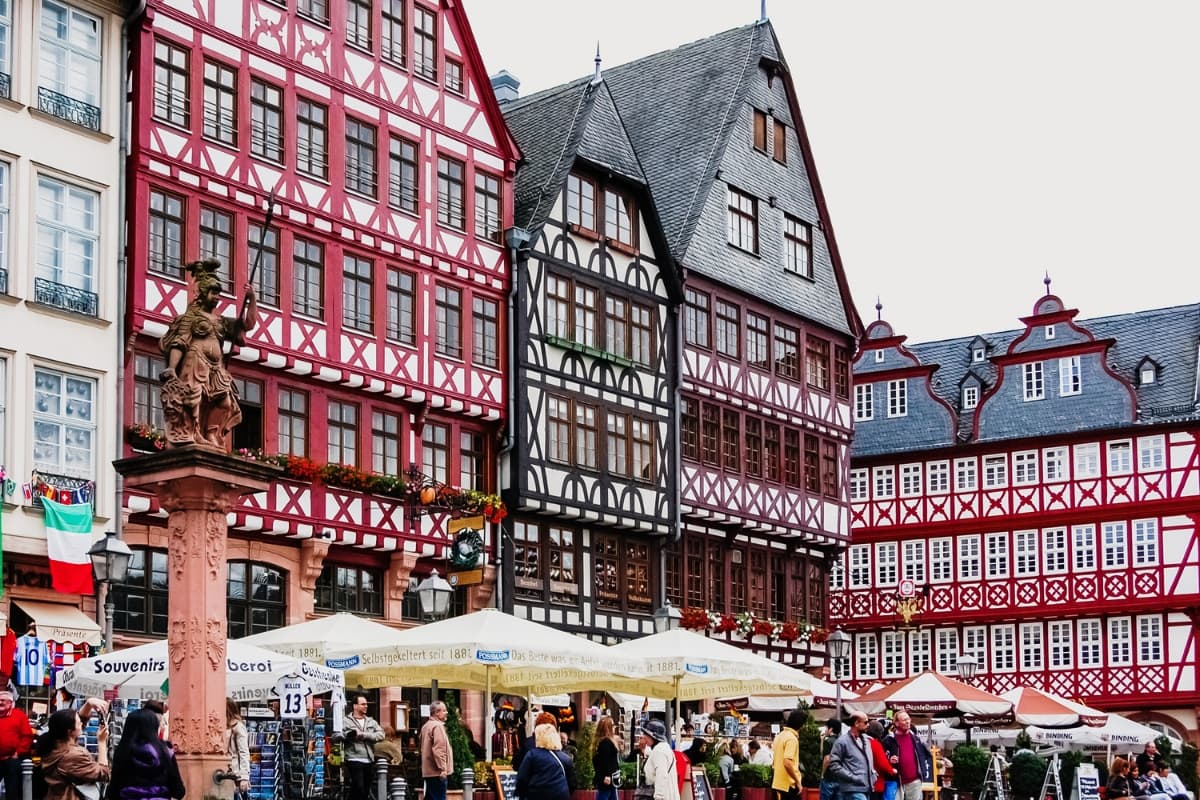 Where to Stay in Frankfurt
If you'd like to visit castles in the Frankfurt area, here are 3 easy options for where to sleep: Frankfurt city, near the Frankfurt airport, and Wiesbaden.
There are many different areas you can stay in when visiting Frankfurt. Choosing an area can depend on various things like how long you're staying or why you plan to visit the city. You can also find all sorts of accommodation options for everyone. Depending on your budget or travel style, you might like Frankfurt's boutique hotels, international chains, small family-run hotels or even youth hostels.
For those who are in Frankfurt on a long layover or are just stopping by on your way to another city, staying near the airport is probably be the most convenient option. That way you can get to and from the hotel and airport quickly and easily. Because Frankfurt Airport is so busy, finding a hotel that fits your budget or style shouldn't be a problem.
And even though you're close to the airport, it's super easy to go into Frankfurt city! From the airport to Frankfurt's Hauptbahnhof (main train station) it's roughly a 15-minute ride via S-bahn (metro). Click here to see popular hotels near the Frankfurt airport!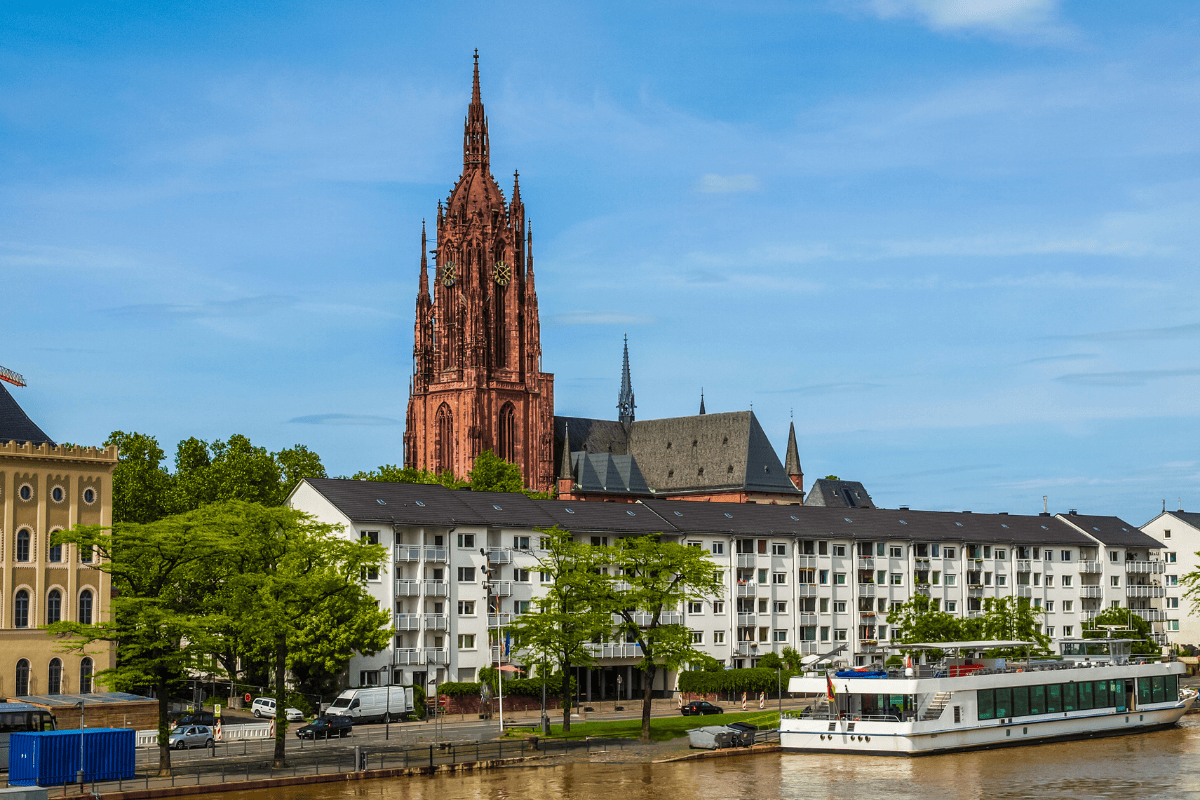 If you want to be near all the historical landmarks and top sights, then downtown is the best area to stay in. Its central location and walkability is hard to beat. It's also a very well connected area because of all the metro stops and how close the Hauptbahnhof is. However, since it is a very touristy area, rates might be higher especially during peak travel seasons like the months of summer or close to Christmas. Click here to see top hotels in downtown Frankfurt.
Another great option is Wiesbaden. Wiesbaden is a nice, smaller town that's located near the airport. If you are looking for the convenience of being near Frankfurt Airport but want to stay somewhere more unique and has a picturesque downtown (with a 15 foot tall cuckoo clock!), then we recommend looking into Wiesbaden. Click here to check out the best hotels in Wiesbaden.
I've stayed in a hotel in downtown Frankfurt (close to everything and minutes from the airport), an AirBnB in a neighborhood outside of the city center (quieter but still easy to get around), and in a hotel in downtown Wiesbaden (peaceful, relaxing, and closer to a few of the castles in the list below). All were easy to reach from the airport and wonderful places to spend a few days right after arriving or just before departing Frankfurt.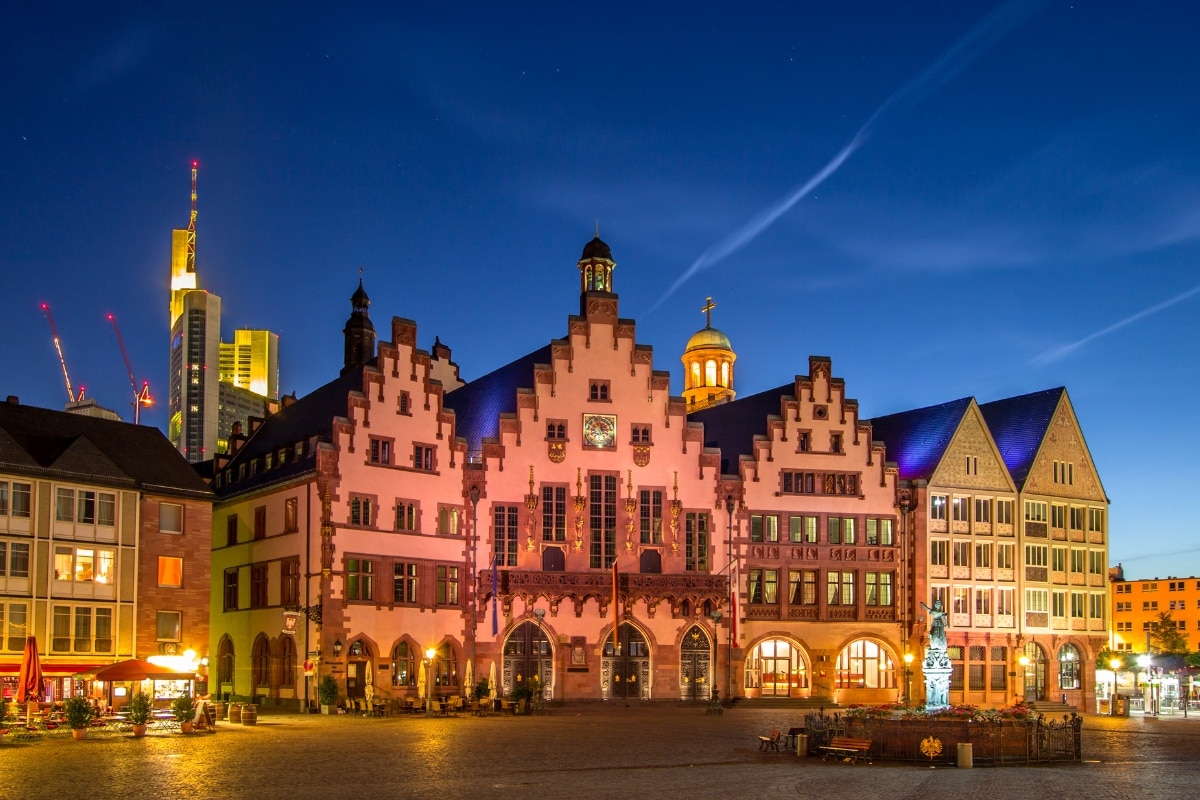 What to Do and See in Frankfurt
There are so many things to do and see in Frankfurt. Depending on how much you want to see, you can easily visit many of the famous landmarks in a day to a couple of days.
A good starting point for your Frankfurt itinerary is Old Town (Altstadt in German). Here you'll find Römerberg (the beautiful central main square), Frankfurt's City Hall (Rathaus), St. Paul's Church (Paulskirche), Goethe House, and Frankfurt Cathedral (Kaiserdom).
For more urban landmarks, you can make your way out of Old Town to visit the European Central Bank, one of the most important financial institutions in the world.
You can't miss out on the scenic views by the River Main, which runs throughout the city. You can stroll by the riverbanks or even book a river cruise to admire Frankfurt's iconic skyline. The Iron Bridge (Eiserner Steg) is one of the most popular destinations to not only take photos of the cityscape but to also admire the love locks left on the bridge.
If you love arts and culture, then the Museum Embankment by the River Main is the perfect place to go. In this area, you'll find world-class museums such as the Städel Museum, the Museum of Applied Art, the Museum of World Cultures, the German Film Museum, and the Icon Museum.
For a more comprehensive list of what to do and see in Frankfurt, read our Frankfurt guide here.