Best Castle Hotels In Germany
This post may contain affiliate links. Read my disclaimer policy.
Did you ever have dreams of living in a fairytale castle while growing up? Or are you a big history buff who's always been curious about what life was like in the medieval ages? Well in Germany you can live out these fantasies by staying in a beautiful castle hotel!
Whichever region you go to in Germany, you're sure to find castles scattered all across the countryside, on top of mountains and hills, or overlooking valleys and rivers. Most were rebuilt over the years and many were opened for public visits or turned into museums.
A few others were renovated to become luxury retreats or family-run boutique hotels. It's here where you can fulfill your dreams and sleep like royalty! Here is a list of the best castle hotels to add to your perfect Germany trip itinerary.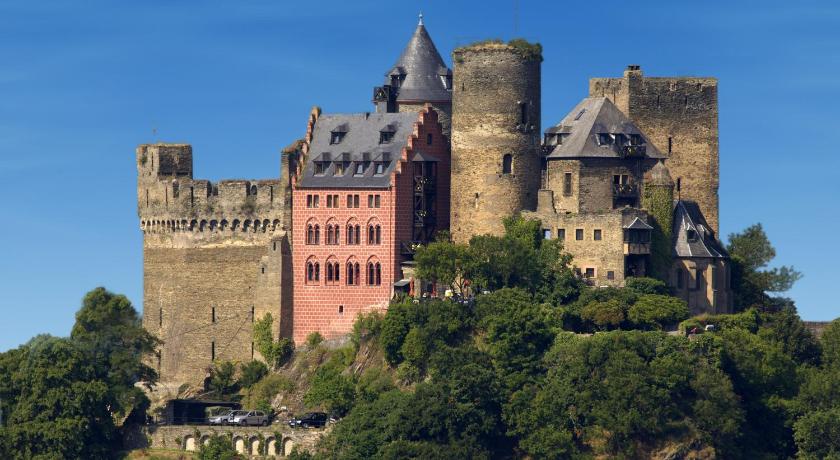 Can You Stay The Night In A Castle In Germany?
For most castles in Germany, staying the night is not a readily available option. German castles date back to thousands of years and while many have been restored after suffering damages from war, these castles have a lot of historical importance. Because of that, most castles are open as museums or exhibits that showcase the castles' rich history and background.
But fortunately, there are some castles that have been turned into castle hotels. This type of accommodation, called Schlosshotel in German, is the best way to experience what it's like to sleep in a castle.
If you're interested in more historic experiences or activities that don't necessarily involve spending a few nights in a castle hotel, then we suggest looking into special tours or events that each castle hosts. A lot of castles host medieval dinners and feasts or festive markets during the Christmas season. Be sure to check out our castles guides here.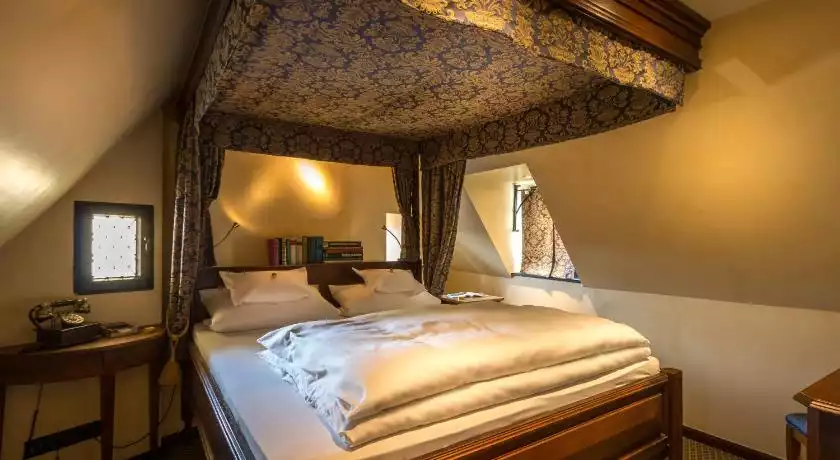 What Kind Of Castle Can You Stay In?
Germany is home to an abundance of beautiful castles. While many of us may be expecting them to look like the grand castles of Walt Disney, there's actually a diverse range of castle types all around the country!
Fairy tale castles like King Ludwig's Neuschwanstein castle are some of the most impressive feats of architecture in Germany. Typically these castles serve as landmarks and museums and don't have the option for guests to spend a night in. It would be the same case for castle ruins.
A lot of the castle hotels you can stay in are smaller castles owned by families of the original founding families. Many of them look like countryside manors with sprawling gardens and outer buildings that house amenities like pools or spa and wellness centers.
A few castle hotels like Hotel Burg Hornberg in Bavaria are actually medieval fortresses. These castle hotels offer some of the best scenic views since most of the time they are found atop cliffside mountains or hills, typical of how fortresses were built centuries ago.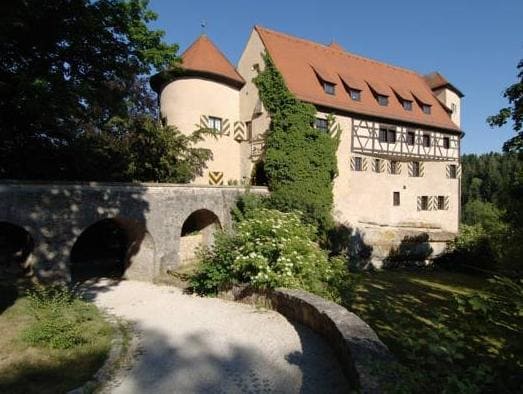 What's It Like To Stay In A German Castle Hotel?
Staying in a German castle hotel is a totally unique experience. For those who are interested, we suggest carving specific days in your Germany trip itinerary to stay in a castle hotel. This is because the hotels are not likely to be super close to major landmarks or tourist attractions. So staying in a castle hotel is really doing it for the experience as opposed to the convenience of sightseeing.
But don't worry, there are still plenty of things to do while staying in castle hotels!
Though you may not be as close to famous tourist sites, you might be closer to hiking trails, golf courses, and other outdoor activities.
For those who prefer culinary experiences, these castle hotels house delicious restaurants for you to try authentic specialties of the region. Many of them come with special packages like a full-course candlelight dinner, wine tasting in the property's vineyard, and even themed feasts in a medieval banquet hall.
Aside from these activities, the ambiance and atmosphere of a castle hotel itself is one of the best parts of the experience. The hotels have a unique charm that you won't find in a chain hotel in the city. That's because these hotels are for the most part family-run enterprises. The owners are often descendants of the castle's earliest royal members such as barons, counts, or princes. You will see the history of the castle proudly displayed through special family memorabilia scattered throughout the castle.
The furnishings and decorations are equally as special. From four-poster beds to ornate chandeliers, most rooms in castle hotels are individually-decorated. Many preserve the original antique furnishings of the castle and combine with them modern amenities to make for the perfect stay.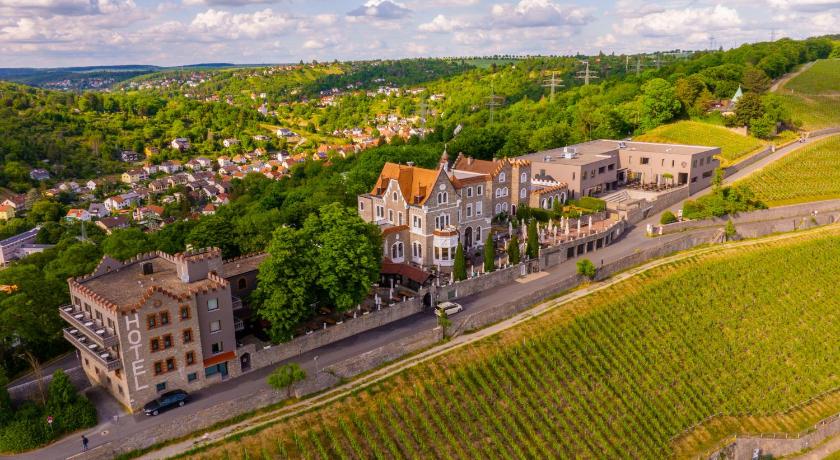 There are many castle hotels around the country and they all offer a wide range of experiences depending on their location, specialties, and price range.
There are several castle hotels that are 4-star and 5-star hotels. These are more high-end, luxury resorts offering fine dining restaurants, large rooms and suites, and extra amenities like relaxation centers and indoor pools. Many of these cater towards big events as well like weddings and corporate retreats.
But you don't need to go all out and splurge to be able to spend a night in a castle. Other castle hotels are run more like family boutiques and are more affordable than the luxury options. You'll still get the full historic experience but without some of the more extravagant amenities.
What's The Best Way To Get To Castle Hotels?
Most of these castle hotels are farther out from the center of major cities that are normally included in your typical German vacation itinerary. For that reason, the best way to get to castle hotels would be to rent a car. Most if not all of these castles offer free private parking since it's common for people to visit these places during a road trip or such.
Public transportation is still a great option but it might not bring you exactly to your desired castle hotel. We recommend you search each hotel's official website where they list down the nearest surrounding landmarks, instructions for what train or bus to take, and directions via car.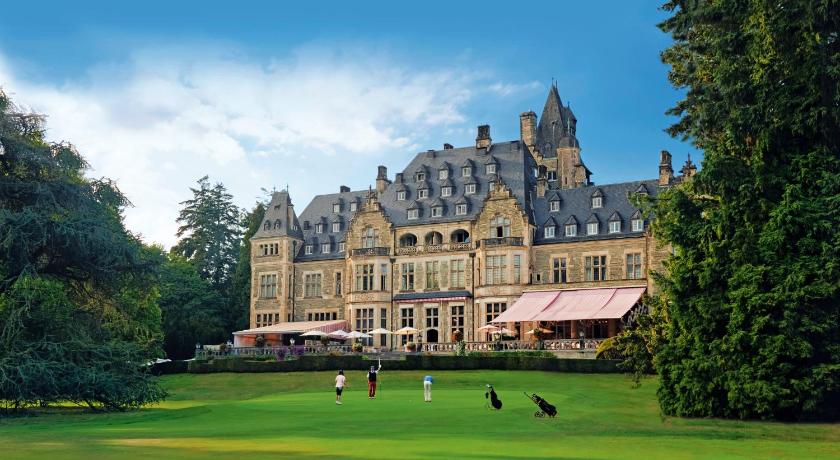 Does Anyone Live In Castles In Germany Today?
There are around 25,000 castles in Germany but the exact number is not known. There might be even more! While they're not all occupied by royal families like they were before, you'll be surprised to find out that there are some families who do still live in the castles to this day.
A few castles are still under the ownership of the founding families so they're used as summer residences or private estates. Others have private wings that are inhabited by the family only while the other wings are open to the public for visits.
Best German Castle Hotels
1. Burg Colmberg Hotel (Bavaria)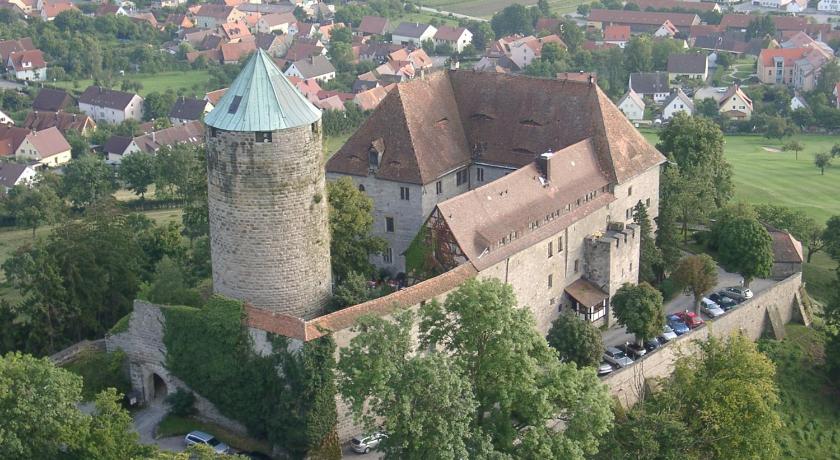 Burg Colmberg Hotel
Pros:
Complimentary breakfast buffet

Free WiFi

Franconian medieval-style restaurant

Terrace and garden

Kid's playground area

Free parking onsite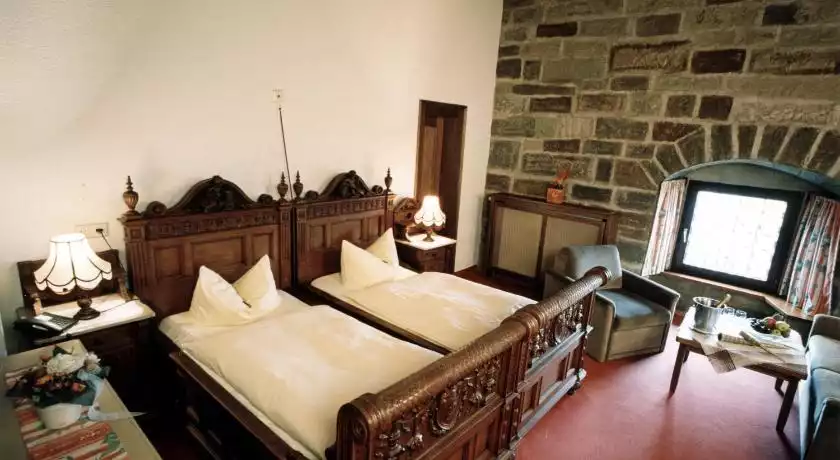 We earn a commission if you make a purchase, at no additional cost to you.
The historic guest rooms of 13th-century Castle Colmberg are equipped with hand-carved historic beds or Franconian four-poster beds. If you want to be transported to the Middle Ages, you can also stay at the Tower Guard, a luxurious 2-floor suite with great views of the Franconian landscape. There are two restaurants onsite that serve authentic Franconian cuisine and a bright, airy conservatory where you can enjoy coffee and cake.
Click here for more information on how to book a room
2. Schloss Eberstein (Gernsbach, Baden-Württemberg)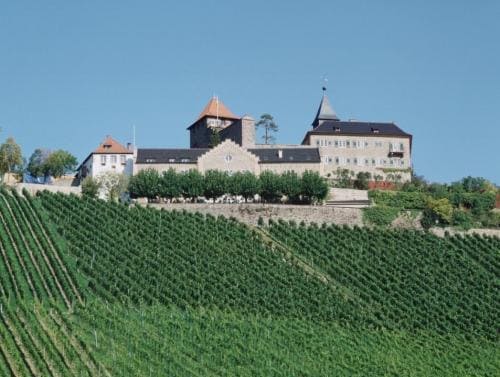 Schloss Eberstein
Pros:
Free private parking

Vineyard views

Bavarian restaurant and seasonal beer garden onsite

Cooking courses available

Room service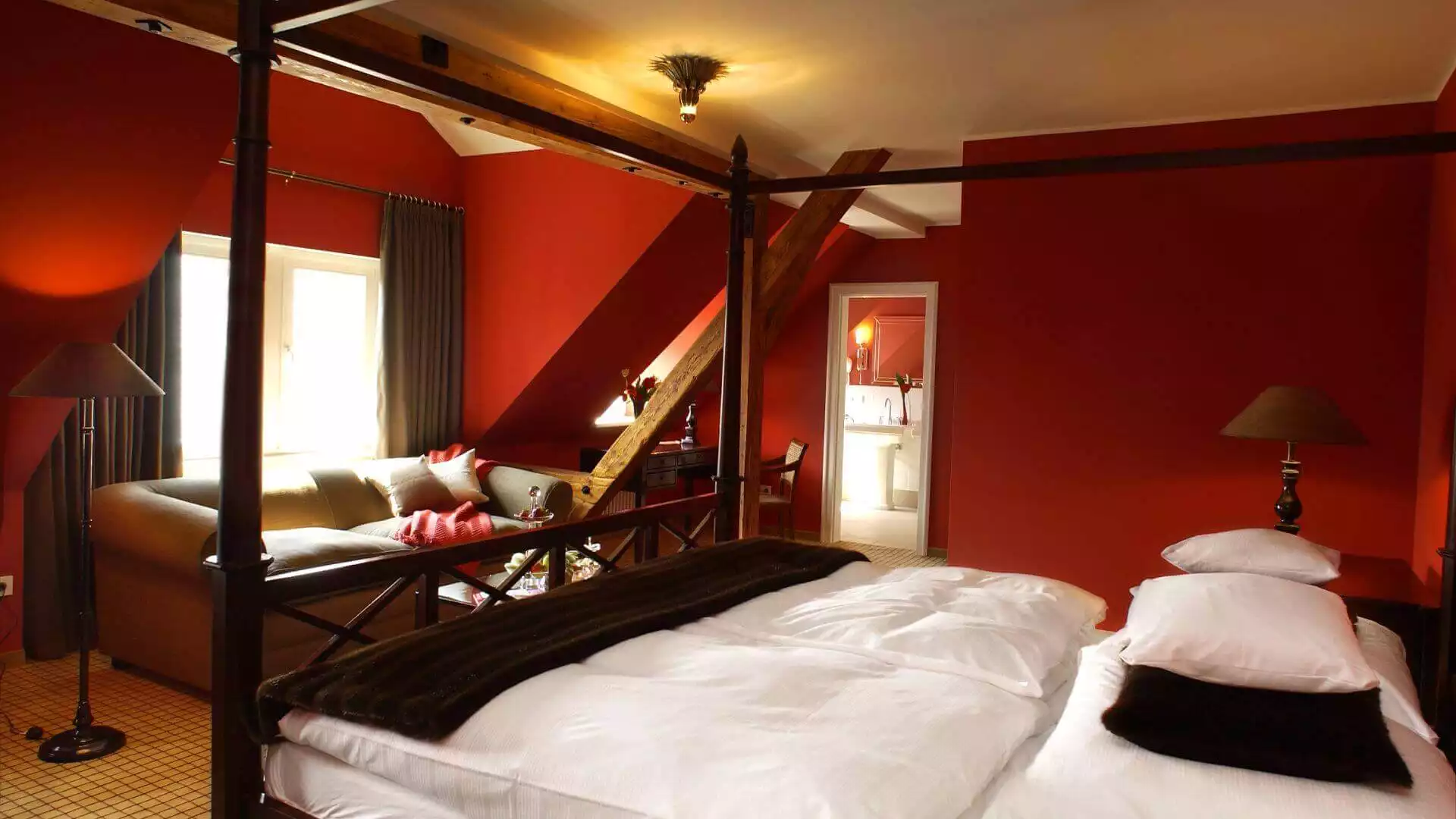 We earn a commission if you make a purchase, at no additional cost to you.
Located amid the Murgtal Valley and nearby Black Forest, Schloss Eberstein is a 4-star castle hotel with its own vineyard. The elegant rooms have modern amenities and furnishings. The hotel offers many activities like wine tasting, cooking courses, tastings in their one star Michelin restaurant, and hiking trails right outside their doorstep.
3. Burg Rabenstein (Bavaria)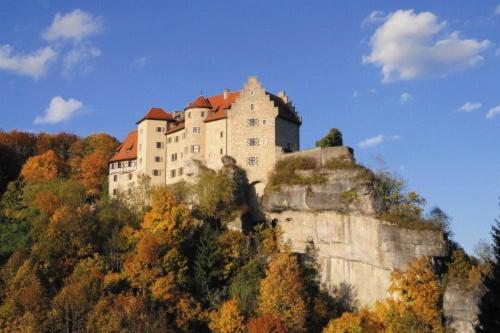 Burg Rabenstein
Pros:
Breakfast buffet

Falconry, limestone caves, and hiking trails

Beer garden

Free WiFi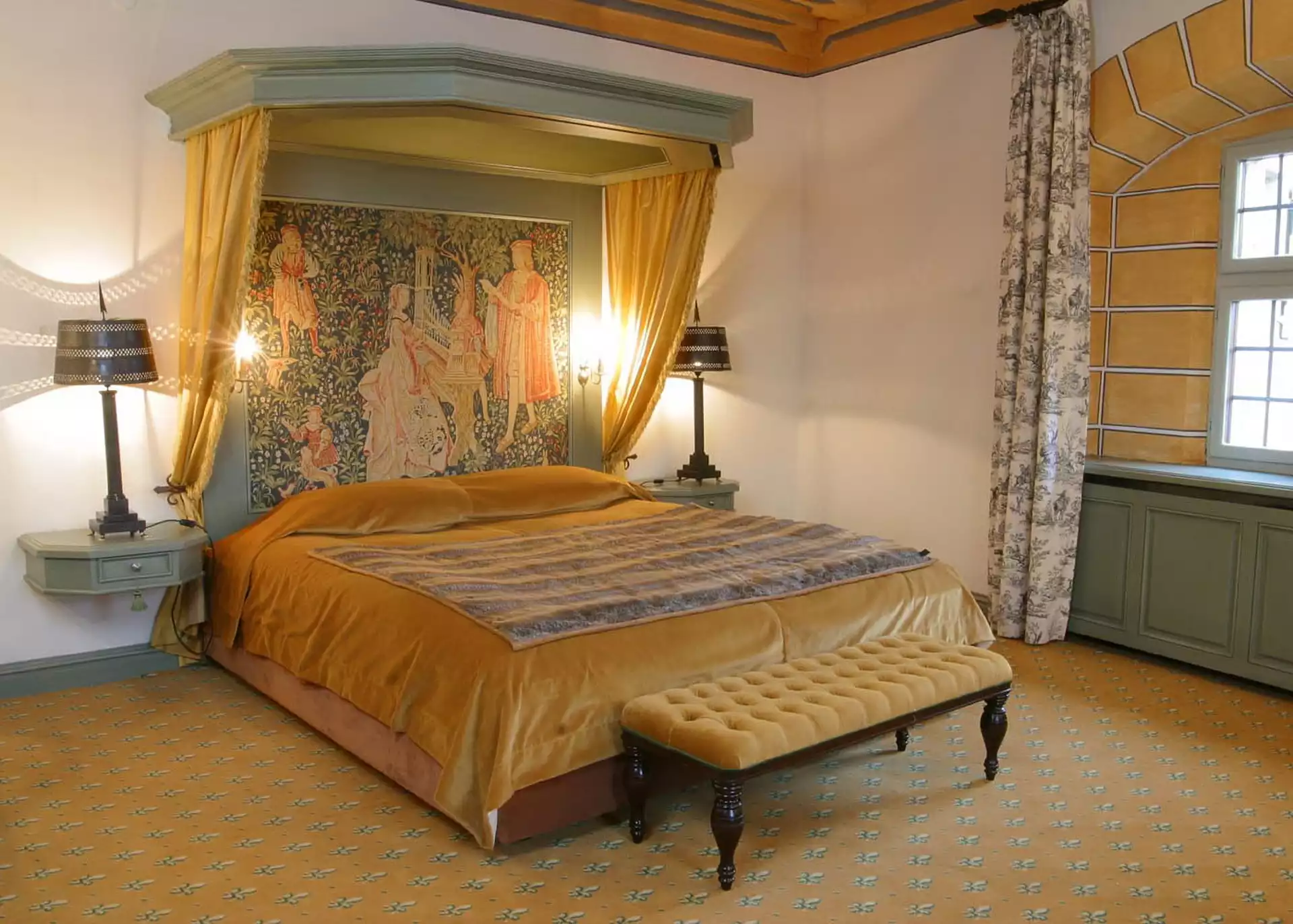 We earn a commission if you make a purchase, at no additional cost to you.
Burg Rabenstein dates back to the 12th century and many of its original features have been restored and kept in line with the castle's medieval architecture. It's perched atop limestone cliffs with great views of the extensive castle grounds which house a limestone cave, a falconry, a beer garden, and two restaurants serving traditional Franconian dishes.
4. Hotel Burg Hornberg (Bavaria)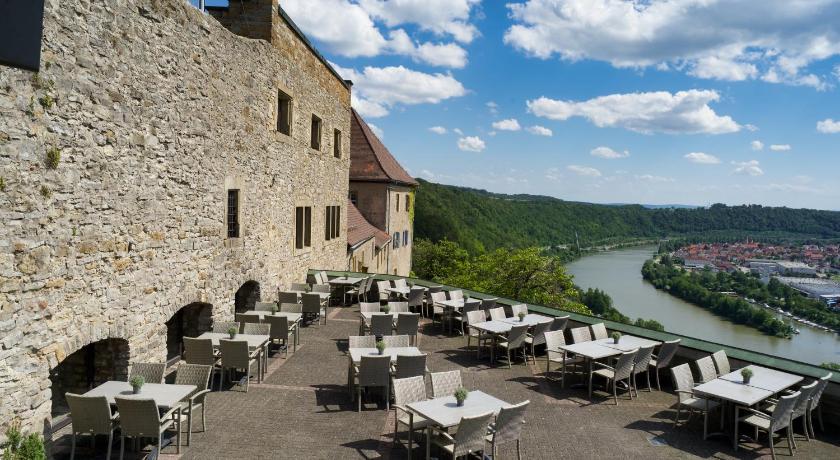 Hotel Burg Hornberg
Pros:
Terrace with panoramic views

Rooms with valley or forest views

Family room

Complimentary breakfast buffet

Free WiFi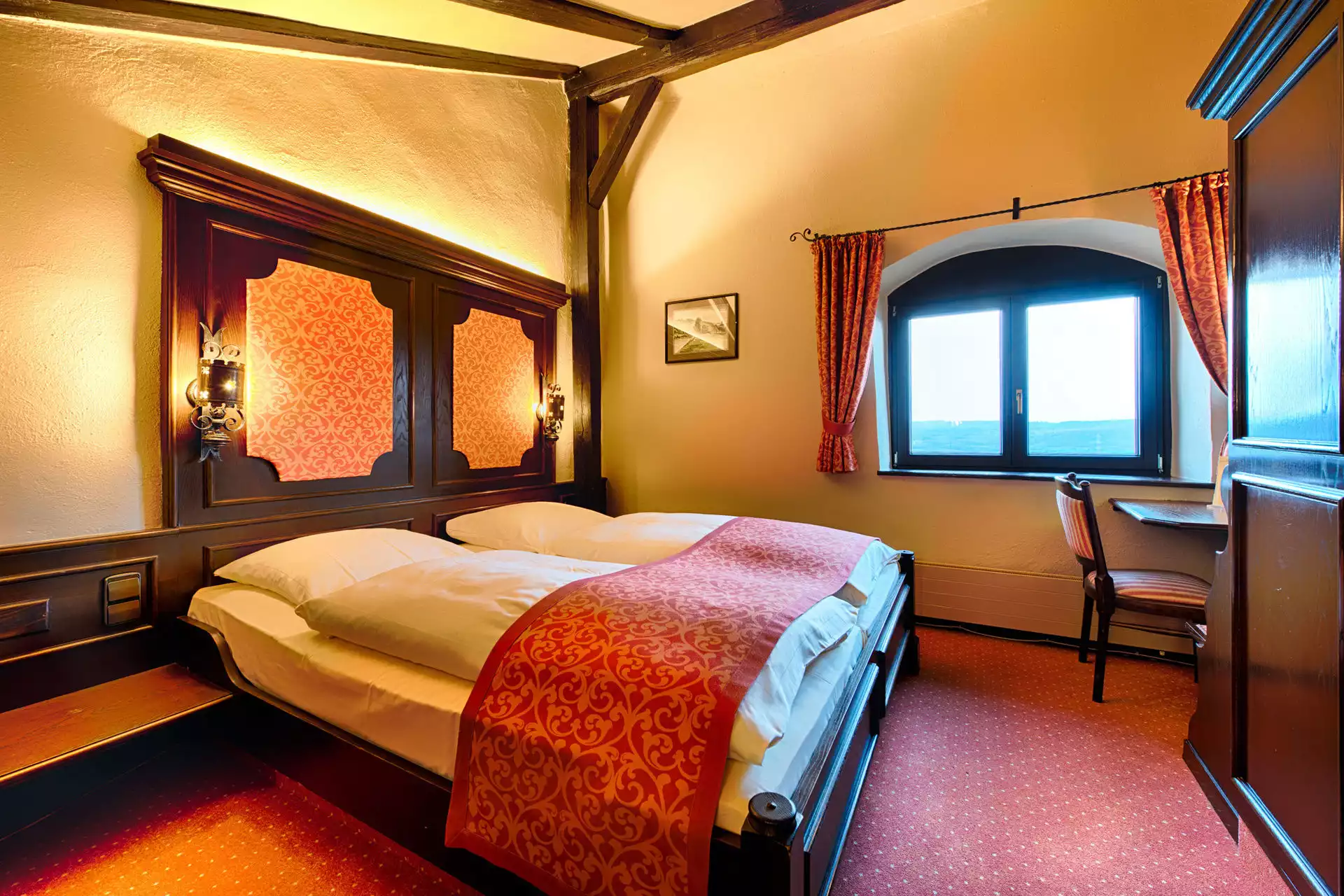 We earn a commission if you make a purchase, at no additional cost to you.
Burg Hornberg is a hilltop castle overlooking the beautiful Neckar Valley. This medieval fortress has been turned into a boutique hotel with stylish modern rooms. There are several packages offered that include accommodation, a candlelit 4-course dinner in their restaurant with panoramic views of the valley and vineyards, and a rich breakfast buffet.
5. Schlosshotel Steinburg (Bavaria)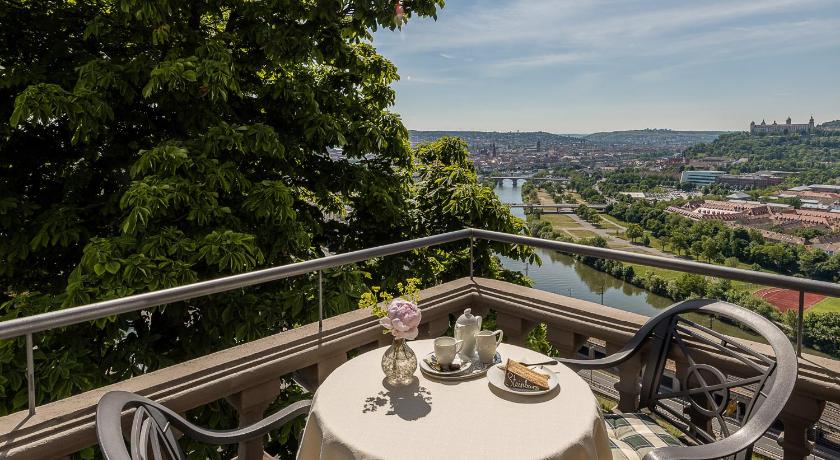 Schlosshotel Steinburg
Pros:
Rooms with balconies

Free WiFi

Indoor pool and sauna

Fine dining restaurant serving Franconian cuisine

Room service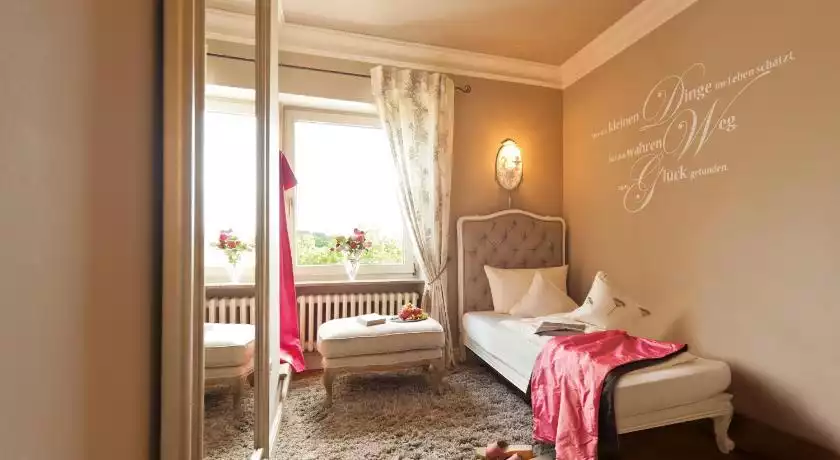 We earn a commission if you make a purchase, at no additional cost to you.
Schlosshotel Steinburg is divided into two wings: the Castle Manor (Traumschloss) and the Country Manor (Landschloss). The rooms in Castle Manor are perfect for those looking for a more traditional castle ambiance since it's the oldest part of the original castle. On the other hand, Country Manor features more modern, contemporary fixtures with a Mediterranean twist. More modern amenities include a sauna, an indoor pool with gorgeous views of Würzburg, and a fine dining restaurant serving Franconian cuisine and wine.
6. Burghotel auf Schönburg (Oberwesel)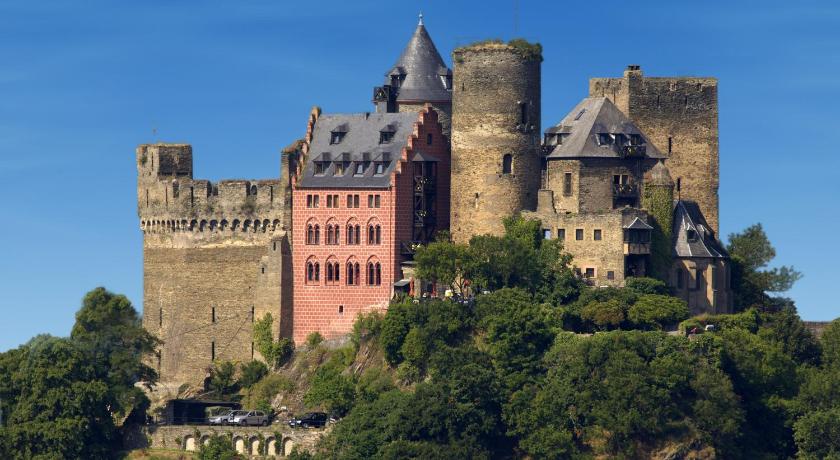 Burghotel auf Schönburg
Pros:
Balconies with views of Rhine Valley

Rooms with traditional furnishings

Garden and castle museum

Bistro and coffeeshop onsite

Free private parking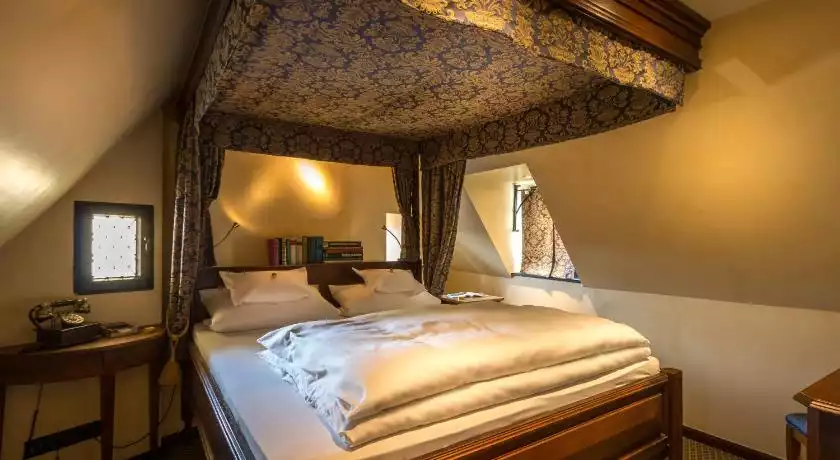 We earn a commission if you make a purchase, at no additional cost to you.
Located in the historic Schönburg Castle, this 4-star hotel has 27 individually-decorated rooms and suites, many with a balcony offering amazing views of the Rhine river. All of the rooms boast of individual antique furnishings like wood four-poster beds and wrought iron fireplaces. Hotel guests also get exclusive access to the castle garden and castle tower museum. There's also a castle bistro onsite that serves breakfast and delicious regional food.
7. Hotel Burg Trendelburg (Hesse)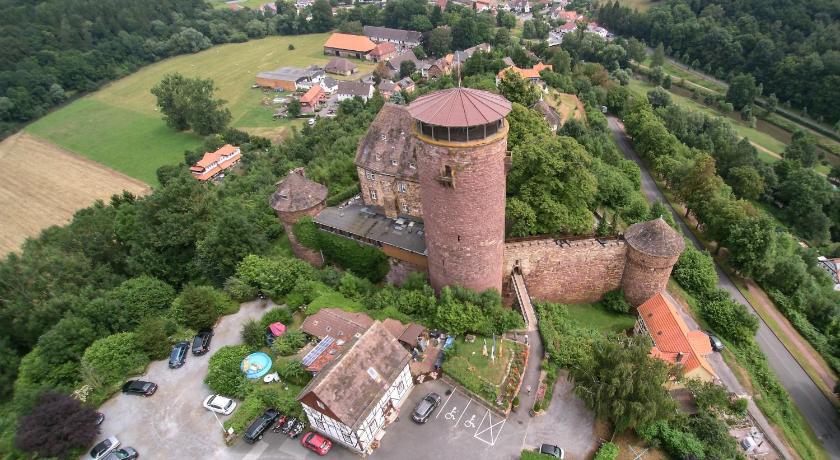 Hotel Burg Trendelburg
Pros:
Complimentary buffet breakfast

Free WiFi

Spa, stone-brick sauna and massage-chamber

Restaurant with terrace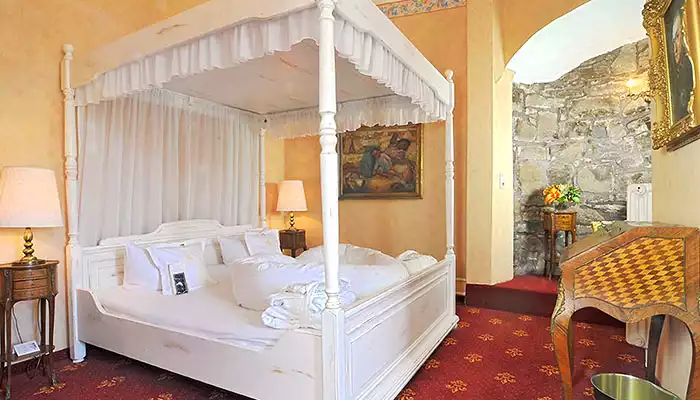 We earn a commission if you make a purchase, at no additional cost to you.
At the Trendelburg Castle, each of the hotel rooms has been fully integrated within the framework of the historical castle so no two rooms are alike. You'll find unique touches like a secret door in the wardrobe leading to the bathroom and tall four-poster beds. Each room comes with a complimentary breakfast. The castle also has a spa and wellness center which include a sauna, a massage-chamber, and a salt-house.
8. Schlosshotel Kronberg (Hesse)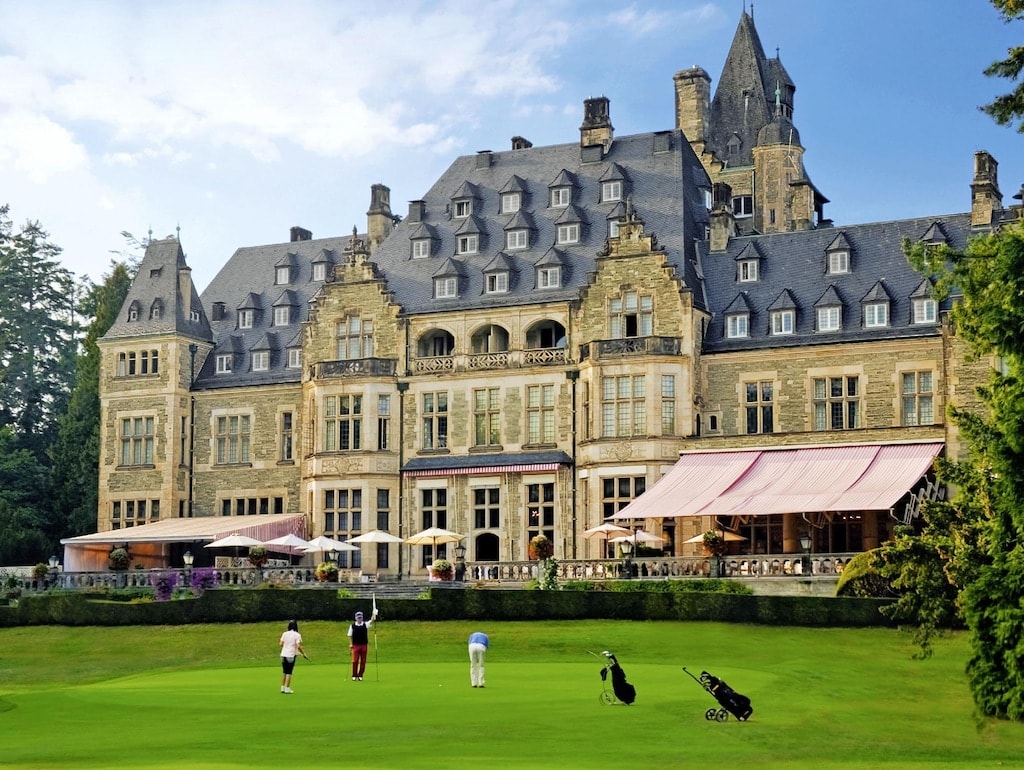 Schlosshotel Kronberg
Pros:
18-hole golf course

Spa and wellness center

Free WiFi

Air conditioning

Bar and fine dining restaurant onsite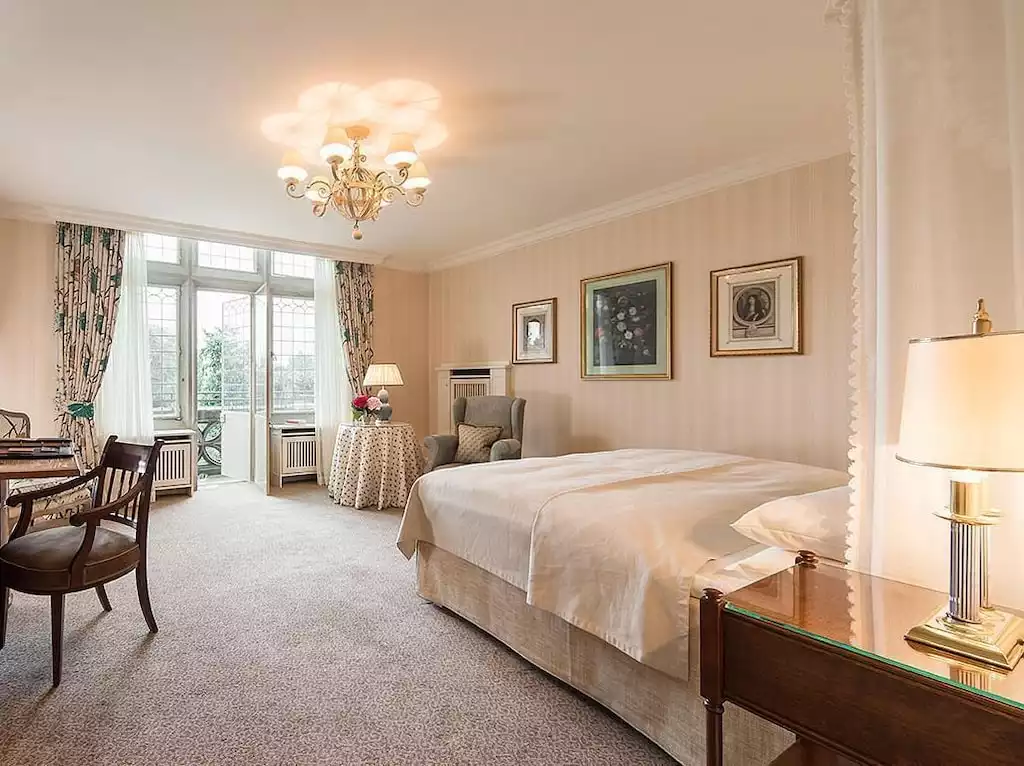 We earn a commission if you make a purchase, at no additional cost to you.
Schlosshotel Kronberg is a luxury hotel with a range of tastefully decorated suites and rooms featuring antiques and classical artworks. Many of the spacious rooms with balconies offer views of the castle courtyard and the historic park in the grounds. You can even see panoramic views of the Frankfurt skyline from some rooms!
The hotel is in close proximity to tons of activities. You can play golf in their 18-hole golf course, treat yourself to spa treatments and massages in the Beauty Cottage, or enjoy a cocktail in their American bar with live music.
9. Schloss Eckberg (Dresden)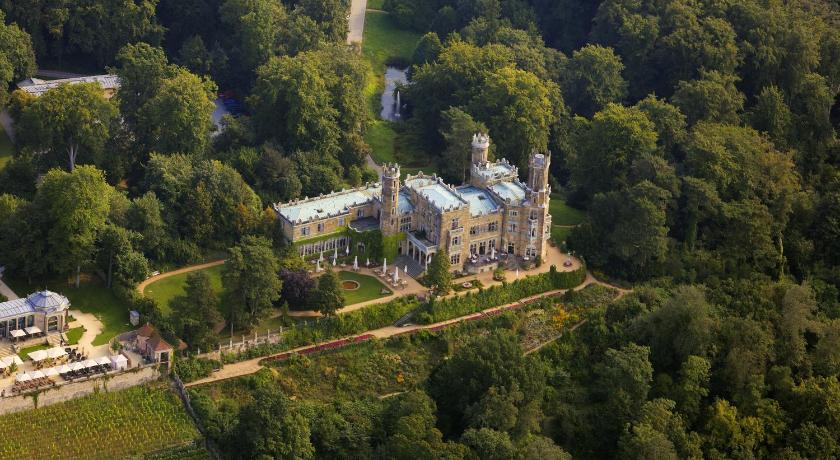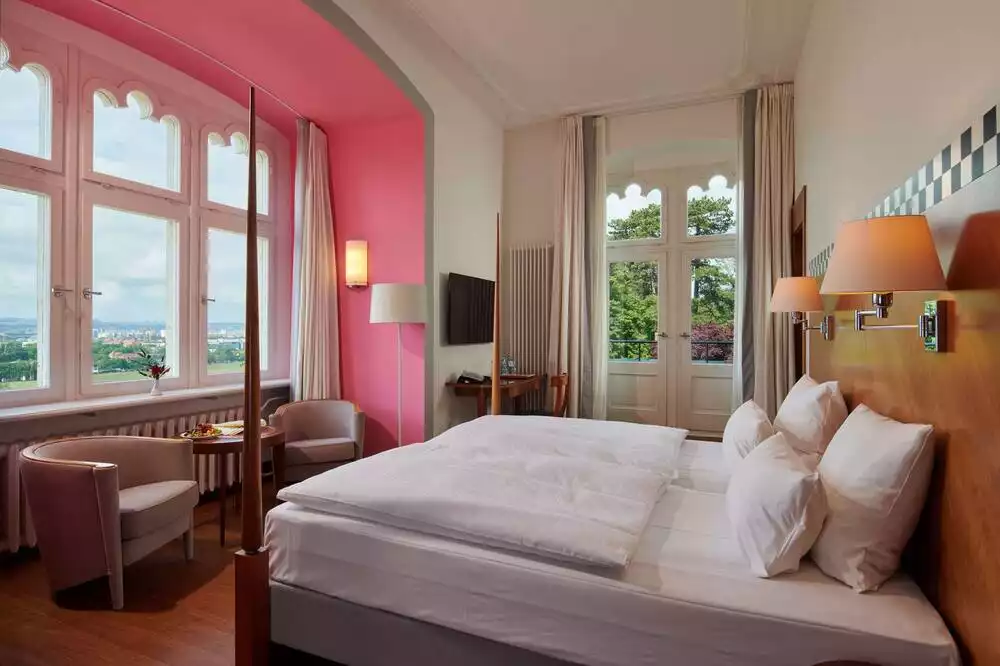 We earn a commission if you make a purchase, at no additional cost to you.
Schloss Eckberg stands high above the river Elbe and between Dresden's Old Town. This 19th-century Tudor-style palace boasts of exclusively furnished rooms with marble baths and antique original furnishings. The hotel features two saunas and a fitness room as well as a restaurant that serves a delicious buffet breakfast and regional cuisine.
10. Schlosshotel Münchhausen (Lower Saxony)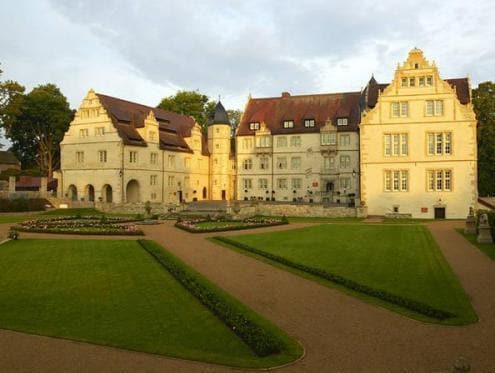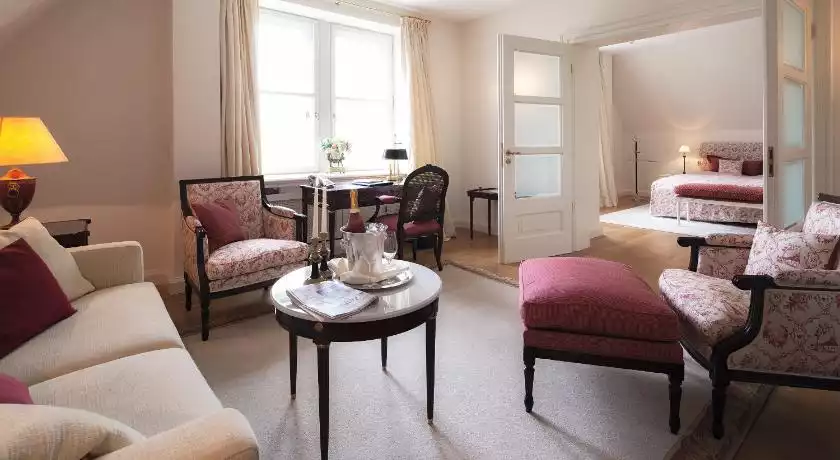 We earn a commission if you make a purchase, at no additional cost to you.
Schlosshotel Münchhausen is a luxury hotel located in Lower Saxony in the Natural Park Weser Highlands Schaumburg-Hamelin. It's near the small town of Hamelin, the setting of the famous fairy tale "Pied Piper of Hamelin."
This 5-star hotel is home to over 60 luxury suites and rooms and three upscale restaurants (one with a Michelin star), an indoor swimming pool, an ice fountain, two adjacent golf courses, and many more. The individually decorated rooms have an elegant mix of vintage furniture with bright and modern touches.
Other Castle Hotels
These hotels are other great options. Some of these castles are not exactly located in the castle but nearby. Others are much smaller castles that look more like modern palaces as opposed to medieval castles.
Schlosshotel Hugenpoet – This 17th-century castle with a moat has a wide range of modern rooms and suites as well as a separate villa with a terrace and courtyard.
Althoff Grandhotel Schloss Bensberg – A Baroque-style 5-star hotel with opulent rooms and suites. Luxurious amenities include two upscale bars, a formal restaurant, fountain gardens, sauna and spa, and an indoor pool with a stone waterfall.
Hotel Burg Liebenstein – 13th-century castle overlooking the Rhine River with traditional medieval furnishings. Fun dining experiences include candlelit dinner in a medieval banquet hall with local wines.
Schloss Lieser – This hotel in an art nouveau-style castle is located within close distance to wineries and overlooks the Moselle river. Luxurious rooms with antique and ornate furnishings. Amenities include an indoor pool, spa, lounge bar, and restaurants.
Schlosshotel Harburg – Set in the walled complex of the medieval Harburg Castle and located within 5 minutes from the town center. Aside from cozy and wooden furnished rooms, there are multiple dining areas, a tavern and a summer terrace onsite.
Romantik Hotel auf der Wartburg – This hotel is located at the foot of the Wartburg castle. Each room comes with complimentary breakfast and guests can enjoy views from the scenic terraces.
Schlosshotel Wendorf – Luxury hotel set in a small castle surrounded by country gardens. This hotel offers a wide range of amenities from a fitness center, sauna and spa, stables and horseback riding, and an outdoor pool.
Villa Rothschild – Located in the mountain range of Taunus, this luxe hotel is part of Marriott's Autograph Collection. Individually designed rooms offer direct access to the beautiful Rothschild park terrace and other amenities.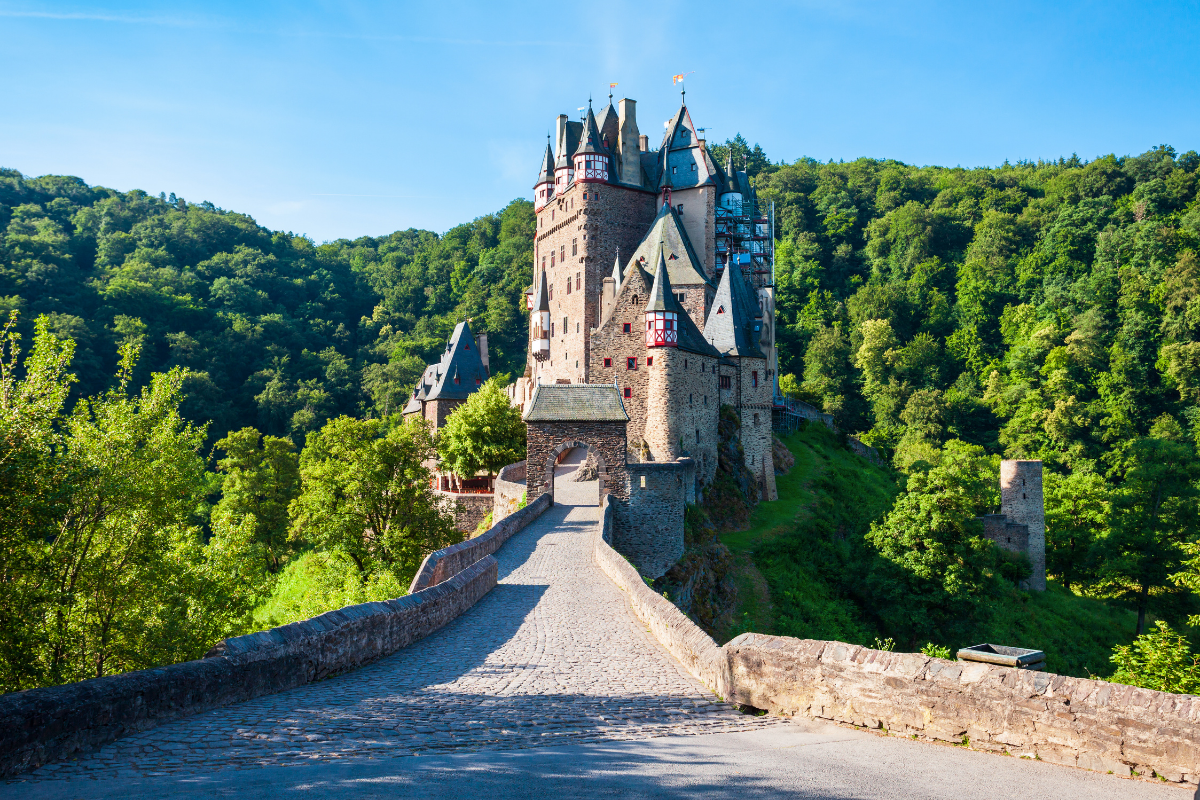 Best Castles To Visit In Germany
There is no shortage of castles in Germany. If you can't get enough of castles and to explore more, then these castles are great for visiting. Some of these can be done as a day trip or even a half-day trip. You can even get to two or more castles in the same day since some are close to each other. For example, if you take the Romantic Road, you'll be able to visit Neuschwanstein and Hohenschwangau along the way.
If you'd like to visit castles while in Germany, check out our castle guides here.
Here is a list of other famous castles in Germany we recommend adding to your Germany bucket list!
Braunfels Castle
Burg Eltz (Eltz Castle)
Burghausen Castle
Heidelberg Castle
Hohenschwangau Castle
Hohenzollern Castle
Lichtenstein Castle
Schwerin Castle
Wartburg Castle