14+ Beautiful Castles Near Cologne, Germany
This post may contain affiliate links. Read my disclaimer policy.
Looking for day trip ideas near Cologne? Step outside the city center and discover beautiful castles to visit near Cologne!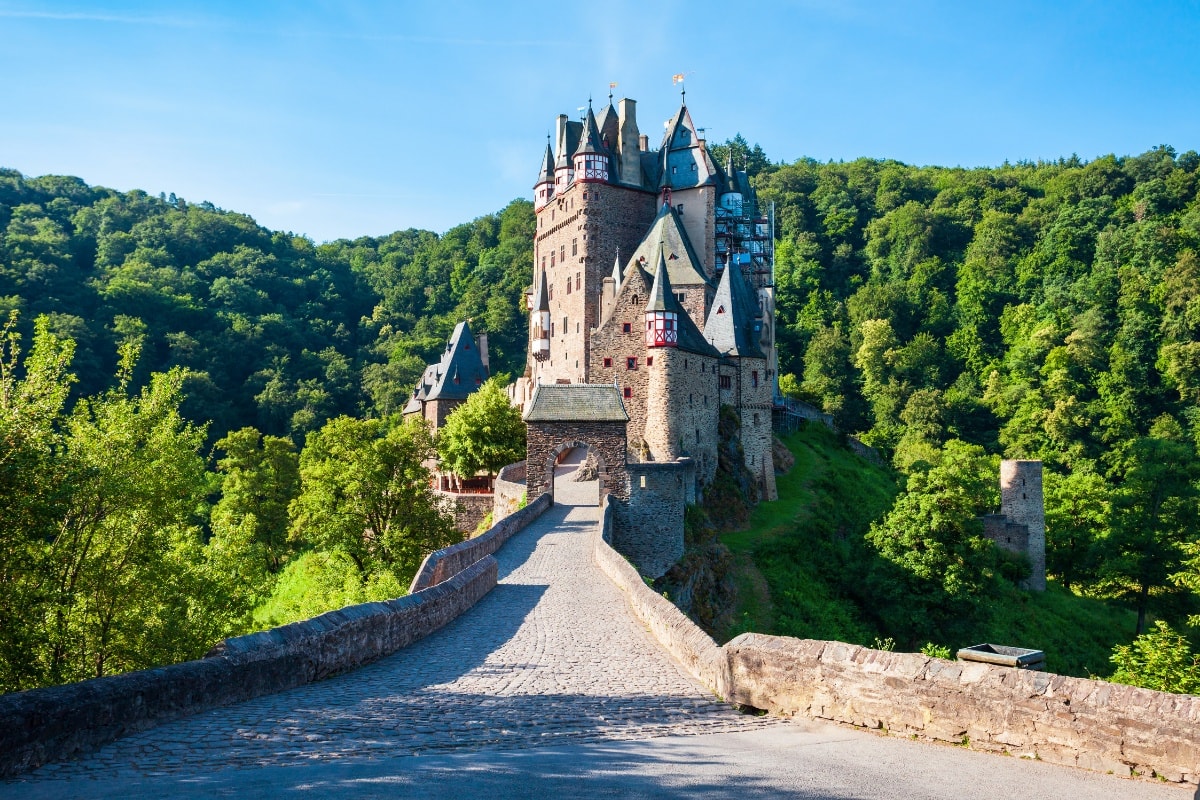 Cologne has its fair share of amazing sights to offer, but if you look beyond the city center, you'll find even more destinations to explore, and even some hidden gems that are more off the beaten track. And Cologne's location makes it the perfect place to start exploring the beautiful Rhine Valley.
Cologne is also in close proximity to a wide variety of castles, palaces, and castle ruins that you can easily add to your itinerary. You'll find everything from castles turned luxury hotels and medieval fortresses to vast castle gardens with stunning views.
Here's our list of the best castles to visit near Cologne, along with some helpful info and tips for Cologne and the surrounding area!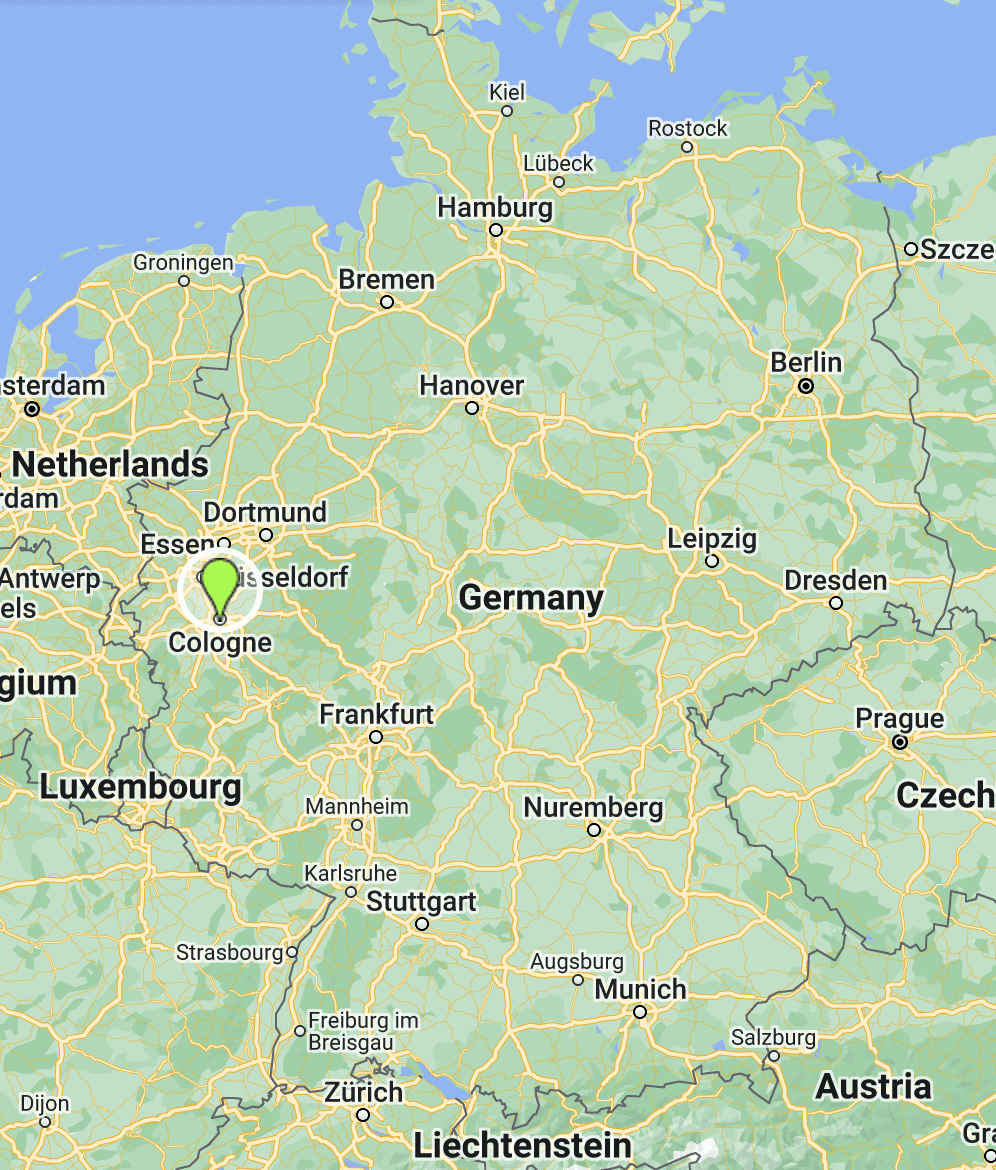 Where is Cologne?
Cologne (or Köln in German) is in western Germany, in the state of North Rhine-Westphalia. It's the largest city of the state and the fourth largest in Germany. It's located along the west bank of the Rhine river, between the cities of Düsseldorf and Bonn.
It's home to the Cologne Cathedral, one of Germany's most visited and popular tourist attractions and a UNESCO World Heritage Site. While a lot of people are probably most familiar with the Cathedral, the city also offers many other important cultural moments and historic buildings worth visiting.
Cologne is also a great place for day trips. The area of the Rhine Valley and the Moselle River are beautiful and ideal for river cruises, scenic drives, and tasty food, beer, and wine. And of course, the surrounding area has a variety of German castles you can cross off from your bucket list.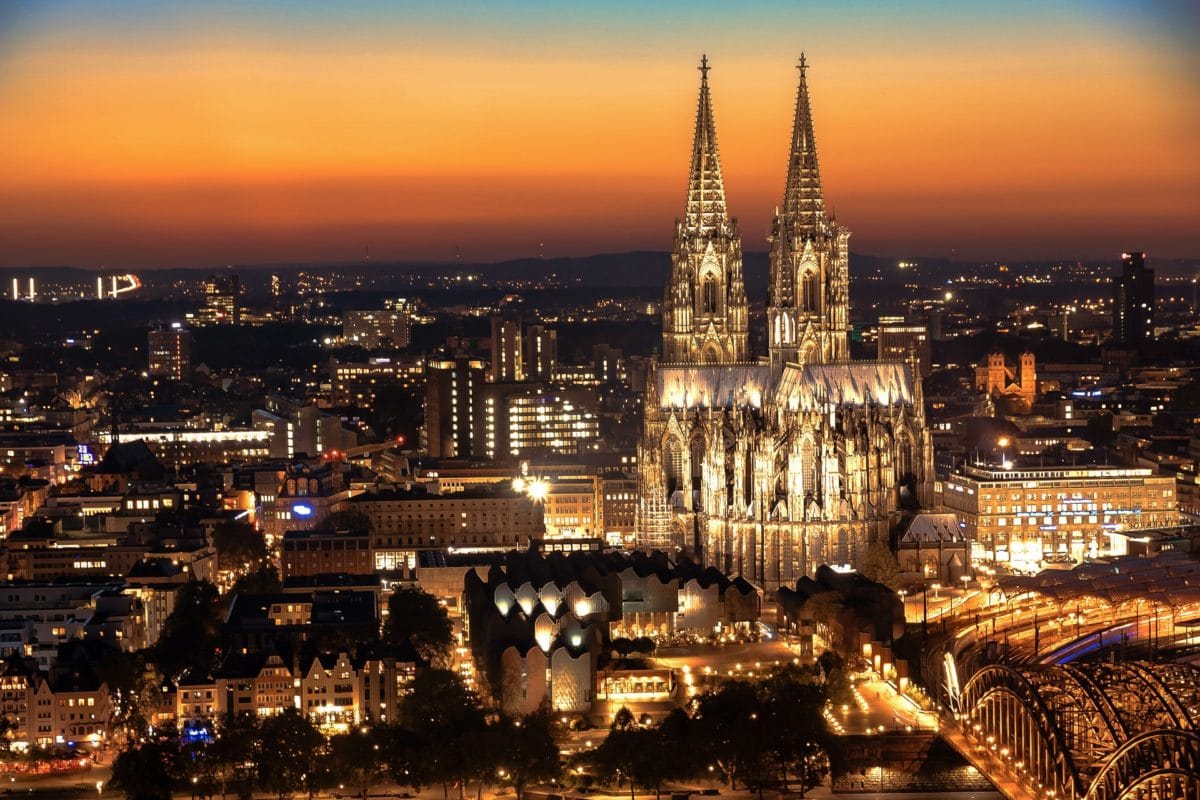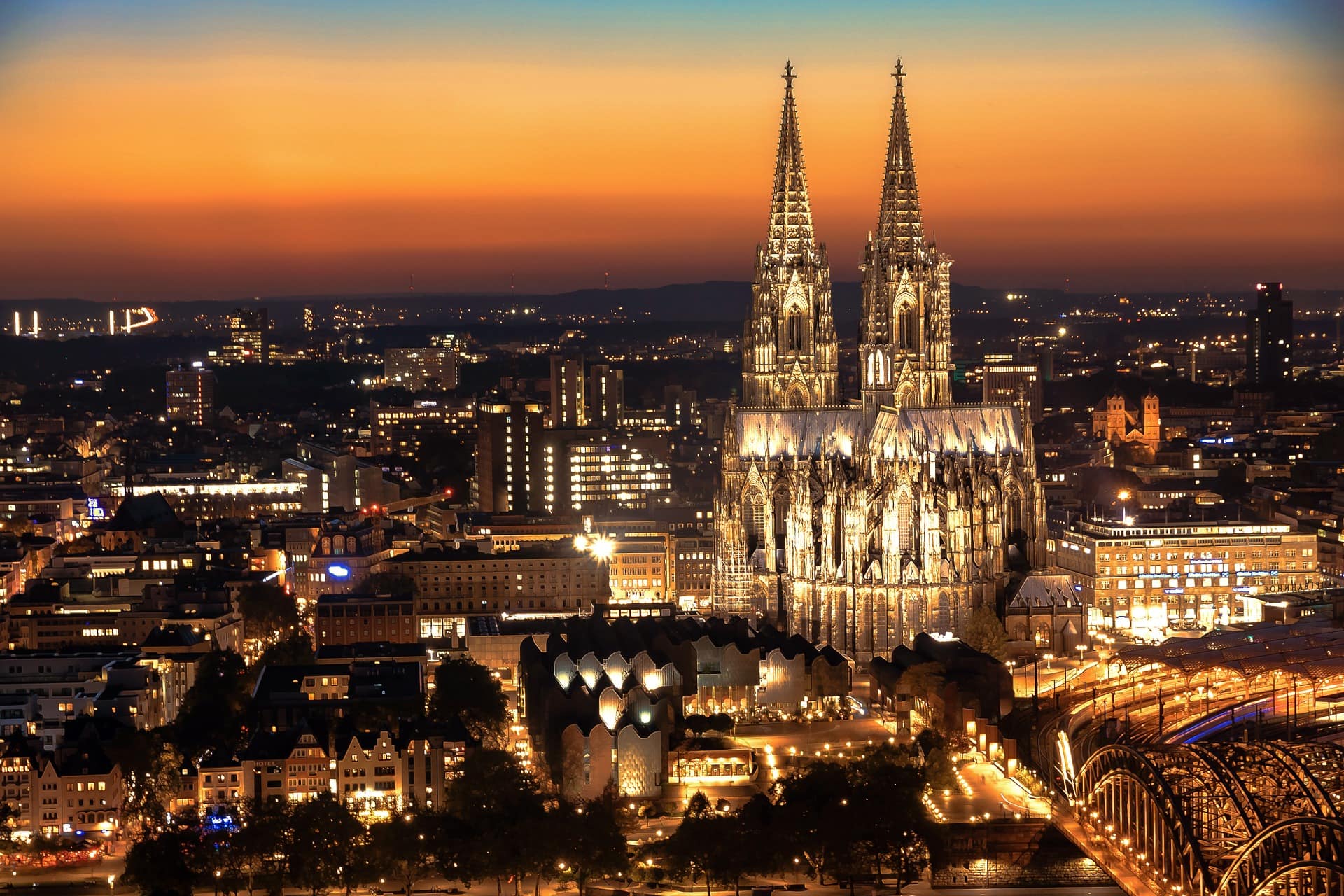 Where to Stay in Cologne
Cologne has lots of great hotels spread out all throughout the city but to best explore the city, we highly recommend staying in the downtown city center area.
Hotels in the Alt Stadt (old town) area are within walking distance to most popular tourist destinations like the Cologne Cathedral or Museum Ludwig, as well as the central train station.
Public transport will also be easy to access if you stay in the city center, and you can easily take the tram, bus, S-bahn, or U-bahn to tourist spots that are a bit farther from downtown.
Click here to read our reviews of the 10 best hotels to stay in the city center of Cologne.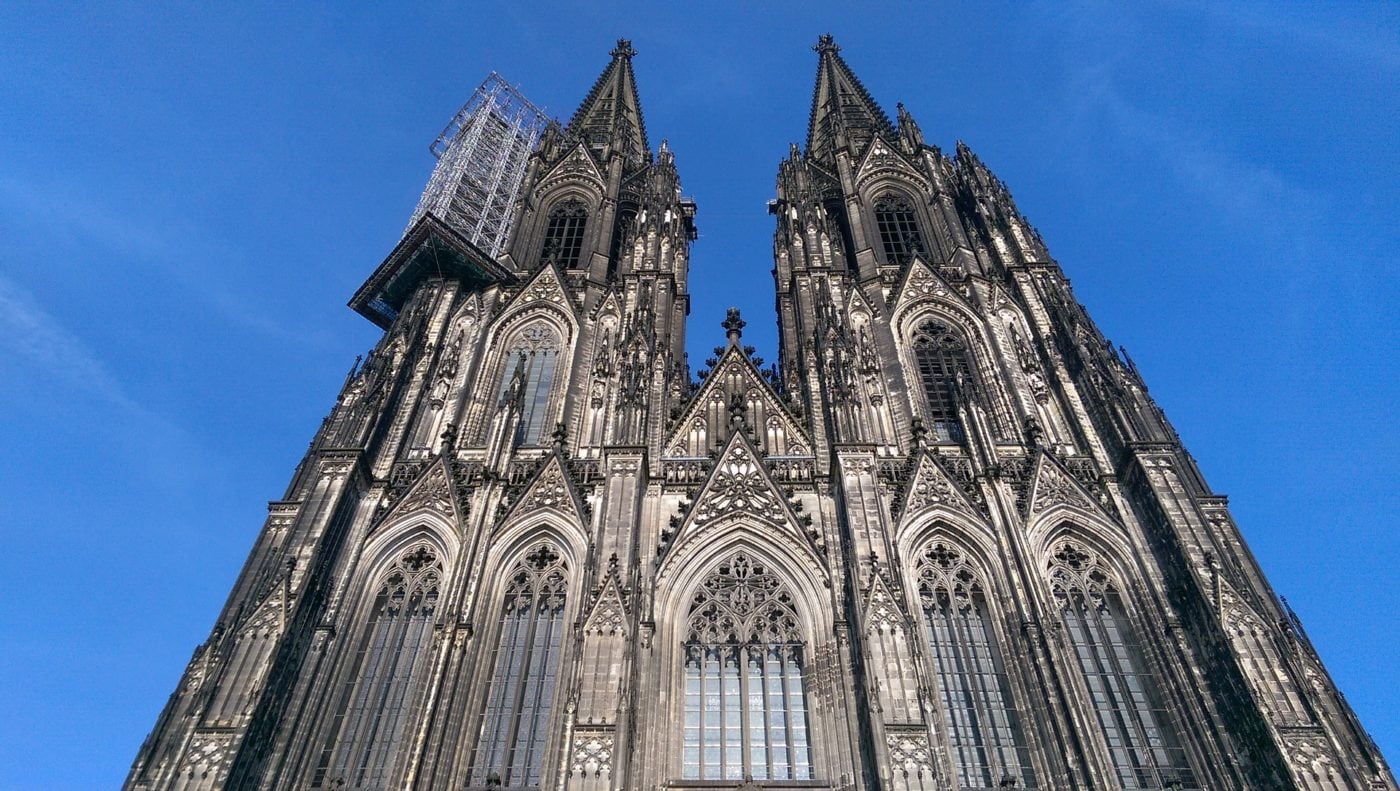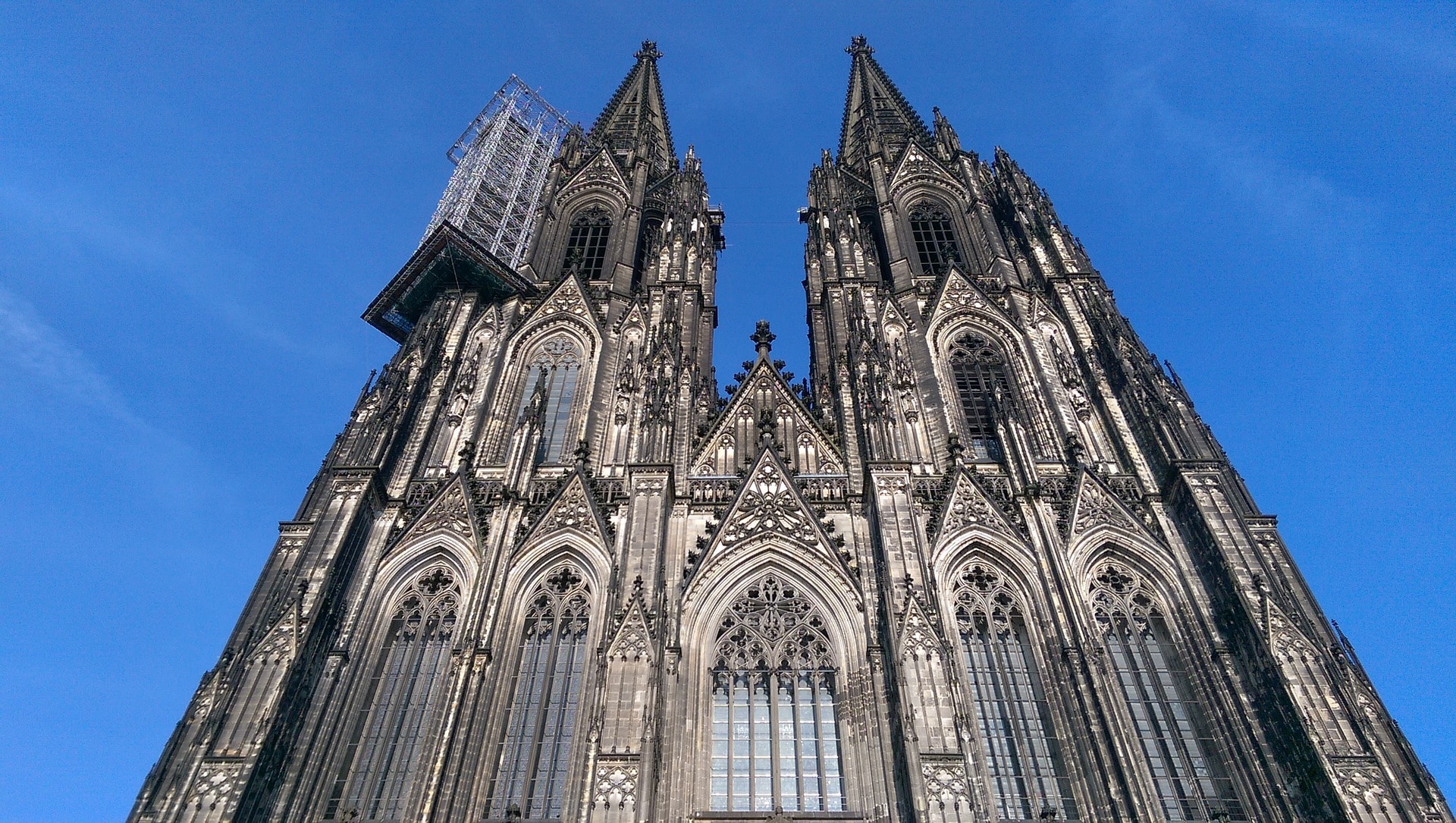 What to Do and See in Cologne
While the Cologne Cathedral is the most popular landmark, you'll find that there's plenty of other things to see and places to discover in the city.
Cologne actually used to be a self-ruling state within the Roman Empire. This history is evident in the city's architectural style with its Romanesque churches and the famous Romano-Germanic Museum.
After visiting museums and churches, you can make your way through the quaint alleys of Cologne's old town, where you'll find traditional buildings and lots of breweries to get a taste of the famous Kölsch beer.
There's also plenty of hip neighborhoods like the Belgian Quarter, where you can find galleries, live music venues, and trendy cafes.
For fun activities, you can spend time in the city's green spaces like the Botanical Garden and the Cologne Zoo, one of the oldest zoos in the world. If you love chocolate (who doesn't?), then make sure to visit the Chocolate Museum and learn about the history of cocoa.
For more ideas on things to add to your travel itinerary, read our Cologne starter guide here!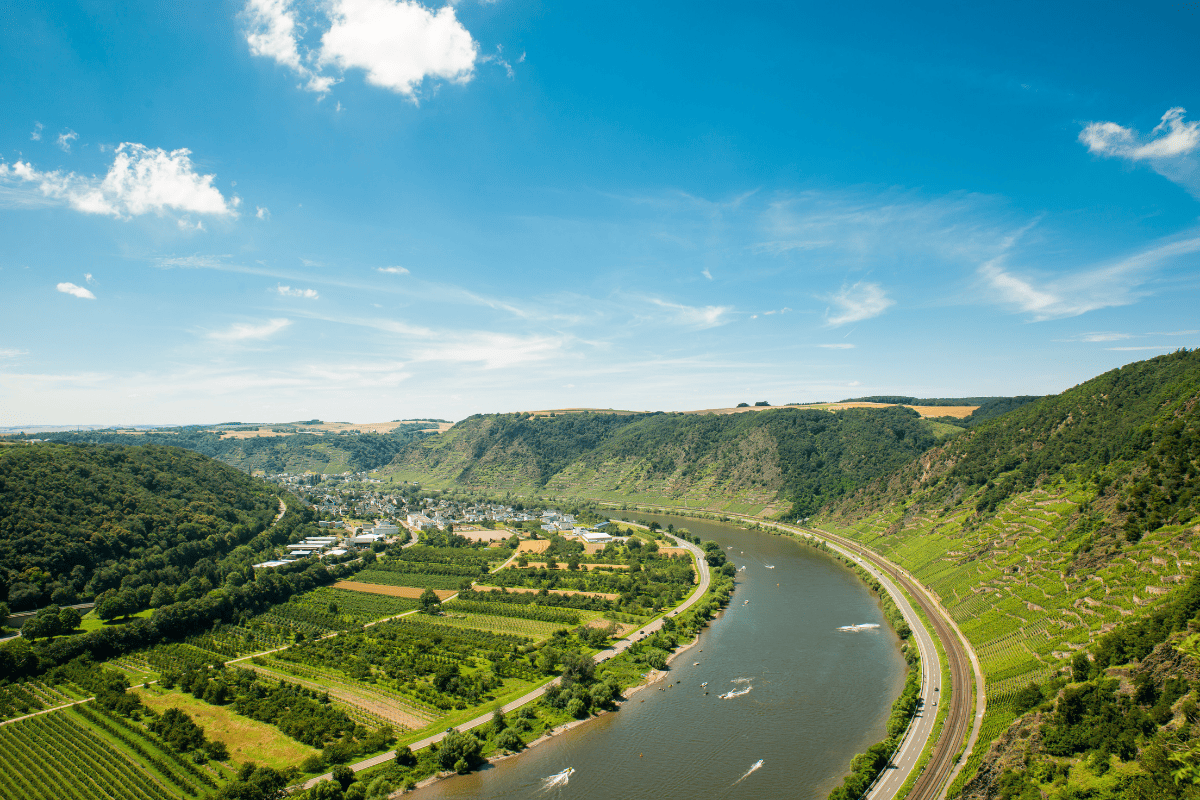 How to Get to the Castles Near Cologne
The best way to get to these castles is by car. Many of them are located in towns with exits connected to the main motorways. You can visit the castle's official websites for maps and detailed instructions on how to get to each place.
Some also have instructions for public transportation (bus and train) though it might be a longer trip.
Can I Take a Day Trip To These Castles?
Yes, these castles are ideal for day trips or even half-day trips! It's especially great if you're renting a car since there are many that are less than 30-40 minutes away and easy to drive to. These include Bensberg Castle, Schloss Auel, Schloss Drachenburg, Augustusburg Castle, Schloss Burg, Homburg Castle, Castle Ehreshoven, and Burg Satzvey.
You can also take guided day trips if you don't want to worry about transportation, like this boat cruise from Cologne to Königswinter where Schloss Drachenburg is!
Can I Sleep in a Castle?
While you can't sleep in most of these castles, there are some rare exceptions! You can definitely stay over in castles that have been turned into hotels.
These include the world-renowned Bacharach Youth Hostel, Bensberg Castle (Althoff Grandhotel Schloss Bensberg), and Schloss Auel.
Others have hotels located within their castle grounds like Schloss Dyck, Hotel Schloss Montabaur, and Burg Satzvey.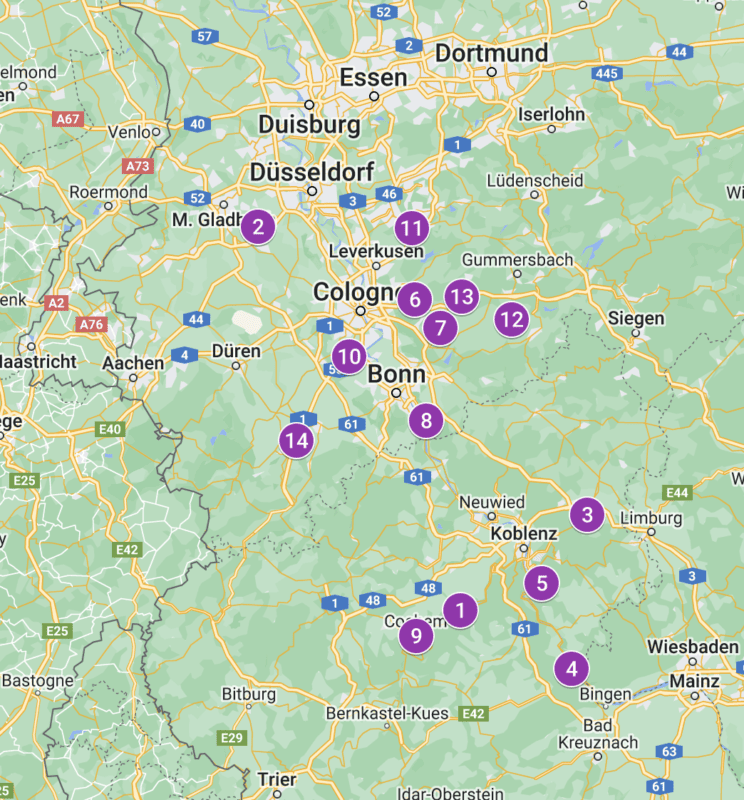 Beautiful Castles to Visit Near Cologne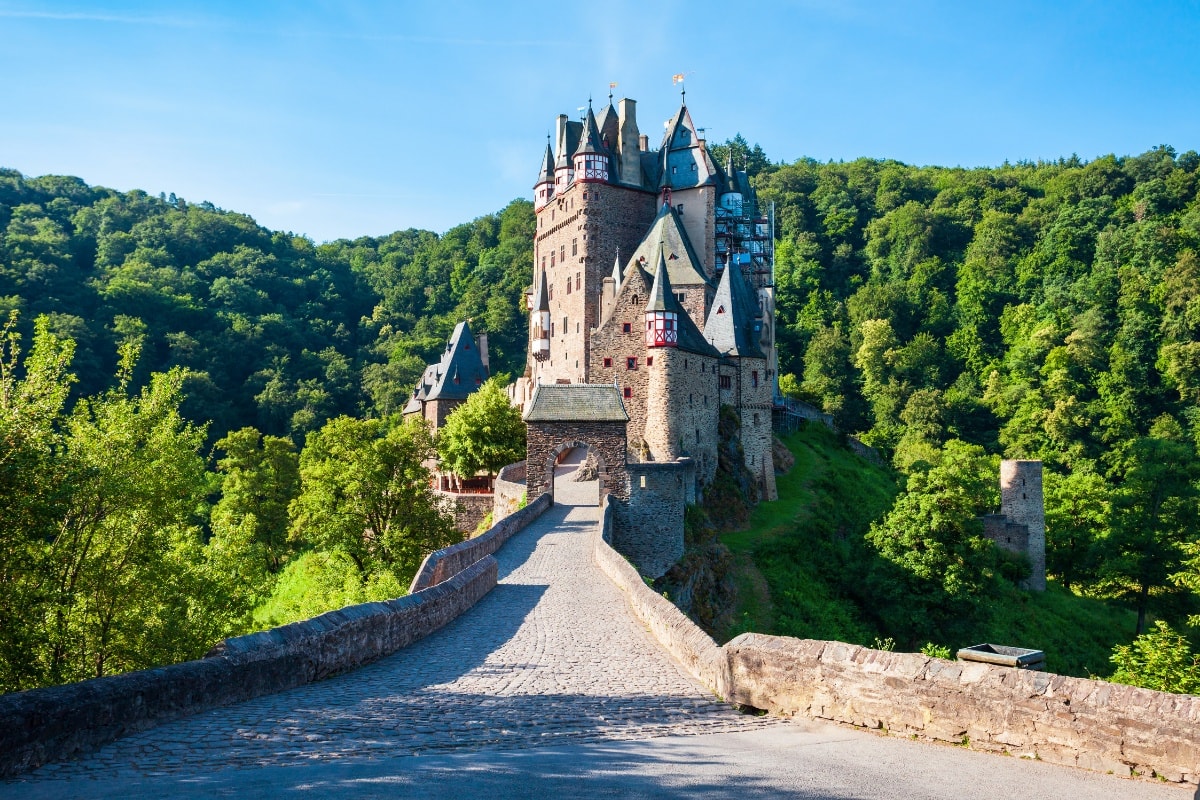 1. Burg Eltz (Eltz Castle)
Burg Eltz is a medieval castle located in the middle of the Eltz Forest, between the Eifel, Moselle and Rhine and an hour and half drive away from Cologne. It's one of the few castles in the Rhine that remains untouched by world war and because of that maintains a lot of its original furnishings.
This castle is the ancestral home of the Eltz family, who have lived there since the 12th century. The castle houses artworks and crafts of great historic significance as well as weapons and every-day items spanning over eight centuries.
Aside from its unique history, it has quite a special location too. Its eight towers soar high above the middle of a dense forest, far away from any modern structures. It's surrounded by nature, which offers numerous hiking trails and outdoor areas for sports and recreational activities for everyone.
The area around the castle is truly beautiful and memorable. I was in awe walking up to this castle!
Entrance Fee: 12 €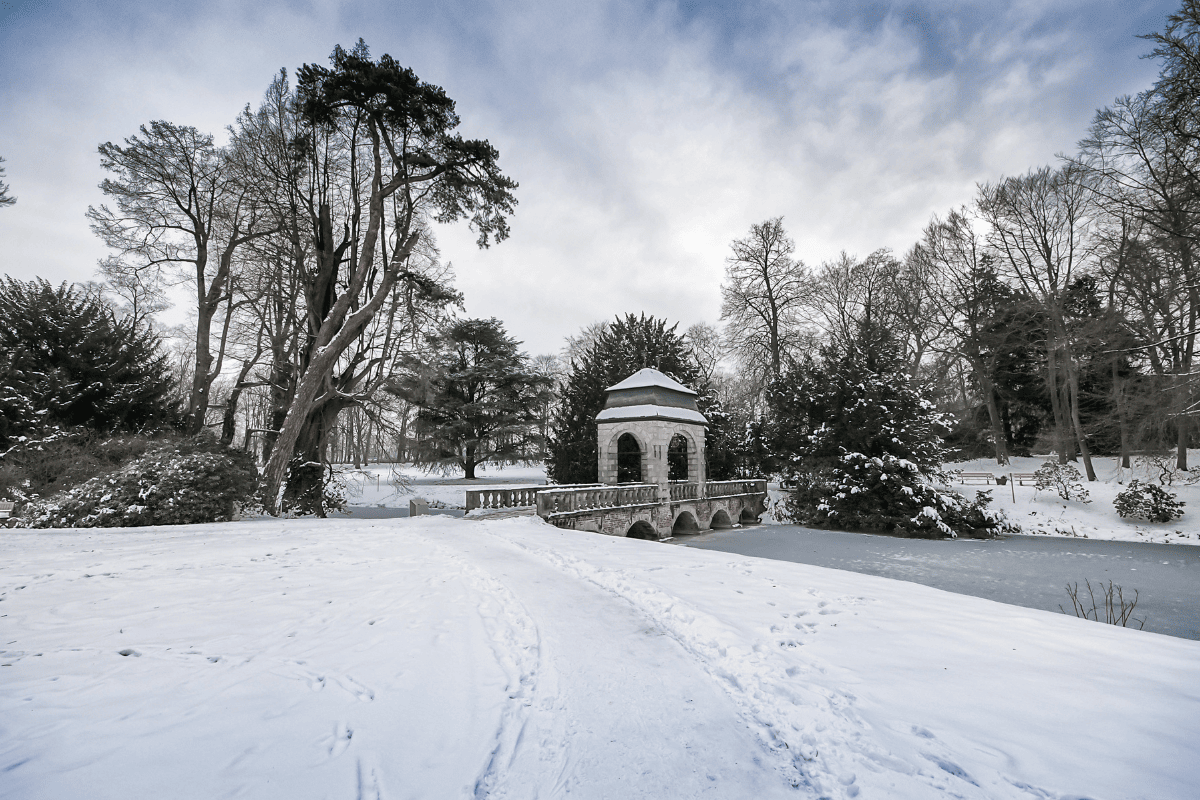 2. Schloss Dyck (Dyck Castle)
Schloss Dyck is a Baroque-style moated castle located in the Lower Rhine about an hour away from Cologne via car. The castle grounds are spread out over four islands and are surrounded by an English-style landscape garden.
Today, Schloss Dyck is an international center for garden art and landscape design. Visitors can admire the themed and model gardens, meadows, wooded paths, and the rich variety of shrubs, trees, and flowerbeds.
Visitors are also drawn to the yearly events hosted in the castle. The castle hosts garden art and contemporary art exhibitions, concerts, and seasonal markets. One of the most anticipated events is the illumina, a festival of lights that bathes the castle park in a magical light during dusk.
Entrance Fee: 10 €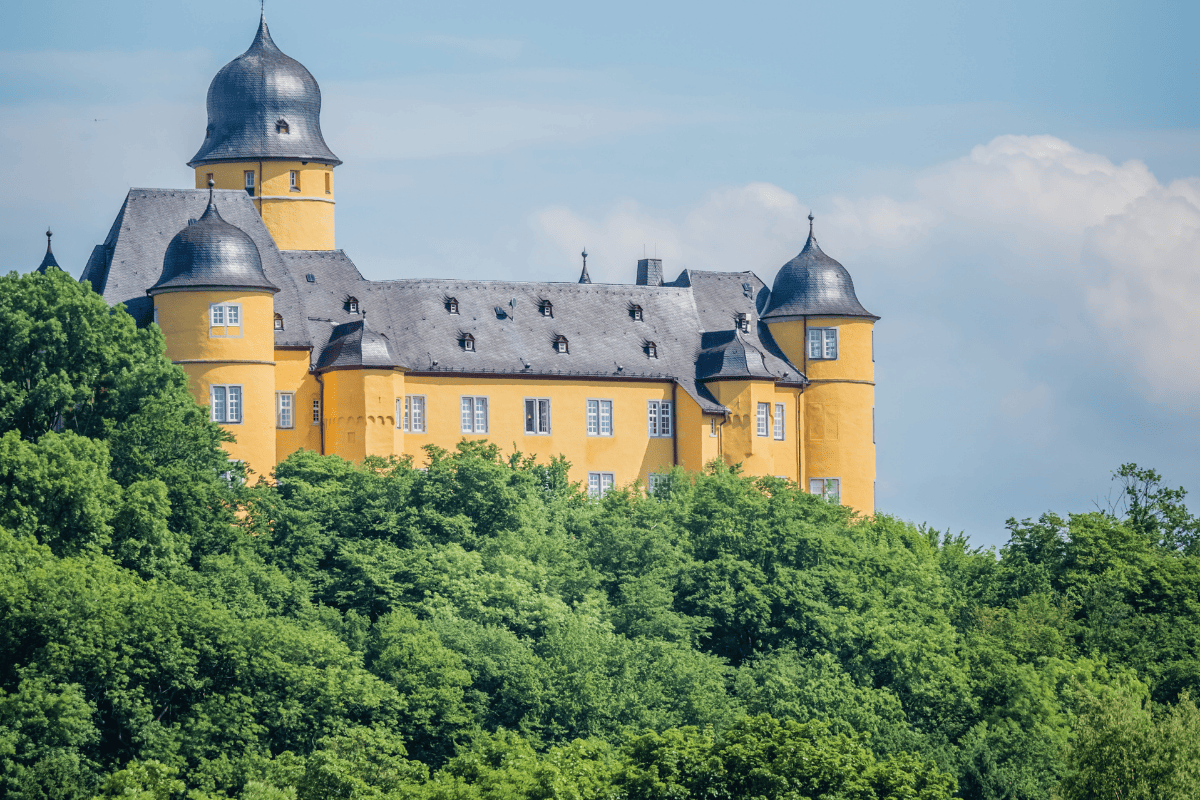 3. Hotel Schloss Montabaur
Hotel Schloss Montabaur is an upscale hotel located within the grounds of the Montabaur Castle. This 4-star historic hotel has scenic views of the Westerwald Mountains which you can enjoy while eating regional dishes at the buffet restaurant in the castle's terrace. Other amenities include an indoor pool, spa area, saunas, fitness center, and private parking.
The hotel overlooks the small town of Montabaur which is around an hour away from Cologne. There are also nearby hiking trails and biking trails leading to the Westerwald Forest. It's also a great stop for road trips as it has easy connections to Frankfurt and Cologne via the A3 motorway.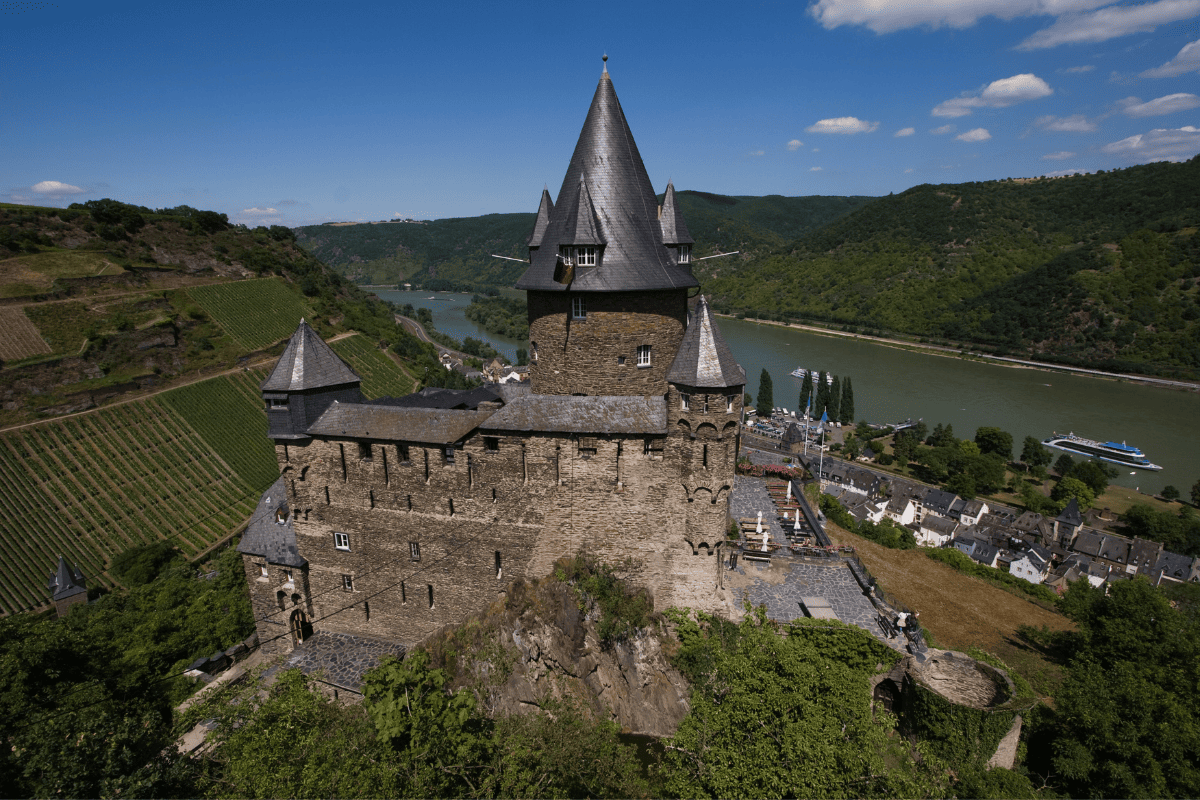 4. Burg Stahleck (Castle Stahleck)
Located in the historic Castle Stahleck in the Upper Middle Rhine Valley, the Bacharach Youth Hostel is one of the most interesting accommodations in Germany.
Castle Stahleck was a fort standing tall on a crag above sea level and surrounded by a water-filled partial moat. It was unfortunately destroyed during the Thirty Years War but has since been reconstructed in the 20th century into a hostel.
This world-famous hostel welcomes families, students, conference participants, and individuals into its halls filled with over 160 rooms accommodating different group sizes.
Amenities include a dining room, bistro, cafe/bar, multiple common rooms, and even a Knights' Hall that can be used for events for over 100 people.
The highlight is, of course, the fascinating views of the Rhine Valley. So even if you're not staying in the hostel, you can visit the castle for free and enjoy the great views. They're worth the short hike up to the castle!
Entrance Fee: No fee
5. Schloss Marksburg (Marksburg Castle)
Marksburg Castle is another castle found in the Upper Middle Rhine Valley. Marksburg Castle is unique in that it is the only hilltop castle on the Middle Rhine that has never been destroyed. It has completely retained its character as a medieval fortress with defensive structures dating back to the 13th century and 15th century.
The castle can only be visited through a guided tour, which is sure to transport you to medieval times. The tour begins at the main entrance through the drawbridge gate which will then lead to a courtyard with cannons and the central tower.
You'll also visit the Knight's Hall, the underground cellar with giant wine barrels, and a castle dungeon with medieval torture devices and armory on display.
Entrance Fee: 11 €
6. Schloss Bensberg (Bensberg Castle)
Bensberg Castle is a former royal hunting lodge built in the 18th century. In 1997, it was extensively renovated into a luxury hotel called Althoff Grandhotel Schloss Bensberg. The beautiful castle has a fantastic location overlooking the bay of Cologne with wonderful views of Cologne Cathedral.
Tucked away in Cologne's surrounding countryside, it's a perfect weekend getaway since it's just 20 minutes away from the city center. The castle offers prestigious, spacious rooms and suites with modern Baroque touches. You can enjoy award-winning culinary delights in any of the four restaurants, relax in the hotel's 4 elements spa, or join any of their seasonal cultural events and workshops.
7. Schloss Auel (Auel Castle)
Schloss Auel is a 14th-century moated castle located in Lohmar, a small town 30 minutes away from Cologne.
Since the 1950s, it has been running as an exclusive hotel. It features its own 27-hole golf course with driving range, tastefully furnished rooms with antiques, and recently built lodges.
There's also a lovely castle terrace where you can enjoy a meal in the hotel's gourmet bistro while enjoying the historic backdrop.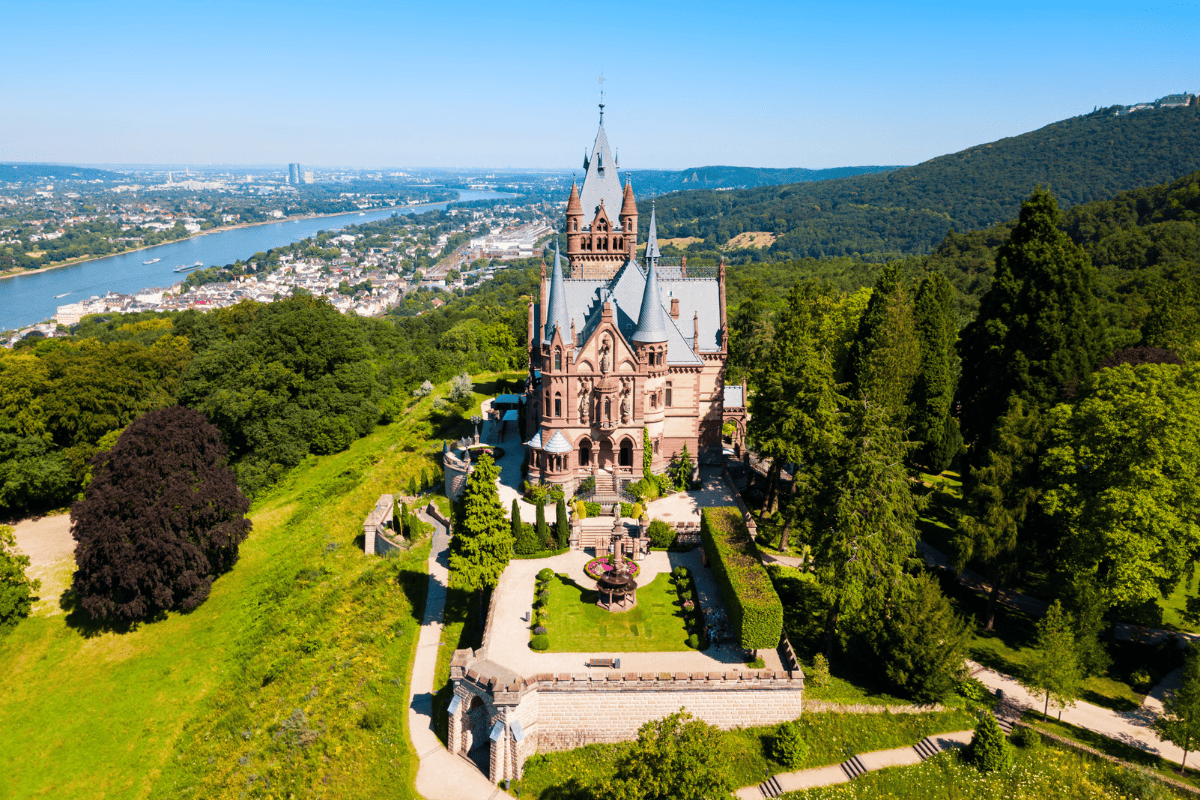 8. Schloss Drachenburg (Drachenburg Castle)
Schloss Drachenburg is a stunning castle located on the Drachenfels mountains overlooking the Rhine. It's easily reached by train as it has its own stop in the nearby Königswinter train station.
Built in the 19th century, this castle's architecture embodies Rhine romanticism and looks like something out of a fairy tale.
Inside you'll be greeted with a grand main staircase, ornate dining halls, and luxurious rooms with large-scale paintings. Don't forget to check out the lush castle gardens and take in the view of the countryside.
If you have time, you can grab a bite in the castle bistro where they serve a range of savory snacks, cakes, ice cream and drinks.
Entrance Fee: 7 €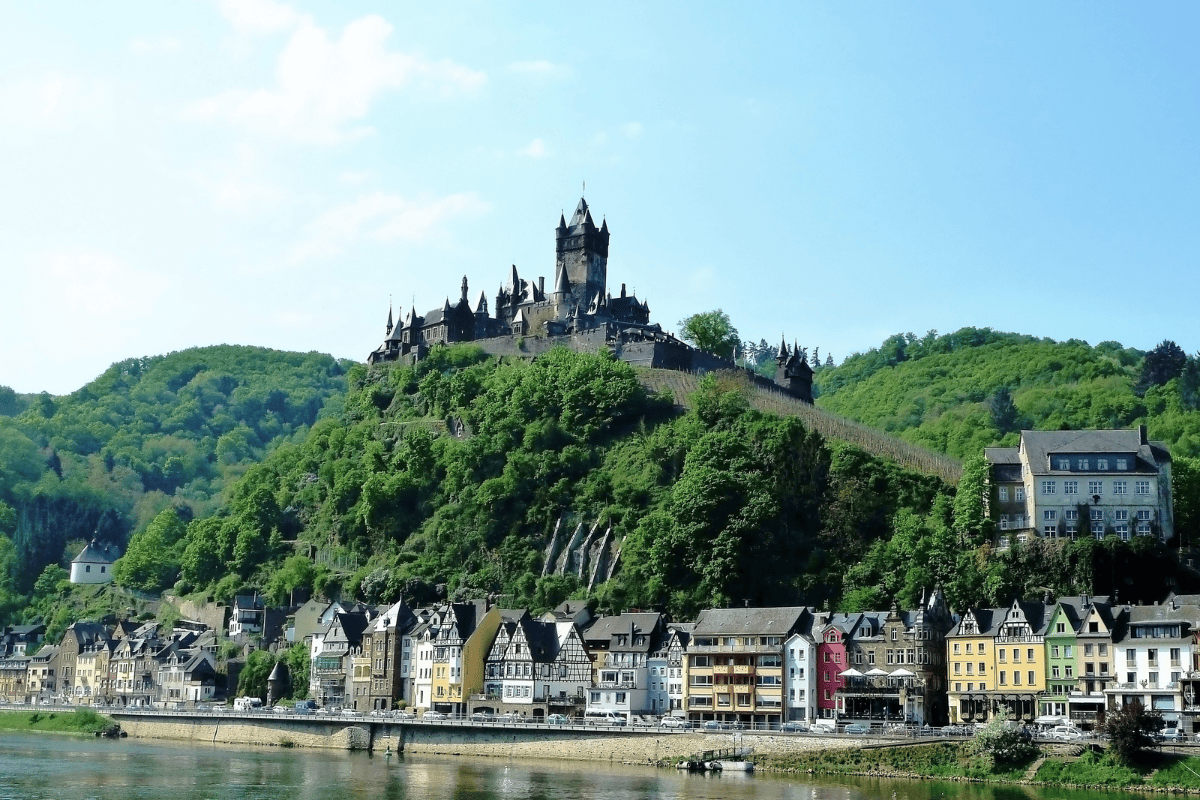 9. Schloss Reichsburg (Cochem Castle)
Cochem Castle (also known as Reichsburg Castle) is a neo-Gothic style castle perched atop a hill above the Moselle river, which is around a 2-hour drive away from Cologne.
Though it's a smaller castle compared to other more famous castles in Germany, you get a more authentic experience thanks to the castle's unique events and activities.
Aside from the standard guided tours, there's also ghost tours, special tours for children, medieval castle festivals, and a Knight's feast! There's something for all ages and interests!
Entrance Fee: 7 €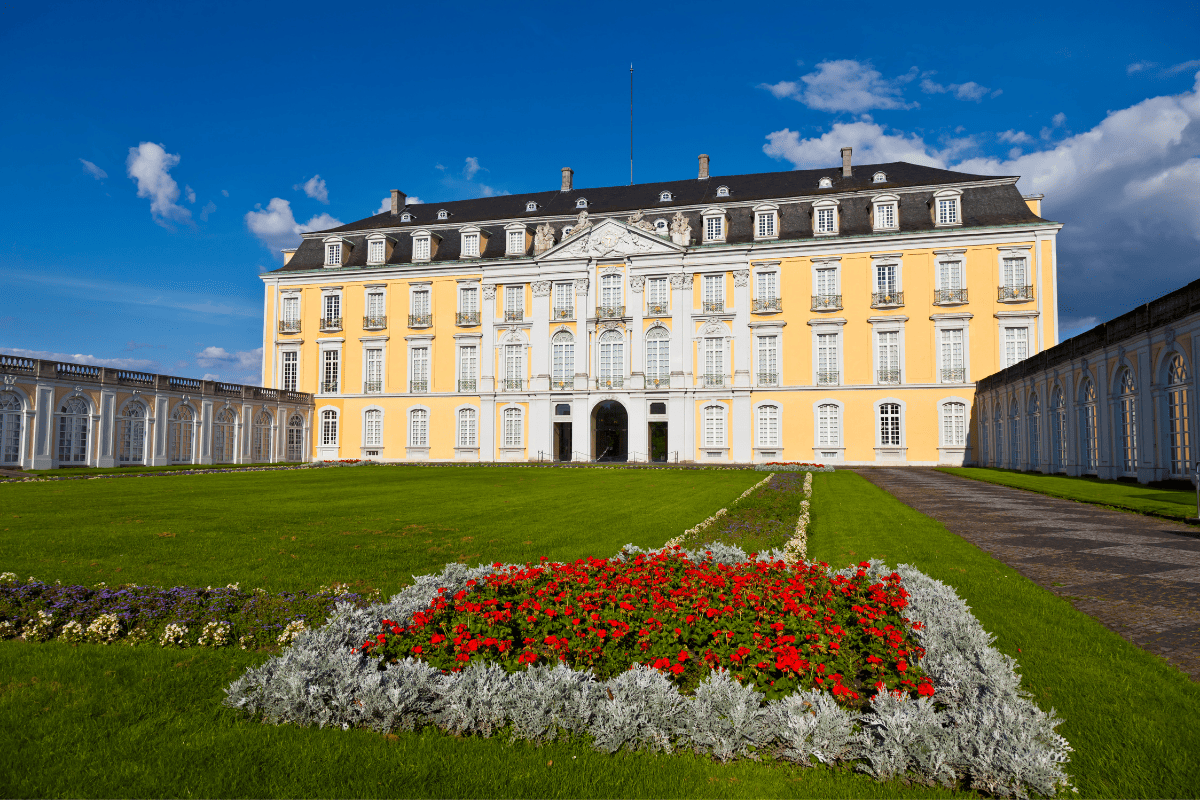 10. Schloss Augustusburg (Augustusburg Palace)
The Castles of Augustusburg and Falkenlust at Brühl form a historical building complex that's part of the UNESCO World Heritage List. They are one of the earliest examples of Rococo architecture in Germany. Brühl is a town south of Cologne city center, around a 25-minute drive away.
The castle was constructed by Clemens August of Bavaria, the Prince-Elector of Cologne in 1725 as a summer residence. It's made up of three wings with two adjoining orangeries. Inside you'll find a magnificent staircase made of ornate marble, jasper and stucco.
On the other hand, Falkenlust is a charming country house inspired by the Nymphenburg Palace in Bavaria. Together they stand in the castle grounds' beautiful gardens filled with lime trees, fountains, and an elaborate parterre.
Entrance Fee: 9,50 € (Entrance to the gardens and park is free)
11. Schloss Burg (Burg Castle)
Schloss Burg is the largest reconstructed castle in all of North Rhine-Westphalia. It's located in the city of Solingen, around 30 minutes away from Cologne. The castle has a long history, starting off as a family seat of the Dukes of Berg. But by the 19th century, it was pretty much destroyed by war and fire.
After reconstruction, it became a popular venue for day trips and various cultural activities. The castle offers various thematic guide tours, recitals in the Knights Hall, and open-air theater shows. From time to time, you'll even see majestically clad knights roaming who you can approach and talk to!
There are also medieval markets and bazaars each season, complete with street musicians and costumed merchants to really transport visitors back to the Middle Ages.
Entrance Fee: 6 €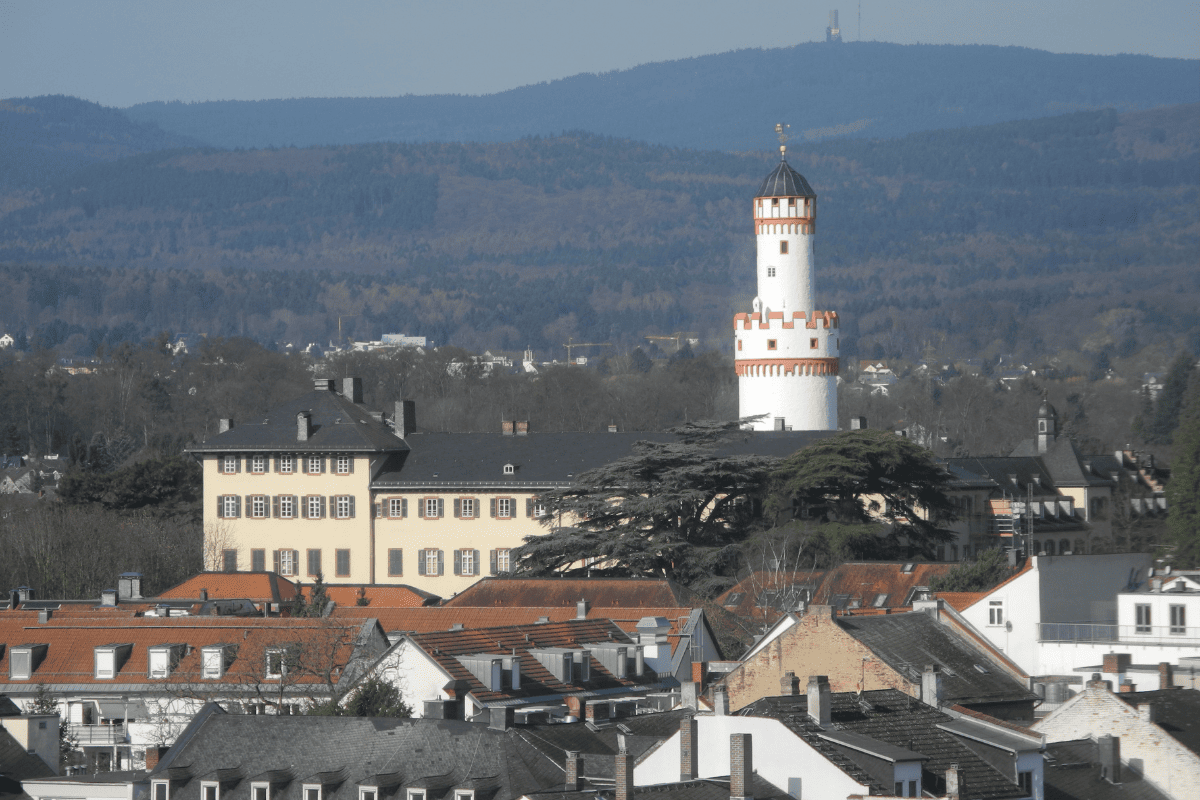 12. Schloss Homburg (Homburg Castle)
The first mentions of Schloss Homburg date back to the 11the century. This castle is found on a wooded hillside near Nümbrecht, a town around 40 minutes east of Cologne known as a health resort destination.
Though it is a medieval castle, it has been reconstructed to look more like a Baroque palace. It houses an open-air museum, where visitors can view a historic saw and grain mill and even a 19th century bakery.
The modern areas are important cultural venues where events such as concerts, readings and film screenings are hosted.
Entrance Fee: 5 €
13. Schloss Ehreshoven (Castle Ehreshoven)
Castle Ehreshoven is a moated island located in the idyllic forests of Bergisches Land, around half an hour away from Cologne by road. This castle is unique in that it mainly presents itself as a special venue for film sets and for big events like galas, corporate retreats, weddings, and conferences.
The beautiful castle has elegant rooms, salons, and grand courtyards. There are also overnight accommodations for guests which can be arranged by request. The outdoors are especially great for filming locations with its close proximity to the motorway and the dense forests with lakes and meadows.
14. Burg Satzvey (Castle Satzvey)
Burg Satzvey is a moated castle built on an island in the middle of a large pond in the town of Mechernich, around 40 minutes away by car from Cologne. It is the family home of Count Beissel von Gymnich who has owned the castle for more than 300 years.
Since the beginning of 2012, the operational business of the castle has been focused on cultural entertainment focusing on passing on history in an interesting way through family-oriented events, themed festivals, and concerts.
You can also find a Schnitzel house, a castle bakery with a terrace, and a small hotel in the manor for overnight stays!
Entrance Fee: 5 €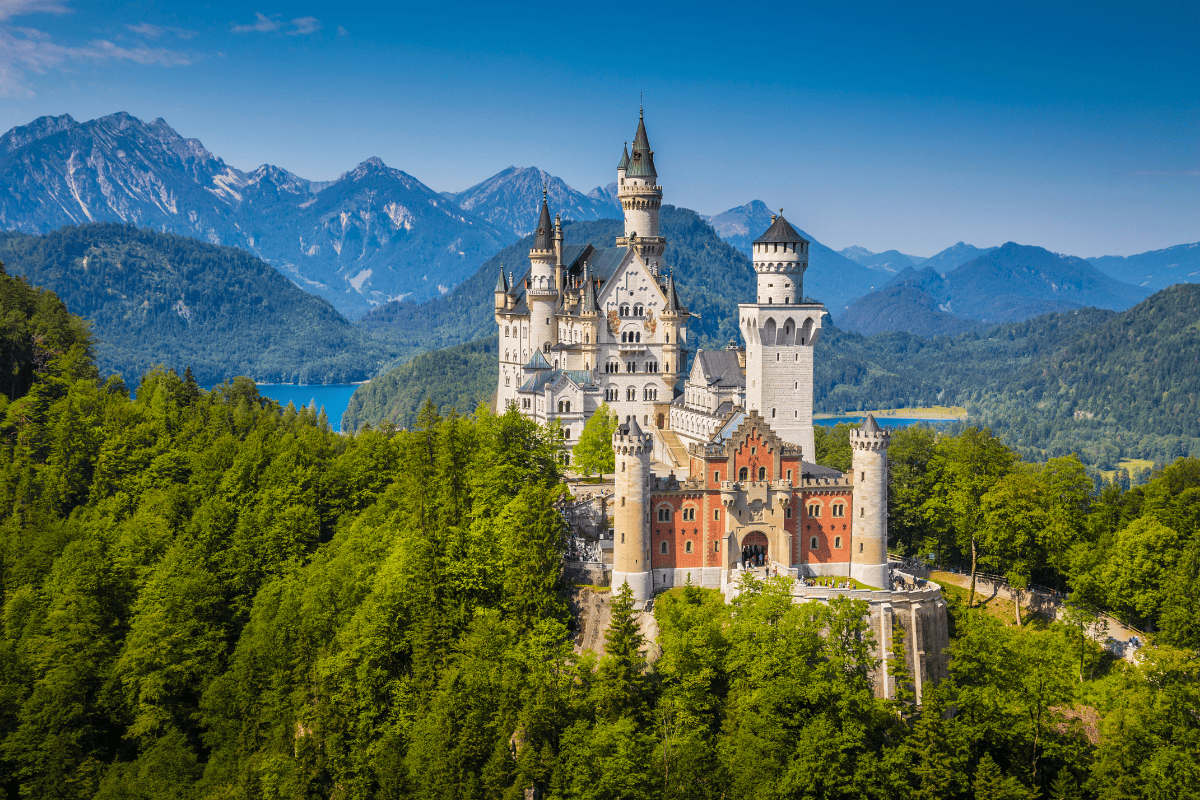 Other Castles in Germany to Visit:
If you want to visit even more castles — good news, Germany is full of them! I've read that it's estimated that Germany has over 25,000 beautiful castles waiting to be explored! Here is a list of other top castles to add to your itinerary:
For more information on these castles and more, read our guide here on how to plan the ultimate tour of castles in Germany.