Do you want to add castles to your Germany itinerary? Here are 16 of the best castles to visit in Germany!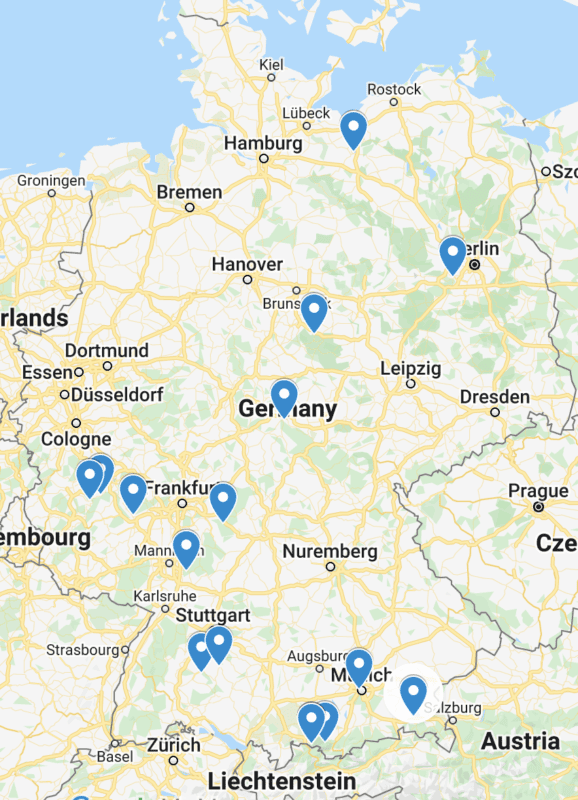 When people think of Germany, many immediately conjure up pictures of beautiful castles with even more breathtaking backdrops. Whether it be sprawling castle complexes, well-preserved royal residences or castle ruins on top of mountains, you'll find all sorts of castles throughout all regions of the country.
This article will give you a rundown of some of the most famous castles to plan the ultimate tour of castles in Germany!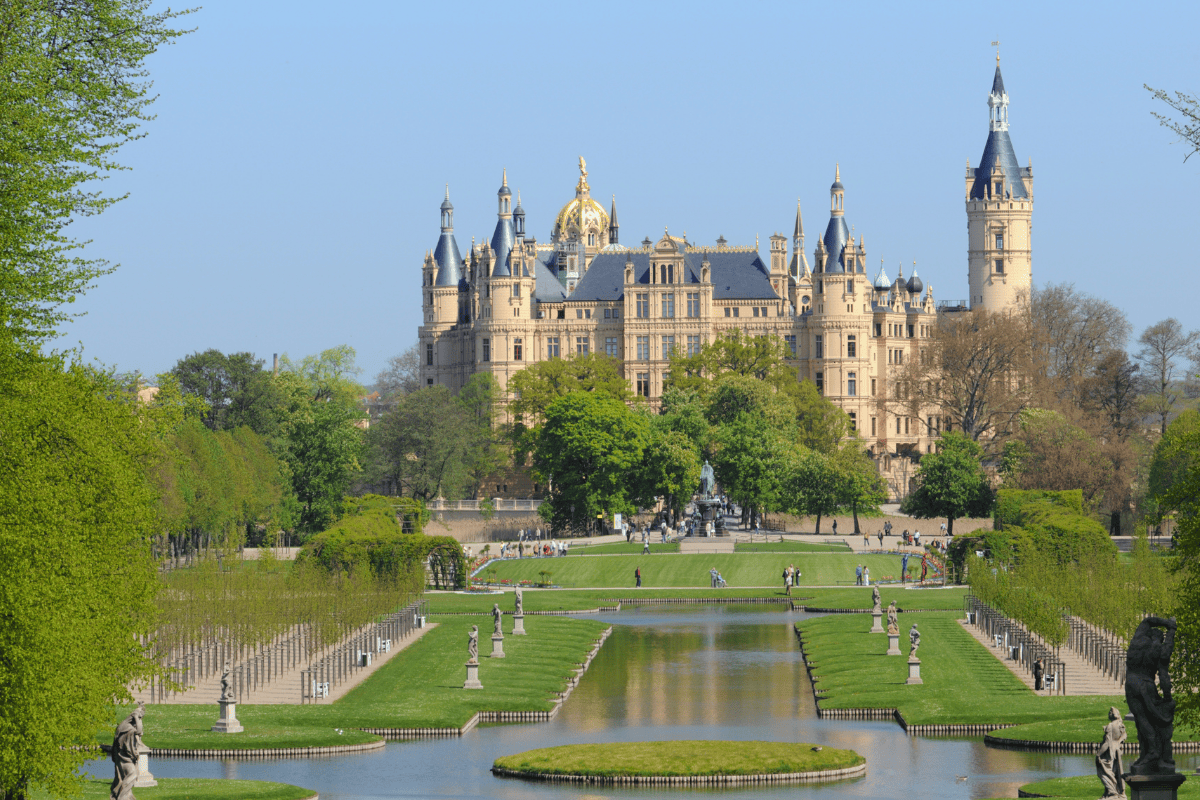 1. Schwerin Castle
Schwerin Castle stands in its own island in the midst of Lake Schwerin, the main lake within city. The city of Schwerin is easily reachable by car or public transportation from Berlin or Hamburg.
Surrounded by water and beautiful forests, Schwerin Castle truly looks like a storybook castle, drawing comparison to Neuschwanstein and its fairytale like qualities. Inside you can explore over 600 grand rooms, especially to see the throne rooms and vast collection of weapons and porcelain.
Outside, you can walk through the palace garden which has a green labyrinth and cascades. Every summer, you can find the Summer Gardens event taking place here alongside open-air stage concerts and screenings.
Entrance fee: 6 €
If you're visiting Hamburg, Schwerin makes a great day trip. Check out other day trips from Hamburg here.
2. Sanssouci Palace in Potsdam
Sanssouci Palace was the summer residence of Frederick the Great, a former King of Prussia. It's located in the city of Potsdam, a 40-minute S-bahn ride away from Berlin.
The palace is more intimate than grand, only having 12 rooms but with original 18th century decorations and furnishings. Outside, the lush vineyard terraces welcome you to explore the extensive palace gardens. You will also find other landmarks in the grounds like the New Palace, the Orangery, Chinese House, and the Charlottenhof Palace.
For dining, you'll find several options in the surroundings like Café Caroline or Café Repin.
Entrance fee: 14 €
It's easy to visit Sanssouci Palace from Berlin – click here to book a guided tour from Berlin.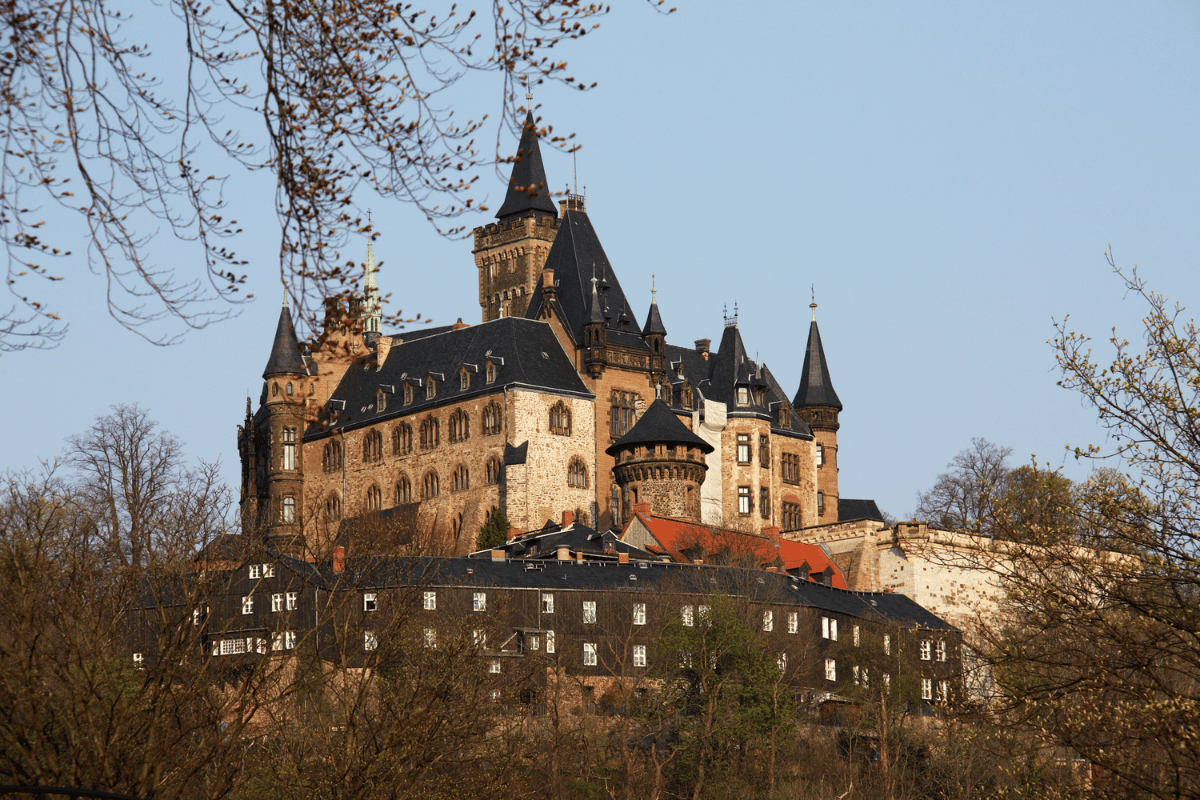 3. Wernigerode Castle
Wernigerode Castle is located in the mountains of Harz, above the town of Wernigerode in Saxony-Anhalt Germany. The climb up to the castle is made easy by a special motorized tourist train in the town.
The castle was originally built as a medieval fort for German emperors in the middle ages. It was then turned into a Renaissance fortress before being rebuilt again in the 17th century in a baroque style after the Thirty Year War.
There are different castle tours offered: classical guided tours, costume tours, and a special tour for children. Keep in mind that guided tours are an additional 2 € on top of the admission ticket.
They have a café located in an authentic historical location called the SchloßCafé where pastries and coffee specialties are served.
Entrance fees: 7 € (+ 2 € with guided tour)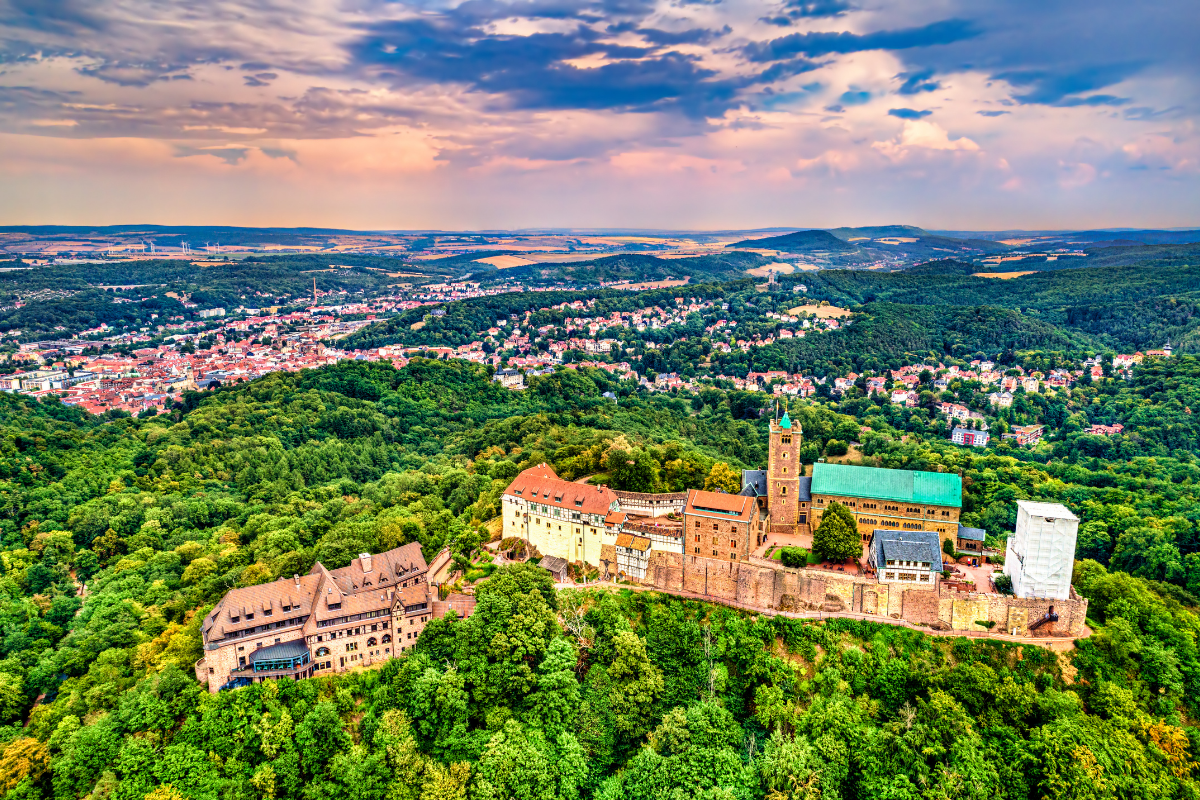 4. Wartburg Castle
Wartburg Castle is located in the state of Thuringia, on a cliff overlooking the small town of Eisnach. It's walking distance from the town center, approximately taking 30 minutes though it's a steep climb.
It was the first of many German castles to be designated a UNESCO World Heritage site. With many of its original exterior structures dating back to the 12th century, the castle stands as a symbol of over 1,000 years of German history.
If you are looking for a unique castle hotel experience, you can stay at the Romantik Hotel, located at the foot of the Wartburg Castle. The 5-star hotel has 37 individually designed rooms and hosts a variety of cultural events throughout the year. You can also get a taste of Thuringian hospitality through the two restaurants in the castle: Inn For Cheerful Folk and Landgraves' Room.
Entrance fee with guided tour: 12 €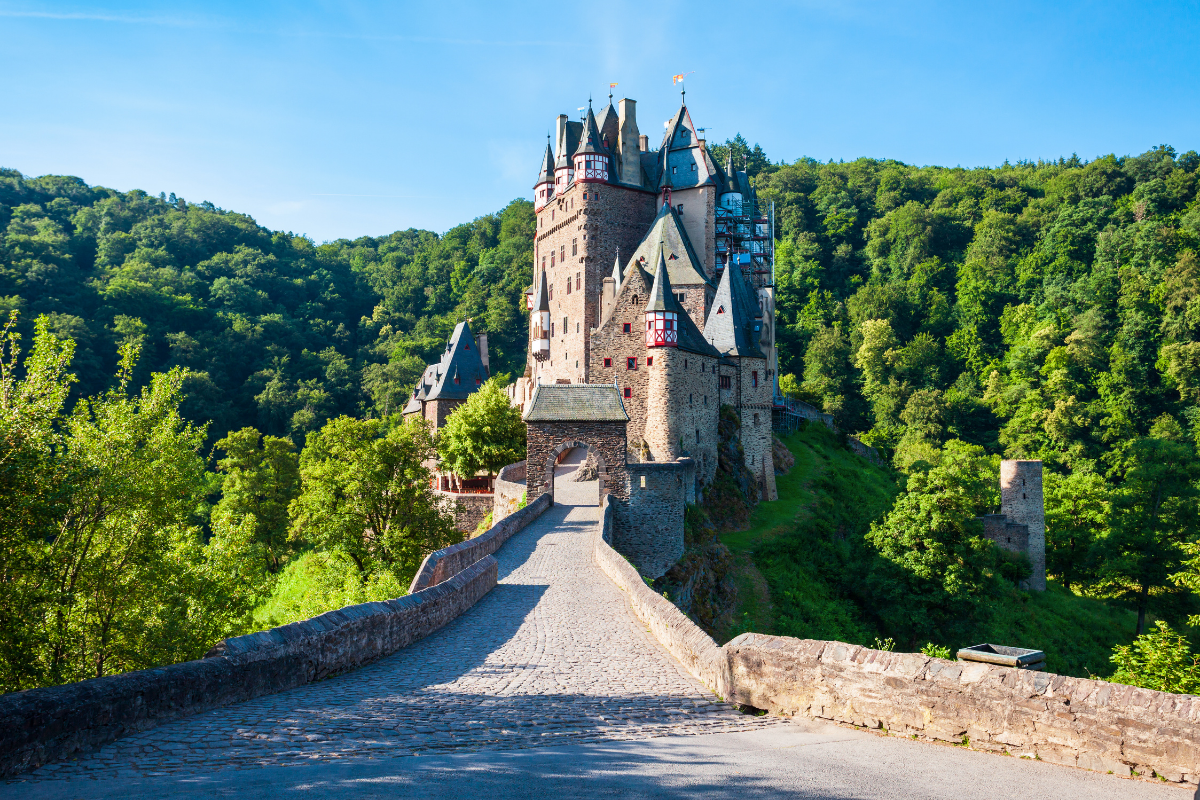 5. Burg Eltz Castle
The Burg Eltz is one of the few medieval castles in Germany that has never been destroyed by world war. It has even stayed under ownership of the same family since the 12th century for 34 generations. Part of the castle interior has been turned into a museum with well-preserved artifacts, treasury, and art from the last 850 years.
The castle is perched atop a mountainous forest that overlooks the Elzbach River on the north of the Mosel. The scenic location makes the short hike to the castle worth it, though you can also reach the castle by taking one of the shuttle buses (the hike is beautiful, though!).
To add to the experience, you can dine in a medieval setting in the two restaurants located in the outer castle. Full meals and snacks are served with a stunning view over the Eltzbach Valley.
Entrance fee with guide tour: 12 €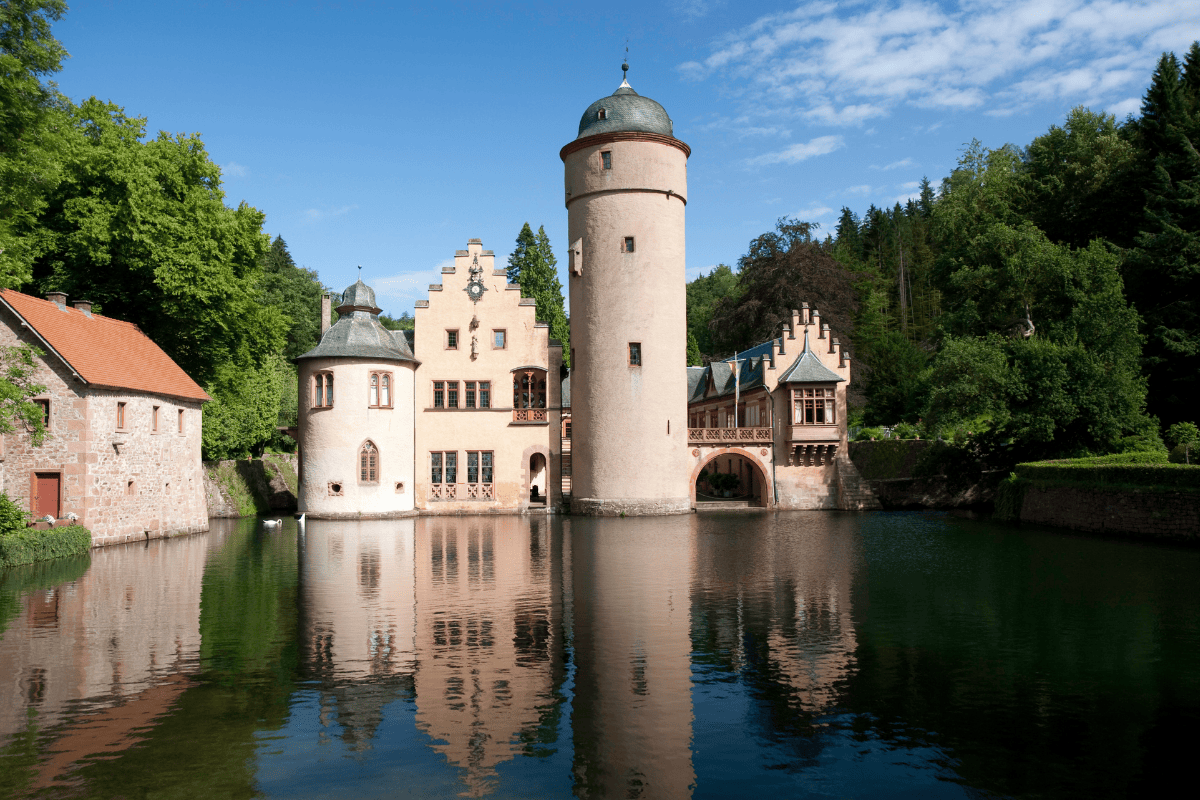 6. Mespelbrunn Castle
Mespelbrunn Castle is a moated castle in the town of Mespelbrunn. It's located in between Frankfurt and Würzburg, around an hour travel time by car away from both cities.
One of the most fascinating Bavarian castles, it's located deep into the forest and surrounded by water with a background of the town's rolling hills. To this day, the castle is a private residence of the Counts of Ingelheim who live in the southern wing. But it has been opened to the public. To see the inside of the castle, you must go on a guided tour.
Entrance fee: 5 €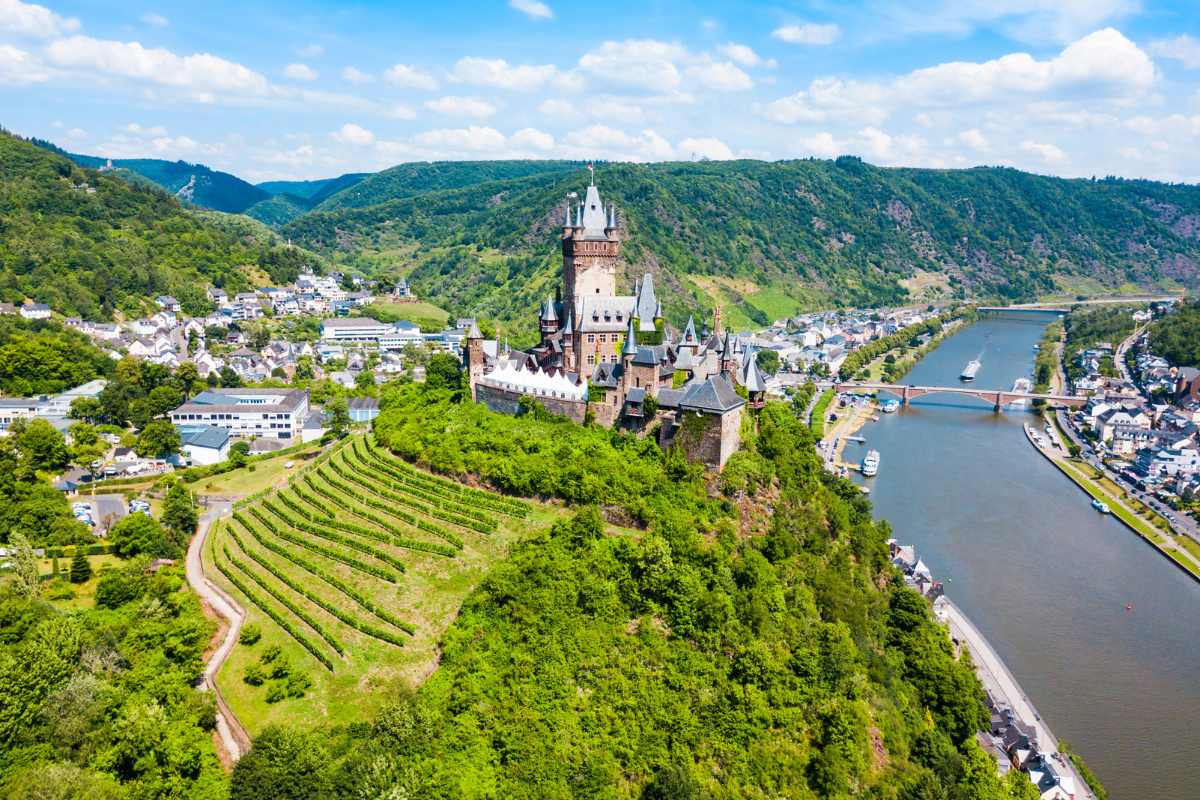 7. Reichsburg Castle (Cochum Castle)
The Reichsburg Cochem is a neo-Gothic style castle that towers 330ft over the Mosel River in the town of Cochem. The town center is easily reached by train or car but like the other castles on a hill, there's a short hike involved to get to the top.
The castle has a long history of being rebuilt over several decades in different styles. Aside from traditional guided tours, the castle holds several events. On some Fridays and Saturdays, you can participate in a medieval-style dinner complete with period costumes, entertaining performances, and even a knighting ceremony.
If you don't have time for a full medieval feast, you can check out the castle tavern. You can order refreshments or pastries while taking in panoramic views of the Mosel Valley and the surrounding vineyards.
Entrance fee with regular guided tour: 5 €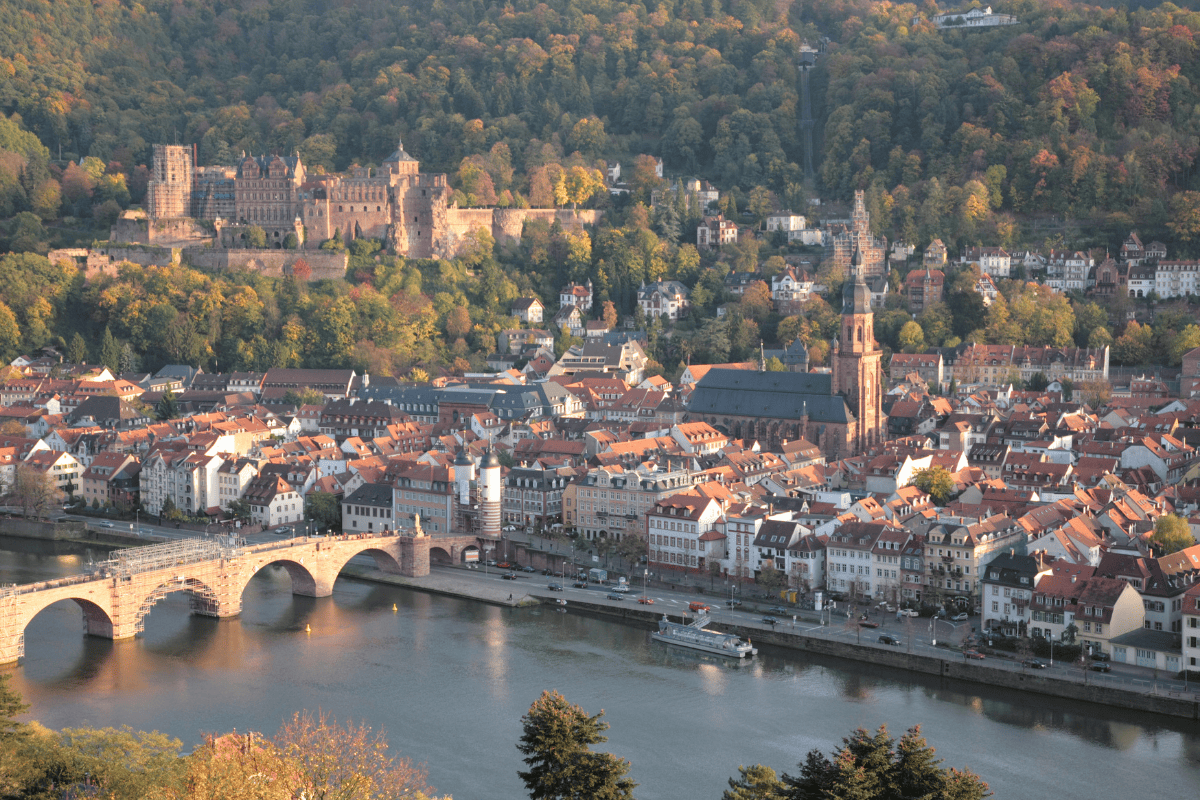 8. Heidelberg Castle
Heidelberg Castle is one of Germany's most famous castle ruins. This impressive castle dominates the views over the roofs of the old town of Heidelberg. To get to the castle, you can ride the funicular since it's located high up.
Besides admiring its exterior, you can visit the beautiful gardens found in the castle grounds. Open to the public any time of the year, the garden terraces are a great place to catch views of the Neckar valley.
Some interesting things to see here include the Heidelberg Tun or the world's largest wine barrel found in the cellars. In summer you can also watch the castle lighting, where a fireworks show is done in memory of when the castle burned down.
Entrance fee: 9 € (+6 € with guided tour)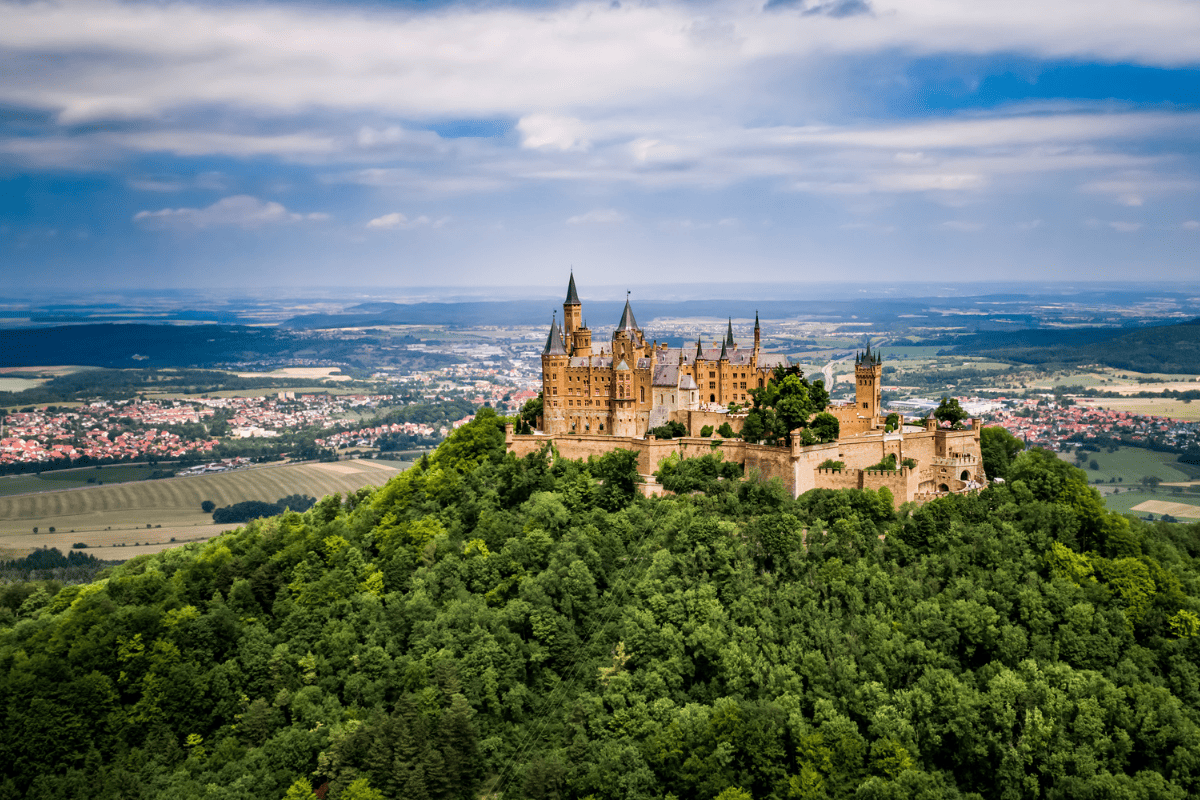 9. Hohenzollern Castle
Hohenzollern Castle is the ancestral seat of Prussian royals. It's located on the hilltops of the Black Forest. The easiest way to get here is by car, following the roads through the forest that lead to the parking lot of the castle. Once there, you can easily reach the top by taking a shuttle which is part of the entrance fee.
The castle has over 140 rooms. Highlights include the gilded coffered ceilings, a vast jewel collection, and marbled columns. It also hosts special events like open-air cinema screenings, exhibitions, concerts, and its own Christmas market.
Entrance fee including entrance to castle events, visit to show rooms, parking, shuttle bus: 22 €
Hohenzollern Castle and Lichtenstein Castle both make great day trips from Stuttgart. See more day trip ideas here!
10. Lichtenstein Castle
Built in the 19th century, Lichtenstein Castle is located in the Swabian Alps of southern Germany. This historical castle is said an homage to medieval times as seen by the romanticism of the furnishings and architecture.
Since the castle is relatively small, the tour guide takes you through the first and second floors of the castle in half an hour. Some highlights include the armory and the knight's hall.
In the surrounding area, you'll find two restaurants (Old Forester's Lodge and the Castle's Tavern) that keep in with the medieval theme.
Entrance fee with guided tour: 12 €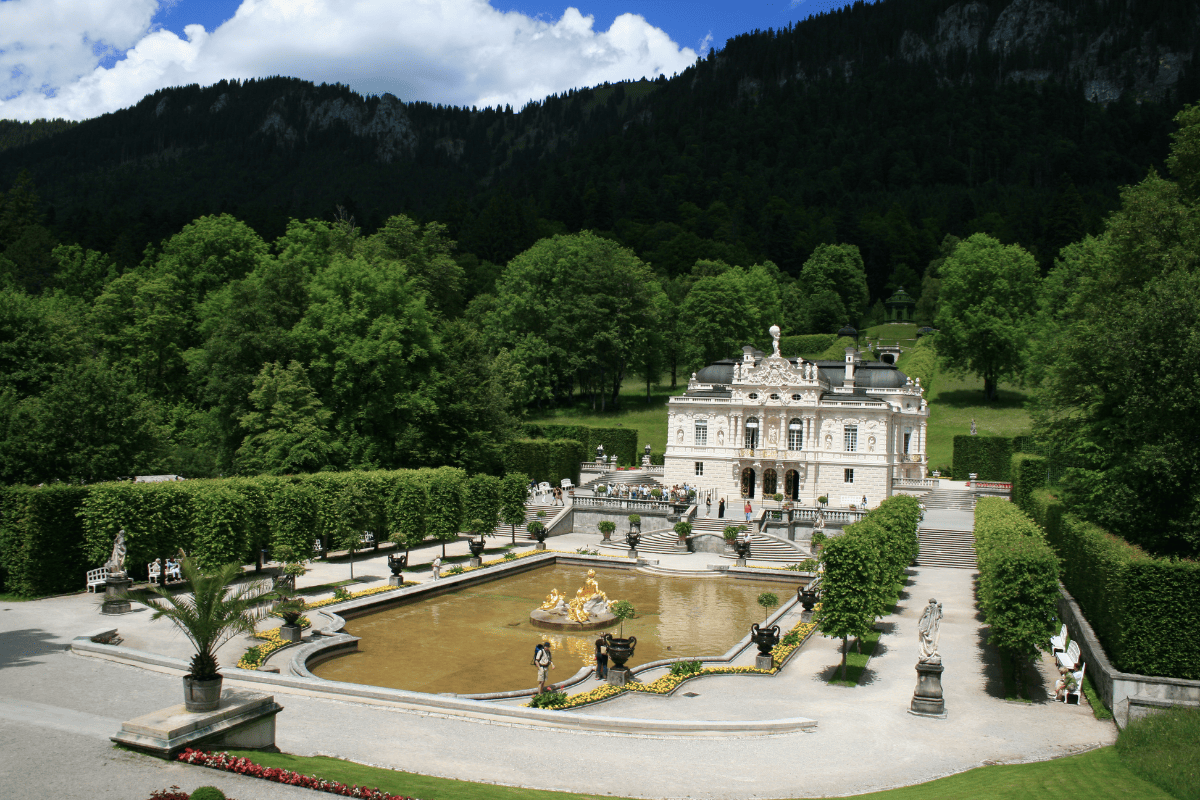 11. Linderhof Castle / Linderhof Palace
Though Linderhof Castle is the smallest of the wonderful castles of King Ludwig, it is the only one he lived to see in its finished state. If you're making your way through the Bavarian countryside to visit various castles, we recommend booking this day tour that takes you both to Neuschwanstein and Linderhof.
This royal palace draws in visitors with its beautiful landscapes and eye-catching symmetry. Though the interiors are luxurious, the park is also a sight to behold and one of the best places to go for a stroll. You'll stumble upon a grotto, several pavilions, and fountains with fun water shows. In the greater surrounding area, you can also find a hotel and restaurant called Schlosshotel Linderhof.
Entrance fee including palace and park buildings: 10 €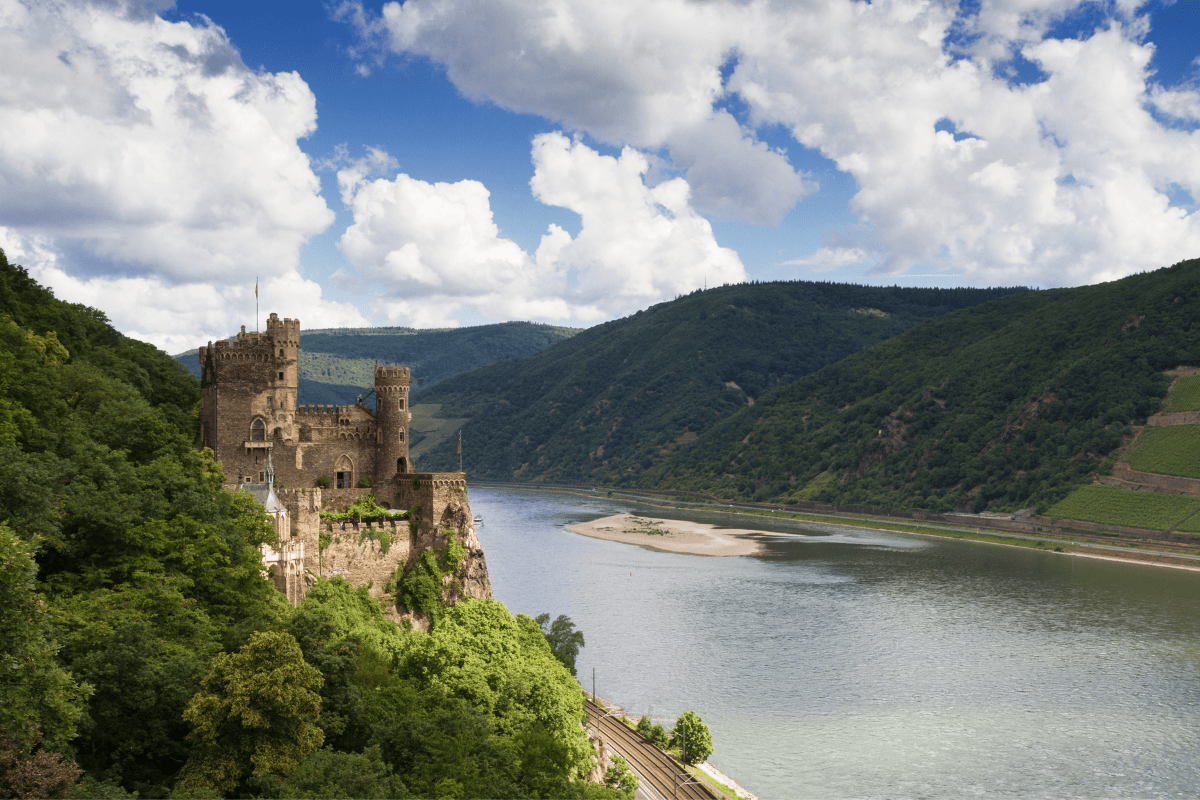 12. Burg Rheinstein
Rheinstein Castle is a hillside castle the overlooking the Rhine river. It's filled with carefully restored attractions such as a working drawbridge, medieval knights' armor and weaponry, and romantic gardens with views of the Rhine valley.
During the holiday season, the castle turns festive and holds special tours where you can spend a magical Christmas in the castle grounds. You can also visit their restaurant Kleiner Weinprinz for a romantic night with locally sourced wine in the rose garden or the panoramic terraces.
Entrance fee: 7 €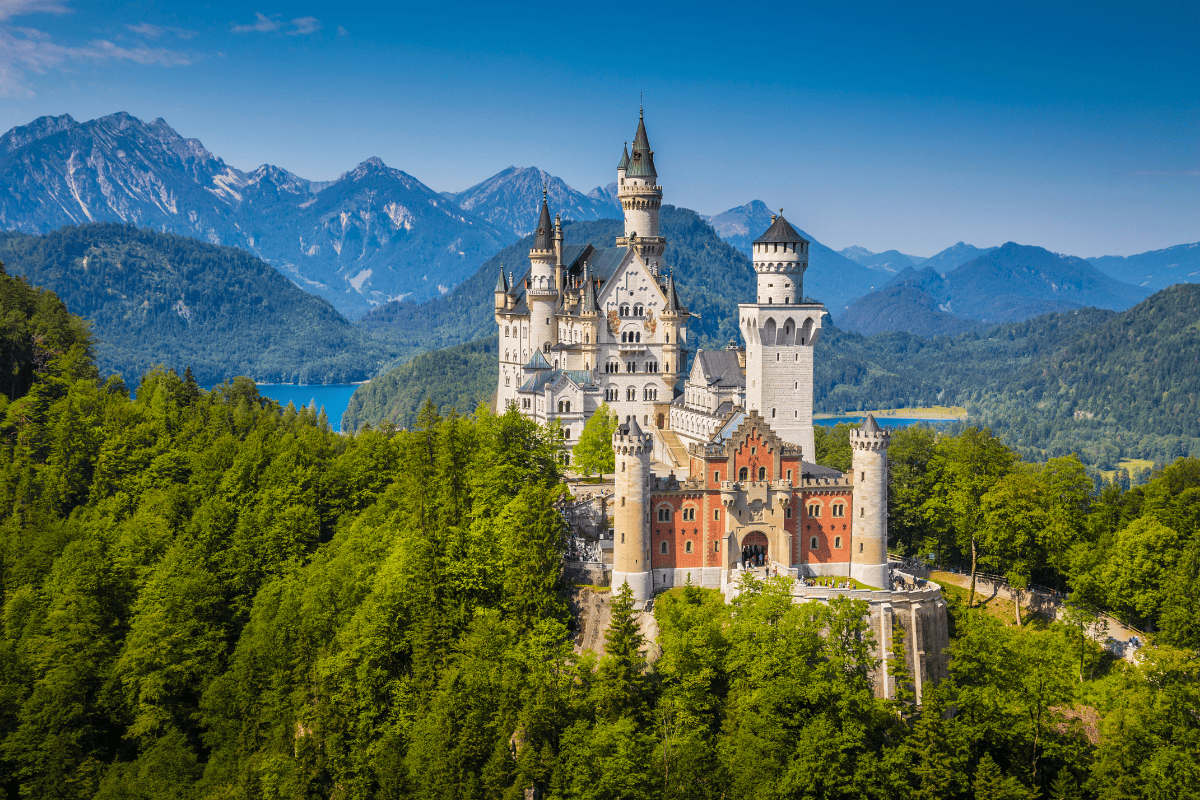 13. Neuschwanstein Castle (Schloss Neuschwanstein)
No list of the best castles in Germany is complete without Neuschwanstein Castle. This fairytale castle is said to be Walt Disney's inspiration for his famous Cinderella castles. It's also a popular day trip to take from Munich since it's less than the 2 hours away. However, we suggest spending a full day here to make the most out of it.
Neuschwanstein was one of King Ludwig of Bavaria's main architectural projects and one of the causes behind his nickname "Mad King Ludwig." Before suffering a mysterious death, he spent his last years dedicated to building his own fantasy world through grand castles.
Aside from the iconic exterior and backdrop of the Bavarian Alps, the highlights of Neuschwanstein include its golden throne hall with no throne and Marienbrücke, a pedestrian bridge over a cliff with the best view of the castle.
Entrance fee with guided tour: 15 €
Neuschwanstein is a popular day trip from Munich! Click here to read how to plan a day trip from Munich and here if you're planning to visit in the winter.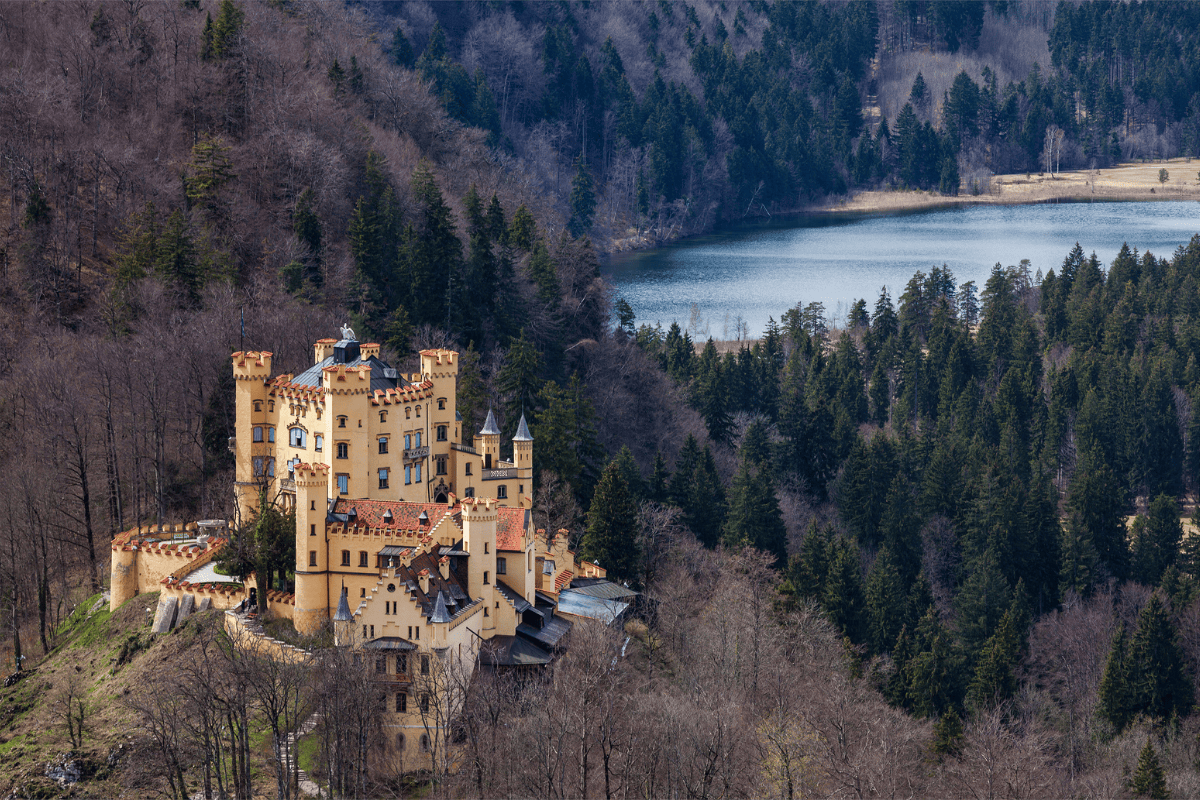 14. Hohenschwangau Castle
While you're in Neuschwanstein, you can easily make your way to the nearby Hohenschwangau Castle. This castle was built by King Ludwig's father, King Maximilian.
A visit to Hohenschwangau Castle includes going for a walk through the romantic castle garden and enjoying beautiful views of the Alpsee and the Bavarian Alps. You can also make your way to the village of Hohenschwangau, filled with charming streets straight out of a storybook.
Entrance fee with guided tour: 21 €
15. Nymphenburg Palace
Nymphenburg Palace is an inner city palace located near the city center of Munich and easily reached by bus or tram. The palace is filled with fun, cultural activities, from museums dedicated to royal carriages to classical music concerts.
Exploring the palace grounds is also an activity in itself. Discover cascades, streams, a lake, and even smaller castles scattered around. You'll find several pavilions like a hunting lodges and a sauna hall.
You can grab a quick bite in between sightseeing at the café in the park or inside by the south wing of the palace.
Entrance fee: 8 €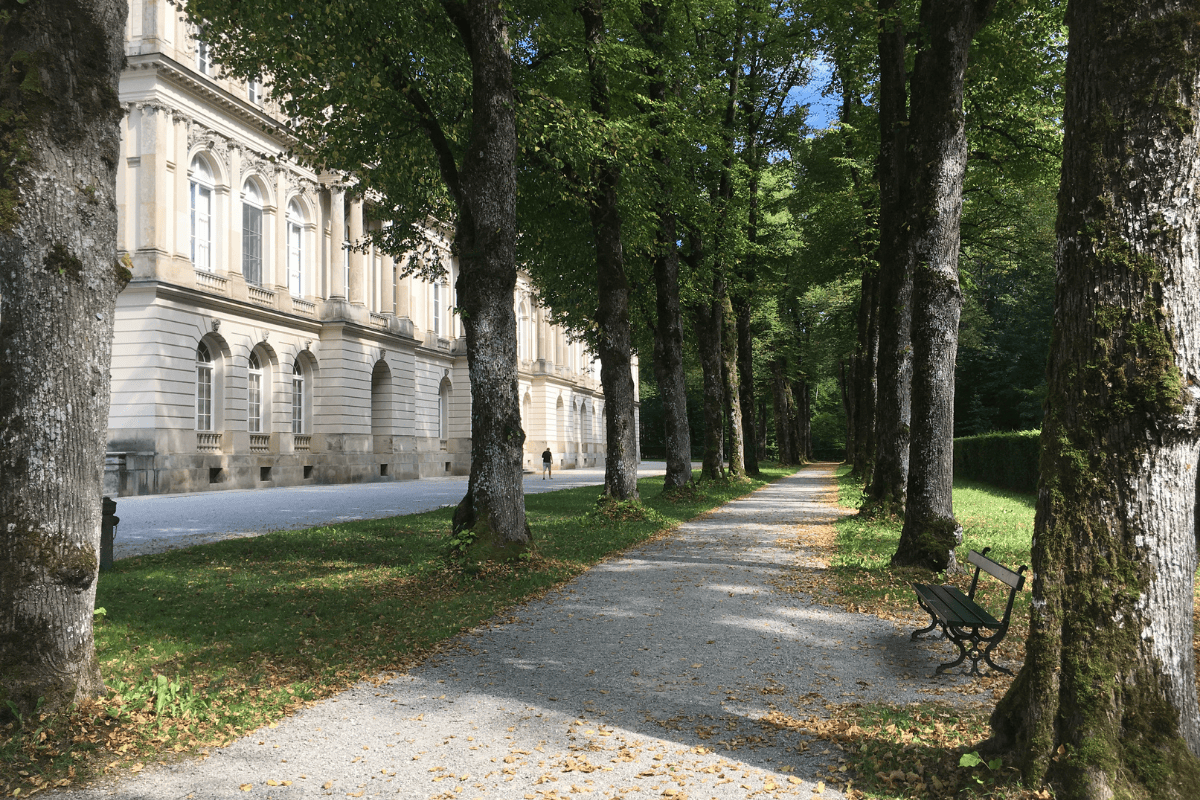 16. Herrenchiemsee Palace
Herrenchiemsee Palace is located in a small island in Lake Chiemsee in Bavaria. You can only reach the castle via boat.
Aside from its unique location, Herrenchiemsee Palace is known for being largely inspired by the Palace of Versailles. The interiors are decorated lavishly as an homage to the Sun King. There is even an exact replica of the famous Hall of Mirrors, complete with ceiling frescos and sparkling chandeliers.
Entrance fee with guided tour: 10 €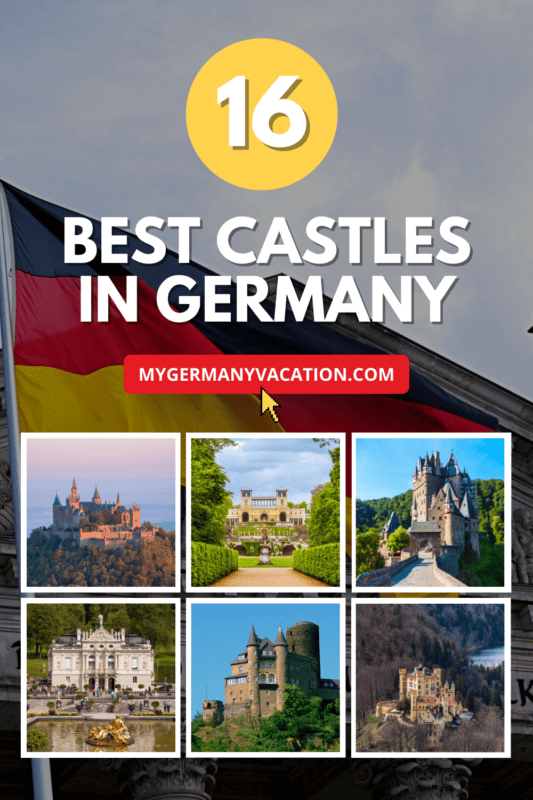 ---
ULTIMATE GERMANY TRAVEL RESOURCES
We've gathered some of our essential travel guides, websites, and other information to help you plan the best vacation! We use these resources ourselves and share them to save you money, time, and stress so you can focus on enjoying and making the most out of your time in Germany.

GERMANY TRAVEL BUNDLE: Our Ultimate Germany Travel Bundle gives you the best tools, up-to-date tips, and expert insights to easily and efficiently tackle the travel planning process. You'll get our custom Trip Planning Map, which shows you the best sights, hotels, castles, and more – because seeing where things are in relation to each other makes trip planning SO much easier! You also get our Trip Planning Spreadsheet, City Cheatsheets, How-to Videos, Germany Trip Planning Guide, and Trip Planning Spreadsheet!

BOOKING FLIGHTS: To find the the best flights deals, we recommend checking Kayak, Skyscanner, Expedia, Travelocity. These websites are also great for getting rental cars.

ACCOMMODATIONS: We recommend using Booking.com since they have widest range of accommodations available from hostels, boutique hotels, luxury chains, aparthotels, at the best prices. For vacation homes, we suggest checking VRBO. We also have accommodation guides on different destinations (Hamburg, Cologne, Munich, Stuttgart, and more to come!) in our website.

TRAINS & BUSES: For point-to-point or regional train tickets (great for day trips or groups) within Germany, or tickets originating in Germany to other European destinations, we recommend buying them on the Deutsche Bahn (German Rail System) website. If you want to buy a rail pass for Germany (or elsewhere in Europe), buy them on Rail Europe. For buses, FlixBus offers tickets for routes within Germany and to other European countries. FlixBus is often cheaper than trains but can take longer.

TRAVEL CREDIT CARD: One of the best ways to make travel to Germany more affordable is by booking free flights. Using the points accrued with our Chase Ink credit card (and a few others), we haven't had to pay for flights to Europe in the past 10 years!

TICKETS AND TOURS: We always recommend exploring a new city for the first time with a Hop On Hop Off Bus tour (ride it all the way around for the entire 1.5-2 hour tour). Here is our guide on the best Hop On Hop Off Bus tours for different German cities. For guided walking tours, day trips, private tours, and skip-the-line tickets, Get Your Guide is our go to!

WHAT TO PACK: Not sure what to bring to Germany? Check out our 2-week minimalist packing guide for tips on traveling light, and our Germany packing list for our must-pack items. Bonus: check out our guides on finding the best travel purse and best travel scarf with a hidden security pocket.

TRAVEL CONSULT: If you feel like you need more help and guidance beyond these resources, book a travel consult with us! We offer personal live sessions where we'll help you with things like planning your itinerary, showing you how to book train or skip-the-line tickets, and answer any other questions you have about traveling to Germany.