Looking for things to do when you go to Germany?
Wondering what the best places to visit in Germany are?
Interested in off the beaten path Germany?
I've got 100 ideas for you!
I've lived all over Germany, have traveled extensively throughout the country, and am always looking for new things to do, see, eat, and drink.
Many of the items on this list I've done (seen, eaten, drank) but I'm really excited that in creating this list I've found several new things to do on my next trip! Yay!
Read through this list and you'll get lots of ideas for fun and unique things to do, eat, see, and experience in Deutschland.
Already been to Germany? See how many things on the list you can check off, and which you want to do on your next trip.
And let me know what you'd add to this list! I lived in Germany for 4 years and am always looking for new things to do when I visit.
100 Things to Do in Germany
Ride a bike around the island of Sylt.
Eat Käsespätzle.
Get spit on by the Schängelbrunnen statue in Koblenz.
Make Rote Grütze (red berry dessert from northern Germany).
Eat a Franzbrötchen in Hamburg.
Spend the night in an old East German bunker in Frauenwald and be treated as a German soldier in the 1970s would have.
See the cliffs in Rügen.
Snap a photo of the giant Karl Marx head in Chemnitz (formerly Karl-Marx-Stadt).
See the first upside-down house in German in Trassenheide.
Relax in a Strandkörble and go for a swim in the North Sea.
Eat a currywurst in Berlin.
Picnic at Hamburg's Ohlsdorf cemetery – the largest cemetery in Europe.
See the Lorelei statue in Sankt Goarshausen on the Rhein river.
See the "Pied Piper of Hamlein" Glockenspiel in Hamlein.
See the Devil's stone statue at St. Mary's Cathedral in Lübeck.
Visit the Hundertwasserhaus in Magdeburg.
Eat Spaghettieis.
Enjoy a traditional German breakfast.
Slide down the 4-story slides in the math department of the Uni München in Garching bei München.
Eat a traditional Schnitzle dinner.
Eat a Fischbrötchen at the Fischmarkt in Hamburg.
Hear the world's largest pipe organ in St. Stephen's Cathedral in Passau.
Smell the world's oldest rose (the Thousand-Year-Rose) in Hildesheim.
See the Bog Bodies at the Schleswig-Holstein Landesmuseum.
Visit the demolished and rebuilt Frauenkirche in Dresden.
Try a slice of Black Forest Cake.
Visit the Waldspirale apartment building in Darmstadt (where there are as many trees as humans living there).
See the world's largest Cuckoo Clock in Schonach im Schwarzwald.
Drink a Radler.
Eat a Dampfknudle with vanilla sauce.
Take a photo with the Bremerstadtmusikanten in Bremen.
Hike in the Alps.
Dress up like a miner and tour the salt mine in Berchtesgaden.
Drink Eiswein and eat Flammkuchen.
Try a piece of Zwiebelkuchen (savory onion "cake").
Visit a "Volksfest."
Visit an Ostolgie museum highlighting what life was like in East Germany.
Get invited to a Stammtisch.
Drink Glühwein at a German Christmas market.
Visit the Olympiapark in Munich.
Drink an Alsterwasser in Hamburg.
Climb to the top of the Ulmer Dom (cathedral) in Ulm.
Decorate a German Christmas tree with real candles.
Drink a "Mass" of Bier.
Learn to pronounce the German "r" correctly.
Try German cheesecake.
Visit Neuschwanstein castle.
See Germany's last remaining (and controversial) Lenin statue in Schwerin.
See the brilliantly blue spring called the Blautopf in Blaubeuren.
Drink a local beer.
Surf in the Isar in Munich.
Ride one of the few remaining Paternoster elevators at Fleming's Hotel in Frankfurt.
Visit a lesser known castle like Schloss Wernigerode (in Wernigerode).
Drink a Spezi or Mezzomix soda.
Get your photo taken in front of (what's left of) the Berlin Wall.
Eat a fancy German ice cream sundae.
Visit Europapark.
Drive (fast!) on the Autobahn.
Ride a bike in rain with an umbrella or in the snow.
Ring in the new year by watching Dinner for One.
Celebrate Fasching (Carnival).
Try a decadent German iced coffee.
Tour underground Berlin.
Celebrate Walpurgisnacht at the Hexentanzplatz in the Harz mountains.
Visit the Stasi museum in Berlin.
Walk around Bochum while singing Bochum by Herbert Grönemeyer.
Learn how to say the longest German word.
Visit Dachau, Sachsenhausen or Bergen-Belsen concentration camps.
Visit the David Hasselhof museum in Berlin.
Eat a Döner Kebap.
Visit the Pig Museum in Stuttgart.
Try all kinds of German chocolate (Milka, Ritter Sport, etc).
Have afternoon Kaffee und Kuchen.
See the cherry blossoms in Bonn.
Sunbathe nude in the Englsicher Garten in Munich.
Relax in a spa in Baden-Baden.
Dance all night on the Reeperbahn in Hamburg.
Watch the Augenroller (eye roller) statue move his blue eyes and stick our his tongue every 30 minutes in Koblenz.
Try German Quark.
Visit the European asparagus museum in Schrobenhausen.
Visit the Thimble Museum in Creglingen.
See the Hörnbrücke in Kiel – the world's only 3-segmented "N"-shaped drawbridge.
Make a call from Queen Elizabeth's red phone box in Garching bei München.
Visit a Kindergarten that looks like a cat in Karlsruhe.
Hang out with Knut the polar bear at Berlin's Museum für Naturkunde.
Find all 66 faces carved into trees in a forest in Bingen.
Visit the largest wine barrel in the world in Heidelberg's castle.
Eat German Stollen bread in Dresden.
Learn how to make fresh Brötchen at home.
Ride all of the different types of German trains.
Snap a photo of the Church of the Flying Spaghetti Monster traffic sign in Templin.
See the Pinklebaum (peeing tree) in Frankfurt.
Walk across the Lego Bridge in Wuppertal.
Walk under the Elbe river via the Elbtunnel in Hamburg.
Try a slice of Bienenstich cake.
Take an Insta-worthy photo at the Rakotzbrücke (Devil's Bridge) in Kromlau.
Pay your respects at the Memorial to the Murdered Jews of Europe in Berlin.
Visit the submerged gondola in Zinnowitz and view the Baltic Sea from underwater.
Take a ride on the "floating monorail" (Schwebebahn) in Wuppertal.
See the extremely narrow 600 year old Spitzhauschen in Bernkastel-Kues.
What would you add to this list?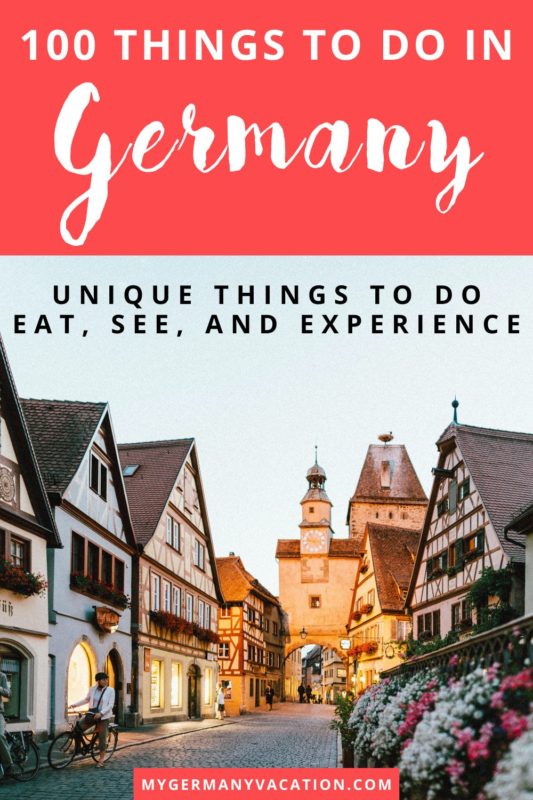 ---
ULTIMATE GERMANY TRAVEL RESOURCES
We've gathered some of our essential travel guides, websites, and other information to help you plan the best vacation! We use these resources ourselves and share them to save you money, time, and stress so you can focus on enjoying and making the most out of your time in Germany.

GERMANY TRAVEL BUNDLE: Our Ultimate Germany Travel Bundle gives you the best tools, up-to-date tips, and expert insights to easily and efficiently tackle the travel planning process. You'll get our custom Trip Planning Map, which shows you the best sights, hotels, castles, and more – because seeing where things are in relation to each other makes trip planning SO much easier! You also get our Trip Planning Spreadsheet, City Cheatsheets, How-to Videos, Germany Trip Planning Guide, and Trip Planning Spreadsheet!

BOOKING FLIGHTS: To find the the best flights deals, we recommend checking Kayak, Skyscanner, Expedia, Travelocity. These websites are also great for getting rental cars.

ACCOMMODATIONS: We recommend using Booking.com since they have widest range of accommodations available from hostels, boutique hotels, luxury chains, aparthotels, at the best prices. For vacation homes, we suggest checking VRBO. We also have accommodation guides on different destinations (Hamburg, Cologne, Munich, Stuttgart, and more to come!) in our website.

TRAINS & BUSES: For point-to-point or regional train tickets (great for day trips or groups) within Germany, or tickets originating in Germany to other European destinations, we recommend buying them on the Deutsche Bahn (German Rail System) website. If you want to buy a rail pass for Germany (or elsewhere in Europe), buy them on Rail Europe. For buses, FlixBus offers tickets for routes within Germany and to other European countries. FlixBus is often cheaper than trains but can take longer.

TRAVEL CREDIT CARD: One of the best ways to make travel to Germany more affordable is by booking free flights. Using the points accrued with our Chase Ink credit card (and a few others), we haven't had to pay for flights to Europe in the past 10 years!

TICKETS AND TOURS: We always recommend exploring a new city for the first time with a Hop On Hop Off Bus tour (ride it all the way around for the entire 1.5-2 hour tour). Here is our guide on the best Hop On Hop Off Bus tours for different German cities. For guided walking tours, day trips, private tours, and skip-the-line tickets, Get Your Guide is our go to!

WHAT TO PACK: Not sure what to bring to Germany? Check out our 2-week minimalist packing guide for tips on traveling light, and our Germany packing list for our must-pack items. Bonus: check out our guides on finding the best travel purse and best travel scarf with a hidden security pocket.

TRAVEL CONSULT: If you feel like you need more help and guidance beyond these resources, book a travel consult with us! We offer personal live sessions where we'll help you with things like planning your itinerary, showing you how to book train or skip-the-line tickets, and answer any other questions you have about traveling to Germany.