Best Scenic Germany Road Trip Ideas And Routes
This post may contain affiliate links. Read my disclaimer policy.
Dreaming about an epic road trip that takes you to the best spots in Germany? From medieval towns, historic castles, coastal beaches, charming villages, and mountainside views, there is a road trip route for every kind of sight on your travel to-do list!
We've rented a car in Germany many times over the years and have driven all over this beautiful country. This guide will help you decide if you want to rent a car on your trip, offer ideas for beautiful road trips in Germany, and share tips for renting a car in Germany.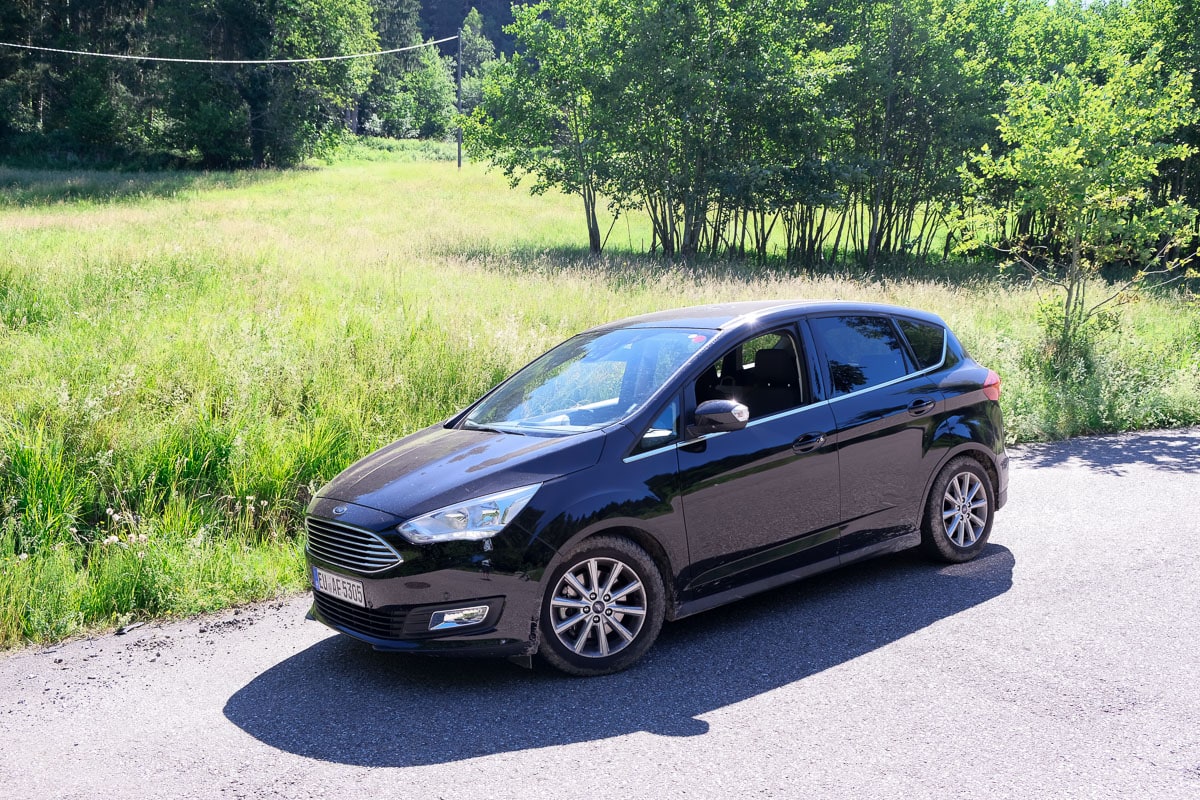 Traveling Around Germany: Train or Car?
What's the best way to get around Germany – train or car? This is one of our most frequently asked questions.
Both are great options so it really just depends on what kind of experience you're looking for. So before we get to driving route suggestions, let's go over some pros and cons for both options to help you decide which one will work best for you.
Train Travel in Germany: Pros and Cons
Here are the pros of taking the train:
Train travel in Germany is pretty straight-forward, comfortable, and fast.
On the train you can enjoy scenic views without worrying about navigating or driving.
Many cities are well connected to different destinations and with train stations mostly being in the city center, it's easy to get from one point to another.
In terms of prices, if you book tickets in advance, it's possible to get amazing deals. Plus you can save money on discounts for kids, seniors, regional travel, and group travel.
Use the Deutsche Bahn website for train travel research and booking tickets. I like to do my research and booking on my laptop and then pull up the tickets in the DB Navigator app on my phone.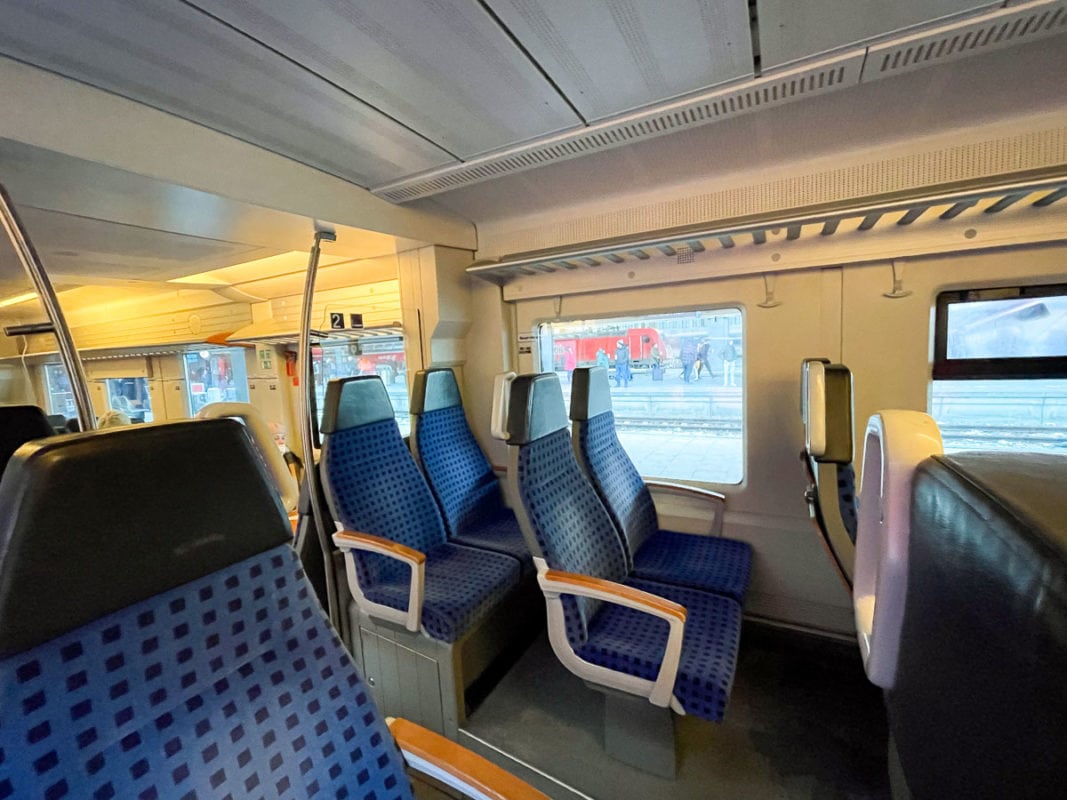 Here are some train travel cons:
You'll need to do a lot of research to find the right trains for your travel needs. Then you have to book each train individually (unless you buy a more expensive German Rail Pass).
Seat reservations cost extra.
Trains can be crowded or even sold out during major events, holidays, and on weekends on popular routes. While you can still get on trains, even when there are no seats left, you might have to stand in the corridor.
If you buy the less expensive, train specific, non-refundable tickets and you miss your train you lose what you spent on those tickets and will have to buy much more expensive full price tickets.
German trains aren't as amazingly punctual and reliable as they used to be.
Even though trains reach places in Germany, some smaller towns and off the beaten track areas aren't easily accessible by train or need various transfers, making the trip quite time consuming.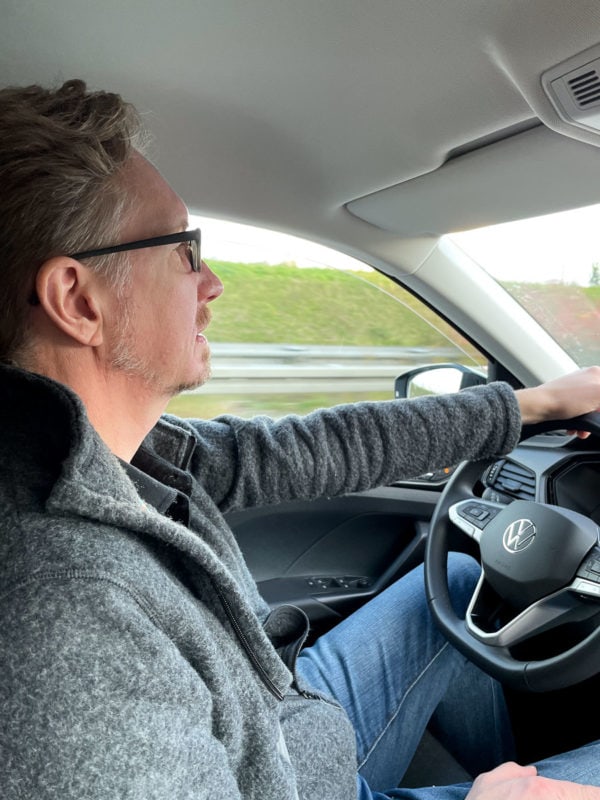 Driving in Germany: Pros and Cons
Here are the pros of renting a car:
The biggest advantage of driving is flexibility! You get to decide when to leave, what route to take, and where you'd like to stop.
You have the ultimate freedom to see so much more of Germany and really fine tune your itinerary to your preferences.
Not to mention that some towns and regions are much more accessible by car.
In terms of costs, sometimes it costs less than taking the train, especially if you're traveling with more people.
You get the experience of driving on the German Autobahn!
You can get off the beaten path more easily than when taking the train.
Here are some rental car and driving cons:
You have to take into account that someone has to be driving and navigating at all times, which can get tiring after long periods of time.
There are additional costs to consider like gas, parking (even in hotels), extra insurance (if you decide to get it), and possibly even a parking or traffic ticket.
There's also the likelihood of getting stuck in traffic and losing time on the Autobahn and in busy cities.
Parking spaces are tighter than in places like the US, which can make parking more challenging.
Renting A Car In Germany
Renting a car in Germany is an easy process. You can reserve a car online or at car rental agencies located at major airports, train stations, and cities.
We use Discover Cars to find the best rental cars, and if you can plan ahead you can find great prices. Our advice is to stick with major car companies like Hertz, Europcar, Alamo, Enterprise, Avis and the like. We've had good to great experiences every time.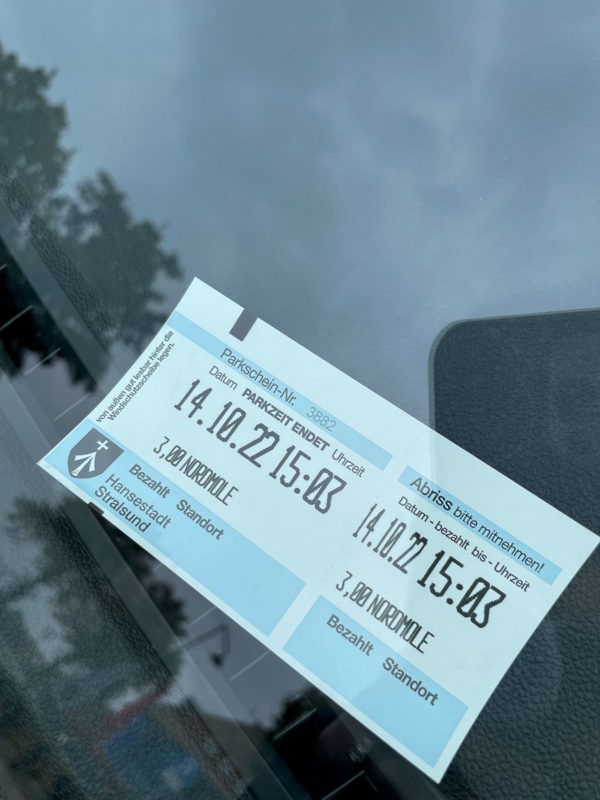 Driving in Germany
If you're set on doing a road trip through Germany, the first thing you should take into account is familiarizing yourself with some of the general rules of the road, traffic laws, and driving conditions.
Driving in Europe can be a very different experience from what you might be used to back at home, so the best way to prepare yourself is to do some research with the rules in Germany.
One of the most essential things you can read up on are the various road signs in Germany and their meanings. To give you an idea, there are over 1,000 different signs in the official German traffic code and it ranges from warning signs, regulation signs, guide signs, and other supplemental signs.
Most are pretty universal so you won't have any difficulty understanding them, but of course there are more specific ones that you should at least be aware of.
While you don't need to memorize all of this information before hitting the road, it helps to have someone with you who can have easy access to road signs on their phone and is willing to help you identify any unfamiliar signs. This is also especially true for navigating directions, even if you have Google Maps or other GPS apps.
Since you'll most likely be renting a car, there are also some things you have to keep in mind. In Germany, manual (stick shift) cars are much more common than automatic cars. If you're not used to or not comfortable with driving stick shift you can rent an automatic for a slightly higher cost. You'll need to specifically request an automatic when reserving your car.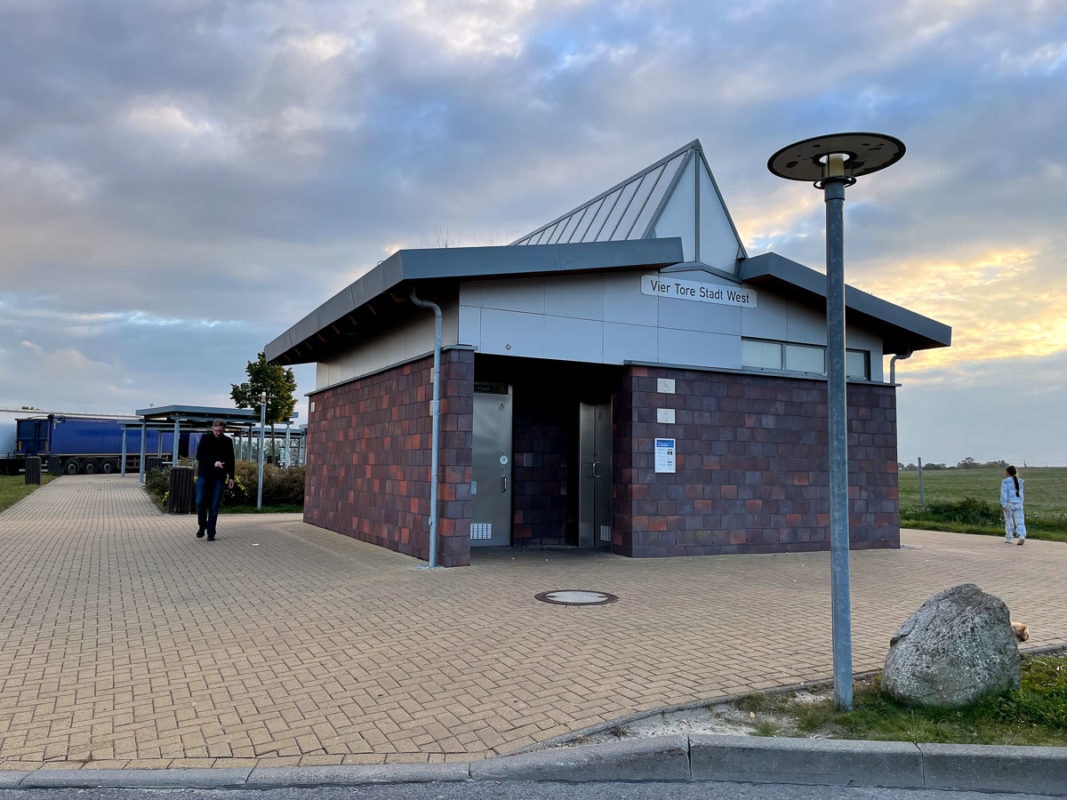 While some people in Germany do drive large cars like SUVs or vans, smaller and more compact cars are a much more common option for rental cars. This might also be somewhat of an adjustment if you are used to driving larger cars back home. But actually, smaller cars will prove to be more helpful for parking in small spaces and driving through narrow streets.
Speaking of roads, be prepared to encounter all different types of roads in Germany. The Autobahn is, of course, Germany's famous high-speed highway system. It connects different regions and cities all across the county. Some sections don't have speed limits, but this doesn't apply to every part. Look out for sections that have posted speed limits or construction zones with reduced speeds.
In cities, you'll mostly be driving through busy streets with traffic, pedestrians, bikes, busses, and even street cars so it's important to be mindful of crosswalks and traffic signals. Meanwhile, in smaller villages and towns, the streets can be much narrower and winding, so be extra cautious with navigating turns or finding parking.
While driving in Germany might be an adjustment in the beginning, we are certain that it won't feel like this the entire time! Once you get a hang of it, you'll be ready to enjoy the full road trip experience in Germany.
Best Scenic Germany Road Trips
Romantic Road
The Romantic Road is one of Germany's most popular tourist routes. Because of this, it's one of the easiest to navigate and follow since there are several signposts along the route. This "Romantic Route" starts in the city of Würzburg and ends in the small Bavarian town of Füssen.
If you plan to fly into Frankfurt and pick up your rental car at Frankfurt International Airport or a location elsewhere in the city, you could immediately drive to Würzburg, drive the route to Füssen, and then return the car in Munich.
This route stretches over 400 kilometers or almost 250 miles and passes through almost 30 official stops, including charming small towns, medieval castles, and beautiful scenery. The road trip can be done in either direction — Würzburg to Füssen or Füssen to Würtzburg. It can take anywhere from 1 to 5 days, depending on how much of the route you choose to see and how many stops you'd like to make along the way.
One of the main highlights of this route is Rothenburg ob der Tauber, one of the best-preserved medieval towns in Germany. Rothenburg is straight out of a fairy tale with its cobblestone streets, colorful half-timbered houses, and historic city walls.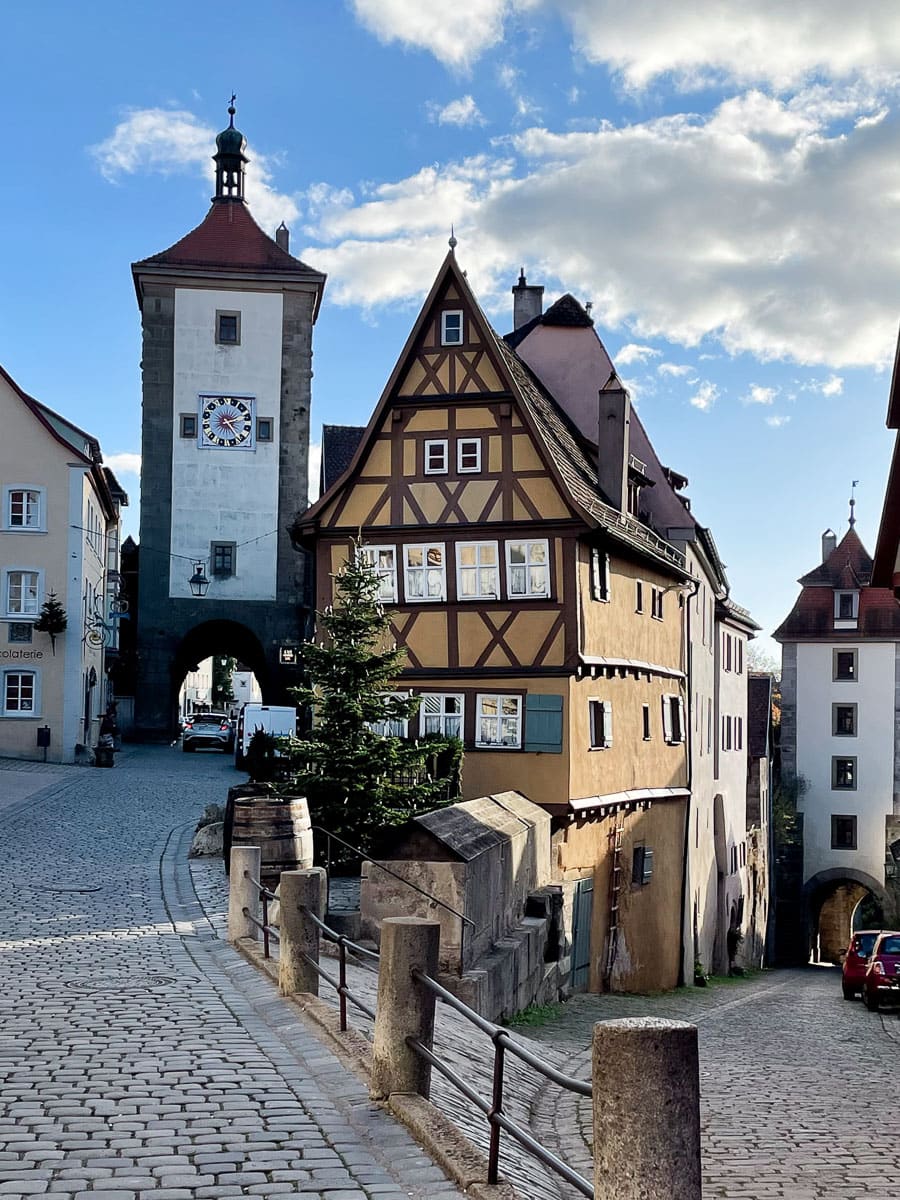 Other picturesque towns that are not as well known but are worth stopping by are Dinkelsbühl and Nördlingen. These are neighboring towns to Rothenburg but are often not as touristy or crowded.
The final stop on the Romantic Road is Füssen, a small town in the Alps near the border of Austria and two dreamy castles. The most famous is Neuschwanstein Castle. One of King Ludwig's fairy-tale castles, this is a beautiful place to visit year-round.If you don't mind the cold, it's especially breathtaking during the snowy winter months.
Fun fact: it's said that Neuschwanstein castle was the inspiration for Walt Disney's castles. The other, lesser known castle where King Ludwig spent some of his childhood is Hohenschwangau, which is located a short walk from Neuschwanstein.
Overall, the Romantic Road is one of the best scenic drives to discover the beauty of southern Germany.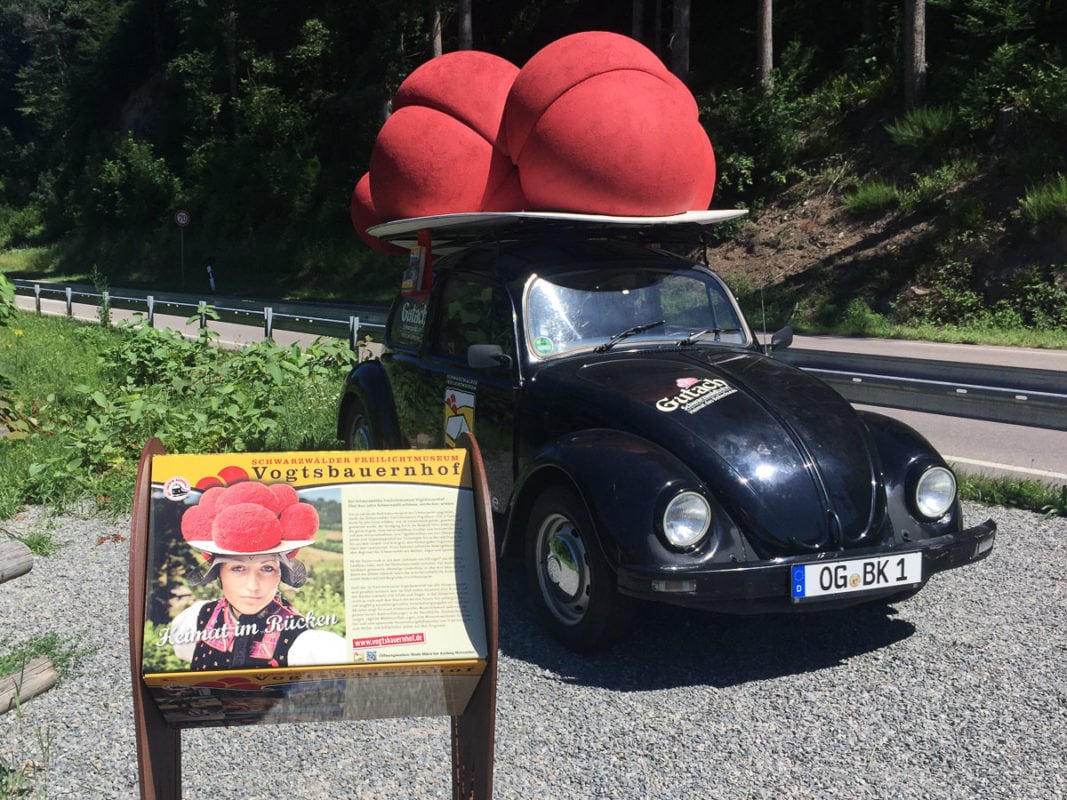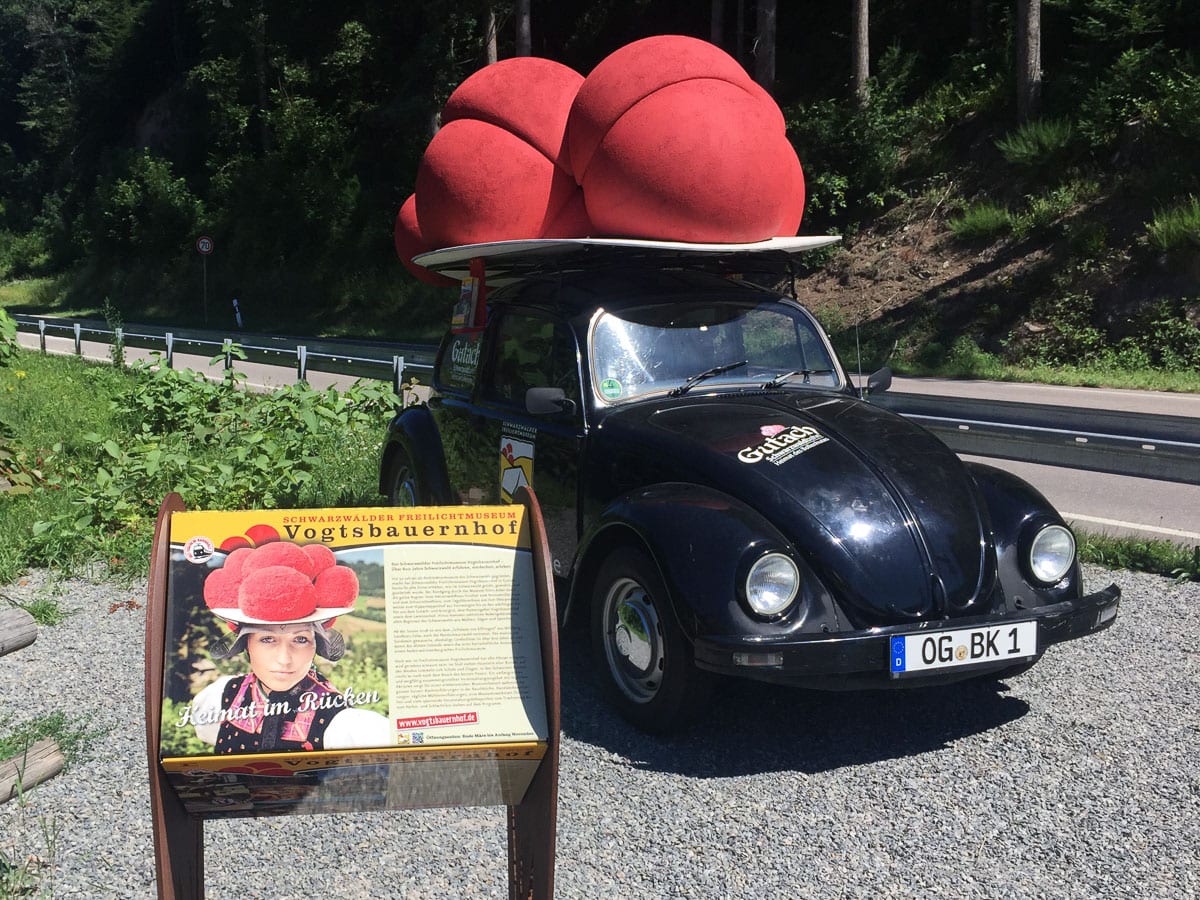 Black Forest Route
Driving the Black Forest is another quintessential German road trip. This region is located in southwestern Germany in the state of Baden-Württemberg. It's associated with many different things like the delicious Black Forest cake, the Brothers Grimm fairy tales, thermal baths, cuckoo clocks, and beautiful forests, which makes it the perfect place for those interested in culture, history, and natural landscapes.
The most popular route to take is the Black Forest High Road. This scenic route extends for over 230 kilometers (145 miles) and runs from Baden-Baden in the north to Freudenstadt in the south. It can be done in a weekend or even one day, depending on how much time you spend at each stop.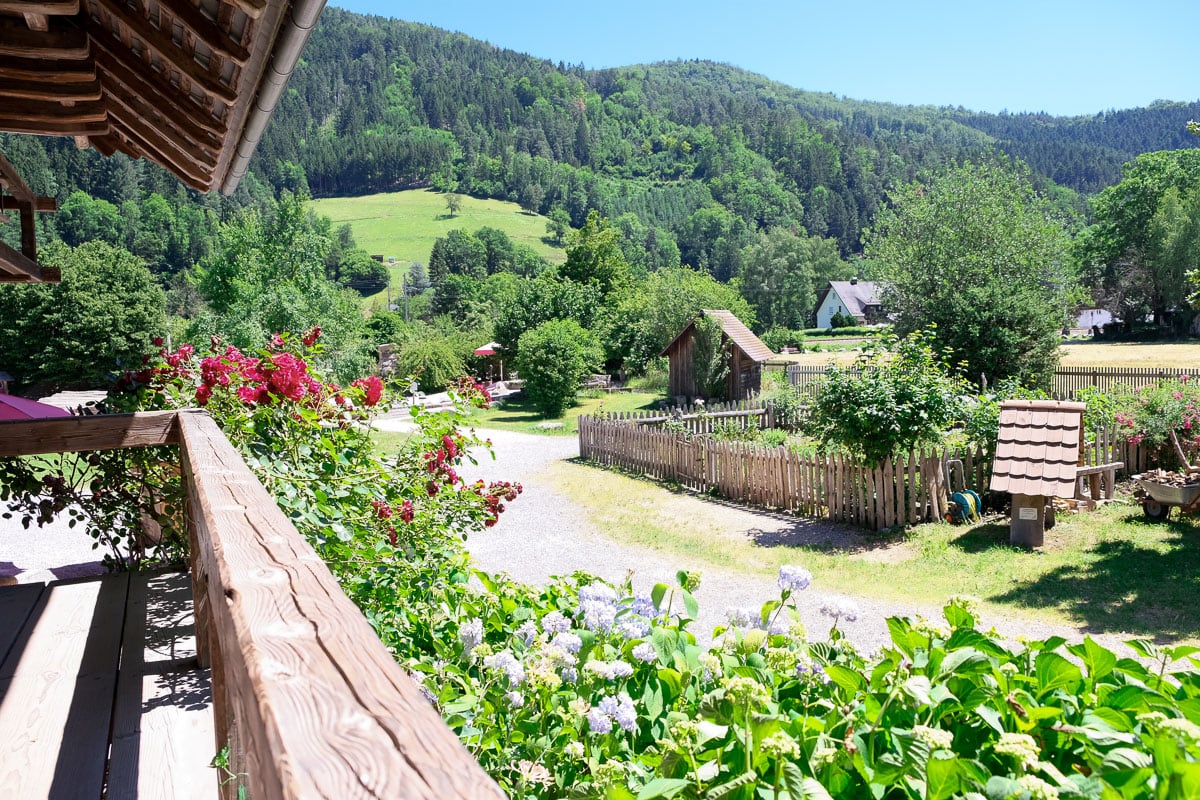 The route passes through several quaint villages, each worth visiting for different reasons. The first few stops, Baden-Baden and Bad Wildbad, are known for their thermal baths and natural hot springs.
Freiburg im Breisgau, a bustling university town considered the Capital of the Black Forest, is known for its charming city center with mixture of Gothic and modern architecture.
Triburg and Lake Titisee, are all great places for outdoor enthusiasts who enjoy hikes with panoramic views, water activities like swimming and boating or traditional cuckoo clocks.
There's a lot to see and do in the Black Forest! For more information on the best things to do and see, read our full Black Forest guide.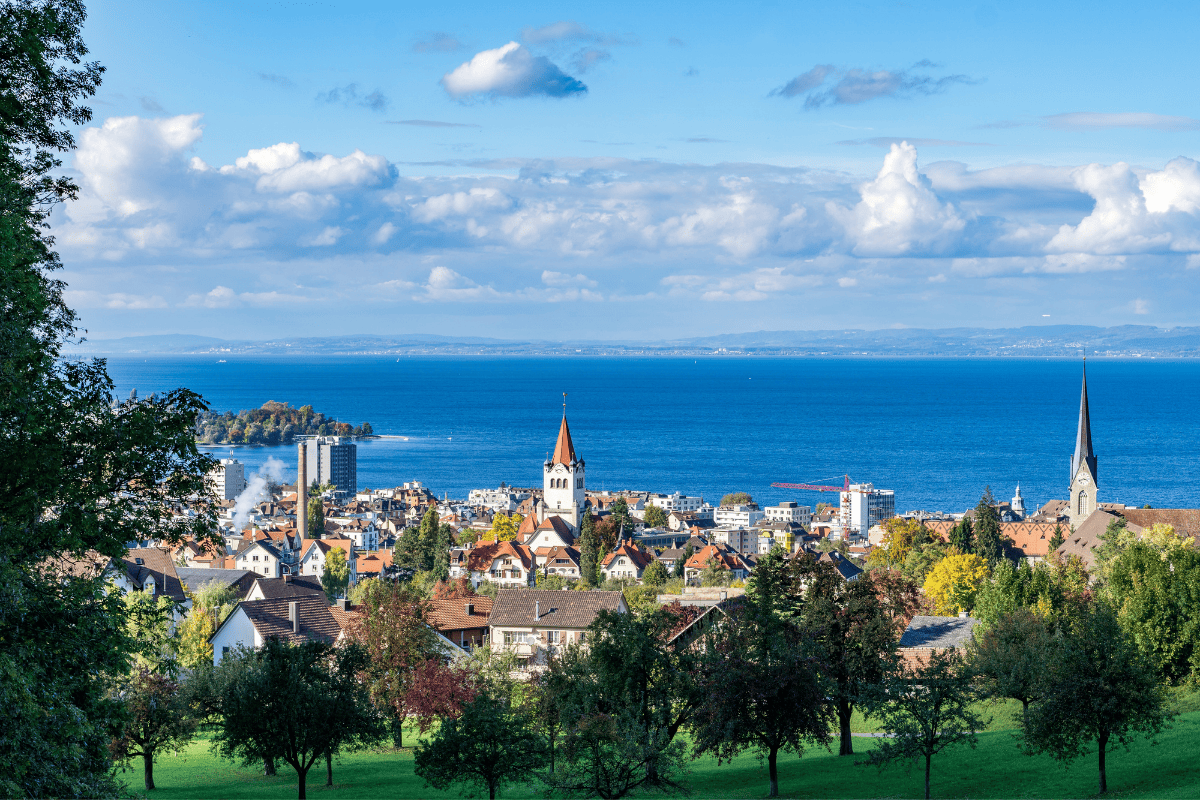 Bodensee (Lake Constance)
The best part about a road trip around Lake Constance (Bodensee in German) in southern Germany is that you actually get to discover three countries at once! That's because Lake Constance shares a border with Germany, Austria, and Switzerland.
The area surrounding the lake is not only full of beautiful places to stop and explore but there are also tons of different activities you can do, depending on which part of the lake you go to. On the German side, you can discover Konstanz, a university town right on the lake, picturesque villages like Meersburg, resort towns like Lindau, small islands like Meinau, and even camping areas for motorhomes.
On the Austrian and Swiss sides you'll find amazing views of and from surrounding the nearby rolling hills heading into the Alps. You can also take an excursion to Zurich or head south to tiny Lichtenstein.
Aside from the gorgeous scenery, Lake Constance is a popular destination for families during summer when water sports and activities like sailing, windsurfing, and swimming are in full swing.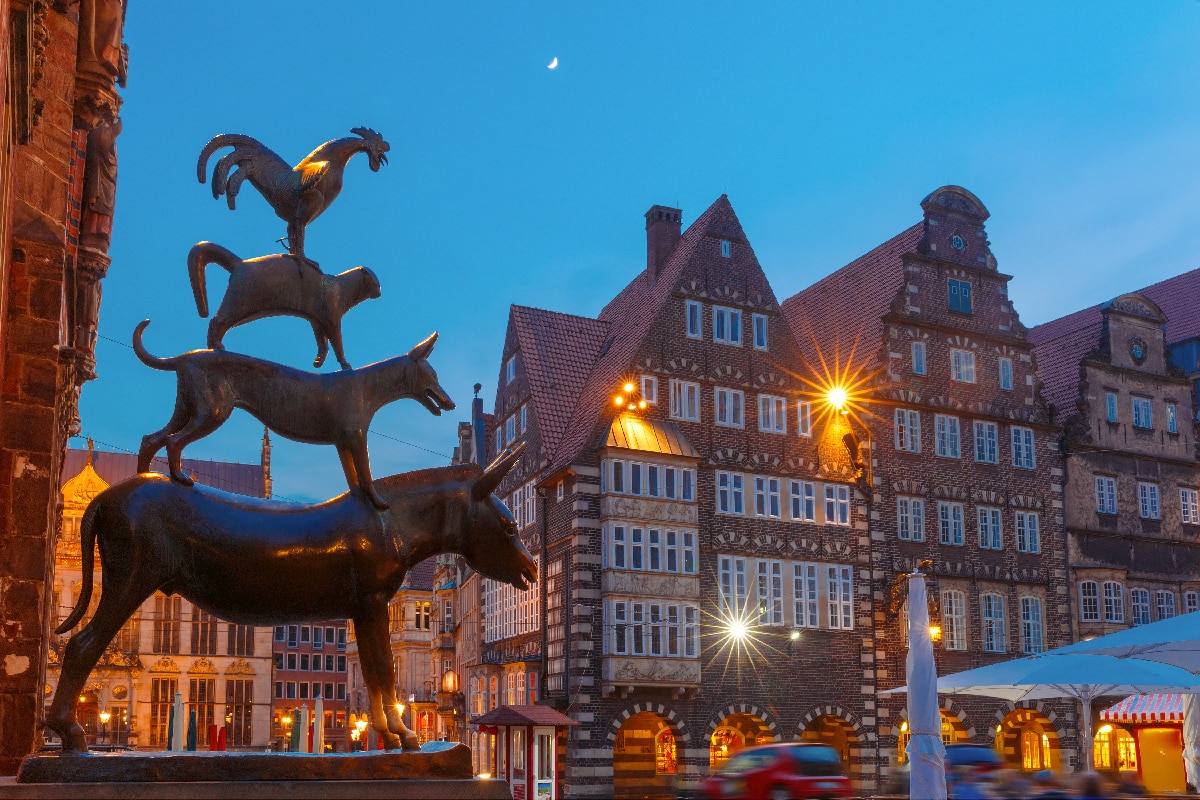 Fairy Tale Route
The Fairy Tale Route is a classic road trip option highlighting the magical world of the Brothers Grimm's fairy tales. It starts in central Germany in the city of Hanau and goes all the way north to Bremen for a total of around 600 kilometers (370 miles).
Along the way, you'll drive by fairytale castles and historically significant towns associated with the Brothers Grimm and their stories.
Some important towns worth seeing include Asfeld, which is home to the House of Little Red Riding Hood and Bad Wildungen, where visitors can find the Snow White Museum.
Another town to visit is Marburg, known as a place where the Brothers Grimm studied. The Old Town is sure to take you back to medieval times with its picturesque half-timbered houses and cobblestone streets.
Other cities further up north include Kassel, where there's a whole museum dedicated to the fairy tales which houses the first edition of Grimm's Fairy Tales from 1812. There's also the town of Hameln, best known for the tale of the Pied Piper.
Another thing you can't miss are the castles. In this route, you'll get to admire the Sababurg Castle, which is widely referred to as the Sleeping Beauty Castle. Another iconic one is the Trendelenburg Fortress, known as the beloved Rapunzel Tower. This road trip is a must-see for anyone looking to experience the real magic of Germany!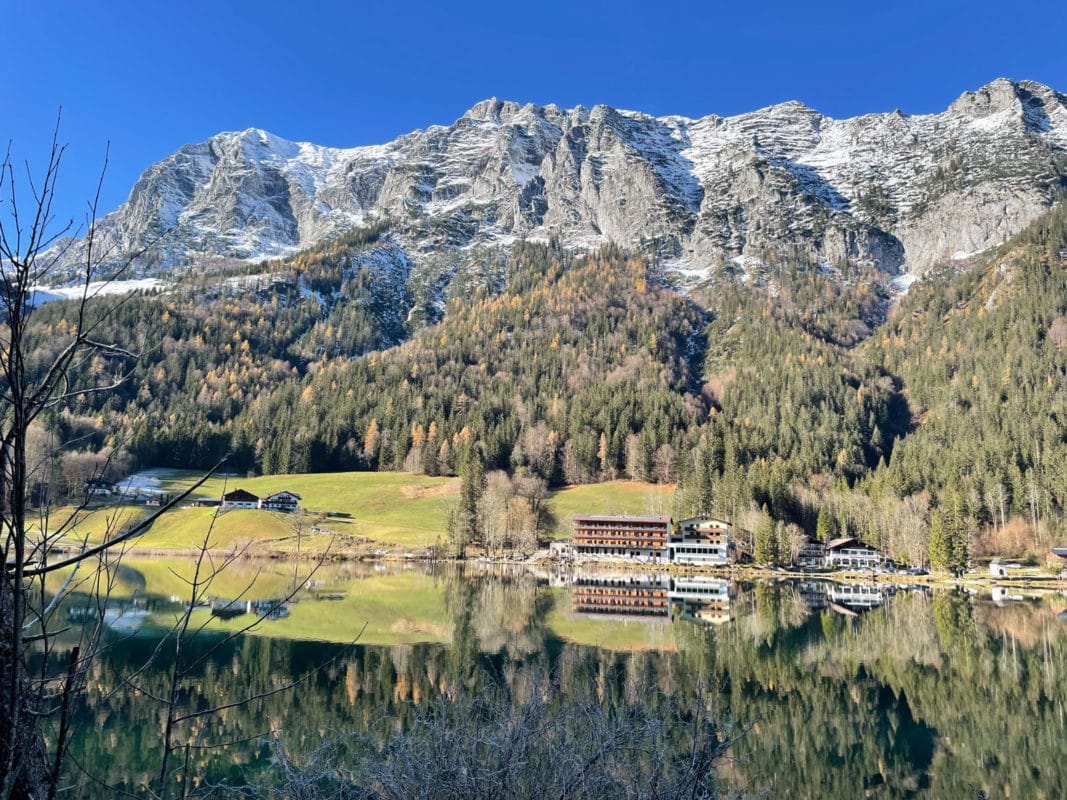 German Alpine Road
The German Alpine road is one of oldest and most scenic routes, offering breathtaking views of the Bavarian Alps.
The starting points are either the town of Lindau near Lake Constance or Lake Königssee near Berchtesgaden. The route extends for 515 kilometers (around 320 miles) and snakes through alpine meadows, relaxing spa resorts, mountain lakes, historic castles, and quaint southern German towns.
Starting in Lindau, you'll get to discover the beauty of the Allgäu region which is known for its crystal clear alpine lakes, lush meadows, and snow-capped mountain peaks. The next stop would naturally be Füssen which is home to the iconic Neuschwanstein Castle and Hohenschwangau.
As you go further east, you'll reach Oberammergau and the Garmisch-Partenkirchen region. One of the highlights of this part of the journey is Zugspitze, the highest peak in Germany. To reach the summit, you have to take a cable car to get spectacular views of glaciers and the German Alps. It's a fantastic winter destination for those who love snow sports like skiing and snowboarding.
Last but not least, the alpine roads will lead you to Berchtesgaden. You can easily spend a day here filled with sightseeing and activities – from exploring the Berchtesgaden National Park, climbing the Eagle's Nest, or a fun guided tour of the Berchtesgaden Salt Mines. If you want to extend your road trip, you can even make your way to Salzburg, Austria since it's only a 45-minute drive away.
For more information, read our full guide of the best things to do and see in Berchtesgaden!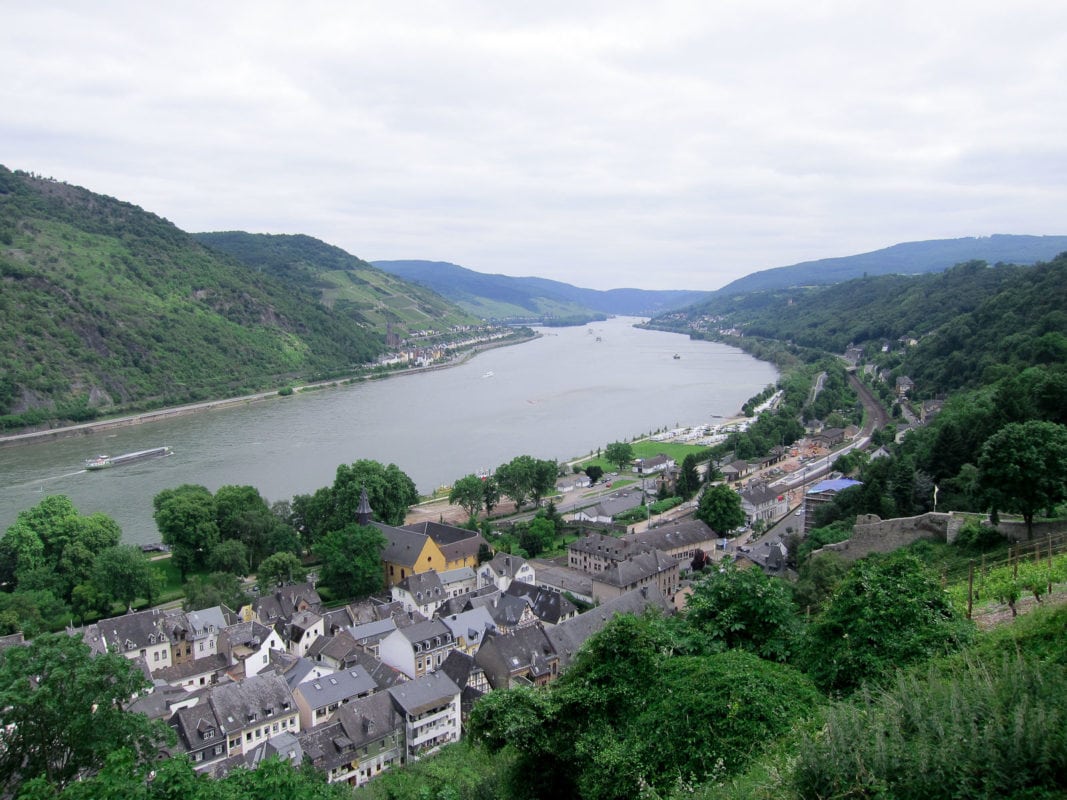 German Wine Route
The German Wine Route takes visitors through the scenic Rhineland-Palatinate region. This route is on the shorter side at only 85 kilometers (just over 50 miles) and showcases some of the country's best wineries and vineyards, culinary spots, natural scenes, and hiking trails.
One of the highlights of the German Wine Route is its unique climate. It's known to have a mild, temperate climate that's unique compared to the rest of the country. Because of this, the region thrives with crops like kiwis, lemons, and figs. Spring is especially a great time of year to visit since the route comes alive with blossoming almond trees.
On the south end, the route starts in the town of Schweigen-Rechtenbach, located on the French border. This route is filled with hidden gems of towns like Bad Bergzabern, Bad Dürkheim, and Neustadt an der Weinstrasse. Make sure to stop by any of the various wineries and tasting rooms along the way to sample the best wines the region has to offer.
The best time to visit would be any time from March to October. During this period, many open-air wine wine festivals are held along the route. The most famous one is Wurstmarkt in Bad Dürkheim. It's the biggest wine festival worldwide, with over 600,000 visitors each year.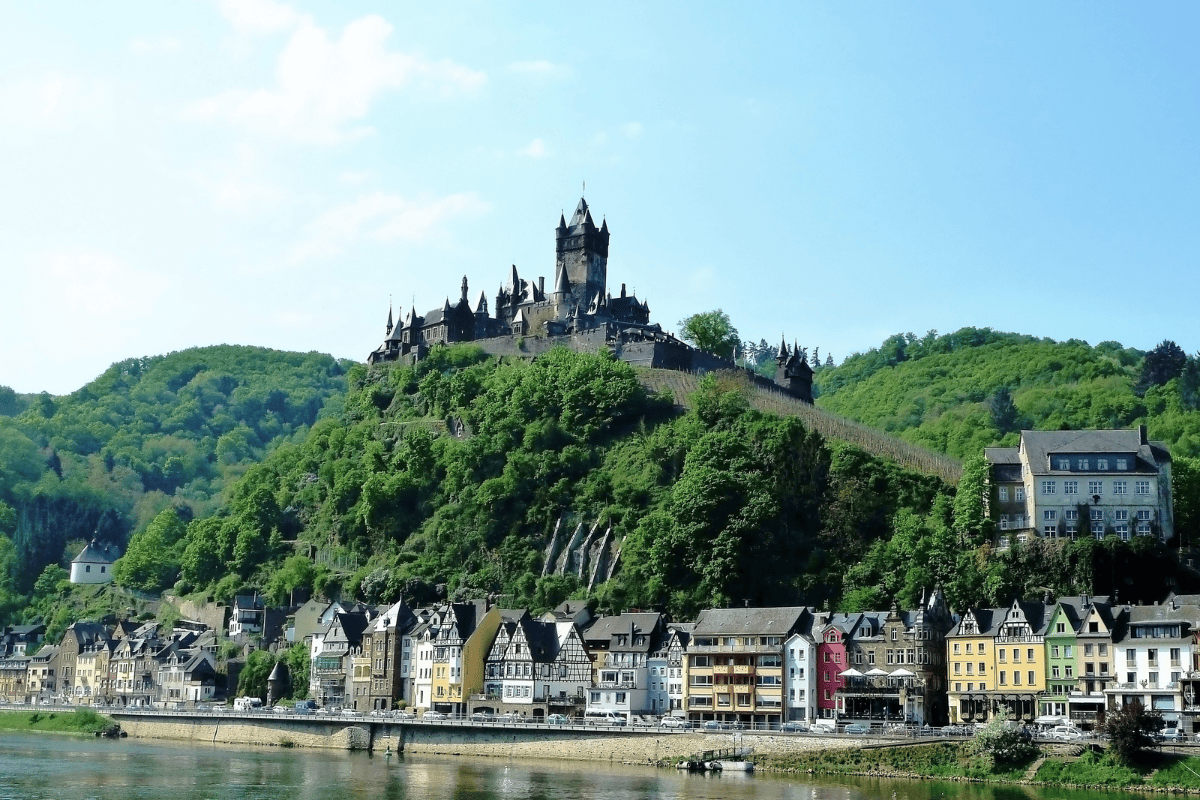 Rhine River And Mosel Valley
The Rhine River and Mosel Valley area is not only another great option for wine lovers but it's also one of the most picturesque regions in Germany.
The best place to start this route is the city of Koblenz, since it's a point where the Rhine river and Mosel river meet. There are different variations to the route but a good end point would be Trier, a city further south near the Luxembourg border.
One of the first stops you can make is the town of Cochem. This romantic city is known for the famous Reichsburg Castle (Cochem Castle), which towers over the Mosel River. The medieval castle has been rebuilt many times over the year and it hosts fun themed activities like medieval-style dinner and live performances.
Before heading to Cochem, it's definitely worth taking a slight detour to Burg Eltz, another castle along the valley and overlooking the Elzbach River. This rare castle has never been damaged by war or other external force and hasbeen under ownership of the same family for over 30 generations. If you make your way.
Another picturesque town worth visiting is Bacharach, a popular stop for river cruises that's filled with wineries and vineyards. It's also home to Burg Stahleck, a castle turned into a youth hostel on a hill, which you can visit even if you're not staying there!. If you're interested in booking a room in that castle (or another German castle), check out our guide to the best castle hotels in Germany.
Towards the end of the route, we recommend stopping at Traben Trarbach, a former major wine trading center in Europe. There's no better place to enjoy a glass of Riesling than in the famous underground wine cellars and vaults of the city.
And for the final stop in this road trip, head on to the town of Trier. It's known for its amazingly preserved Roman structures and ruins, like the impressive Porta Nigra city gate.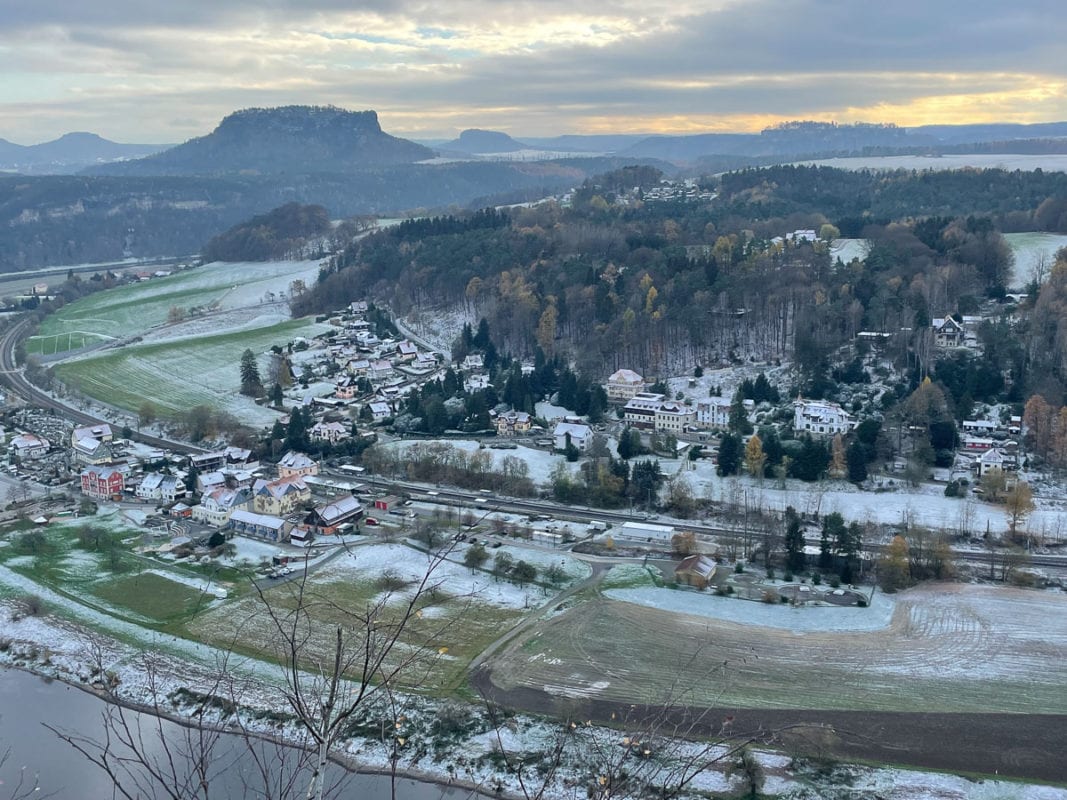 Saxon Switzerland
Saxon Switzerland is one of our favorite hidden gems of Germany and definitely a worthy addition to your Germany road trip itinerary.
This area is one of Germany's 16 national parks, boasting of 710 square kilometers (274 square miles) of pure natural beauty including everything from dense woodlands, tall mountains, deep canyons, and gorges.
Saxon Switzerland is a paradise for outdoor enthusiasts who love rock climbing, biking, and hiking. The park has a marked network of over 400 kilometers (250 miles) of hiking trails which visitors must strictly stick within.
The highlight of this region is the iconic Bastei Bridge. It's made up of stunningly bizarre rock formations that stand over 600 feet over the Elbe river. There is a bridge that links several of the rocks, so visitors can walk over it and get the best views of the national park. You can also get amazing views in the Königstein Fortress, one of the largest hilltop fortifications in Europe.
The Saxon Switzerland region is also home to a number of quaint villages and towns, such as Bad Schandau and Kurort Rathen, where you can take a break from hiking and try out the local food or go for a dip in the thermal baths.
For a more comprehensive overview, read our full guide on Saxon Switzerland.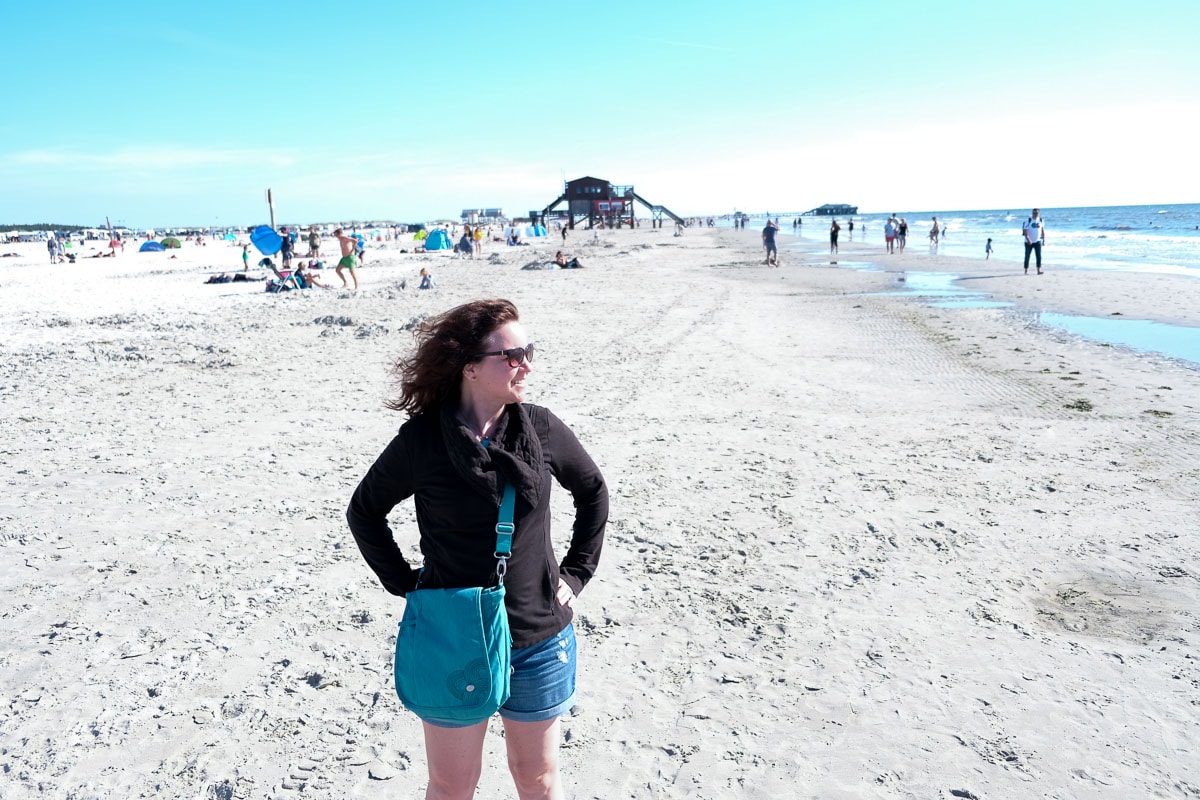 Northern Germany Wattenmeer (Wadden Sea)
If you're looking for a scenic coastal road trip, then the Wattenmeer (Wadden Sea) area in northern Germany is the perfect option. The Wadden Sea is an important biological region and a UNESCO World Heritage Site and completely different from southern alpine Germany.
The Wattenmeer National Parks are located across Germany, Denmark, and the Netherlands. Germany has three national parks in this region. Make sure to check out the Hamburg Wadden Sea National Park, located in the estuary of the Elbe in the North Sea, for a landscape different from unlike anything else in Germany. It's mainly made up of mudflats, shallow creeks, dunes, and sandbars, and some islands. You can go for guided hikes or even horse-drawn carriage rides when the tide is out and explore the region's biodiversity.
Another highlight is the North Frisian Islands, a collection of islands and islets with a unique cultural heritage. The largest island is Sylt, a picturesque Island where visitors can stay at a luxurious resort or simply walk along the long sandy beaches and admire the sand dunes.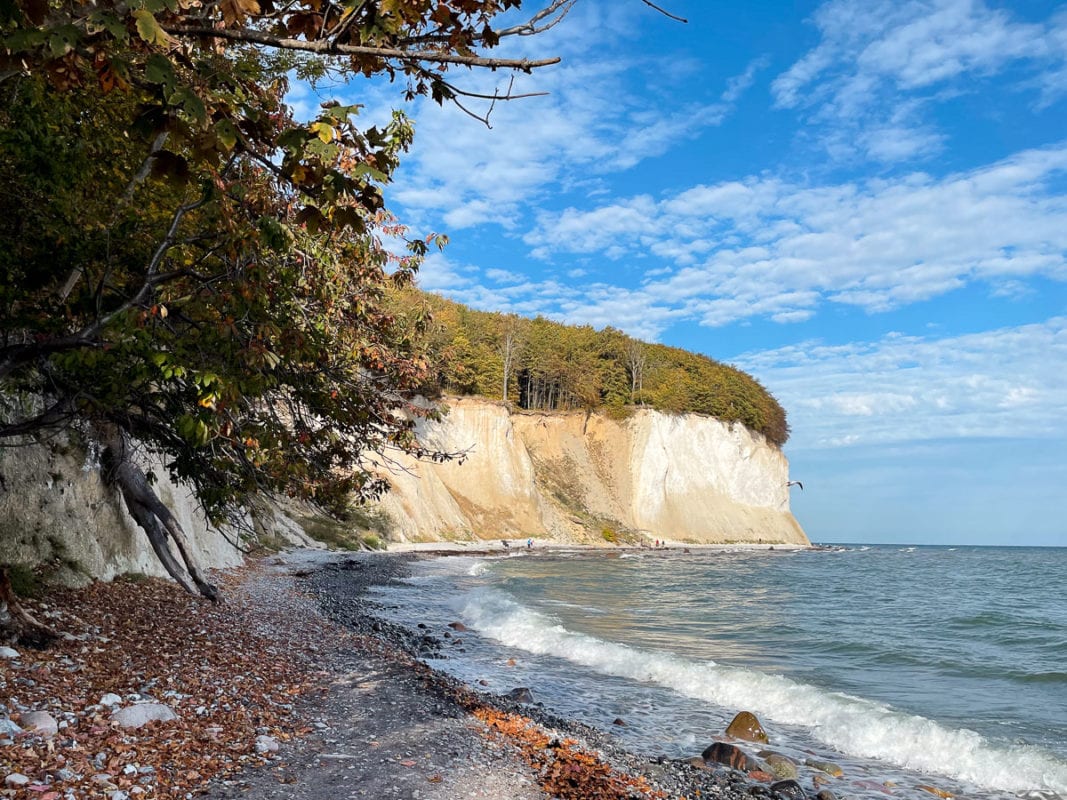 Rügen Island
For more coastal destinations, Rügen Island is an amazing destination. The largest island in Germany, Rügen is known for its sprawling coastline, white-sand beaches and seaside resorts. It's easily accessible thanks to the Rügen Bridge, an enormous bridge connecting the island to the Hanseatic city of Stralsund in Northern Germany.
The most well known sight is the Jasmund National Park. This national park is home to stunning white chalk cliffs with views to the Baltic Sea. For the best views, make sure to climb the Königsstuhl. The seaside towns of Bergen, Binz and Sassnitz are also worth stopping by for their elegant villas and scenic harbors.
Rügen is located in eastern Germany about 3 hours north of Berlin. If you're looking for something off the beaten path for non-Germans, check out the beautiful island of Rügen.