Wondering where to stay when visiting Neuschwanstein castle? Look no further than Hotel Sonne in Füssen.
We we were so pleased with our recent overnight stay at Hotel Sonne and highly recommend staying there. Click here to book a room or read on for our full review!
This is NOT a sponsored review. We paid for our own room at Hotel Sonne and are not being compensated by the hotel.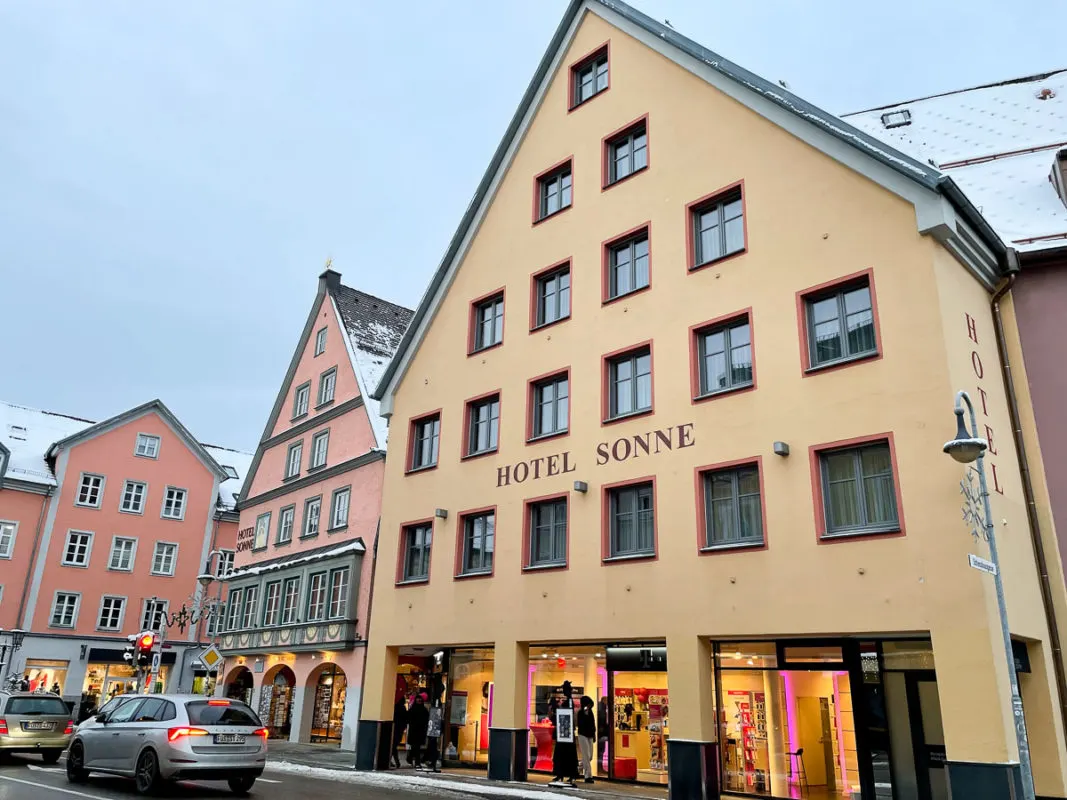 On our recent winter visit to Neuschwanstein and Hohenschwangau castles, we decided to spend the night in nearby Füssen. (While you can visit Neuschwanstein from Munich on a day trip, it's harder in the winter when the days are so short.)
After looking at several hotel options in Schwangau and Füssen, we chose Hotel Sonne due to its excellent location, comfortable and beautiful rooms, delicious breakfast, friendly staff, and affordable prices.
While you can stay very close to the castle in Schwangau, we recommend staying in Füssen. It's bigger than Schwangau and has more options for restaurants, cafes, and shops. It's also absolutely lovely and is worth spending a couple hours wandering around delightful Füssen.
If you take the train from Munich, you'll arrive in Füssen. To reach Neuschwanstein castle, you can hop on a bus (or take a taxi) and be at the base of the castle in 15 minutes. Füssen is the perfect "home base" for visiting Neuschwanstein.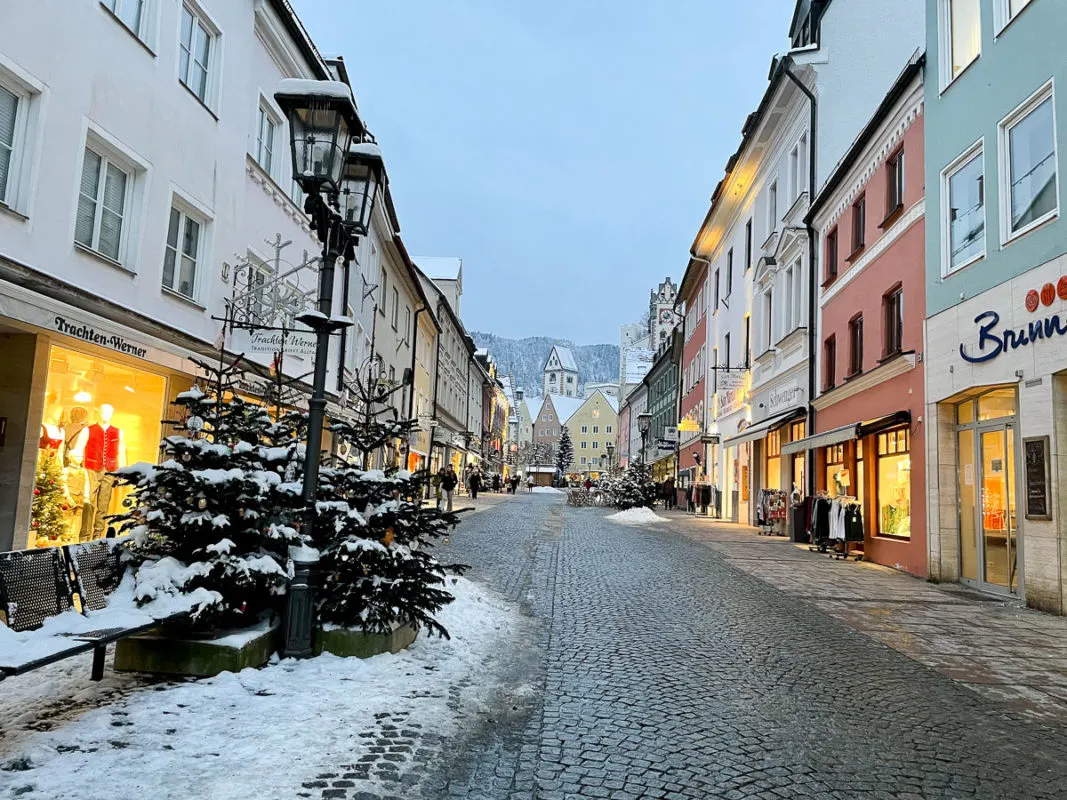 Ideal Location
Our overnight trip to Füssen was packed with castle visits, snowy hikes, and as much exploring as we could pack into 24 hours.
So when we arrived in Füssen an hour late due to a train delay, we were so grateful that Hotel Sonne was only a quick 5-minute walk from the train station.
We were able to quickly check in, drop our bags in our room, freshen up, and still catch our bus to Neuschwanstein in plenty of time to be at the castle for our timed entry tour.
Later, when we were ready for dinner, we were spoiled for choice because Hotel Sonne is right on the pedestrian zone. So there were tons of options just a short stroll from the hotel. We were happy about that we didn't have to go far because it was super cold when we were there!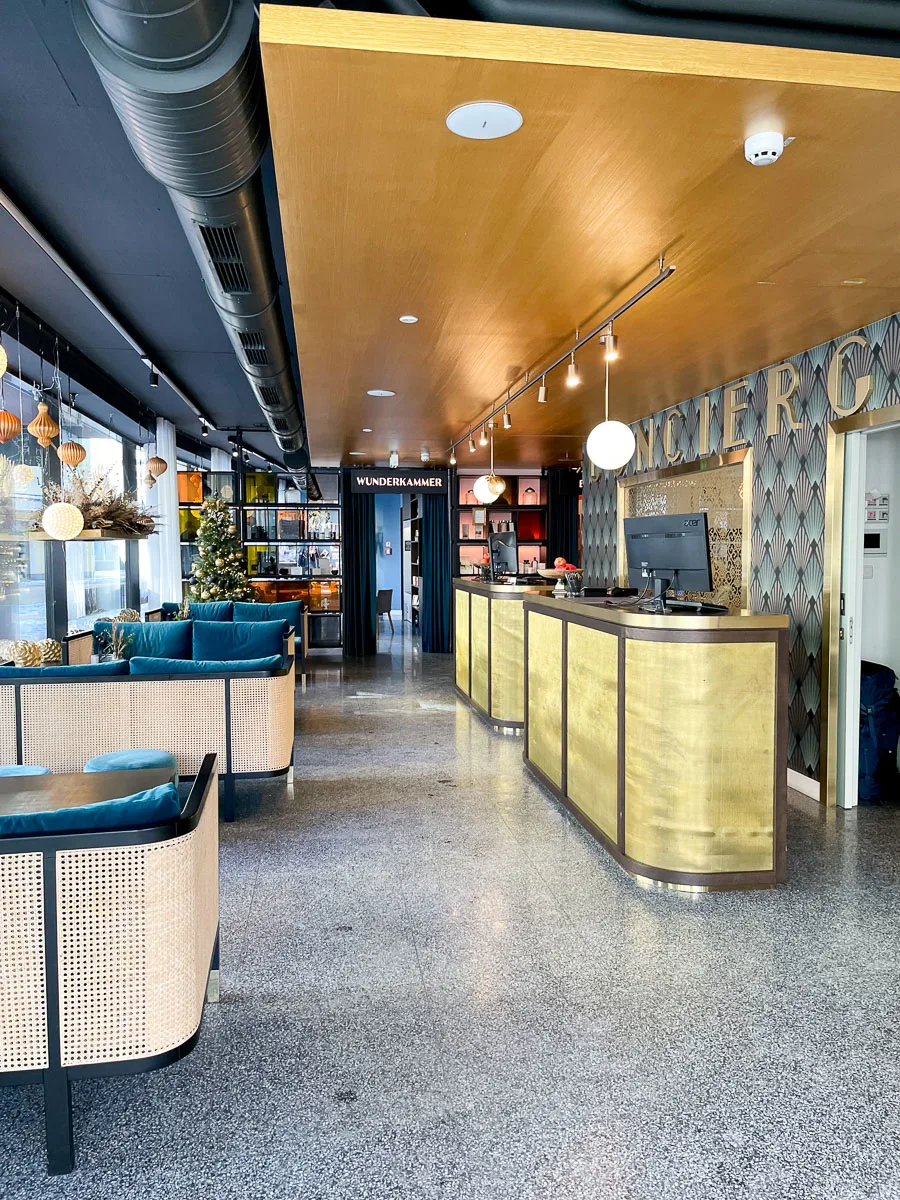 Comfortable & Stylish
We immediately loved the decor of the lobby and the look of our very comfortable and spacious room. We don't typically choose hotels based on decor (we're more concerned with location, comfortable beds, and price) so we were pleasantly surprised by the attention given the hotel's style and vibe.
Look how beautiful our room was! Not only was it spacious, there was a huge bed, couch, desk, TV, wardrobe, and large bathroom.
There was plenty of room for both of us to unpack and each have a good amount of space. And it was lovely having the couch to sit on in addition to the bed.
We loved the colors, furniture and overall kinda funky style. Not your standard, boring hotel room, that's for sure!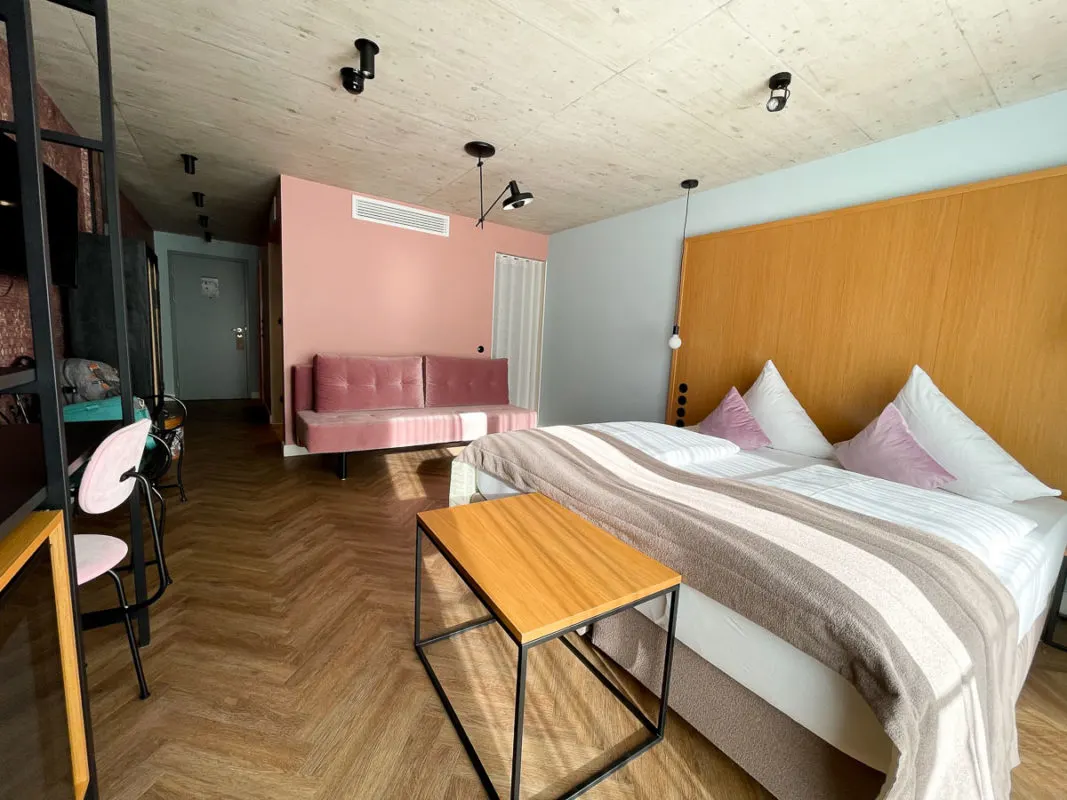 When we got back from touring Neuschwanstein we were so happy to hole up in our spacious yet cozy room for an hour to warm up and relax after a busy and very cold day!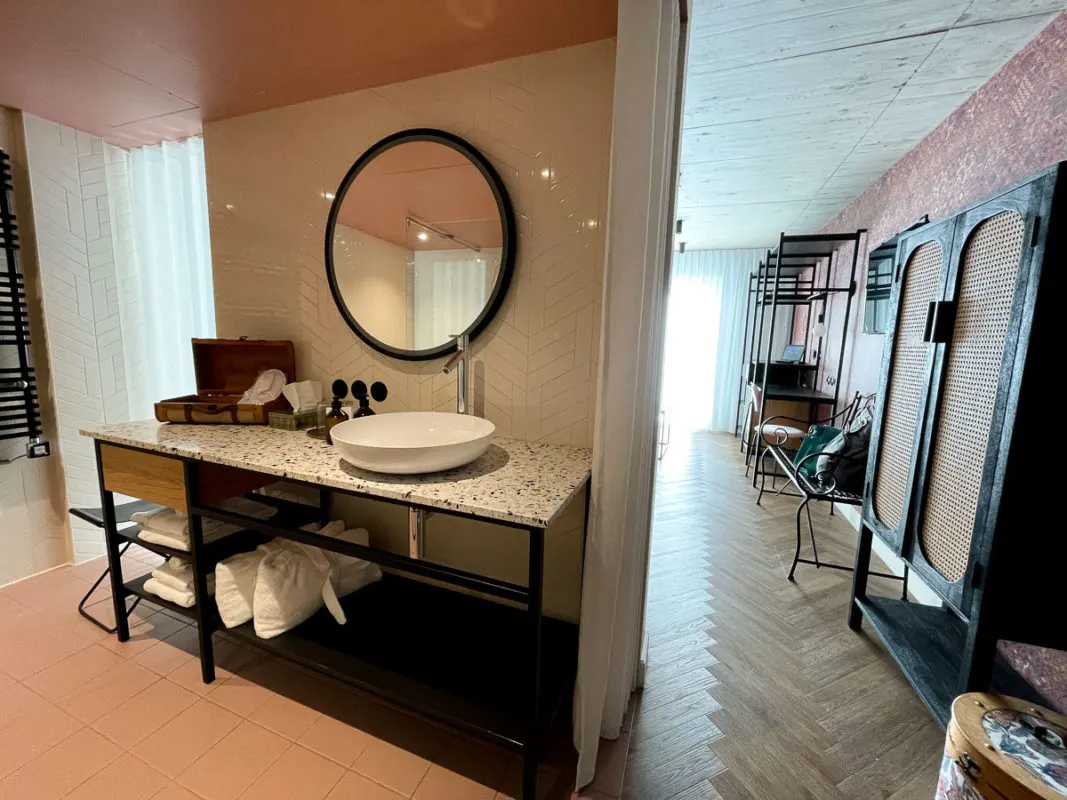 Calm, Quiet & Comfortable Room
Even though Hotel Sonne is in the middle of Füssen, our room was calm and quiet. The bed, pillows, and duvet were all comfortable, so we slept soundly.
Getting ready the next morning was a treat given the huge shower, lots of hot water, separate toilet, and the towel warmers! We also had robes, fluffy towels, and toiletries at our disposal.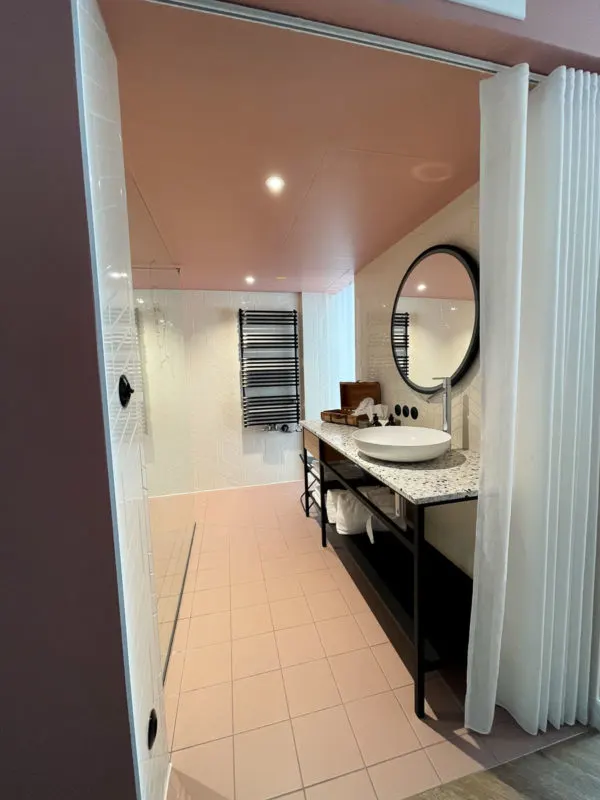 The only thing that surprised us was that there were only curtains and no doors to the shower/sink area. That wasn't a problem for us but it's something to be aware of if you prefer doors that close or lock.
We like having separate rooms for the toilet and shower/sink, because it's then easier for 2 people to get ready in the morning, so we were happy to see that was the set up in our room.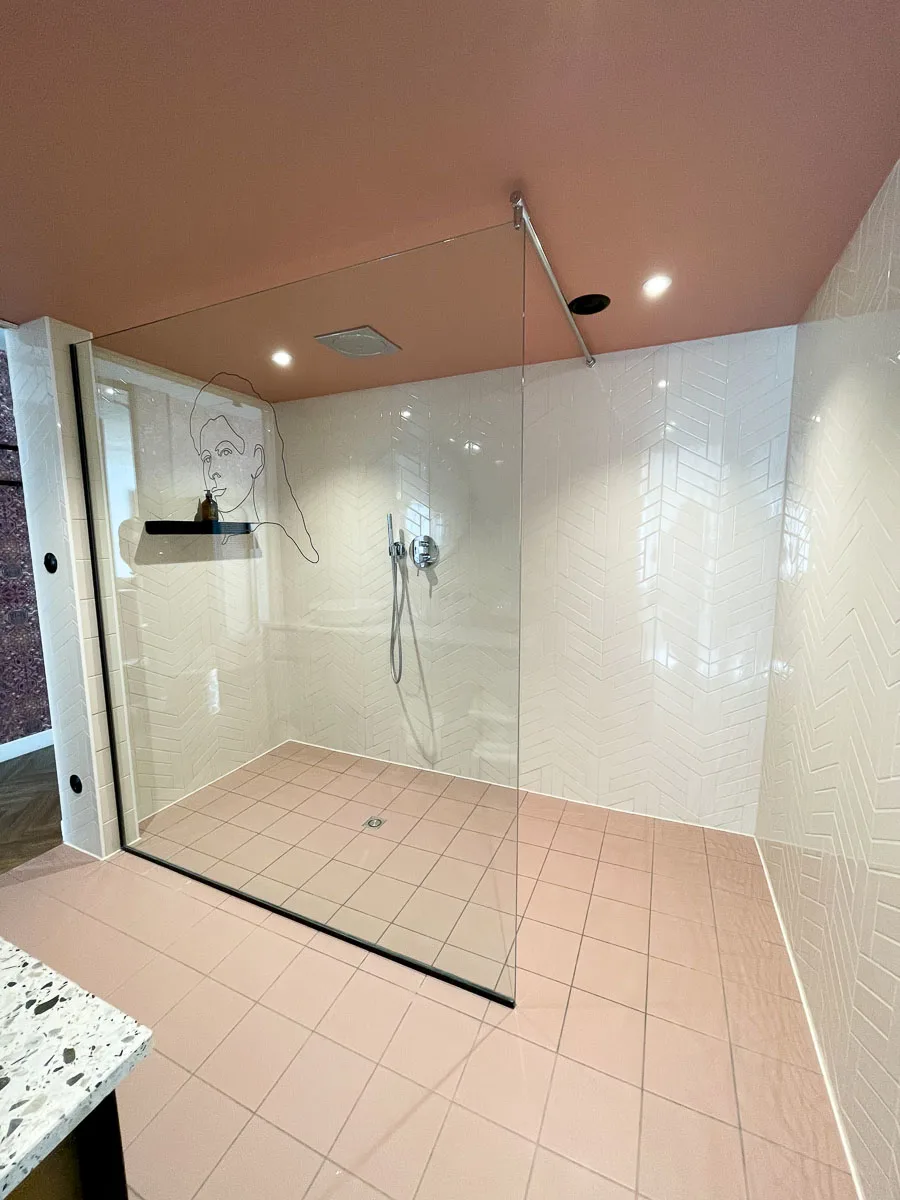 Amazing Breakfast
We don't always add breakfast to our hotel rooms but we did on this trip – and we were so glad we did. The breakfast at Hotel Sonne was outstanding!
We were not only impressed by the wide selection of food and drinks but also the quality.
No matter what you prefer to eat for breakfast, you'll leave happy and satisfied.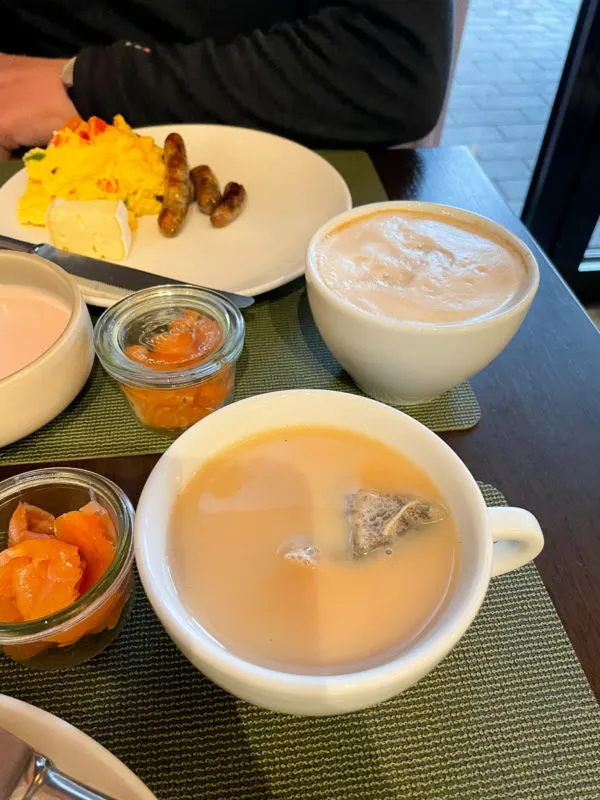 A few things we enjoyed: made-to-order eggs and omelets, sausages, bacon, potatoes, smoked salmon, pastries, Brötchen, yogurt, fresh fruits and veggies, grilled veggies, cheeses, cold cuts, jams and spreads, cereals and müseli, local specialities like Kaiserschmarrn with vanilla sauce (so good!)…and much, much more.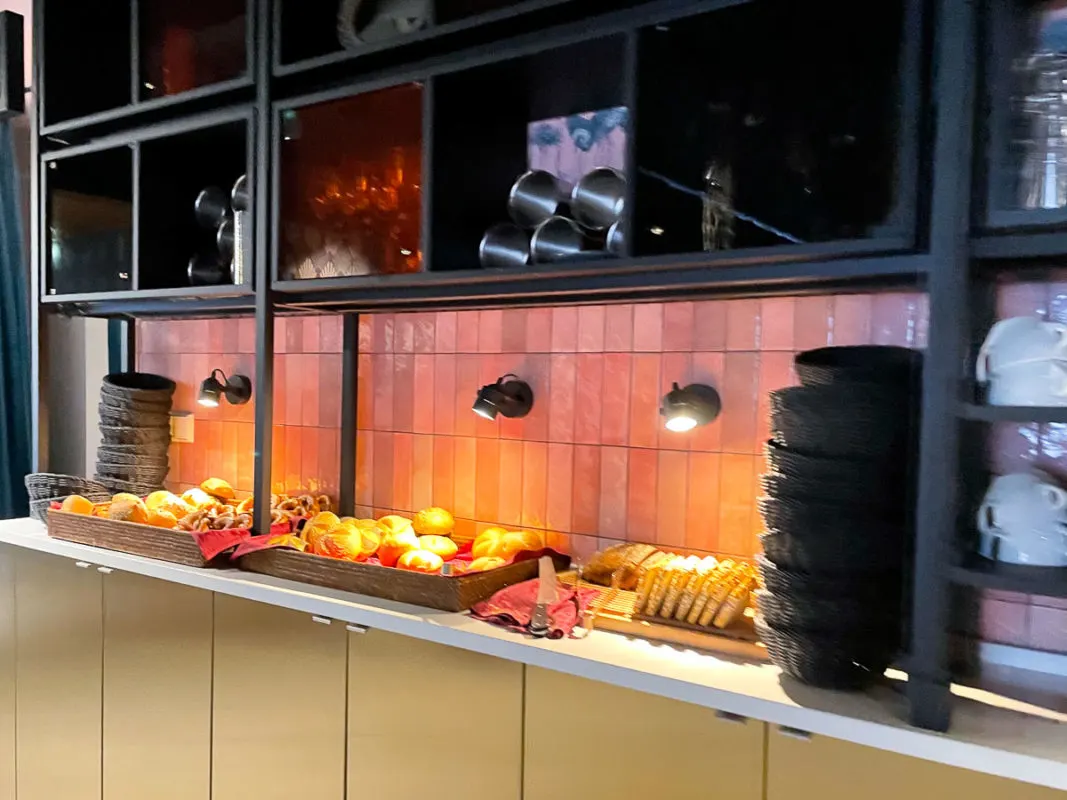 They also offer a wide variety of beverages including juices, waters, espresso drinks, hot chocolate, and teas. There were even carafes of fresh, hot coffee you could take to your table. It's all self-serve so you can enjoy as much as you'd like.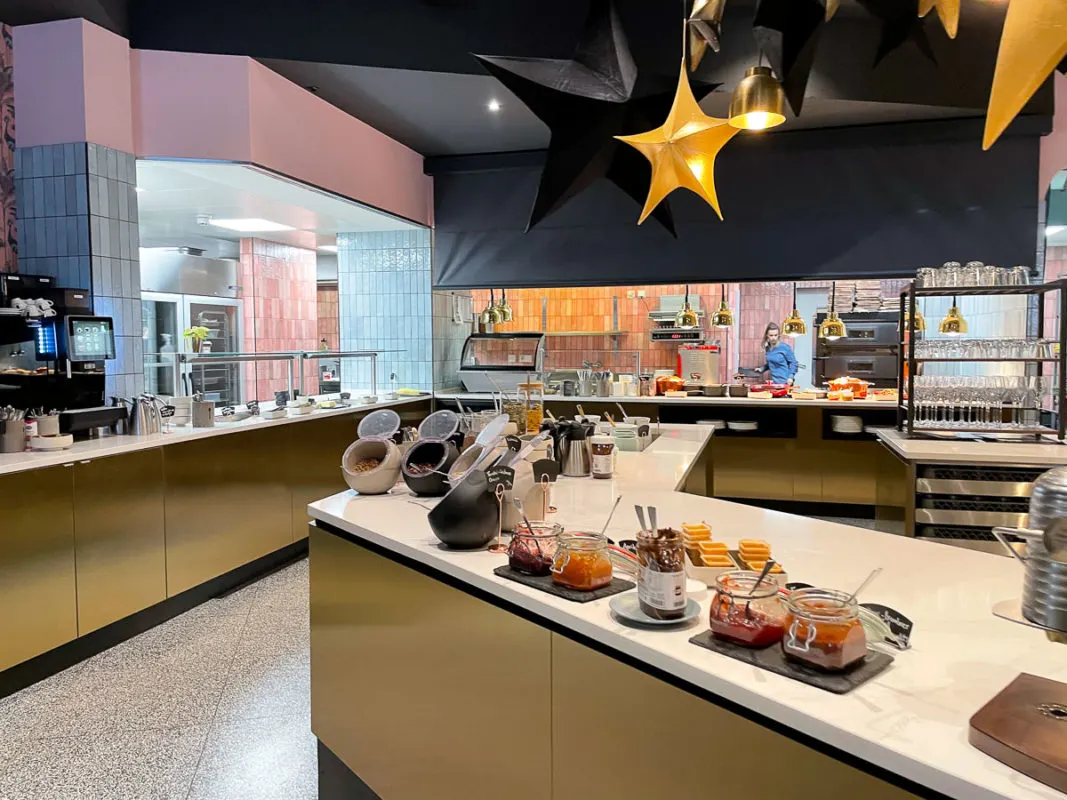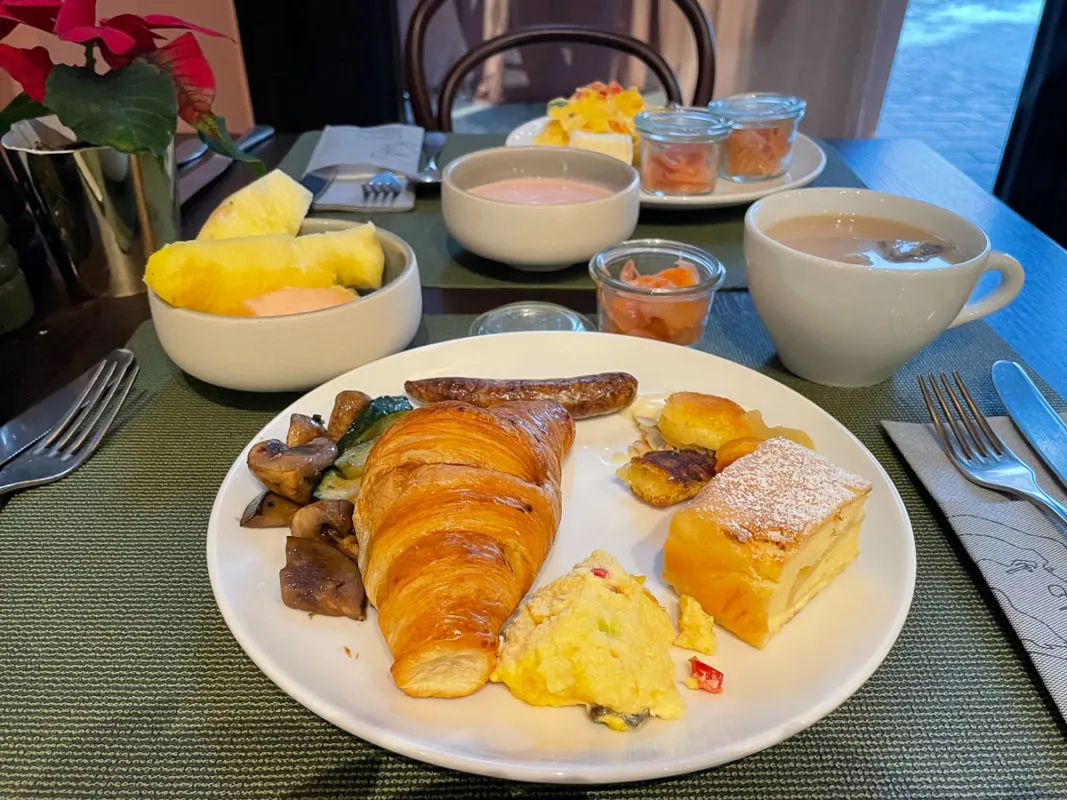 We highly recommend adding breakfast to your room to save time in the morning and have an enjoyable, stress-free start to the day.
Tip: save money by adding breakfast at the time of booking rather than when you check in. We got breakfast half off by adding it when we booked our room.
Friendly Staff & Amenities
Everyone we interacted with were friendly, welcoming, and helpful. We were pleasantly surprised that they let us into our room since we arrived before the usual check in time. We didn't expect that and greatly appreciated it.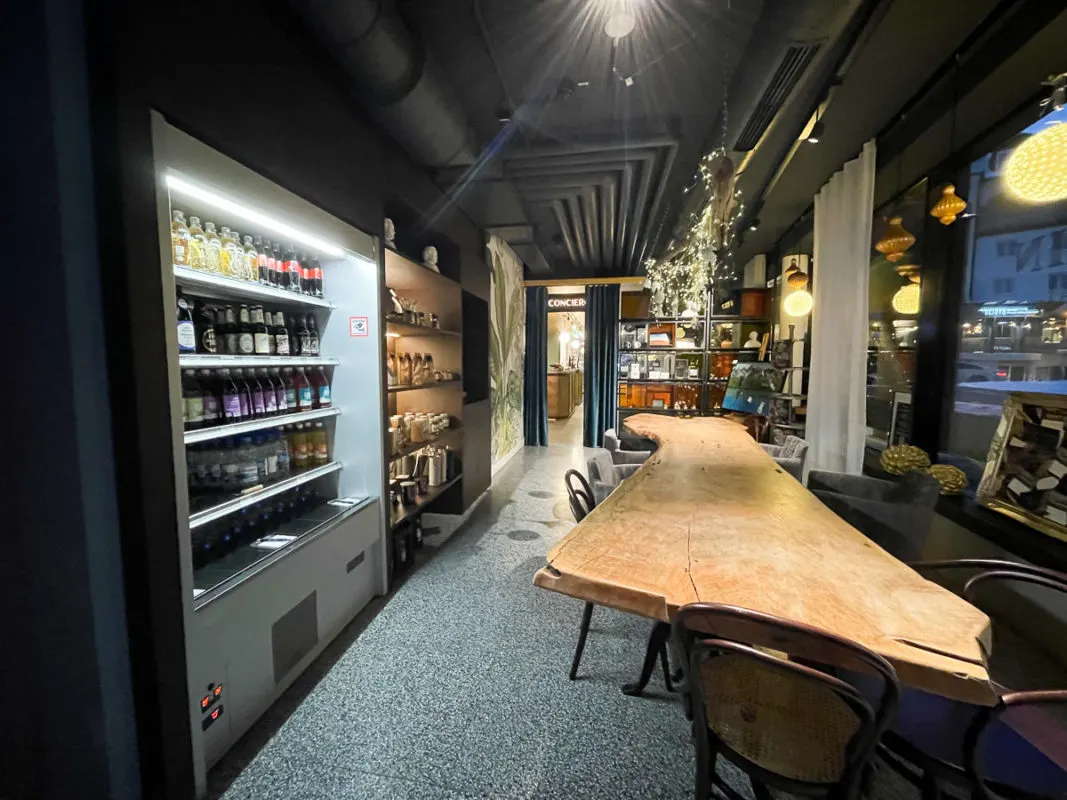 Hotel Sonne also had some fun amenities, including a small shop with drinks and snacks (see photo above) and a wellness area with swinging chairs and themed relaxation rooms (see photo below).
The only disappointing thing about Hotel Sonne is that we didn't realize the wellness area was only open in the evening, so we missed our chance to experience it. Don't make the same mistake because the area looked so inviting when we peered through the glass doors!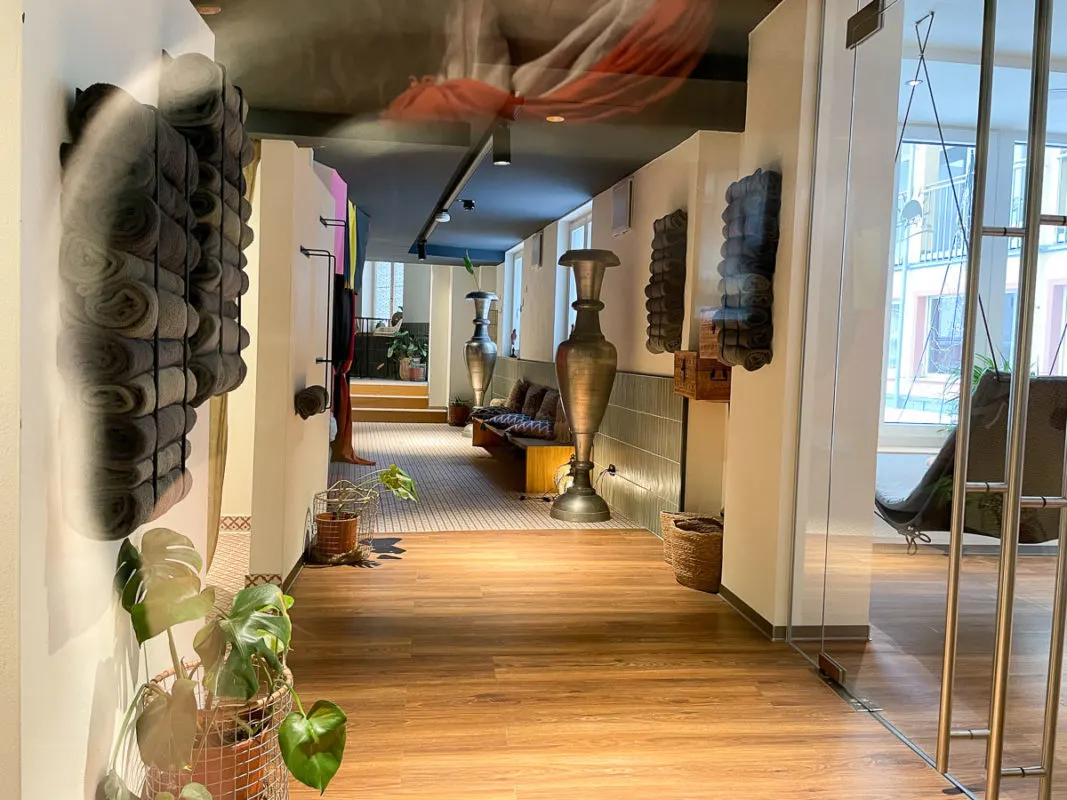 There you have it! We loved our stay at Hotel Sonne and highly recommend this hotel in Füssen. We booked our room here and didn't have to pay until we checked into the hotel. Click here to book your room – don't forget to add breakfast!
Our Pick
Hotel Sonne in Füssen
Pros:
Spacious rooms

Ensuite bathroom with large shower

Comfortable bed

Amazing breakfast

Near bus/trains and restaurants & shops

Excellent location but still quiet

Friendly staff

On-site parking

Easy to get to Neuschwanstein & Hohenschwangau castles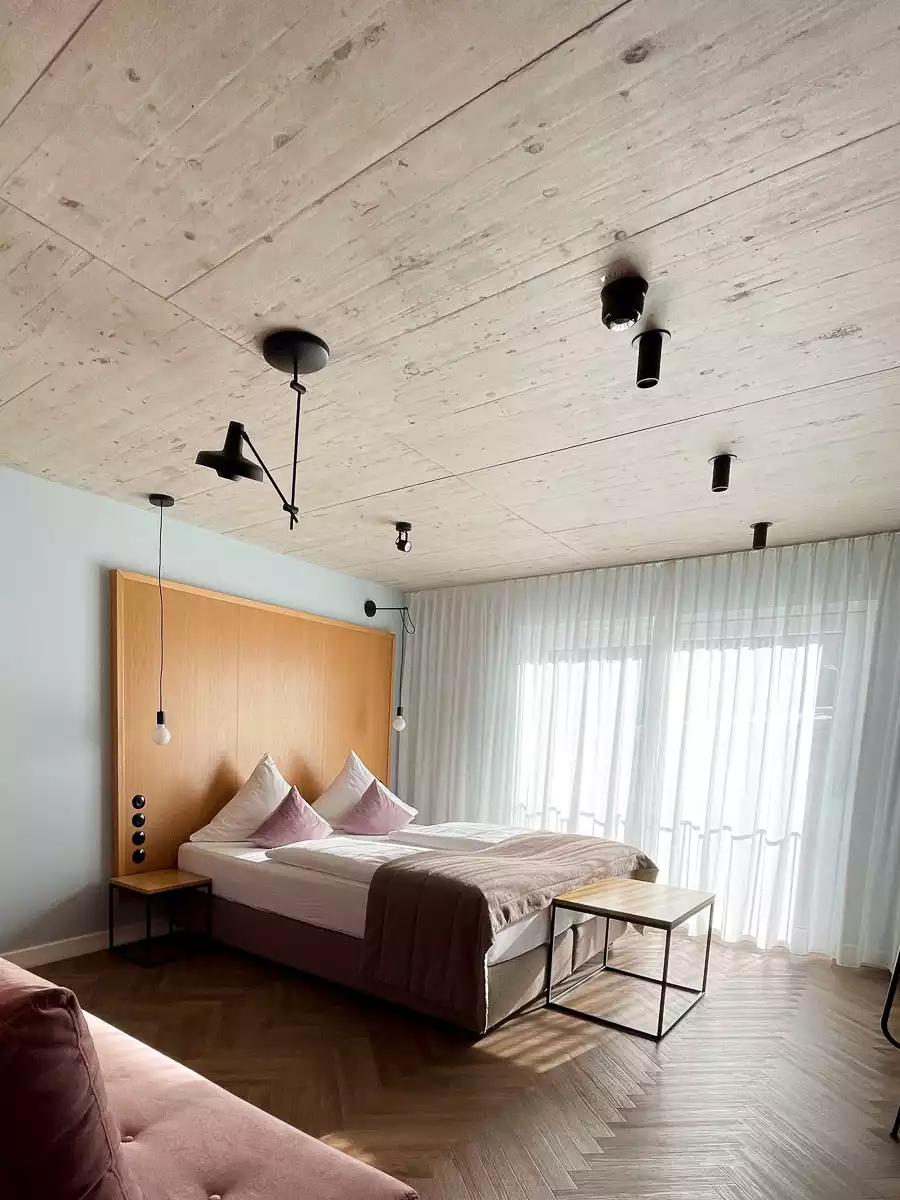 We earn a commission if you make a purchase, at no additional cost to you.
---
ULTIMATE GERMANY TRAVEL RESOURCES
We've gathered some of our essential travel guides, websites, and other information to help you plan the best vacation! We use these resources ourselves and share them to save you money, time, and stress so you can focus on enjoying and making the most out of your time in Germany.

GERMANY TRAVEL BUNDLE: Our Ultimate Germany Travel Bundle gives you the best tools, up-to-date tips, and expert insights to easily and efficiently tackle the travel planning process. You'll get our custom Trip Planning Map, which shows you the best sights, hotels, castles, and more – because seeing where things are in relation to each other makes trip planning SO much easier! You also get our Trip Planning Spreadsheet, City Cheatsheets, How-to Videos, Germany Trip Planning Guide, and Trip Planning Spreadsheet!

BOOKING FLIGHTS: To find the the best flights deals, we recommend checking Kayak, Skyscanner, Expedia, Travelocity. These websites are also great for getting rental cars.

ACCOMMODATIONS: We recommend using Booking.com since they have widest range of accommodations available from hostels, boutique hotels, luxury chains, aparthotels, at the best prices. For vacation homes, we suggest checking VRBO. We also have accommodation guides on different destinations (Hamburg, Cologne, Munich, Stuttgart, and more to come!) in our website.

TRAINS & BUSES: For point-to-point or regional train tickets (great for day trips or groups) within Germany, or tickets originating in Germany to other European destinations, we recommend buying them on the Deutsche Bahn (German Rail System) website. If you want to buy a rail pass for Germany (or elsewhere in Europe), buy them on Rail Europe. For buses, FlixBus offers tickets for routes within Germany and to other European countries. FlixBus is often cheaper than trains but can take longer.

TRAVEL CREDIT CARD: One of the best ways to make travel to Germany more affordable is by booking free flights. Using the points accrued with our Chase Ink credit card (and a few others), we haven't had to pay for flights to Europe in the past 10 years!

TICKETS AND TOURS: We always recommend exploring a new city for the first time with a Hop On Hop Off Bus tour (ride it all the way around for the entire 1.5-2 hour tour). Here is our guide on the best Hop On Hop Off Bus tours for different German cities. For guided walking tours, day trips, private tours, and skip-the-line tickets, Get Your Guide is our go to!

WHAT TO PACK: Not sure what to bring to Germany? Check out our 2-week minimalist packing guide for tips on traveling light, and our Germany packing list for our must-pack items. Bonus: check out our guides on finding the best travel purse and best travel scarf with a hidden security pocket.

TRAVEL CONSULT: If you feel like you need more help and guidance beyond these resources, book a travel consult with us! We offer personal live sessions where we'll help you with things like planning your itinerary, showing you how to book train or skip-the-line tickets, and answer any other questions you have about traveling to Germany.