Tips For Planning Your Neuschwanstein Day Trip From Munich
This post may contain affiliate links. Read my disclaimer policy.
Want to visit the Neuschwanstein Castle while in Munich? This guide will help you plan your perfect day trip!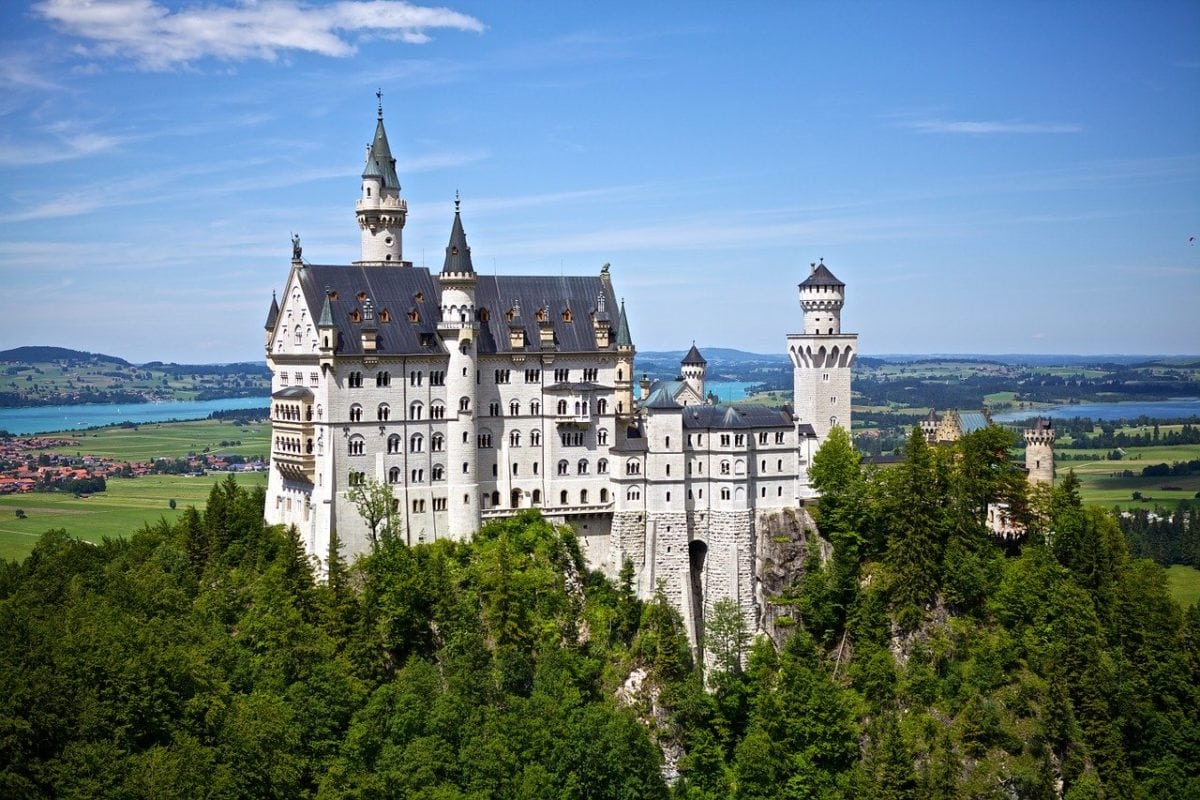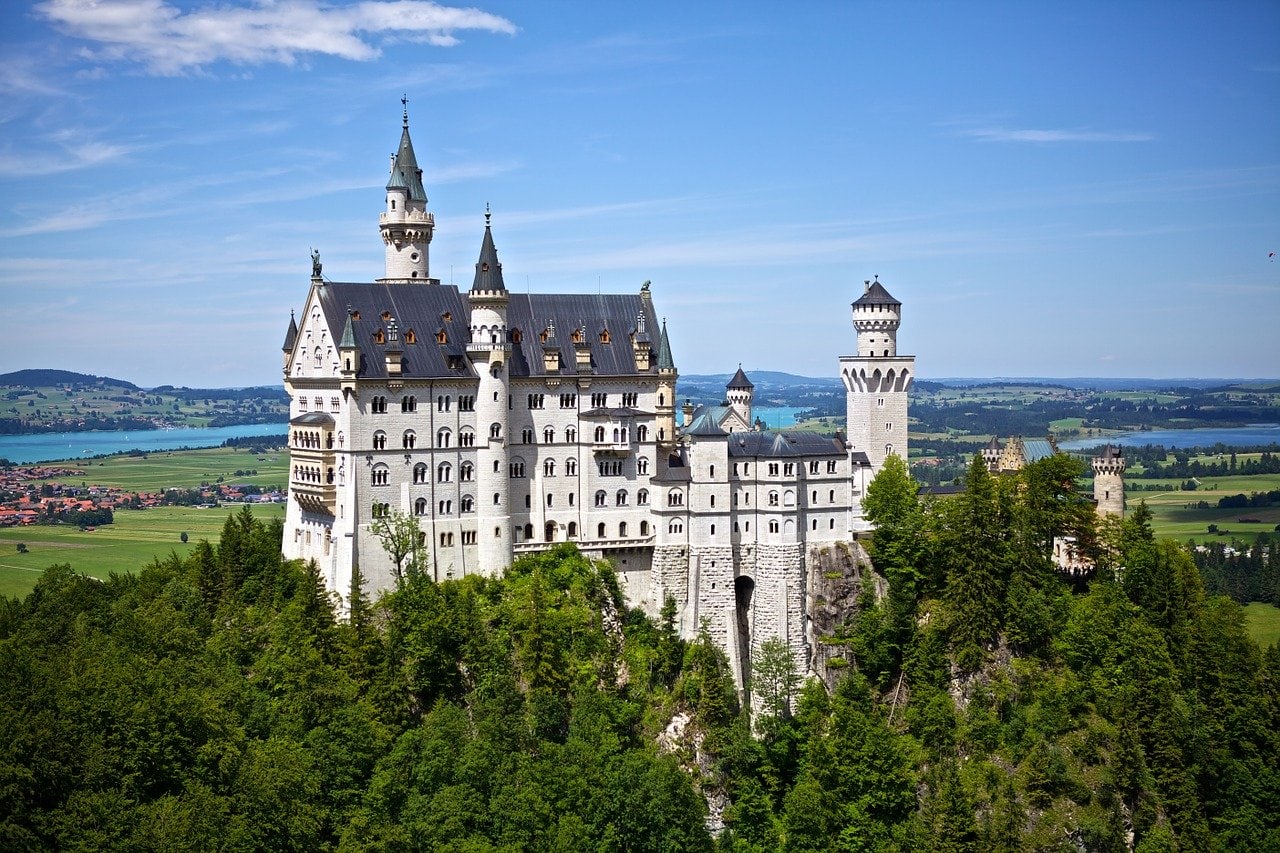 Bavaria has its fair share of beautiful castles, but Neuschwanstein Castle (Schloss Neuschwanstein in German) truly embodies a real-life fairy tale setting.
With its breathtaking landscape and fascinating history, it's easy to see why this is one of Germany's most popular places for travelers to visit and one of the top day trips from Munich.
When I finally made it to Neuschwanstein, I'd already been living in Germany for almost 3 years. Even though I'd already seen so much of Germany and had visited other castles, Neuschwanstein was THE castle I'd dreamed about visiting since I was a kid. It was a dream come true for me to see it in real life and I throughly enjoyed it.
Many visitors to Germany feel the same way. This famous castle attracts over 1.3 million people per year, with as many as 6,000 tourists per day in the summer time!
Neuschwanstein castle is truly breathtaking and the whole alpine area around the castle is stunning. Whether you visit in the summer, winter, spring or autumn, you'll be swept off your feet by this fairytale castle.
If you're not sure how to make the trip Neuschwanstein, this guide will help you choose the best option for you. Here's everything you need to know to plan your Neuschwanstein Castle day trip from Munich by car, public transportation or guided tour!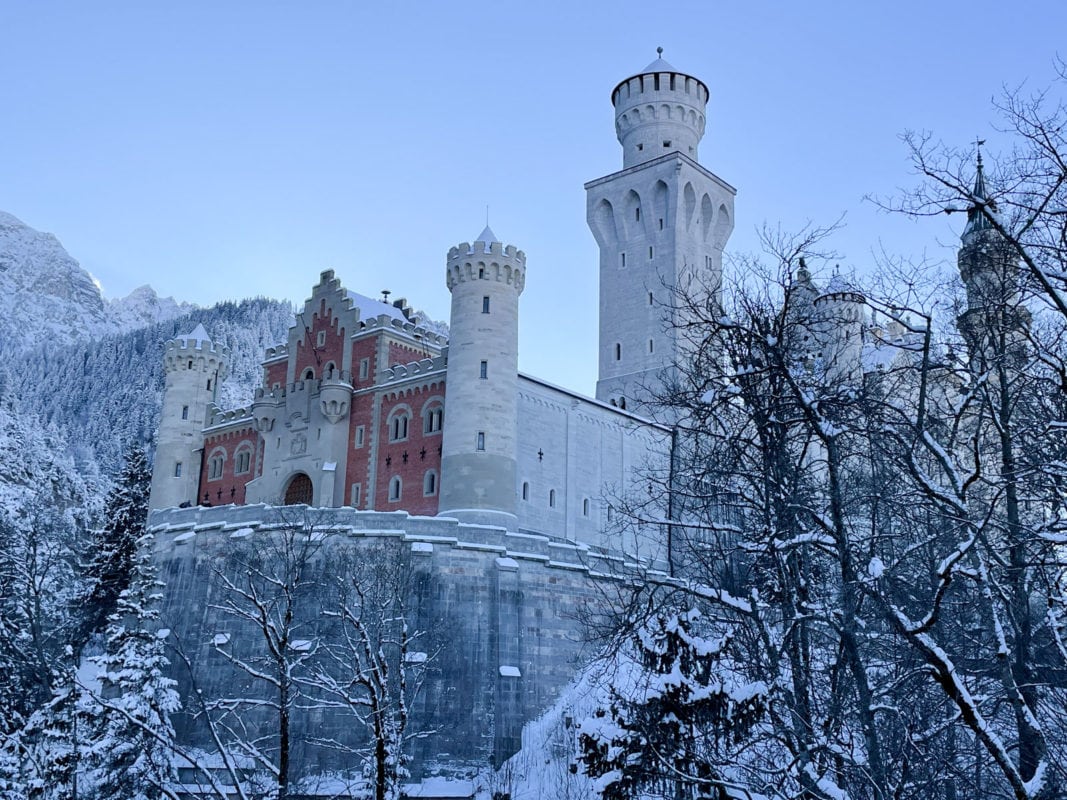 What is Neuschwanstein?
Neuschwanstein is a castle with a very interesting history. It was ordered to be built by King Ludwig II in 1868 but was actually never completed.
King Ludwig spent the majority of his childhood in the nearby Hohenschwangau Castle, a Neo-Gothic palace rebuilt by his father, King Maximillian II of Bavaria. Hohenschwangau Castle was filled with scenes from medieval legends and poetry.
This became a source of inspiration for King Ludwig as he set out to build his own fairytale castle. He had ambitious plans. Had it been finished, the castle would have had 200+ rooms but only 14 rooms are currently finished.
One of the castle's interesting facts is that despite its medieval style, it's actually equipped with the newest technological comforts of its time. This includes hot and cold running water, flushing toilets, central heating system, and even telephone lines.
The exterior is equally impressive. The castle boasts a white limestone façade and is furnished with dark blue turrets, towers, and balconies. Built on a rocky hill with a backdrop of the Alps, it's no wonder many artists were inspired by this magical scenery.
The most famous case is of course, Walt Disney. Two famous Disney castles, the Cinderella Castle and the Sleeping Beauty Castle, bear striking resemblance since they're rumored to be modeled after Neuschwanstein.
Where Is Neuschwanstein Castle?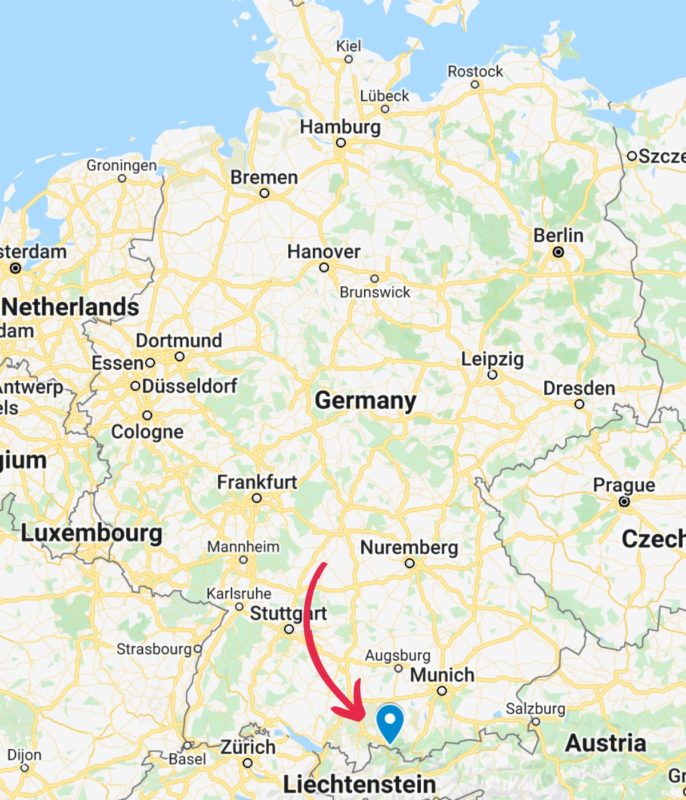 Neuschwanstein is located near the town of Füssen in southwest Bavaria. It's built atop a rocky hill overlooking the small village of Hohenschwangau.
The castle itself is surrounded by stunning scenery. It's nestled near the Bavarian Alps and looks out to the Alpsee lake.
Neuschwanstein is a popular day trip to take from Munich since it's the closest major city. That makes Munich a great home base to explore the surrounding area of Neuschwanstein. With some careful planning, you can visit Neuschwanstein castle on a day trip from Munich.
Speaking of Munich, our Munich travel guide will kickstart your travel planning and our 1 day in Munich itinerary or our 2+ days in Munich guide will help you figure out what to do and see. Looking for the best hotel for your visit to Munich? Click here for our Munich hotel guide!
You can also opt to stay overnight near the castle in Hohenschwangau or the neighboring towns of Schwangau or Füssen (we stayed in Füssen on our last visit). These are lovely small towns that give you a glimpse into life in the Bavarian countryside.
Hohenschwangau is very small but it's at the base of both Neuschwanstein and Hohenschwangau castles. Schwangau is nearby and a bit bigger. Füssen is the largest and has more sights, restaurants, cafes, etc. It's also where you'll arrive and depart from if you take the train from Munich.
If you're not sure whether to visit Neuschwanstein on a day trip from Munich or spend a few days in the area, keep reading!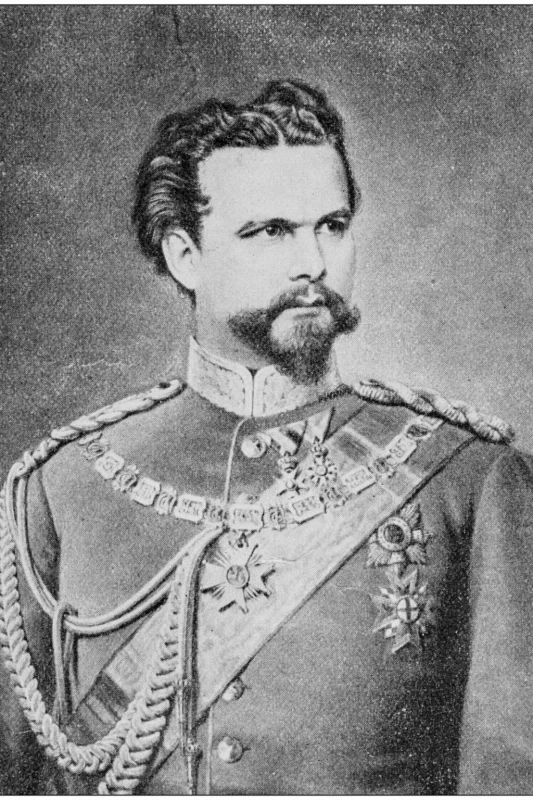 Who Was King Ludwig?
King Ludwig II was the King of Bavaria from 1864 until 1886. Though his reign was short, he led an eccentric life, earning himself various nicknames like the Swan King, Fairytale King, and even Mad King.
In 1866, Bavaria had lost a war against Prussia's expansion efforts. In turn, King Ludwig was stripped of his powers as a sovereign ruler. This drove him to retreat into his own fantasy world. He devoted himself to planning his kingdom, by building opulent castles where he could live out his ultimate fairy tale as a king.
He slowly withdrew from his royal duties and dedicated his time to his grand architecture projects and his patronage of Richard Wagner, a famous German composer, who greatly inspired Neuschwanstein.
Unfortunately, construction was slow and expensive. King Ludwig spent all his royal revenue and borrowed state funds. This earned him a lot of scrutiny and he was eventually declared insane. He was taken into custody and was found dead the following day.
His mysterious death was ruled a suicide, but others suspect it was murder. In the end, he never saw Neuschwanstein in its final state. Shortly after, the castle was opened to the public and quickly became a popular destination.
How To Visit Neuschwanstein from Munich
From cars, to trains or buses, or a guided tour, you have a few different modes of transportation to choose from. Here are the different ways to get to Neuschwanstein Castle from Munich.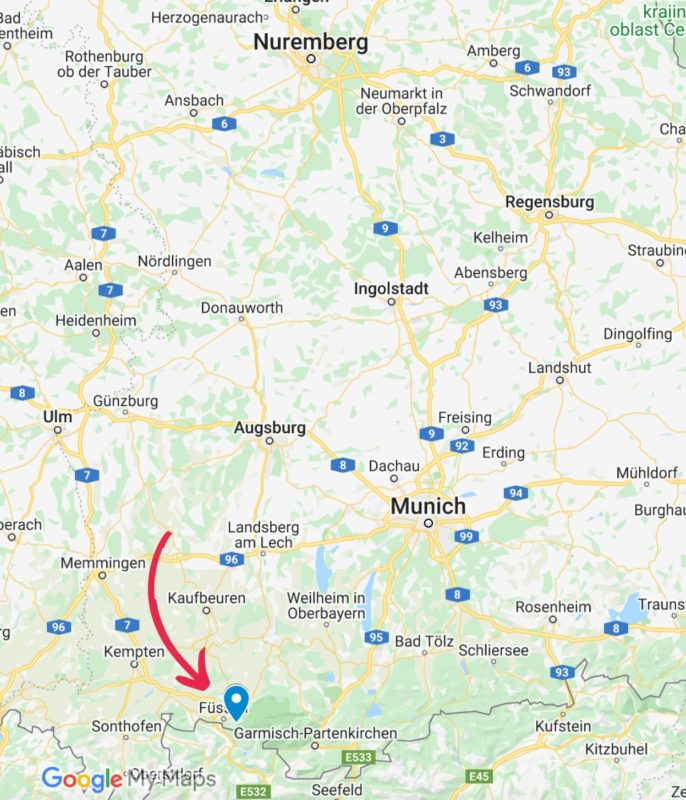 Car: The Most Flexible Option
Driving is probably the most direct and flexible way of getting to Neuschwanstein. You can easily rent a car from the Munich airport or other car rentals throughout the city. The drive is approximately 75 miles or around 2 hours.
We've rented cars in Germany many times over the years and have found driving there easy. According to the castle's official website, to get to Neuschwanstein from Munich, take the A7 motorway heading towards Ulm-Kempten-Füssen until you reach the end. Once you get to Füssen, take the B17 road to Schwangau and follow the signs to Hohenschwangau.
You can also take the A7 motorway and exit at Kempten. From there, follow the B12 road to Marktoberdorf and then the B16 to Roßhaupten (OAL I to Buching). And then same as the other route, taking B17 will lead you Schwangau and Hohenschwangau.
Having a rental car is great for those who like following their own schedule. Plus, you can personalize your itinerary, add any other stops along the way, and have the experience of driving on the famous Autobahn!
If you can park at your hotel or apartment in Munich, renting a car to take one or more day trips could be a good idea. If, however, you're mostly visiting big cities or will only drive to Neuschwanstein, taking public transportation or a guided tour could be a better way to go.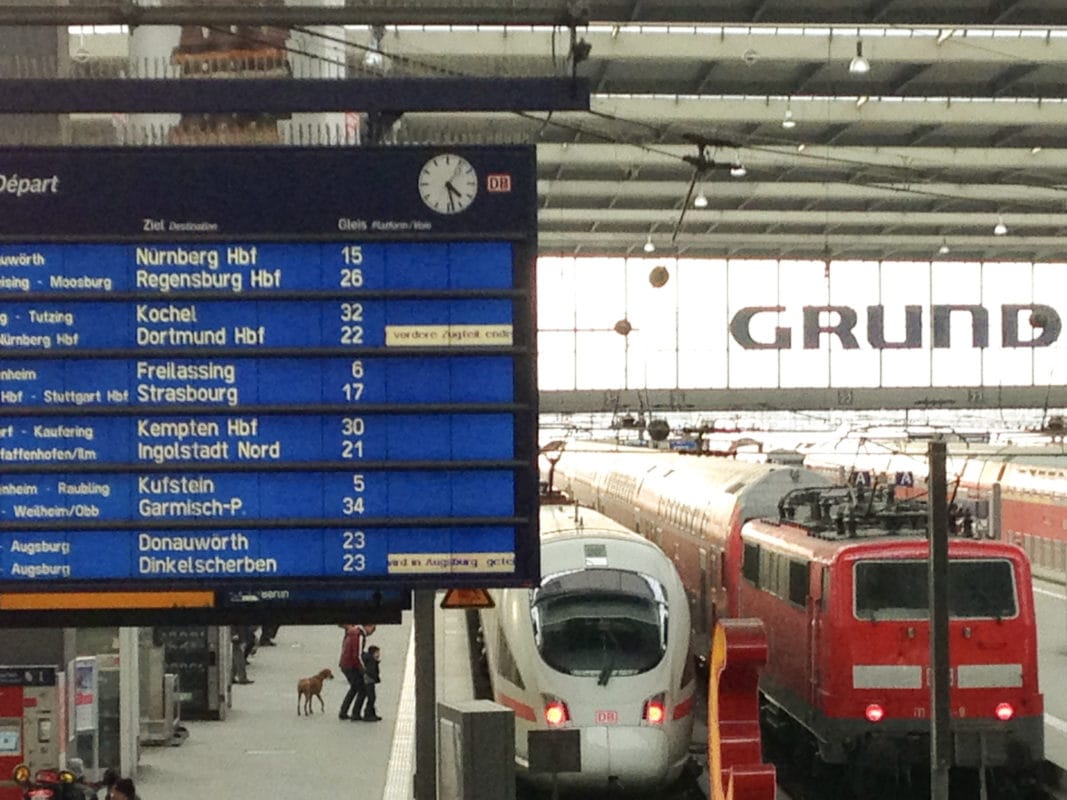 Public Transportation: The Cheapest Option
Unfortunately, there's no direct route from Munich to Neuschwanstein via public transportation. The good news is that it's a fairly easy trip and can be broken into two legs: first, a train ride from Munich HBF (Munich Hauptbahnhof / Munich's Main Train Station) to Füssen and then, a short bus ride from Füssen to Hohenschwangau.
We highly recommend buying a Bayern Ticket. This regional train ticket gives you unlimited trips on regional trains within Bavaria for up to 5 people a day. It'll save you so much money since you can use it for both legs of the trip (as long as they're both completed in 1 day) – and kids under 5 ride for free!
You can buy your Bayern ticket here online (this is where we buy our tickets) or in person at the train station. Do note that you can't use the ticket before 9am Monday through Friday but you can use it anytime on weekends. Since it's only valid on regional trains, you can't make seat reservations.
After buying your Bayern ticket, begin your journey from Munich central station. There are trains to Füssen every 1-2 hours. Some are direct, while others require one change of trains. The journey time is also about 2 hours. Pick up a snack in the Munich train station before getting on the train and enjoy the beautiful scenery on the way!
Once you arrive in Füssen, it'll be easy to spot crowds of tourists exiting the train station and heading across the street to the bus stop. The buses run regularly and are timed to leave shortly after the train arrives. Take the bus number 78 heading to Schwangau. It brings you to Hohenschwangau in around 15 minutes.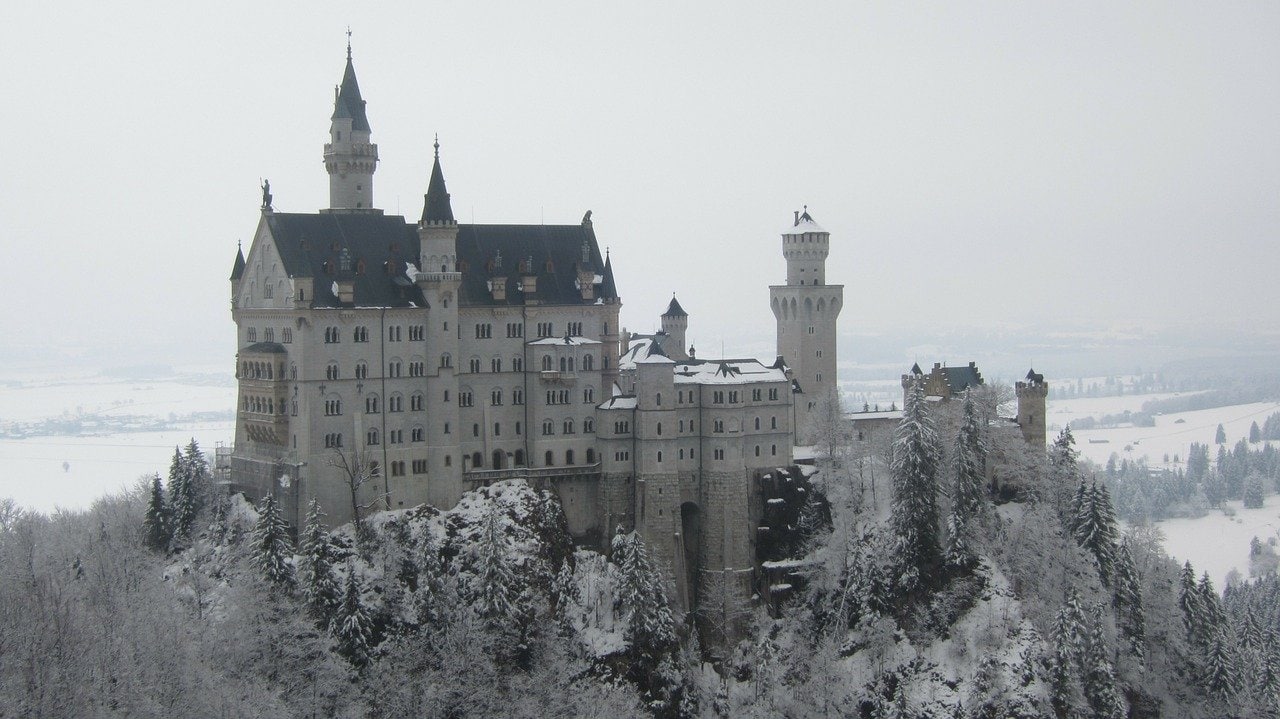 Guided Tour: The Easiest Option
If you want to skip the stress of arranging transportation, getting to the train station, and finding your way to the castle, then booking a day tour is the best way to go. After years of always arranging everything myself, I've started taking some guided day tours when traveling alone. It's just so easy! Plus, it's fun to meet and talk with others on the tour, and I always learn something new from the guide.
This option is also super convenient if you're traveling as a family with kids or a large group. Taking public transportation is doable but it might be tiring. And if a train is late, or if it's crowded, or if you just didn't sleep well the night before, the added stress could put a huge damper on the entire day. With a tour, all you have to worry about is enjoying your trip!
One of the highly-rated tours you can take is a day trip from Munich to Neuschwanstein and Linderhof Palace.
You'll board an air-conditioned bus and travel from Munich to the first stop, Linderhof Palace. Though this palace is less known, it's as beautiful as Neuschwanstein and where King Ludwig actually spent most of his time.
The tour then takes you to the small town of Oberammergau and Schwangau, before arriving at Neuschwanstein. With all the additional stops, this tour is a great way to maximize the convenience of private transportation and visit more sights than you're likely able to do on your own.
If you'd prefer a tour with no detours, you can book this full-day guided trip from Munich to Neuschwanstein. This is more of a private tour, done in small groups and in a private vehicle. If you're traveling with a small group of friends or as a family, this could be perfect for you.
Aside from Neuschwanstein Castle, this 9-hour full-day tour includes visiting the Church of Wieskirch, a UNESCO World Heritage Site, and trying out a cheese and sausage platter at a Bavarian farm.
How to Buy Neuschwanstein Castle Tickets
Neuschwanstein Castle can only be visited with a 25-minute guided tour. The tickets for the guided tour can either be bought on site at the official Ticket Center at Hohenschwangau or reserved online from their official website.
The tickets sell out quickly onsite. There is only a limited amount of tickets available for the day and by morning they're mostly sold out.
That's why we highly recommend you purchase tickets online here. You can reserve your timed-entry ticket in advance. Currently, the adult tickets cost €15,00 plus a service fee and they only accept payment via credit card and PayPal.
The last time we visited Neuschwanstein (in mid-December), tickets were sold out a couple weeks in advance. If you're visiting during busy seasons, book tickets several weeks or even a couple months in advance, especially if you need tickets for a specific day and time.
The guided tour of the castle takes around 25 minutes and is offered in German and English. There aren't many live English tours but they offer portable audio guide devices in English and other languages, free of charge. So as long as you don't book the live German tour (unless you speak German, of course), you should be ok.
We did a live English tour of Neuschwanstein and a guided audio tour of Hohenschwangau. Both tours were great and the live English tour really wasn't any better than the audio tour.
Pro tip: If you're taking a guided day trip, make sure to double check if the castle entrance fees are actually included in the package! Some aren't included but you can purchase tickets when you book the day trip or on the day of the excursion.
What to Expect at Neuschwanstein Castle
Here are some additional things you should know to help you prepare for your trip:
If you're getting there by car, you can't drive directly to Neuschwanstein Castle. The public roads are closed for all vehicles. You'll have to park in Hohenschwangau. There are 4 parking lots in the village with different parking spaces for cars, buses, motorcycles, and even mobile homes. The fee for cars is about €8,00 for up to 6 hours.
Be ready to do a lot of walking. To get to the castle, you can go there on foot. This uphill walk up a steep hill takes around 45-60 minutes from the ticket center. It's a hike but do-able if you enjoy walking.
Be sure to give yourself plenty of time to walk up to the castle! Not only is it uphill, the area is beautiful and you'll want to stop and take lots of photos. Keep an eye on the time, though, because you do not want to miss your entry time into the castle.
Luckily, there's other options if you don't want to hike up the hill. For an extra cost of around €3,00 per person, you can take a roundtrip shuttle bus. It doesn't go directly to the castle, but it brings you to Marienbrücke, a lookout point that's 10-15 minutes away from the castle entrance. The shuttle does not run when there's snow and ice, though. And there could be long lines of people waiting for the shuttle, so allow for that in your planning.
If you want to add to the fairytale experience, you can opt for a horse carriage ride. Going uphill costs €7,00 and downhill costs €3,50 per person. Like the shuttle bus, it drops you off 10-15 minutes away from the entrance. I've taken this down the hill a few times and it's fun. There's always a line for the carriage so if you want to take it up the hill, get in line a couple hours before your entry time.
For the tour of Neuschwanstein Castle itself, you can only enter at the specified time on your ticket. Be sure to plan accordingly and arrive on time since you can't get a refund or change the times of your ticket.
Also, keep in mind that you're not allowed to take any photographs inside. But don't worry! You can take tons of impressive photographs of the castle's exterior from various trails and lookout points like the Marienbrücke bridge.
Day Trip or Stay Overnight?
Can you visit Neuschwanstein on a day trip from Munich? Yes! However, if you want to tour both Neuschwanstein and Hohenschwangau castles, walk around the lake or explore Füssen, I recommend spending at least 1 night in the area.
What to Wear & Bring With You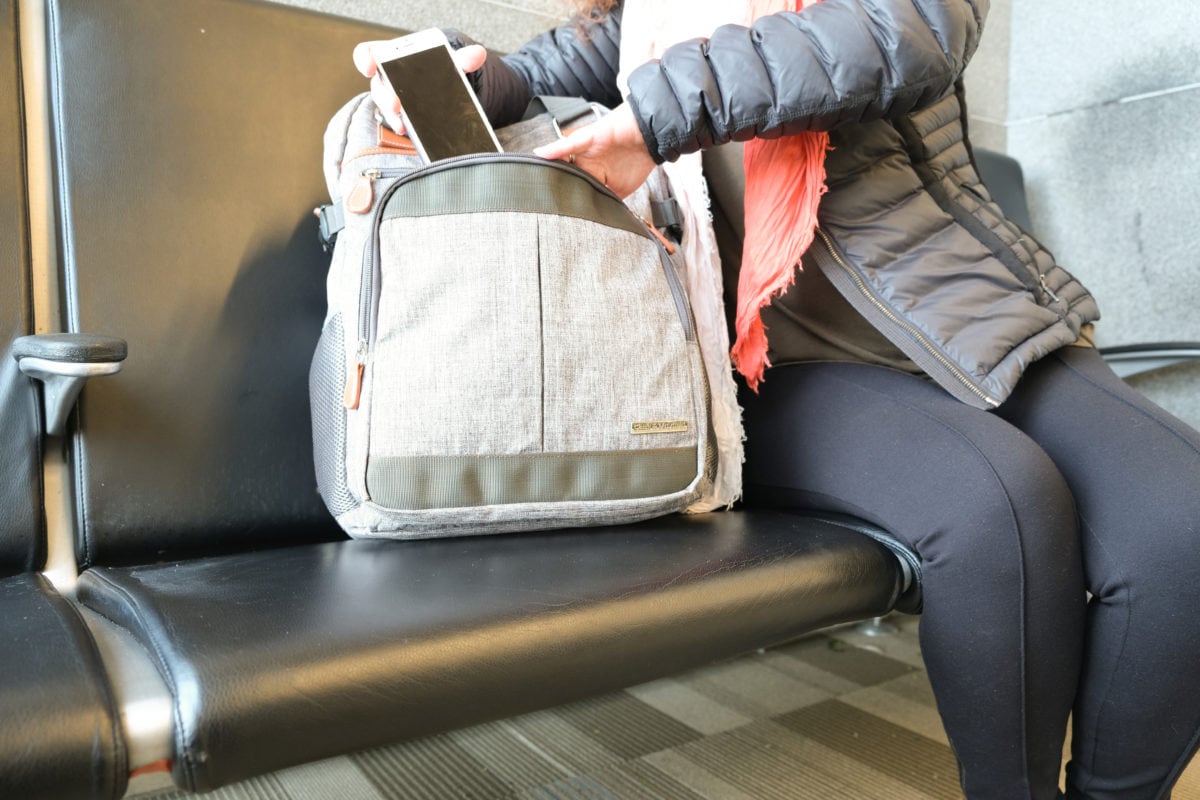 Layers. Dressing in comfortable layers is so important when you travel and especially on a day trip when you can't easily drop by your hotel to drop off a coat or pick up a sweater. Being able to easily take off or add layers will make your day trip so much more enjoyable.
Comfortable shoes. If you're visiting Neuschwanstein on a full-day trip from Munich, you'll do a lot of walking on various types of surfaces – cobblestones, pavement, gravel, etc. Do your feet a favor and wear your most comfortable shoes.
Backpack, day bag or travel purse. Bring one that will hold what you need for the day but isn't too heavy or uncomfortable to wear all day. Bigger isn't always better, especially when the weather is on the hotter side or if you're traveling to places that are likely to be crowded (like Neuschwanstein). Note: the Neuschwanstein website indicates that "rucksacks" are not permitted and requests that you leave them in the car. Keep this in mind if traveling by public transportation!
Umbrella? Some people find this necessary, others do not.
Snacks. It's always a good idea to bring a few snacks with you – an apple, a granola bar, a bottle of water, etc.
Back-up battery for your phone. This is a must! If you're taking photos, videos, listening to music, watching videos, or reading on your phone, you'll run down your battery super fast. When I travel, I always bring a back-up battery and use it to recharge my phone about half way through the day. Tip: make sure to charge both your phone and your back-up battery the night before your day trip!
Ear phones/buds. Not only for watching videos or listening to podcasts or music, you can often listen to audio tours through your phone.
Phone, ipad, camera, etc. Self explanatory!
A travel journal. So you can jot down notes and observations during the day! I do just about everything on my phone but I still always keep a journal when I travel. There's just something about putting pen to paper while traveling that is so satisfying and relaxing. And I always appreciate those journals months or years after my trip. This is the travel journal I use (spoiler alert…I designed it ?)!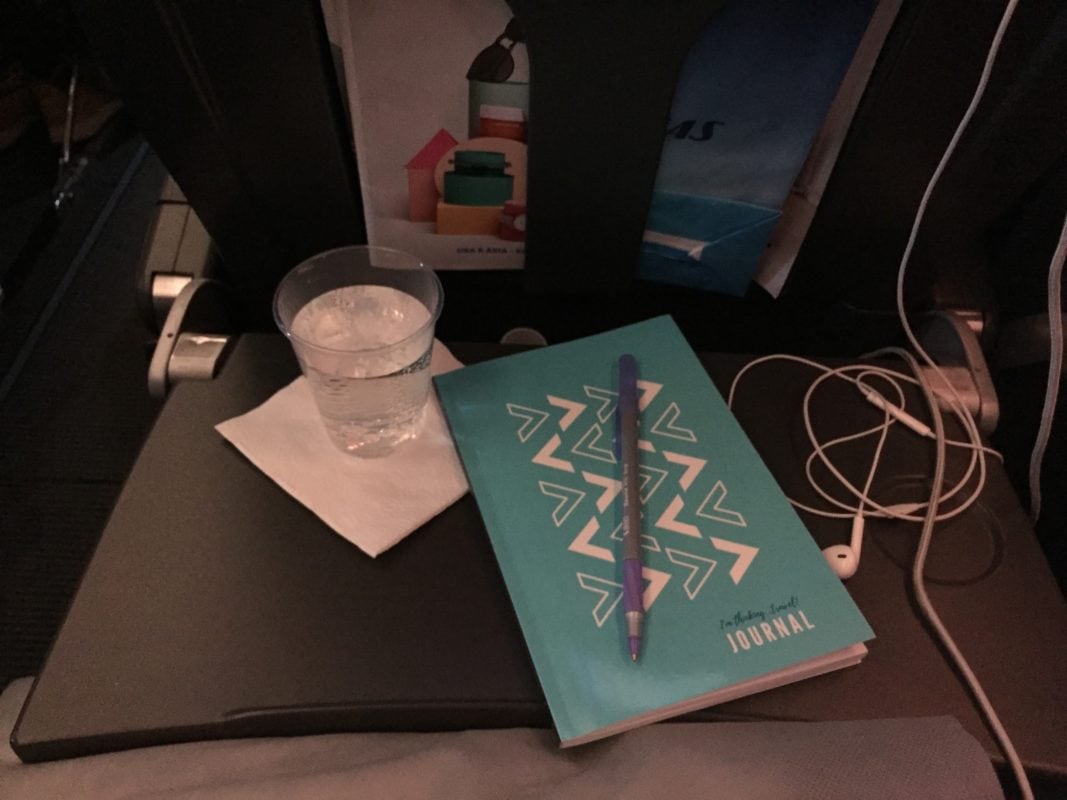 Other Day Trips from Munich
If you have more time in Munich and want to explore the area, here are 3 other great day trips to look into:
1. Dachau Concentration Camp Memorial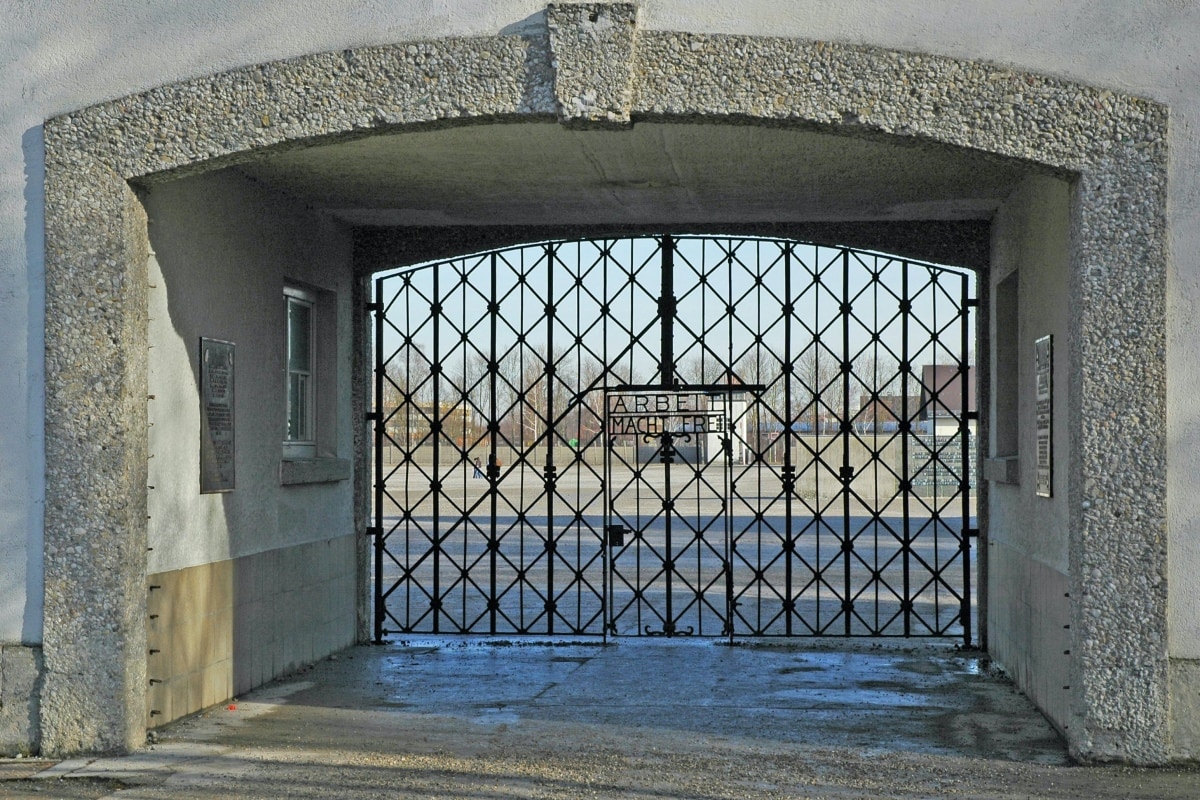 If you want tour that doesn't take the whole day, Dachau Concentration Camp is a 40-minute U-bahn ride away from the city center. The former concentration camp recalls the dark period of the Nazi era and is a memorial to honor the victims who suffered during this time. If you've never visited a concentration camp before, I highly recommend visiting Dachau. Book your tour led by a professional guide here.
2. The Romantic Road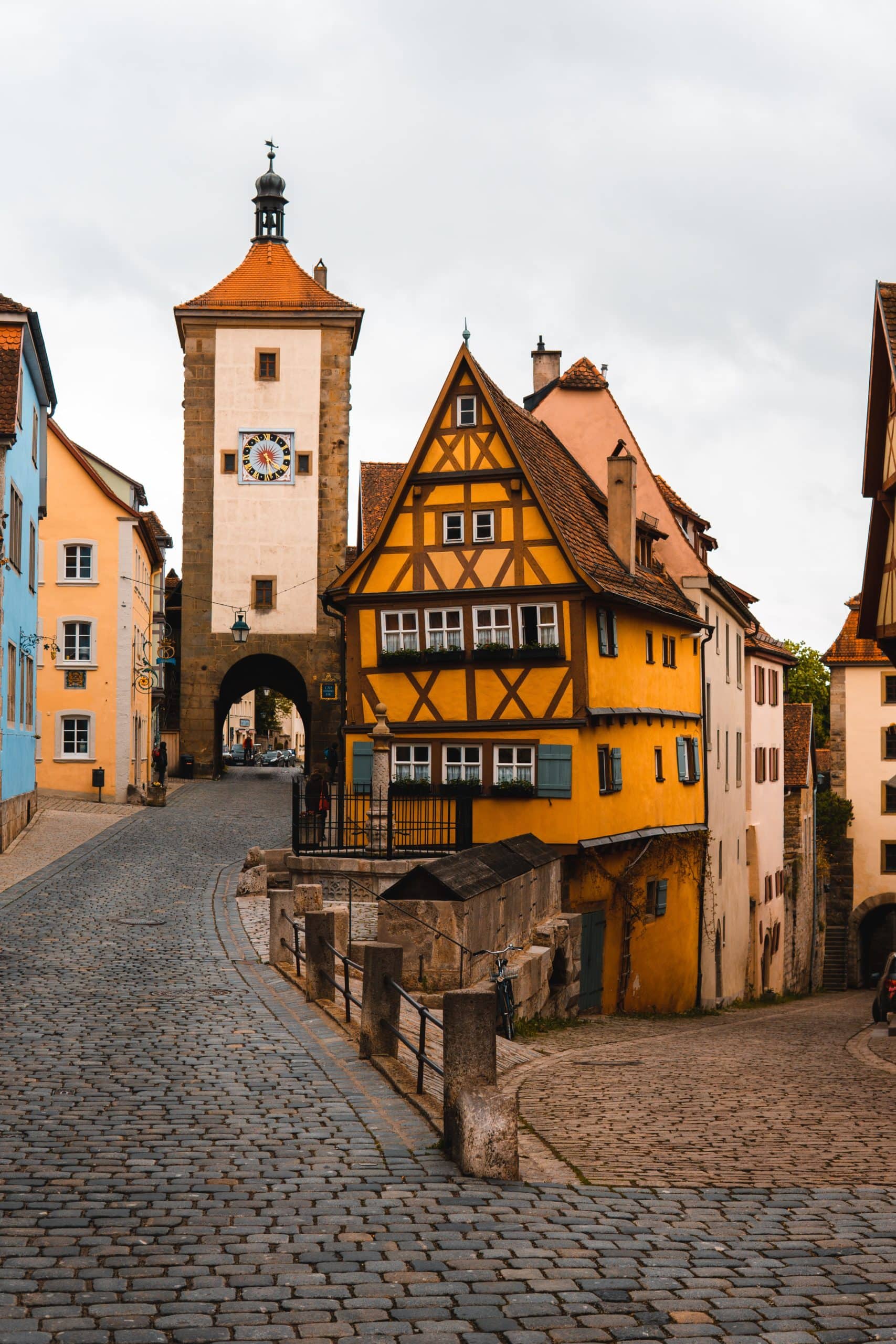 If you want to cross even more German castles off your bucket list, check out this guided trip through Romantic Road. This tour begins at Harburg Castle, one of the oldest castles in Germany, and ends in Rothenburg, a well-preserved charming medieval town. This is a beautiful part of Germany to explore!
3. Salzburg, Austria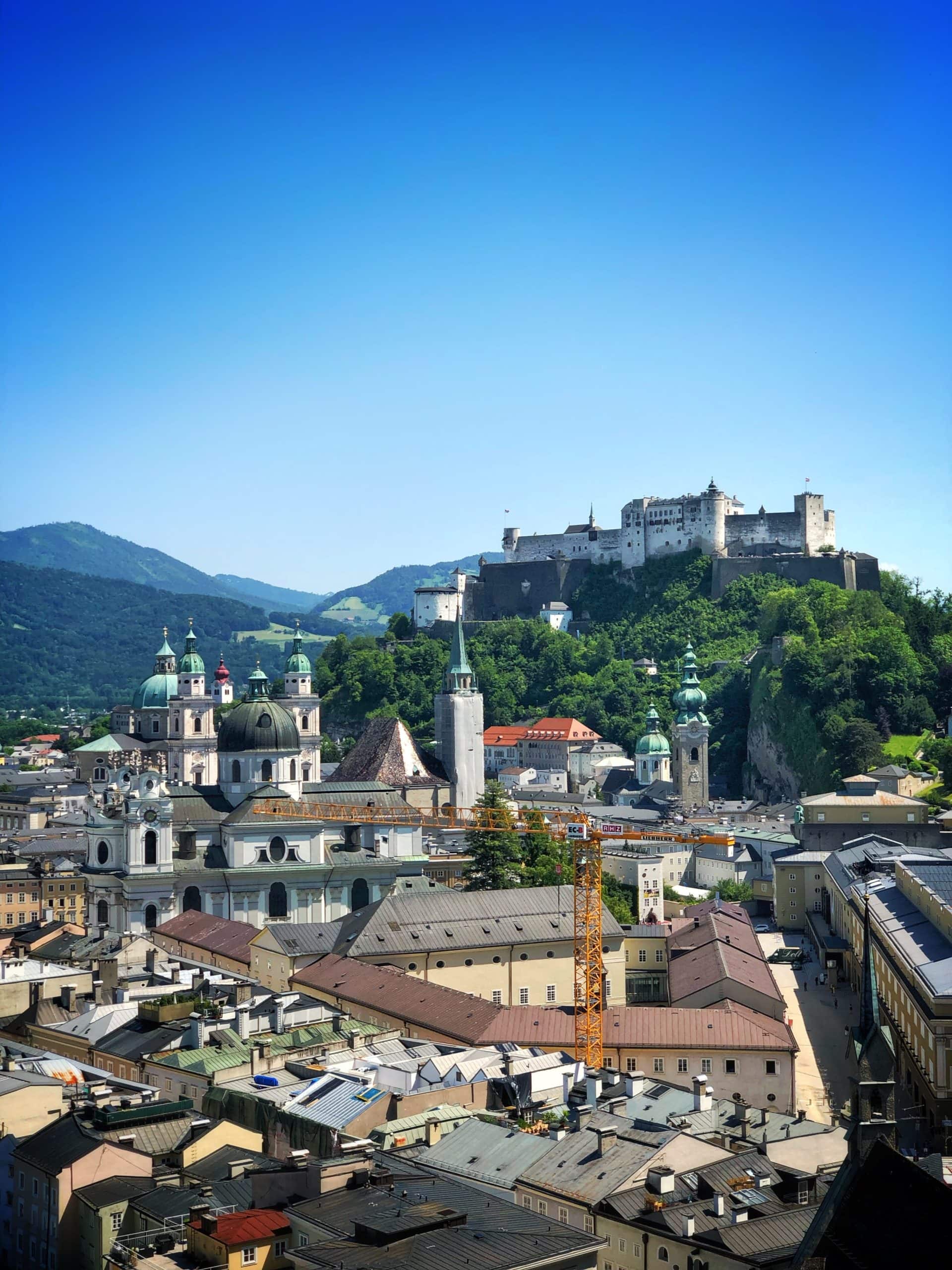 Want to explore another city outside of Germany? Then book this day trip from Munich to Salzburg, Austria here. This world famous destination is celebrated as the hometown of Mozart and the setting of "The Sound of Music." Salzburg is only a few hours a way and a fun city to explore!