What to Do in Munich in 1 Day: the Perfect Itinerary for 2023
This post may contain affiliate links. Read my disclaimer policy.
Want to visit Munich but only have one day? No problem! This article will help you plan your perfect day in Munich!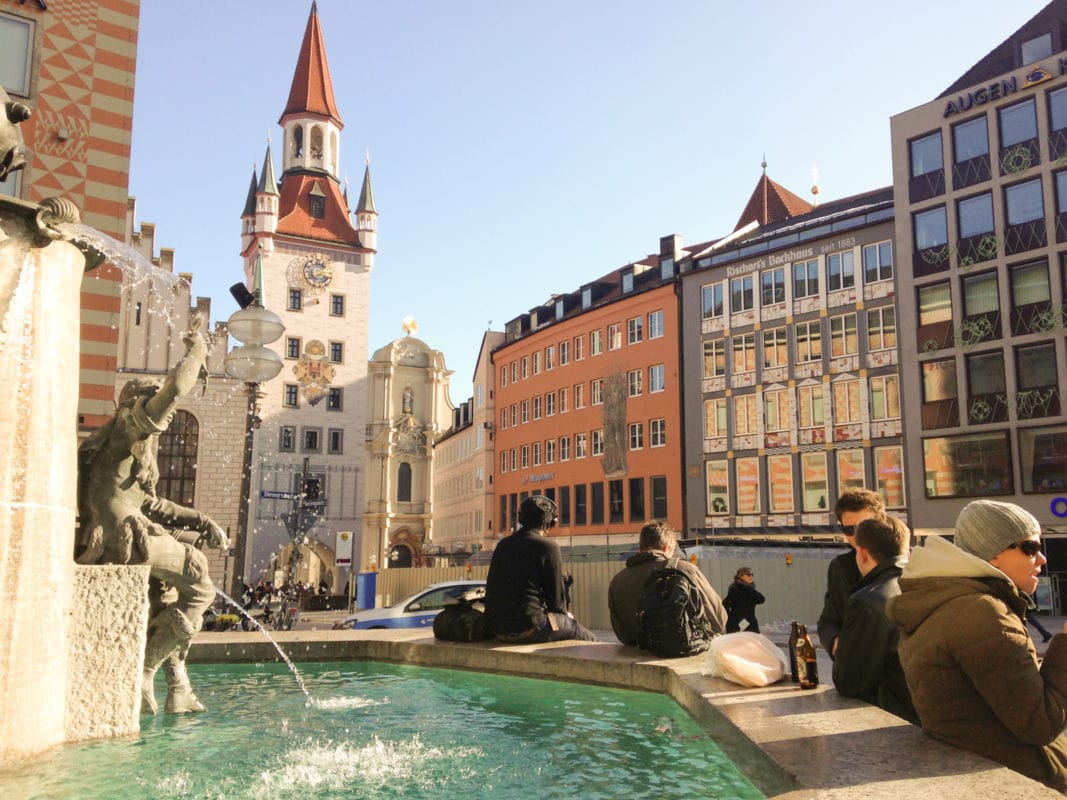 Why Visit Munich?
As the capital of Bavaria and also the third largest city in Germany, it's no surprise that Munich has become one of the most popular city destinations in Germany.
And for good reason: you'll never run out of places to see and things to do in this wonderful city!
Because of this though it can be a challenge to narrow down the best places to visit if you're on a time crunch. But the good thing is that you'll have a lot of options to choose from.
Scenic views, beautiful architecture, good beer and delicious food, historic sites – you name it, Munich has it!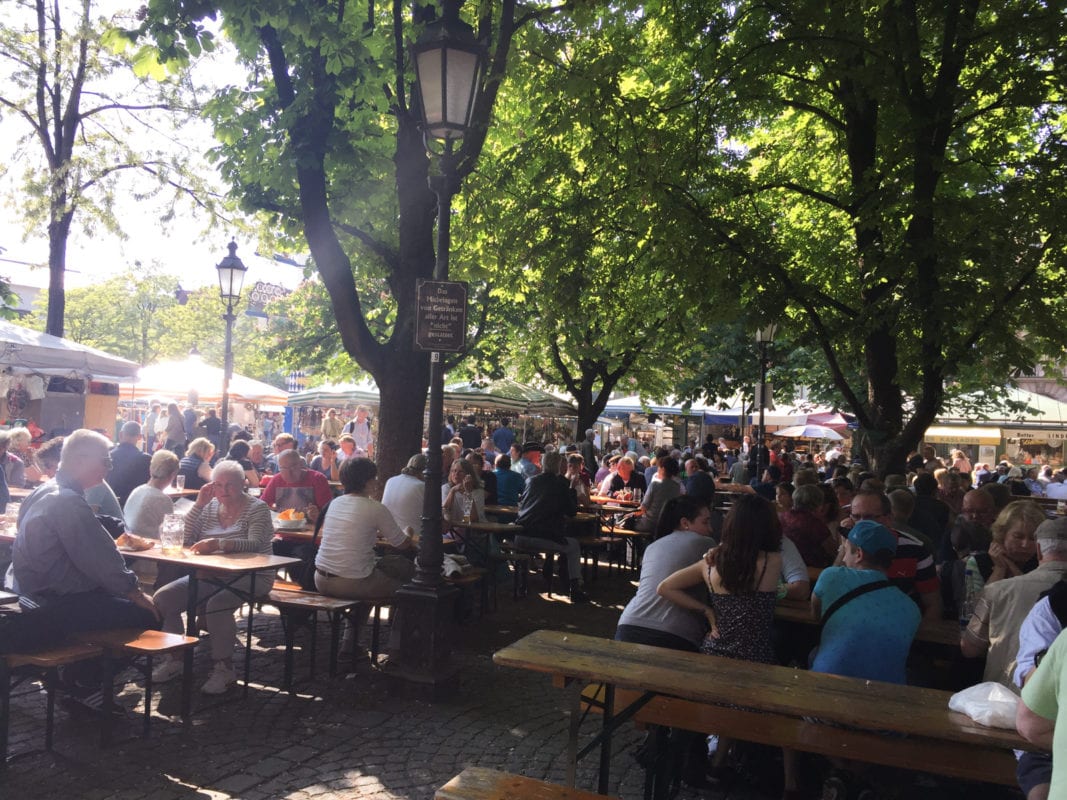 Even if you think you won't have much time to see everything, with some careful planning you're guaranteed to have an amazing time.
My very first two visits to Munich were just for the day and I was able to see quite a bit each time – and on one of those visits I made it to both Dachau and Oktoberfest!
So whether you find yourself in the city for a short amount of time because of a layover or maybe you're passing by on your way to other German cities, we hope this article will help you plan your one day itinerary to make the most out of your trip to Munich!
When to Visit Munich
If you're only in the city for a day, chances are you won't have much control of how the weather will be like during your stay. But if you're planning ahead, it still helps to have a general idea of each season to choose what time of the year you want to see Munich in.
Since Munich is known worldwide for Oktoberfest, it's not a surprise that many tourists plan to visit during the fall season. If you're visiting during mid- to late-September until early October, accommodations and flights will be at their highest.
Another tradition that brings in people from all over are Christmas markets in December. Winter is not only the best time to celebrate the holidays but it's also a smart option for those who want to avoid peak season by visiting during late January and February.
If you're not one for cold, snowy weather, then spring is a better choice. There are still odd rainy and windy days here and there, but you'll be able to witness the city coming back to life and gearing up for warmer days ahead.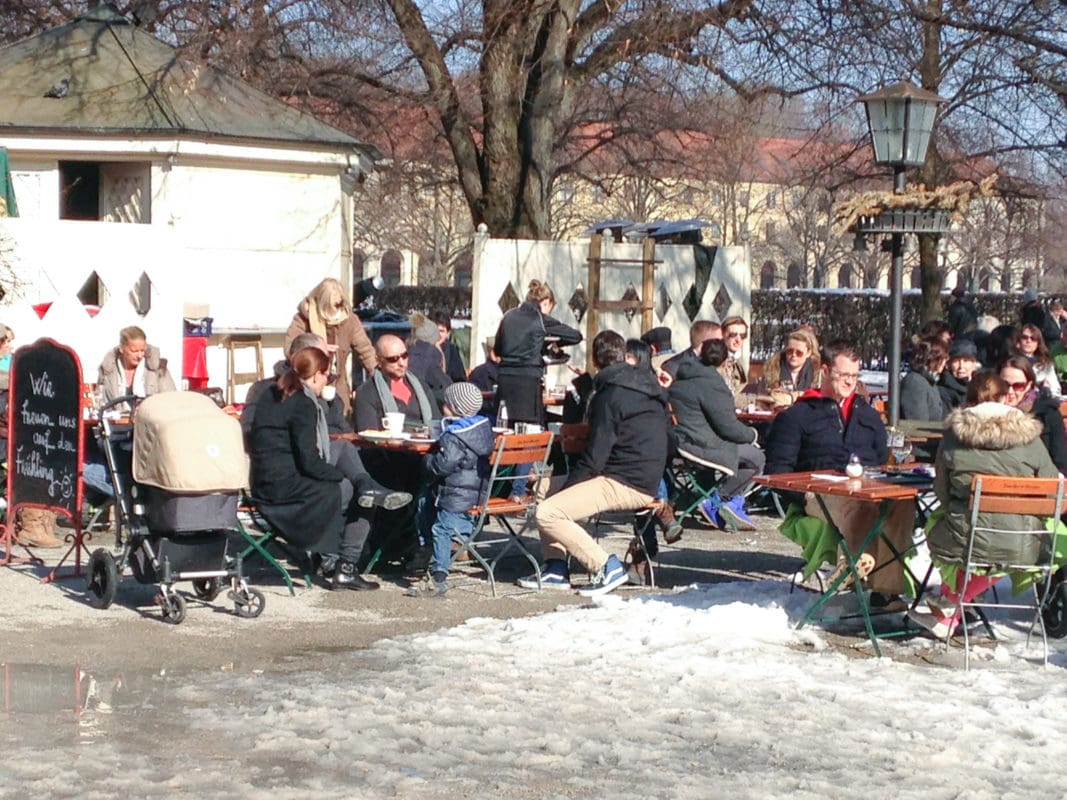 The summer months of June to August lets you experience Munich under warm, sunny days. The heat can reach very high temperatures and popular attractions might be crowded so keep this in mind if you're visiting during this time.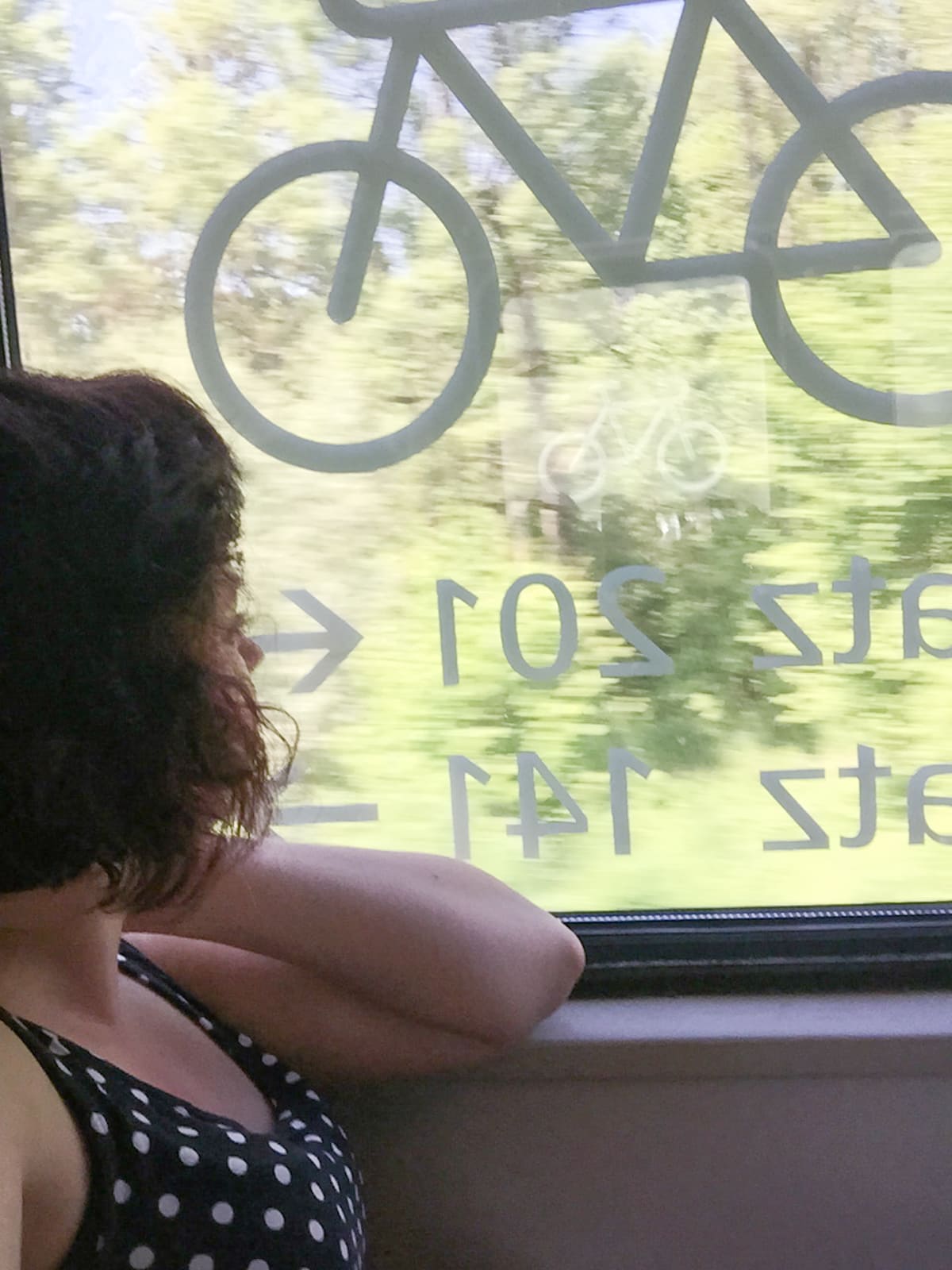 Getting to Munich
As Munich has become a huge tourist destination over the past years, getting to the city has also become easier and more accessible. Munich Airport, Germany's second busiest airport, sees daily arrivals and departures from all over the world from all airlines.
I've flown into Munich direct from the US and found the airport easy to navigate. To get into city center you can take public transportation, a taxi or book a convenient airport transfer here.
Can you visit Munich on a long airport layover? Maybe. If you arrive early in the morning and fly out late in the evening you could probably make it happen. Be sure to factor in things like going through passport control, getting to/from the airport, storing your luggage at the airport or train station, going through security before your next flight…and jet lag if you're arriving from several timezones away!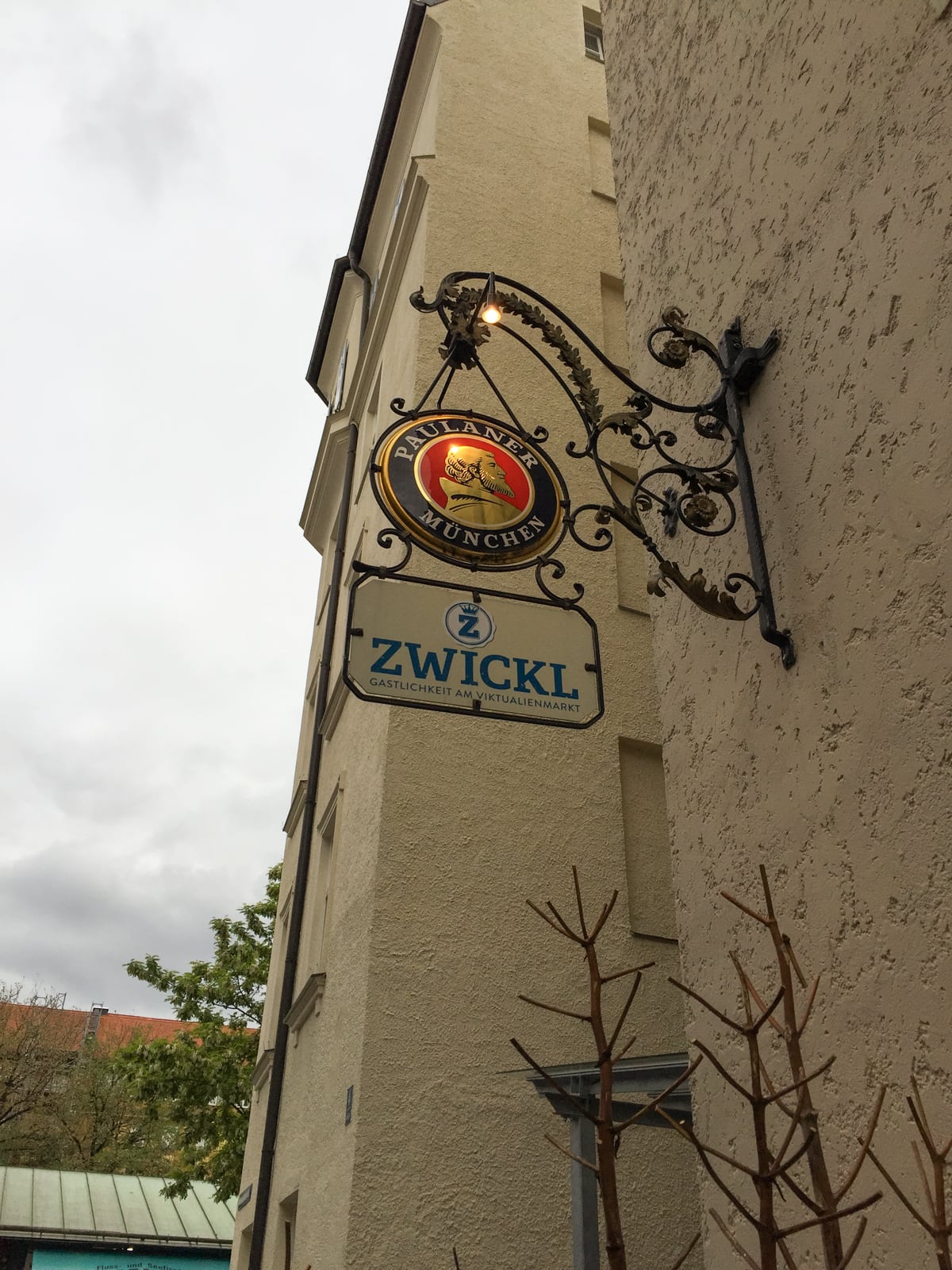 If you're traveling from a nearby city in Germany the train is a great way to get to Munich. If you're traveling from elsewhere in Europe it might take longer than flying but it's a great eco-friendly alternative that also lets you see the countryside. The Deutsche Bahn (German rail) system is well connected and will lead you all the way to Munich's central train station, München Hauptbahnhof.
And depending on the ticket you buy, you could easily schedule a multi-hour layover in Munich on your way to another destination. We've done this so many times! Be sure to either book a ticket that will allow you to take any train you want on your chosen day of travel or book a ticket on a specific train to Munich and then another ticket from Munich to your final destination.
Busses are another option and one that's more popular these days than in the past. We typically favor trains or driving rental cars but busses can be an economical and fairly comfortable way to travel. The bus station is right next to the main train station.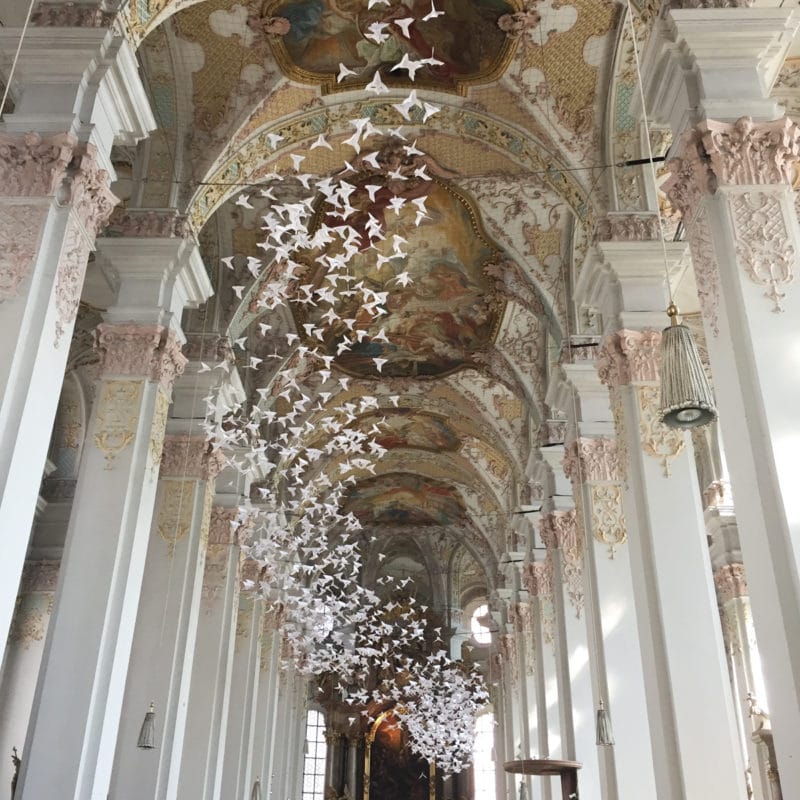 Where to Stay in Munich
If you're in Munich for a day trip then accommodations are likely not a priority in planning your itinerary. But if you have the opportunity to stay over a night or two to have a full day in Munich, choosing a centrally located hotel will make sightseeing around the city so much easier.
The city center is the ideal place to stay in because you'll be just a stone's throw away from many of the major attractions and must see tourist spots. I've stayed in both city center hotels near Marianplatz and in a neighborhood apartment. For short trips I prefer to stay in or near the city center (the apartment was for a longer work trip).
Luckily, there are many hotels for all budgets located right at the heart of Munich. Read our article on the best places to stay in when visiting Munich here.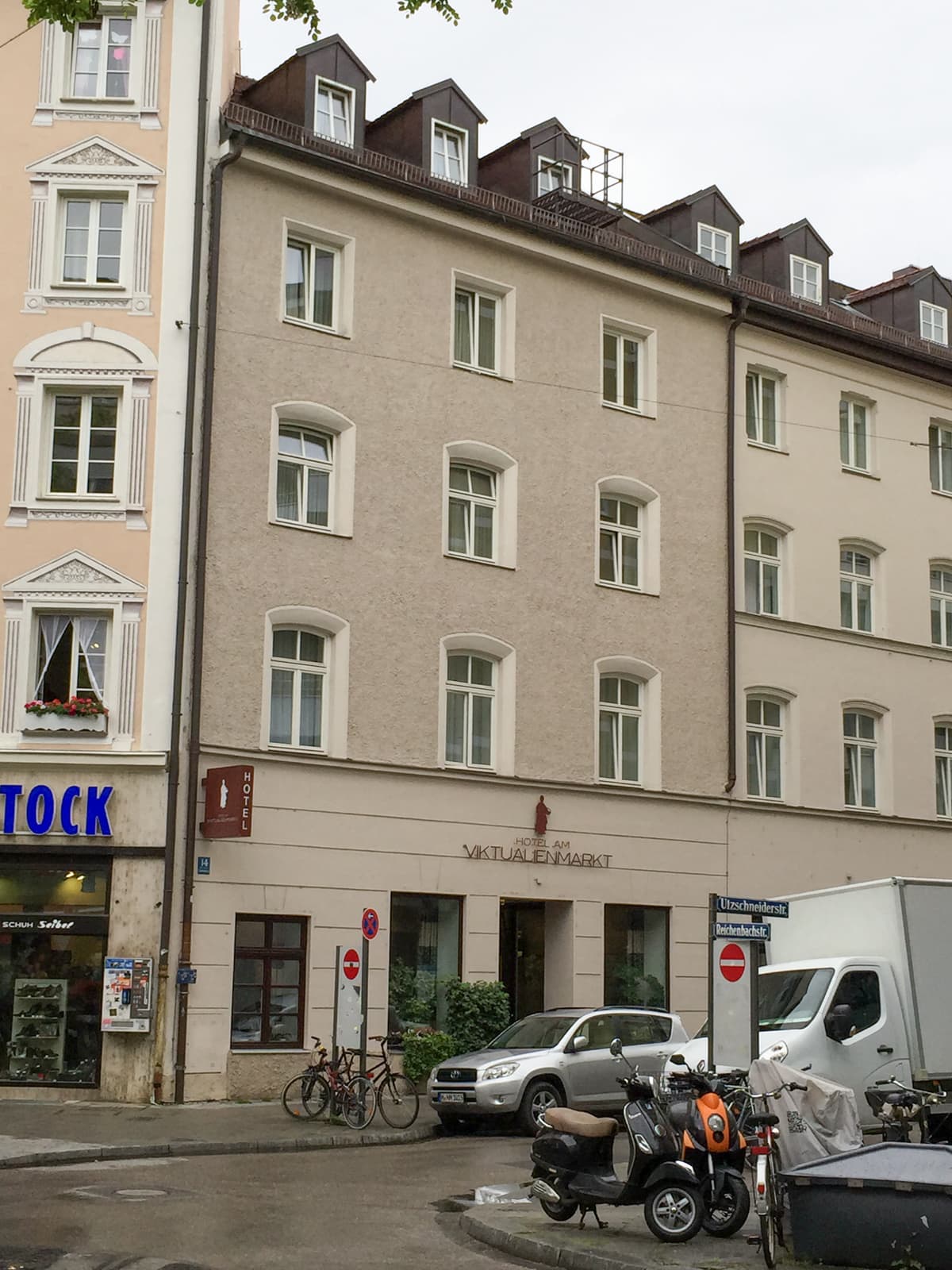 Best Way to Get Around Munich
Like many European cities, Munich is easy to get around without a car. Most of the city's main attractions are within close walking distance of each other. This is especially true in downtown or old town Munich since not only is it very walkable, it's also packed with historic sites and top tourist spots.
All other points of interest outside downtown are still easily accessible by taking a cab or a short commute. Munich is an excellent city for using public transit. The well-developed public transportation network gives you a variety of options to choose from: the U-bahn (underground train), Straßenbahn or trams, the S-bahn (aboveground city railway), and buses.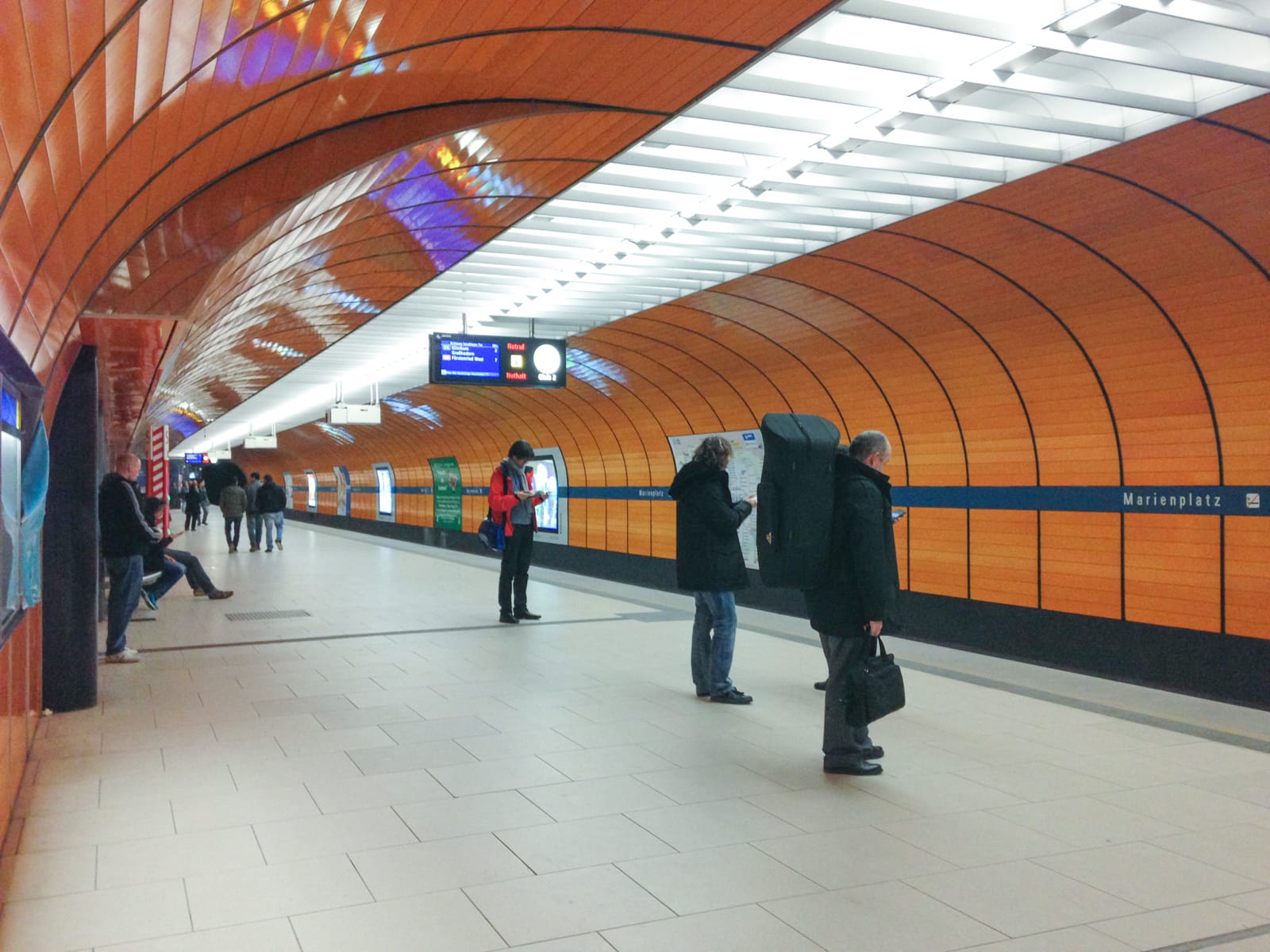 If you think you'll find yourself using any of these modes of transport frequently, then consider buying a Munich public transportation day ticket! A day ticket gives you access to an unlimited number of rides on busses, trams, and subways per day. It can save you quite a bit of money over buying a single ticket for every ride you take.
However, if you want to save yourself the trouble of learning and navigating the public transportation system, then the Hop On Hop Off Bus is an excellent alternative. This is the best way to explore Munich if you have a limited amount of time because it takes you directly to all of the city's best sights, all for the price of one ticket.
You can approach HOHO tours one of two ways: 1) settle in and ride the entire tour in one go or 2) use the bus to take you from sight to sight. We've started using these tours as a quick and easy way to get to know a city or see more of a city we're already familiar with. They can be a lot of fun and often have great narration of the sights you see.
Book your Hop On Hop Off Bus ticket here to really maximize your time in Munich!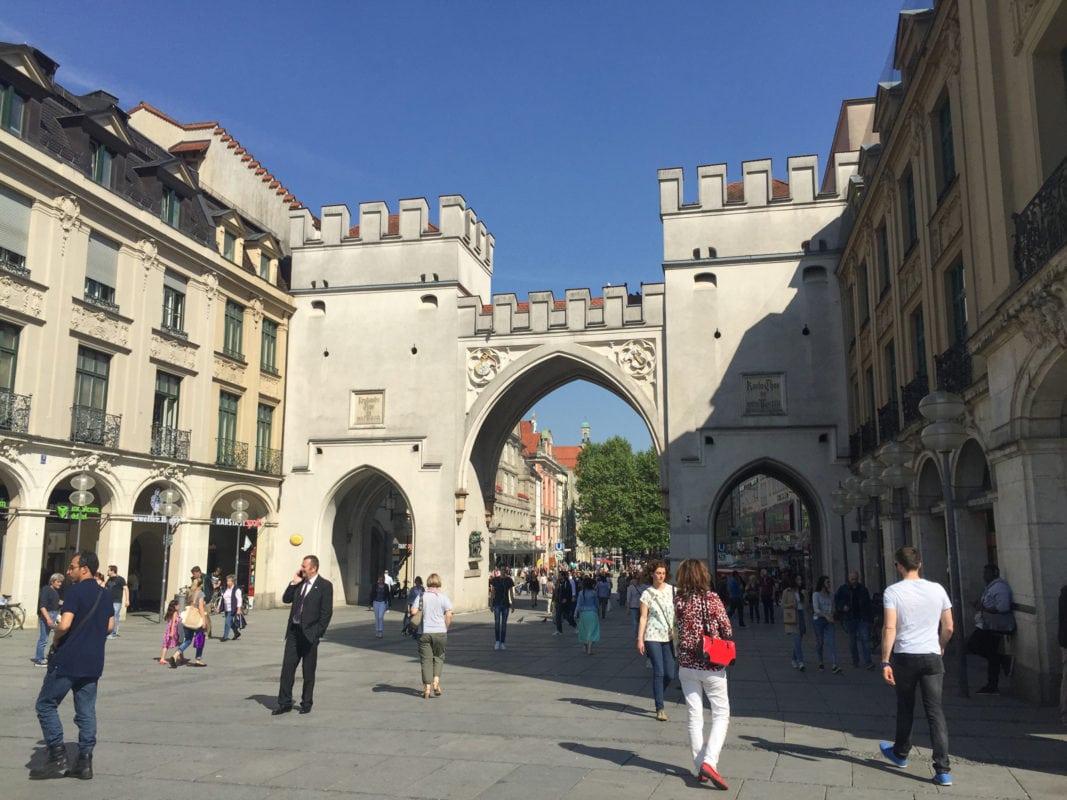 Best Guided Tours
Another way to maximize your time and get the most out of your trip? Guided tours.
Similar to the Hop On Hop Off Bus tour, guided tours take care of all the logistics – from planning the itinerary for the day, to arranging transportation, buying tickets, and sometimes even choosing the food to eat! By removing all the stress of planning, you won't be wasting any of your limited time worrying.
There many types of tours to choose from. If you want a comprehensive but exciting tour that shows Munich's top attractions, then book this 3-hour Segway tour around the city. It's a fun and unique way to go sightseeing that also doesn't take up too much time of your day. After personal training by a professional, you can confidently glide through the streets of Munich and see sites like the Maximilianeum (seat of the Bavarian Parliament), the Theatine Church, Museum Island, the Hofgarten, and many more.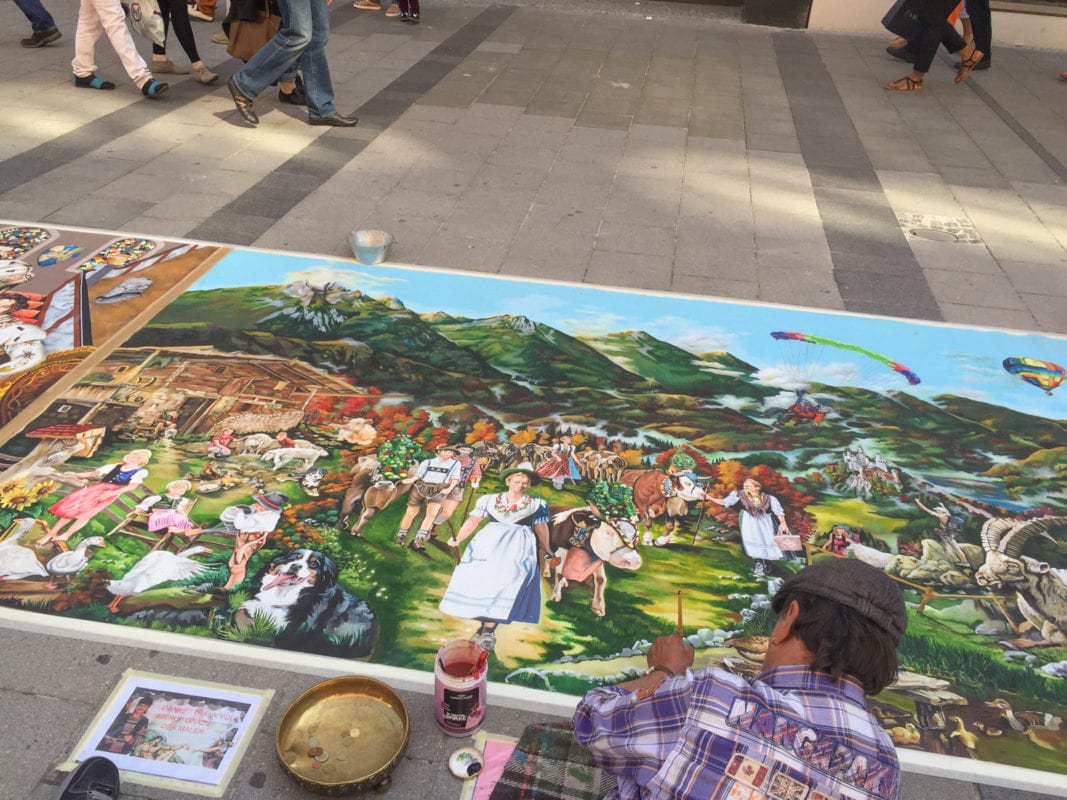 If you're looking for something more traditional, then you can never go wrong with walking tours. We especially recommend doing this in the Altstadt (Old Town), since there's so much to see in the area. From Marienplatz, to Frauenkirche, and the Staatliches Hofbräuhaus (Royal Brewery), going around with a tour guide makes sure you won't get lost or miss anything important. To see everything Old Town has to offer, book an informative 1.5-hour walking tour here.
Other types of tours we recommend looking into are themed tours. An example of this would be historic tours. As Munich is a city full of history, many tours offer a rich, educational lens to discover the city in. If you're a history buff eager to learn about the rise of Hitler and the Nazi party in Munich, book this walking tour led by a knowledgeable guide that teaches you about the infamous Third Reich while visiting historic World War II sites.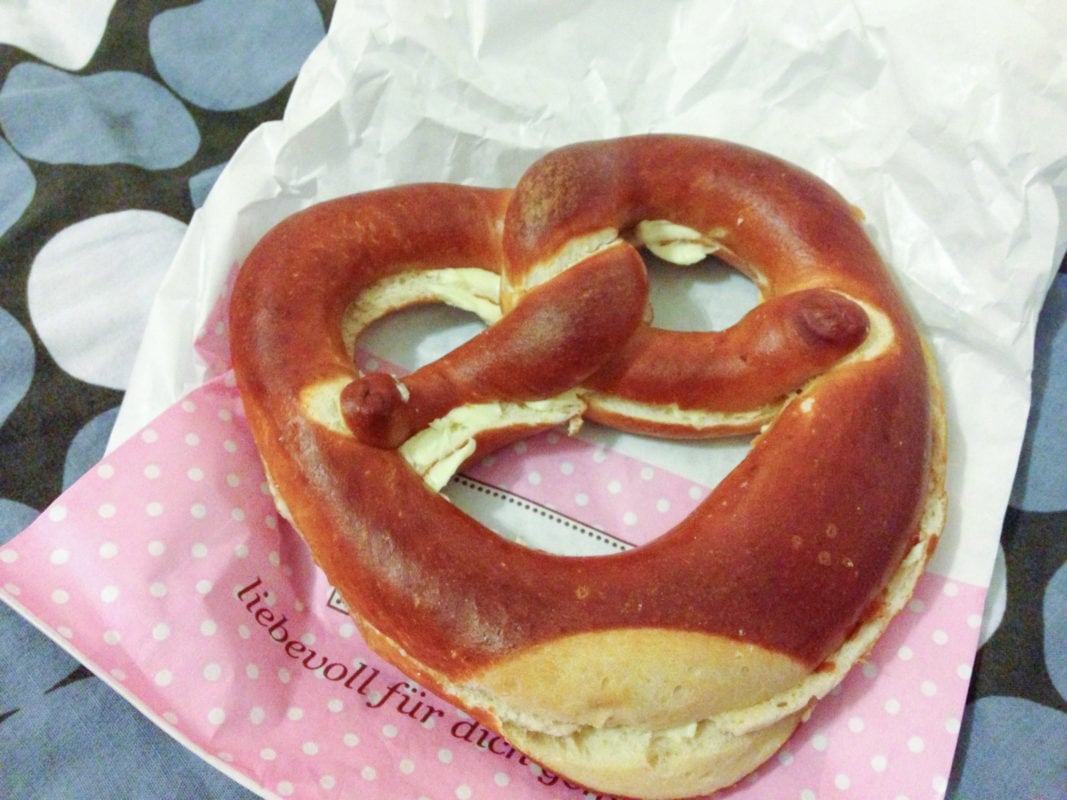 Another fun way to immerse yourself in Munich's local culture is through food (mmm…our favorite). A great option to unwind after a long day of sightseeing is by booking a fun night of Bavarian beer and food here. Since it takes place in the evening, you're really making the most out of your whole day plus you won't have to worry about making dinner plans.
This tour comes with a table reservation in a famous beer hall where you can feast on delicious Bavarian food such as Weisswurst (white sausage), dumpling, roast pork, and more. And of course, you'll get the opportunity to sample different kinds of the world's finest beer while exploring beer gardens, the Oktoberfest Museum, and the Hofbräuhaus.
If you're more interested in a day activity but still revolving around food then you can book a 2-hour gourmet food tour of Viktualienmarkt here. In this tour, you'll get to explore the vibrant Viktualienmarkt, Munich's largest outdoor market and stop by various stands to sample an assortment of food including German sausages, cheese and bread from different regions, exotic fruits, and pickled Bavarian delicacies. This is also a great tour to do in conjunction with the walking tour in Old Town since the market is also located there.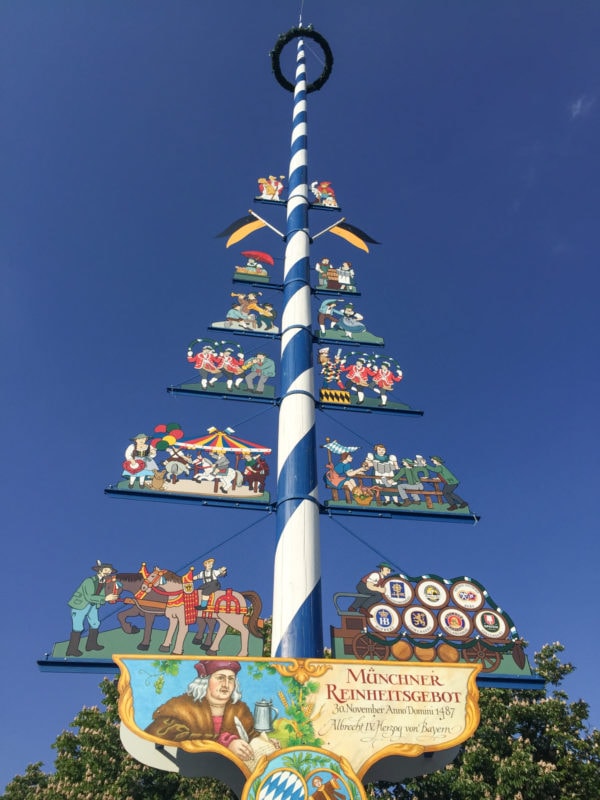 What to Do & See in Munich in 1 Day
To help you maximize your time in Munich, the following will give you an idea of things you can see. A few tips:
If you only have a couple hours in Munich (e.g. if you only have a 2-4 hour layer before boarding your next train) stick to sights in and near Marienplatz (Altstadt/Old Town) so you'll have time to get back to the train station.
If you have a full day (e.g. if you drive or take the train to Munich in the early morning and can stay until the evening), you could see sights in the Altstadt (Old Town), take a stroll through the Englischer Garten (English Garden), have a brief meal, Kaffee und Kuchen or a beer, take guided tour or maybe even make it out to Nymphenburg Palace or Dachau. If you want to see a lot in a short amount of time with little planning or hassle, reserve a ticket for the Hop On Hop Off Bus!
Neues Rathaus (New Town Hall)
Start your first day bright and early in Marienplatz, the central square of Munich. This main square is the perfect starting point for your trip to the Bavarian capital because it's home to some of the city's most important sites.
One of the first things you can visit in Marienplatz is Neues Rathaus (or New Town Hall). This beautiful building is an iconic feature of Marienplatz and is also home to the famous Glockenspiel. Depending on what time you arrive here, you can catch the daily chime at 11 a.m. and 12 p.m. (plus 5 p.m. during summer) and join the crowds of people gathering around the tower. The show lasts around 12 to 15 minutes and reenacts important scenes from Munich's history. If you have time, you can also take an elevator to the top of the clock tower and enjoy panoramic views of downtown Munich.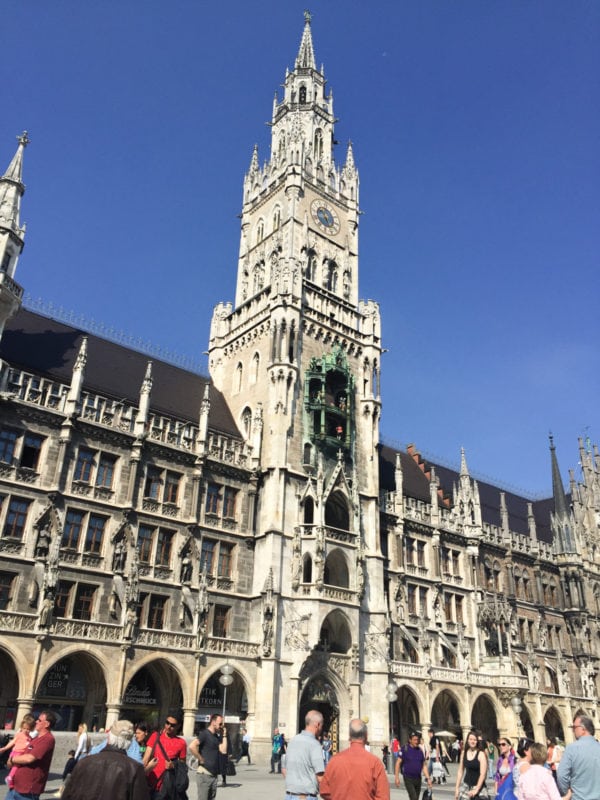 Altes Rathaus (Old Town Hall)
Next, you can make your way to Old Town Hall. Though it has a relatively plain façade compared to surrounding buildings, the town hall is an important building that is rich with history dating back to the 14th century. Though it has undergone heavy reconstruction after World War II, its Gothic halls have been well-preserved and are now used for commemorations and state ceremonies.
Toy Museum
While you're in the Old Town Hall, you can also visit the toy museum located right at the arch of the town hall. Since this more of a specialty museum, we recommend only going if you have spare time or you're traveling with kids. But this place is also perfect for anyone who's still a kid heart and wants to admire the museum's vast collection of antique toys, teddy bears, dolls, and trains!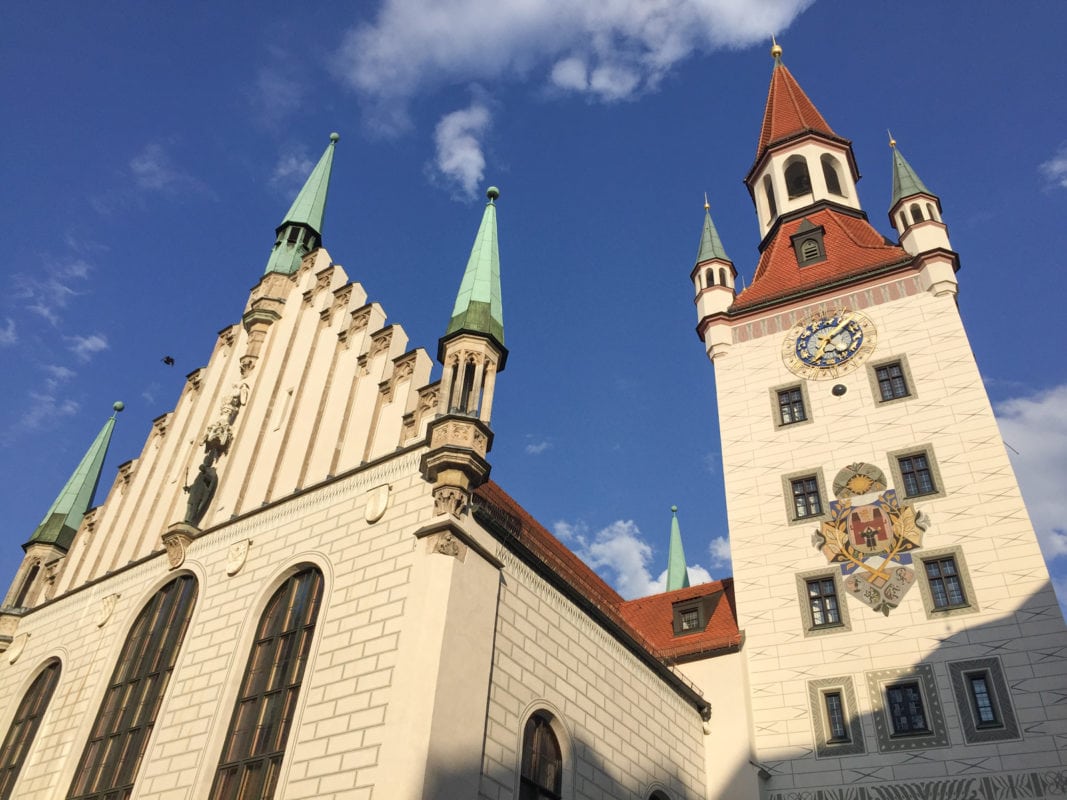 St. Peter's Church
Right across Marienplatz, you'll find St. Peter's Church, the city's oldest church. The church's interior is an interesting mix of Baroque, Rococo, and Gothic architectural styles. You can also admire the ceiling frescoes and a rare golden figure of St. Peter on a high altar that's almost 300 years old. If you're eager for more views and you're willing to climb the 300-step staircase of St. Peter's tower, you can go to the church's viewing platform that overlooks the old town. If the weather is good, you can even see the Alps!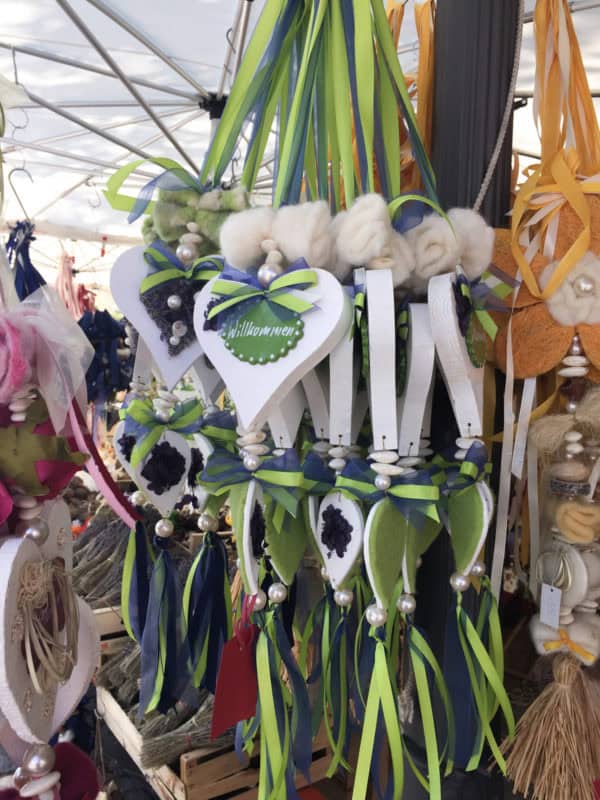 Viktualienmarkt
Need to grab a quick bite and refuel in between all the sightseeing? Then head on to Viktualienmarkt, just a short walk away from St. Peter's Church. Viktualienmarkt is the perfect place to get a taste of Bavarian cuisine and even explore other international gourmet dishes. This bustling food market houses over 140 stalls offering everything from staples such as fruits, vegetables, bread, meats, and cheese to more exotic treats and spices. After eating, you can also do some souvenir shopping and pick up artisanal crafts such as natural combs, kitchen accessories or traditional wooden decorations and ornaments.
Munich Residenz
A bit farther up from Marienplatz, you'll stumble upon the largest city palace in Germany, Munich Residenz. The palace grounds span several city blocks and contain ten courtyards and 130 rooms. The lavish interiors, extensive collection of art, and historic antiques give you a glimpse into how the royals lived. If you don't have enough time to see everything we recommend checking out the highlights: the Cuvilliés Theatre, the Treasury, and the Antiquarium.
We also recommend exploring the surrounding area where you'll see the Hofgarten (Court Garden), an Italian Renaissance-style park offering a perfect place for tourists to take a break as they make their way around the palace and downtown Munich.
Fun fact: on one of my visits to Munich I was walking past the Residenz when I saw a hoard of people gathered outside despite the rainy weather (see photos below). Who where they waiting to see? Scandinavian royalty! You never know who you'll run into in Munich. Ha!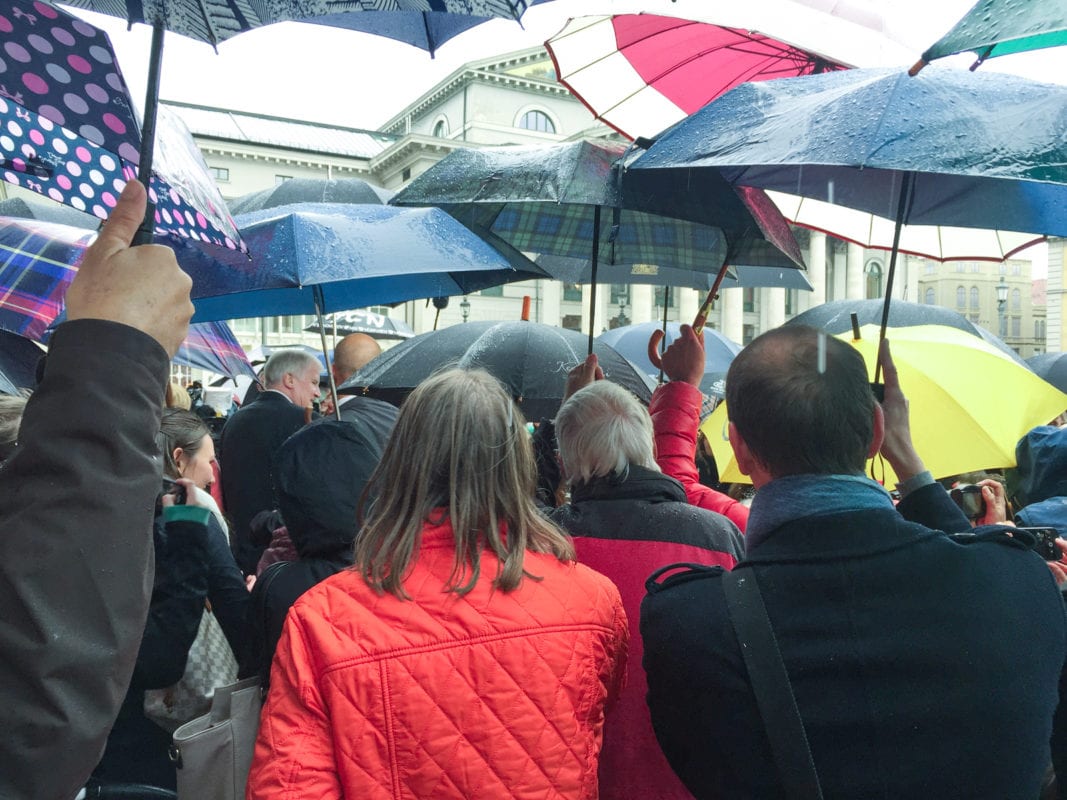 English Garden (Englischer Garten)
Speaking of urban green spaces, we can't discuss parks in Munich without talking about Englischer Garten. Not only is it a massive park (yes, even bigger than New York's Central Park!) but it's filled with all sorts of cultural landmarks and cool spots.
This park is a must-see! I've spent hours upon hours wandering through the English Garden on my various visits to Munich. This park is especially lovely if you've been traveling for a while and could use a break from the hustle and bustle of city life. In some parts of the park you can even disrobe and sunbath in the nude!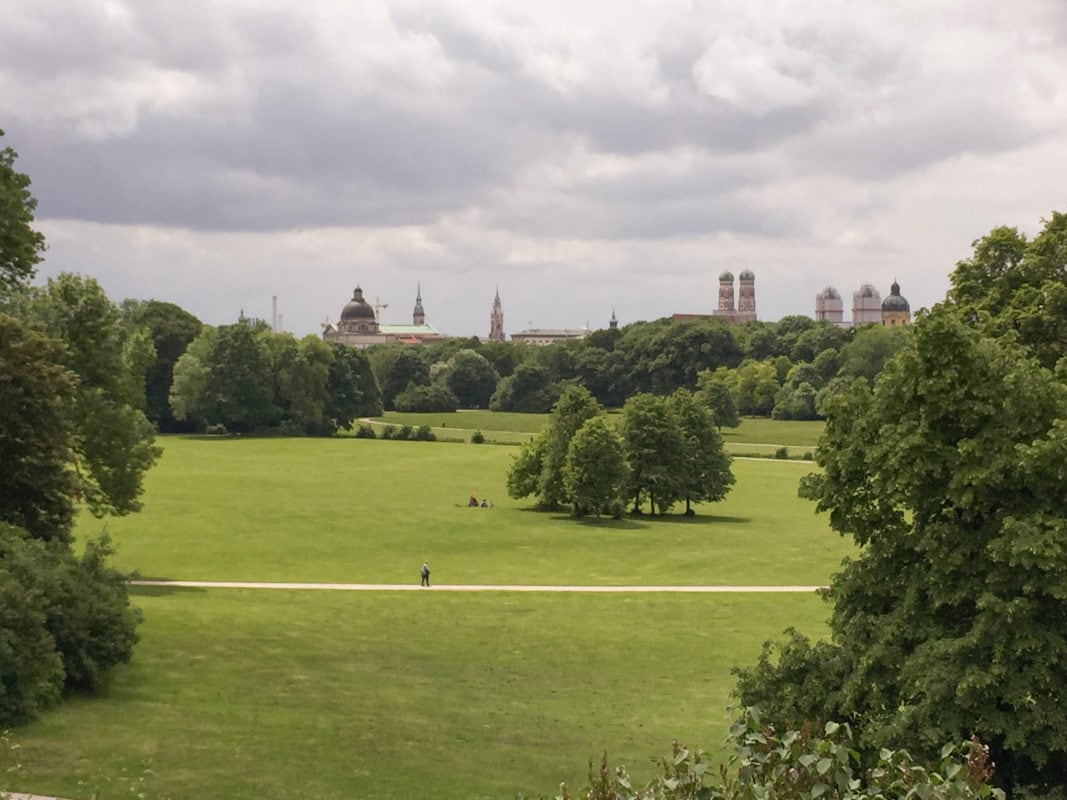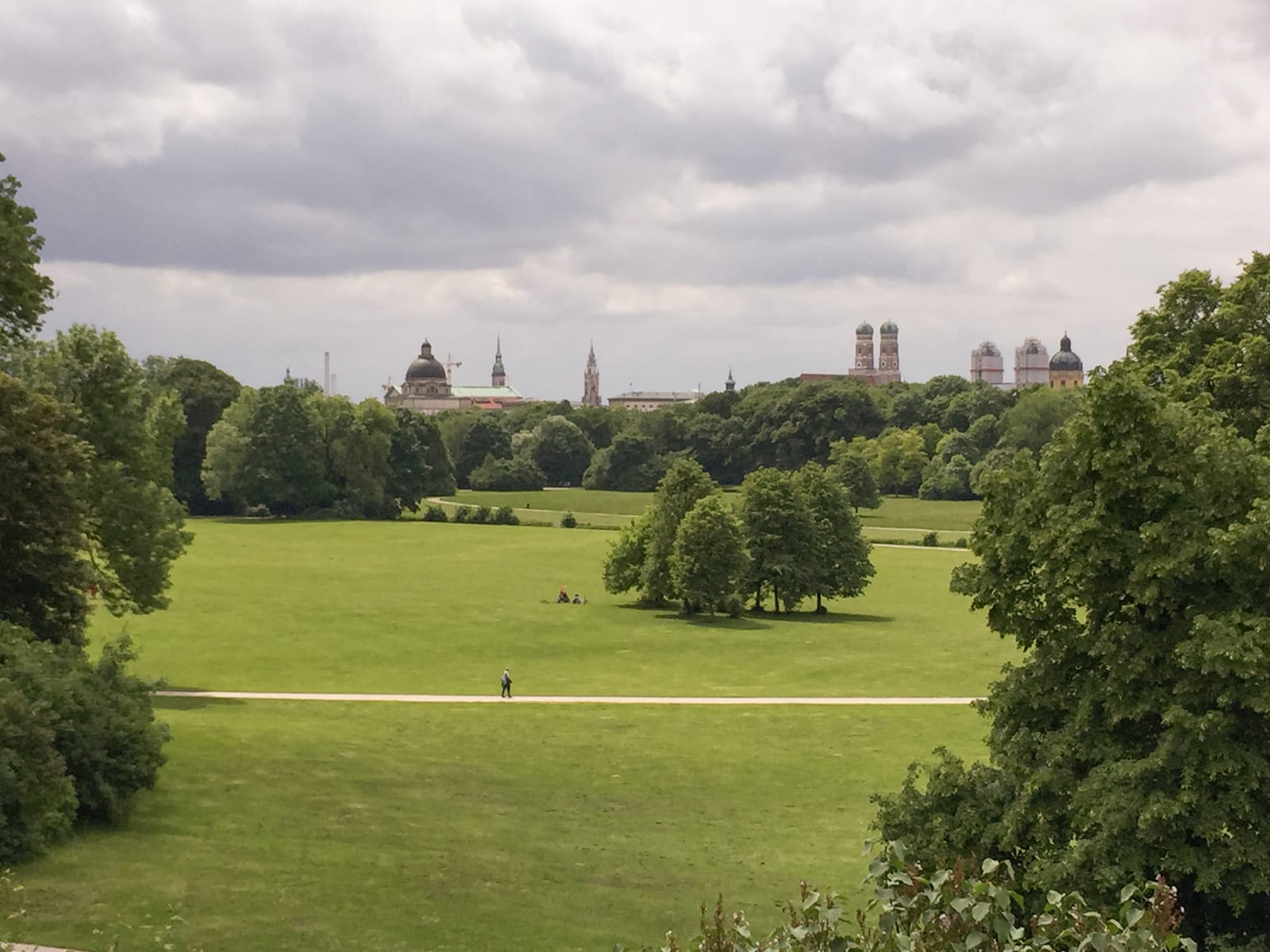 In the midst of the lush greenery and meadows, you'll come across Monopteros, a small Greek temple, a Japanese tea house, and the famous Chinese Tower. It's also by the Chinese Tower that you'll find one of the largest beer gardens in the city, with over 7,000 seats beneath chestnut trees that provide shade during hot days. Englischer Garten is also a fun place for outdoor activities.
Aside from walking, jogging, and cycling, you can take boat rides on the Kleinhesseloher See lake and even surf on the Eisbach waves if you're an experienced surfer! The first time I visited this part of the English Garden I spent like an hour mesmerized by the surfers!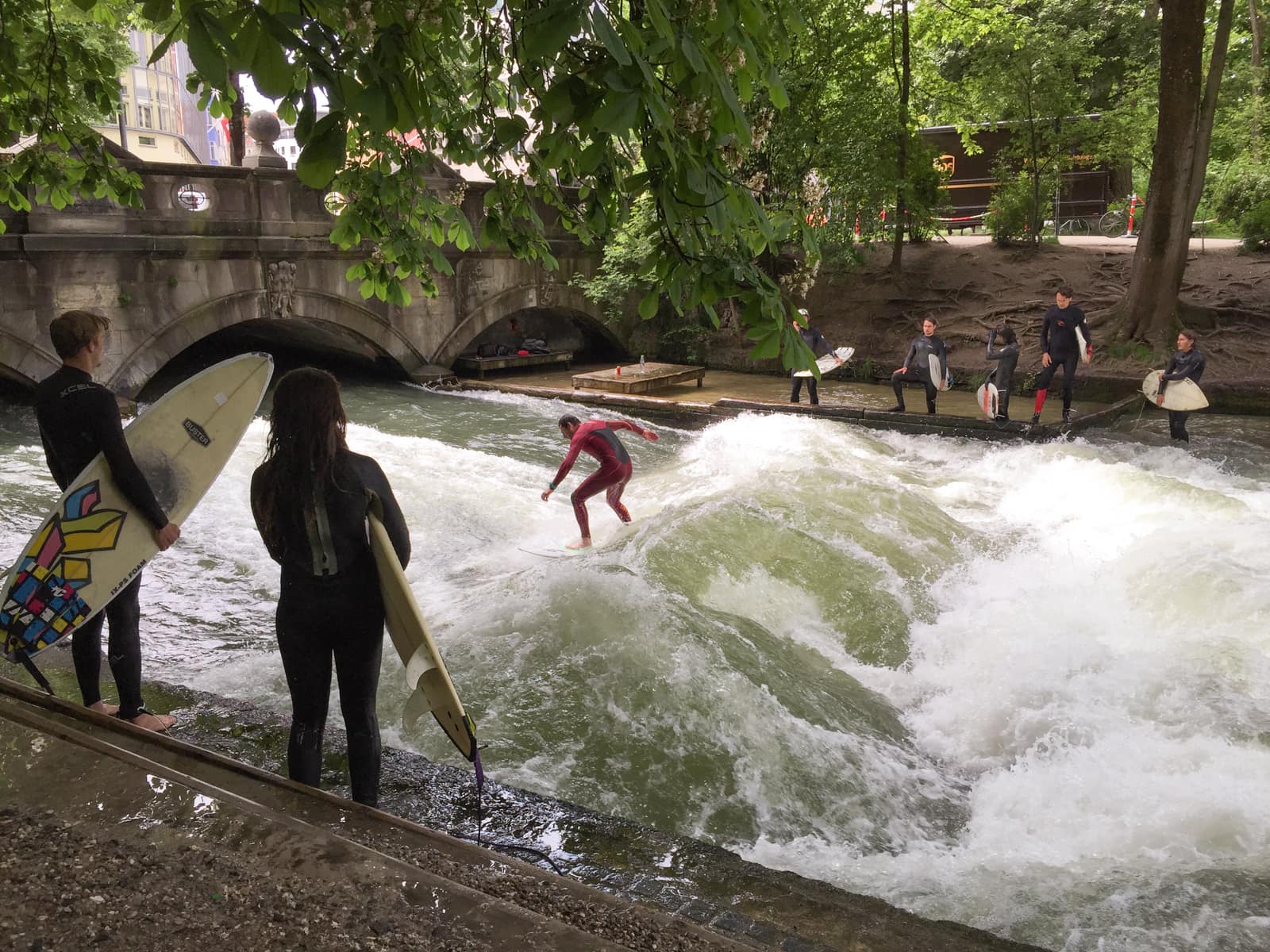 With all the great things to do in Englischer Garten, you might have to set aside a bit more time to enjoy it all. It's also a bit farther up north from the city center so you'll need to add in 20 or so minutes to walk to the park entrance but it's well worth the visit (and it's a nice walk)! But if you're short on time and still want to spend time in the outdoors, then Hofgarten is an excellent alternative.
Haus der Kunst
If you make your way to the southern edge of the Englischer Garten, you'll discover Haus der Kunst, a leading modern art museum without a permanent collection. As a non-collecting museum, it instead hosts around ten exhibitions per year featuring work by both established and up-and-coming artists. The unique and out of the box exhibitions make Haus der Kunst a key global center for contemporary art.
Deutsches Museum
If you want to visit more museums, don't worry you have countless options to choose from in Munich! Many of them are must-sees for first time visitors to the city, but we know that museum visits can be time consuming, so we recommend only going to ones you're really interested in.
If you love technology, then Deutsches Museum is perfect. The exhibits feature over 28,000 objects from over 50 fields of science and technology. A 20-minute walk away from Marienplatz, the museum has various areas with different themes ranging from aerospace, oceanography, chemistry, and food technology. The interactive and multimedia tours also make this a great place to visit if you're traveling with kids!
Take note that Deutsches Museum is the world's largest science and technology museum, so you can expect to spend quite some time here. You might have trouble navigating all the areas but the museum has a free app you can download that has audio guides in English and German, interactive maps, and information on scheduled tours.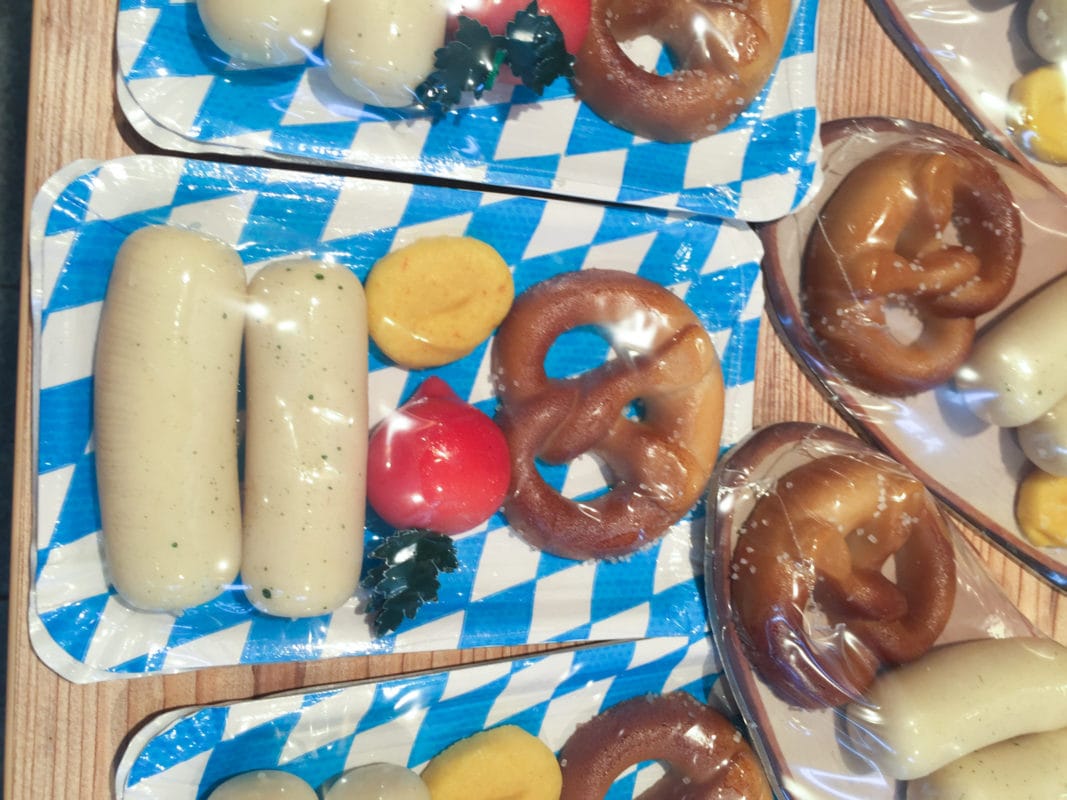 Alte Pinakothek
Some of the best museums can be found in Kunstareal, Munich's art district located in the heart of the city. One of Europe's most important cultural hubs, Kunstareal is home to a diversity of museums with collections covering everything from Egyptian, Classical, and modern art. The area itself is worth seeing for its historic buildings, large plazas, and trendy street cafés in the nearby Maxvorstadt district – that perfect blend of old and new that Munich is known for.
First, we have Alte Pinakothek, one of the oldest galleries in Germany. The collection is made up of more than 700 artworks of old European masters from 14th-18th century, showcasing the progression of art from the Middle Ages up to the Renaissance, Baroque and all the way Rococo. Some highlights include portraits by Albrecht Dürer and works by Rembrandt, Raphael, and Leonardo Da Vinci.
Neue Pinakothek
Neue Pinakothek focuses on more recent art from the 18th and 19th centuries. First founded by King Ludwig I as the first public contemporary art museum, the museum is now home to many famous masterpieces by the likes of Van Gogh, Monet, and Degas.
Take note that Neue Pinakothek has been closed for renovations since late 2018 and will likely open in 2025. Since a selection of works is on the display on the ground floor of the Alte Pinakothek, which saves you time from going to two museums.
Pinakothek der Moderne
If you're more interested in modern contemporary art, then Pinakothek der Moderne is a must see. As one of the largest museums for modern art in the world, it may seem like a big challenge to navigate especially if you're short on time. But it helps to think of it as one big museum made up of four smaller ones dedicated to different areas: modern and contemporary art, design, architecture, and works on paper (graphic art). Though they're all fascinating, you can pick and choose which ones interest you the most!
Nymphenburg Palace
Now if you're looking to venture a bit farther from the city center, Nymphenburg Palace is one of most popular places to go to. Another one of Munich's royal residences, this palace is filled with extravagant Baroque-style furnishings and halls. There's even small museums dedicated to natural history, porcelain, and carriages.
If you have time, you can discover even more in the palace's surrounding park. Inspired by the gardens of Versailles, the Nymphenburg Palace Park has everything from smaller castles, streams and canals, cascades, bridges, and even an artificial lake. When I visited Nymphenburg in the winter I actually spent more time wandering around the gardens (and eating a tasty Schnitzel with fries from the Schlosscafe) than I did inside!
As you can imagine, exploring the gardens plus the additional tram ride to the Schloss Nymphenburg station can easily take up half a day. So if this is not a priority, there are still other parks and palaces like Munich Residenz that are more centrally located and will take less time to explore.
Olympic Park
Similar to Nymphenburg Palace, Olympic Park is a farther up north from the city center but still accessible once you reach the Olympiazentrum U-bahn station. First built for the 1972 Olympics, the park still remains popular with both locals and tourists alike. Aside from being a beautiful park to picnic or relax in, there are tons of attractions you can visit: the Sea Life Aquarium, the Olympic swimming hall, the Olympic Tower with its revolving restaurant, the ice skating rink, and many more.
There's truly so much to do here so if visiting Olympic Park is one of top things to do in your Munich bucket list, then set aside a good portion of your afternoon. Personally, I while I found the Olympia Park interesting, I wouldn't place it as a priority for most people, especially if you only have one day.
Christmas Markets
Though this is obviously a seasonal attraction, if you're visiting during late November and December then this section will give you an idea of what to expect. If you can visit Munich (or Stuttgart or anywhere in Germany for that matter) during Christmas Market season, I highly recommend it!
Munich's main Christmas Market takes place in Marienplatz. The setting of the plaza and the town hall adds to the festive ambiance and charm though it can be quite crowded with tourists. You can take pictures of the huge Christmas tree at the center with hundreds of stalls around it selling traditional German gingerbread, mulled wine, and handmade crafts. Other noteworthy markets to look into: Winter Magic at Viktualienmarkt, Chinese Tower Christmas Market, and the Residenz Christmas Village.
Dachau Concentration Camp Memorial
If you want to venture out of Munich but don't have time for a full day trip, you can take a half-day trip to Dachau and learn about the history of the Dachau concentration camp. The memorial site stands on the grounds of the former concentration camp which held over 200,000 prisoners over twelve years. Now, the memorial pays respects to the victims. Visitors can learn about this dark period in history by exploring the surviving buildings and the museum exhibits. If you've never visited a concentration camp before, I highly recommend visiting Dachau.
It's around 40 minutes away from the city center via public transportation but you can book a fully guided tour here that includes transportation from Munich and back. A professional tour guide will make sure that the tour is handled with utmost sensitivity and respect.
Neuschwanstein Castle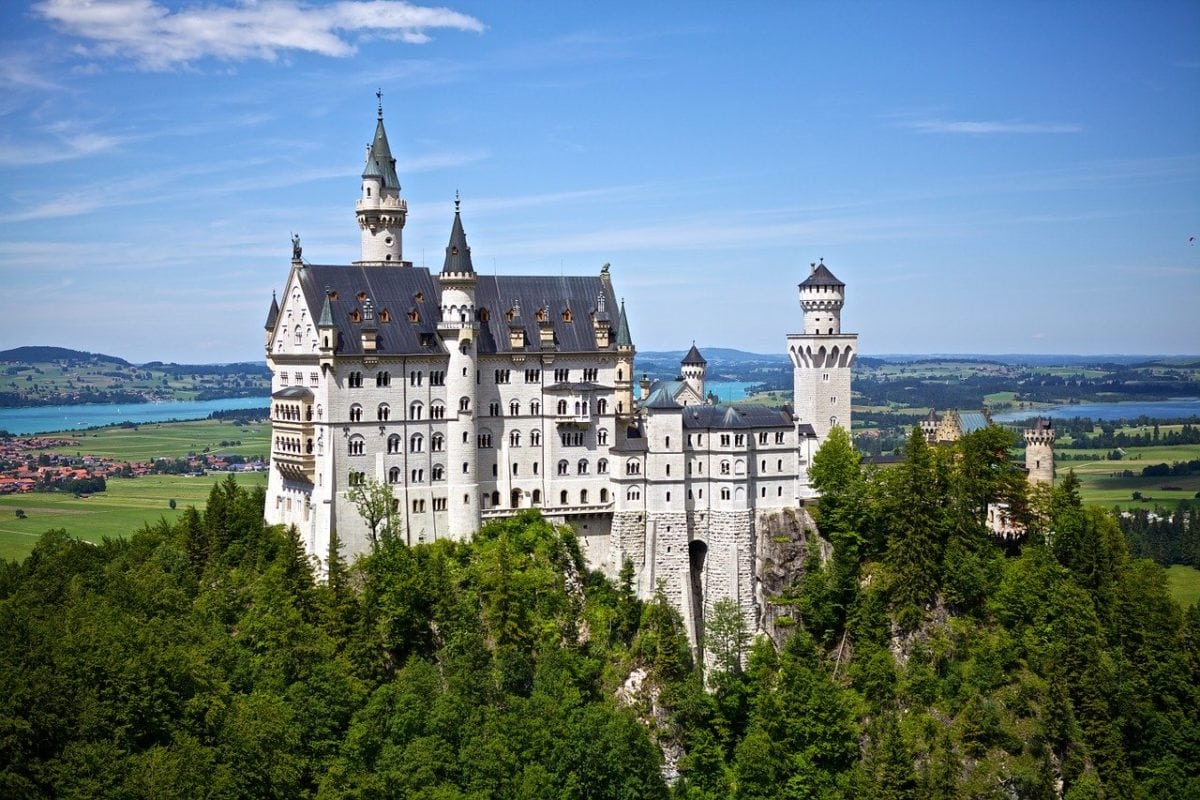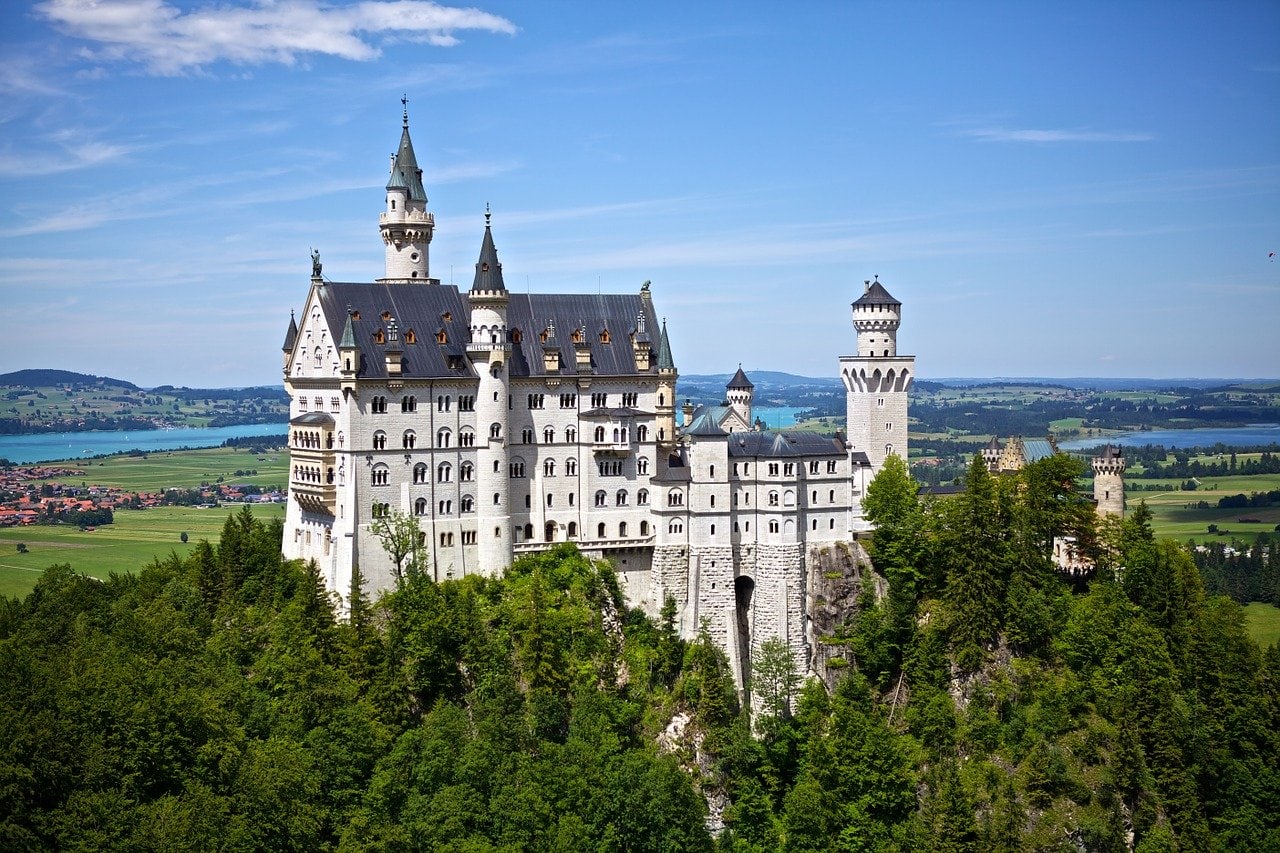 To visit Neuschwanstein Castle you really need a full day but I included it here because I get a lot of questions about it! If you only have time for one day in Munich but you're not ready to leave Bavaria, this is one of the best day trips you can take from the city.
Neuschwanstein Castle draws many tourists each year to southern Germany, making it one of the country's top tourist destinations. And it's easy to see why – this iconic castle has appeared in many movies and inspired Disney's Sleeping Beauty castle. Whether you travel by car or bus, even the drive is straight out of a fairytale as you drive through the Romantic Road in the Bavarian Alps.
Yes, it's touristy! Some would even say kitschy. But it's fun, especially if it's something you've had on your Germany bucket list since you were a kid. I visited Neuschwanstein in the winter and spent the night in Füssen (I didn't go to Munich on that trip), but to maximize your time in Munich, just add it on as a day trip.
To make the most out of this day trip, book this full day tour from Munich to Neuschwanstein Castle. Not only does it include transportation and a guided tour of the castle, but it also has extra stops on the way back to other interesting spots like a cheese and sausage tasting at a Bavarian farm.