Best Day Trips from Munich in 2024
This post may contain affiliate links. Read my disclaimer policy.
Munich is one of the most vibrant cities in Germany and a must-see for most visitors. It's home to Oktoberfest, historic buildings, world class museums, beautiful green urban spaces – and, of course, beer!
But did you know that Munich makes a great "home base" because there are so many options for day trips? There are numerous day trips you can take from Munich whether by car, train or guided tour.
Don't miss out on the beauty of Bavaria! Add a day trip or two to your Munich itinerary. Here's a list of the best day trips you can take from Munich.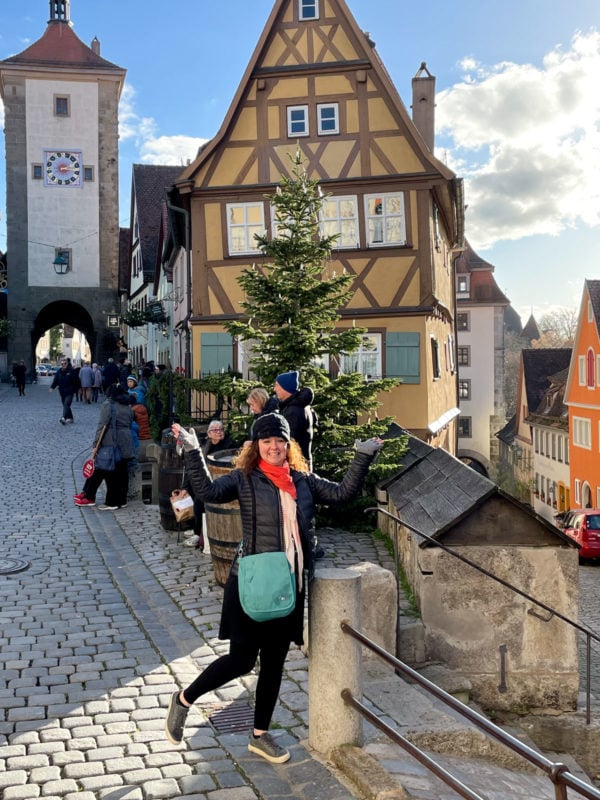 3 Ways to Plan Day Trips From Munich
Since Munich is in the perfect location for taking day trips, you can easily make it your Bavarian home base. This is especially convenient if you want to see Munich and other sights Bavaria has to offer but don't have enough time to spend a few days in each separate location.
By making Munich your home base, you can explore both Munich city center and go in and out of the city for day trips to other cities, the Alps, and famous castles. You can day trip by train, rental car or guided tour.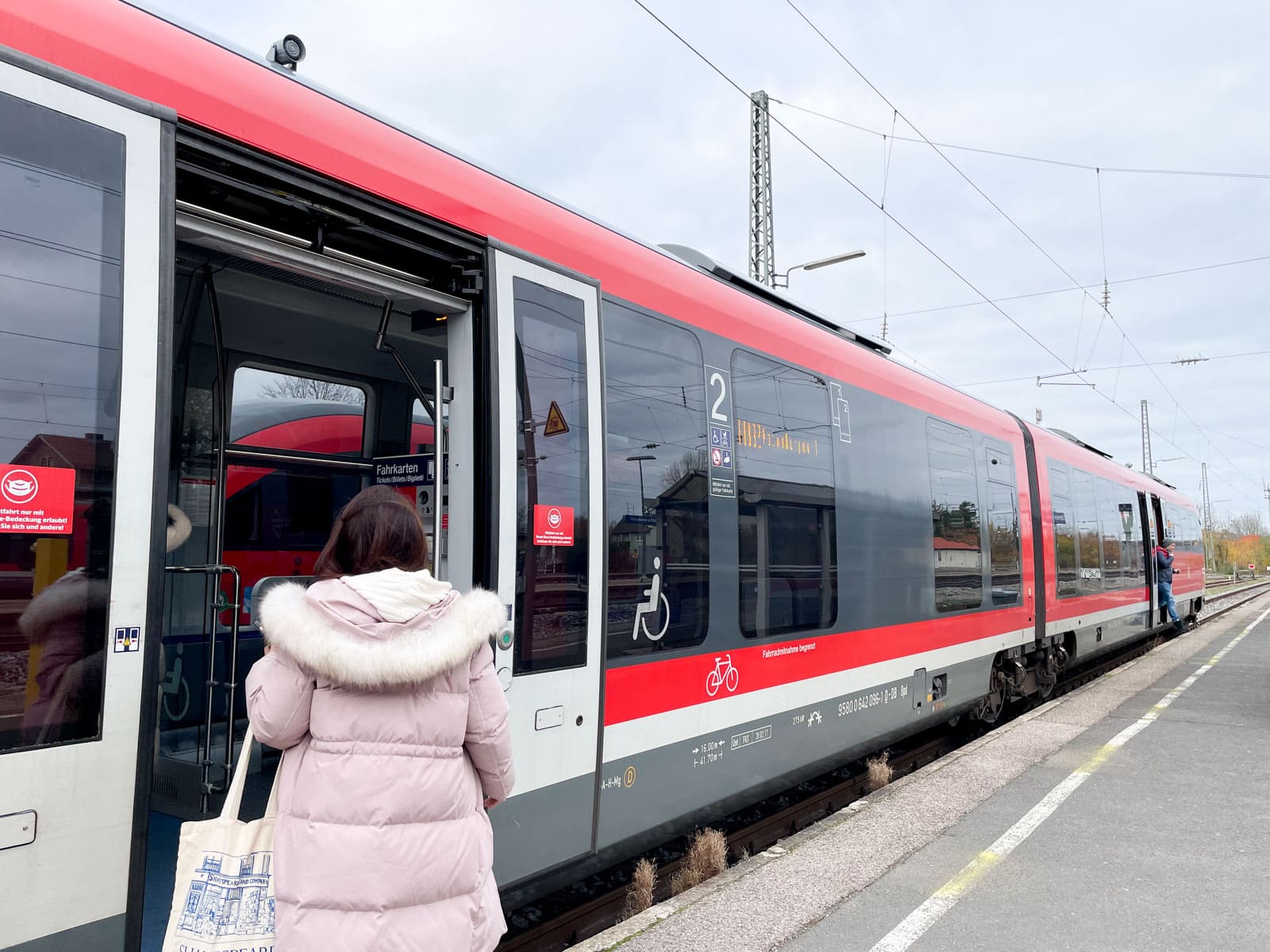 Day Trips By Train
Using the train to take day trips from Munich is super easy and convenient. You might need to get up early and return late in the evening to fit everything in but the nice thing about taking the train is that you rest, relax or even take a nap on your way to or from a day trip.
If you plan to day trip by train, and don't want to worry about missing your train, we highly recommend staying near the Munich Central Station (München Hauptbahnhof). These options are just a short walk away:
You can also read our Munich accommodation guide for additional hotel options in Munich.
For most day trips we highly recommend buying a Bayern Ticket (Bavaria Ticket). This inexpensive regional train ticket gives you one day of unlimited trips on regional trains (so not ICE, IC or EC trains) within Bavaria for up to 5 people traveling together. So it'll save you a lot of money over buying individual point-to-point tickets!
The only time we don't use a regional train ticket like the Bayern Ticket is when the day trip is further away and we can reach it much more quickly by booking point-to-point tickets on faster ICE, IC or EC trains. Check out Deutsche Bahn for more information about these tickets (you can book trains there, too).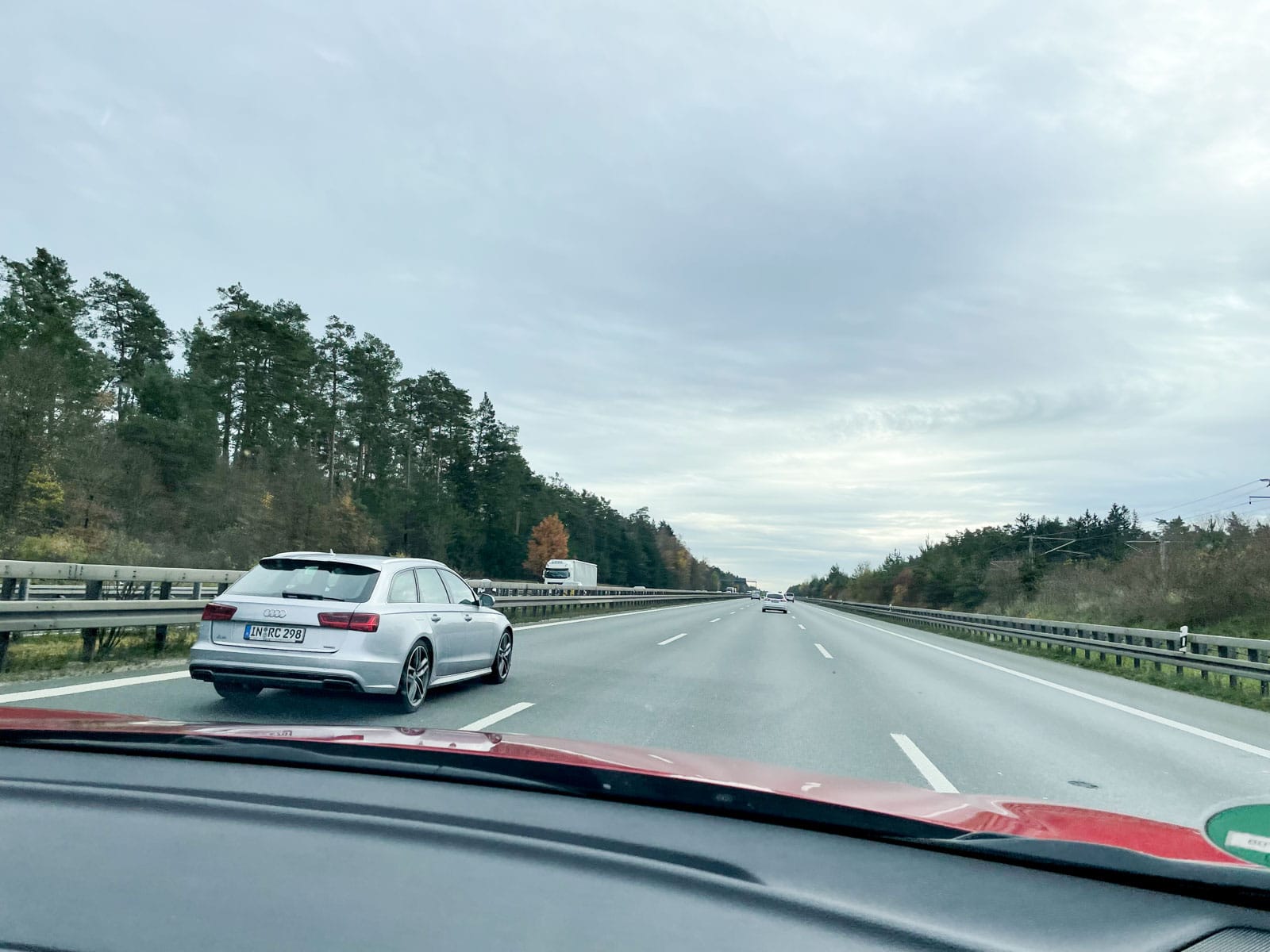 Day Trip By Car
If you want more flexibility while traveling, a rental car is the way to go. While you can reach all of the day trips below by train, sometimes it's much faster to drive.
Having a car also allows you to leave and return whenever you want, and you map your own route at your own pace. If you rent a car, make sure your hotel offers parking. Read our Munich accommodation guide for hotel options that offer easy rental car parking.
Day Trips With a Guided Tour
If you don't want the hassle of figuring out train schedules and you're not interested in renting a car, consider a guided tour! Since Munich is such a popular city to visit, you have several options (see below – we've linked under each place if there are any available). You can also take a look here to see to more options for guided day tours from Munich.
With a guided tour all you have to do is book the tour on your preferred day and then show up at the meeting point. You can relax and enjoy the day without having to figure out where to go, worry about missing your train or getting lost in the car, and you have a guide who can answer questions and share interesting cultural and historical information.
I especially like guided day trips when I'm traveling solo or if I'm short on time and don't have hours to plan a day trip.
Overview of Day Trips from Munich
Day Trips from Munich
1. Neuschwanstein Castles, Hohenschwangau Castle & Füssen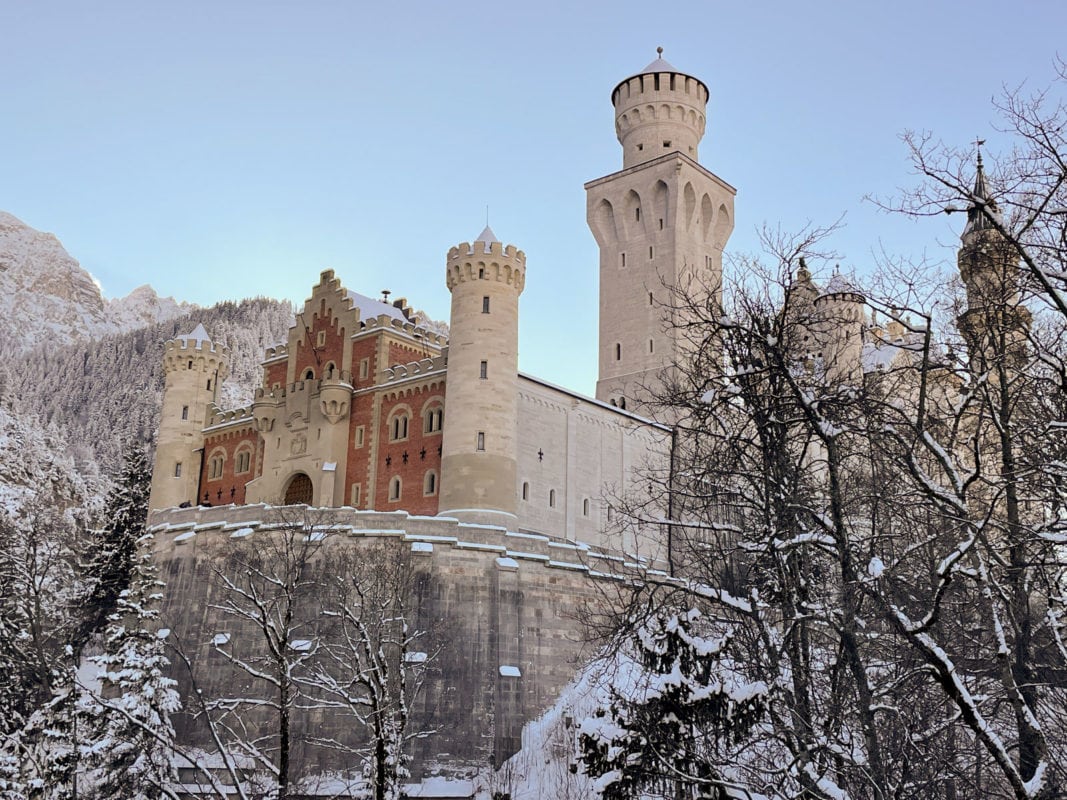 Neuschwanstein Castle is probably the most popular day trip from Munich. It's one of Germany's most well known tourist attractions and one of the world's most famous castles, attracting over 1.5 million visitors from all over the world every year.
Nestled in the Bavarian Alps, Neuschwanstein Castle is surrounded by breathtaking landscapes that add to the castle's beauty, even though it does get quite touristy. Even so, if it's your first time visiting Germany, it's definitely worth visiting to see it for yourself. It's gorgeous year round, and especially magical during the winter season.
Neuschwanstein – and Hohenschwangau Castle, where King Ludwig spend time as a child – are located in the village of Hohenschwangau, which is near the small town of Füssen. These two towns are worth exploring in their own right and they're also great places to stay if you decide to spend more time in the surrounding area.
If you just want to tour Neuschwanstein, you can do that on a day trip from Munich. If, however, you want to see both Neuschwanstein and Hohenschangau, and especially if you want to see both castles and Füssen, you'll need to stay overnight.
Unfortunately, it's pretty much impossible to tour both castles on one day trip from Munich. On our last trip we tried to make it work and decided to instead just spend the night in Füssen (we loved Hotel Sonne) so we could see everything.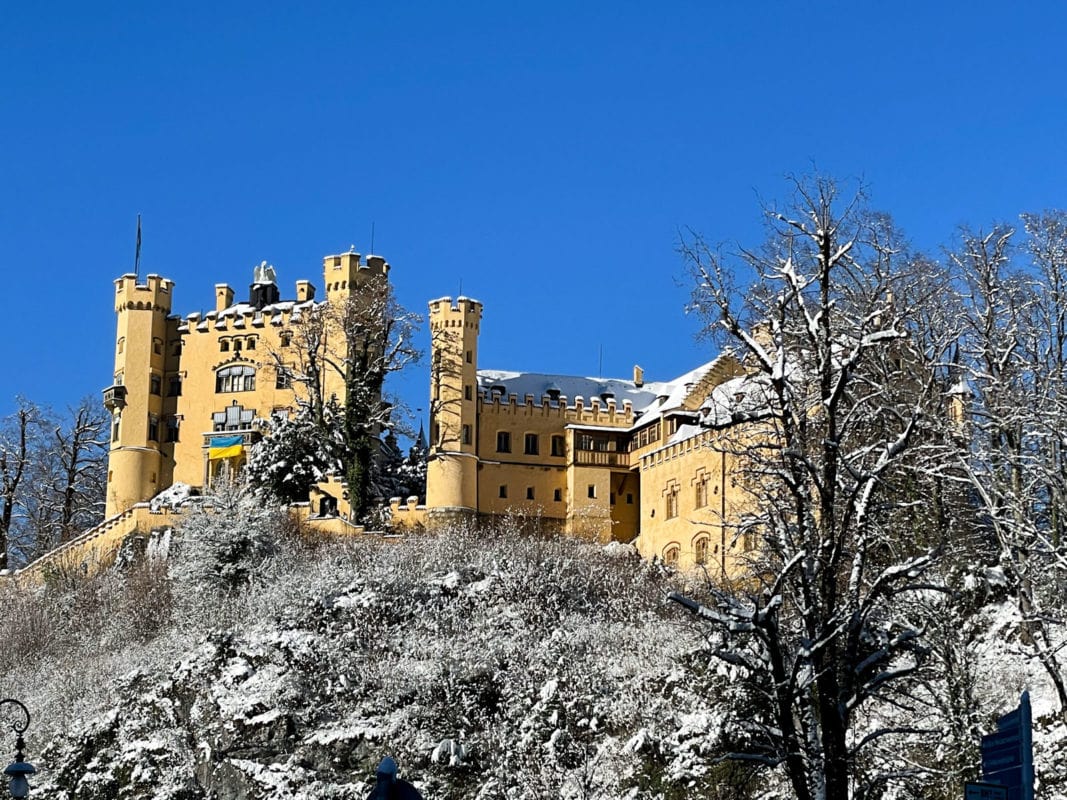 Directions from Munich: The drive from Munich is approximately 75 miles or around 2 hours. To get there by train you'll take a regional train(s) from from Munich's Central Station (Hauptbahnhof) to Füssen and then a bus from Füssen to Schwangau. The journey time is also about 2-2.5 hours.
Recommended tour: If you don't want to deal with the stress of rental cars or public transportation, we recommend booking a guided day trip from Munich directly to the castle. This guided tour includes transportation by van, which takes you along a scenic route of the Bavarian Alps, and a walking tour of the castle.
2. Dachau Concentration Camp Memorial Site (KZ Gedenkstätte Dachau)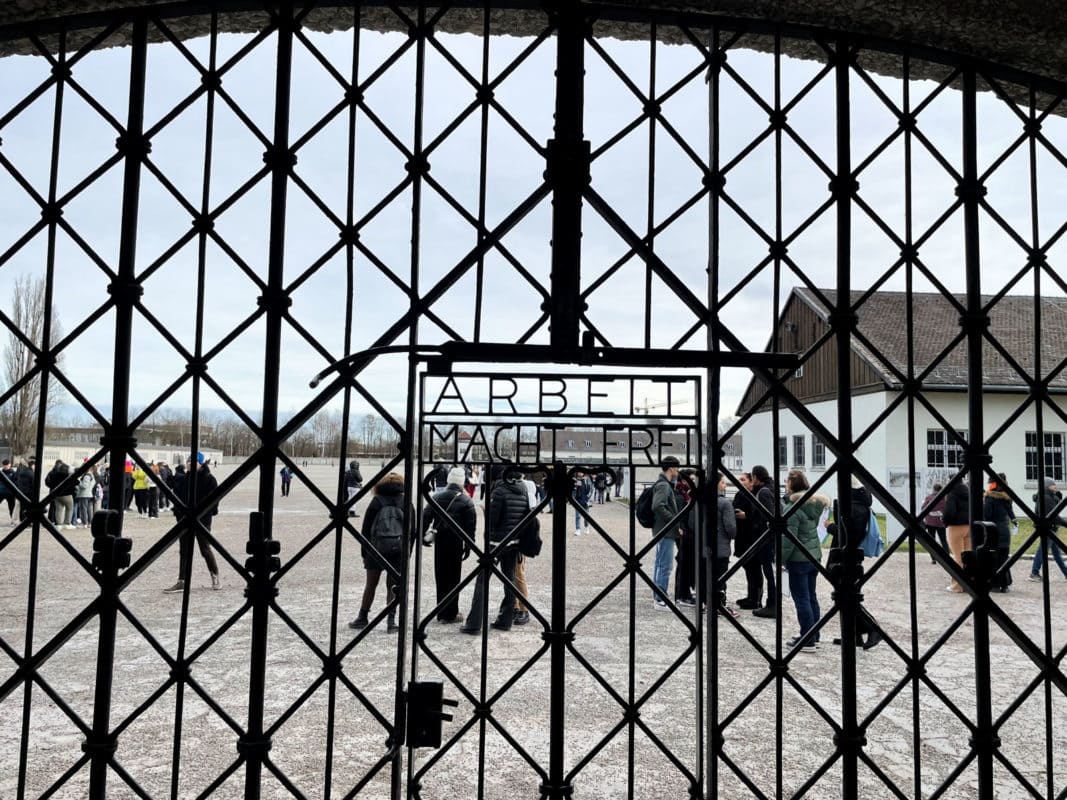 Built in 1933, Dachau Concentration Camp was the first Nazi concentration camp. It was originally built by the Nazi party to hold political prisoners. The concentration camp stood for over 12 years, at one point holding over 200,000 prisoners from all over Europe, over 40,000 of which were murdered.
The memorial site now stands on the grounds of the former concentration camp. There are several original structures that are still standing, which you can learn about via information throughout the memorial, an audio guide or in a guided tour. There are also permanent exhibitions and an informative documentary that pays homage to the victims and survivors (Aaron watched the documentary and highly recommends it, especially if it's your first time visiting a concentration camp).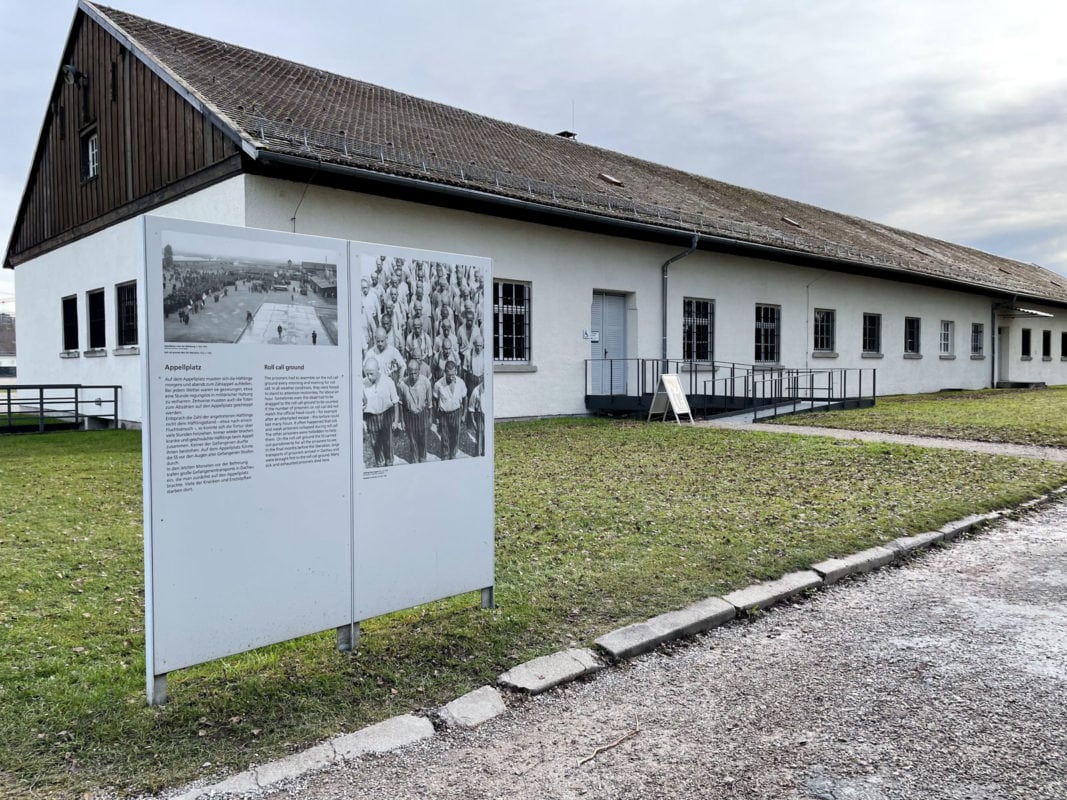 Dachau is a dark but intrinsic part of German history and one that Germany doesn't shy away from. A great way to learn about a country is to visit important historical sites like Dachau. It may not be an easy place to visit but it's a valuable learning experience and highly recommended.
Directions from Munich: The easiest way from Munich is by public transportation. It takes around 40 minutes. Take the S2 train in the direction of Dachau/Petershausen to the Dachau station. Once there, you have to take bus 726 to the entrance (KZ-Gedenkstätte). If you're driving, exit at Dachau-Ost and follow the well-marked signs. There's a large parking lot near the entrance to Dachau.
Recommended tour: Since visiting Dachau can be a difficult experience, we recommend booking this guided tour led by qualified professionals who are authorized by Dachau. That way you'll learn the context of what you're seeing and you'll get the most out of your visit to this powerful memorial.
3. Oberammergau & Linderhof Palace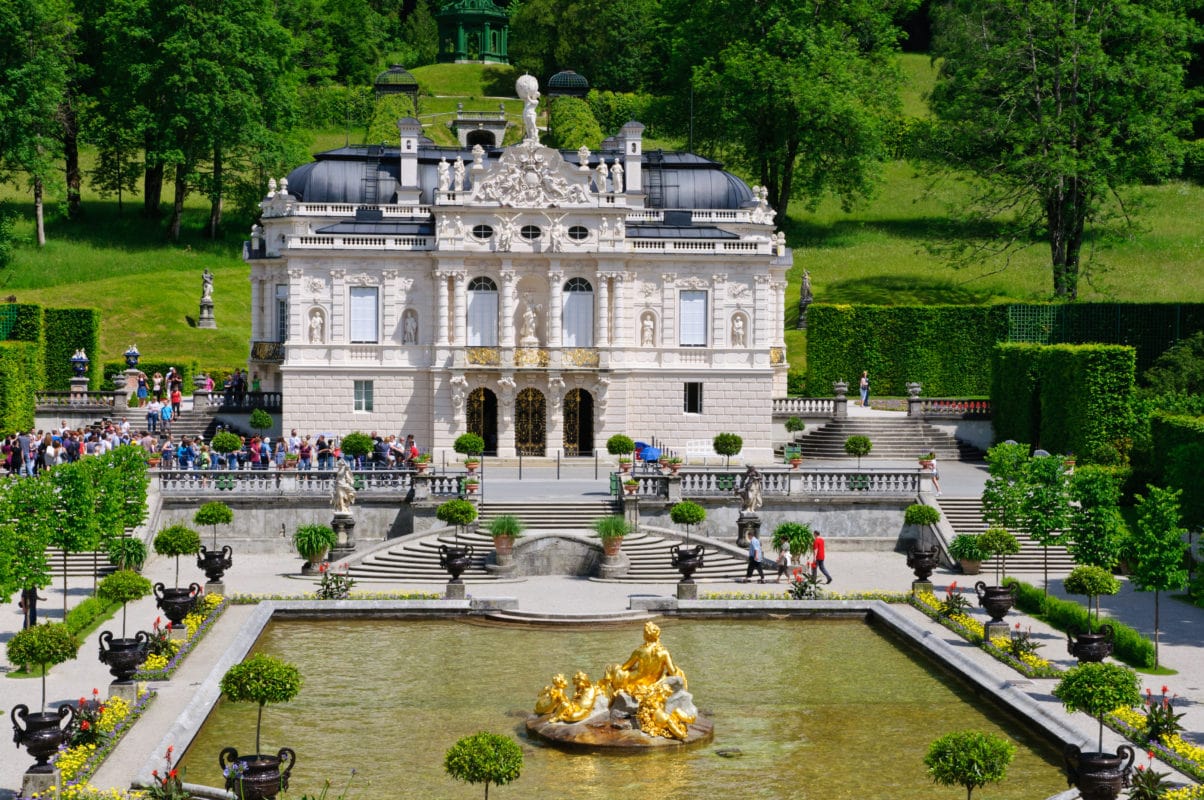 Oberammergau is a small town in the Bavarian Alps, known for a variety of cultural activities and sights. The most famous one is the Oberammergau Passion Play which is performed only once every ten years, in years ending with a zero. The production involves thousands of town residents who participate as actors, singers, technicians, and more.
The town is also known for its long-standing traditions in woodcarving and fresco paintings. You can admire it in the Oberammergau Museum which features ancient handcrafted artifacts and intricate carvings by local artisans.
Even if you just take a stroll through Oberammergau or stop for a meal or beer, it's a fun place to visit. And Oberammergau is just a few minutes away from Linderhof Palace. It's the smallest of King Ludwig's castles but is one of the most picturesque, known for its symmetrical architecture and beautiful gardens.
Directions from Munich:
Oberammergau is around an hour drive from Munich. You can also take a train from Munich to Murnau, then take the Innsbruck train to Oberammergau.
Linderhof Palace is around 20 minutes away from Oberammergau. There is a bus connection to Linderhof (bus 9622).
Recommended tour: If you're looking to make the most out of a day trip, this tour takes you to Linderhof Palace, Oberammergau, and Neuschwanstein Castle in one day! It includes the bus transportation, a tour guide and audio guide, plus you can buy the entrance tickets to the castles on the bus.
4. Mittenwald & Garmisch-Partenkirchen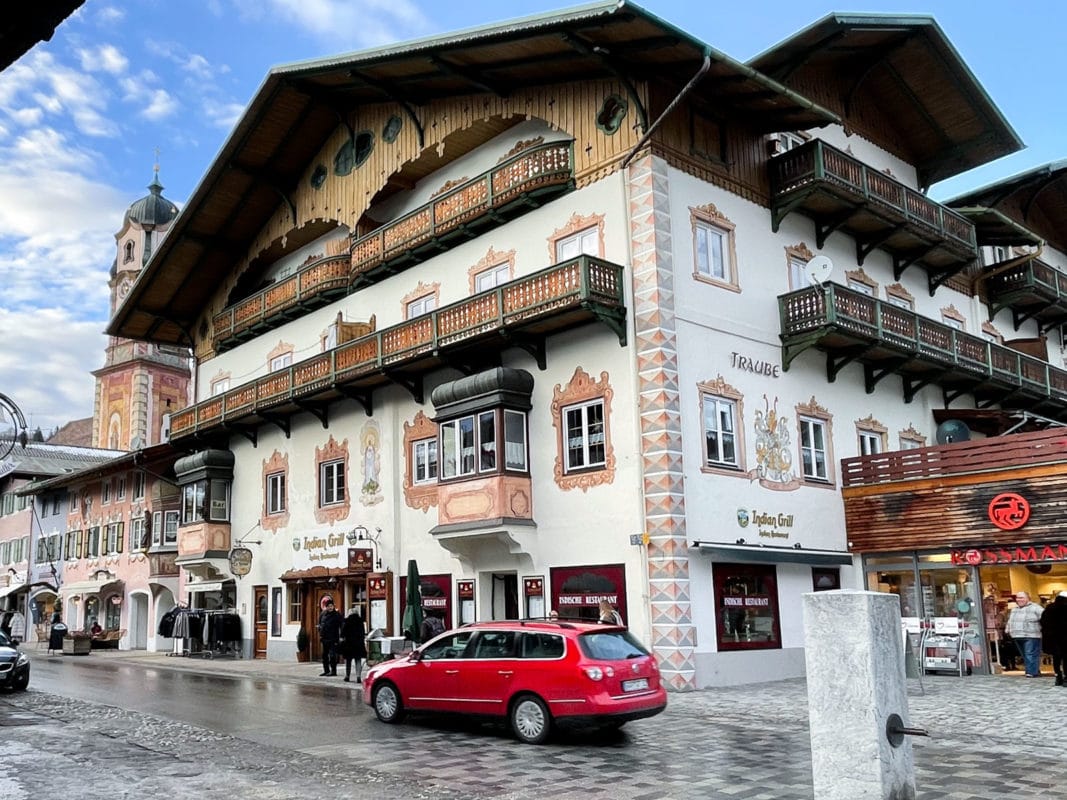 Mittenwald is another beautiful town in the Alps, located near the Austrian border. One of their most popular attractions is the St. Peter und Paul Church in the main square of the town center. It's known for its colorful frescoes and golden baroque decor. The town is also known worldwide for its manufacture of violins, violas, and cellos – they have a whole museum dedicated to it!
Mittenwald is also great for those looking for outdoor activities in nature. To the south, you'll find Leutaschklamm, a ravine with wooden pathways that's located between the two borders and atop the Leutascher Ache river.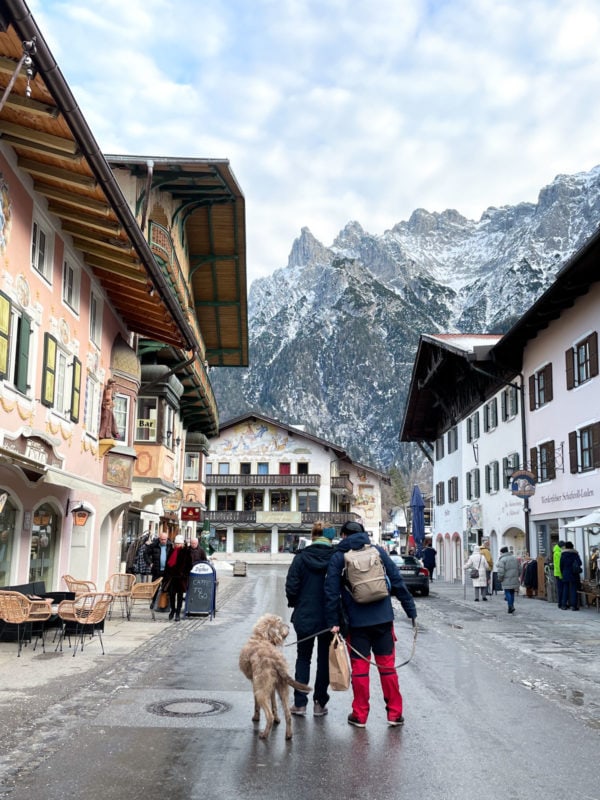 Garmisch-Partenkirchen, which is actually comprised of 2 separate towns (Garmisch and Partenkirchen), is a super easy day trip from Munich. Winter is a great time to visit Garmisch-Partenkirchen because the town is a winter sports resort known for hosting skiing championships and the Winter Olympics. Many of the chalets and venues are still used to this day, drawing ski enthusiasts of all levels.
If you're not a fan of winter sports, don't worry! If you visit during other parts of the year you'll have lots of opportunities for hiking and climbing in the surrounding mountains, most notably the Zugspitze and the Partnach Gorge. Don't want to hike? Explore Garmisch, then walk over to Partenkirchen. Stop for a laid back meal, beer or Kaffee und Kuchen (we had a delicious coffee, tea, and cake at Wildkaffee Cafe) while enjoying the alpine scenery. You can also hop on a train or bus to Mittenwald.
Directions from Munich: It takes about 1 hour to drive to Garmisch-Partenkirchen and 1.5 hours to Mittenwald by car. The best option for public transportation is to take a regional train from Munich central station to Garmisch-Partenkirchen and then on to Mittenwald. The average train ride with changes is 1-2 hours.
5. Zugspitze
Zugspitze is Germany's highest peak. It's located to the south of Garmisch-Partenkirchen and has a height of 9,718 feet. After taking the Zugspitzbahn, gondola or cable car to the summit, you'll be greeted with breathtaking views of the glaciers and the mountain peaks from four different countries.
In the winter, it's a great place for skiing and sledding. But it's just as fun during summer, when you can go hiking and climbing since there are several low-level trails that are more accessible. To end your hike, you can grab a beer in Germany's highest beer garden or enjoy a meal in the small mountain restaurant!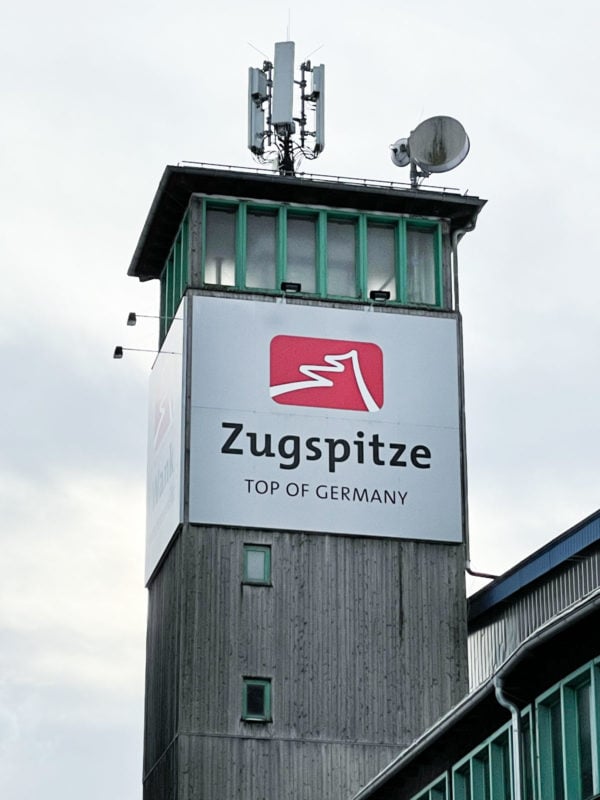 Directions from Munich: The best way to reach Zugspitze is to go to Garmisch-Partenkirchen. The drive from Munich is just over an hour, and it's about the same by train. Then board the Zugspitzbahn and head to the top!
Recommended tour: This day trip brings you comfortably to Zugspitze from your hotel in Munich via air-conditioned van. It's also a great option for those looking to travel and hike with a small group.
6. Innsbruck, Austria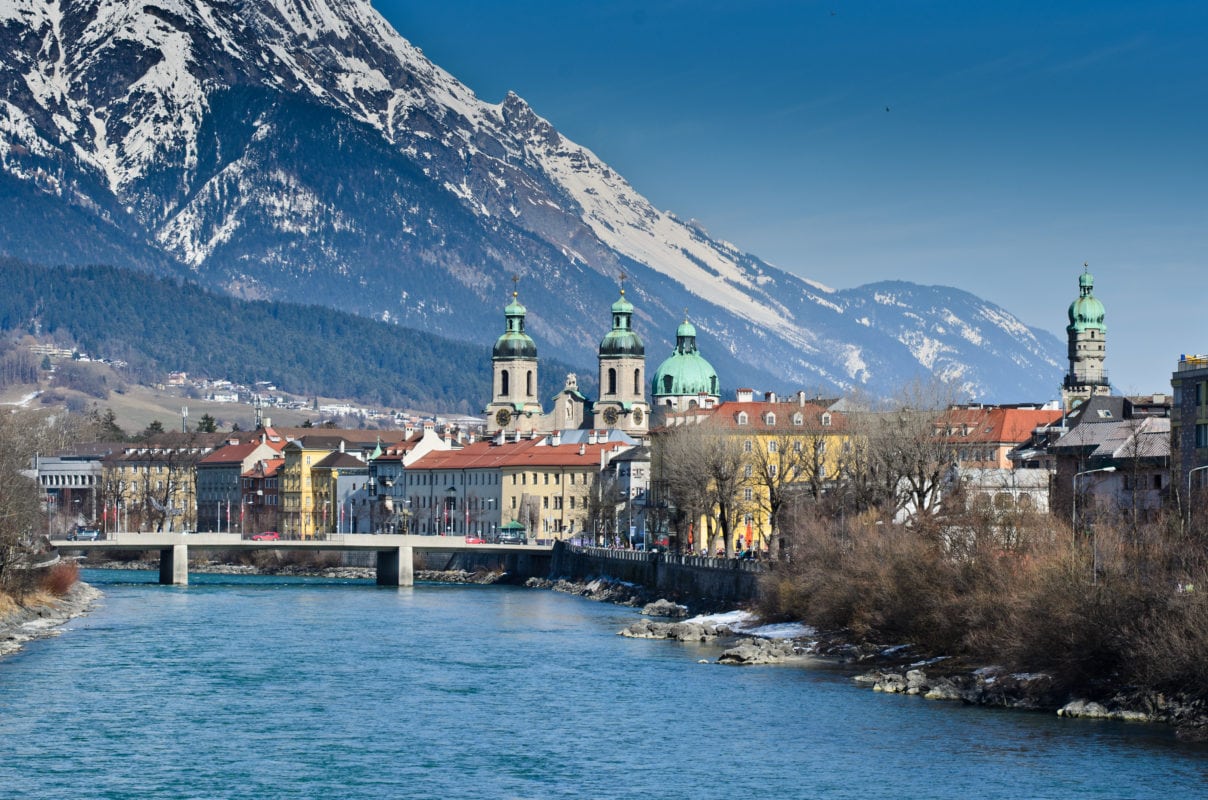 There are actually several day trips you can take to different cities in Austria. One of them is Innsbruck, the capital of the Austrian state of Tyrol. Like the previous day trips, the city is also known for being a major winter sports destination. But beyond that, there's a lot more to see in the city.
Begin your day trip in Old Town Innsbruck by exploring the stores and cafes and trying out delicious Viennese pastries. Another must do is to walk by the river and admire the beautiful colorful buildings against the backdrop of the mountains. Other key landmarks include the Innsbruck Hofgarten and the Golden Roof.
You can also ride the Nordkette Cable Car for stunning views of the city, valley, and Alps! We did this once and then hiked ALL the way back down to Innsbruck (even meeting alpine cows with bells around their necks)…it was fun but we were sore for a few days afterwards!
Directions from Munich: The drive from Munich to Innsbruck is around 2 hours. The fastest trains to Innsbruck take around 2 hours but those with more changes can take up to 3 hours.
Recommended tours: This guided tour includes transportation from Munich and a live guide who will tour you around the famous landmarks in downtown, including Swarovski's Crystal Worlds, an experience attraction with a museum, park, and restaurant.
7. Reutte, Austria
Reutte, also located in the state of Tyrol, is a lesser known Austrian city that's close to the Lech river and some Alpine lakes. There are around 10 crystal clear lakes you can visit nearby. Some of the most visited ones include Lake Heitwangersee and Lake Plansee which draws sailors, windsurfers, rowers and even sightseeing boats during the summer. For Lake Plansee, you can also hike the woods, explore waterfalls, and even swim in the clear waters.
Directions from Munich: Reutte is actually quite close to Füssen, around 20 minutes away by car. But if you're coming from Munich, the car ride is almost 2 hours. Many of the train routes involve several changes, so driving would be your best bet.
8. Berchtesgaden & Eagle's Nest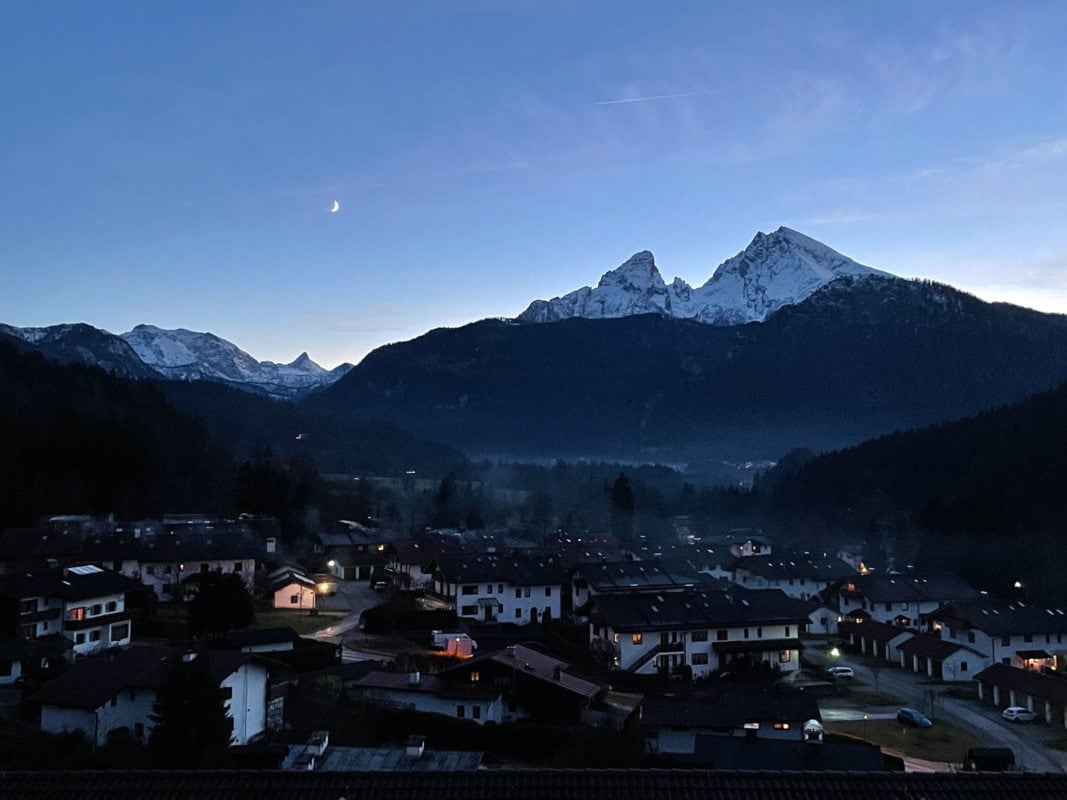 The Berchtesgaden and Eagle's Nest area is not only one of the top day trips from Munich but it's a major tourist destination of Germany. Berchtesgaden is not only a town with great historical significance but it also boasts unmatched natural beauty. The photo above shows you the view we had from our apartment!
For those interested in the historical background of Eagle's Nest and the area in relation to World War II, visit the Obersalzberg Documentation Center. Eagle's Nest is another educational site but it's also where you can get some of the best views of the Alps. Note, however, that due to its high elevation location, Eagle's Nest is closed during the winter season.
For nature lovers, the Berchtesgaden National Park is a must! The landscape is rich with dense forests, rugged mountains, narrow gorges, and beautiful lakes and glaciers. If you're traveling with kids, check out the Berchtesgaden Salt Mines for a fun tour that takes you deep inside the mines (via 2 miner's slides!) and even an underground lake.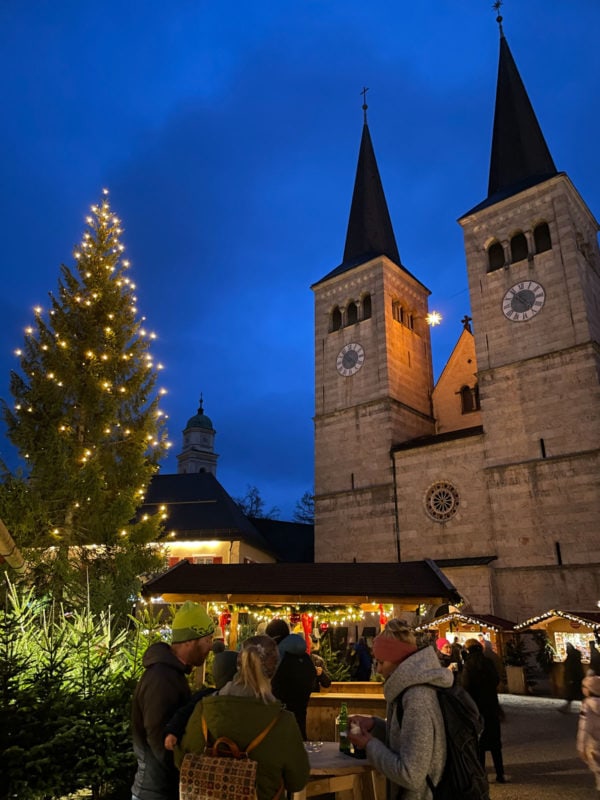 Directions from Munich: The train from Munich to the Berchtesgaden train station takes around 2 hours and 35 minutes. Most require a change in Freilassing. The drive from Munich takes around 2 hours via Autobahn München-Salzburg A8.
Recommended tours: If you want to take a scenic route in a luxury tour bus, this guided tour drives through the German Alpine Way to the foothills of Berchtesgaden and brings you to Eagle's Nest.
9. Königsee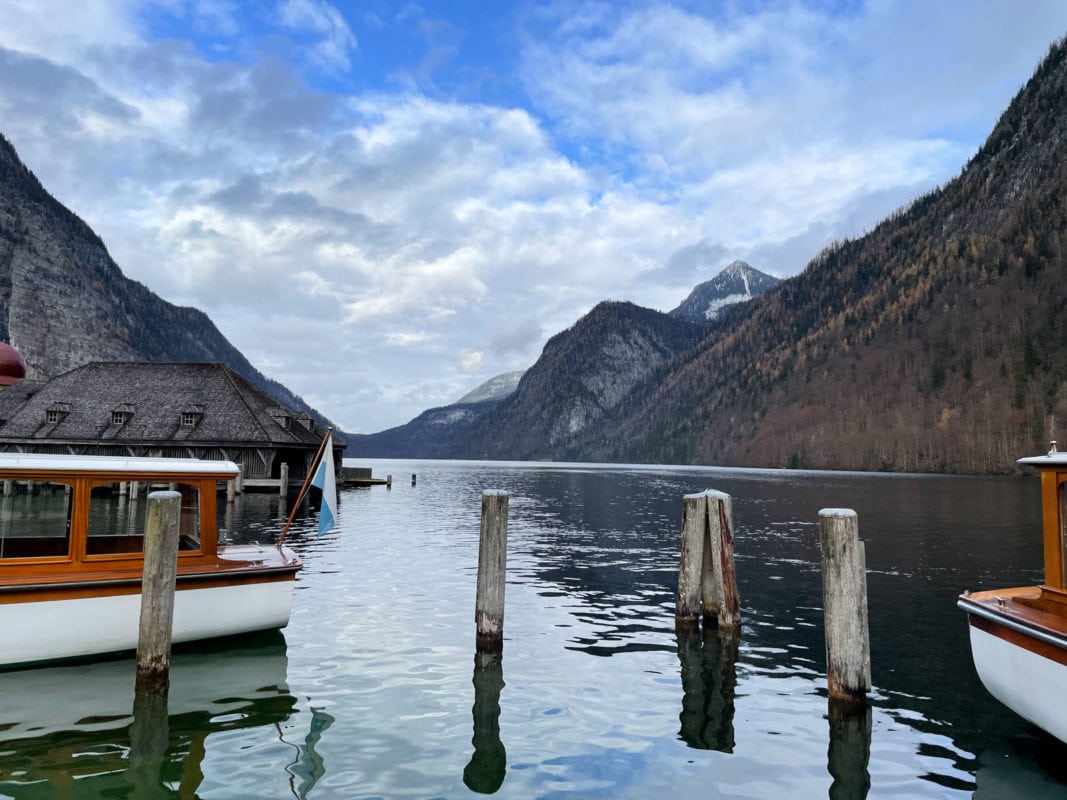 There are many lakes near in the Berchtesgaden area. Lake Königssee is the most popular one and for good reason – it's stunning! Most of the lake lies within the Berchtesgaden National Park and is easily reached from Berchtesgaden by bus or car (or a very long walk). This beautiful lake is the third deepest lake in Germany and is surrounded by the imposing Mount Watzmann.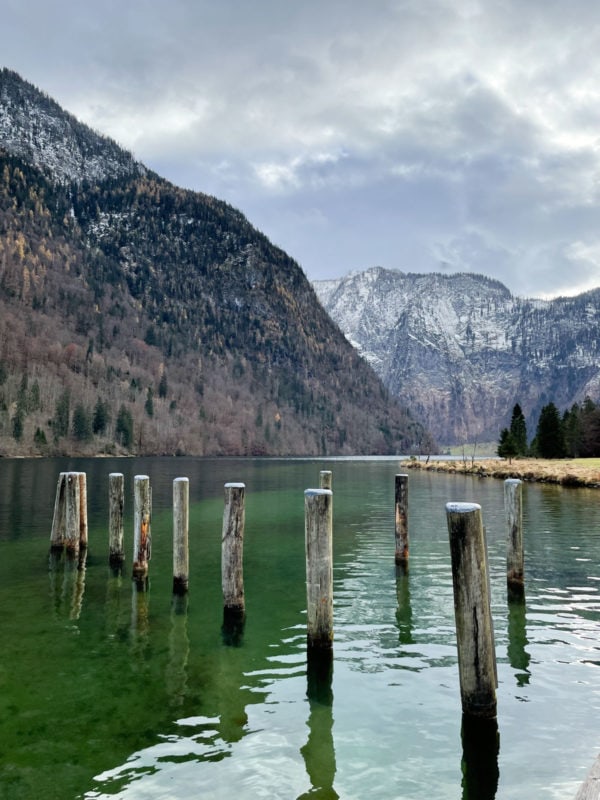 The best way to explore the lake is to go on a boat ride in the clear, emerald waters. From these boat tours, you can see other famous landmarks like the St. Bartholomew Church and hike your way to Obersee Lake and Röthbach Waterfall. During the crossing to St. Bartholomew, you'll get to hear the world-famous Königssee echo as the boatman plays his trumpet. Highly recommended!
Directions from Munich: The drive from Munich to Königsee is around 1 hour and 50 minutes. There are no direct trains. You'd have to follow the same route from Munich to Berchtesgaden and then take a local bus to Königsee for a total journey time of around 3 hours.
Recommended tour: If you'd like to head directly to Königsee without going through Berchtesgaden, then this full-day tour will take you directly to the lake.
10. Salzburg, Austria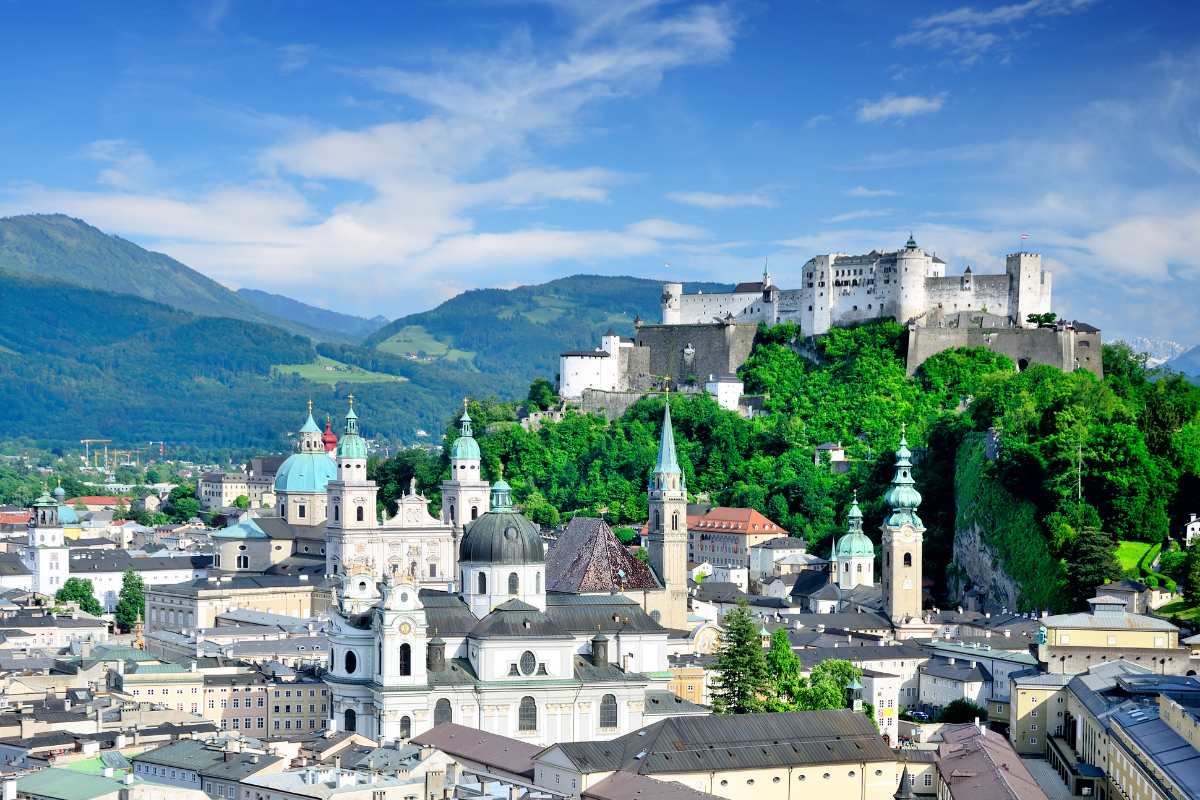 Salzburg is known by many as the setting of the musical "The Sound of Music" and as the hometown of the composer Wolfgang Amadeus Mozart. It's one of the best day trips to take from Munich because of how unique the city is while also being small enough to see most landmarks in one day.
Salzburg's Old Town is a UNESCO World Heritage Site due to the well-preserved Baroque and medieval architecture seen in the picturesque streets of the downtown area. Salzburg is home to many castles and palaces like Salzburg Fortress, the Mirabell Palace and Gardens, and Hellbrunn Palace. Another landmark worth visiting is Mozart's residence which has been turned into a museum. While in Salzburg, try some Mozartkugeln – small chocolate covered marzipan and pistachio candies named after Mozart.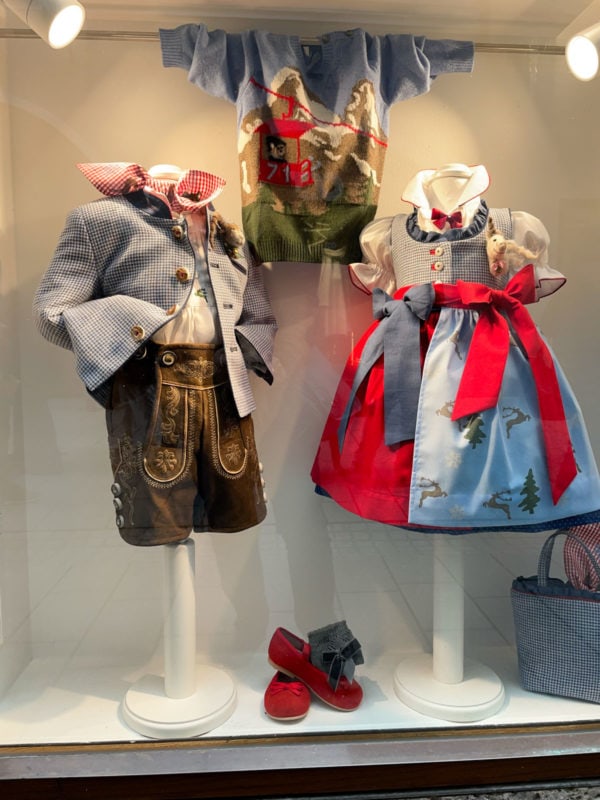 Directions from Munich: The drive to Salzburg is around 1.5 hours from Munich. The direct train from Munich to Salzburg is approximately 2 hours.
Recommended tour: If you don't want to worry about transportation, this guided tour already includes a roundtrip train ticket. For those who are big fans of "The Sound of Music," check out this tour that brings you to the countryside where the movie was filmed. You'll even get to listen to the soundtrack as you go between each stop!
11. Chiemsee & Herrenchiemsee Palace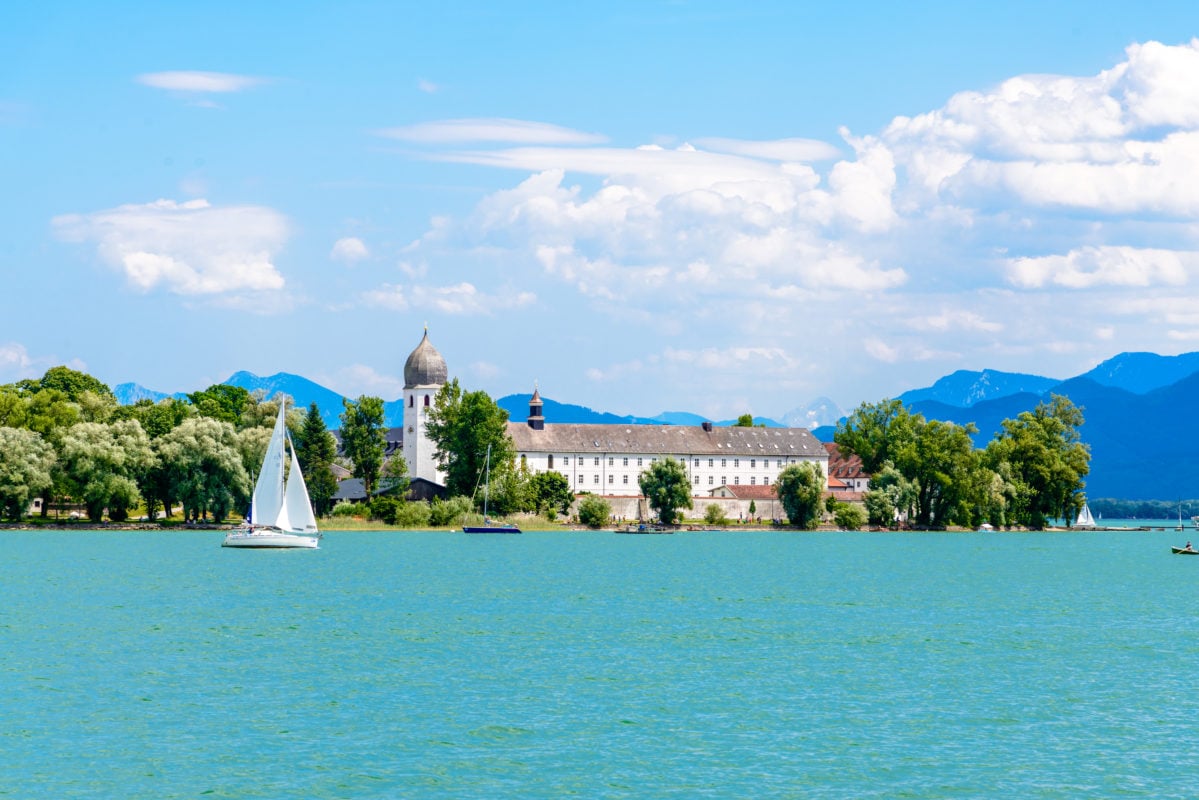 Chiemsee is considered the "Bavarian Sea" due to its size. It's composed of three main islands: Herreninsel, Frauenchiemsee, and Krautinse which is completely uninhabited.
Herreninsel is home to the area's most famous landmark – Herrenchiemsee Palace. This is another one of King Ludwig's castle which was based on the Palace of Versailles. The interiors are extravagantly decorated as an homage to King Louis (the Sun King). There is even an exact replica of the famous Hall of Mirrors, complete with ceiling frescos and sparkling chandeliers. The castle has an interesting location since you can only reach it by boat.
Frauenchiemsee, on the other hand, is a small island that houses a Benedictine monastery. The monastery is famous for their marzipan and liquor spirit, which is produced by the nuns.
Directions from Munich: The most direct route from Munich to Chiemsee by train takes about 1 hour (you'll travel to Prien am Chiemsee). The car ride from Munich to the same place is also a little over an hour. You can then take a boat to the palace.
Recommended tours: Since you can only reach the castle by boat, we suggest booking this boat trip day tour that takes you to both islands of the Chiemsee. It also includes the transport by train from Munich.
12. Nürnberg (Nuremberg)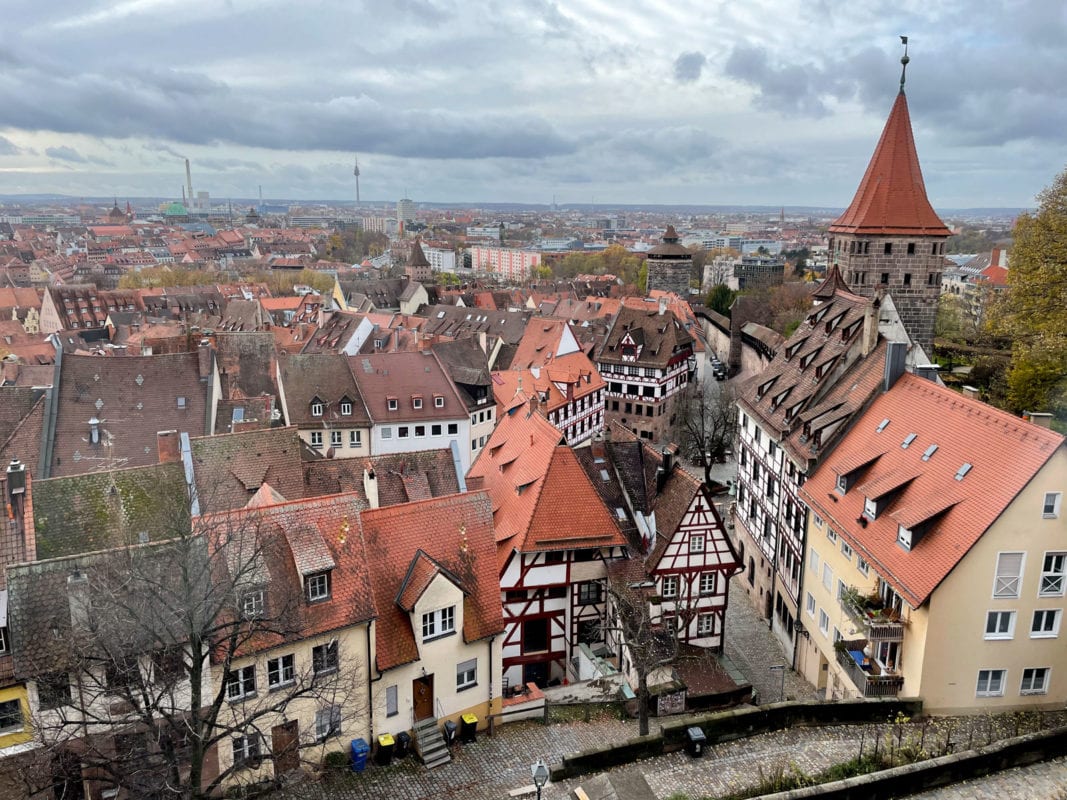 Nürnberg (or Nuremberg in English) is the second largest city in Bavaria after Munich. It's a historic medieval city that's both an important cultural and educational center and tourist destination. It's home to many prestigious universities and institutions and of course, their world famous Christmas Market. It's a great day trip to make in the winter!
The market takes place in Hauptmarkt, the city center where you'll find other landmarks within walking distance such as St. Giles' Church and the Old Town Hall. A must-see landmark is the Imperial Castle of Nuremberg, one of the most important surviving medieval fortresses in all of Europe. The historic city walls have also been well-preserved. A great thing to do to get to know the city is to walk along the walls and discover medieval gates and towers throughout.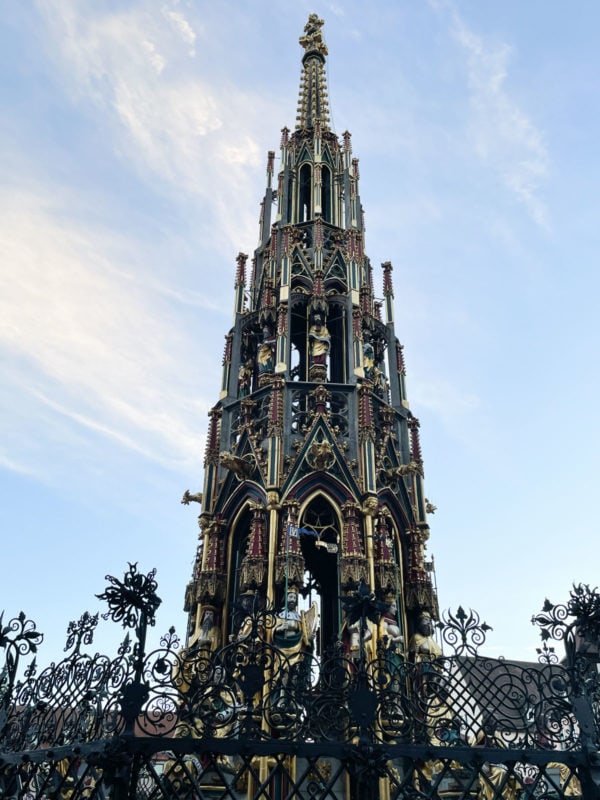 Directions from Munich: Driving to Nuremberg takes around 2 hours. There is a direct train from Munich Hbf to Nuremberg Hbf that can be much faster as it only takes 1 hour.
Recommended tours: One of the best ways to explore a city for the first time, and especially when you're short on time, is by taking a Hop On Hop Off bus tour. It goes through six stops covering famous Nuremberg attractions including the historic Old Town, the Imperial Castle of Nuremberg, Memoriam Nuremberg Trials, and Hauptmarkt.
13. Bamberg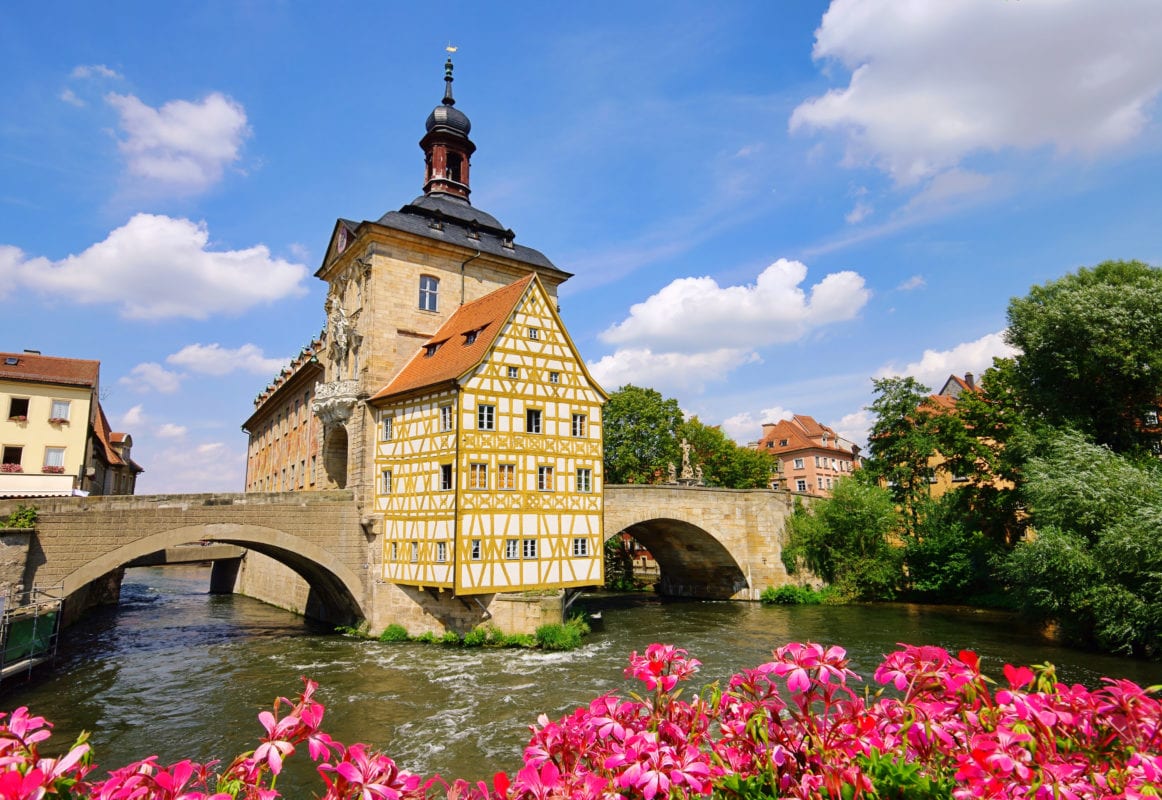 Bamberg is an historic town located in northern Bavaria, near where the Regnitz and Main rivers meet. Another interesting thing about Bamberg's location is that it's spread out over seven hills, each crowned by an old church. For those who have time to venture out, you can follow the Seven Rivers Path which takes you to the countryside.
For those wanting to stay in the center, the medieval Old Town (also a UNESCO World Heritage Site) has a lot to offer. Start off by crossing the Obere Brücke, a pedestrian bridge that gives you amazing views of "Little Venice," a former fishermen's district with half-timbered buildings and little boats floating in the moorings. The highlight is the Old Town Hall, one of the most photographed architectural structures of Bavaria. The facade is adorned by frescoes while the inside houses the beautiful old Rococo hall and the Ludwig Collection.
Directions from Munich: There's a direct train from Munich that takes almost 2 hours but if you're coming in from Nuremberg, the train is only around 45 minutes. The car ride from Munich to Bamberg takes about 2 hours and 50 minutes.
Recommended tours: If you're looking for a traditional tour, this 2-hour Bamberg walking tour takes you to all the city's historical buildings, churches, and bridges. Bamberg is also known for its beer. In this guided beer history tour, you'll get to learn about the brewing process, sample some beer and also see some of the main tourist attractions along the way.
14. Dinkelsbühl
Dinkelsbühl is one of the most beautiful old towns along the northern leg of the famous Romantic Road. It's located to the south of Rothenburg ob der Tauber and to the north of Munich. This former Free Imperial City of the Holy Roman Empire is still surrounded by a lot of old medieval walls and towers.
Much like the rest of the stops along the Romantic Road, Dinkelsbühl is characterized by colorful half-timbered houses. The most famous one is the Deutsches Haus, which has a highly ornamental timber framing. Another important sight is the St.-Georgs-Kirche, a Gothic hall church filled with intricate art and six altars.
Directions from Munich: The fastest way to Dinkelsbühl via car takes around 2 hours and 15 minutes. There are no direct trains from Munich. All of the train routes involve at least 2 changes in Nuremberg and Dombühlf for a total journey of a little over 3 hours one way.
15. The Romantic Road
The Romantic Road is one of the most popular tourist attractions in southern Germany. This picturesque route runs through Bavaria and Baden-Württemberg, making for an excellent road trip. It traverses through an area with many of Germany's best castles starting from Nuremberg Castle in the north all the way down to Neuschwanstein Castle in the south.
The Romantic Road route will transport you back to the medieval times as you pass through many towns that have preserved their original architecture from the middle ages. Along the way you'll see everything from quaint cottages, fairytale castles, and the beautiful countryside. Many of the highlights are already popular day trips in themselves like Neuschwanstein, Dinkelsbühl, and Rothenburg ob der Tauber (more on that below).
If you have a car you could get out of Munich and drive some of the Romantic Road in a day. But if you find yourself wanting to see multiple stops on this route, consider a multi-day road trip instead of a day trip.
Directions from Munich: The most traditional way of doing the route is by car, starting in the North in Würzburg and finishing in the South in Füssen. But if you're coming from Munich, the best way is to do it South to North. Since Füssen is around a 2-hour drive away from Munich, you'll likely want to start north of Füssen.
Recommended tour: If you only have time for a day trip but still want to see a significant part of the southern part of the Romantic Road, this day trip from Munich brings you to multiple stops including Harburg Castle, Dinkelsbühl, Nördlinger Ries, and Rothenburg ob der Tauber.
16. Rothenburg ob der Tauber
As previously mentioned, Rothenburg ob der Tauber is one of the highlights of the Romantic Road. Much like Dinkelsbühl, it's one of the very few German cities that have completely intact city walls. From this you can tell that it's one of the best-preserved medieval towns in the region.
This charming town is full of the classic elements of any Romantic Road medieval destination like colorful half-timbered houses and cobblestone streets. To get panoramic views, we recommend climbing up the medieval Town Hall. You can also walk a covered walkway on top of the walls and towers surrounding the city. Other highlights include St James' Church and the central square, Marktplatz.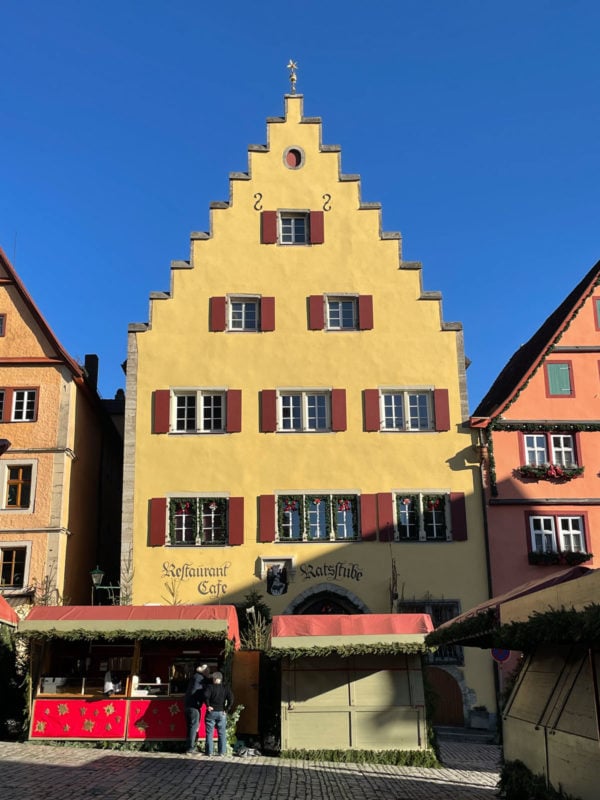 Directions from Munich: The drive from Munich is quite long, at a little over 3 hours. But it won't be a problem if you're stopping along the way to other stops in the Romantic Road. It's best to do this journey by car since the train route requires several changes.
Recommended tour: The Romantic Road tour from Munich includes Rothenburg ob der Tauber as its final stop. This tour is guided but it also allows you to explore the city at your own time and pace.
16. Regensburg
Regensburg is another city known for its well-preserved medieval architecture and importance during the Holy Roman Empire. It's located in Eastern Bavaria, along the Danube River. The Old Town is also a UNESCO World Heritage Site made up of stately churches and aristocratic houses.
Since it's on the Danube, you can get spectacular views of the river on the Old Stone Bridge, one of the oldest standing medieval bridges. It's now only used for pedestrians. Afterwards, head on to the Old Town center and visit the impressive Regensburg Cathedral, a Gothic church with spires towering at over 300 feet.
Directions from Munich: Regensburg is around 1 hour 50 minutes away from Munich by car. There is a direct train from Munich to Regensburg, which takes around an hour and a half.
17. Stuttgart (Christmas Markets!)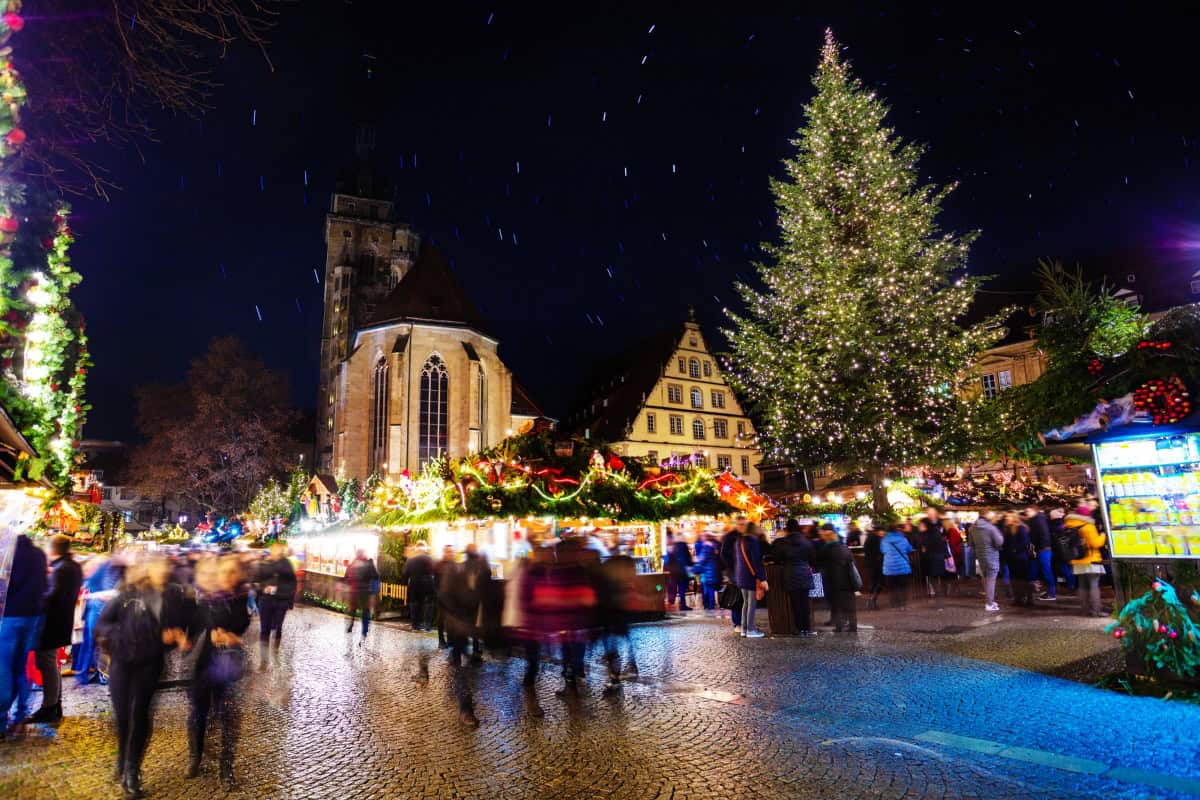 Stuttgart is another major German city and the capital of the state of Baden-Württemberg. It's globally known as an automotive hub, being the birthplaces of Mercedes-Benz and Porsche. Since it's a big city, you might want to stay in Stuttgart for a couple of days in order to see all the landmarks like the automotive museums, downtown, and the Wilhelmina zoo and botanical gardens.
Another main attraction is the Stuttgart Christmas Market – one of the biggest and oldest in all of Europe! This Christmas market has nearly 300 stalls selling everything from decor, toys and crafts and sweet holiday treats like Glühwein and cinnamon roasted almonds. It would be a long day but if you're into Christmas markets, it could be worth it to visit on a day trip from Munich!
Directions from Munich: The direct train from Munich to Stuttgart takes around 2 hours and 15 minutes. The drive is longer, taking almost 3 hours.
Recommended tour: Get to know the city by booking a Hop On Hop Off Bus tour! This tour has three different routes and takes you to the city's highlights including the Mercedes Benz Museum, Stuttgart TV Tower, Marienplatz, and more. It's the perfect way to see a lot in a short amount of time.