What to Do In Berchtesgaden, Germany (Including Eagle's Nest And Surrounding Area)
This post may contain affiliate links. Read my disclaimer policy.
Thinking about visiting Berchtesgaden? This guides will get you ready to visit this beautiful Bavarian destination!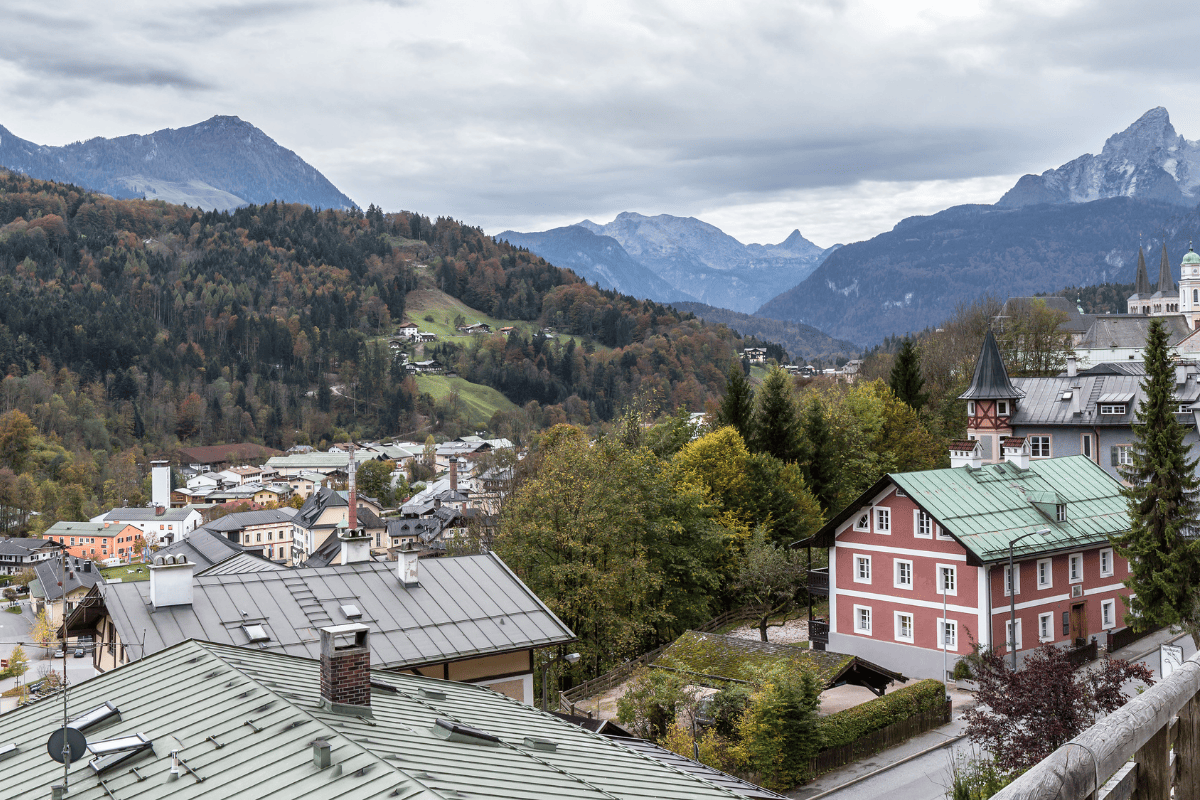 Berchtesgaden is one of the most popular tourist destinations in Germany, attracting visitors from all over the world for many different reasons. It's easy to see why!
Whether you're visiting Berchtesgaden to learn about World War II or to admire the natural beauty of Bavaria, you'll be sure to have an unforgettable experience.
Here's what you need to know when planning your trip to Berchtesgaden.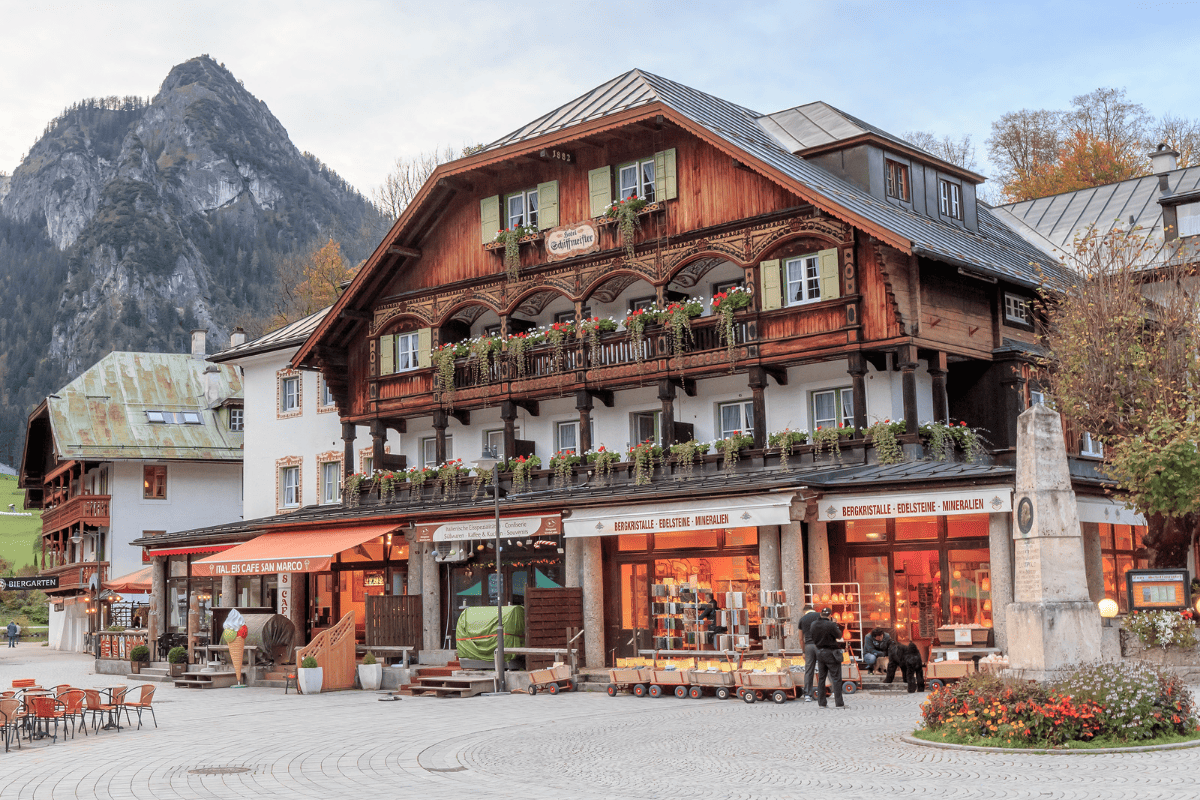 Why Visit Berchtesgaden?
Berchtesgaden, Germany is one of the most beautiful parts of Bavaria. It's a place that perfectly combines history, natural wonders, and fun cultural activities.
Many people associate the town with WWII, given the prominent role it played in history (scroll down for a summary). There are many historical and educational sites to visit such as Eagle's Nest and Obersalzberg Documentation Center.
But there's so much more to discover! Berchtesgaden also offers a unique experience and atmosphere, due to its wonderful location. The surrounding mountains means there's tons of opportunities for hiking or just simply taking in the area's natural beauty.
It's also a stone's throw from Salzburg, a beautiful and picturesque city worth visiting in neighboring Austria. So it's easy to visit both countries in one visit.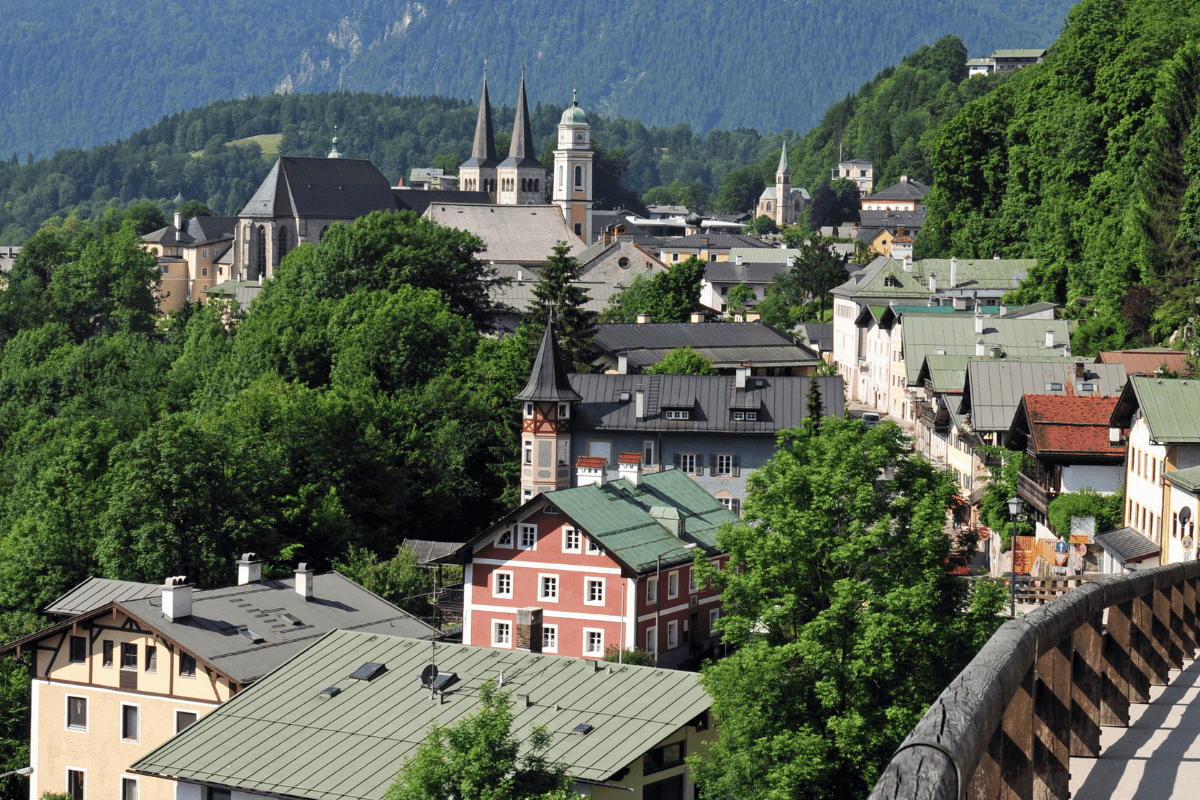 Where is Berchtesgaden?
Berchtesgaden is a small town located in Bavaria, a region in the southeastern part of Germany. It lies within the breathtaking Berchtesgaden Alps and is surrounded on three sides by Austria. It's just 30 kilometers away from the Austrian city of Salzburg and around 180km southeast of Munich.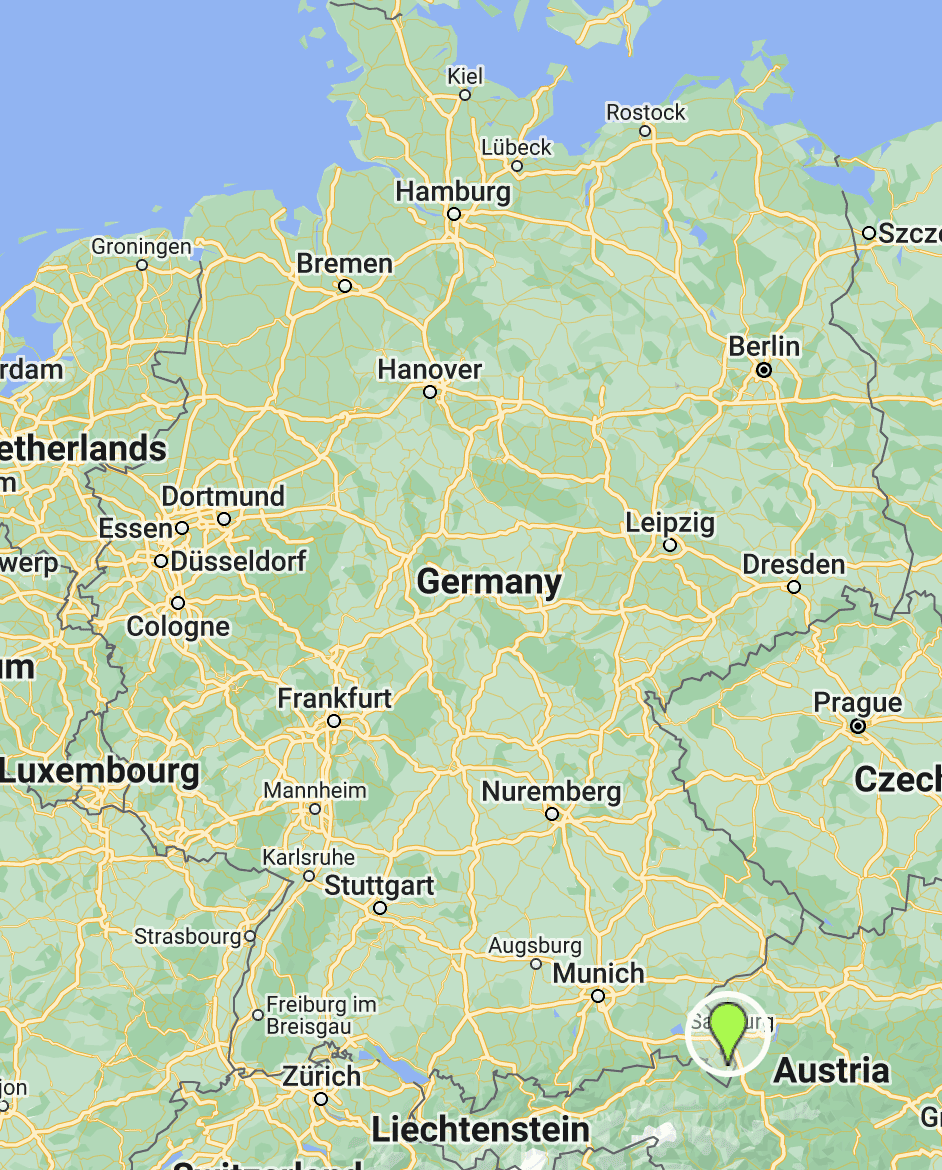 What's The Best Time of Year to Visit Berchtesgaden?
This part of Germany is gorgeous year round. I visited in the middle of winter, and while it was cold, the snow that had fallen made the town and surrounding area especially peaceful and beautiful.
If you like to downhill ski, cross-country ski, sled, snow shoe, ice skate or engage in other outdoor winter activities, you have several options. Christmas in Germany is magical everywhere and especially so in Berchtesgaden.
Summer is a wonderful time to spend the long days outdoors hiking, visiting nearby lakes, taking in breathtaking views, learning from history, and just soaking in alpine nature. You can even camp in the area!
Spring and fall have their distinct beauty, too, even if you're likely to experience variable weather. Come prepared with the right clothes and attitude and you'll have a great time, no matter what!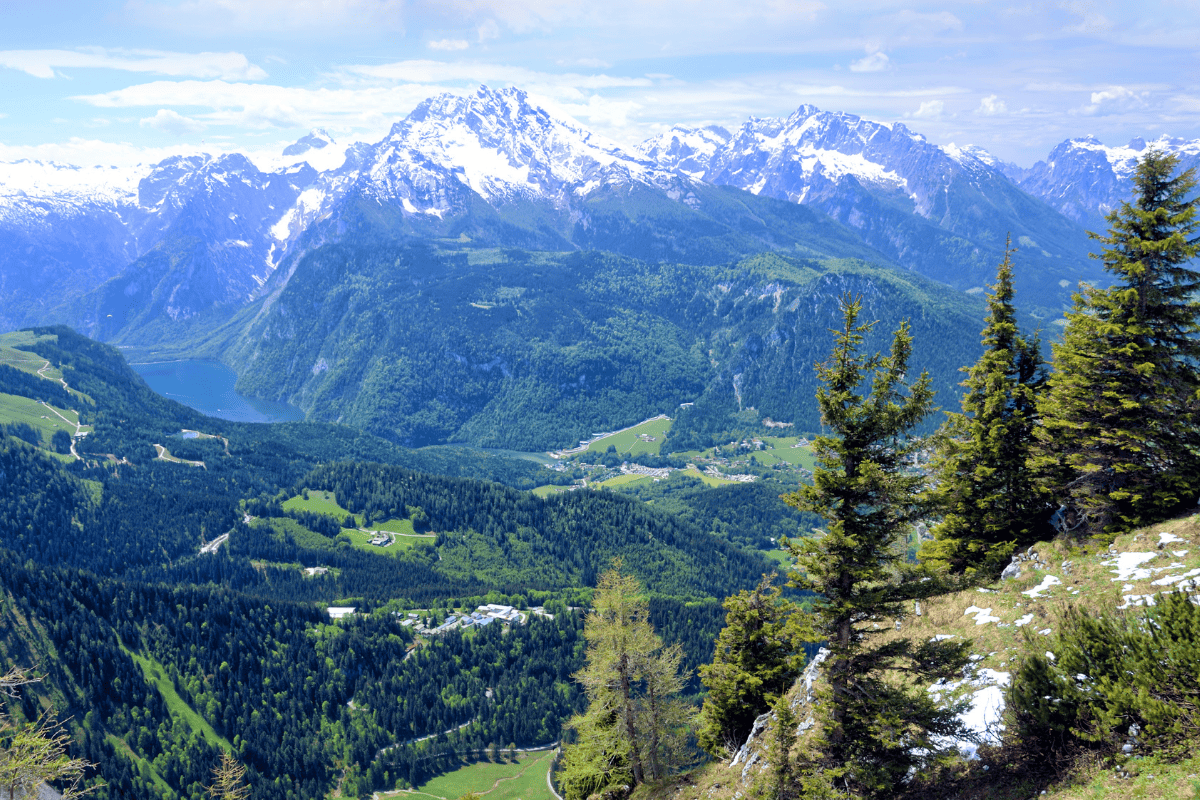 How Much Time To Spend In Berchtesgaden?
It depends. If you're visiting Salzburg, Berchtesgaden is a super easy day trip, given that it's less than an hour away by direct bus and about 30 minutes by car.
It's also a great day trip option from Munich. It takes about 2.5 hours to get there by train and 2-2.5 by car, so it's a good idea to get an early start and have a plan for what you want to do and see while there so you can maximize your time in Berchtesgaden.
If you'd rather relax and enjoy your day trip without the hassles of planning everything yourself and potentially missing trains or wasting time by sitting in annoying traffic, book an easy guided day trip from Munich!
If you'd like to see beautiful views & alpine scenery stress-free, you can book a full-day, small group tour that takes you on Bavaria's most scenic alpine road to Eagle's Nest for breathtaking views of the Berchtesgaden area. You also visit the NS Documentation Center in Berchtesgaden before heading back to Munich. Click here to read more about this guided day trip from Munich!
If you can spend longer than a day in Berchtesgaden, even better! In 2-3 days or more you'll be able to experience the historic town and visit several of the spectacular sights described in this article. If you want to hike and experience the Berchtesgaden Alps, I highly recommend at least 2-3 days in the area.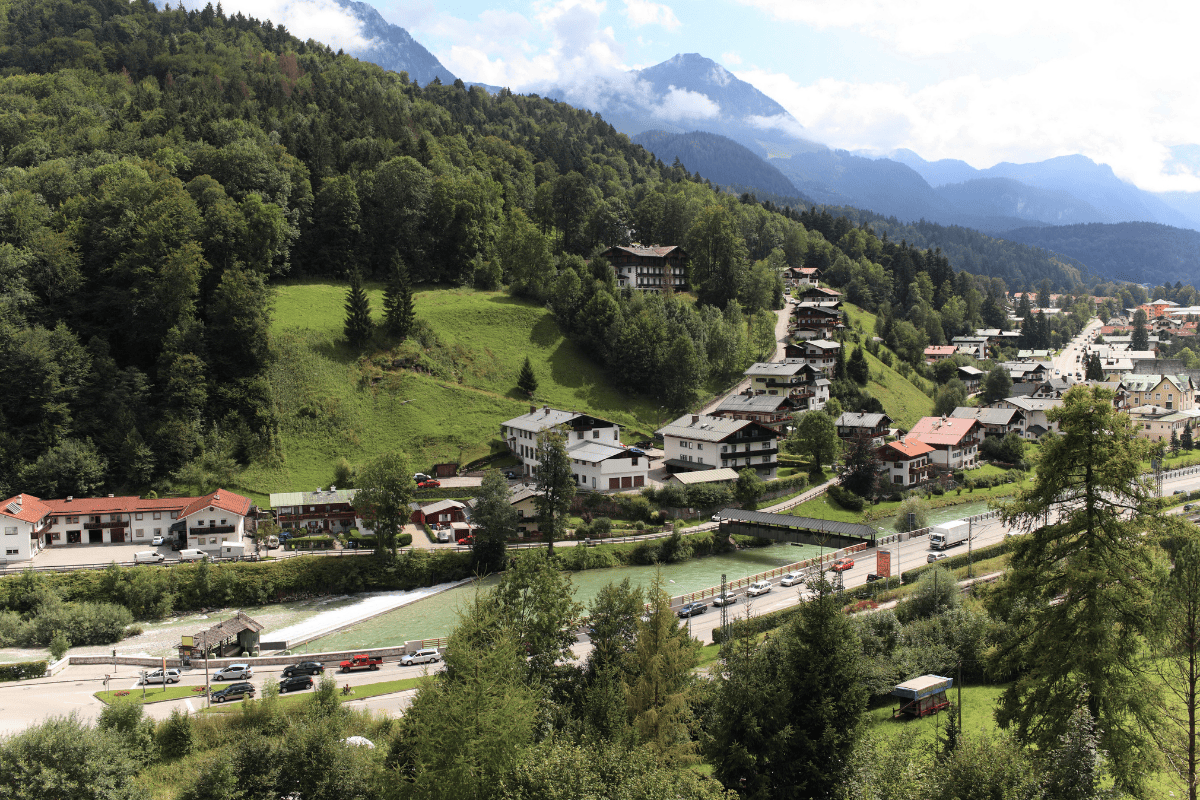 How to Get to Berchtesgaden
Berchtesgaden is easily accessible by car and train from both Salzburg and Munich.
The drive to the small town of Berchtesgaden from Salzburg only takes around half an hour, and the drive from Munich takes around 2 hours. Take the Autobahn München-Salzburg A8 from Munich.
If you're arriving in Germany via Munich International Airport or in Austria via Salzburg Airport, you can take the train directly to Berchtesgaden or pick up a rental car and drive.
Pro tip: If you're coming from the A8 from Munich, the official Berchtesgaden Tourist Office recommends you take the exit "Bad Reichenhall." Continuing through the Austrian sections of the Autobahn requires a vignette, which is a European Union toll-road sticker.
Public transportation from both cities is also fairly straightforward. You can take a bus from Salzburg from their main train station for the 50 minute trip. The train takes a bit longer at around 1 hour and 10 minutes. There are multiple departures per day which you can check here.
The train from Munich to the Berchtesgaden train station takes around 2 hours and 35 minutes. Most require a change in Freilassing. You can check schedules here.
Because the trains running from Munich to Berchtesgaden are regional trains, we recommend checking out the Bayern (Bavaria) ticket from Deutsche Bahn (Germany's train system – I book all of our train tickets here before I leave for Germany).
This ticket is an easy way to save money, especially for families, because it gives up to 5 people traveling together unlimited trips on regional trains within all of Bavaria for one day.
So if you're taking a day trip from Munich to Berchtesgaden and back, you can use the Bayern ticket for both train journeys that day. You can use this ticket to take regional trains anywhere in Bavaria! If you plan to take more than 1 day day trip by train within Bavaria, you can purchase a new ticket each day.
Even better, you don't have to decide ahead of time which regional train to take and you're not locked into one departure time, so you have lots of flexibility with this ticket. Do check train schedules, though, so you know when the trains are scheduled to run.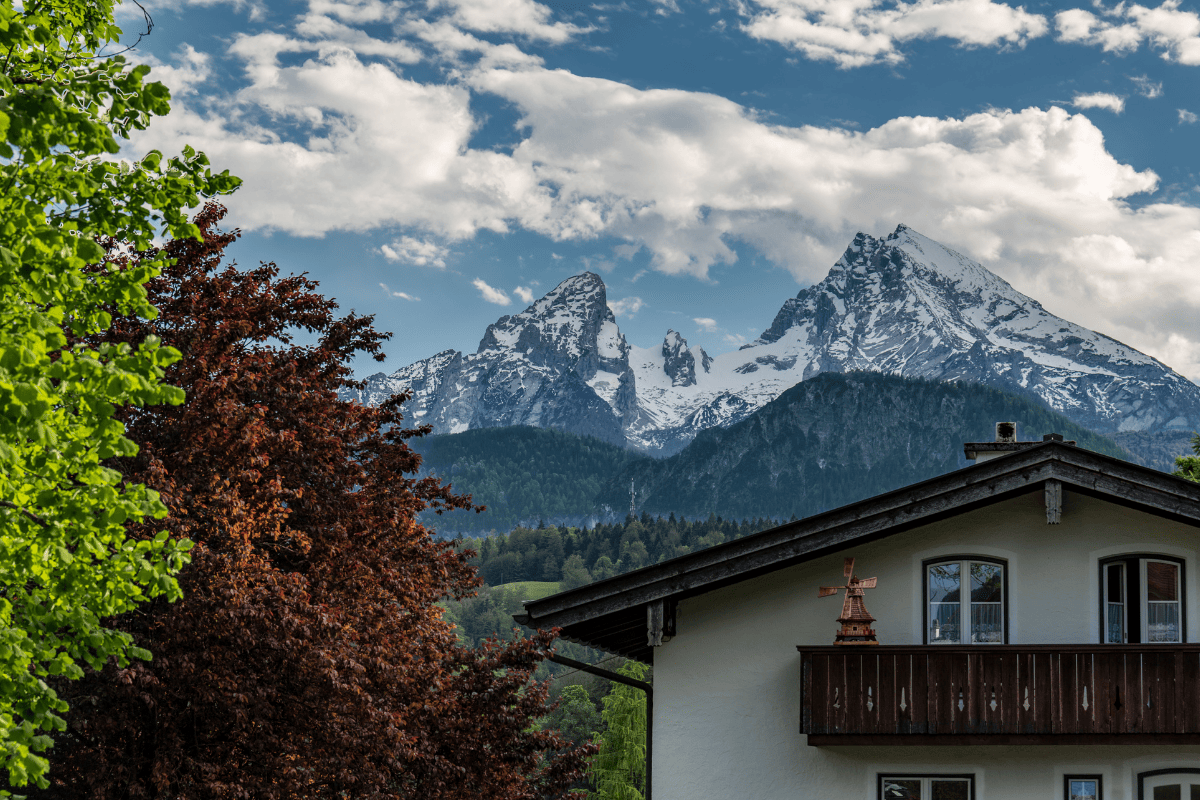 Berchtesgaden Hotels
As a popular tourist destination, finding a hotel won't be a problem. There are a great variety of accommodations in Berchtesgaden for all kinds of budgets, from luxury resorts to mid-range hotels.
As is the case for most of Germany, summer tends to be the peak season for travel, so it's always a good idea to book and make reservations well in advance! Same goes for the Christmas season.
Here are some excellent options that come with highly rated reviews:
Hotel AlpinaRos Demming – Centrally located hotel just 5 minutes away from the train station and with free private parking. Each country-style room has a balcony with views of the Berchtesgaden Alps.

Hotel Wittelsbach – Traditional, family-style and budget-friendly hotel. Located right in the heart of town with windows to the main street.
Kempinski Hotel Berchtesgaden – Five-star luxury hotel located 1000m up in the Bavarian Alps with lavish rooms and panoramic views of the Berchtesgaden valley. Amenities include an indoor swimming pool, spa and wellness center, and air-conditioned rooms.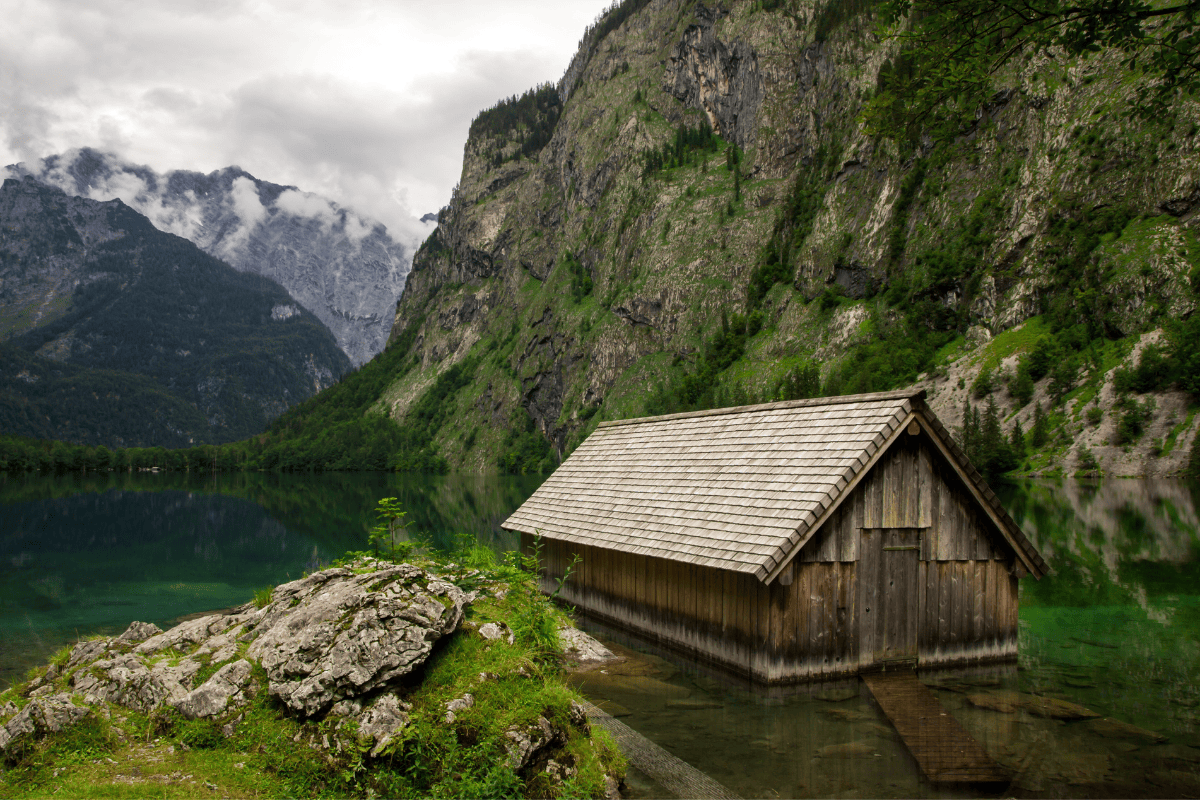 Berchtesgaden and WWII History
Berchtesgaden has an interesting history with the first mention of the town dating back to the 11the century, thanks to its rich salt mine deposits. Over the next centuries, the town grew and changed ownership from Austria and France before coming under Bavarian rule in 1810.
Years before World War II, Adolf Hitler frequented Berchtesgaden as a summer vacation spot. Hitler's chalet, the Berghof in Obersalzberg, became a prominent place as he made this area his second seat of government during the Third Reich. Other top Nazi officials like Hermann Göring and Martin Bormann also had chalets here.
Guests of the Berghof included military leaders, heads of states, and many other political figures from the German government and all over the world. Many of the famous photographs of Hitler would be taken here by Eva Braun, a photographer from the inner circle of the Nazi party who would eventually become Hitler's wife.
Various divisions of the Allied Forces launched an air raid on the Obersalzberg area in 1945. The Berghof took considerable damage by the bombs but the town of Berchtesgaden was unharmed. It was on the morning of May 4 that American troops and the French 2nd Armored Division looted and destroyed the building over the following days.
In the aftermath, Berchtesgaden remained under administration of the United States army. Many buildings with ties to the Nazi regime were destroyed postwar. Unfortunately, the ruins of the ex-Nazi sites attracted neo-Nazi pilgrimages. That led to the Bavarian government completely destroying the buildings in 1952.
Since then, remnants of Berchtesgaden's dark history have been turned into monuments and tourist attractions to help make sure the events of the past are never repeated. Sites like Obersalzberg Documentation Center and Eagle's Nest are educational and informative.
Through them you can see how Germany doesn't shy away from their role in WWII and you can learn their current perspective on how they continue working through their difficult past.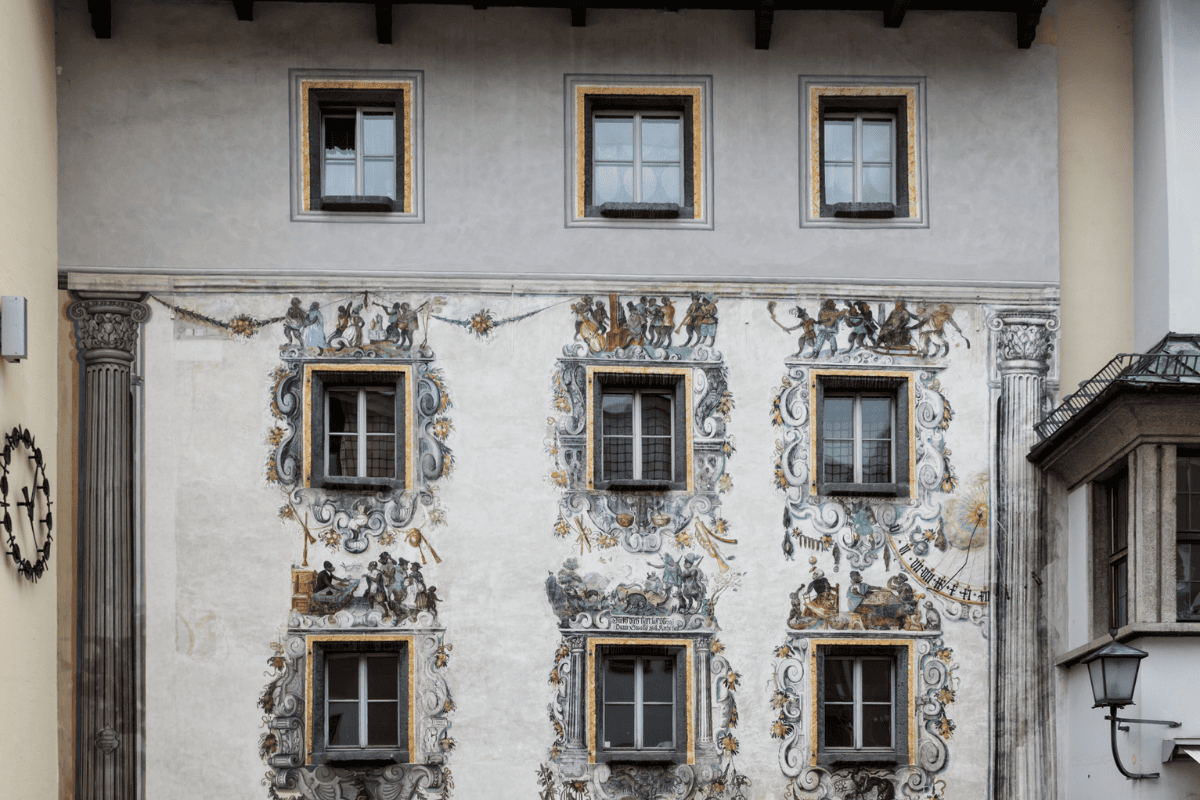 What To Do And See In Berchtesgaden
The beautiful Alpine town of Berchtesgaden is a quaint and charming town offering many interesting sights. One of the best things to do is to simply walk around and enjoy the charming, old town ambiance.
You can spend time in the historic town center admiring the half-timber houses, browsing around shops, or watching local music performances in the main square.
An important historical landmark includes the Berchtesgaden Royal Castle, the royal residence of the Wittelsbach family, who ruled Berchtesgadener Land for many centuries. Beside the castle you'll find the Collegiate Church of St. Peter and St. John the Baptist, an Augustinian monastery that dates back to the late 13th century.
In between sightseeing, make sure to stop by any of the cute cafes for coffee and pastries. There's also the Hofbräuhaus Berchtesgaden, the perfect spot for a traditional Bavarian beer hall experience of Wurst and local Bier.
What to Do and See in the Surrounding Area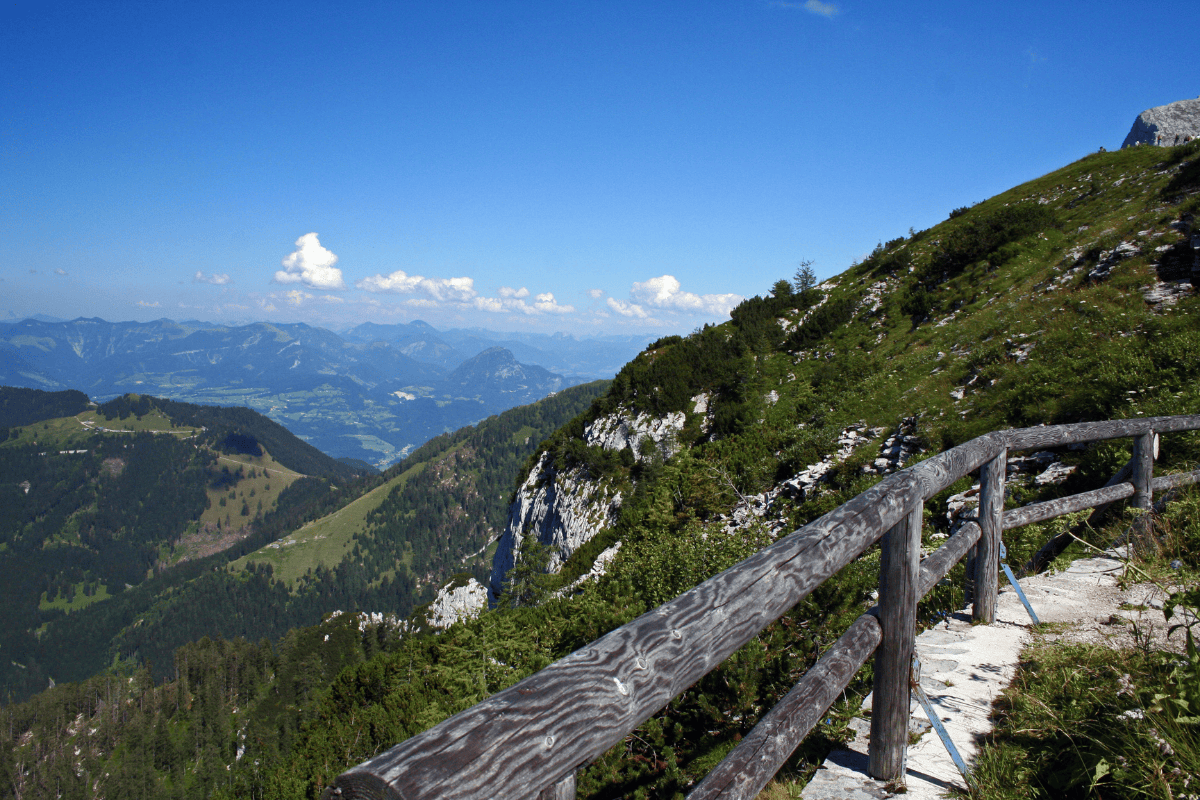 Eagle's Nest in Obersalzberg Mountains (Kehlsteinhaus)
Sitting atop the mountain summit of Kelstein, Eagle's Nest is a top tourist destination due to the spectacular views of the Alps.
To reach Eagle's Nest you can take a bus to an elevator built deep into the mountain – an impressive feat since it goes up over 120m. Once you reach the top, you can visit the house with most of its original structure, including the red marble fireplace that Mussolini gave Hitler. (Originally, it was built as a 50th birthday present for Hitler and was a known to be a place for social meetings of the Nazi party.)
There's also a restaurant inside where you can grab a bite while enjoying the views of the Obersalzberg mountains.
If you're thinking about visiting from Munich, you can book a full-day guided tour here that takes you directly to Eagle's Nest!
Obersalzberg Documentation Center
The Obersalzberg Documentation Center is a place of learning and remembrance detailing the history of Obersalzberg and the National Socialist dictatorship. The museum has bunkers complete with hidden rooms, trapdoors, and a maze of hallways that give visitors a firsthand experience to explore the location's dark history.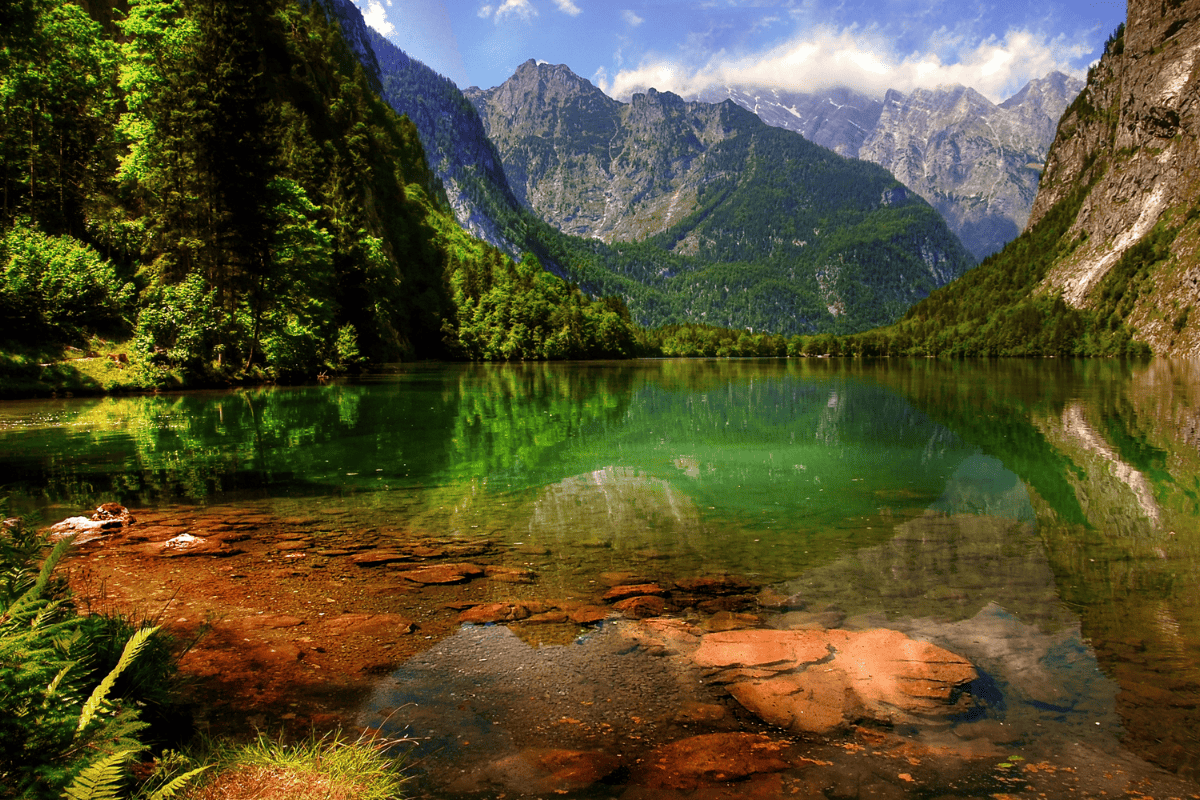 Berchtesgaden National Park
The Berchtesgaden National Park is filled with varied landscapes from dense forests, green pastures, rugged mountains, narrow gorges, and beautiful lakes and glaciers.
In the center, you'll find Lake Königssee (or King's Lake) standing at the foot of Mount Watzmann, the third highest peak in Germany.
You can rent a paddle board or explore the clear emerald waters on a boat ride! Another popular activity is hiking. There are a number of different special interest walks offered by the National Park administration as well.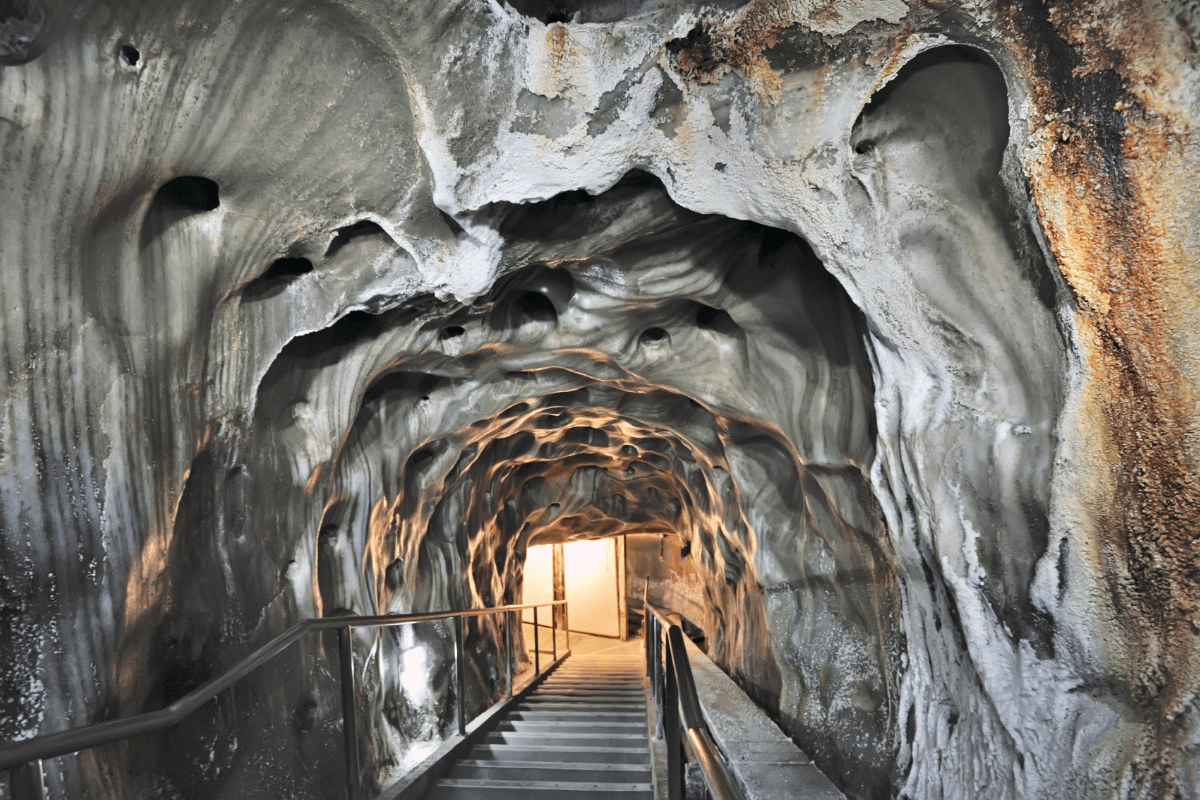 Berchtesgaden Salt Mines (Salzbergwerk)
The Salt Mines in Berchtesgaden are one of the oldest in operation, having been open since 1517. Not only is this a fun activity with kids, it's also very educational!
The tour takes you on a little train deep inside the tunnels. You even get to wear functional miner's overalls as you slide down the mines and sail an underground lake.
When I visited Berchtesgaden with a friend, she'd heard about the salt mine and wanted to visit. I wasn't convinced it would be that enjoyable…until about 2 minutes into the tour. We had SO much fun!
If you're staying in Salzburg, check out this day trip that takes you to both the salt mines and on a tour of Berchtesgaden on the way back.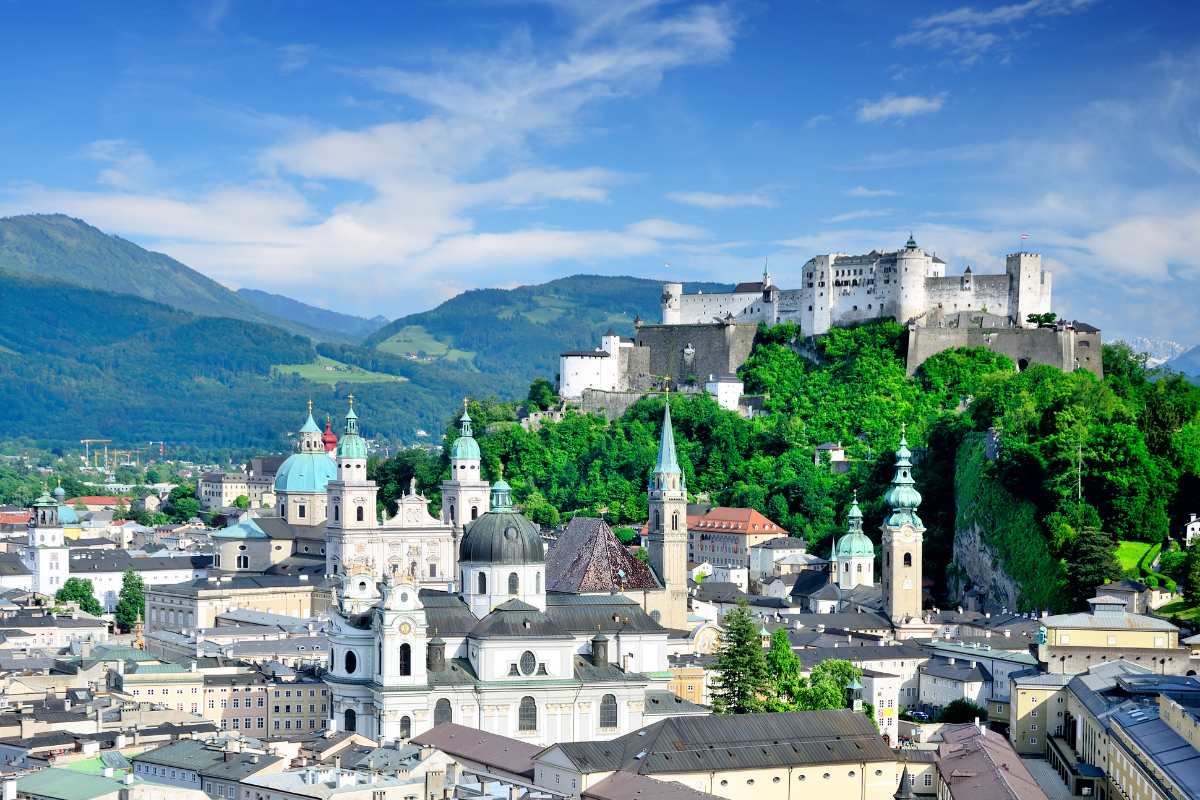 Salzburg, Austria
While you're already in Berchtesgaden, you can easily cross over to Salzburg, Austria to maximize your trip. Salzburg is a well-preserved and picturesque town unlike any other. It's known worldwide as the setting of the "The Sound of Music" and the hometown of Wolfgang Amadeus Mozart.
Salzburg's Old Town has many of the city's important landmarks and it's small enough where most of them are within walking distance of each other. You can easily spend a day wandering the beautiful squares and quaint alleyways lined with stores.
Another option for visiting this area is to overnight in Salzburg and then take one of the many guided day trips to Berchtesgaden and area. Here are 3 good ones to check out:
Salzburg to Eagle's Nest and Berchtesgaden day trip
Salzburg to Berchtesgaden Salt Mines day trip
Salzburg to Berchtesgaden Foothills and Obersalzburg day trip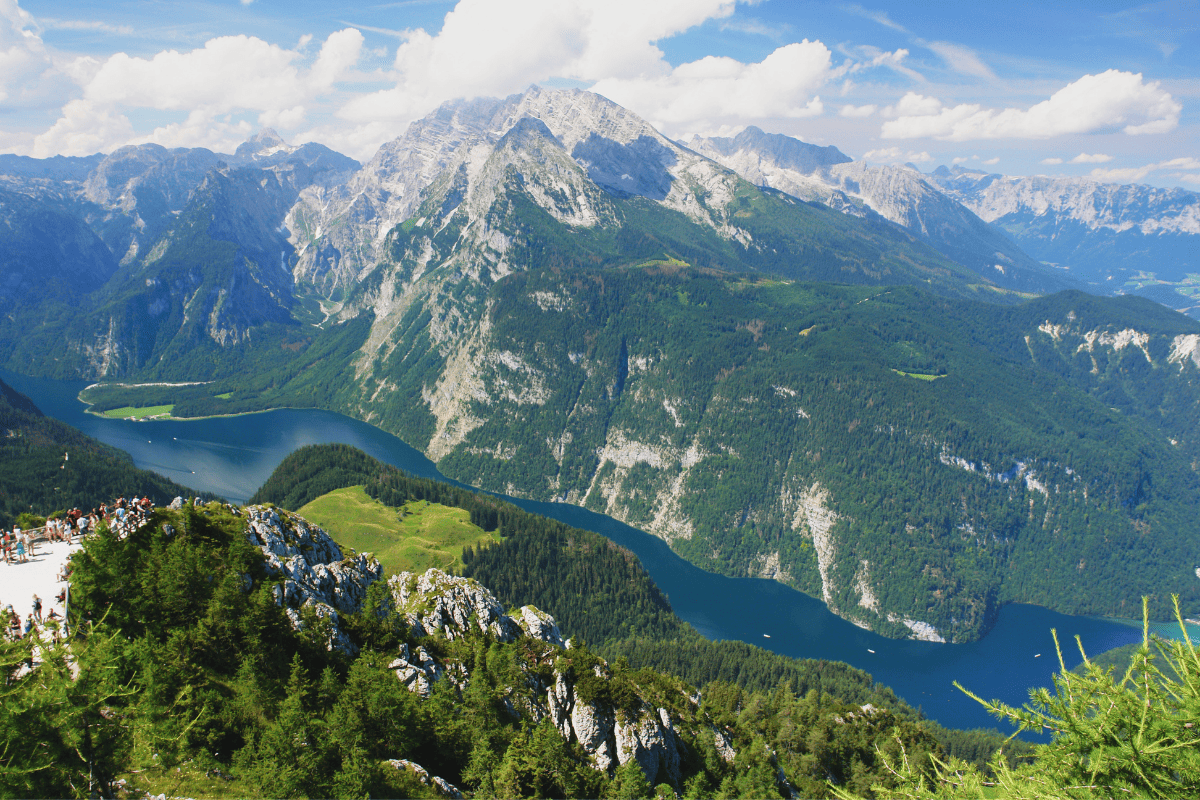 Lakes Near Berchtesgaden
There are several lakes in the surrounding area of Berchtesgaden. Lake Königssee is the most popular one, most of which lies within the Berchtesgaden National Park. There's also Lake Obersee which is part of Lake Königssee and located in its southeastern portion.
The area of Lake Hintersee and Ramsau are also worth visiting. Hintersee is an alpine lake with a level path going all the way around it, which makes for great lakeside strolls. There's a beautiful footpath from the mountaineering village of Ramsau that takes you along the Zauberwald (Enchanted Forest) and a mountain stream. You can also cross the lake by boat.
Thumsee Lake is a local favorite, loved by residents for its turquoise water, beach, picnic areas, and lawn for sunbathing. Höglwörth Lake is another hidden gem that's great for hot days since it maintains a pleasantly warm temperature during summer. You can walk around the lake and admire the nearby Höglwörth Monastery as well.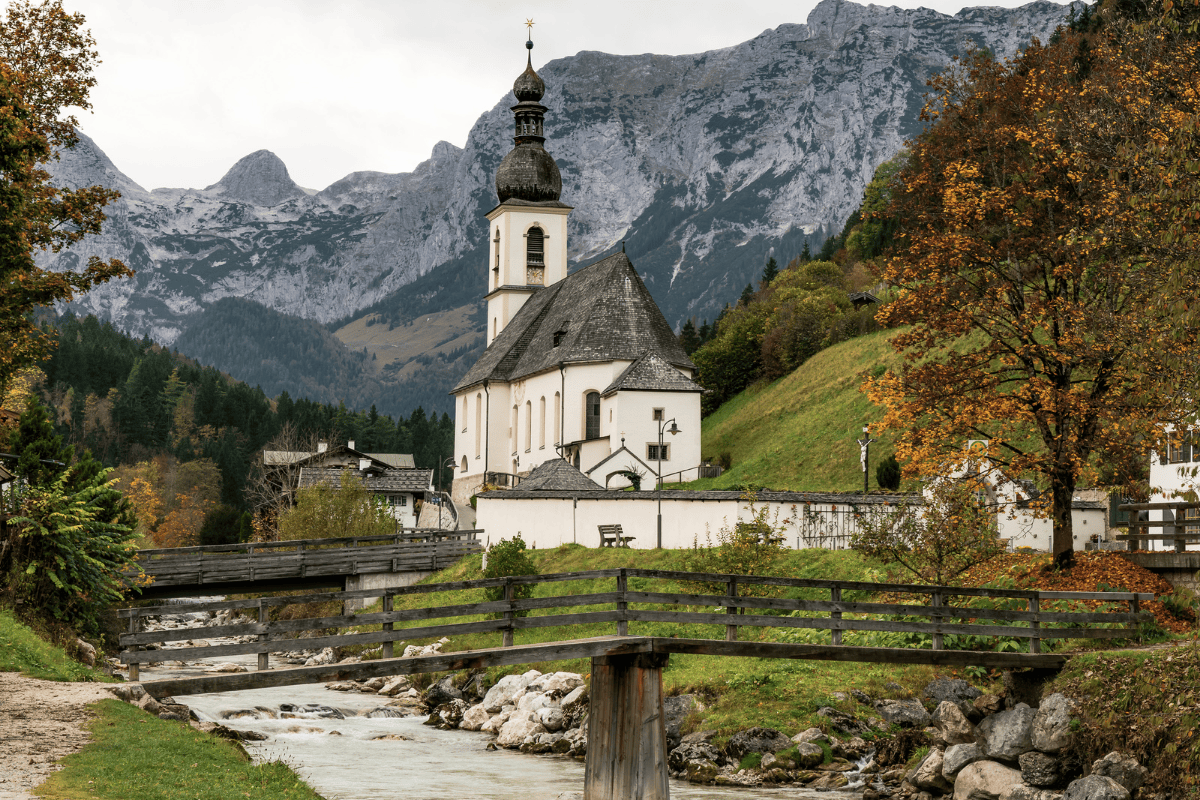 Cable Cars & Spectacular Views
You can't visit Berchtesgaden without admiring the absolutely breathtaking views! There are a few different ways to do this.
First, there's Eagle's Nest, which I previously mentioned.
Second, you can ride a cable car (gondola) or chair lift:
Third, if you have a car you can drive one of the scenic alpine roads: Eagle's Nest Road, the German Alpine road or the Rossfeld Ring Road.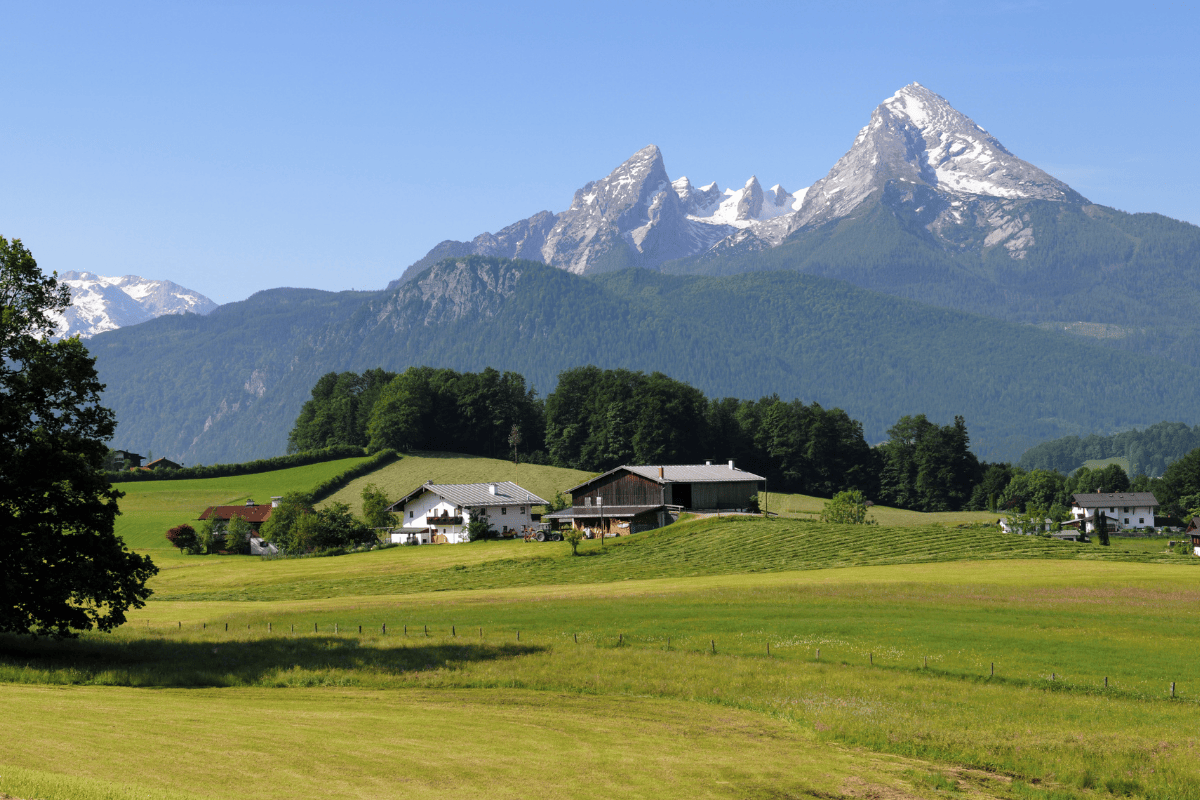 Sound of Music Tour
For Sound of Music lovers! This 4-hour tour starts in Salzburg and takes you through the countryside and to visit landmarks from the famous movie while singing along to the songs many of us know by heart. Click here to check out this fun tour!
Beer Festivals & Other Events
There's always something going in Berchtesgaden! Throughout the year there are festivals, parades, events for kids, bonfires, fireworks, and much more. Click here to see if an event will be taking place when you visit Berchtesgaden!
Berchtesgaden Christmas Market
If you visit Berchtesgaden between late November and Christmas Eve you'll get to experience the magical Christmas market in the historical town center. This market offers stalls full of local wood crafts and traditional folk decorations, mouthwatering food and drinks, a festive decorations, a naivety scene, horse-drawn carriage rides, live music, and carol singers.