28 Top Things to Do, See and Experience in Cologne, Germany in 2024
This post may contain affiliate links. Read my disclaimer policy.
If you're thinking about visiting Cologne (Köln in German) – whether for a couple hours or a couple of days – this guide is for you. We share where to stay and what to do on your visit so you can maximize your sightseeing and plan an unforgettable stay.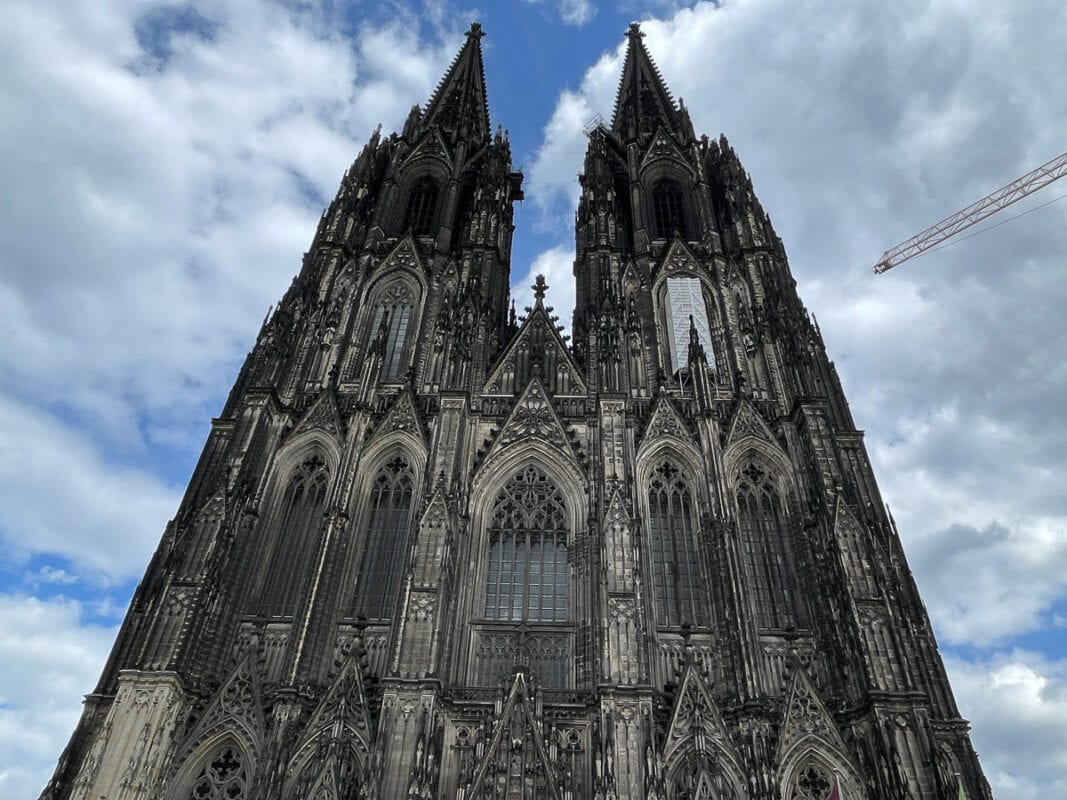 About Cologne (Köln)
Cologne is the largest city in the North Rhine-Westphalia region of Germany. It's known for its unique architecture, with the Cologne Cathedral being the most important landmark and distinct feature of the city's skyline.
Cologne also a great jumping off point for visiting the Rhine and Moselle Valley regions, as well as other cities and towns in the western part of Germany.
I spent several weeks in the Cologne suburbs when I was a teen, and we've been back to visit several times over the years.
Keep reading to discover the must-see sights and activities, top accommodations, and best day trips in the amazing city of Cologne!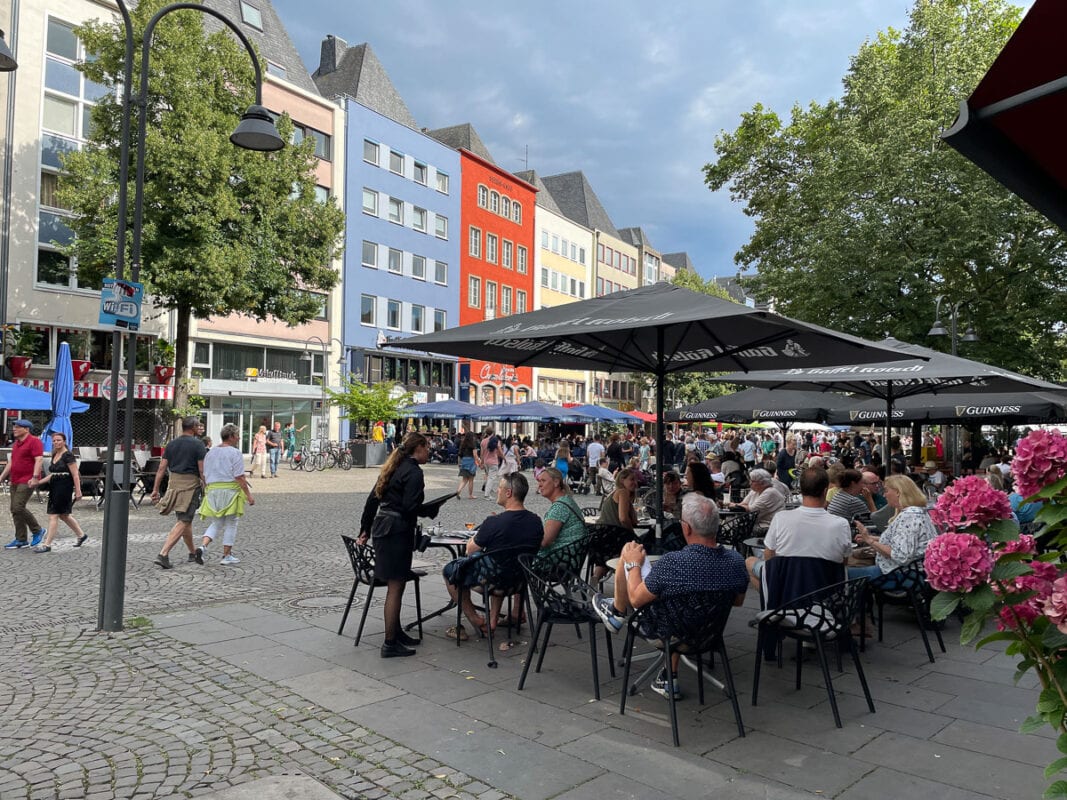 Is Cologne Worth Visiting?
Yes, in general, Cologne is a beautiful city worth visiting for a day (or two) or even if you just have a short train layover.
Of course, whether Cologne gets a spot in your itinerary depends on your sight-seeing priorities. This guide will help you determine what you most want to see and do in Cologne.
Cologne is renowned for the magnificent Cologne Cathedral, which is an iconic architectural feature of city's skyline. Near the cathedral you'll find a charming Altstadt (Old Town) with beautiful churches and interesting museums, lovely narrow cobblestone streets lined with colorful houses, and vibrant squares filled with busy cafes, bars, and restaurants.
Cologne is also famous for its vibrant carnival season and Christmas markets, attracting visitors from around the world.
While Cologne is a beautiful city and I always enjoy visiting, it's important to note that it's not a city filled with fairytale half-timber houses or a "super cute" Altstadt (Old Town) like, say, Heidelberg.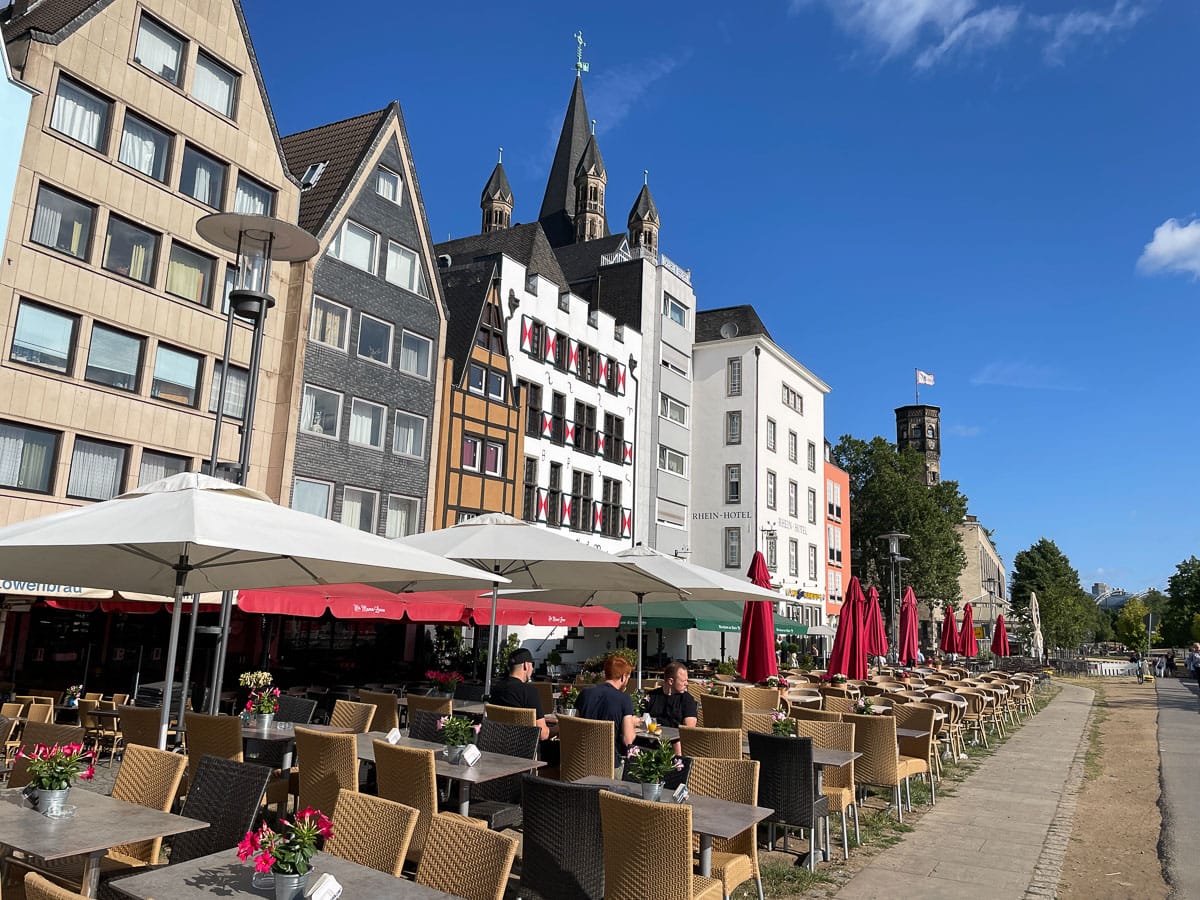 How Much Time To Spend In Cologne?
How much time should you spend in Cologne? It depends…
If you just want to see the cathedral and grab a bite to eat, you could plan a 2 or 3 hour stop.
In 1 day you can see the main sights in and near the Altstadt (Old Town), maybe a bit more.
In 2 days you could see the main sights and explore the beautiful neighborhoods to get more a local feel for this beautiful city. Or see focus on the Old Town on the first day and take a day trip on the second.
If you're planning to spend the night in Cologne, check out our hotel recommendations at the end of this guide – including where we stayed – or our full Cologne hotel guide here.
Where Is Cologne Located In Germany On A Map?
Cologne is located in western Germany in the state of North Rhine-Westphalia (Nordrhein-Westfalen). It's situated along the left bank of the Rhine River, southeast of Düsseldorf (the capital of North Rhine-Westphalia).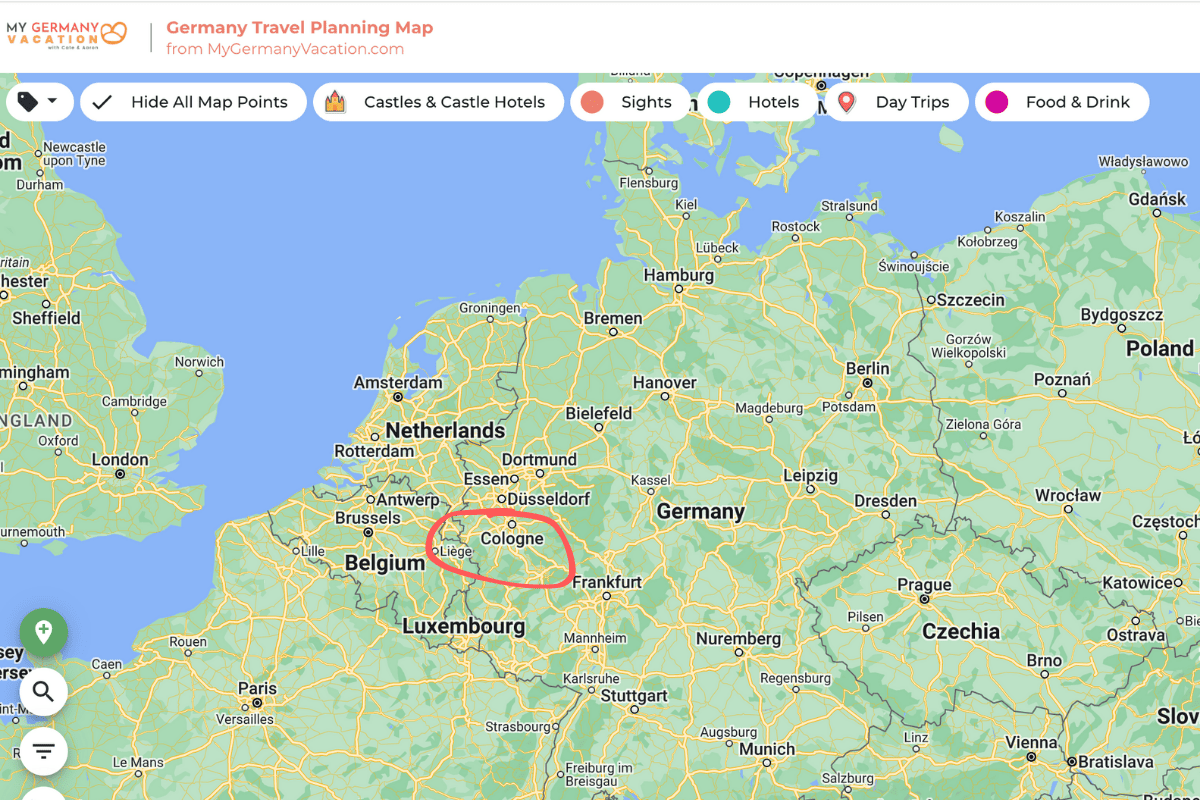 Where Can I Find The Above Map?
It's part of our Germany Travel Planner/Bundle, and it's your Germany travel planning BFF! Using our custom interactive planning map you'll be able to quickly see the best sights, castles, hotels, day trips and more – along with our photos and up-to-date tips. Seeing where these things are in relation to each other makes it much easier to plan your overall itinerary, as well as each day of your trip. If you don't yet have it, click here to get access.
28 Things to To Do And See In Cologne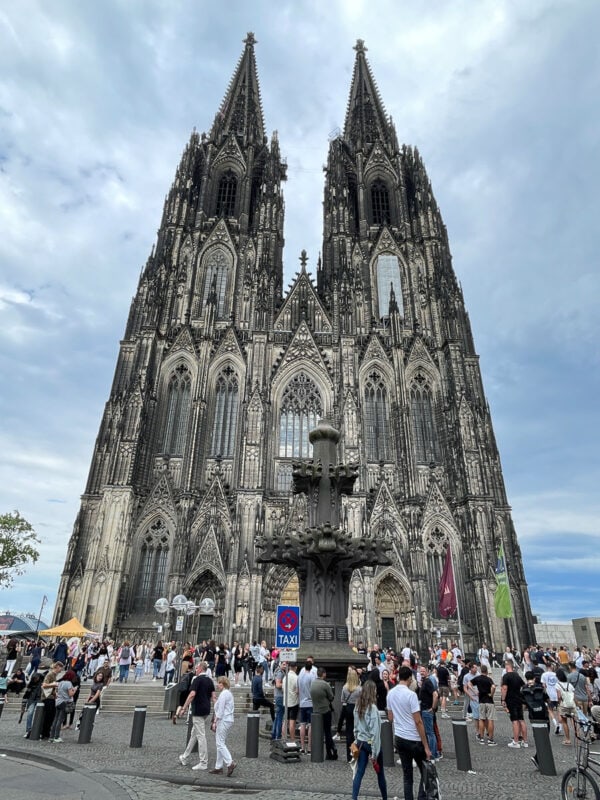 Cologne Cathedral (Kölner Dom)
A Cologne must-see! This stunning cathedral is one of Germany's tallest and the tallest twin-spired church in the world. It's easy to see why the Cologne Cathedral is a UNESCO World Heritage sight and one of the most iconic landmarks in Germany.
No visit to Cologne is complete without admiring the cathedral's beautiful Gothic architecture with its intricate spires, ornate facade, and stunning stained glass windows. One of the highlights of the cathedral is the Shrine of the Three Kings, a large gilded sarcophagus that's traditionally believed to hold the bones of the Three Kings or Three Wise Men.
You can also go the top of the cathedral by climbing the 533 stone steps of the spiral staircase. It leads to a viewing platform of about 330 feet above the ground with panoramic views of the Rhine.
Be sure to look on the wall of the cathedral facing the train station for a small exhibit showing what the cathedral looked like after WWII and how it was reconstructed.
Tip: grab an easy to-go meal (we got Döner) and eat it in the little park in front of the cathedral. You can rest your feet and enjoy the view of the stunning Dom.
Take a Guided City Tour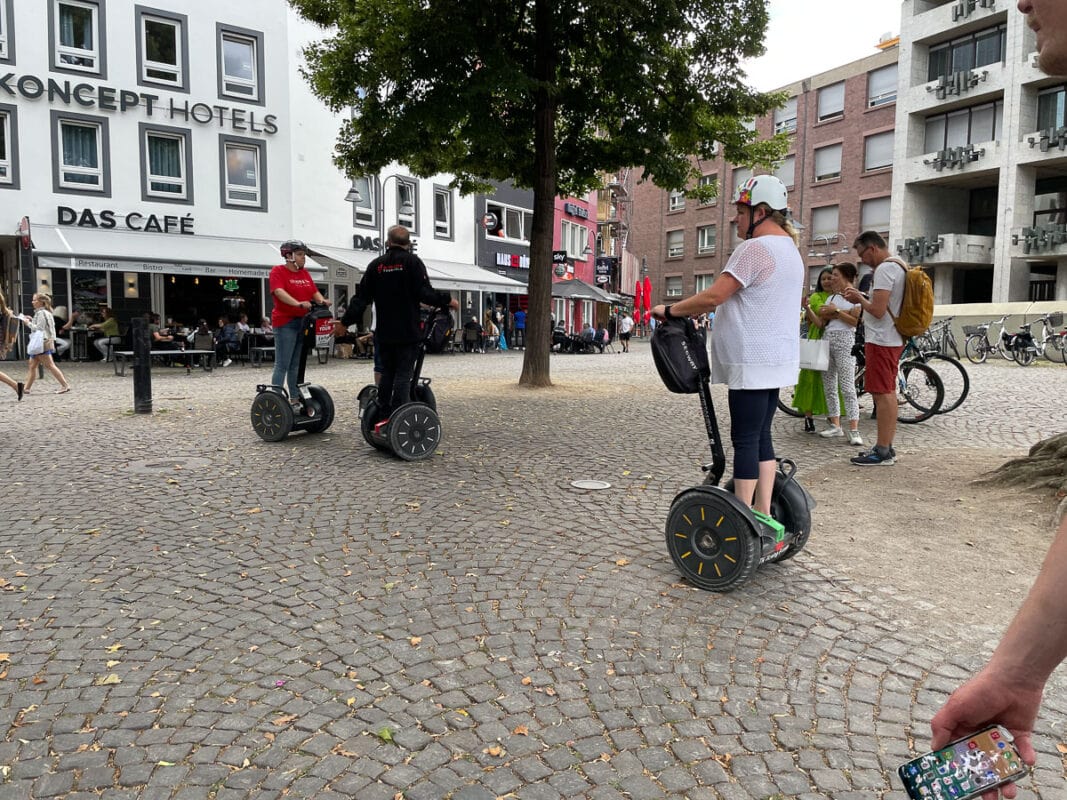 If you're only in the city for a few hours or a day, take a guided tour so you can hit all of the highlights quickly and easily.
If you like walking tours, book this guided city highlights tour with a local.
If you'd like to tour the cathedral, the Old Town, and try a Kölsch, book this highly rated tour.
If you prefer scooting around on a segway, book this innovative Cologne segway tour.
More into e-scooters? Book this Cologne e-scooter tour so you can see all of Cologne's best sights.
If you'd rather sit back and enjoy as a knowledgable guide pedals you around the best of the city, book this guided rickshaw tour.
Want to get off the beaten path? Book this Ehrenfeld street art walking tour to make your time in Cologne even more memorable.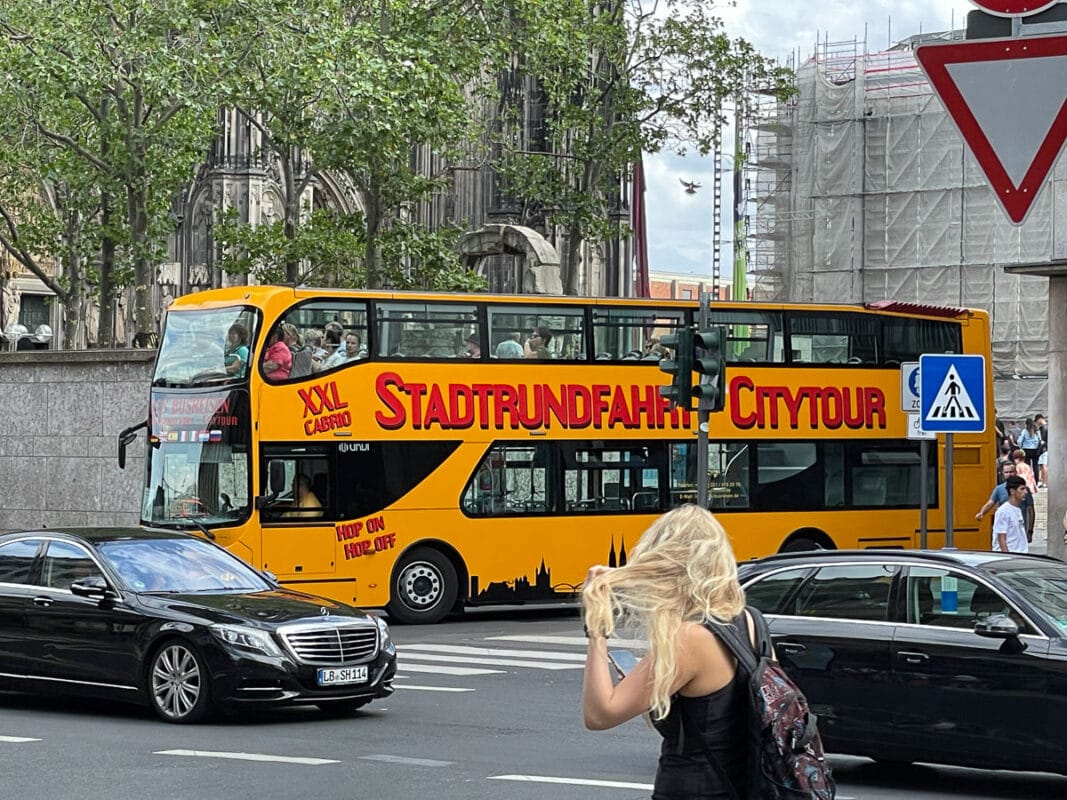 Tour Cologne By Bus
If you're only in town for a morning or afternoon, riding the HOHO bus (Hop On Hop Off) is a great way to see more of the city quickly. Buy your ticket, hop on (get the top front seats if possible) and ride it all the way around. You can buy tickets just before boarding the bus.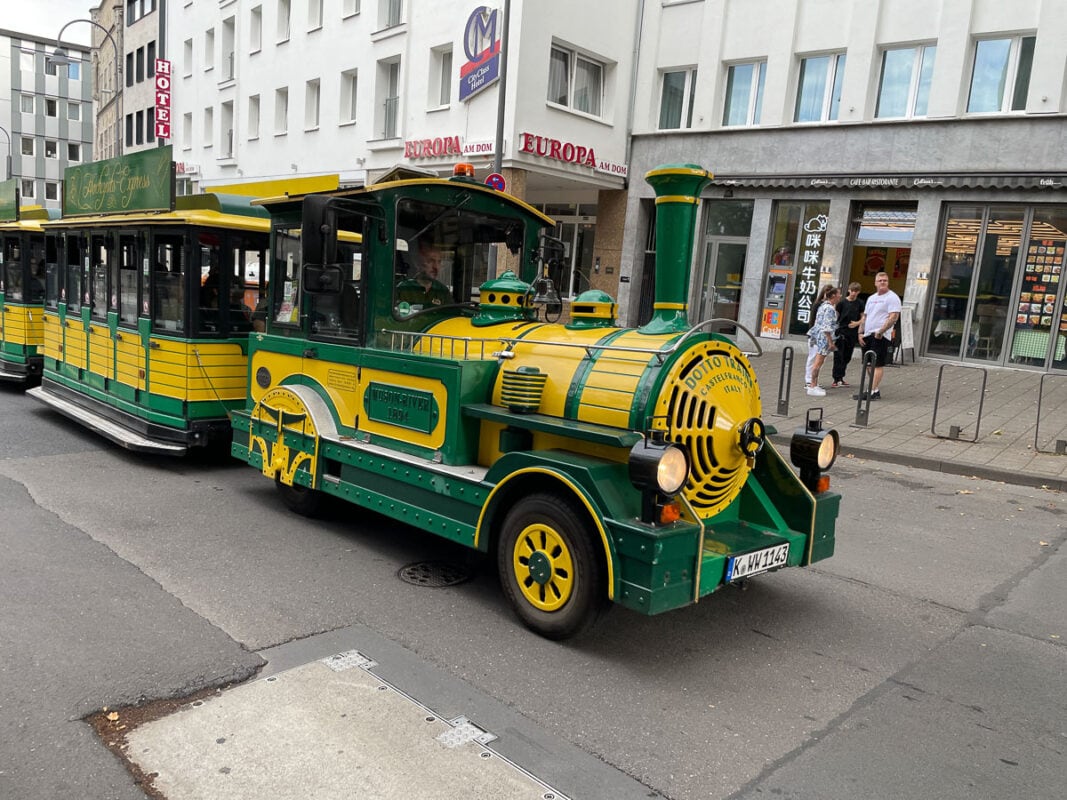 Ride the Bimmelbahn
Another option for easily seeing some of Cologne's sights is the Bimmelbahn. Yes, its touristy and you won't see as many sights as with the HOHO bus. But it can be fun. There are a couple routes you can choose from (e.g., one goes to the Chocolate Museum and another goes out to the Zoo/Flora/cable car).
Along the way you can see the sights and learn some interesting facts about Cologne via the narration that plays in English and German. You can ride it the whole way for an easy tour or get off and back on later.
We didn't have time to do the HOHO bus so we took the Bimmelbahn to the Zoo/Flora. We got to see more than we would have on foot and learned a few things about Cologne along the way. If you have a CologneCard you'll get a discount on the Bimmelbahn.
Thanks to the Cologne tourism office for gifting us 2 CologneCards to use on our visit!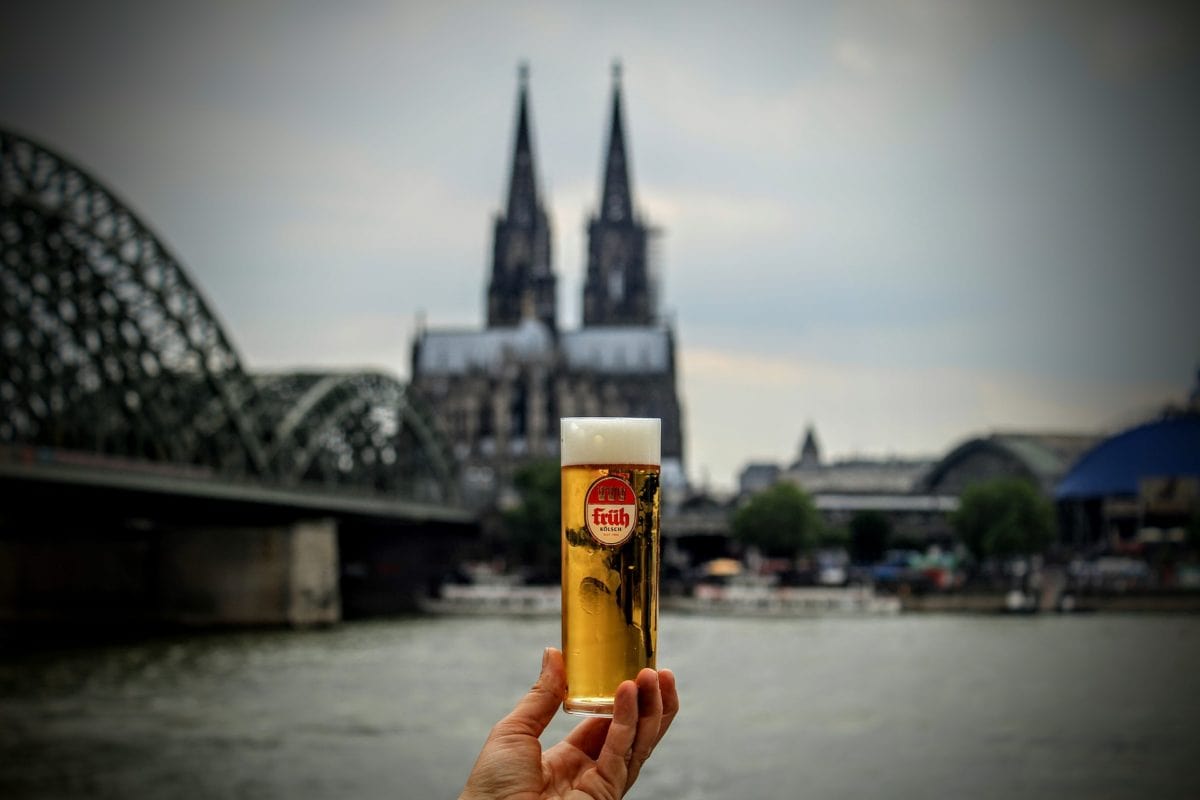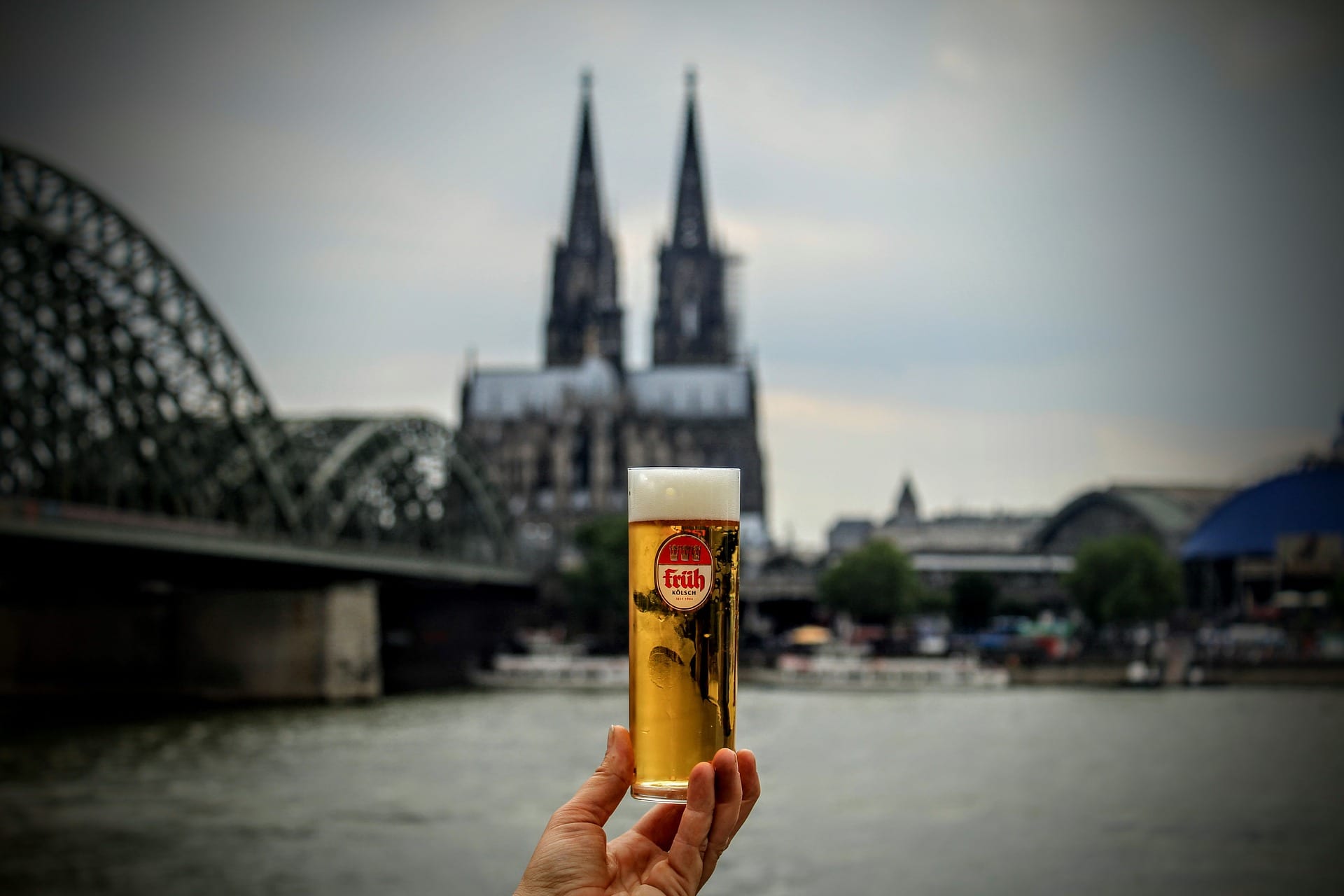 Drink a Kölsch Beer
If you like beer, don't miss out on this unique cultural experience!
Kölsch is the local beer of Cologne. This style of beer is known for its peculiar fermentation process where it's initially fermented warm like an ale but then stored in colder temperatures like a lager. This yields a light, full fruity flavor that's easy to drink. It's also traditionally served in a tall, thin, cylindrical glass called a Stange.
Another unique thing about Kölsch is that it has a protected geographical indication (PGI) within the European Union. This means that only breweries within 30 miles of Cologne and following the right brewing process can classify their beer as a Kölsch.
There are many places to try out this brew, like the many bars or Kneipen in the Old Town. If you want to immerse yourself in Cologne's local beer culture, especially if you're short on time, book this tour of famous breweries with a tasting of 3 delicious Kölsch beers!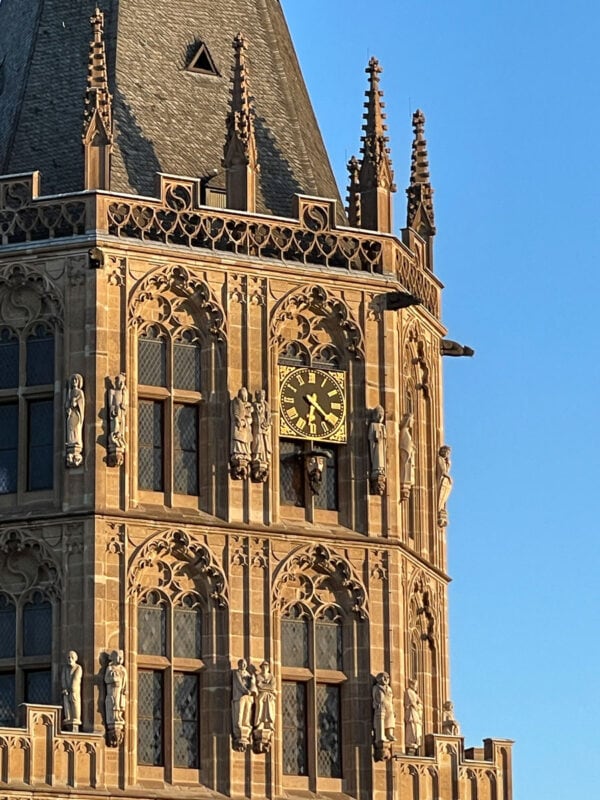 Cologne Old Town (Altstadt)
Cologne's Altstadt (Old Town) is renowned for its historic streets lined with colorful buildings, vibrant squares, traditional old houses, and important historic and cultural landmarks.
One of these landmarks is the Cologne City Hall, a historic building set between the two squares of Rathausplatz and Alter Markt. It has a very interesting facade that combines several structures in varying architectural styles.
Old Town is also home to large squares like the Old Market Square (Alter Markt) and Fish Market (Fischmarkt) where you can find outdoor cafes, restaurants, and bars. Here you can try the famous Kölsch beer or try a typical Halver Hahn sandwich.
If you're interested in exploring Old Town through Cologne's beer and food scene, then check out this Old Town guided tour that also takes you to cool breweries with beer tasting!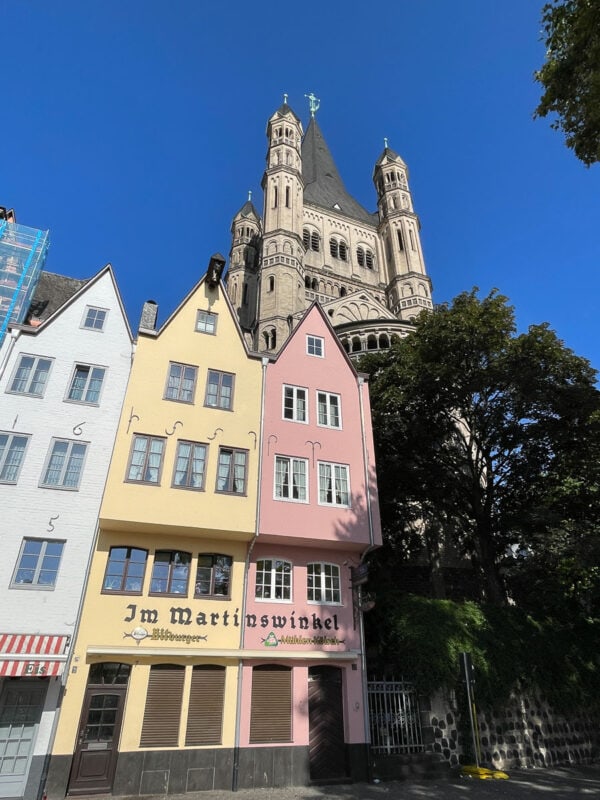 Great St. Martin Church
During the Middle Ages, Cologne was an important site for Romanesque churches. There are twelve of these churches, known for their distinct architectural style.
One of the most famous and beautiful ones is the Great St. Martin Church. This church was built during Roman times, on top of the remnants of an ancient Roman chapel. It has been reconstructed several times throughout history, during a fire in the 12th century and after the second World War.
Other Romanesque churches worth checking out in Old Town are the Church of St. Ursula, St. Maria im Kapitol, and the Church of St. Gereon.
Ostermann Fountain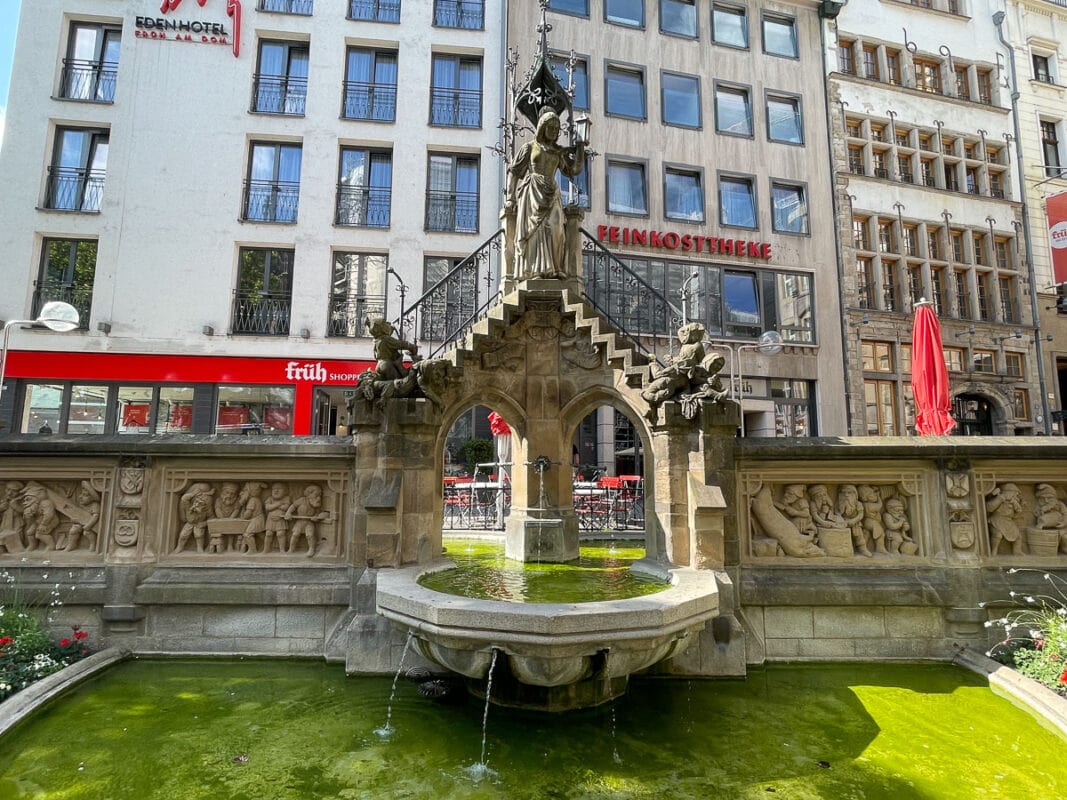 Be sure to stop at the charming Ostermann Fountain while in Cologne. It's like this hidden treasure right in the middle of the city. This fountain has been been around since the 19th century and it details the history of the city. There are also cafes and restaurants right next to the fountain if you're looking for a place to take a break.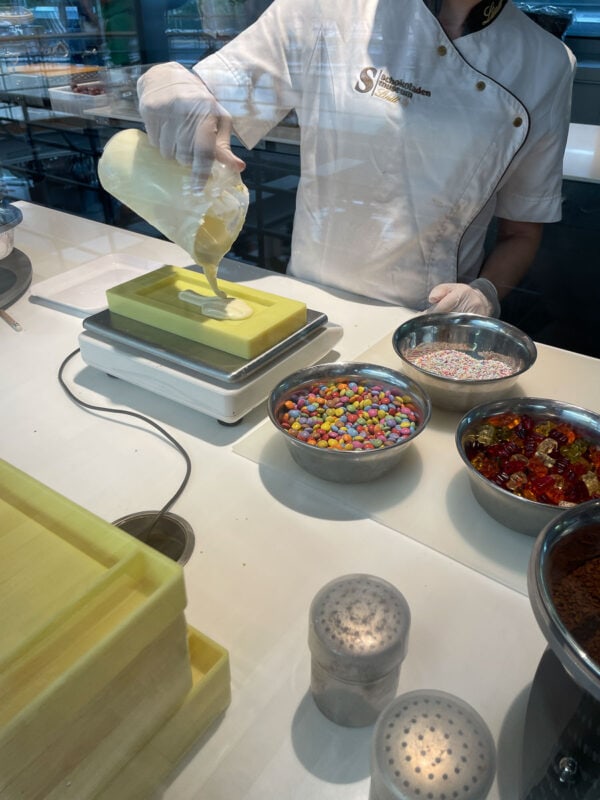 Cologne Chocolate Museum
If you're a chocolate lover, the Cologne Chocolate Museum is a must-visit. It's one of the most popular museums in Germany and will take you on a fascinating journey through the history of chocolate, showcasing the entire chocolate-making process from beans to bars.

You'll learn how cocoa is grown and cultivated to produce the chocolate bars we know and love. At the end of the chocolate factory tour, you can taste some delicious samples or participate in a workshop to design and make your own chocolate bar.
There's also a cafe where you can enjoy delicious meals and amazing cakes. Seriously, the cakes looked SO good – and they're not all chocolate! If it's a nice day, sit outside on their riverfront terrace.
We visited this museum over 20 years ago and enjoyed returning on our last trip. Thanks to the Chocolate Museum for the complementary ticket!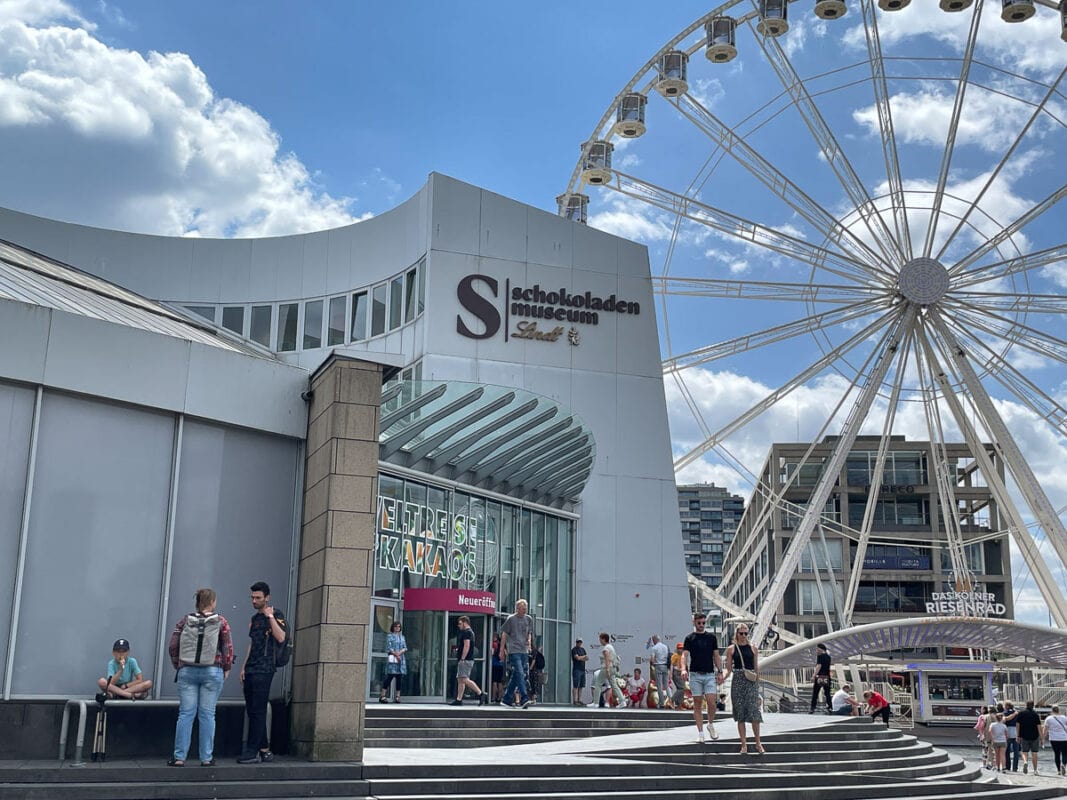 Ride The Ferris Wheel Outside The Chocolate Museum
After touring the Chocolate Museum, ride the ferris wheel for an excellent view of the city and the Rhine river! It's located right outside of the chocolate museum so you can't miss it (note – it's not there during some months of the year).
Sample A Variety of German Mustards
Across the street from the Chocolate Museum is the Senfmühle, a small shop where you can taste several kinds of delicious German mustard. You can also buy a crock or two to take home.
Walk Along the Rhine River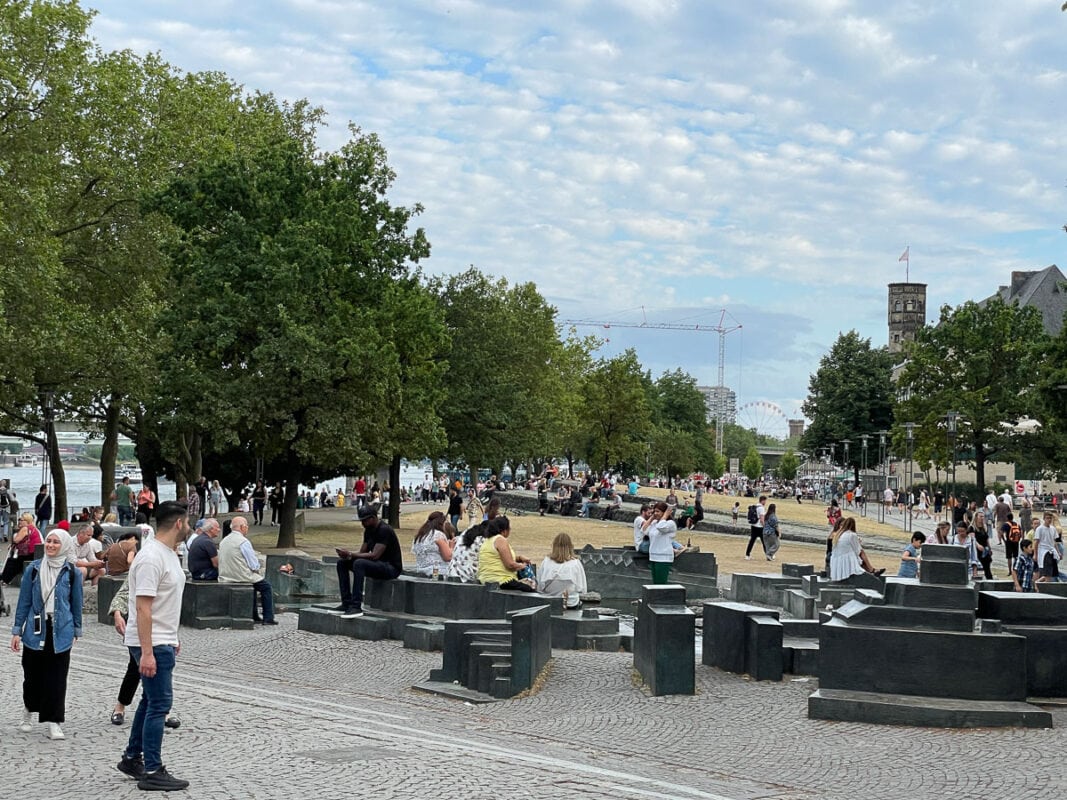 No visit to Cologne is complete without a walk along the Rhine! Start in Old Town and walk to Hohenzollern bridge or vice versa. If it's a hot day, stop and put your feet into the cool water at the Wasserspeilplatz not too far from Hohenzollern bridge (see photo above).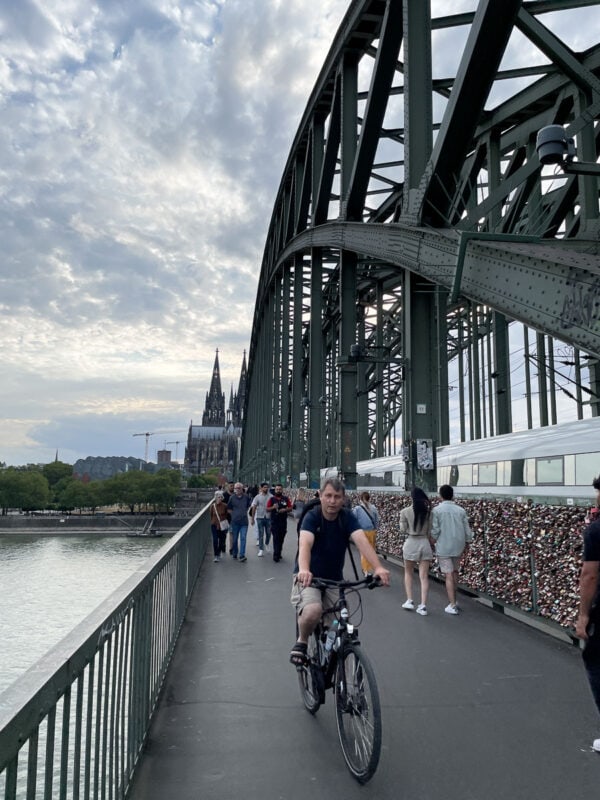 Hohenzollern Bridge (Hohenzollernbrücke)
The Hohenzollern Bridge is a three-arched steel structure that spans the Rhine river. It was originally constructed in the early 20th century and has undergone renovations and restorations over the years. Today it serves as a railway bridge but it also has a pedestrian walkway and bicycle lanes on either side.
One of the notable features of the Hohenzollern Bridge is the large number of padlocks attached to the railings. These love locks have become a tradition done by couples as a way of displaying affection and commitment. It's fun to look at all of the different types, inscriptions, and dates as you walk by.
Hohenzollern Bridge is also the perfect place to take some pictures as you'll have great views of the Cathedral in the background.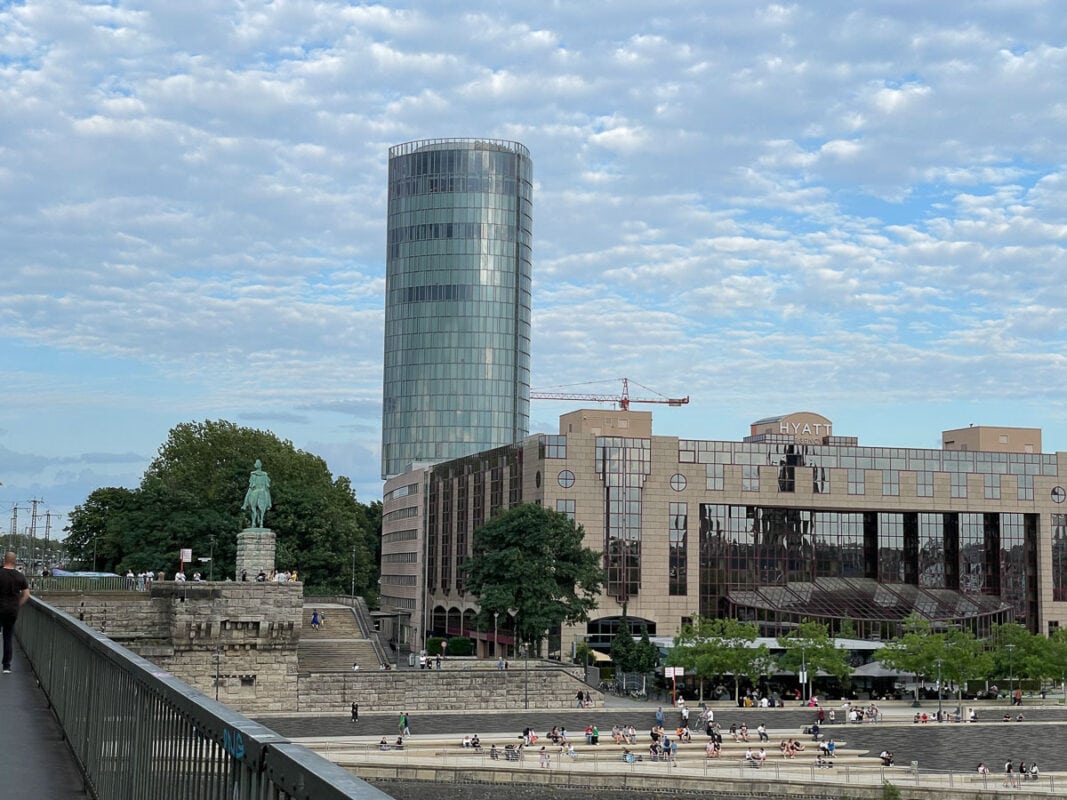 Admire the View From the KölnTriangle
This modern skyscraper offers an unbeatable panoramic view of the city's skyline. Head to the observation deck for jaw-dropping vistas of the majestic Rhine River, the iconic Cologne Cathedral, and beyond. It's the perfect spot to capture some stunning photos and get a unique perspective of this vibrant city. You can reach the KölnTriangle by walking across the Hohenzollern bridge.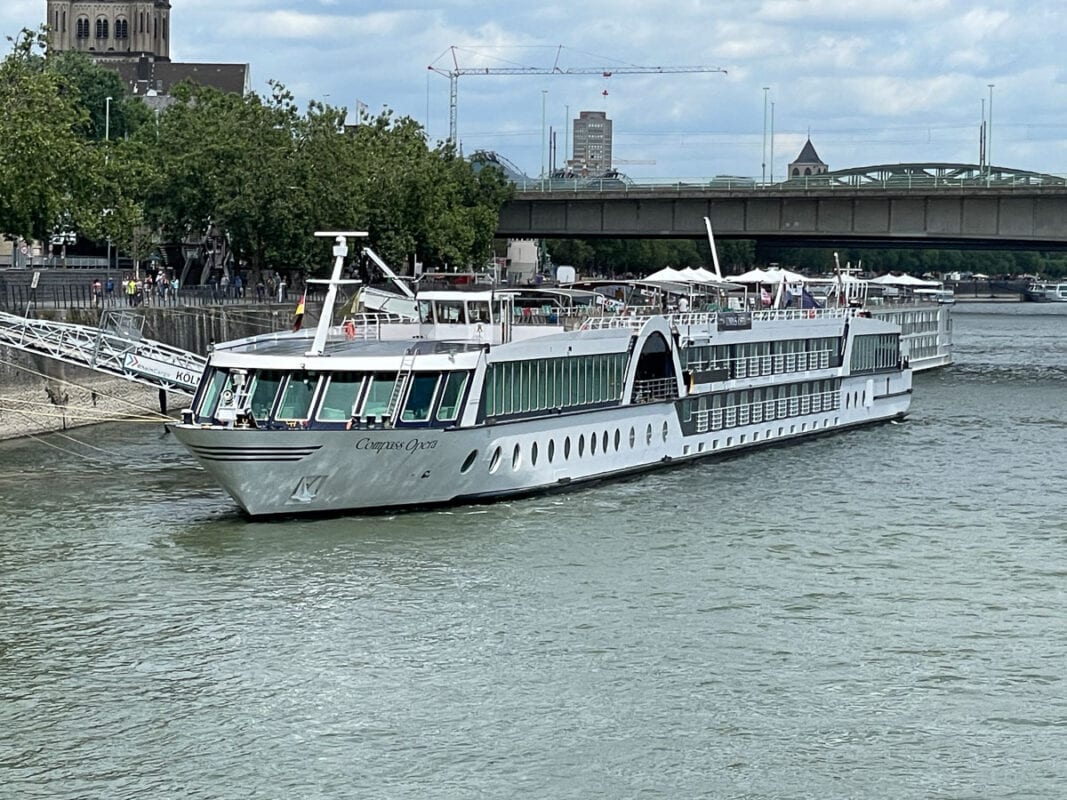 Rhine River Cruise
The River Rhine is an important part of Cologne's urban landscape. There's different ways you can explore the river. Of course, one of the best ways is to take a boat trip.
We recommend booking this Rhine River cruise since you'll get to see Cologne's top tourist attractions like the Cathedral, Old Town, Rheinauhafen and see 5 of the many river bridges. The tour also includes commentary and drinks and snacks are available for purchase on board.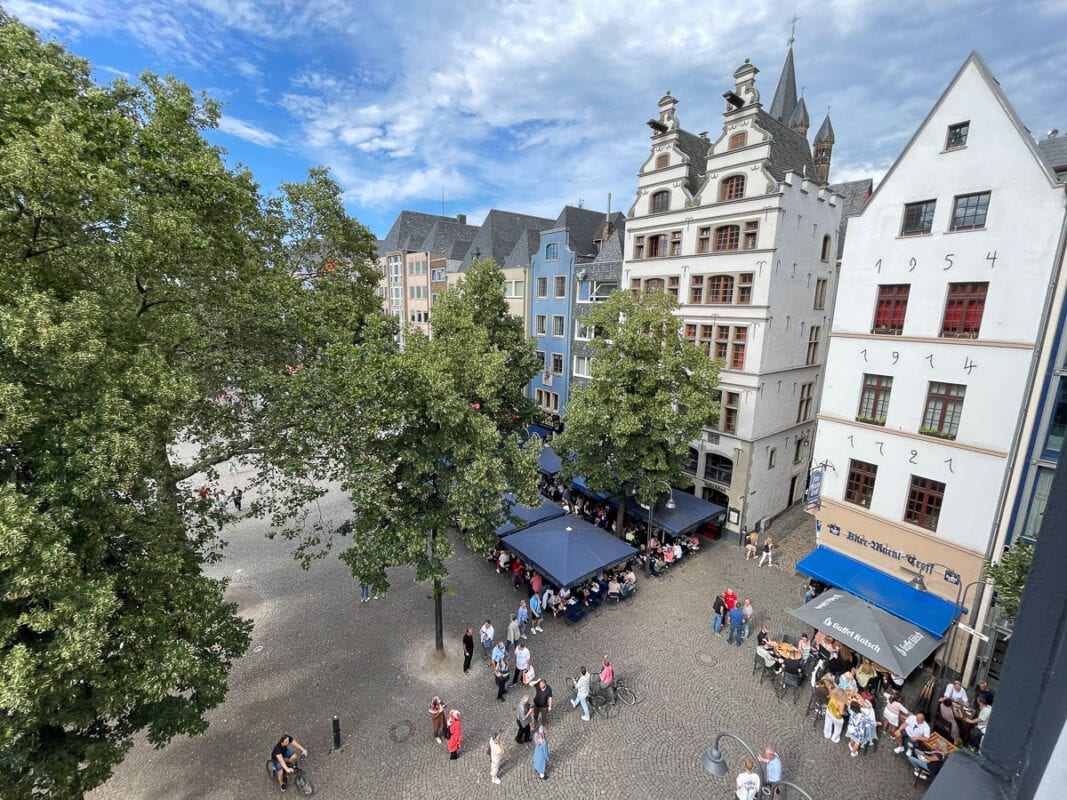 Flora and Botanical Garden (Flora und Botanischer Garten Köln)
The Flora and Botanical Garden is one of the best places to relax in and take a break from all the sightseeing in the city center. This diverse green space is home to over 10,000 species of plants and trees. Many of them are displayed in the main greenhouse which features tropical rainforest plants.
There's also a small tropical house that cultivates tropical crops like bamboo, cocoa, coffee, sugar cane, coconut palm and more. It's especially beautiful during days with good weather, since everything is vibrant and lush. The best part is that it's open daily with free access to all.
Cologne Cable Car
If you want to see the city and the river from a different perspective, you can also take the Cologne cable car. The gondola lift connects the two banks of the Rhine river and offers the best birds-eye view of the city. For more information, you can visit the official website here.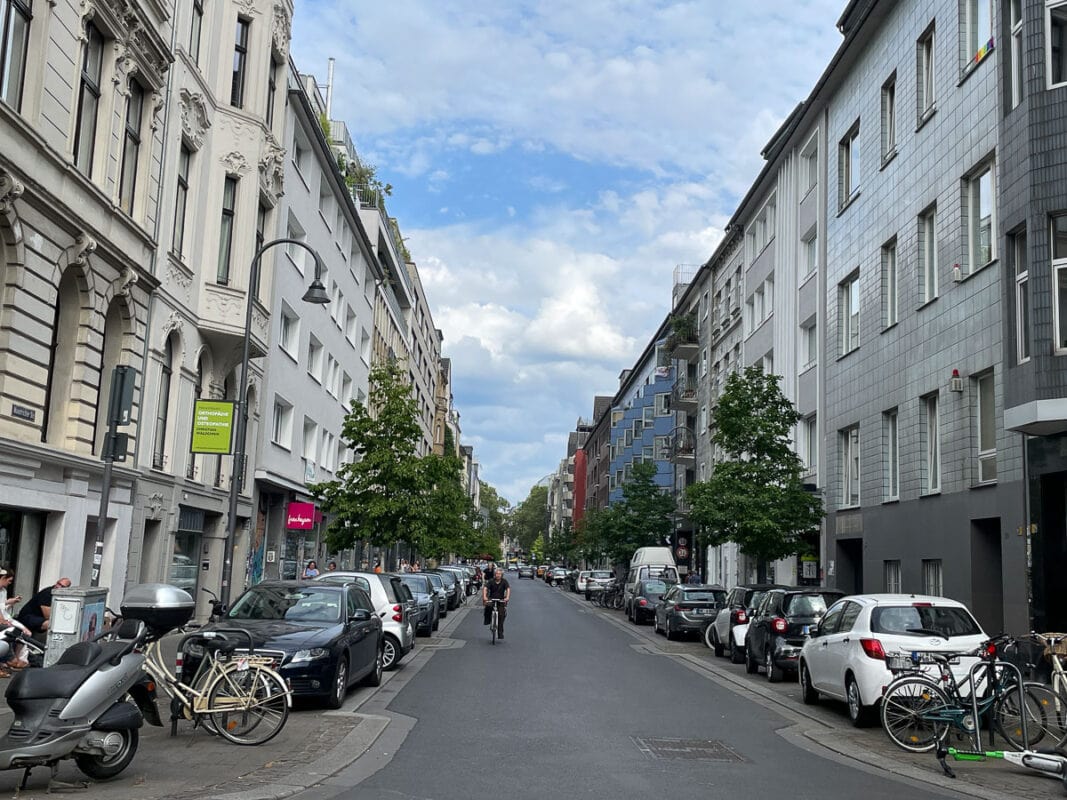 Belgian Quarter
Cologne has a lot of different areas and neighborhoods to explore. The Belgian Quarter is one of the most trendy and vibrant ones. It's known for its lively atmosphere and streets lined with all sorts of cafes, restaurants, and boutiques. There's also a thriving art and culture scene so you'll find art galleries, theaters, and music venues that come alive especially during the night.
The Belgian Quarter is a great place for shopping, grabbing a meal or quick bite, and simply taking in the eclectic vibes of the area. You can walk there from the Old Town and it's a great place to go see the less touristy parts of Cologne.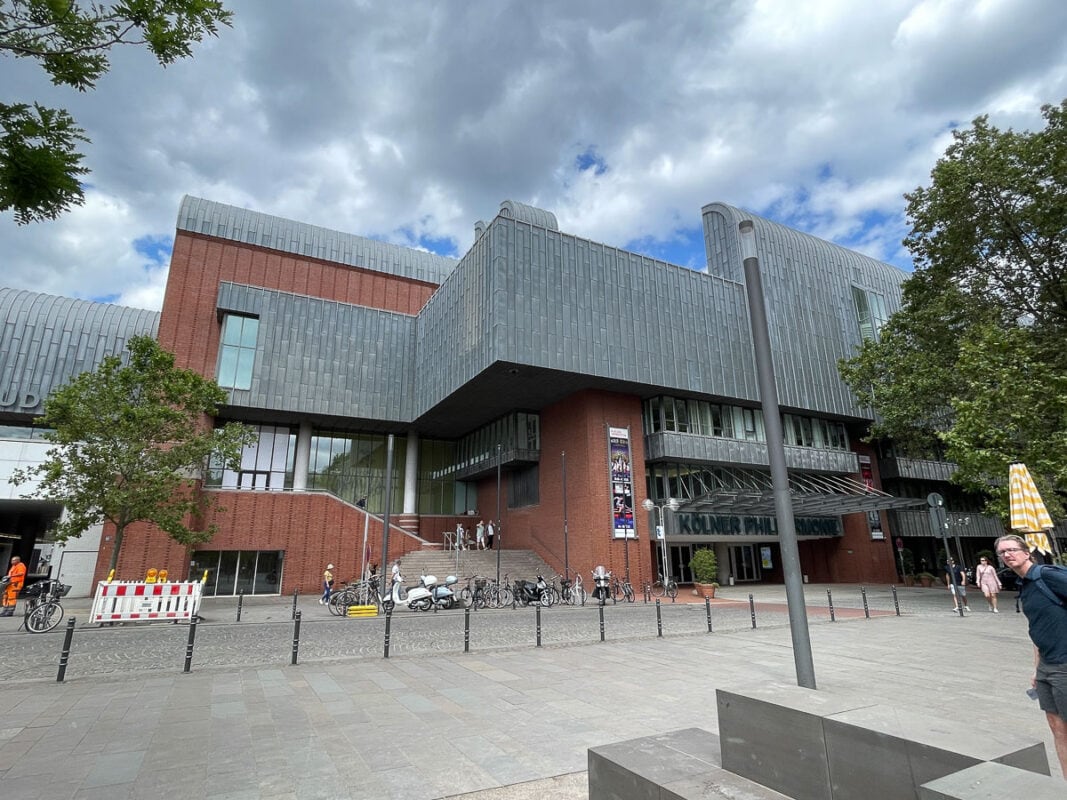 Museum Ludwig
Museum Ludwig is known for its impressive collection of contemporary and modern art. It features a wide range of movements including Pop Art, Abstract Expressionism, and Surrealism. The Ludwig Museum also houses one of the largest Picasso collections in Europe. Other famous artists include Roy Lichtenstein and Andy Warhol.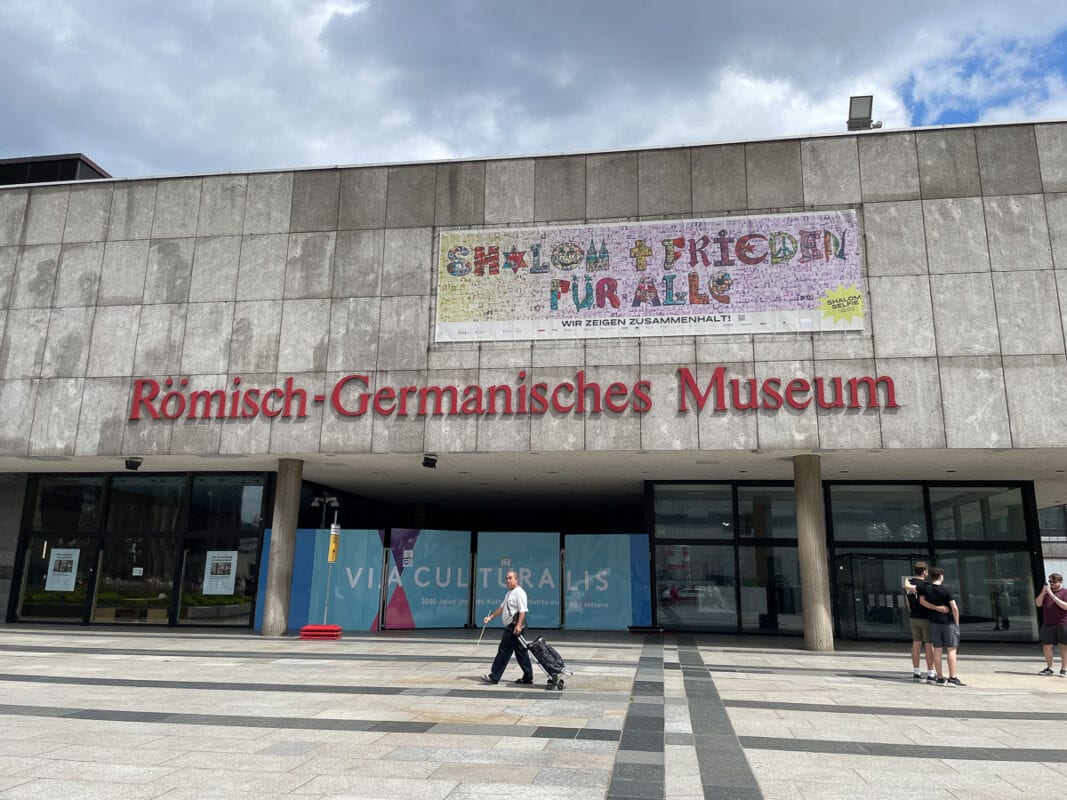 Romano-Germanic Museum
If you're a history buff, one of the best things to do is to visit the Roman-Germanic Museum. This museum showcases Cologne's origins during the Roman period. Like many structures in the city, it was built around the Roman ruins and different archaeological sites in an effort to preserve its rich history. There's lots of interesting exhibits and artifacts on display. One of the highlights of the museum is the well-preserved Dionysus mosaic, a captivating floor mosaic depicting scenes from Greek mythology. NOTE: Note, the main museum is currently closed. Please visit the temporary exhibition in the Belgian House (Belgisches Haus/Maison Belge).
Pop Into The Maria Himmelfahrt Church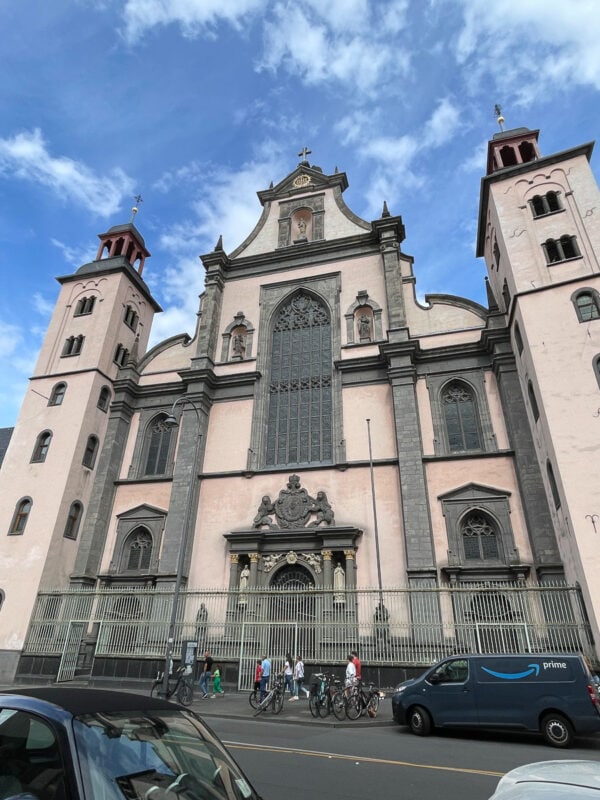 We came across this historic church in the heart of Cologne near the train station and popped inside to find an interior rich with ornamentation. It's a beautiful church!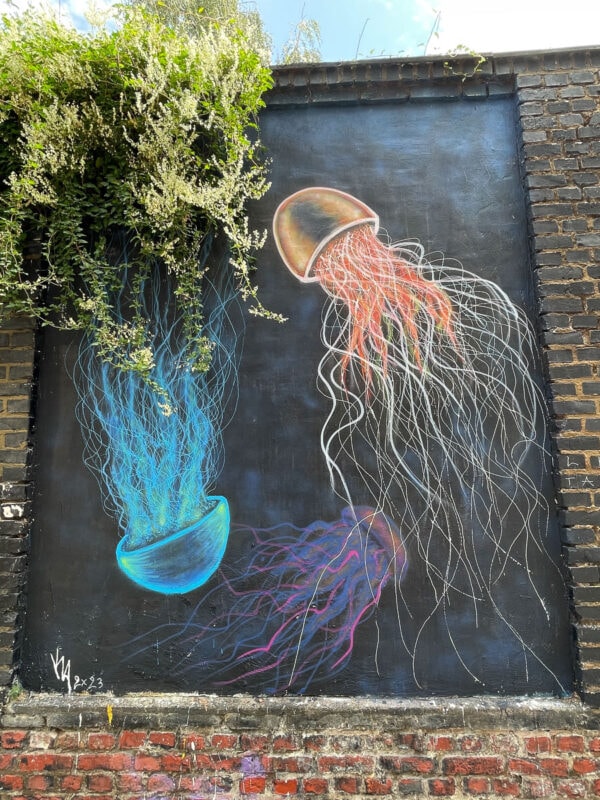 Admire the Street Art
There is some beautiful street art in the Eherenfleld district of Cologne – but you have to know where to look! We stopped to see several spots on our way out of Cologne (we had a car) but you can also book this guided tour with a local who will take you off the beaten path and share insight into this underground cultural scene.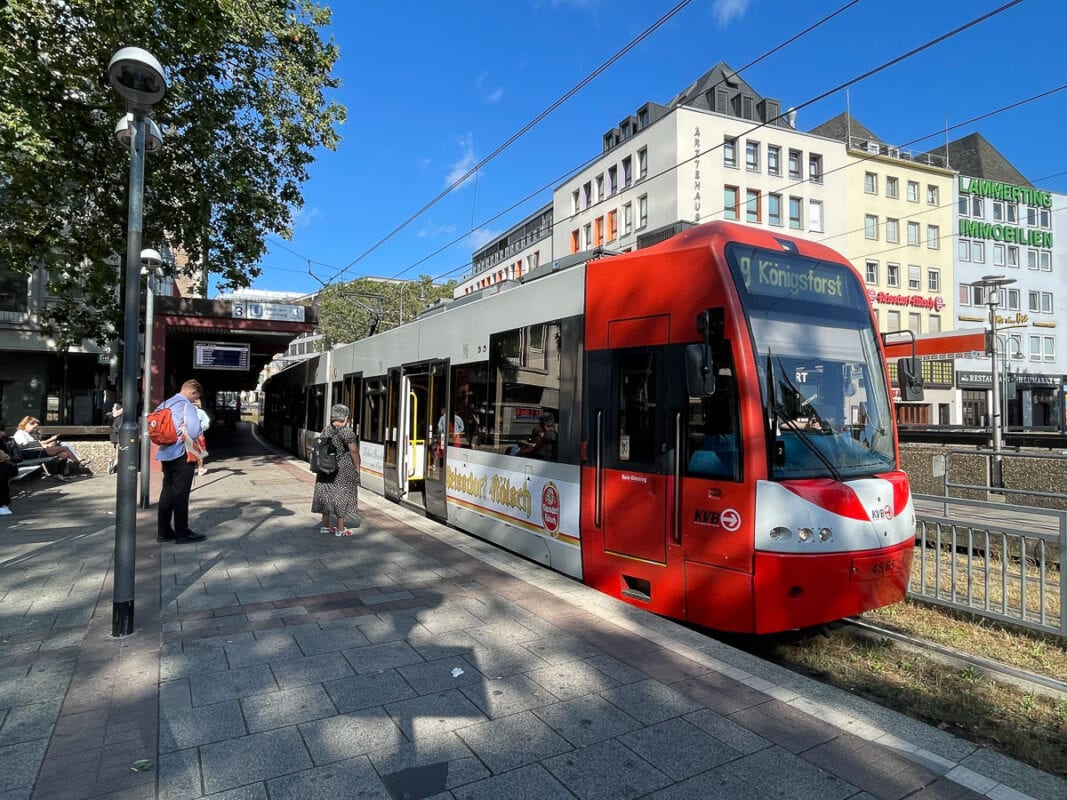 Explore Daily Life in Cologne
One of my favorite things to do when traveling anywhere is hop on a random bus or tram, ride it several stops, and then get out and explore the neighborhood. It's the best way to get off the beaten path!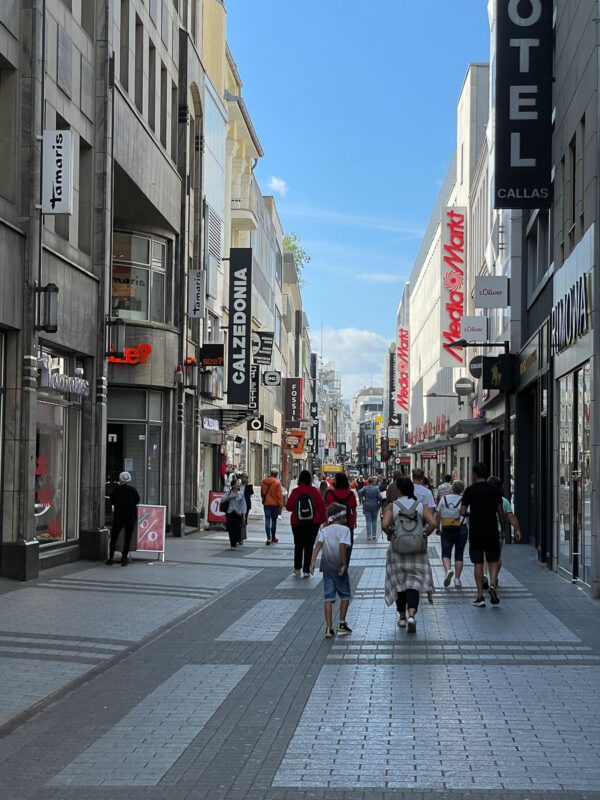 Go Shopping
Cologne is a great place to go shopping so if you're looking for new clothes or just want to bum around and see what's on offer, head to the pedestrian shopping streets in Cologne (except on Sundays and holidays when stores are closed).
Wallraf-Richartz Museum
The Wallraf-Richartz Museum is a renowned art museum featuring works and exhibits from the medieval period until the early 20th century. There are various collections from different movements and art styles including Gothic, Renaissance, Baroque, and Impressionism. Some of the most famous artists featured include Monet, Rembrandt, Botticelli, Rubens, Van Gogh,, and many others.
EL-DE Haus (NS Documentation Centre of the City of Cologne)
The EL-DE Haus, also known by its full name the NS Documentation Centre of the City of Cologne, is a historically significant memorial center that's worth visiting to learn more about Germany's complex history. It's housed in a former Gestapo prison and it provides a chilling insight into the dark period of Nazi rule and World War II in Germany.
Visitors can explore the preserved cells and exhibition areas that document the history of the Nazi regime as well as the resistance movements during that time. The museum's exhibits include photographs, documents, and personal stories that can be quite difficult to read. But it's a moving memorial that honors the victims of the regime.
Fragrance Museum
Cologne is also known for being the birthplace of the eau de cologne. If you're interested in learning about the origins of this famous type of perfume, then the Fragrance Museum is a must-visit. This unique and niche museum that takes you through three centuries in the history of perfumes. It's located in an elegant historic building and features interactive displays and exhibits showcasing the fragrance-making process and vintage perfume bottles. After visiting, you can try out samples and maybe even find your new signature scent!
Cologne's Christmas Markets
If you're in Cologne from the end of November through Christmas, this is for you! Cologne comes alive during the festive season with its many Christmas markets. The biggest and most popular one takes place right outside the Cologne Cathedral which provides a stunning backdrop for all the Christmas stalls selling everything from traditional decorations, locally made handicrafts, and delicious sweet treats. There's many others scattered throughout the city like the angel-themed Neumarkt Market, the Nicholas Village in Rudolfplatz, or the Harbor Market.
For more information on Christmas markets in Germany, read our guide to the best Christmas markets to visit!
How To Get To Cologne
Cologne is a very well-connected city so there are several easy ways to get here.
BY PLANE: you can fly into Frankfurt am Main (FRA), Düsseldorf (DUS) or Cologne Bonn Airport (CGN). From FRA it's 1-3 hours to Cologne by train (depending on the train you take) and 2 hours by car. From DUS it's about 45 minutes by train or car. From CGN it's about 30 minutes to the city center by public transport and 15 minutes by car.
BY TRAIN: If you're taking the train, the main train station is Cologne Central Station (Köln Hauptbahnhof) which has excellent train connections with most major cities in Germany and other European cities. We recommend checking the Deutsche Bahn official website to find the best routes and tickets.
BY CAR: If you're traveling by car, Cologne is well-connected to the German highway network, making it easily accessible by car. The nearest major cities to drive from would be Düsseldorf (around 45 minutes to 1 hour), Bonn (around 30 to 40 minutes), and Frankfurt (around 2 hours).
On our most recent visit we flew into FRA and took a regional train up to Cologne (we took a regional because we had the Deutschland-Ticket). The train went up the Rhine, so we were treated to a wonderful view of the river and castles along the way.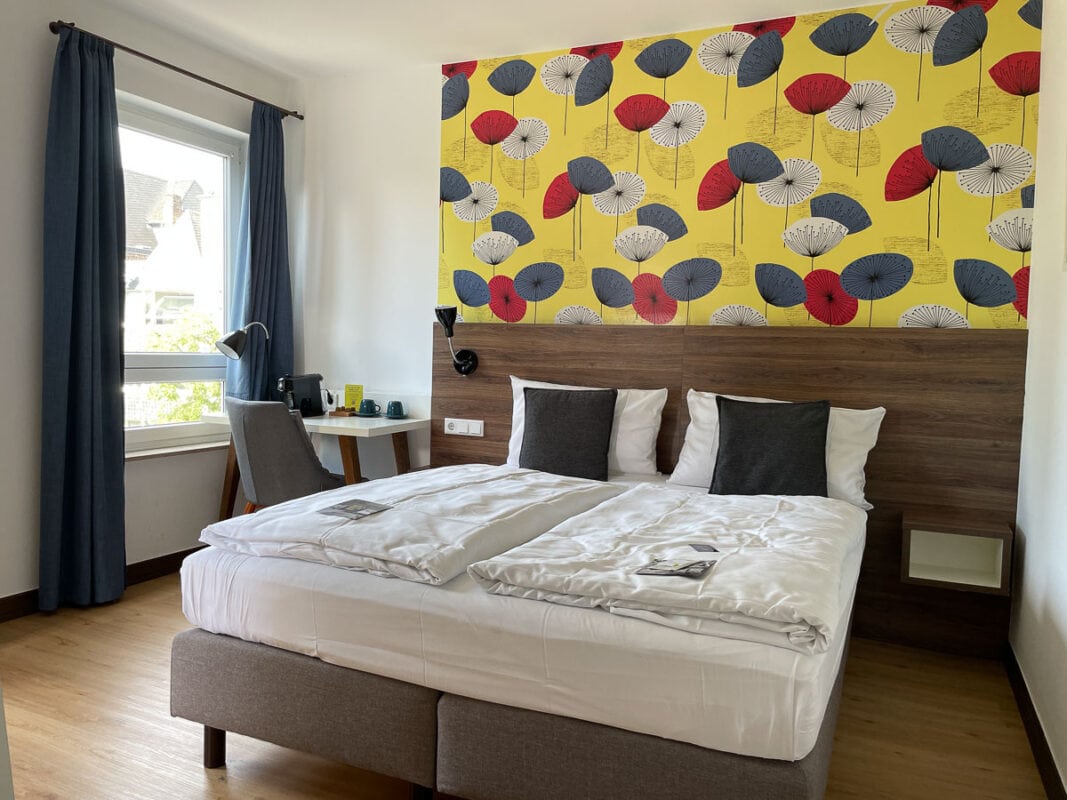 Where To Stay In Cologne
Top Pick & Where We Stayed

Koncept Hotel zum kostbaren Blut – This hotel prioritizes sustainability and is in a converted convent above the historic square of Alter Markt. It has a slightly funky retro vibe but is equipped with all your standard, modern amenities.
It's location is perfect, since it's only a short walk from the train station, Cathedral, Altstadt, the Christmas markets, and Rhine river. It's also well-connected to public transport. We stayed here on our last visit and loved it (see photo above)!
More Great Hotels:
Excelsior Hotel Ernst am Dom – A highly rated hotel in Cologne, the castle-like features of the Excelsior Hotel Ernst am Dom look straight out of a fairytale. The historic building was first built in 1863 and offers the best location in the city since it's right across from the Cologne Cathedral, so you'll wake up to beautiful unobstructed views. You'll also find top-notch service and first class facilities in this five-star hotel. Definitely perfect for guests looking for luxury accommodation.
CityClass Hotel Residence am Dom – CityClass Hotel Residence am Dom is perfect for travelers who don't want to compromise on quality and location of their accommodation. It has an amazing central location near the Cathedral square, Museum Ludwig, and the train station. You can also easily walk to the other Cologne sights.
For more hotel options, read our full guide on the top accommodations in Cologne!
If you have our Germany Travel Planner/Bundle you'll find recommended hotels on our interactive planning map. Seeing where these hotels are in relation to the top sights makes it a lot easier to find the perfect place to stay. If you don't yet have it, click here to get access.
Day Trips From Cologne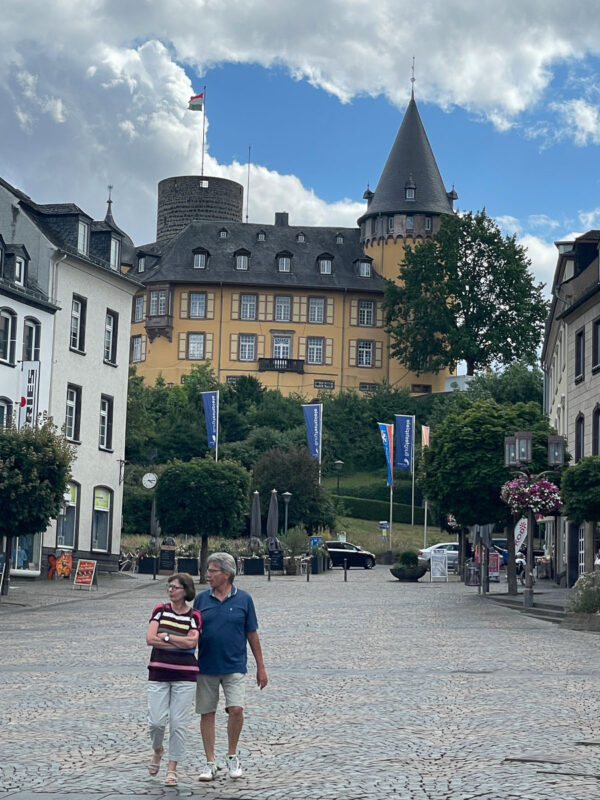 Mayen
You've probably never heard of Mayen but it's a lovely small town that makes for a great day trip from Cologne. I spent several weeks there over 2 summers when I was doing research for my dissertation and loved it. You can spend an enjoyable half day exploring the Old Town, visiting the castle on the hill, the mining museum, churches, and enjoying a tasty meal.
Rhine Valley
If you have a full day for a day trip you could head to the Rhine Valley to explore the small towns on the Rhine river (Bacharach, Oberwesel, St. Goar, etc) or one of the many castles. You could also take the train to Bingen, take a river cruise to Bacharach, and then take the train back to Cologne. That area is so beautiful!
Düsseldorf
Düsseldorf is the capital of the state of North Rhine-Westphalia and is around 45 minutes to 1 hour away from Cologne, making it a great day trip for those looking for another city destination. It's widely known as an international financial center, meaning the city is bustling with modern architecture and high-rise buildings.
At the same time, it also has the charm of the Old Town with many important historic and cultural landmarks. The city is also famous for its fashion and art scene. It's home to art museums and a luxurious shopping boulevard with high-end brands from all over the world. Düsseldorf is known for its own type of German beer called Altbier and even being home to the longest bar in the world!
For more information, read our full guide on the best things to do in Düsseldorf.
Aachen
Aachen is known for its thermal baths and spas, making it the perfect day trip for those looking to relax and recharge after sightseeing in busy cities. The small city shares a border with Belgium and the Netherlands and is over an hour drive away from Cologne.
Aachen is also home to stunning Aachen Cathedral, the first German building to be listed as a UNESCO World Heritage Site. The city is also closely associated with Charlemagne, the great emperor during the medieval times, who made Aachen his principal residence and established it as the center of his empire. One of the main highlights related to Charlemagne is the Palatine Chapel.
Bonn
Bonn is a city to the south of Cologne that's only around a 30 to 40 minute drive away. The city is most famous as the birthplace of Ludwig van Beethoven so it's a great destination for any classical music enthusiast. There are several museums and landmarks dedicated to both Beethoven and classical music history such as the Beethoven House, where he was born.
Monschau
If you're looking to explore a smaller, more quaint town with medieval touches, then Monschau is the perfect day trip from Cologne. It's located around an hour and a half drive away from Cologne. The town is known for its well-preserved medieval charm, with narrow cobblestone streets, half-timbered houses, and romantic alleyways that transport visitors back in time.
An important landmark is the turreted, red sandstone Monschau Castle which overlooks the town and has great countryside views. Monschau is also near the Eifel National Park so there's plenty of opportunities for outdoor activities such as hiking, cycling, and trekking.
TIP: If you have our Germany Travel Planner/Bundle look at our interactive planning map to see do-able day trips. Seeing the castles, towns, and other must-see sights on the map (along with our photos and up-to-date tips) makes it much easier to decide what to add to your itinerary. If you don't yet have it, click here to get access.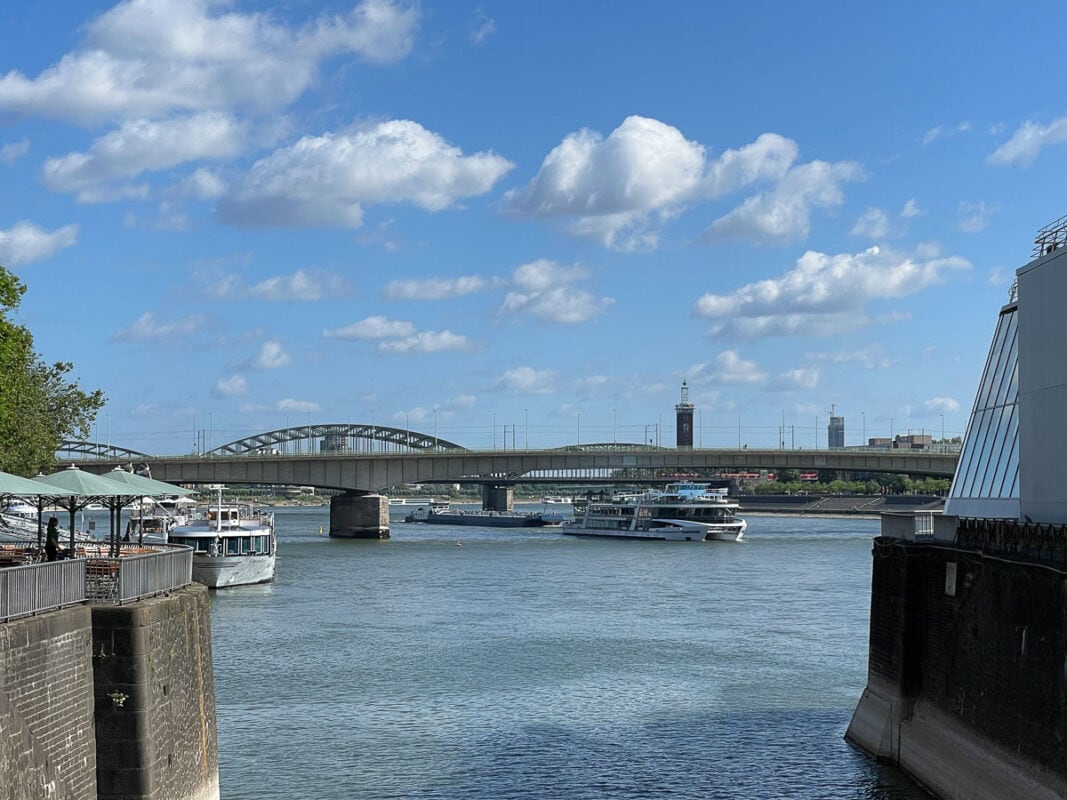 FAQ
What Is Cologne, Germany Famous For?
Cologne, Germany is famous for the Cologne Cathedral. It's also best known for being the birthplace of the eau de cologne.
How Many Days are Enough For Cologne, Germany?
Cologne is definitely doable as a day trip, especially if you don't have much time in your Germany itinerary. But we definitely recommend staying at least one full day to get the most out of your trip. If you are staying around 2-3 days, it's a good idea to combine it with a day trip to Düsseldorf or other nearby cities.
Is It Safe To Travel to Cologne, Germany?
Yes, Cologne is safe to travel to. Overall, Germany is a very safe destination. As always, it's important to take all safety precautions like being mindful of your belongings and staying alert of your surroundings, especially in more touristy and crowded areas.
What To Do in Cologne, Germany For a Day?
If you're in Cologne for only a day, make sure to visit the Cologne Cathedral. You can also spend most of your time in the Old Town and simply choose one or two other museums/landmarks to see. The Hohenzollern Bridge is also a must-see to get panoramic views of the city and the Rhine River.
What to See in Cologne, Germany in 2+ Days?
If you're in Cologne for 2+ days, we recommend doing the things mentioned above but also allocating more time to the Flora and Botanical Garden, another museum of your choice, and perhaps doing a Kölsch tasting tour!
What To Do in Cologne, Germany in December?
If you're visiting Cologne in December, then trying to visit as many of the seven Christmas markets is a must do! Enjoy a nice warm mug of Glühwein and sweet treats like Lebkuchen (gingerbread). The atmosphere in the Old Town is especially charming and festive during this season which makes sightseeing even more special.
Next Steps For Planning Your Trip: