Best Things to Do in Düsseldorf, Germany in 1 Day (Or More!)
This post may contain affiliate links. Read my disclaimer policy.
Spending a day (or more) in Düsseldorf, Germany? Our guide will show you the top things to do and see in this interesting and diverse German city!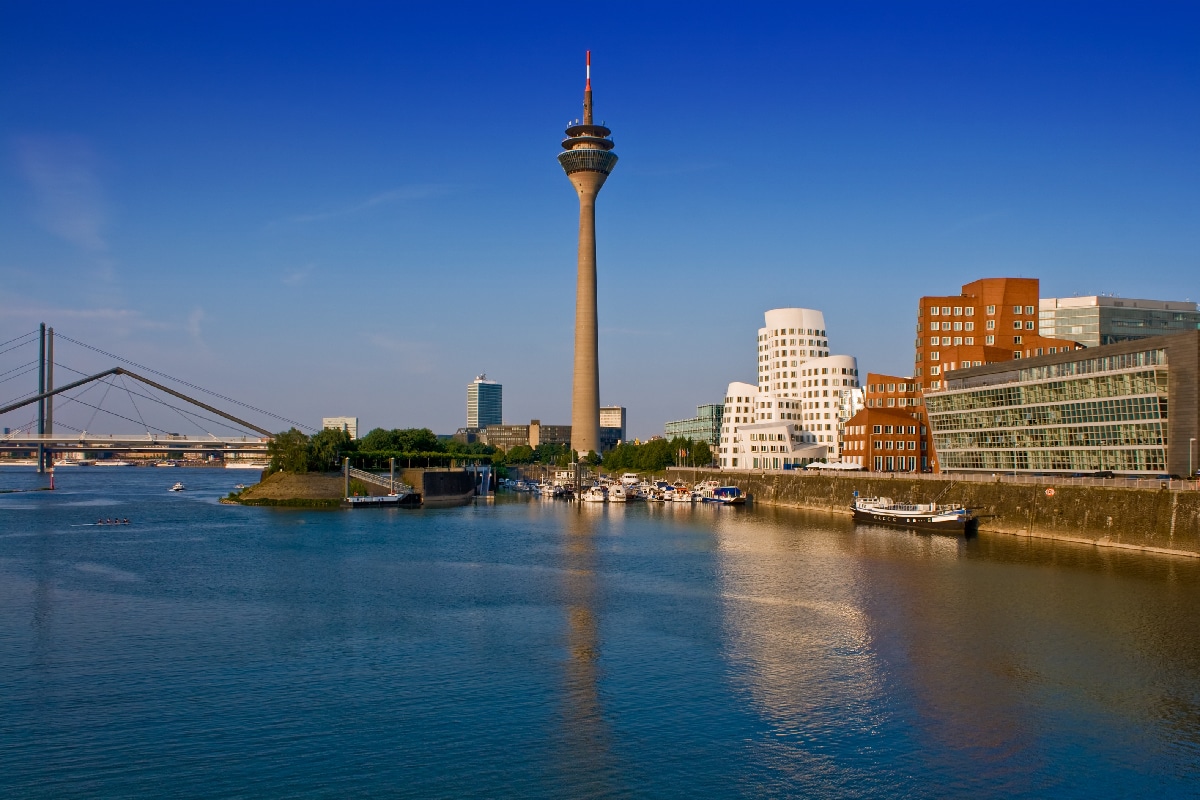 Why Visit Düsseldorf
Düsseldorf is known for several things. First of all, it's a renowned international financial center, meaning the city is bustling with modern architecture and high-rise buildings. But at the same time, it has the charming streets of Old Town with many important historic and cultural landmarks.
Düsseldorf is also known for its fashion and art scene as evidenced by several world-class contemporary art museums and a luxurious shopping boulevard with brands from all over the world.
If it's a culinary experience you're more interested in, then Düsseldorf is known for its own type of German beer called Altbier. It's also home to the longest bar in the world and many delicious restaurants, especially highlighting Japanese cuisine.
Lastly, Düsseldorf is also famous for Carnival, a fun celebration full of parades, costumes, parties, and food stalls. Whether you're interested in fashion, art, beer, or history, Düsseldorf is a great city worth visiting for all these reasons!
When To Visit Düsseldorf
The best time to visit Düsseldorf depends on your priorities and preferences. The summer months are by far the most popular times to visit because of the weather and outdoor activities and events. But keep in mind that this time is generally considered to be peak season all over Germany so there are more people and prices are higher.
A great alternative is fall and spring, when temperatures are still mild but it's not as busy as it is during summer. Winter is also a great option to visit because of the Christmas markets.
Carnival also takes place in the latter part of winter next year, around mid-February. As spring is around the corner, the city comes alive with fun things like parades and dances in elaborate costumes all throughout the city.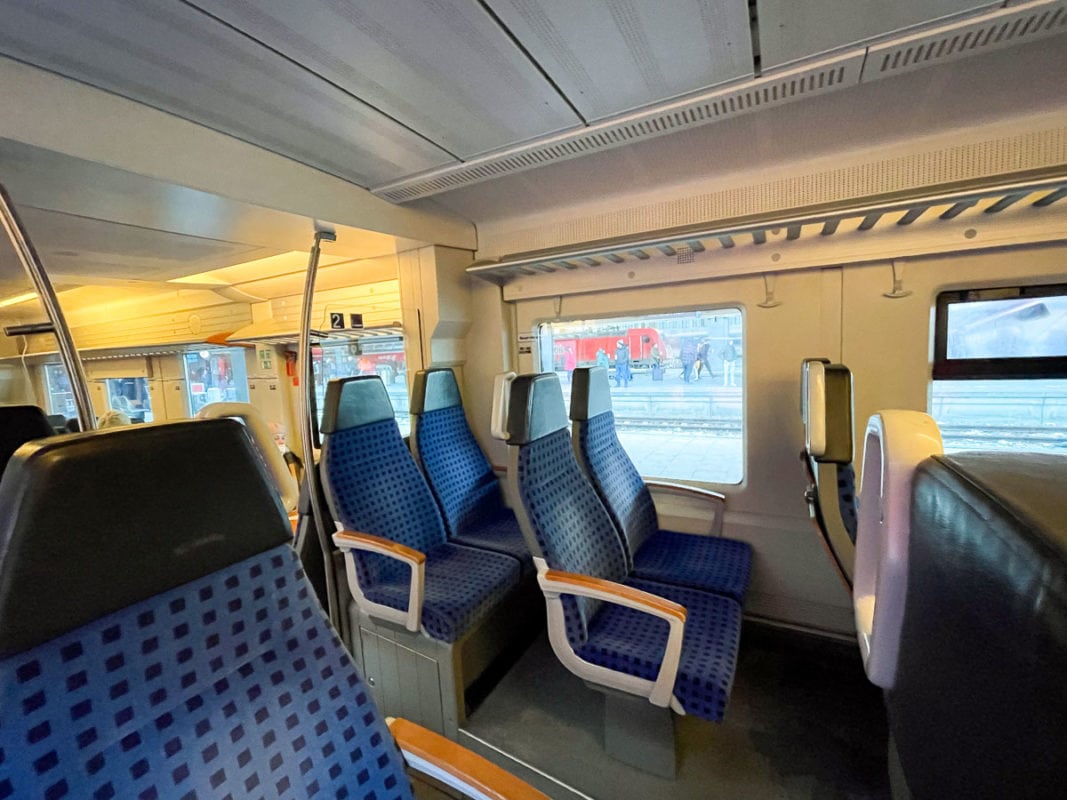 How To Get To Düsseldorf
Düsseldorf is located in western Germany in the state of North Rhine-Westphalia.
If flying to Germany from Europe or beyond, you can likely fly right into Düsseldorf. The Düsseldorf International Airport is actually one of the largest airports in the country and serves as the primary gateway to the city. The city center is around 30 minutes away from the airport, but it's pretty accessible by public transportation like the S-bahn or various bus lines.
Another option for reaching Düsseldorf from around Germany or neighboring countries is by train. Düsseldorf Hauptbahnhof (main railway station) serves many regional towns and major cities both within and outside Germany. Check out Deutsche Bahn for all the latest train schedules.
If you have a rental car, Düsseldorf is also very accessible via car since it's in the middle of one of Europe's densest motorway networks. You can reach the city from every direction via the A3, A 44, A 46, A 52, A 57, A 59 and A 524.
Düsseldorf is a great day trip idea from Cologne, since it takes less than an hour to drive there and only 20-30 minutes by train.
Getting Around Düsseldorf
Getting around Düsseldorf is quite easy, especially for a short stay of one day. The public transport system connects a lot of the important places around the city but it's definitely possible to see mostly everything by walking.
The best way to get around the Old Town is by walking since a lot of the main attractions are just a few minutes walk away from one another. Additionally, walking lets you take in the city's architecture and the sights from the Rhine promenade.
There are some sights that are a bit further from the center. For this we recommend booking a Hop On Hop Off Bus Tour. The bus tour will not only take you to these spots but they're also great if you're pressed for time since it'll take you to all the historic buildings and landmarks without you having to worry about directions.
Even if you only get off the bus once (or not at all), HOHO bus tours are a great way to see more of a city in a short period of time.
For a twist on traditional tours, we recommend booking a city Segway tour! Experience Düsseldorf's top sights from a fun and different perspective while getting from point to point in a quick, effective way.
Where To Stay In Düsseldorf
If you want to spend a night or 2 in Düsseldorf, the best area to stay in is the Altstadt or Old Town. You'll be in a fun, lively area and a short walk from major tourist attractions, so you can really maximize your time during a short stay.
There are lots of hotels and accommodation options within the city center. Here are some of our top recommendations:
Breidenbacher Hof Düsseldorf – The best hotel for those looking to treat themselves to a luxurious experience. It's centrally located, offers elegant rooms with modern amenities, and an award-winning bar and restaurant on-site.
Ruby Coco Hotel Düsseldorf – A trendy, boutique hotel located by a major shopping boulevard. Rooms have sophisticated furnishings and there's a chic bar and rooftop terrace with patio seating.
Select Premium Hotel & Apartments – This apartment-style hotel offers spacious rooms with all the standard amenities at affordable prices. It's also located near the main train station.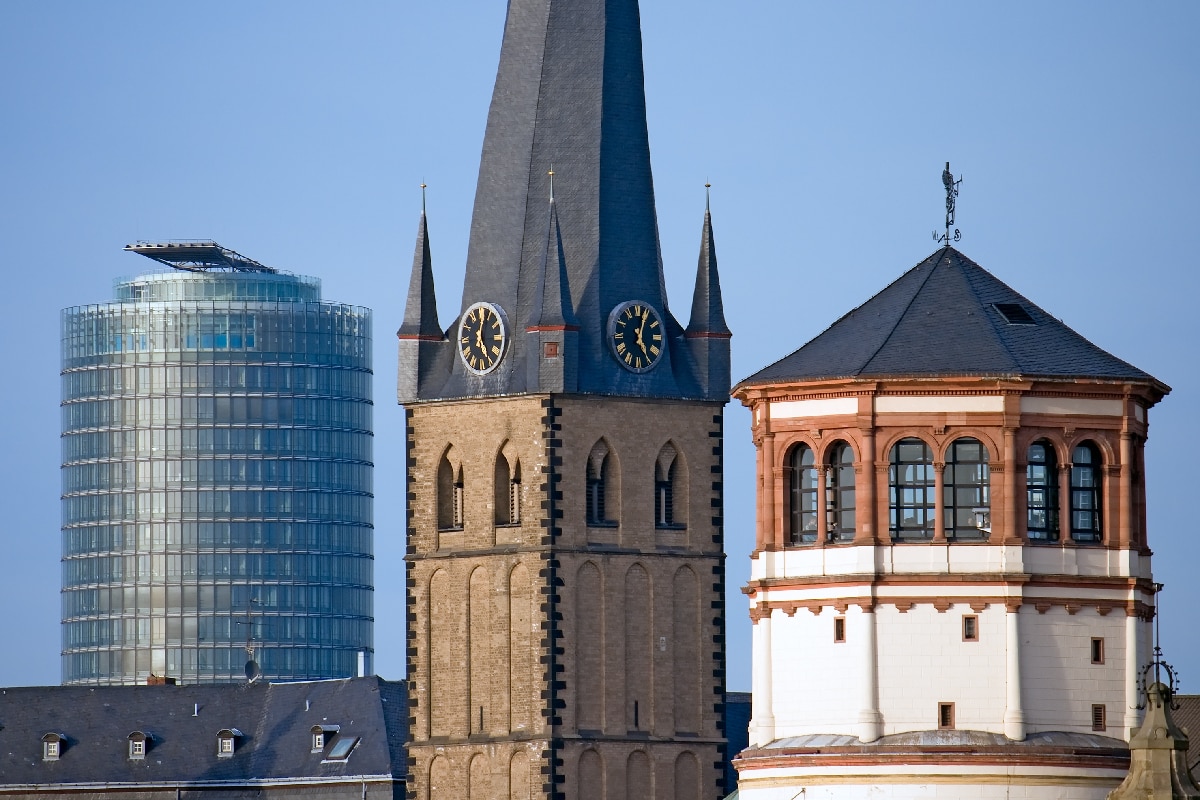 What To Do And See In Düsseldorf In 1 Day
Altstadt (Old Town)
The Altstadt (Old Town) is a small but vibrant area filled with picturesque cobblestone streets, delicious restaurants and bars, and important historical buildings. Some important landmarks include the town hall (Rathaus), the Jan-Wellem Reiterdenkmal (equestrian monument), the St.-Lambertus-Basilika, the Schlossturm (castle tower), and Marktplatz (market square).
To get the most out of your time exploring the city center, we recommend booking this guided walking tour of Altstadt. An expert guide will not only tell you about the rich history of each spot but you might even discover some lesser known and hidden gems in the area.
Altbier Safari
Fun fact: the Alstadt area is also known to be the longest bar in the world! That's because there are around 300 of the best bars, breweries, discotheques, and pubs lined up one after the other in such a small, concentrated area.
Düsseldorf has a strong brewing culture and tradition as they're known for their Altbier. This type of beer is a top-fermented beer and is characterized by its dark amber color and its rich, malty flavor profile.
If you're interested in learning more about the brewing process and beer culture in Düsseldorf, book this Altbier-Safari beer walking tour! It's a great way to visit the best breweries in town, taste delicious beer, and even make friends by the end of the night.
Königsallee
Königsallee is a major urban boulevard and famous shopping street in the heart of Düsseldorf. It's home to a range of luxury brands, designer boutiques, and fashion showrooms. In addition to the beautiful high-end stores, Königsallee is also known for the beautiful canal that runs down the center of the street.
It's surrounded by trees and benches, making it a nice spot to take a stroll or sit and relax after shopping. It's a must-visit for any shopaholics or for anyone looking for a scenic atmosphere in Düsseldorf!
Schloss Benrath (Benrath Palace)
Schloss Benrath is a Baroque-style pleasure palace located in the southern part of Düsseldorf. It was originally built as a summer residence for the Elector Palatine Charles Theodor and his wife in the 18th century.
The palace is made up of different buildings and wings with lavish furnishings. Two of the wings serve as museums, one for natural history and the other for European garden art. The castle is surrounded by a beautiful garden.
Visitors can stroll through the wooded areas and flowerbeds. Along the way, you might notice the garden's unique biodiversity since it's home to more than 80 species of birds and over 300 species of beetles.
Rheinuferpromenade (Rhine Embankment Promenade)
Rheinuferpromenade is a scenic riverside promenade running along the Rhine. It's a busy area beloved by both tourists and locals. It's a great place for activities like leisurely strolls, biking, and skating. But it's also a popular spot to grab a bite to eat or sip on a drink in the beer gardens and outdoor restaurants and cafes.
To experience the city and the Rhine Promenade from a different perspective, book this 1-hour sightseeing cruise along the Rhine River.
Museum Kunstpalast
Museum Kunstpalast is a renowned art museum featuring a wide range of pieces from Classical antiquity to contemporary art. Admire everything from paintings, sculptures, prints and drawings dating from the medieval ages to the more recent additions from the 20th century and present. This museum also features a unique glass collection and has particular focus on Japanese and Islamic art.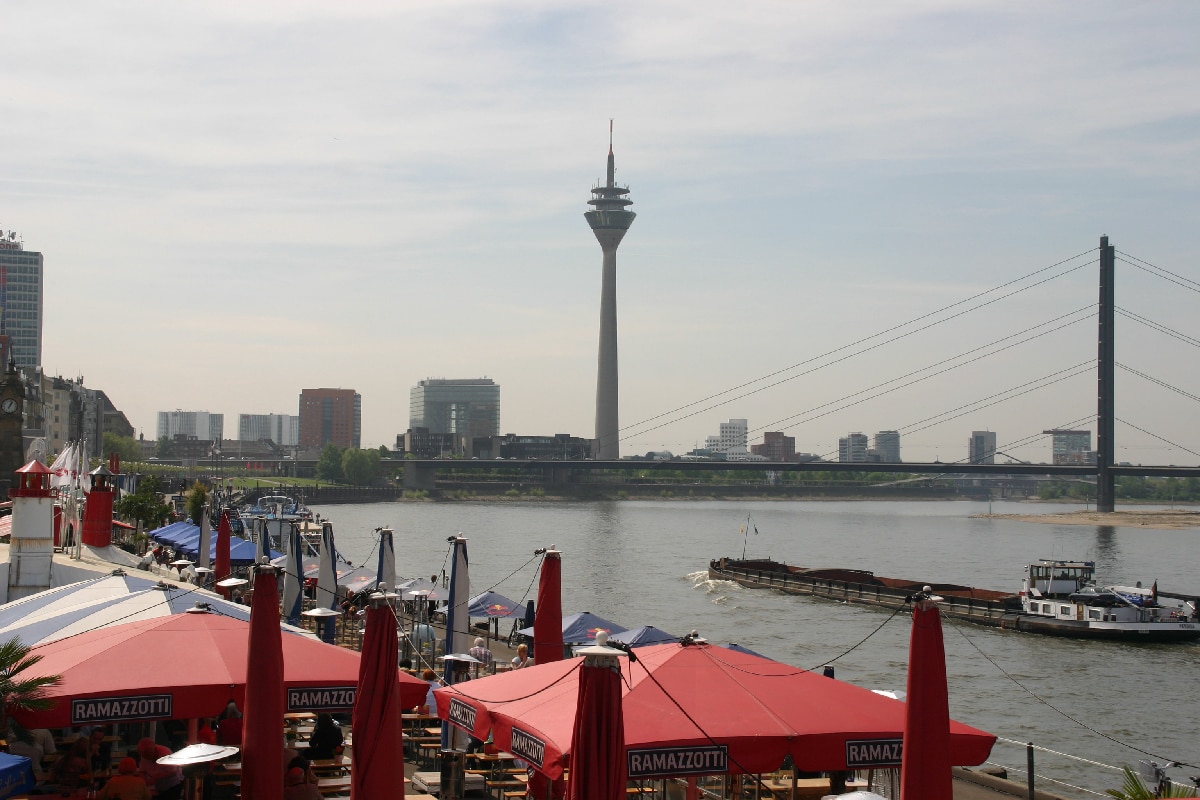 Rhine Tower
The Rhine Tower, or Rheinturm in German, is the tallest building in Düsseldorf. It stands at an impressive height of almost 790 feet. Aside from its function as a communications tower, the Rhine Tower also offers a great view of the city from its heights.
Visitors can go all the way up to the viewing platform and get views of the Rhine, Mediahafen, Hofgarten, and Old Town. On especially clear and sunny days, you can even see as far as the Cologne Cathedral from the observation deck. Higher up, there's also a revolving restaurant called QOMO serving modern Japanese fusion-style cuisine. It's one of the best places to enjoy good food with a beautiful view.
Neanderthal Museum
The Neanderthal Museum is located just outside of Düsseldorf, in a nearby town called Mettmann. The museum is dedicated to the origins and evolution of humankind.
Here, you'll learn everything about the Neanderthal through life-sized reconstructions, multimedia installations, and interactive workshops of ancient tools. Those who are interested in anthropology or those traveling with kids are guaranteed to have a great time exploring the museum.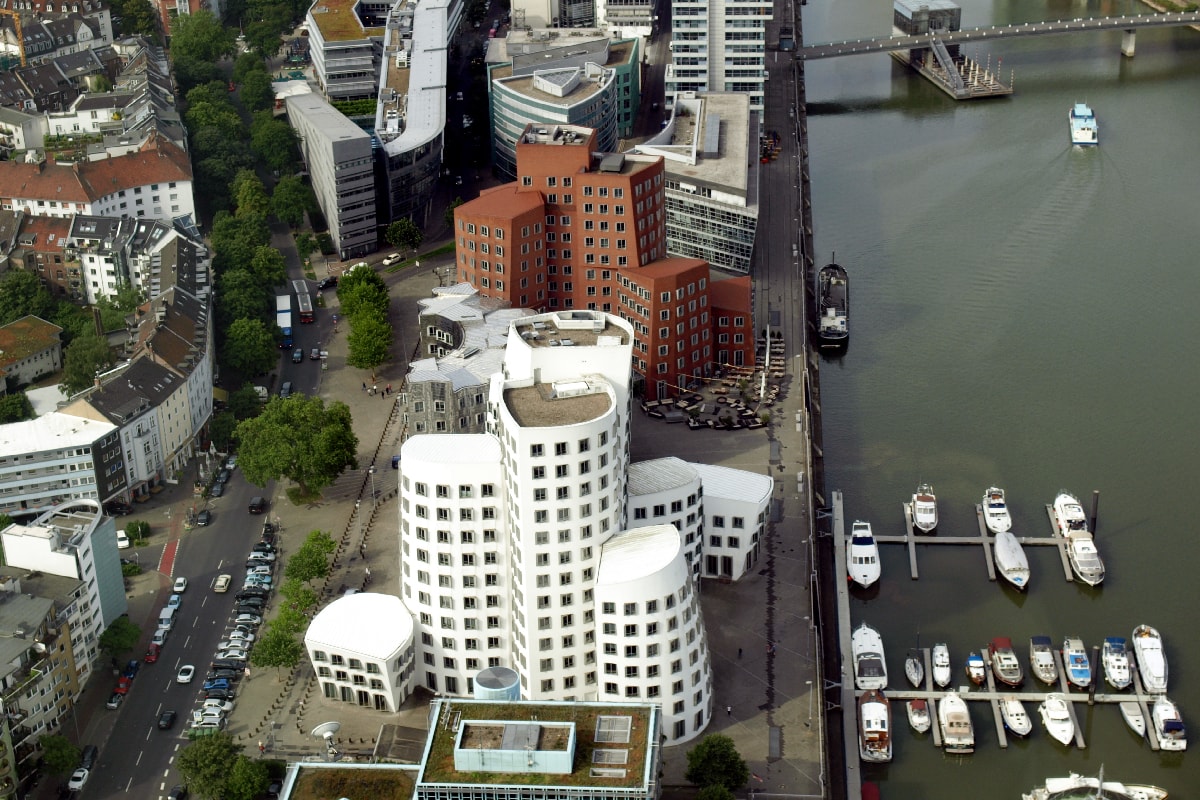 Book your skip the line ticket to Neanderthal Museum!
Medienhafen (Media Harbor)
Medienhafen, also known as Media Harbor, is an iconic part of the city's skyline. It's an urban district that's home to many important businesses, media companies, and TV and radio studies. The district has also become a popular tourist destination since it's known to have some of the best restaurants, bars, and clubs.
Another highlight of this district is Neuer Zollhof, a striking ensemble of three buildings by the famous architect Frank Gehry. These buildings, with their stainless steel panels and curved forms, are a great example of modern architecture.
Hofgarten
Hofgarten is a large urban park located in the center of the city. It's one of the first and oldest public gardens in Germany, established all the way back in 1769. The park is the perfect spot to take a break from the bustle of the city center and enjoy some natural scenery.
Over a third of the park is dedicated to meadows, making it a good place for locals and tourists alike to just relax and stroll through during warm days. There are also a lot of flowerbeds, a large pond, and several historic monuments and modern sculptures scattered throughout the park.
Kunstsammlung Nordrhein-Westfalen
The Kunstsammlung Nordrhein-Westfalen is a modern art museum housing the North Rhine-Westphalia art collection. The museum is made up of three different exhibition venues called the K20, the K21, and the Schmela Haus. The collections in each building offer a different perspective on modern art.
The collection is mostly made of art from the 20th and 21st centuries. Some of the most notable artists include Jackson Pollock, Pablo Picasso, Henri Mattisse, Andy Warhol, Paul Klee, and many more.
Little Tokyo Düsseldorf
Did you know that Düsseldorf is home to the largest Japanese community in Germany? Their influence is best seen in Little Tokyo, a small district along Immermannstrasse which is between the main train station and the city center.
This area is a great spot for tasting authentic Japanese cuisine, trying out traditional izakaya bars, and visiting shops selling everything from manga to traditional snacks and ramen. If you want to learn more about the area, then book this Little Tokyo tour that offers samples from a Japanese restaurant and visits to traditional Japanese book shops and bakeries.
Classic Remise Düsseldorf
The Classic Remise Düsseldorf is the perfect spot for any car enthusiasts or lovers of anything vintage. Housed in a converted industrial warehouse, this vintage car center showcases over 300 historic and classic vehicles. Many of the cars are exhibited for display, giving the center a museum-like quality but some are actually for sale!
Aside from the showrooms, Classic Remise Düsseldorf also has car and motorcycle workshops and professional services, shops selling accessories and model cars, and even a bistro and beer garden that's open during summer.
Schloss Jägerhof
Schloss Jägerhof is a Baroque-style hunting lodge located in the heart of Düsseldorf. It was originally built in the 18th century and served many purposes including a military hospital and an important historical headquarter.
Currently, it's home to the Goethe Museum and the Ernst Schneider Foundation. It's the most comprehensive Goethe private collection in the world, boasting thousands of items honoring the famous German literary figure such as letters, drafts, first editions, and portraits.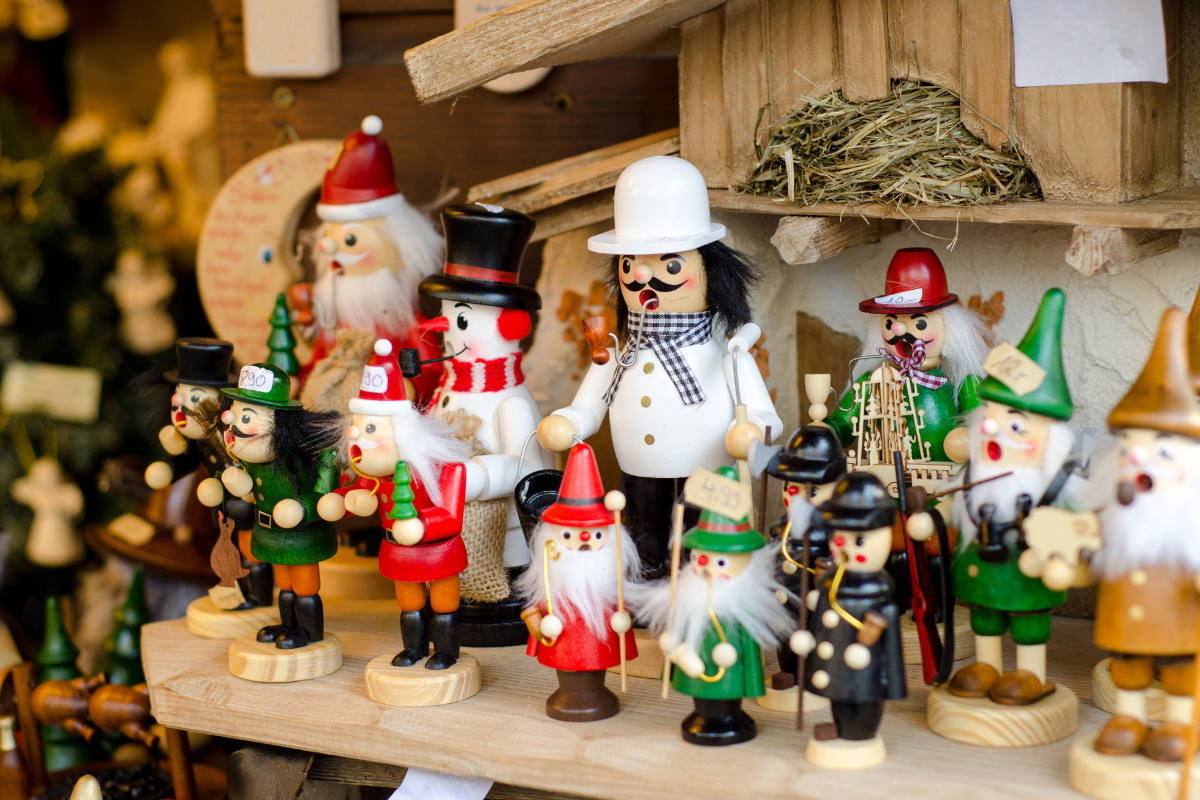 Düsseldorf Christmas Markets
One of the best things about visiting Düsseldorf in December are the Christmas markets! It's actually known to be one of the longest-running markets, since it opens in mid-November, a bit earlier compared to most Christmas markets in other German cities.
In Alstadt alone, there are seven different main ones you can explore. Each market has a different theme and atmosphere but most include classic German Christmas market staples like wooden huts selling handcrafts, mulled wine, delicious traditional sweets, live music, and festive decorations.
Here are some worth checking out! Engelchen Markt (Angel Market) is a small but sparkly market with its golden angels decorations everywhere. For one with a scenic backdrop, visit Handwerker Markt located right in front of the city hall. And for a magical, fairytale atmosphere, Marchen Markt is the perfect place!
Check out our guide of other Christmas markets around Germany!