9 Best Hop On Hop Off Bus Tours For Your Trip To Germany
This post may contain affiliate links. Read my disclaimer policy.
Sightseeing in Germany – there are so many options! From walking tours, bike tours, food tours, and hop on hop off bus tours, there are several different ways to visit all of Germany's tourist attractions.
If your trip to Germany includes cities, booking hop on hop off bus tours is one of the best ways to see each city's highlights in the most convenient and hassle-free way!
In this guide we show you the best Hop On Hop Off Bus tours to book for your Germany vacation.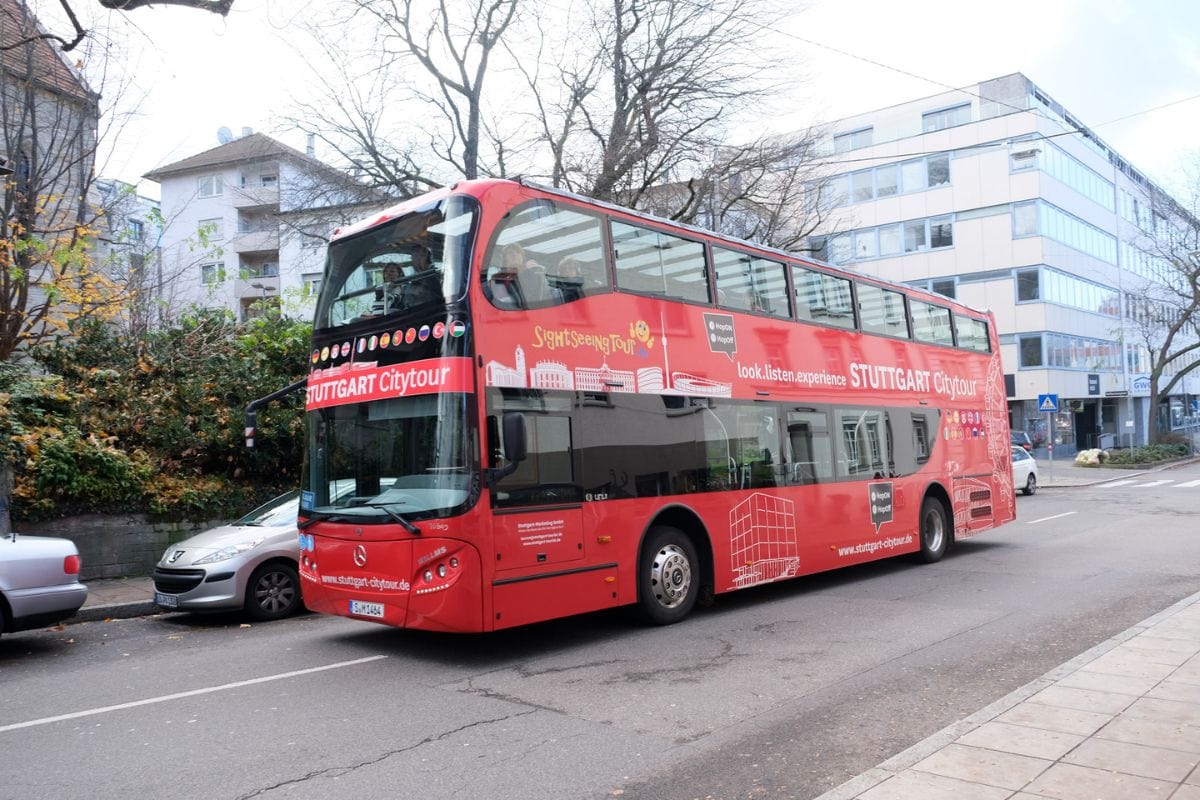 What Is A Hop On Hop Off Bus Tour?
Hop On Hop Off bus tours (also known as HOHO bus tours) are one of the most popular types of sightseeing tours in the tourism industry. Each bus follows a specific route and has stops close to the city's top tourist attractions.
You can board at any of the designated stops and hop off at any attraction you want. Most bus tours take about an hour if you ride it the whole way through but allow you to hop on and hop off for an entire day or 24-hour period. The number of stops on each tour depends on how big the city is.
There are 2 ways to enjoy these tours:
Use it as a way to tour the city in an hour. Simply hop on and ride it all the way through without getting off.
Use it as transportation as you see the city's sights. This way you don't need to use public transportation.
We use these tours primarily as a way to see the city when we first arrive, so we hop on and ride the entire route. If we use it later in the day to get to or from specific sights, that's a bonus.
Why Include A Hop On Hop Off Bus Tour In Your Germany Trip Itinerary?
When planning a trip to Germany, we recommend booking HOHO bus tours for new cities you're visiting. They're an easy, affordable, and convenient way to get an overview of the city before exploring on foot. And if you're pressed for time, they're an excellent way to see the city quickly.
Even if you've visited a city before, you'll no doubt see new sights on a HOHO bus tour! That's what I discovered when we did a tour in Hamburg. Aaron was new to the city and enjoyed getting to see a lot in a short amount of time – and I enjoyed seeing neighborhoods I hadn't explored when I lived there.
With these tours you won't have to worry about the logistics of getting from one place to another and familiarizing yourself with public transportation and the names of transit stops. You just hop on the bus, ride it to the sight you want to see, get off, and then hop back on later. They make it easy for you to visit the top tourist destinations in Germany at your own pace and without the stress of public transportation.
Another benefit is that they typically include audio guides or live commentary so you can learn about what you're seeing. Some also include entrance ticket discounts to tourist spots or skip the line options. In some cities you can buy discounted combo tickets that include other types of tours like boat tours and walking guides.
HOHO tours are a great option in the winter when you want to see the sights but you don't want to spend a lot of time outside getting from place to place.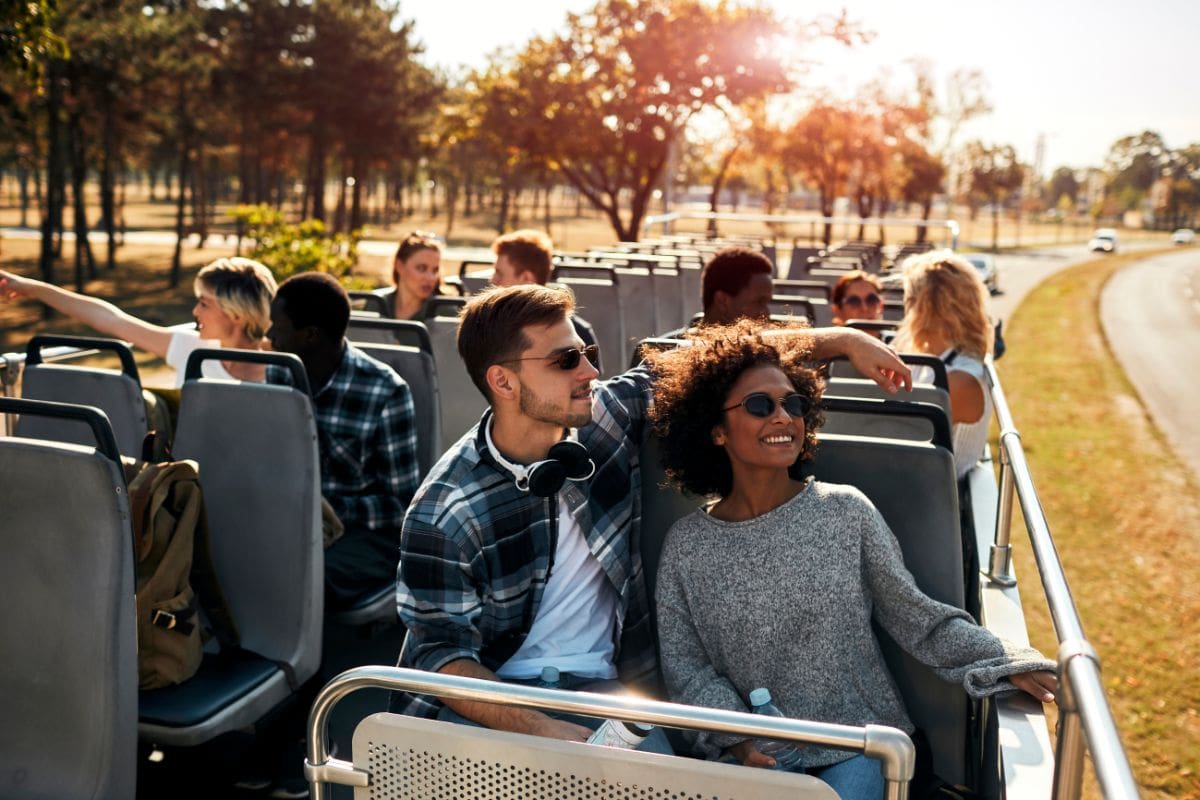 Quick HOHO Bus Tour Recommendations
If you're planning to visit any of these German cities, book a HOHO bus tour!
9 HOHO Tours to Add To Your Germany Itinerary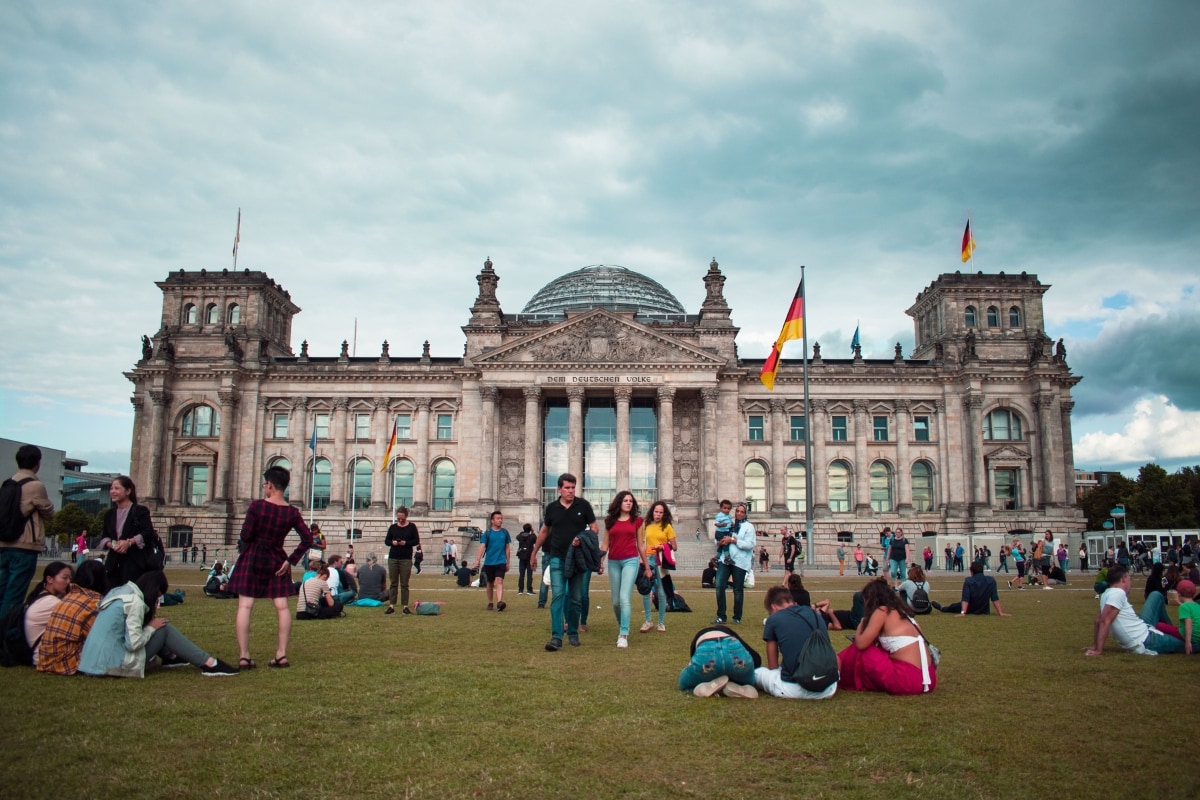 Hop On Hop Off Bus Berlin (Stadtrundfarht Berlin)
See the best that the German capital has to offer with the Berlin Hop On Hop Off Bus tour! Berlin sightseeing can be challenging to plan because there are tons of landmarks to see and places to visit.
But by booking this HOHO bus ticket, all you have to do is follow the route and choose what stops to get off at!There are over 20 hop on hop off stops in this city tour of Berlin.
It starts at Kurfürstendamm and takes you to Potsdamer Platz, Checkpoint Charlie, and Gendarmenmarkt. The bus makes its way to Unter den Linden, a central boulevard with many of Berlin's most significant landmarks like Brandenburg Gate, the Berlin Cathedral, and Reichstag.
The live commentary throughout the tour is a great way to get historical information and fun facts about each site.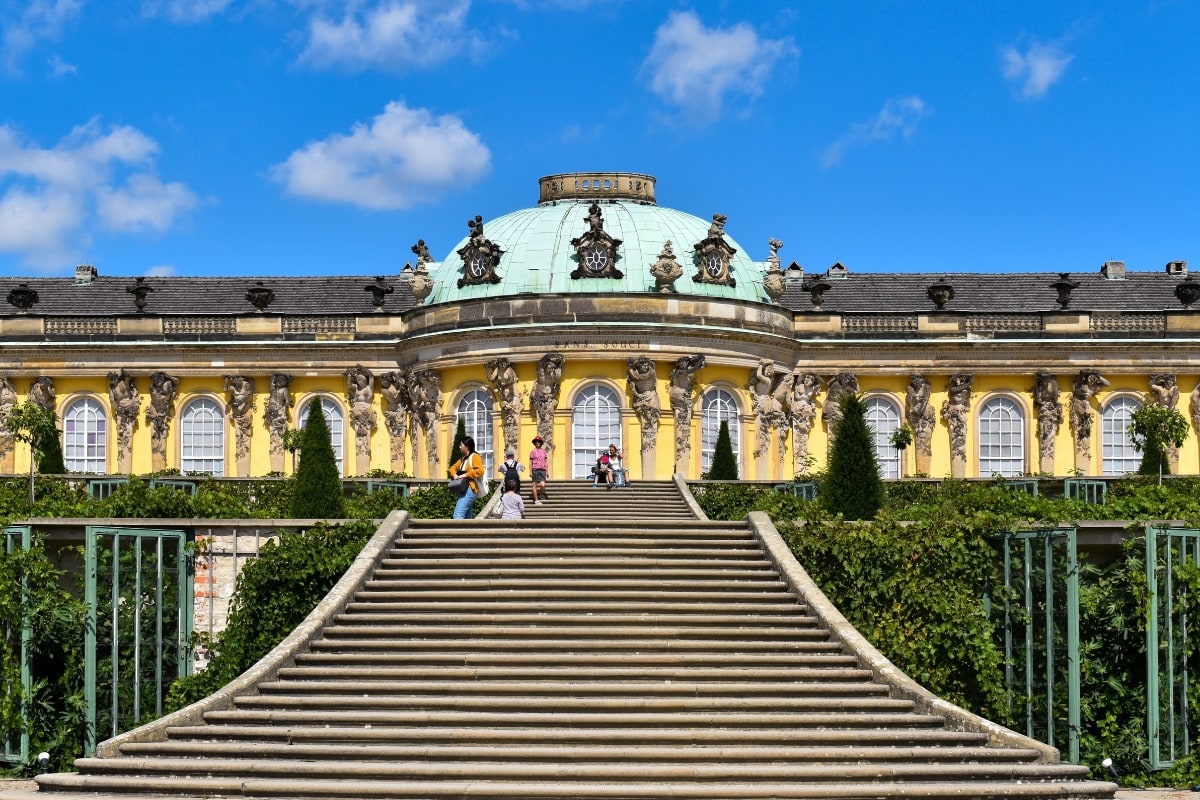 Hop On Hop Off Bus Potsdam (Stadtrundfarht Potsdam)
Explore the best things to do in Potsdam at your own pace with this 1-day HOHO bus tour. This Potsdam sightseeing bus goes through 12 stops. The whole tour takes around 105 minutes and starts at Luisenplatz but you can board the bus at any stop.
Some of the stops include the famous Dutch Quarter with its stylish shops and galleries, the Marble Palace, Cecilienhof, Schloss Sanssouci Palace, the Orangerie, and many more!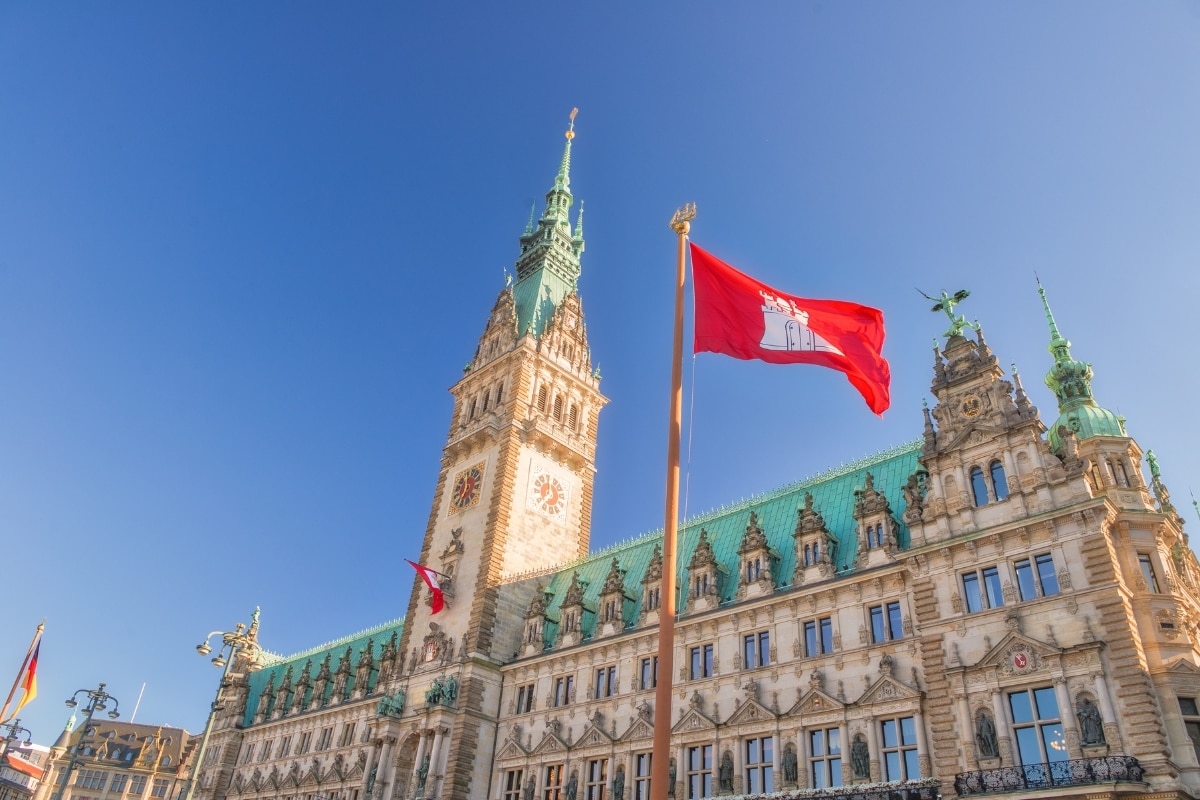 Hop On Hop Off Bus Hamburg (Stadtrundfarht Hamburg)
The Line A HOHO bus route covers all of the best Hamburg tourist attractions! There are 20 bus stops so it's the perfect way to do some quick sightseeing in Hamburg, especially if it's your first time visiting the city.
See the impressive warehouse district Speicherstadt, the vibrant Reeperbahn, the Outer Alster Lakes, Elbphilharmonie with fantastic harbor views, and many more!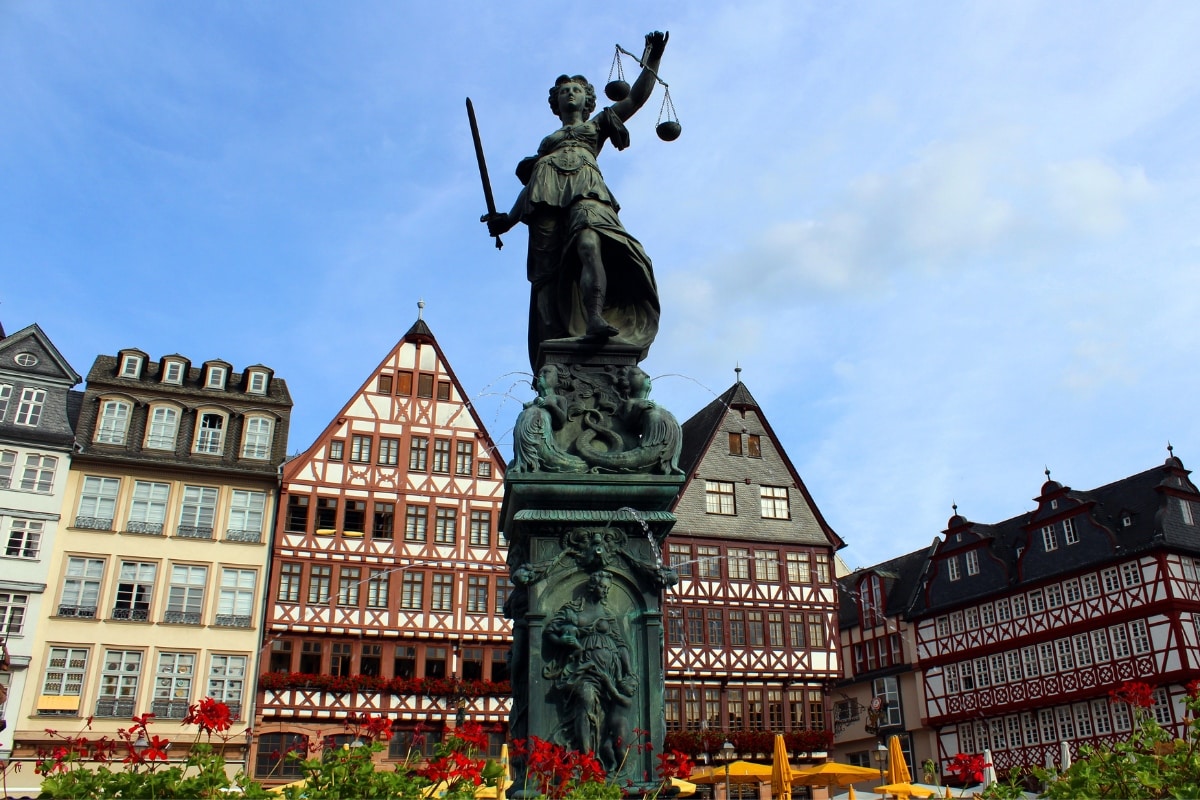 Hop On Hop Off Bus Frankfurt (Stadtrundfarht Frankfurt)
The Hop On Hop Off Frankfurt bus offers two different tours. The Skyline Tour takes you to the major Frankfurt tourist attractions like Alte Oper, St. Paul's Church, Eisiner Steg, Museumsufer, the banks of River Main, and others. This is ideal for those who have more time for sightseeing in Frankfurt since there are 16 stops.
The Express City tour covers all of the top Frankfurt attractions but is more focused on Frankfurt city center. There are only 13 stops, perfect for those who have limited time.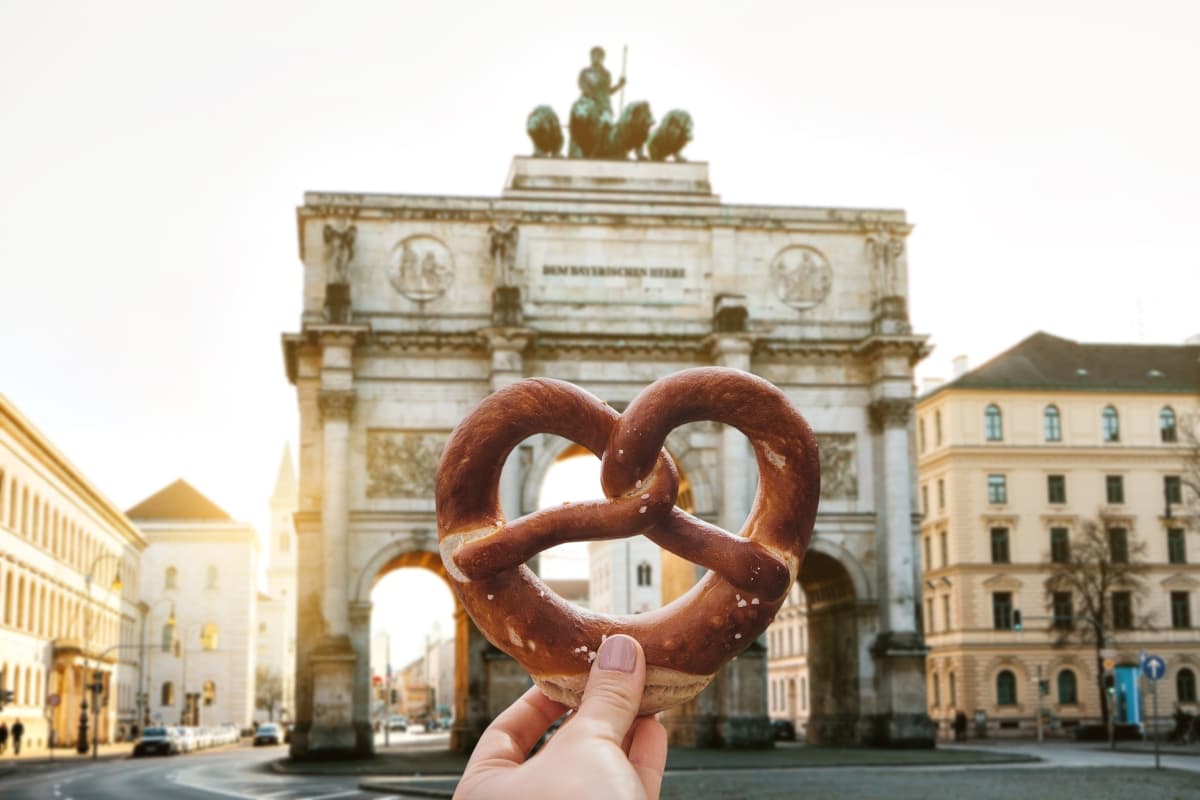 Hop On Hop Off Bus Munich (Stadtrundfarht München)
Hop On Hop Off Bus Munich has 16 different stops and allows you to choose from three distinct routes: the City Tour, the Nymphenburg Olympic Park tour, and the Schwabing tour.
Some of the city highlights include the historic Old Town, Marienplatz, and the Munich Opera. If you want to venture out, the Nymphenburg Olympic Park route will take you to Schloss Nymphenburg, Olympiapark, and the BMW Museum. Lastly, the Schwabing tour brings you to Schwabing and the English Garden.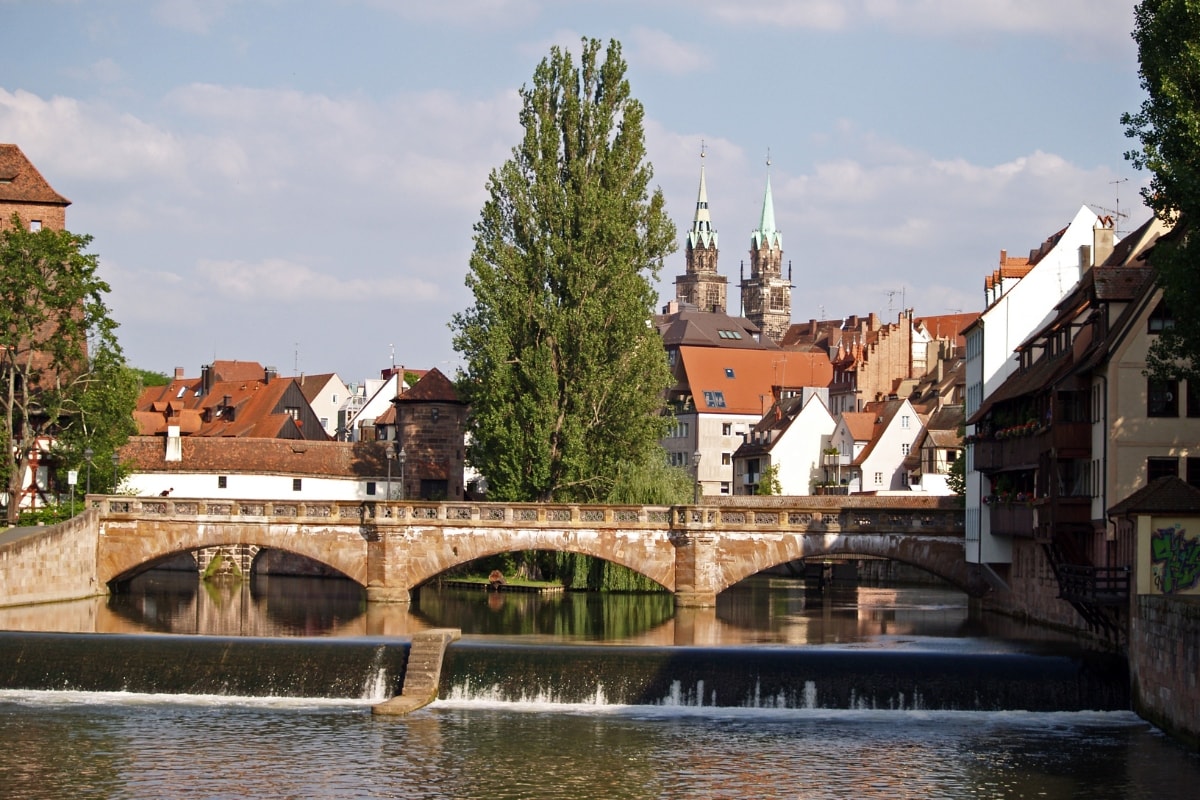 Hop On Hop Off Bus Nuremberg (Stadtrundfarht Nürnberg)
Discover the best places to visit in Nuremberg with this short but informative HOHO bus tour. It goes through six stops covering famous Nuremberg attractions including the historic Old Town, the Imperial Castle of Nuremberg, Memorium Nuremberg Trials, and Hauptmarkt.
Hop On Hop Off Bus Stuttgart (Stadtrundfarht Stuttgart)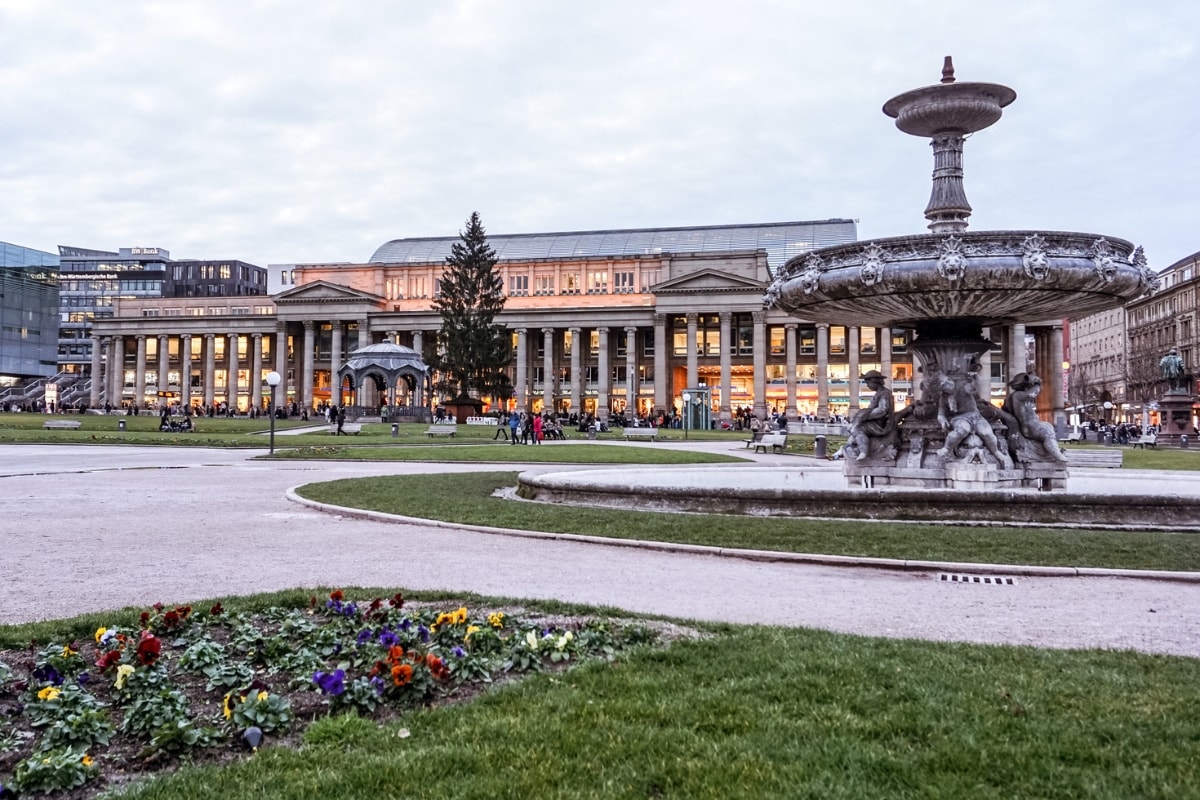 The Hop On Hop Off Stuttgart bus tour lets you explore the city through three different routes. You can choose one tour but with a combination ticket, you can do 2 of the following tours.
The Blue Tour brings you to the Mercedes Benz Museum, the Wilhelma Botanical Garden, Killesberg Hill Park, and more. The Green Tour stops at Stuttgart TV Tower, Marienplatz, Funicular Railway, among others. The Wine Tour takes you to the Stuttgart Museum of Viniculture and the Royal Burial chapel on the Württemberg.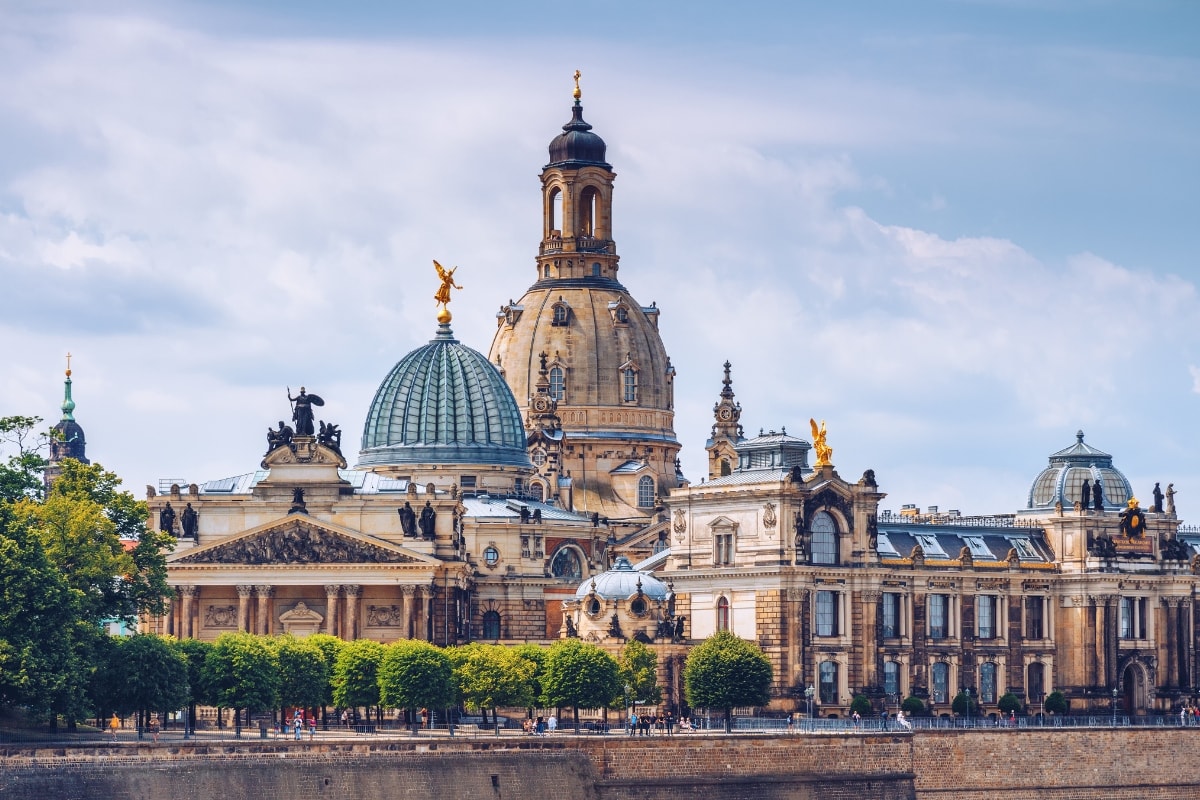 Hop On Hop Off Bus Dresden (Stadtrundfarht Dresden)
The Hop On Hop Off Dresden bus tour gives you an excellent overview of this beautiful city in 22 stops. This HOHO bus booking also includes guided tours!
There's a guided tour to Zwinger, a beautiful Baroque palace. Join a walking tour of Old Town to see the Royal Castle, Fürstenzug, and Frauenkirche. You can also visit Pfunds Dairy or participate in the Dresden night watchman tour.
Hop On Hop Off Bus Düsseldorf (Stadtrundfarht Düsseldorf)
Explore the top places to visit in Düsseldorf with the Hop On Hop Off Bus! There are 7 stops along this tour which take you to the top places to visit in Düsseldorf. All in all, it shouldn't take longer than 90 minutes. The stops include Königsallee, Burgplatz/Altstadt, the Ehrenhof cultural center, Nordpark, and more.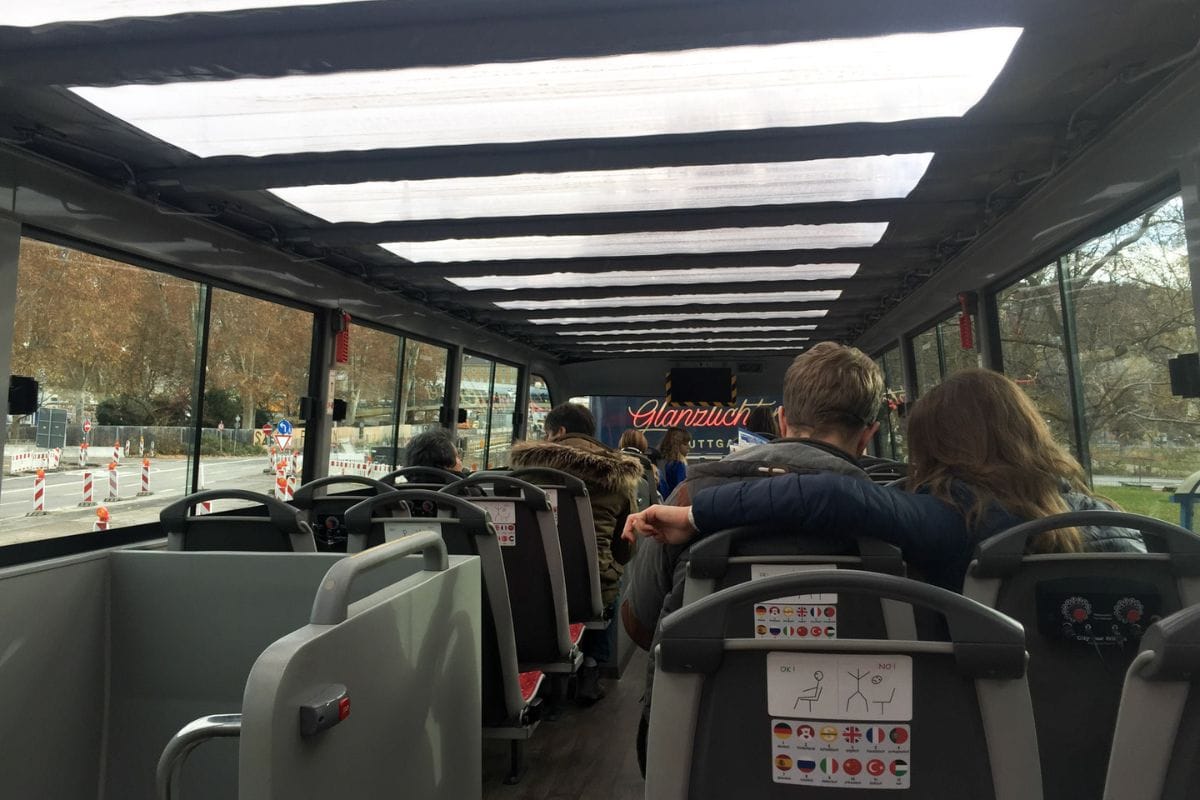 Hop On Hop Off Bus Tour Tips
Make the tour the first thing you do when visiting a new city. That way you'll get the lay of the land, so to speak, and can then zero in on what you want to see in more detail.
Go through the entire tour once to get an overview of the city. This way you'll see parts of the city you most likely wouldn't otherwise visit.
Consult the bus timetables and plan your schedule ahead of time so you can make the most of any stops along the route.
Understand what your ticket includes (i.e. guided tours, entrance tickets) – it might include more than you realize.
Arrive early to get the best seats. The best seats are arguably in the very front of the upper deck because you'll have an unobstructed view. To get those seats you'll need to be the first in line! (While those seats are extra fun, don't worry if you can't snag those seats, though. These busses are designed for great views from every seat.)
If you're buying a 24-hour ticket, if you plan ahead so you can time it right, you can the ticket it on two days.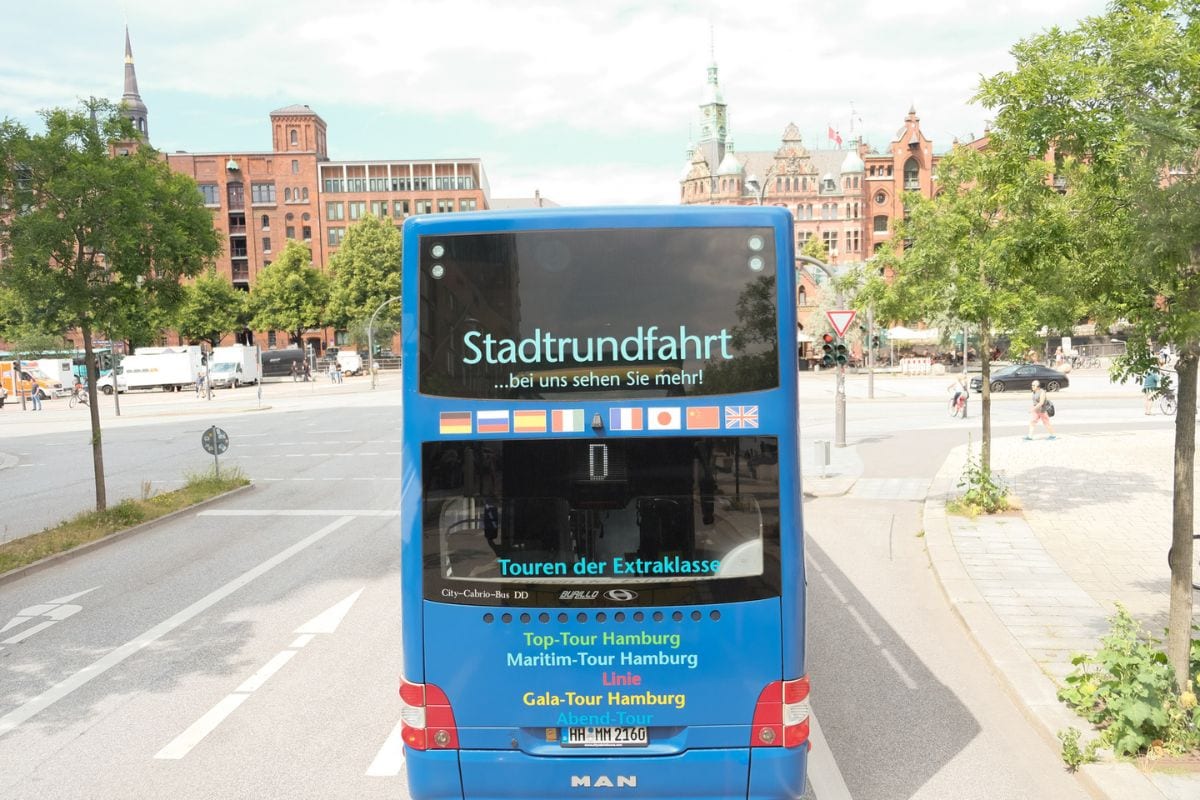 How Much Do HOHO Bus Tours Cost?
HOHO bus prices are pretty affordable. Individual adult tickets range from 12€ to 24€ on Get Your Guide.
Should I Book A HOHO Bus Tour In Advance?
Yes! Booking your bus tour in advance saves you time from queuing. Sometimes the Hop On Hop Off price is actually cheaper online with discounts or special offers available. But you can also easily get tickets the day of. Just make sure to check if there are specific locations/stops where you can buy them.
How To Book A HOHO Tour
Buying Hop On Hop Off tickets online is easy! Click any of the bus tour links above to be redirected to the specific tour (or click here to search for a tour). Input how many tickets you're buying. Select your date and your language. Once you click confirm availability, you'll see the various routes or tours available. Choose your preferred one and add to cart!
You'll receive an email confirmation with your booking details like meeting point location, validity, what to bring, and cancellation policy. ​​Most tours accept either mobile or printed vouchers when boarding.
After You Book Your Bus Tour…
Want more information on what to do in Berlin? Check out our Berlin travel guide!
To help you plan your itinerary of what to see in Hamburg, read our Hamburg travel guide.
Planning the ultimate Frankfurt vacation? Take a look at our travel guide on the best things to do in Frankfurt.
Check out our travel guide for tips on the best things to do and places to go in Munich.
If you're visiting Stuttgart, read up on some of the top things to see and do in the city.