50 Famous Landmarks to Visit in Germany
This post may contain affiliate links. Read my disclaimer policy.
If you're not sure what to visit on your trip in Germany, here are 50 ideas for what to do and see in several regions of Germany!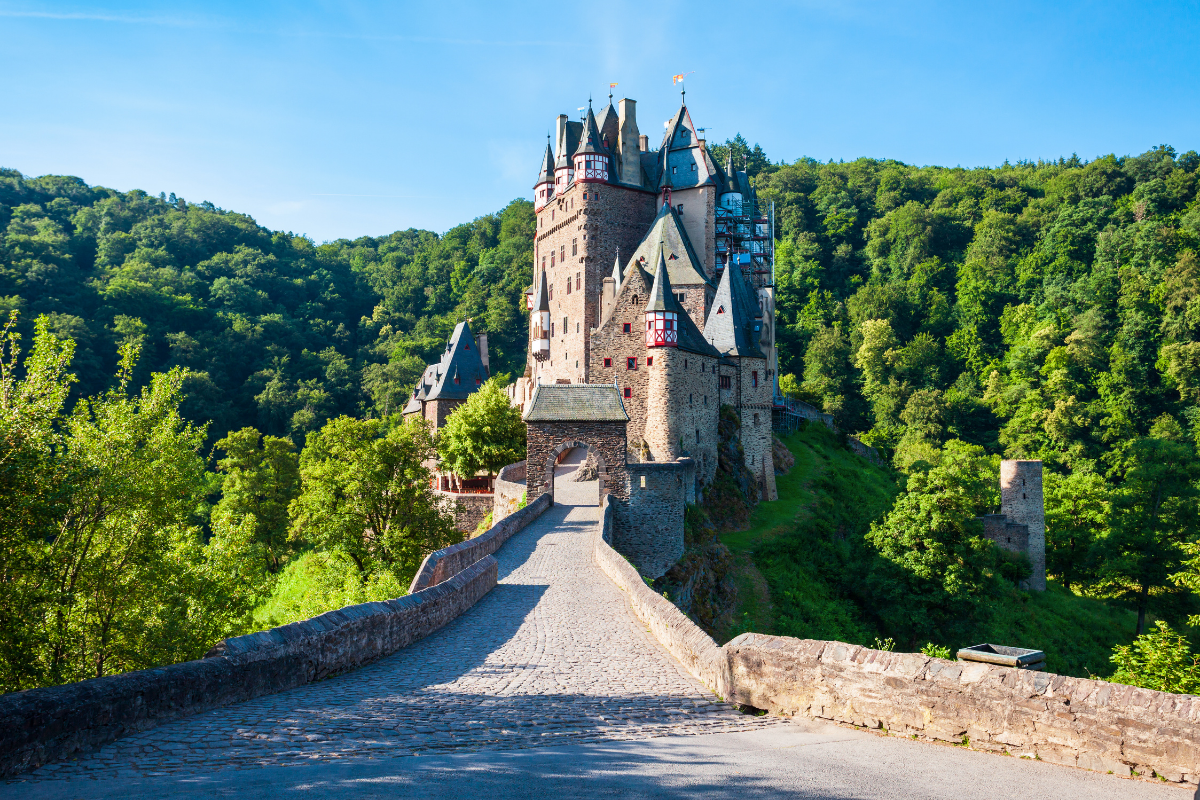 A country as vast and beautiful as Germany is bound to be filled with popular tourist attractions. It's no wonder it's a beloved destination for travelers from all over the world.
Whether you're the kind of traveler who enjoys learning and immersing yourself in culture and history or the more adventurous type who is down for any outdoor activities, you will find all sorts of landmarks suited to your kind of travel.
If you're having a hard time narrowing what landmarks to add to your bucket list, this article gives you a rundown of the most famous landmarks in each region of Germany. From majestic castles, world-class cultural events, historical sites, to breathtaking landscapes, each region has something unique to offer. No matter where you go to, each place you visit will make for an unforgettable trip.
This is by no means an exhaustive list – there's really so much to see and explore in in Germany! But we hope this article will be a good jumping-off point to build your ultimate itinerary of famous German landmarks.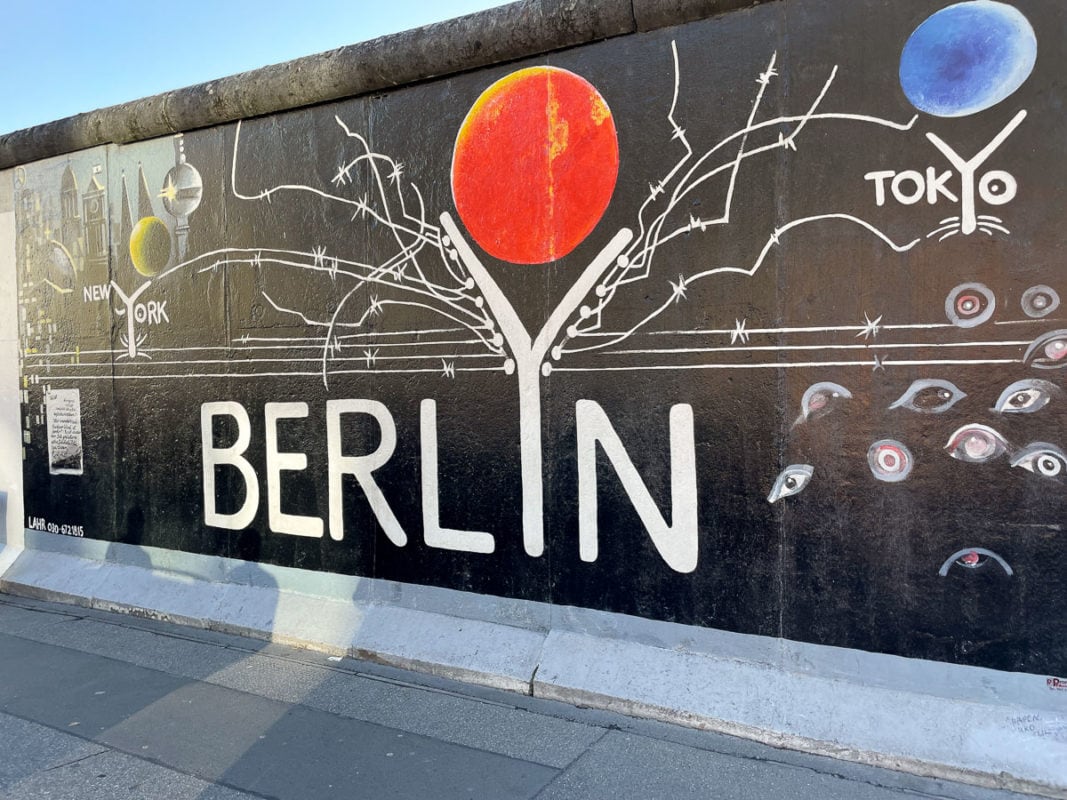 Berlin
1. Brandenburg Gate
The Brandenburg Gate is Berlin's top historical landmark and many tourists first stop in the city. Built as a former city gate to the German capital, it used to symbolize the division of East Berlin and West Berlin. During that period, it was located in a restricted area closed off to everyone. When the Wall fell, over 100,000 people gathered to celebrate its inauguration and the reunification. Now, it attracts just as many tourists and stands tall and proud as a symbol of peace and unity.
2. East Side Gallery
The East Side Gallery is the longest continuous part of the infamous Berlin Wall, stretching over 4,318 feet. The whole wall has been turned into a permanent open-air gallery. After the fall of the Berlin Wall, hundreds of different artists from over 20 countries began painting the wall. Their artwork expressed commentary on the political changes and represented creative freedom.
3. Reichstag Building / German Parliament
The parliamentary quarter in Berlin is an important political center in Germany. Here you'll find the Reichstag Building (German Parliament). This building is actually open to the public and is worth a visit! At the top, you can get great views of the city under the glass dome built by Norman Foster. If you want to explore the modern architecture of the area or even listen to a plenary session, you can book a guided tour of the government district here.
4. Checkpoint Charlie
Checkpoint Charlie became a famous crossing point between East Germany and West Germany during the Cold War. It's now a popular spot that brings crowds of tourists to take photos of the barrier, flags, and checkpoint booth based on the original site. There's also a museum that's very much worth a visit.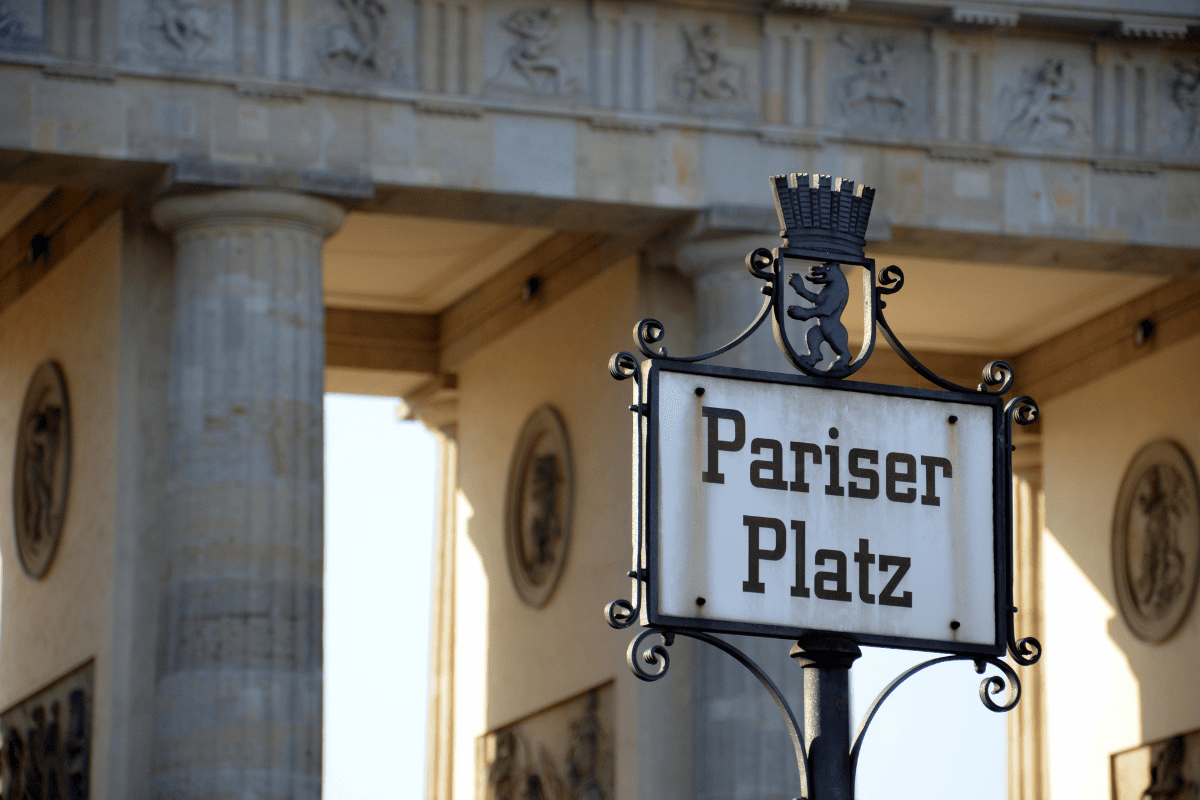 5. Pariser Platz
Pariser Platz is one of Berlin's main squares. Located near the Brandenburg Gate, it's a great place for tourists to take the perfect pictures of the iconic gate. The plaza was a bustling center before the second World War, when the Berlin Wall was built right through the middle of it the square. After reunification, it was restored and is now a highly visited spot.
6. Sanssouci Palace
Located just outside of Berlin, you'll find the charming city of Potsdam. Sanssoucci Palace is a must-see for those who visit. This former summer residence of the Prussian King Frederick the Great not only boasts of grand interiors but beautiful palace gardens as well. We recommend booking this guided tour of Potsdam's highlights to make the most out of your visit.
7. Museum Island
The Museum Island is a UNESCO World Heritage Site made up of five unique museums. The combined collection of all museums covers everything from archeological findings, Egyptian artifacts, classical sculptures, and modern art. The complex itself is worth visiting to admire some of the best architecture in the city.
8. River Spree
Running through the heart of Berlin is the River Spree. This major waterway passes through many of the city's popular tourist destinations, such as the Bellevue Palace, Museum Island, and the Berlin Cathedral. Enjoy a relaxing and informative tour on water by booking this 2.5 boat cruise tour here.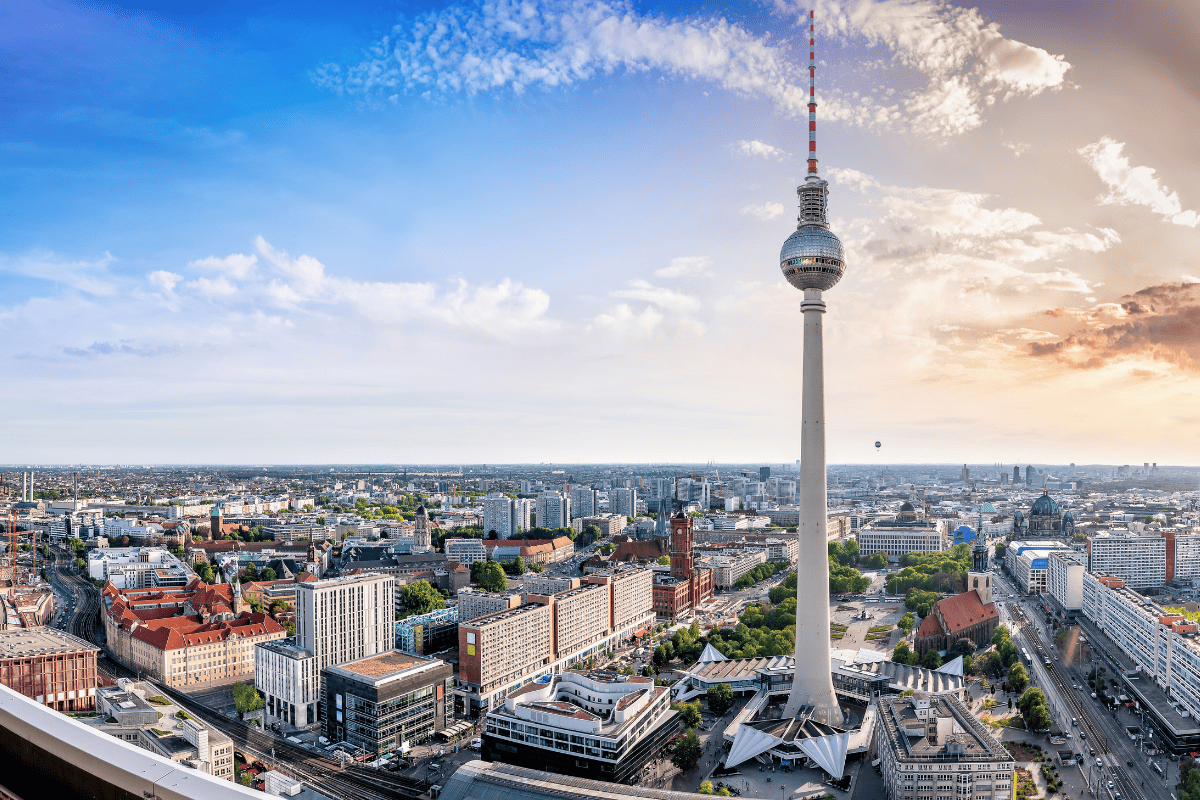 9. Berlin TV Tower
Want a fun way to enjoy panoramic views of Berlin's skyline? Then check out this tour of the Berlin TV Tower that includes a table reservation at the Sphere revolving restaurant! The TV Tower has an impressive observation deck that gives you unobstructed views of the Brandenburg Gate, the banks of River Spree, the Olympic Stadium, and many more. You can take in all these views while dining by the window seats in the Sphere.
10. Holocaust Memorial
With Berlin's complex past, you'll never run out of cultural and historical sites to learn from. One of the must-see historic landmarks is the Holocaust Memorial. The monument is composed of over 2,700 concrete slabs of varying size and height. Meant to give visitors an experience of isolation and uncertainty, this architectural feat encourages reflection and remembrance in a thought-provoking way.
11. Berlin Cathedral
The Berlin Cathedral, with its striking green dome, is one of the main features of the city's skyline. It's the largest Protestant church in Germany and home to the most important dynastic crypt in the country. Aside from religious services, visitors can climb to the dome's outer viewing platform and even catch a concert during Advent season.
Want more Berlin travel info? Check out our Berlin getting starter guide and our 2 days in Berlin itinerary guide!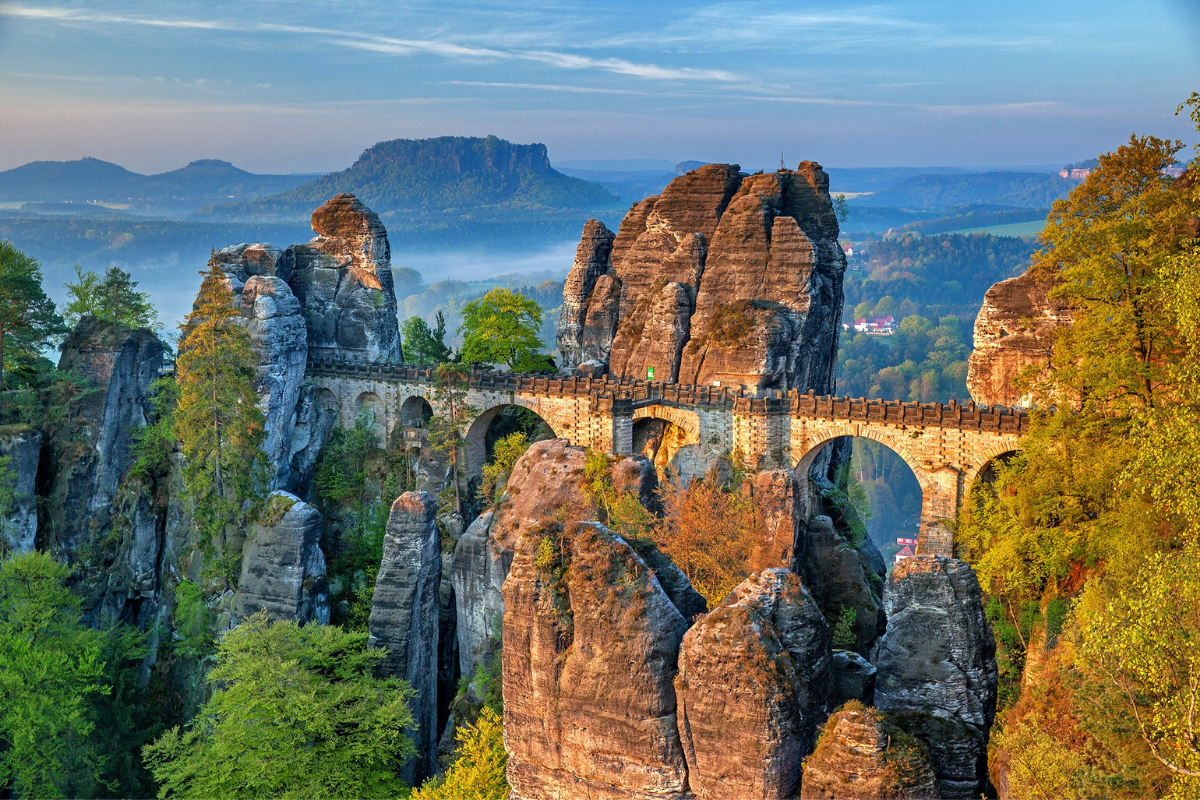 Eastern Germany
12. Bastei Bridge
Bastei is an impressive rock formation in Saxon Switzerland. Tall, jagged groups of rock tower over the Elbe River and other sights like the Konigstein fortress. Tourists flock to the main attraction: the Bastei Bridge, a man made bridge connecting the rock formations. From here, you can get sweeping views over the mountains and the lush valleys extending to the Saxon Switzerland National Park.
13. Saxon Switzerland National Park
The Saxon Switzerland National Park is a breathtaking landscape near Dresden. As the only national park in Germany, it's a must-visit for those who loves outdoor activities like rock climbing, hiking, or cycling. You'll even nearby spas and resorts for relaxing.
Soak in the natural beauty of Eastern Germany by booking this day tour from Dresden that combines the visit to the National Park and the Bastei Bridge!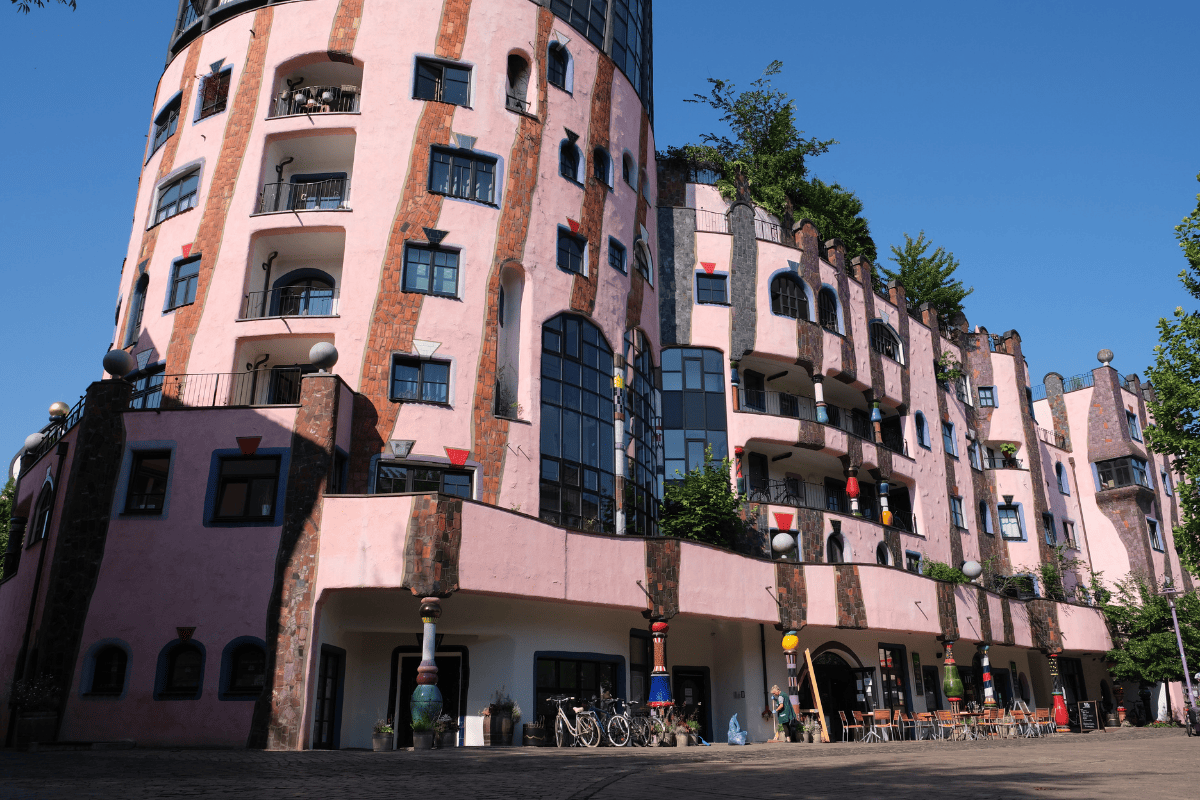 14. Hundertwasserhaus in Magdeburg
The Hundertwasserhaus is a vibrant historic building in Magdeburg, one of the oldest cities in Eastern Germany. It was built by famous Austrian architect Hundertwasser to enrich Magdeburg's urban planning and culture. Though his cause may be polarizing, the building attracts visitors with its cool features and bright pink façade. You can find everything here from apartments, public courtyards, shops, and restaurants.
15. Dresden Frauenkirche
Dresden Frauenkirche (or Church of Our Lady in English) is one of Dresden's most distinctive historic buildings. Its famous dome "the stone bell" is one of the largest domes in Europe. The Frauenkirche underwent a lot of changes. It was reconstructed after damages in World War II and became a symbol of international reconciliation.
To learn about the history of Frauenkirche and the Dresden city center, check out this walking tour led by a personal guide.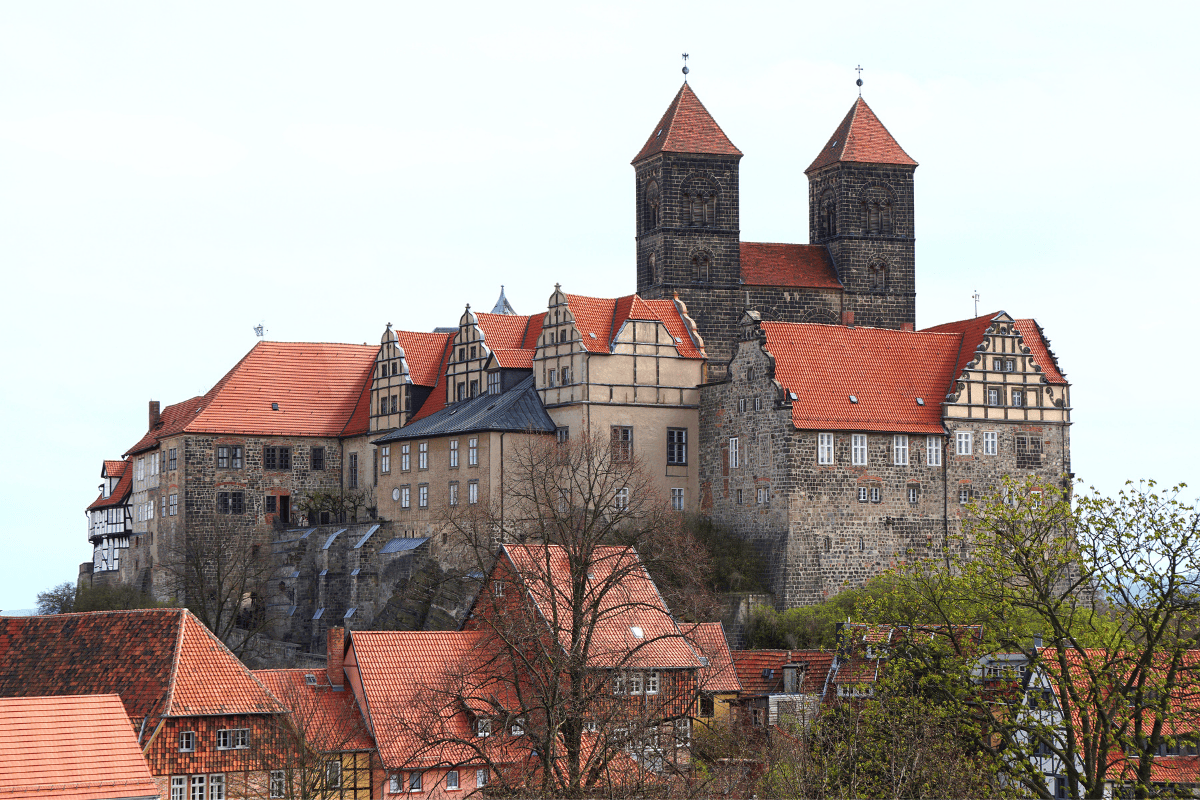 16. Quedlinburg Castle
Located along the Romanesque Road, Quedlinburg was an important imperial town in the Middle Ages. There are over 2,000 timber-framed still standing, making it one of the best preserved medieval towns inEurope. Its famous castle hill is home to the Collegiate Church of St. Servatius, burial site of the first German King.
17. Rügen Island
Rügen Island is Germany's largest island. Known for its beaches and seaside resorts, this island can make for a perfect holiday destination. Enjoy the sight of white chalk cliffs combined with the charming landscape of the countryside and natural beauty of the Jasmund National Park.
18. Schwerin Castle
Schwerin Castle is often called the "Neuschwanstein of the North" and for good reason. The location itself is breathtaking – it stands in its own island in Lake Schwerin, the city's main lake. The castle has a little over 650 rooms, luxuriously decorated with intricate carvings and gilding. You can also stroll through the beautiful gardens by the lake and take a break at the castle café.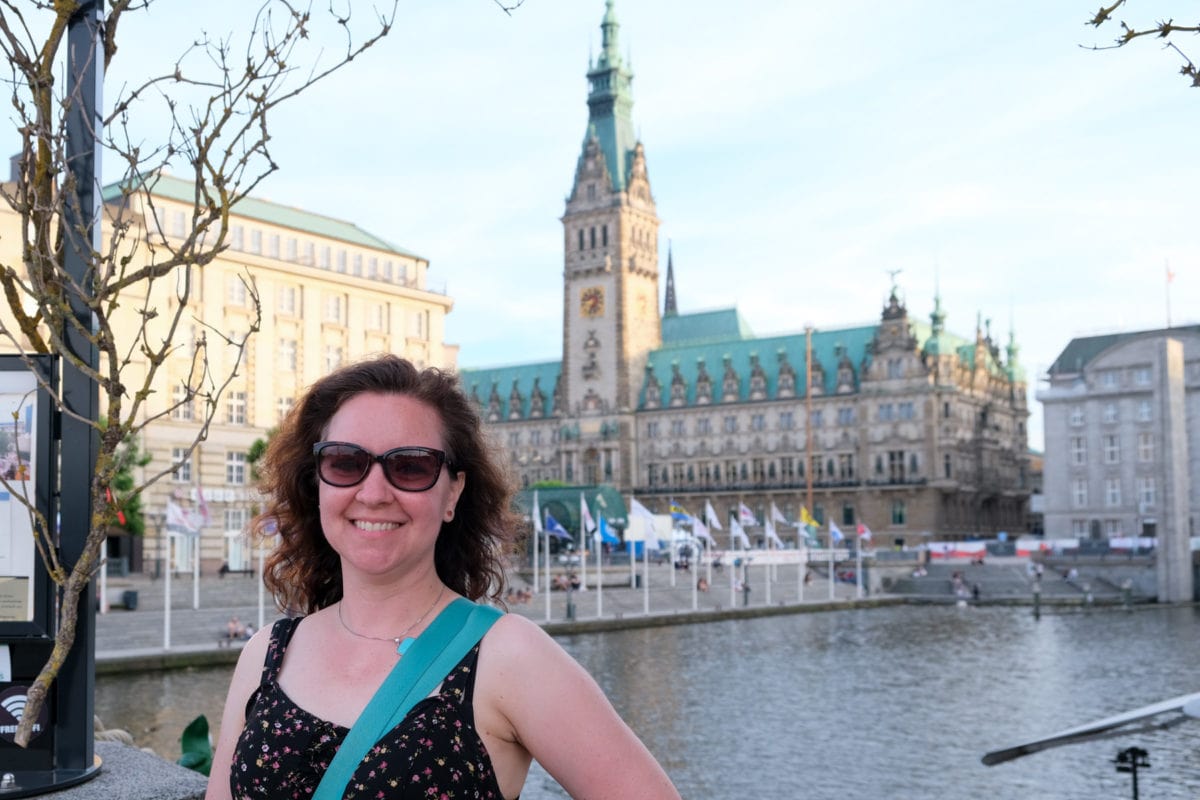 Hamburg & Northern Germany
19. Hamburg TV Tower
The Heinrich Hertz Tower is the tallest structure in Hamburg with an overall height of 916 ft and composed of two platforms, both providing amazing views of the city. The first one is just a viewing platform but 10 feet above it, you'll find a restaurant where you could dine with a view. However, it's currently being renovated and is estimated to open once again in 2023.
20. Elbphilharmonie in Hamburg
The Elbphilharmonie is one of Hamburg's newest cultural landmarks. Since it's built right in the middle of the Elbe River, we recommend going on a tour of the harbor and Elbphilharmonie. Aside from admiring the building's modern architecture from the water, the guided tour will take you inside of the Elbphilharmonie. The building houses more than concert halls. There are also a variety of places to eat and a public plaza with harbor views.
21. Speicherstadt in Hamburg
Speicherstadt is the largest complex of warehouses in the world. This unique district is made up of picturesque Gothic style buildings, bridges, and narrow canals built into the Elbe River. There are plenty of daytime activities as well. You can embark on a daytime boat cruise to glide through the waterways of Speicherstadt and admire waterside views of St. Pauli and Hafen City.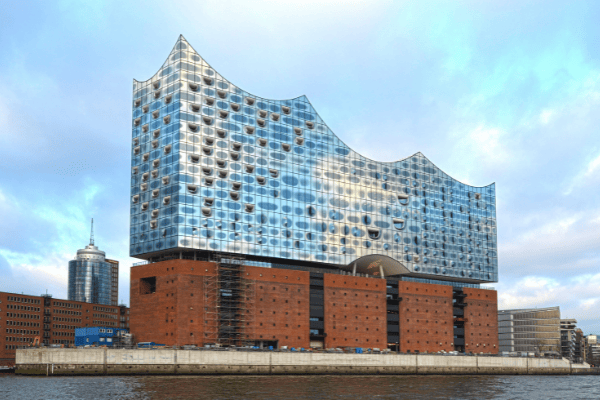 22. Canals in Hamburg
The canals running through the city is what makes Hamburg one of the most popular places in Germany. Walking through the network of streets by the canals, especially at dusk, gives you a taste of Hamburg's unique romantic atmosphere. The best way to experience the city's maritime charm is to take a cruise along the canals or even rent a canoe during summer.
23. Planten un Blomen in Hamburg
Planten un Blomen is a large urban park located in the heart of central Hamburg. Its location conveniently connects the inner city shopping streets, Hamburg University, and St. Pauli's bar and pubs. Wherever you're coming from, you'll get to enjoy activities in the park such as public theater and music performances, water-light concerts, or a visit to the Old Botanical Garden of Hamburg.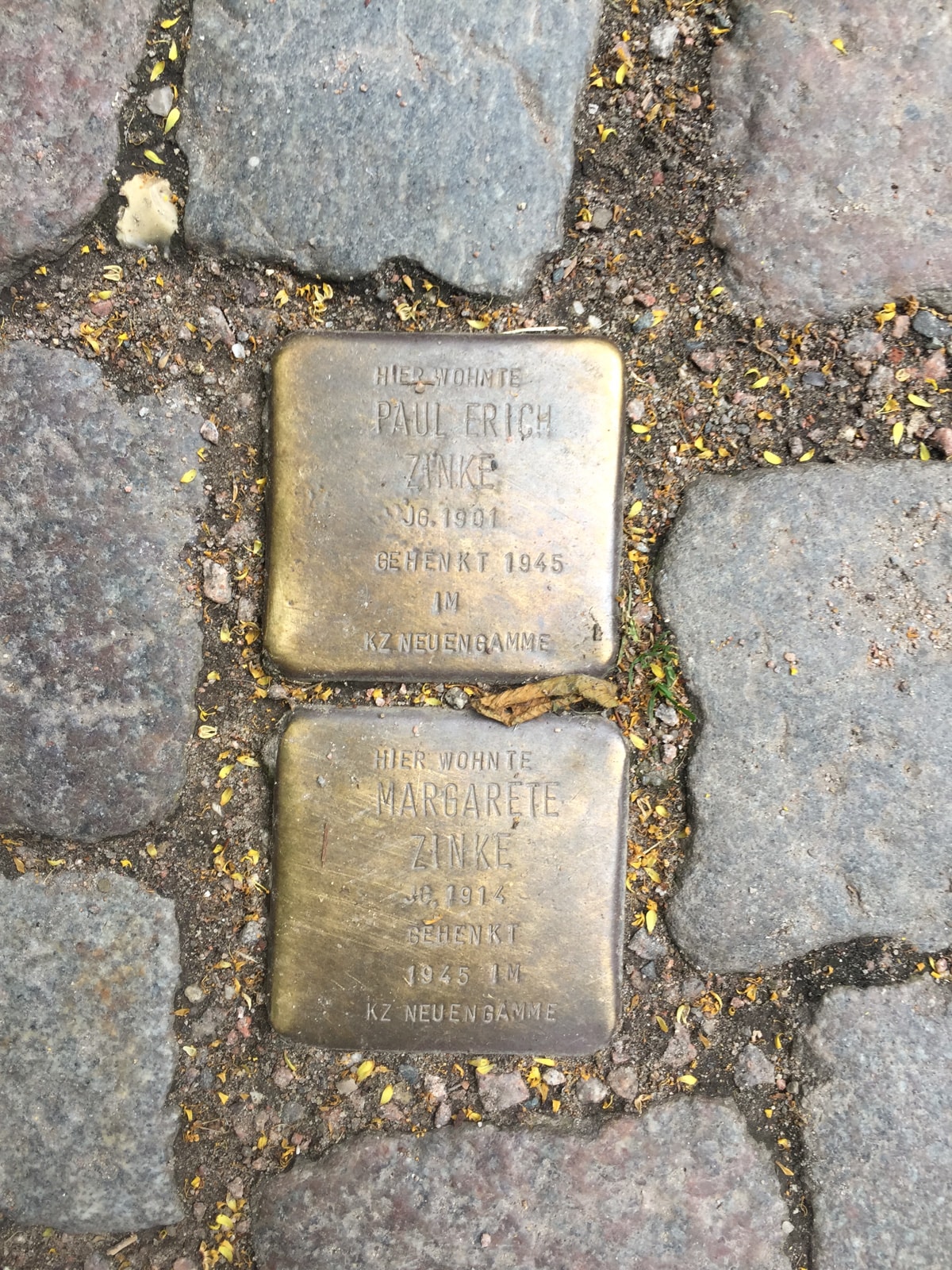 24. Stolpersteine in Hamburg
Stolpersteine ("stumbling blocks" in English) is a project started by Gunter Demnig in 1995 to commemorate the victims of the Nazi regime. Demnig has laid small memorial stones on sidewalks all over Germany, outside the houses where Jewish families lived before WWII. The stones are concrete cubes with a plaque on top engraved with the names and information of the victims. In Hamburg alone (you'll also find them in other cities like Berlin), there are over 5,000 stones for visitors to find on the sidewalks.
25. Elbe River
As a port city, Hamburg is deeply tied to the Elbe river. The river has been the Hamburg's gateway to the world for centuries and to this day is vital to their economy. It's no wonder then that the city's most iconic landmarks are connected to the river. From St. Pauli Pier, the Hamburg Port, the Elbtunnel, Speicherstadt and many more, board this cruise that brings you to all the best spots in the city!
26. Hamburg Wadden Sea National Park (Wattenmeer / Wadden Sea)
The Hamburg Wadden Sea National Park is located on in the estuary of the Elbe in the North Sea. The smallest of the three Wattenmeer National Park, it's mainly made up of mudflats, shallow creeks, dunes, and sandbars and includes 3 islands. You can go for hikes or carriage rides when the tide is out and explore the region's unique biodiversity. It's a beautiful part of Germany! You can also visit the Wattenmeer near Bremen and north of Hamburg in Schlesweig-Hostein, as well as the Netherlands and Denmark.
Want more Hamburg travel info? Check out our Hamburg Starter Guide!
27. Sylt
The island of Sylt is located in very northern part of Germany, not far from Denmark, in the North Sea. I was lucky enough to visit this beautiful part of Germany when I was a teen and have loved it ever since! Sylt is the perfect place for a beach vacation if you like the beach, beautiful sunsets, lighthouses, biking, thatch-roof houses, and more.
Rhein Region
28. Cologne Cathedral
Cologne Cathedral is one of Germany's largest cathedrals, the largest Gothic church in northern Europe, and the tallest twin-spired church in the world (515 ft). With all these superlatives, it's easy to see why Cologne Cathedral is one of Germany's most famous landmarks. Aside from its impressive size, the cathedral boasts of many other highlights such as its beautiful stained-glass windows and the shrine of the Three Wise Men.
29. Burg Eltz (Eltz Castle)
The Burg Eltz is a medieval castle unlike any other. It has been under the care and ownership of the same family from the 12th century to today. Since it has never suffered any damages by war, many of its original furnishings have been so well preserved that they still remain in place. Located along the Mosel river, you can easily book a day trip from Frankfurt here.
30. Cochem Castle
Another castle along the Mosel is the Cochem Castle. Aside from usual guided tours, the castle hosts "Knights' Feast" on Fridays and Saturdays, where guests are invited for a medieval dinner complete with medieval performances by minstrels. In August, you'll also find a lively market where you can buy food wine, and artisanal goods.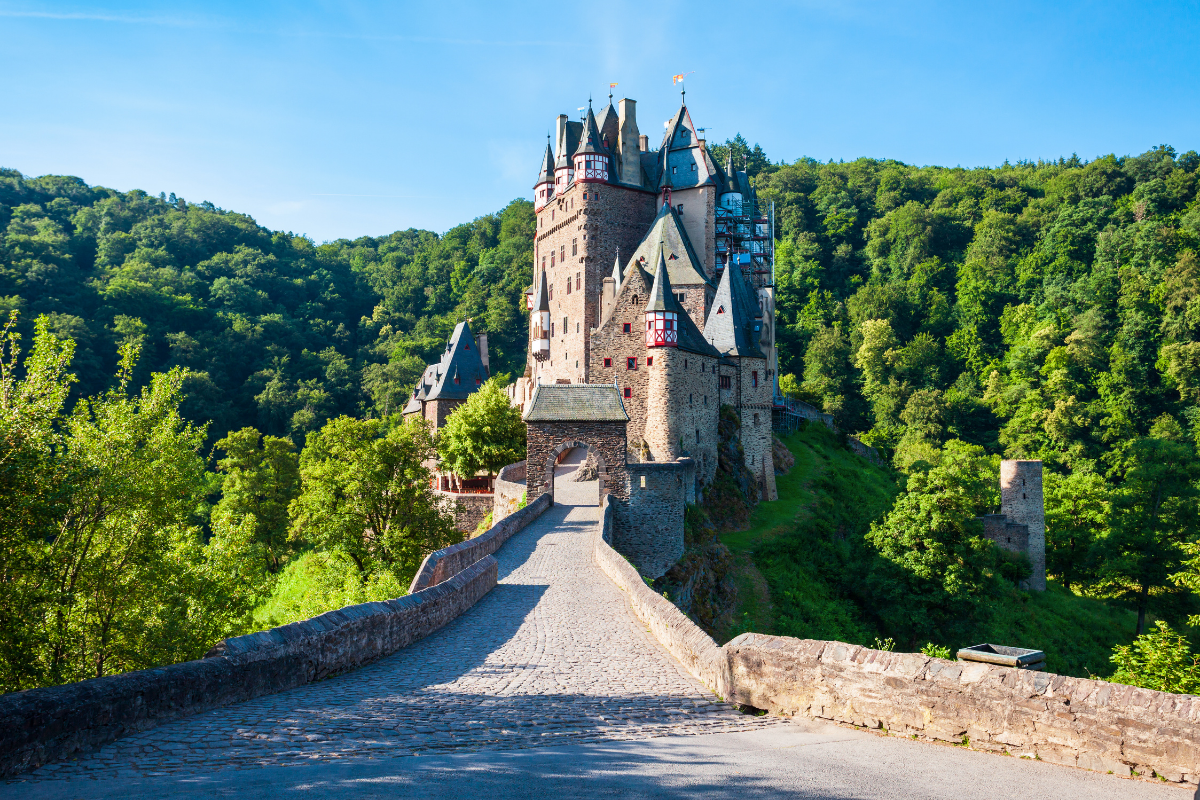 31. Aachen Cathedral
The Aachen Cathedral is an important historic church constructed at the end of the 8th century during Emperor Charlemagne's reign. It is also here where he was buried. Its magnificent interiors and collection of sacred gold chalices and reliquaries are a testament to the cathedral's rich history.
32. Rhine Valley
The Rhine Valley is one of Germany's most beautiful landscapes. From medieval castles, enchanting small towns, wineries, to riverside views, visiting this region means having a full day of things to do. If you're coming from Frankfurt, we recommend checking out this day trip that covers all of these activities. Get a chance to explore the valley on a boat cruise, taste fine local wines, and admire the famous Lorelei Rocks by the riverbanks.
33. Rhine River Cruise
The Rhine River is the longest river in Germany and one of the most important waterways in Europe. It starts off in Switzerland, running between the border of France and Germany, and flows all the way to the Netherlands. Major German cities are located along the Rhine including Cologne, Rotterdam, and Strasbourg. A great way to explore all these places is to take a Rhine river cruise. There are many options available, depending on the length of your journey, budget, and places you want to visit.
Thinking about visiting Cologne (Köln)? Check out our Cologne Starter Guide!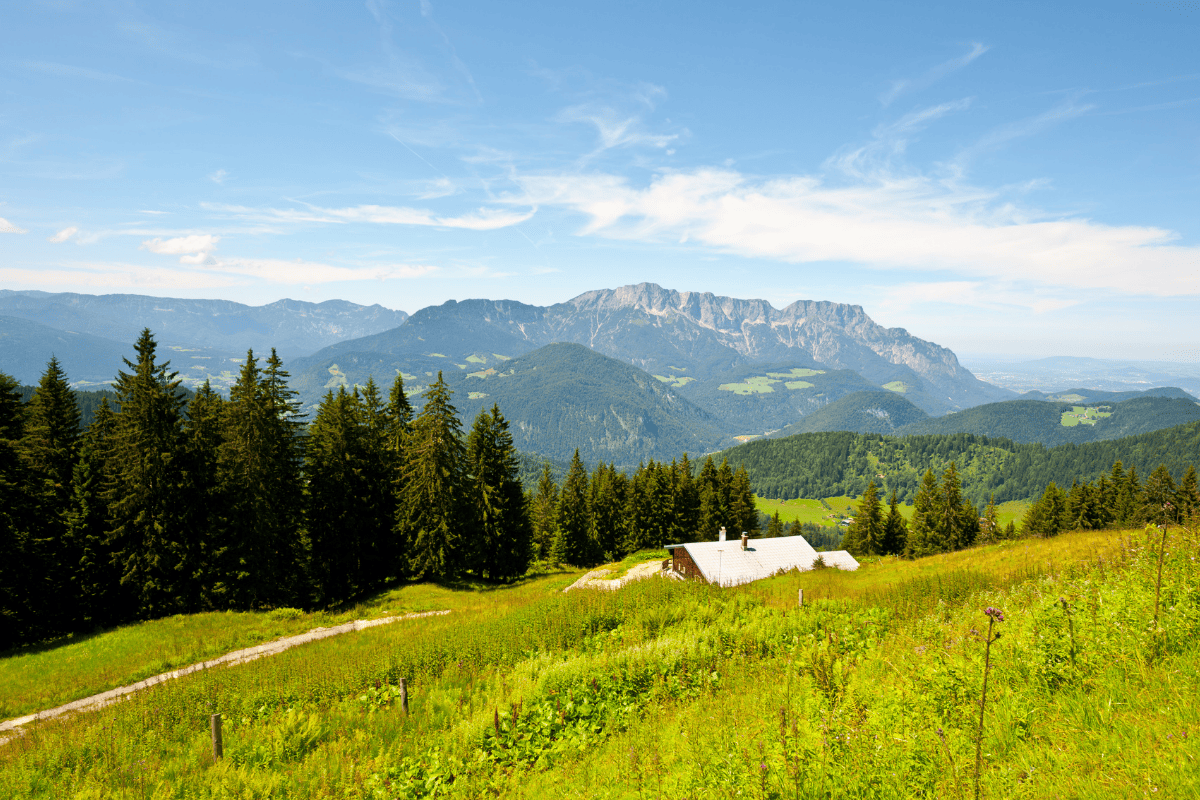 Bavaria
34. Marianplatz in Munich
Marienplatz is the central square located in Old Town Munich. Many will start their journey of the Bavarian capital here, as it's home to many of city's top historic sites. The Neues Rathaus (or New Town Hall) is located here, where you can catch the daily Glockenspiel chime or climb the clock tower for a view of Marienplatz. A few steps away, you'll find its older counterpart Altes Rathaus (or Old Town Hall), with its well-preserved medieval façade.
For more tips on visiting Munich, check out our Munich Starter Guide and our 2 days in Munich itinerary planning guide.
35. Englischer Garten in Munich
Englischer Garten is a lively urban park filled with cultural landmarks and fun outdoor activities. One of the park's highlights is the Chinese Tower, where you can find the city's largest beer garden. Aside from lush greenery to picnic in or jog through, you can also catch waves on the Eisbach or go on boat rides in the park's lake!
36. Oktoberfest in Munich
With over 6 million guests annually, Oktoberfest is the largest and most popular beer festival in the world. A staple of Bavarian culture, tourists from all over the world participate in the festivities filled with delicious food and endless beer. The festival also has many traditional events. Highlights include a brewery and restaurant parade, the ceremonial beer tapping of the first barrel, and a traditional costume parade.
37. Bavarian Alps
The Bavarian Alps is a stunning mountain range that provides a picturesque backdrop to many of Bavaria's grand castles, quaint villages, and lakes. Scattered all throughout are tons of ski resorts and even spa and wellness retreats. If you're looking for a historic tour combined with panoramic views of the mountains, then check out this day trip to Eagle's Nest.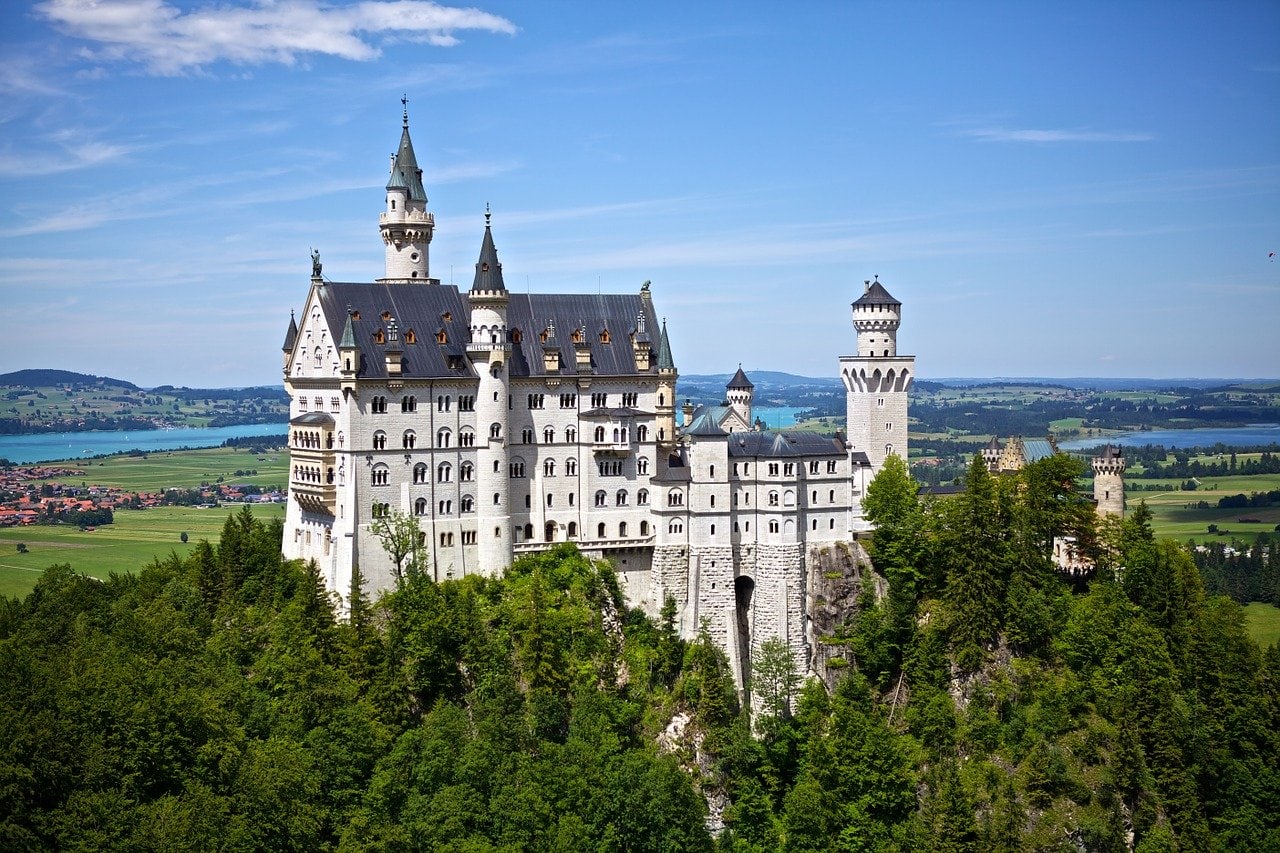 38. Neuschwanstein Castle
If there's a German landmark you can count on everyone to know, it's probably Neuschwanstein Castle. This real life fairy tale castle is one of Germany's most popular tourist attractions, drawing over 1.3 million visitors per year. Commissioned by the infamous King Ludwig II, Neuschwanstein is considered to be the inspiration for the famous Disney Sleeping Beauty castle.
If you're traveling from Munich, we suggest booking a full-day trip to explore everything Neuschwanstein has to offer. The tour includes everything the famous golden throne room with no throne to the Marienbrücke (Mary's Bridge), a pedestrian bridge with the best unobstructed view of the castle.
For more Neuschwanstein tips, check out our Neuschwanstein from Munich day trip guide and our visiting Neuschwanstein in the winter guide.
39. Nymphenburg Palace
Another one of Munich's royal residences, Nymphenburg Palace is a stately Baroque-style palace located just outside the city center. Inside the palace you'll find unique museums and a vast collection of artwork and antiques. The palace grounds are another highlight. You'll find intricate structures like smaller castle buildings, pavilions, and cascades and streams.
40. Dachau Concentration Camp Memorial Site
Dachau Concentration Camp is a memorial site situated in the grounds of a former concentration camp. At one point, this camp held over 200,000 prisoners. The memorial aims to pay respect to the victims of the atrocities during WWII through the museum exhibits and documentary films. Since it's located around 40 minutes away from the city center, we suggest booking a half-day guided tour led by a professional.
41. Nuremberg Christmas Market
The Nuremberg Christmas Market is a world-renowned Christmas market famous for their gingerbreads, and Christkind, Nuremberg's blond-haired traditional Christmas symbol Christmas who brings gifts to children. Thousands of tourists visit each year to buy festive decorations and get a taste of delicious Christmas treats like Nuremberg Bratwurst, gingerbread, and Spekulatius almond cookies.
42. Rothenburg ob der Taube
Rothenburg ob der Taube is medieval town that's found along the Romantic Road of southern Germany. It's one of three German cities that still have their town walls completely intact, which shows how well-preserved it is. Along the walls and city gates, visitors can follow the Tower Trail. The trail is made up of over 40 towers that are part of the city's historic defense system. This town can fill with tourists but there's good reason for that – it's beautiful and historic!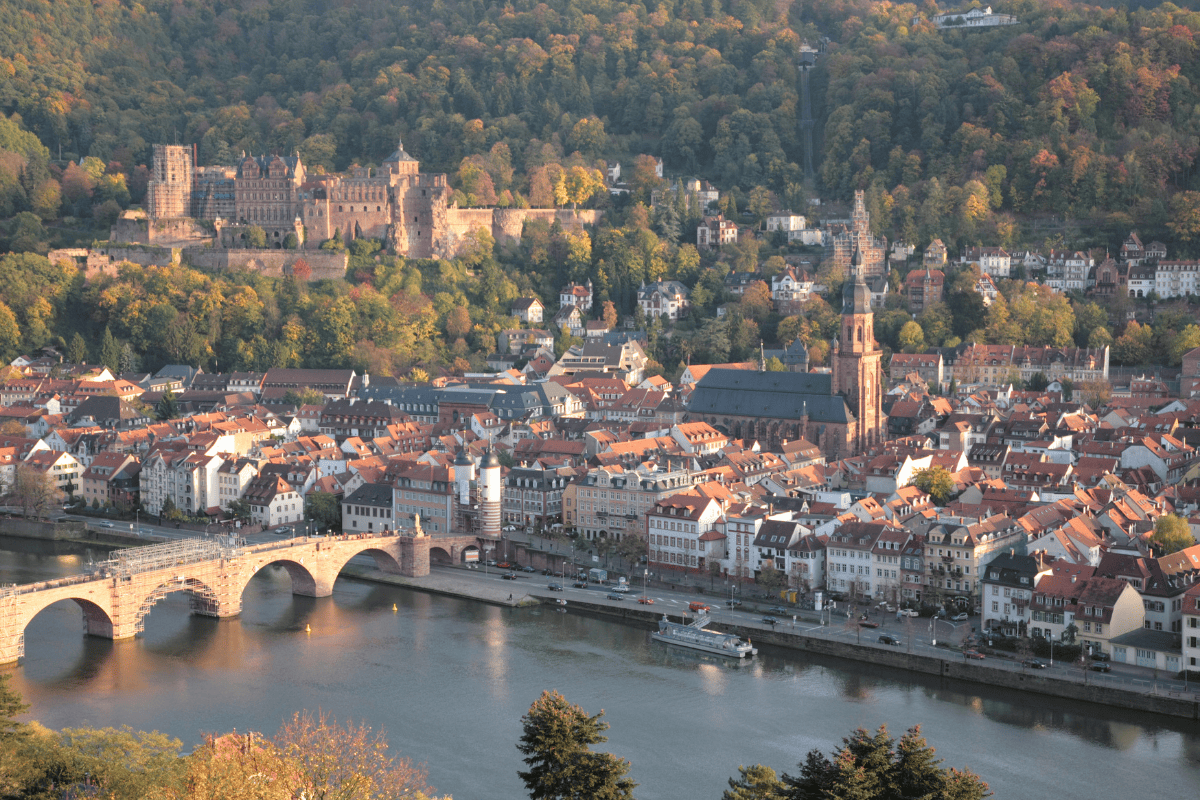 Baden-Wüttemberg & Black Forest
43. Heidelberg Castle
Heidelberg Castle stands around 300 feet tall over the city of Heidelberg, dominating the view of the old downtown. As it has suffered a lot of damage in the 18th century, the castle ruins are composed of inner courtyards and many buildings from different periods in German architecture. To explore the castle and get a ride on the funicular railway to the old town, book your guided tour here.
44. The Black Forest
Whether it be for a taste of the original Black Forest cake or to learn where cuckoo clocks came from, there's many reasons to visit the Black Forest region. It's also an amazing destination for outdoor activities, like hiking or skiing in the winter.
You have a variety of towns to visit or choose where to stay. For those who want smaller towns with more local traditions, Kinzig Valley or along the Rhine Valley would be perfect. But there are also larger and livelier cities like Freiburg im Breisgau that still have great access to the Black Forest.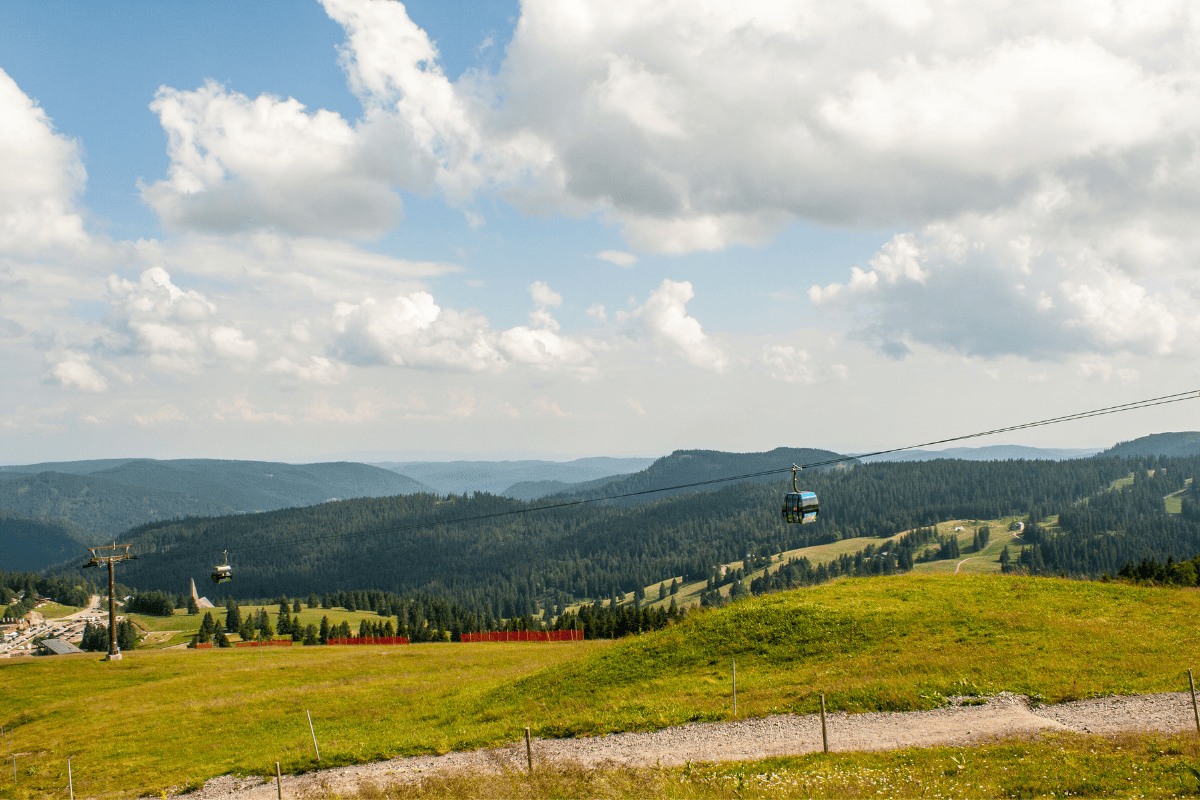 45. Feldberg
Looking for amazing views in the Black Forest? Head to Feldberg! At nearly 5000 feet (almost 1500 meters) it's the highest mountain in the Black Forest and the highest in Germany outside of the Alps!). Feldberg is a great place to go for hiking, nature, skiing, relaxing, and enjoying beautiful scenery and panoramic views all year long. You can reach it by car or public transportation and makes an easy day trip from Freiburg.
46. Hohenzollern Castle
Hohenzollern Castle is a significant landmark of Prussian history. It houses valuable artwork and artifacts like the Prussian King's Crown. Besides being a historical site, the castle also hosts cultural events like concerts, open-air film screenings, and even its own Christmas market.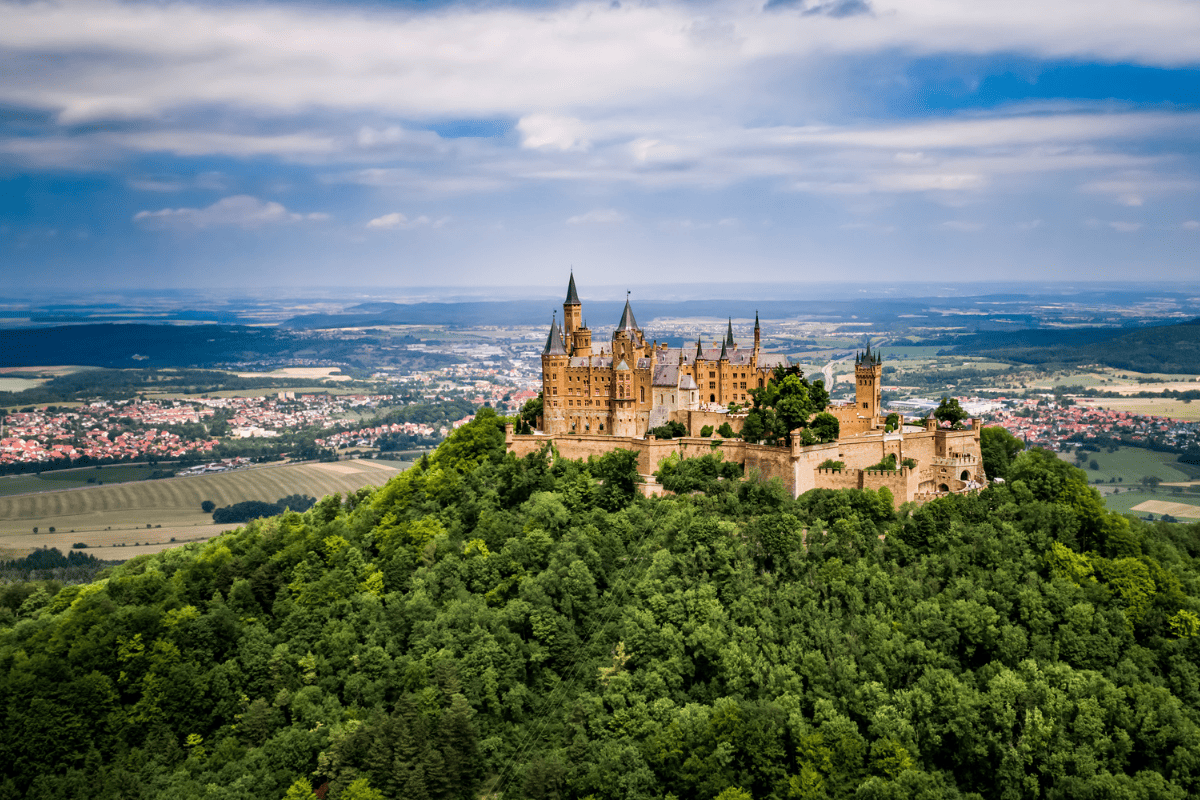 47. Bodensee (Lake Constance)
Lake Constance, also known as Lake Bodensee, is a lake bordering three countries: Germany, Austria, and Switzerland. Its prime location makes it one of the most beautiful and holiday spots for both tourists and locals alike. The landscapes are perfect for strolling by lakeside villages with a view of the Alps. While water sports enthusiasts can enjoy fun activities like sailing or windsurfing.
48. Triberg Waterfall
The Triberg Waterfall is one of the highest waterfalls in Germany reaching a height of nearly 600 ft. There are several hiking trails leading to the falls, dividing the journey into seven steps depending on what point you want to reach. During winter, you'll get a chance to see the waterfalls illuminated for a special Advent festival.
49. Titisee
Lake Titsee is another popular destination in the Black Forest region. A great way to explore the area is to take a boat ride the lake and take in the scenery. For another perspective, you can also go on a hike to get a panoramic view of the lake up the nearby mountain Hochfirst.
50. Stuttgart Christmas Market
The Stuttgart Christmas Market is home to elaborately decorated festive stalls because of the annual rooftop competition. If you look up, you'll see thousands of festive lights, giant reindeer and teddy bears, and bauble-filled trees! Another great sight to behold is the Stuttgart Town Hall, which turns into a giant advent calendar, each window counting down to Christmas.
If you're planning to visit the Stuttgart Christmas Market (or others in the area), check out our helpful guide here so you can plan the perfect visit!