Best Hotels in Berlin Mitte in 2023
This post may contain affiliate links. Read my disclaimer policy.
Planning to visit Berlin? This guide will help you find the most convenient place to stay in the city.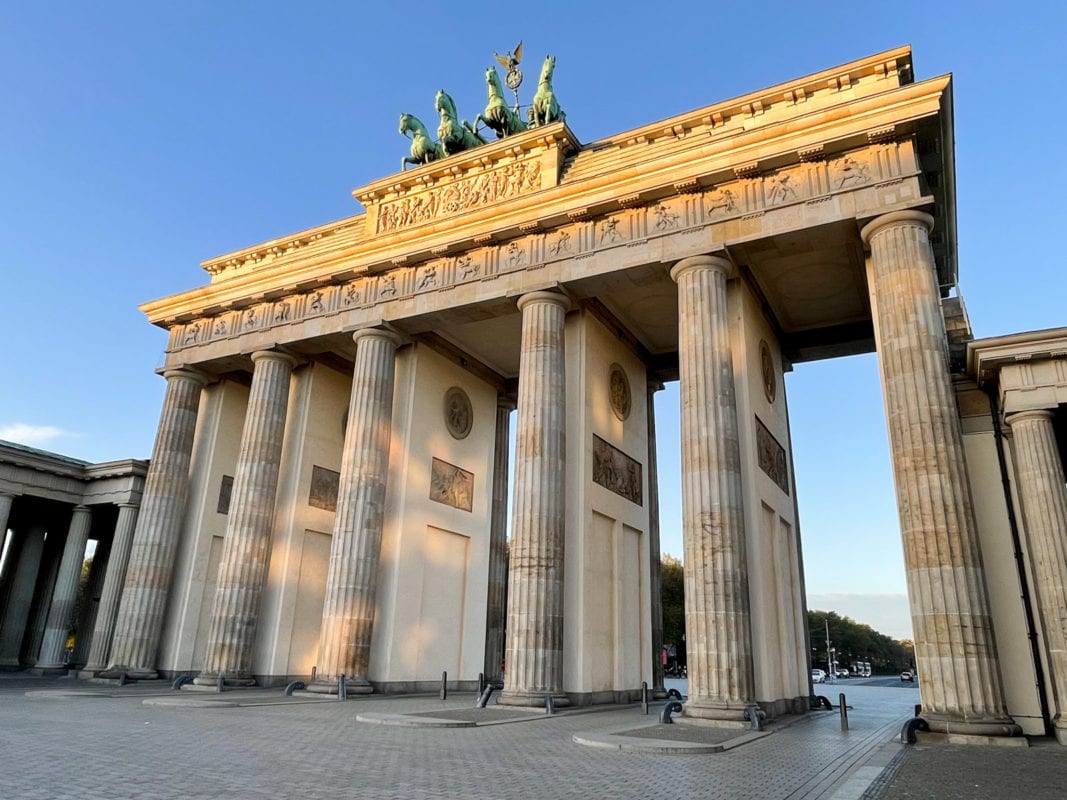 Berlin is one of our favorite cities to visit because it's the perfect mix of history, culture, and nature. There's so much to see and do this magnificent city!
From strolling along the Spree River to visiting the stunning Berlin Cathedral for its panoramic views (or even attending a service there), pondering history next to a remnant of the Berlin Wall or splurging at the stores on the Friedrichstraße shopping street, this destination ticks all the boxes.
As the German capital, Berlin is a melting pot of people and traditions from all over the world. This wonder of a city is also home to various important landmarks like the Holocaust Memorial, the Berlin Wall (the pieces that are left), Brandenburger Tor (Brandenburg Gate), and the Fernsehturm (TV Tower), just to name a few (there are so many more – take a look here).
Even when the sun sets, Berlin remains alive with its vibrant nightlife and wide selection of German beer, creative cocktails, and more. It's not dubbed as the party capital of Europe for nothing!
Whether you're in Berlin for history, food, nightlife or to simply explore, this guide will help you find the perfect place to stay in Berlin that's located in the middle of the city so you can maximize your visit.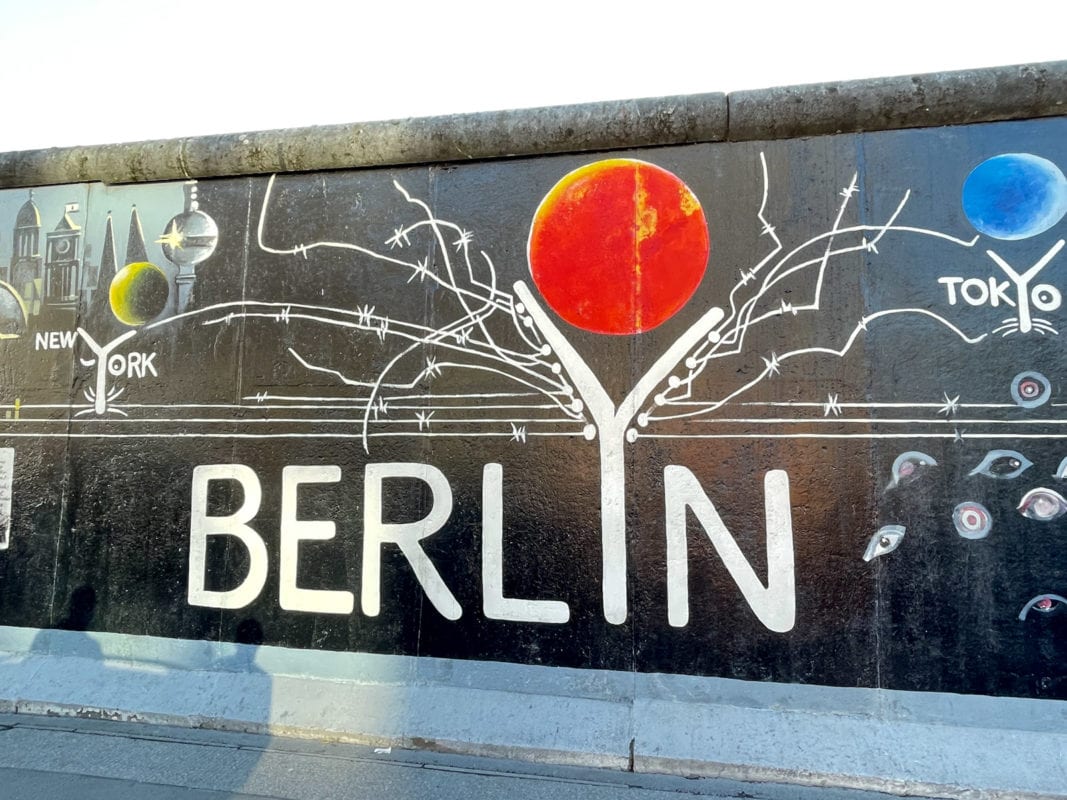 Why Stay in Berlin Mitte?
Berlin is BIG. Fortunately, the downtown Mitte area, where most of the popular sights are, is very walkable and many of the things you'll want to visit are located in or right near Mitte.
If you stay further outside of Mitte you can still reach everything easily via public transportation – but you'll need to factor in extra commuting time and transit costs.
We highly recommend staying in the general Berlin Mitte area, especially if you're only in Berlin for a few days. That way you'll be able to easily reach popular sights like:
Brandenburg Gate
Pariser Platz
Museum Island
Reichstag Building
Berlin Cathedral
Spree River
Nikolaiviertel
Alexanderplatz
Holocaust Memorial
Friedrichstrasse and Tränenpalast
Berlin TV Tower
Berlin's popular Hackescher Markt area
DDR Museum
Potsdamer Platz
Checkpoint Charlie
Jewish Museum
East Side Gallery
Berlin Wall Memorial
and much more!
Tourist spots located away from the center are also easily accessible via tram, bus, U-bahn or S-bahn (you definitely don't need a car to get around Berlin as a visitor). If you want to take a day trip from Berlin, you can easily take the train, bus or a guided tour.
The only downside to staying in the Mitte area is that parts can get quieter at night. But if you want to, say, eat dinner away from the tourist zone, it's super easy to head to Kreuzberg, Neukölln, Prenzlauer Berg or other neighborhoods for a meal or to simply explore Berlin's neighborhoods, which we highly recommend doing at some point during your visit.
There are many cozy hotels right in the heart of Berlin that are convent, comfortable, and affordable. Here are the best places to stay in Berlin City Center that will help you maximize your stay in this beautiful city.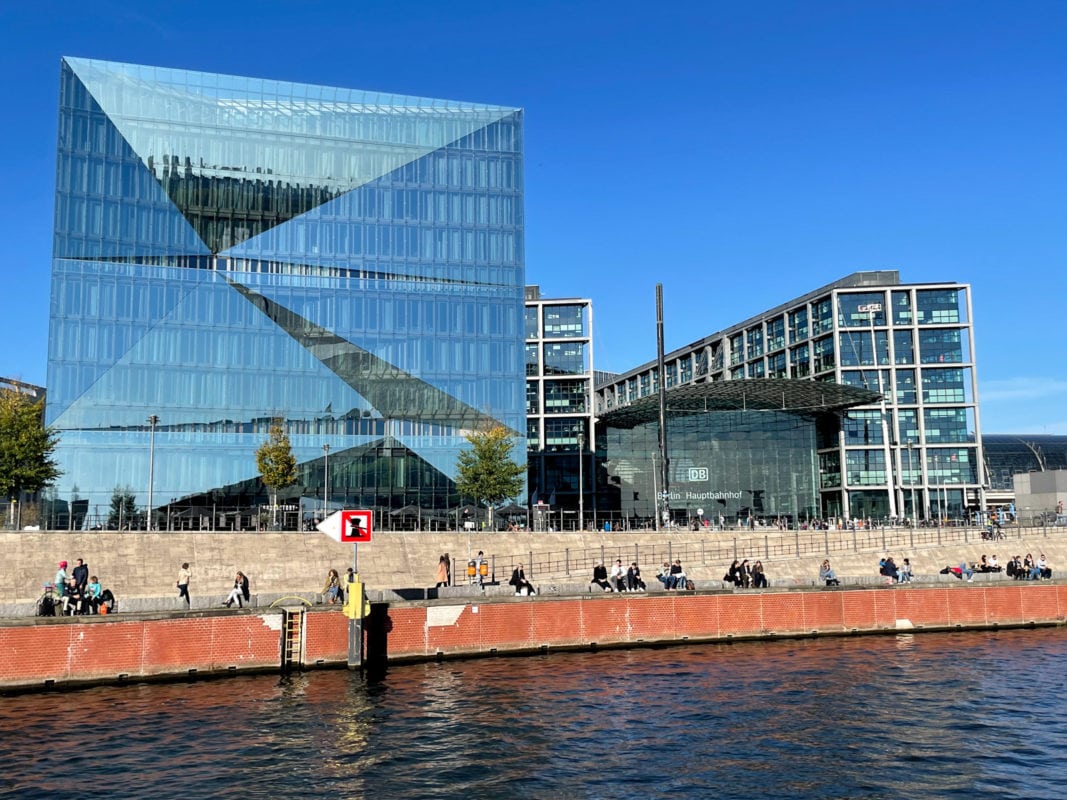 Top Hotels in Berlin Mitte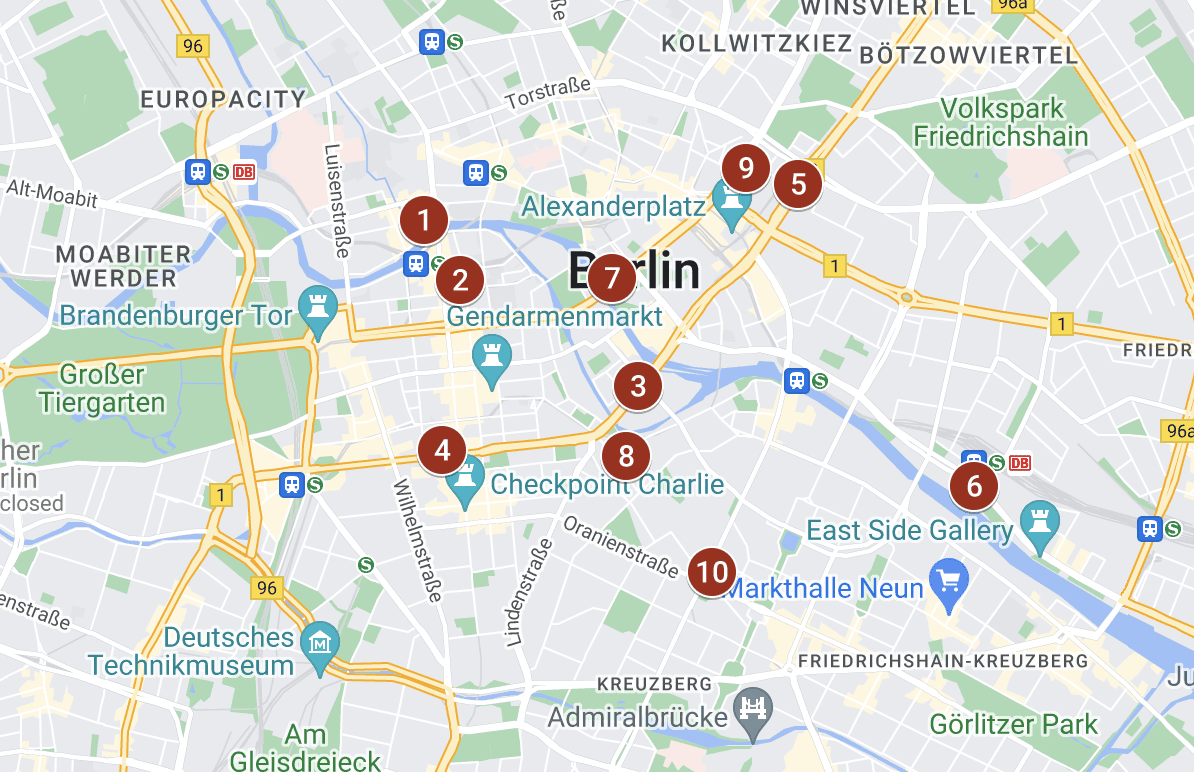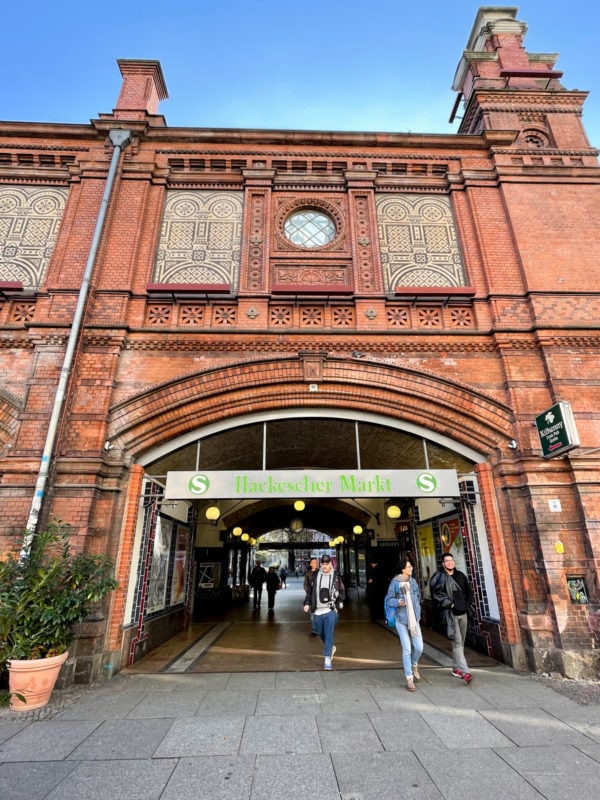 10 Best Hotels in Berlin, Germany
For Riverside Views of the Spree
Leonardo Hotel Berlin Mitte
Pros:
Free WiFi

Air conditioning

Fitness center and sauna

Bar and restaurant onsite

Room service available

Rooms with balconies and river views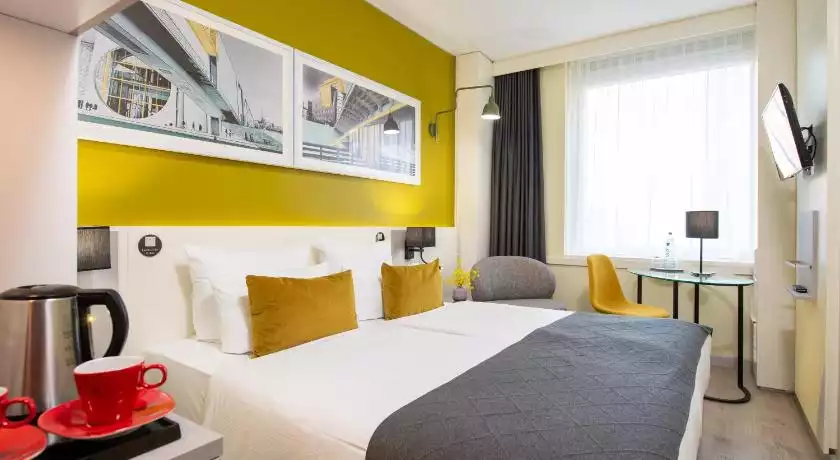 We earn a commission if you make a purchase, at no additional cost to you.
PERFECT FOR: Those who want to stay by the scenic River Spree and be within walking distance of nearby popular tourist attractions
GUESTS SAY: "Excellent location, comfortable rooms, quiet, front of house personnel very friendly and accommodating. Good restaurants around the hotel. Nice view by the river."
SUMMARY: This hotel, which opened in 2014, showcases modern architecture that complements the classic city vibe of Berlin. It has more than 300 suites with health and wellness facilities, fitness center, and an in-house bar and restaurant that will ensure a comfortable stay. The Friedrichstraße station (from here you can easily get anywhere in Berlin) and the Friedrichstadtpalast Theater are only a few minutes away by foot, while other sights like the Brandenburg Gate, the Natural History Museum and the German Historical Museum, Berlin Cathedral and more, are also within walking distance. With the hotel's strategic location by the River Spree, sightseers can conveniently roam around the city on foot!
If You Want to Splurge on a Luxury Hotel
NH Collection Berlin Mitte Friedrichstrasse
Pros:
Free WiFi

Air conditioning

Fitness center, spa and sauna

Bar, coffeehouse, and restaurant onsite

Private bathrooms with bathtub

Rooms with city views

Some rooms have kitchenettes and dining areas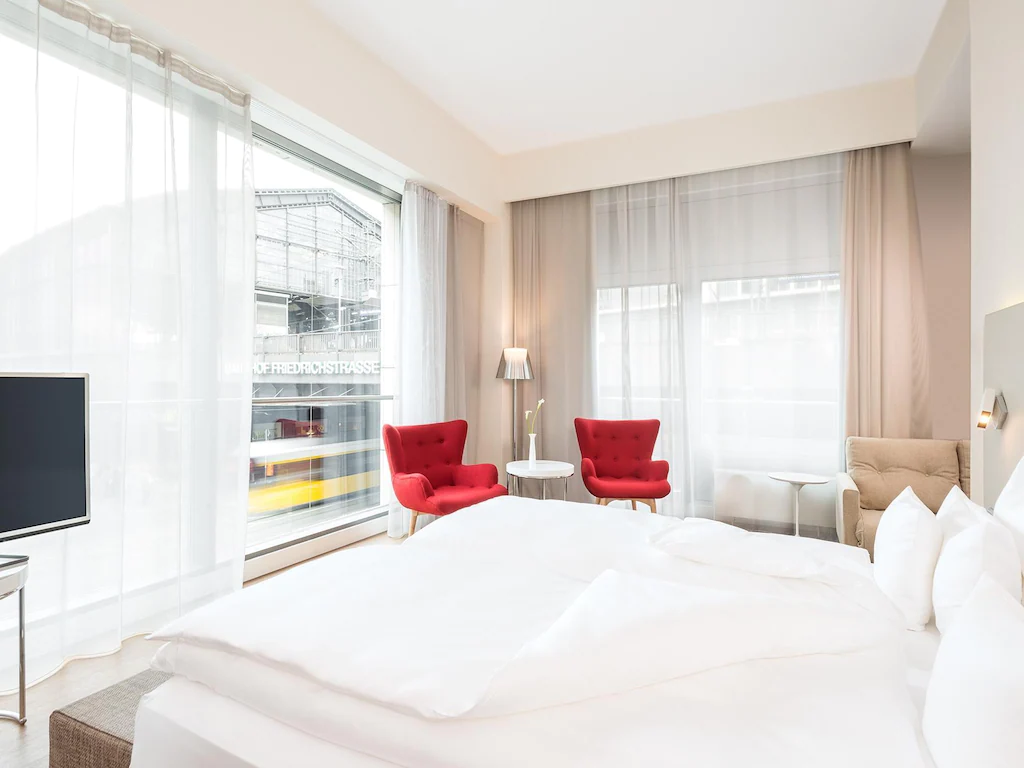 We earn a commission if you make a purchase, at no additional cost to you.
PERFECT FOR: Travelers looking to splurge in a luxury hotel that goes beyond meeting all your needs. This area is close to everything you'll want to see and has lots of shops, restaurants, and cafes nearby. Unlike other parts of downtown, this area doesn't shut down in the evening!
GUESTS SAY: "Excellent location next to the Friedrichstrasse train station and metro, very close to Unter der Linden and the museums (10-minute walk). Loads of restaurants nearby. The room was clean, and not as small as some hotels. I would definitely return!"
SUMMARY: This 4-star luxury hotel is conveniently located at the heart of Berlin, right along the world-renowned Friedrichstrasse, a vibrant business hub booming with shopping, cafes, restaurants, and popular sights. Nearby tourist attractions include the Brandenburg Gate, State Opera, and Museum Island, and its close proximity to the Friedrichstraße Train Station provides access to many more! After a long day of exploring the city, guests can unwind with a sumptuous German meal at the restaurant, a relaxing drink at the bar, or a de-stressing time at the sauna.
Closest to Museum Island
Capri by Fraser Berlin
Pros:
Free WiFi

Air conditioning

City views

Subway access

Fitness center

Fully equipped kitchen

Bar and restaurant onsite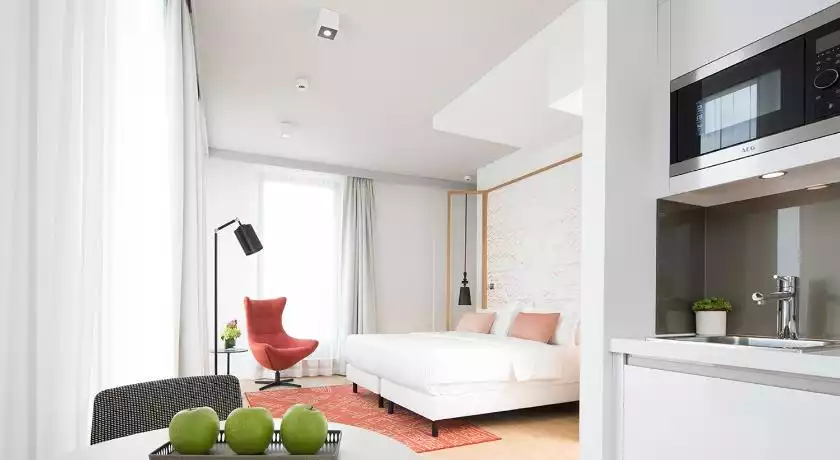 We earn a commission if you make a purchase, at no additional cost to you.
PERFECT FOR: Art and history lovers who plan to spend tons of time exploring the magnificent Museum Island
GUESTS SAY: "Location is great, close to transport and basic amenities. Right in the city centre. The building is modern, reception & cleaning stuff kind and communicative. The room has a fair size and all amenities what we needed."
SUMMARY: Get ready, museum hoppers! Capri by Fraser Berlin is located in the city center and within close vicinity of the Museums Island. This deliberate location allows visitors to explore Berlin's famous museums and galleries without riding a cab or the metro. Other historical landmarks, like the majestic Gendarmenmarkt square and the beautiful tree-lined boulevard of Unter den Linden, are also easily accessible by foot, or if coming from elsewhere in Berlin via Spittelmarkt Underground Station. Authentic German cuisine and delicacies are available too in the neighborhood restaurants and coffee shops!
Great for History Buffs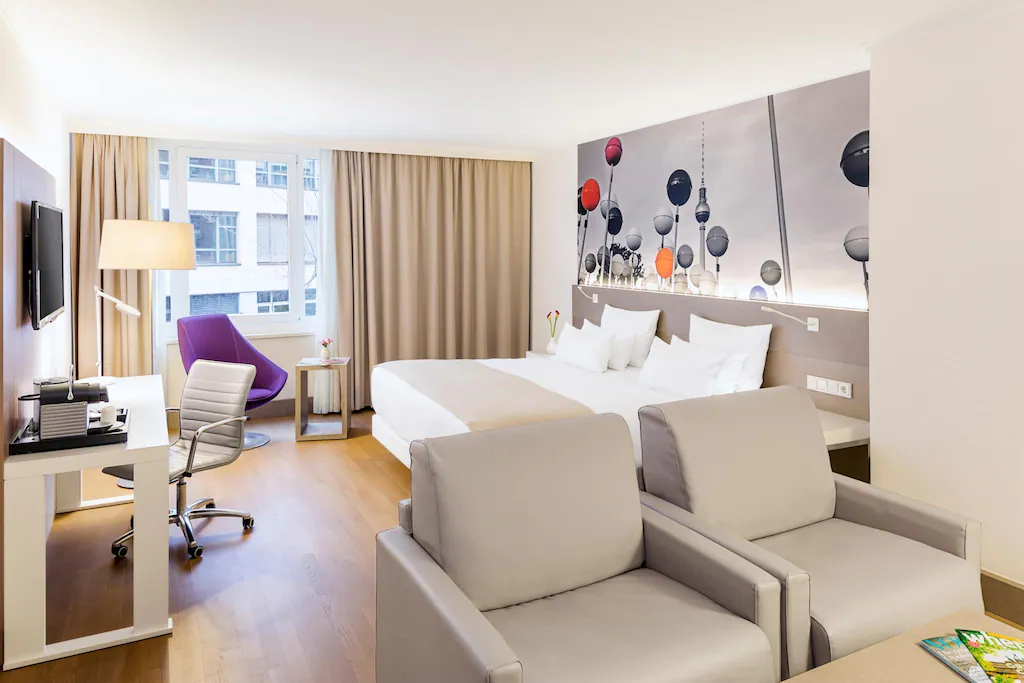 We earn a commission if you make a purchase, at no additional cost to you.
PERFECT FOR: Travelers interested in immersing themselves in Berlin's rich history
GUESTS SAY: "Fantastic location, close to metro station and walking distance to many sights. Comfortable room , good shower, comfy bed. Breakfast was good – there was a wide selection and lots of healthy options."
SUMMARY: Located 100m away from the Friedrichstraße shopping street and Stadtmitte Underground Station, this other NH Hotel is within walking distance from the heart of the city and offers the same stellar service as its Friedrichstrasse counterpart. What draws travelers to this hotel is its close proximity to one of the Berlin's most famous historical sites. Checkpoint Charlie is the famous crossing point of West and East Berlin (yes, it's not the authentic site but it gives you a glimpse into the past). It's also very close to the excellent Typography of Terror, a stretch of the old Berlin Wall, and the Kreuzberg neighborhood. Berlin and Mediterranean specialty dishes are also something to look forward to in their sophisticated restaurant.
Click here to stay in a hotel that's within easy walking distance of Checkpoint Charlie
Best Breakfast Buffet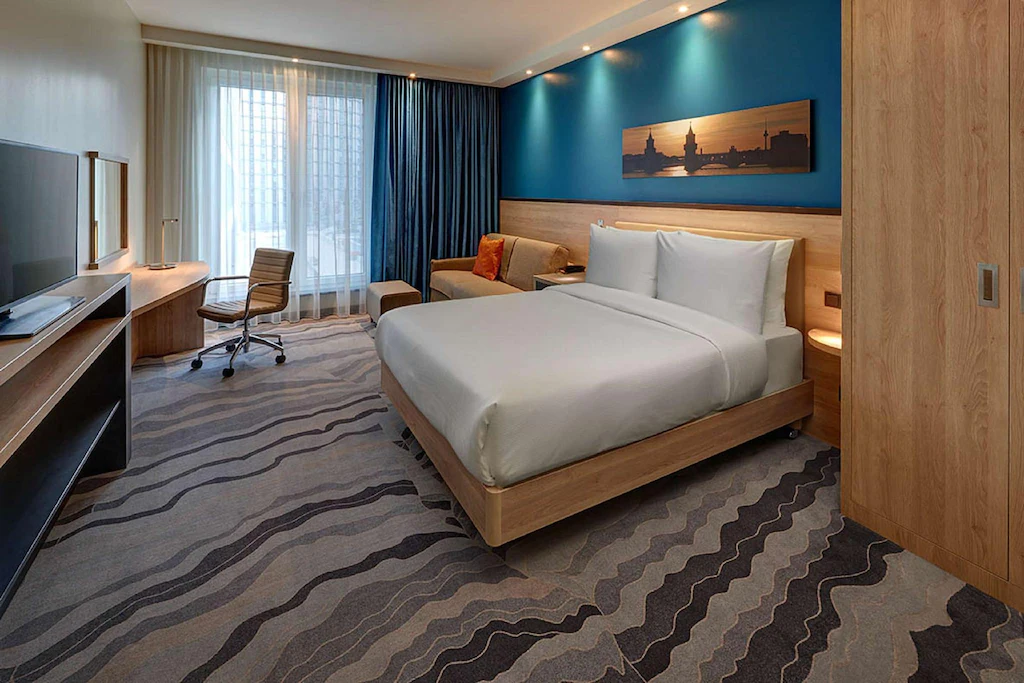 We earn a commission if you make a purchase, at no additional cost to you.
PERECT FOR: Travelers who want to enjoy a delicious complimentary breakfast every morning
GUESTS SAY: "Our room was clean and comfortable. Breakfast was excellent with plenty of choices and open for several hours to make it convenient. The staff was courteous and the bar at the front desk was always open if you need a beer or snack. Location was convenient with bus stops out front and Alexanderplatz metro about 8 min walk."
SUMMARY: Having opened its doors to tourists last 2017, Hampton can be considered as one of the young hotels in the city, evident in the contemporary interior design of all of their 344 rooms. This hotel is a 5-minute walk from Alexanderplatz station (with excellent access to the S-bahn, U-bahn, tram stops and buss), a popular shopping area, and all of the best sights located in the heart of Berlin. It's also close to one of Berlin's famous Christmas markets. Guests rave about the hotel's complimentary breakfast buffet.
Click here to stay in a modern hotel that offers a complementary daily hot breakfast
If You're Looking for Aparthotel or Hostel Facilities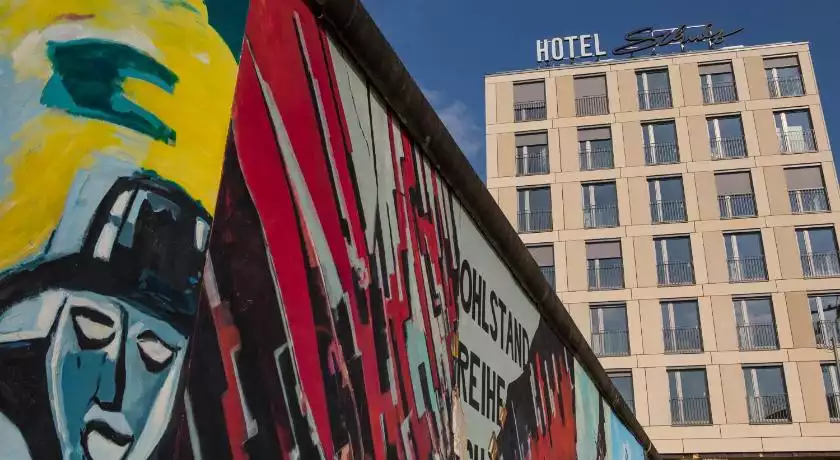 We earn a commission if you make a purchase, at no additional cost to you.
PERFECT FOR: Those looking for chill accommodation options similar to a hostel or an aparthotel
GUESTS SAY: "Great hotel. Comfy and location was perfect. As was the trendy idea that it's between a hotel and hostel allowing you freedom of bringing in and eating your own food and drinks. Lots of areas to chill out."
SUMMARY: Located directly beside the East Side Gallery in the downtown Friedrichshain district of Berlin, this hotel is near the Ostbahnhof train station. Public transport connections are easily accessible and can take you anywhere in Berlin, including Alexanderplatz, Potsdamer Platz, Berlin Hauptbahnhof (Main Station), the Messe Berlin Trade Fair, and Berlin Brandenburg Airport. This hotel is highly rated for its cleanliness and features a beer garden facing directly to the old Berlin Wall. After an eventful day outside, guests can enjoy fresh pastries from the in-house bakery, lounge at the outdoor picnic area, or rest in their functionally furnished rooms. This is a great option if you want to be close to the city center and within walking distance to the vibrant Friedrichshain and Kreuzberg neighborhoods.
Click here to book your stay in a place that combines the best of a hotel, apartment and hostel in one
Best for Berlin Cathedral Views
Radisson Collection Hotel Berlin
Pros:
Free WiFi

Air conditioning

Bathtub

Fitness center, spa, and beauty services

Bar and restaurant onsite

Indoor pool
Cons:
No private parking available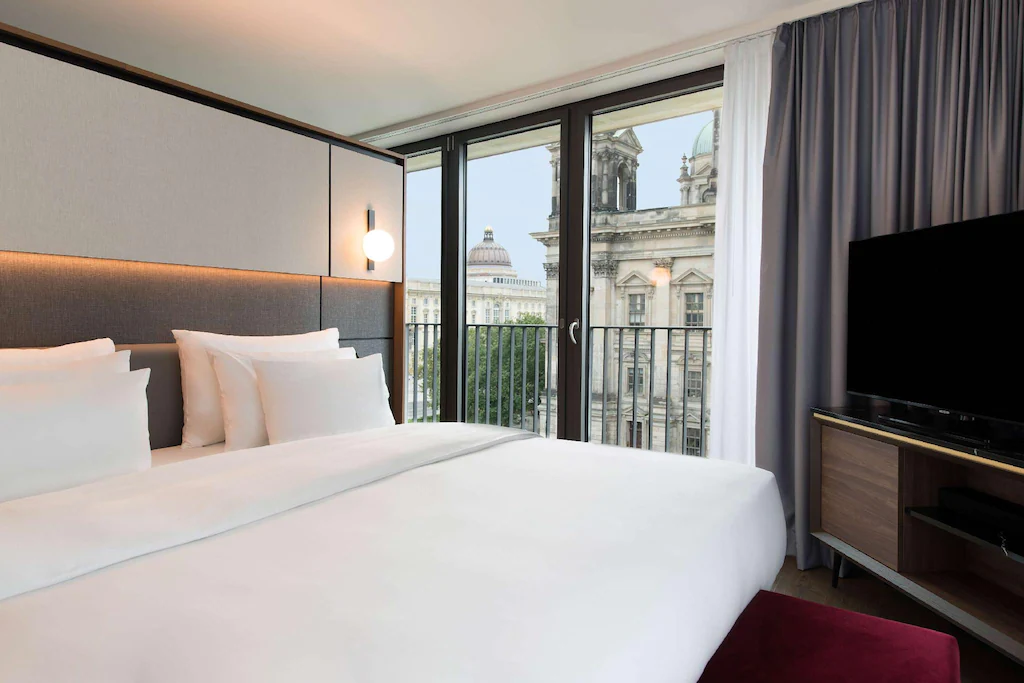 We earn a commission if you make a purchase, at no additional cost to you.
PERFECT FOR: Those who like waking up to stunning views of famous sights like the magnficientBerlin Cathedral
GUESTS SAY: "Enjoyed the central location; simple to arrive at point destinations around. Room was perfectly in order and nicely presented. Balcony terrace view of the cathedral was nothing short of spectacular on the river. Will be booking again next time I am in Berlin."
SUMMARY: This hotel stands right next to the 400-km long Spree River and right across the Berlin Cathedral, one of the most prominent dynastic tombs in all of Europe and with a spectacular 360 degree view of Berlin. Tourists can also quickly reach the Museum Island, Alexanderplatz Square, and Hackescher Markt's shops and restaurants, as well as many other museums and galleries without breaking a sweat. Staying here allows guests to explore Berlin without spending so much on public transportation!
Click here to book a room with amazing views of the Berlin Cathedral
Great Value for Money
TITANIC Comfort Mitte
Pros:
Free WiFi

Subway access

Outdoor terrace

Restaurant and 24-hour lobby bar onsite
Cons:
Not all rooms have air conditioning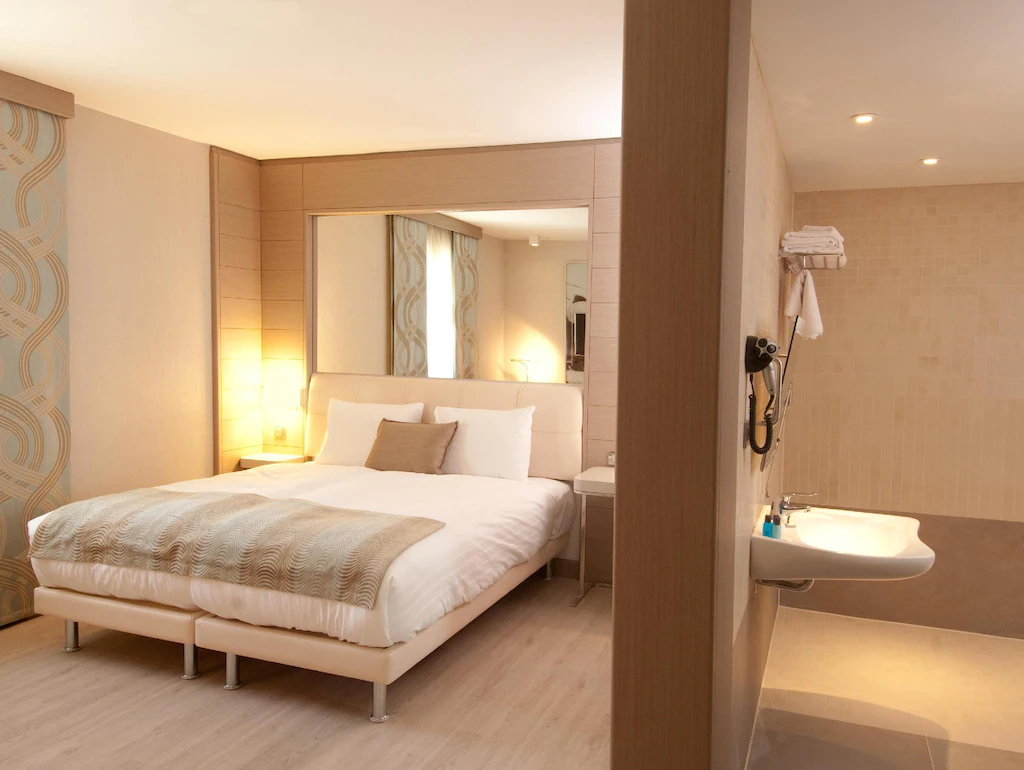 We earn a commission if you make a purchase, at no additional cost to you.
PERFECT FOR: Travelers who want to make the most out of their accommodation budget
GUESTS SAY: "The location was perfect, especially for us, tourists, who were visiting Berlin for Berlin's scenery. One night, we had dinner at the hotel restaurant, and it tasted amazing. The price of the hotel and the food, was affordable for us, whilst still feeling like we were on vacation with a bit of luxury too. We're two young couples traveling together – and our bedrooms where close together as well. Couldn't have been better."
SUMMARY: While this hotel is not primarily designed after its namesake, Titanic Comfort Mitte has its own ambiance of elegance and sophistication. Its room, buffet restaurant, bar, and other modern amenities bear contemporary vibes which suit the taste of most travelers. Another thing that makes this hotel stand out is its prime location. Situated between Alexanderplatz and Potsdamer Platz, this hotel is close to the Spree, the Museum Island, Gendarmenmarkt Square, Checkpoint Charlie, and the Spittelmarkt subway station in Mitte district.
Click here to book a room with up-to-date amenities in one of the best areas in the city
Ideal for Large Groups
H2 Hotel Berlin-Alexanderplatz
Pros:
Free WiFi

Large rooms with bunk beds

Heated bathroom floors

Air conditioning

Terrace

Bistro, shop, and lounge area
Cons:
Public parking onsite costs €20 per day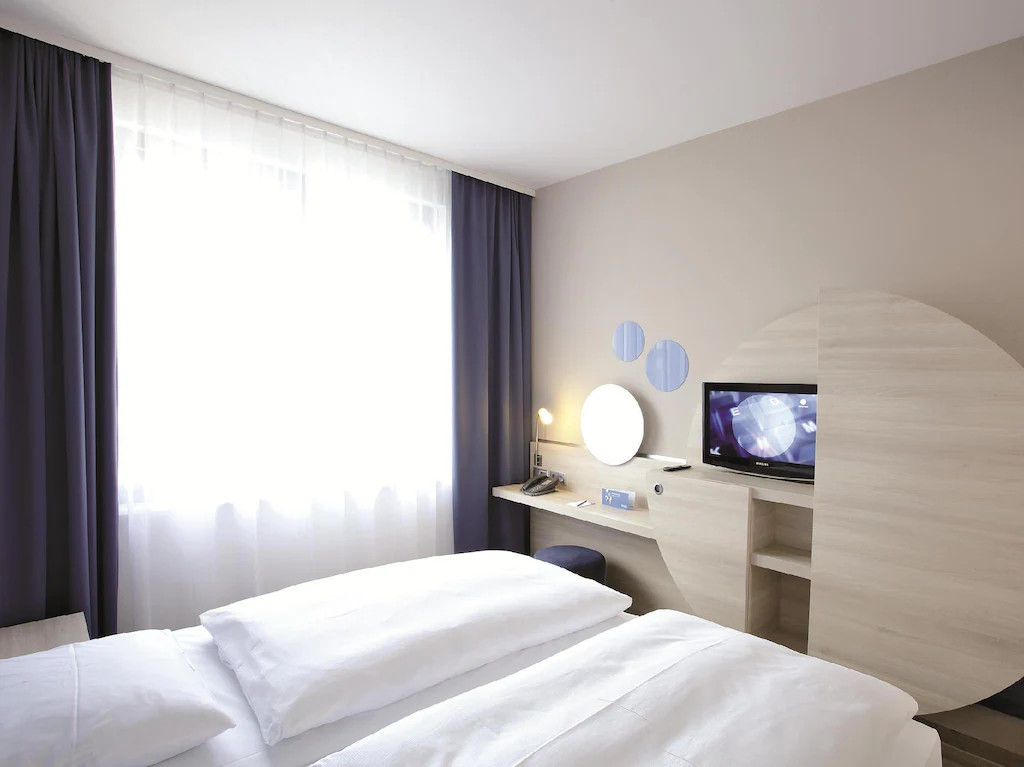 We earn a commission if you make a purchase, at no additional cost to you.
PERFECT FOR: Those traveling with a group of friends or family
GUESTS SAY: "I loved the hotel! The room was very spacious, and clean, the shower excellent! I was in a room that had 4 beds. The breakfast was very delicious with a lot of options. The staff was also very friendly."
SUMMARY: After spending the day in bustling Berlin, you'll look forward to nights in perfect peace at the H2 Hotel! A five-minute walk from Alexanderplatz and the iconic TV tower, H2 hotel is near shops, restaurants, and cultural attractions in Mitte district. From Alexanderplatz you can take the S-bahn (suburban train), U-bahn (underground train) and tram connections all over the city. There are also direct buses to Brandenburg Airport. Rental bicycles are available to explore nearby landmarks such as Museum Island and Unter den Linden boulevard. After an eventful day, deep and peaceful sleep is guaranteed with H2 Hotel's comfortable beds and soundproofed rooms.
Click here to book a spacious and comfortable room for your group
Best Boutique Hotel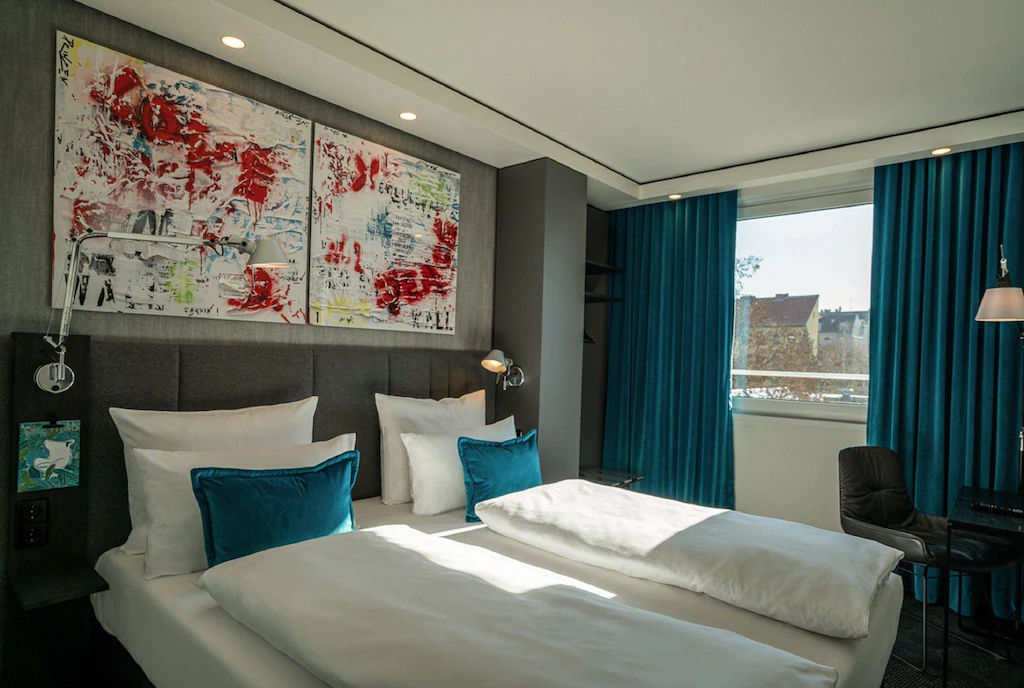 We earn a commission if you make a purchase, at no additional cost to you.
PERFECT FOR: Travelers who want to stay in a chic and modern hotel with local flair
GUESTS SAY: "The room was modern and very clean. The location was perfect for me. Just down the streets are all the cafes, bars, and restaurants. The bed was also very comfortable. The location was quiet, I was able to sleep well."
SUMMARY: This hotel is part of the Motel One establishments in Berlin. Only 200 meters away from the Potsdamer Platz, a public square brimming with people and businesses, this Motel One provides accessibility and convenience for everyone. Tourists will surely love their stay here with the hotel's well-planned location, excellent amenities, and contemporary design. Motel One Berlin boasts of a garden and a terrace where visitors can relax after a day of exploration.
Berlin Hotel Comparison Chart
| Name | Stars | Price | Check Availability |
| --- | --- | --- | --- |
| | | | |
| | | | |
| | | | |
| | | | |
| | | | |
| | | | |
| | | | |
| | | | |
| | | | |
| | | | |
Where Else to Stay in Berlin?
Choosing where to stay in Berlin can be a difficult choice because each of Berlin's different neighborhood offers something unique.
If you're staying in Berlin for a few days and you're a first time visitor, we recommend staying in Mitte, the city center. This way you'll be within walking distance to many of the city's famous landmarks.
For those wanting a more "local" neighborhood vibe and ambiance, we recommend Friedrichshain-Kreuzberg, just south of Mitte. It's home to popular attractions like the East Side Gallery, Viktoriapark and the Oberbaumbrücke, and it's easy to reach downtown sites from there using public transportation.
Prenzlauer Berg to the north is another highly walkable neighborhood full of cafes, bars, and restaurants.
Another popular neighborhood is Charlottenburg. It's great for shopping, cultural activities, and learning about Berlin's art scene. Some must-see sights in that neighborhood include Kurfürstendamm shopping street, Kaiser Wilhelm Memorial Church, the Berlin Zoo, Tiergarten park, Schloss Charlottenburg, and Deutsche Oper Berlin.
A Few More Options
Here are some other places worth checking out if you're looking for more luxury options, boutique experiences, or simply want to venture out further from central Berlin: