Got an early flight out of Frankfurt am Main?
Arriving in Frankfurt after a long flight and want to explore the city before continuing to your next destination?
Don't want to miss your expensive train reservation due to an unexpected flight delay or drive your rental car while jet-lagged?
Consider spending the night in a hotel right near Frankfurt International Airport!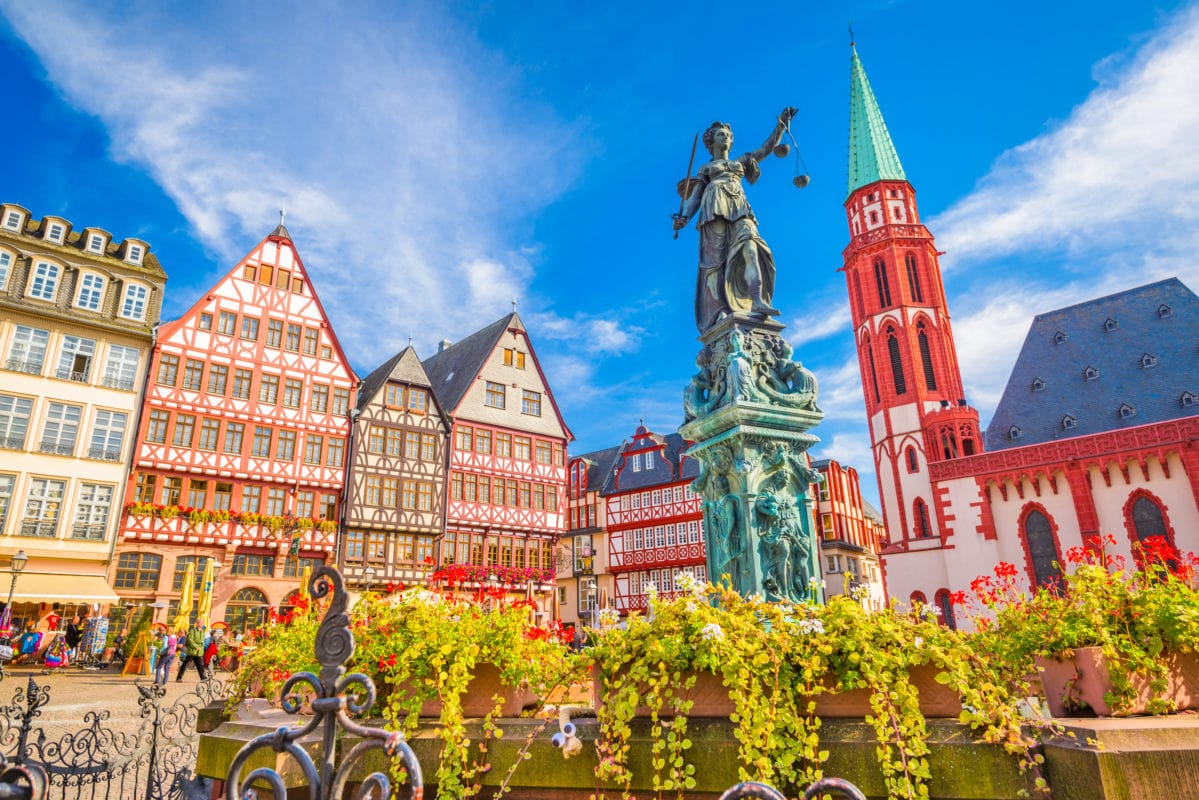 Frankfurt is a relatively compact city that's well-connected to Frankfurt International Airport via public transportation. By staying near the airport for a night or two, you can easily head to downtown Frankfurt and see all the famous landmarks like the Frankfurt Cathedral, Goethe House, or the Main River without worrying about missing your flight, train or rental car pick-up the next morning.
With Frankfurt Airport being one of the most important airports in the world, it's no surprise that there are a variety of accommodations in its proximity. From luxury hotels, business hotels, and budget-friendly options, you'll find the perfect place to lay your head in our list of the best hotels near Frankfurt Airport.
Why Stay Near Frankfurt International Airport (FRA)?
Staying near the Frankfurt Airport is ideal for those who only need to spend one or two nights and want to be close to both the city and the airport. You'll have the comfort of knowing you're conveniently close to the airport but you'll also be able to easily head into the city if you'd like.
It's a no-brainer to stay near the airport if your flight arrives in Frankfurt late at night. Instead of trying to figure out how to get into the city and walking around a new city in the dark with your luggage, you can simply head to a hotel close to airport for much needed rest.
Staying near the airport is also a great location if you have an early flight to catch the next morning. You can spend the day or just an evening in Frankfurt city center, return to your hotel for a good night's sleep, and then make your way to your morning flight refreshed, relaxed, and stress-free.
Choosing a hotel near Frankfurt airport is also a great option if your international flight arrives in Germany in the morning or during the day. You're likely to be exhausted from travel and jet-lagged from changing so many time zones. And then there's always the concern that you'll miss the expensive train, bus or car rental pick-up time you booked if your flight is unexpectedly delayed (it's happened to us and it's frustrating).
So why not make things easy on yourself and spend your first night near Frankfurt airport!
That way, if your flight is on time you can drop your luggage at the hotel and head into the city to see the sights and enjoy good food.
If your flight is delayed, you won't miss an important train, bus or rental car pick-up and lose time and money.
And no matter what, you'll get a good night sleep and start your trip on the right foot.
---
Top Hotels Near Frankfurt Airport
---
Best Hotels Near Frankfurt International Airport
Direct Access to the Airport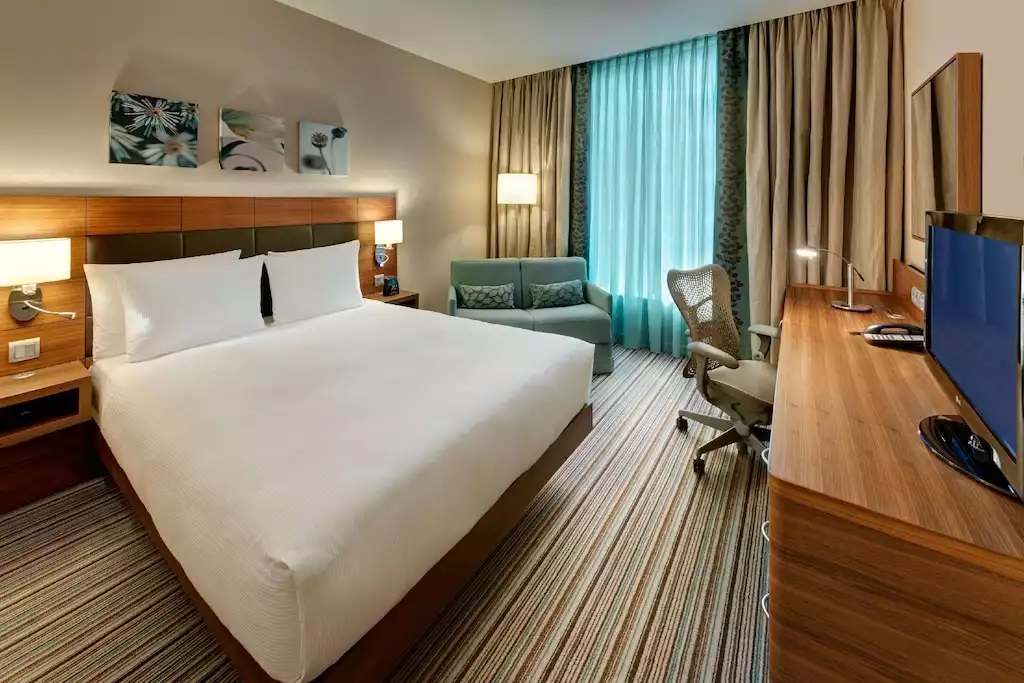 We earn a commission if you make a purchase, at no additional cost to you.
PERFECT FOR: Those who don't want to worry about walking, taking a shuttle service or public transportation to get to the airport
GUESTS SAY: "We like that we could get to the hotel by walking directly from the airport over an enclosed bridge. It was very convenient (about a 10-15 minute walk). The rooms are clean, the beds are comfortable. There was a decent amount of storage space and breakfast was included in our room rate. The dining room staff were professional and helpful. The food selection was excellent and everything looked freshly prepared. There were about four types of coffee available. The reception staff were helpful, friendly and very professional."
SUMMARY: The Hilton Garden Inn has great easy access to the airport. It's directly above the Frankfurt Airport Train Station and has direct access to Terminal 1 by skywalk. The rooms are air-conditioned and have modern amenities like flat-screen TVs, tea/coffee makers, and room service. There's a 24-hour convenience store, a bar, and an onsite restaurant serving buffet breakfast and international cuisine. You can even enjoy a relaxing time in the spa and sauna room before catching your flight.
Click here if you want to stay as close as possible to the Frankfurt International Airport
Best for Business Travelers
Steigenberger Airport Hotel Frankfurt
Pros:
Free WiFi

Air-conditioning

Indoor swimming pool

24-hour complimentary airport shuttle

Business center and 40+ meeting rooms

Fitness center, sauna, spa/wellness center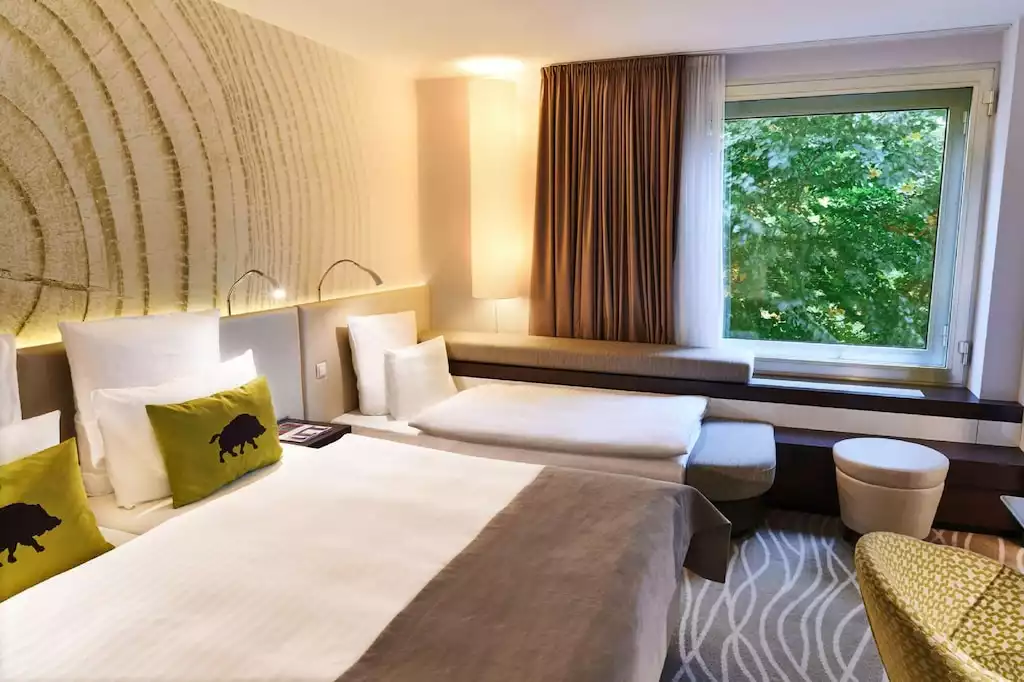 We earn a commission if you make a purchase, at no additional cost to you.
PERFECT FOR: Those traveling to Frankfurt for business purposes
GUESTS SAY: "The Steinberger is definitely a gem – very clean and comfortable – a step above any business hotel that I have stayed at in Los Angeles, Seattle or any of the other major cities. The rooms and the facilities are very modern, and all the comforts of home are available. We arrived near 10pm in the evening, and the restaurant was open until 11pm – so we were able to enjoy an excellent meal. The house selection of Riesling was fantastic! Breakfast in the morning was great, and the dining room was decorated beautifully and is full of every kind of breakfast food you can imagine. This was a great place to stay at a great value!"
SUMMARY: Steigenberger Airport Hotel Frankfurt is a top choice for business events. Located less than a mile from the airport and serviced by a complimentary 24-hour airport shuttle, this hotel offers all the amenities of business hotels and beyond. There are over 40+ meeting rooms and all the guest rooms are both stylish and comfortable. There are plenty of leisure activities as well including an indoor pool, full-service spa, and fitness center.
Click here to book a hotel that will elevate your business trip to Frankfurt
Hotel with Great Dining Options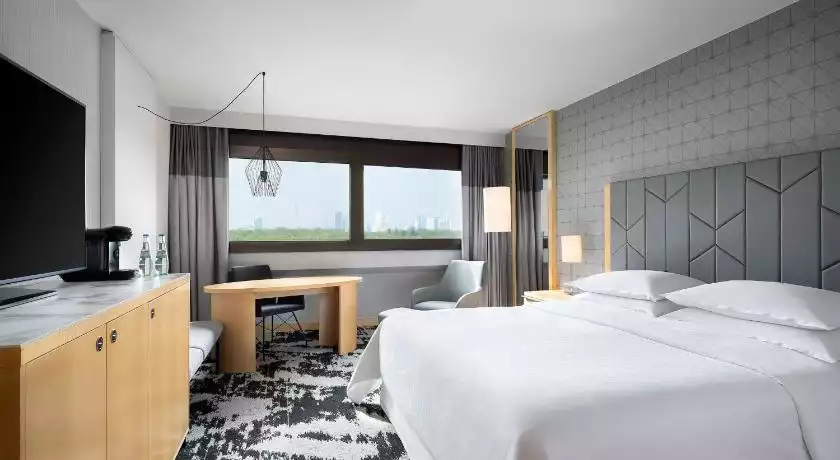 We earn a commission if you make a purchase, at no additional cost to you.
PERFECT FOR: Travelers who prioritize great dining while traveling
GUESTS SAY: "The hotel was everything I've come to expect from the Sheraton Group — well-designed, comfortable, clean. As I was flying out the following morning, the location couldn't have been better. I had an excellent dinner in the restaurant as well."
SUMMARY: Just a 7-minute walk away from the Frankfurt Airport, the Sheraton offers all of the premium features that makes the chain hotel well-known all across the world. Choose from a wide range of room types from spacious suites with separate living areas to modern standard rooms with views of the airport's runway. There's also lots of dining options available: an upscale restaurant serving international cuisine, while another specializing in traditional German dishes, a casual cafe, along with 2 bars with billiards. You can unwind from your long flight in the spa and wellness center, sauna, steam room and fitness center.
Click here to book a hotel with a delicious variety of dining options onsite
Hotel Located Inside the Airport
MY CLOUD Transit Hotel
Pros:
Located inside the airport

Air-conditioning

Free WiFi

Flat screen TVs

Private bathroom
Cons:
Only guests with non-Schengen flights can book a room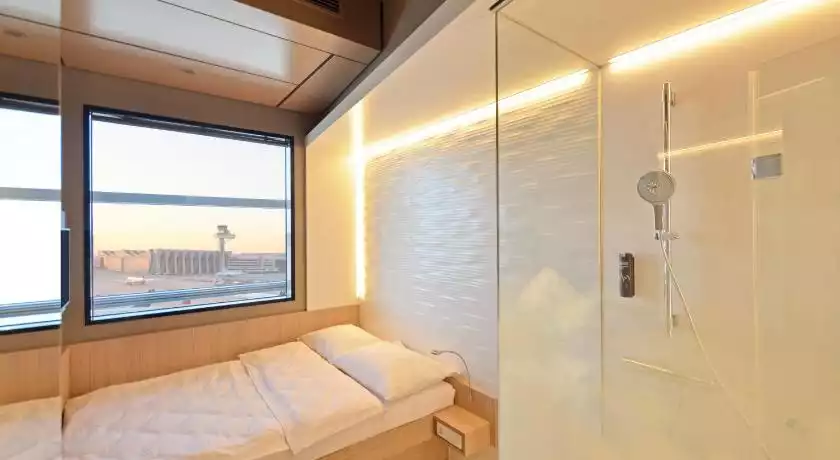 We earn a commission if you make a purchase, at no additional cost to you.
PERFECT FOR: Guests who want to stay inside the airport and whose travel routes includes at least flight outside the Schengen area
GUESTS SAY: "Location is perfect for staying in the airport while waiting for an international connecting flight. Staff is very helpful with reservations & questions. Room is clean and quiet. Mattress is comfortable."
SUMMARY: This is the perfect accommodation for those with flights to or from non-Schengen countries and who want to stay in the airport while transiting. It's located inside the airport in Terminal 1, Gate Z25, behind the security checkpoint. The compact rooms have queen-sized beds, modern bathrooms, air-conditioning, flat screen TVs, and free WiFi. Some even have views of the runway. There are numerous cafés, restaurants, bars, and shops at Frankfurt Airport and you can access them without having to leave the transit area!
Click here to book stay in a comfortable hotel without leaving the transit area of the airport
Great Value
Holiday Inn Frankfurt Airport
Pros:
Free WiFi

Room service

Cocktail lounge and 24-hour restaurant

American breakfast buffet

Fitness room and business center

Airport shuttle service

Private parking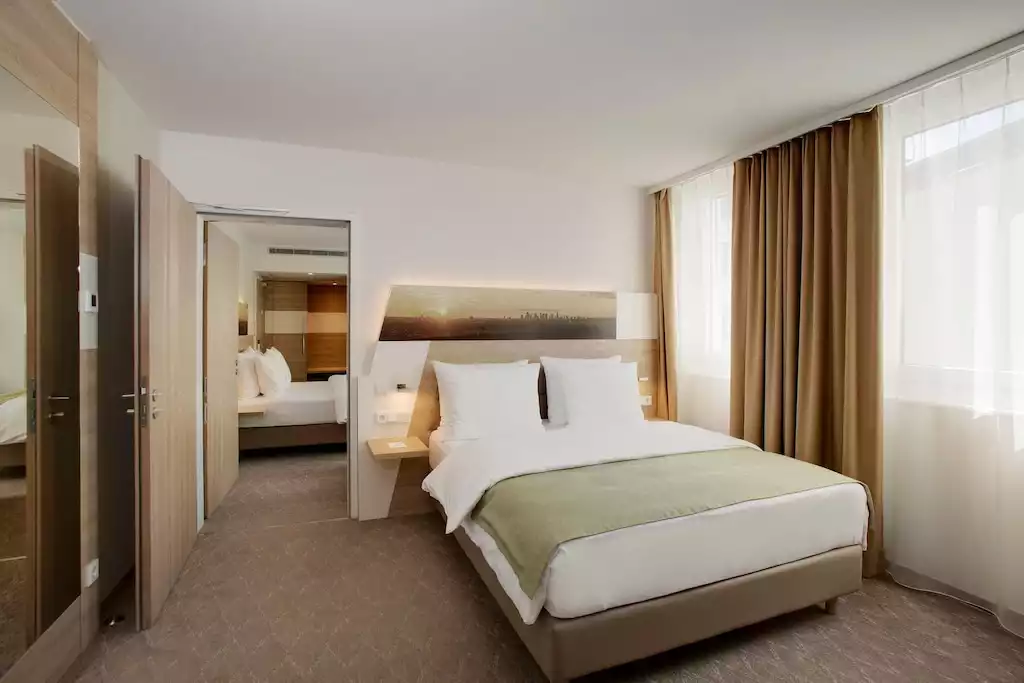 We earn a commission if you make a purchase, at no additional cost to you.
PERFECT FOR: Travelers who want to make the most out of their budget
GUESTS SAY: "We booked the hotel spontaneously for one night bridging two travels. The staff performance was outstanding. Super friendly and all as you hope it would be. We had dinner at the hotel restaurant, which had a good solid standard. The breakfast in the morning was just perfect, a good range of options and immediate refills. The price-value was truly excellent for an airport hotel."
SUMMARY: You can't go wrong with staying in the Holiday Inn Frankfurt Airport. It's located just a 10-minute walk away from Terminal 2 and offers comfortable rooms with flat screen TVs, blackout curtains, minibars, and room service. There's a 24-hour restaurant onsite, an American-style breakfast buffet served every morning, and a cocktail lounge with a terrace.
Click here to book one of the best value hotels near Frankfurt Airport
Hotel with Flexible Room Set-Ups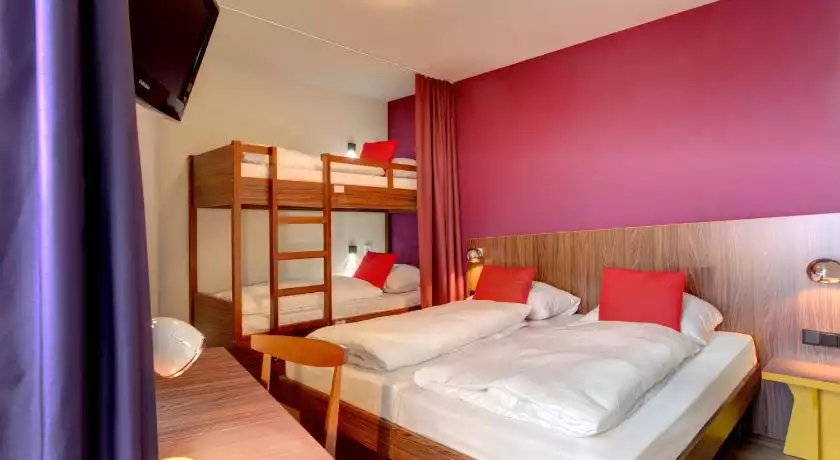 We earn a commission if you make a purchase, at no additional cost to you.
PERFECT FOR: Travelers looking for more flexible accommodations with different hotel room types and facilities
GUESTS SAY: "Affordable and close to the airport. Room was small but had a smart layout that made it feel roomier. Eco friendly facility. Loved that they had a hotel kitchen for you to use and this would be an excellent choice for people traveling on a budget who are willing to share because this facility offers both traditional self contained hotel rooms and hostel style rooms."
SUMMARY: Meininger Hotel is a budget eco-friendly hotel running on 100% renewable electricity that offers a wide variety of room types for all kinds and groups of travelers. Choose from single and double rooms, multi-bed rooms, family rooms, or mixed and women-only dormitory-type rooms with 6 beds. Amenities include a shared kitchen, snack bar, fitness center, bar, and coffee shop on site.
Click here to stay in a hotel with a different selection of room types and shared facilities
Hotel with Beer Garden
NH Frankfurt Airport
Pros:
Free WiFi

Air-conditioning

Terrace with beer garden

International restaurant and bar onsite

Fitness center and sauna

Room service

Airport shuttle service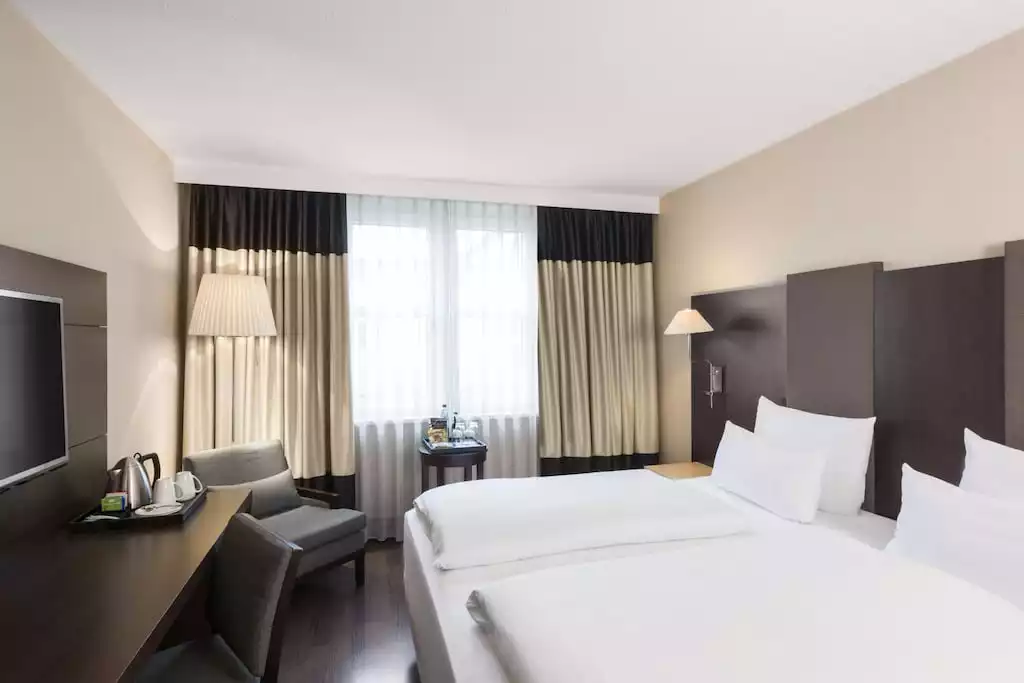 We earn a commission if you make a purchase, at no additional cost to you.
PERFECT FOR: Guests who want to enjoy drinks in a beer garden before or after long flights
GUESTS SAY: "Location was perfect for our needs. Staff very friendly and helpful. Very comfy bed and pillows. Great breakfast with plenty of choice. The evening menu was a little limited but the food was well cooked and tasty. The icing on the cake – and the reason we chose this hotel – was the outdoor terrace. Yes, it was noisy from aircraft but lovely to be able to sit outside and have a beer in the sun after a long day's work!"
SUMMARY: NH Frankfurt Airport Hotel is less than a 5-minute drive away from the airport. The contemporary rooms feature dark-wood furniture, hardwood floors, flat screen TVs while suites have extra touches like terraces and rainfall showerheads. Among the main highlights of this hotel is the casual restaurant with an al fresco terrace with a beer garden and sun lounge. The menu features international and German cuisine while there are often themed menus as well.
Click here to book a hotel where you can enjoy drinks in a beer garden after a long day of traveling
If You Want to Splurge on a 4-Star Hotel
Frankfurt Airport Marriott Hotel
Pros:
Free WiFi

Air-conditioning

Family rooms

Bar and German restaurant onsite

Room service 24/7

Fitness center, sauna, spa and wellness center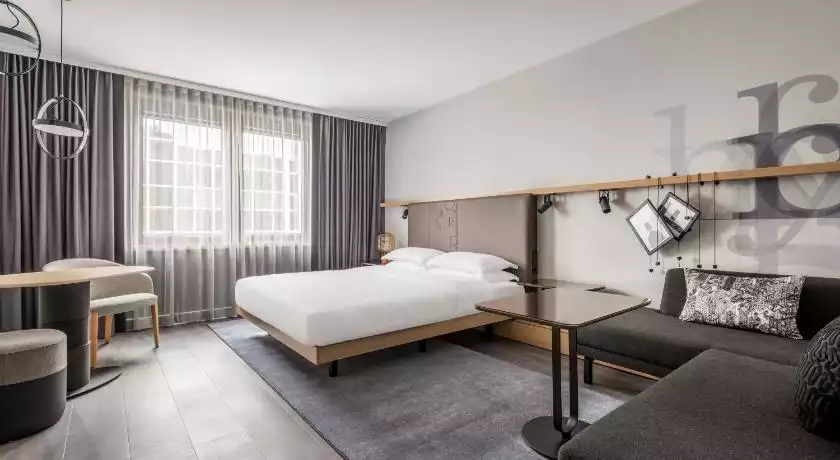 We earn a commission if you make a purchase, at no additional cost to you.
PERFECT FOR: Those looking to treat themselves to a 4-star accommodation after a long day of traveling
GUESTS SAY: "The convenience of an airport hotel for early morning flights is reason enough to stay with this Marriott but the hotel staff is exceptional. The rooms are always quite comfortable and the Skyloft Restaurant is an added bonus with excellent food, value and wonderful service. You see why I return here again and again."
SUMMARY: Frankfurt Marriott Hotel is a 4-star hotel attached directly to Terminal 1 of the Frankfurt Airport. The classy and elegant rooms all have air-conditioning, seating areas, flat screen TVs, and Nespresso machines. For breakfast, enjoy a full American breakfast or quick Starbucks from their lobby. Don't miss out on the hotel's laidback sports bar and two restaurants onsite serving international and German cuisine. The hotel also offers full-service body and massage treatments at their spa center and modern equipment in their fitness center.
Click here to splurge on a hotel with premium rooms, upscale dining and great spa facilities
---
Hotels Near Frankfurt International Airport Comparison Chart
| Name | Stars | Price | Check Price |
| --- | --- | --- | --- |
| Hilton Garden Inn Frankfurt Airport | | | |
| Steigenberger Airport Hotel Frankfurt | | | |
| Sheraton Frankfurt Airport Hotel & Conference Center | | | |
| | | | |
| Holiday Inn Frankfurt Airport | | | |
| MEININGER Hotel Frankfurt Main Airport | | | |
| | | | |
| Frankfurt Airport Marriott Hotel | | | |
How Far Is Frankfurt Airport From The City?
The distance between the and Frankfurt city center is 13 km or approximately 8 miles. It's around a 15-minute drive by car or 20 to 30 minutes depending on what public transportation you take.
I've gone to and from Frankfurt airport and city many times and it's quick and easy – quicker and easier than in many other cities!
How Can I Get To Frankfurt City From The Airport?
There are a couple ways of getting to central Frankfurt from the airport using public transportation. But you can also take a taxi or book a car rental if you prefer.
By Bus
There are several bus lines which can take you to the center: 61, 77, 72, 58 and 62 bus lines (daytime buses) and 81 and 7 bus lines (night buses).
By Train
S-bahn (regional trains): Take the S-Bahn railway S6 and S9 lines to Offenbach Ost and Hanau. Then you'll be able to transfer to downtown Frankfurt (Hauptwache Station).

U-bahn (metro): You can take U Bahn 8 and 9 lines, which will take you to Hauptwache Station.
What To Consider When Staying Near Frankfurt Airport
Location. When choosing an airport hotel near Frankfurt International Airport, you have plenty of options. There are several hotels that are directly connected to a terminal building via a walkway, meaning you won't have to leave the hotel to go to the airport. There's even a hotel that's inside the transit area of the airport! If you don't mind being a short distance from the airport, you'll find hotels within the vicinity of the airport that's easily reachable by walking or a taxi.

Airport shuttle services. If you don't want to worry about public transportation or booking a taxi, airport shuttle services solve this problem. Most airport hotels that are not directly connected to the airport and are a few minutes away offer airport shuttles. Many might have an additional service fee but you can definitely find many that are free for guests to use. Make sure to ask and check the schedule, how frequent they run, and if they operate 24/7.

Rooms with A/C. Summers in Germany can at times be hot and humid. Not all hotels in Germany have A/C, so if this is important to you, be sure to specifically look for it before booking. If you're not traveling in the height of summer, not having A/C isn't usually an issue. Note: if you don't have A/C in your hotel, you'll likely be able to open the windows, but it may be noisy since you are near the airport.

Breakfast. Most hotels offer free or paid breakfast (sometimes whether or not you get a free breakfast depends on the type of room you book). Many hotels offer a full German breakfast buffet, while others are simpler (bread, Brötchen, cold cuts, jam, coffee, tea). American chain hotels may offer an American-style breakfast (eggs, bacon, pancakes, etc).

Free WiFi. ​​Most hotels will offer free wifi throughout the hotel but it's a good idea to check on that if having free wifi is important to you.

Amenities. Hotels may offer facilities such as a gym, sauna, indoor pool, on-site restaurants and bars, or services like valet parking, a concierge or laundry service. Some even offer babysitting services! Many hotels offer the option to pay at the hotel and fully refundable rooms – sometimes at a slightly higher price than pre-pay or non-refundable rooms.
---
ULTIMATE GERMANY TRAVEL RESOURCES
We've gathered some of our essential travel guides, websites, and other information to help you plan the best vacation! We use these resources ourselves and share them to save you money, time, and stress so you can focus on enjoying and making the most out of your time in Germany.

GERMANY TRAVEL BUNDLE: Our Ultimate Germany Travel Bundle gives you the best tools, up-to-date tips, and expert insights to easily and efficiently tackle the travel planning process. You'll get our custom Trip Planning Map, which shows you the best sights, hotels, castles, and more – because seeing where things are in relation to each other makes trip planning SO much easier! You also get our Trip Planning Spreadsheet, City Cheatsheets, How-to Videos, Germany Trip Planning Guide, and Trip Planning Spreadsheet!

BOOKING FLIGHTS: To find the the best flights deals, we recommend checking Kayak, Skyscanner, Expedia, Travelocity. These websites are also great for getting rental cars.

ACCOMMODATIONS: We recommend using Booking.com since they have widest range of accommodations available from hostels, boutique hotels, luxury chains, aparthotels, at the best prices. For vacation homes, we suggest checking VRBO. We also have accommodation guides on different destinations (Hamburg, Cologne, Munich, Stuttgart, and more to come!) in our website.

TRAINS & BUSES: For point-to-point or regional train tickets (great for day trips or groups) within Germany, or tickets originating in Germany to other European destinations, we recommend buying them on the Deutsche Bahn (German Rail System) website. If you want to buy a rail pass for Germany (or elsewhere in Europe), buy them on Rail Europe. For buses, FlixBus offers tickets for routes within Germany and to other European countries. FlixBus is often cheaper than trains but can take longer.

TRAVEL CREDIT CARD: One of the best ways to make travel to Germany more affordable is by booking free flights. Using the points accrued with our Chase Ink credit card (and a few others), we haven't had to pay for flights to Europe in the past 10 years!

TICKETS AND TOURS: We always recommend exploring a new city for the first time with a Hop On Hop Off Bus tour (ride it all the way around for the entire 1.5-2 hour tour). Here is our guide on the best Hop On Hop Off Bus tours for different German cities. For guided walking tours, day trips, private tours, and skip-the-line tickets, Get Your Guide is our go to!

WHAT TO PACK: Not sure what to bring to Germany? Check out our 2-week minimalist packing guide for tips on traveling light, and our Germany packing list for our must-pack items. Bonus: check out our guides on finding the best travel purse and best travel scarf with a hidden security pocket.

TRAVEL CONSULT: If you feel like you need more help and guidance beyond these resources, book a travel consult with us! We offer personal live sessions where we'll help you with things like planning your itinerary, showing you how to book train or skip-the-line tickets, and answer any other questions you have about traveling to Germany.