Best Neighborhoods to Stay in Berlin, Germany
This post may contain affiliate links. Read my disclaimer policy.
Berlin offers visitors an array of neighborhoods to explore, each with its own distinct character and charm. From the trendy and younger vibe of Kreuzberg to the historic landmarks of Mitte to the elegant allure of Charlottenburg, there's a neighborhood to suit every taste and interest.
We've stayed in various parts of Berlin over the years and have enjoyed the unique character of each one. Whether you're a first-time visitor or a seasoned traveler, our Berlin neighborhood guide will help you navigate districts that make up the German capital that are most popular with visitors.
We also highlight the best hotels (luxury, mid-range, and budget) and must-see landmarks in each area to help you decide which neighborhood is the best for your ultimate Berlin trip.
Best Neighborhoods in Berlin For Travelers
Mitte
If you're a first-time visitor to Berlin, Mitte is the best area to stay in. Mitte (which actually means "middle" in German) is considered to be the center of Berlin.
This borough is made up of smaller districts: Mitte proper, Gesundbrunnen, Hansaviertel, Moabit, Tiergarten, and Wedding. Mitte is also where Berlin was born, growing from a small settlement founded along the Spree river in the 13th century. Since then, it has evolved to be a major historical and cultural hub.
Many of the most popular tourist attractions are found here, like the Museum Island, a complex of UNESCO World Heritage Site museums located along the Spree.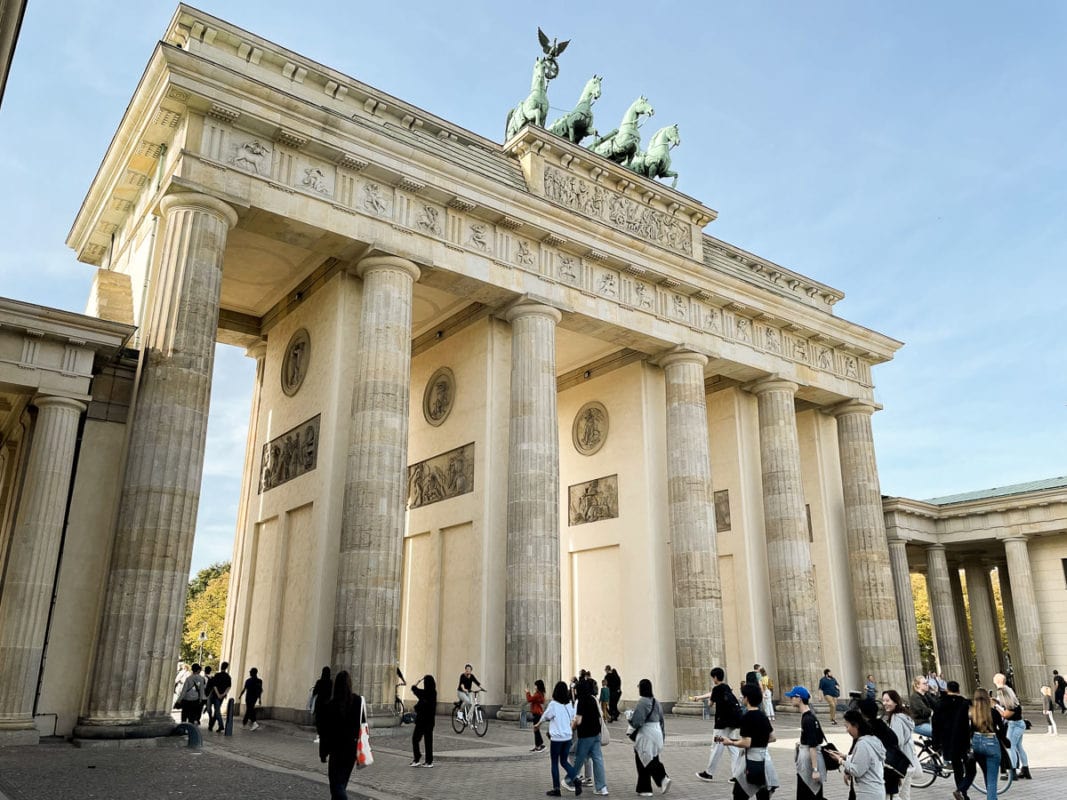 Some of the most famous museums on this small island in the center of Berlin include the Pergamon Museum, home to some of the most significant archeological findings in the world and the Alte Nationalgalerie which showcases important artwork from the 19th to 21st century. For more details on the best museums to visit in Berlin, check out our full guide!
Another of Berlin's most iconic sights is the Brandenburg Gate (Brandenburger Tor). The only surviving city gate, it stands as a symbol of unity. If the last time you visited Berlin was when the German capital was divided into former West Berlin and East Berlin – as is the case for some travelers I've talked with who used to live in Germany – you'll be shocked by how this area now looks. It's also near other important landmarks like the German Parliament Building (Reichstag), Tiergarten park, and Unter den Linden, a major boulevard with many restaurants, cafes, and bars.
Near the Brandenburg Gate you'll also find the Holocaust Memorial (the Memorial to the Murdered Jews of Europe). I highly recommend dedicating time to walk through this free and moving sight.
Going the opposite direction from the Brandenburg Gate, Unter den Linden extends all the way from Pariser Platz to the Berlin Cathedral (Berliner Dom). Located opposite the Berlin Cathedral is the DDR Museum, an interactive museum that gives you a glimpse into life in East Germany (highly recommended).
Within walking distance from there, you can also find Hackescher Markt, a vibrant shopping area with lots of dining options, and boat landings where you can catch a fun 1-hour boat cruise (also highly recommended). Further the other direction leads you to Alexanderplatz, which is home to the TV Tower and lots of shopping opportunities.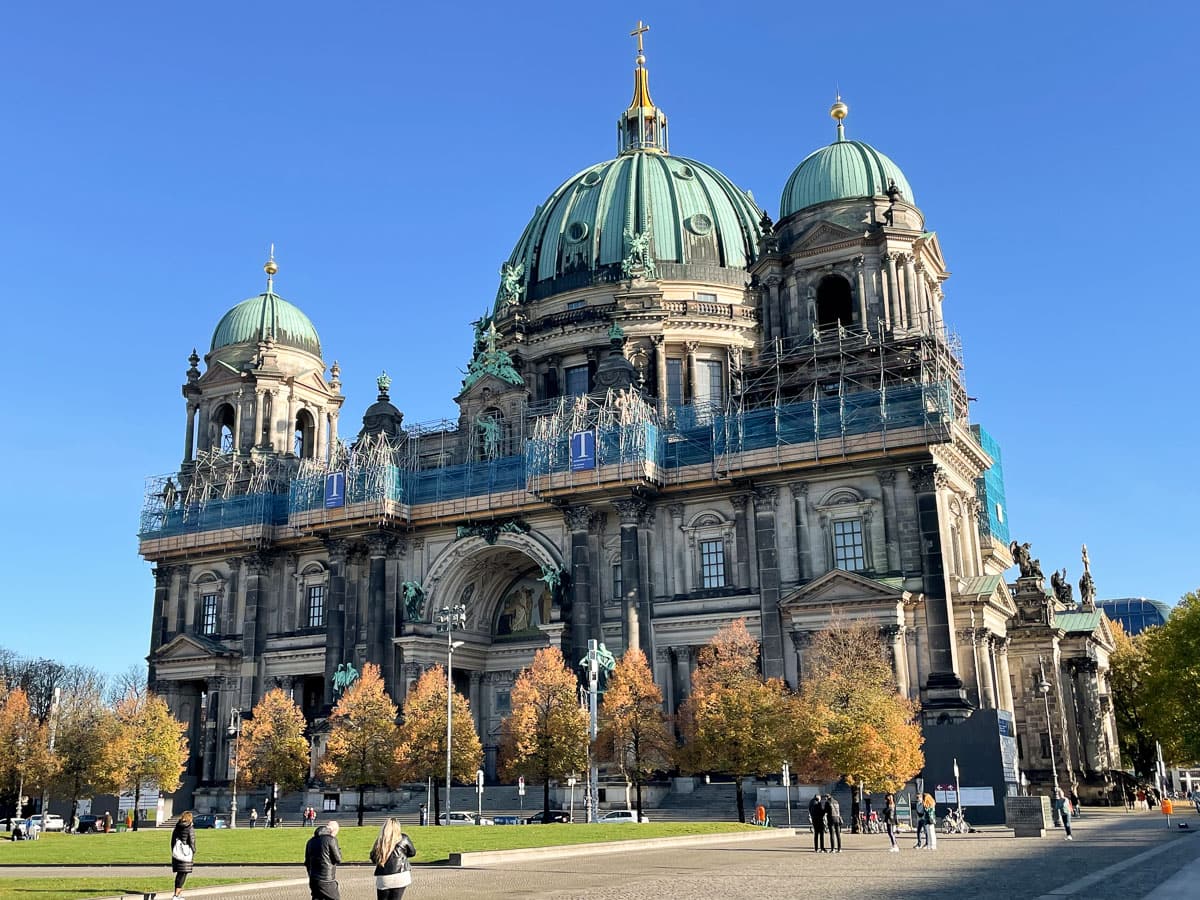 As you can tell, a lot of the main attractions are all here in Mitte. This is the biggest advantage to staying in this neighborhood. If it's your first visit to Berlin, then you most likely want to see most of the top tourist spots.
So staying in Mitte is a great choice because many major attractions, landmarks, and museums are within a short walk from each other or easily accessible by public transportation. It also has easy access to the Berlin Brandenburg Airport.
Pros of This Neighborhood: Since it's a prime location to stay in, you won't have any trouble finding accommodations. Mitte has everything from boutique hotels, reliable chain hotels, affordable hostels, and even apartments for you to choose from.
Cons of This Neighborhood: Due to Mitte's central location and popularity among tourists, there are some drawbacks. Things like accommodations, shopping, and dining can be more expensive here compared to other areas. This means that some areas can also feel very touristy and crowded, especially during peak travel seasons. It won't be as quiet or calm compared to more residential areas further away from the city center.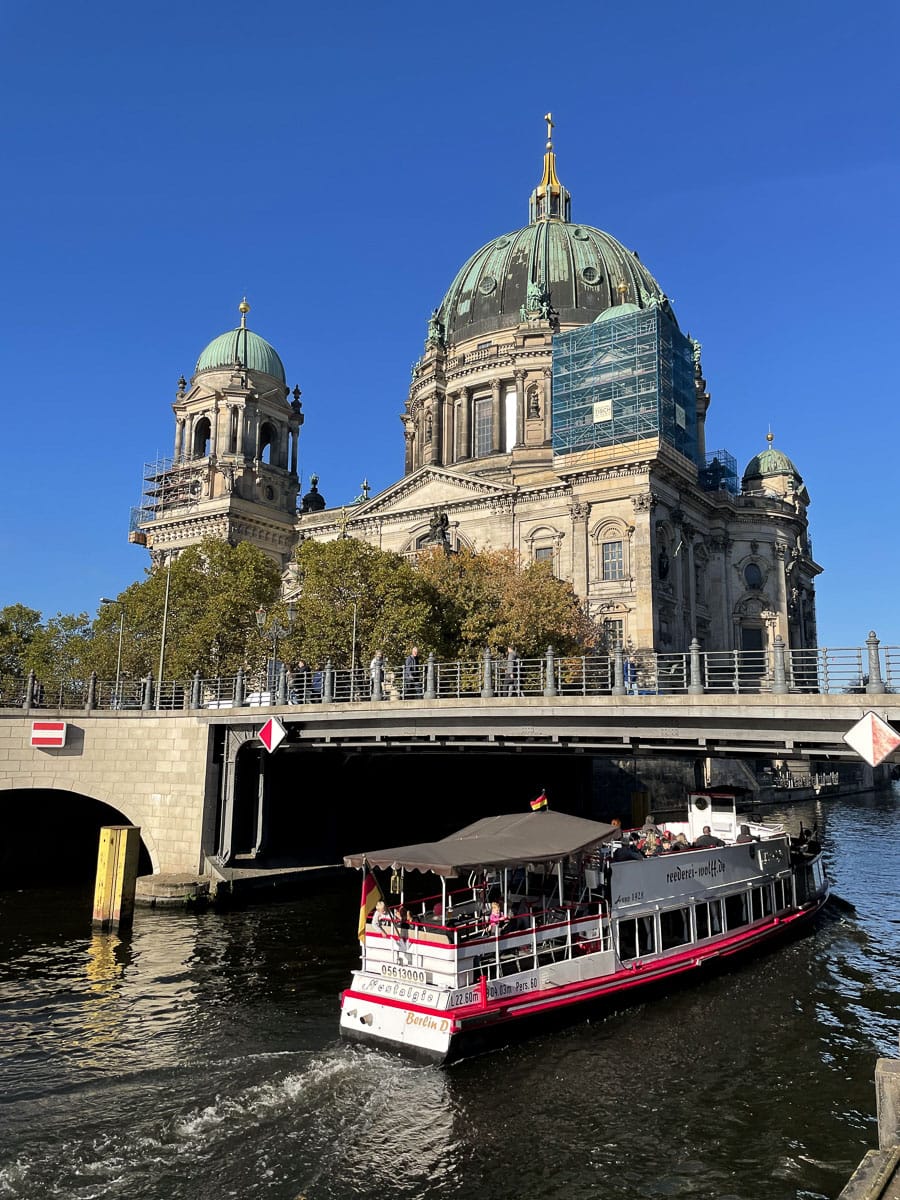 All in all, if you're first time visitors then Mitte is the best location. Mitte is also a good choice if you have limited time in the city and you want to see as much as you can during a short stay.
Best Hotels in Mitte:
NH Collection Berlin Mitte Friedrichstrasse – This 4-star luxury hotel is conveniently located in the heart of Berlin, right along Friedrichstrasse, a vibrant business hub booming with shopping, cafes, restaurants, and popular sights. Nearby tourist attractions include the Brandenburg Gate, Museum Island, and its close proximity to the Friedrichstrasse Train Station provides access to many more, including the moving Palace of Tears exhibit. After a long day of exploring the city, you can unwind with a sumptuous German meal at the restaurant or in one of the restaurants right next to the hotel, a relaxing drink at the bar, or a de-stressing time at the sauna.

Leonardo Hotel Berlin Mitte – Leonardo Hotel has a great view of the River Spree and is within walking distance to Museum Island, Brandenburg Gate, and Friedrichstrasse. The hotel features comfortable and contemporary rooms, equipped with modern facilities like health and wellness facilities, fitness center, and an in-house bar and restaurant.

TITANIC Comfort Mitte – For budget travelers wanting to stay in Mitte but make the most out of their budget, TITANIC Comfort Mitte is a good option. While it's affordable, the modern rooms are tastefully designed and elegant. It's situated between Alexanderplatz and Potsdamer Platz and near Gendarmenmarkt and Museum Island.
For more accommodation options, check our guide to the best hotels in Mitte, Berlin.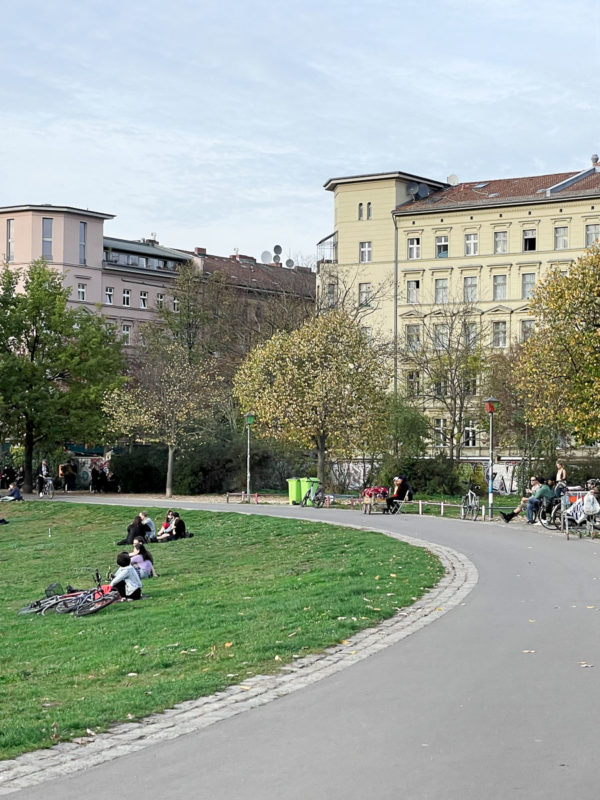 Kreuzberg
Kreuzberg is part of the larger Friedrichshain-Kreuzberg borough, located to the south of Mitte. Kreuzberg is a lively, vibrant neighborhood known for its diverse population, cool art scene, and alternative culture. This district also has an interesting history since it has witnessed many transformations in recent years (it was part of the former West Berlin when the city was divided).
The fall of the Berlin Wall brought new opportunities for development, attracting an eclectic mix of residents from young professionals, students, artists, and musicians. This is reflected in the streets of Kreuzberg with all of its art galleries, street art, trendy cafes, and lively nightlife scene.
One of the most famous historic landmarks found here is the reconstructed Checkpoint Charlie, located between Mitte and Kreuzberg. The original separated West Berlin and East Berlin during the Cold War. The Topography of Terror is also nearby, a free museum documenting the crimes that took place in the site during the Nazi regime.
Another important educational museum within walking distance from Checkpoint Charlie is the Jewish Museum, dedicated to Jewish history and culture in Germany. If you're more interested in art, the Berlinische Galerie and Martin-Gropius-Bau are worth visiting. You can also admire the street art and graffiti-covered walls found all along the neighborhood.
Make sure to head to Kottbusser Tor, a bustling center in east Kreuzberg with lots of great restaurants and markets offering a wide array of Middle Eastern cuisine. It's also well known for the nightlife scene and is home to all sorts of bars, clubs, and music venues.
Kreuzberg has a lot of green spaces and parks like Görlitzer Park and Victoriapark. There's also Landwehr Canal, a stretch of water running parallel to the Spree River. Many locals and tourists walk, jog or sit by the banks during warm days.
Pros of This Neighborhood: The main pros of staying in Kreuzberg are its vibrant cultural and art scene, young vibe, and diverse atmosphere. You'll be in close proximity to all sorts of events in music venues, art galleries, and cultural institutions. It's also a great place for those who prioritize food and nightlife because of the wide variety of bars, clubs, restaurants, food stalls, markets, and cafes you'll find in Kreuzberg. It's a fun place to make your home base while in Berlin.
Cons of This Neighborhood: If you want to be as close as possible to the more mainstream tourist attractions, then Kreuzberg may not be the right place for you. And, while parts of Kreuzberg may not be as near to the tourist hotspots, it does still experience high demand and crowds. Accommodations in this area tend to be less luxurious and high-end compared to other neighborhoods. Lastly, since Kreuzberg is known for its lively atmosphere, it may not be ideal for travelers looking for a quiet or relaxing stay since it can be noisy and loud depending on where you stay.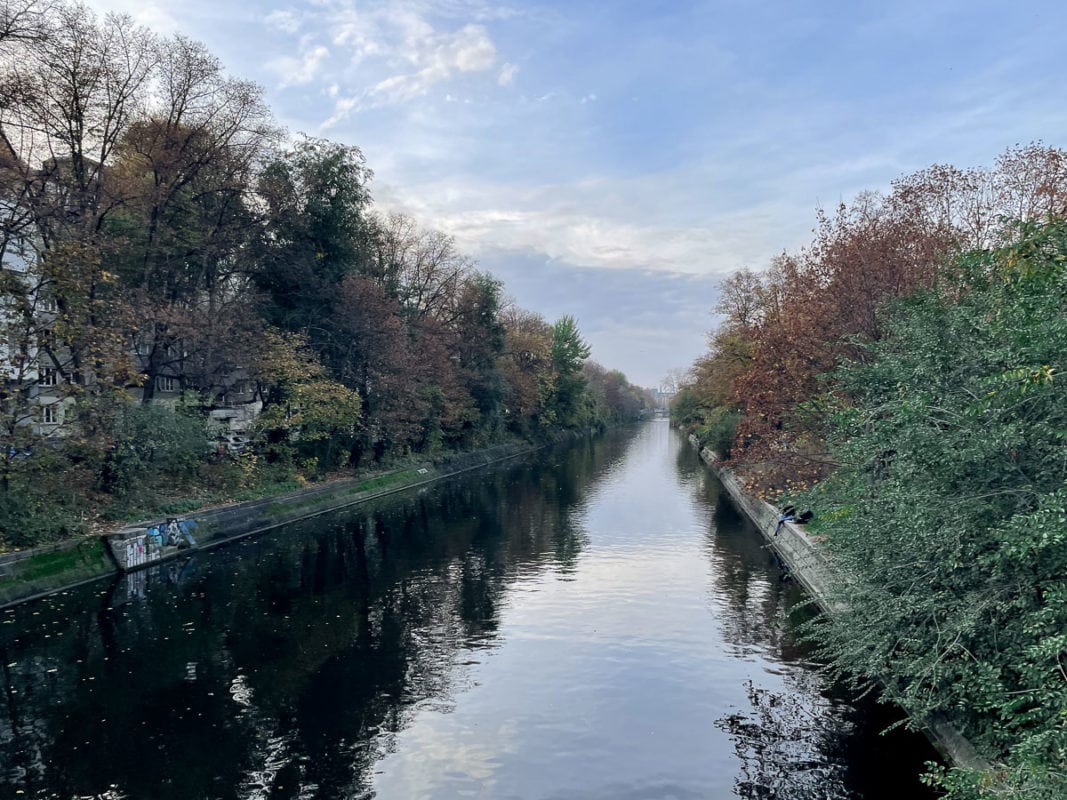 Best Hotels in Kreuzberg:
Orania Berlin – This luxury boutique hotel is housed in a historic building in the heart of Kreuzberg in a bustling street filled with cafes and shops. The rooms offer an elegant blend of modern and historic charm with upscale furnishings. It has sophisticated amenities like a bar serving artisan cocktails, regular live music, and an on-site restaurant serving local cuisine.
Mondrian Suites Berlin am Checkpoint Charlie – This mid-range hotel is located near Checkpoint Charlie, making it close to both Mitte and Kreuzberg. There are different types of rooms available like studios and or 1-bedroom suites. Many of them have balconies with good city views.
Hotel Johann – Hotel Johann is located 10 minutes away from both the Jewish Museum and the Berlinische Galerie. The casual and comfortable rooms feature bright decor, wood floors, and free WiFi.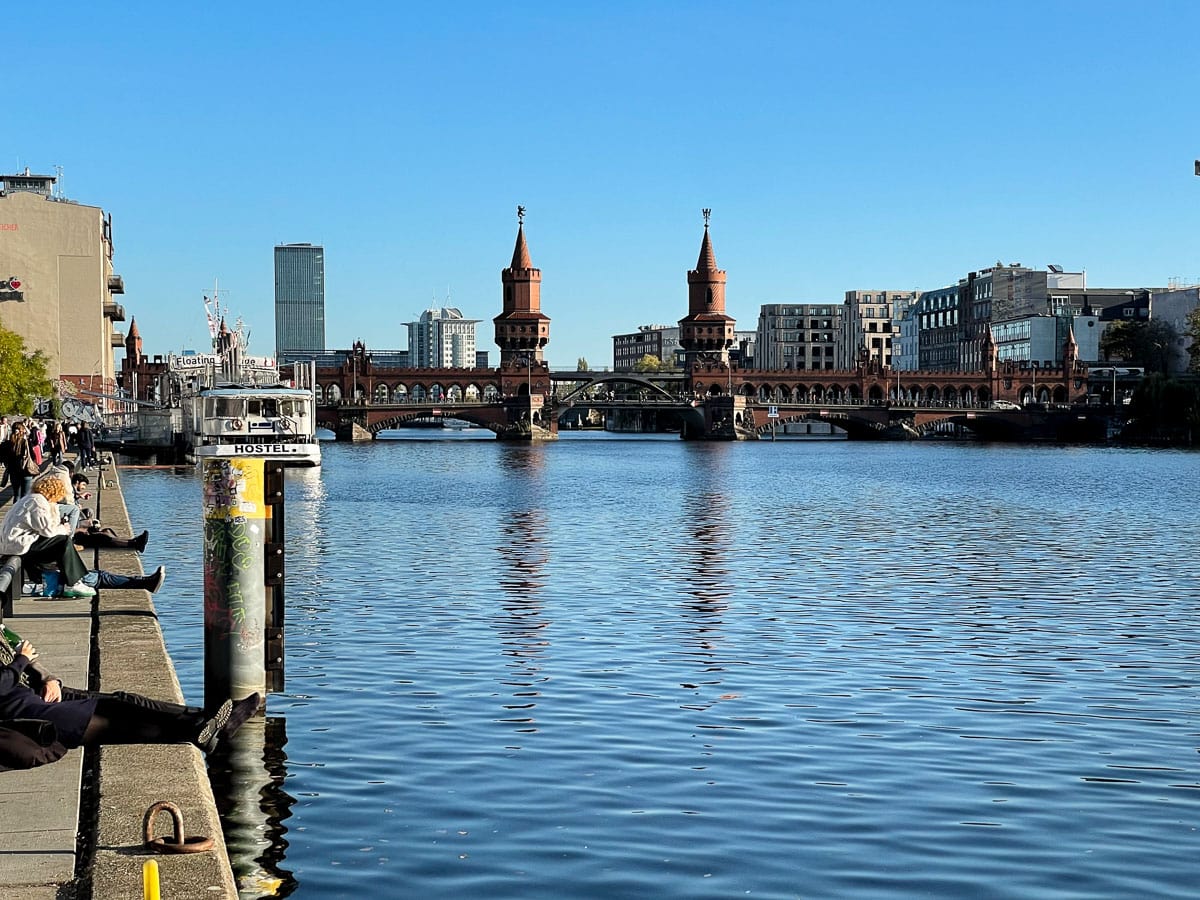 Friedrichshain
Friedrichshain is quite similar to Kreuzberg, but it was part of East Berlin as opposed to West Berlin. It's also part of the larger Friedrichshain-Kreuzberg borough and is located southeast of Mitte and east of Kreuzberg.
Friedrichshain used to be a working-class district that was badly damaged during World War II. Following the fall of the Berlin Wall and the German reunification, it began to develop a reputation as a young and dynamic district because of different socio-political movements.
Now, it's a highly urban area known for its vibrant nightlife, alternative culture, and artistic atmosphere. There are also lots of affordable accommodation options, trendy bars and restaurants, making it a popular area for young people.
The most notable landmark in Friedrichshain is the East Side Gallery, a former section of the Berlin Wall with over a hundred original mural paintings created by artists from all over the world. At the end of the wall, you can walk through the Oberbaum Bridge (Oberbaumbrücke), a beautiful Gothic-style bridge connecting Friedrichshain and Kreuzberg.
Along the Spree, you'll also find Holzmarkt 25, a former industrial site that has been turned into a multifunctional complex. If you want a feel of the creative and alternative vibe of the district, then this is a popular place to go. Holzmarkt 25 is home to various bars, art studios, food stands, and outdoor spaces. It also hosts a wide range of events from live performances, exhibitions, workshops, and markets.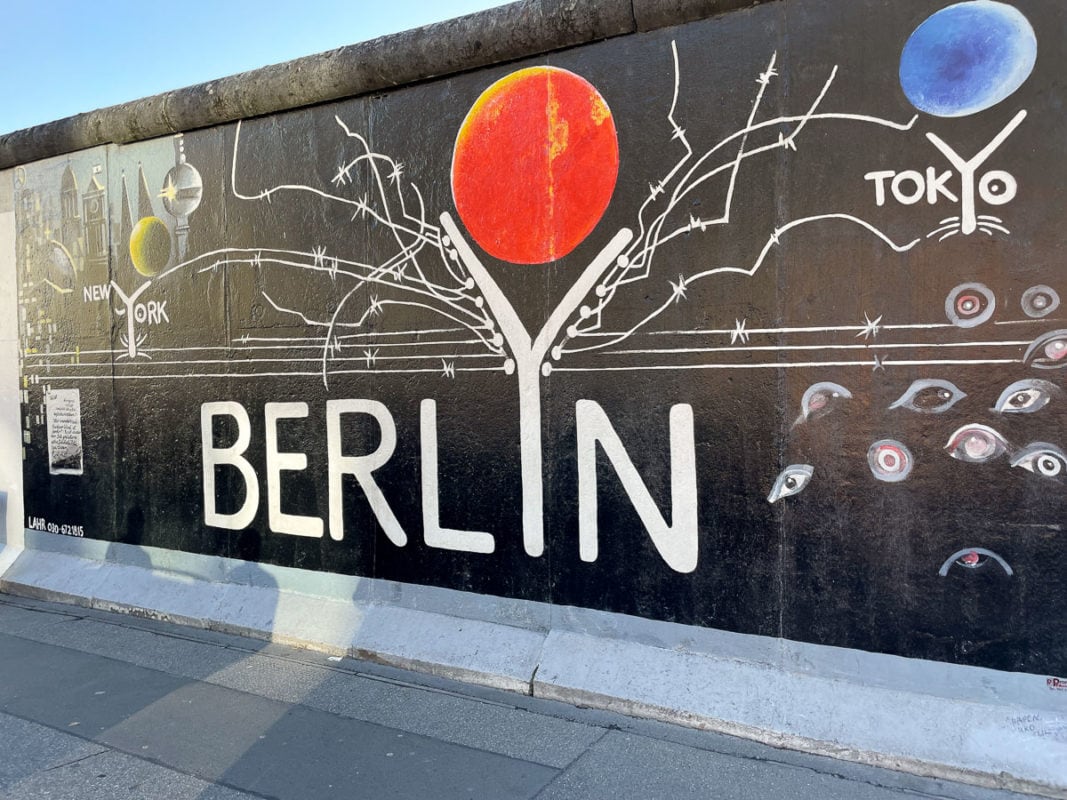 Karl-Marx-Allee, the main boulevard, is a must-see architectural and historical landmark. It's lined with monumental apartment buildings and wide sidewalks with imposing Stalinist architectural features. Nowadays, the boulevard is a popular destination full of shops, restaurants, and cultural institutions.
Another popular area is Boxhagener Platz, a small park/square surrounded by a variety of cafés, restaurants, and great bars. On Sundays, a popular weekly flea market takes place here and you can find all sorts of antiques, vintage items, clothing, and other unique gifts. The ambiance in this area is always vibrant, social, and lively.
For green spaces, check out Volkspark Friedrichshain, Berlin's oldest public park. Here you can relax under the sun, enjoy outdoor activities, have a picnic, and admire landmarks like the Fairy Tale Fountain.
Pros of This Neighborhood: Like Kreuzberg, Friedrichshain is a great choice if you're looking to stay in a more artsy, alternative, and eclectic atmosphere. The vibrant nightlife and entertainment scene may also be a big draw because of all the clubs, bars, and fun events in the area. It's also easier to find more affordable dining and accommodation options here compared to other neighborhoods, while still staying relatively close to Mitte.
Cons of This Neighborhood: You likely won't be as close to many of the main attractions in the city center without having to use public transportation. And while hotels here might be more affordable, many are more budget-type accommodations. It's also good to keep in mind that some areas might get noisy because of bars and clubs. Some areas may feel a little less safe at night.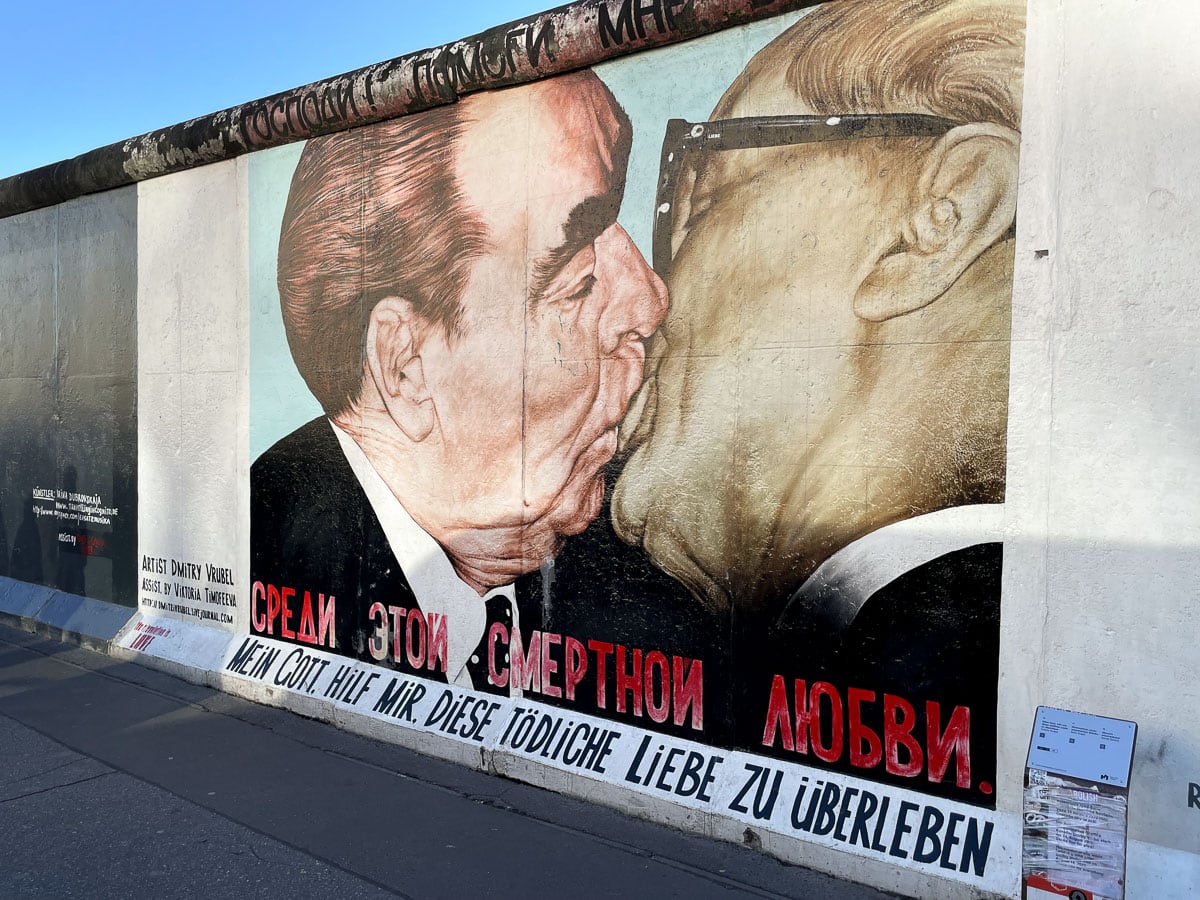 Best Hotels in Friedrichshain:
Hotel Indigo Berlin East Side Gallery – Hotel Indigo is a 4-star hotel that's part of the IHG brand. It overlooks the Spree and is just minutes away from the East Side Gallery and Oberbaum Bridge. Each room is individually furnished and has air-conditioning. There's also a delicious breakfast buffet offering vegan, vegetarian and gluten-free options.
nhow Berlin – nhow Berlin is a sleek, modern hotel located directly on the banks of the river Spree and is 10 minutes away from the East Side Gallery. The hotel has spacious family rooms, air-conditioning, and some with river views It has amenities like a sauna, fitness center, and a trendy restaurant and bar with DJ performances.
AMANO East Side – AMANO East Side is located near the Spree and around a 12-minute walk from the East Side Gallery. The hotel features standard rooms with air-conditioning, free wi-fi, and a garden and terrace on-site.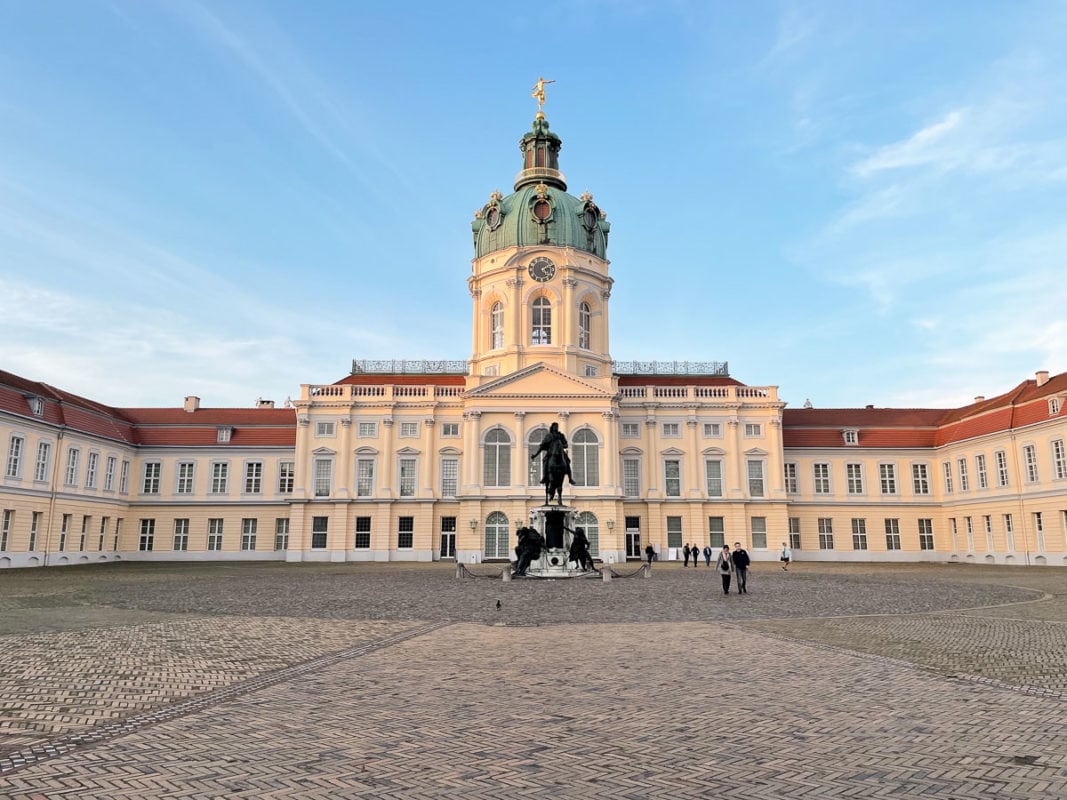 Charlottenburg
Charlottenburg is located in the western section of Berlin and is part of the borough of Charlottenburg-Wilmersdorf. This neighborhood is known for being one of the more upscale neighborhoods with grand buildings, elegant streets, and historic landmarks. It's a mix of a residential and commercial neighborhood and is quite popular with tourists because of the famous Charlottenburg Palace.
Charlottenburg Palace (Schloss Charlottenburg) is the largest surviving royal palace in Berlin. It dates back to the 17th century and features beautiful Baroque and Rococo style architecture. The palace grounds are extensive, made up of several wings and new pavilions that have been restored with their original furnishings. It's also a good place to escape the bustling streets of the city and spend time outdoors strolling through the gardens.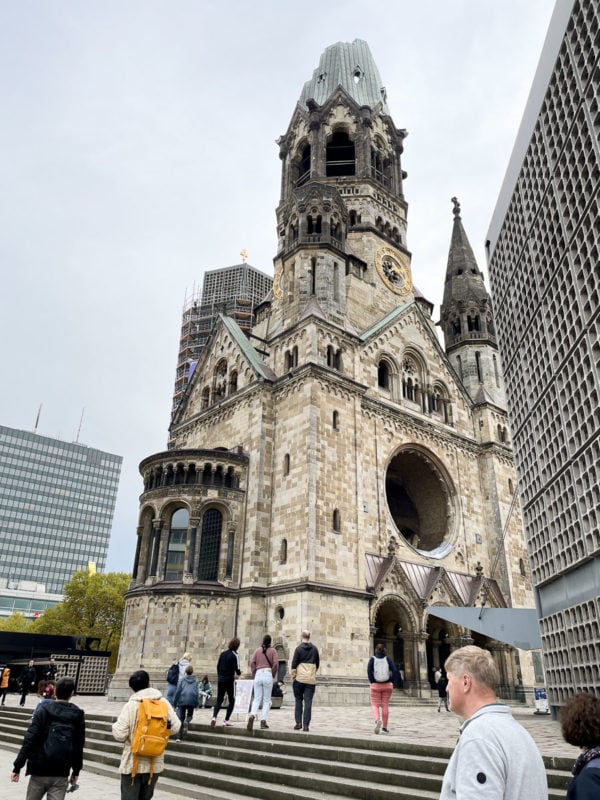 Another major landmark in Charlottenburg is the Kaiser Wilhelm Memorial Church, a striking church ruin and memorial that stands as a memorial against the war and destruction caused during World War II. The church is located along Kurfürstendamm, a vibrant boulevard and shopping street with high-end boutiques, department stores (including the famous KaDeWe), restaurants, and cafés. One of the best things to do in this Berlin district is to shop!
Other cultural landmarks include the Deutsche Oper, one of the biggest opera houses in Germany where you can catch an opera or ballet performance. There's also the Museum Berggruen, which is just right across the Charlottenburg Palace, and is home to an impressive modern art collection.
Pros of This Neighborhood: Charlottenburg is the perfect place for those who want a more high-end and upscale stay in the city. The architecture, streets, and buildings are all very grand, elegant, and polished. It's also a great choice for anyone who wants to splurge since it's home to some of the best luxury stores, hotels, and restaurants. It's also one of the safest neighborhoods in Berlin, making it popular for families who want a calm and quiet stay.
Cons of This Neighborhood: On the other hand, Charlottenburg can feel quite commercialized with all shopping areas and may feel like it lacks the charm that other Berlin neighborhoods offer. It can also be more expensive compared to other areas, especially for accommodations. In terms of location, it's well connected with public transportation to the city center. But it's not walkable to many of the main tourist attractions.
Best Hotels in Charlottenburg:
Dorint Kurfürstendamm Berlin – This luxurious 4-star hotel has top amenities including relaxing spa facilities, gym/fitness studio, a steam room, and an upscale in-house French restaurant. The rooms feature high windows, air-conditioning, sound system, and sleek furnishings. It's just 5 minutes away from Kurfürstendamm, near many of the luxury retailers and restaurants in the area.
Sir Savigny Hotel – A stylish boutique hotel set within a historic building from the late 1800s. It's within walking distance from Kurfürstendamm and near many literary and cultural venues, bookstores, galleries and literary salons. The rooms are elegantly designed with custom furnishing and unique art nouveau touches. It also has a great in-house kitchen with delicious meat dishes.
Hotel Q! Berlin – Hotel Q! is also along Kurfürstendamm. The hotel features striking, minimalist rooms with the options for studios or suites. There's also a modern spa area with a Finnish sauna, a steam bath, and beauty treatments. Guests can also enjoy Thai dishes in the restaurant or relax with a cocktail at the terrace bar.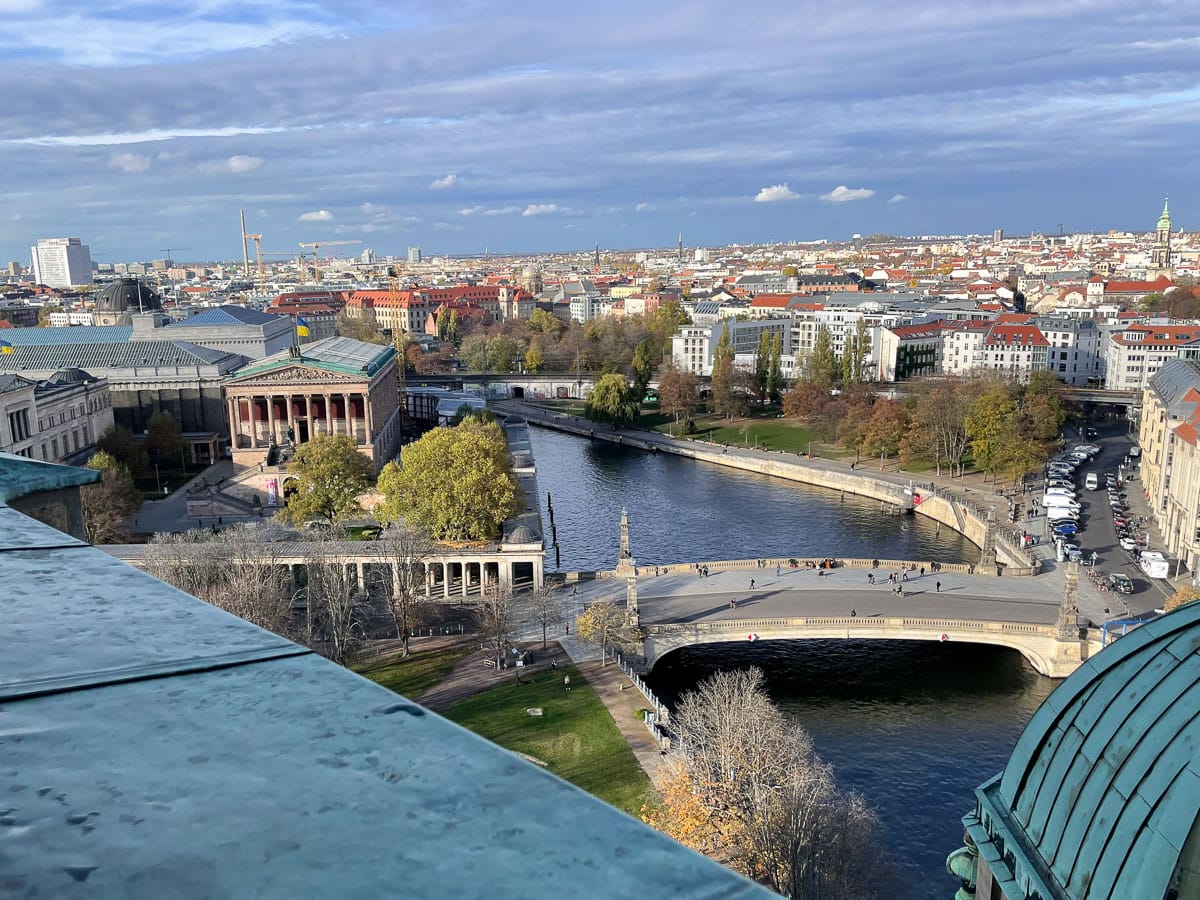 Moabit
Moabit is an inner city district that is part of the larger Mitte borough. Moabit is technically an island, since it's surrounded by three waterways, including the Spree River and the Westhafen Canal. It was originally a working-class district but later became home to a mix of industrial facilities and residential areas. Now, it's a bustling and diverse neighborhood that attracts its fair share of tourists.
The most notable landmark is the Berlin Central Station (Berlin Hauptbahnhof), one of the main gateways into the city and one of the busiest train stations in the country as it serves many locations, both nationally and internationally.
Moabit is also home to the Hamburger Bahnhof Museum. The museum was located in a former train station and is seen by its unique architecture. It's an important center for contemporary art with must-see artworks from iconic artists like Andy Warhol, Roy Lichtenstein, Joseph Beuys, and many more.
Another cultural spot is the Arminius Markthalle, a restored market hall offering a variety of culinary delights, local crafts, and a lively atmosphere with its different live performances, events, and activities.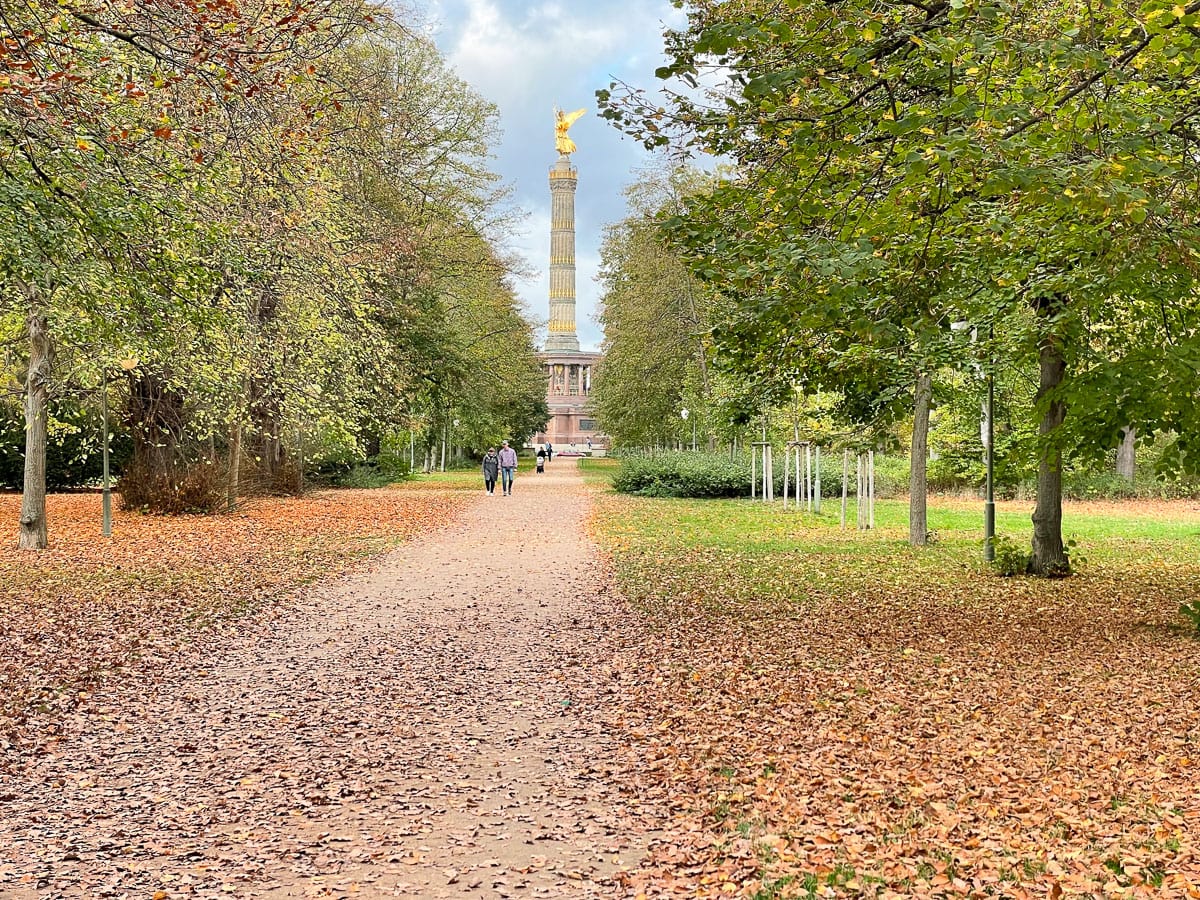 Pros of This Neighborhood: Since it's part of Mitte, one of the best things about staying in Moabit is the location. It's very centrally located and a short distance from many of the major landmarks in the Mitte proper area. You'll have the convenience of the location while also having access to more affordable accommodation options. It's also the best location for those who might have trips arriving or leaving from the Berlin Hauptbahnhof and want to stay nearby. The neighborhood also has a multicultural environment, and is reflected in the restaurants, cafes, and market hall.
Cons of This Neighborhood: Some downsides include how busy and hectic it can get because of the central train station. Both commuters and tourists are always coming and going so it can get very crowded, depending on the time. There's also not much to see in the district so you would really have to venture out to the neighboring districts and surrounding area. Lastly, there aren't a lot of higher-end options for accommodations, if that is something you are prioritizing.
Best Hotels in Moabit:
Steigenberger Hotel Am Kanzleramt – This high-end hotel is just a minute away from the Berlin Train Station and has amazing views of the German Chancellery and Reichstag buildings. The rooms are sleek and modern and have all necessities including air-conditioning. Amenities include an international restaurant/bistro and bar, plus a spa area with a sauna and fitness center.
Mercure Hotel MOA Berlin – The Mercure Hotel is situated in a historic building and has a unique large atrium lobby. The rooms and suites are all bright, sleek, and modern. Some interesting features include a shopping center, a stylish bar with a fireplace, an international restaurant, and over 30 meeting rooms for business travelers.
Motel One Berlin-Bellevue – This contemporary budget hotel features modern rooms with air-conditioning and en suite bathrooms. Upgraded rooms also come with shared balconies. The hotel has a chic bar and café serving cocktails, beer, and light fare.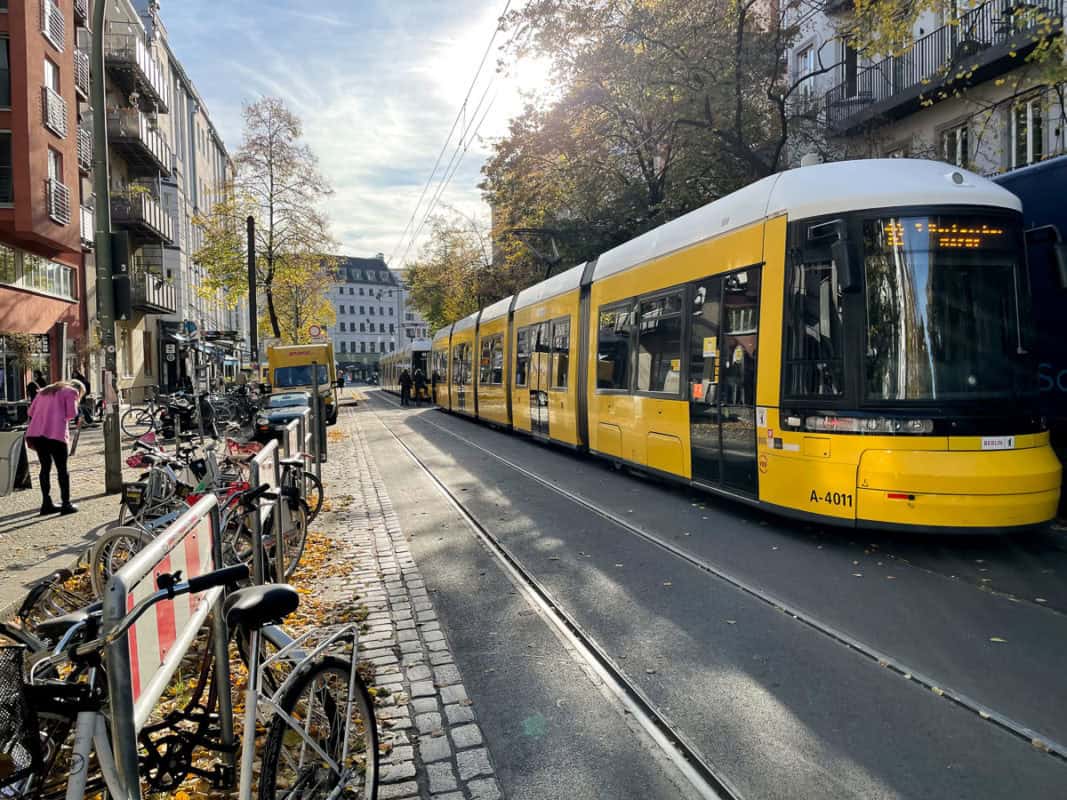 Prenzlauer Berg
Prenzlauer Berg is a neighborhood in the northeastern part of Berlin and is part of the borough of Pankow. The district has a really interesting history, heavily associated with the bohemian, activist, and gay community counterculture. It was an historically important site for the revolution that led to the fall of the Berlin Wall. Since then, it has undergone significant revitalization and gentrification, attracting a mix of residents from students, artists, and young professionals.
Kollwitzplatz is the heart of the neighborhood. The city square is a popular hangout spot with its weekly market, array of restaurants and cafes, and lively atmosphere. Another popular area is the Oderberger Strasse, a picturesque street with lots of independent shops, cafes, vintage clothing stores, and trendy eateries.
Another must-visit is Mauerpark, a lush public park known for its huge Sunday flea market and fun, iconic karaoke sessions at the amphitheater. For more recreational activities, make sure to also check out Prater Garten, Berlin's oldest beer garden, where you can enjoy seasonal local brews under chestnut trees. The Kulturbrauerei is also a great spot. It's a former brewery complex that has been turned into a cultural center. It hosts regular events, concerts and festivals and is home to nightclubs, bars, and restaurants. Be sure to visit the free museum illustrating daily life in former East Germany.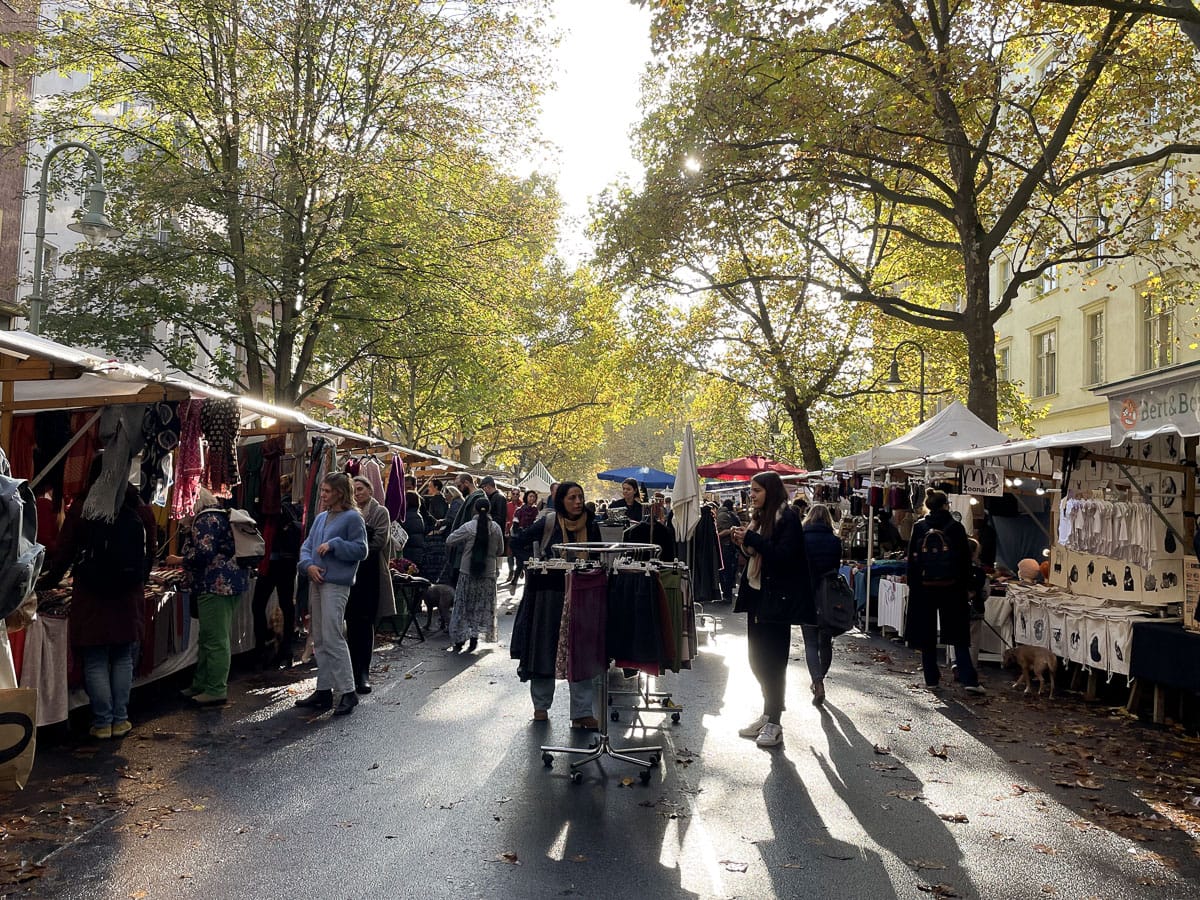 For more historical landmarks, the Berlin Wall Memorial can be found in Prenzlauer Berg. The memorial commemorates the partition of the city with a large open-air exhibition on the former border strip. There's also the Wasserturm Prenzlauer Berg, Berlin's oldest water tower.
Pros of This Neighborhood: One of many perks of staying in Prenzlauer Berg is the location. It's near enough to Mitte to where you can easily reach all of the main tourist attractions. But you can also spend a good amount of time in Prenzlauer Berg immersing yourself in the local cultural scene. It has a fun, trendy atmosphere while also being quite laidback and family-friendly.
Cons of This Neighborhood: Given all of this, Prenzlauer Berg has been gaining a lot of popularity recently with tourists. So it's not immune to crowds and higher prices that come with the peak travel seasons. There are many dining options and events, but it may not have that many landmarks in comparison to other areas.
Best Hotels in Prenzlauer Berg:
Myer's Hotel Berlin – Myer's Hotel is a 4-star luxury hotel located near Kollwitzplatz and Wasserturm Prenzlauer Berg. It's set in a beautiful stone historic building. The classical-style rooms feature dramatic wallpaper, high ceilings, and elegant furnishing. They also offer a delicious breakfast buffet and amenities like a classy lobby bar, a spa with a steam room and saunas, and a garden with sculptures and terrace seating.
Hotel Oderberger – Hotel Oderberger is a unique hotel located in a former public bathhouse from the early 1900s. There's different types of rooms available from suites and apartment-style with kitchenettes. Guests are welcome to use the indoor pool, sauna, and spa center.
MEININGER Hotel Berlin Alexanderplatz – This hotel is ideal for those looking for budget options with flexibility and comfort in mind. There are various room types from mixed dormitory rooms, double rooms, and more spacious family rooms. There's a cafe, bar, game room and shared kitchen and laundry facilities available.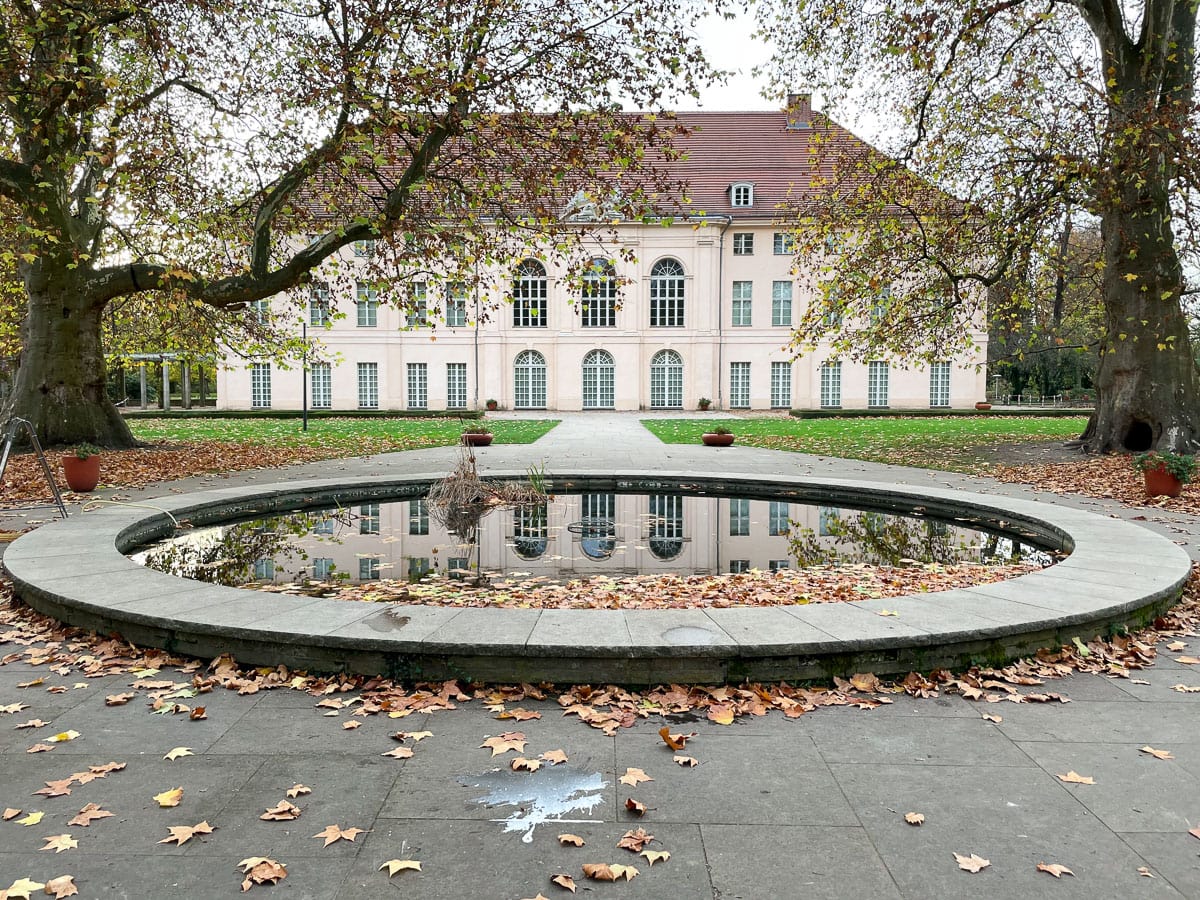 Pankow
Pankow is the second largest borough in Berlin. It's located in the northeastern part of Berlin and is known as being more of a residential area. It has a relaxed and family-friendly atmosphere and is an ideal location for those looking for a quieter stay away from the more touristy areas of Berlin.
One of the most historically significant landmarks in Pankow is the Schönhausen Palace. Once a residence of East German leaders, it now serves as a museum and event venue, offering a glimpse into the district's political history. The Baroque palace is also surrounded by gardens through which the Panke river runs. Citizen Park Pankow is a nice green space with meadows, a grand gate, cafe, and a library.
Pros of This Neighborhood: Because this area is not so popular with tourists, accommodations tend to be more affordable. This also means that it doesn't really get crowded or touristy in many parts of the district. It has more of a residential and local charm. It's also a very safe, family-friendly and calm area for those looking to get away from the hustle and bustle of the city center.
Cons of This Neighborhood: But with that being said, if it's your first time in Berlin, it may not be the best idea to stay here since it's quite far from the Mitte, where all the must-see destinations and historical sights are found. There isn't much to see around Pankow since it's more residential. There are also limited dining and shopping options compared to the more busy, trendy districts of Berlin.
Best hotels in Pankow:
Living Hotel Weissensee – This hotel is located on a quiet, leafy residential street near a park in Pankow. The modern rooms are all air-conditioned and some have kitchenettes and separate living room areas. There's an in-house restaurant, beer garden, as well as a kids' play area, spa, steam room, and gym.
Businesshotel Berlin – The Businesshotel Berlin offers casual, comfortable en-suite rooms with all basic amenities at an affordable rate.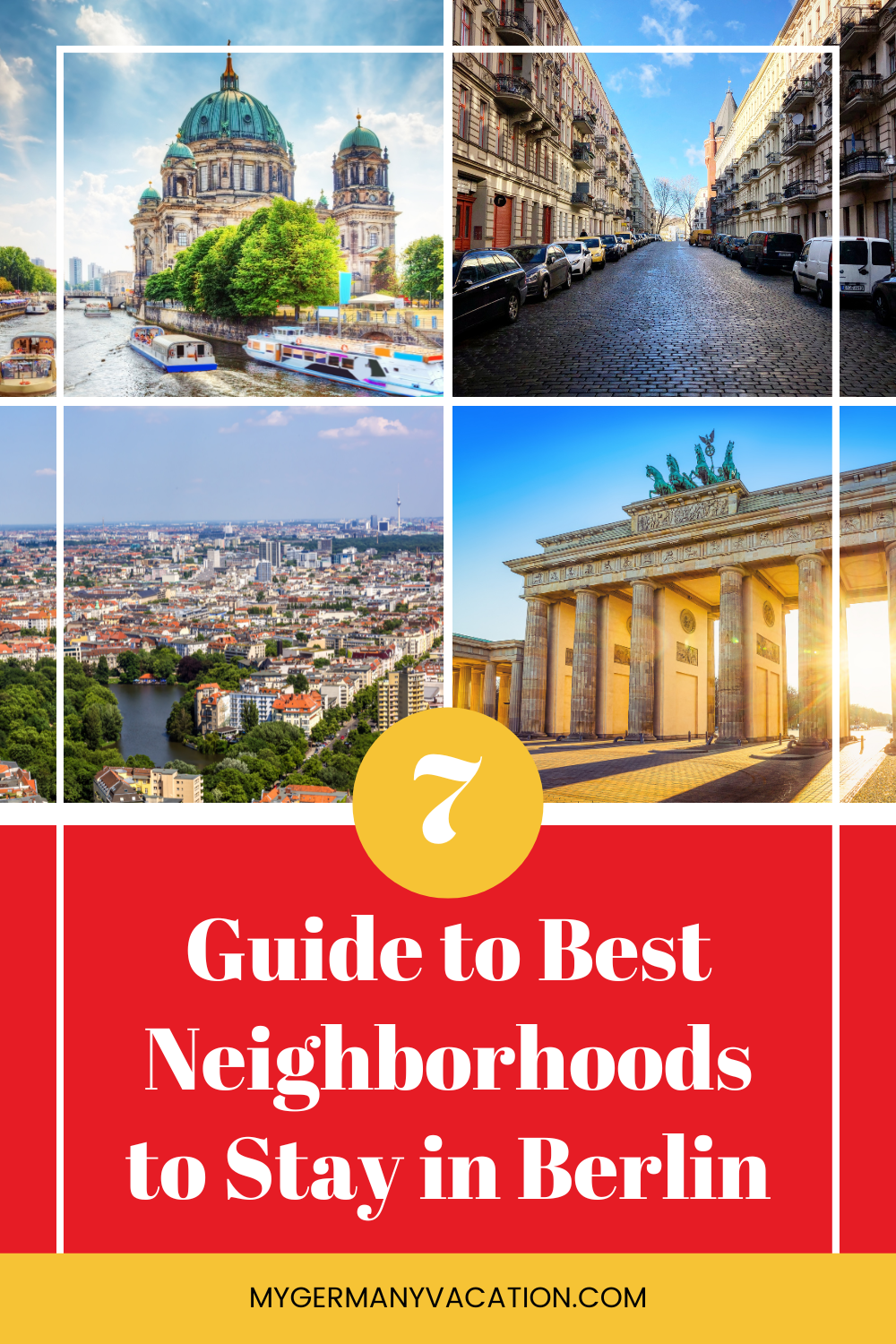 Next Steps For Planning Your Trip: