12 Best Christmas Markets to Visit in Berlin, Germany
This post may contain affiliate links. Read my disclaimer policy.
Berlin's Christmas markets are some of the best markets you'll find not only in Germany but all throughout Europe! With well over 70 Christmas markets all around the city, it can be tough narrowing down your list of Christmas markets to visit.
Are you looking for your classic Christmas market experience with drinking Glühwein and eating traditional German Christmas delicacies? Are you in the mood for fun activities like ice skating and exciting amusement rides? Or maybe you're looking for a Christmas market with a unique twist like one set in a palace or medieval village?
Berlin has them all! Here's your guide to visiting the best Christmas markets in Berlin.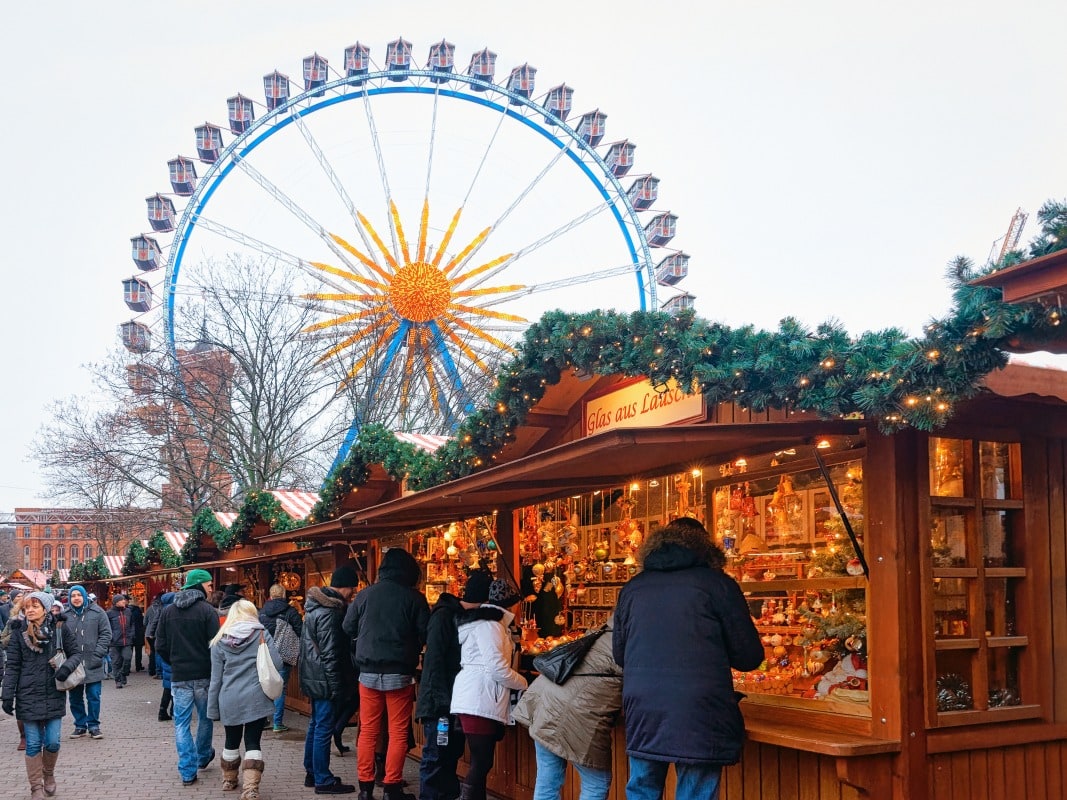 What is Christmas in Germany Like?
The festive season in Germany is one of the best times to visit. It's a time full of celebrations, traditions, gifts, and delicious food! It's my favorite time of year in Germany.
Traditionally, Germany celebrates Christmas for 3 days, beginning on Christmas Eve and going until December 26th. But official dates aside, the festivities begin much earlier. For example, Saint Nicholas Day, a special Christmas tradition that's celebrated by kids in Germany, in the evening of December 5th and the morning of December 6th during the Advent Christmas season.
Advent begins on the 4th Sunday before Christmas and it's also usually when Christmas markets begin opening. Because of this, Christmas markets are a big and important part of celebrating Christmas in Germany. So if you're traveling to Germany any time from late November until the end of December, you'll have no trouble finding Christmas markets to visit.
Nearly every town has some sort of Christmas market, and large cities often have a main market in the city center and several smaller ones scattered throughout the city. This is the case for Berlin. There are over 70 Christmas markets spread out all over the city. Each of them offer something unique and have different atmospheres and specialties, so no two Christmas markets are alike!
You'll find everything from historic and nostalgic markets, small markets with a focus on sustainability or charity, and many with exciting amusement rides that's perfect for kids.
Of course, almost all markets have the staples like food stalls with the best seasonal Christmas market food, handicrafts and souvenirs, bright and festive decorations, and live music or performances.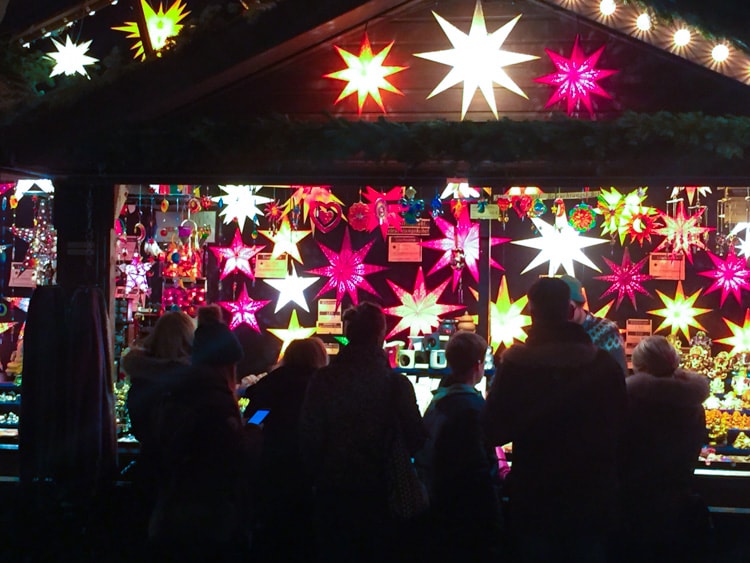 Tips for Visiting Christmas Markets
I've visited hundreds of German Christmas markets over the past 3+ decades. Here are some tips to make your visit enjoyable and memorable:
Dress warmly and in layers – Christmas markets are outdoor markets so it's important to be prepared for the current weather. If it's near or below freezing, dress warmly so you can enjoy walking around or standing at the market. Christmas markets are no fun if all you can think about is how cold you are.
Merino wool everything – a travel staple for me because it's lightweight, doesn't wrinkle, keeps me warm, and doesn't retain odors.
Secret pocket scarf – a scarf is must in cold, wintery Germany, and a secret pocket scarf keeps important items safe! It's especially handy when visiting a popular (crowded) market or when you don't want to deal with carrying a bag, backpack or purse.
Hand warmers – either disposable or reusable (perfect for when you're not holding a mug of Glühwein).
Merino wool knee socks – this is another of my must-haves for winter travel because they keep my legs and my feet toasty warm.
Go during the day and at night – Christmas markets have a different vibe during the day vs at night. My favorite time to visit a market is at dusk because you can catch a glimpse of the market during the day but don't have to wait too long for the lights to turn on. Christmas markets at night just have a magical feel that you don't get during the day.
Bring cash – while you might be able to use a credit card, it's always a good idea to have cash on you.
Arrive hungry – there are so many delicious sweet and savory dishes to try at Christmas markets so arrive ready to dig in. One thing we like to do is splurge on a big Christmas market dinner. We simply walk from stand to stand trying whatever looks good until we're full.
If you want to avoid crowds – go early in the day on a weekday. Evenings and weekends are typically the busiest.
Best Berlin Christmas Markets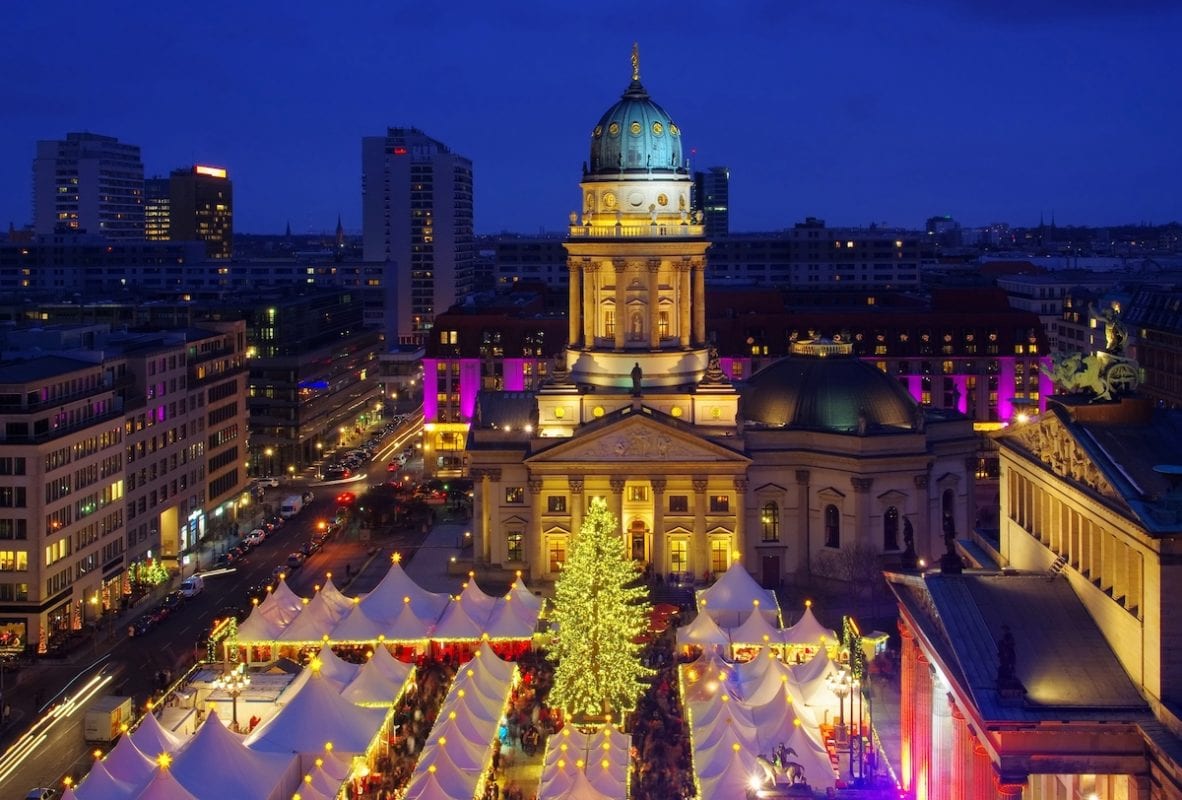 1. Gendarmenmarkt Christmas Market (Weihnachtszauber Gendarmenmarkt)
The Christmas market on Gendarmenmarkt is one of the most popular Christmas markets in the German capital. Over 600,000 people visit the market every year!
It's mostly known for its wide variety of artistic crafts and entertainment. Different kinds of craftsmen like wood carvers, glass blowers, goldsmiths, candle makers, and tailors showcase their skills and products in the stalls and tents.
It's one of the best places to buy unique and locally made Christmas gifts or souvenirs. In addition to arts and crafts, the market has tons to offer in terms of food.
Culinary delicacies include ​​traditional Bavarian and Austrian dishes, as well as other Bohemian and Berlin specialities. Food stalls and even gourmet restaurants serve everything from traditional German dishes to sweet snacks in the heated and covered restaurant area.
Note: Because of construction work, the Christmas market will be held instead at the nearby Bebelplatz from 2022 to 2024. Bebelplatz is located between the State Opera, the Law Faculty of Humboldt University and the Hotel de Rome.
Public transportation stop: U-bahn: Museumsinsel, Hausvogteiplatz, Stadtmitte, or Französische Str / S-bahn: Friedrichstraße or Potsdamer Platz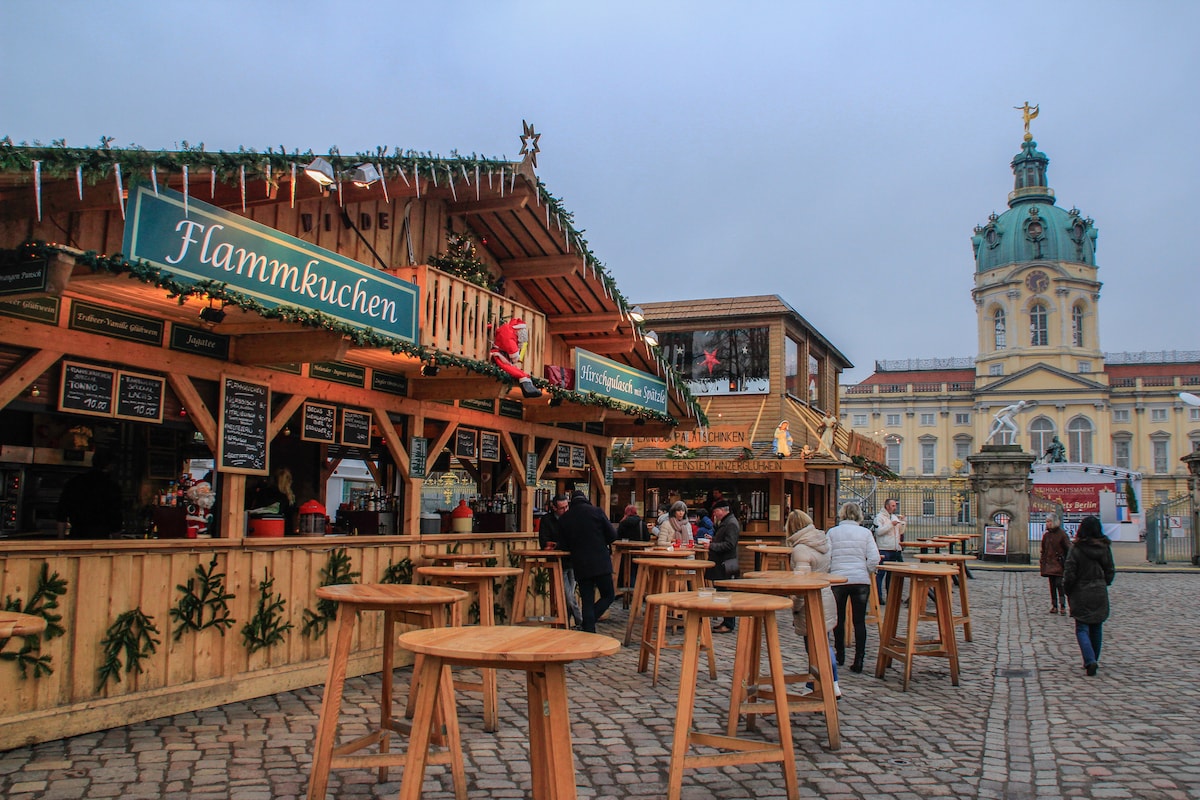 2. Charlottenburg Palace Christmas Market (Weihnachtsmarkt Schloss Charlottenburg)
The Christmas Market at the Charlottenburg Palace is one of the most beautiful Christmas markets. The location makes for an enchanting setting as the decorated tents and illuminated tents are set up in front of the famous Charlottenburg Palace.
More than 250 international exhibitors take part selling all sorts of traditional handicrafts like jewelry, nativity figures, and Christmas decorations.
If you're traveling with children, they will definitely enjoy the petting zoo, the fairground attractions like the tiny roller coasters and merry-go-round and the fairy tale tent where they can listen to fairy tales and other stories.
Public transportation stop: U-bahn: Sophie-Charlotte-Platz / S-bahn: Westend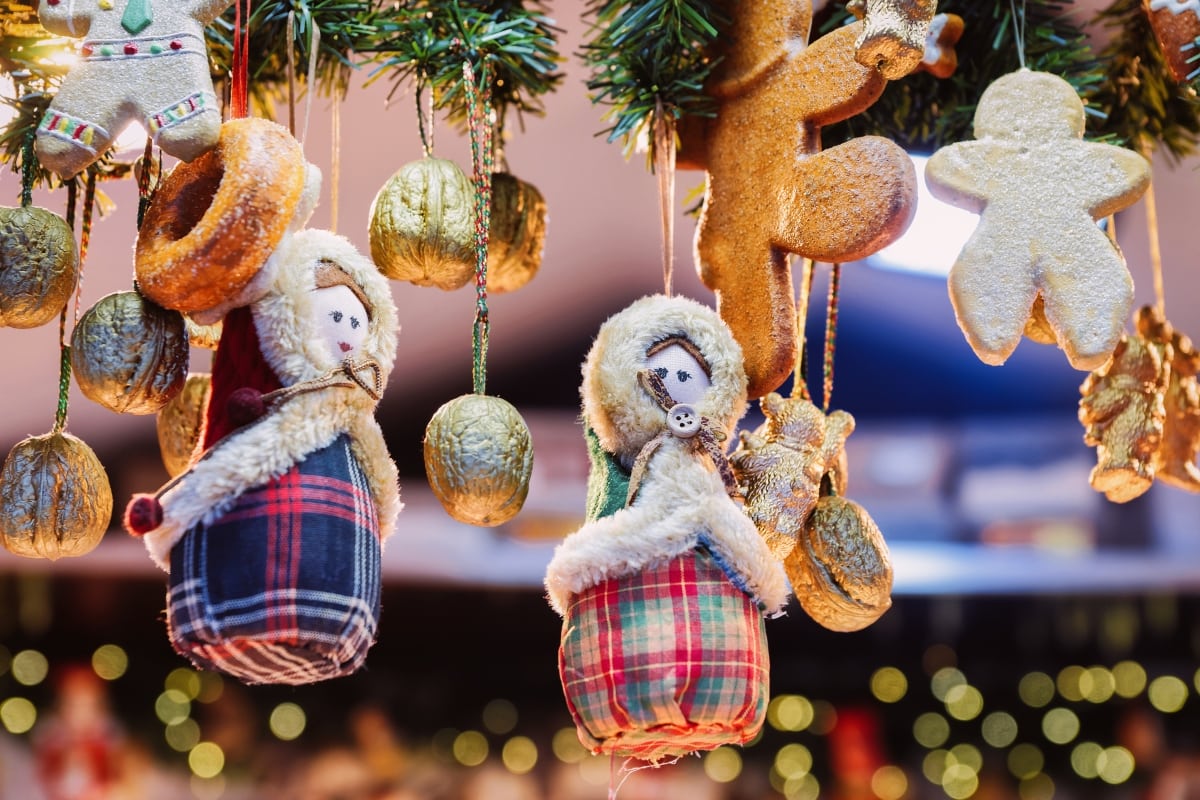 3. Alexanderplatz Christmas Market
This Christmas market takes place in one of the main squares in the city center. Alexanderplatz turns into a wintery, festive wonderland during Christmas time with over 100 market stalls surrounded by the delicious smells of roasted chestnuts and fresh gingerbread.
A highlight of this market is the Christmas pyramid, which is the largest in all of Europe. It's decorated with more than 5,000 Christmas lights and several floors. On the ground floor of the pyramid, you'll find food stalls serving mulled wine and bratwurst while on the second floor you'll hear the tower trumpeters playing Christmas music.
There's also an ice rink in the middle of the square where you can go ice skating or even curling. After a few loops, you can head to the Santa Claus party house, a traditional wood hut where you can get warm, dance, and enjoy hot drinks.
Public transportation stop: U-bahn/S-bahn: Alexanderplatz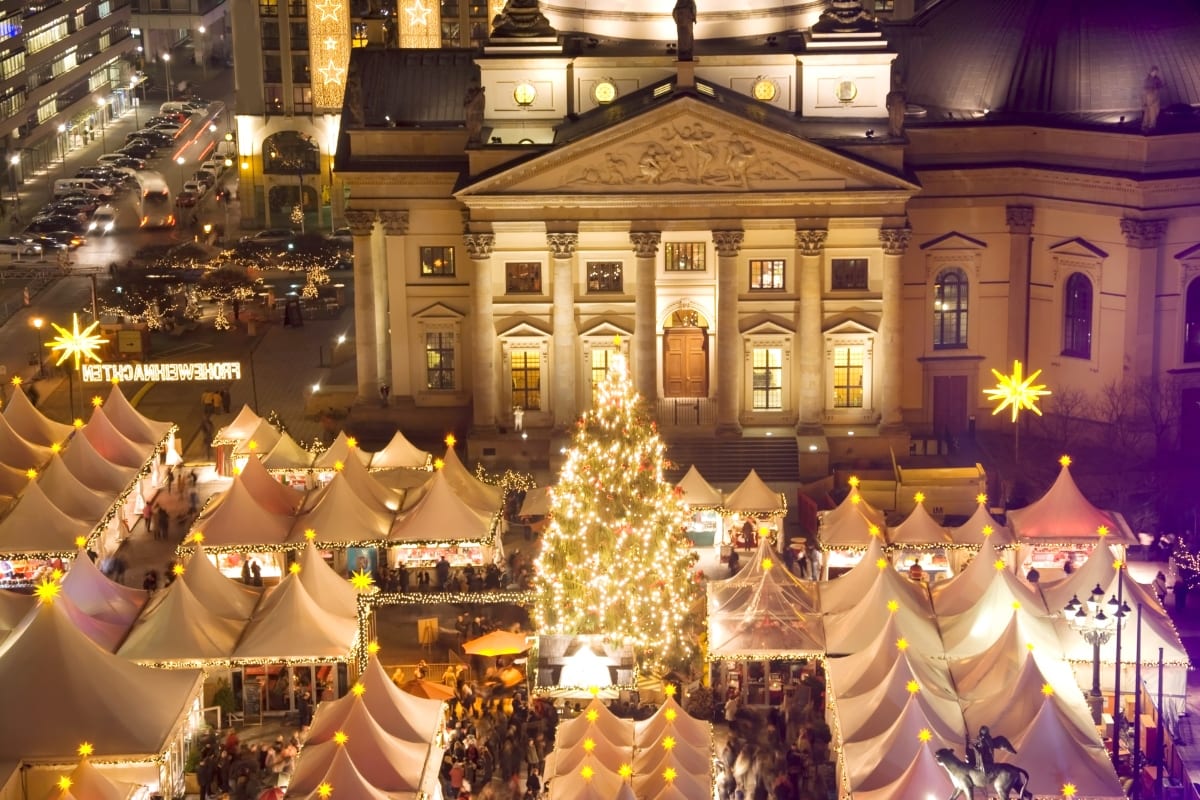 4. Rotes Rathaus Christmas Market
If you're looking for a Christmas market near a historic landmark, then this one has the perfect setting. This market takes place every Christmas season between the town hall (Rotes Rathaus) and St. Mary's Church (St. Marienkirche) and is one of the oldest Christmas markets in the city.
It also has historic touches that transport you back in time like the artisans selling their traditional handicrafts in the Old Berlin market lane and alleys. If you want to see the city from above, the giant ferris wheel towers over the market and provides amazing views of the illuminated skyline including landmarks like the Brandenburg Gate, Unter den Linden, and Potsdamer Platz.
Another highlight of this market is the beautiful circular ice rink, where you can skate around the Neptune Fountain. At certain times of the day, there are even fun ice skating shows.
Public transportation stop: U-bahn/S-bahn: Alexanderplatz
5. Lucia Christmas Market at Kulturbrauerei
Named in honor of the Nordic goddess of light, the Lucia Christmas Market is not your German traditional Christmas market – it has a Scandinavian twist! This market is found in Kulturbrauerei, a historic brick building complex in Prenzlauer Berg that used to be a brewery and has been renovated to house restaurants, clubs, theaters, and a museum.
During the holiday season, it turns into a festive and atmospheric market with Scandinavian touches like Swedish fire logs, mobile yurts, and open-air jacket heating. The wooden stalls offer Scandinavian delicacies like salmon potato soup, elk meatballs, Finnish waffles, and a wide variety of mulled wines or Glögg.
Some Scandinavian traditions are observed like the lantern procession that takes place on Saint Lucy's Day on December 13. It's also a great place to visit with children since there are tons of attractions like a bungee trampoline, a small knight's castle, an old-fashioned swing carousel, and visits from Santa Claus.
Public transportation stop: U-bahn: Eberswalder Straße or Senefelderplatz / S-bahn: Schönhauser Allee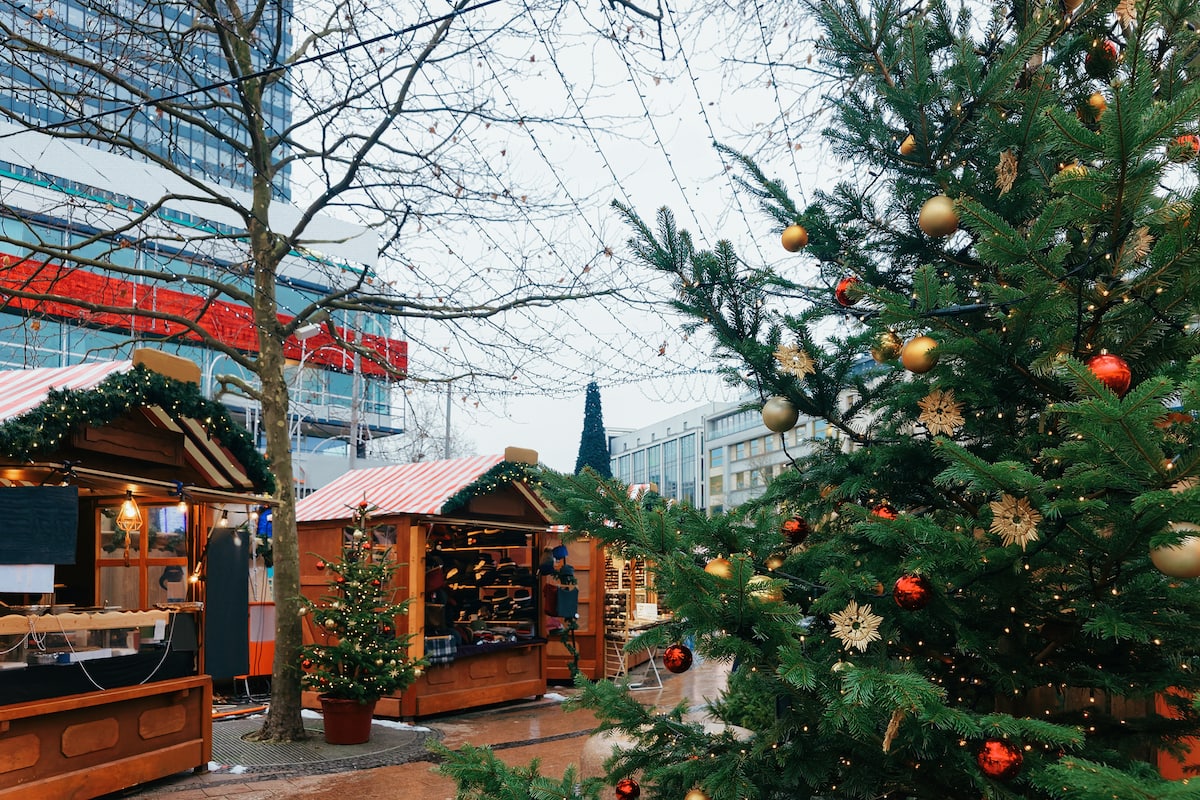 6. Kaiser Wilhelm Memorial Church Christmas Market
If you find yourself doing some Christmas shopping in Kurfürstendamm, Berlin's popular shopping boulevard in the western part of the city center, then Kaiser Wilhelm Memorial Church Christmas Market is a stop worth visiting.
This is also one of the few Christmas markets that usually remains open past Christmas day and can be visited well into New Year's eve. There are over 100 decorated market stalls selling traditional goodies and winter delicacies like candied fruit, mulled wine, and Thuringian Rostbratwurst.
A great thing about this market is their annual charitable mulled wine sale. For a whole day, the proceeds from the sale of mulled wine and other non-alcoholic beverages go to the Berlin Red Cross, specifically for their projects supporting homeless people during the cold months.
Public transportation stop: U-bahn: Zoologischer Garten or Kurfürstendamm / S-bahn: Zoologischer Garten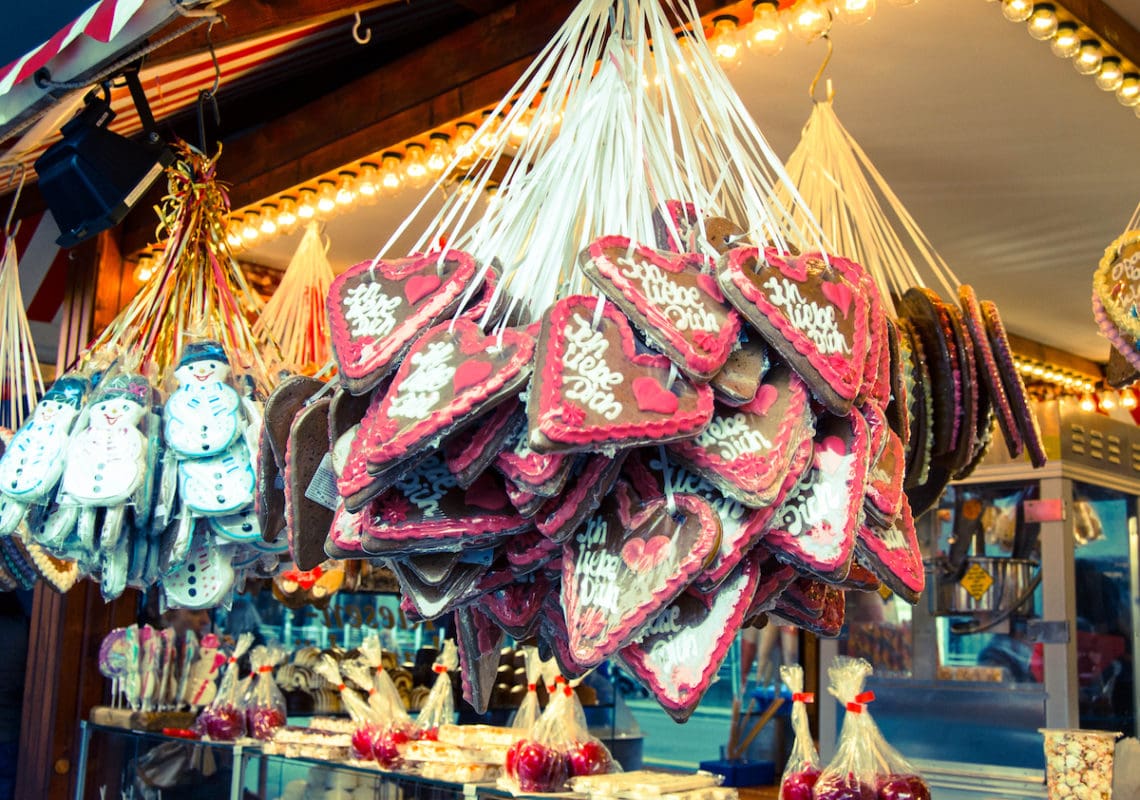 7. Potsdamer Platz Christmas Market
Also known as the Winterwelt (Winter World) at Potsdamer Platz, this market is a great choice for those traveling with children or for those looking for a more active and adventurous Christmas market experience.
During the holiday season, the famous square turns into a winter wonderland complete with a 40-feet high toboggan (Europe's largest mobile toboggan!) and an ice skating rink. After taking your turn sliding down, you can warm up and enjoy the cozy atmosphere of the illuminated Christmas trees and market stands.
Some of the market's culinary delights include Austrian specialties and the classics like roasted almonds, bratwurst, mushrooms with garlic sauce, and mulled wine. During weekends, festive live music and DJs add to the Christmas magic by creating a lively, wintery party atmosphere.
Public transportation stop: S-bahn: Potsdamer Platz
8. Spandau Christmas Market
On the outskirts of Berlin, Spandau is known to have one of Berlin's biggest Christmas markets. That is because the entire old town of Spandau forms part of the festive backdrop of the market. The main market is found in one big, continuous pedestrian zone.
You can stroll through the cobbled streets to find a variety of huts and stalls selling festive handicrafts, culinary treats, and Spandau specialties like mulled beer. One of the landmarks is the large fir tree on the market square.
You can catch the lighting ceremony every year at the start of the market which is usually late November. To add to the holiday spirit, there's even a nativity scene with live animals.
Public transportation stop: U-bahn: Altstadt Spandau / S-bahn: Berlin-Spandau
9. Medieval Christmas Market at the RAW Compound
This historic Christmas market is a great choice for those who want to immerse themselves in a festive medieval atmosphere. The RAW Cultural Center in Friedrichshain turns into a fully-decorated medieval village.
A whole medieval spectacle including jugglers, fire performers, bards, acrobats, and more keep all the visitors entertained as they roam through the market. The stalls feature different handmade works made by potters, blacksmiths, wood carvers, and many other medieval artisans.
For food and snacks, you can expect delicious and hearty dishes like flat bread, barbecued food, hot mead, and mulled beer. There are also a wide range of activities the whole family can join in like archery, knife and ax throwing as well as pony riding and nostalgic, hand-operated wooden carousels.
Public transportation stop: U-bahn/S-bahn: Warschauer Straße
10. Sustainable Christmas Market on Sophienstrasse
This unique Christmas market is dedicated to all things sustainable and environmentally-friendly. It's only open on the four advent weekends and is located next to the famous Hackesche Höfe and Hackescher Markt.
The assortment of goods and crafts sold is unlike any other traditional Christmas markets. The stalls featuring fair trade retailers and small businesses offer trendy and hip but natural, organic products that emphasize sustainability and fair production. Many of the exhibitors also support charity projects based in Berlin or abroad.
The food offered is a delight since they try to cater to all people. You have the classic Christmas market food but there's also a good range of vegetarian and vegan pastries and specialties from different countries.
Since there is an emphasis on sustainability, the market tries to limit its energy consumption so there are no amusement rides or excessive neon lighting. Instead for entertainment, visitors can enjoy choir and theater performances and visits from Santa Claus for the kids.
Public transportation stop: U-bahn: Weinmeisterstraße / S-bahn: Hackescher Markt
11. Heissa Holzmarkt
Heissa Holzmarkt is a smaller Christmas market with a unique and more alternative ambiance. It takes place in Holzmarkt, a creative artist village along the banks of the Spree. A wide range of locally made and one-of-a-kind goods are sold at the market stalls.
These include things like handmade soaps, fine honey, designer jewelry, pottery, ceramics and photographs – all of which can make perfect, thoughtful gifts for Christmas. For entertainment, kids can enjoy playing in the indoor playground and bouncy castle or listen to fairy tale storytellers.
There are also several eclectic performances, multimedia exhibitions, and live music that everyone can enjoy.
Public transportation stop: U-bahn: Jannowitzbrücke or Strausberger Platz / S-bahn: Jannowitzbrücke
12. Berlin Winterzauber (Winter Magic)
Berlin Winterzauber is more than a market, it's best described as a Christmas fair and carnival. Every year, tons of families are drawn to the glittering lights of the rides and colorful stalls – all of which add to the bustling and energetic funfair atmosphere.
The carnival boasts of a variety of rides and attractions for people of all ages to enjoy. Some highlights include the spectacular Christmas flight, the Santa Claus children's roller coaster, the Ferris wheel and twelve other large rides.
You also can't miss out on the high altitude fireworks display. This market is also one of the first ones to open since its first day is early November, usually around the first week of the month.
Public transportation stop: U-bahn: Magdalenenstraße / S-bahn: Ringbahn Frankfurter Allee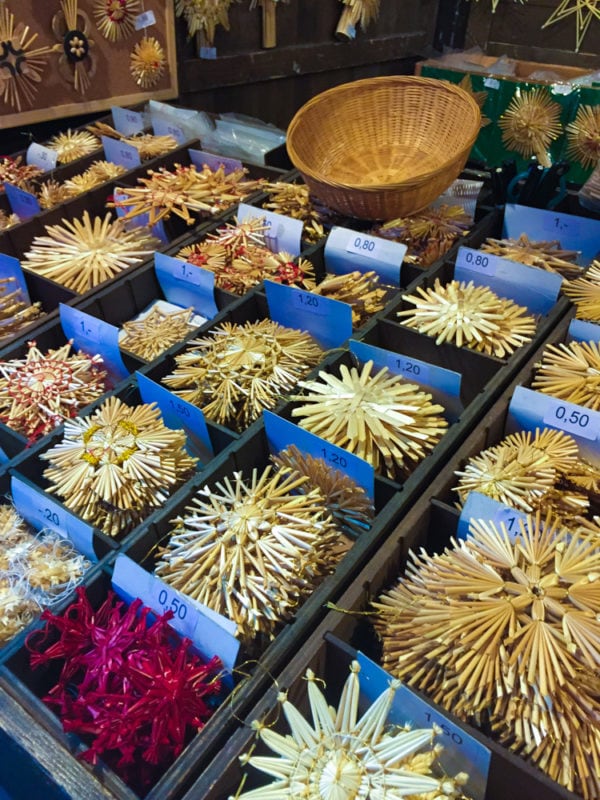 Berlin Christmas Market FAQ
When do Christmas Markets in Berlin start?
Christmas markets throughout Germany typically open on or a few days before the first Advent. Typically that's in late November or early December. In Berlin, some markets open even earlier.
Where are the Christmas markets in Berlin?
All over the city! You'll find several markets in the city center, as well as in neighborhoods throughout the city and in the towns on the edge of the city.
Are Christmas markets open on Christmas Day?
Most, if not all, are closed on Christmas Day.
How Many Christmas markets are there in Berlin?
A lot – over 70!
Do I need tickets to visit a Christmas market?
Nope! Christmas markets are free and you don't need tickets.
What's the best way to get to Christmas markets in Berlin?
Walking and public transportation. If you need to drive, give yourself plenty of time to find a place to park.
Where can I find the best food at the Berlin Christmas markets?
The best thing to do is walk around until you find something that looks good. You usually can't go wrong and pretty much everything I've eaten at Christmas markets have been delicious. While most markets will have the typical favorites (Bratwurst, crepes, Lebkuchen, Glühwein, etc), you can find delicious regional specialties and unique sweet and savory food and drinks.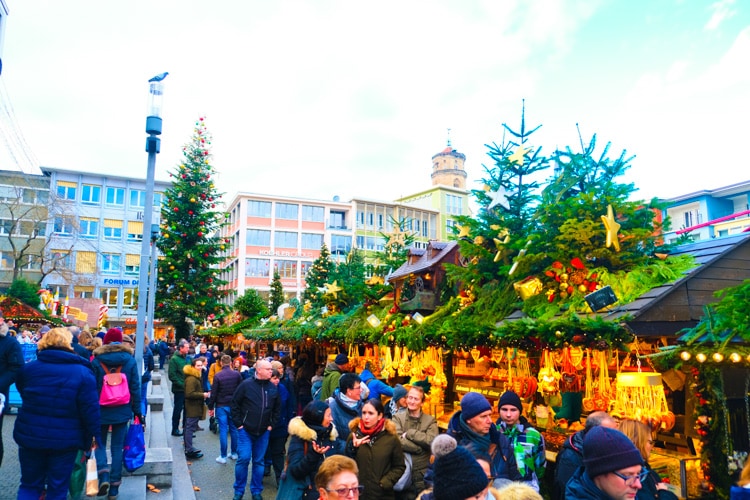 Other Christmas Markets in Germany
These are just some of the markets that consistently make their way to the list of the top christmas markets in Berlin. Not only are there many more markets scattered around the city, but there are also many more all around Germany!
Some of the best German Christmas markets include Dresden Striezelmarkt, Munich Christmas Market (Münchner Christkindlmarkt), Stuttgart Christmas Market, Nürnberger Christkindlesmarkt, and Rothenburg ob der Tauber Christmas Market.
For more information on different Christmas markets around Germany, read our full Christmas market guide!