Stuttgart Christmas Market Guide for 2023
This post may contain affiliate links. Read my disclaimer policy.
Evergreens covered in twinkling lights. Wooden stalls filled with crafts, toys, and festive holiday decor. Bratwurst, Gebrannte Mandeln (cinnamon roasted almonds), and Glühwein in souvenir mugs…yes, it's Christmas market season in Germany!
In this epic article I share everything you need to know to make your visit to the Stuttgart Christmas market a great one!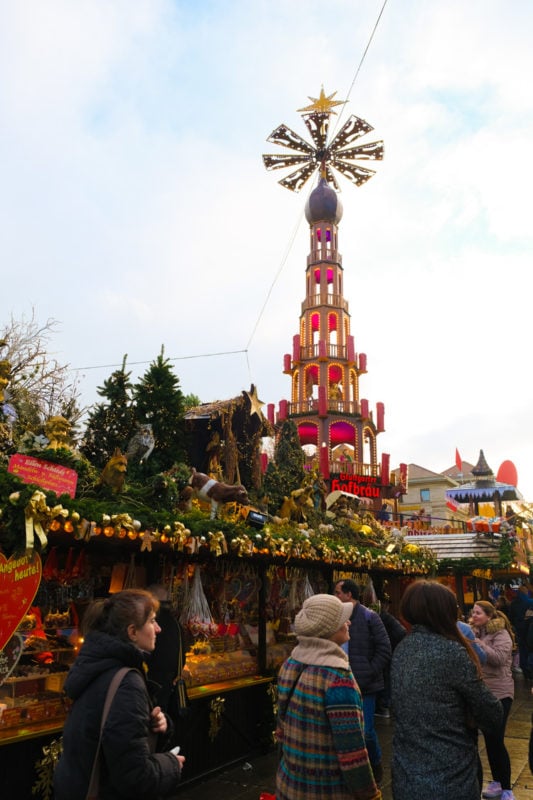 I take you on a tour of the Christmas market, I share tips for planning your visit, and tell you about other nearby Christmas markets to add to your itinerary.
And for those of you with time to explore Stuttgart beyond the Christmas market, I also share ideas for what to see and do in the city and make suggestions for places to stay.
Ok, let's get started!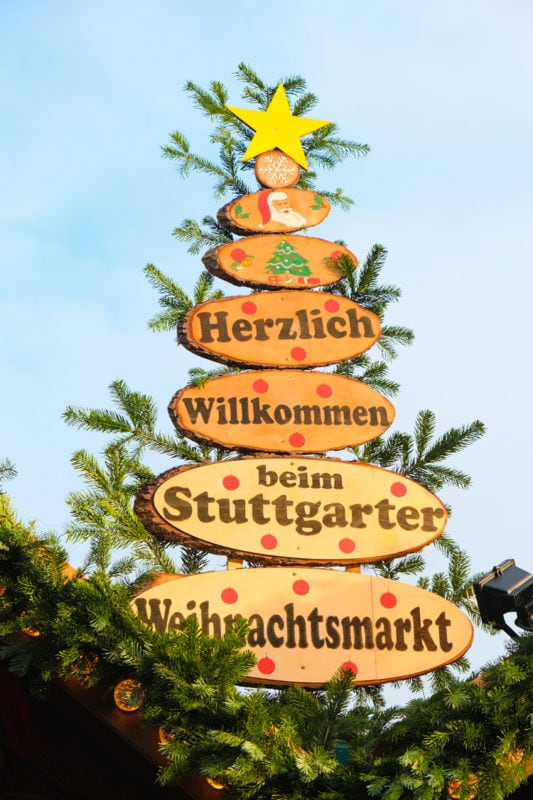 Why Visit the Stuttgart Christmas Market?
Because it's THE place to be in December both for Stuttgart locals and visitors!
People of all ages go to the Christmas market to buy gifts, enjoy seasonal treats, go ice skating, and just hang out with friends. Even in the middle of the day you'll see people talking and laughing all over the Christmas market with a mug of Glühwein in hand.
Visiting a Christmas market is a great way to get into the holiday spirit. Whether you're staying in Stuttgart for a couple days or are planning a day trip, it's a must-see.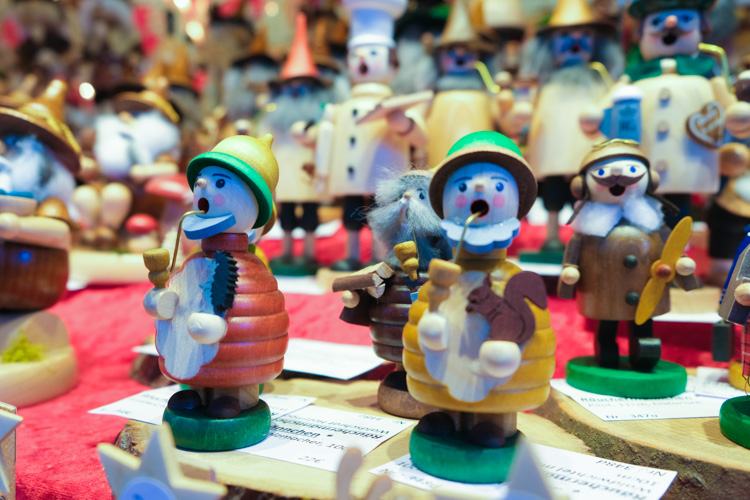 What Makes the Stuttgart Christmas Market So Special?
You'll find Christmas markets all over Germany but the Stuttgart market is unique in that it's one of the biggest and oldest markets in all of Europe. It's been around since at least 1692!
Located in Stuttgart's city center, this Christmas market offers nearly 300 wooden stalls with creativity decorated roofs. Over 60 choir and music groups from the metro area perform during the 26 days the market is open. Additionally, there's a popular antique market in a heated tent, an outdoor ice rink, and the entire market is powered by local green electricity.
One of my favorite memories from living in Stuttgart is visiting the area Christmas markets. The downtown Stuttgart market was on my way home, so I enjoyed a daily dose of holiday cheer as I walked through the stalls nearly every afternoon. German Christmas markets are the perfect place to get into the holiday spirit and experience local culture.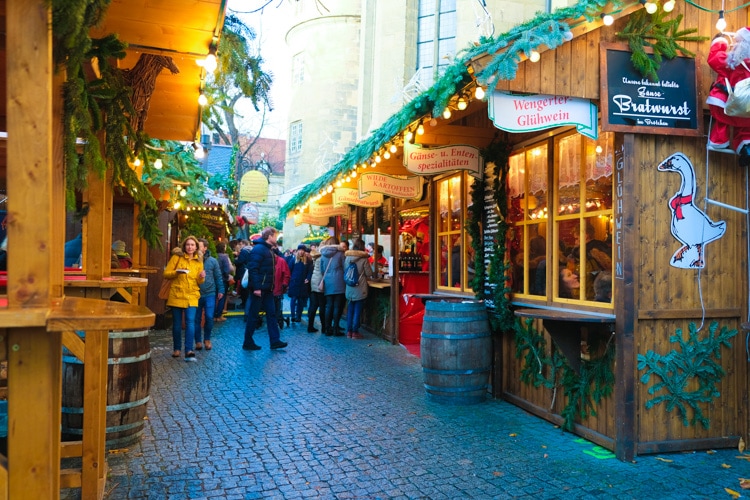 Where is the Stuttgart Christmas Market Located?
The Stuttgart Christmas market is right in the middle of the city center, with stalls and displays in the Schlossplatz, Schillerplatz, Marktplazt and the streets in-between.
If arriving at the main train station from outside Stuttgart, simply walk down Königstrasse, the main pedestrian shopping street, and you'll run right into the market at Schlossplatz.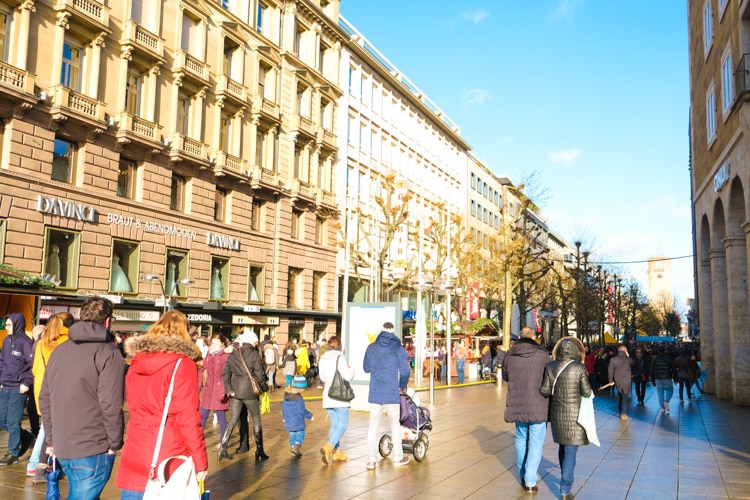 If you're staying anywhere in the city center (see my hotel suggestions below), you should be able to walk to the market in 5-15 minutes.
If driving, follow signs for city center, park, and then walk to Schlossplatz. Paid parking is available but may be hard to find at peak times, so take public transportation or walk if at all possible.
To reach the market via public transportation, take the U-bahn, S-bahn or bus to Schlossplatz, Charlottenplatz or Rathaus. Stadtmitte works too, it's just a little further away.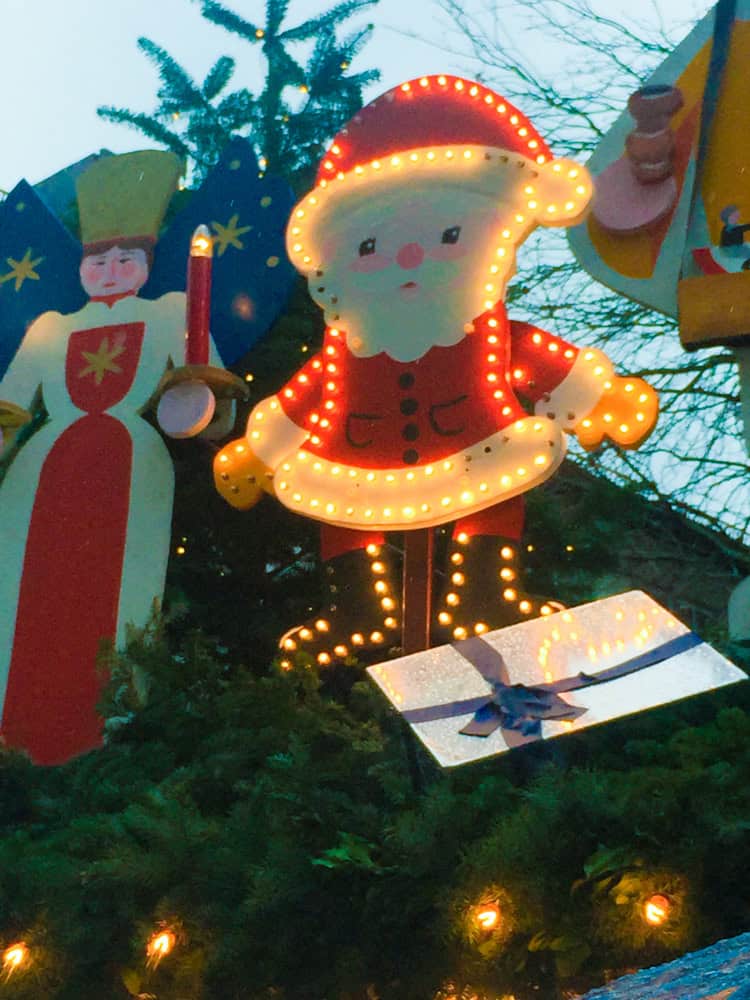 Where to Stay When Visiting the Stuttgart Christmas Market
Hotel Unger – this is a great option if you're looking for a comfortable, affordable hotel a short walk from the Christmas market and only a stone's throw from the main train station and the Königstrasse (the downtown pedestrian area). I stayed here last summer and loved the comfortable beds, quiet location (despite being right downtown), friendly staff and the huge breakfast buffet.
Motel 1 – another great option due to its proximity to the Christmas market, Königstrasse, and the main train station. I stayed here when I was in Stuttgart for a conference a few years ago and was super happy with it. The breakfast was good, staff helpful, and the rooms were comfortable. Great price, too.
AirBnB – great choice if you want more room(s), a kitchen or prefer a local neighborhood feel. The last two times I was in Stuttgart I stayed in 2 different AirBnBs – one in the city center (only a 5-minute walk to the Marktplatz part of the Christmas market) and one closer to the airport – and enjoyed both immensely.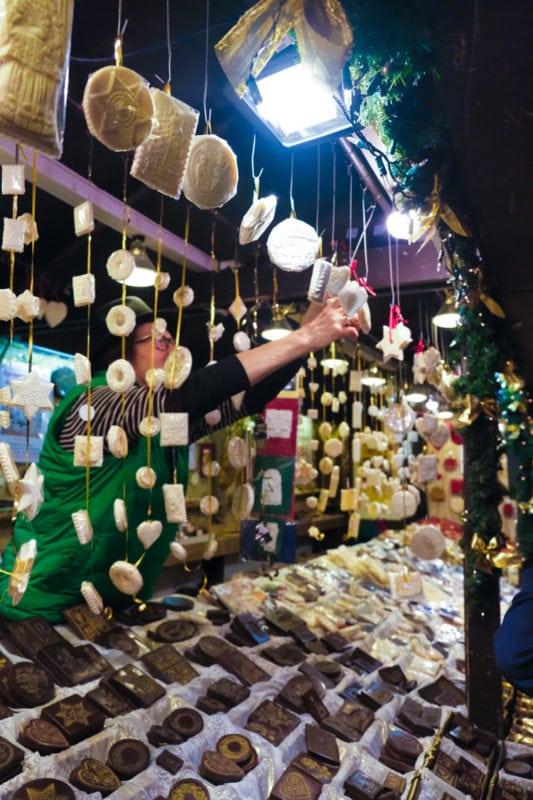 Opening Dates and Times
The Stuttgart Christmas market starts in late November and ends on December 23. It's open Monday through Thursday from 10am-9pm, on Friday and Saturday from 10am-10pm, on Sunday from 11am-9pm.
Upwards 4 million people visit this market each season, and it gets crowded in the evenings and on the weekends. If you want to shop, go in the morning when there are fewer people. If you want atmosphere, definitely visit in the evening.
Christmas Market Highlights
Opening Ceremony
If you're in Stuttgart on the first day of the yearly Christmas market, don't miss the opening ceremony. After the Stuttgart Mayor officially opens the market at 6pm, the 25-meter-high Christmas tree is illuminated, and there are special choir and music concerts.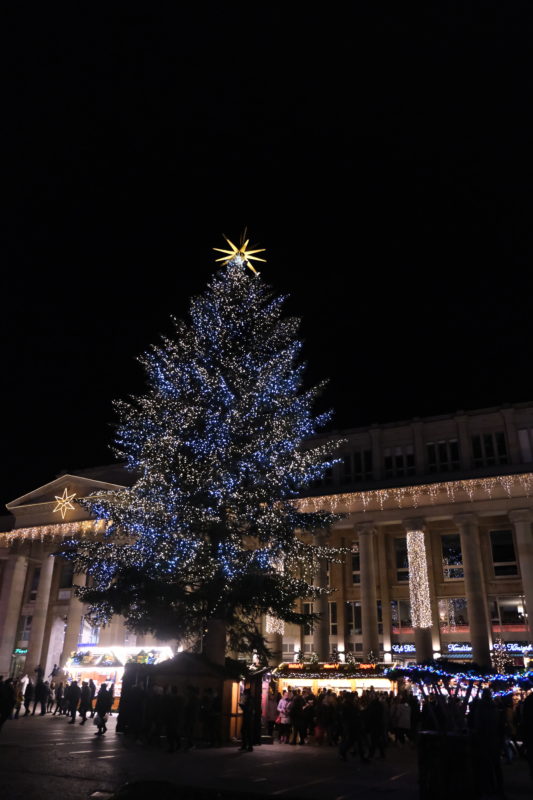 Daily Music Performances
If you miss the opening ceremony, don't worry! Music plays a major role in the Stuttgart Christmas market, with choirs and music groups from all over the local area performing daily on the steps of the town hall and the inner courtyard of the Alten Schloss.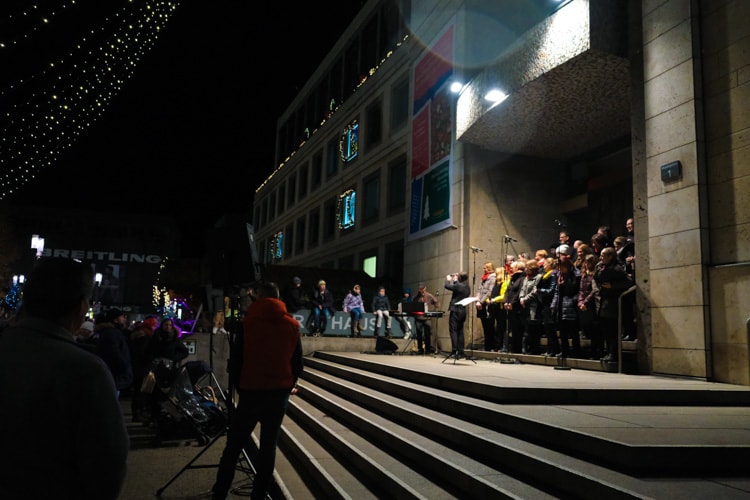 Outdoor Advent Calendar
The Rathaus (town hall) turns into a huge advent calendar! Each window opens to reveal the coat of arms from each district in Stuttgart. Tip: the lit up window displays are best viewed after dark. Keep scrolling to see what I mean. 🙂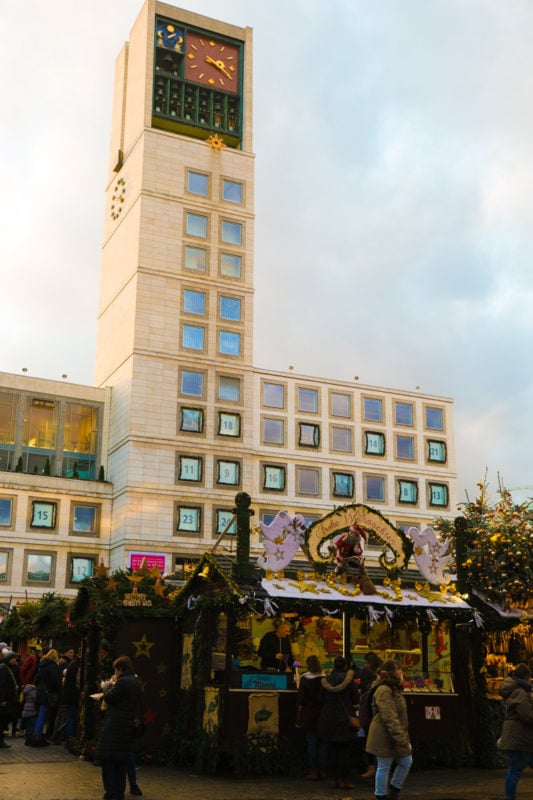 Events for Kids
If you've got kids, they'll enjoy the children's fairyland, special activities like baking their own gingerbread hearts or designing their own candles, and the live nativity. There's also an outdoor ice skating rink, rides, and a mini train.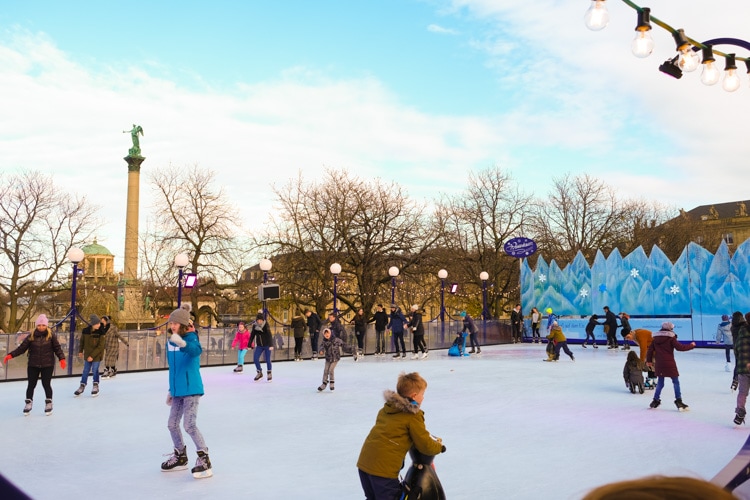 What to Eat and Drink at the Christmas Market
You'll find traditional Christmas market fare, like grilled Bratwurst, hearty fried potatoes and crispy potato pancakes, as well as delicious vegetarian options like mushrooms in garlic sauce and crepes. But you'll also find smoked salmon sandwiches and local specialities like Maultaschen, Käsespatzle, and Flammkuchen.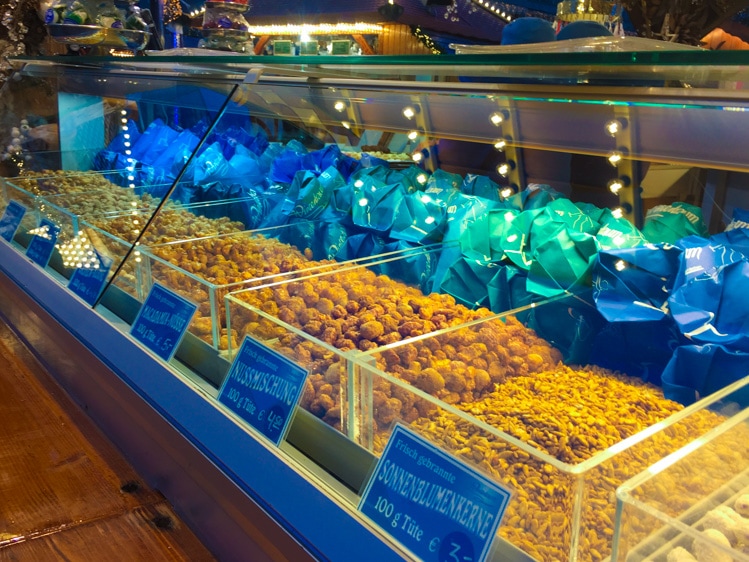 Satisfying your sweet tooth is easy with stall after stall filled with Lebkuchen (gingerbread), Stollen (German Christmas bread with powdered sugar on top), Gebrannte Mandeln (hot cinnamon almonds), crepes, holiday candy, chocolates, cookies, cakes, doughnuts, and so much more.
And, of course, you've got to try the traditional Glühwein (hot mulled wine)!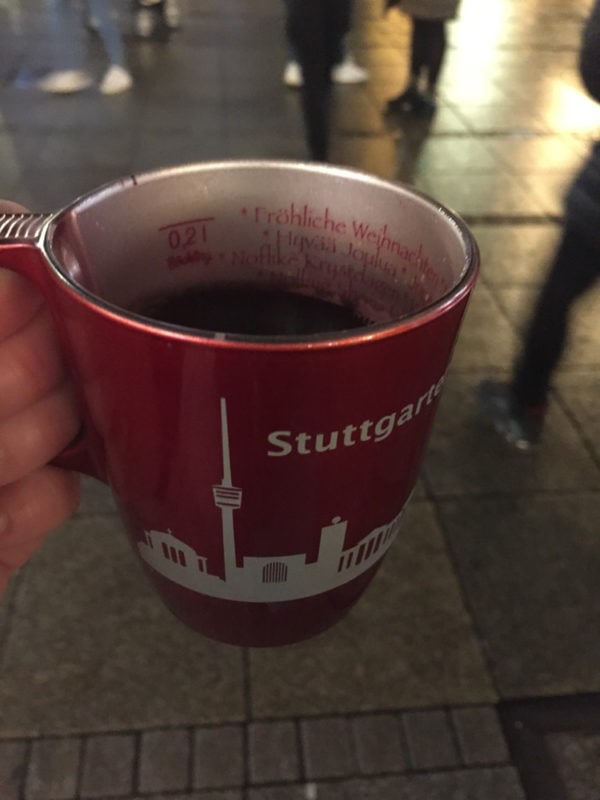 On my last visit to the market I created a list of things you can eat at the market (you definitely won't go hungry):
All kinds of sausages (mmm…Bratwurst)
Döner Kebap
Falafel
Fladenbrot
Flammkuchen
Dinnede
Roasted chestnuts
Cinnamon roasted nuts
Cinnamon roasted pumpkin seeds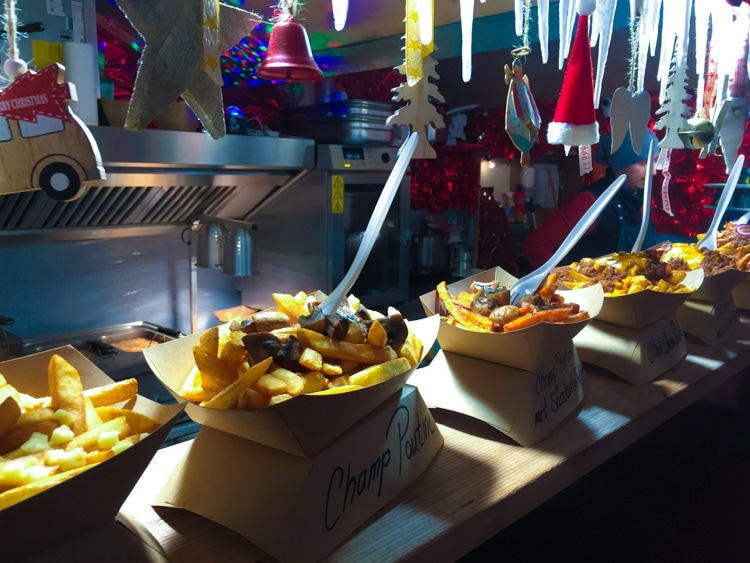 Crepes
Waffles
Bread on a stick
Roasted potatoes & mushrooms with garlic sauce
Baguettes & pizza
Smoked salmon
Maultaschen
Spätzle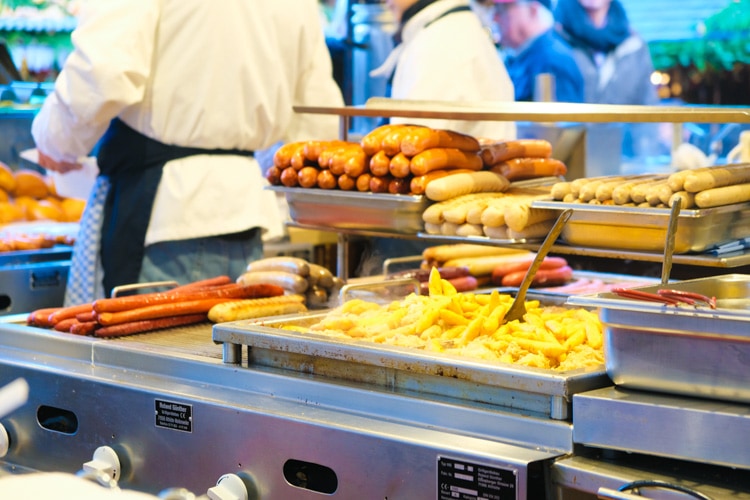 Poutine
Chocolate covered fruit
Glühwein (with or without a shot of rum)
Feuerzangenbowle
Kinderpunsch
Hot chocolate
Tea
All kinds of chocolate
Stollen bread, Lebkuchen & other baked goods
Cookies & candy
And so much more!
What to Buy at the Christmas Market
The Christmas market is a great place to buy gifts and souvenirs. Here are some of the items you'll find at the Stuttgart market:
Wooden toys and Christmas decorations
All kinds of Christmas ornaments (my tree at home gets decked out in all of the wooden and straw ornaments I've bought over the years!)
Sprengele cookie molds
Paper stars that light up
Candles & candle holders
Antiques (there's a whole antiques section of the market)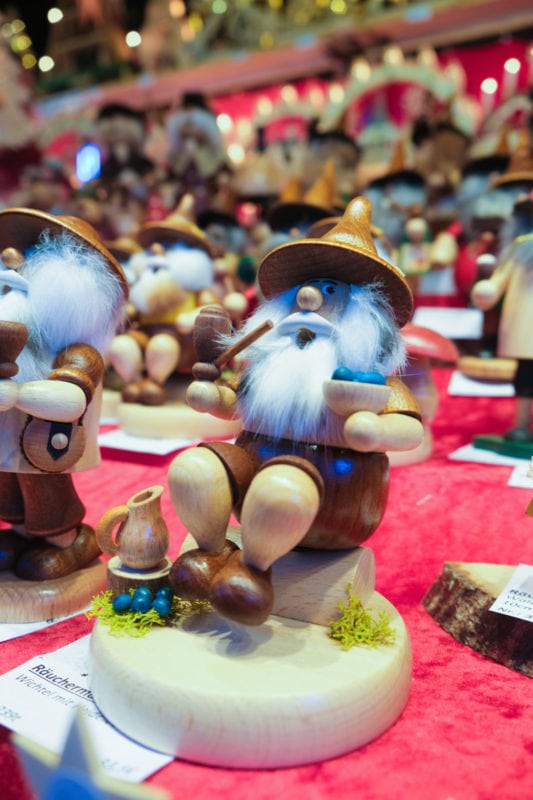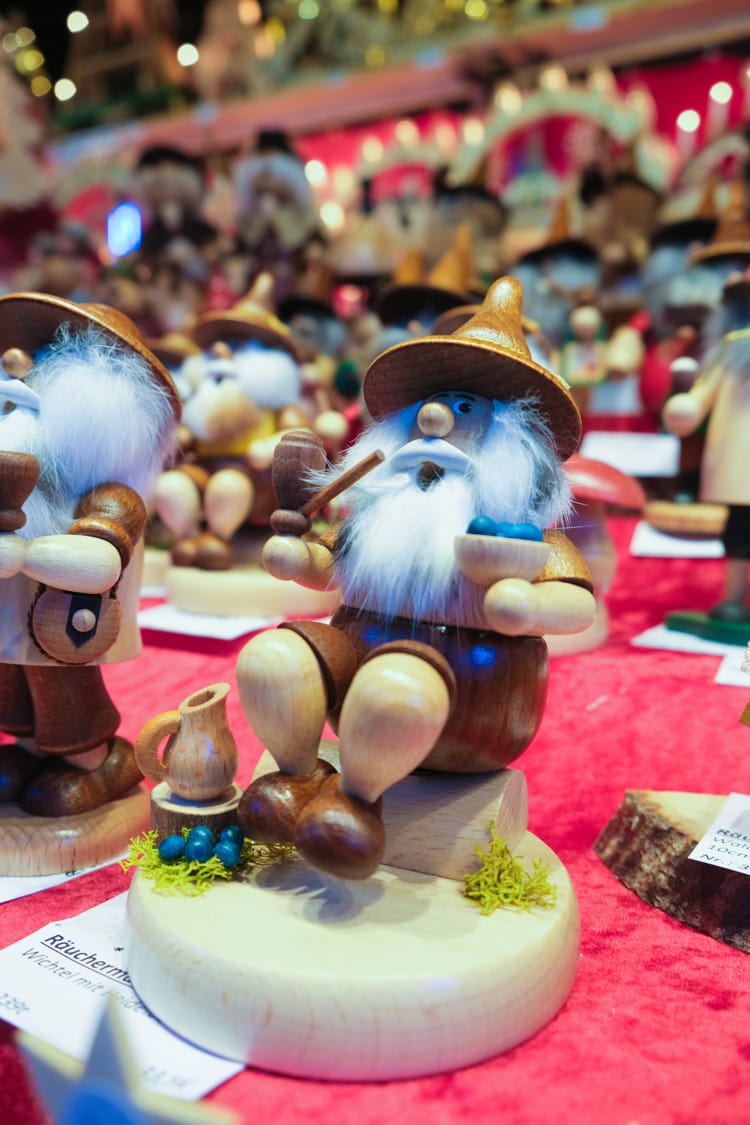 Hats, socks, mittens and other woolen products
Cleaning and house products (there's a second of these stands near the Rathaus)
Cleaning and house products (there's a second of these stands near the Rathaus)
Coffee and tea
Meat and cheese
Honey
Figurines
Journals
Leather products
Is it Better to Visit During the Day or at Night?
Both! I always recommend visiting both during the day and at night, if at all possible, because they're very different experiences.
If you go very early in the day (as soon as it opens, especially on weekdays) you'll have the market to yourself! This is the perfect time to do some shopping or chat up the vendors.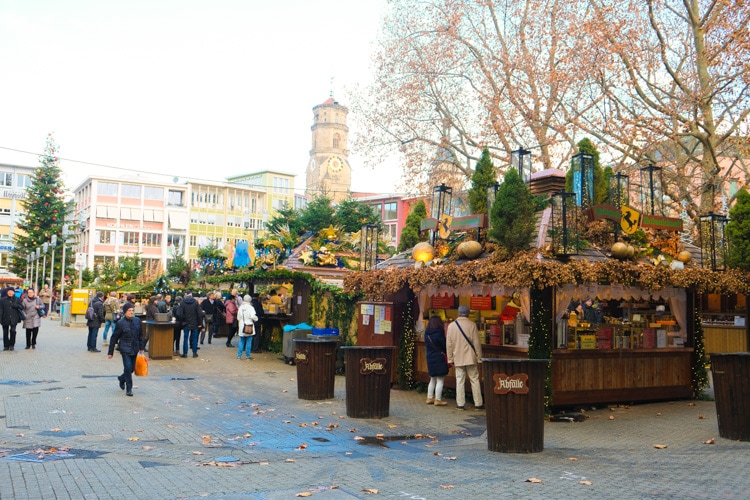 By late morning it will start to get more crowded because many people head to the Christmas market to eat lunch or take a Glühwein break. By the evening – and all day on weekends – it gets very crowded.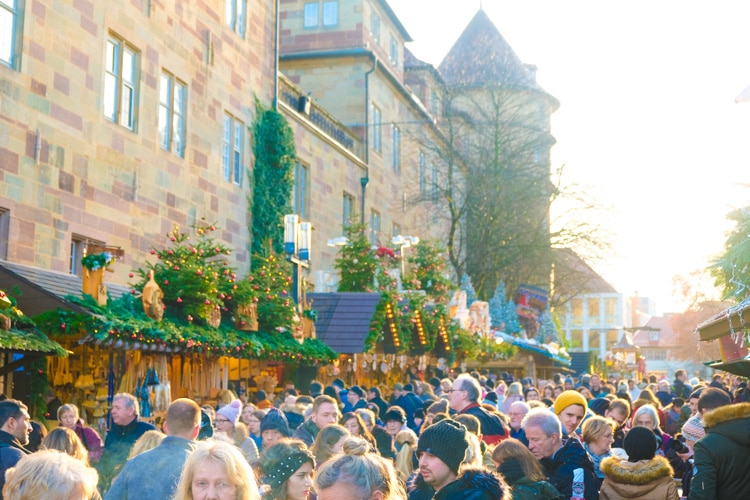 My favorite time to visit Christmas markets is in the evening because it's just so magical! Not only are the lights beautiful, everyone's in a good mood and just hanging out and enjoying the season.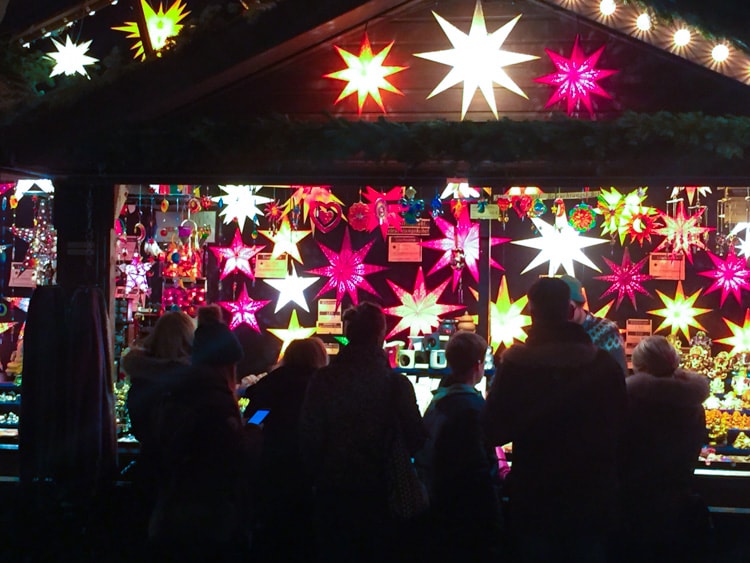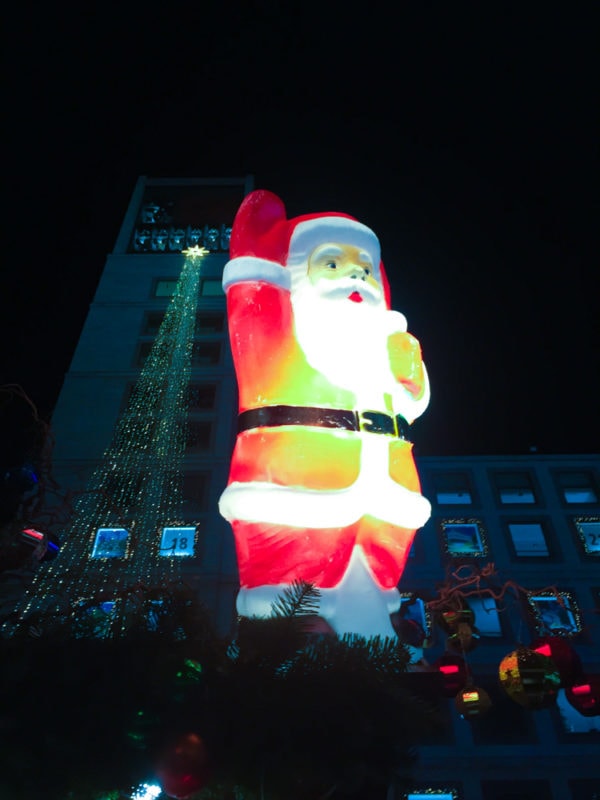 If you can't go at night but want to see the lights, go around 3pm or 4pm. The lights typically turn on around 3pm and by 4pm it's dark enough to see them. By 5pm it's pretty much dark.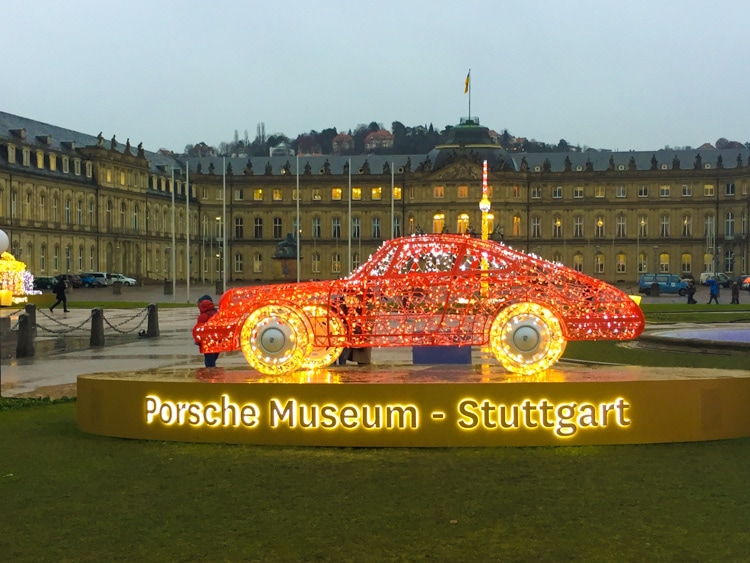 What About Weather?!
The Christmas market is 99% outside but that's what makes it special. Yes, if it's rainy you'll get wet. If the temperature plummets, you'll be cold. But that really doesn't matter once you're at the market!
Germans don't let the weather keep them from the Christmas market! Dress warmly, bring hand warmers if it's really cold, use an umbrella, and decide to enjoy the market no matter what. 🙂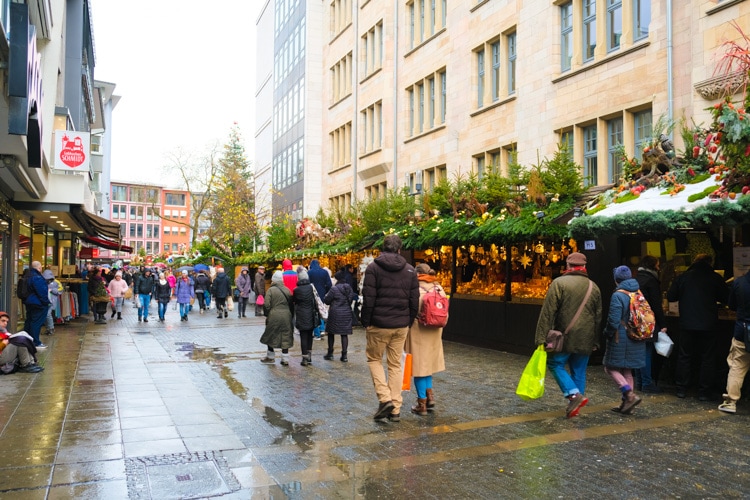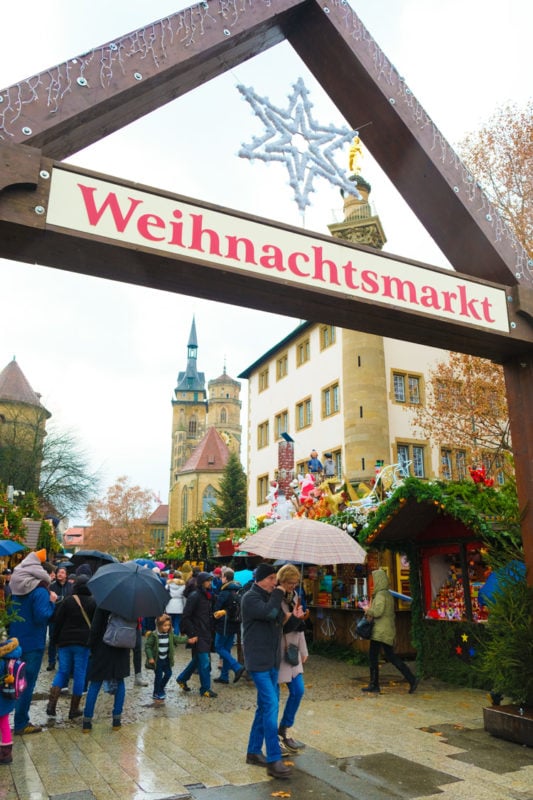 How Much Time Does it Take to See the Christmas Market?
That depends. You can walk through the whole thing at a leisurely pace in an hour or two.
If you want to stop for food or a Glühwein, do some shopping, watch a concert, take photos or meet up with friends, you could easily spend half a day at the market.
Want to go ice skating, shopping on Königstrasse, take a city bus tour, visit a museum or the Wilhelma Christmas Garden? Plan for a full day + evening in Stuttgart.
If you also want to see nearby Christmas markets, plan for at least 2 full days in Stuttgart. There's so much to do and see in the Stuttgart area!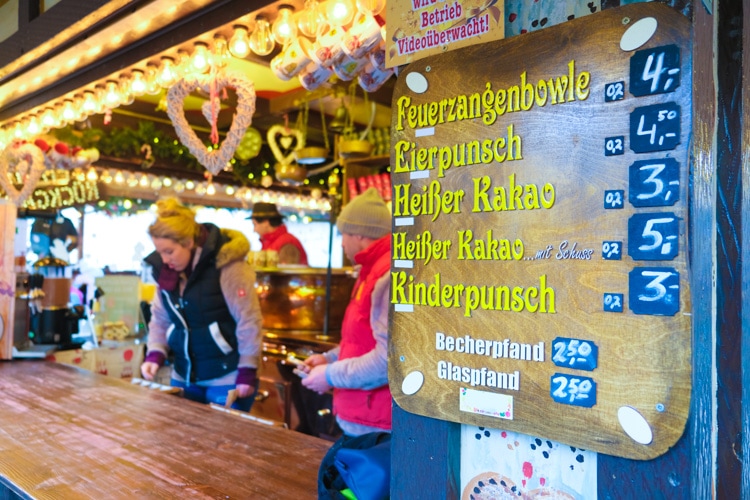 What are Typical Christmas Market Prices?
It's a good idea to bring cash to any Christmas market. If you arrive without (enough) cash, there are a couple ATMs in the market (there's one to the left of the train area). How much cash should you bring? It depends on what you plan to do.
If you just want to buy a mug of Glühwein and a Bratwurst, 12-15 Euros will do (you'll get some of that back if you return your mug). Double that if there are two of you. A bag of Gebrannte Mandeln (cinnamon almonds) runs about 4 Euros, a Nutella crepe about 4.50 Euros, a slice of Stollen about 4 Euros, and the deposit (Pfand) on a mug or bowl is generally 2.50 Euros.
Many of the smaller gift/souvenir items cost between 5-25 Euros. Larger/nicer items will cost much more (e.g., wool sweaters, nice hats, hand-carved wooden items).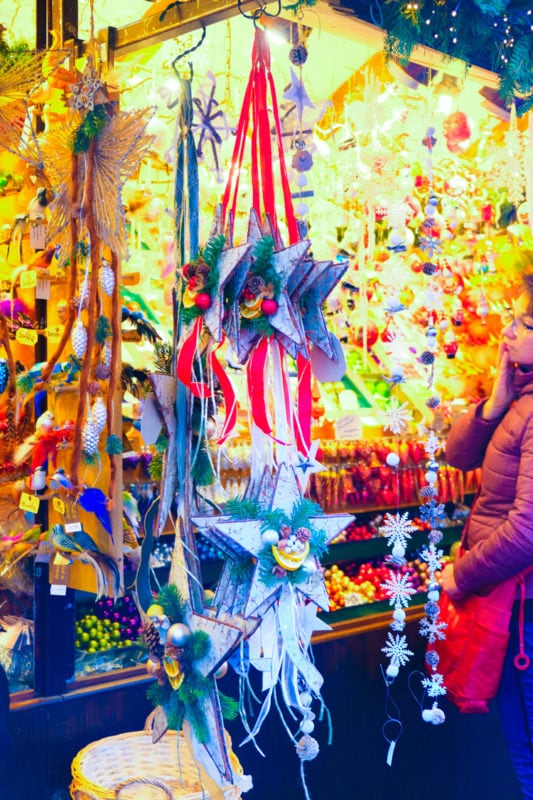 Let's Start Our Stuttgart Christmas Market Tour!!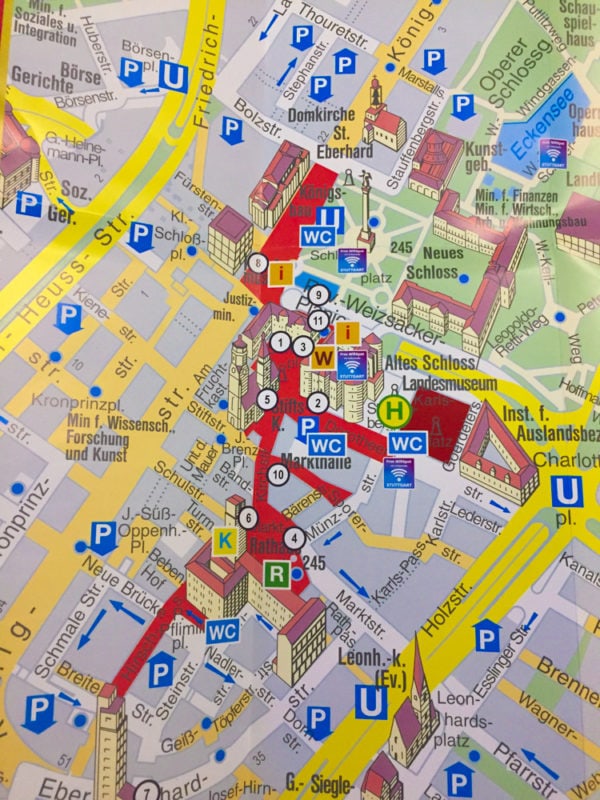 We're going to start at Schlossplatz, which you can walk to from the main train station, iPunkt tourism office, and many nearby hotels in about 5 minutes.
You can also take the U5, U6, U15, U7, U12 to the Schlossplatz stop or walk over from nearby Charlottenplatz, which is where you can stop if taking the S-bahn.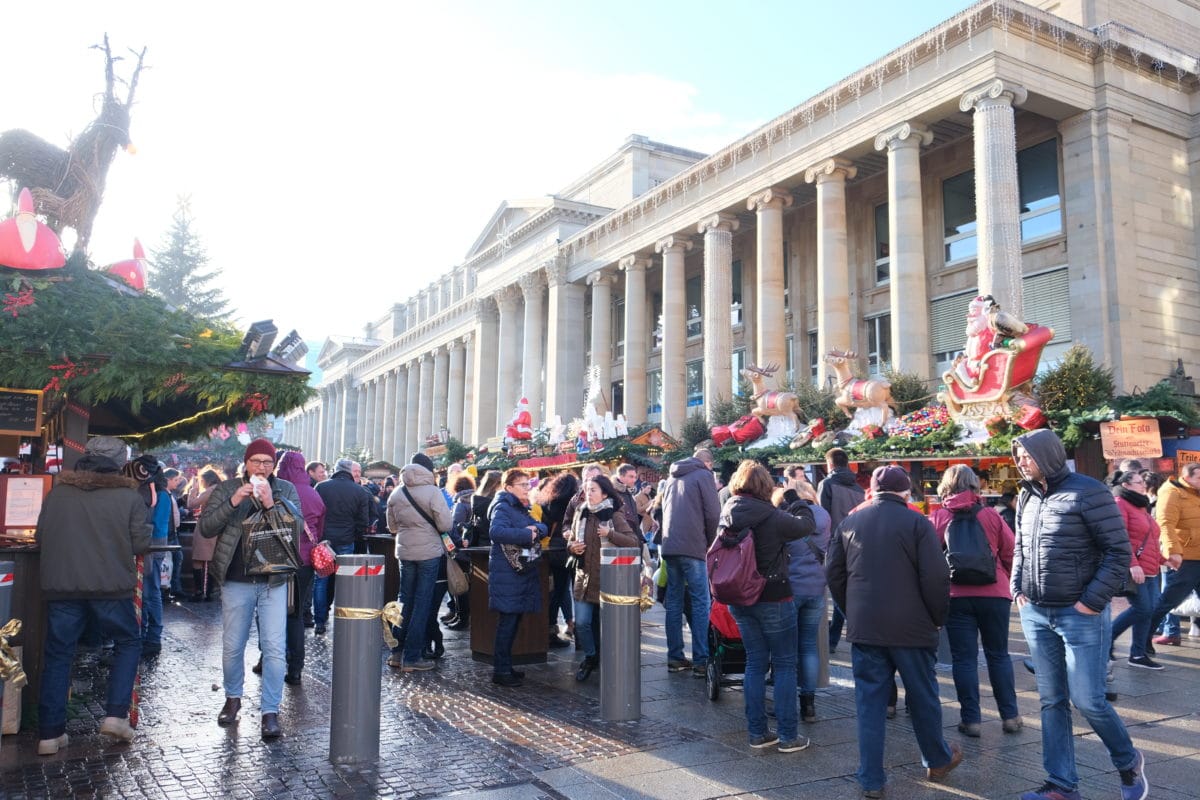 Schlossplatz is the heart of Stuttgart. Here you'll see the Königsbau shopping center on one end (the building with the columns in the photo above), the Neues Schloss (the new castle) on the other one end (see photo below), with a grassy area in-between.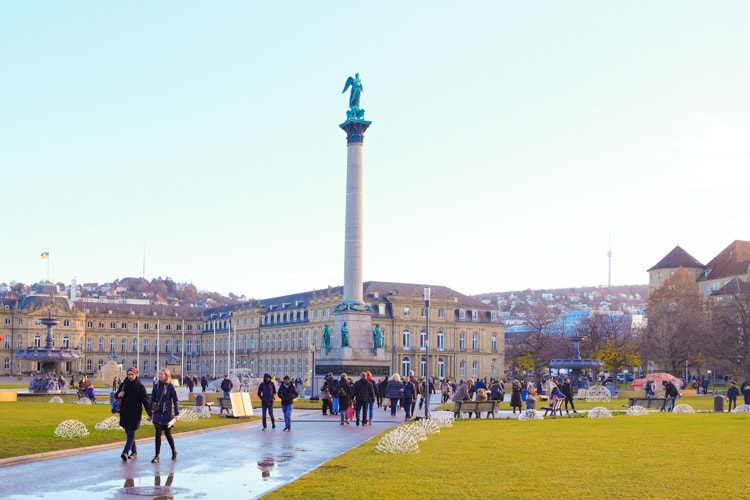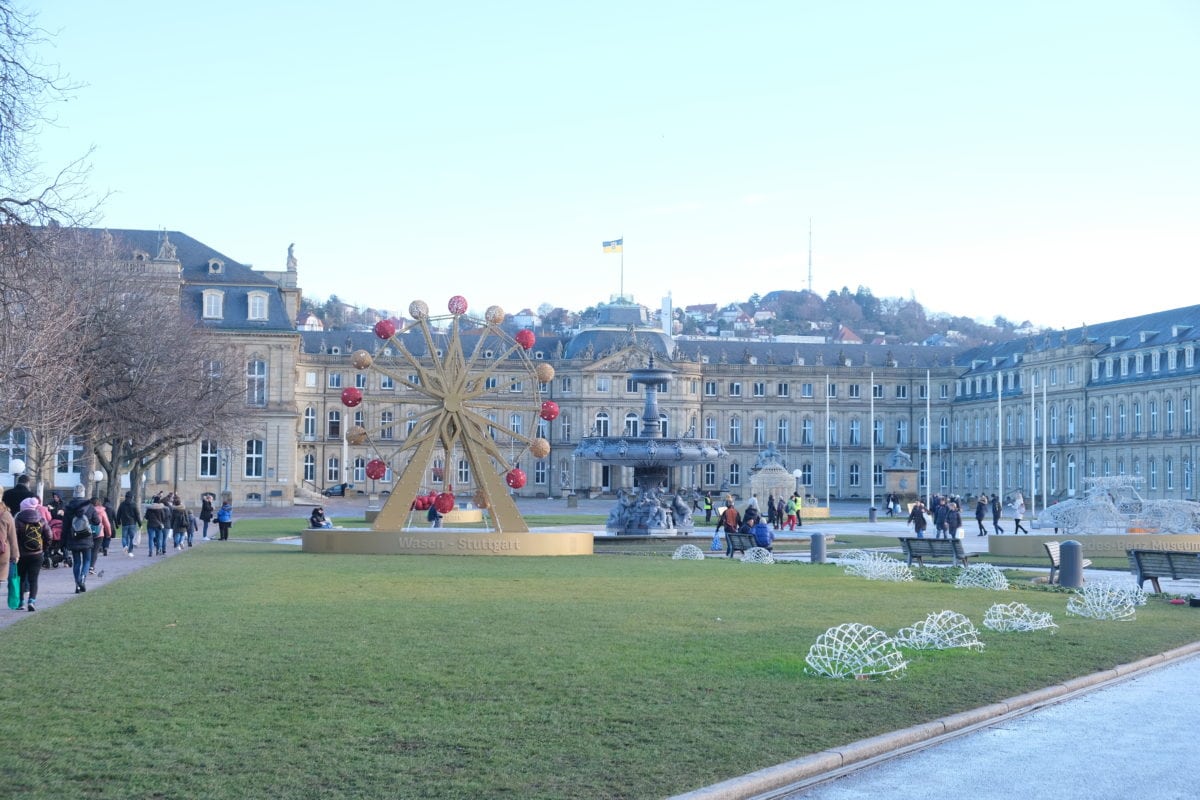 This is also where you'll see the beginning of the Christmas market! Right next to the grassy area you'll find a cute miniature village with all kinds of trains zooming around…including one that both kids and adults can ride.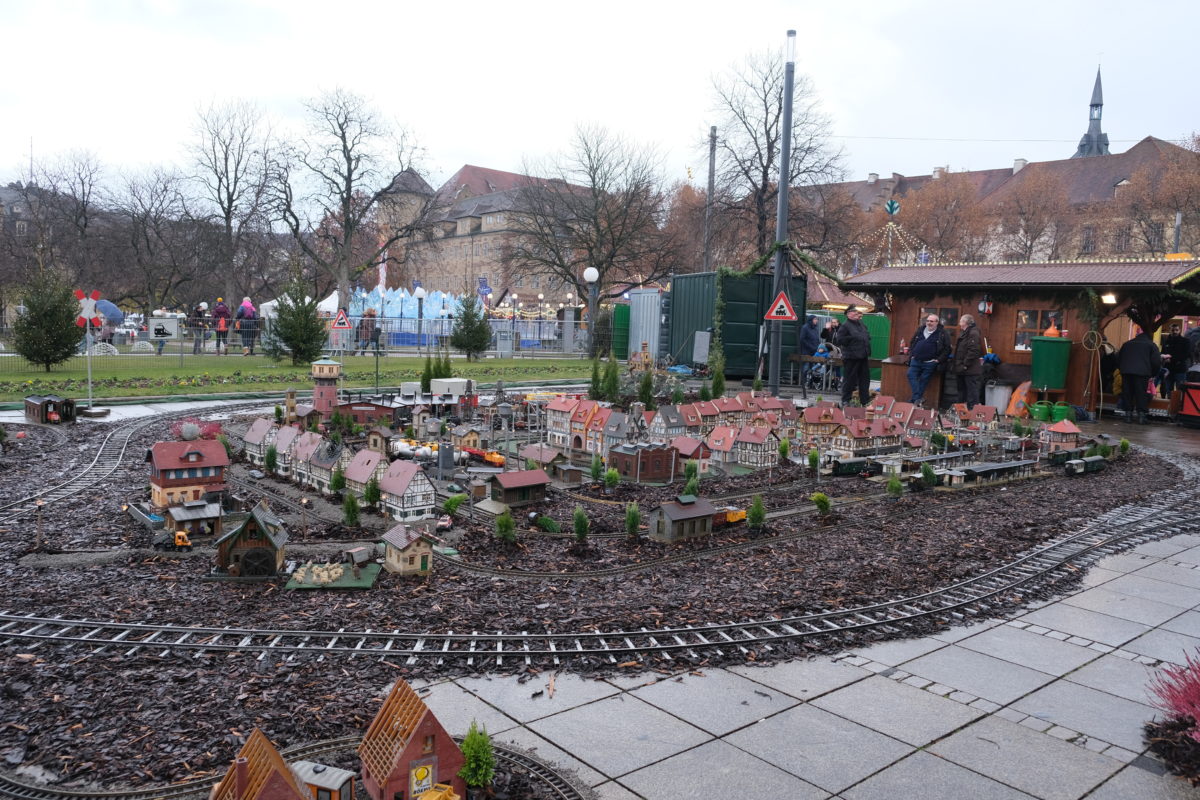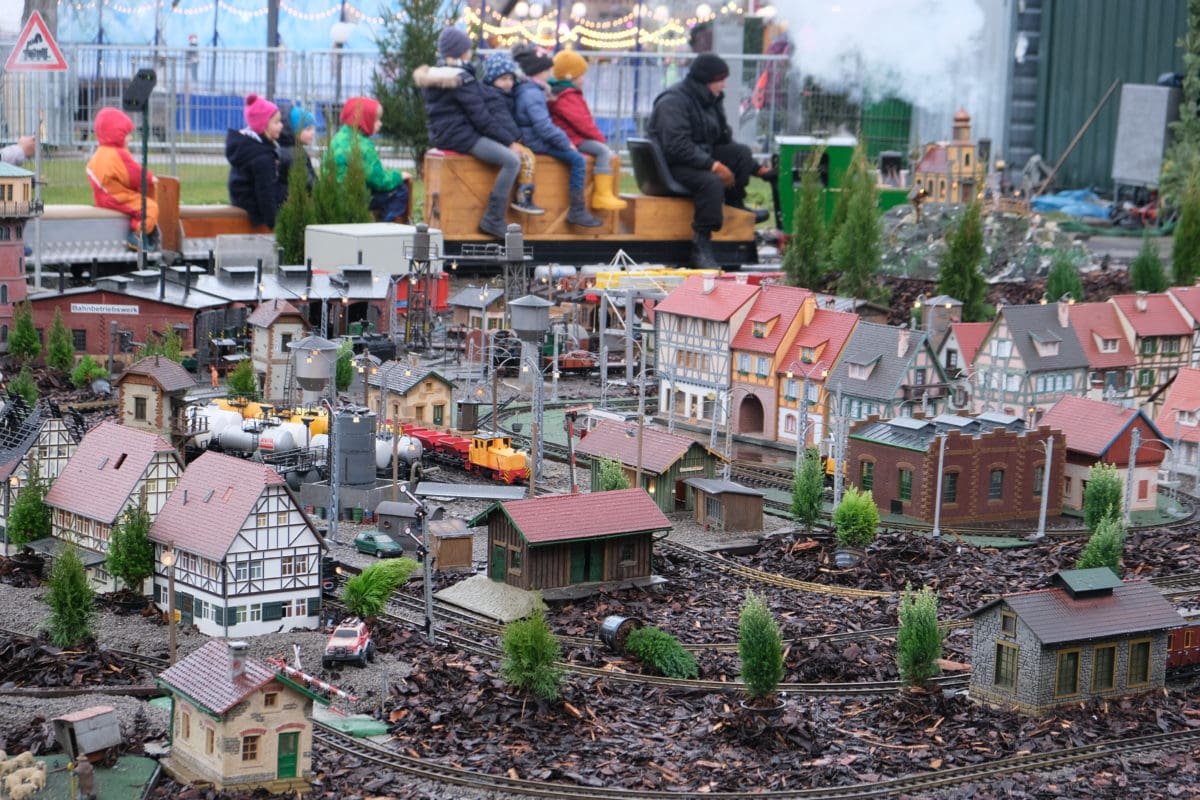 Even if you don't ride the train yourself, take a few minutes to enjoy the details of the village – it's pretty amazing.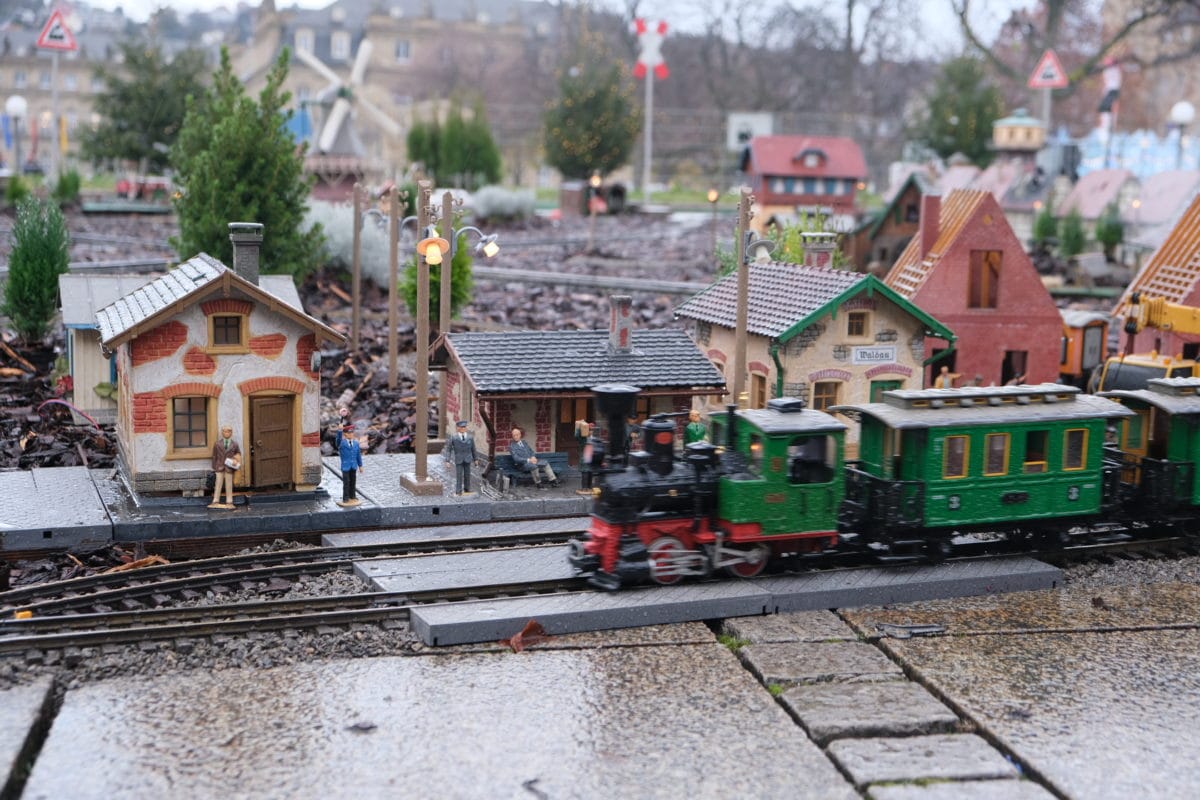 To your right, in front of the Köningsbau shopping center (great place to duck into if you're cold or if it's raining, by the way), you'll find a kid's ferris wheel, and behind that the huge Christmas pyramid. Here's what it looks like at night…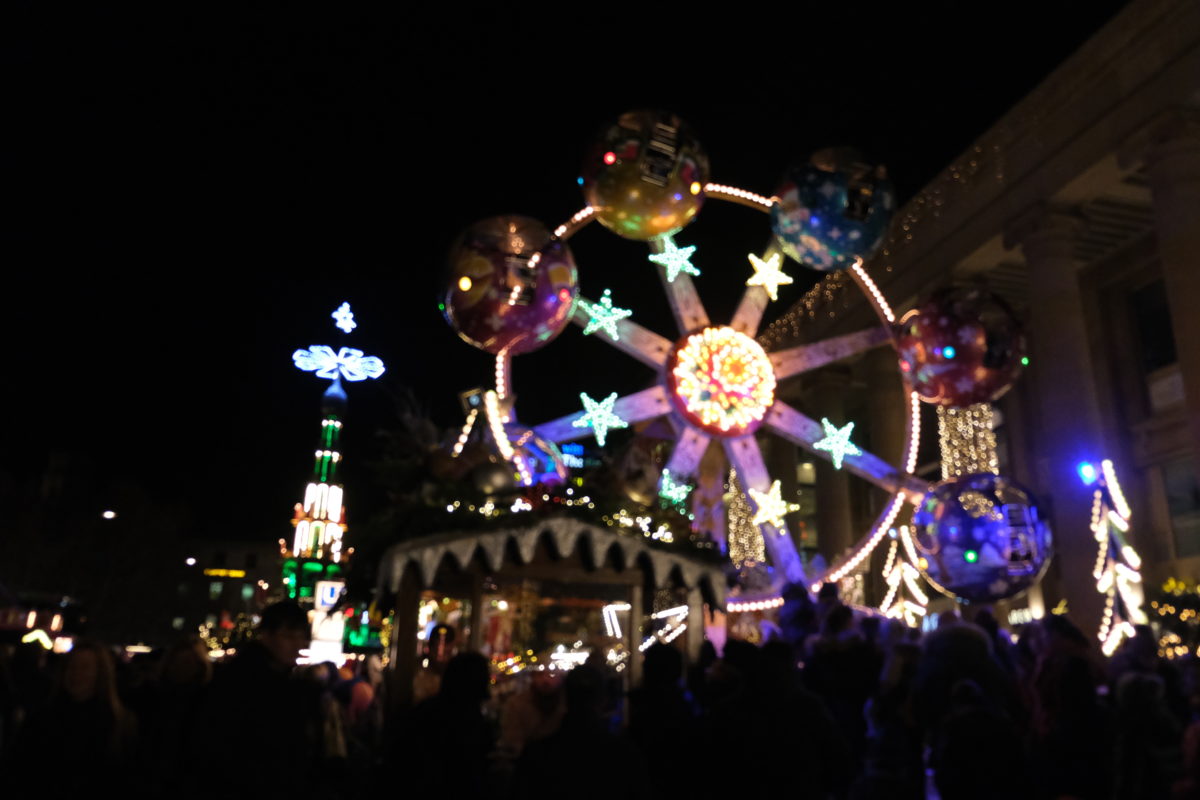 Next to the train area you'll see the huge light-covered Christmas tree.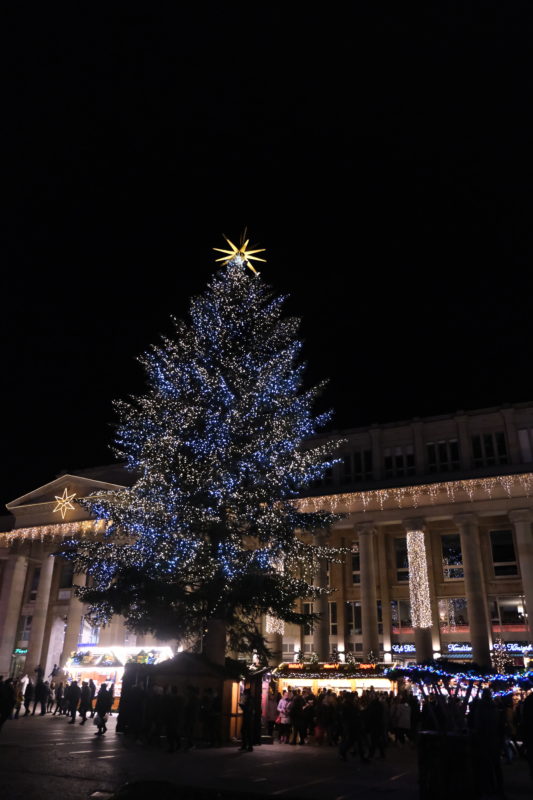 Behind it are the light displays on the grass in front of the Neues Schloss. It's so beautiful!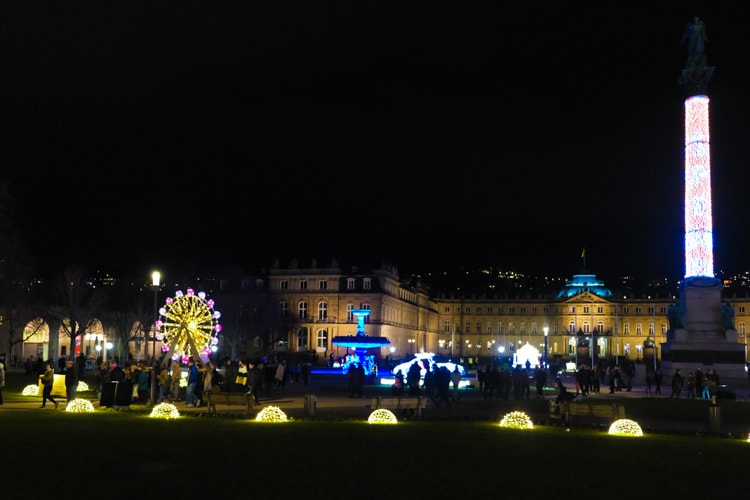 You'll also find the beginning of the many food and drink stalls.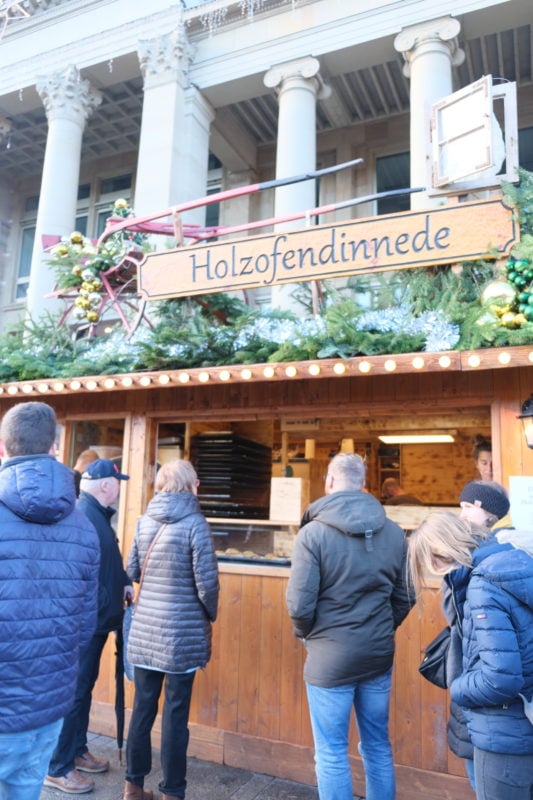 You'll also see a few booths selling things…like wooden signs.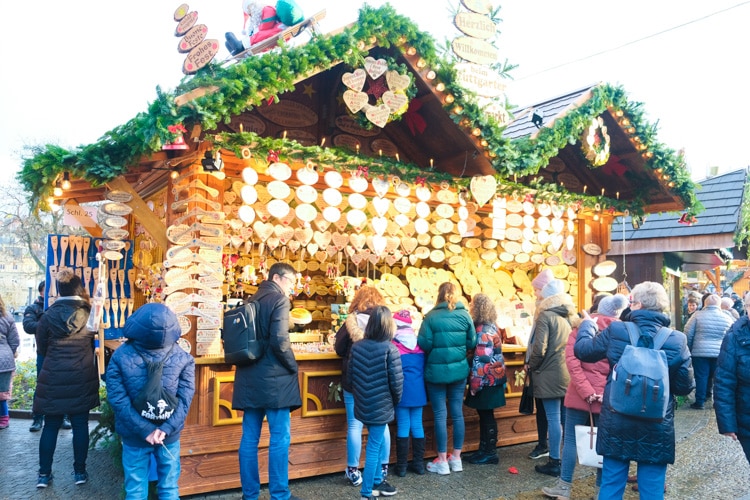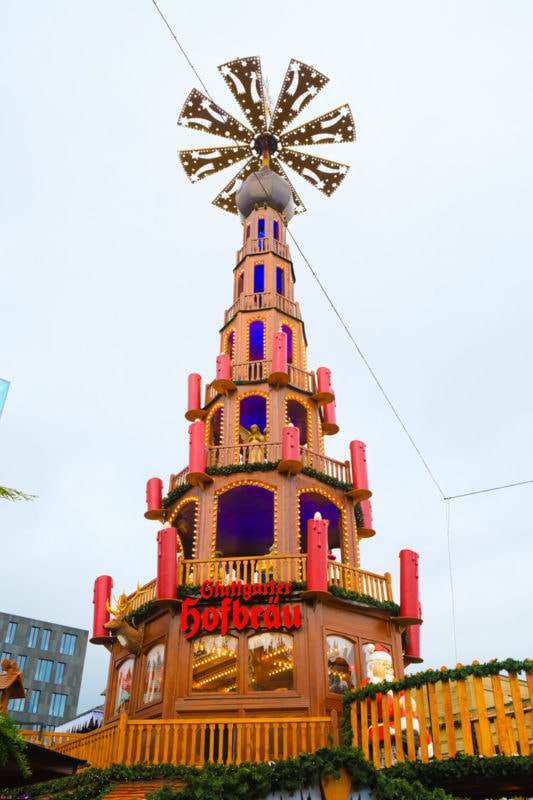 At the wooden Christmas pyramid, turn left and you'll see the Wintertraum area. Here you'll find more food and drink booths, as well as an ice skating rink!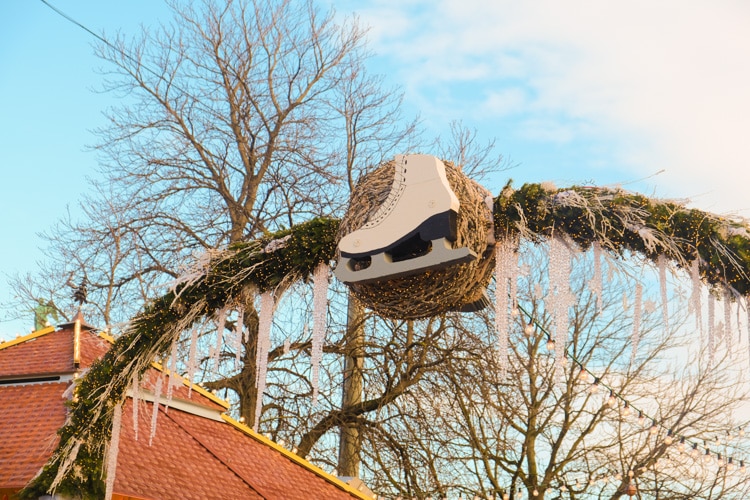 After checking out the ice rink, walk across the street…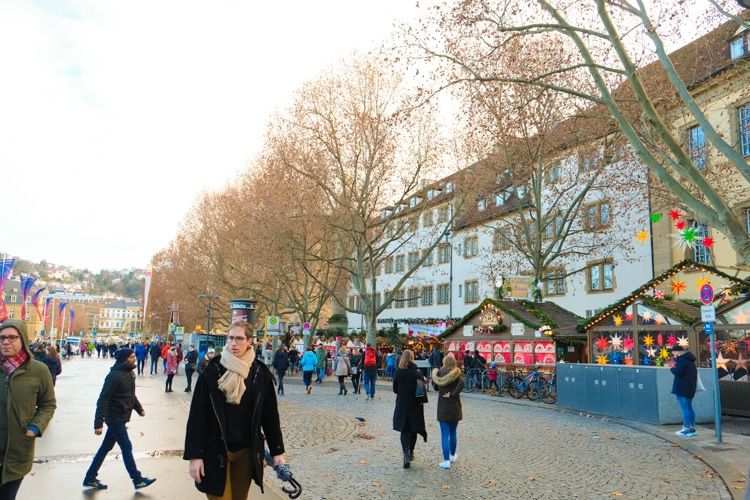 …and then through the "Schlemmergässle" – here you'll find more delicious food including crepes, baked potatoes covered in garlic sauce, and poutine at the Canadian stand.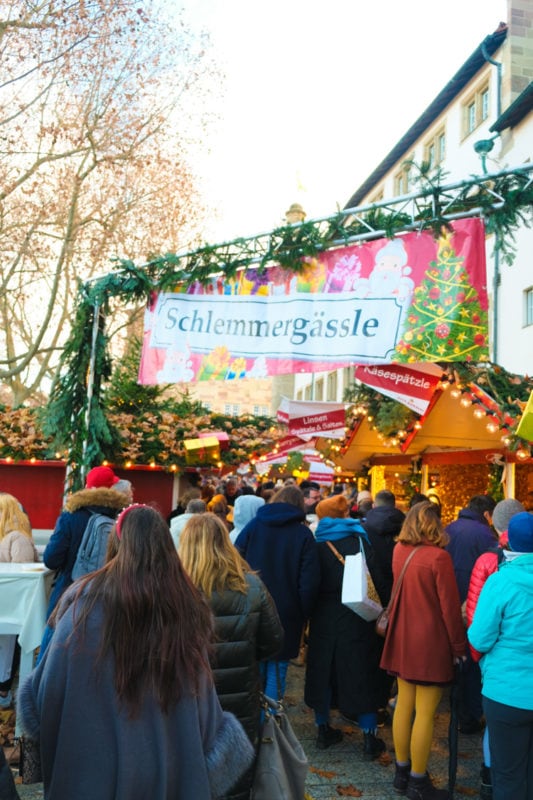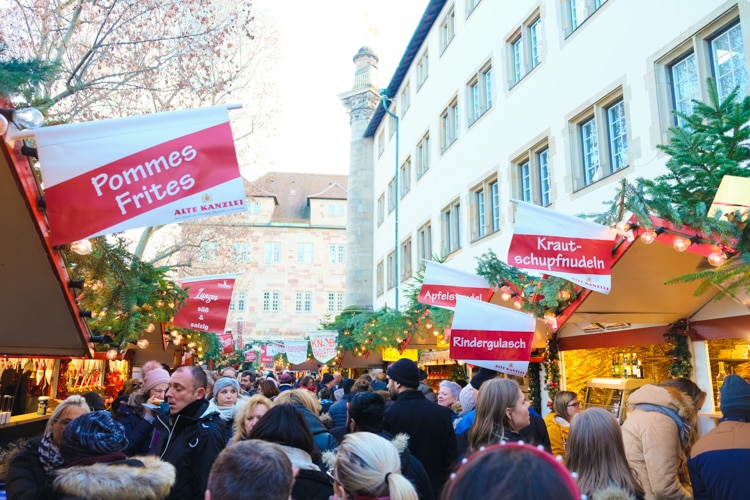 Once you emerge from the Schlemmergässle, you'll run into the Christmas Market sign. This is where the Christmas market really begins.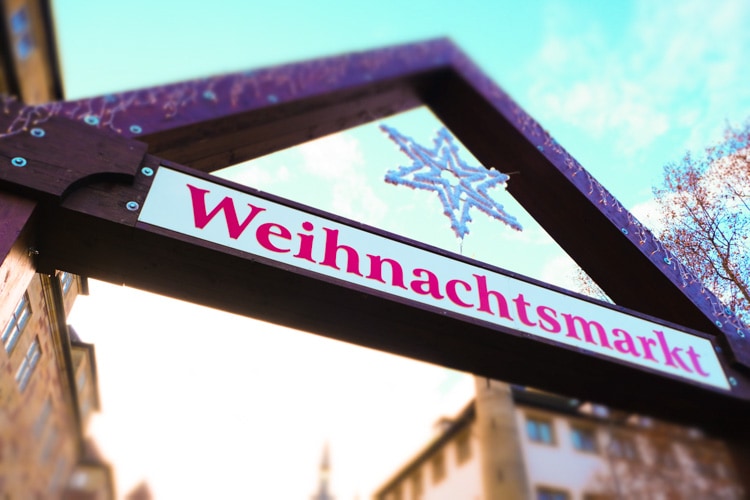 Walk through the gate and you'll find booth after booth offering food, drinks, and wonderful gift ideas. You'll also see the Stiftskirche in the distance.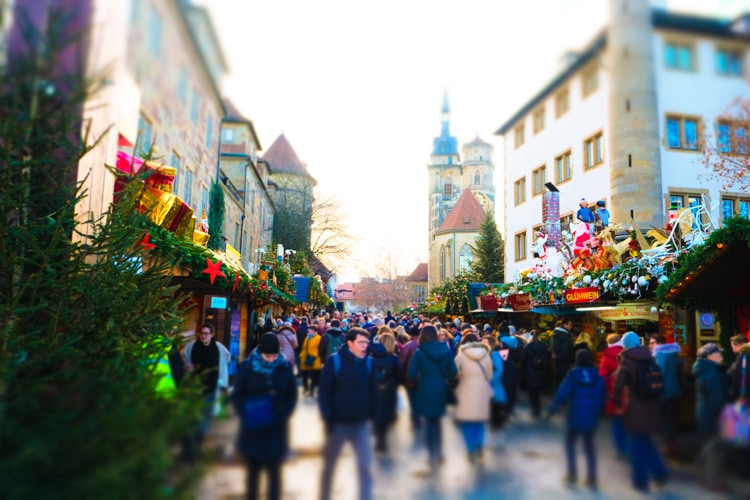 Oh, there's also an information booth here, in front of the Landesmuseum. Ask all of your Christmas market questions here! You can also grab a map of the entire market.
As you walk towards Schillerplatz, be sure to look at the tops of the wooden stalls! Each one is uniquely – and often elaborately – decorated. So creative!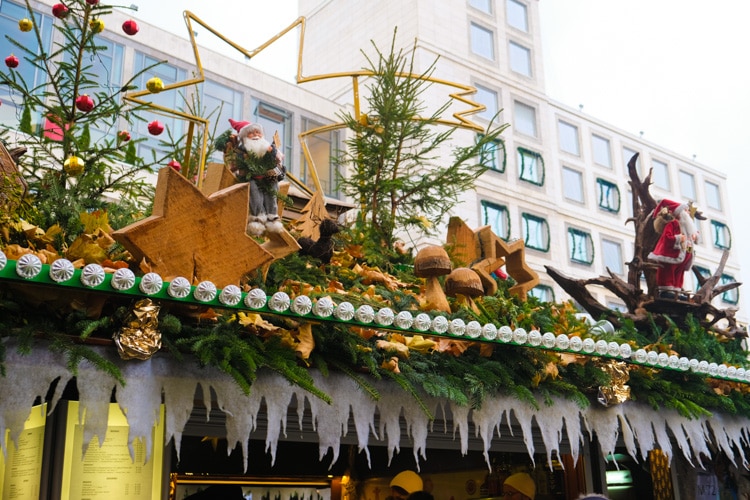 Here you'll also find lots of food booths like this one offering smoked salmon…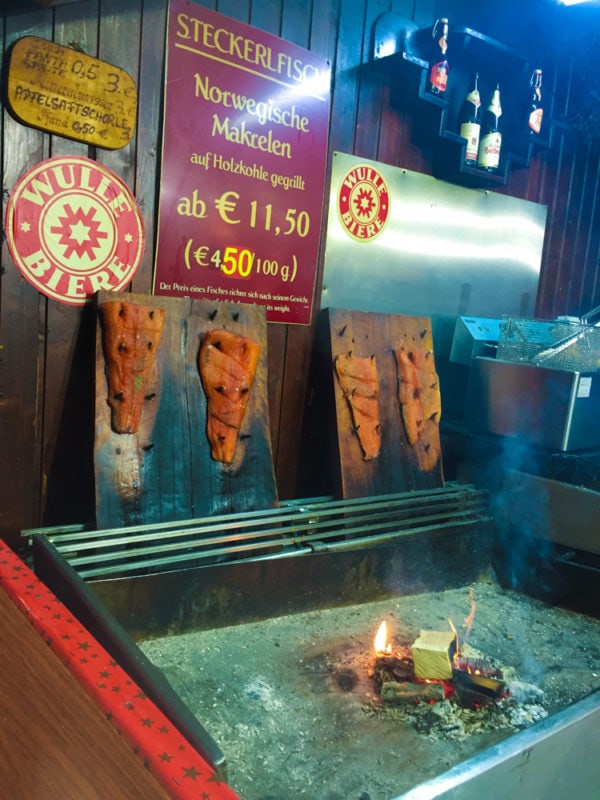 And this bakery with traditional Stollen bread. Look at those fresh Stollen loaves! I've never seen them that long before. Tip: don't wait to get your slice of Stollen until the end of the day. I did that and by the time I got there, they were out of all but one loaf. Fortunately, it was still tasty!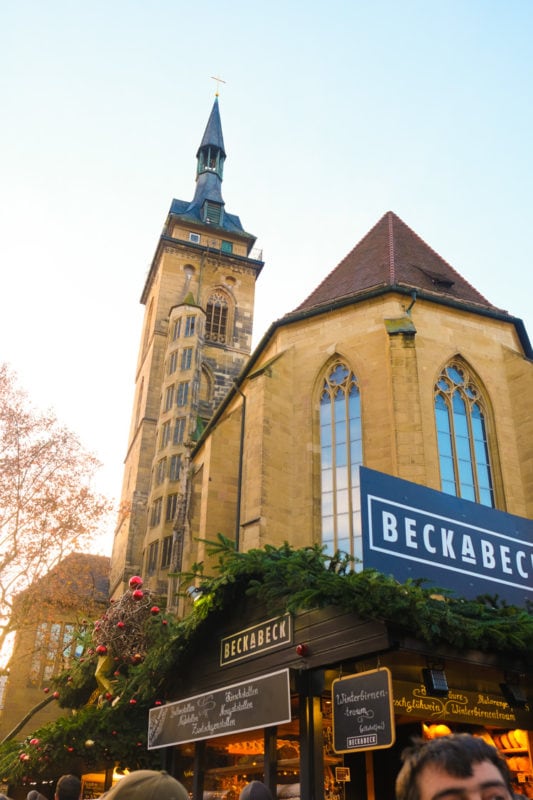 Ok, now we're getting into the thick of the Christmas market. This is where you can get lost because there are so many directions to go in! I suggest turning right first and exploring Schillerplatz. Wander around the stalls, stop for a bite to eat in the courtyard, and then walk towards the Stiftskirche.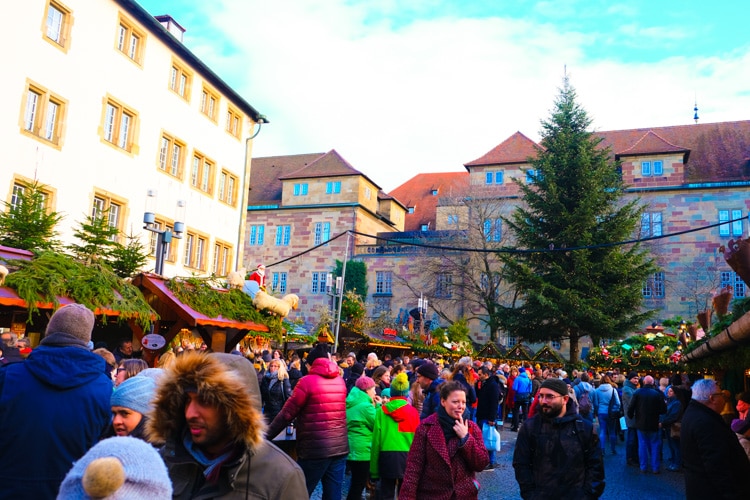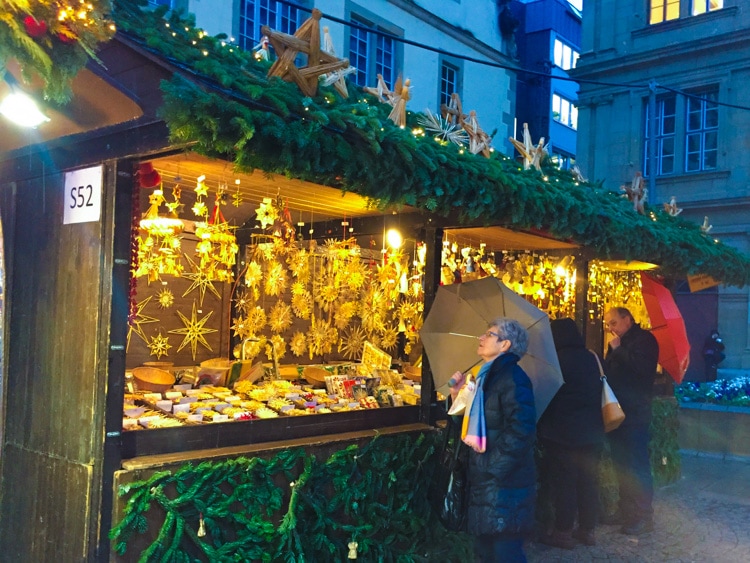 Now you can keep walking past the Stiftskirche down Kirchstrasse to the Rathaus (town hall)…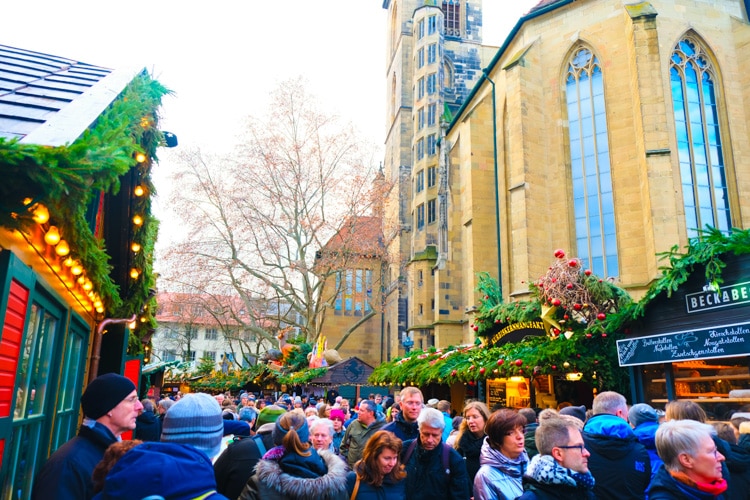 Or you can turn left off to the left on Dorotheenstrasse and then walk to Karlsplatz. That's where you'll find the antiques market! On your way to Karsplatz you'll pass by the building below and it will look like you've left the Christmas market for a block or so.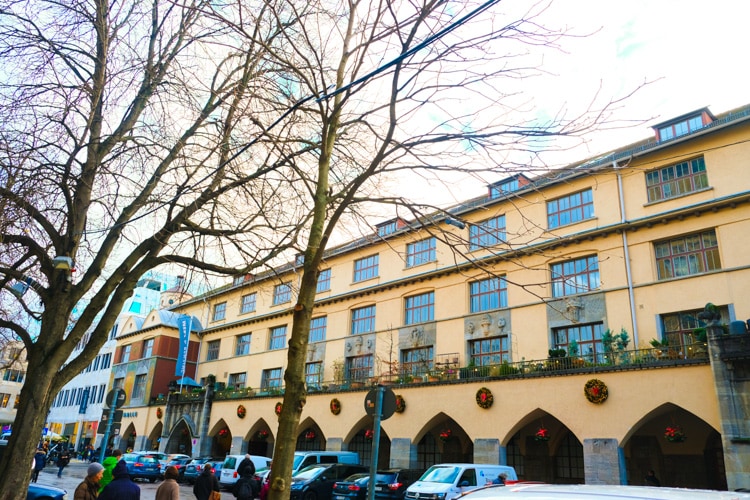 Cross the street and you'll see antiques and flea market. Here you'll find outdoor stands with all kinds of intriguing items (unique souvenirs, right?), a heated tent with more treasures, and an area with more food and drink stalls.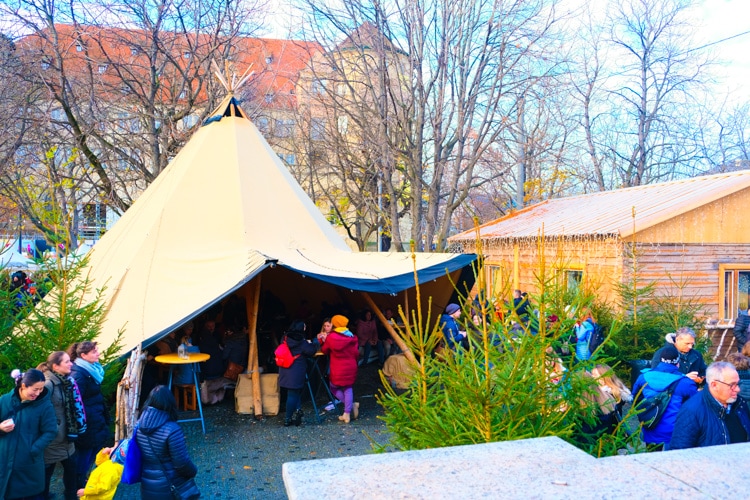 Ok, now walk down Münzstrasse (the street you crossed to get to Karlsplatz), take a right on Sporerstrasse, and walk to the Markthalle (it will be on your right).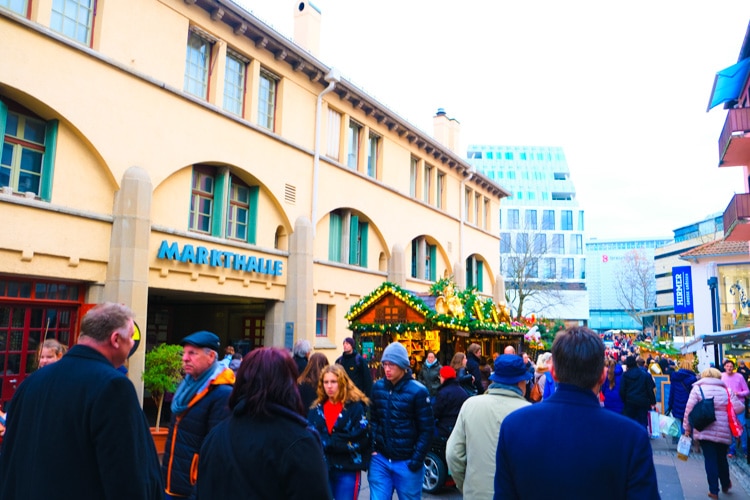 In this area you'll also find the live animal creche and the huge upscale Breunniger department store across the way.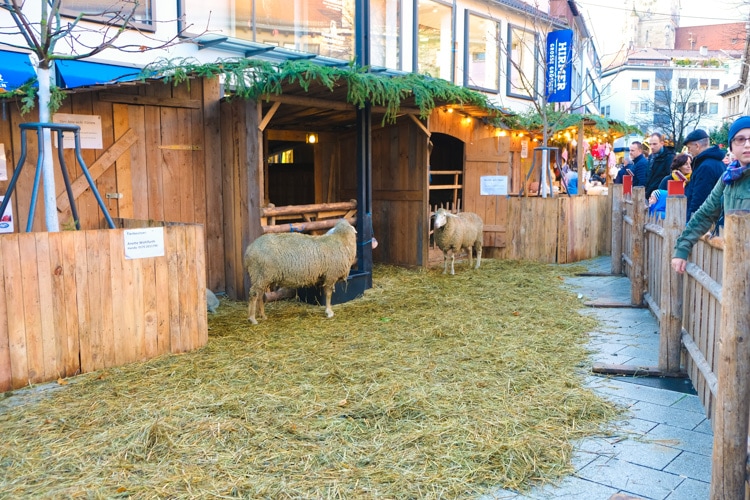 Then turn left on Kirchstrasse (that main "street" through the market) and head to the Marktplatz.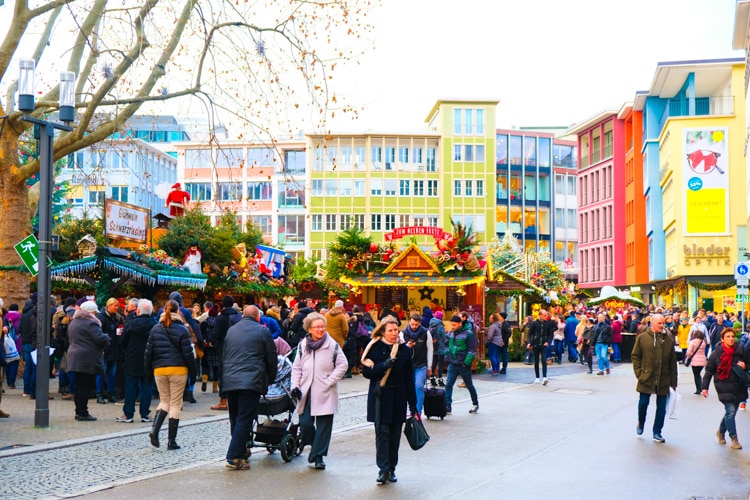 In the Marktplatz you'll find the Rathaus advent calendar (best viewed at night) and the steps where live concerts are held every evening at 6pm.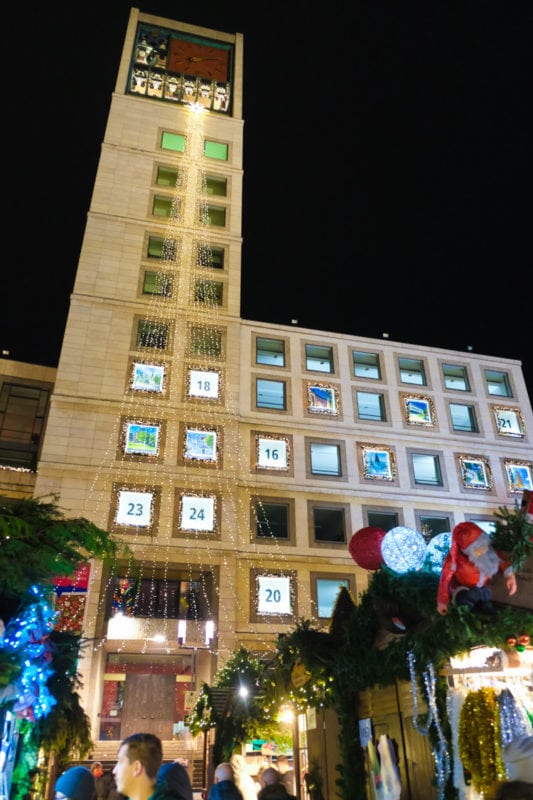 You'll also find a huge nutcracker in front of the Rathaus…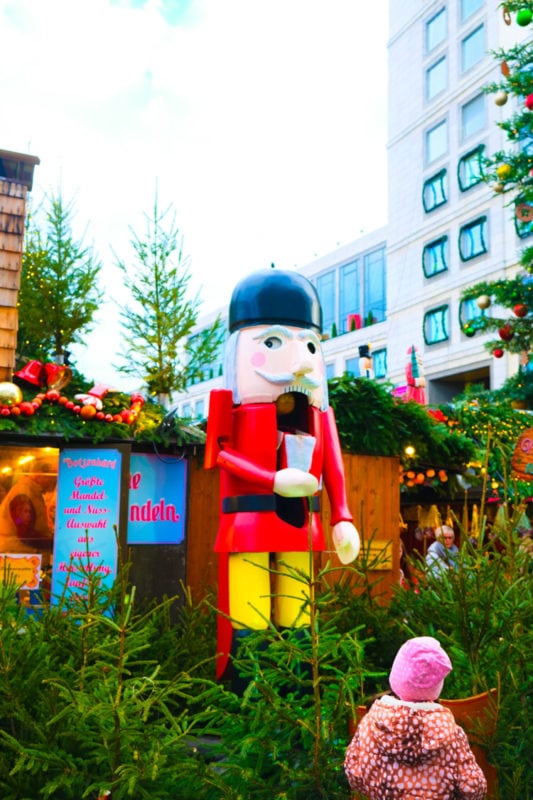 A wooden nativity scene…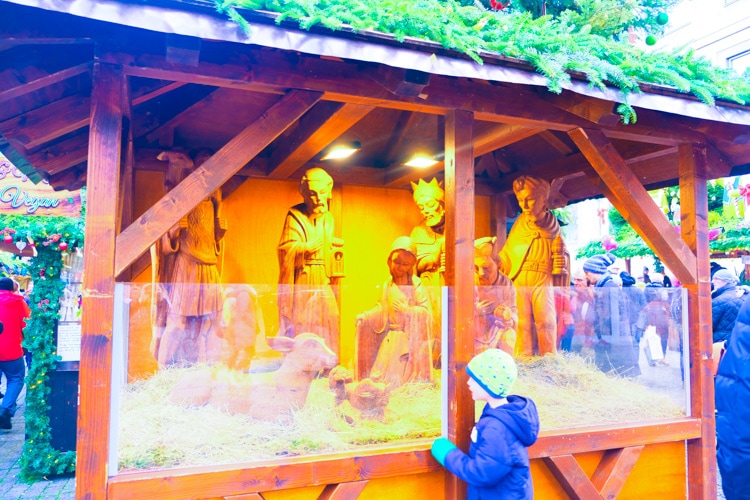 And more food and drink stalls, including the famous Stuttgarter Staffele (great place to find traditional Swabian food)…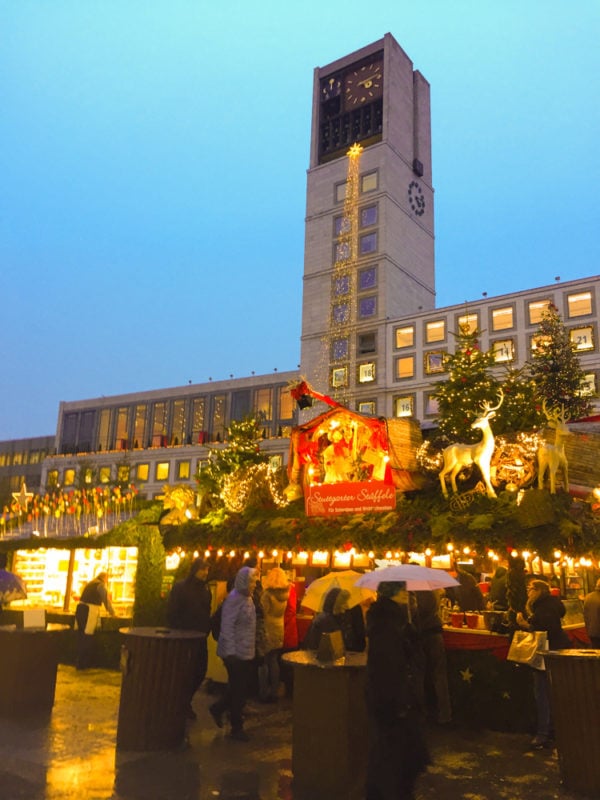 Tired of Glühwein? Try a Feuerzangenbowle!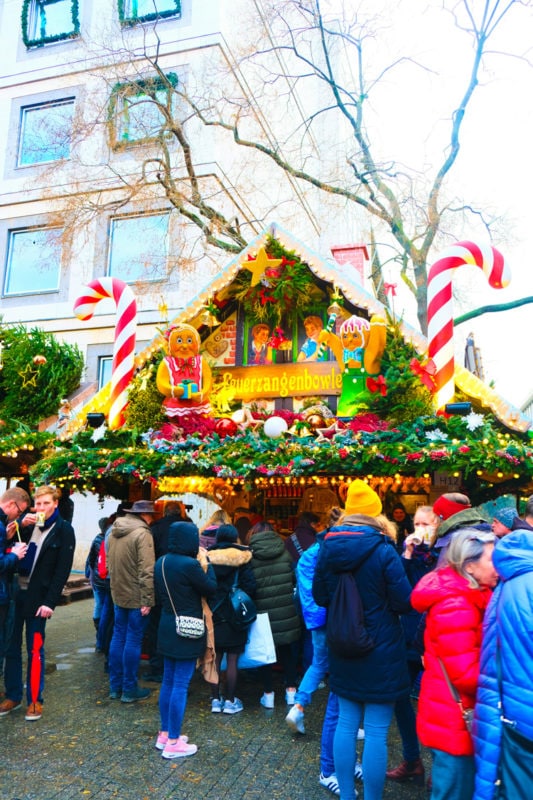 The Marktplatz also has a huge grid of more Christmas market stalls. This is a great spot for shopping.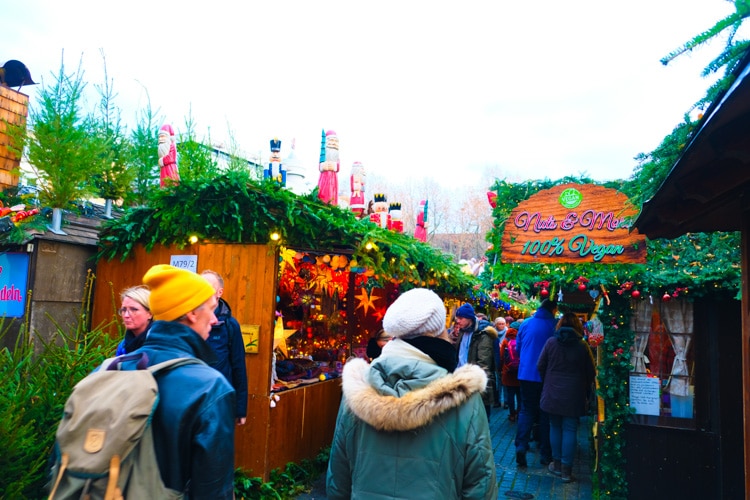 If you keep walking down Hirschstrasse (turn left and walk past the Rathaus) there are more booths on one side of the street. The market effectively ends here.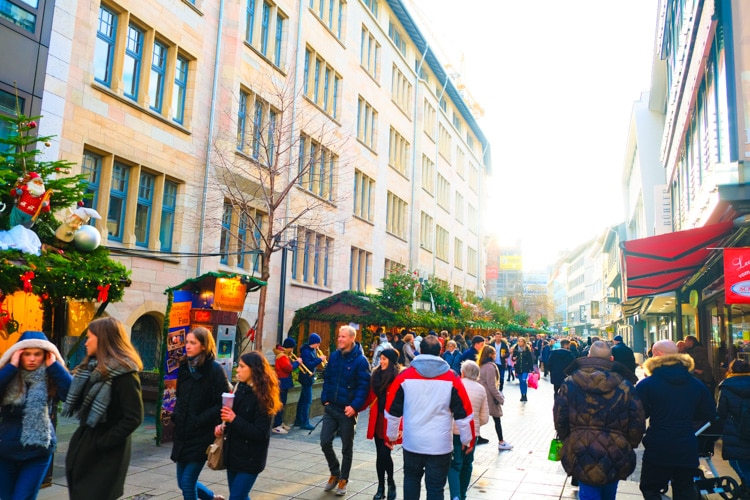 Whew, you made it through the entire Stuttgart Christmas market!
Christmas Market Tips
The Christmas market is held outdoors so dress accordingly. I recommend layers, a rain jacket or umbrella, a scarf, hat, and gloves or mittens. Click here for my Germany packing guide.
Don't let a little rain or cold weather stop you. If it starts raining, duck into the Markethalle, the Königsbau shopping area, the Stiftskirche or a café until it stops.
The market gets crowded in the evening and on the weekends.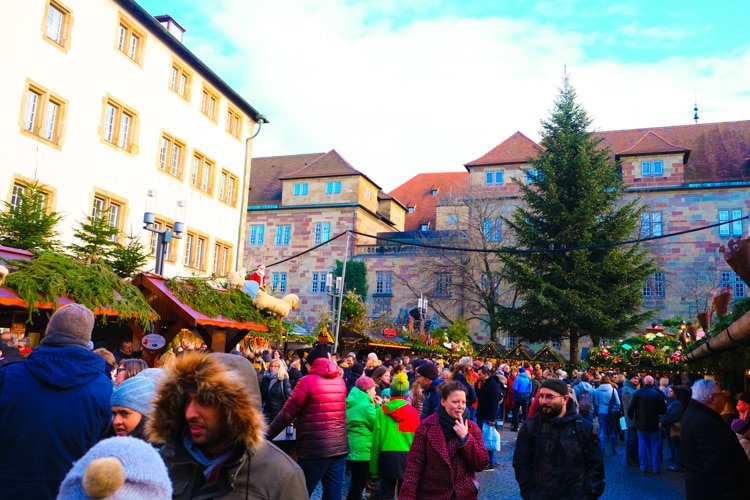 Visit the market during the day and at night if possible (that goes for all Christmas markets). I like to arrive at a new Christmas market between 3pm and 4pm. That gives me a chance to walk around during the day and see what's in each booth and then see the market once the sun goes down and the lights turn on. There's something magical about Christmas markets at night!
Pay attention to your belongings. I've never felt unsafe at the Christmas market, nor have I ever been pick-pocketed. But it's wise to be cautious in any tourist-heavy or crowded area. Don't carry your wallet in your back pocket or an outer backpack pocket. Do use a travel purse with safety features or secret pocket scarf for added security.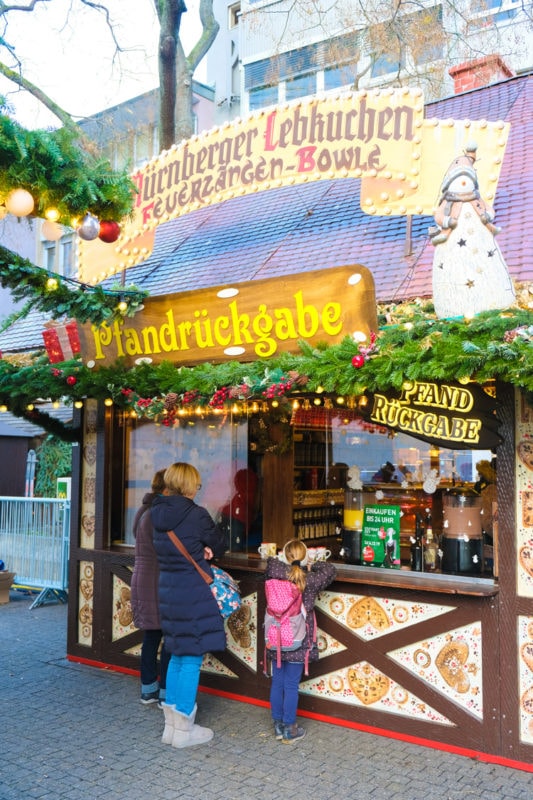 You'll pay a deposit on mugs (and sometimes glasses, plates and bowls. When you return them to the stall where you made your purchase (look for the word "Pfandrückgabe" or just "Rückgabe"), you'll get your deposit back. If you want to keep your Christmas market mug, just don't return it.
Bring cash. There are a couple ATMs at the Christmas market if you need to withdraw some (I saw one at Schlossplatz by the U-bahn stop). You might be able to use a credit card for a large purchase or at a larger stall but don't count on it. Credit cards aren't used as frequently in Germany as in the US, and some places that do accept credit cards only accept the EC card. You can ask about using credit cards at an information booth or just play it safe and use cash.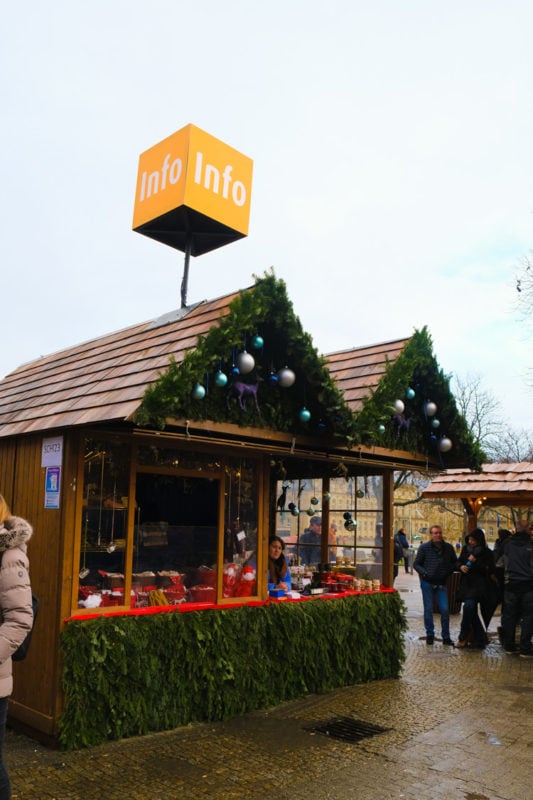 There are information stands throughout the Christmas market (there's one in the area between the ice rink, kiddie rides, and train). Ask all of your Christmas market questions and get a map of the entire market.
Be prepared to stand while at the Christmas market. There are very few places to sit (almost none), especially when it's raining. A few of the larger food stands have tables inside enclosed spaces but they are few and far between.
Try the samples that many booths hand out!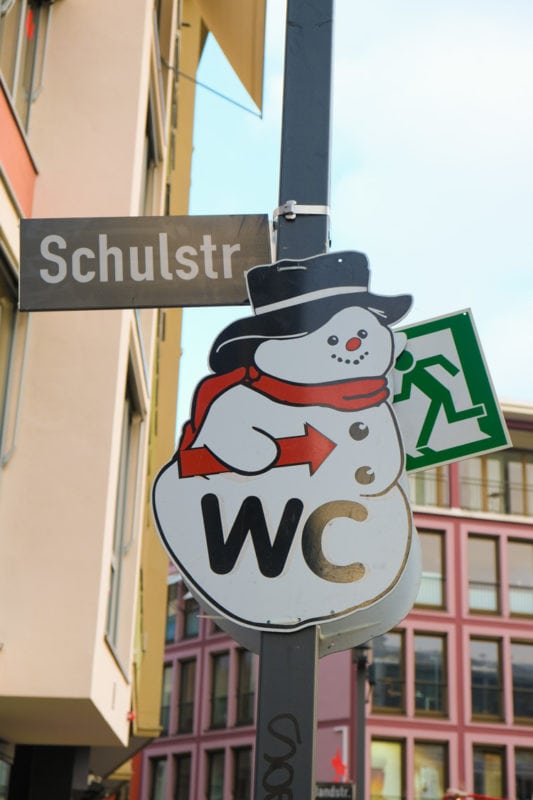 There are bathrooms around the market. Look for the WC sign. They usually cost 50 cents so be sure to bring coins!
If you need are wifi, there are wifi areas in downtown Stuttgart. You can pick up a little card with info at the iPunkt tourisim office (there's one right across from the main train station). You could also ask about it at the Christmas market information booth.
Want More Christmas Markets?
There are four additional markets you can visit, all between 10-60 minutes from downtown Stuttgart via local trains.
Bad Cannstatt Christmas Market
Bad Cannstatt is the closest Christmas market and only one S-bahn stop from the Hauptbahnhof (main train station). Much smaller than the main Stuttgart market, Bad Cannstatt features an around-the-world theme with several live programs. Go during the day so you can see the historical Roman buildings and sites, and enjoy the market along the way.
Esslingen Christmas Market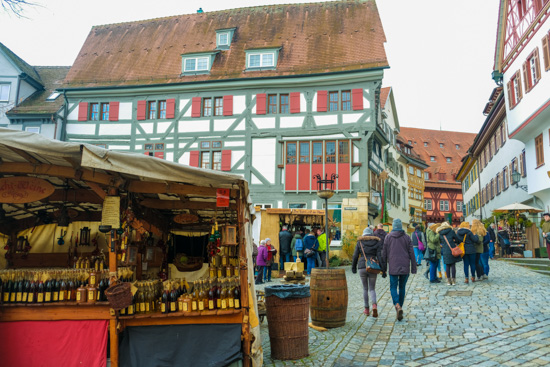 The famous Esslingen Christmas market is a must-see. Only 15 minutes from Stuttgart by local train, Esslingen hosts a medieval market, complete with merchants wearing traditional clothing, demonstrating medieval crafts like glassblowing, as well as artists, music, food, and much more. Esslingen is a delightful town to explore so be sure to allot at least half a day to see the town and market. If you want to stop for coffee and cake, I recommend FLO Schwesterherz on Bahnhofstraße. The blackberry cake and lemon ginger tea are amazing!
Ludwigsburg Baroque Christmas Market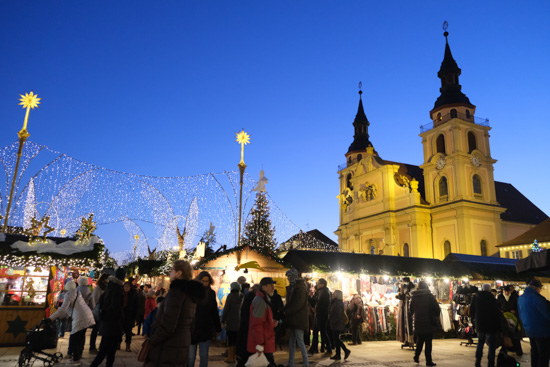 The Ludwigsburg Baroque Christmas market is located 15 minutes north of the Stuttgart city center via S-bahn. This gorgeous market features beautiful light displays and is situated between two baroque churches. Illuminated wings welcome you to the market! You may want to arrive during the day but be sure to stay until after sunset.
Tübingen ChocolART Festival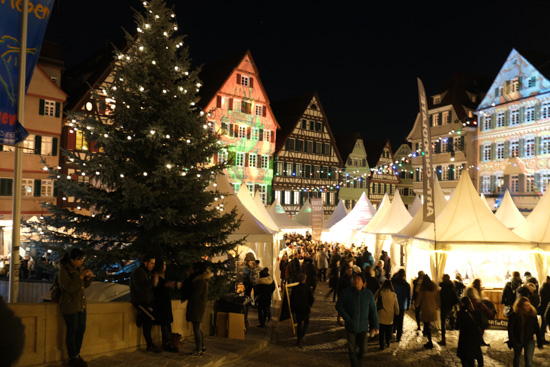 About an hour away by local train is Tübingen, a charming university town, and host of Germany's largest chocolate experience. You could easily spend an entire day exploring the Tübingen's cobblestone streets and the chocolART festival that takes place for one week each December. I spent 2 nights in Tübingen and loved being able to wander around the festival both during the day and on two different nights.
Bad Wimpfen Christmas Market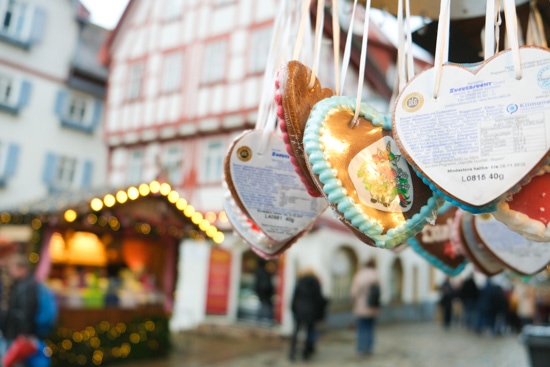 This was a new market for me and I'm so glad I made it a day trip when I was last in Stuttgart! Bad Wimpfen is a really cute town with cobblestone streets, historic buildings, and a great view of the valley. The Christmas market is spread throughout the old part of town, so as you explore the market you explore the town. It's the furthest away from Stuttgart but it's an easy 1.5 hour trip via regional train (less time by car).
Hohenzollern Castle Christmas Market
This castle on a hill is easy to reach from Stuttgart via train or car and you get both a castle visit and a Christmas market! It's only open on specific dates in December, and it had ended by the time I arrived in the area, but it's on my list for my next visit!
More Things to Do in Stuttgart
HOHO City Tour. I used to live in Stuttgart and I still loved this Hop On Hop Off tour! It's perfect for visitors new to the city and those who only have a couple hours to explore. If you're wondering if HOHO bus tours are worth it, check out our article about them.
It takes about 2 hours to do the entire tour, longer if you decide to get off at any of the stops. (I got off for an hour to tour the Mercedes Museum.) If you listen to the audio you'll learn a ton about the area (I loved that you can listen to the tour in multiple languages, including the local Schwäbisch dialect). Tickets are good for 24 hours so you could use it to get to various sites on two different days. Get tickets here!
Christmas City Bus Tour. This 45-minute bus takes you high into the hills to view the city lights below while pointing out the sights and sharing Christmas trivia and traditions. I went on this tour just after dark and loved getting to see the city lights from a different perspective. This is a great tour for those who are looking for a shorter and less expensive option to the HOHO tours.
Wilhelma Zoo Christmas Garden. If you're in Stuttgart after dark, I highly recommend an evening at the Christmas Garden! You'll walk along a peaceful 1-mile path through the gardens and zoo seeing 20 light displays along the way. Admission tickets are timed so it's never crowded. There are also Christmas market type stands throughout so you can pick up a bite to eat or something to drink along the way. The zoo is on a hill so you also get great views of the city. Even better? The U14 even stops right at Wilhelma!
Go for a hike. Craving time in nature away from the city? One of my favorite things to do in Stuttgart is to hike through the forest to the Bärenschlössle (Bear Castle) from the university's Vaihingen campus. It only takes about 30 easy minutes to hike from the Universität S-bahn stop. Once you reach the Bärenschlössle, treat yourself to lunch or coffee and cake!
I'd like to thank the Stuttgart tourism office for giving me tickets to enjoy a Glühwein and Nutella crepe at the Christmas market!