What To Do On a Layover In Frankfurt Airport (FRA) in 2023
This post may contain affiliate links. Read my disclaimer policy.
So you've found yourself at Frankfurt International Airport with plenty of time to kill.
As one of the busiest airports in the world, tons of people pass through and spend time at FRA for lots of different reasons.
You might be coming from the United States and have a long layover before catching your connecting flight to another city in Germany.
Perhaps you have a short layover before your next flight to another European destination.
Or maybe you have to wait a few hours to pick up your rental car or catch a train to another destination in Germany or elsewhere in Europe.
No matter the reason or the amount of time you have, there's no need to be bored!
Whether you stay in the airport or venture outside to the city center, here are the best things to do during your Frankfurt Airport layover.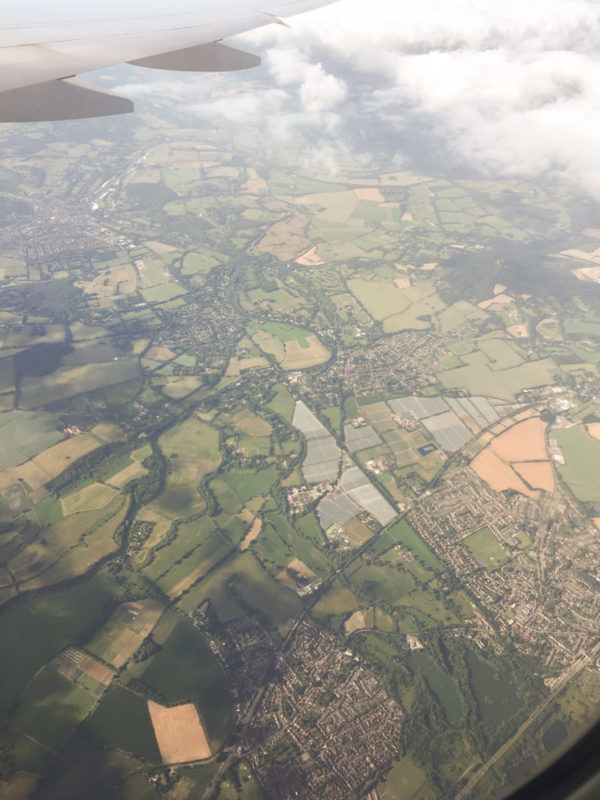 10 Things to Do at Frankfurt Airport on a Layover
As the busiest airport in Germany, Frankfurt Airport has plenty of activities to keep travelers occupied during their 2 or 3 hour layover.
If you'd prefer to venture into downtown Frankfurt am Main, scroll down for directions and our sight-seeing tips.
1. Unwind In An Airport Lounge
A great way to unwind after long international flights is by relaxing at one of the lounges in the airport. If you fly business class or first class, you'll automatically have lounge access to your airline's exclusive lounge. These include Lufthansa, Air Canada, Air France KLM, Emirates, Japan Airlines, and more.
Alternatively, you can also book a stay at the Frankfurt Airport VIP-Services airport lounge. It's available for any traveler as long as you book in advance. Take relaxation to a whole other level at a fully equipped conference room or a luxurious private suite, complete with a chauffeur in a luxury limousine directly to your aircraft.
There are also several walk-in lounges that offer day tickets at more affordable rates, giving you access to buffet meals, unlimited high-speed free wifi, fully serviced bars, comfortable seating, and even showers. For more information on the different airport lounges, visit the airport's official website.
We get a couple free lounge access tickets each year through one of our business credit cards, so check yours to see if that's an option.
2. Take An Airport Tour
This tour is a fun way to learn interesting facts and see different parts of the airport you wouldn't otherwise see. There are two tours offered: XXL Tour (2-hour tour) and Starter Tour (45 minutes). All tours are done from the comfort of an air-conditioned bus.
The XXL Tour is the ultimate airport experience. You can see the ground handling of aircraft, takeoffs and landings in the central runways, and new development sites. The Starter Tour allows you to see the highlights, like a quick glance at aircrafts being fueled and closeups of aircraft livery from all over the world. Book tickets here!
3. Admire The Views From The Visitors' Terrace Or Open Air Deck
Get some much needed fresh air at the Visitors' Terrace and the Open Air Deck! The Visitors' Terrace located in Terminal 2 is a great place to get a closer view of the apron and planes landing and taking off on the runways.
The Open Air Deck is a roof terrace located in the transit area. Here you can take a smoke break, sit among the greenery under the sun, or watch airplanes. There's even a telescope you can use for close ups, at no extra cost.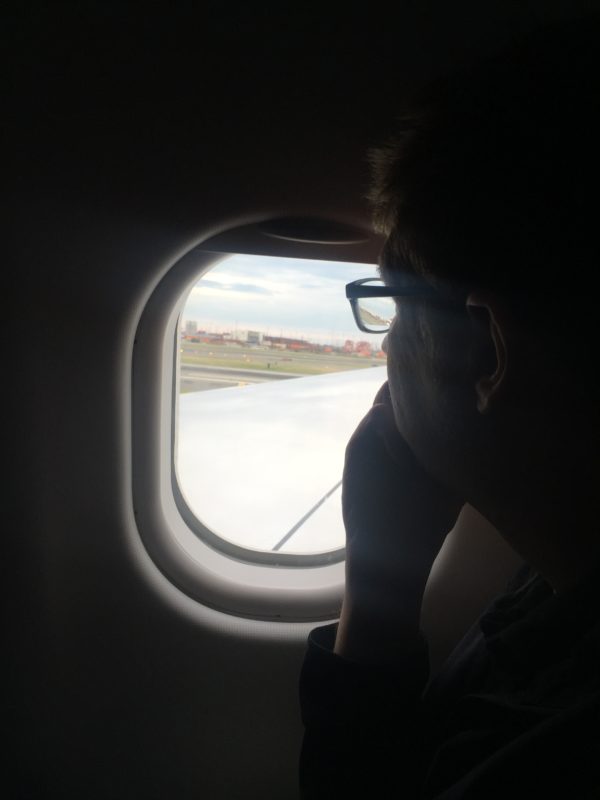 4. Go On A Shopping Spree
Frankfurt Airport has stores and shopping areas scattered in all terminals. The Airport City Mall, located pre-security in Terminal 1 features a wide range of retail outlets and restaurants. In Terminal 2, you'll find all the airport staples like convenience stores, Duty Free, and famous designer brands.
You can even book a personal shopper to advise you on the best products or help you look for something specific. The personal shoppers speak Mandarin, Vietnamese, German and English fluently and the service is free of charge.
Even if you're not in the mood to make purchases, it's always interesting to see what's available in other countries, isn't it?
5. Experience A Flight Simulator
Traveling with children and looking for a fun activity to keep them entertained? Check out the flight simulator center!
Experience what flying is like from the perspective of a pilot and practice taking off and landing at different international airports. Choose from different simulations (there's even one for younger kids), all under the guidance of an expert professional pilot!
6. Catch A Movie At Movie World
Another great way to pass time quickly is by watching movies. At Movie World, you can watch movies on a big screen for free! These small, private areas have TVs where you can choose from blockbusters, full-length movies, documentaries, and television series. There's a wide selection to choose from, suitable for families and available in different languages.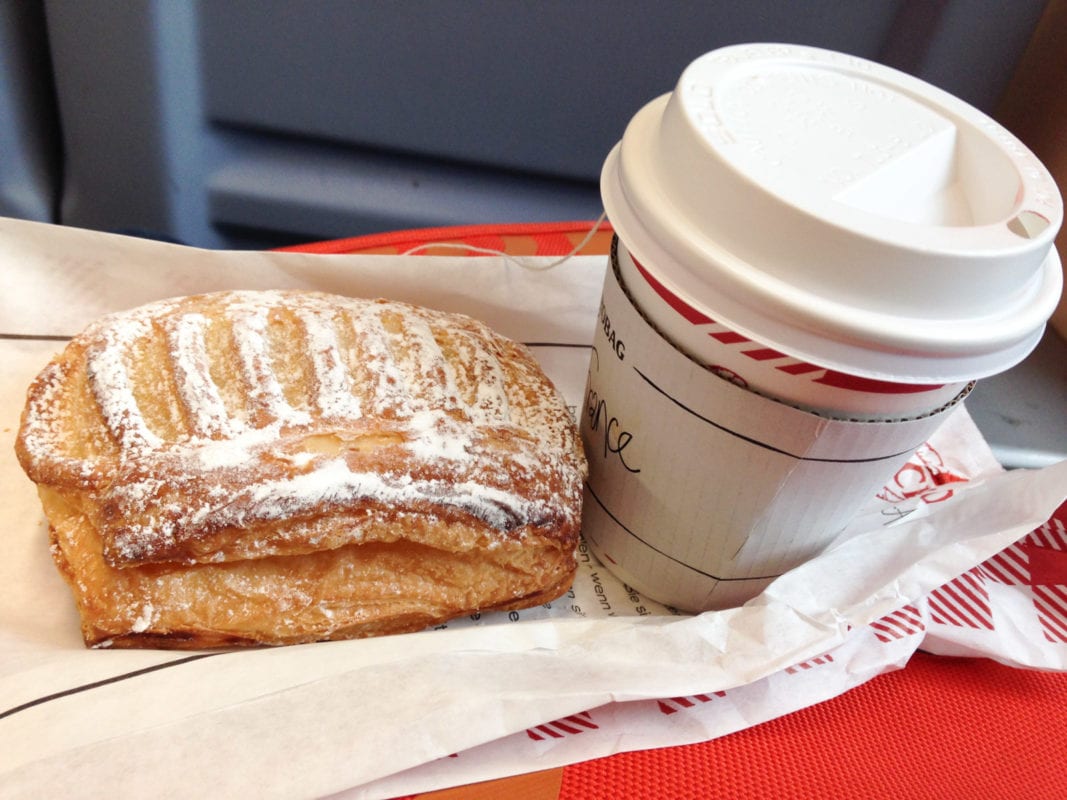 7. Enjoy Delicious Meals, Drinks And Snacks
You definitely won't go hungry with all the choices of restaurants available! The airport offers a wide range of options, from fast food chains, German local food, coffee shops and bakeries, Asian food, Italian food, and healthy options.
There are some establishments that are open 24/7 during the summer months such as McDonald's, and other German chains like Bistrot, Scoom that serve everything from pastries, Schnitzel, sandwiches, and salads. Check the full list of dining options here.
8. Meditate, Stretch And Relax
After a long day of traveling, nothing helps like some peace and quiet. There are multiple spaces in FRA that allow you to have some time to yourself amidst the noise and bustle of the airport. You'll find free-of-charge yoga rooms in both terminals, fully equipped with mirror walls, yoga mats, and a monitor showing short videos.
If you're religious, there are Christian chapels, Jewish prayer rooms, and Muslim prayer rooms in both terminals as well. For those who are not religious, you can visit the quiet rooms. These rooms are entirely neutral and don't have any specific cultural or religious features. They're an excellent place to enjoy a few moments of contemplation and de-stress.
9. Freshen Up After A Long Flight
If you need to freshen up before traveling to your final destination, take advantage of the shower facilities available in the airport. The showers are open for use between 6:00 am and 11:00 pm. There is a small cost of 6,00€ to use them but this includes a towel, toiletries, and use of a hair dryer. Check the locations of the showers here.
10. Take A Comfortable Nap
Struggling with jet lag and want a comfortable place to sleep for a while? Book a spot at the NapCabs in Terminal 1! The NapCabs are small soundproof cabins with a comfortable bed, adjustable air-conditioning, alarm clock, USB charging station, free wi-fi, and even a work desk. Cabins are booked per hour with a minimum of 2 to 3 hours, depending on the time and must be reserved in advance online.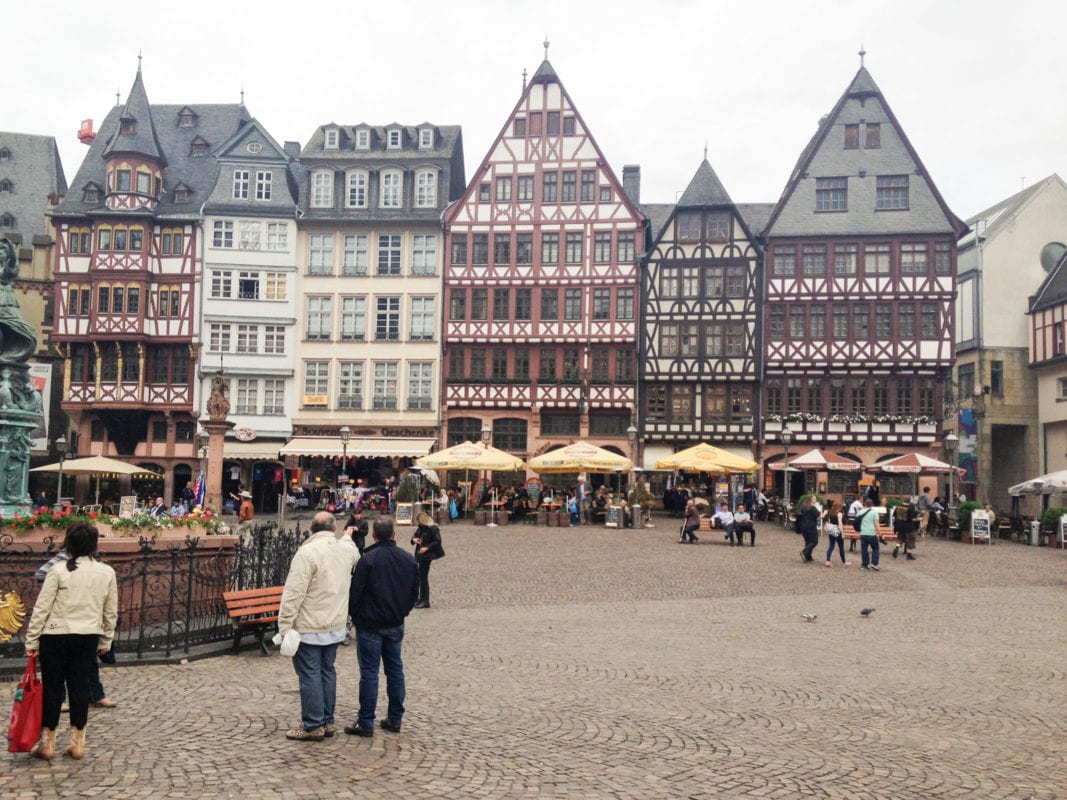 How To Leave Frankfurt Airport And Explore the City Center
If you have 7 to 8 hours or more available, then we definitely suggest venturing out of the airport and heading into the city to do some sightseeing. You'll be surprised at how much you can see and fit into your schedule!
One of the most efficient ways to go about exploring Frankfurt is to start in Old Town, the heart of Frankfurt.
It's home to important landmarks like Römerberg, the central main square, and Frankfurt's City Hall. From here you can easily make your way to the Frankfurt Cathedral, cross the Iron Bridge, and stroll along the River Main.
There's more to the city but these are the highlights to see when you don't have much time.
For a full list of popular spots and main attractions to see, read our 1 day in Frankfurt itinerary guide.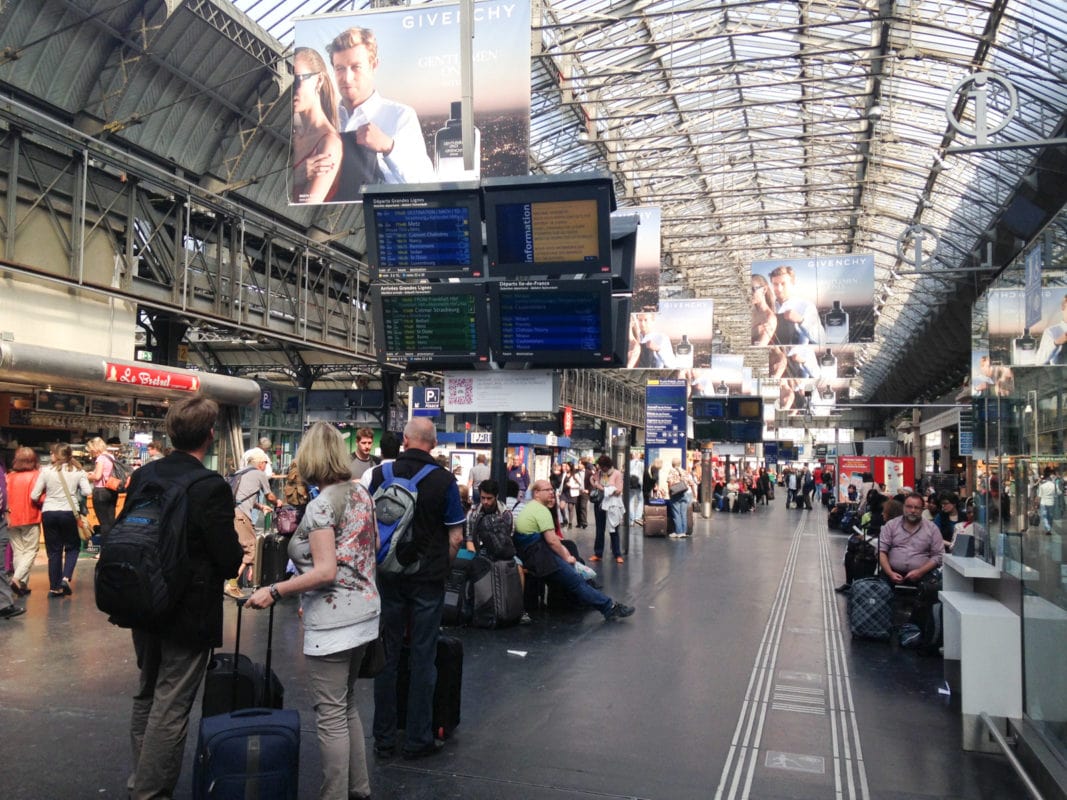 Getting to Frankfurt city center
There are a couple ways of getting to the city center from the airport using public transportation. But you can also take a taxi or book a car rental if you prefer.
By Bus
There are several bus lines which can take you to the center: 61, 77, 72, 58 and 62 bus lines (daytime buses) and 81 and 7 bus lines (night buses).
By Train
S-bahn (regional trains): Take the S-Bahn railway S6 and S9 lines to Offenbach Ost and Hanau. Then you'll be able to transfer to downtown Frankfurt (Hauptwache Station).
U-bahn (metro): You can take U Bahn 8 and 9 lines, which will take you to Hauptwache Station.
Need to Spend The Night at Frankfurt Airport or Frankfurt City?
If you have a long stay at the airport, and especially if you need to stay overnight, we suggest booking a hotel near the airport.
It'll be much more comfortable to relax in a hotel room before catching your next flight or train ride and it also allows you to explore Frankfurt city center without worrying about making it back by a specific time.
There's a hotel located directly inside the airport called MY CLOUD Transit Hotel. This is a good option for those who either don't have enough time or the desire to go out and explore the city of Frankfurt but would still like to have the privacy of their own room to relax.
The compact rooms have queen-sized beds, modern bathrooms, air-conditioning, flat screen TVs, and some even have views of the runway. Click here to book a room in this Frankfurt Airport Hotel.
If you want to stay outside of the airport, you'll find plenty of options in the surrounding area. Many have direct access to the airport via walkways, while many others are just a 5- to 10-minute walk away.
Here are some of our top suggestions:
Hilton Garden Inn – World class hotel chain with direct access to Terminal 1 by skywalk
Holiday Inn Frankfurt Airport – Great value hotel located 10 minutes away from Terminal 2
Steigenberger Airport Hotel Frankfurt – Business hotel with modern amenities and complimentary 24-hour airport shuttle
Check out our complete guide of the best hotels near Frankfurt International Airport.