1 Day in Frankfurt Guide (Frankfurt am Main)
This post may contain affiliate links. Read my disclaimer policy.
Only got 1 day in Frankfurt? Here's how to plan the ultimate 1 day itinerary.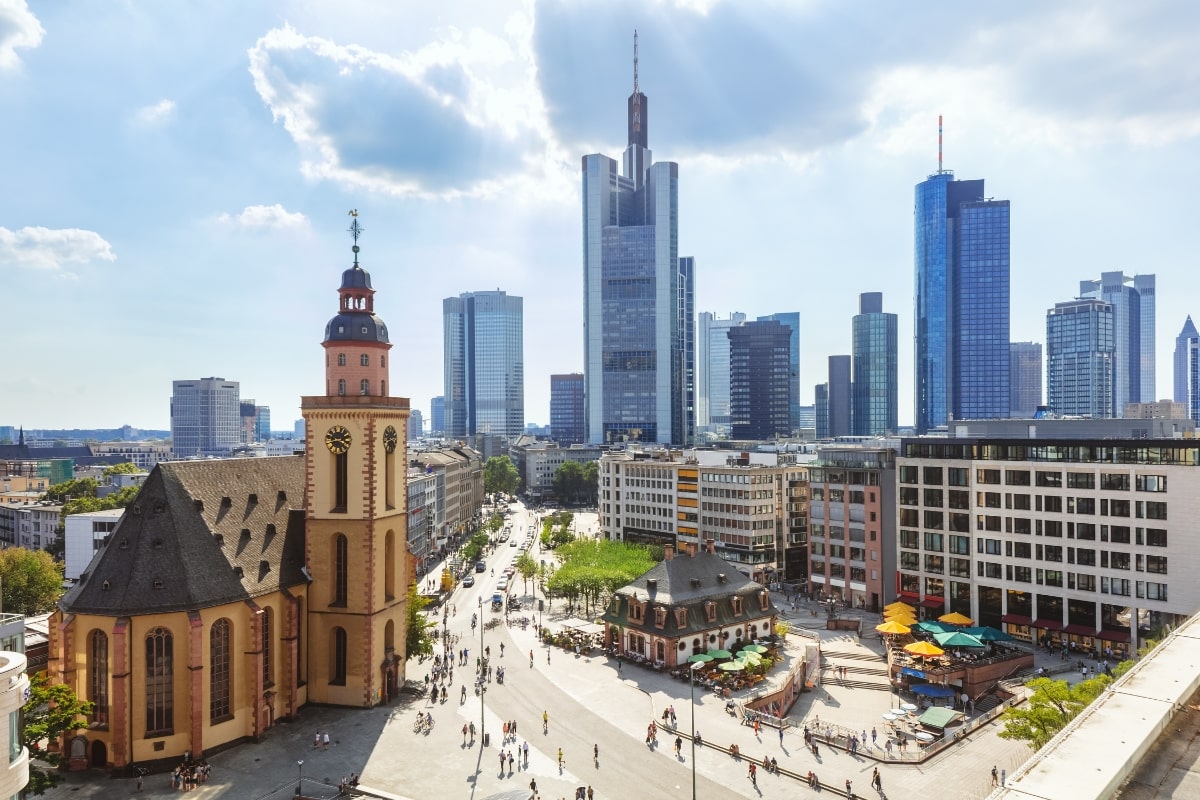 Although Frankfurt is mostly known for being the country's main airport hub and a financial center for business trips, rather than a tourist destination, the lively city of Frankfurt is the gateway to Germany and an ideal place for easy travel connections and convenient day trips.
Frankfurt is the very first city I visited when I moved to Germany (well, I saw the airport and the train station!) but I didn't return to actually explore the city for several years. I'd always thought of it as kinda blah but I wish I'd visited sooner because it's a wonderful city!
Whether or not Frankfurt am Main is at the top of your list of German cities to explore, it's worth considering a visit to one of Germany's major cities.
So if you ever find yourself in Frankfurt on a long layover or if you have an extra day or two before or after a flight, get ready to explore, because the city might just take you by surprise.
Keep reading to learn about the best places to visit in Frankfurt, Germany and how to plan the ultimate 1 day itinerary.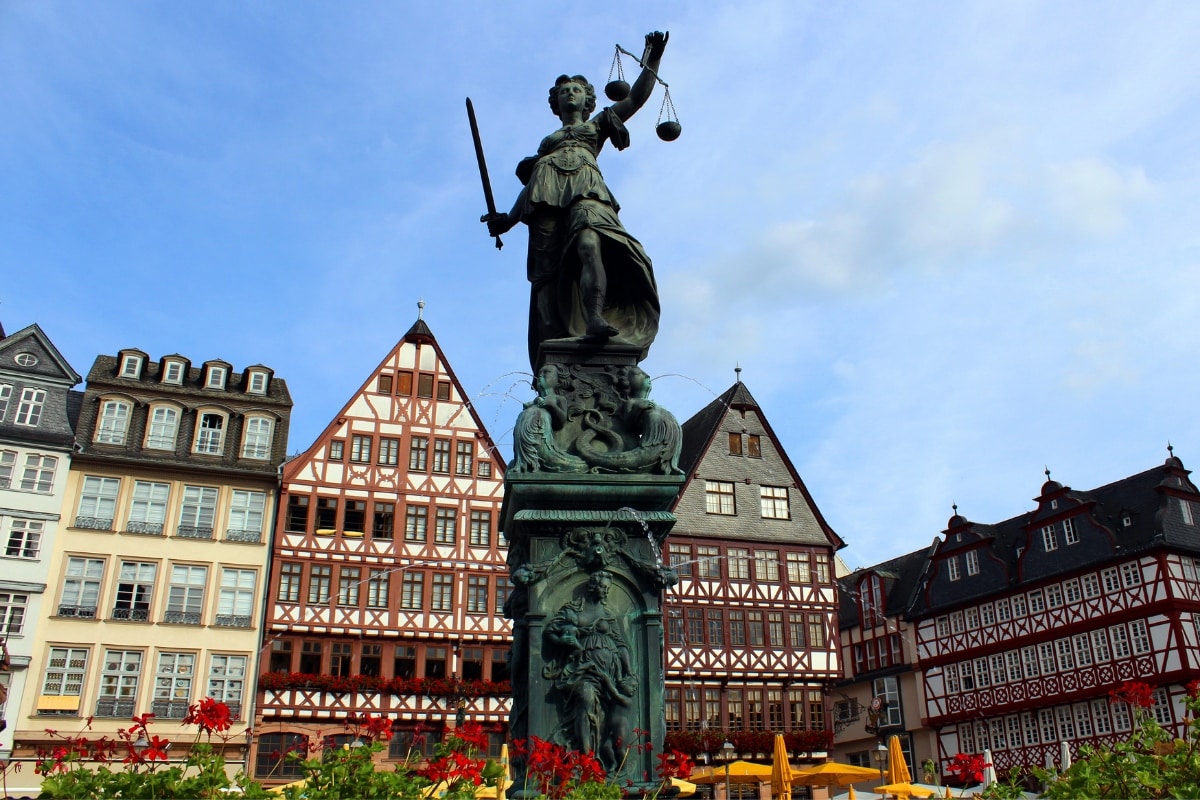 When to Visit Frankfurt
Summer is the most popular time to visit Germany in general and Frankfurt is no exception. Warm temperatures and long sunny days are perfect for vacation but they do attract tons of tourists, which translates to higher prices for airfare and accommodations. Air conditioning isn't common anywhere in Germany but you'll probably be spending most of your time outdoors by the river or in beer gardens in the summer months.
The changing of the leaves during the fall months bring cooler temperatures and golden views of the city. Prices begin to drop and crowds also begin to thin out. The weather in the fall is still pleasant enough for you to enjoy walking around the city.
The winter season is a great option if you want to celebrate the holidays by exploring the Christmas markets. But be prepared to brave freezing temperatures and rainy or even snowy days. An upside is that prices are usually at their lowest, especially after the holidays. And even though many people visit the Christmas markets, it doesn't feel as "touristy" as it can in the summer.
The bad weather slowly starts to disappear once springtime arrives. Locals are happy to step out with just a light jacket and spend time outdoors as the gardens start blooming. One of the best times to visit would be in early spring, just before the summer peak.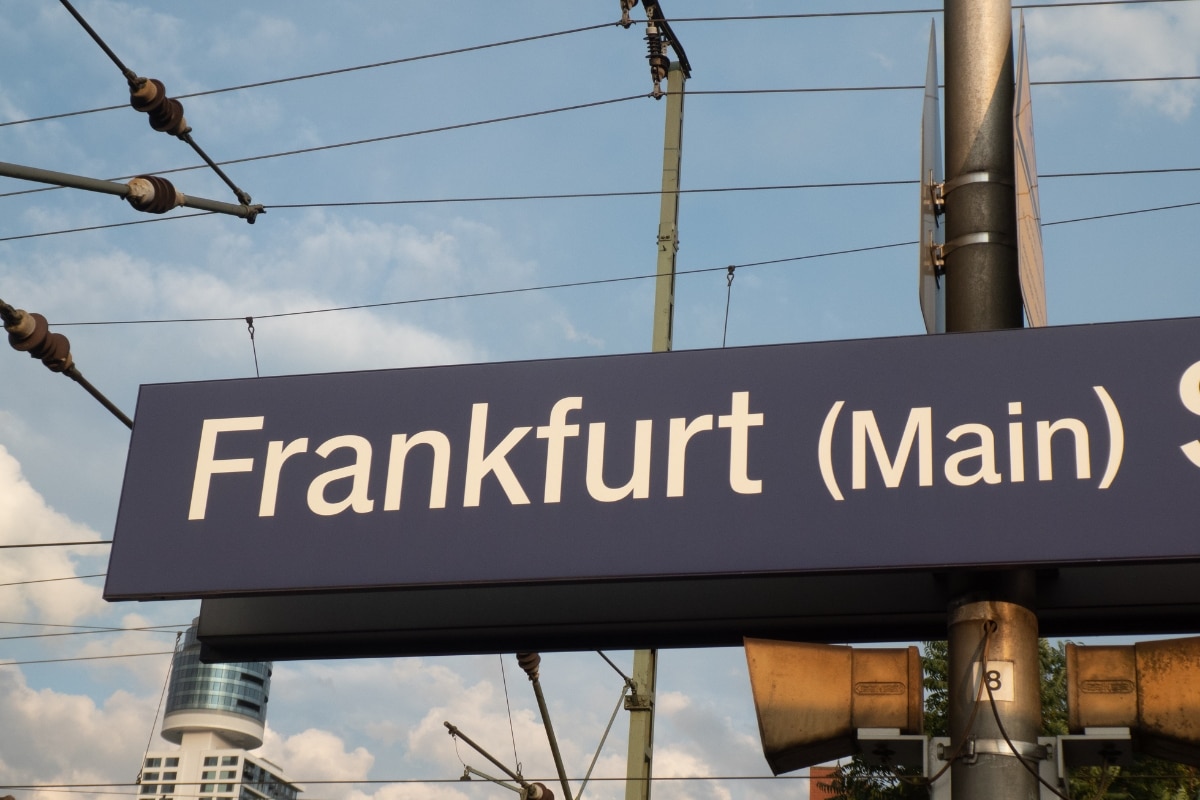 Frankfurt or Frankfurt Am Main?
You've probably seen the city referred to both ways. While most people simply call it Frankfurt, the city's official name is Frankfurt am Main, meaning Frankfurt on Main. "Main" is the name of the river that flows through Frankfurt, so Frankfurt am Main means Frankfurt on the Main river.
The reason "am Main" is added to Frankfurt is because there's another Frankfurt in Germany – Frankfurt an der Oder. Yep, that means Frankfurt on the Oder river. That Frankfurt is in eastern Germany, a couple hours away from Berlin on the Polish border.
Frankfurt am Main is much larger than Frankfurt an der Oder, so if you simply say Frankfurt, most everyone will know which one you mean.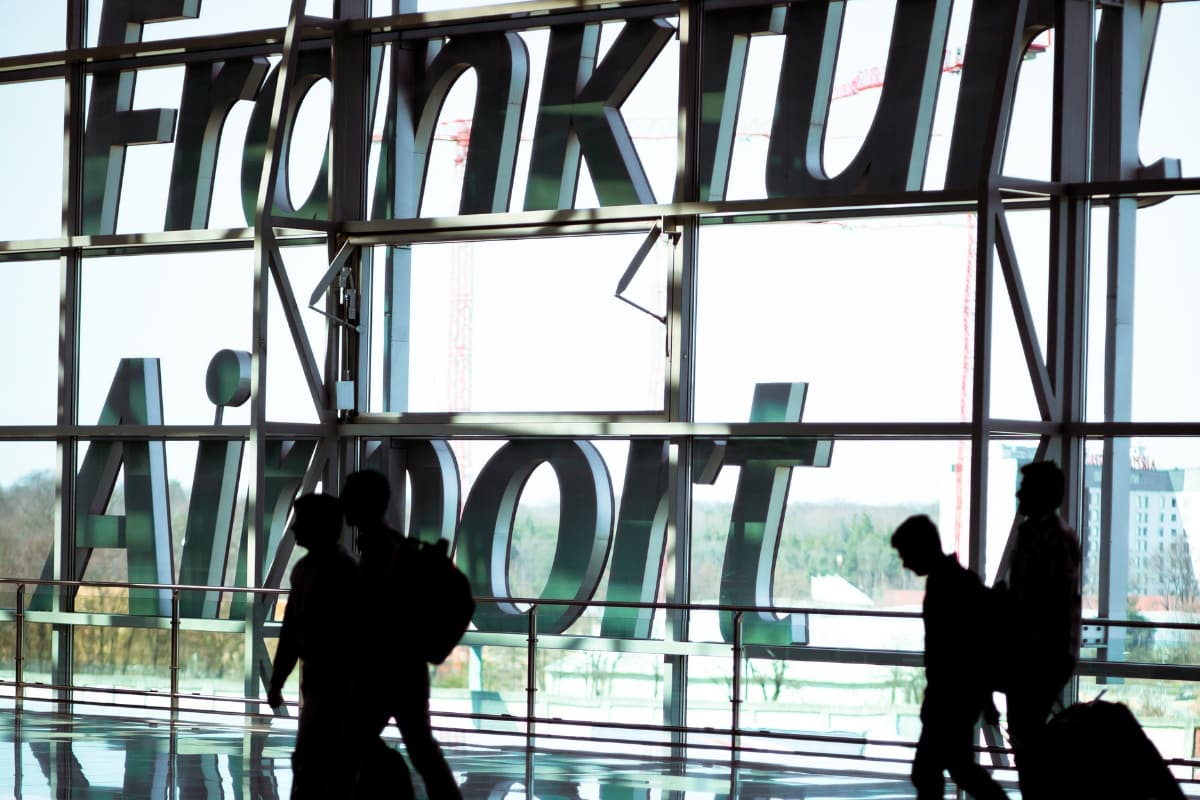 How to Get to Frankfurt
Home to Germany's main airport and one of the busiest central train stations in Germany, Frankfurt is va well-connected and easy destination to reach.
Wherever you may be traveling from, it's easy to find a good connecting flight to Frankfurt International Airport.
Getting from Frankfurt Airport to the main train station is a quick 15-minute ride via S-bahn. Getting to the city center is also just as easy and quick via public transportation. You can get off at the Hauptbahnhof (main train station) and walk or ride to a specific stop downtown.
Another great way to travel to Frankfurt is by train, especially if you're coming from within Germany or other European cities in neighboring countries.
Visiting Frankfurt Upon Arriving in Germany
If you're flying into Frankfurt overnight from the US and want to catch a train to your final destination, but are worried about missing your train – and losing the money you paid for your ticket – due to a potential flight delay, plan a 1 day visit to Frankfurt!
Take public transportation from the airport to Frankfurt's main train station (Hauptbahnhof), store your luggage, and then explore the city until shortly before your train departs.
Walking around the city will stave off jet lag, you won't lose money by missing your train and forfeiting your ticket, and you'll explore a lovely new city.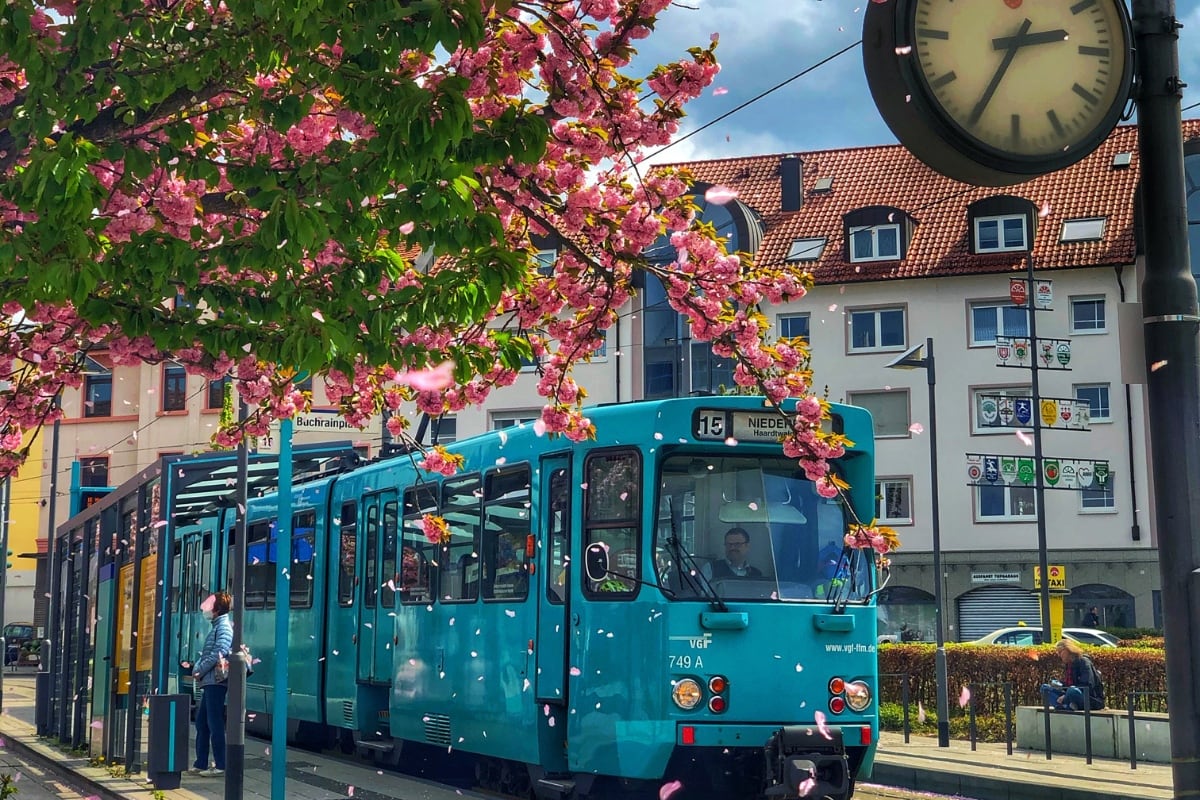 The Best Way to Get Around Frankfurt
Although Frankfurt spreads out in all directions, the inner city is pretty compact. On your visit, you'll likely spend the majority of your time in the downtown or old town (Altstadt) area. You can easily reach historic Frankfurt and get to all sights in this area by walking from the train station.
For places that are a bit farther away, you can make use of the city's public transportation which includes the U-bahn, S-bahn, trams, and buses.
If you're only in the city for a day, going through the trouble of learning the transportation network might not be worth your time. In this case we suggest taking the Hop On Hop Off Bus tour since the bus routes bring you to all the best tourist attractions. For more information, head to the section on our recommended guided tours.
Frankfurt Card – Yes or No?
The Frankfurt Card offers you free unlimited travel on all public transport within the city of Frankfurt and Frankfurt International Airport (Zone 50 and Zone 5090). Not only that, it comes with up to 50% discount on select city tours, museums, restaurants, and other attractions.
The card is available for either one day (€ 11.50) or two days (€ 17.00). You can also choose between individual tickets or group tickets (3 to 5 persons). It's a great deal but the question is – is it worth it for a 1-day trip?
If you're mostly sightseeing in the downtown area, you might not get a lot of use out of it since you'll be doing a lot of walking. But since it also includes transportation to and from the airport plus discounts on tourist spots, it's worth looking into and deciding based on your itinerary.
All in all, we recommend buying your Frankfurt Card if you're in the city for at least a day and a half to really make the most out of it. It's especially worth it if you're traveling as a group, since you can split the amount and avoid the extra cost of having to buy single tickets for every ride.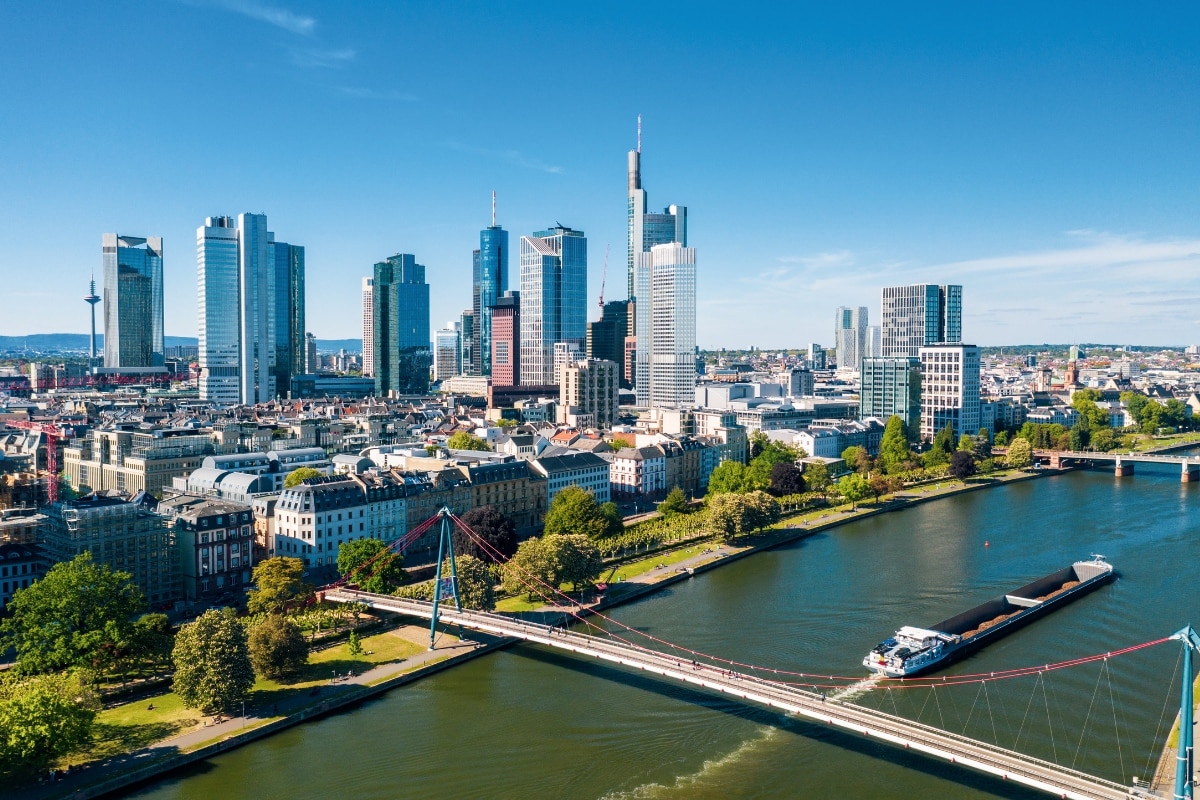 Frankfurt Guided Tours
Something that is definitely worth it for 1 day trips are guided tours. If you don't have much time in a city the last thing you want to do is waste time arranging all the logistics and trying to find your way around.
The Hop On Hop Off Bus tour saves you the trouble of finding the best routes to get from one destination to another. Choose as many of the stops along the route to explore, all for the price of one ticket. Book your HOHO bus ticket here to discover Frankfurt at your own pace!
If you want to see the city from a different perspective, then book this tour that takes you on a cruise through the River Main. You'll get great views of Frankfurt's skyline while also passing through historical landmarks and neighborhoods. You can also choose between a 1-hour or 2-hour tour depending on how much time you have.
Want a more unique and personalized experience? Take this private tour with a local here! Upon booking, your guide get in touch and ask questions so they can customize the tour to your preferences. Get insider tips on the best places to eat, discover hidden gems, and experience the city like a true local.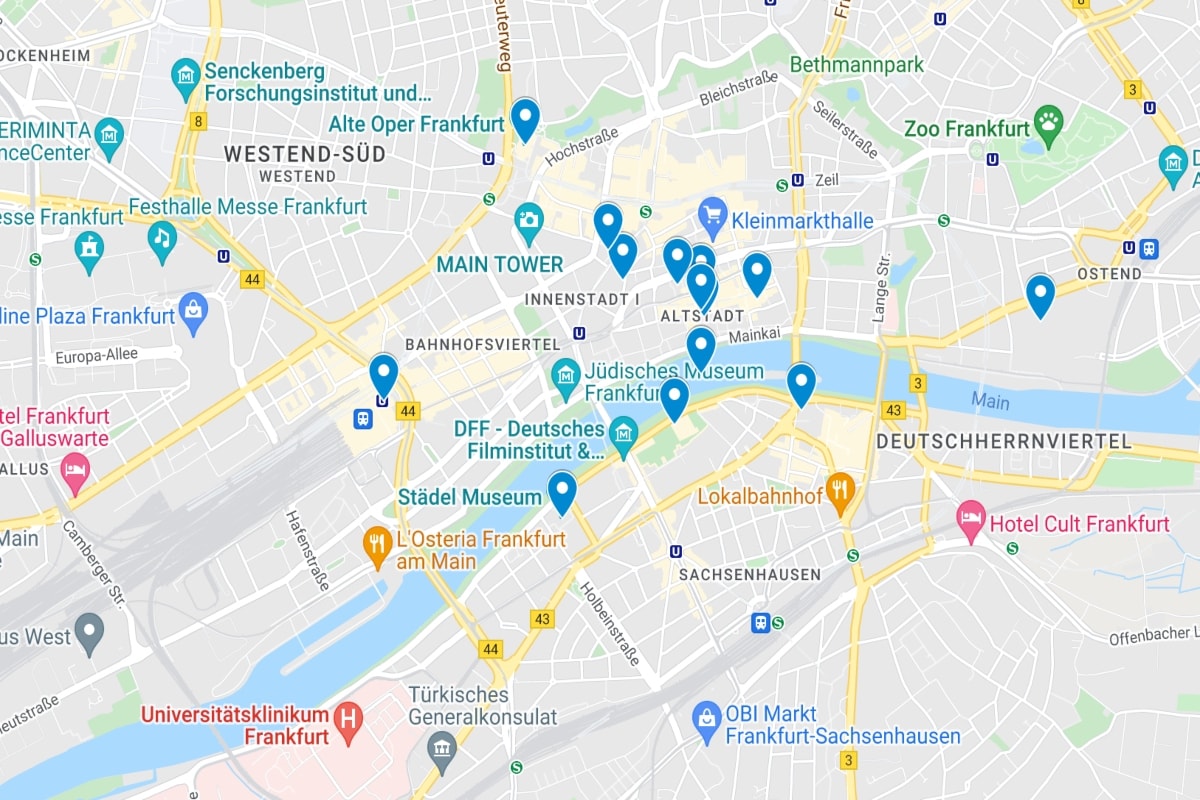 What to Do In Frankfurt in 1 Day
Here are several things you can do and see in Frankfurt. You probably can't fit all of them into just 1 day but you can definitely see several.
Old Town (Altstadt)
There's no better place to start your Frankfurt itinerary than Old Town. It's home to some of the city's most important landmarks like Römerberg, the central main square. In the middle of the square amidst all the restored medieval houses, you'll also find the Fountain of Justice around which the Christmas Market is set up each year.
Frankfurt's City Hall (Rathaus)
One of the most important medieval buildings in the historic old town is Römer, the city's town hall since the 15th century. The three-story building complex with its three-gabled roof and consisting of nine houses makes up for one of Frankfurt's most iconic façades.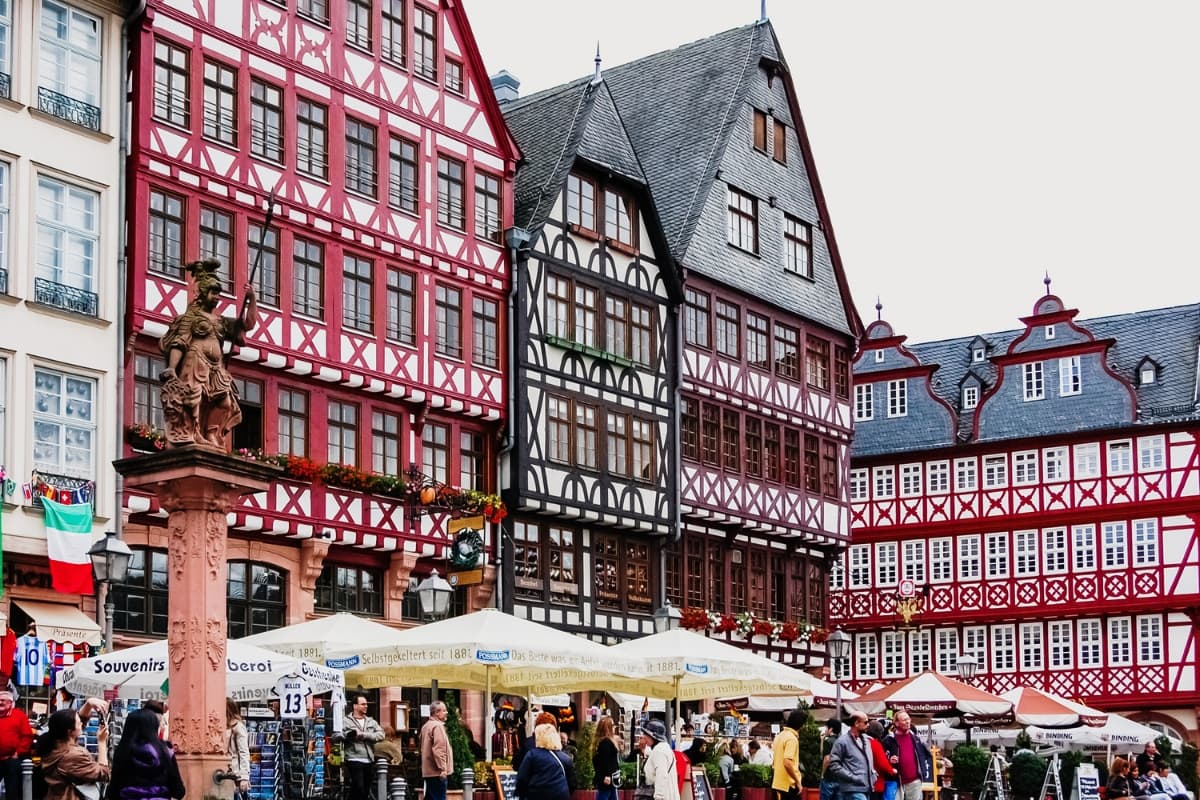 Frankfurt Cathedral (Frankfurter Dom)
A short walk away from the town hall, you'll find the Frankfurt Cathedral, an impressive religious building with historical significance. This is also where coronation of emperors was hosted during the Holy Roman Empire. Visitors can also climb up the Gothic-style church's tower and enjoy great views of Old Town.
Goethe House (Goethes Wohnhaus)
Take 5-minute walk from St. Paul's Church to arrive at the birthplace of famous German author and poet Johann Wolfgang Goethe. Goethe lived here until the age of 16 and the preserved interior gives you glimpse into his youth. Next to the house, you'll also find the Goethe Museum dedicated to his literary work.
St. Paul's Church (Paulskirche)
Located opposite the town hall, St. Paul's Church is an important symbol of German democracy. It was the seat of first German assembly in 1848 and in turn provided the basis for the German constitution. Now it's a venue used for cultural events and award presentations.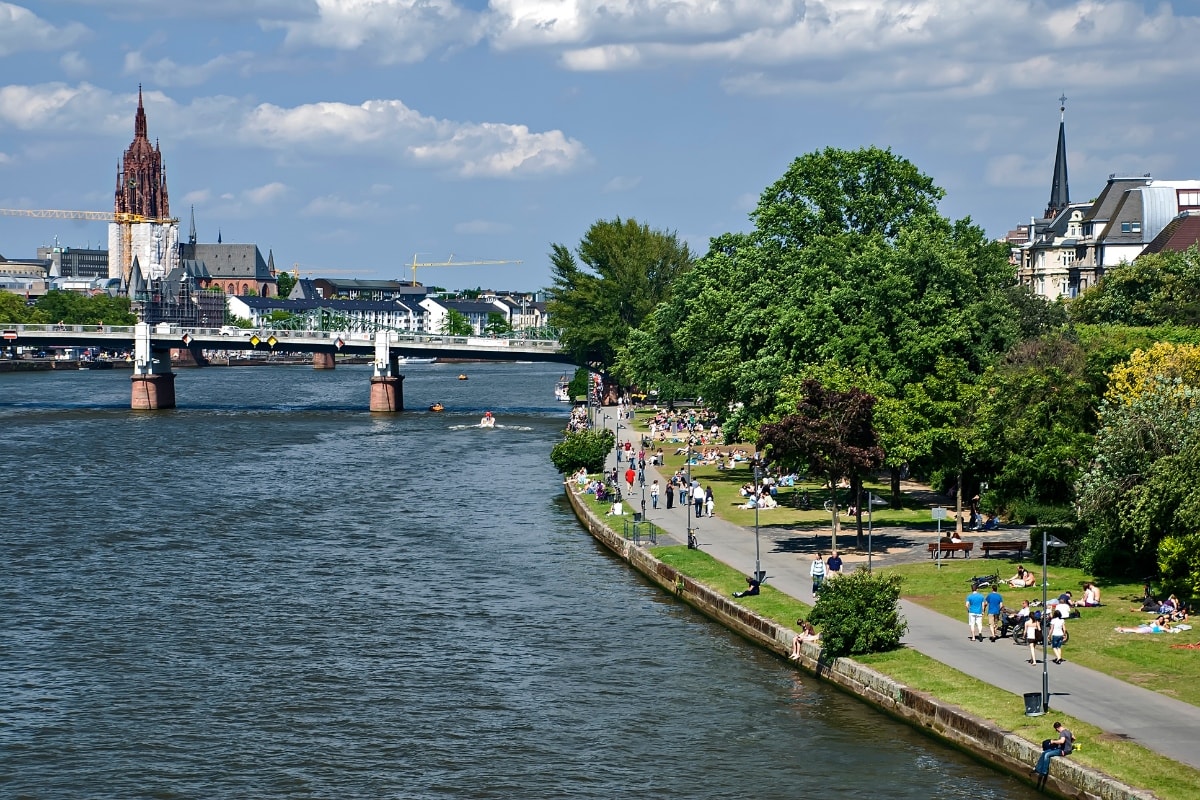 River Cruise on the River Main
Next, make your way down south to the Main river running through the heart of Frankfurt. If you want to take a break from sightseeing through busy streets, one of the best things you can do is stroll along the river banks and take in the city's skyline.
To get an even better view of the skyline, you can take a river cruise departing from Eiserner Steg. You can book your ticket in advance here!
Iron Bridge (Eiserner Steg)
Eiserner Steg is one of the city's most iconic landmarks and popular places to take photos against Frankfurt's skyline. Aside from the views, you'll also spot tons of love locks left on the bridge. Crossing the iron bridge from the city center brings you to Sachsenhausen, a fun district known for its vibrant nightlife and trendy restaurants.
Museum Embankment (Museumsufer)
The Museum Embankment is a group of museums lining both sides of the River Main. Some of the world-class museums located here include the Museum of World Cultures, Städel Museum, the German Film Museum, the Museum of Applied Art, and the Icon Museum.
If going to museums are a big priority for your travels, then they're all worth visiting. But if you don't have enough time for all, choose only one or two favorites to visit!
Städel Museum
The Städel Museum is known as Germany's oldest museum foundation. This historical museum houses an impressive collection of over 700 years of European art from the 14th century to Renaissance, Baroque, to early modern art. Highlights include masterpieces by Rembrandt, Monet, Picasso, and Vermeer.
Museum of Applied Art (Museum Angewandte Kunst)
On the other hand, the Frankfurt Museum of Applied Art is dedicated to contemporary art focusing on design, fashion, and performance. The alternating exhibitions aim to push the boundaries of aesthetics and the meaning of applied art. The museum's architecture itself is a unique and experimental space that can be enjoyed with all the senses.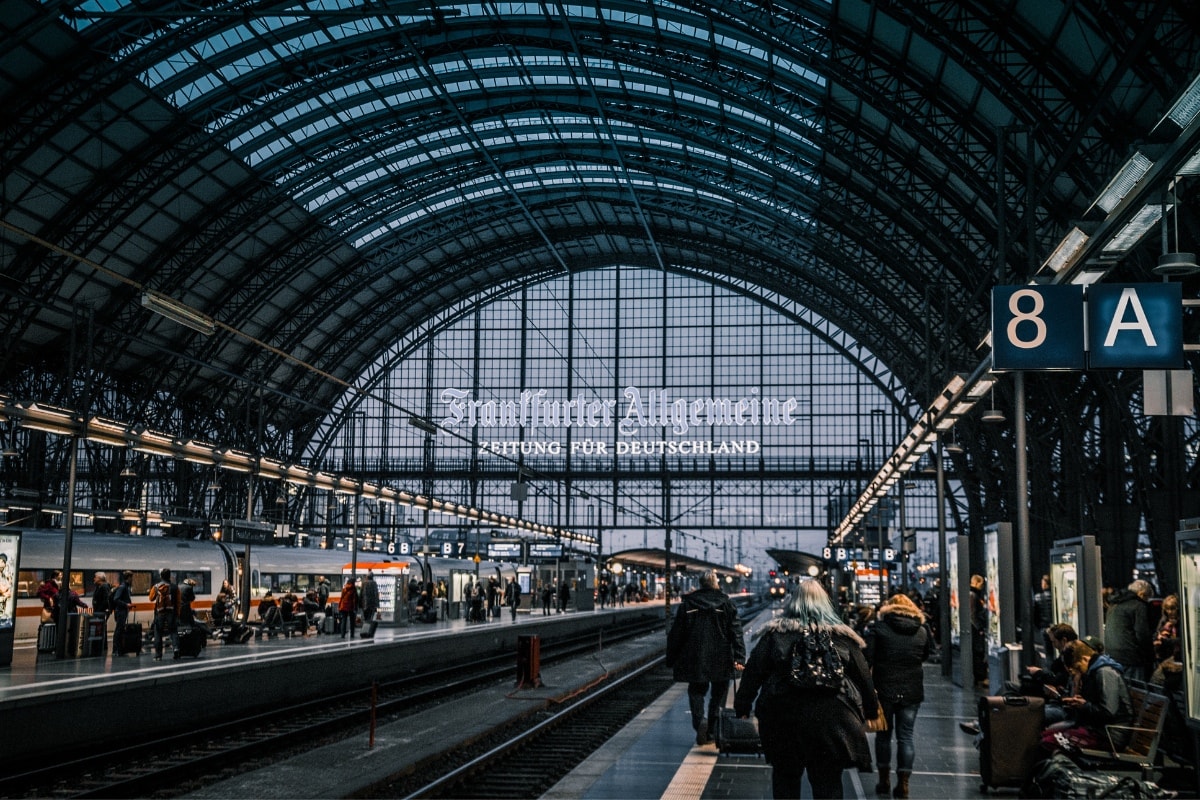 Main Train Station (Frankfurter Hauptbahnhof)
Frankfurt's central train station is a major transportation hub for both short and long distance traveling, welcoming over 350,000 passengers per day. The station offers direct connections to major cities like Brussels, Paris, and Amsterdam. If you're planning any other trips from the city, Frankfurt Hauptbahnhof will certainly offer you the best travel connections.
European Central Bank
The European Central Bank is the central bank of the 19 EU countries that use the Euro. As one of the most significant financial institutions in the world, they are tasked with maintaining price stability. Though a fairly new building, the European Central Bank is sure to become an important urban landmark and feature of the city's modern skyline.
Old Opera House (Alte Oper)
For other tourist spots further out from Old Town, check out Alte Oper. The historic opera house was damaged in World War II but was rebuilt in the 1970s. Now, it's a concert hall where visitors can watch world-class musical productions and concerts of various genres such as classical music, jazz, and blues.
If you don't have a lot of time left to catch a show, you can visit their website to find out when they offer guided tours in English.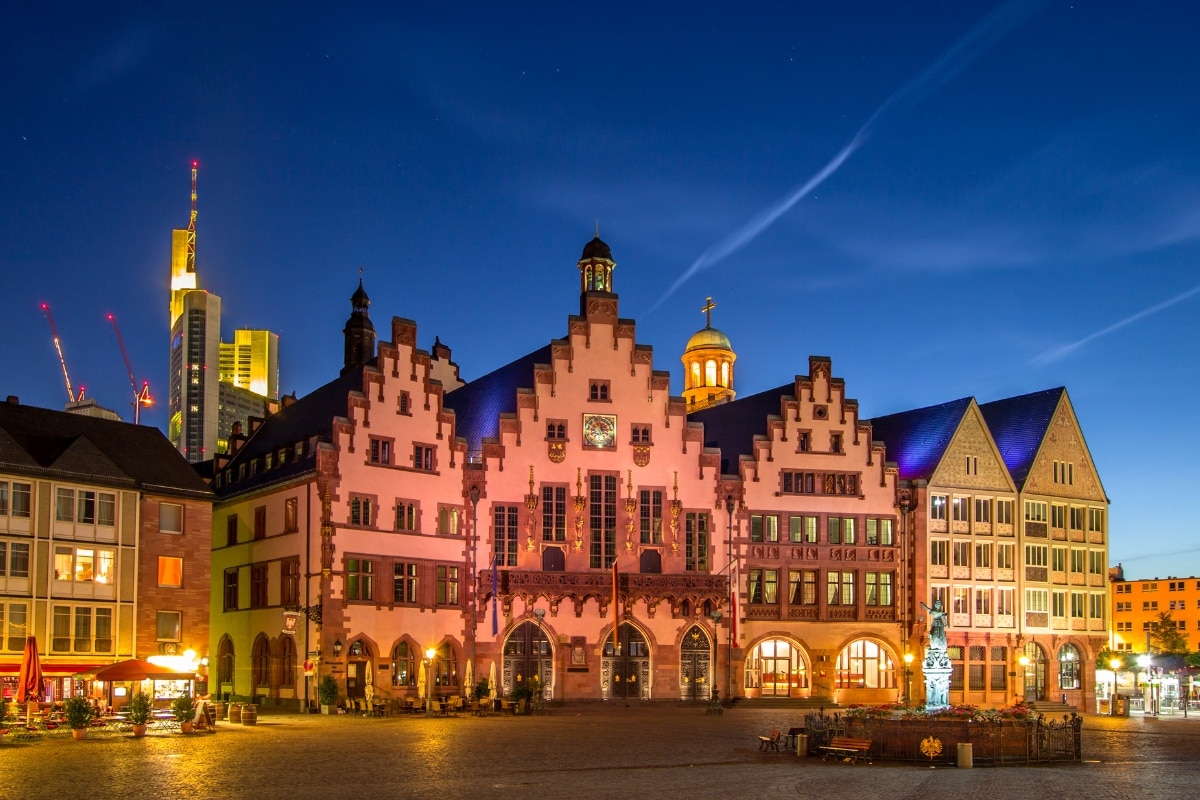 Frankfurt Christmas Market (Frankfurter Weihnachtsmarkt)
If you're traveling to Frankfurt during the holidays then you're in for a treat! The main market, Frankfurt Christmas Market is widely known as one of the oldest in Germany. Römerberg, at the heart of Old Town, transforms into a festive wonderland, complete with a vintage carousel, sparkling lights, and a giant tree.
The great thing about this market is that it stretches from in both directions. You can head south towards the river if you want a break from all the crowds. Heading north towards Paulsplatz you'll find rows of stalls selling traditional handicrafts and souvenirs.
Go farther up to Hauptwach and discover even more food stalls. So grab your glass of Apfelwein (apple wine), try Bethmännchen (Frankfurt traditional Christmas cookies) and enjoy the holidays!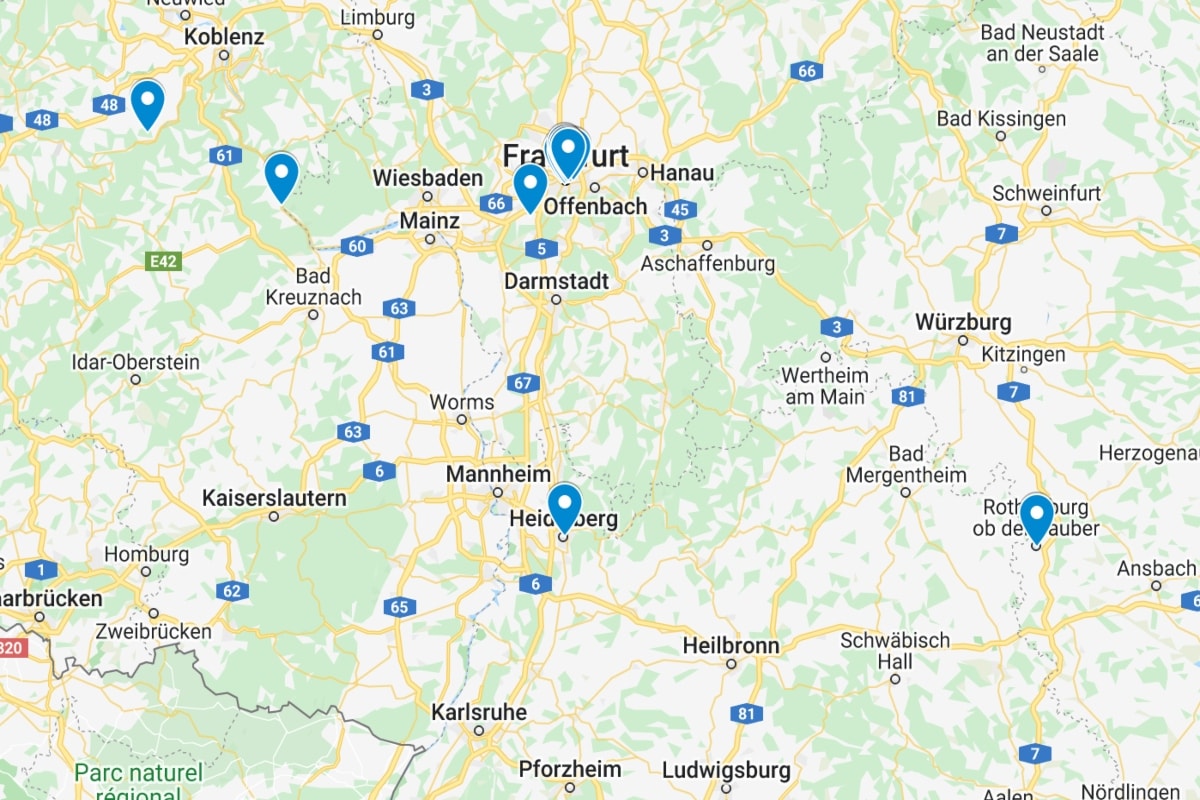 If You Have 2 Days in Frankfurt
Frankfurt's central location and travel connections make it a great base for taking day trips, especially if you're staying for more than a day. You can easily reach these places by train or let a guided tour take care of all the logistics.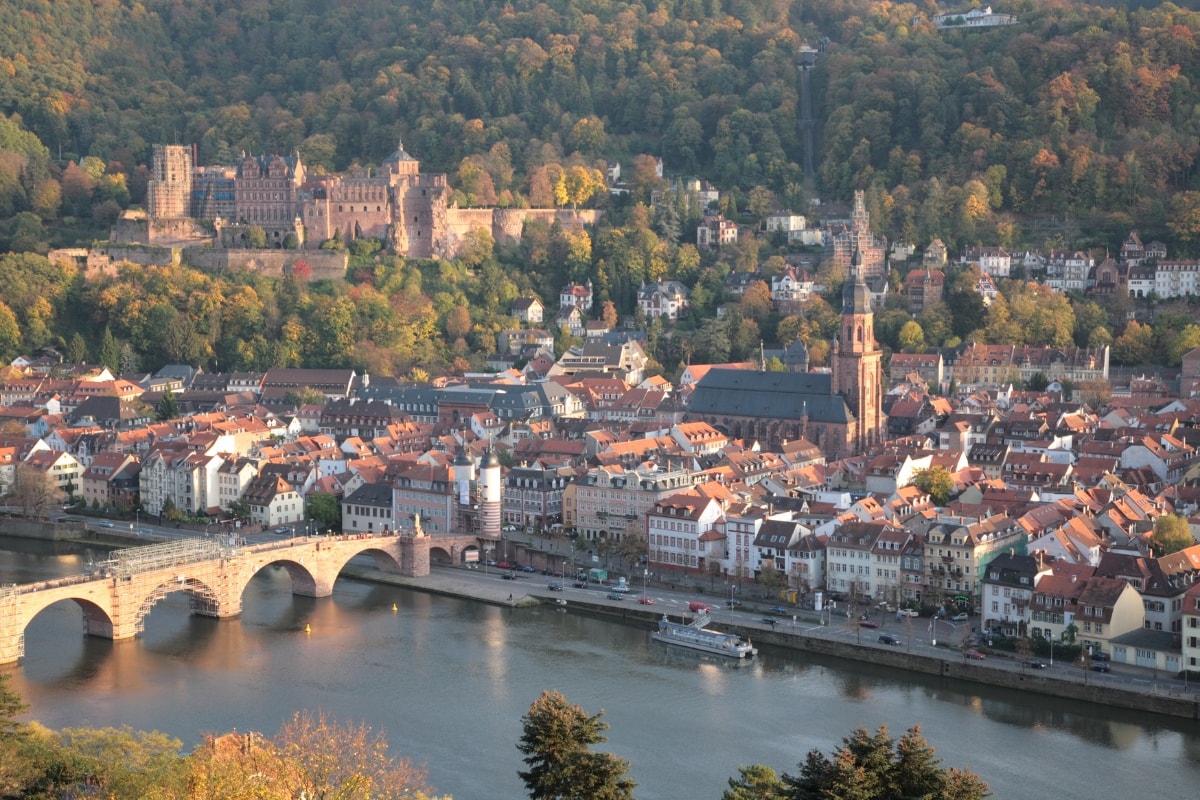 A new city you can explore from Frankfurt is the romantic city of Heidelberg. Situated along River Neckar, this beautiful city is home to the impressive Heidelberg Castle ruins and Heidelberg University, Germany's oldest university. Fall in love with Heidelberg and book your tour here!
While in Heidelberg you can also drive through the Romantic Road in Bavaria to make your way to Rothenberg ob der Tauber, the best-preserved medieval town in Germany. This historic town feels like a step back in time, especially as you wander through the Castle Gardens and Old Town. To maximize your time, consider booking this tour that goes to Heidelberg and then directly to Rothenberg.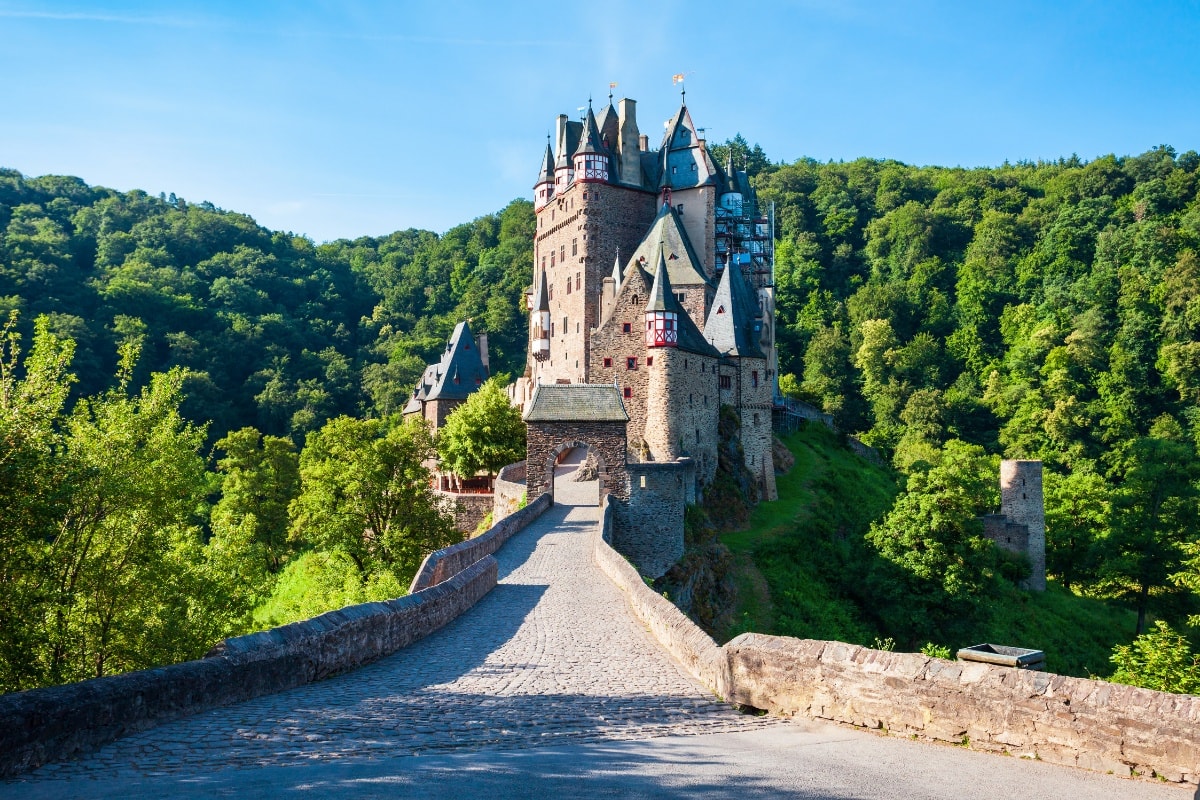 If you want more medieval Germany, take a day trip to Burg Eltz. This perfectly preserved castle overlooking the Moselle river has stayed under the same family since the 12th century. Inside you admire knight halls and weaponry that take you back to the medieval ages.
The Rhine Valley is a great place to visit if you want a day trip packed with activities. Start by walking along the picturesque villages or wine tasting in vineyards in the hillsides. You can't leave without taking a boat along the Rhine River to admire the landscape.
Then to end your trip, enjoy a cozy dinner by the riverbanks. Because of how vast the Rhine Valley is, we recommend booking a guided day trip here to see as much of it as possible.