Looking for a place to stay in Stuttgart? This guide will help you find the perfect place to sleep.
Not only have I lived in Stuttgart, I've come back to visit several times. I've stayed in both hotels and AirBnB's in different parts of the inner city and the suburbs. I'm happy to now help you find the accommodation you're seeking!
Where to Stay in Stuttgart
We recommend a centrally located hotel in Stuttgart Mitte because you'll be within walking distance of so many things:
main train station (Hauptbahnhof)
shopping on Königstrasse
the new and old castle, cathedrals, and the Markthalle
Christmas markets and other downtown festivals
Restaurants and cafes
Museums and galleries
the University
If you stay downtown and want to visit sights like the TV Tower (excellent views!), the Mercedes Museum, the city vineyards, the Seilbahn or Killesberg tower, you can either take the Hop On Hop Off Bus Tour and/or public transportation.
Stuttgart is a walkable city that has excellent public transportation (bus, tram, U-bahn, S-bahn, and train). You can also easily drive and park a rental car (for a fee), which means that no matter where you stay in or around Stuttgart, you'll be able to get where you want to go without hassle.
We've used both public transportation and rental cars in Stuttgart with no problems. Many hotels offer onsite parking and there are many public parking lots.
Below are the 10 best hotels in Stuttgart's city center.
10 Best Hotels in Stuttgart, Germany
Summary: Motel One is a modern hotel in the heart of the city.
Location: You can't beat the location! Right downtown in Stuttgart-Mitte, close to everything.
Things to note: I stayed at Motel One a few years ago when I was in town for a conference at the university and loved it. The rooms were clean and comfortable, and I loved that the hotel was quiet, even though it was right downtown.

It's close to everything, including the downtown sights, restaurants and cafes, a supermarket, the university, the Christmas market, the main train station, and more. There's even a metro stop right next to the hotel that will connect you with nearly every U-bahn or S-bahn.
Breakfast was good for a hotel. I'd stay here again without a doubt. Actually, I planned to stay here again on my last visit to Stuttgart but they were full, so I stayed at Hotel Unger down the street (see #4 in this guide)!
Highlights:
Free wifi
24-hour bar
A/C
Floor to ceiling windows in rooms
Good buffet breakfast available
---
Summary: City Hotel Stuttgart is located on a peaceful side street yet also just 5 minutes from the center of Stuttgart, making it a great jumping-off point for your travels in the city itself as well as the region of southwestern Germany.
Location: Just 5 minutes from the center of Stuttgart (near the new castle, museums, and Markthalle), 2 minutes from the nearest metro station (Olgaeck). I stayed in this neighborhood on my last trip to Stuttgart and loved this area.
Things to Note: A limited number of free parking spaces are available at the hotel. This hotel and its rooms are smoke free.
Highlights: WiFi is available to guests and is free of charge. Catch the tram at Olgaeck and one stop later (Eugensplatz) you'll be at a gorgeous city overlook (you can walk up, too)!
---
Summary: Located just a few minutes away from central Stuttgart and the city's main rail station on a quiet street, guests at Kronenhotel can enjoy a sauna and steam bath here. If the weather is nice, take some time to enjoy the lovely garden terrace.
Location: 1,300 ft from Stuttgart Main Station (rail) and a 5 minute walk from Königstrasse, Stuttgart's main shopping street.
Highlight: Spacious rooms and the friendly staff. The gourmet breakfast offers plenty of options to suit all tastes!
Things to Note:
Private parking is available on site (reservations needed)
Excellent and free wifi is available throughout the hotel
24-hour front desk
Pets are not allowed

---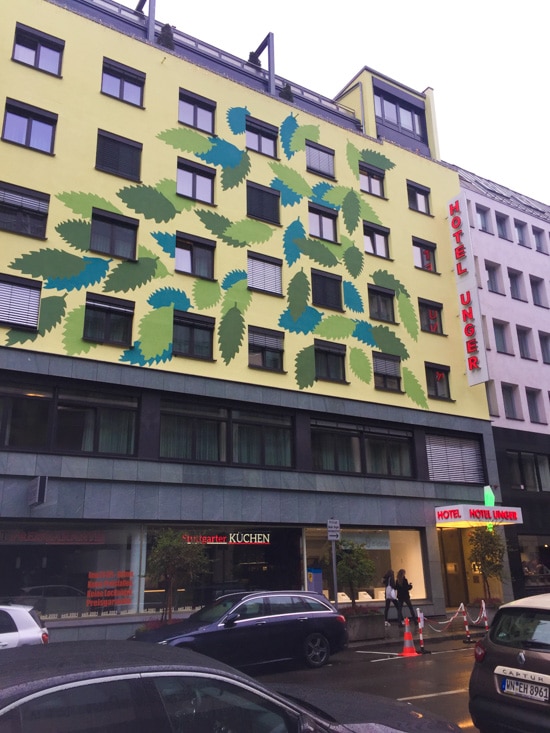 Summary: Friendly, clean, and comfortable hotel in the city center with the BEST breakfast buffet in the city!
Location: Just down the street from Motel One, this hotel is close to everything!
Things to note: I stayed here last summer and loved it. You can't beat the central location – close to everything yet still quiet. Staff were friendly and helpful (they let me into my room when I arrived at 7am!), rooms were clean, comfortable and had A/C, and the breakfast buffet was outstanding. Try the Döner place to the right of the hotel!
Highlights:
Excellent location
Amazing breakfast buffet
A/C
Free wifi
Large windows
Quiet rooms
Cable TV
Rental bikes
Parking
---
Summary: If you are looking for a modern and hip hotel option, then Aloft is the hotel for you! This hotel has many amenities and is centrally located in the city of Stuttgart.

Location: Aloft is located in the Milaneo shopping complex, which is about 0.6 miles from Königstrasse. The Stadtbibliothek metro station is 500 ft away from the hotel.
Things to Note:
24-hour self-service gourmet pantry
Fitness center with city views
Drinks and bar snacks can be enjoyed at the trendy bar
Pets are allowed upon request
Public parking is available on site (no reservations needed)
Daily housekeeping is an additional charge
Highlight: Comfortable beds!
Downside: Hotel entrance can initially be hard to find.
---
Summary: While the rooms at Zur Weinsteige are modern, the structure of the hotel itself dates back to 1870. Located a 15-minute walk from most major attractions in central Stuttgart, this hotel is a great option for couples or those looking for a more historic atmosphere.
Location: 10-15 minutes from the new castle (Neues Schloss), Königstrasse, the Markthalle, and the Christmas market
Things to Note:
Parking is available on site
WiF is available throughout the hotel and is free of charge
Pets are allowed
Restaurant and bar on site
Daily housekeeping
Buffet breakfast available
Non-smoking rooms

Highlight: A koi pond!
Downside: Depending on where your room is, you might hear noise from the trams that run past the hotel.
---
Summary: If you want to be where the people are, this boutique hotel is for you! Der Zauberlehrling is located in central Stuttgart, very close to restaurants, shopping, and major attractions in Stuttgart. It's perfect if you're looking for an experience, rather than just another generic hotel.
Location: The hotel is located in two separate buildings (13 rooms and 3 suites) in downtown Stuttgart.
Things to Note:
Most rooms offer an open-concept bathroom
Enjoy breakfast on the sun terrace
Two restaurants located on site: Der Zauberlehrling, which is open for dinner and features international/ European cuisine, and Die Wunderkammer, which features French, German, and local cuisine
Parking is available on site (reservation is required)
Electrical car charging station
Free WiFi throughout the hotel and free of charge
Pet Friendly
Non-smoking rooms
Highlight: Friendly staff and beautiful, unique rooms!
Downside: No elevator for rooms on upper levels
---
Summary: Travelers seeking comfort will surely enjoy the spacious and modern rooms offered at Le Méridien. Want to relax after your journey to Stuttgart? Make sure to take advantage of the services offered at Le Méridien's spa.
Location: Centrally located to Stuttgart Mitte, opposite the Schlossgarten Park, close to the main train station (Hauptbahnhof).
Things to Note:
Rooms are smoke-free with A/C and flat screen TVs
Breakfast buffet available
Free WiFi
Restaurant and bar
Parking garage
Pet friendly
Le SPA offers massage and beauty treatments
24-hour gym
Swimming pool (indoor)
Jacuzzi, sauna, steam bath
Highlight: Spacious rooms and beautiful facilities
Downside: Depending on where your room is, you might hear noise from the nearby construction.
---
Summary: Do you like to stay where the action is? Only 5 stars and a Michelin rated restaurant will do? Look no further than at Althoff Hotel am Schlossgarten! This luxury hotel is located just a stone's throw away from Stuttgart's train station as well as many shopping and dining options in the center of the city.
Location: Althoff Hotel is just 350 ft from Stuttgart's main train station and looks out over a beautiful park!
Things to Note:
Three onsite restaurants: Die Zirbelstube (Michelin rated), Weingut Franz Keller (regional dishes from the Baden and Alsace areas), and Leysieffe Café am Schlossgarten (cakes and other treats).
Parking available (reservation required)
Free WiFi
Pet friendly
Airport shuttle
Non-smoking rooms
Bicycle rental
Highlight: Great for families, couples and business travelers looking for luxury and central location. Request a room overlooking the Schlossgarten park!
Downside: No pool or gym.
---
Summary: With a clean and modern interior, the Steigenberger Graf Zeppelin is a great luxury option for most travelers (families, couples, business travelers). Located in central Stuttgart, close to Königstraße shopping street, Castle Square, and other major attractions.
Location: This is as city-center as it gets! Right across from the main train station.
Things to Note:
Onsite Spa with health and wellness treatments
Beauty treatments available (manicure, pedicure, hair services, waxing services)
Fitness Center
Parking
3 restaurants – Olivo Restaurant (French/ International cuisine), Zeppelino's Restaurant (International grill/ BBQ), and Zeppelin Stüble Restaurant (local cuisine).
Bar
Free WiFi
Pet friendly
24- hour front desk
Highlights: Large room size, professional and friendly staff, excellent location.