Saxon Switzerland National Park: Germany's Hidden Gem
This post may contain affiliate links. Read my disclaimer policy.
Saxon Switzerland National Park is not only a hidden gem in Germany, it's the perfect day trip from Dresden. An outdoor lover's paradise, with steep cliffs and vast array of hiking trails, Saxon Switzerland is a great destination for casual nature lovers and adventure seekers alike.
From breathtaking views to sprawling forests and charming villages, there is something for everyone in Saxon Switzerland. We loved our day trip to this area from Dresden and highly recommend considering adding it to your itinerary.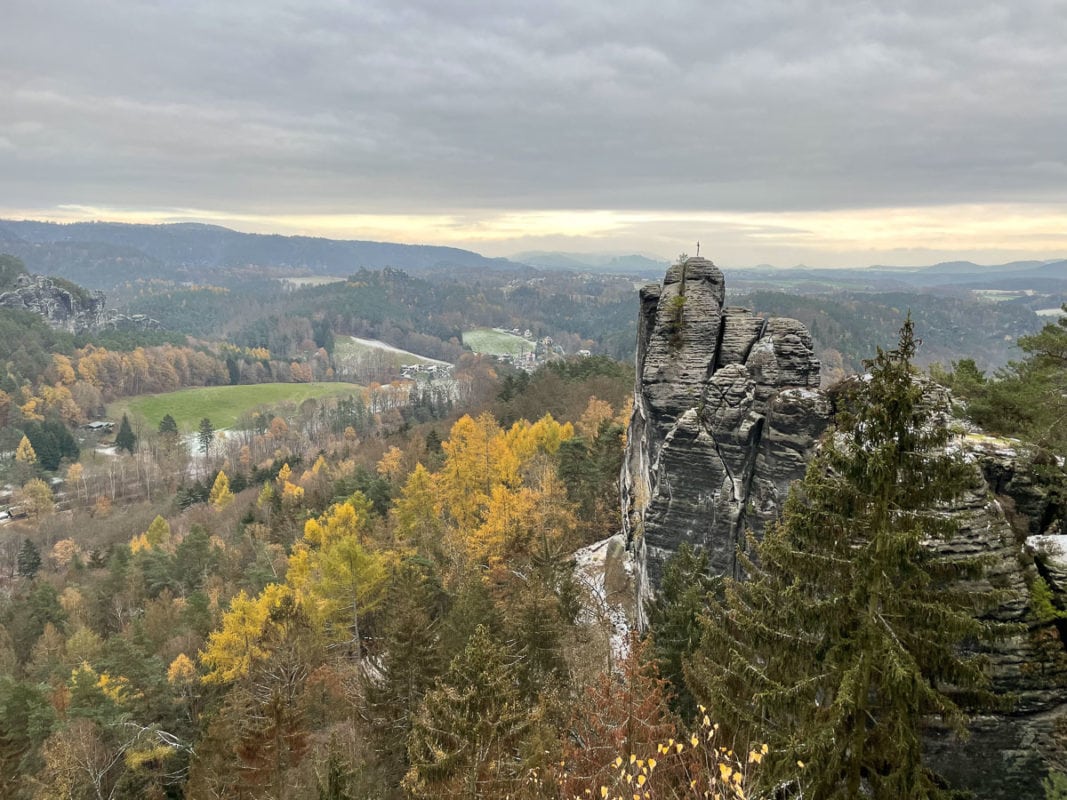 Is Saxon Switzerland in Germany?
Yes! And it's is one of the most beautiful places in Germany. This national park is located southeast of Dresden in the Free State of Saxony in the eastern region of Germany.
Natural beauty abounds in Saxon Switzerland with its sandstone cliffs, unique rock formations, deep canyons and lush valleys, and amazing lookout points. The region is also home to must-see landmarks in Germany like the Bastei Bridge and Königstein Fortress.
For nature lovers it's one of the best places for a day trip from Dresden because of the area's rich and diverse landscape and fun outdoor activities. Plus, you can visit year-round. If this sounds like your ideal day trip, then here's everything you need to know about visiting Saxon Switzerland!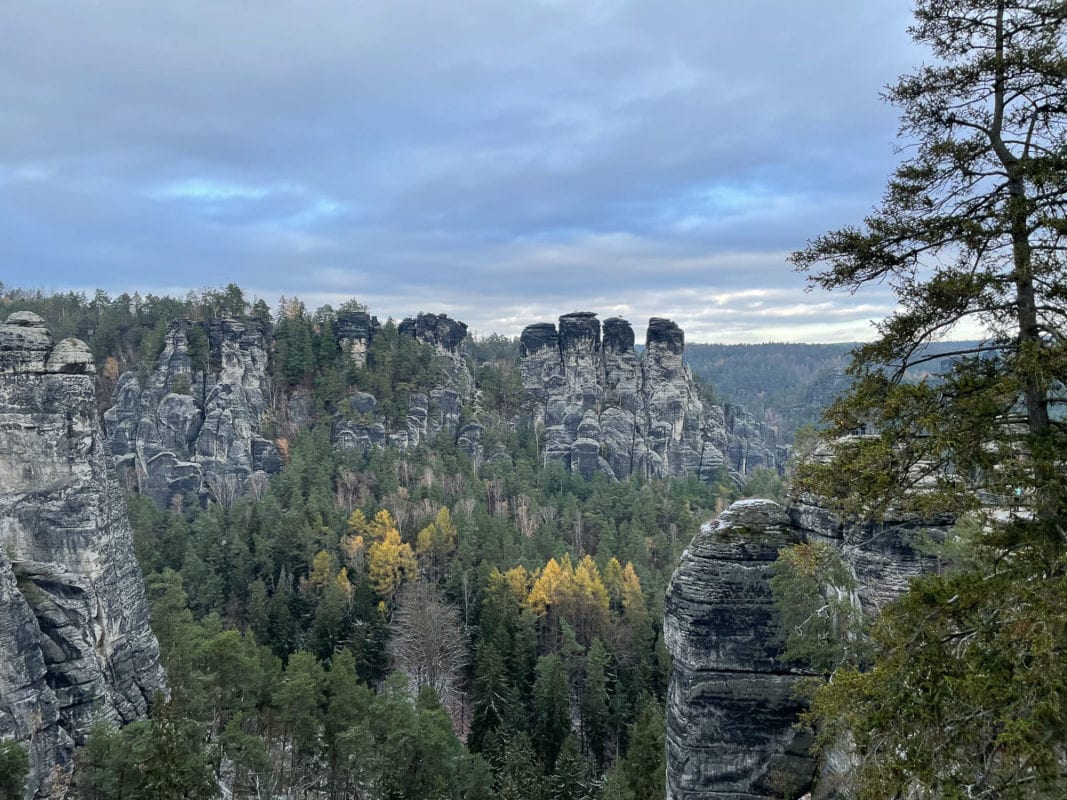 How We Visited Saxon Switzerland
Before diving into how you can visit this beautiful part of Germany, I thought I'd share our day trip so you can see some of the things you could do.
We visited Saxon Switzerland during our short stay in Dresden. We were there in late November, so we grabbed breakfast at a bakery on the way to the train station and caught an early train in order to make good use of the short day.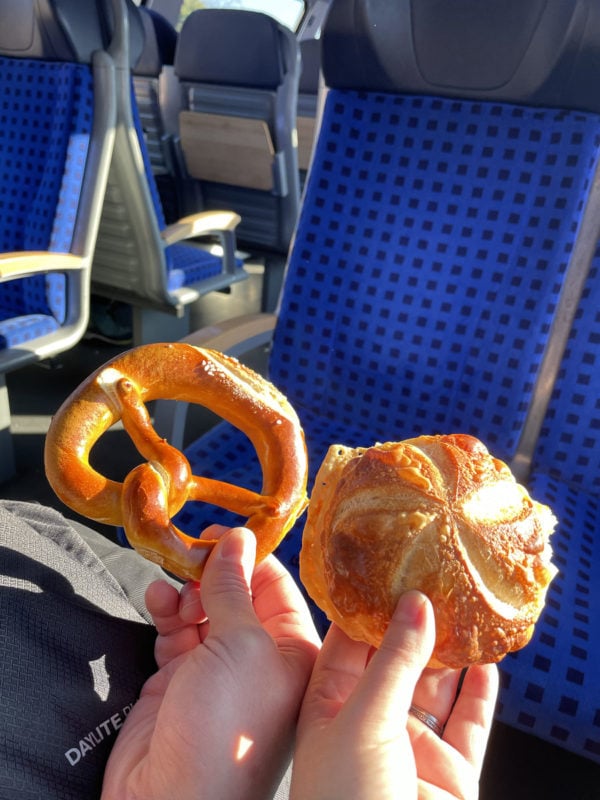 After about 50 minutes on the train we got off in the village of Kurort Rathen and caught a ferry across the river. After a quick walk around the cute village on the other side of the river, and a hot drink to warm up, we started our hike up to Bastei Bridge.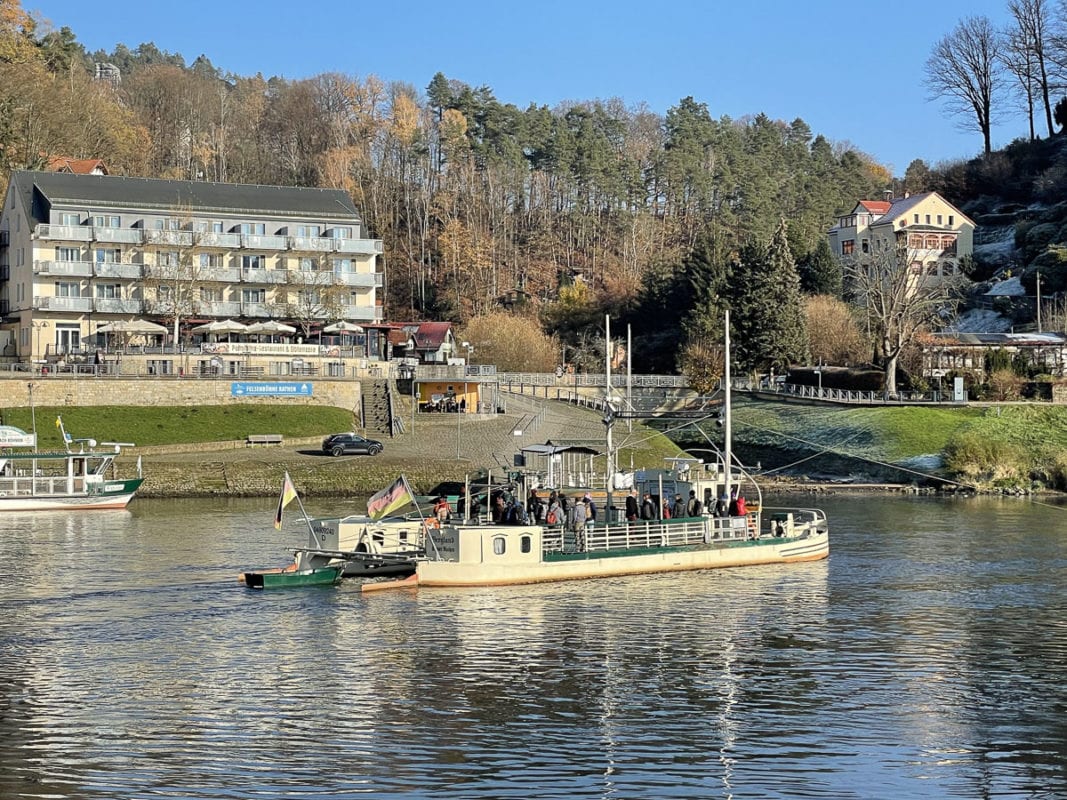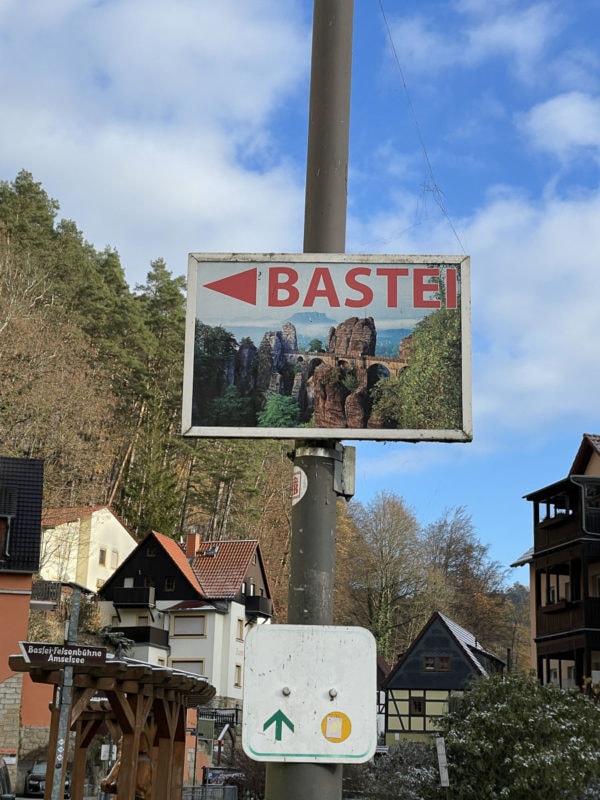 The hike was uphill but not terribly strenuous. The trails were well maintained, albeit a bit slippery here and there due to winter ice. We didn't need hiking boots or anything like that, though I do recommend sturdy shoes.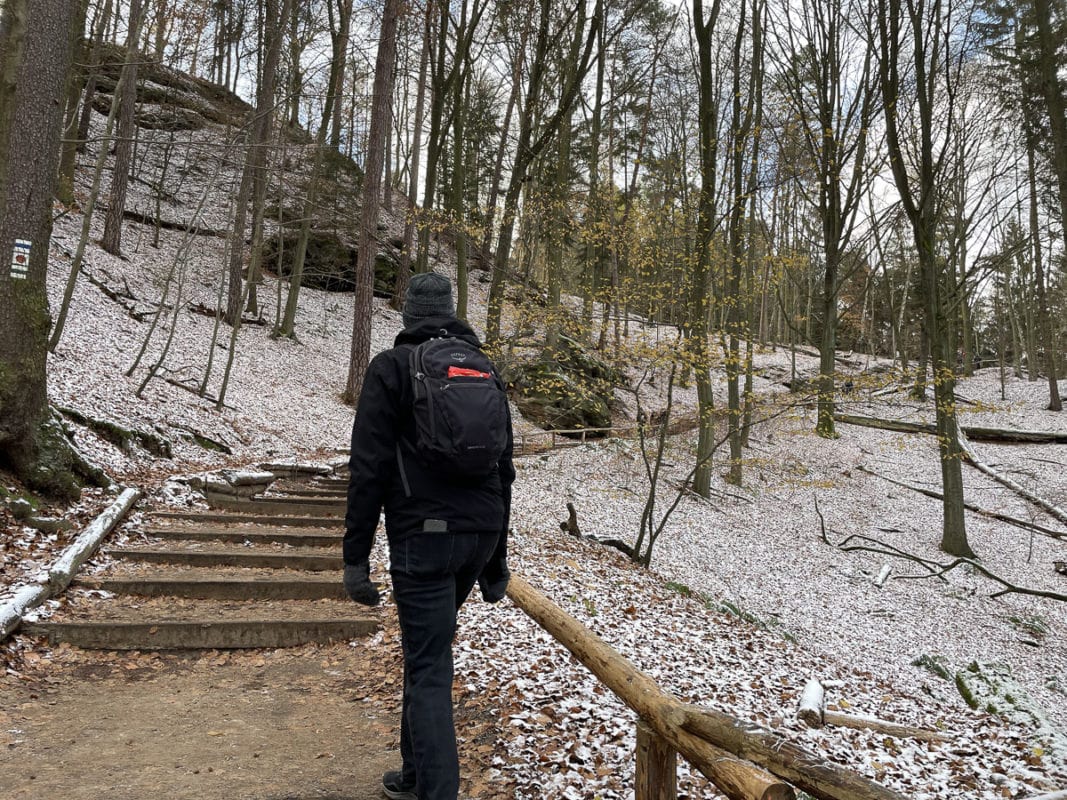 Once at the top we enjoyed stunning views from various lookouts. The clouds rolled in just as we made it to the top.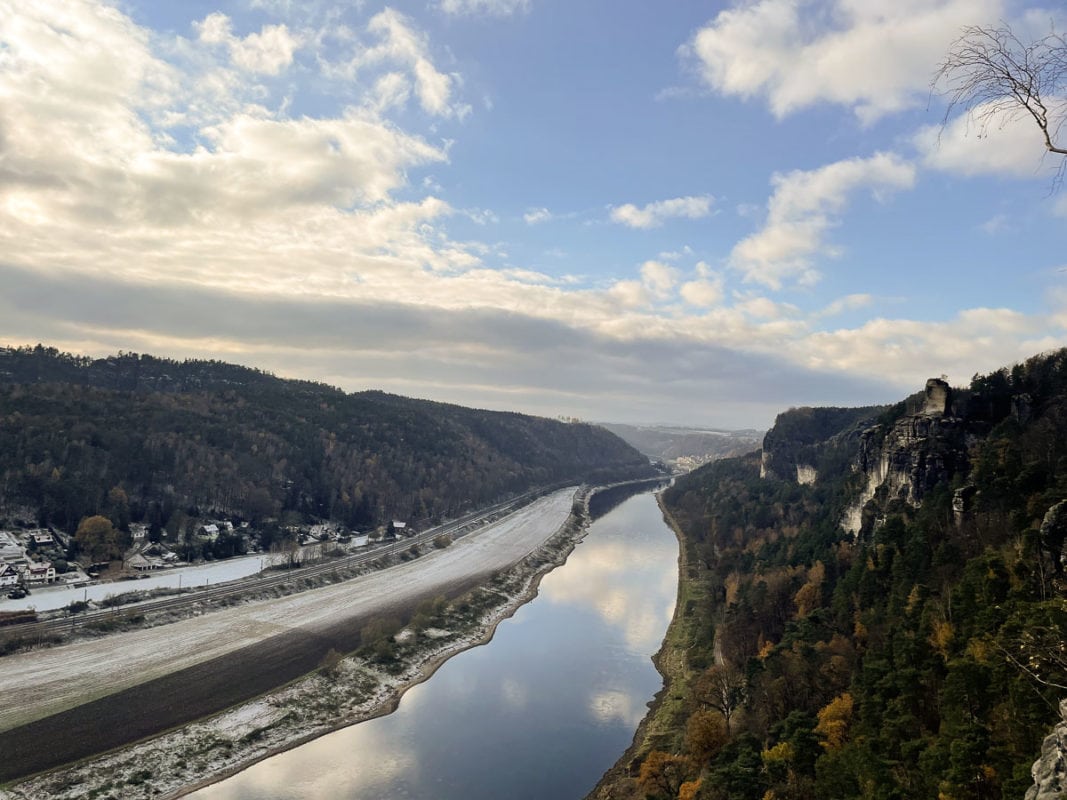 After walking up another set of stairs we were at the famous Bastei Bridge. We spent a couple hours wandering all over this area so we could enjoy the view from every lookout. It just kept getting better and better! These photos are from late November…scroll down for photos from spring, summer and fall.
As late afternoon approached and we started losing daylight, we made our way to the nearby bus stop and hopped on the bus going to Pirna. From there we caught a train back to Dresden and arrived just after sunset.
We had so much fun on this day trip! It was relaxing, so lovely to spend time in nature, and a welcome change of pace from visiting cities.
Since it was winter, it was cold (especially towards the end of the day as the sun started setting) but still very enjoyable. We can't wait to go back in the summer – more daylight means we'll be able to stop for a meal, do more hiking or visit Königstein Fortress.
Ready to plan your own trip to Saxon Switzerland? Keep reading!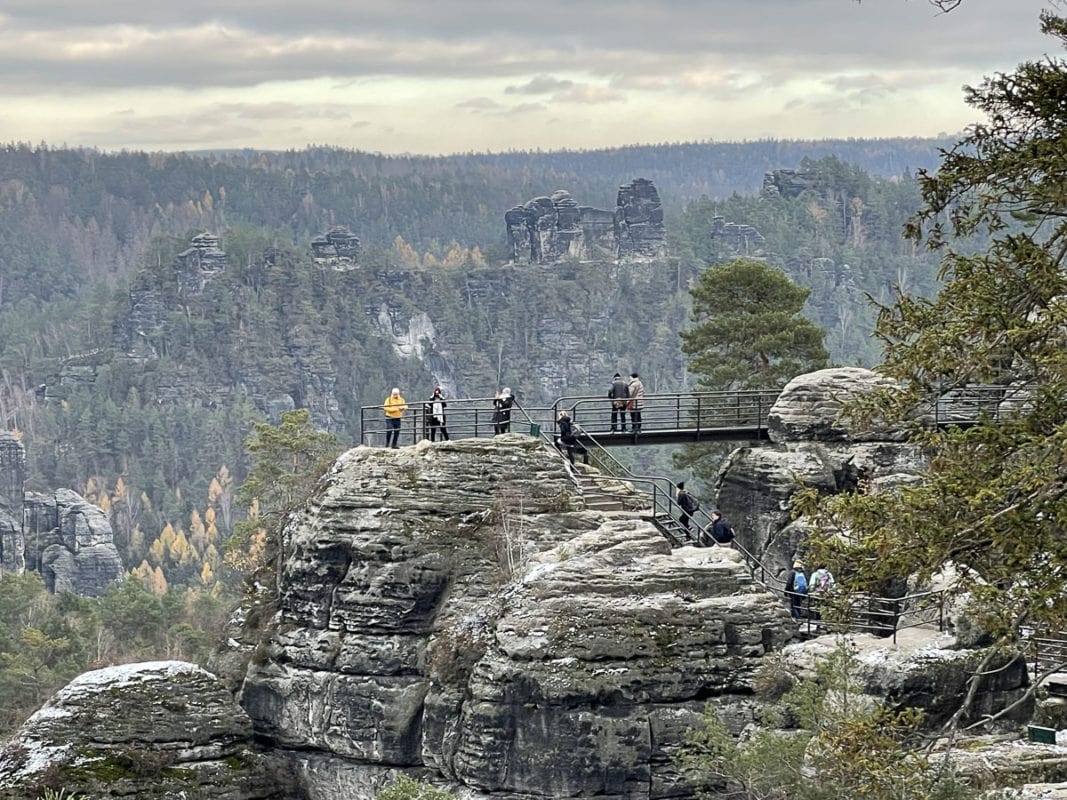 Getting to Saxon Switzerland
By air
If you want to fly in, the nearest airport to Saxon Switzerland is the Dresden Airport. Berlin Brandenburg Airport is a couple hours away but is a much bigger airport. Other nearby airports are in Prague and Leipzig. From there, you can head on to the Saxon Switzerland National Park using public transportation or a rental car.
By train
Deutsche Bahn easily connects Saxon Switzerland National Park with the rest of Germany with their regional and long-distance network. Regional trains leave from Dresden approximately every 30 minutes. They have stops at the towns of Pirna, Obervogelgesang, Stadt Wehlen, Kurort Rathen, Königstein and Bad Schandau, which are all nearby or part of the national park. A train ride from the city of Dresden takes around 50 minutes and will bring you close to many of the park's entrances.
By car
The fastest way to get to Saxon Switzerland by car is via the A17 or A4 freeways. The official park website recommends changing from the A4 to the A17 at the Dresden-West interchange. Then, continue on the B172 toward Bad Schandau from the Pirna exit. You can reach the villages of the Hintere Sächsische Schweiz via the A4 exit Radeberg, or from Dresden-Nord via the B6 direction Bautzen, turn towards Stolpen direction Bastei or via Sebnitz direction Bad Schandau or Hinterhermsdorf. An advantage of driving is that you'll do less walking since you can leave your car directly in the parking spaces near the park entrance instead of walking from the train station.
Prefer a Guided Tour from Dresden?
If you don't want to worry about public transportation or driving routes, you can opt to book a guided tour. This full-day guided tour includes return transportation from Dresden, an English-speaking private guide, entrance fees to sites in the itinerary (including the Bastei Bridge, Pravcicka Gate, and Kamenice Gorges), plus an a la carte lunch.
Another popular way to explore Saxon Switzerland is through boat rides in cruises and paddle steamers. Book this guided tour to cruise along the Dresden Elbe Valley, see beautiful castles, admire the impressive Bastei rock formation from a different perspective, and end with a visit to the iconic Königstein Fortress.
Many of the guided tours available are from Dresden since it's the nearest major city. But if you're willing to do a bit more traveling, it's also a do-able day trip from Berlin. If you can stay in the area overnight or for a couple of days, even better.
What to See and Do in Saxon Switzerland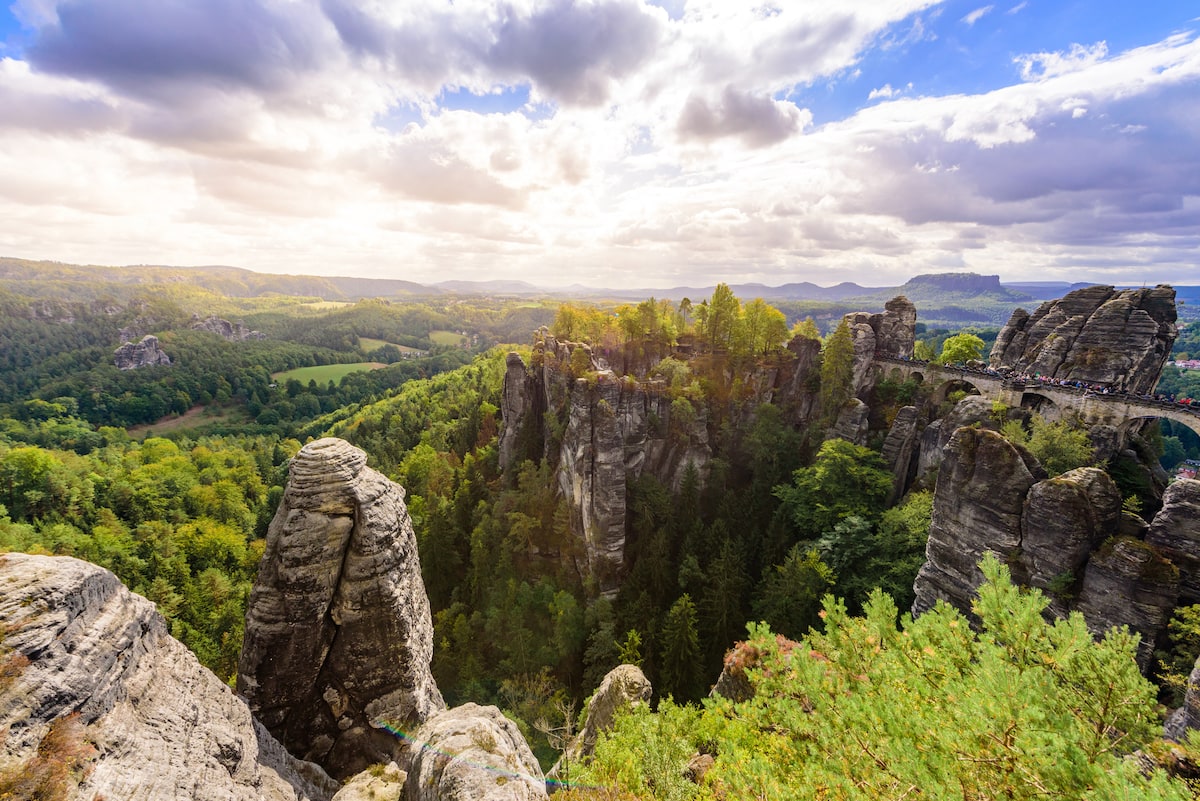 Saxon Switzerland National Park
The Saxon Switzerland National Park is one of 16 German national parks. It's a large natural area of around 710 square kilometers (274 square miles) in size. The park lies within the district of Sächsische Schweiz-Osterzgebirge and adjoins the Bohemian Switzerland National Park by the Czech Republic border.
The park's landscape is mostly made of woodland areas and rocky, deep canyons. Mountain forests are very common as well as deep gorges. Some natural landmarks include the Großer Winterberg mountain, one of the tallest points of Saxon Switzerland, the Lilienstein, a distinctive flat-top table mountain, and the Kamenice Gorge, a beautiful rocky ravine with the river Kamnitz flowing through it.
The national park is also home to many protected and endangered plant and animal species, such as the peregrine falcon and black stork.
The national park is also a great place for rock climbing, biking, and hiking. The park has a marked network of over 400 kilometers (250 miles) of hiking trails which visitors must strictly stick within.
The most popular trail is called "The Painter's Way" (Malswerg in German) which takes you to crowd favorite spots like the main rock formations. The rich variety of sandstone makes free climbing a popular option but climbers must be trained and follow certain rules to protect the cliffs.
Bastei Bridge and Bastei Rocks
The famous Bastei bridge is made up of stunning yet bizarre rock formations that stand over 600 feet over the Elbe river in the ​​Elbe Sandstone Mountains. It's the best known landmark in the Saxon Switzerland National Park and for good reason! There is a wooden bridge that links several of the rocks, so visitors can walk over it and get the best views of the national park. I
t's also highly visible from many of the most popular hiking trails within the park. The surrounding sandstone formations are also great for those experienced rock climbers.
Swedish Holes (Schwedenlöcher)
Very near the Bastei Bridge you'll find the Swedish Holes. This is one of the small offshoot trails in the nearby area where you can get more panoramic views of the bridge. The Swedish Holes are narrow canyons enveloped by moss and surrounded by trickling small waterfalls. The hike itself is very manageable since you'll find the path to be paved with a staircase on stacks of large rocks.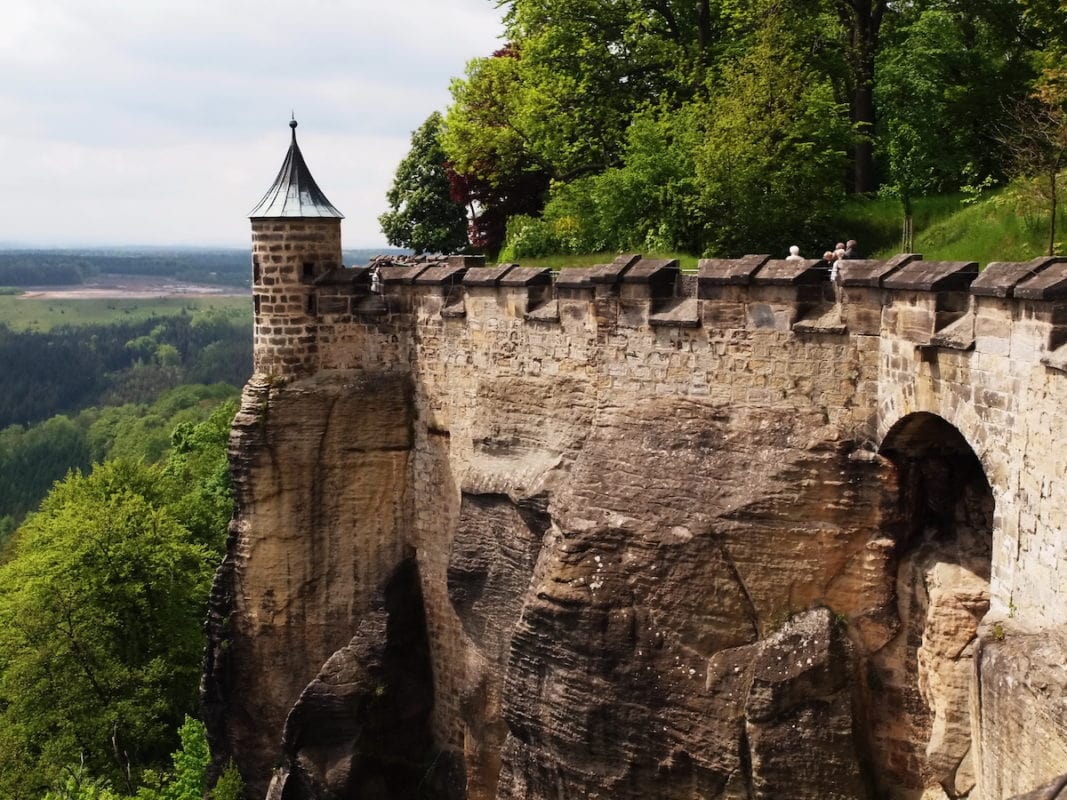 Königstein Fortress
The Königstein Fortress is a hilltop fortress looking over the town of Königstein on the left bank of the River Elbe. It's one of the largest hilltop fortifications in Europe and home to the oldest preserved barracks in Germany. It used to be a state prison but is now one of Saxony's main attractions.
Climbing atop gives you spectacular views of key spots in the Saxon Switzerland National Park region as well as some of the small towns nearby. Inside the fortress, you can visit exhibits on royal history, join guided tours and hands-on activities, and even try out themed culinary experiences.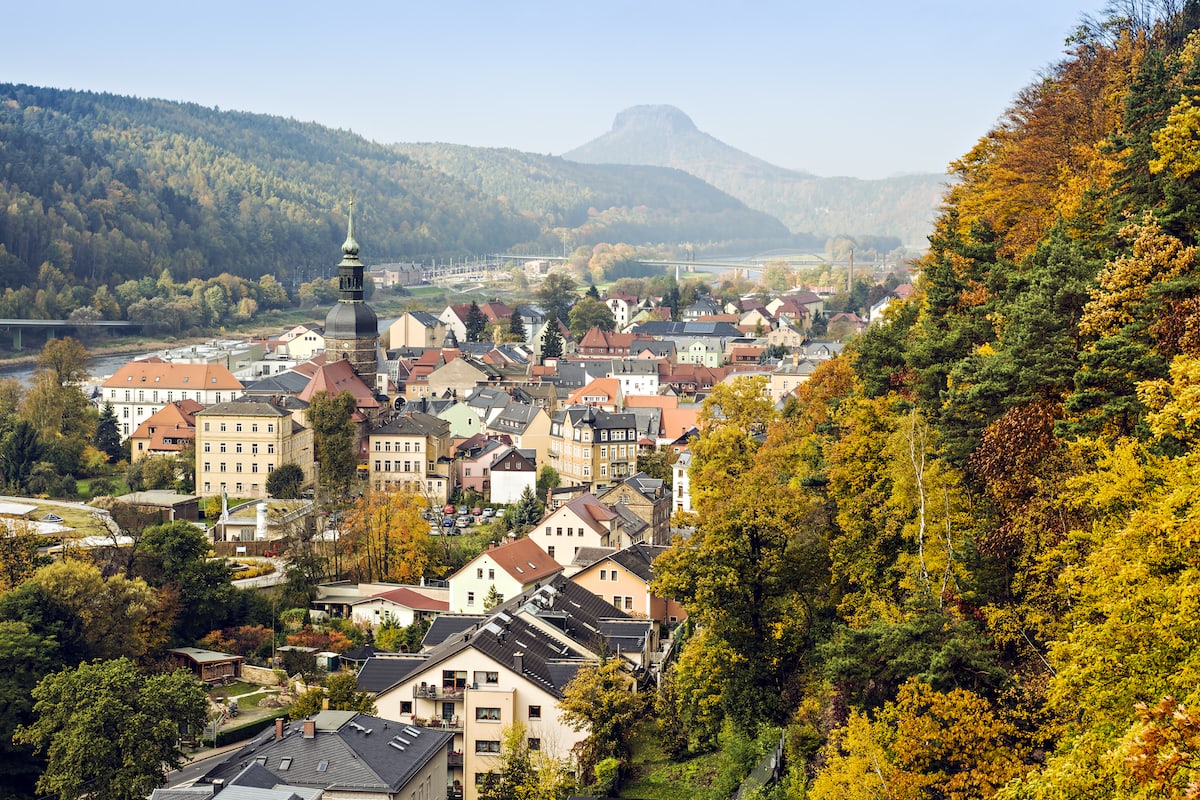 Bad Schandau
Heading to Bad Schandau after a full-day hike is one of the best ways to relax. The quiet spa town is home to many pools, saunas, and thermal baths. One of the most popular ones is a Tuscan spa called Toskana Therme, located right on the banks of the River Elbe. If you want to extend your day trip, then you'll also find a variety of hotels and lodging options in the town.
Kurort Rathen
Another very small village nearby is Rathen, which actually occupies both sides of the river Elbe and has less than 500 inhabitants. It's not only home to the Bastei rocks but some other tourist attractions like the local Amselgrund valley, where you can visit the Amselsee lake and the Amsel Falls. If you want to hike up to Bastei Bridge after taking the ferry across the river, you'll find the trail here.
It's also here that you'll find the Rathen Open Air Stage, a natural stage in a deep valley that functions as an open-air theater with 2,000 seats. During summer weekends, you can watch shows varying from traditional performances, musicals, and classical plays.
Neurathen Castle
The Neurathen Castle is located near the Bastei rocks and the town of Rathen. At one point, it was the largest rock castle in the region, but only a few parts of the structure have survived. The remaining parts include rooms carved out of the rock, some passages, the cistern, and timber of the former wooden structure. It's worth looking around and to also get even more unique vantage points of the bridge and park.