Looking for a hotel in Dresden that's close to all of Dresden's important sights? Look no further than the Hyperion Hotel Dresden Am Schloss! Read our review below or book your stay here.
Note: this review is not sponsored. We chose, booked, and paid for our room ourselves.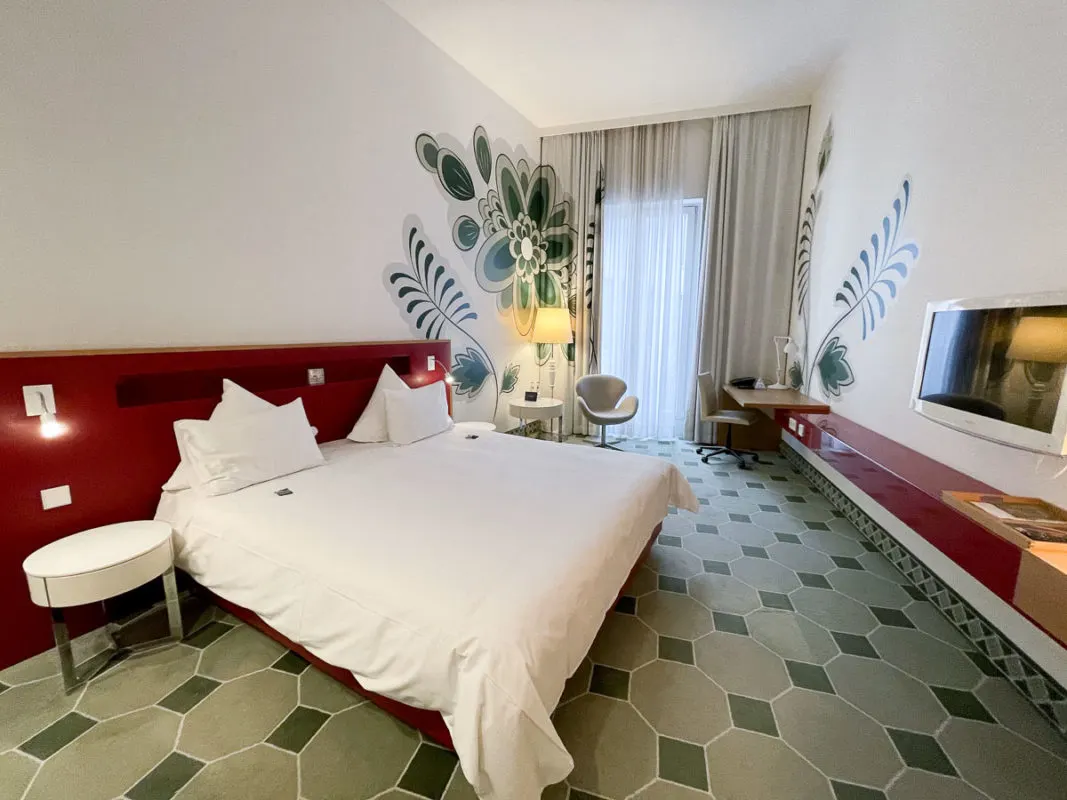 I did a lot of hotel research before we visited Dresden recently, and while I found many great options, we decided on the Hyperion Hotel Dresden Am Schloss due to its prime location, large rooms, and affordable price. We weren't disappointed!
Here's our review of our 3-night stay.
Excellent Location
One of the best features of the Hyperion Hotel Dresden Am Schloss is its super location in the Altstadt (Old Town).
Right across the street from the castle and a stone's throw from Dresden's best sights, such as the Semper Oper, the Zwinger, the Frauenkirche, Brühl's Terrace and the Christmas markets, you can't find a better location for a short stay in the city. We loved that we could easily pop by our room anytime if we wanted to warm up, rest our feet or grab a healthy snack.
It's also just a short walk to Dresden's main pedestrian shopping street and grocery stores, and there are all kinds of cozy restaurants for every taste and budget everywhere you look. There's also a bakery next to the hotel (we stopped there every day for tea, coffee, and a treat) and cafes all over the Old Town.
And, if you're in Dresden in December, you'll be right by the famous Streizelmarkt.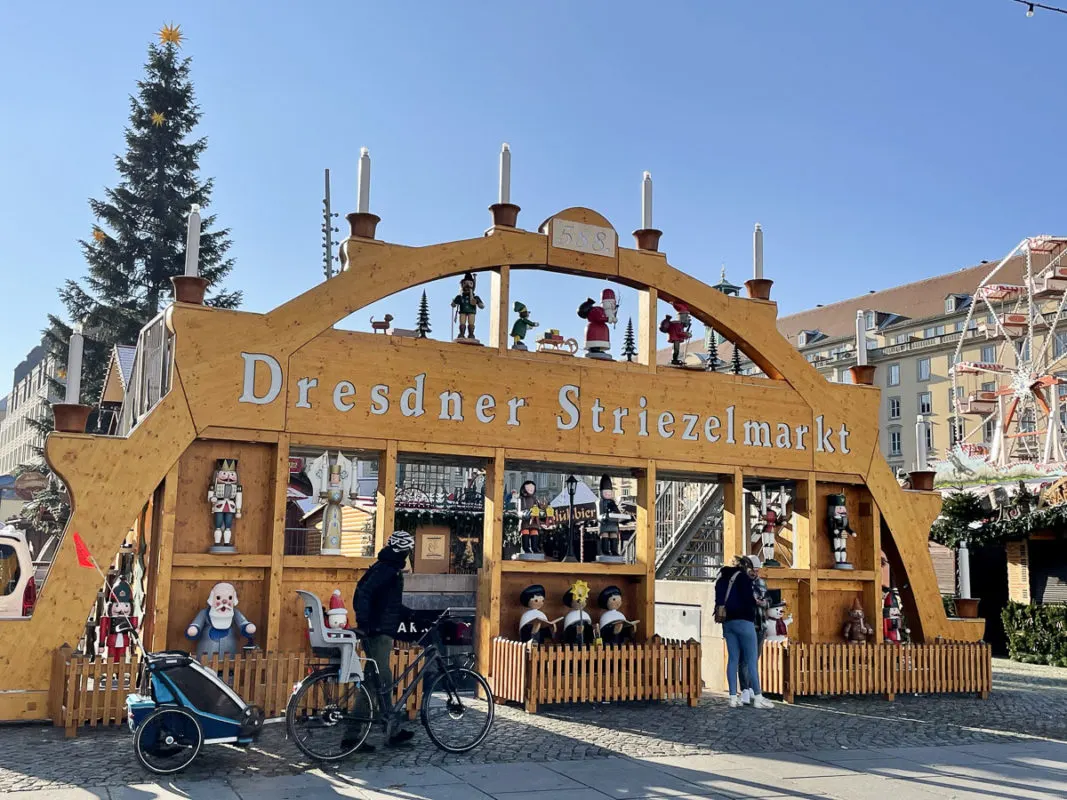 Terrific Amenities
Check-in was a fast and smooth process and the staff were super friendly and helpful. They even let us into our room 2 hours early, which was greatly appreciated, since we'd just arrived from Berlin with our luggage and it was a cold November day.
If you're looking for a hotel with an elevator, look no further. We often took the elevator up to our room and walked down the stairs. You can use the elevator to access the guest rooms if you have a room key, which is a nice bit of added security, especially if you're traveling alone.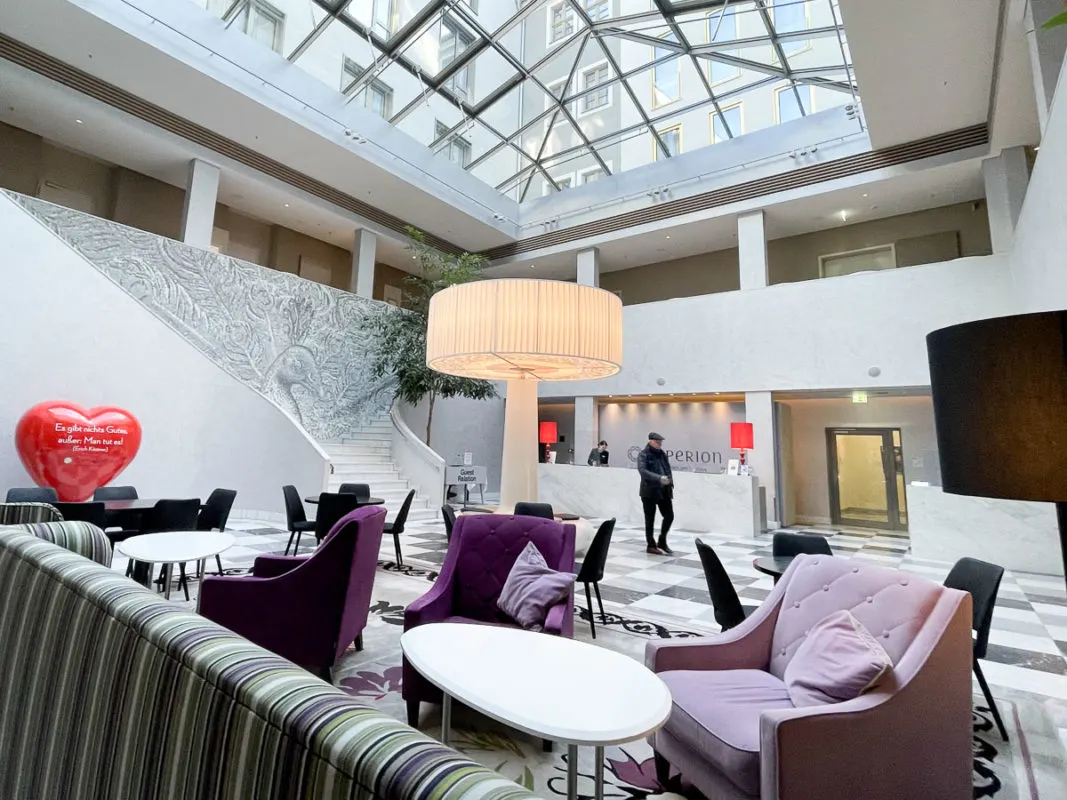 Large, Quiet & Comfortable Room
Our room was much larger than we expected, especially since we were staying in the Old Town, and it was very comfortable for 2 people traveling with luggage.
I booked a "double bed" and was happy to see that translated to a King sized bed (sometimes it does, sometimes it doesn't). The tall ceilings in the room made it feel even more spacious, yet it was a cozy place to relax in the evening after a long chilly day exploring the city.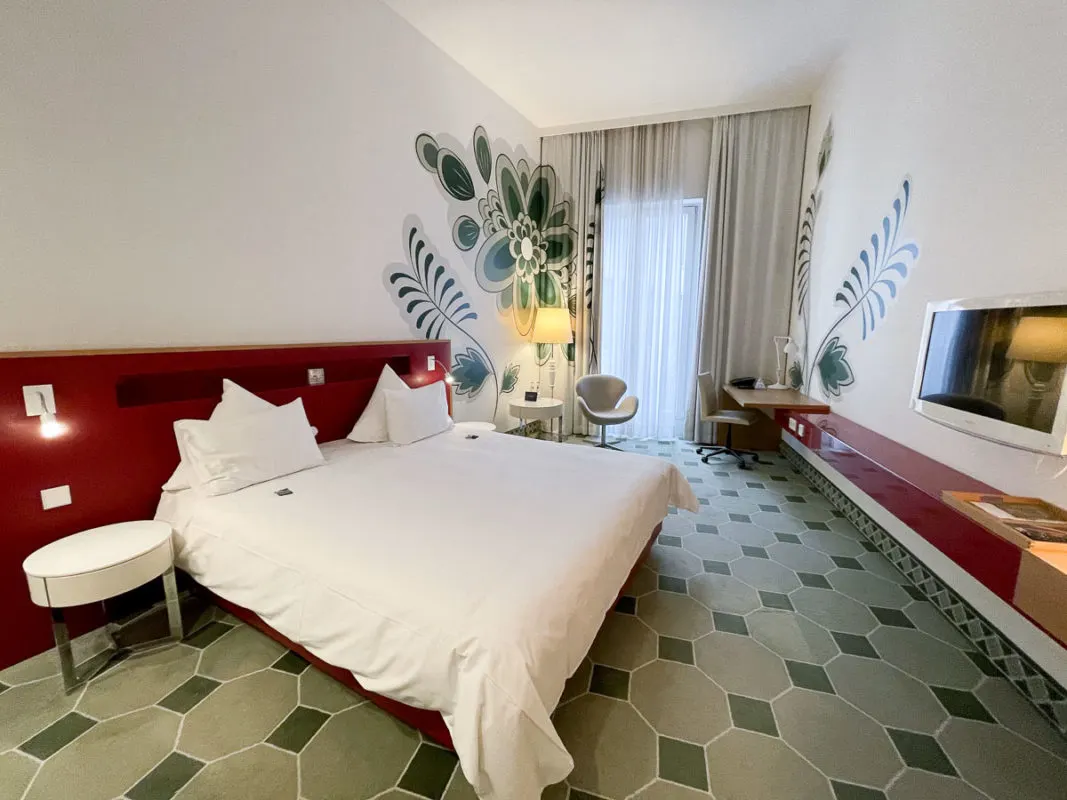 The room came with expected amenities like a TV with cable, free wifi, a desk and chair (which was perfect for a Zoom meeting I had with a client), coffee and tea, a mini fridge, a safe, bathrobes, and toiletries.
I really liked the room colors and decorations – a nice change from standard hotel wallpaper. And the packet of gummy sheep they left on our pillows was a nice touch.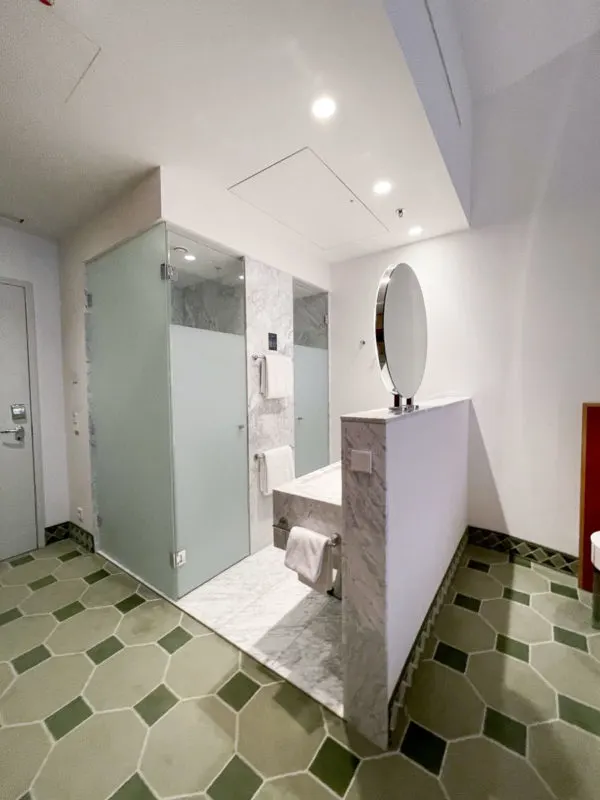 I've noticed more and more bathrooms like the one we had at this hotel, where the bathroom is more open to the room. The shower worked great, there was plenty of room for our stuff on the counter, and plenty of complementary toiletries.
Our room faced an interior courtyard and so it was nice and quiet, despite the hotel being in the heart of the city. The 2 sets of curtains on the huge window enabled us to choose whether we wanted light to stream in and fill the room or keep the room dark for better sleeping. We also loved being able to open the windows for fresh air (very German).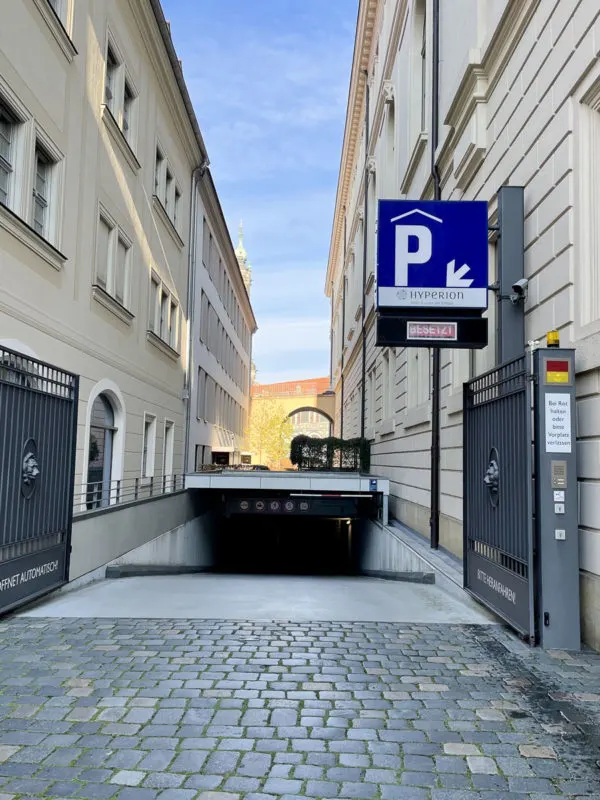 Is There Parking? What About Breakfast?
Hyperion Hotel Dresden Am Schloss also offers parking, a spa, fitness center, and a sauna. They also offer breakfast but we opted for a room without breakfast, since we're not big breakfast eaters. We took a peak at the buffet, though, and it was fit for a king!
If you're also not big on breakfast, you can easily make tea or coffee in the room using the electric kettle and espresso pod machine. And there's enough room in the fridge for a couple yogurts. If you get snacky or thirsty, there's an adequate mini bar selection in the room.
We opted to stop by the Edeka grocery store in the nearby mall for a few snacks and drinks and kept them in the mini fridge.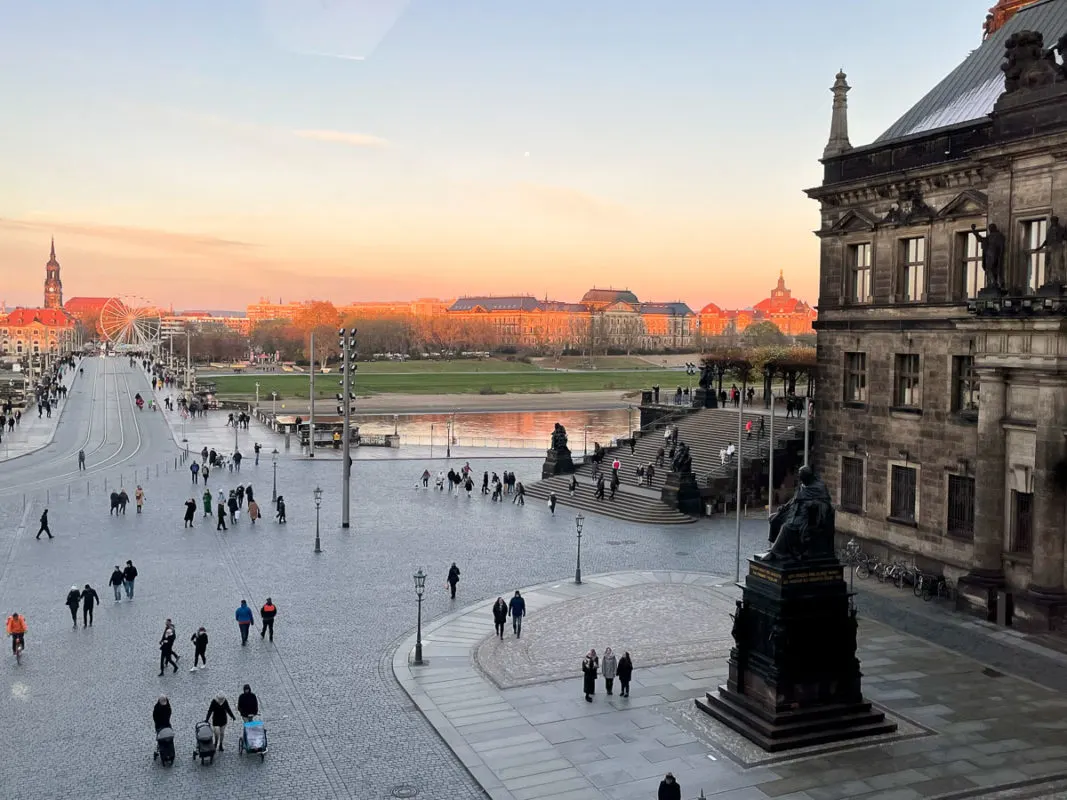 Is Staying in the Old Town Worth It?
If you've looked at accommodations in Dresden you've probably seen hotels from the train station to the Old Town. We recommend staying in the Old Town. The old town is charming and close to everything you're going to want to see in Dresden.
After arriving in Dresden, we walked an easy 20 minutes from the train station to the Hyperion Hotel Dresden Am Schloss. You could also take take a taxi. Taking the tram will get you pretty close to the hotel but not all the way.
It's really not that far to walk from the train station and we found it quick and easy to walk back to the station for our day trip to Bastei Bridge in Saxon Switzerland.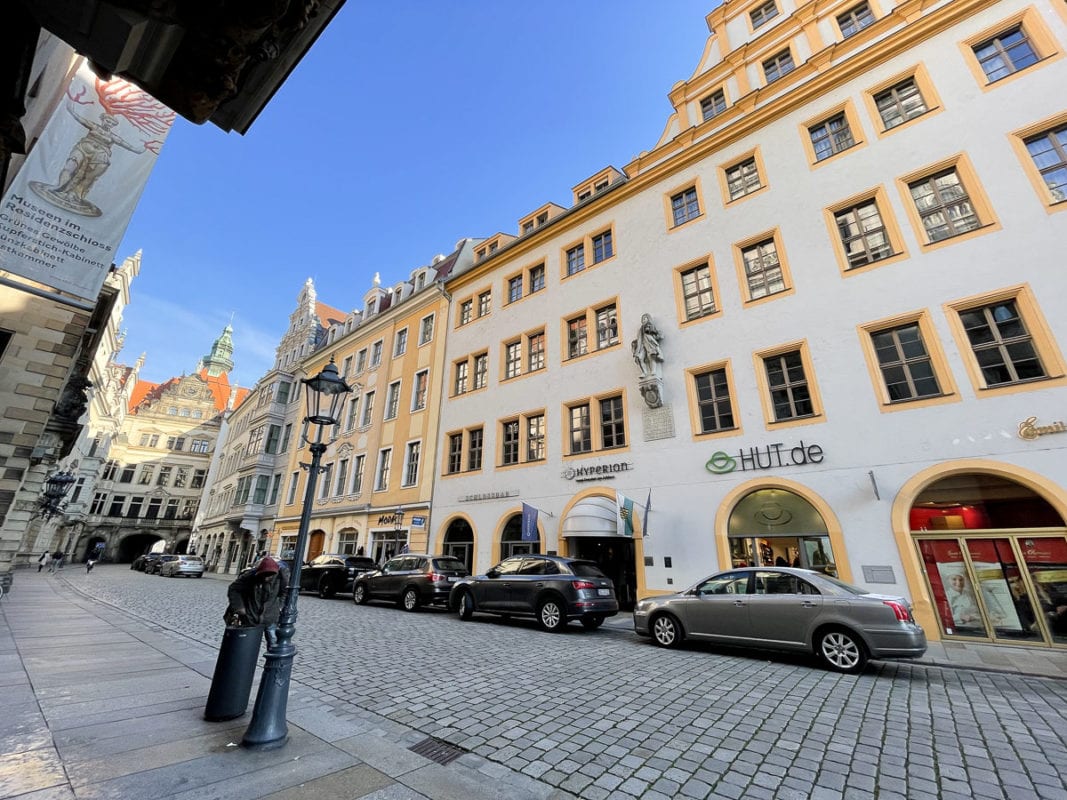 Any Downsides?
The only 2 we could think of were that the carpets looked a little worn and breakfast wasn't included in the price of the room (for us when we booked, at least).
The Verdict? Highly Recommended!
You can't beat the location, we slept well, and overall, we really enjoyed our stay at the Hyperion Hotel Dresden Am Schloss. We'd definitely stay there again!
Click here to check availability and price at the Hyperion Hotel Dresden Am Schloss.
Our Pick
Hyperion Hotel Dresden Am Schloss
Pros:
Prime Old Town location

Spacious, quiet room

Ensuite bathroom

Comfortable King-sized bed

Breakfast buffet available

Friendly staff

On-site parking

Great amenities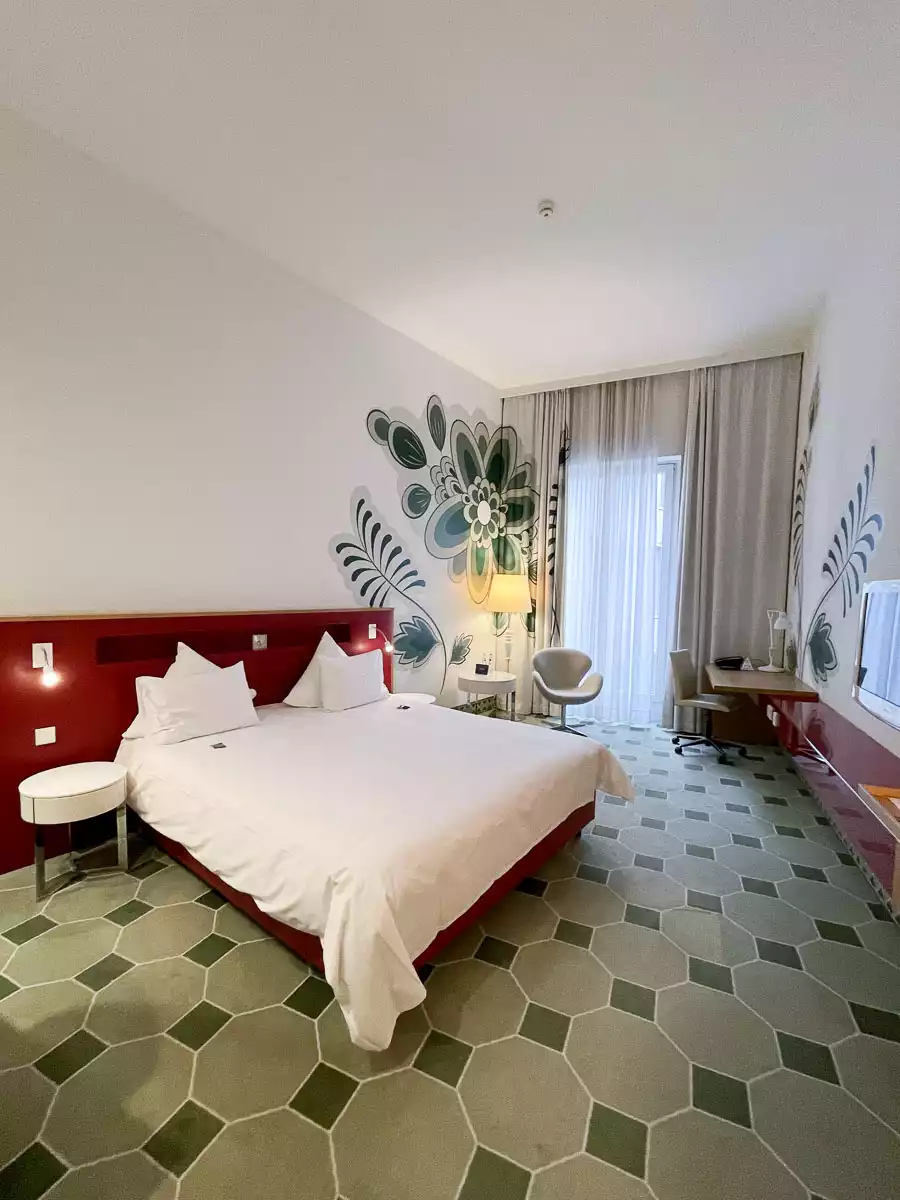 We earn a commission if you make a purchase, at no additional cost to you.
---
ULTIMATE GERMANY TRAVEL RESOURCES
We've gathered some of our essential travel guides, websites, and other information to help you plan the best vacation! We use these resources ourselves and share them to save you money, time, and stress so you can focus on enjoying and making the most out of your time in Germany.

GERMANY TRAVEL BUNDLE: Our Ultimate Germany Travel Bundle gives you the best tools, up-to-date tips, and expert insights to easily and efficiently tackle the travel planning process. You'll get our custom Trip Planning Map, which shows you the best sights, hotels, castles, and more – because seeing where things are in relation to each other makes trip planning SO much easier! You also get our Trip Planning Spreadsheet, City Cheatsheets, How-to Videos, Germany Trip Planning Guide, and Trip Planning Spreadsheet!

BOOKING FLIGHTS: To find the the best flights deals, we recommend checking Kayak, Skyscanner, Expedia, Travelocity. These websites are also great for getting rental cars.

ACCOMMODATIONS: We recommend using Booking.com since they have widest range of accommodations available from hostels, boutique hotels, luxury chains, aparthotels, at the best prices. For vacation homes, we suggest checking VRBO. We also have accommodation guides on different destinations (Hamburg, Cologne, Munich, Stuttgart, and more to come!) in our website.

TRAINS & BUSES: For point-to-point or regional train tickets (great for day trips or groups) within Germany, or tickets originating in Germany to other European destinations, we recommend buying them on the Deutsche Bahn (German Rail System) website. If you want to buy a rail pass for Germany (or elsewhere in Europe), buy them on Rail Europe. For buses, FlixBus offers tickets for routes within Germany and to other European countries. FlixBus is often cheaper than trains but can take longer.

TRAVEL CREDIT CARD: One of the best ways to make travel to Germany more affordable is by booking free flights. Using the points accrued with our Chase Ink credit card (and a few others), we haven't had to pay for flights to Europe in the past 10 years!

TICKETS AND TOURS: We always recommend exploring a new city for the first time with a Hop On Hop Off Bus tour (ride it all the way around for the entire 1.5-2 hour tour). Here is our guide on the best Hop On Hop Off Bus tours for different German cities. For guided walking tours, day trips, private tours, and skip-the-line tickets, Get Your Guide is our go to!

WHAT TO PACK: Not sure what to bring to Germany? Check out our 2-week minimalist packing guide for tips on traveling light, and our Germany packing list for our must-pack items. Bonus: check out our guides on finding the best travel purse and best travel scarf with a hidden security pocket.

TRAVEL CONSULT: If you feel like you need more help and guidance beyond these resources, book a travel consult with us! We offer personal live sessions where we'll help you with things like planning your itinerary, showing you how to book train or skip-the-line tickets, and answer any other questions you have about traveling to Germany.