Best Germany Vacations & Tours: Places to Go in 2023
This post may contain affiliate links. Read my disclaimer policy.
Are you in the beginning stages of planning your Germany trip?
We're here to help! With how vast and beautiful Germany is, it can be overwhelming to decide which places will make it on your itinerary.
This guide gives you a rundown of the best places to visit and tours to book in Germany. We cover cities, villages and towns, castles, natural landscapes, road trips, and more.
Best Cities in Germany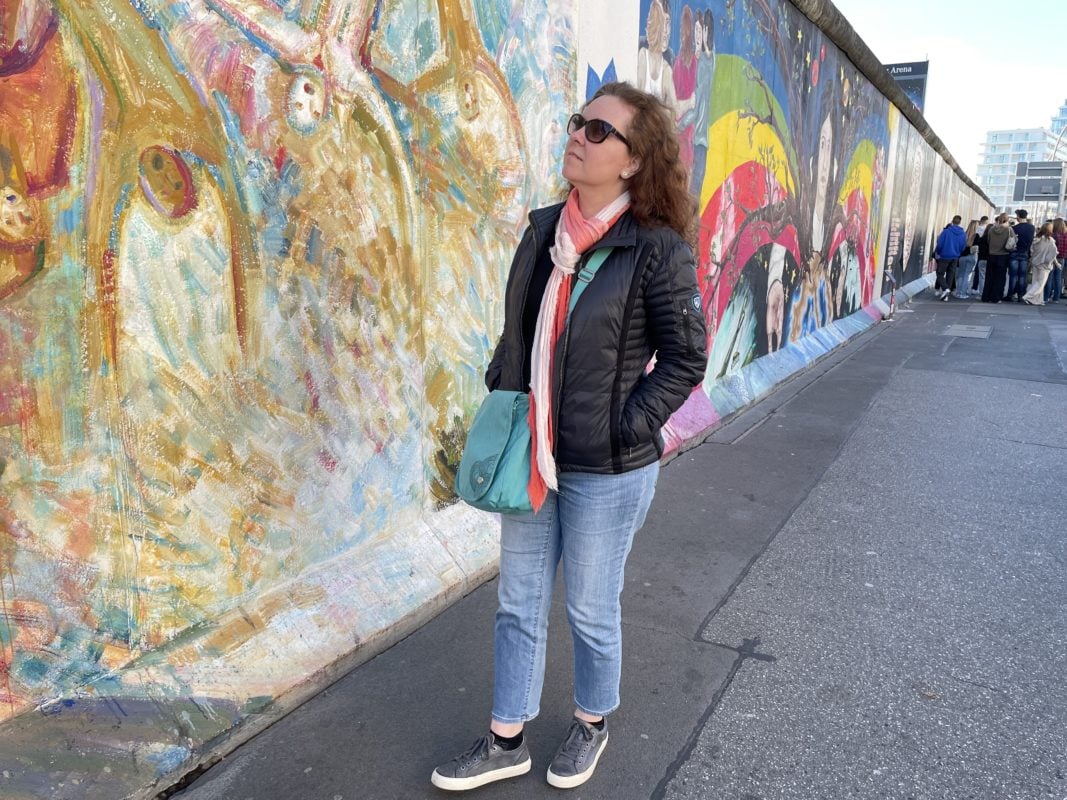 Berlin
Berlin is most likely the first destination that comes to mind for anyone traveling to Germany. The German capital is one of the most vibrant cities in Central Europe, known for being a global hub of culture, history, and art.
Berlin is a must-see!
Some of the most iconic sights of Berlin are located in the Unter den Linden area, a major boulevard running through the heart of the city. These include the German Parliament (Reichstag), Brandenburg Gate, Pariser Platz, Berlin Cathedral, and the Berlin State Opera.
On one end of the boulevard, you'll find Museum Island, a complex of five museums located along the Spree River that showcase some of the best collections in art, history, and archaeology. Berlin is full of amazing museums so you're sure to find at least one you can't wait to visit, whether the Neue Nationalgalerie, the DDR Museum showing what life was like behind the Iron Curtain in East Germany, the Stasi Museum or the Tränenpalast (Palace of Tears), where people leaving for the West said tearful good-byes to family and friends.
Berlin is also home to important historic sites you can't miss like the Holocaust Memorial, Berlin Wall remnants and memorials, and Checkpoint Charlie (yes, it's a replica and touristy but it's worth a look), the the Kaiser Wilhelm Memorial Church, and many more.
For places a bit further from the center, you'll want to explore Charlottenburg Palace, the Marzahn neighborhood, and Sanssouci Palace in Potsdam. For scenic views of the city skyline, we suggest climbing up the Berlin TV Tower or taking a river cruise along the Spree River.
If you're looking for a centrally-located and reasonably priced hotel, check out our Berlin hotel guide here. For more things to see and do in Berlin, check out our guide on planning the perfect Berlin itinerary.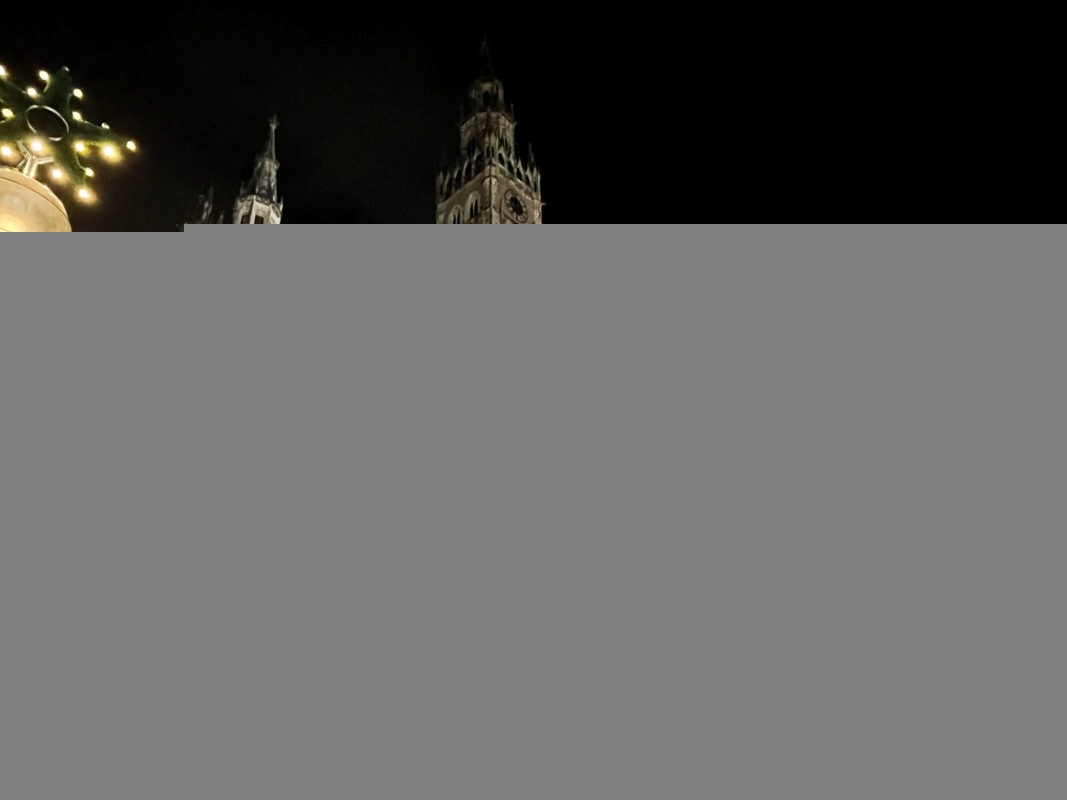 Munich
Munich is another of Germany's major cities that is responsible for attracting tourists from all over the world. Due to its charm and proximity to the Alps, it's another must-see for many visitors to Germany.
One of the great things about Munich is that most everything you'll want to see is in a compact area that is walkable. Many will start exploring the Bavarian capital of Munich in Marienplatz, the main square of the historic city center.
This square is home to historic buildings like the New Town Hall (Neues Rathaus), where you can catch the famous Glockenspiel's daily chime, St. Peter's Church (Peterskirche), the Frauenkirche, Asamkirche, and the central food market Viktualienmarkt. Be sure to climb St. Peter's Church for stunning city views. On a clear day you can see the Alps!
There are also some fun museums in the city like Deutsches Museum for science and technology, the Alte Pinakothek for medieval art or Pinakothek der Moderne for contemporary art. Dachau, the concentration camp memorial site on the outskirts of the city, is also a must-see for many (and highly recommended).
For urban green spaces, nothing compares to the English Garden (Englischer Garten). Not only is it a great place for relaxing, it's also filled with cultural landmarks like the Chinese Tower, where you can find one of the city's largest beer gardens. You can't help but relax and live in the moment when taking a stroll through the English Garden. You also have to stop and see the surfers on the Eisbach!
Speaking of beer, another thing that makes Munich a popular tourist destination is Oktoberfest the world's biggest beer festival. (If you're even considering going to Oktoberfest, book your hotel now! We've got an Oktoberfest hotel guide right here that will help you find the perfect place to stay before they're all booked up.)
Aside from history and cultural events, Munich also boasts amazing landscapes thanks to the Bavarian Alps. It's a great gateway to exploring the romantic castles of King Ludwig and medieval villages along the Romantic Road (more on that below!)
You can also use Munich as your home base for several days as you day trip to nearby locations like Nürnberg, Garmisch-Partenkirchen, Mittenwald, Oberammergau, Neuschwanstein, Chiemsee, Linderhof, Berchtesgaden, Eagle's Nest, Königsee, and even Salzburg, Austria. Yes, there are a lot of day trip options from Munich!
If you're looking for a place to stay in Munich that's walkable to the important sights, check out our hotel guide. Also read our guide on the best things to see and do in Munich.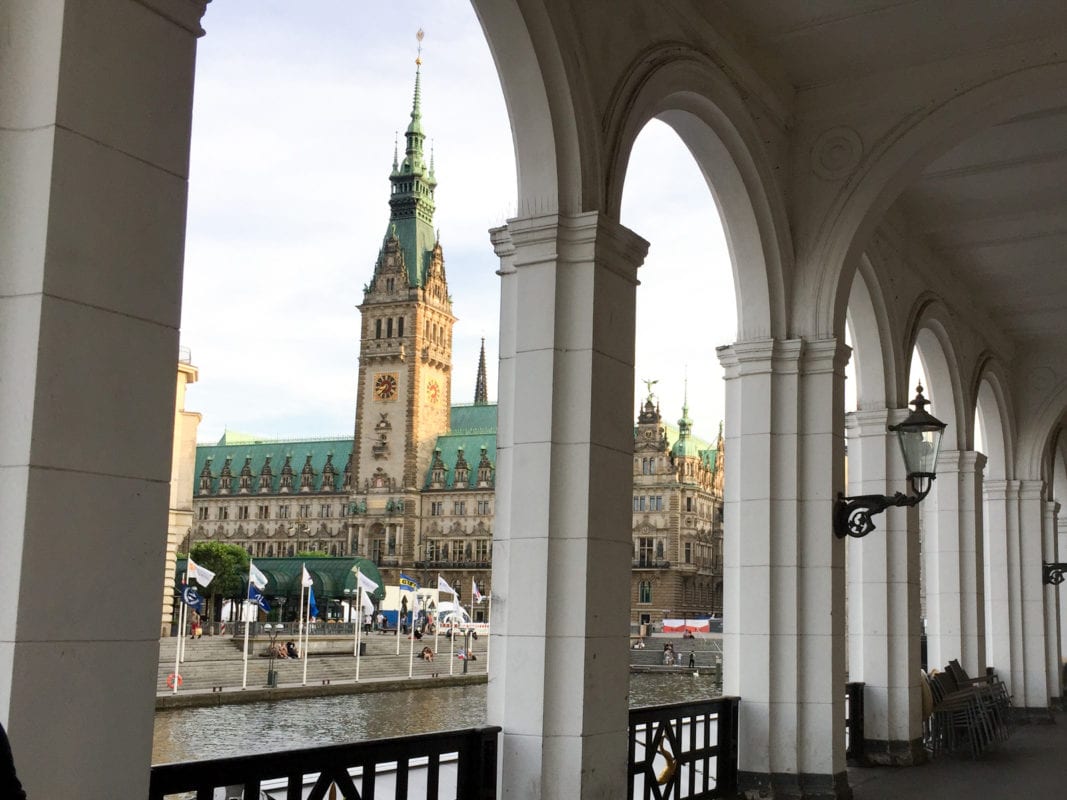 Hamburg
Hamburg in north offers visitors a unique and different experience compared to other German cities. Located along the river Elbe in northern Germany, Hamburg is an important city that connects to many waterways and shipping routes and is a beautiful and fun city to visit.
Because of the city's urban landscape, one of the best ways to sightsee is by taking a harbor cruise of some of Hamburg's highlights. These include the Elbphilharmonie, the Speicherstadt district, St. Pauli's Pier, and Hafen City.
Other must-dos include canoeing Hamburg's many canals, sampling fresh fish and seafood at the Fischmarkt, strolling through Planten un Blomen botanical gardens, and paying a visit to the International Maritime Museum, the Miniatur Wunderland, and the Treppenviertel of Blankenese.
You can also take several memorable day trips from Hamburg to Lübeck, beaches on the North Sea or Baltic Sea, Stade, Lüneburg, Schwerin Castle or Bremen.
For more Hamburg tips, read our accommodation guide and our list of the best things to do in Hamburg.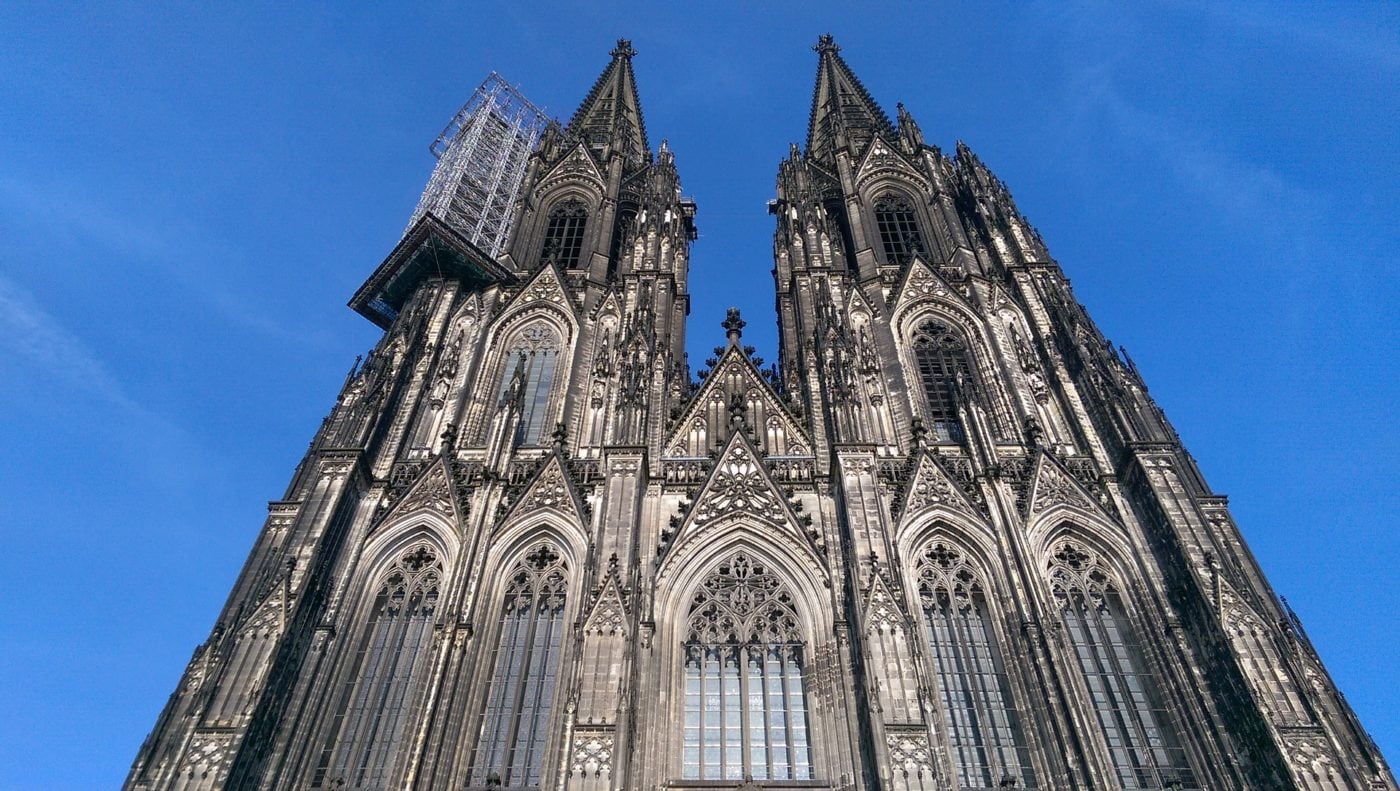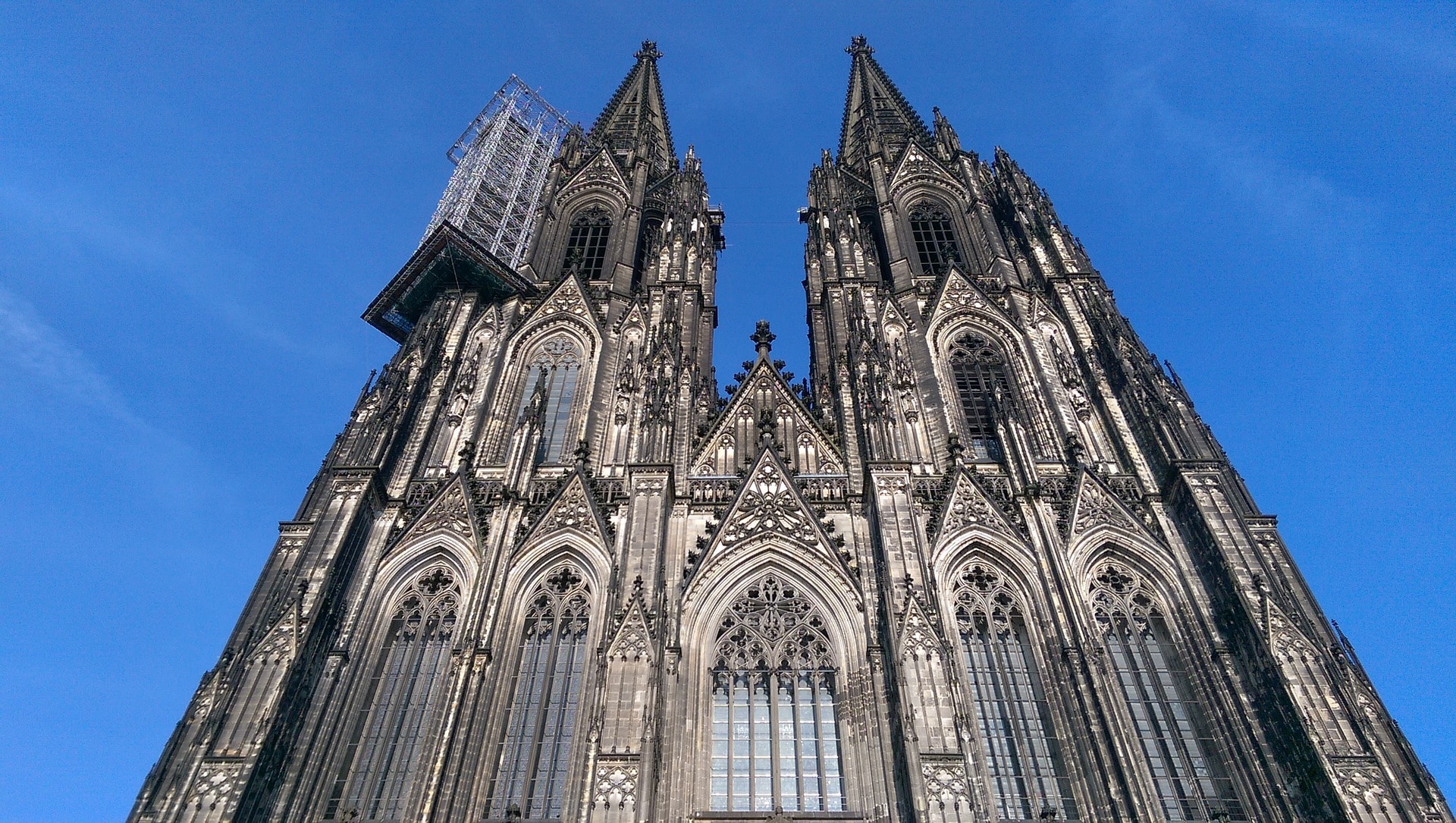 Cologne
Cologne is a beautiful city located along the Rhine river. The city has a unique combination of old charm with modern, dynamic neighborhoods. The most famous landmark is the Cologne Cathedral, one of the country's largest cathedrals.
The historic center is home to more classic old churches as well as many new art galleries, boutique shops, and cafés. Another thing Cologne is known for is its chocolate. Make sure to visit the Chocolate Museum to get a taste and learn about its history. For more information on Cologne, read our corresponding accommodation guide and travel guide.
Many people visit Cologne because of its ideal location within the Rhine Valley. From the city, you can embark on various day trips to castles or cruises to riverside towns or wineries. More information on the Rhine Valley below!
Tip: if you don't have a day or two to devote just to Cologne but want to see the famous and super impressive Cologne Cathedral, no problem. The cathedral is right across from the train station, so if you're going through Cologne, plan a 1-3 hour stopover to see the cathedral and even some of the downtown area!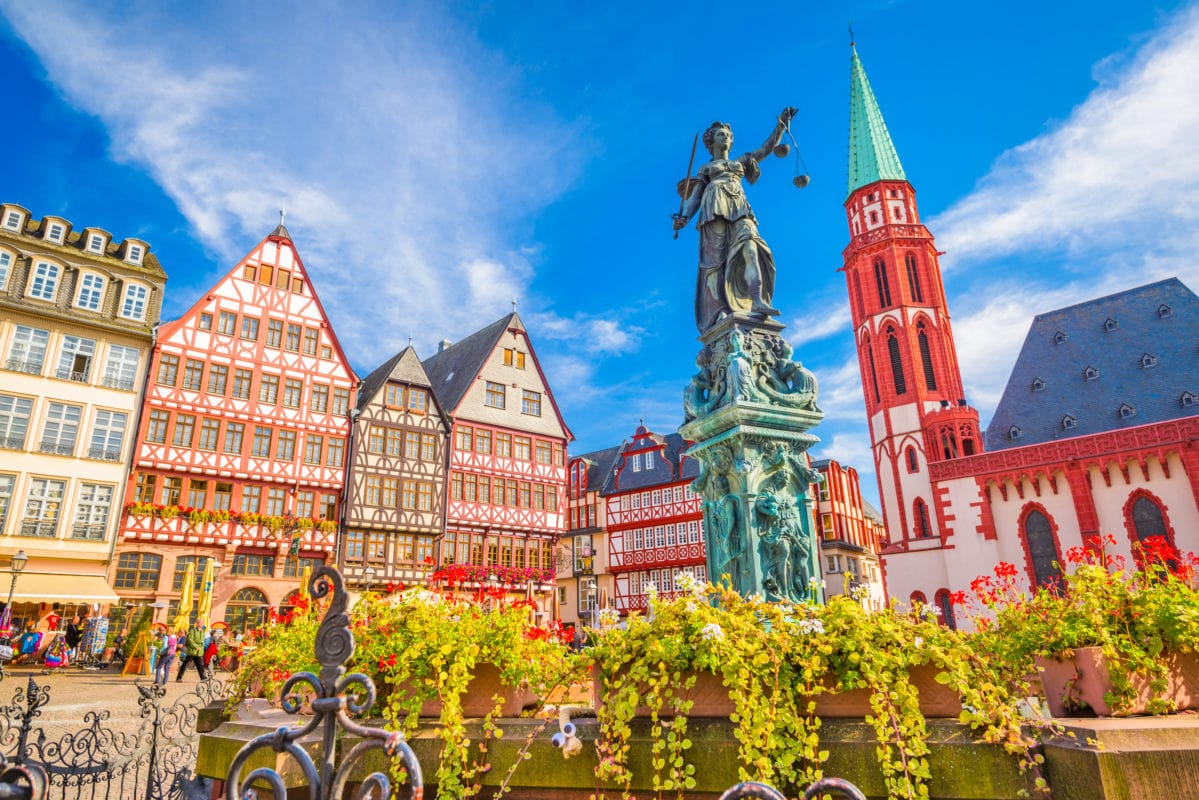 Frankfurt am Main
Frankfurt is one of the leading financial centers of the world. If you're flying internationally, you'll most likely pass through Frankfurt airport.
For some travelers it's worth booking a hotel in the city for a night upon arriving in Germany, and then taking the train to their next destination or picking up a rental car the next day. This way you don't have to worry about missing a train or rental car pick up due to a flight delay.
Frankfurt's Old Town is where you'll find many important landmarks like Römerberg, the main square with medieval townhomes surrounding a fountain, the Frankfurt Cathedral, and Goethe House.
The city is located along the Main river so there's different ways to enjoy the skyline whether it be by the iconic Iron Bridge (Eiserner Steg) or via a sightseeing river cruise.
You can definitely see a lot of Frankfurt in one day. But Frankfurt's central location also makes it one of the best places to go on day trips to the Rhine Valley, smaller surrounding towns, or fairy tale castles.
Tip: there are two Frankfurts in Germany! Frankfurt am Main (meaning, Frankfurt on the river Main) is where the huge international airport is. Frankfurt an der Oder (meaning, Frankfurt on the river Oder) is in eastern Germany between Berlin and the Polish border.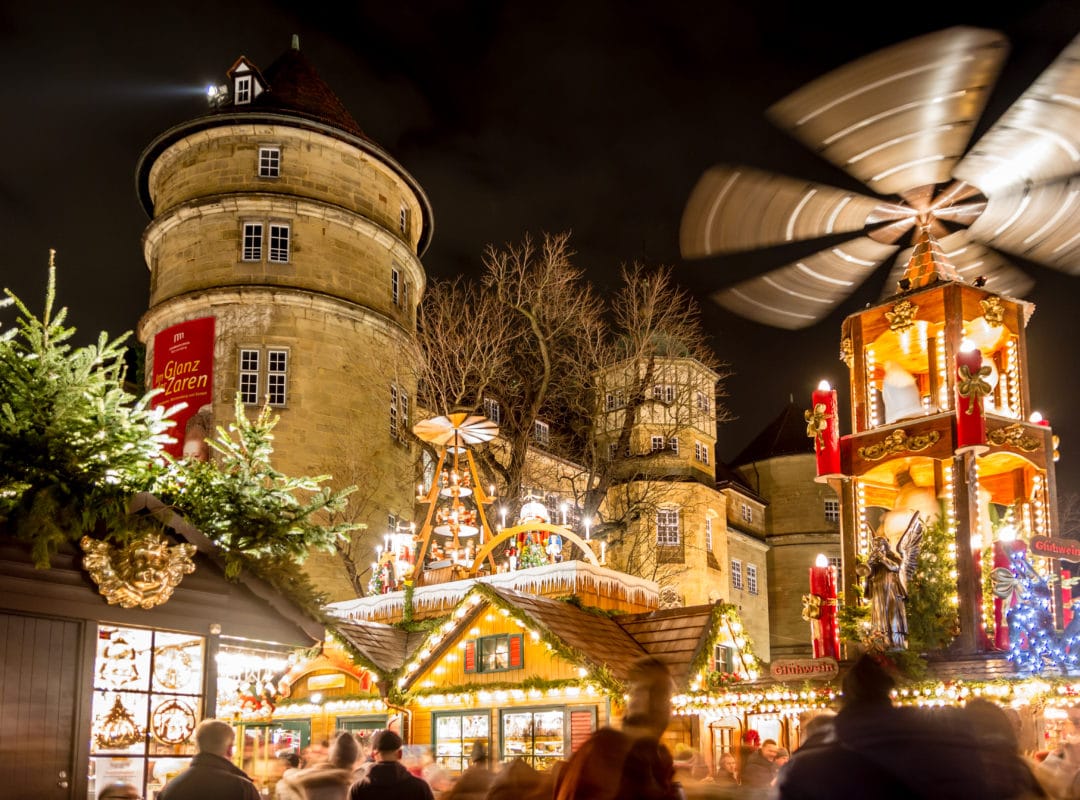 Stuttgart
Stuttgart is the capital of the state of Baden-Württemberg in southwestern Germany, just north of the Black Forest. It's a big city in a beautiful part of Germany and has a large international airport that is easy and enjoyable to fly into.
What makes Stuttgart unique are the hills surrounding the city center and the gorgeous vineyards. Plus, there are several fun day trip options from Stuttgart via train or car, such as Esslingen, Tübingen, Hohenzollern Castle, Lichtenstein Castle, the Black Forest, Baden-Baden, and even Strasbourg, France.
Stuttgart is renowned worldwide as an automotive hub since it's the birthplace of Mercedes-Benz and Porsche. If you're interested in cars and the history behind the brands, it's worth visiting their respective museums.
There are many other sights to see in Stuttgart, including the Neues Schloss in Schlossplatz Square, the Stuttgart TV Tower for absolutely stunning views, and the many vineyards in and around the city (yes, Stuttgart has vinyards that are actually in the city).
If you're lucky enough to visit in December, don't miss the Stuttgart Christmas Market – it's one of the oldest in the world! Even better, while in Stuttgart it's easy to visit Ludwigburg's Baroque Christmas Market just north of Stuttgart, and Esslingen's Medievel Christmas market to the south. Both can be reached by S-bahn from the city center.
For more general tips for visiting Stuttgart year-round, read our accommodation guide and our list of the best things to do in Stuttgart.
Villages and Towns in Germany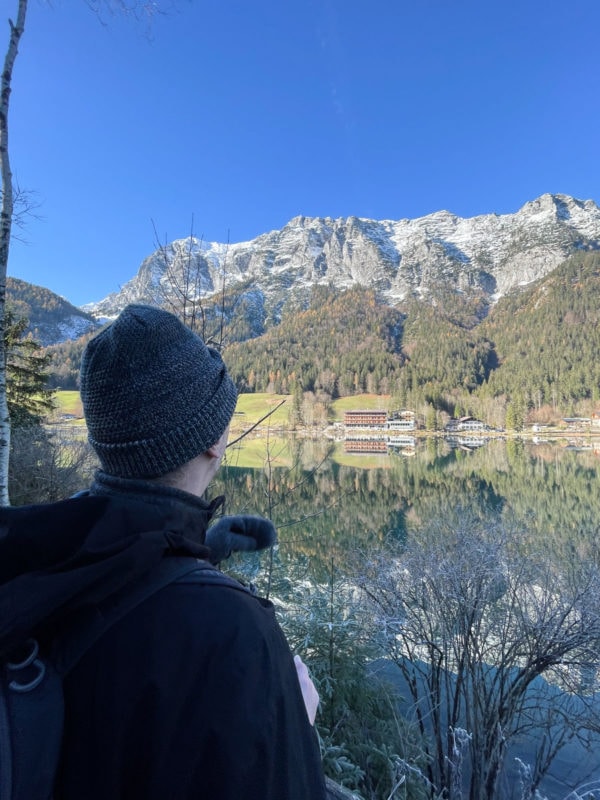 Berchtesgaden
Berchtesgaden is a beautiful Bavarian town across the border from Salzburg, Austria known for its history with World War II and its one of a kind natural beauty. You can start off your visit exploring the quaint and charming town center but you'll have the best time once you venture out to the surrounding area.
A top destination is Eagle's Nest, a historic viewpoint in the Alps. If you're planning a family trip, add the Berchtesgaden Salt Mines to your itinerary for a fun underground activity that's perfect for young kids and adults alike. Also nearby are the Königsee lake (take the boat cruise!), the cute village of Ramsau, and Hintersee lake – which you can hike to from Ramsau in about an hour – and the Jennerbahn. There are also many options for hiking in the area in the warmer months and snow activities in the winter.
Read more about how to plan a visit to Berchtesgaden here.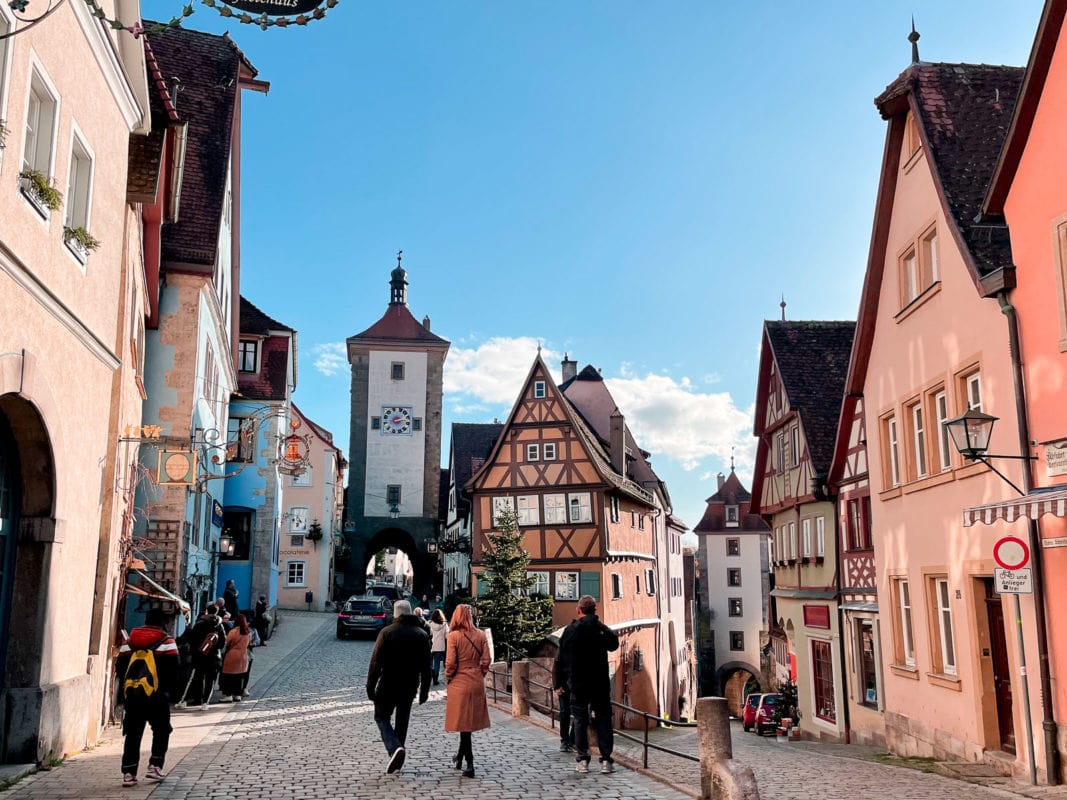 Rothenburg Ob der Tauber
For medieval villages straight out of a postcard, nothing compares to Rothenburg Ob der Tauber. This well-preserved town is instantly recognizable to all by its colorful half-timbered houses, cobblestone alleyways, and intact historic city walls.
While you can spend a couple nights in this charming town, it also makes for an easy day trip from Nürnberg, especially in the summer when days are super long.
Rothenburg is without a doubt the most popular fairytale town, and can get very crowded as a result, but there are plenty of other medieval must-sees in the surrounding area that can be less touristy and just as beautiful. These include Dinkelsbühl, Würzburg, Bamberg, Nördlingen, and Füssen (this one is a couple hours south). To learn more about them, read the section on Romantic Road under road trips!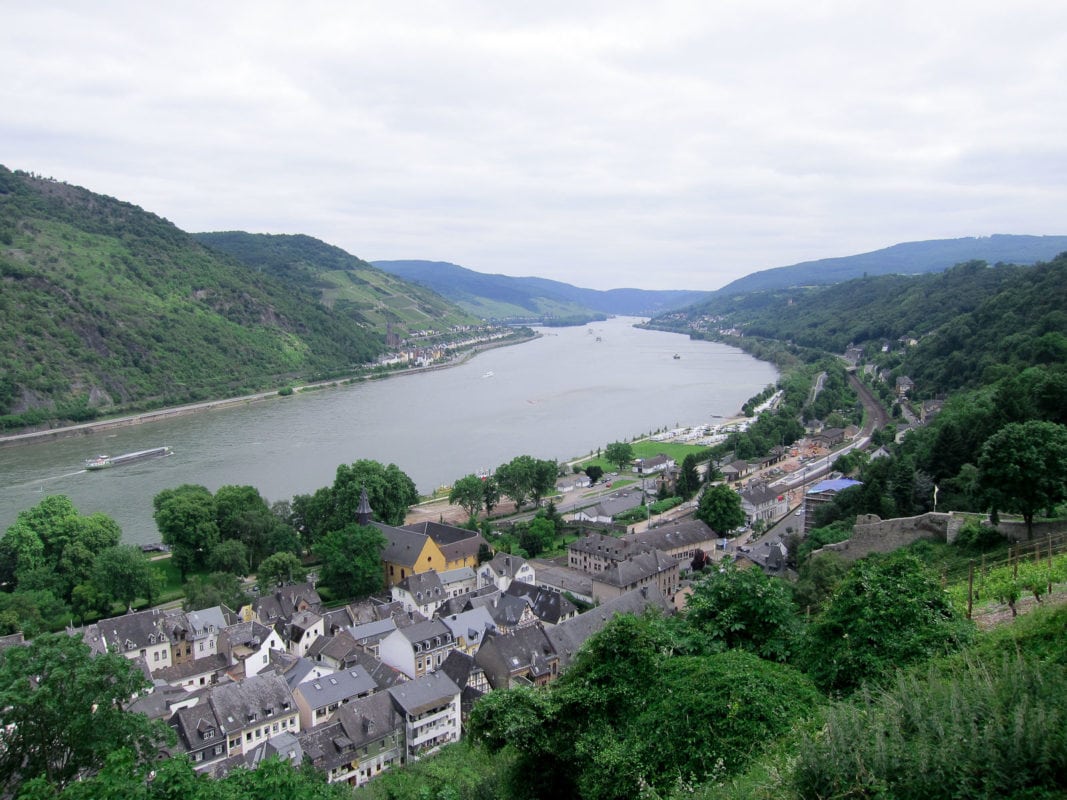 Bacharach & Cochem
Bacharach is a picturesque town along the Rhine River. It's a popular stop for river cruises but there's plenty to see and do on land. There are lots of gorgeous vineyards that surround the village with nearby restaurants and wineries serving the best food and wines. Bacharach is also home to the Burg Stahleck, a medieval castle turned into a youth hostel on a hill, which you can visit even if you're not staying there (we highly recommend hiking up there for the view). If you're interested in booking a room in that castle (or another German castle), check out our guide to the best castle hotels in Germany.
Cochem, on the other hand, is further east in the Moselle Valley. It's also an idyllic town with half-timbered houses and quaint countryside. In town you'll find the famous Reichsburg Castle (Cochem Castle), towering over the Moselle River. The medieval castle has been rebuilt many times over the year and it hosts fun themed activities like medieval-style dinner and live performances.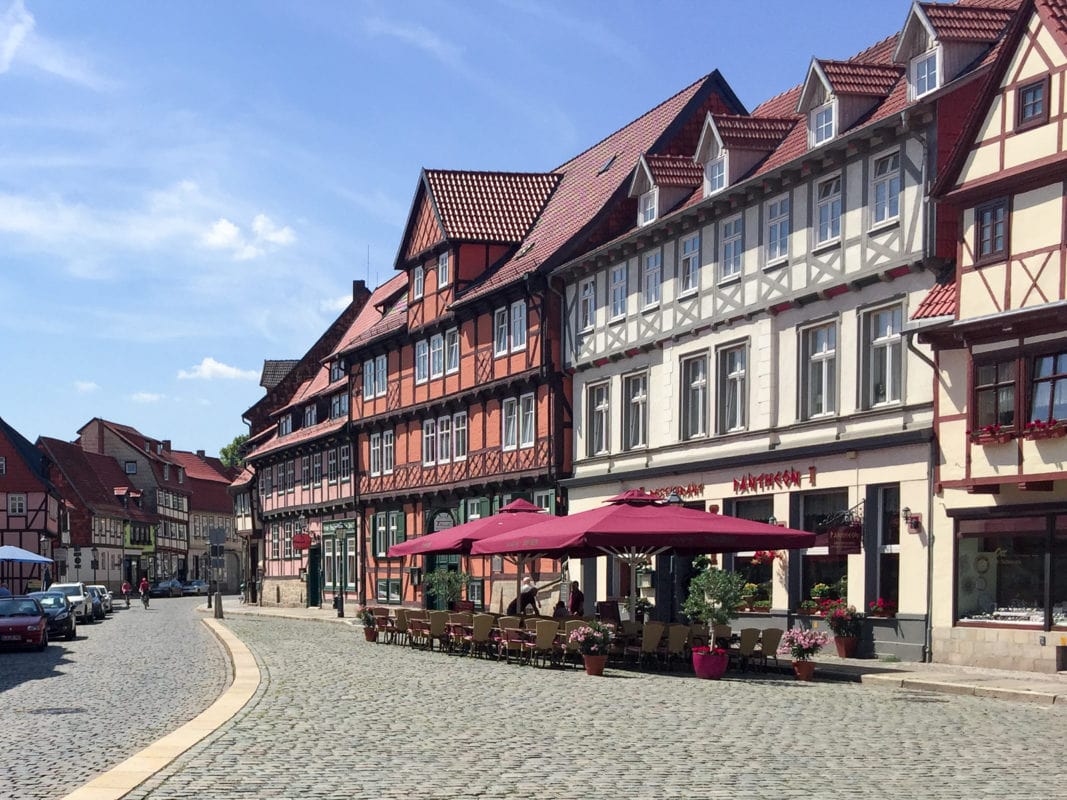 Quedlinburg
Quedlinburg is another charming medieval town but this one is located up north in the Harz mountains. It's one of the most important Renaissance towns in Europe since it is so well preserved. It has all the classic elements of medieval architecture including colorful half-timbered houses and cobblestone streets. Some highlights include the Quedlinburg Castle-Hill, home to the Collegiate Church of St. Servatius and burial site of the first German King.
If you're interested in what life was like in East Germany and aren't visiting Berlin, there's a DDR Museum in nearby Thale!
Görlitz
Görlitz is a small town on the Polish border in southeastern Germany. Where the previously mentioned towns are celebrated for their medieval features, Görlitz boasts of a wealth of different architectural styles due to its rich history. You'll find historic buildings from different eras like Gothic, Renaissance, Baroque, Neoclassical and Art Nouveau. One of the most famous landmarks is the Parish Church of St. Peter and Paul which is part of the Via Sacra (Holy Route) pilgrimage. Another perk of visiting Görtliz is that you can walk to Poland!
German Castles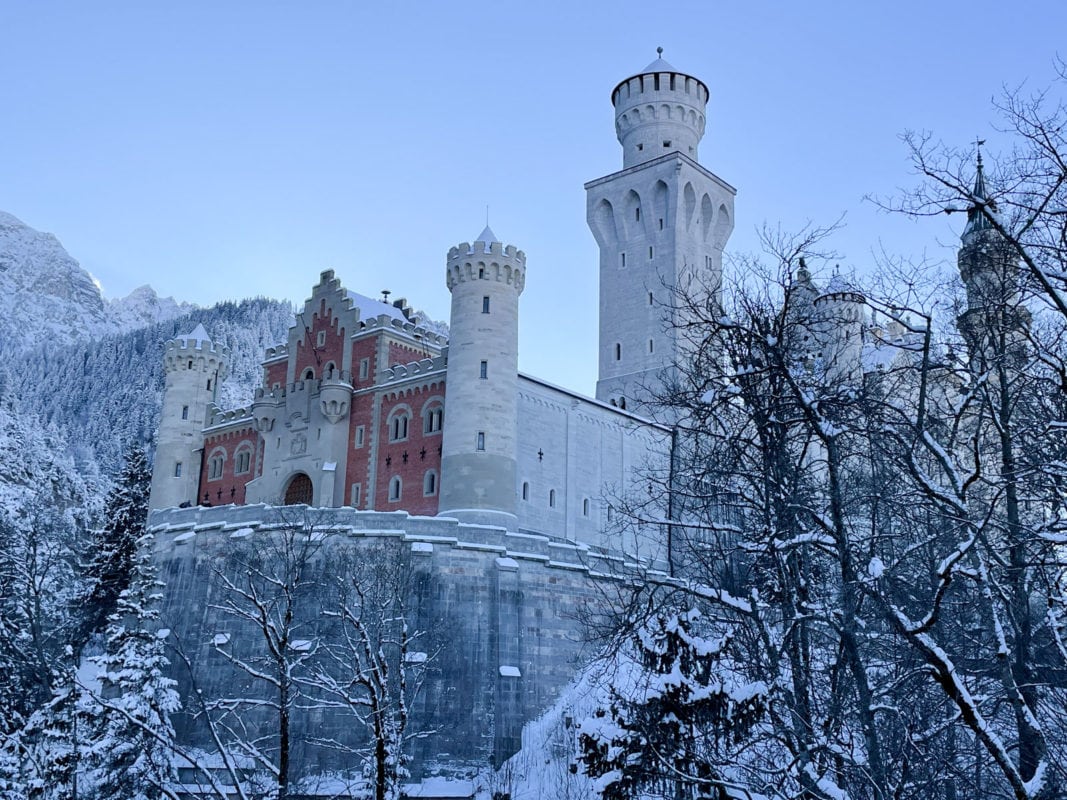 Neuschwanstein Castle & Hohenschwangau Castle
Neuschwanstein is a super popular destination in Germany, attracting over 1.5 million visitors from all across the globe every year. It's said to have been the inspiration of Walt Disney for his famous princess castles.
If you have the chance to Neuschwanstein during winter, it makes for a unique experience as you'll see the castle and the backdrop of the Alps all covered in snow. It's breathtaking (and cold)!
The only downside to visiting in the winter is that the Marienbrücke (Mary's Bridge) is often closed due to snow and ice, making it difficult to get that iconic Neuschwanstein photo. Fortunately, there are several other vantage points for amazing photos (and selfies) but if you've got your heart set on the view from Marienbrücke, do consider the weather.
To make the most out of your visit, explore Hohenschwangau – another nearby castle known to be King Ludwig's childhood summer home. If you can't go inside Hohenschwangau, at least go up to the castle courtyard for the view.
If you're adding this to your Munich itinerary, read our tips on how to plan the ultimate Neuschwanstein day trip.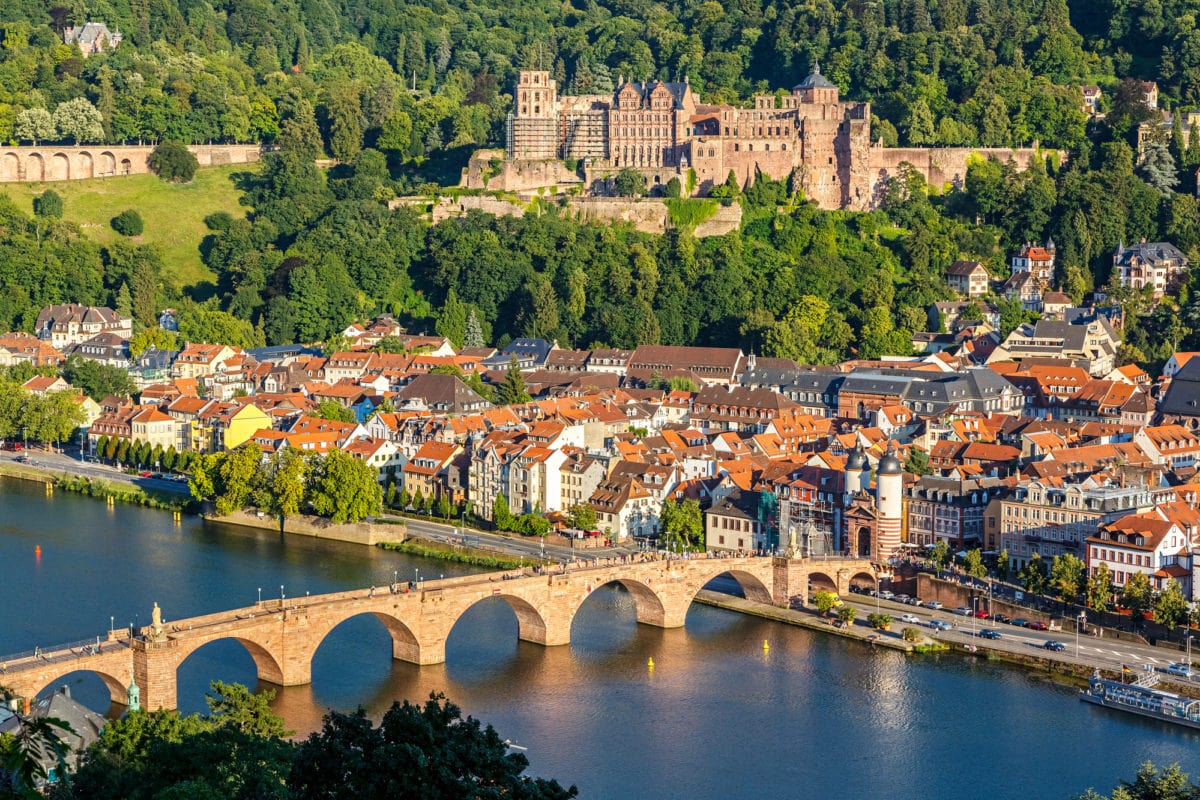 Heidelberg Castle
Heidelberg Castle is a famous landmark found in Heidelberg, a university town located in southwest Germany. This castle is actually one of Germany's most famous castle ruins, dating all the way back to the 13th century.
Its imposing exterior is helped by the fact that it's so high up, providing spectacular views of the Neckar River. Aside from the views, make sure to check out the Heidelberg Tun (the world's largest wine barrel) and the castle's fireworks show during summer that's done in memory of when the castle burned down.
Read our guide for more information on how to visit Heidelberg Castle.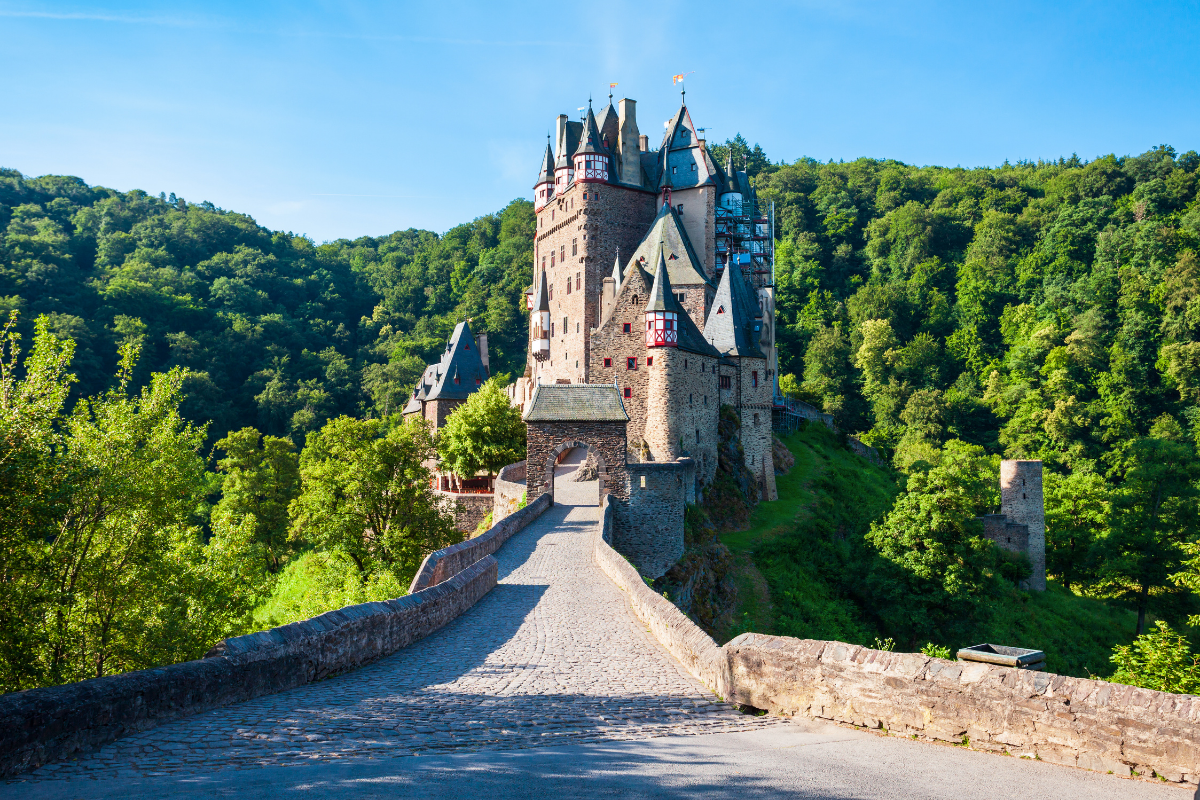 Burg Eltz
Burg Eltz is one of the rare castles in Germany that has never been damaged by war or other external forces. It's even been under ownership of the same family for over 30 generations. The Eltz Castle is on the north of the Moselle Valley overlooking the Elzbach River. In the castle you'll find a museum with well-preserved artifacts and restaurants where you can dine in a medieval setting. Definitely a must-see!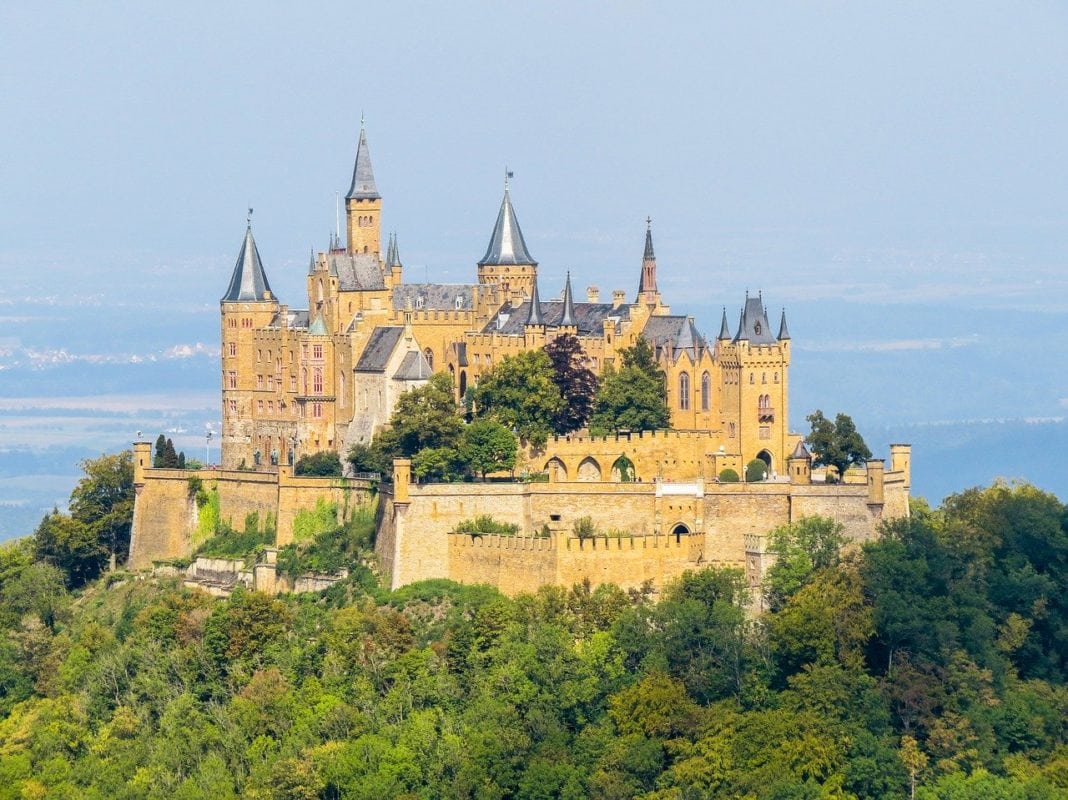 Hohenzollern Castle
If you're looking for a castle in the Black Forest, we recommend visiting Hohenzollern Castle. This ancestral seat of Prussian royals is located on the hilltops of the forest. The interiors are grand, with over 140 rooms with gilded coffered ceilings and ornate decorations. The castle also hosts special cultural events like open-air cinema screenings and concerts. It even has its own Christmas market and festivities!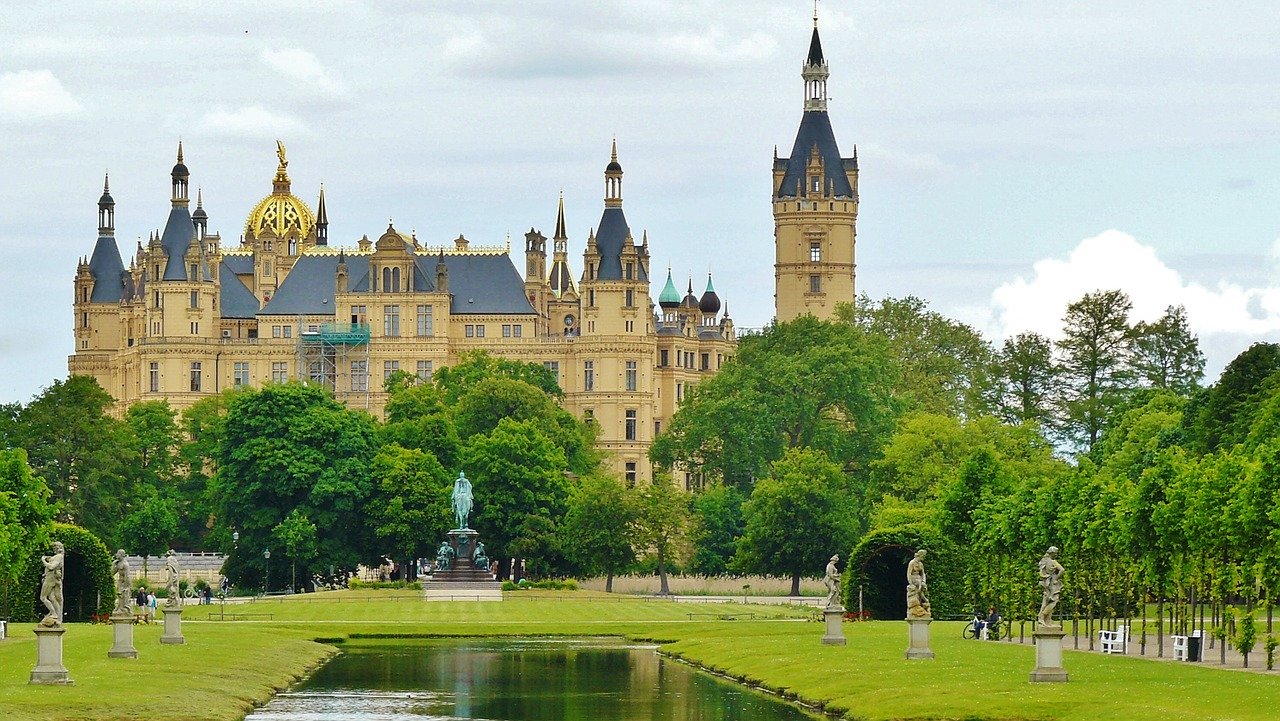 Schwerin Castle
Schwerin Castle is famously called the "Neuschwanstein of the North." It's easy to see why! To start off, the castle has a unique location. It stands alone on an island on the main lake of the city, Lake Schwerin. Since it's surrounded by water, the exterior of the castle makes for some beautiful pictures that look straight out of a fairy tale.
While the inside is very grand (there are around 600 rooms) and lavishly decorated, the exteriors are also just as breathtaking. The palace garden is lush and vibrant and is filled with beautiful structures like a green labyrinth and cascades.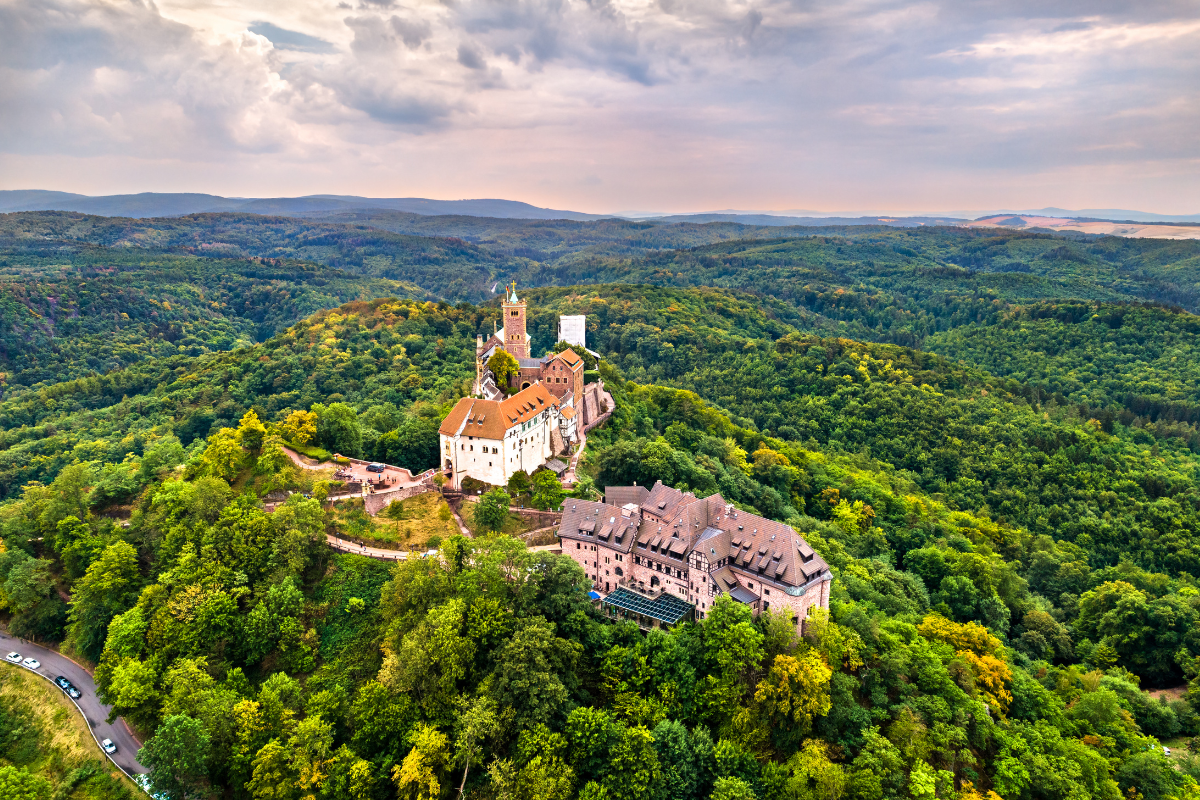 Wartburg Castle
Wartburg Castle is one of the most important castles in Germany because it was the first German castle to be designated a UNESCO World Heritage site. Its history dates back all the way to the 12th century and many of the original structures are still intact. The castle stands as a symbol of Germany's rich and fascinating history. It's situated on a cliff 1300 feet above the town of Eisenach, in the state of Thuringia.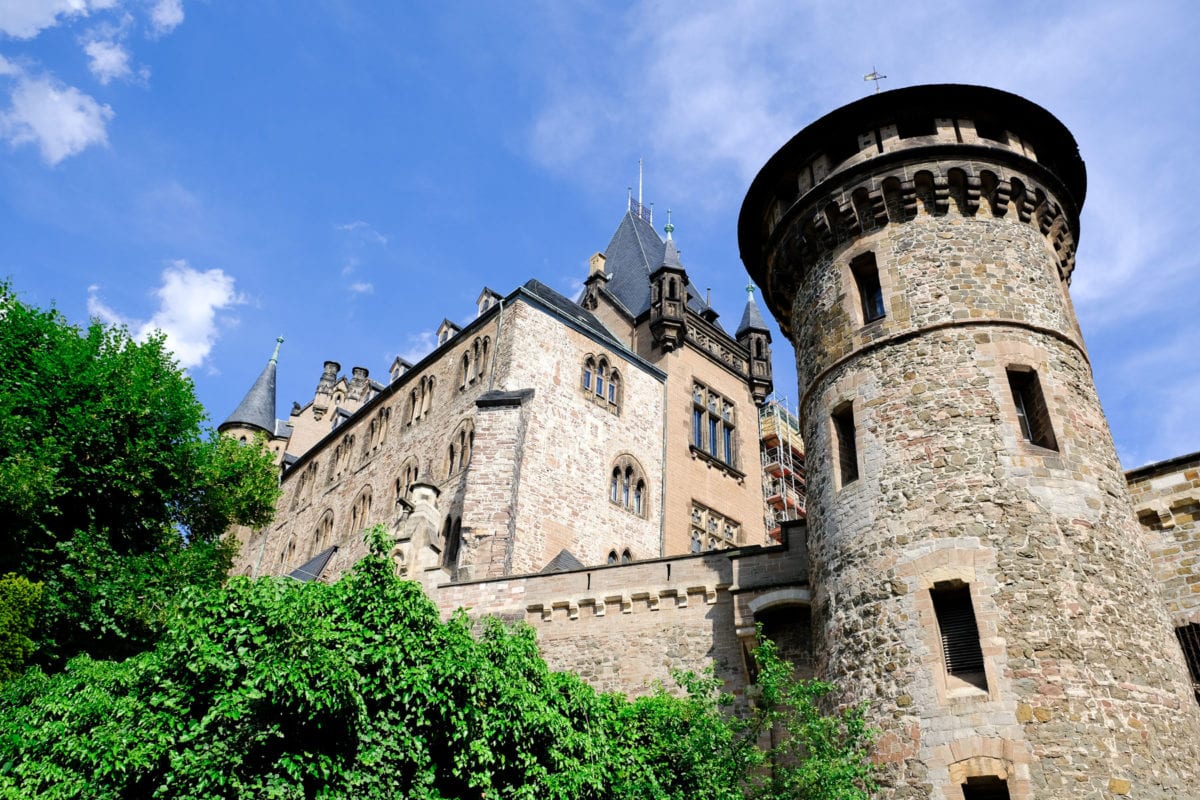 Wernigerode Castle
The Wernigerode Castle is a hilltop castle found in the Harz Mountain region. It was originally built as a Renaissance fortress but then rebuilt in the Romantic style, which is very similar to Neuschwanstein Castle.
As a result of all the reconstruction, the style of the castle's interior, from the rooms to the courtyards, has a little bit of everything. Since it's atop a hill, the castle can be reached by a specialized motor train if you don't want to walk up. Once at the top, you'll be greeted with great views over the historic town of Wernigerode and the beautiful Harz mountains.
Tip: Wernigerode is very close to Quedlinburg so you can easily combine a visit to both.
Nature: Islands, Beaches, Lakes, Forests and Mountains
If you'd like to get off the beaten path or crave nature on your Germany vacation, here are the best places to go.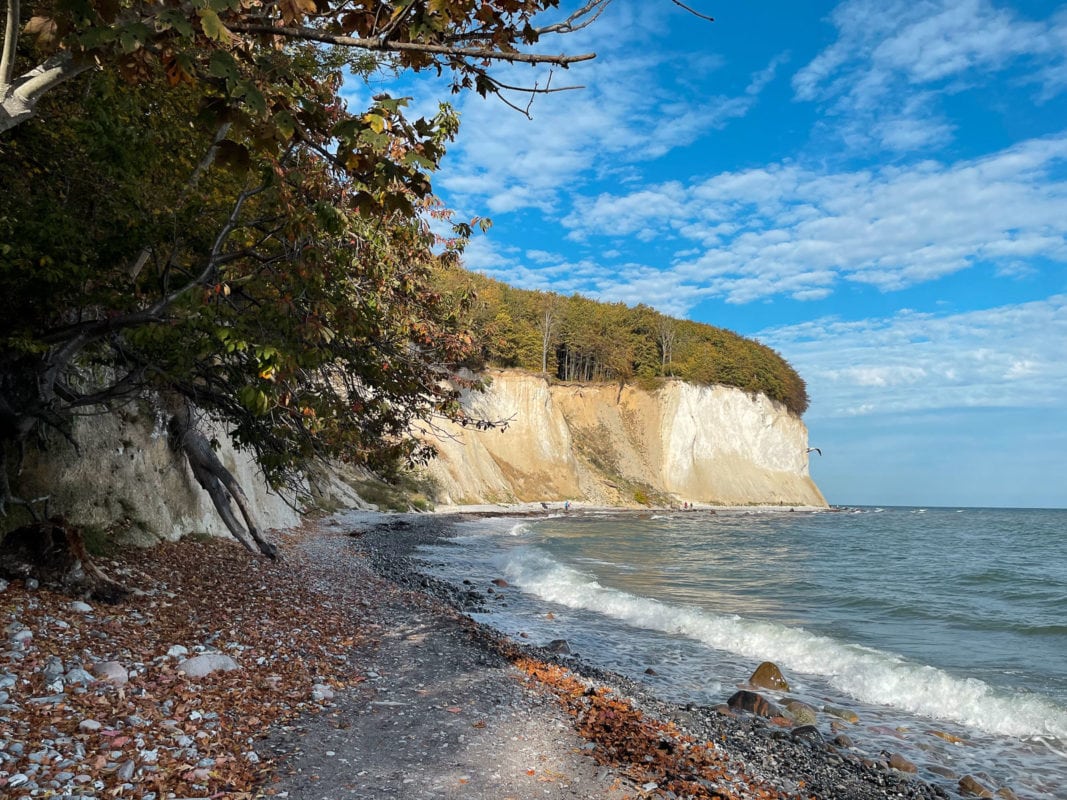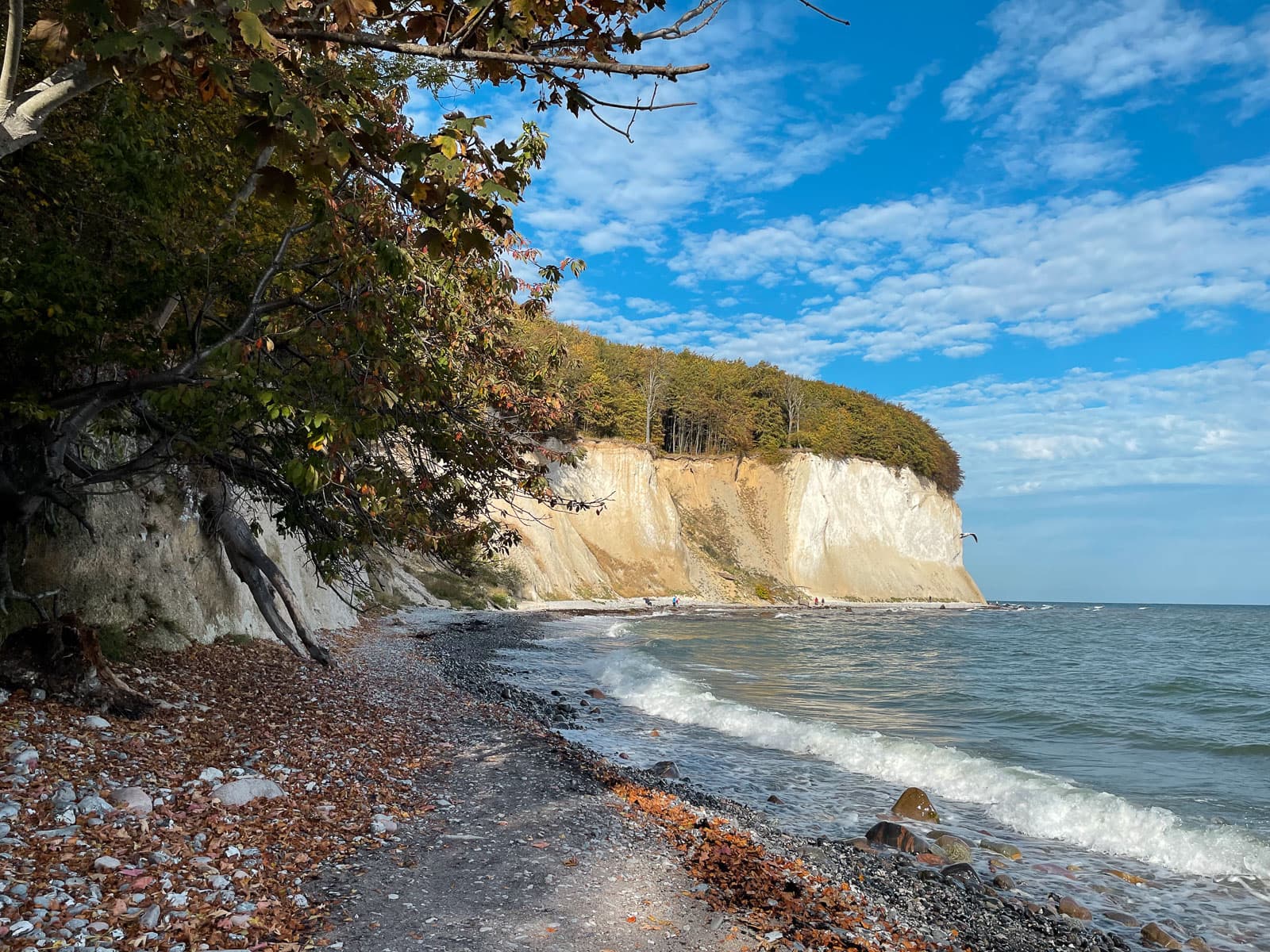 Rügen & Hiddensee
Rügen is the largest island in Germany. It's located in northeastern Germany in the Baltic Sea. The island is known for its sandy beaches stretching over 40 miles, white chalk cliffs, and amazing panoramic views. Rügen is also home to the Jasmund National Park, a park with a rich biodiversity of rare plants and birds as well as hiking and walking trails by the cliffs.
If you're seeking calm, head to the car-free Hiddensee island. It's so beautiful and peaceful. You won't want to leave! You can also stop in historic Stralsund before or after visiting Rügen.
Lake Constance (Bodensee)
Lake Constance is a well-loved holiday spot for locals and tourists. It has an amazing location being bordered by three countries (Germany, Austria and Switzerland). Surrounding the lake you'll find everything from vibrant resort towns and more quaint medieval villages. Aside from the gorgeous scenery, it's known popular for water sports, mainly sailing, windsurfing, and swimming.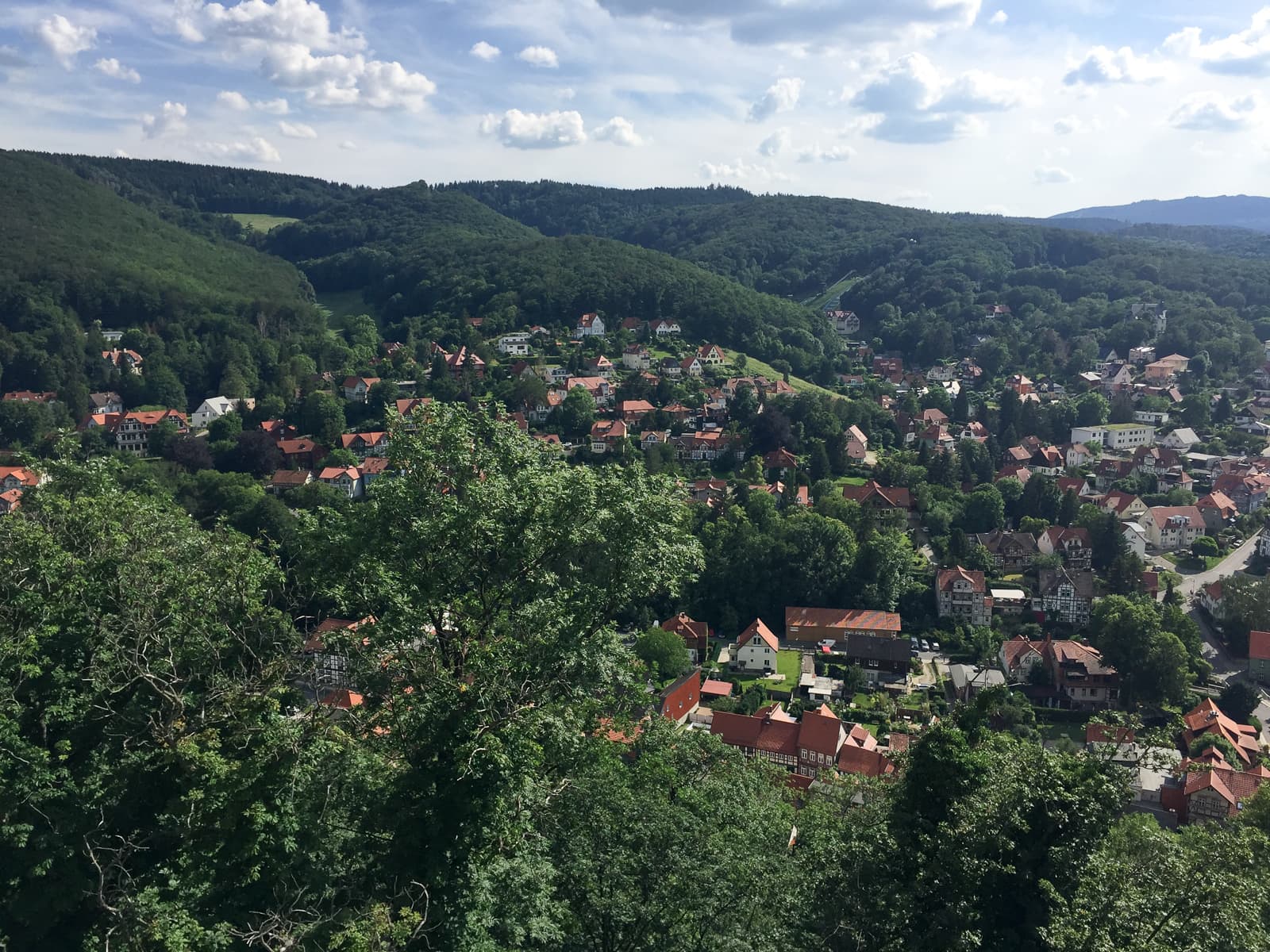 Harz Mountains
The Harz Mountains are home to many beautiful and well-preserved medieval towns but it's a great spot for outdoor activities. The mountainous landscape is a good place for hiking routes and mountain biking trails of varying difficulties.
There are also several clear lakes that are ideal for swimming during the summer. One of the most popular outdoor destinations is the Bode Valley. There are also waterfalls like the Ilsenburg Lower Falls, Lonauer Waterfall, Radau Waterfall, and more.
When visiting the Harz Mountains you can also visit the fairtytale towns of Quedlinburg, Wernigerode and Goslar.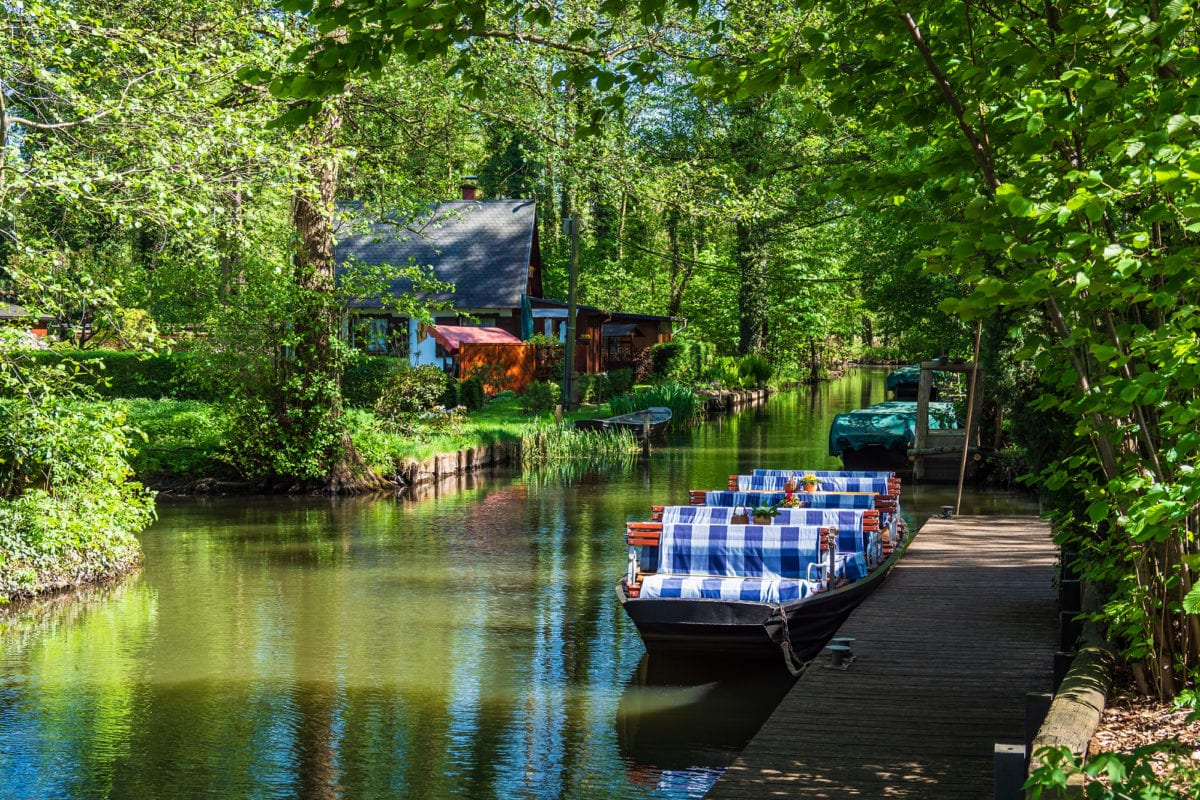 Spreewald
The Spreewald (Spree Forest) is a UNESCO-protected nature reserve located an hour away from Berlin (and about an hour north of Dresden). The forest is known for its winding canals lined with vibrant trees and diverse flora and fauna.
A great way to explore the area is by kayaking or riding the traditional Kahn boats along the canal. Make sure to visit the nearby towns of Lübbenau and Lehde where you'll find museums showcasing the region's crafts as well as get a glimpse of the everyday life of village life in Germany.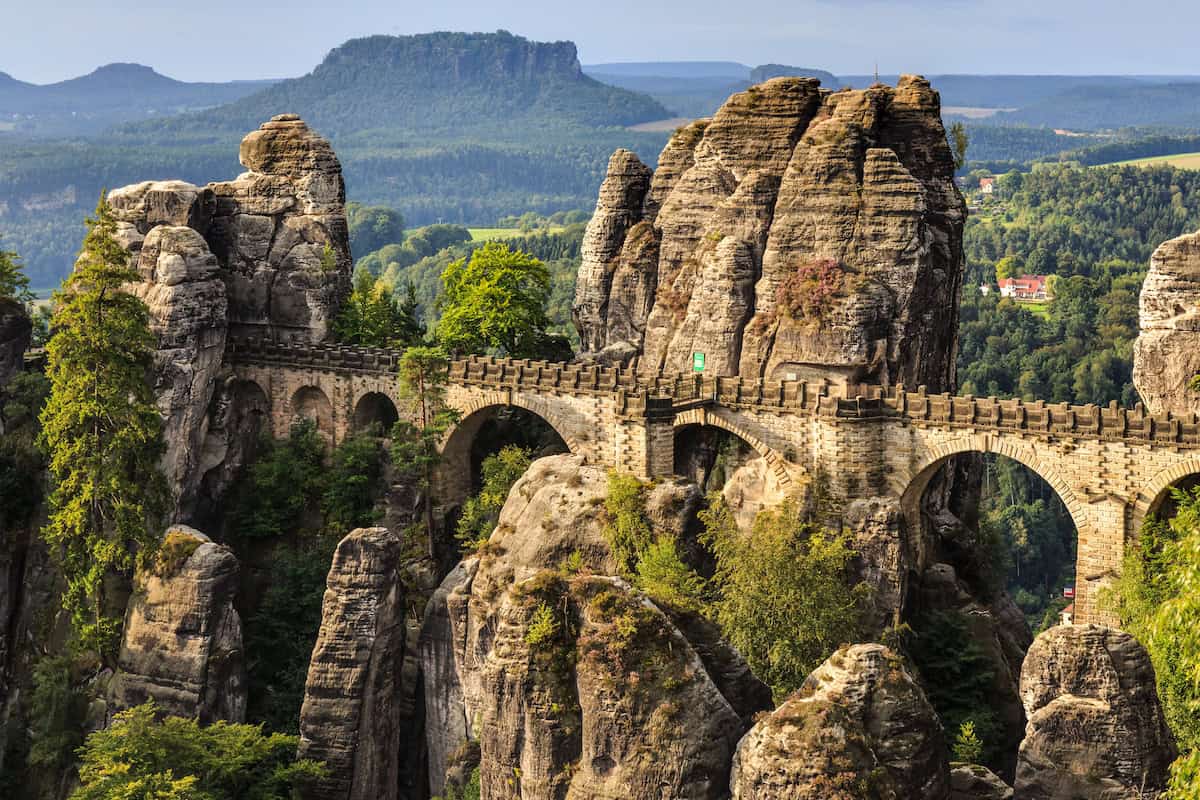 Saxon Switzerland & Bastei Bridge
Saxon Switzerland National Park is located near the city of Dresden. The natural landscape is made up of mountains, elevated plains, cliff tops, gorges, woods, and the valley of the River Elbe.
The landscape is perfect for outdoor activities like hiking, rock climbing, and cycling. One of the most famous landmarks of the national park is the Bastei Bridge, a bridge that links the tall and jagged rock formations. It's so beautiful! And it's an easy day trip from Dresden any time of year.
After a long day of hiking, you can relax in the pools and saunas found in the park or at your hotel near the park or in Dresden.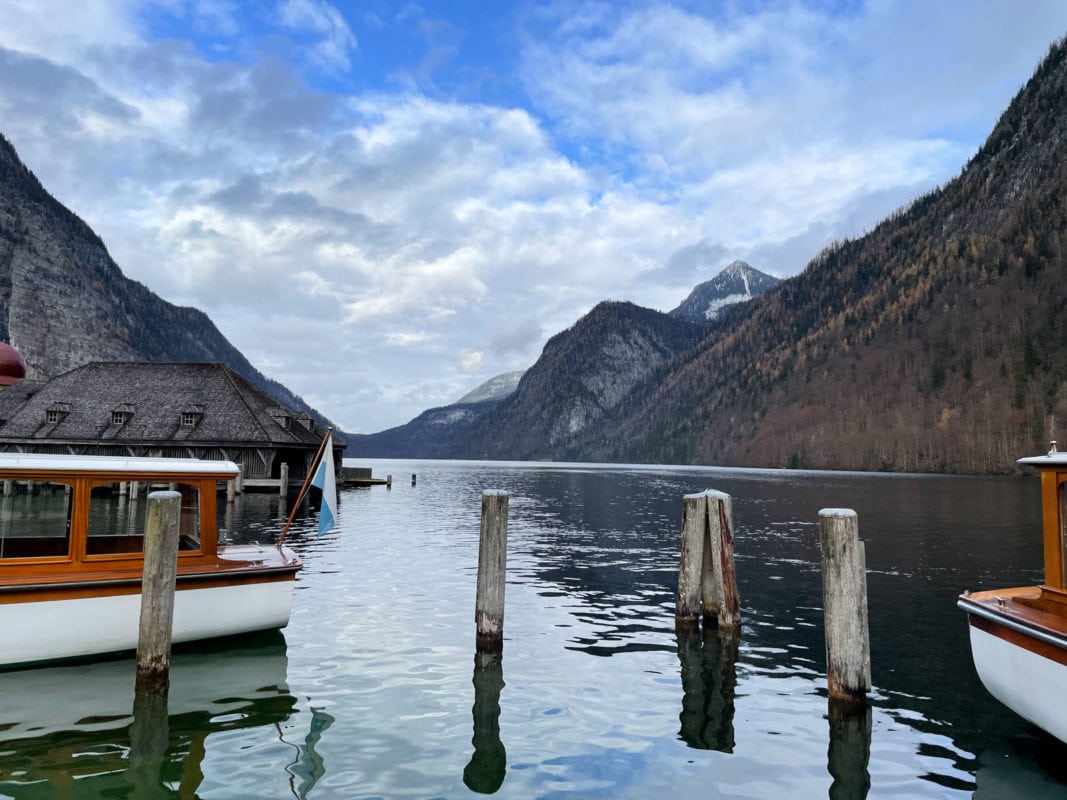 Chiemsee & Königssee
Chiemsee and Königssee are both popular lake destinations in southern Germany. Chiemsee is actually known as the Bavarian Sea because of how large it is. One of the islands in the lake, Herreninsel, is home to Herrenchiemsee Palace. This palace was created by King Ludwig as an homage to the Palace of Versailles.
Königssee on the other hand, is one of the deepest lakes in Germany located mainly in the Berchtesgaden National Park. The best way to explore this area is by boat. Boat tours on the Königssee will show you some of the top landmarks which include the St. Bartholomew Church, Obersee Lake, and Röthbach Waterfall. You can also do some great hiking in this area.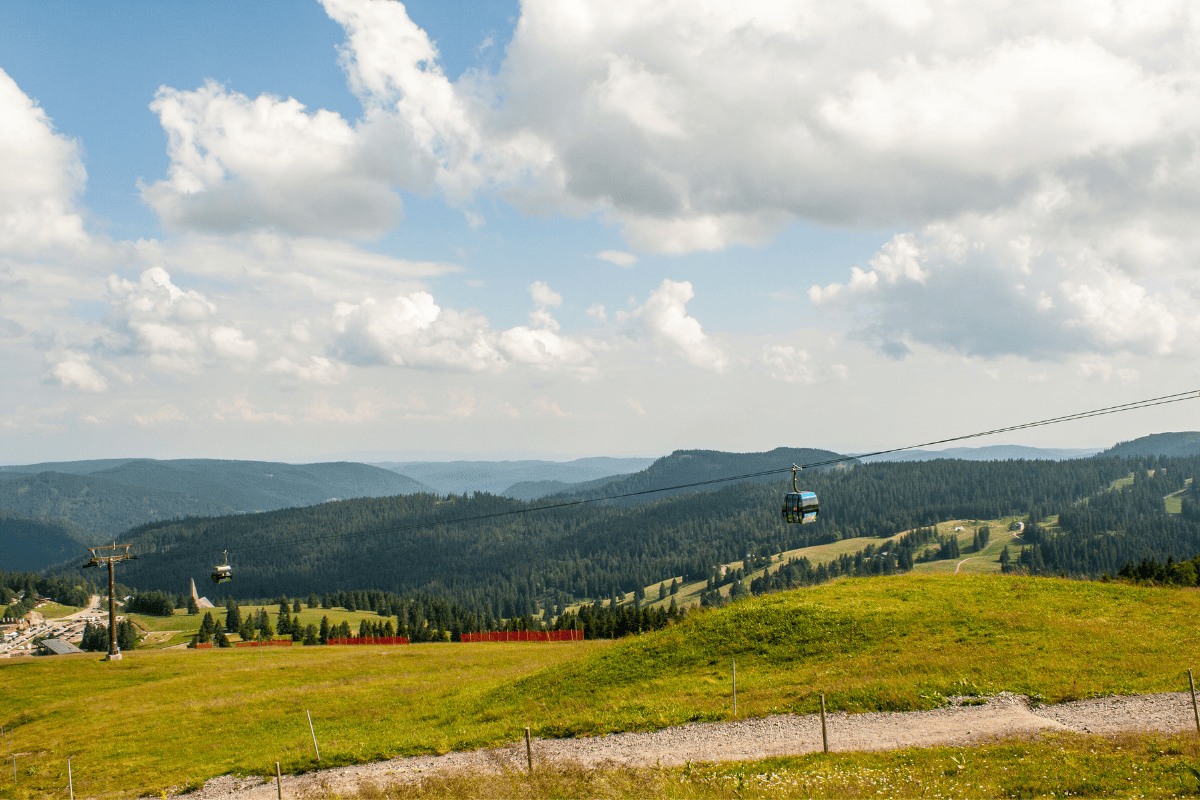 Black Forest
The Black Forest is a famous region in Germany that's associated with many different things like the delicious Black Forest cake, the Brothers Grimm fairy tales, and cuckoo clocks.
In terms of landscape, the Black Forest is a mountainous region with dense forests, rivers, and lakes. The most visited destinations are the Triberg Falls, Germany's highest waterfall with several hiking trails, and Titisee, a large natural lake that's ideal for swimming, windsurfing, and sailing during summer.
In the surrounding area you'll also find spa towns and villages like Calw, Bad Wildbad, Gengenbach, Baden-Baden, and the university town of Freiburg im Breisgau. A benefit of visiting the Black Forest is that you can day trip to both France and Switzerland!
Zugspitze (Garmisch-Partenkirchen)
Zugspitze is the highest peak in Germany. To reach the summit, you have to take a cable car and at the end you'll be rewarded with spectacular views of glaciers and mountain peaks from four neighboring countries. It's a fantastic winter destination, especially for those who love skiing and sledding. During the summer months, you'll have access to low-level trails that are good for hiking and trekking. You can stay in or near Garmisch-Partenkirchen or visit the Zugspitze on a day trip from Munich.
Germany Road Trips
Germany is an amazing place for road trips and driving is pretty easy (yes, even on the Autobahn). Here are some of the most popular routes with different themes you can choose from.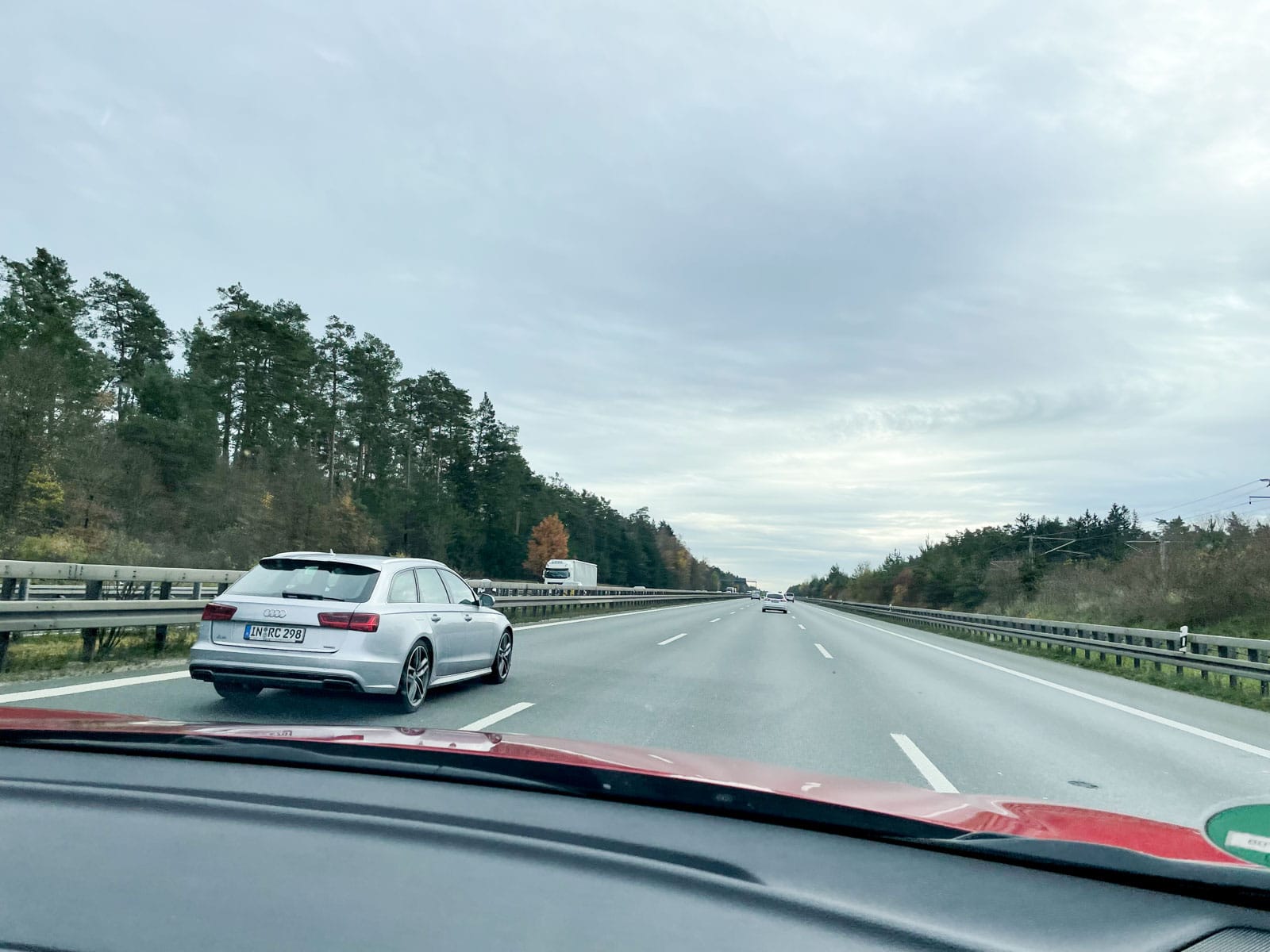 Romantic Road
The Romantic Road is the best road trip for those who can't get enough of picturesque medieval towns. It's also ideal if you're spending more time in Bavaria and want to really explore the area beyond the big cities. The route runs from Würzburg to Füssen in Bavaria and passes through medieval villages like Rothenburg Ob der Tauber, Augsburg, Dinkelsbühl, Nördlingen, and castles like Neuschwanstein and Linderhof.
Wine Road
The Wine Road runs through Rhineland Palatinate, starting at Bockenheim in the north to Schweigen in the south. This route is dotted with rich vineyards, castles, and charming wine villages. Along the way you'll get to stop by wine shops, delight in the local wine at tasting rooms, and attend any seasonal local wine festivals.
German Castle Road
If you're fascinated by German castles and want to check off as many from your bucket list, then embark on the German Castle Road. The route starts in Baden-Württemberg and goes all the way to Prague, Czech Republic. Some of the castles that are part of this route are Heidelberg Castle, the Imperial Castle of Nuremberg, Hornberg Castle, Colmberg Castle, and many more. There's also some crossover with the Romantic Road.
Biking Tours and Trails
Germany is a great country for biking. Many people bike not just for leisure or exercise but as part of their daily commute, routine, and even vacation. This means that for most cities, biking is safe and accessible. Throughout every German city, town, and village you'll find specially marked bike lanes. And there are biking paths and trails all over rural Germany, too. If you have the opportunity to explore the major cities via bike we recommend the following tours:
If you're looking for routes that traverse the entire country or at least some regions, here is a list of the most popular cycling trails:
Elbe Cycle Path (Elberadweg) – goes along the Elbe through Hamburg, Magdeburg, and Dresden; starts in Lower Saxony and ends in Czech Republic
River Main Cycle Route (MainRadweg) – goes along the river Main through the Rhine and Moselle
Moselle Cycle Route (Moselradweg) – goes along the Moselle Valley; starts at the German-French-Luxembourg border and flowing all the way to the mouth of the Moselle on the Rhine
River Cruises and Boat Tours
Major cities along a body of water will also have a variety of boat tours and river cruises to choose from. Here are some of our recommended tours: