Hamburg, Germany Sightseeing Tips: Best Things To Do In 2023
This post may contain affiliate links. Read my disclaimer policy.
Hamburg is a big city and has so much to offer that it can be hard to decide what to focus on during a short stay!
If you're planning to visit this beautiful northern Germany city and are wondering what to do in Hamburg or which Hamburg points of interest are for you, this guide will help you plan your stay.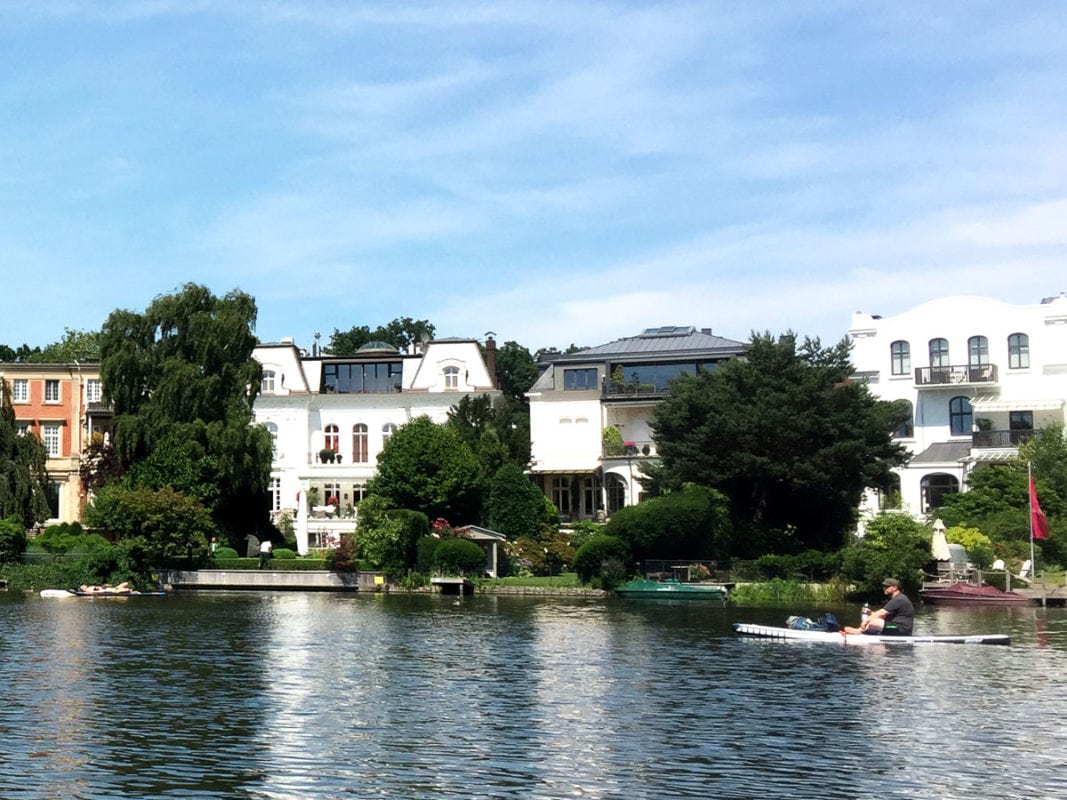 How Much Time to Spend in Hamburg?
I recommend 2-3 days in Hamburg in order to see several (or even all) of the sights on this list and have time to a take a day trip.
Only got one day to spend in Hamburg? No worries! Skip taking a day trip, choose a few things on this list, and you'll get a fantastic taste of the city.
Wondering where to stay in Hamburg? Check out our helpful Hamburg hotel guide here!
Best Time to Visit Hamburg
The summer months are perfect for those who long days, good weather, and to see the city in full swing with outdoor festivals and events like the Christopher Street Day parade, outdoor markets or the Dom fair.
Summer is also the best time to enjoy a boat trip on the Elbe, explore Hamburg's many canals by canoe or grab a drink and relax on a beach on the Elbe river. Keep in mind that this is peak season so it's more crowded and prices are likely to be higher.
A good alternative to summer is late spring or early autumn when temperatures are more mild and temperate. This time of year is ideal for strolling or biking along the waterfront. Visiting at this time of year is also a good way to avoid the crowds and higher prices of the summer months.
Winter brings darker days and cold winds from the harbor. But travel rates at this time tend to be much lower until the holiday season when Christmas markets and festivities revive the city. New Year's Eve is a fun time to visit Hamburg because you can take part in the fireworks and festivities throughout the city.
Hamburg doesn't get a lot of snow in the winter but it does happen. When I lived in Hamburg, it once snowed and got so cold that the Alster lake froze and I got to walk to middle of the lake!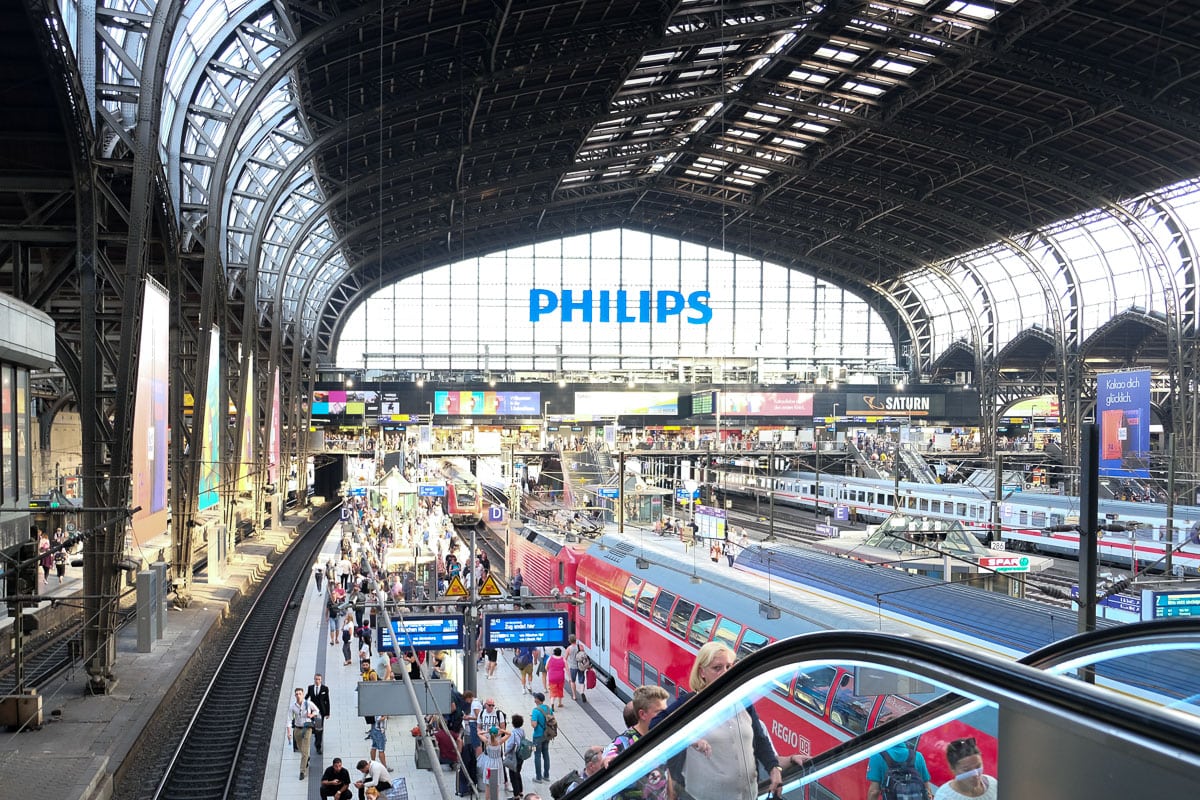 How to Get to Hamburg
Hamburg is a major port city and the second-largest city in Germany, making it extremely well-connected and accessible.
If you're coming from outside of Germany, one the best ways to get to Hamburg is by air. The city has its own international airport, Hamburg Airport. Once you arrive, it's easy to get to the city center since it's only around 30 minutes away by public transportation or private airport transfer.
If you're visiting from another city in Germany or a nearby European country, traveling by train, car or bus is likely a better option. The main train station, Hamburg Hauptbahnhof, is centrally located in downtown and is well connected to several regional towns and major cities. The bus station is near the train station.
You can also easily drive from neighboring big cities like Hanover (Hannover), Bremen, and Lübeck, all of which are around an hour and a half away. It's also a great weekend trip from Berlin, with the drive being around 3 hours.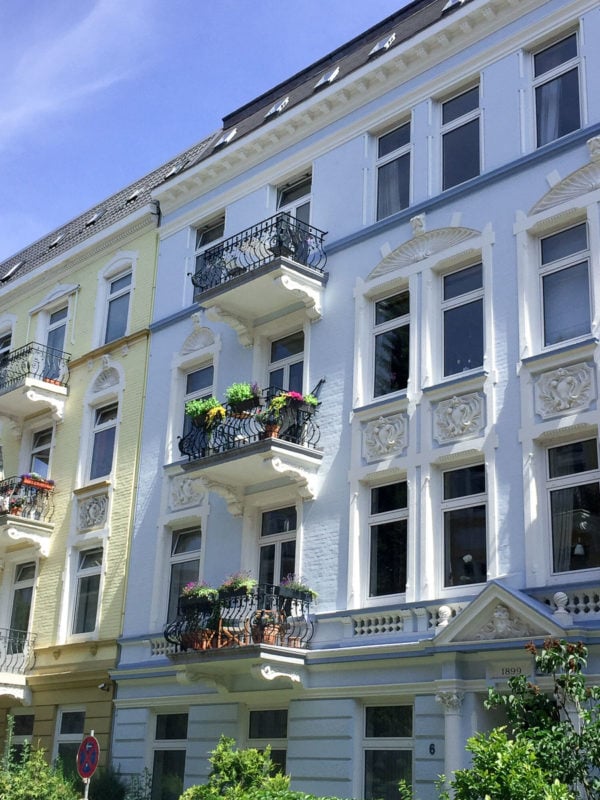 Where To Stay in Hamburg
The best place to stay in Hamburg is the city center so you can be close to all the must-see spots and destinations. Depending on where you stay downtown, you can easily walk to multiple sites.
Here are a few hotel recommendations:
Park Hyatt Hamburg – 5-star world-class hotel with great service and modern facilities that's worth splurging for. Upscale rooms feature warm decor, marble bathrooms, and some even have kitchens. Click here to check availability and price!

Hotel Senator Hamburg – Located near top destinations and Alster Lake in the lively district of St. Georg. Simple and comfortable rooms feature all the classic amenities, and some with balconies. Click here to check availability and price!

Hotel Henri Hamburg Downtown – Cool and trendy boutique hotel located downtown featuring spacious suites and studios with modern furnishing. Close to many attractions and delicious dining options. Click here to check availability and price!
For even more options, read our full accommodation guide on where to stay in Hamburg.
What to See and Do in Hamburg
Rathaus (Town Hall) and Alster Arkaden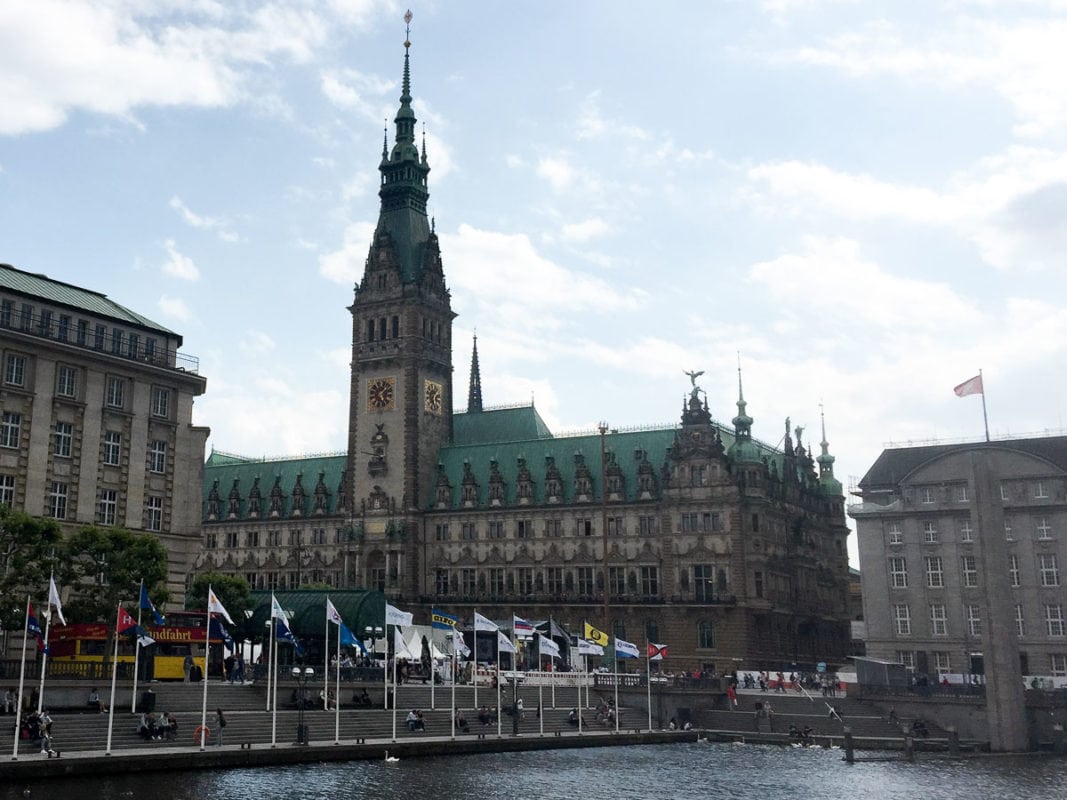 Start your Hamburg visit in the center of the city with a peek at the elaborately decorated Rathaus (Hamburg City Hall) and a stroll down the elegant Alster Arkaden. This area is not only a Hamburg tourist attraction, it's a great place to do some shopping at department stores and boutiques or stop for Kaffee und Kuchen (coffee and cake).
To get there, take the U3 (yellow line) to the Rathaus stop.
Hamburg Harbor Tour with Ferry 62 – a Free Boat Tour!
See the city from a different perspective by taking the ferry! Hamburg Ferry 62 is part of the city's transit system, which means it's a no cost way to take a harbor cruise if you have a day transit card.
You'll pass by the legendary Fischmarkt, get close to huge container ships in the harbor, and sail past the popular Strandperle beach on your way to Finkenwerder. You can get out in Finkenwerder and take a later ferry back to Landungsbrücken or stay on the ferry and return right away. The day I rode this ferry it was about half tourists and half commuters.
If you'd rather have a guided tour or are looking for a unique evening experience, check out this Evening Illumination Cruise for a different perspective of the harbor and city.
To catch the ferry take the U3 (yellow line), S1 (green line) or S3 (purple line) to the Landungsbrücken stop and walk across the bridge to Pier 3.
Tour the Elbphilharmonie (Elbe Philharmonic Hall)
photo credit: Hackercatxxy
Even if you don't plan to see a performance in this famous concert hall, a visit to the new Elbphilharmonie is a must. It's such a cool building! After getting your free ticket, take the escalator to the outdoor public viewing platform for spectacular views of the city and harbor. If you want to learn more about the Elbphilharmonie and see more of the inside, book a group tour well ahead of your visit.
Get an insider look at the Elbphilharmonie with this 1-hour guided tour in German or English. This best-selling tour gets 4.8/5 stars!
To reach the Elbphilharmonie, take the U3 (yellow line) to Baumwall or ferry 72 from Landungsbrücken.
Admire the Speicherstadt Architecture
Photo credit: Max Pixel
After you visit the Elbphilharmonie, walk a couple blocks to the distinctive Speicherstadt old warehouse district. Speicherstadt is the world's largest warehouse complex and a UNESCO world heritage site. It features a unique architectural style with its brick buildings and industrial structures.
This area was a former hub of trade but is now a picturesque section of the city full of canals, bridges, and 100-year-old brick warehouses. There are also several museums here like the Miniatur Wunderland, the Hamburg Dungeon, and the International Maritime Museum.
Click here to check out this awesome 2.5 hour tour of the Speicherstadt, Elbphilharmonie, and HafenCity!
Ride the U3 in Hamburg City Center
How about taking in a scenic view while you give your feet a rest? Hop on the U3 (yellow line) at the Rathaus and ride towards Kellinghusenstrasse.
During this 15-20 minute ride you'll get a bird's eye view of the harbor and pass by some of Hamburg's gorgeous architecture. I rode the U3 to school when I lived in Hamburg and always enjoyed the view.
I highly recommend exiting at Eppendorferbaum and exploring the neighborhood's cafes, boutiques, houses, and bakeries on foot. It's a beautiful neighborhood (and my former teenage stomping grounds)! For a lovely walk head towards the Alster and stop at the Uni Hamburg along the way.
Take a Walk Along the Elbe and Through the Treppenviertel in Blankenese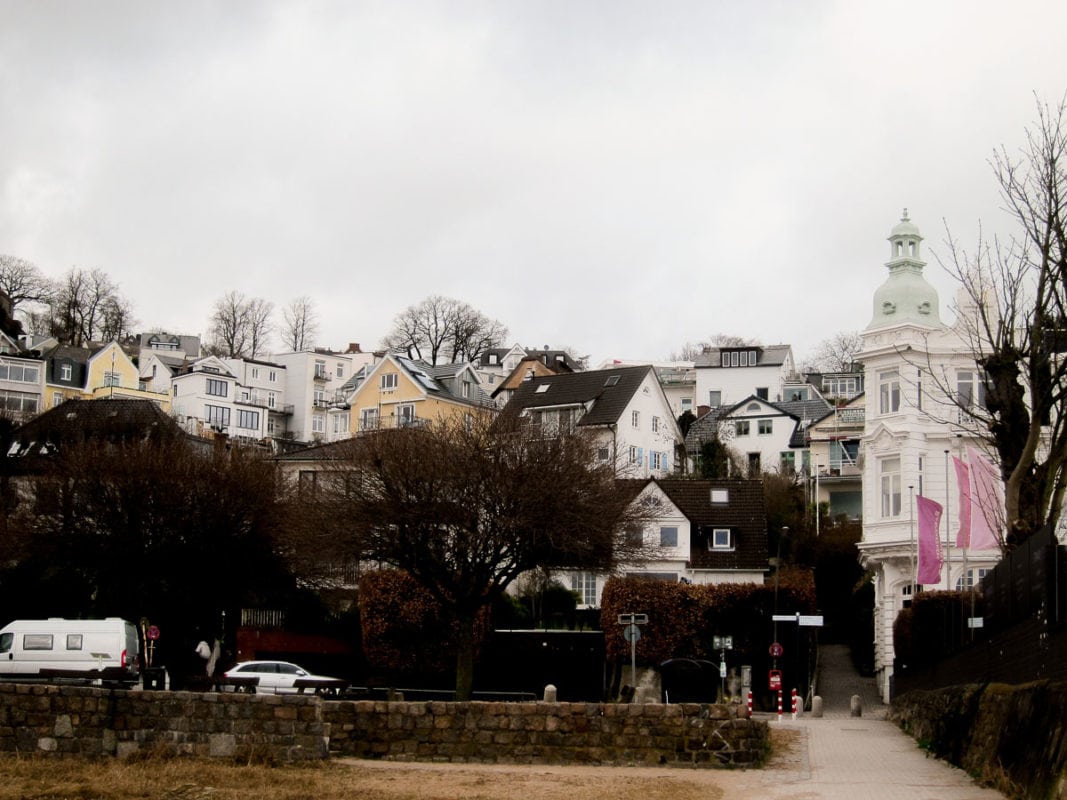 Only 25 minutes from the city center, Blankenese feels like a different world. A former fishing village turned favored neighborhood of Hamburg's wealthy, the Treppenviertel ("stairs quarter") offers narrow winding footpaths, thatched-roof houses, and stunning views. Be sure to walk all the way down to the Elbe and along the scenic trail.
To reach Blankenese, take the S1 (green line) and follow the signs to the Treppenviertel.
Check out Miniatur Wunderland
Miniatur Wunderland is a charming attraction that's worth visiting for those who are traveling with kids – or who are young at heart.
There are different sections featuring Hamburg, the Alps, Austria, Switzerland, Italy, and even parts of the United States in minature. It's also known as the world's largest model railway exhibit with over 1000 digitally controlled trains running throughout the wonderfully intricate landscapes with carefully crafted details like railways, vehicles, houses, bridges, and miniature people.

To reach Miniatur Wunderland take the U3 to Baumwall or the S1 or S3 to Stadthausbrücke.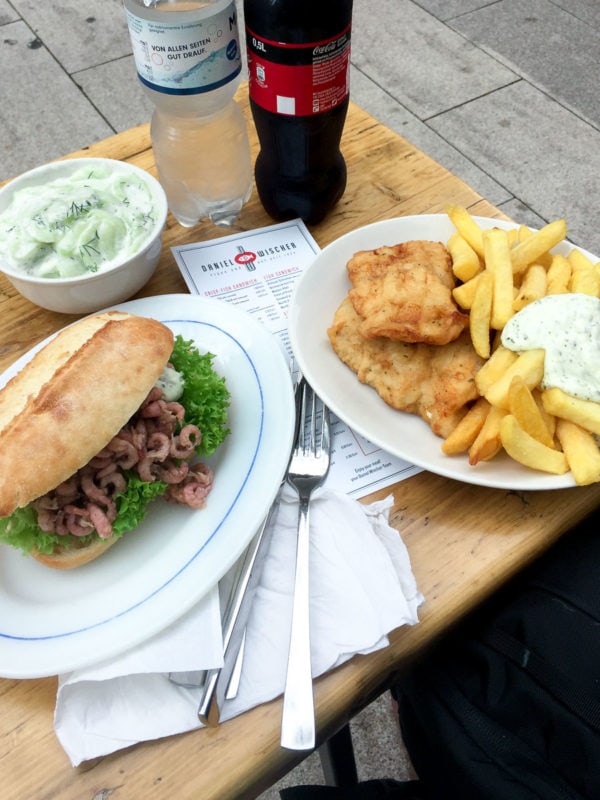 Learn About Maritime History At The International Maritime Museum
An important aspect of the hanseatic city of Hamburg is its maritime history. And there's no better place to learn about it than the International Maritime Museum. The museum boasts of an impressive collection of artifacts, models, and exhibits that showcase the city's rich nautical history.
The exhibits cover a wide range of topics aside from Hamburg's history like shipbuilding, seafaring, and naval warfare. It's a must educational experience for all history buffs and for those who want to learn about Hamburg through its past.
To reach the International Maritime Museum take the U3 to Baumwall or the S1 or S3 to Stadthausbrücke (it's a longer walk from this station).
Enjoy A Delicious German Afternoon Tradition: Coffee And Cake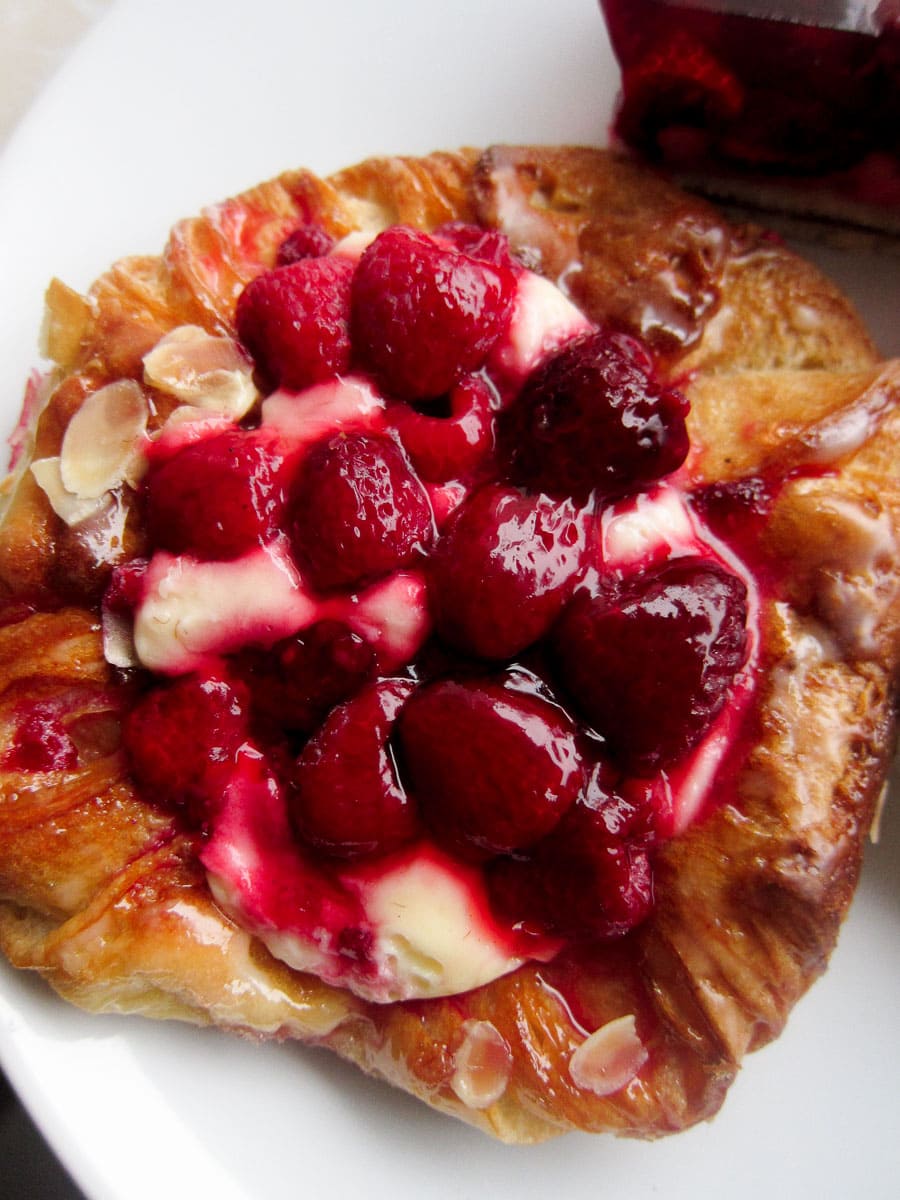 You can't visit Hamburg without partaking in the German tradition of afternoon Kaffee und Kuchen (coffee and cake — or a pastry)! Bakeries and cafes are everywhere in Hamburg, so you won't have any trouble finding one (tip: skip Starbucks and go to a local coffee shop).
Not into cake? Try a Franzbrötchen pastry or a raspberry Quark pastry (see photos above) or even a bowl of northern German Rote Grütze.
Go Dancing Or See A Show On the Reeperbahn In St. Pauli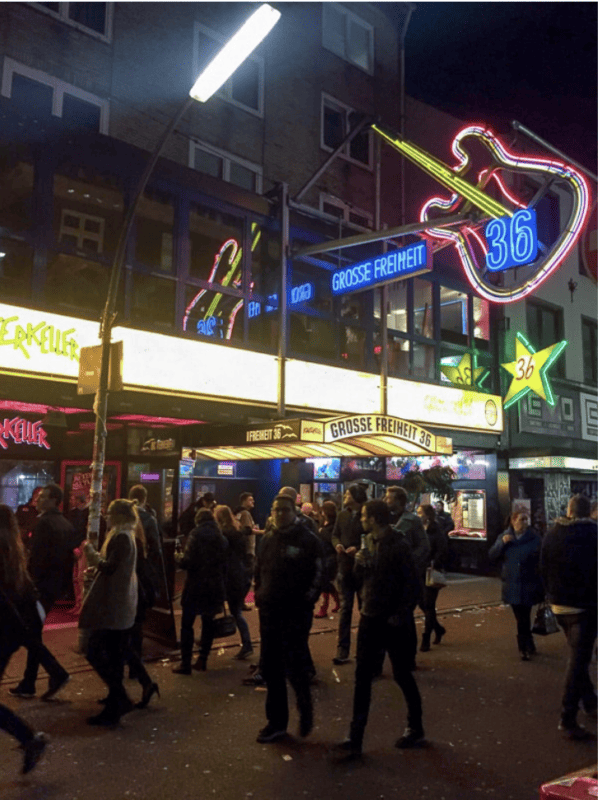 If you're in Hamburg on a Friday or Saturday evening, head to the Reeperbahn (also known locally as the "Kiez") for a night out. Sure, it's Hamburg's Red Light District – and one of the largest in Europe at that – but don't let that scare you off.
Everyone from teens to grandparents frequent Hamburg's entertainment district with its bright, flashy neon lights for live music, dancing, and a variety of theater and opera performances in music venues.
My friends and I went dancing here quite often when I was a teen. If you're a Beatles fan, check out the Indra Club and Grosse Freiheit, two places they played while getting their start in Hamburg.
Get a local's look at the Reeperbahn with this Reeperbahn Walking Tour for Adults with Local Guide!
To get to the Reeperbahn, take the U3 (yellow line) to St. Pauli.
Visit the Fischmarkt (Fish Market)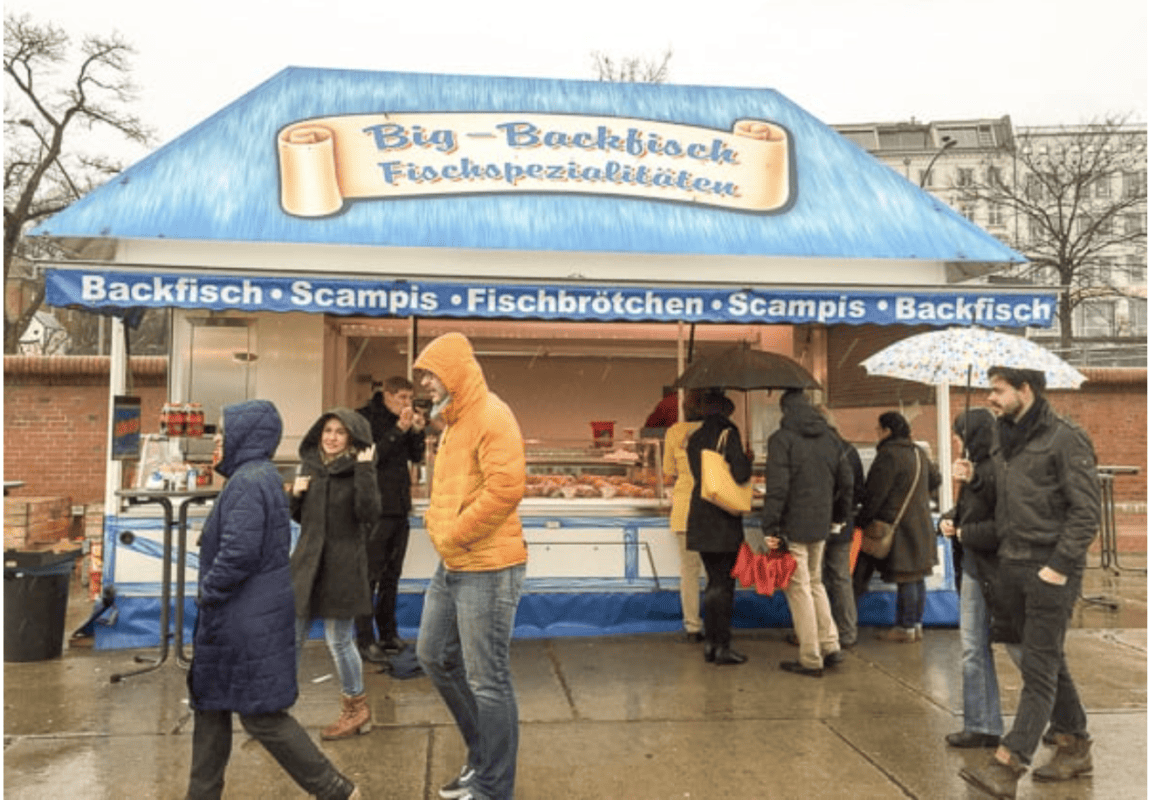 This open air Fischmarkt started in 1703 and is a popular Sunday morning destination for locals and tourists alike. Located right on the harbor, this fish market is full of stands selling fresh fish and seafood, sandwiches, fruit, chocolate, flowers, and more. I had the BEST shrimp sandwich here (see photo above). It was 100% worth getting up early and heading out in the rain for that sandwich!
Be sure to head inside the Fischauktionshalle (Fish Auction Hall) for live music, beer (yep, even at 7am), and people-watching. You'll need to get up early – or head over after staying out all night on the Reeperbahn – because the Fischmarkt is only open from 5am-9:30am on Sunday mornings (7am-9:30am in the winter)!
To reach the Fischmarkt take the U3 to Landungsbrücken or the S1 or S3 to the Reeperbahn and walk the short distance to the market.
Hop On Hop Off Bus Tour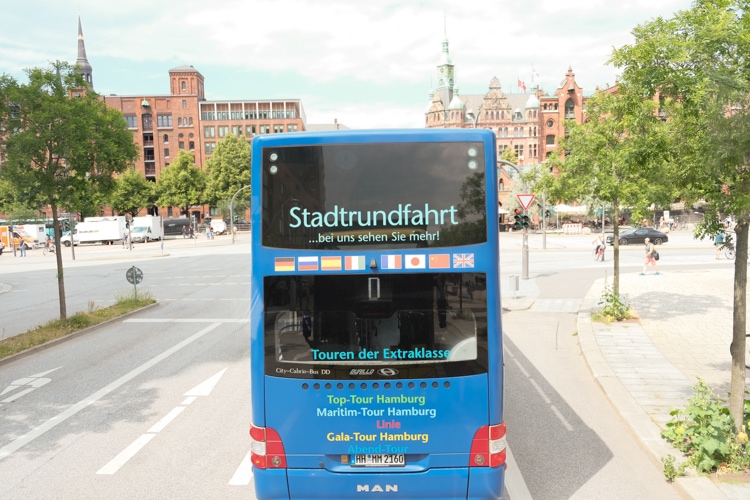 When I took Aaron to visit Hamburg we got tickets for the Hop On Hop Off bus tour. It was a great way to get an overview of Hamburg in just an hour or so (and rest our feet after walking all morning). I even saw some new areas of the city I hadn't seen before!
We hopped on the bus at Landungsbrücken and rode all the way around without getting off at any of the stops. If you start in the morning you could use the HOHO bus to see several sites and explore a lot of Hamburg.
Click here to book your Hamburg Hop on Hop Off Bus Tour in advance!
Canoe Hamburg's Canals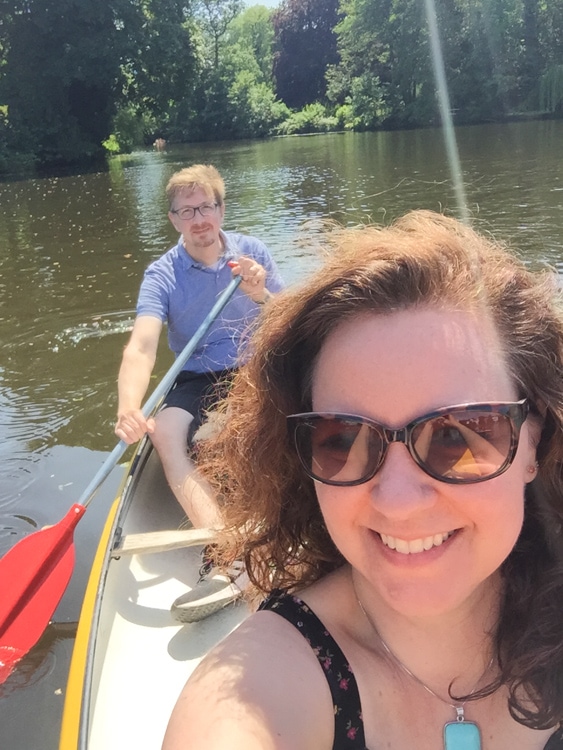 When Aaron and I were last in Hamburg we decided rent a canoe near our Airbnb so we could explore the canals for an afternoon. It was so fun! We paddled around both the smaller canals that are lined with beautiful houses and gardens, and on the much larger Alster laker. It was a fantastic way to see Hamburg from a different perspective.
Stroll Through Planten Un Blomen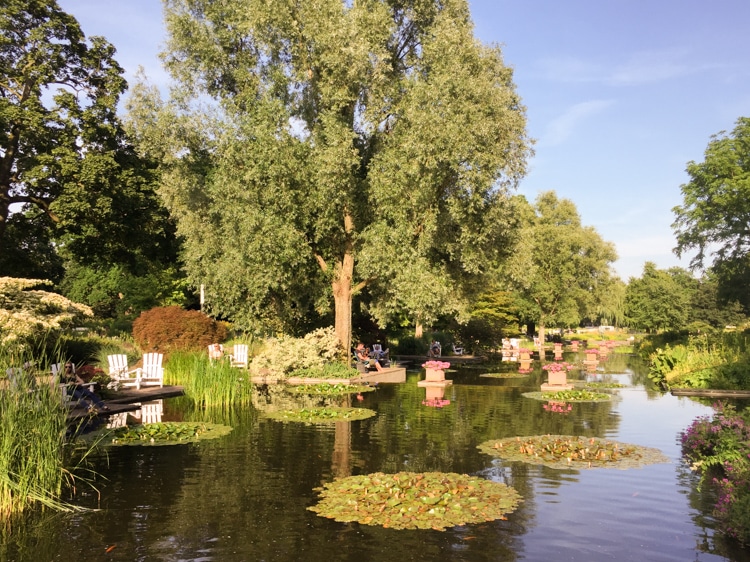 Aaron loves gardens and flowers so I had to take him to the Planten un Blomen urban park and gardens. We picked up salads on the way, found comfy Adirondack type chairs, and enjoyed our meal among the beautiful trees, plants, and flowers.
Then we spent another couple hours wandering around the gardens. There's a cafe, and ice cream shop, and plenty of places to hang out. If you're looking for a green space or a mellow place to relax, go to Planten un Blomen.
To get there, take the U-bahn to St. Pauli, Stephansplatz or Messehallen or the S-bahn to Dammtor.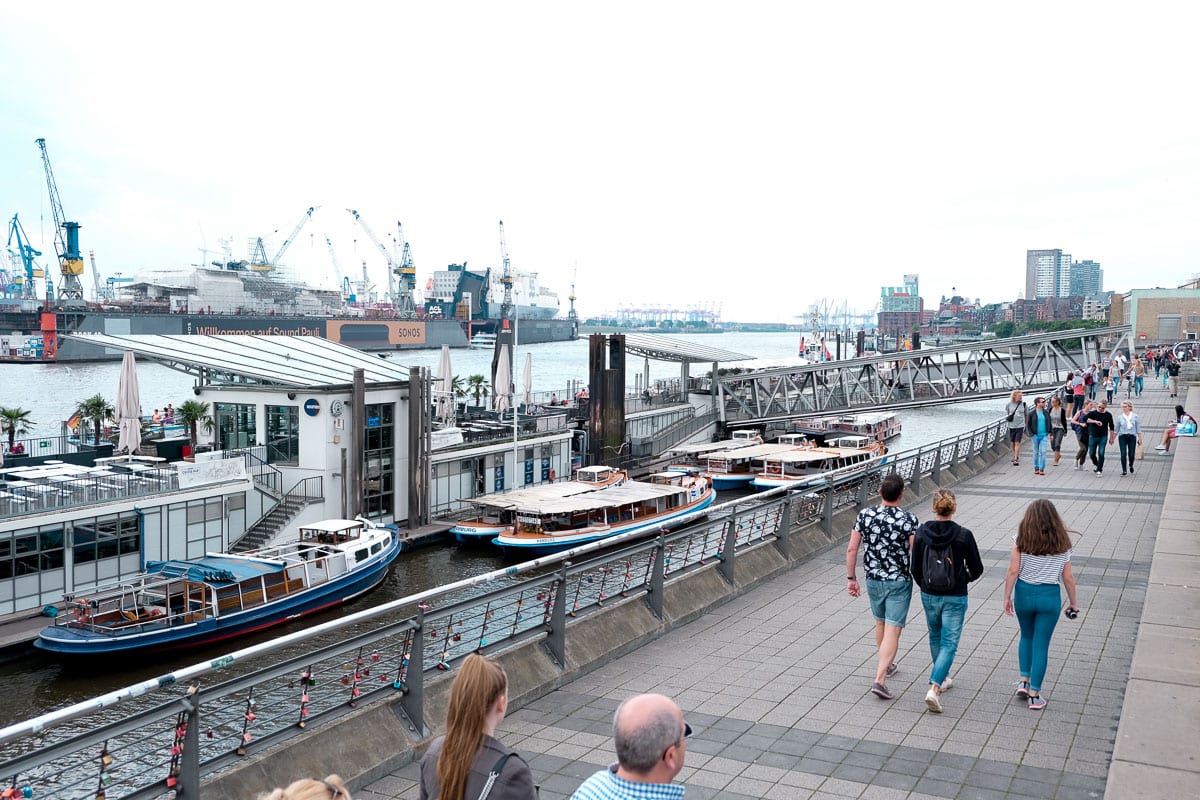 Explore the Port Area of Landungsbrücken
Landungsbrücken, also known as the St. Pauli Piers, is the largest landing site in the port of Hamburg. The piers are located on the banks of the Elbe river and aside from being a major transportation hub, they're known to have a lively and vibrant atmosphere. This is because there are tons of restaurants, bars, and shops in the area. You can catch the HOHO bus here or easily walk to Fischmarkt, the Elbphilharmonie, the Speicherstadt, St. Pauli, and more.
To get there, take the S1, S2, and S3 or the U3 and U4 to the Landungsbrücken stop.
Walk Under The Elbe River Via The Old Elbe Tunnel
The Old Elbe Tunnel is a historic tunnel that was first opened in 1911. It was built to connect the St. Pauli Piers to the port of Hamburg on the opposite side. Since then, more modern tunnels have been built to replace it. Nowadays, it's a popular tourist attraction where pedestrians and cyclists can pass through for free.
To get there, take the U3 to Landungsbrücken.
Visit The Tierpark Hagenbeck (Hagenbeck Zoo)
Tierpark Hagenbeck is one of Germany's most popular zoos, housing over 210 different animal species from all around the world. The zoo is actually known to be successful in breeding rare and endangered species like the Asian elephant and the Siberian tiger. Other highlights include the four-level Tropical Aquarium and a fun Arctic themed Eismeer polar section.
To get there, take the U2 to the Hagenbecks Tierpark station or the S1 or S11 to Stellingen.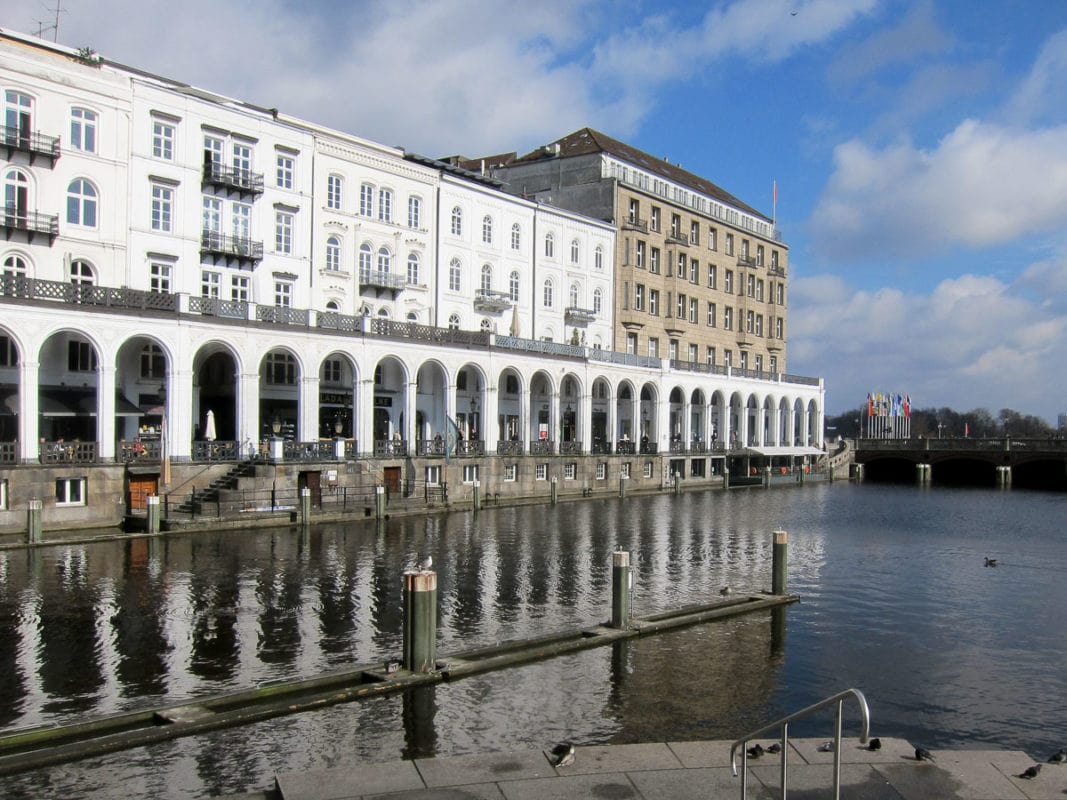 Climb St. Michael's Church
St. Michael's Church is the largest church in Hamburg. This Baroque-style church is quite impressive since it can fit around 2,500 people, has five different organs, and features a 60 foot high altar. There's also an underground crypt with around 2,000 people buried. It also features a bell tower that visitors can actually climb up to. Standing at over 300 feet tall, the observation deck offers a fantastic panoramic view of the city and harbor.
To get there, take the S1, S2, and S3 to Stadthausbrücke or the U3 line to the Baumwall.
Admire Art At The Hamburger Kunsthalle
The Hamburger Kunsthalle is a world class museum housing an extensive collection of artworks, ranging from contemporary art to paintings and sculptures. Visitors can visit the three different buildings and admire artwork from different periods in art history starting from the Old Masters to Impressionism, Modernism, and Pop Art. Renowned artists include Rembrandt, Edvard Munch, Paul Klee, and Pablo Picasso.
To get there, take the S1, S2 or S3 to the Hamburg Hauptbahnhof.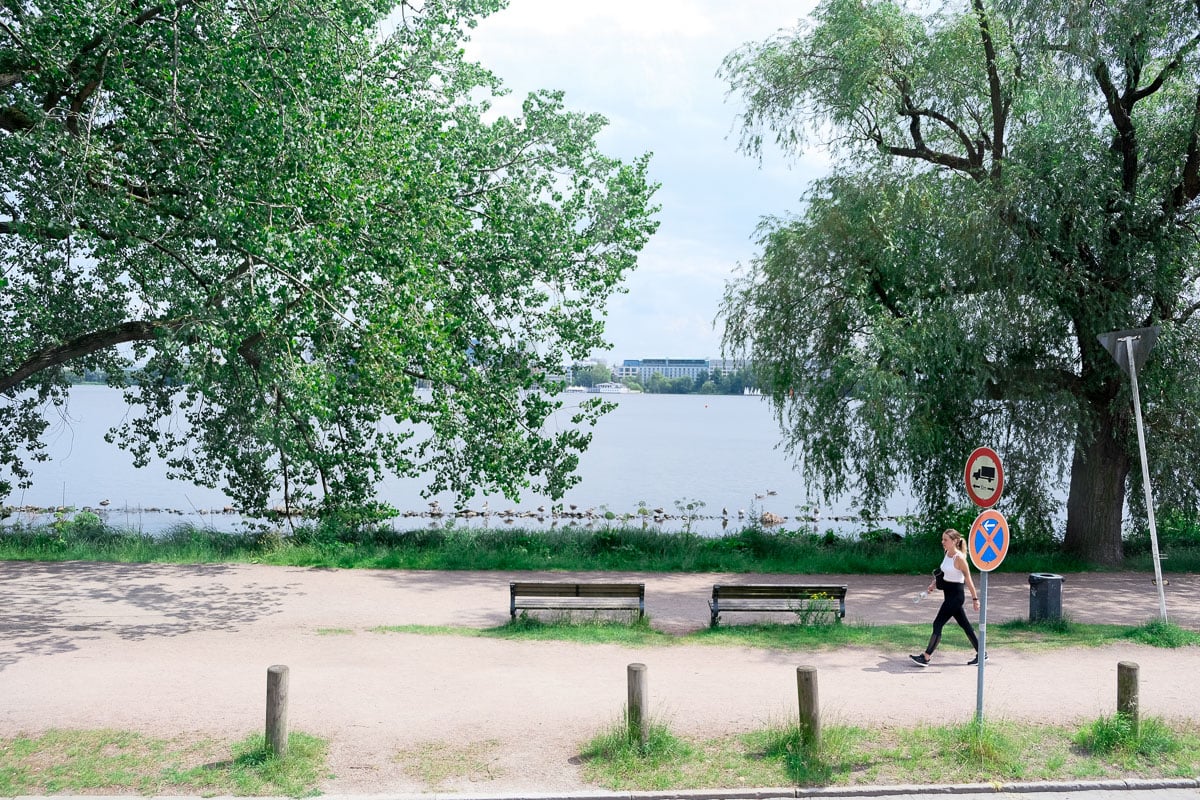 Picnic on the Alster Lake
Right in the middle of the city is the big beautiful Alster Lake – the perfect place for a peaceful stroll or afternoon picnic. You can also take a boat tour or rent a paddle boat or canoe. Then explore the gorgeous neighborhoods around the Alster.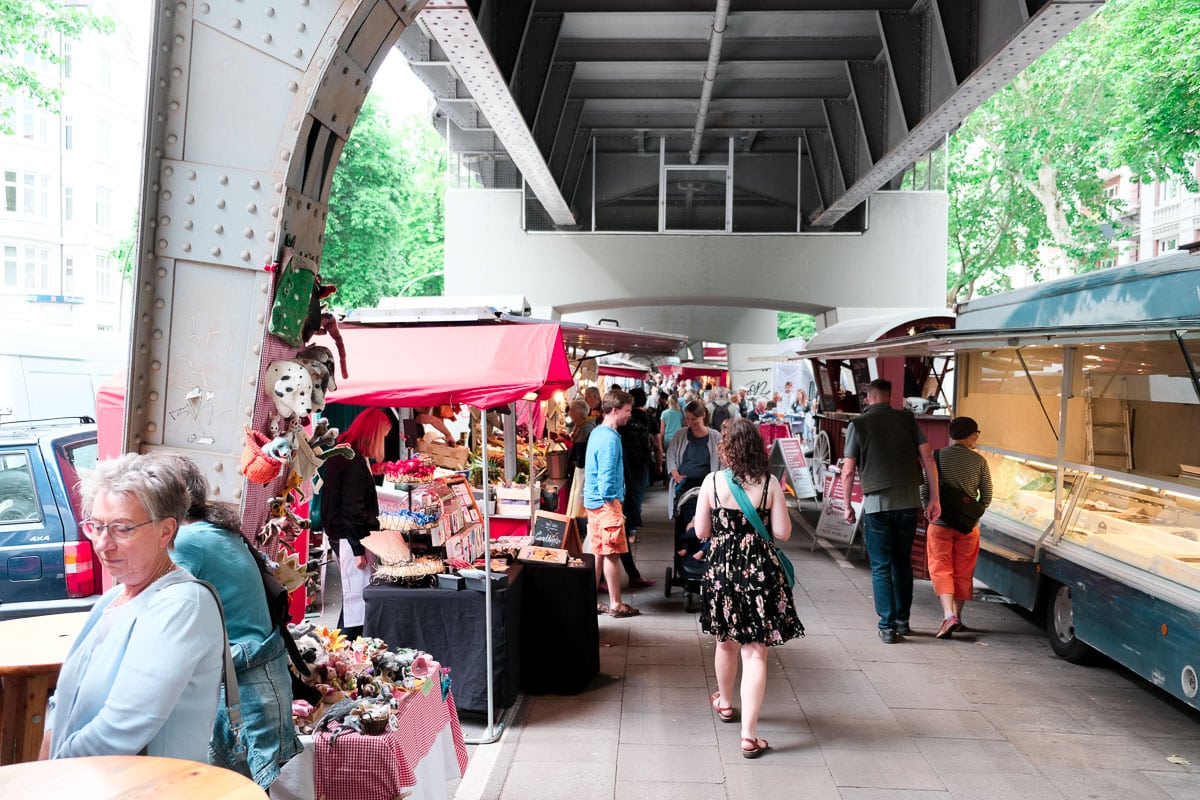 Browse The Isemarkt
One of the longest weekly outdoor markets in Europe, you'll find a wide range of fresh produce, crafts, flowers, and food stalls. I used to walk through this market on my way home from school when I was a teen!
To get there, take the U3 to tEppendorfer Baum.
Ohlsdorf Cemetery
One of the largest cemeteries in Europe, Ohlsdorf is truly impressive. Although it might seem unusual, Ohlsdorf Cemetery is actually a popular attraction in Hamburg due to its impressive size and unique history. Explore the peaceful grounds to admire the beautiful sculptures, gravestones (many famous people are buried here), and gardens.
To get there, take the U1 to Ohlsdorf.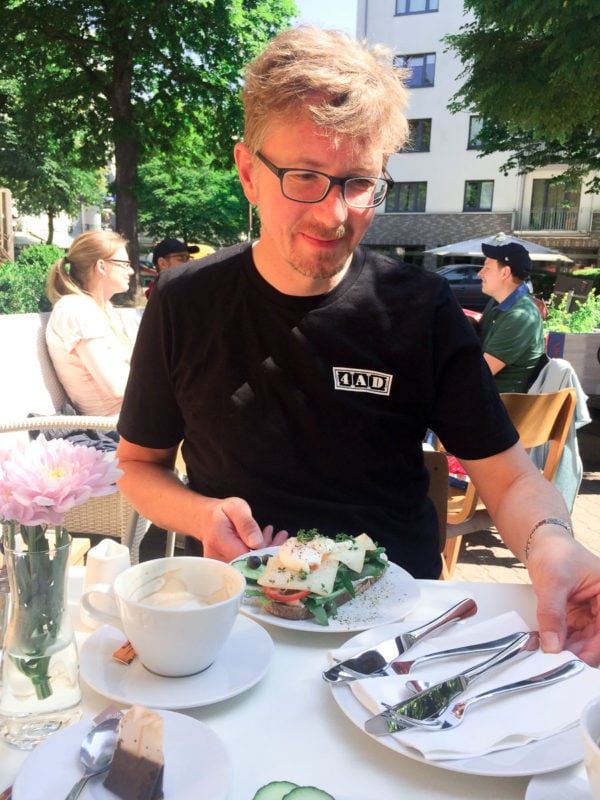 Enjoy Brunch in a Neighborhood Cafe
On our last summer trip to Hamburg we stopped by a little cafe near the apartment we rented and enjoyed a lovely brunch. We sat outside, scarfed down a delicious German breakfast of Brötchen, cheese, jam and butter, yogurt and museli, eggs, veggies, and coffee and tea. Delicious!
Even better? The tiny ice cream cones were served with our check! If you have the time while visiting Hamburg, spend an hour or two enjoying brunch at a cafe or restaurant in your Hamburg neighborhood.
Which Hamburg neighborhoods to visit? There are so many but here are a few ideas: Sternschanze, St. Pauli, Altona, Hafen City, Harvestehude, Eppendorf, Blankenese.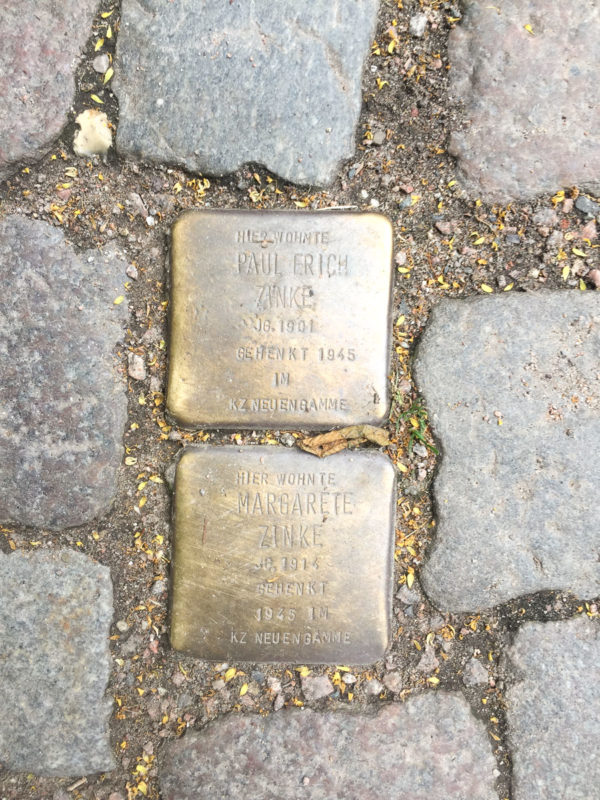 Notice The Stolpersteine
While walking around Hamburg keep an eye out for small brass plaques in the sidewalks. These Stolpersteine ("stumbling stones") commemorate the lives of those who were persecuted by the Nazis during World War II. The plaques include the name, birthdate, and fate of the individual.
Take a Day Trip
You have so many options for easy day trips from Hamburg. If you go an hour north, you can visit Lübeck, the beaches on the Baltic or the beaches and small towns on the North Sea. Go south to visit the cute town of Stade or Lüneburg. Go east to visit Schwerin Castle. Or get up early and go further to the island of Sylt or Heligoland.
Click here for directions to the best Hamburg day trips!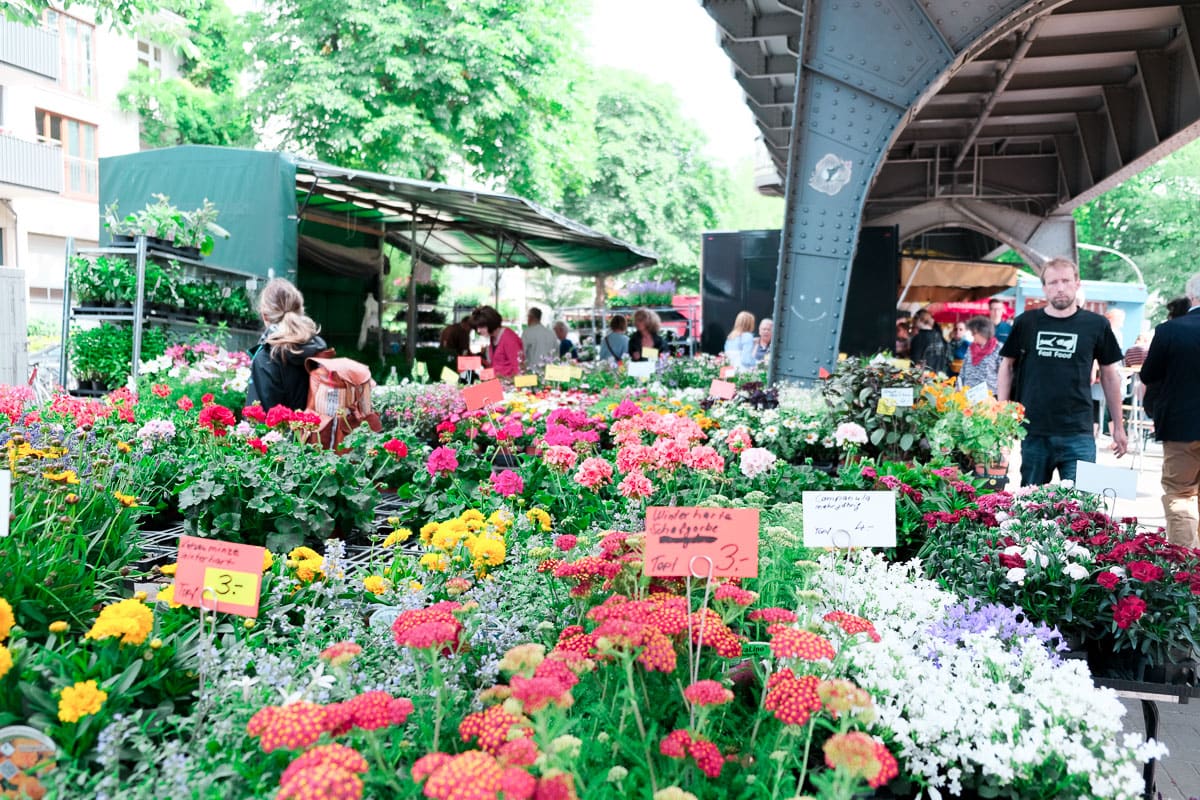 Is The Hamburg Card Worth Getting?
We get asked this a lot and the answer is…it depends.
The Hamburg Card is the city's official discount card that can save you tons of money on your trip. It offers unlimited travel on the city's public transportation – which includes the U-bahn, S-bahn, buses, and harbor ferry rides – and it's valid from/to the airport and in all relevant districts of Hamburg (area Hamburg AB). That means, if you get the Hamburg Card you don't have to buy an additional transit pass, which is definitely convenient.
There are different card variations you can choose from, depending on your itinerary. There's a day ticket all the way up to a 5-day ticket. They also offer individual or group cards. The group cards are valid for 5 people, which is perfect for those traveling with family or friends.
Not only do you get free unlimited public transportation rides, you'll also get access to over 150+ great deals on everything from tourist attractions, city tours, port cruises, musicals, concerts, and museums.
Some of Hamburg's important landmarks included in the card (and that we've covered in this guide!) are the Hamburger Kunsthalle, Miniatur Wunderland, the International Maritime Museum, the Hamburg Town Hall, St. Michael's Church, just to name a few.
The Hamburg Card also gives you some discounts and deals in a selection of restaurants and cafes. It's the perfect opportunity to try some iconic Hamburg specialties like Kaffee und Kuchen (coffee and cake) and Fischbrötchen.
So is it worth getting the Hamburg card? If you plan on staying in the city for a few days, using public transport frequently during your stay, and want to visit the sights included with the card, then the Hamburg Card is likely worth it. Another case where it would be worth getting is if you're traveling as a group. The group pass (valid for 5) will definitely save you money, since you are splitting it evenly with other people. You'll not only save money on public transport but tickets to tons of sights and activities too.
Click here for more information on the prices and discounts included in the Hamburg Card.
On the other hand, if you're only staying in Hamburg for maybe 1 or 2 days, then you might not be able to use the card to its maximum potential. In this case, we suggest booking a Hop On Hop Off Bus tour instead, so you'll get to see all the important sights and landmarks during your stay. You'll get to explore the city at your own pace but you won't have to worry about navigating and paying for tickets for public transportation.
When considering whether to get a city card, we always recommend adding up how much you'd pay for transport and entry to your top sights, and then compare it to the cost of the card and see if it's worth it for your trip. Also be sure to confirm the return or exchange policy because these types of cards are often non-refundable.
Ready To Visit Hamburg?
We've just scratched the surface with this guide! With so much to see and do, Hamburg should definitely be on your itinerary, especially if visiting northern Germany.