Hamburg is a big city and has so much to offer that it can be hard to decide what to focus on! If you're planning to visit this northern Germany city and are wondering what to do what to do in Hamburg or which Hamburg points of interest are for you, this guide will help.
I recommend 2-3 days in Hamburg in order to see everything on this list and a take a day trip. Only got one day to spend in Hamburg? No worries! Skip taking a day trip and choose a few things on this list and you'll get a fantastic taste of the city.
We've been to each of these recommended places to visit in Hamburg. I used to live in Hamburg, so many of them I've been to several times. One of the best things about these Hamburg sights? All are inexpensive and even free!
1 – Rathaus (Town Hall) and Alster Arkaden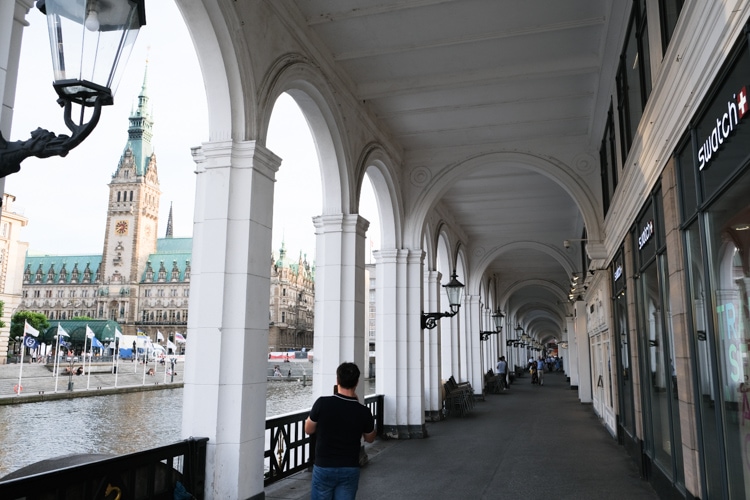 Start your Hamburg visit in the center of the city with a peak at the elaborately decorated Rathaus (Hamburg Town Hall) and a stroll down the elegant Alster Arkaden. This area is not only a Hamburg tourist attraction, it's a great area for shopping or stopping for Kaffee und Kuchen (coffee and cake).
To get there, take the U3 (yellow line) to the Rathaus stop.
2 – Hamburg Harbor Tour with Ferry 62 – a Free Boat Tour!
See the city from a different perspective by taking the ferry! Hamburg Ferry 62 is part of the city's transit system, which means it's a no cost way to take a harbor cruise if you have a day transit card. It's a great way to get a free You'll pass by the legendary Fischmarkt, get close to huge container ships in the harbor, and sail past the popular Strandperle beach on your way to Finkenwerder. You can get out in Finkenwerder and take a later ferry back to Landungsbrücken or stay on the ferry and return right away. The day I rode this ferry it was about half tourists and half commuters.
Click here to check out this Evening Illumination Cruise for a different perspective of the harbor!
To catch the ferry take the U3 (yellow line), S1 (green line) or S3 (purple line) to the Landungsbrücken stop and walk across the bridge to Pier 3.
3. Tour the Elbphilharmonie
Even if you don't plan to see a performance, a visit to the new Elbphilharmonie is a must. It's such a cool building! After getting your free ticket, take the escalator to the outdoor observation deck for spectacular views of the city and harbor. If you want to learn more about the Elbphilharmonie and see more of the inside, book a group tour well ahead of your visit.
Get an insider look at the Elbphilharmonie with this 1-hour guided tour in German or English. This best-selling tour gets 4.8/5 stars!
To reach the Elbphilharmonie, take the U3 (yellow line) to Baumwall or ferry 72 from Landungsbrücken.
4. Admire the Speicherstadt Architecture
After you visit the Elbphilharmonie, walk a couple blocks to the distinctive Speicherstadt warehouse district. This picturesque section of Hamburg is full of canals, bridges, and 100-year-old brick warehouses. Perfect for a leisurely stroll and at least one Instagram selfie.
Click here to check out this awesome 2.5 hour tour of the Speicherstadt, Elbphilharmonie, and HafenCity!
5. Ride the U3 in Hamburg City Center
How about taking in a scenic view while you give your feet a rest? Hop on the U3 (yellow line) at the Rathaus and ride towards Kellinghusenstrasse. During this 15-20 minute ride you'll get a bird's eye view of the harbor and pass by some of Hamburg's gorgeous architecture. (I rode the U3 to school when I lived in Hamburg!) I highly recommend getting out at Eppendorferbaum and exploring the neighborhood's cafes, boutiques, houses, and bakeries. It's a beautiful neighborhood! For a lovely walk head towards the Alster and stop at the Uni Hamburg along the way.
6. Take a Walk Along the Elbe and Through the Treppenviertel in Blankenese
Only 25 minutes from the city center, Blankenese feels like a different world. A former fishing village turned favored neighborhood of Hamburg's wealthy, the Treppenviertel ("stairs quarter") offers narrow winding footpaths, thatched-roof houses, and stunning views. Be sure to walk all the way down to the Elbe and along the scenic trail.
To reach Blankenese, take the S1 (green line) and follow the signs to the Treppenviertel.
7. Enjoy a Delicious German Afternoon Tradition: Coffee and Cake
You can't visit Hamburg without partaking in the German tradition of afternoon coffee and cake (or a pastry)! Bakeries and cafes are everywhere in Hamburg, so you won't have any trouble finding one (tip: skip Starbucks and go to a local coffee shop). Not into cake? Try a Franzbrötchen pastry or a raspberry Quark pastry (see photos above) or a bowl of Rote Grütze!
8. Go Dancing on the Reeperbahn
If you're in Hamburg on a Friday or Saturday evening, head to the Reeperbahn (also known locally as the "Kiez") for a night out. Sure, it's Hamburg's Red Light District – and one of the largest in Europe at that – but don't let that scare you off. Everyone from teens to grandparents frequent Hamburg's entertainment district for live music, dancing, and a variety of theater and opera performances. My friends and I went dancing here quite often when I was a teen. If you're a Beatles fan, check out the Indra Club and Grosse Freiheit, two places they played while getting their start in Hamburg.
Get a local's look at the Reeperbahn with this Reeperbahn Walking Tour for Adults with Local Guide!
To get to the Reeperbahn, take the U3 (yellow line) to St. Pauli.
9. Visit the Fischmarkt
This open air Fischmarkt started in 1703 and is a popular Sunday morning destination for locals and tourists alike. Located right on the harbor, you'll find stands selling fresh fish and seafood, sandwiches, fruit, chocolate, flowers, and more. I had the BEST shrimp sandwich here (see photo above). It was 100% worth getting up early and heading out in the rain for that sandwich!
Be sure to head inside the Fischauktionshalle (Fish Auction Hall) for live music, beer (yep, even at 7am), and people-watching. You'll need to get up early – or head over after staying out all night on the Reeperbahn – because the Fischmarkt is only open from 5am-9:30am on Sunday mornings (7am-9:30am in the winter)!
To reach the Fischmarkt take the U3 to Landungsbrücken or the S1 or S3 to the Reeperbahn and walk the short distance to the market.
10. Hop On Hop Off Bus Tour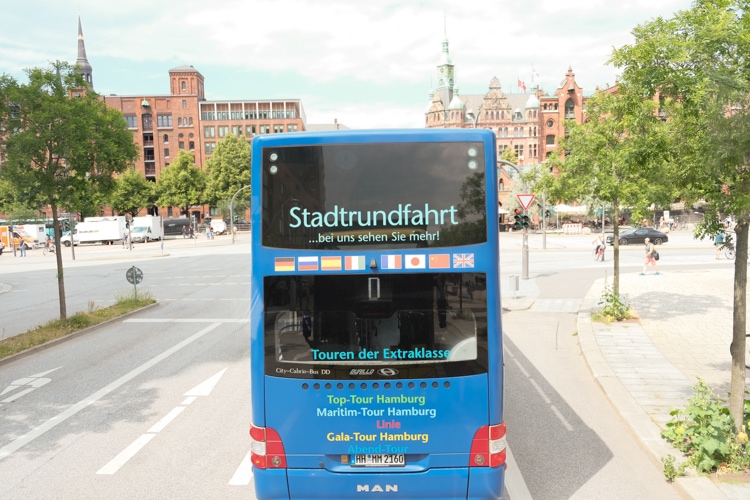 When I took Aaron to visit Hamburg we got tickets for the Hop On Hop Off bus tour. It was a great way to get an overview of Hamburg in just a couple hours (and rest our feet after walking all morning). I even saw some new areas of the city I hadn't seen before! We hopped on the bus at Landungsbrücken and rode all the way around without getting off at any of the stops. You start in the morning you could use the HOHO bus to see several sites and explore a lot of Hamburg!
Click here to book your Hamburg Hop on Hop Off Bus Tour in advance!
11. Canoe the Canals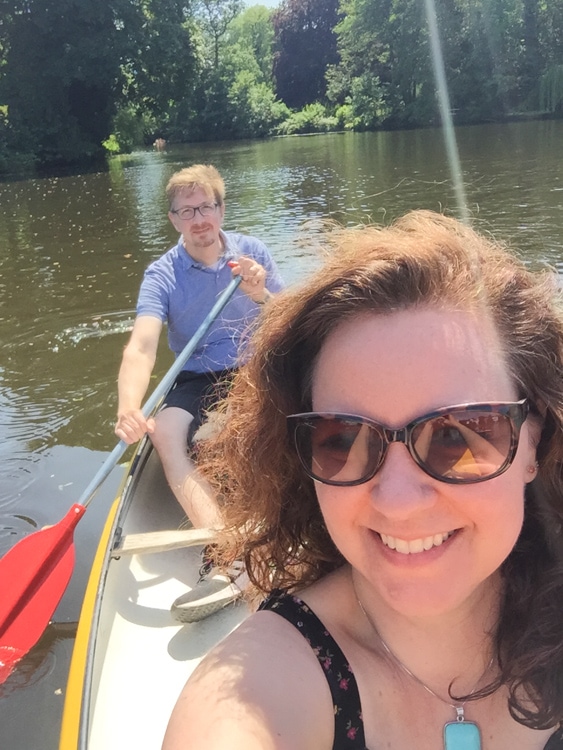 When Aaron and I were last in Hamburg we decided rent a canoe near our AirBnB so we could explore the canals for an afternoon. It was so fun! We paddled around both the smaller canals that are lined with beautiful houses and gardens, and on the Alster. It was a fantastic way to see Hamburg from a different perspective.
12. Stroll Through Planten un Blomen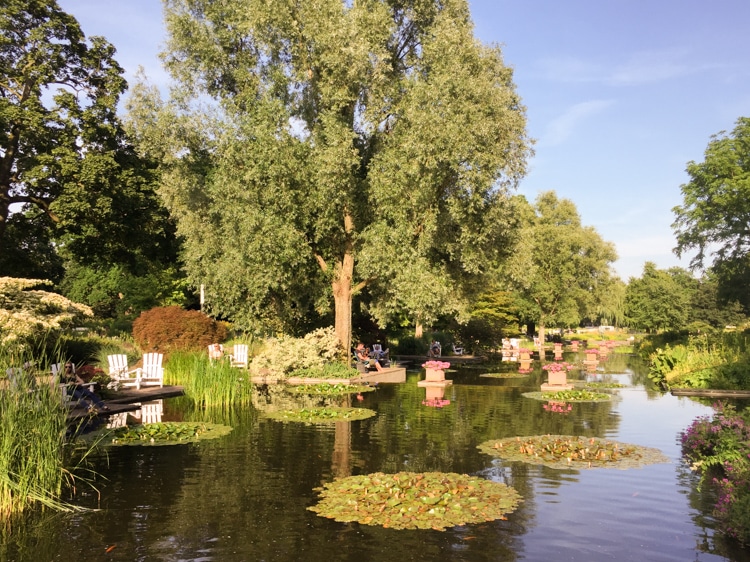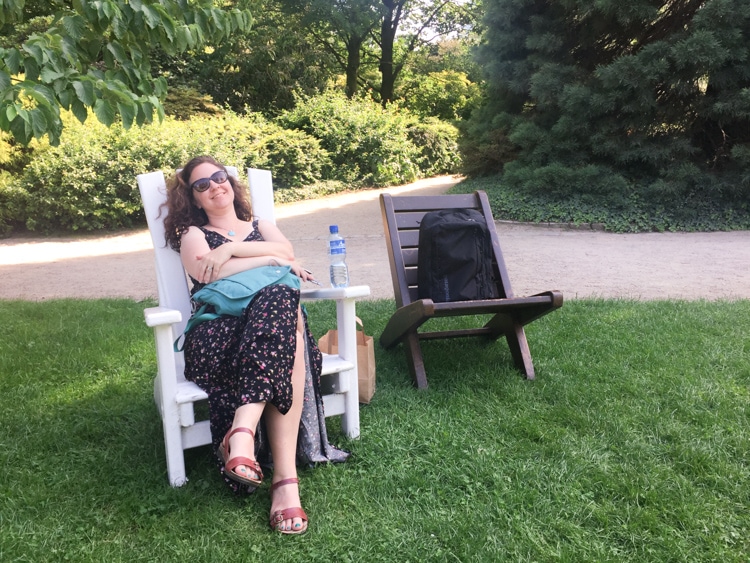 Aaron loves gardens and flowers so I had to take him to the Planten un Blomen urban park and gardens. We picked up salads on the way, found comfy Adirondack type chairs, and enjoyed our meal among the beautiful trees, plants, and flowers. Then we spent another couple hours wandering around the gardens. There's a cafe and an ice cream shop and plenty of places to hang out. If you're looking for a green space or a mellow place to relax, go to Planten un Blomen.
To get there, take the U-bahn to St. Pauli, Stephansplatz or Messehallen or the S-bahn to Dammtor.
13. Take a Day Trip
You have so many options! If you go north, you can visit Lübeck, the beaches on the Baltic or the beaches and small towns on the North Sea. Go south to the cute town of Stade or Lüneburg. Go east to visit Schwerin Castle. Whether you go by train, bus or car, be sure to explore all that the towns and sights near Hamburg have to offer!
Click here for directions to the best Hamburg day trips!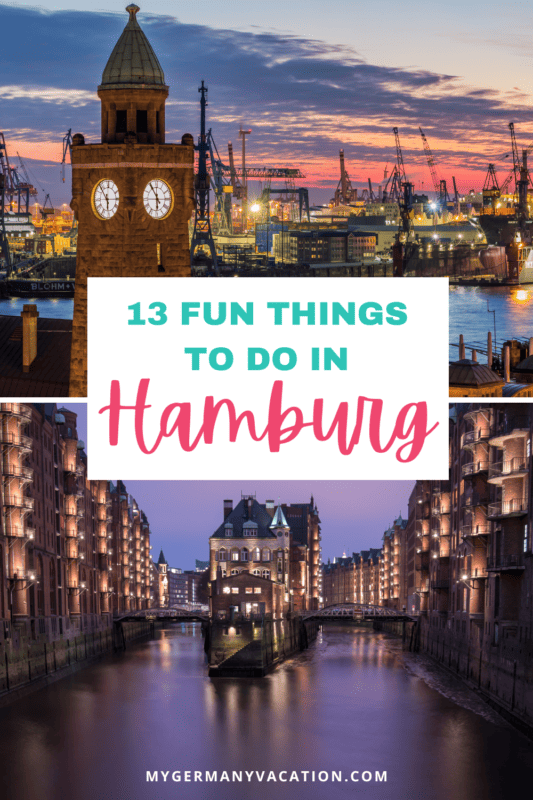 ---
ULTIMATE GERMANY TRAVEL RESOURCES
We've gathered some of our essential travel guides, websites, and other information to help you plan the best vacation! We use these resources ourselves and share them to save you money, time, and stress so you can focus on enjoying and making the most out of your time in Germany.

GERMANY TRAVEL BUNDLE: Our Ultimate Germany Travel Bundle gives you the best tools, up-to-date tips, and expert insights to easily and efficiently tackle the travel planning process. You'll get our custom Trip Planning Map, which shows you the best sights, hotels, castles, and more – because seeing where things are in relation to each other makes trip planning SO much easier! You also get our Trip Planning Spreadsheet, City Cheatsheets, How-to Videos, Germany Trip Planning Guide, and Trip Planning Spreadsheet!

BOOKING FLIGHTS: To find the the best flights deals, we recommend checking Kayak, Skyscanner, Expedia, Travelocity. These websites are also great for getting rental cars.

ACCOMMODATIONS: We recommend using Booking.com since they have widest range of accommodations available from hostels, boutique hotels, luxury chains, aparthotels, at the best prices. For vacation homes, we suggest checking VRBO. We also have accommodation guides on different destinations (Hamburg, Cologne, Munich, Stuttgart, and more to come!) in our website.

TRAINS & BUSES: For point-to-point or regional train tickets (great for day trips or groups) within Germany, or tickets originating in Germany to other European destinations, we recommend buying them on the Deutsche Bahn (German Rail System) website. If you want to buy a rail pass for Germany (or elsewhere in Europe), buy them on Rail Europe. For buses, FlixBus offers tickets for routes within Germany and to other European countries. FlixBus is often cheaper than trains but can take longer.

TRAVEL CREDIT CARD: One of the best ways to make travel to Germany more affordable is by booking free flights. Using the points accrued with our Chase Ink credit card (and a few others), we haven't had to pay for flights to Europe in the past 10 years!

TICKETS AND TOURS: We always recommend exploring a new city for the first time with a Hop On Hop Off Bus tour (ride it all the way around for the entire 1.5-2 hour tour). Here is our guide on the best Hop On Hop Off Bus tours for different German cities. For guided walking tours, day trips, private tours, and skip-the-line tickets, Get Your Guide is our go to!

WHAT TO PACK: Not sure what to bring to Germany? Check out our 2-week minimalist packing guide for tips on traveling light, and our Germany packing list for our must-pack items. Bonus: check out our guides on finding the best travel purse and best travel scarf with a hidden security pocket.

TRAVEL CONSULT: If you feel like you need more help and guidance beyond these resources, book a travel consult with us! We offer personal live sessions where we'll help you with things like planning your itinerary, showing you how to book train or skip-the-line tickets, and answer any other questions you have about traveling to Germany.