Best Day Trips from Berlin in 2024
This post may contain affiliate links. Read my disclaimer policy.
Planning a trip to the German capital and want to add a day trip or two (or even a few days)? You've got lots of great options! Here are the best day trips to take from Berlin.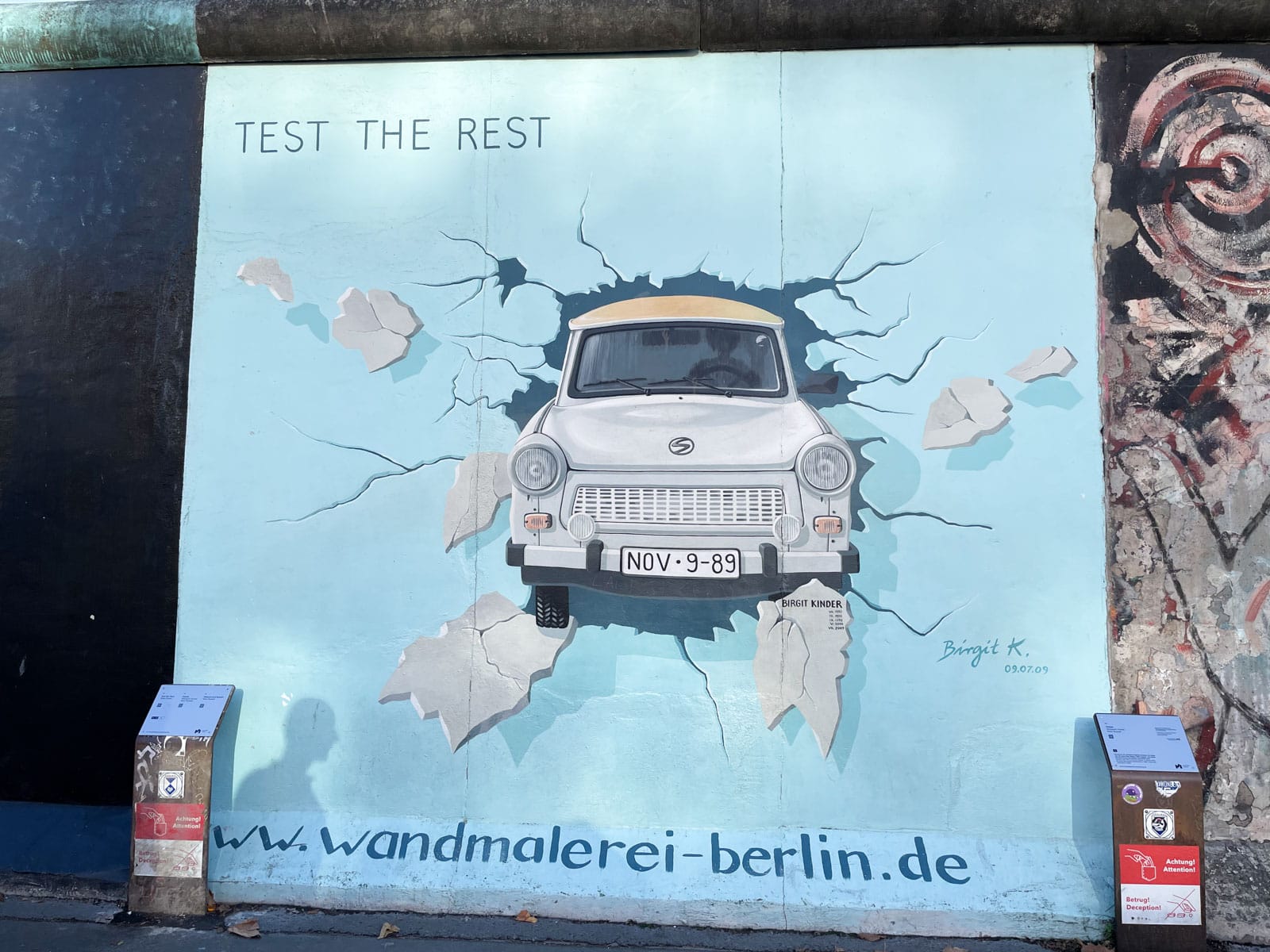 Berlin is such a vibrant and exciting city it's easy to see why it's one of the most visited tourist destinations in Europe. After all, it's home to world famous sites like what remains of the Berlin Wall, the Brandenburg Gate, the Holocaust Memorial, Reichstag Building, and many more.
But once you've seen the main sights in your Berlin itinerary, there's still so much you can explore, since the city is a great base for day trips (or weekend trips)!
Within a few hours, you can reach all sorts of places – medieval towns, castles, historical sites, riverside cities, national parks, mountains, and forests. As amazing as Berlin is, day trips give you a change of scenery show you even more of Germany's beauty.
Planning a couple day trips while in Berlin is an easy way to see more of Germany without the hassle of packing up and traveling to a new town for just 1 or 2 nights. It's the easiest way to maximize your time while traveling. Especially if you book a guided tour that takes care of all of the details for you. Then all you have to do is show up and enjoy the day.
Keep reading to find out about the best Berlin day trips (or weekend trips) to add to your itinerary! We also show you your options for getting to these day trip destinations so you can choose what will work best for you.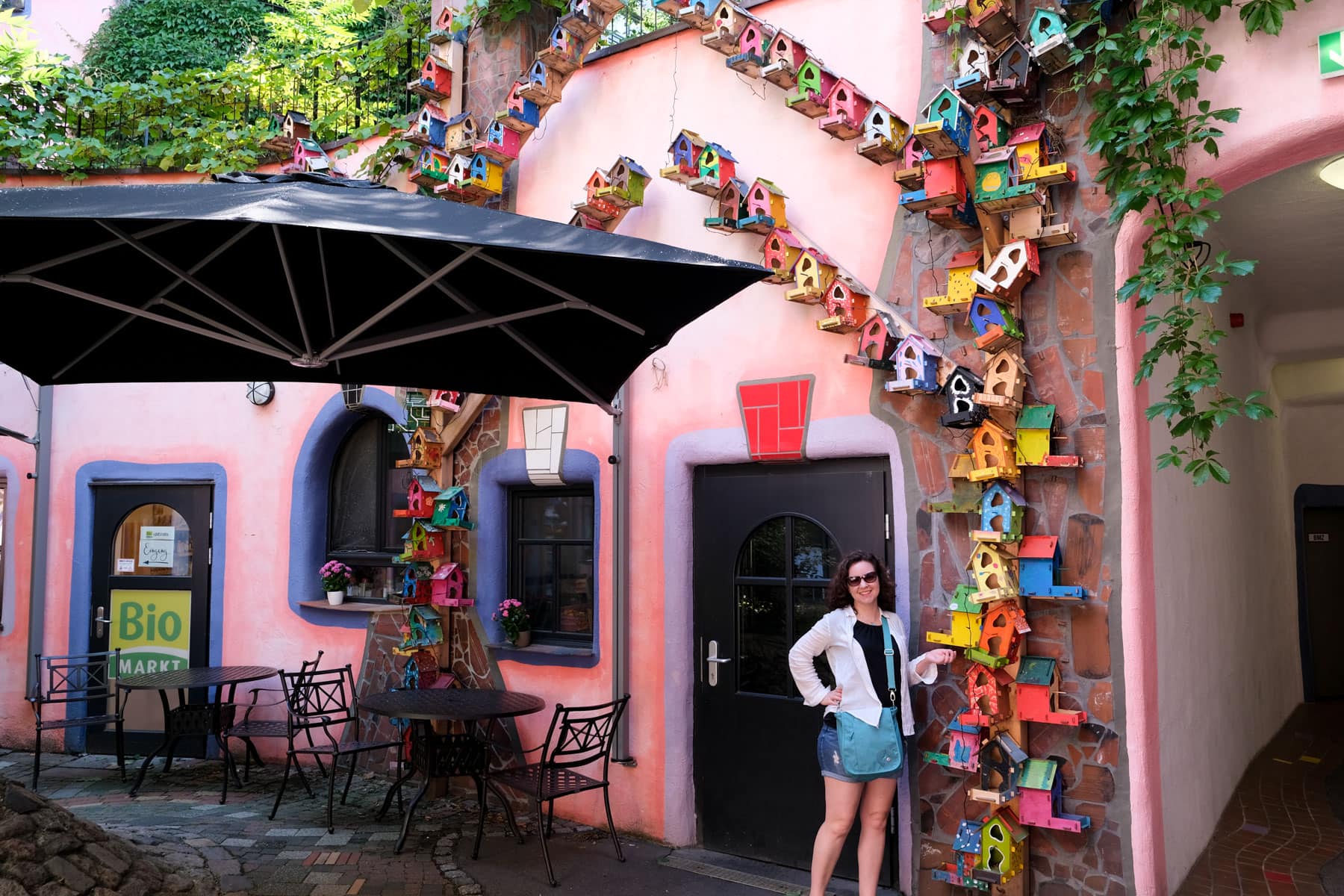 Berlin Day Trip Transportation Options
In order to actually take a day trip from Berlin, you've got to figure out how to get there. Here are your options.
Berlin Public Transit (U-bahn/S-bahn)
Many of these day trips can be easily done by using Berlin's own public transportation system, especially those that are nearer to central Berlin. Places just outside the city limits (like Spandau or Potsdam) are easily reached by U-bahn and S-bahn (sometimes also bus).
German Trains
For other cities that are a bit farther away, you can easily take a regional or fast train. We recommend checking train schedules on the Deutsche Bahn (German Rail) website. You can also purchase point-to-point tickets, special offers, and tickets for groups, adults traveling with kids, regional day tickets and other discounted tickets.
If you'll be doing a lot of day trips and traveling around Germany via train, we suggest looking into the German Rail Pass to get unlimited flat-rate travel all over the country. If you don't want to spend a huge amount of time researching train tickets or don't want to be bound to taking specific trains (and thereby losing your ticket and money if you miss a train), a rail pass is a great option.
FlixBus
Buses are also good options if you want to save money, but the travel time may be longer for some destinations. Note that FlixBux is separate from the city bus system.
Guided Tours
Another great option is searching for guided tours that come with private transportation. This way you don't have to worry about the logistics (which I can tell you from experience can sometimes take hours to figure out!) — you can just show up stress free to the meeting point on the day of your day trip!

Some guided day trips also offer unique experiences like boat tours or night walking tours. And they can be a great way to make friends with other travelers! A good place to look for guided day trips from Berlin is on Get You Guide.
Rental Car
For the most convenience and flexibility, rental cars are the way to go. You'll have the independence to follow your own schedule and you set your own pace, which is nice if you find yourself wanting to stay at a place for a longer period of time than expected.

Rental cars can be a great deal if there are 2 or more people traveling together. Can you rent a car just for 1 or 2 days? Yes! Check out Kayak for the best deals on rental cars in Germany.
Best Day Trips from Berlin
The first group of day trip options are very close to Berlin and can be reached using Berlin's public transit system. Some are in the "C" zone so you'll either need a day ticket for the A/B/C zones or an extension ticket for the "C" zone if you already have a transit pass for the A/B zones.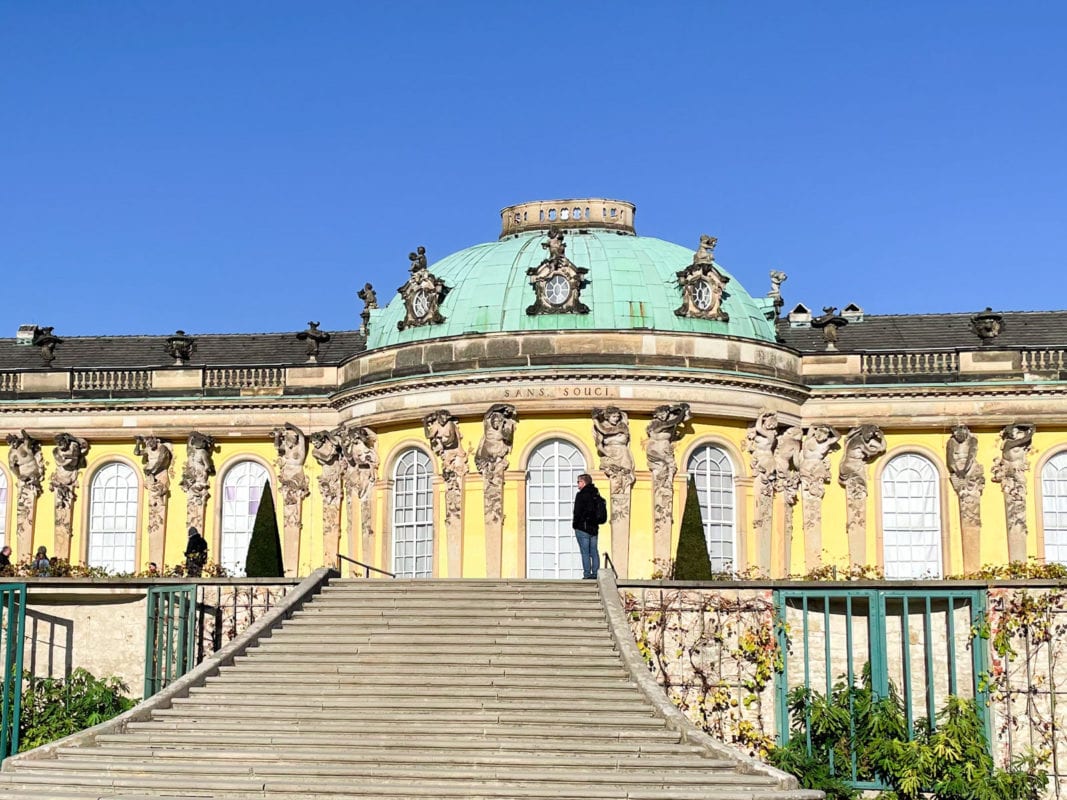 1. Potsdam and Sanssouci Palace
Probably the most popular place for day trips from Berlin is nearby Potsdam, since it's easily accessible by S-bahn or regional train and only takes around 30 minutes to reach from the city center.
The main attraction of Potsdam is Sanssouci Palace, a former royal residence with stunning Rococo architecture that's often compared to France's Versailles. Highlights include the sprawling English gardens, vineyard terraces, the traditional Chinese teahouse, and classical statues and artwork.
Since there's so much to see – and sights are pretty spread out – that we recommend booking a stress-free guided tour of the palace from Berlin which also includes transportation.
If you want to explore more of Potsdam, this guided tour takes you to Sansoucci and other points of interest like the Baroque Old Town, the famous Dutch Quarter and other castles like the Cecilienhof Castle, and the opulent New Palace.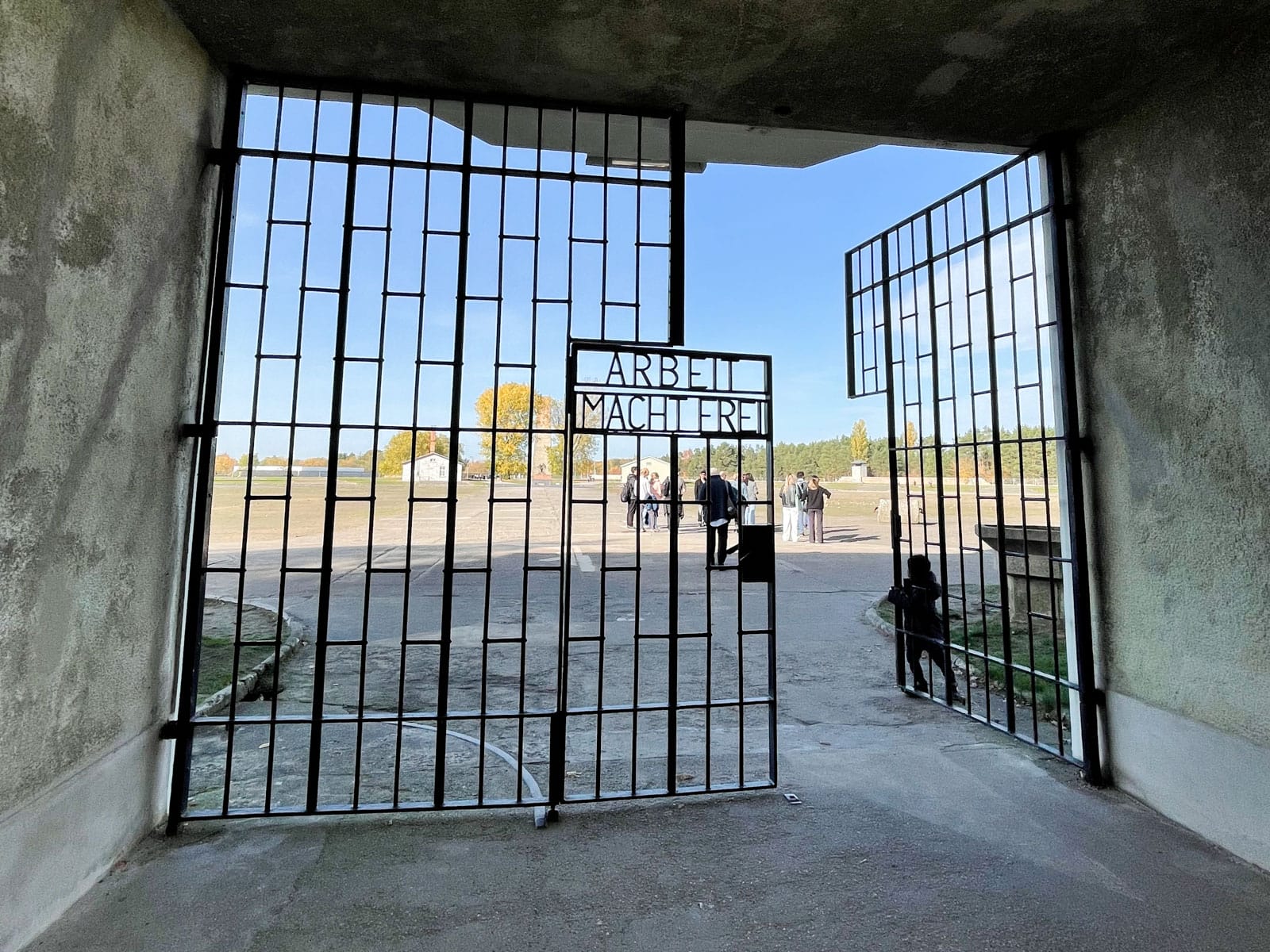 2. Sachsenhausen Concentration Camp Memorial
Sachsenhausen Concentration Camp, located just north of Berlin in the town of Oranienburg, is another popular day trip from Berlin. This sobering historical site can be visited during a half-day trip as it's only a scenic 45-minute ride away via Berlin's S-bahn.
This former concentration camp shows where Jewish prisoners were imprisoned during the Nazi regime. Walking through the camp's remaining prison barracks and buildings, you'll learn about the history of World War II while commemorating the victims.
Sachsenhausen is free to visit but we recommend getting the €3 audio guide. You can tour Sachsenhausen on your own in a couple hours but if you want to go more in depth and read the many text-heavy displays, plan for a longer visit.
You can do this day trip on your own by taking the S-bahn to Oranienburg and then walking or taking the bus to Sachsenhausen (about 7 minutes). Or book a guided half-day tour led by a professional in order to gain a deeper understanding of this important memorial.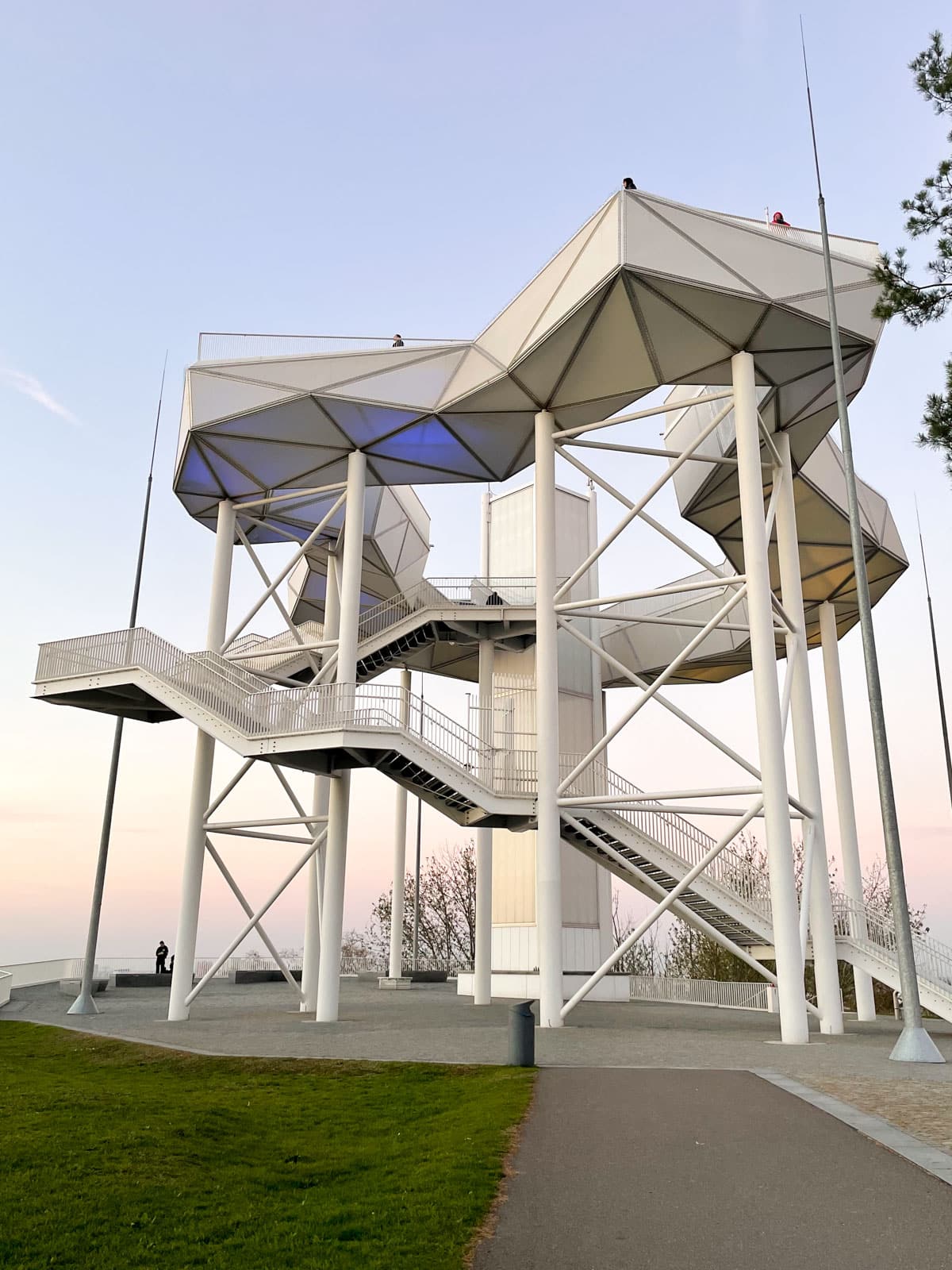 3. Marzahn-Hellsersdorf
This neighborhood is only about 30 minutes away from Berlin's Alexanderplatz but feels like a different world.
If you hop on the U5 and take it to Kienberg Gärten der Welt you can spend a couple hours to half a day exploring the famous Gardens of the World, riding the sky tram to Kienberg (or hike up to the top), enjoying the spectacular view from the Wolkenhain (see photo above), and walking around the beautiful wetland area.
If you visit on a Sunday you can stop by the WBS 70 Museum Apartment and step inside a preserved East German Plattenbau apartment from 1986 (open from 2-4pm on Sundays only, free).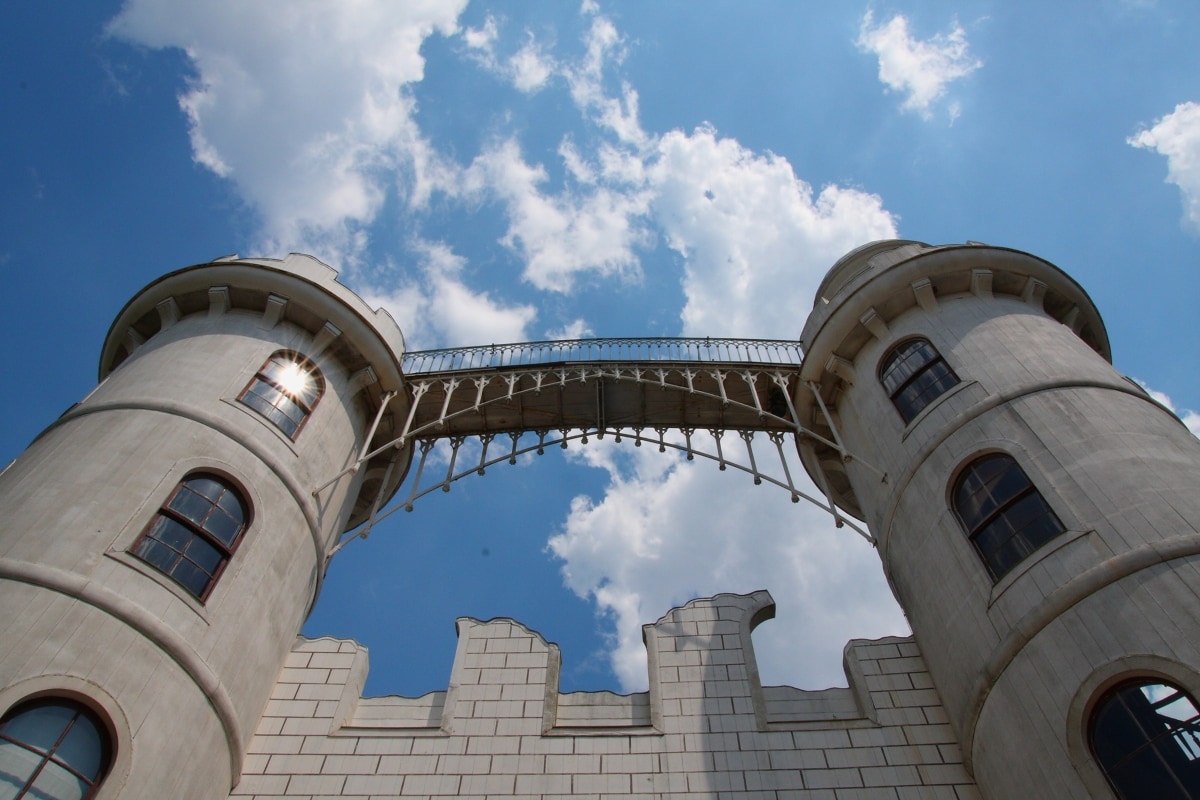 4. Pfaueninsel (Peacock Island)
Peacock Island is a perfect day trip for those looking for a romantic, fairytale-like natural landscape or seek something other than the traditional museum. The entire island is a UNESCO World Heritage Site, located in the Havel River just southwest of Berlin near Potsdam.
The island invites visitors to walk through the beautiful gardens, admire the free-roaming peacocks, and visit various historical landmarks like the Peacock Island Palace, a former summer residence of Prussian royalty. You can reach Peacock Island by taking the S-bahn to Wannsee and then a ferry to the island.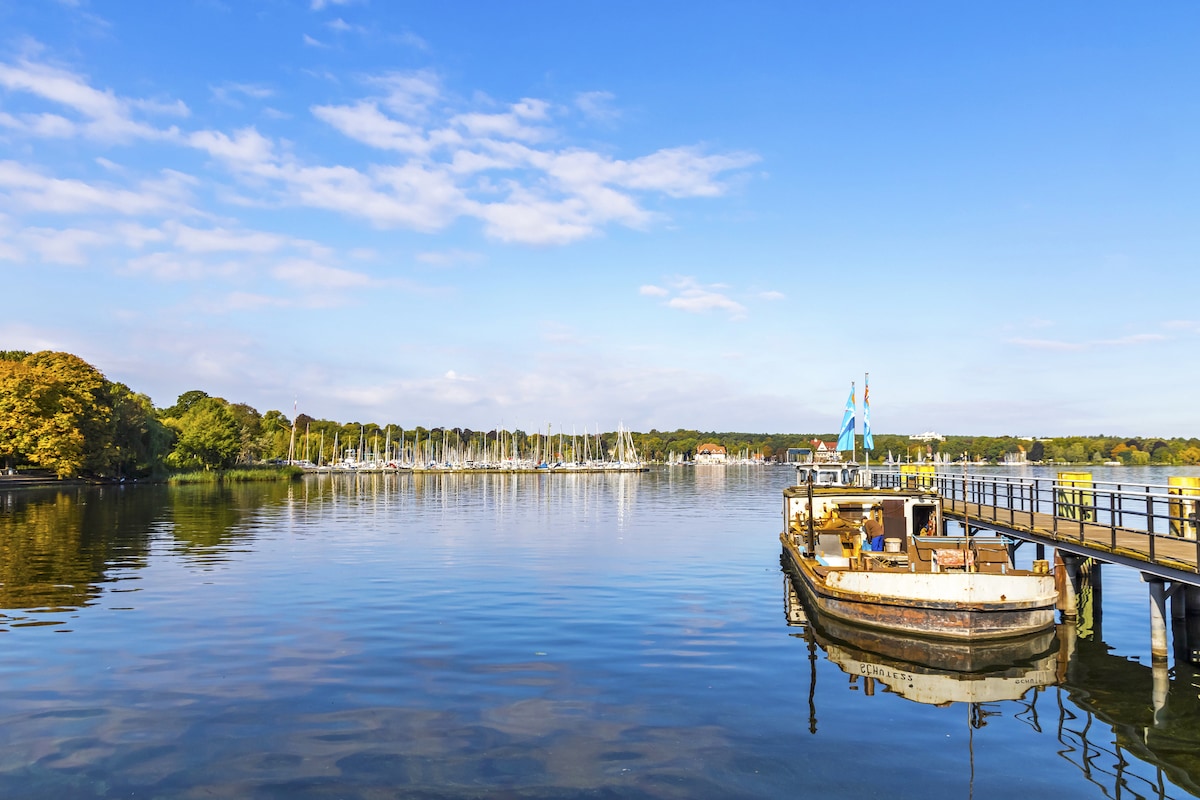 5. Wannsee
Wannsee is a city and lake area only 30 minutes from downtown Berlin by S-bhan. It's a great place to explore via boat. Check out this 2-hour boat tour from Wannsee that goes around the Havel Lakes, including Little Wannsee, Pohlesee, Jungfernsee, Glienicker Lake, and many others.
After the relaxing boat ride, you can take a walk and admire the beautiful landscape of Wannsee or lay out by the inland beaches and enjoy the sun among locals. You can combine a trip to Wannsee with a visit to Peacock Island.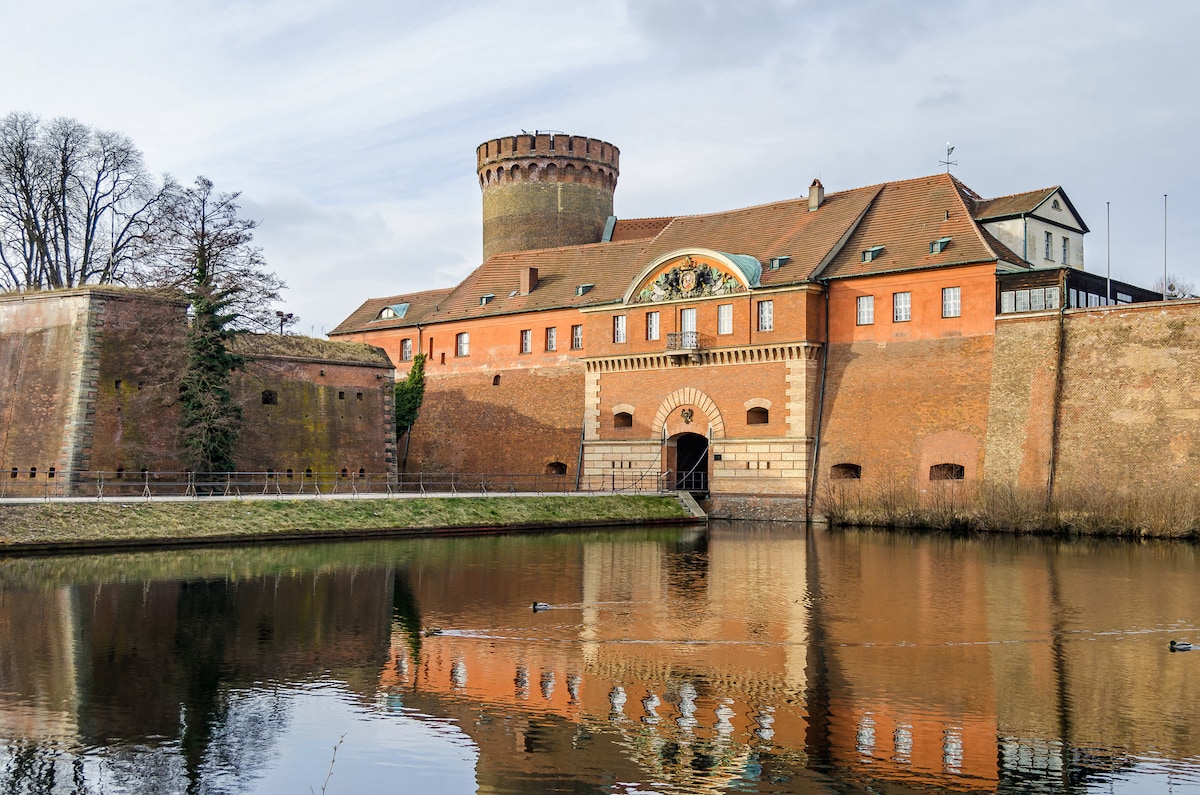 6. Spandau Citadel
The Spandau Citadel is one of the best preserved Renaissance fortresses in Europe. Surrounded by moats, this fortress houses a museum that takes you through the rich history of the fortifications.
Nowadays, the citadel is a cultural center with medieval jousting festivals, concerts, festivals, and a popular bat cellar exhibition.
This is an easy day trip since you can take public transportation (U7 metro line) directly from the city center to Spandau. Travel time is approximately 30 to 40 minutes.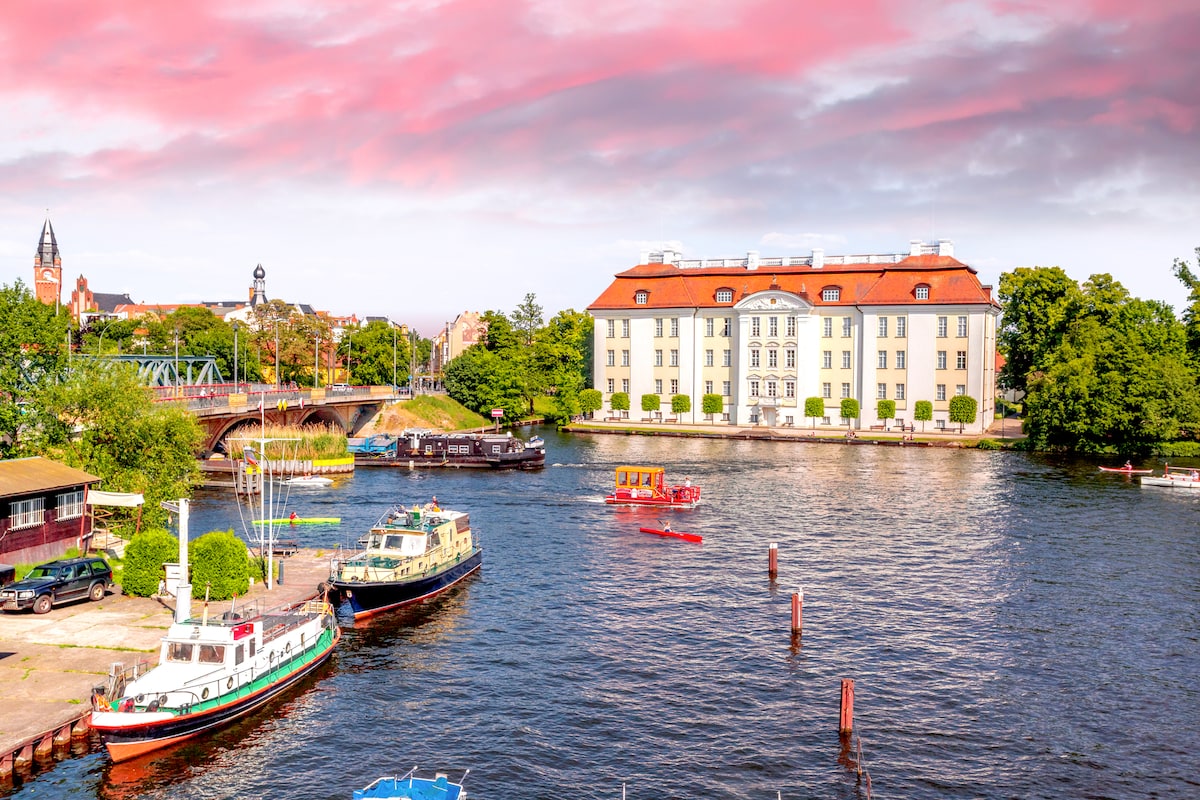 7. Köpenick
Köpenick is the perfect place for those who don't want to venture too far out of Berlin but want somewhere more tranquil and slow-paced. It's known for its natural beauty since it's very rich in lakes and woodlands. It also has its fair share of historic buildings such as the Köpenick Palace, a 17th-century mansion turned into Kunstgewerbemuseum (Museum of Decorative Arts) and the Old Town Hall. To end your day trip, make sure to take a walk on the Long Bridge and enjoy the riverside views.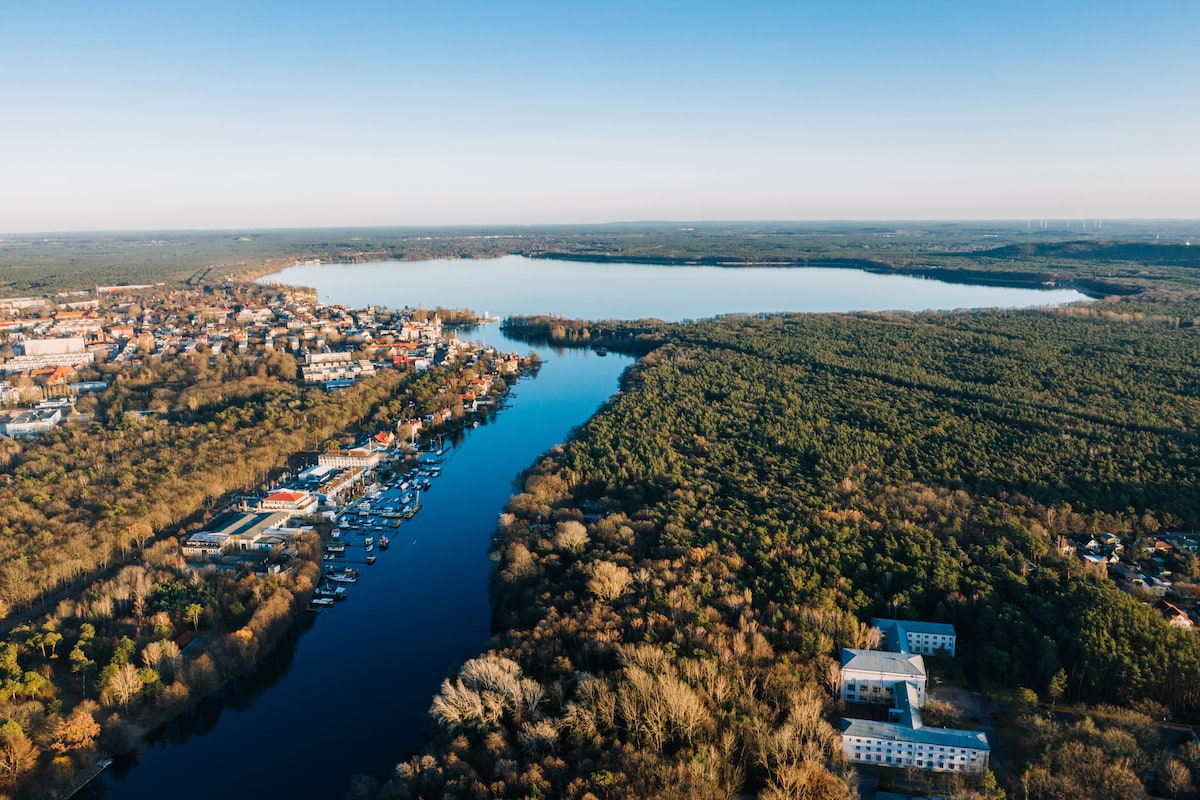 8. Müggelsee
Müggelsee is located in the suburbs of Köpenick and is the largest lake of the German capital. It's a great spot for boat trips and water activities like sailing, surfing, swimming, and even motor sport boats in certain areas.
The area around the lake also features various restaurants, coffee shops, boathouses, and the museum of the historic Friedrichshagen waterworks. At the south of the lake, you'll find the Müggelberge hills and the Müggelturm tower, offering panoramic views of the lake and the skyline of Berlin.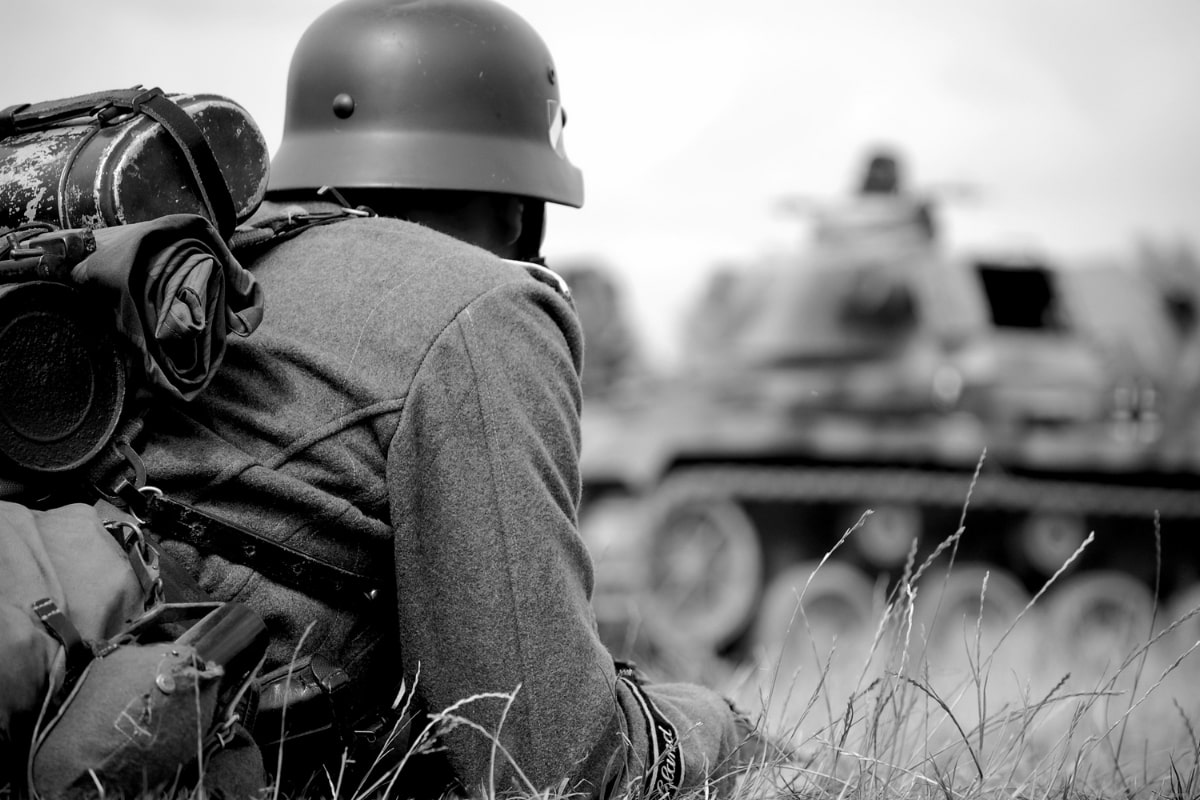 9. Seelow
Seelow, home to the Seelow Heights battlefield, is a good option for history buffs. Though it was one of the lesser known battles, it was actually one of the most brutal confrontations in the Eastern Front.
The Seelow Heights today is maintained as a memorial, which houses the Seelow Heights War Museum and a military cemetery to commemorate the fallen soldiers.
If you're interested in this rare opportunity to visit one of the untouched World World War II historic sites in Germany, book this guided tour.
Day Trips That Are A Bit Further Away From Berlin
This next group of day trip ideas are a bit further away from Berlin and can be reached by regional or fast train, car or guided tour.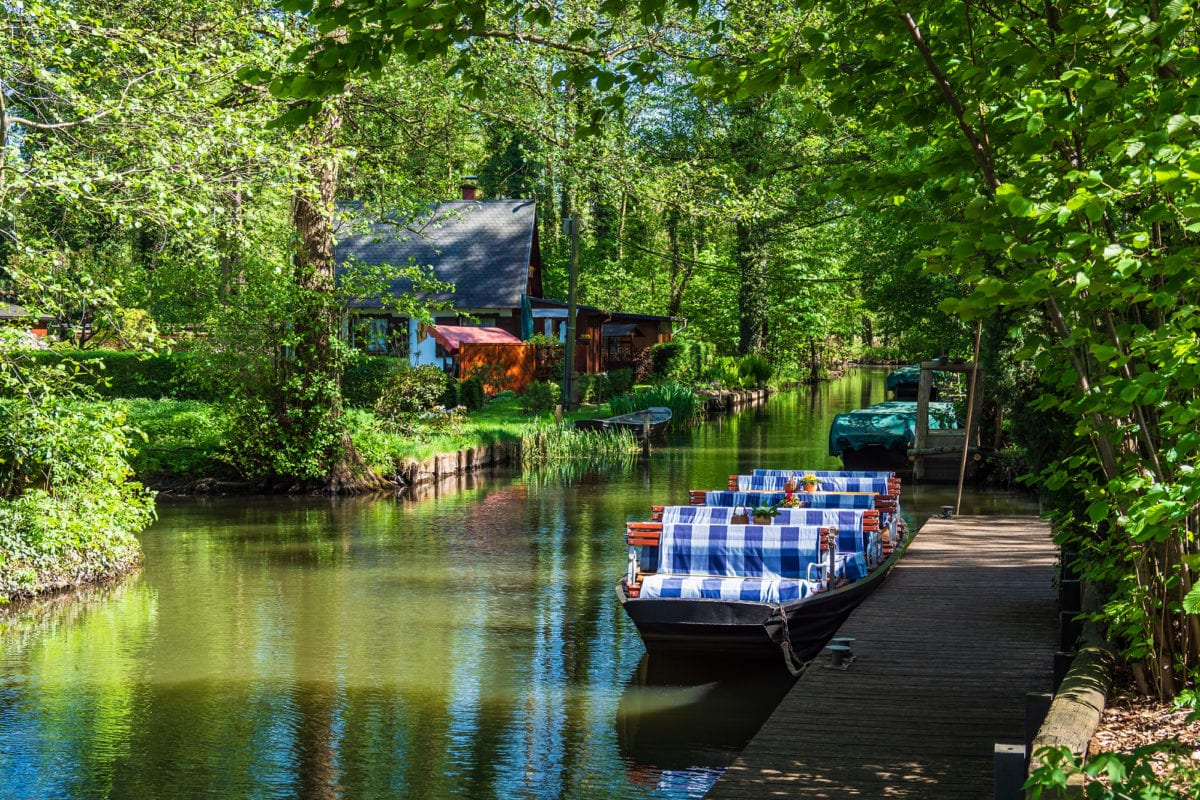 10. Spreewald (Spree Forest)
Spreewald is a UNESCO-protected nature reserve and a great alternative to the hustle and bustle of the big city. It takes about an hour from Berlin via regional train to reach Lübbenau, the most populous town in the region.
The forest has a relaxing atmosphere and is a beautiful place to visit all year long. The Spreewald is known for its diverse flora and fauna, Sorbian culture and history, locally-made pickles, and small canals, which are perfect for kayaking, canoeing or riding on one of the traditional Kahn boats.
If you have time, make sure to visit Lehde, a nearby village and protected heritage sight accessible by boat to get a glimpse of the everyday village life in this region of Germany.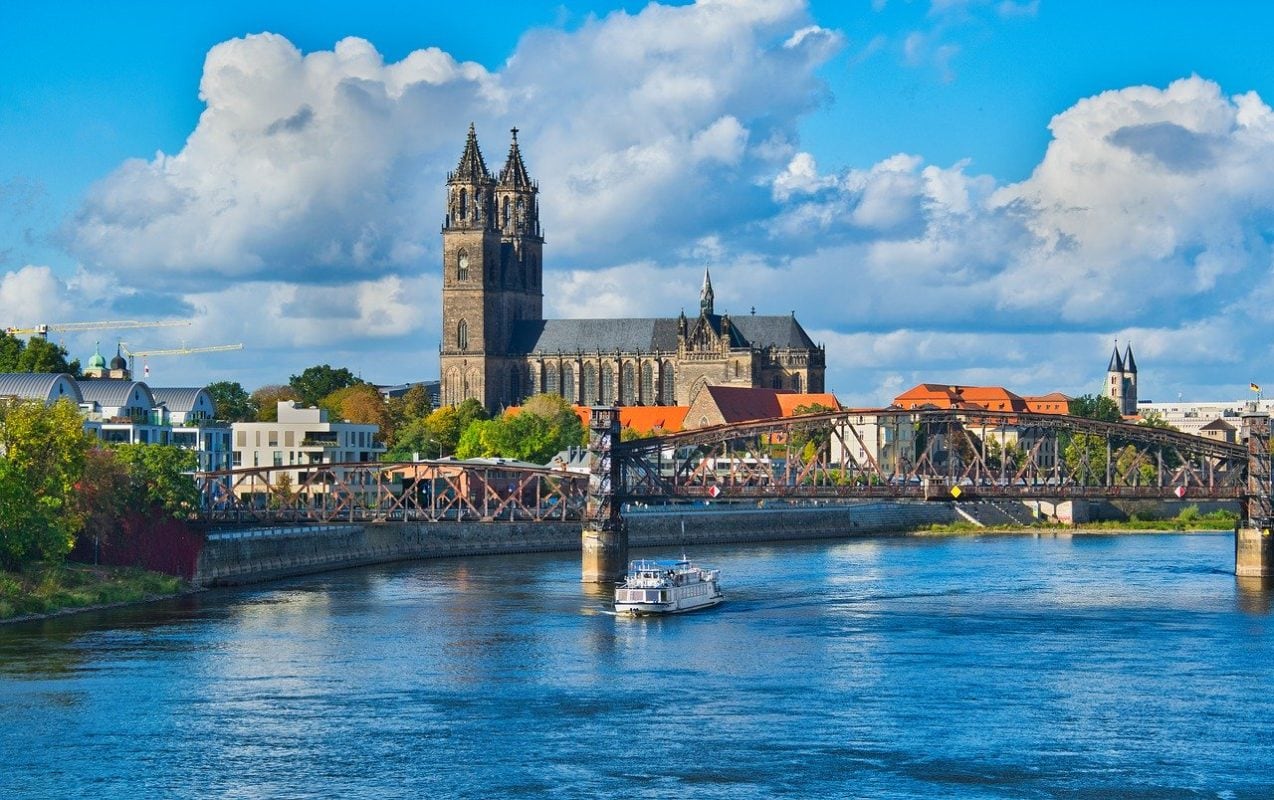 11. Magdeburg
Ok, I'm a bit biased about this one because I used to live in Magdeburg, but at less than 2 hours away from Berlin via train, it makes a great day trip from Berlin! Magdeburg is one of the oldest cities in the country, and the Elbe river that flows through the city is one of the major rivers of Central Europe, traversing through big cities like Berlin, Hamburg, Dresden, Leipzig, and Prague.
One of its most famous historical sites is the Cathedral of Magdeburg, the burial place of the Holy Roman emperor Otto the Great. Make sure to climb to the top of the towers to get city and river views! You can also check out the university campus and Hundertwasser's Green Citadel building.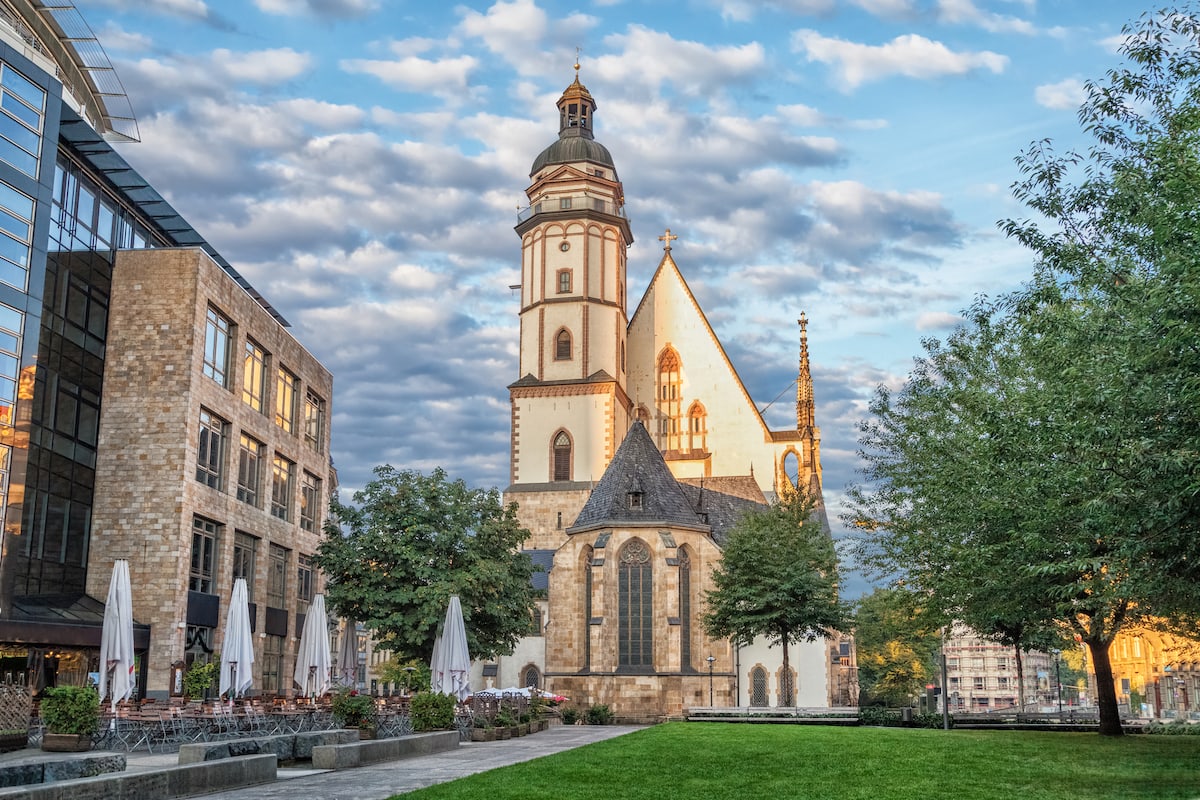 12. Leipzig
Leipzig is a classic day trip from Berlin, since it's only a short trip away (around 1 hour and 15 minutes via direct train). It is said to be quite similar to Germany's capital but it has its own character that makes it worth visiting.
Must-sees include the Old Market Square and the town hall located in the city center. A short walk away you'll find the St. Thomas Church, where Bach is now buried. You can't leave without visiting the Monument to the Battle of the Nations, a memorial to the biggest battle of the 19th century.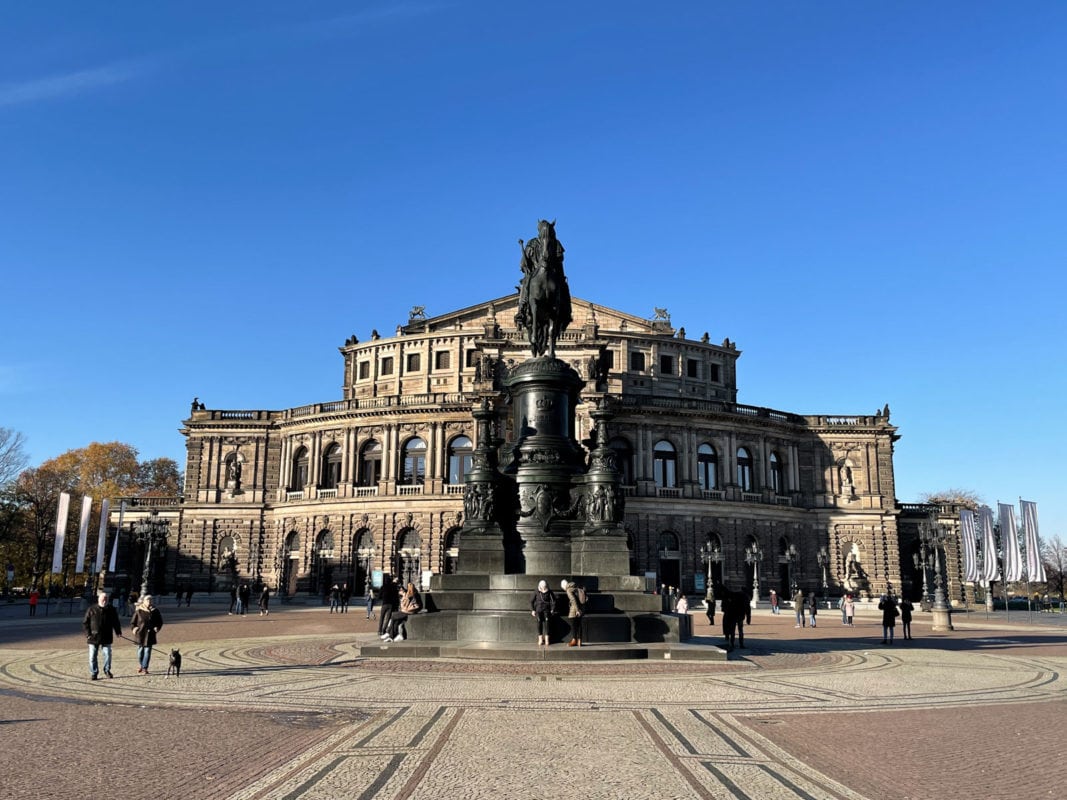 13. Dresden
Dresden is another city by the river Elbe, less than 2 hours away from Berlin. If you don't want to worry about transportation, consider booking a round-trip guided tour that provides the comfort of a minivan and shows you the highlights of the city. These include Zwinger Palace, a Baroque royal building with lush gardens, the Frauenkirche with its impressive stone dome and viewing platform, and Old Town.
You also can't miss Brühl's Terrace, known as the "Balcony of Europe," which stretches over the river and is a beautiful place to admire the views while enjoying a cup of coffee.
Like many German cities, Dresden is very walkable so it's easy to get around. But to make the most out of your time and see as much as you can, we recommend booking a Dresden Hop On Hop Off bus tour.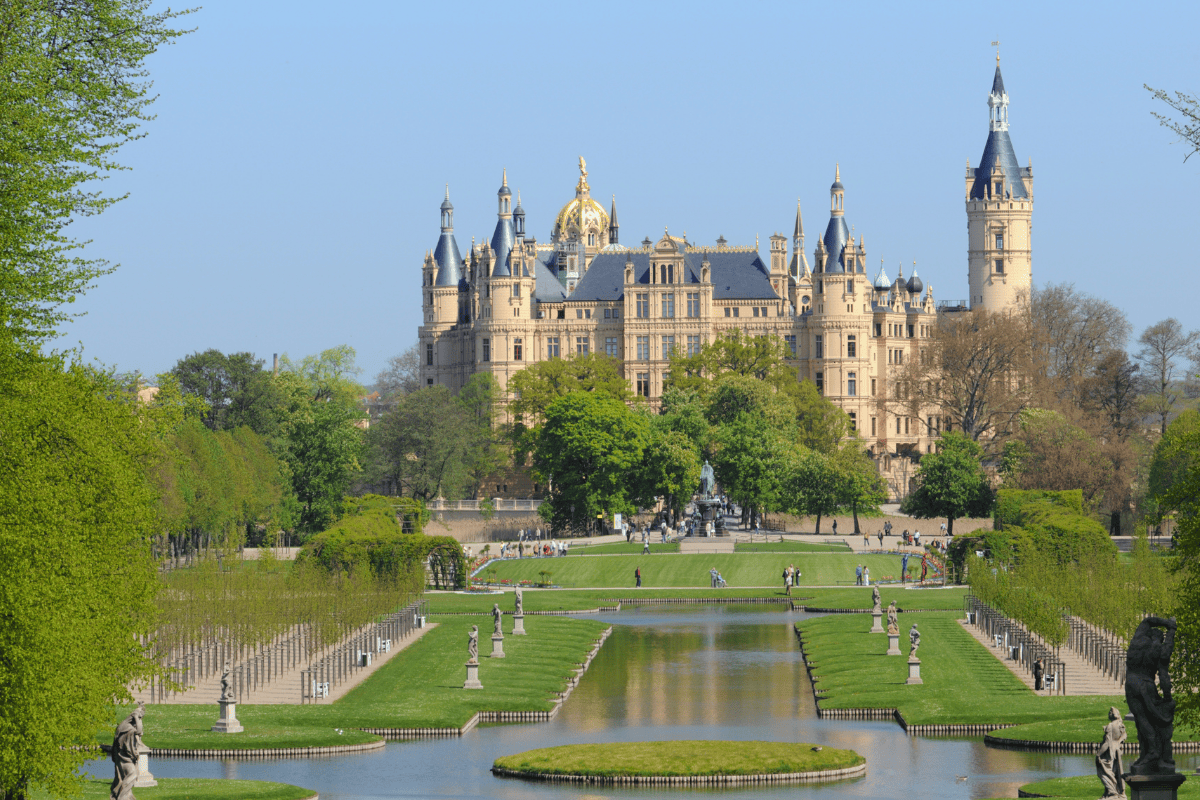 14. Schwerin Castle
To the north of Berlin around 2 hours away depending on your train, you'll find the small but charming city of Schwerin. Most people visit to admire Schwerin Castle and for good reason! Standing on its own island amidst Schwerin Lake, the castle looks straight out of a fairytale, as it's surrounded by forests and water. The inside is equally grand with over 600 rooms, a throne room, and a vast collection of artifacts in the museum.
Aside from the castle, Schwerin offers other landmarks like the Schwerin Cathedral, the Pfaffenteich lake, and the Schwerin State Museum. Book a walking tour of the city to see everything! If you're looking for a fun experience, book a night walking tour guided by a night watchman who takes you to the city's highlights after sunset.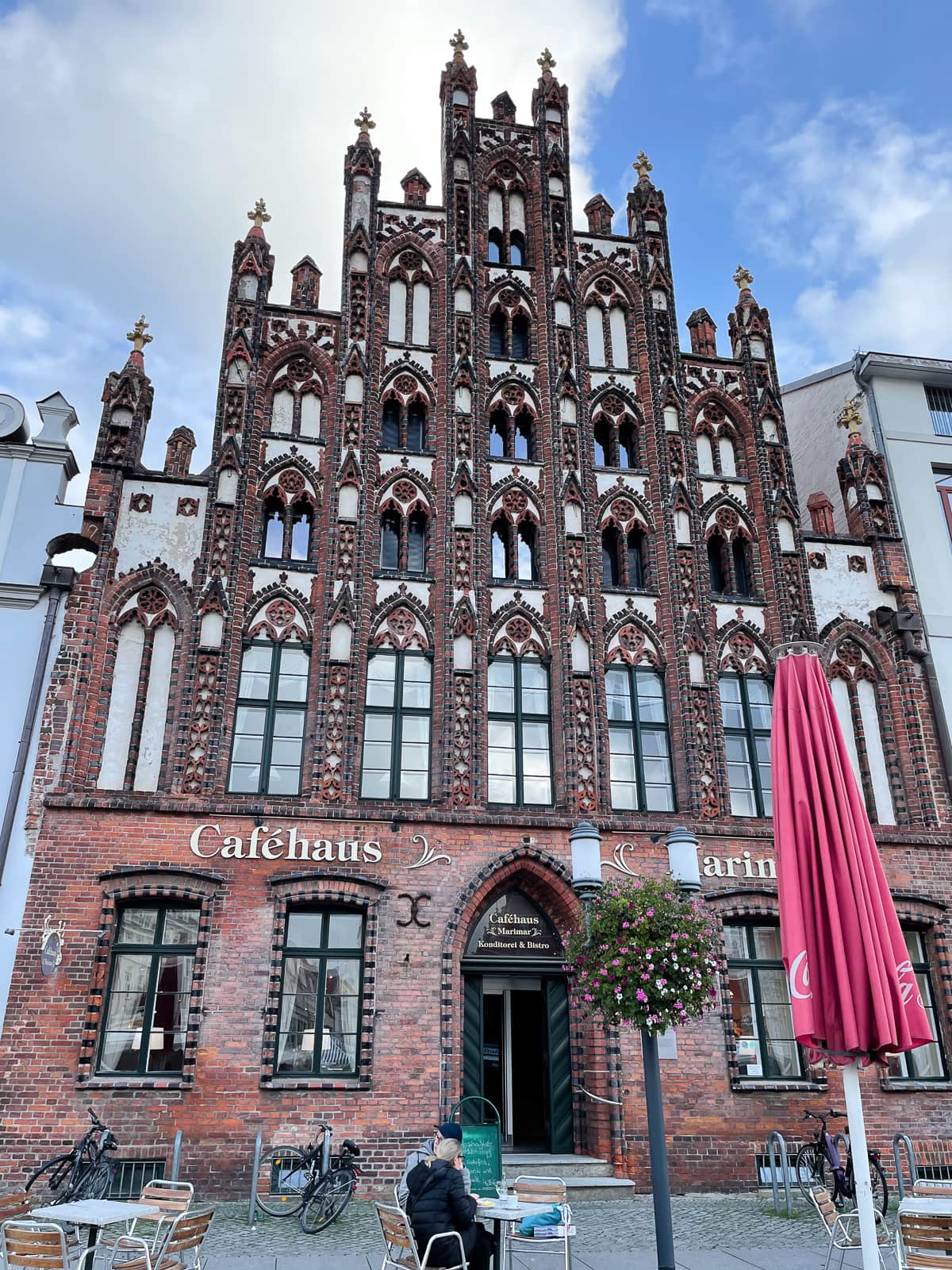 15. Greifswald & Stralsund
Greifswald and Stralsund are two cities 2-3 hours north of Berlin that are also part of the German state of Mecklenburg-Western Pomerania. Greifswald has a good variety of museums and medieval churches such as the Pomeranian State Museum, Museumshafen, Dom St. Nikolai, St.-Marien-Kirche, and St.-Jacobi-Kirche.
Stralsund is the oldest city in Pomerania and its old town was declared a UNESCO World Heritage Site in 2002 because of the important Brick Gothic architecture that was significant during the Hanseatic League. Spend a day walking through the old town to admire the many different churches, buildings, and monuments that will take you back to medieval times.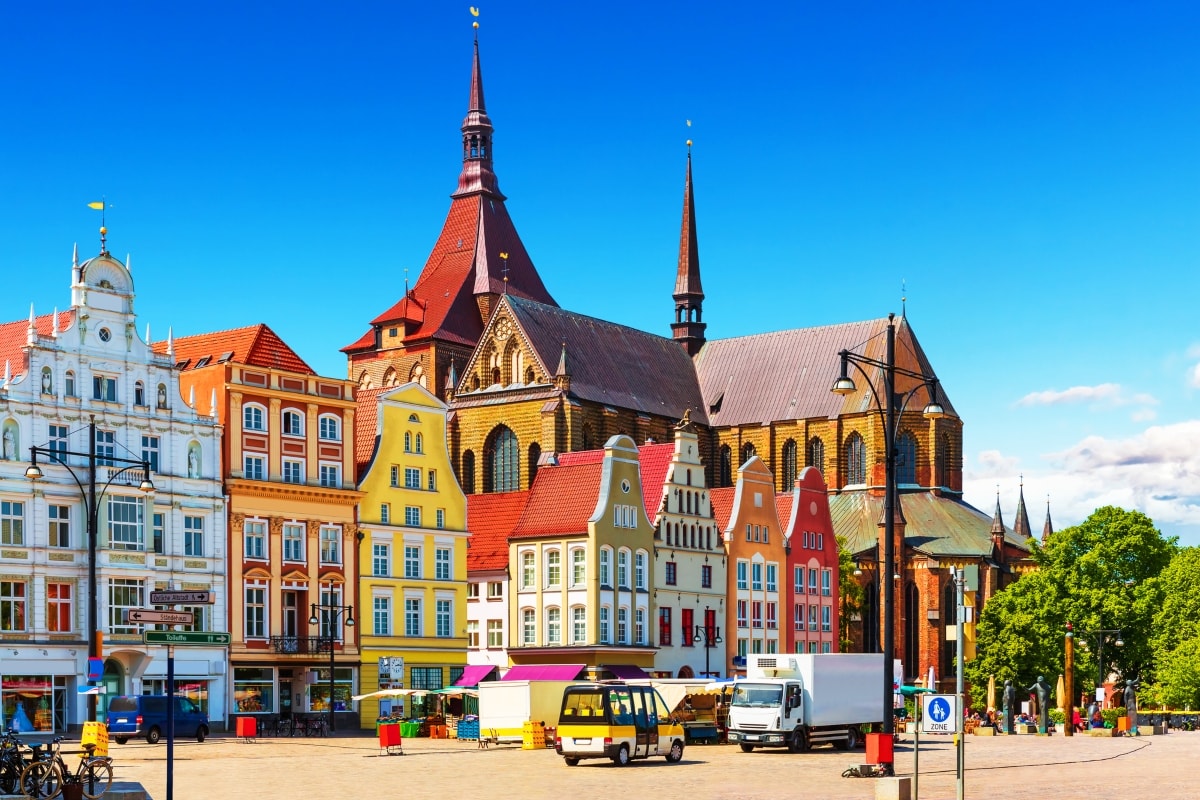 16. Rostock
Rostock is the largest city in the German state of Mecklenburg-Western Pomerania (about 1 hour 45 minutes from Berlin). Much like its neighboring cities, Rostock is filled with beautiful architecture showcasing Brick Gothic and Baroque style churches like Petrikirche and Marienkirche. A major attraction of the city is Warnemünde Beach, where both locals and tourists can swim, enjoy campfires or barbecues in the summer, and climb up the lighthouse. You can reach Rostock by train from Berlin.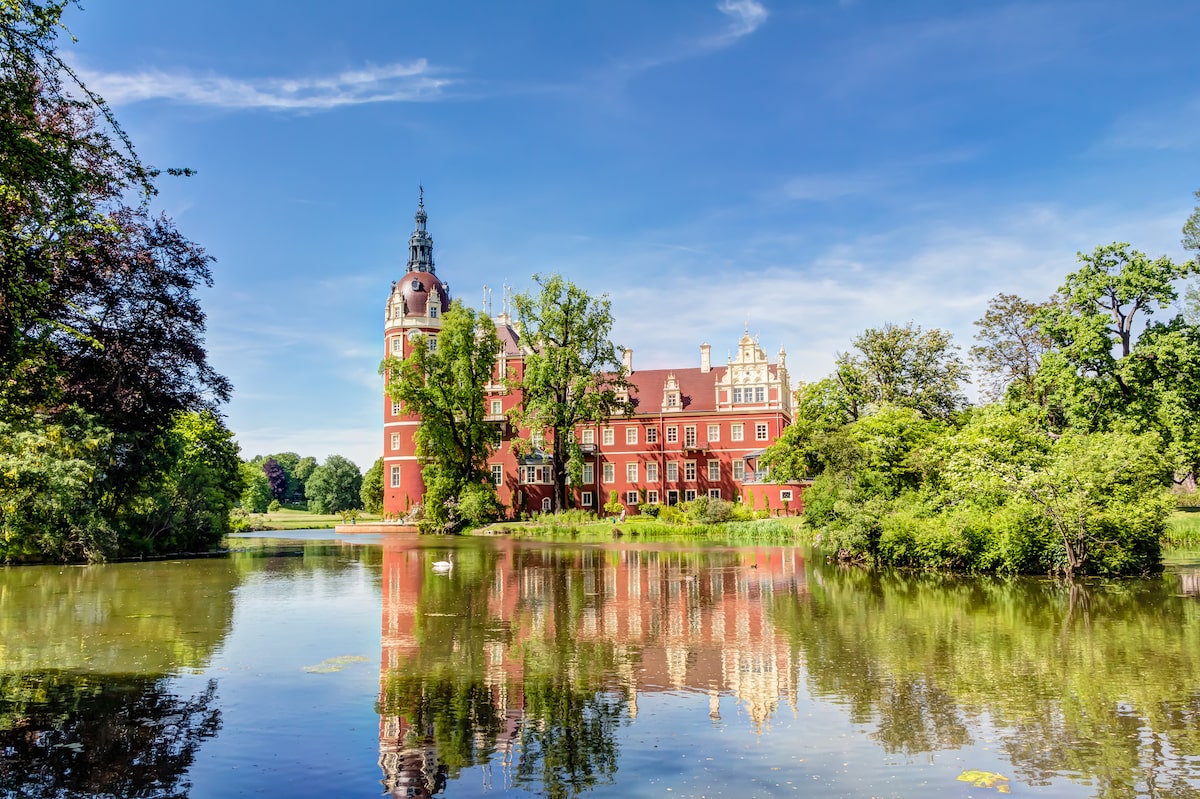 17. Bad Muskau
Bad Muskau is a small town near the Polish border about 2 hours away from Berlin. Its most famous landmark is the Muskauer Park, a UNESCO World Heritage Site and the largest and one of the most famous English gardens in Central Europe. Sitting in the vast gardens is the Muskau Castle which adds to the fairytale feel of the landscape. You can reach Bad Muskau by train from Berlin.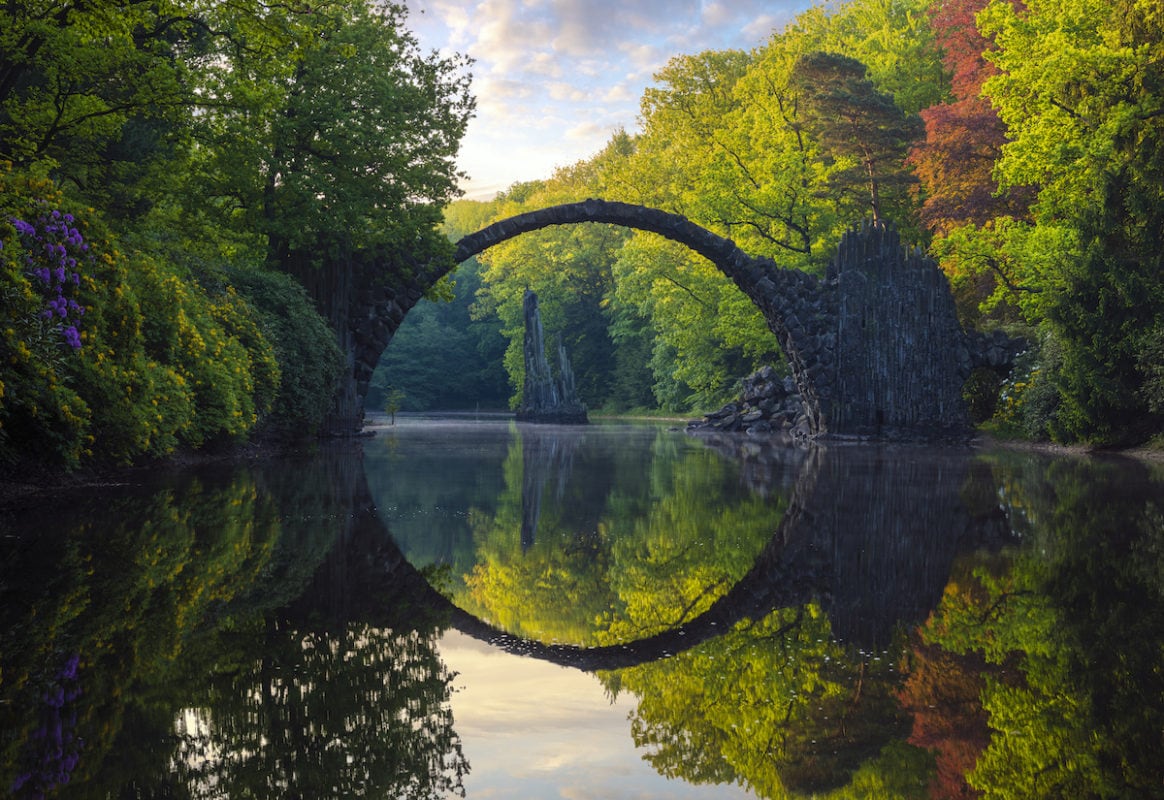 18. Rakotzbrücke (The Devil's Bridge)
After exploring Bad Muskau, head on to the famous Devil's Bridge located nearby in Kromlau. The bridge is an amazing architectural feat and is definitely one of the most picture-worthy sights in eastern Germany. The arch of the bridge is a semi-circle so when you look at the reflection in the water, it forms a perfect sphere. The backdrop itself is amazing. The best time to visit is in springtime when the flowers are in full bloom or during autumn with the vibrant red leaves of the surrounding trees. This day trip is easiest by car.
Day Trips That Are Best as Weekend Trips
This last set of day trips are the furthest from Berlin and can be done as day trips with some very good planning, a car, and an early start. These types of day trips aren't for everyone! If you're ok getting just a taste of an area, check out these ideas. Better yet, turn your day trip into a weekend trip and plan to stay for a couple days!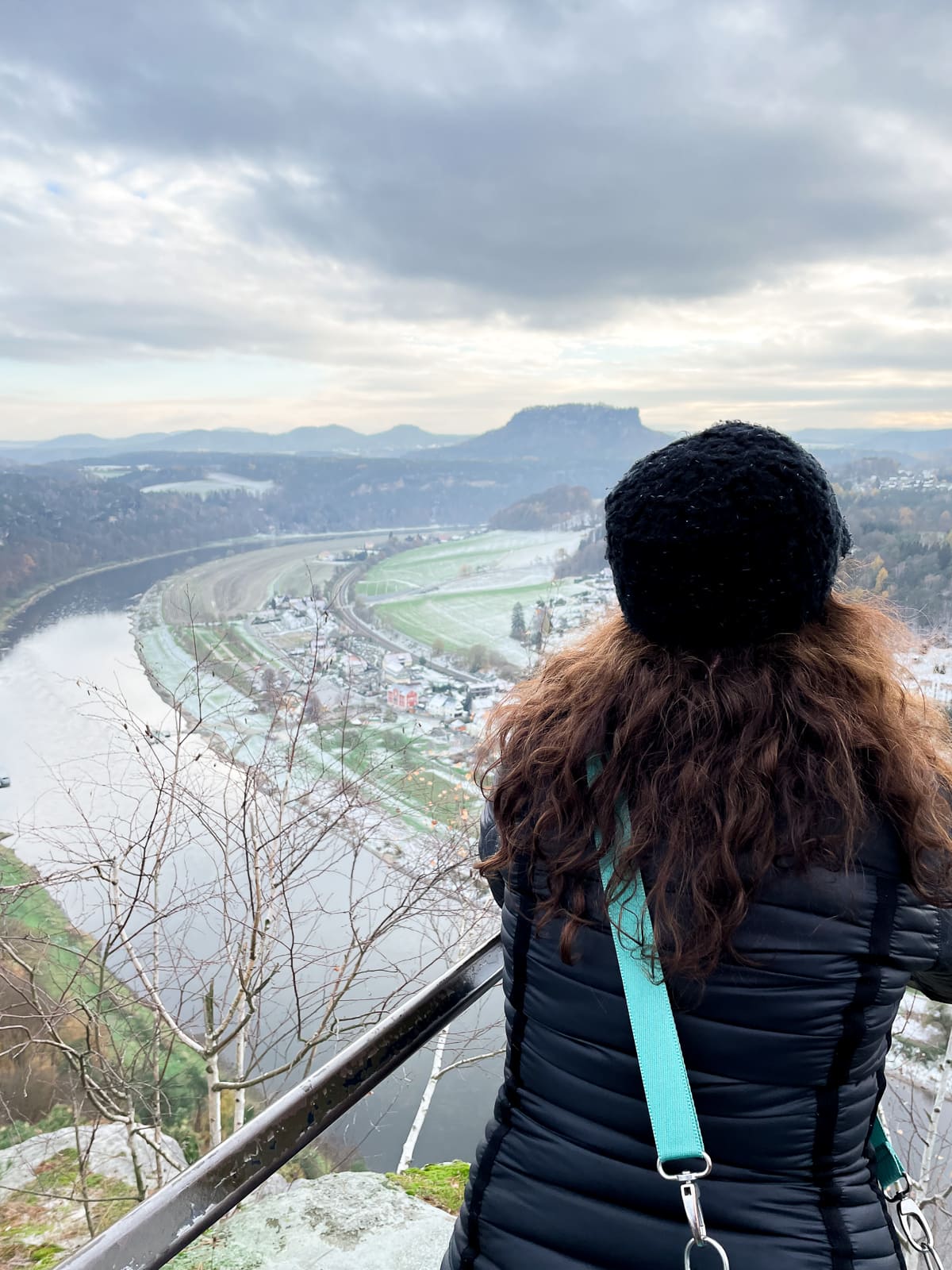 19. Saxon Switzerland National Park
It's a stretch to visit this area on a day trip but it can be done if you have access to a car and plan ahead. Because Saxon Switzerland National Park is spread out along the river Elbe, the easiest way to get here if you don't have a car is to take a train from Berlin and transfer in Dresden. We suggest booking a half-day guided tour from Dresden so you don't have to worry about the transportation and focus on enjoying the natural beauty of the park.
If you have access to a car you can drive right to Bastei Bridge rock formation and then explore the area – there are outdoor activities like hiking, rock climbing, and cycling, and you can also visit the Königstein Fortress.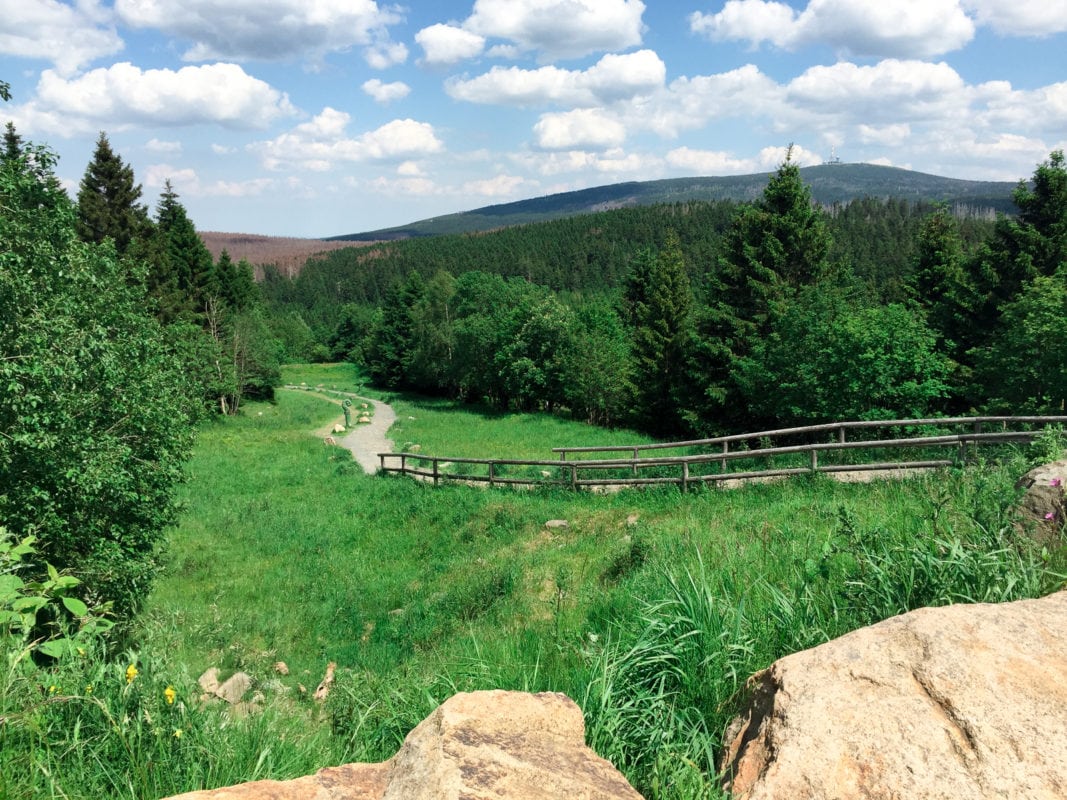 20. Harz Mountains
In the Harz Mountains you'll find many beautiful towns but it's also one of the best places to visit for nature lovers. The Harz mountains are best reached from Berlin by car (regional trains can take several hours to reach this area). The area is big and there's lots to do! One of the most popular outdoor destinations is the Bode Valley, a valley with green forests and rivers that's perfect for a relaxed hike. There are also waterfalls like the Ilsenburg Lower Falls, Lonauer Waterfall, Radau Waterfall, and more.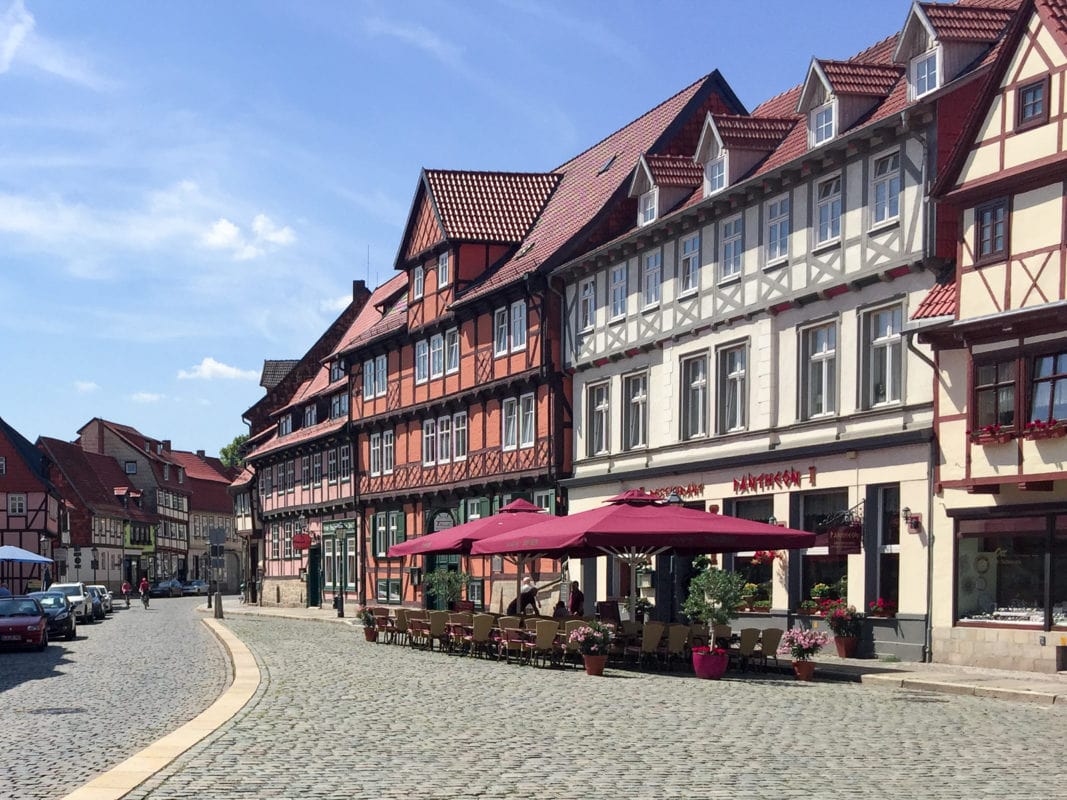 21. Quedlinburg
Quedlinburg is a medieval gem of a city is located near the Harz mountains. The city is known for its cobblestone streets and half-timbered houses. It's one of the best preserved medieval and Renaissance towns in Europe, since it managed to avoid significant damages during WWII.
You'll also find the famous Quedlinburg Castle-Hill here, home to the Collegiate Church of St. Servatius and burial site of the first German King. While you can reach Quedlinburg by train, it takes over 3 hours from Berlin, so the best way to do this day trip is by car.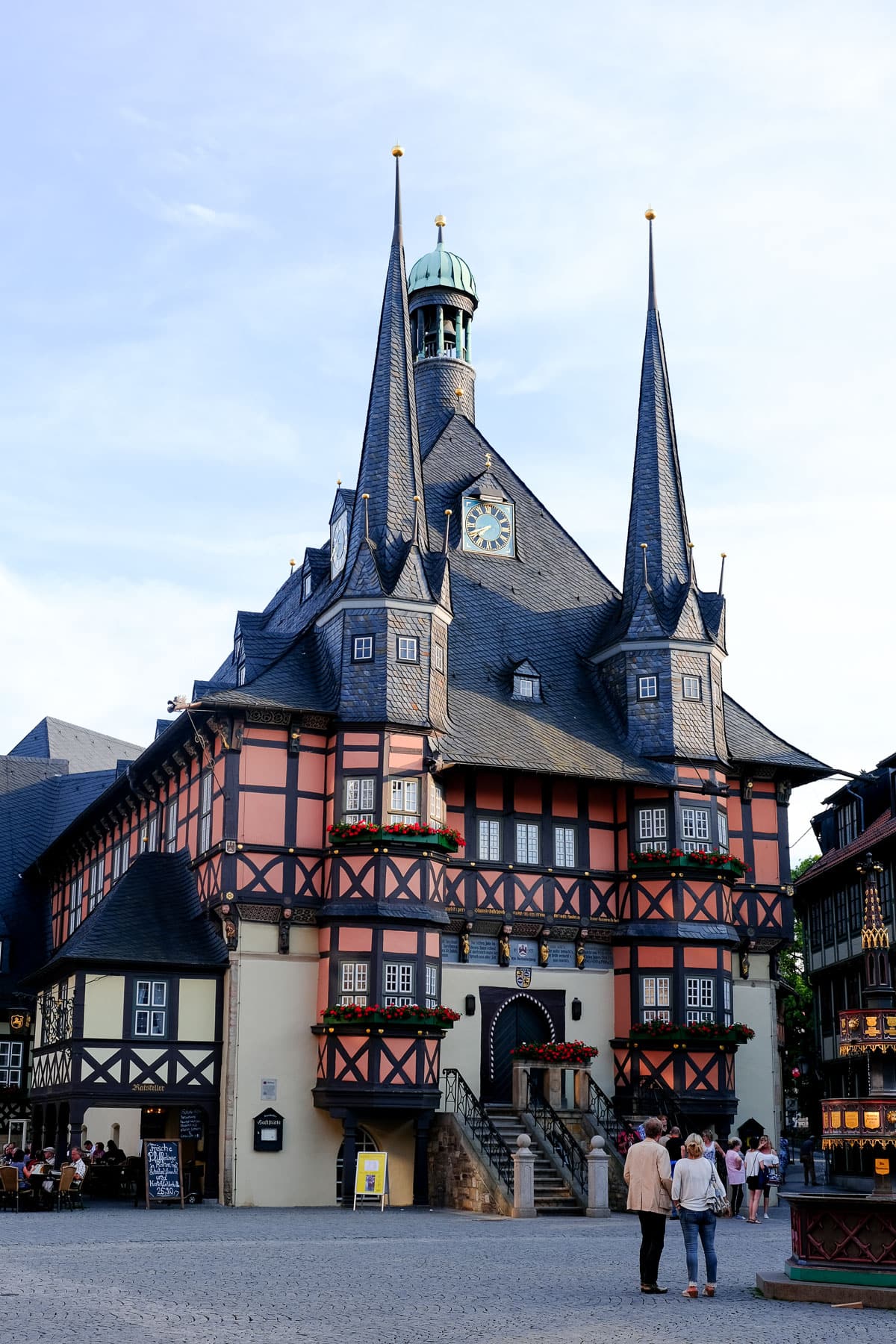 22. Wernigerode
Wernigerode is another fairytale small town in the Harz district on the northern slopes of the Harz Mountains. It has everything from half-timbered houses, a castle, an intriguing town hall, and steam trains traversing through the mountains.
The Wernigerode Castle is a hilltop castle originally built as a fortress but then rebuilt to a similar style to Neuschwanstein. It can be reached by a specialized motor train. Once at the top, you'll get to explore the grand interiors and also enjoy great views overlooking the town.
Close to Quedlinburg, Wernigerode is best reached by car if visiting on a day trip (it's about 4 hours away from Berlin by regional train).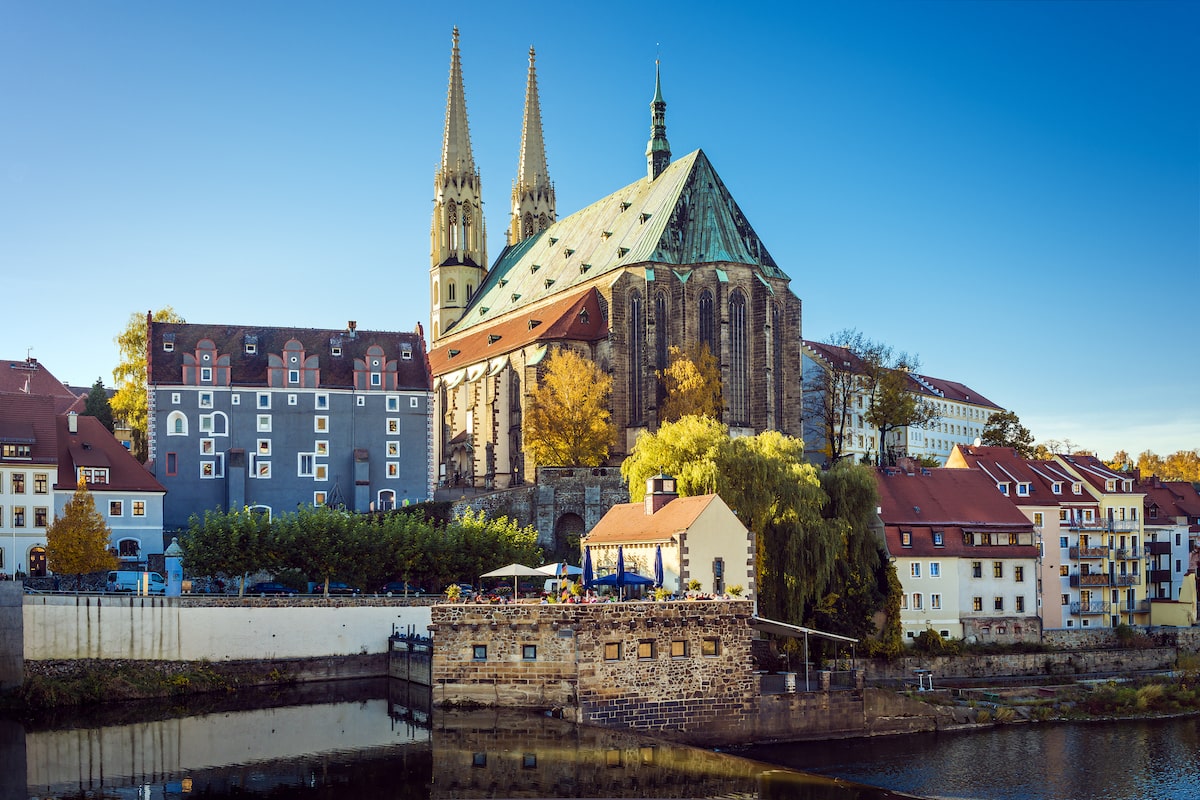 23. Görlitz
Görlitz is a well-preserved picturesque town located near the Polish-German border in the state of Saxony. The most famous landmark of the town is the Parish Church of St. Peter and Paul, an impressive church with soaring towers and the Sun Organ. The Church is just one of the many styles of architecture you'll see in Görlitz – everything from Gothic, Renaissance, Baroque, to Art Nouveau.
To visit Görlitz you can take the train from Berlin (about 2 hours 40 minutes each way) or drive (3 hours each way). If you drive, you can combine this day trip with a stop at the Rakotzbrücke or even the Bastai Bridge.
This day trip is best done in the summer when you have lots of day light. If you want to visit Görtliz in the winter, get an early start so you arrive when the sun is rising and take then hop on the train as the sun is setting.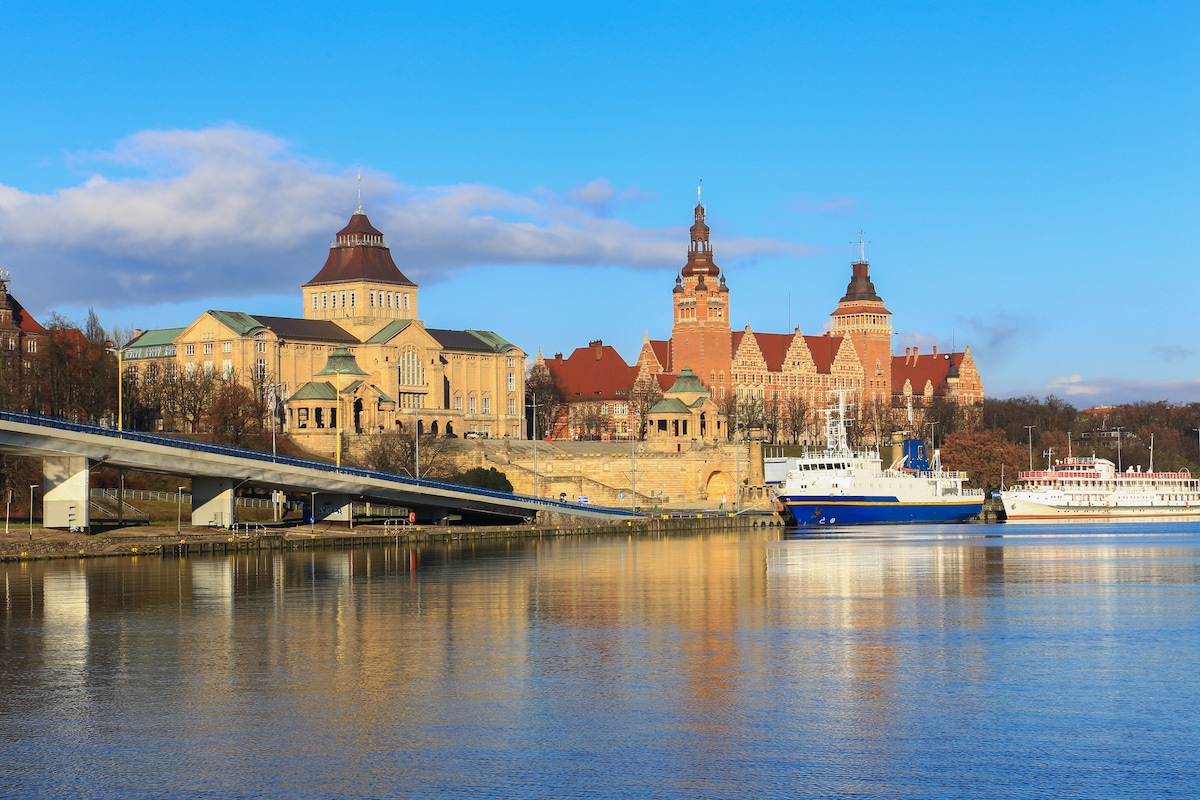 24. Szczecin, Poland
Located near the Baltic Sea, Szczecin is a city in Poland that's right by the German border. It's a great day trip for those looking for a change of scenery and want to venture out of Germany. The heart of Szczecin, Stare Miasto (Old Town), is lined with pastel-colored historic architecture. Some main landmarks worth visiting include the Gothic Pomeranian Dukes' Castle, Solidarity Square, and the Chrobry Embankment. Don't forget to get some delicious pierogies and Polish beer in between sightseeing! You can reach Szczecin by train or bus.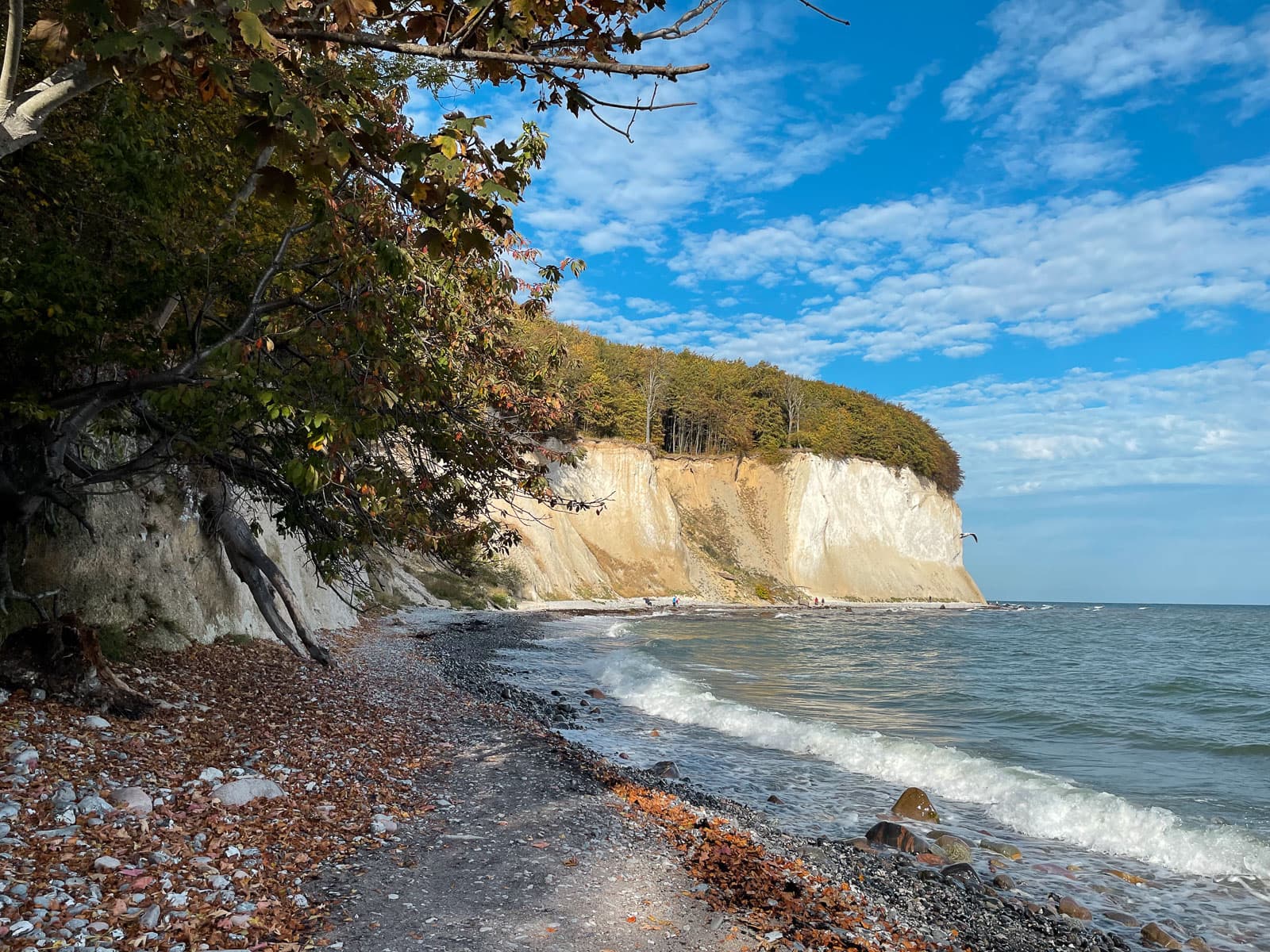 25. Rügen Island
Rügen is Germany's largest island, located off the Pomeranian Coast in the Baltic Sea. It is linked to Stralsund via the Rügen Bridge and the Rugia Causeway. It's a bit farther from Berlin and takes 3-4 hours travel time by car or train, but it's one of the most beautiful places to visit, especially for those who love the beach and coastal towns. The island is known for its sandy beaches stretching over 40 miles, white chalk cliffs with amazing panoramic views, and the Jasmund National Park for its hiking and walking trails and rare species of plants and birds.