How to Visit Neuschwanstein Castle in Winter in 2023
This post may contain affiliate links. Read my disclaimer policy.
Can you visit Bavaria's Neuschwanstein Castle in the winter? Yes! Winter is when I visited the castle and it was beautiful. Here's everything you need to know to plan your own winter castle visit!
Introduction
When people think of visiting Germany, many can't help but picture famous German castles with picturesque landscapes. And what's one of the most famous castles? Well, it's none other than Neuschwanstein Castle.
Nestled between the Bavarian Alps, Neuschwanstein Castle is one of Germany's most popular destinations. This makes it a very touristy spot, but that shouldn't stop you seeing from seeing the so-called German Disney Castle in person, especially if it's your first time visiting the country.
It draws people from all over the world, at all times of the year. Summer is the most popular time, so this might be your preferred choice. But it is just as beautiful the rest of the year. Visiting during the winter months can even have its own advantages.
When I visited Neuschwanstein it was late winter. My friend and I took the train, stayed two nights in Füssen, and loved every minute! It was cold and it snowed but the castle is gorgeous even in the winter.
It's all about being prepared! So whether you're taking a day trip here from Munich or staying over for a few days, it's important to know what to expect in the winter.
This complete guide will show you everything you need to know when visiting Neuschwanstein Castle in the winter!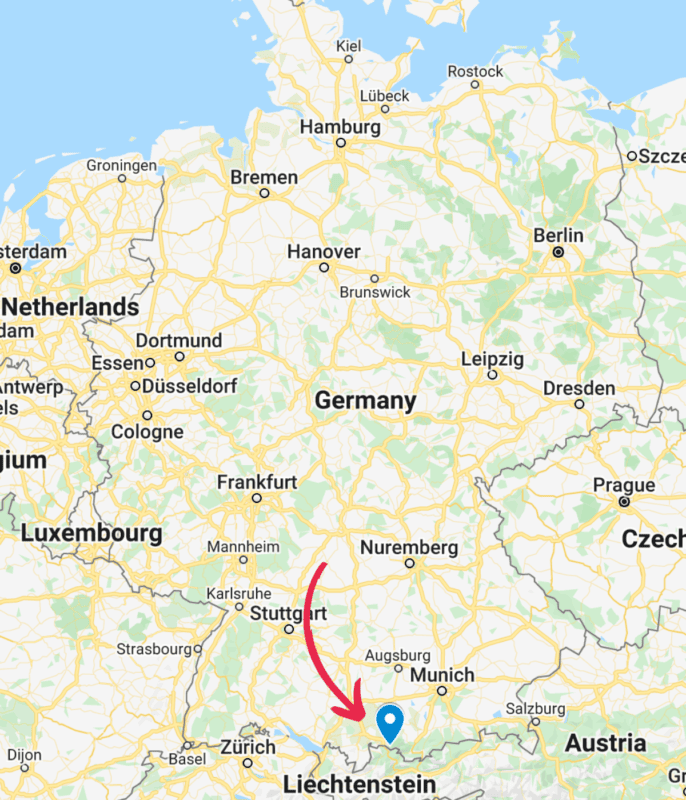 About Schloss Neuschwanstein
Neuschwanstein Castle is one of Europe's top tourist attractions. But being one of the world's most beautiful castles, it also has great cultural and architectural significance.
The Bavarian castle has not only left millions of visitors in awe but it has also left a legacy in popular culture by inspiring artists like Walt Disney. After all, it's hard to avoid comparison to the iconic Disney Cinderella castle and the logo of Disney films we all know and love.
The castle was first commissioned to be built by King Ludwig II in 1868, but to this day it remains unfinished. His vision began as a dedication to Richard Wagner, a famous German opera composer whom the King was fond of.
He chose a location straight out of a storybook nearby his childhood home Hohenschwangau Castle. It served as a major source of inspiration as seen in the interiors. Many rooms are painted with scenes from German myths and legends from the Middle Ages much like in Hohenschwangau Castle.
The castle was originally supposed to have 200 rooms but only 14 were completed. Some highlights the hall of singers filled with chandeliers or King Ludwig's bedroom featuring an intricate Gothic-style bed. The Throne Room is one of the most luxurious rooms, with elaborate mosaic floors and chandelier resembling a crown. But interesting fact: there's no throne!
While the inside of the castle is impressive, it's really the exterior that bring tourists from all over the world to southern Germany. Perched high up on a mountainous hill overlooking the Alpine lakes, Neuschwanstein Castle looks like it's out of a Disney movie.
Who was King Ludwig II?
King Ludwig ruled over Bavaria from 1864 to 1886. Just by his nicknames of "Fairytale King" or "Mad King", you can certainly tell he was a fascinating and enigmatic character in history.
His reign began in 1864, shortly after Ludwig's father, King Maximillian II, died on 1866. Two years after, Bavaria and Austria suffered a loss in the Austro-Prussian War and Ludwig was stripped of his power as a sovereign ruler.
Historians believed that caused him to retreat into his own fantasy magic kingdom in the Alps. In here, he could play out his royal dreams in the magnificent castles he ordered to build like Neuschwanstein.
The construction of the castle took longer and cost much more than he expected. Officials took issue with his extravagant spending. They eventually declared him insane and forced him to resign. Not long after, he was found dead in strange circumstances.
The cause behind his mysterious death remain unknown. Some say it was murder, others say it was suicide. But one thing is certain, King Ludwig's public life definitely adds to the intrigue and interest of Neuschwanstein Castle.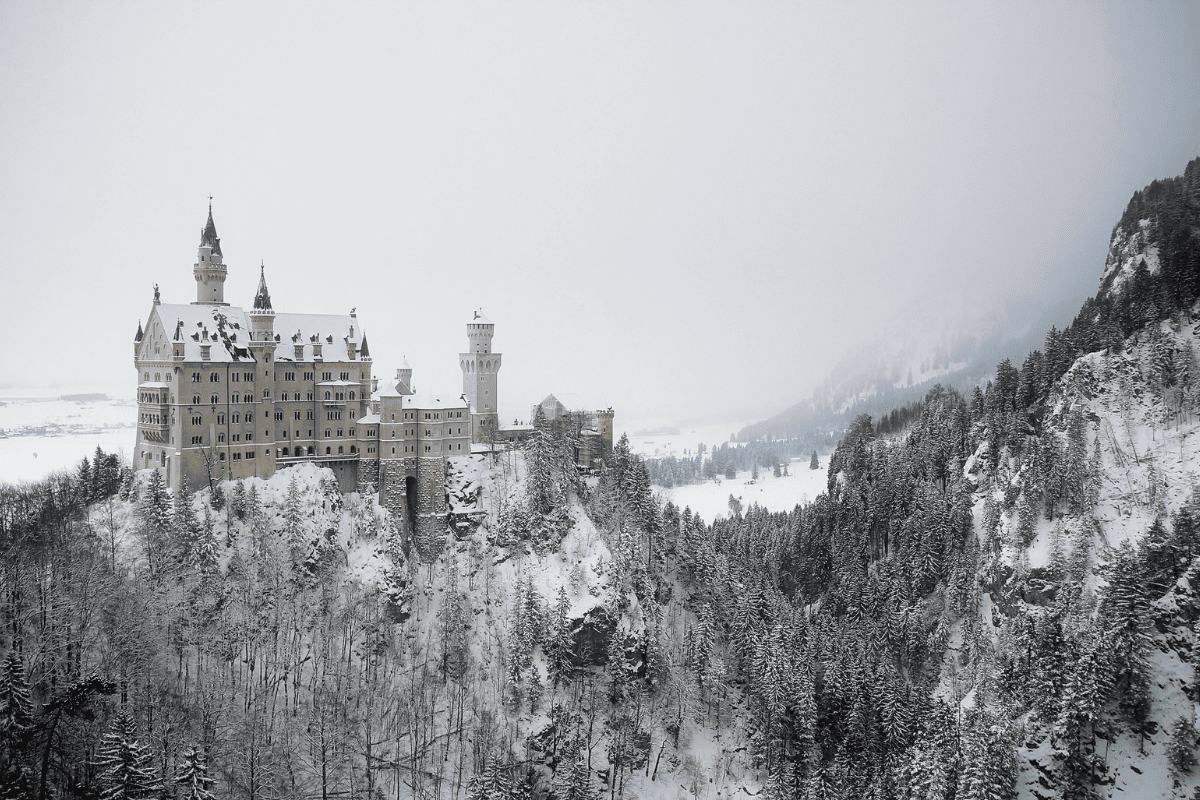 Is it Worth Visiting in the Winter?
Visiting Neuschwanstein in the winter is worth it as long as you know what to expect and prepare accordingly!
Seeing the castle glistening amidst snowcapped mountains and trees is a once in a lifetime view. Add in off season prices and smaller crowds, and it sounds like the best time of year to visit. But you have to take into account a lot of different factors, starting with the weather.
Yes, the snow can make for beautiful landscapes and magical pictures like the ones you see all over Instagram. But you're not guaranteed this every day of winter! Some days are downright dreary and gloomy. There are days when rain or fog obscures the castle, which can add a mystical feel but also make everything look dark and dull.
Severe weather like snowstorms and heavy rain can be unpredictable so luck plays into it as well. During these times, most of the hiking trails are also closed due to the ice and snow.
Additionally, keep in mind that if you were planning to spend the holidays visiting Neuschwanstein, then that's not possible since they're closed on Christmas Eve, Christmas day, New Year's Eve, and New Year. Winter hours are also shorter. From mid-October to the end of March, guided tours start daily at 10:00 AM to 4:00 PM.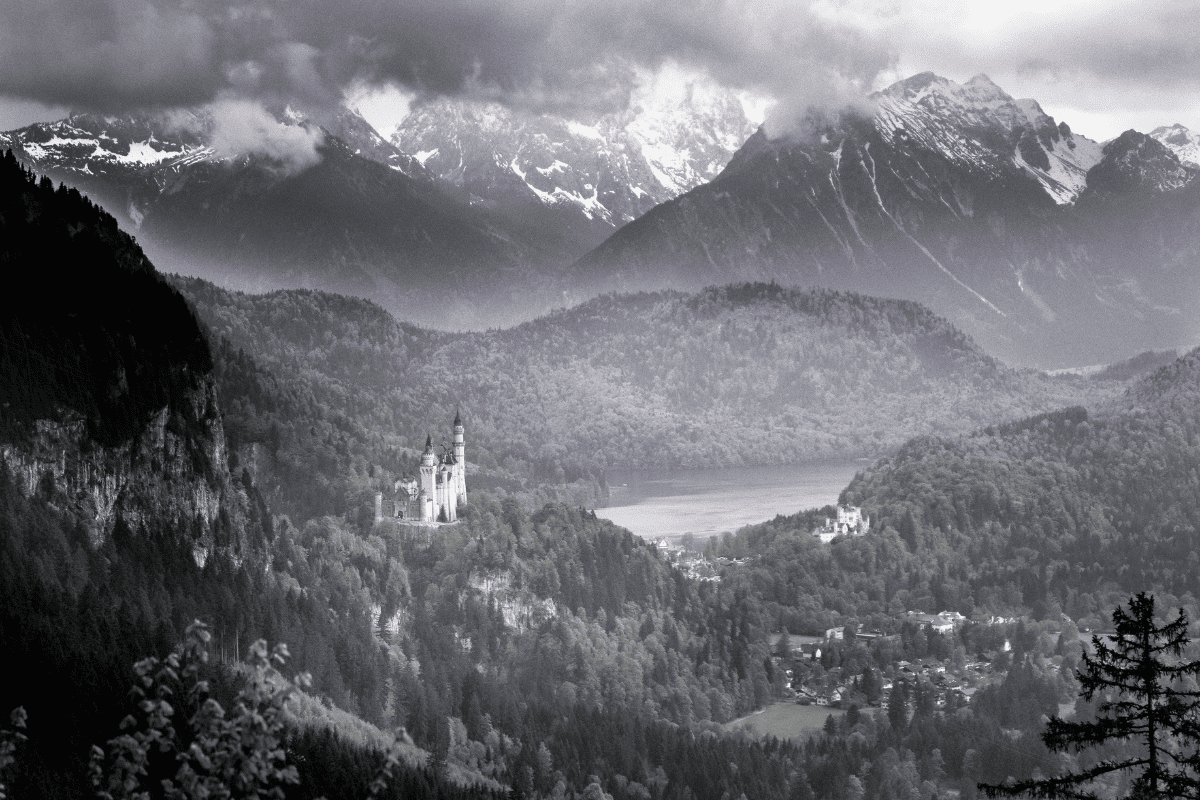 All that said, getting to Neuschwanstein is really no different from any other season. You can get there by car or take the regional trains and buses, which run in all kinds of weather.
The roads are well-maintained so you shouldn't have any problem driving, unless there's a big snow storm (on a visit to Munich once we decided against visiting Neuschwanstein by car because it had recently snowed quite a bit and the person driving the car just didn't want to chance it).
If you're comfortable driving in snowy mountains, you should be fine. You could also drive to a nearby town (like Füssen) and spend a couple nights there so you can monitor the weather forecast from not too far away.
Another great option is to book this day trip from Munich by van or this guided tour by bus. Both take care of transportation! So all you have to do is show up and enjoy the castle. I've booked several day trips like this and it's SO nice to not stress about missing trains and finding my way around!
With that out of the way, let's talk about some advantages of visiting in the winter!
Germany during the winter months, especially January and February, is considered off season. That means travel costs and accommodation are generally more affordable. And it means fewer people are traveling.
You also won't have much problem getting tickets because they don't sell out as quickly as they do in the summer. This means shorter lines and way fewer crowds. There'll still likely be a lot of tourists, since it's such a famous attraction, but you'll have more space to explore and take pictures.
Of course, the greatest advantage is the chance of seeing Neuschwanstein covered in bright white snow and in a winter wonderland setting. If you prepare well then that alone will make the visit worth it!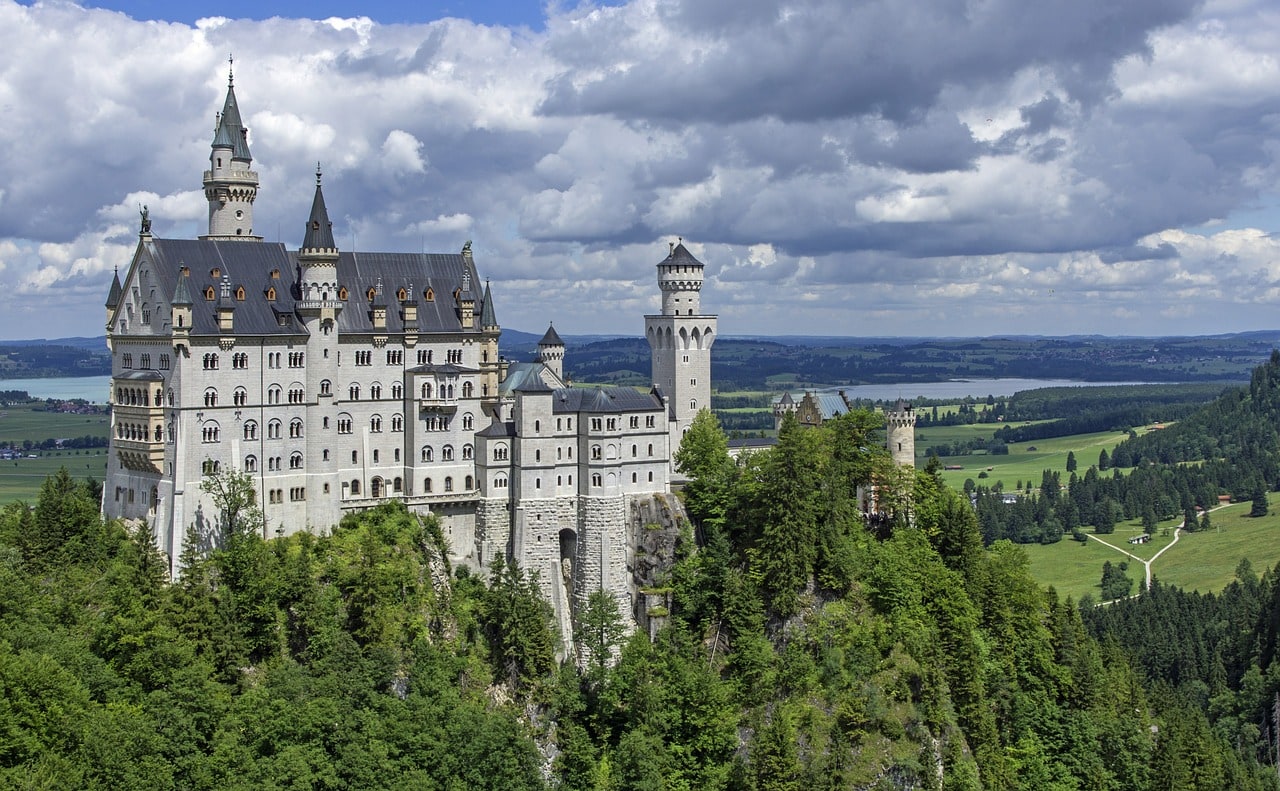 Visiting in Other Seasons
Neuschwanstein Castle is beautiful all year round. The summer months is definitely peak season, with as many as over 6,000 tourists visiting per day. Expect long lines and packed crowds under the summer heat.
Fall is a great time of the year to visit. The temperature in September and October is mild and crowds are slowly decreasing. Plus, the foliage looks breathtaking in autumn colors! Spring is also a good option since everything is lush and blooming with life. But be prepared for gloomy and rainy days.
Hours during other seasons are also longer. From April to mid-October, guided tours begin daily at 9:00 AM and end at 6:00 PM.
For more information, you can check out this detailed guide for visiting Neuschwanstein in other seasons.
How to Get There
Neuschwanstein is located near the village of Hohenschwangau and the small town of Füssen. These two towns can serve as your landmarks in getting to Neuschwanstein. You can get to these towns easily by car or public transport and it's pretty much the same any time of the year.
If you're driving you get on the A7 motorway towards the direction Ulm-Kempten-Füssen. Once you get to Füssen, follow the B17 road to Schwangau where you'll see the signs pointing to Hohenschwangau.
For public transportation, you'll need to buy train tickets to Füssen. Once you arrive, you'll be a short bus ride away from Hohenschwangau.
With either options, you'll notice that there is no direct way to get to Neuschwanstein. The path to the castle starts in the little village of Hohenschwangau. A little further down you'll find the parking lot and theticket center. From here, you begin making your way up to the castle.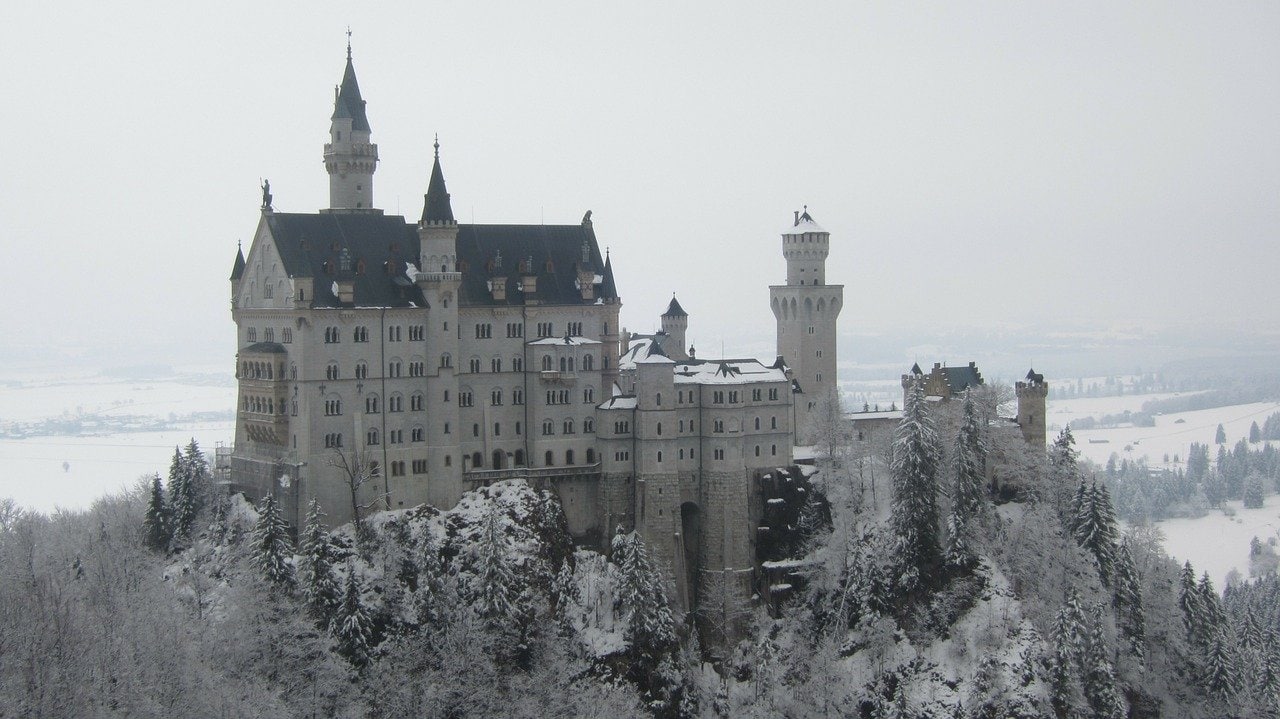 Guided Day Trip from Munich
Traveling from Munich to Neuschwanstein is one of the most popular day trip options. It's the nearest major city which makes it convenient as a base for getting to the castle and even exploring more of Bavaria.
Guided tours are a lifesaver if you don't want to worry about arranging transportation, driving in the winter or standing around on a cold train platform.
Take the stress out planning and book this full day trip that takes you directly from Munich to Neuschwanstein by van. On the return, you'll even get a chance to visit the Church of Wieskirch and a Bavarian farm for a cheese tasting session.
If you want to make the most out of your day trip, check out this day trip that also takes you to Linderhof Castle. In this tour by bus, you'll get to see another one of Ludwig's royal palaces before making your way to Neuschwanstein.
You can also get here easily by public transportation. If you're doing this, we highly suggest purchasing the Bayern Ticket. It gives you unlimited rides in one day within Bavaria, which will save you money for the train and bus rides you need to take to Neuschwanstein.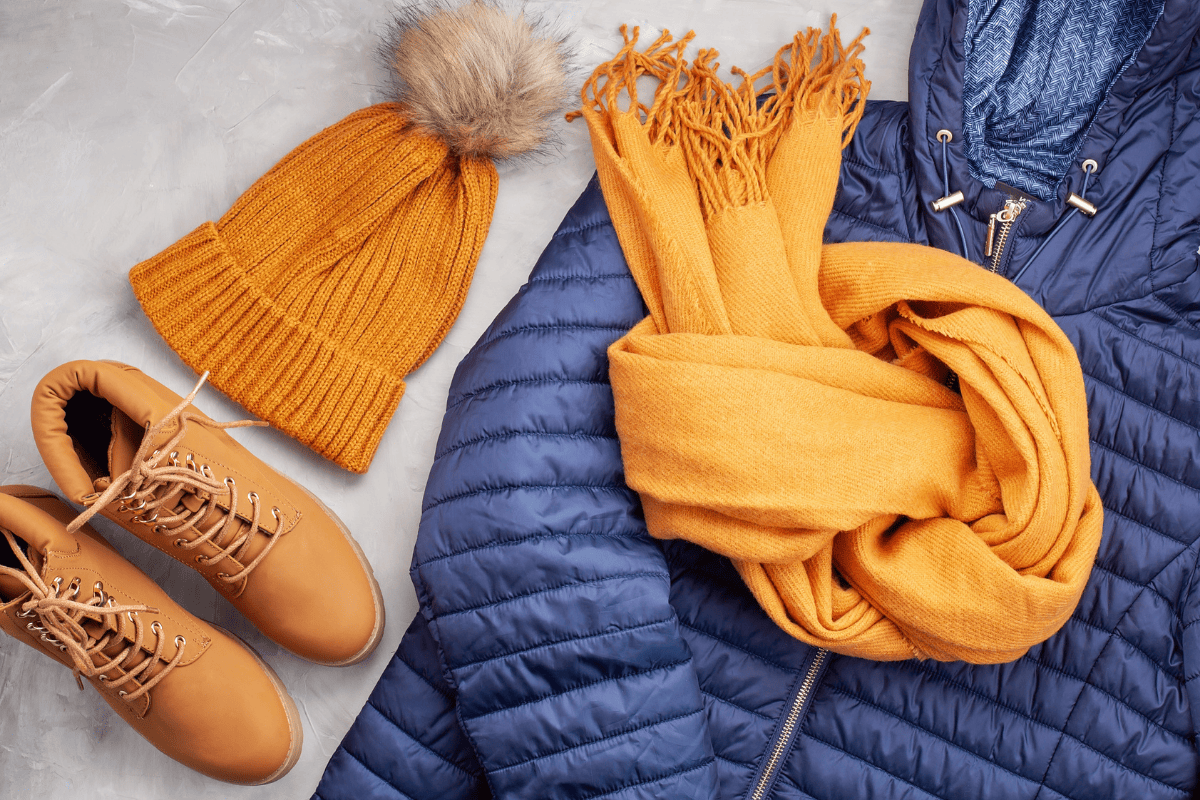 What to Wear & Bring With You
Wear layers, dress warmly, and wear warm shoes! Here are a couple specific recommendations:
Merino wool. I highly recommend merino wool, whether as an under layer (tank top, t-shirt or long-sleeved shirt), outer layer (sweater), leggings or tights, and/or socks. Merino wool is awesome because it's lightweight, not scratchy, will keep you warm in the winter and cool in the summer, and it doesn't retain bad odors. So you can wear it over and over without worry while you're traveling.
Boots or warm, sturdy shoes. It will be cold, possibly rainy or snowy, and you'll be walking on cobblestones and up/down hills. Wear shoes or boots that will keep your feet warm and dry and aren't prone to slipping. Water-proof shoes or boots are nice to have!
Hat, scarf & gloves. You'll stay toasty and comfortable if you have all three with you.
Bring a small day pack or bag. Don't bring one that's big or bulky but do bring something that will fit the items you'll need for the day (phone, camera, wallet, snacks, an extra pair of socks, etc).
Sunglasses. If it's a sunny day, especially if there's snow on the ground, you'll be happy you did.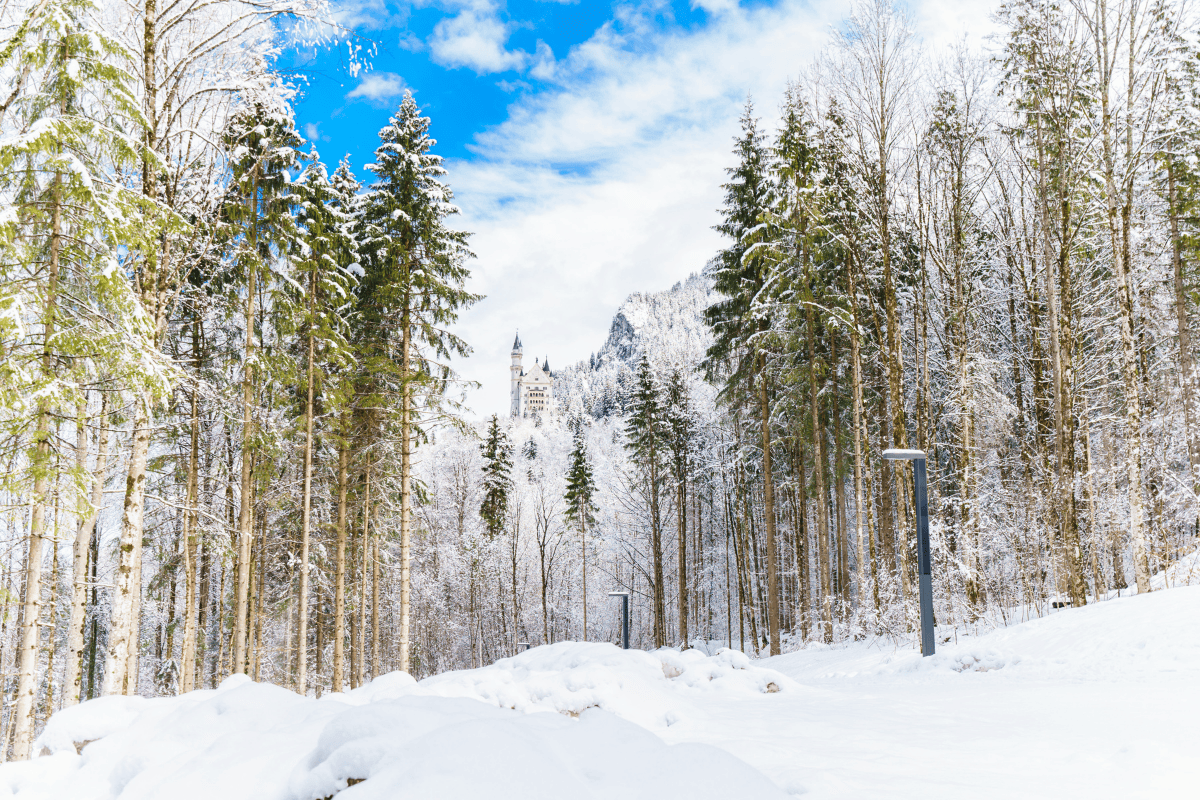 What to Know For Your Visit
Here are some important things to know for your visit:
You can only see the inside of the castle by going on the official guided tours. You can buy your Neuschwanstein Castle tickets from the ticket office on site.
These usually sell out early morning during high season in the summer, but in the winter you won't face this problem! You can also skip the line and just buy them online .
When you get your ticket, you'll get a time slot for your guided tour. Plan for any delays that can be caused by the weather during winter to make sure you arrive on time.
Once you arrive be prepared to do a lot of walking. As mentioned, you can't drive directly to the castle entrance since the roads are closed to all vehicles. You have several options. You can make the short hike on foot which takes around 30 to 40 minutes. Or you can take a shuttle bus that brings you 10 to 15 minutes away from the castle entrance.
Unfortunately, during the winter shuttle buses operation a limited service depending on the weather. They will only run under suitable weather conditions, meaning when there is no snow or no ice.
If walking will be a challenge, then the best way to get to the castle is by horse carriage (that's how my friend and I got up the hill when we visited on a snowy winter day). This operates all year round and run according to demand. The carriage ride per person uphill is €7,00 and €3,50 downhill. Keep in mind that it also drops you off 10 to 15 minutes away from the castle so you still have to walk a bit.
For the best view, the most popular spot is Marienbrücke (or Mary's Bridge). It's a famous viewpoint where everyone captures the perfect shot of the castle and its scenic surrounding areas. The downside? It's often closed during winter. The ice and snow buildup make it dangerous to walk on. But you can keep yourself updated on daily changes by checking the visitor's information in their official website.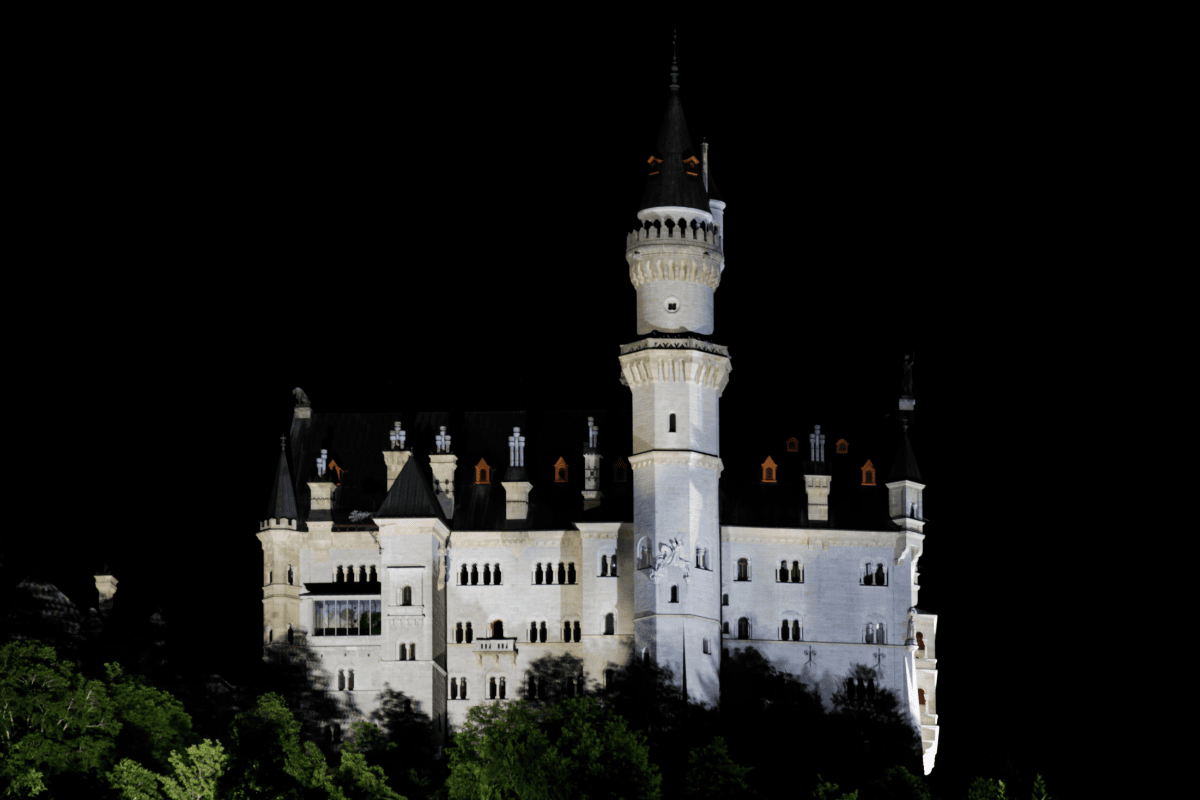 Where to Stay
Staying over for a couple of days is a great option if you're visiting during winter. You'll have more opportunities to time your visit just right since you're staying in the area for longer. It'll also be easier to reach the castle and not worry about a long day of traveling by car or bus during snowy days.
You can choose between Hohenschwangau or Füssen, both beautiful places with a range of hotels to choose from. Hohenschwangau is your best bet if you want to stay as close as possible to the castle but if you want a bigger town, then Füssen is better. I stayed in Füssen in a B 'n B and enjoyed exporing the cute town after visiting Neuschwanstein.
But if you don't have much time in your itinerary, then you can always take stay in Munich and take a guided full day tour to Neuschwanstein.