Best Things to Do in Freiburg im Breisgau, Germany
This post may contain affiliate links. Read my disclaimer policy.
Planning to explore the Black Forest region of Germany? Don't miss out on the beautiful city of Freiburg im Breisgau!
I lived in Freiburg for several months when I taught for a college study abroad program and absolutely love the area. We return to visit Freiburg and the Black Forest whenever we can.
Here are the top things to do and see in Freiburg, Germany.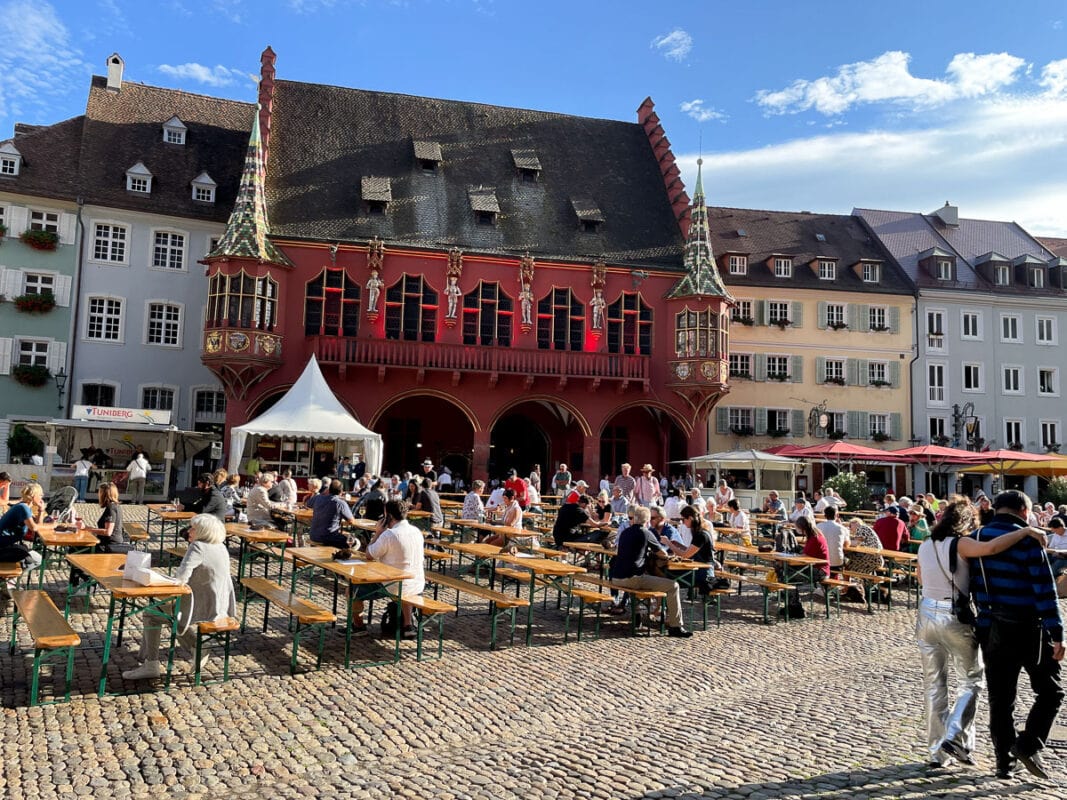 What To Do And See In Freiburg Im Breisgau
Freiburg is a lovely town to explore for a day or two. Even if you only visit Freiburg on a day trip, you can see quite a bit. Here are the best sights to add to your itinerary. We also share ideas for day trips at the end of this guide.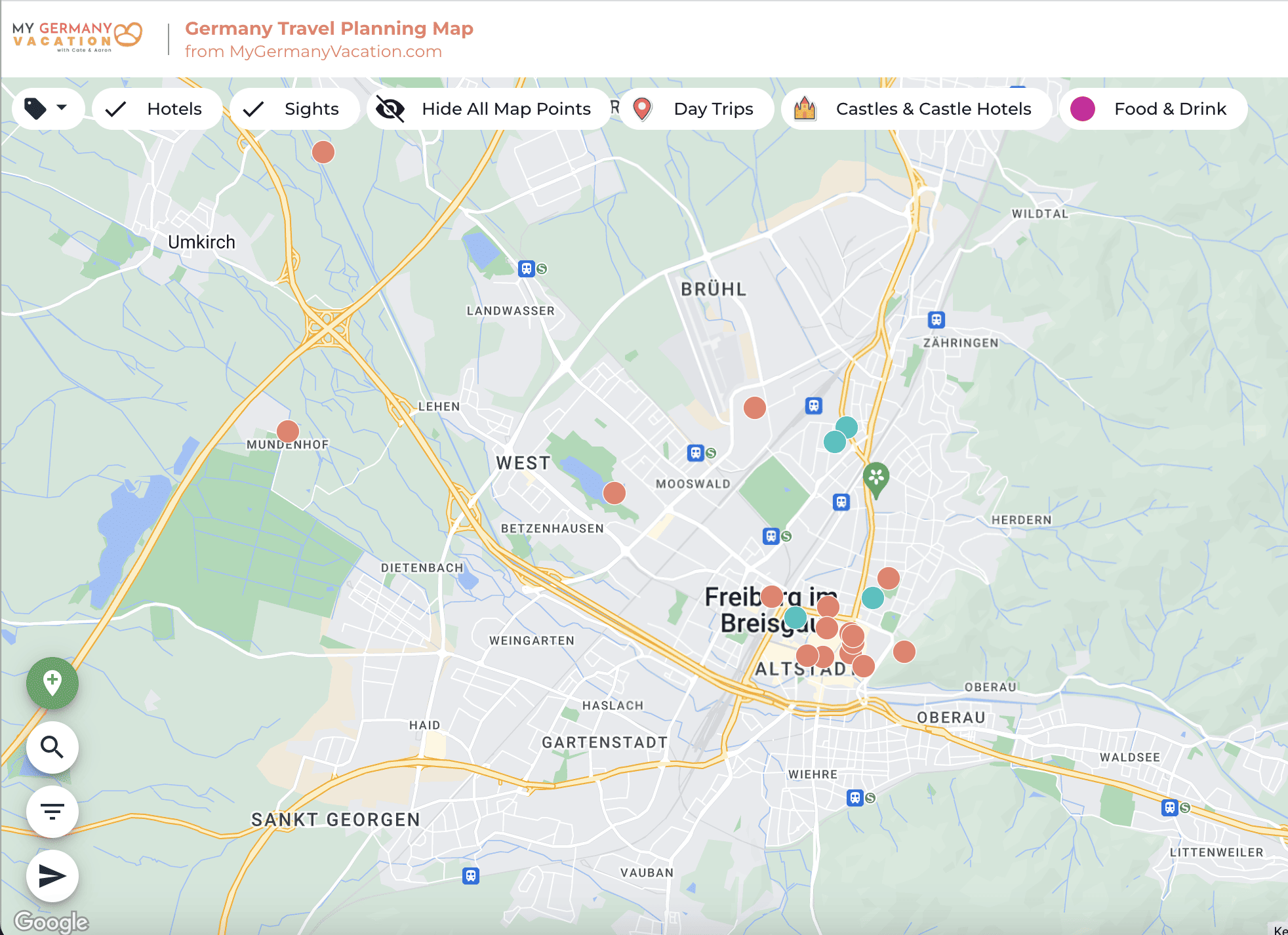 TIP: if you have our Germany Travel Planner/Bundle be sure to check out the interactive planning map so you can see where the best sights are located. Seeing where these sights are on the map, along with our up-to-date photos and tips, makes planning your trip SO much easier. If you don't yet have it, click here to get access.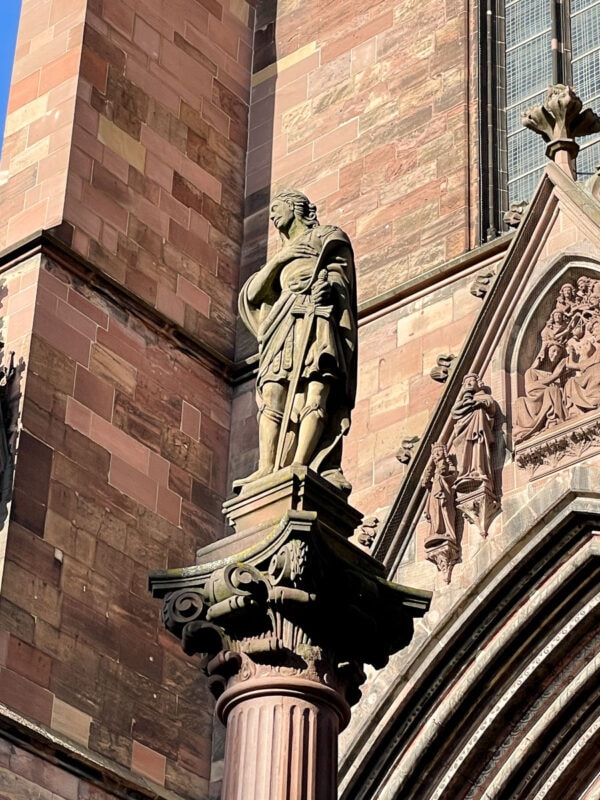 Freiburg Münster (Freiburg Cathedral)
The Freiburg Münster is the city's most popular landmark. This Romanesque church dates back to the 13th century and took 300 years to complete. The tower along with the exterior of the cathedral is incredibly ornate and artistic.
One of its most noteworthy architectural features is its 116-meter (360-feet) tower with 16 bells, famously described by Swiss historian Jacob Burckhardt as the most beautiful spire on earth. It is also the only church tower in Germany completed during the Middle Ages that has remained intact with no damages from the war.
The inside of the cathedral is equally captivating with its intricate stained glass windows, tall columns, and high altars. It is definitely worth visiting as it's a symbol of the city's rich history and cultural heritage. Right in the heart of Freiburg's Altstadt (Old Town), you can't miss it.
Münstermarkt (Freiburg Cathedral Market Square)
Münsterplatz, the area surrounding the Freiburg Münster, is a vibrant pedestrian square filled with historic buildings, bustling shops, and busy cafes. Every day of the week except Sundays, the Freiburg Cathedral Market (Münstermarkt) is open from 7:30 am until 1:30 pm.
The market features over 100 different stalls with farmers and artists selling everything from local produce, handmade crafts, and traditional regional food. It's a must-see when visiting Freiburg!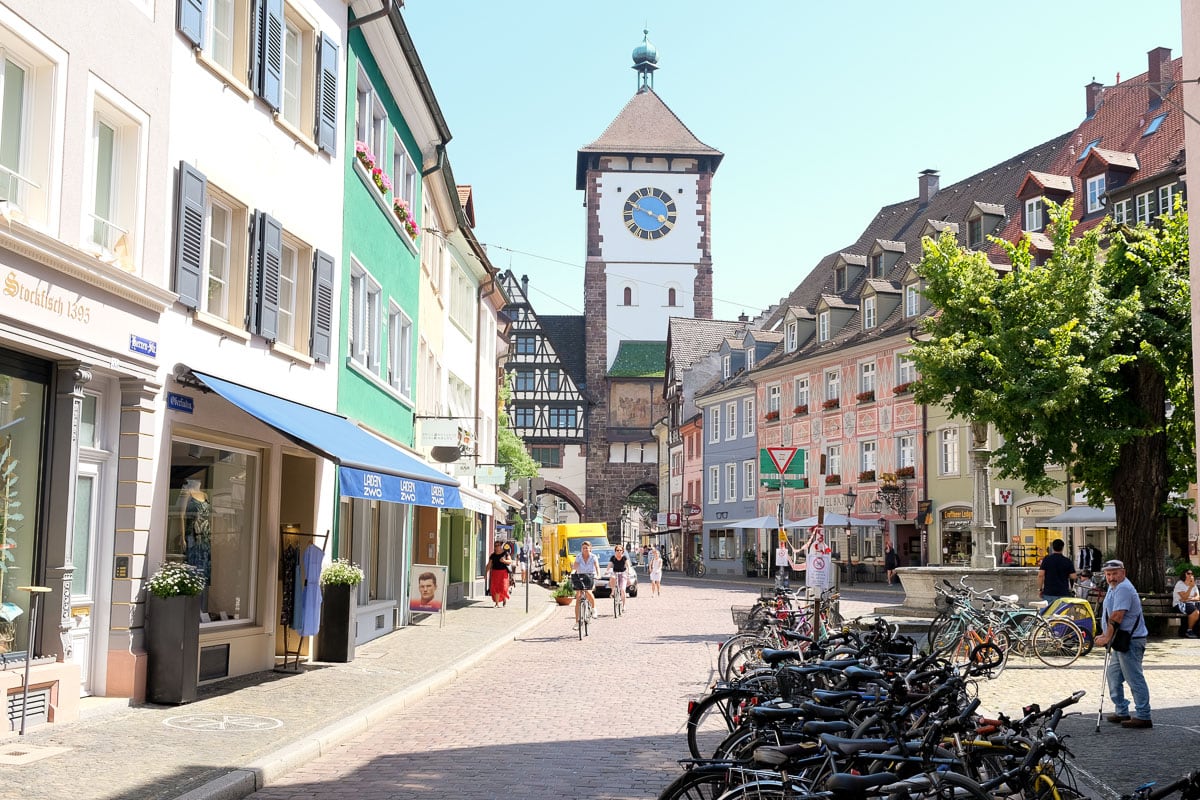 Freiburg Altstadt (Old Town)
Freiburg's Altstadt is a picturesque area with cobblestoned narrow streets, important historic monuments, boutiques and shops, cafes, bars and restaurants, and lots of charm. One of my favorite things to do when I lived here was simply wander around the Altstadt after I finished teaching for the day.
You'll also find the Freiburg Cathedral, town halls, Martin's Gate, and many more landmarks we'll discuss below. Freiburg's Old Town is also bordered on the east by the Dreisam River and Schlossberg Mountain, making it easily accessible to other beautiful parts of the city.
With everything that there is to see in this area, we highly recommend going on a walking tour of Freiburg's medieval old town to not miss out on anything!
Rathausplatz
Rathausplatz is home to the Old Town Hall and New Town Hall of Freiburg. The Old Town Hall (Freiburg Rathaus) was built in a typical Renaissance style before it was reconstructed later on with three new wings and a red sandstone facade. It also houses the Tourist Information Office on the ground floor.
The New Town Hall, on the other hand, is composed of two Renaissance burgher houses that are joined together by a gabled column entryway. The whitewash facade features large bay windows and balconies.
Rathausplatz turns into a magical wonderland during the holidays as it hosts the Freiburg Christmas Market. If you're visiting during Christmas time, don't miss the chance to sip on some mulled wine while enjoying the festive atmosphere of the square.
Wondering what the Christmas season in Germany is like? Check out our guides on the best German Christmas markets, German Christmas food and traditions, and how to celebrate Saint Nicholas Day.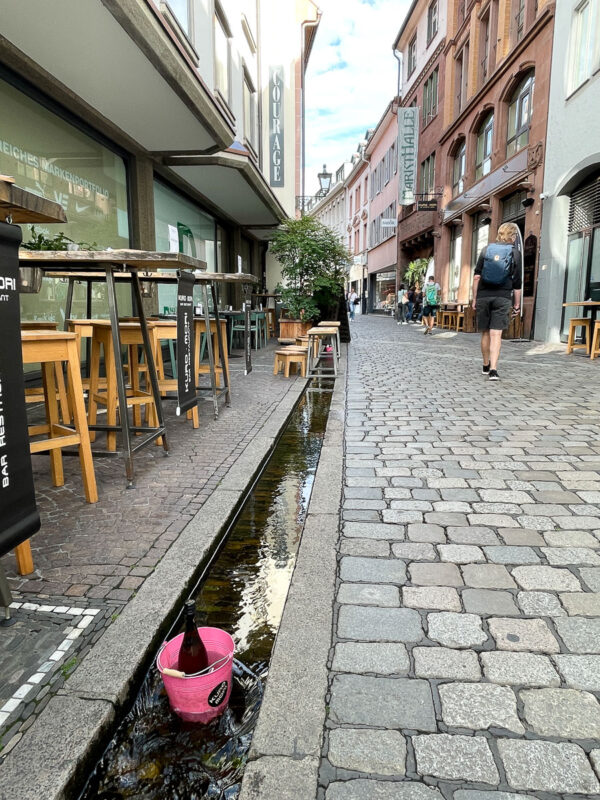 Freiburg Bächle
The Bächle running through the streets of Freiburg are one of the most interesting features of the city. They are essentially small water-filled channels or gutters that run along the streets and alleyways, mainly in the Altstadt.
They were originally used for a variety of purposes like supplying drinking water to households and providing water for firefighting. Now, they're an iconic feature of the city landscape and a fun way to keep cool during the summer months. You can even catch kids splashing or playing with little boats on the waterways.
Fun fact: there's also a popular local legend that says that any single person who accidentally stumbles into a Bächle will marry a Freiburger.
Historisches Kaufhaus (Historical Merchants' Hall)
Located on the south of Münsterplatz, the Historical Merchants' Hall (Historisches Kaufhaus) is an eye-catching dark red building with access balconies, large bay windows with colored tiles, and decorative sculptures.
It used to be a custom office and market storage during the medieval times at the peak of Freiburg's history as a trading center. Now the space is used as a prestigious venue for important events and occasions.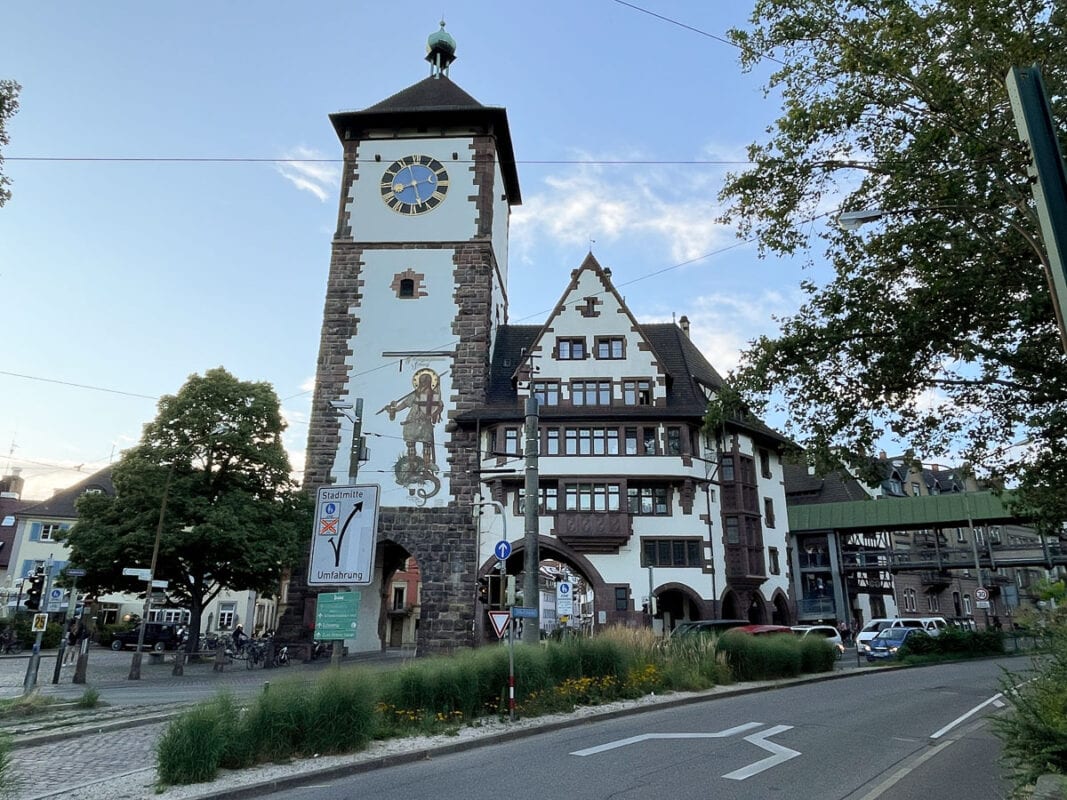 Schwabentor (Swabian Gate)
The Schwabentor (or Swabian Gate in English) is one of the remaining old city gates built in the 13th century. The gate tower is three stories high with interesting features like half-timbered extensions and a Baroque painting of merchants facing the side of the town. On the exterior side, you can also find a painting of Freiburg's city patron, St. George, depicted as a dragon slayer.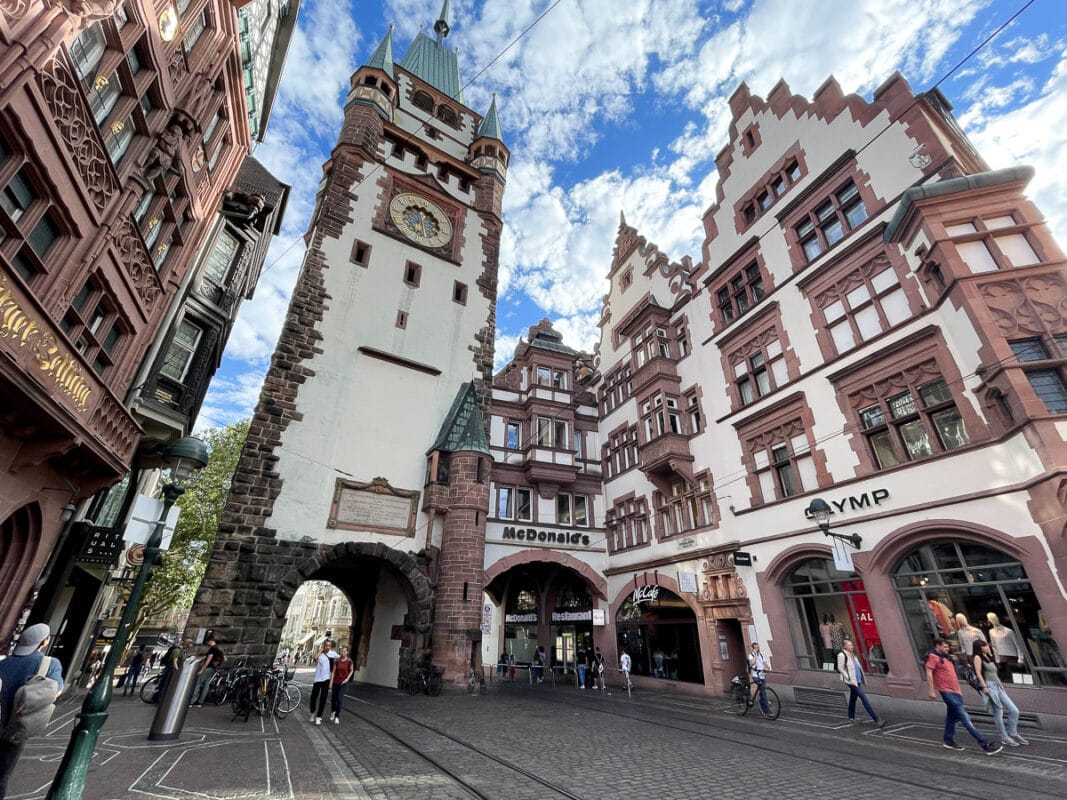 Martinstor (Martin's Gate)
Martinstor (Martin's Gate) is the older of the two medieval gates of the city's old fortifications. Like Schwabentor, it once served as an entrance to the medieval city and is now an important historic monument.
It has very distinctive architectural features like the twin towers on its roof and the arched entryway. Next to this archway, you'll also stumble upon a small detail: a tablet commemorating the burning of witches in Freiburg in 1599.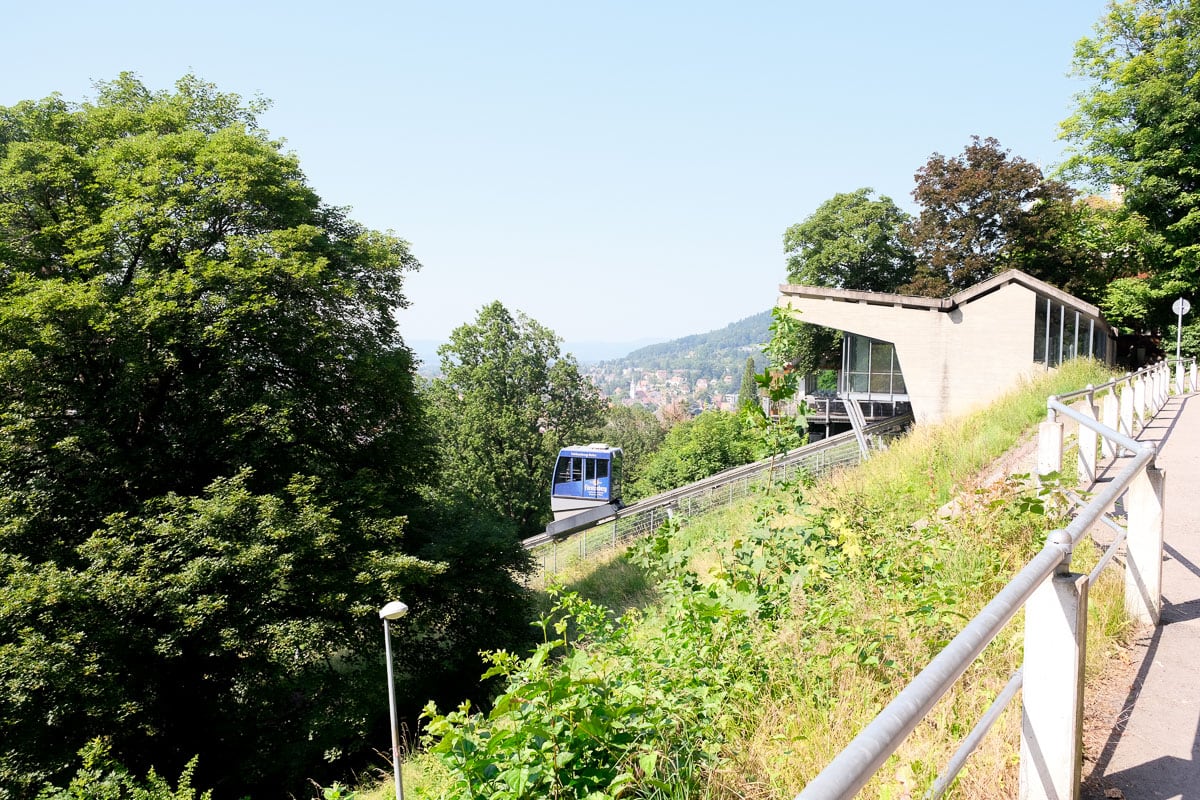 Schlossberg (Castle Hill)
Schlossberg (also known as Castle Hill) is a hill overlooking the city of Freiburg. The hill is covered in trees and lush greenery, making it a great spot for those looking for a dose of nature. There are lots of walking trails leading to the summit so it's also a popular place to watch the sunset over the city.
To get to the top you can hike up via the trails or take the funicular railway called the Schlossbergbahn (Schlossberg railway). The railway takes you to the top of the almost 1,500-foot hill in just 3 minutes.
Aside from strolling in the Schlossberg recreation area or grabbing a drink at the beer garden, you can also head on to the Schlossbergturm, an observation tower with over 150 steps leading to breathtaking panoramic views of the city and region.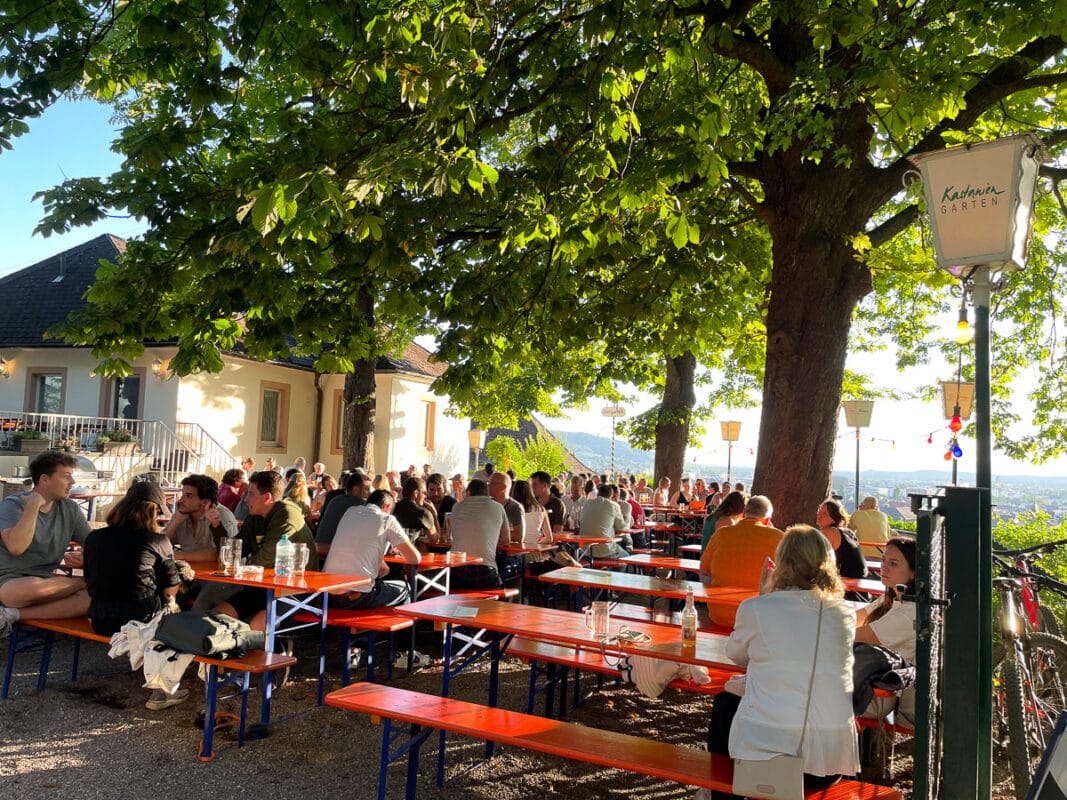 Seepark Freiburg
Seepark Freiburg is a sprawling park within Freiburg's city limits. The park area has a serene lake surrounded by lush greenery and gardens, picnic areas, playgrounds, and some restaurants and a beer garden.
The park is a good place for anyone looking for recreational activities like swimming and renting pedal boats in the summer, biking around the lake, playing football or frisbee, and even trying out mini golf in the park's course. For something more calm and relaxing, you can picnic or read by the lake and visit the Japanese garden with a small waterfall.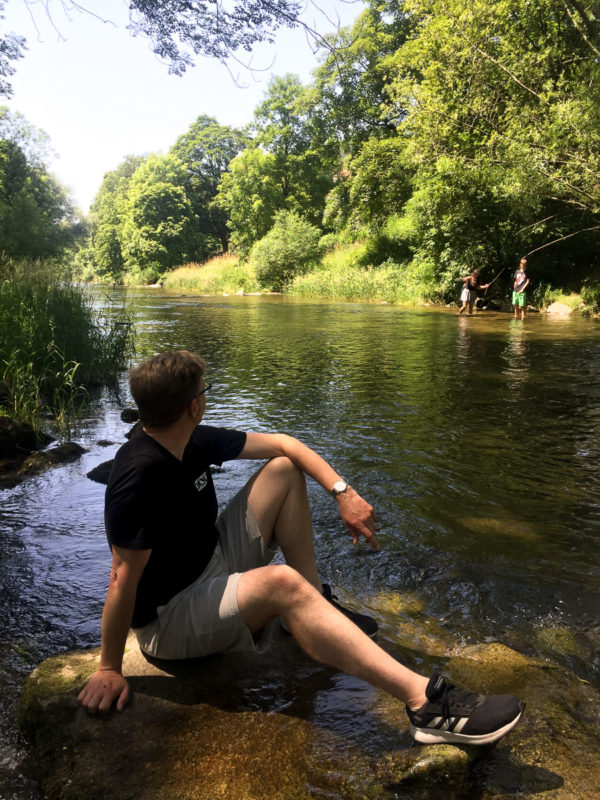 Dreisam River
The Dreisam river flows through Freiburg and offers opportunities for peaceful walks along the riverbank. If you'd like to explore outside of the Old Town, follow the walking path along side the Dreisam! One thing I always enjoyed doing when I lived in Freiburg was cooling off in the Dreisam on hot days. There are several areas that are shallow and perfect for wading. If you'd rather not get in the water, you can enjoy the view from a bench or take a picnic and sit on the grass.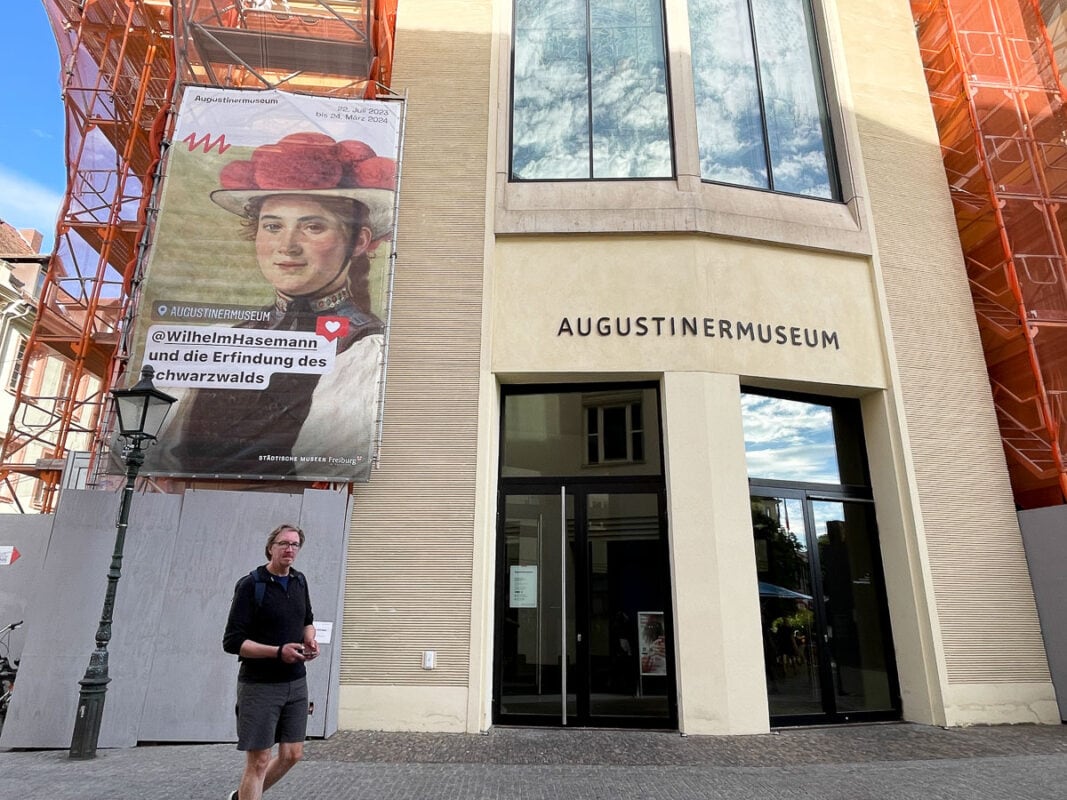 Augustiner Museum
Augustiner Museum is a former monastery that now runs as an art and culture museum. The museum showcases a wide range of artworks, sculptures, altars, and artifacts from the Middle Ages to the Baroque era.
Some of the highlights include the works of medieval stonemasons, original stained glass windows from the Freiburg Cathedral, and educational exhibits on Freiburg's history and folklore.
Messe Freiburg
Messe Freiburg is a large event venue and exhibition center that's known for hosting a lot of different trade shows, conferences, and cultural events in the city. There's all sorts of events happening frequently from food festivals, tech fairs, flea markets, and everything in between. There's also a concert hall so music festivals and theater performances are also held here. Make sure to check out all of the events and performances on their official website!
Mundenhof
Mundenhof is known as the largest animal park in the state of Baden-Württemberg. This park is home to a diverse range of animal species. Many of the animals kept here are mainly breeds of domestic animals and livestock from all over the world.
One of the best things is that visitors can interact with the animals in a completely natural setting since they are kept in open paddocks where they roam freely. It's definitely one of the top activities to do if you're traveling with kids and want an educational but fun experience.
Alter Friedhof (Old Cemetery)
Alter Friedhof (Old Cemetery) is a burial ground located in the outskirts of Freiburg. Built in the 17th century, it's one of Germany's oldest cemeteries that has been preserved as a whole. It serves as the final resting place for many individuals from Freiburg's past so it holds a deep historical significance for the city.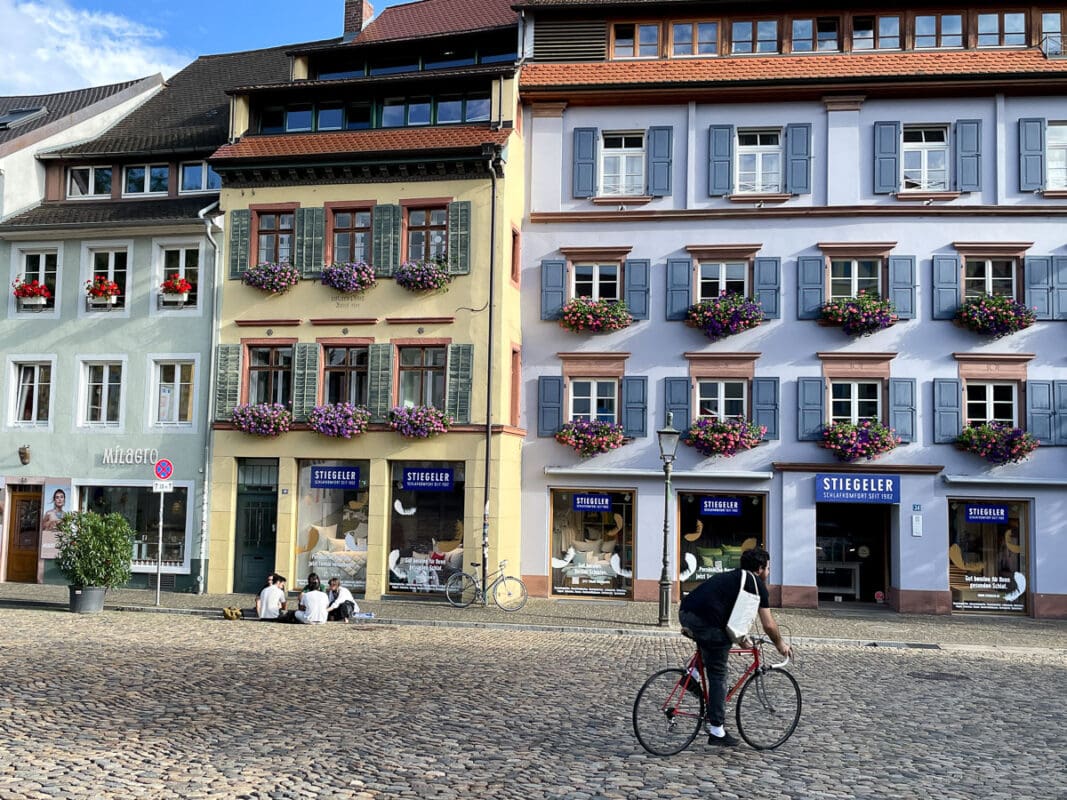 Why Visit Freiburg Im Breisgau
Freiburg is known as the capital of the Black Forest and Germany's sunniest city. It's worth visiting for its important medieval landmarks in the Altstadt (Old Town), the stunning views from Schlossberg and nearby Schauinsland, and its amazing location near Switzerland, France, and other towns in the Black Forest region. If you'd like to visit 3 countries on your trip to Germany, go to Freiburg!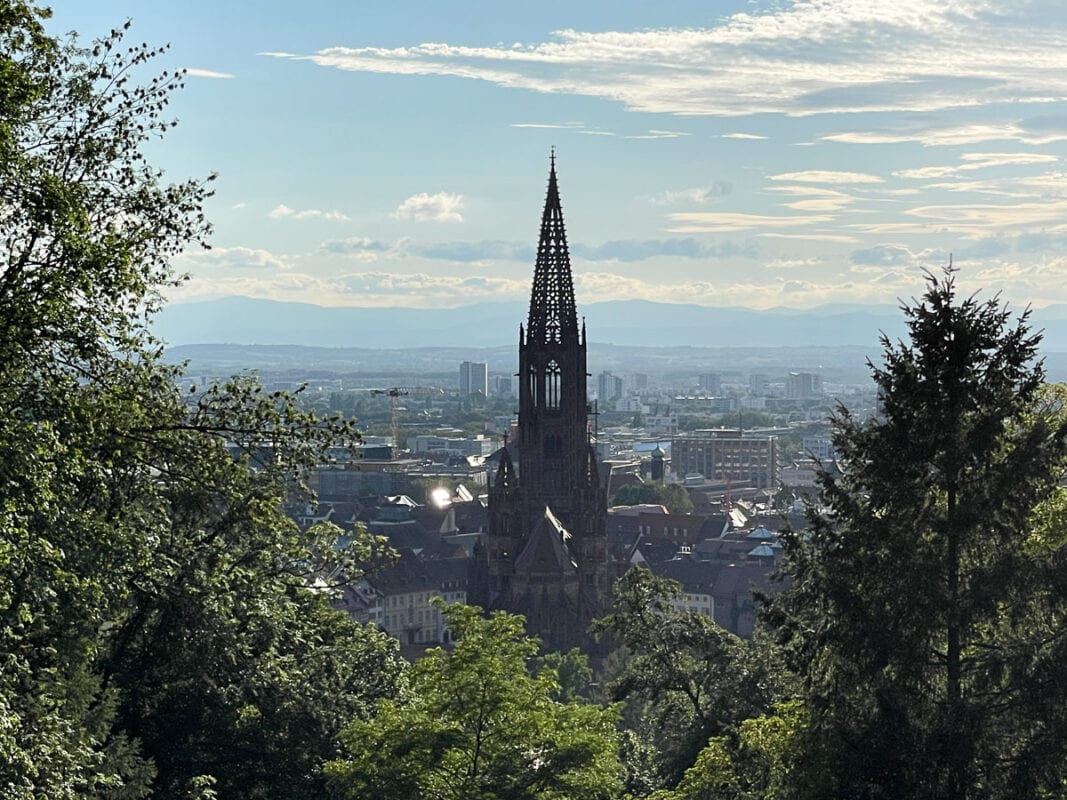 When Is The Best Time To Visit Freiburg Im Breisgau
The best time to visit Freiburg depends on your preferences, but generally, spring and autumn offer pleasant weather and fewer crowds. Spring brings blooming flowers and mild temperatures, while autumn offers beautiful foliage.
Summer is ideal for outdoor activities (especially swimming in lakes) and festivals, while winter is great for winter sports and Christmas markets. I've been in Freiburg during every season and it's a wonderful city to visit any time of year.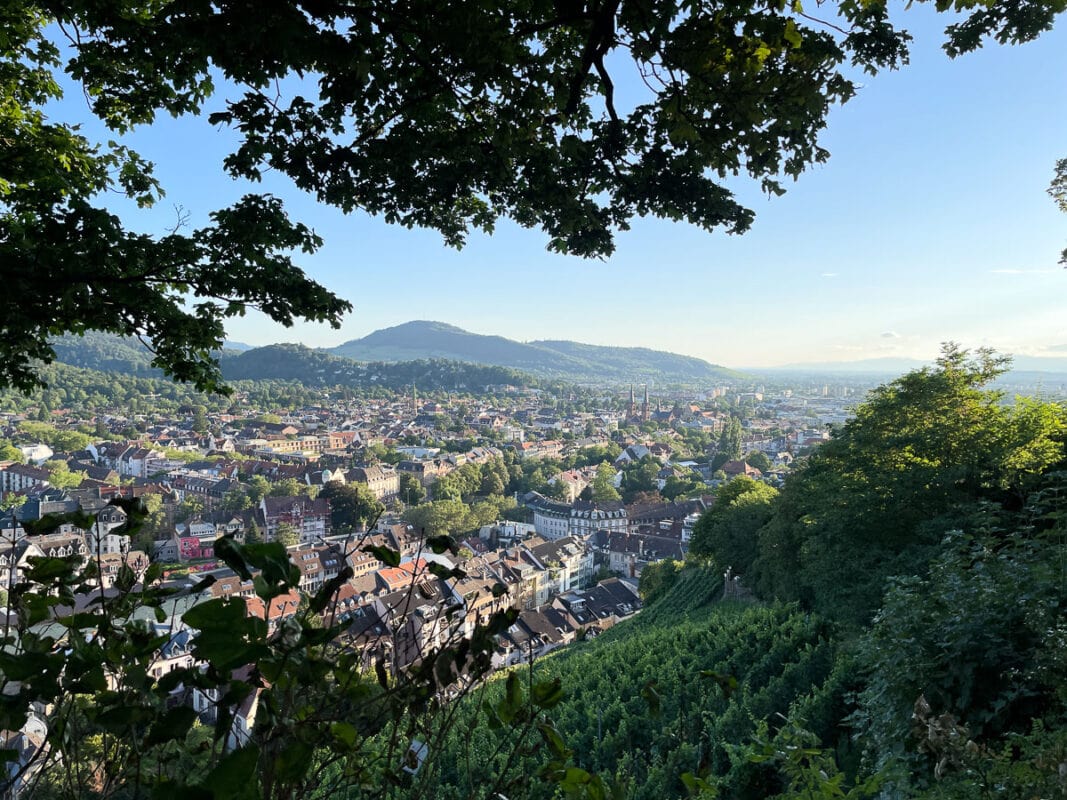 Where Is Freiburg Located On a Map?
Freiburg is located in the state of Baden-Württemberg in southwest Germany. It sits on the western edge of the Black Forest, and because it serves as one of the main entry ways into the region, it's pretty easy to get to.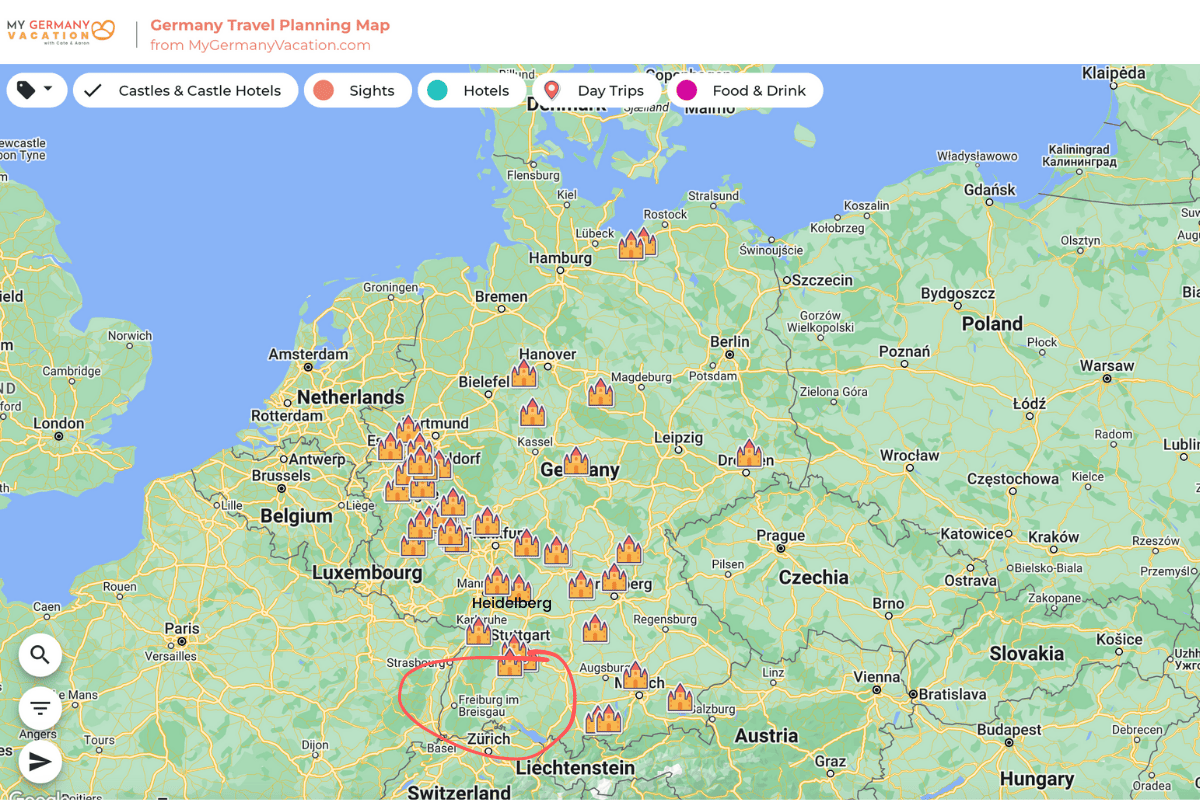 Where Can I Find The Above Map?
It's part of our Germany Travel Planner/Bundle, and it's your Germany travel planning BFF! Using our custom interactive planning map you'll be able to quickly see the best sights, castles, hotels, day trips and more – along with our photos and up-to-date tips. Seeing where these things are in relation to each other makes it much easier to plan your overall itinerary, as well as each day of your trip. If you don't yet have it, click here to get access.
How To Get To Freiburg
Airports Near Freiburg
If you're planning to visit Freiburg right after arriving in Germany, it's easiest to hop on a fast train from Frankfurt or Stuttgart airports. Alternatively, you could fly into a closer airport in France or Switzerland.
Frankfurt Airport (2 hours away via ICE train)
Stuttgart Airport (2 hours away)
EuroAirport Basel-Mulhouse-Freiburg (50 minutes)
Strasbourg Airport (1 hour)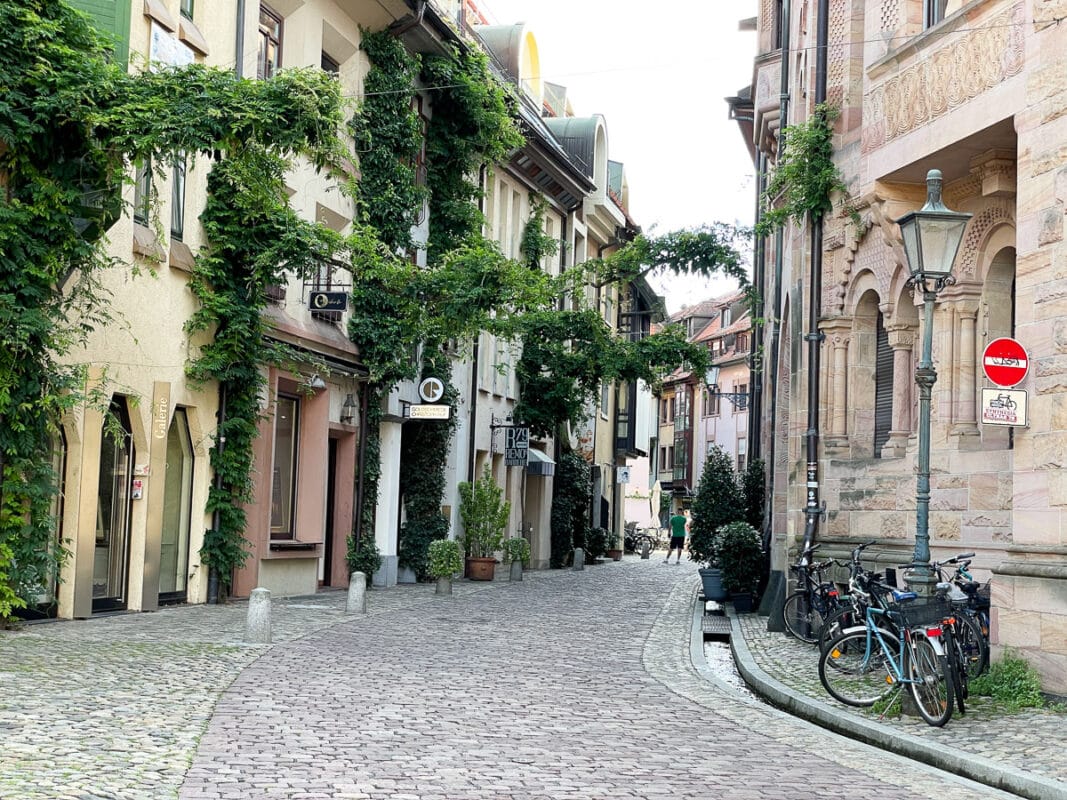 Getting to Freiburg By Train Or Bus
You can easily travel all over Germany by train. Busses are also an option, but personally, I prefer the train. Even though Freiburg is in the southwestern corner of Germany, it's easily reached by public transit from all over Germany, France, and Switzerland.
If you're traveling from German cities like Stuttgart or Frankfurt, you can take a fast ICE/IC/EC train and reach Freiburg in about 2 hours. If you're coming from smaller towns in the Black Forest, you'll likely take a regional train to Freiburg. If you're coming from elsewhere in Europe, there's a good chance you'll go through Strasbourg, France or Basel, Switzerland.
The best way to find train tickets for travel in Germany is through the official German rail website. You can also book tickets to or from other European countries, as long as your trip starts or ends in Germany.
Freiburg Hauptbahnhof is the main train station. To get to your accommodation you can walk, take the tram or hop in a taxi.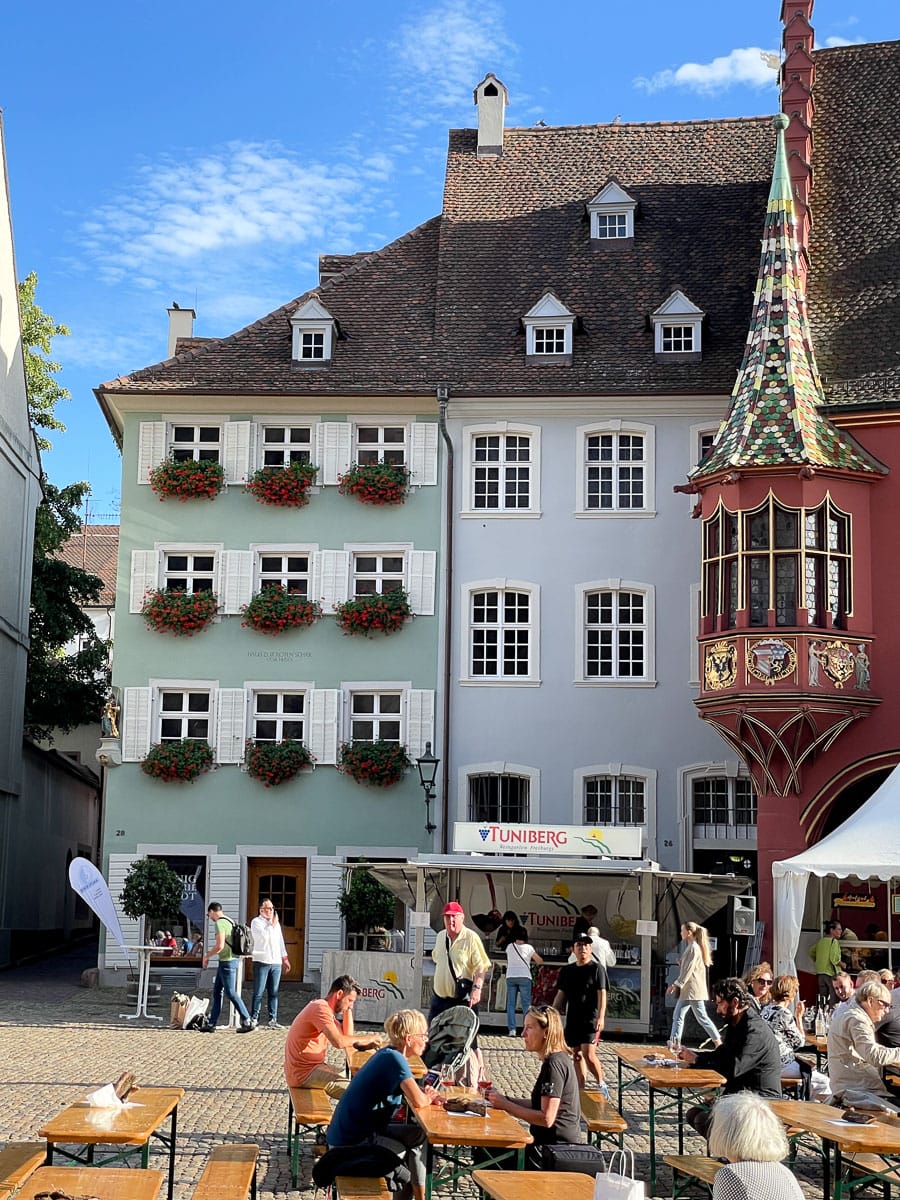 Getting To Freiburg By Car
If you're renting a car, you can drive to Freiburg by taking the A5, which runs north-south parallel to the Rhine from the Swiss border in the south and goes all the way up to Frankfurt am Main.
You can also rent a car in Freiburg for a couple days if you'd like to explore the Black Forest but don't want a car for your entire trip. While you can get to many locations in the Black Forest via train or bus, having a car gives you flexibility and enables you to get off the beaten path. We rent our cars here.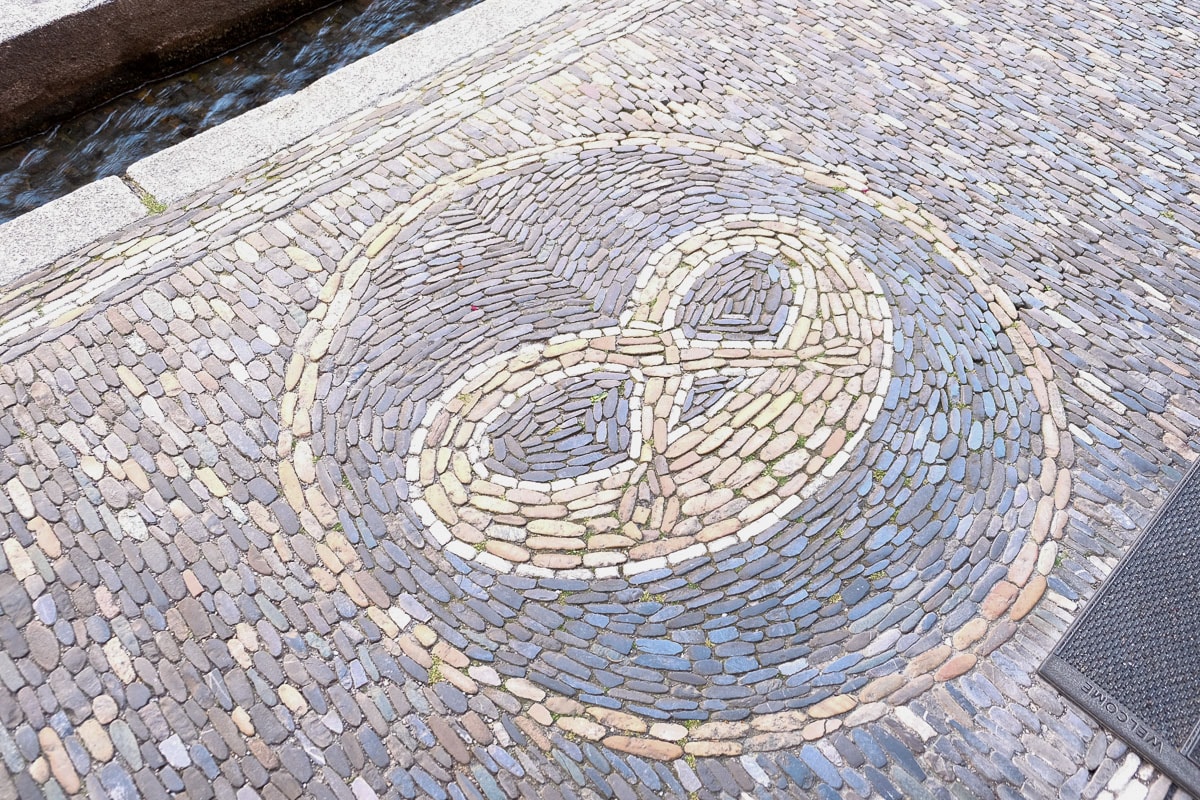 Where To Stay In Freiburg Im Breisgau
Freiburg is one of the best places to make your home base when exploring the Black Forest region. There are a lot of accommodation options available from luxury hotels to aparthotels with kitchens to budget-friendly family accommodations.
We recommend staying within or around the city center to be closest to all the main landmarks in the area. If you plan to take the train on day trips, make sure you can easily and quickly get to the train station on foot or by tram. If renting a car, make sure there's easy parking.
#1 Top Pick: Zum Roten Bären
Listed as Germany's oldest guesthouse, this fairy tale yet modern hotel has both cobblestone street views and courtyard views and is located in the Old Town just steps from the Schwabentor (old Swabian Gate) and near the Münster cathedral. Click here to check availability and price!
For more options, check out our guide to the best hotels in the Black Forest.
If you have our Germany Travel Planner/Bundle you'll find recommended hotels on our interactive planning map. Seeing where these hotels are in relation to the top sights makes it a lot easier to find the perfect place to stay. If you don't yet have it, click here to get access.
Day Trips From Freiburg im Briesgau
Schauinsland
Schauinsland is a mountain at the edge of the Black Forest, around 30 minutes from Freiburg. It has an elevation of over 4200 feet, which can be reached via the Schauinslandbahn, the longest cable car in Germany.
From the cable car, you can see views that stretch across the Rhine Valley to the Vosges Mountains. Once you reach the summit, you can see more of the Black Forest and even all the way to the Alps. Schauinsland is also the perfect place for outdoor enthusiasts looking to do activities like hiking, biking, Nordic walking, paragliding and winter sports.
Ravenna Gorge
Ravenna Gorge is another great day trip from Freiburg, as it's only a short drive away (30 minutes). This gorge is a breathtaking natural attraction, characterized by its steep cliffs, lush greenery of the Black Forest, and crystal-clear waters.
One of the highlights is the Ravenna Bridge, an arched stone bridge that spreads across the gorge. During the Christmas season, this area transforms into one of the most beautiful places in Germany. The Ravenna Gorge Christmas Market takes place right beneath the historic railway viaduct, making for a surreal winter wonderland view with all the wooden stalls and Christmas decorations.
For more information on the best Christmas markets in Germany, read our full guide here.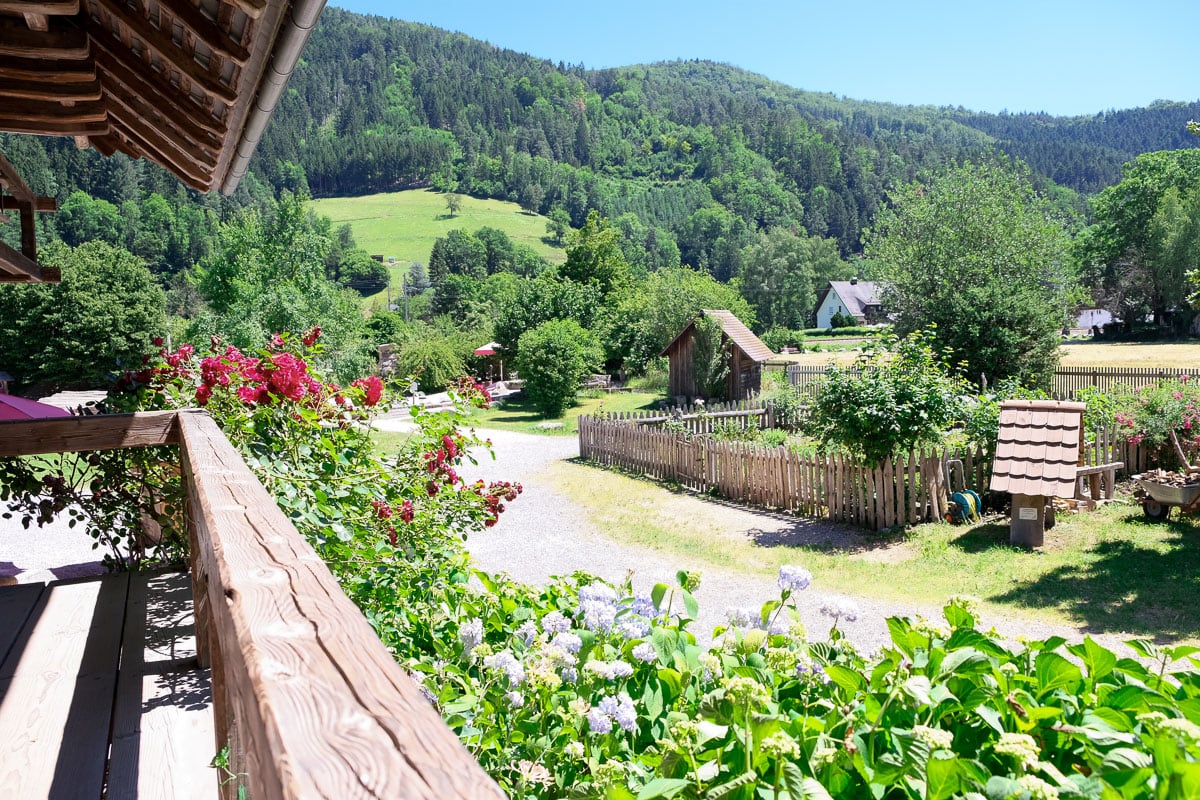 Europa Park
Europa Park is the largest theme park in Germany. It's about a half hour drive from Freiburg. The theme park has over 18 different themed areas and 13 roller coasters, ranging from kid-friendly ones like the Alpenexpress Enzian, which goes through a diamond mine, and high-speed roller coasters like the Silver Star. There are tons of indoor activities as well as shows, parades, a 4D cinema, and holiday events for everyone.
Black Forest Towns
If you'd like to explore the Black Forest while in Freiburg, you have lots of wonderful day trip options. Some must-visits include an open-air museum, the old resort town of Baden-Baden, Triberg for cuckoo clocks and the Triberg Waterfalls, and the charming small towns of Staufen and Gengenbach.
Black Forest Open Air Museum
The Black Forest Open Air Museum is the first open-air museum in the Black Forest, located in Gutach. It claims to be the most visited open-air museum in Germany with over 250,000 visitors annually. The museum brings you the historic rural experience of the Black Forest. Here you can experience the region's traditional crafts, housing, culture, and even technology.
It's also very interactive with different hands-on activities and areas specifically for kids. Make sure to check out the restaurant to try a slice of Black Forest cake!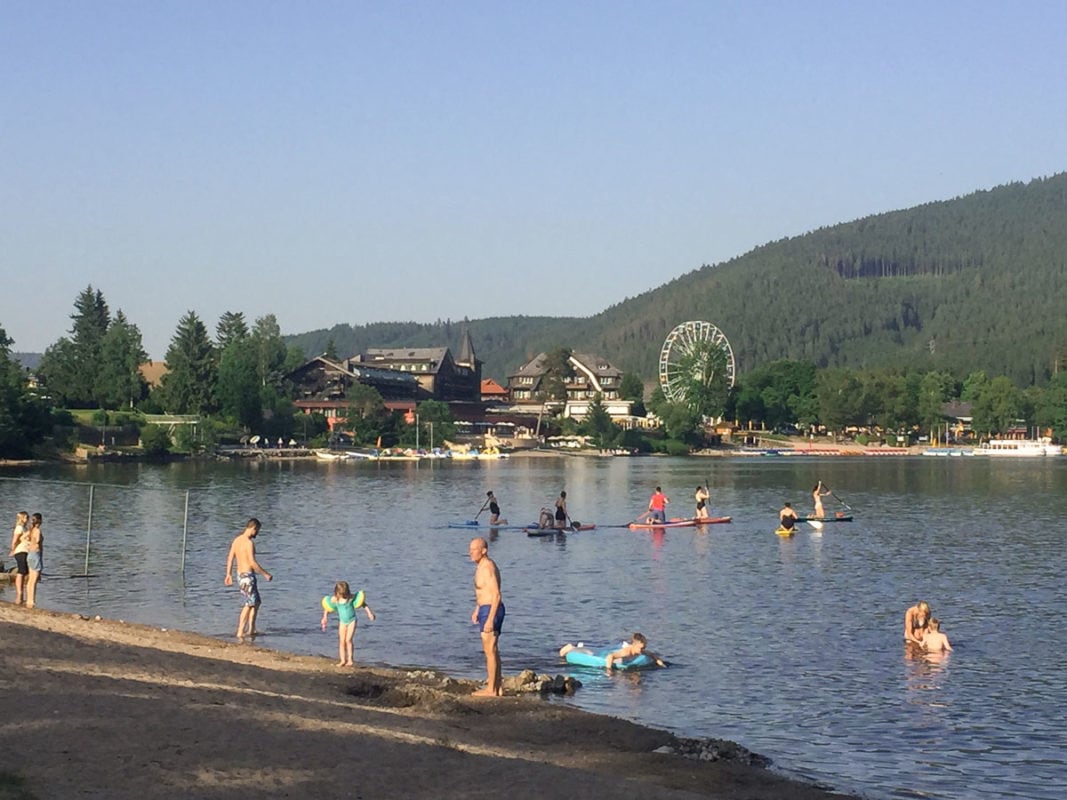 Lake Titisee
​Lake Titisee is around 35 minutes away from Freiburg. It's known for its crystal-clear waters, stunning scenery, and outdoor recreational opportunities. You can easily spend an entire day walking the trail around the lake, admiring the views, and then stopping by at any of the restaurants or cafes by the lake. If it's hot outside, go for a swim in the lake!
Basel, Switzerland
Nestled on the banks of the Rhine River, Basel is a quaint riverside city with lots to offer. It's around an hour away by car or train and could make a great starting point to exploring the rest of Switzerland. Some of the city's most important landmarks include the Basel Minster, the medieval streets of the Old Town, the Zoo Basel, and Kunstmuseum Basel.
Colmar, France
If you want to venture outside of Germany, then Colmar, France is a great option since it's only around 1 hour away. This French city is known for its picturesque cobblestone streets lined with half-timbered medieval and early Renaissance buildings. Canals and waterways run through the town, earning it the nickname "Little Venice."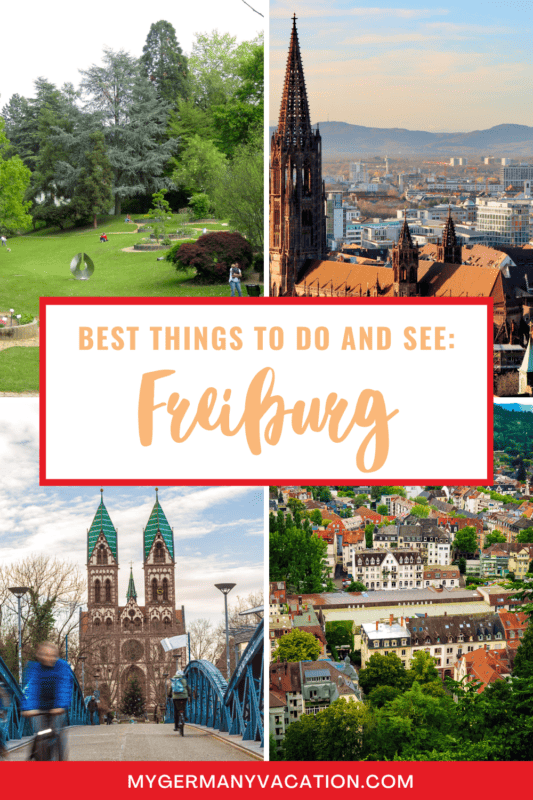 Next Steps For Planning Your Trip:
Where Can I Find The Above Map?
It's part of our Germany Travel Planner/Bundle, and it's your Germany travel planning BFF! Using our custom interactive planning map you'll be able to quickly see the best sights, castles, hotels, day trips and more – along with our photos and up-to-date tips. Seeing where these things are in relation to each other makes it much easier to plan your overall itinerary, as well as each day of your trip. If you don't yet have it, click here to get access.